51. Ankara Kimono Jacket With Bell Hand
This is a style that can go with practically any kind of trousers, either a simple jean or pant trouser, it's trendy and classy which makes it suitable for elaborate events.
52. One Hand Jumpsuit
Another classic way of making a jumpsuit, very smart and chic like. The one-hand design added some class and makes it different from the normal jumpsuit.
53. Collar Neckline With Short Jacket Gown
Planning on stunning an even in a simple short elegant gown, you need a simple style like this with no drama, can also be worn to the office on a Friday
54. Short Bell Sleeve With Wrap Split
Here is a beautiful elegant style you can be sure suits the different events and all will be needed is a makeover, it's the latest Ankara style that would reign for a while.
55. Quater Gown With Front Collar
A simple classy gown to spend an evening in and also not a bad style for Friday at the office or a weekend party.
56. Ankara Shirt And Micro Skirt
Ankara is getting more interesting with a styling work outfit, this style won't just be perfect for parties but also one of the latest Ankara styles you do not want to miss wearing to work.
57. Off Shoulder Feather Style
A beautiful spontaneous style, very colorful and different which would obviously stand out on any occasion, the feathers could be exchanged for fringes to make it more fascinating. In my personal opinion, this is one of the most beautiful styles in this updated list of latest Ankara styles.
58. Simple Knee Quater Gown With Puffy Sleeves
Not all latest styles have become dramatic and here is a style that is simple and yet very beautiful, compliments practically any occasion.
59. Tiny Neck Strap Blouse With Buttercup And Skirt
Another style that can totally pull attention at any occasion is this micro skirt and blouse, it represents trend and class and Instagram did show how much they loved this style. One of the latest Ankara styles we couldn't help but love.
60. Ankara Shirt And High Waist Trouser
Trousers can be an excellent choice when it comes to Ankara work outfit and you do not want to miss getting your tailor to sew you one exactly like the one above, this style would also stand out at an event.
61. Ankara Blazer With Shorts
Planning to stun a party in style and class or even won't be a bad Friday work outfit either, if you are the type who likes spontaneous at work.
62. Ankara Style With Bra Pad And Puffy Sleeves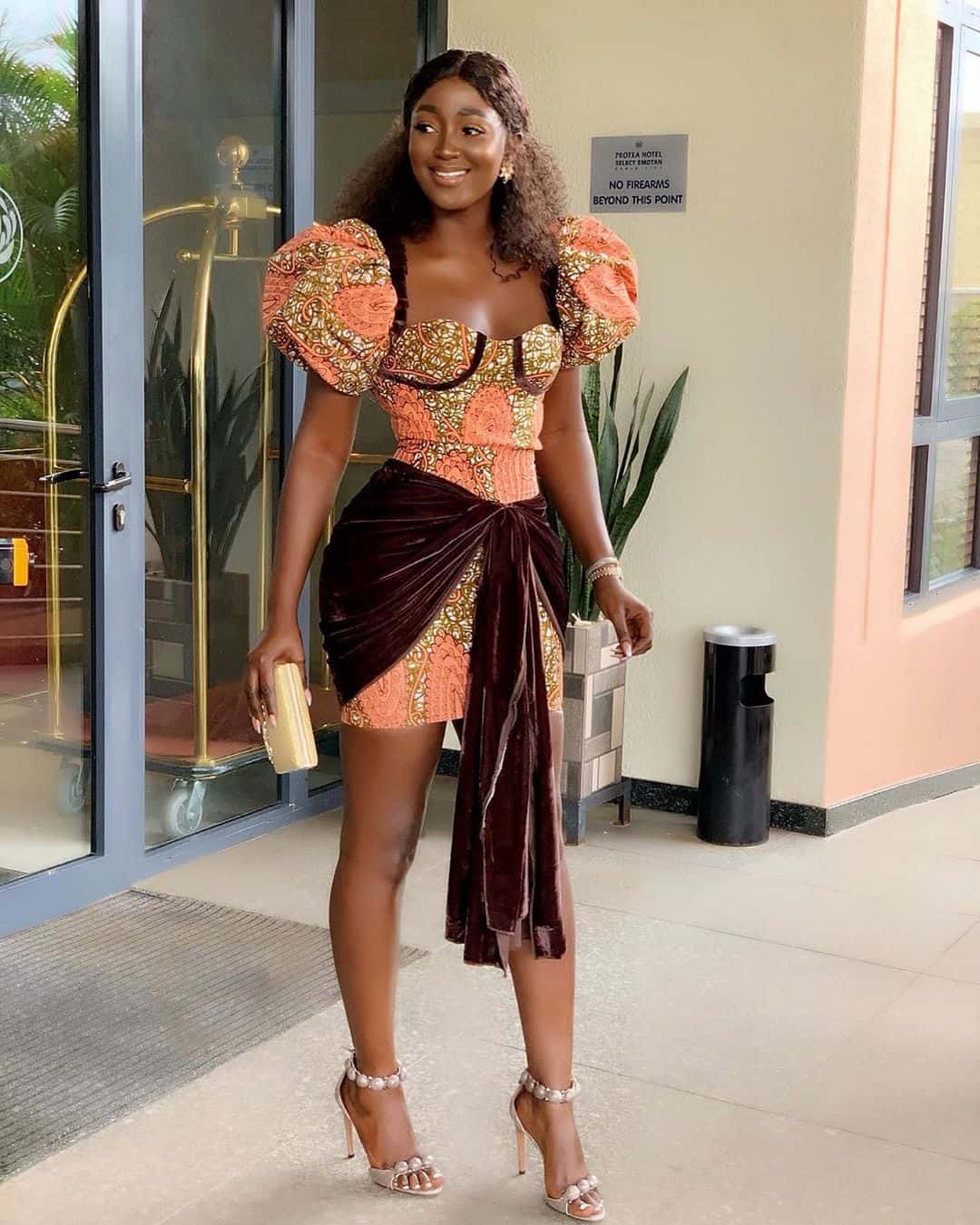 Tolu Bally is a fashionista that definitely knows how to stun us with an incredible design.  The style won't even take your tailor lots of time to work on, an effortless style with class.
63. Simple Ankara Style  With Office Collar
Simple can be fascinating too, perfect work outfit attire.
64. Maxi Ankara Gown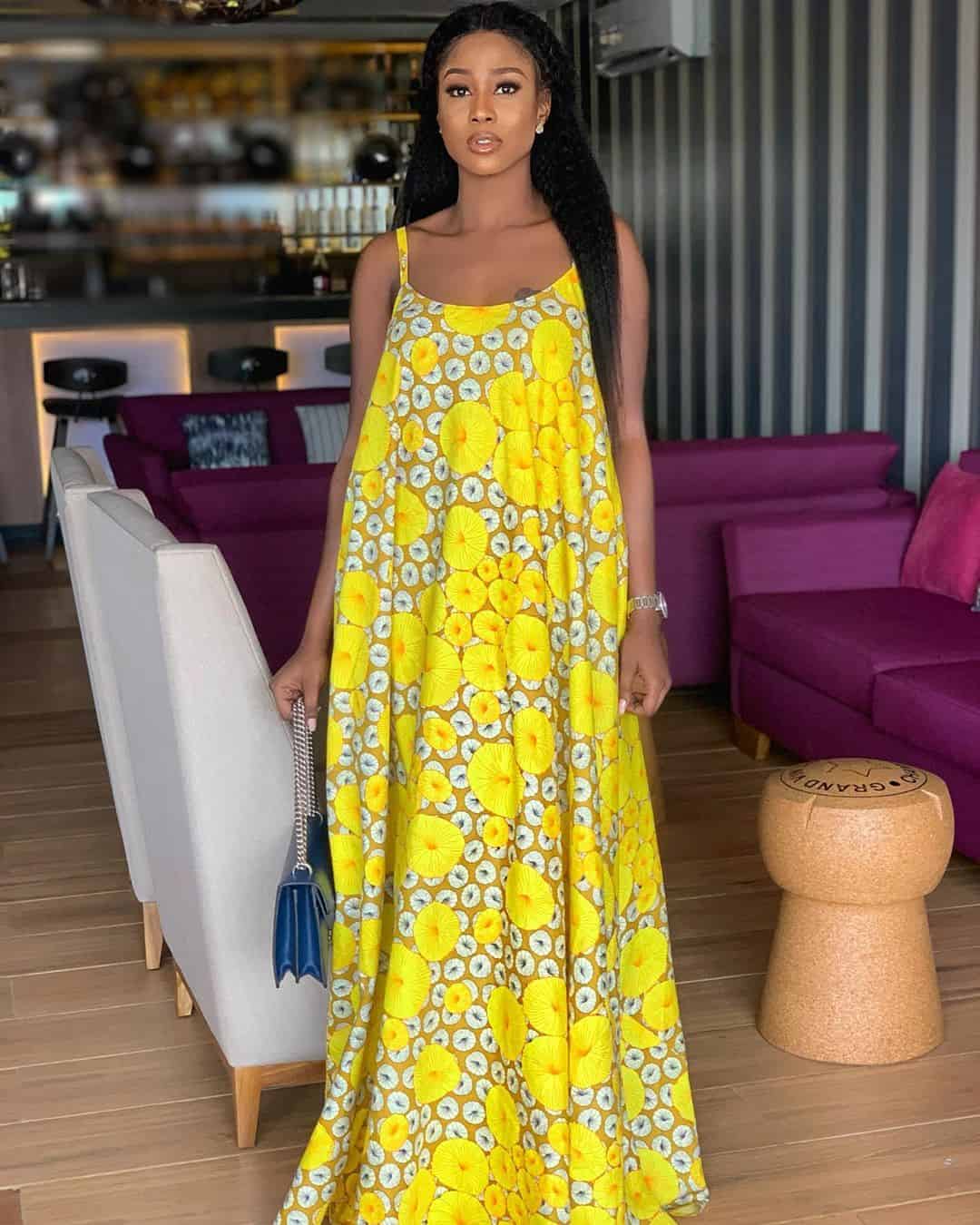 Maxi styles are becoming more trendy especially with Ankara, a nice outfit for church, not too dramatic or demanding, just the right outfit you need for a formal occasion.
65. Ankara Flare Dress With Blouse Material
Everyone likes a style that is convenient and beautiful at the same time, this style is just what is needed for a comfortable hangout with friends.
66. Low Off Shoulder With Flay
Perfect outfit if you are the type who loves a bold style, but simple at the same time. Something different can be done with the low neckline if you do not like it too revealing.
67. Short Tube Gown With Gown Cape
This style definitely offers a complete fashion package, can be described as the right trend and very classy enough to wear to important occasions.
68. Straight Ankara Style With Dramatic Sleeve
The sleeves of your Ankara does not have to be straight and boring, you need something different and unique to enable you to stand out, this style is practical for all occasions.
69. Stylish Ankara Top On Boot Cut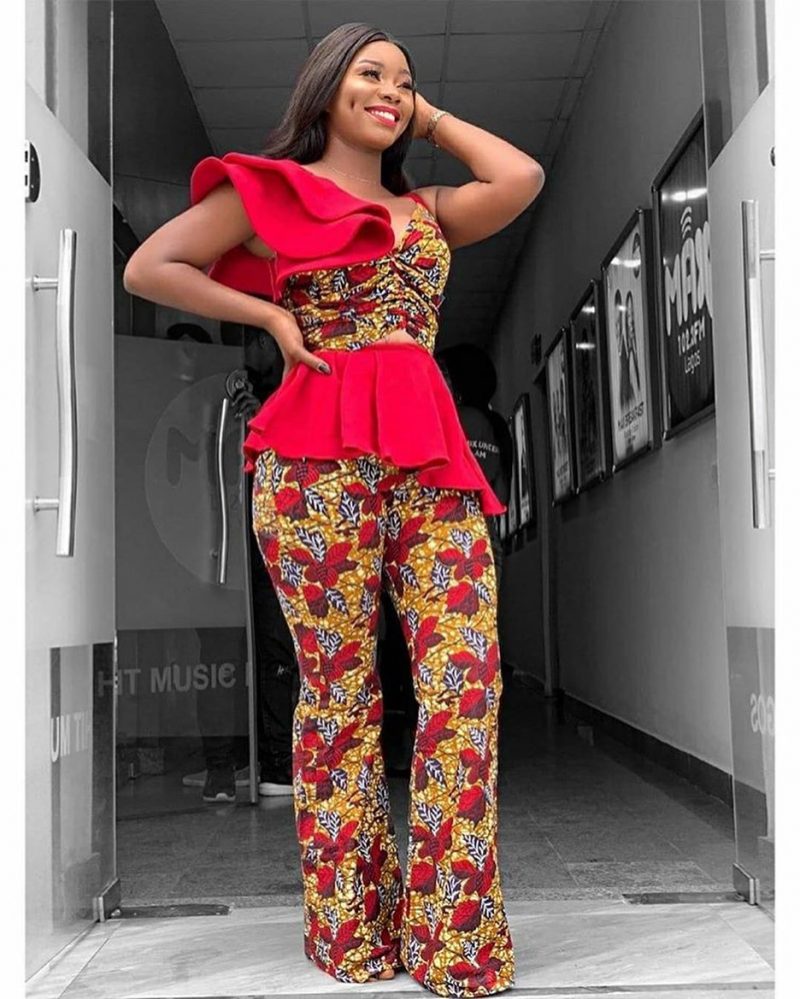 If you love your boot cuts, now it is time to have them sewn with Ankara, it is even more smart and colorful with Ankara.
70. The Queen's Ankara Style
You probably want to storm a party with a dress that is simple, decent but dramatic enough to gather attention, the queen's style is the perfect fit.
71. Ankara Dress With Cape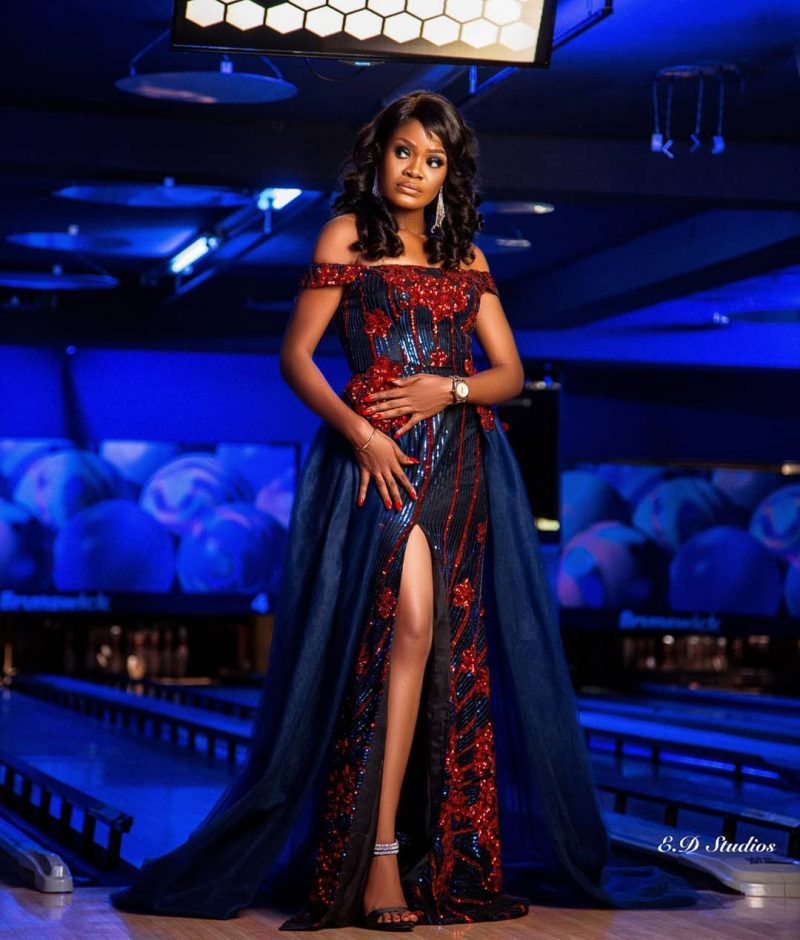 The beautiful thing about Ankara styles is how you can twist it a little and add your own design to it and it will still be splendid. With or without the cape the style is still amazing and with the off-shoulder, it's even more beautiful.
72. Modern Style Ankara
Ankara styles are now being recreated to make it even more fascinating and beautiful, the style just has a skirt wrap at the back and with the tiny hand, strap to make it simple and trendy.
73. Stylish Strap With Short Sleeves
Gorgeous is the word that comes to mind about this style, it is beautiful,  the combined pattern of Ankara is now been used a lot, it makes styles look even more classy.
74. Crop Top And Emi Skirt
The perfect style to sew if you are into crop tops and the top is not too revealing either with the EMI design of the skirt makes it very comfy. This Ankara style is suited for all occasions, a very fast style to sew too if you are in a rush.
75. Layered Blouse With Straight Skirt
Anyone shape can actually pull off this style, very trendy and with the edges of the blouse, it makes it looks great for cocktail parties. This is one of the latest Ankara styles 2020 from King Tonto Dike herself.
Continue reading for the latest Ankara styles we've curated for you 👇