36. Straight Gown With Double Sleeves
This comes with double sleeves to make the style look more stylish and modern.
37. Round Neck Ankara With Cape Sleeve
An awesome style for days when you want to keep it elegant and simple,  you can use any kind of material for the sleeve and you did still get the same awesome style as the one above.
38. Ruffled Sleeves With Belted Waist
Not everyone fancy a simple flare gown however you can add a waist belt to tune up the flare a little.
39. Mini Dansiki With Pockets
Dansiki has always been found bit and not really suitable for a casual day out hence the creation of this beautiful short gown to keep it casual.
40. Straight Gown With Cape
Capes are not just meant for short gowns alone, you can pair it with a long straight Gown for all kinds of occasions.
41. Purple Ankara Short Gown With Long Sleeves
With the current climate change and hot weather, you could use a lot more short gowns this year.
42. Simple Yet Classy Ankara Skirt And Blouse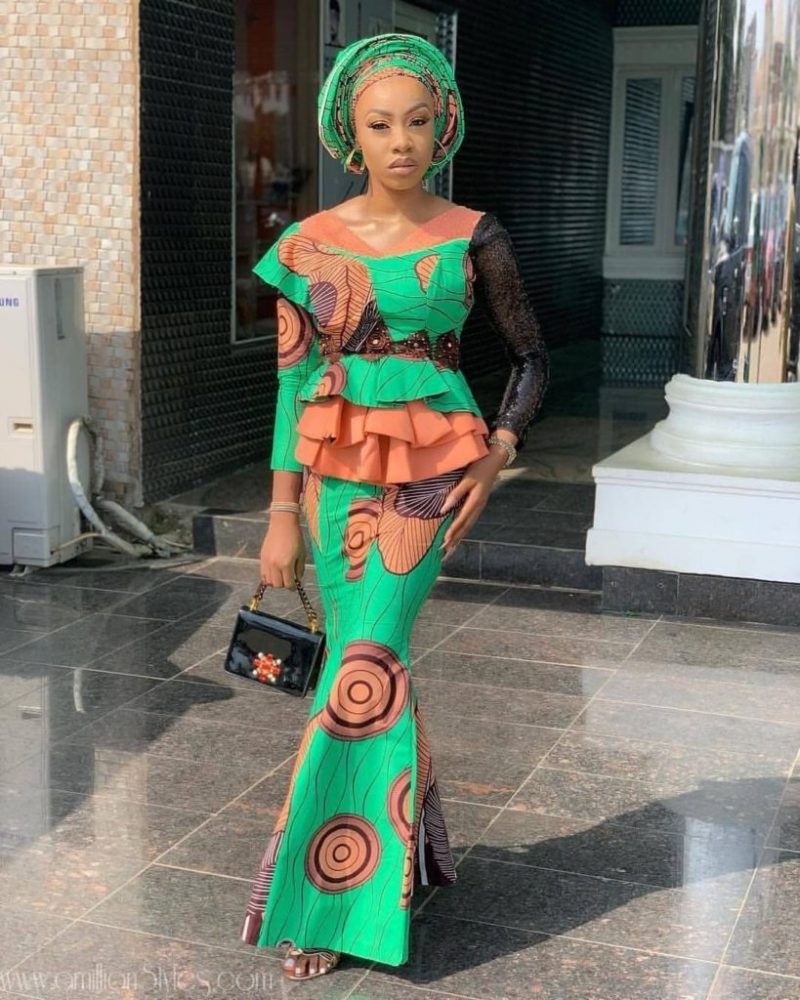 If you're into Ankara skirt and blouse, this classy style ought to do it for you, see more beautiful styles like this one here.
43. Tiny Strap Sleeve On Boogie Gown With Splits
Here is one of the trendiest Ankara styles you can't help but love, from the belted waist down to the slits, this is also very easy to make which makes it a suitable style if you are in a hurry and yet want a gorgeous Ankara style, the strap sleeves can be substituted for a cap sleeve to make you more comfortable.
44. Shirt Ankara Gown With A Long Cap Sleeve
Modern Ankara styles sometimes mean recreation of the ancient one, just like the style above, a simple shirt dress has been made to look more beautiful and now you can rock it for practically all kinds of events.
45. Straight Turtle Neck Gown
Nothing beats staying in trend and keeping it simple while doing that, another elegant way you want your Ankara fabric to be styled.
46. Ankara Mixture Style
Here is a fabulous way you can mix those Ankara fabrics and create something fashionable with it, perfect for all kinds of formal events.
47. Classic Ankara Shirt Dress With Raglan Sleeve
Here is the current shirt dress you should have sewn with your Ankara fabric, really classy and we must say it's worth the fuss.
48. Bell Sleeve Jumpsuit
A stunning jumpsuit can make all the difference at an event, it's stylish and comfortable.
49. Conservative Crop Top And Flare Skirt
The usual crop top can be a bit bold and less conservative but with this modern one, you can feel more comfortable and the skirt fits it just perfectly.
50. A Simple Long Sleeves With Side Split
This is a popular modern style that you can't help but love, it's simple and requires very little time to make and in case you are attending an event where you do not want to appear dramatic or less dramatic, then this is the perfect style to choose.
51. Cute Wrap Gown
This is a brilliant style, combination of everything current a classy, another modern Ankara style you should have before 2019 rolls over.
52. Short Sleeves Gown With Layers
Most of these modern Ankara styles are effortless and gives you exactly what you need to show off at a gathering and the style above is no exception.
53. One Hand Short Gown With One Leg Trouser
This daring and requires lots of spontaneity to pull it off. It is just as modern as any Ankara style can be and might just get you the best-dressed guest an occasion.
54. Off Shoulder Crop Top With Ruffle Skirt
This is modern, it's stylish and speaks a lot in terms of trend, this alluring style can even be more interesting with an Ankara trouser.
55. Bell Sleeves Ankara Gown
Bell hand sleeve is widely used these days, it's beautiful and stylish and a closer look at the style above reveals another thin strap added to it, which makes it even more stylish and modern.
56. Micro Skirt And Jacket With Headtie
This is really classy and added to the list of modern styles we love this 2019, it says a lot about trend and the headtie is even more fascinating
57. Flare Blouse And Skirt
If you are all for a skirt and blouse, here is one skirt and blouse that has been modernized to suit your taste in Ankara styles.
58. Boogie Sleeve Blouse With Boot Cut Trouser
You can't help but love this simple and casual recreation of style, another modern Ankara style you would love to have in 2019. This style can be worn to the office on a Friday.
59. Ankara Tub Dress
Anyone would love a bold style that offers no stress in putting it on, here is a style you can go for if you want that.
60. Short Ankara Gown
Elegant, simple, and desirable are the right words to qualify these amazing styles.
61. Spaghetti Strap Top With Long Straight Skirt
You would never be considered boring in styles if you have this modern Ankara style above sewn for you, the style is really adorable.
62. Long Ankara Gown With Infused
Most Ankara styles are just twisted a little to give us something modern and can be easily described to your tailor. This is a splendid modern style and the lace net is not a bad addition.
63. Double Top Gown With Belted Fringe

Image: @ankarastyles_etal// InstagramOne way to get the weekend grooving is to put on a nice style like the one above, an elegant style that you can't help but feel yourself if worn.
64. Ankara Shorts With Tie Crop Top
Crop tops can be classy and fun when paired the right way and one of the fascinating ways to pair a crop top is with a palazzo short.
65. Off Shoulder Sleek Gown
Show off those amazing legs and skin with a simple elegant off-shoulder gown, not too long or short, just on an average which makes it most suitable for an event.
66. Ankara Blouse With Round Design Sleeve And Penciled Skirt
The blouse is definitely worth a second look, a style lots of ladies can relate, perfect for an evening outing.
67. Cute Ankara Short Gown With Rubber Sleeves
Fashion sometimes is all about how comfortable you are in that style you are wearing and comfort is important in any style you choose hence why we love this style.
68. Short-Sleeve Three Quarter Jumpsuit
The jumpsuit was introduced to Ankara styles not too long but we must admit, fashion designers have created a lot of styles with it, different lovable styles and this is one jumpsuit you need in 2020.
69. Short Jumpsuit
Want to spend the evening outdoors with a simple Ankara style? This is a style that can ensure that it's simple and takes very little effort from your tailor.
70. Half Off Shoulder Blouse With Skirt
This can never be called boring or out of fashion, one of the 2019 modern Ankara style that has been described as fabulous and forever in trend.
Read more on Ankara And Lace styles in 2019:
Ankara fabrics are the easiest form of traditional material you can easily twist to give you the style you want, these modern styles above can also be made into something else to suit your fashion taste more so all you need is to show your designer what you want and do follow us on Instagram @thrivenaija to keep you updated on beautiful modern Ankara styles.