Are you a vegan and you're wondering if you're getting enough vitamin D or not? We break down everything vegetarians need to know about vitamin D supplementation in this article.
Vitamin D is essential for calcium absorption in the body and it thereby helps tremendously in the formation and repair of bone.
Although vegetarians generally find it difficult to incorporate several nutrients in their diet, there are numerous plant sources of vitamin d and thus there are ample ways of including this particular vitamin in a vegetarian's diet.
It is a very important vitamin vegans must add to their diet.
Vitamin D has several important functions
Before we dive into the vegan-friendly vitamin D food sources list, here are a few benefits vitamin D has to offer the body.
It

helps increase bone density and improves the body's resistance against some certain disease.

It plays an important role in warding off chronic ailments like heart diseases and diabetes.
And, finally, it promotes cell growth and strengthens the immune system.
Moving on!
Dealing With Vitamin D Deficiency?
Consumption of more high protein and calcium foods may help. Foods like homemade white butter, broccoli, avocado, kiwi and papaya, also cereals like all your whole wheat grains including ragi, barley, and soybean.
Dry fruits like walnut and peanuts also help in overcoming a Vitamin D deficiency.
NOTE: Physician, Dietitians, and Nutritionists see this deficiency as a serious medical condition.
The Best Vitamin D Food Sources For Vegans
Sunlight is the best source of Vitamin D.
Since the sweltering heat makes us run away from sun exposure, doctors usually prescribe Vitamin D supplements to cure its deficiency. But you should know that there are quite a few natural sources that can help boost your Vitamin D levels.
1. Mushrooms
Mushrooms are the best natural sources of Vitamin D.
Include them in your diet four times a week and watch your Vitamin D levels shoot up. They can be cooked, baked or pan-fried and turned into a tasty and healthy delight.
In order to reap more benefits, you can sun dry them before consumption. Mushrooms can naturally produce Vitamin D when exposed to sunlight.
1b. certain mushrooms: Other than tofu, there are various other vitamin D foods for vegetarians, including several mushrooms which vegetarians can surely enjoy.
1c. shiitake mushroom: Are another vital plant source of vitamin D. these are edible mushrooms which are extremely beneficial for one's health; they provide resistance against cardiovascular and autoimmune diseases and are rich in several nutrients including iron, vitamin B complex, and vitamin D.
1d. white mushrooms / white buttom mushrooms: Are an excellent source of vitamin D as they generate plenty of vitamin D when exposed to UV light in sunlight while growing. One ounce of these mushrooms provides approximately 1% of the suggested daily consumption of vitamin D.
2. Sunlight
Sunlight in one of the biggest source of vitamin D.
You can bask in the sun for about 10 – 15 minutes, before 8 am and at dusk, beyond that, you are asking for trouble, you won't want skin ailments to plague your skin.
3. Oatmeal
Although one usually perceives oatmeal as a fiber-rich food only, in fact along with many other nutrients, fortified oatmeal is an excellent source of vitamin D.
4. Fish
The flesh of fatty fish & fish liver oils is good sources of Vitamin D.
All kinds of fish are high on Vitamin D. Typically oily or fatty fish contain more Vitamin D than less oily fish. An example of oily fish would be a juicy thick fillet of salmon. Other common options are trout, mackerel, tuna or eel.
5. Dairy and Egg
Vitamin D is concentrated in the egg yolk. Egg yolk is back in vogue and this time it's here to stay.
Since vitamin D in an egg comes from its yolk, it's important to use the whole egg – not just the whites, so you can indulge in the most nutritious part of the egg.
Although vegetarians might have fewer options for food that are rich in vitamin D, unless they are vegan, they can get vitamin D in the form of eggs and dairy products such as milk and cheese.
Ricotta cheese provides the maximum amount of Vitamin D amongst others.
6. Soy products
Cow's milk is a great source of calcium, soy milk is packed with Vitamin D.
Soy milk is plant-based milk produced by soaking dry soybeans and grinding them with water. While it contains the same amount of protein as regular cow's milk it boasts of high Vitamin D, Vitamin C, and iron.
7. Cereals
Cereals are also a good source of vitamin D provided these have been fortified.
Best Vitamin D Supplements For Vegans
Most vegans worry they might not be getting enough vitamin D from these diets, taking vitamin D supplements will help assure them they meet all their daily nutrient requirements. The certain nutrient can be difficult to get from diet and food alone hence the vitamin D supplements. Here are some of the best vitamin D supplements for vegan on Amazon.
1. Doctor's Best Vitamin D3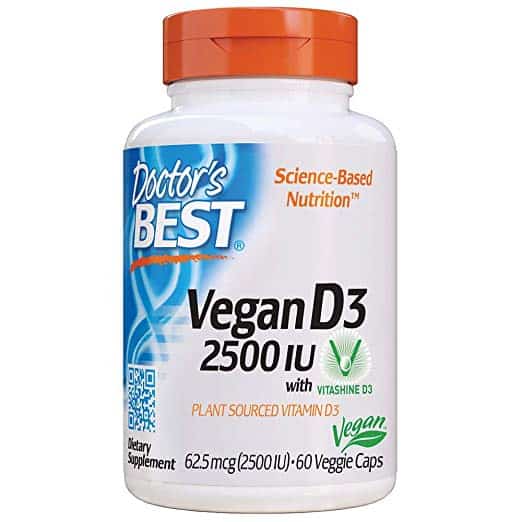 Doctor's Best Vegan D3 features Vitashine D3, a plant source for vitamin D3 known as cholecalciferol, which is needed by the body to regulate phosphorus and calcium for healthy bones, heart protection, regulate immune function and strong teeth. It is gluten-free as well.
2. Naturelo Vitamin D
This is the best natural vitamin D3 supplement for strong bone, joint health, regulates the immune system, aids muscle growth and helps reduce depression. Naturelo Vitamin D is gluten-free and recommended for pregnant women as well.
3. Garden of Life Vitamin D
Garden Of Life Vitamin D is a combination of vegan foods to give the body the required vitamin and bone health, it's delicious chewable and has a raspberry lemon flavor with no sugar. This vitamin D supplement is clean and not chemical-based.
4. Doctor Formulated Vegan Vitamin D3
Doctor vitamin D can help the body get all the required nutrients it needs, it helps maintain beautiful skin, strong bones, healthy cell division and other body benefits as well. It is free from milk, egg, fish, shellfish, soy, nuts and gluten.
---
The only dietary recommendation to deal with Vitamin D deficiency is to consume natural sources of Vitamin D and also calcium-rich foods.
If you are committed to a vegetarian or vegan lifestyle long-term, then a personalized vitamin plan can help you achieve your health goals.
No two vegetarian diets are exactly alike. Every aspect of your lifestyle, not just your dietary preferences, can influence what supplements you should take. It's important to be thoughtful about your daily nutrition, as vitamin deficiencies can have long-lasting effects.
Potatoes are a good source with a large baked potato or a medium portion of boiled potatoes covering half your daily needs.
That's not to say you should eat potatoes every day, though! Aim to eat fruit or vegetables with every meal, including snacks and make green leafy vegetables a staple of your dinners and you'll be fine.
You can consult a dietician to ensure you're taking the right vitamins and supplements to complement your diet and lifestyle. For nutrients like vitamin D and iron, a blood test may be necessary.