Nail polish removers are created specifically to remove nail polish but what happens when you run out of nail polish remover or you can't get new nail polish remover on time and you need to clean your nail polish? That happens a lot especially if you paint your nails yourself every weekend.
Do you know they are some home essential you can use to remove your nail polish? Some of these essentials are mentioned below and you will be surprised to find out what they are.
Also, the fingernail is very sensitive, therefore some nail polish remover can be a hindrance to the growth of your nail, you should also not try to scratch the nail polish off your finger as it can ruin the look of the nail polish on your hand and won't even get anything done.
Removing your nail polish without nail polish remover should be an easy task, as you can not depend on the availability of nail polish removal at all times and as mentioned before, scratching off your nail polish can weaken your nails.
5 Ways to Remove Nail Polish Without Nail Remover
There are different types of nail polish though and in this case, you can actually use these methods listed below for all kinds of nail polish as most of the products have ingredients that solidify nail polish.
1. Alcohol
Alcohol, formerly known as ethanol has the ability to remove your nail polish without causing any damage whatsoever. Very simple to use and won't make a mess of your nail, just dip a tissue in and you can remove your nail polish with it just like using a nail polish remover.
In a situation where you can't cope well with the smell or use any other alcohol based product listed below.
Perfume, Bodyspray, and  Deodorant. if you have the ones that are hand made and can be easily unscrewed.
Hand sanitizers, they do contain ethanol
 Other Alcoholic drinks, like pure gin or vodka, might not be your considered option but they work well too and you can soak your hands in it for a minute to get the nail polish off faster
2. White Vinegar Or Vinegar Solution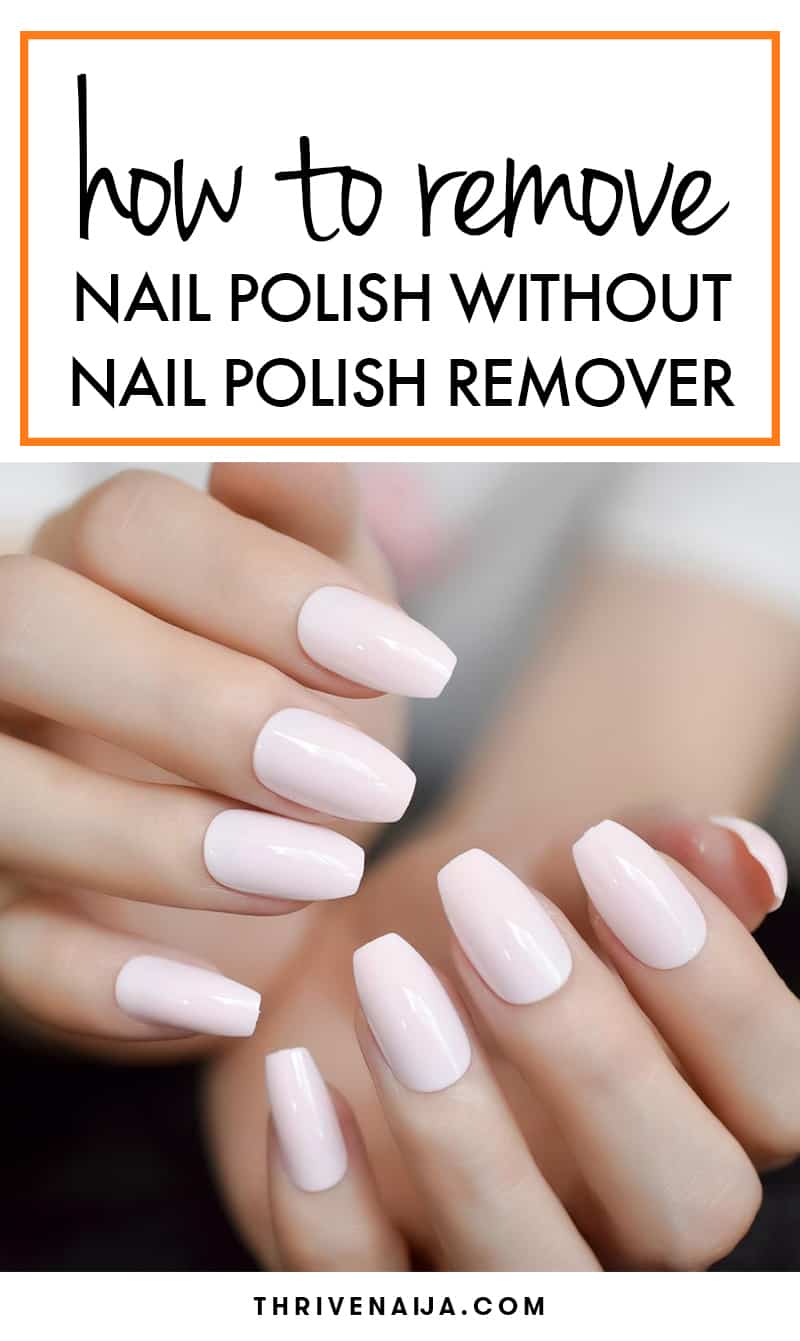 To maximize the potency of this vinegar you can add some lemon or orange to it. Vinegar is very good at removing nail polish and also an all natural cleaner used around the house so easy to get this.
White Vinegar is really strong and if the smell is too much for you to cope you can get the vinegar solution as they smell less irritating.
Soak your hands inside a vinegar mixed with lemon or orange for 10-15 but if using just vinegar, then 5 minutes will do the trick.
Remove your hands afterward and the nail polish will remove themselves, do not try to peel them off with your nails as that can mess the nails off instead.
3. Lemon
Lemon is a natural nail polish remover and you will be happy to know it does not affect the nails in any way but rather health to the nail, you should add lukewarm water to it to enable it to soften the nail polish and easily remove the nail polish as well although you can just rub the lemon on your nail to remove it as well.
Here is the process that can help you remove it easily.
Soak your fingers with nail polish in lukewarm water for about 3-5 minutes
Rub the lemon on it gently after soaking
Use a nail oil to clean it.
Lemon has additional health benefits. Here's a complete list of the things lemon can do for you.
4. Use Toothpaste
Some basic toothpaste contains remover ingredients especially Colgate toothpaste, any toothpaste can be used though as every toothpaste that can whiten teeth can remove nail polish as well.
Put a pinch-sized paste on each nail polish
Leave for 10-15 minutes, then scrub off.
You do not need to scrub hard as leaving it for a while already soften the nail polish.
5. Hydrogen Peroxide With Hot Water
Hydrogen peroxide alone can peel off the skin of your nail so to avoid that you need to add hot water to it and we do not mean burning hot water, just hot enough to get the work done but still soothing to the skin and you can soak your nails in hot water constantly to make your nails stronger.
Mix 2 parts of hydrogen peroxide with hot water meaning the hydrogen peroxide should be 2 cups if the hot water is 1 cup
Soak your hand in it for 10 minutes
Gently use a filer to remove the nail polish.
These methods only apply for removing nail polish from your finger but if you need to remove acrylic nails when you are at home then you can use this process to get that done.
How To Remove Acrylic Nails At Home
Getting rid of Acrylic nails by yourself is not as complex as it sounds, you can always go to the salon to get it off if you discover if you are feeling pains under the nail to avoid further damage.
This process below can be used regardless of the length of the acrylic nail.
What You Need To Remove acrylic nail at home
A tweezer
Acetone-free Nail Polish
Warm water.
How To Remove Acrylic Nails
If you are wearing a long acrylic nail, you should clip it as short as possible to make it easy and avoid injury while removing it.
Pry the edges with the pointy edge of a tweezer
Pour some acetone free nail polish remover in a bowl
Soak your hands in the nail polish remover for 30-40 minutes
Once you feel the nail loosened, gently pull it out with the tweezer
Soak your hands in warm water afterward to soothe your nails.
Nail polish and fixing acrylic nails help beautify a ladies nails but too much might not be healthy to your nails and you should take care of your nails more often to aid it to grow and stay strong.
Take a pause and a break from acrylic nails and nail polish to take care of them with these methods listed below.
How To Take Care Of Your Nails After Removing Nail Polish
Every lady loves long well-clipped nails and you get nail polish to hid those nails but it only gets worst, you need well-cultured nails to make your nail polish look even more beautiful.
Do this after removing your nail polish and before fixing new ones.
Wash your hands, up to your wrist with clean water and soap
Use a nail brush to clean under your nails to get the dirt out
Soak in warm water to make it soft and tender
While your hands and nails are soft, trim them
Use a hand lotion or cream after trimming, don't clean, let it dry.
Use nail oil to rub your fingers.
You should also use an essential oil like coconut oil, olive oil or avocado oil to rub your nails constantly to aid it to grow long and strong.
Taking care of nails is also an important aspect of a ladies routine.
---
After this post, we hope you won't have to scratch or peel off your nail polish to get it off? If you want to know more about how you can take care of your nails you should read 9 Simple Tips to Make Your Nails Super Strong and Clean
More beauty tips on our Instagram @thrivenaija