Looking for protective hairstyles for your natural hair? Senegalese twist has always been in trend and is surely getting even better this year. This hairstyle is a good protective hairstyle since there is no manipulation, and it is popular among black women who are trying to embrace their natural hair.
Senegalese twist is also known as rope twist and its name is for the West African country of Senegal. This is a really cute hairstyle and doesn't require much time to achieve.
There are also many ways to style this twist, it is considered easier to make than box braids. Braids are heavier than Senegalese twists too.
It is a less expensive choice as well. Senegalese is a classy hairstyle that screams cool, and you can't be wrong with it. So, here are some of the fascinating ones you try.
31 New Senegalese Twist Hairstyles For 2023
Although twists are high-maintenance hairstyles this also means they can last longer. You can achieve a Senegalese twist on any hair type without applying too much pressure. You can also go with an extension or your natural depending on your preference.
1. Short Brown Two Strand Twist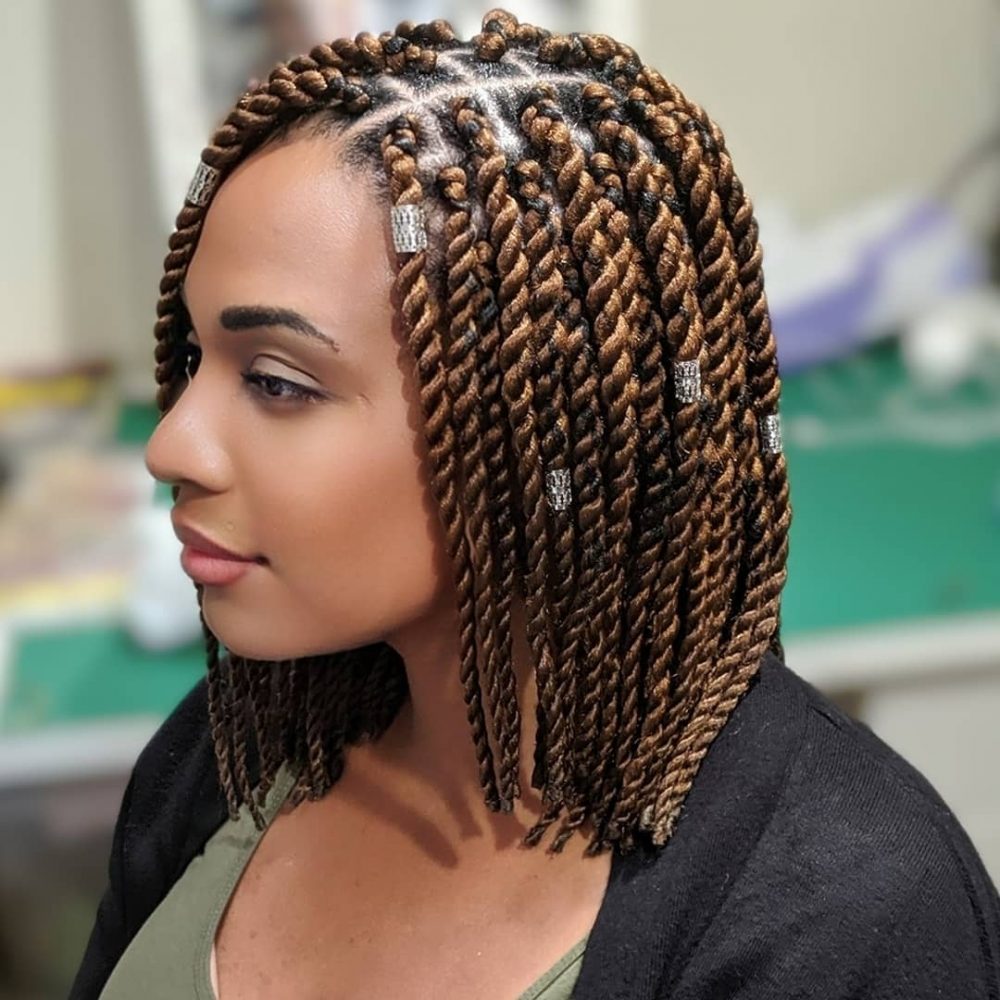 The bob Senegalese twist is new and fresh which makes it the perfect hairstyle for natural hair. This is also a highly recommended hairstyle for those who are transitioning from relaxed to natural hair. It helps in blending the two hair type while also protecting your hair from damage.
2. Short Marley Twist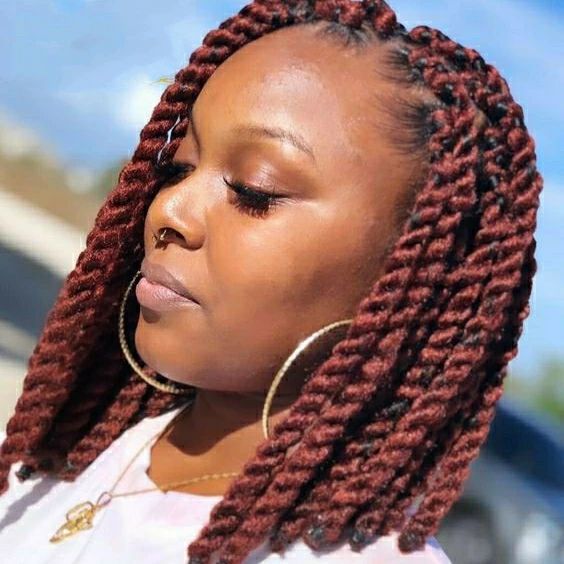 The short Marley twist is another very popular type of Senegalese twist. This hairstyle shouldn't take time, and it is highly loved for being comfortable and trendy. However, you can go with the long ones based on your preference.
3. Imperial Senegalese Twist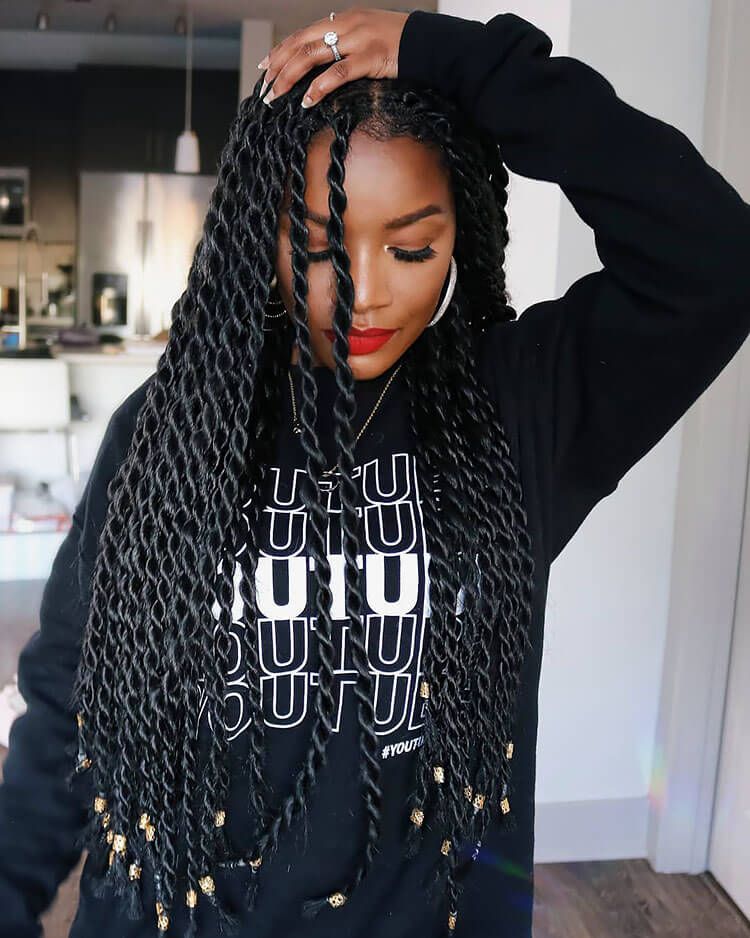 Need a stylish twist hairstyle that speaks volumes, length, and beauty? This is the ideal Senegalese twist hairstyle to try.
4. Senegalese Flat Twist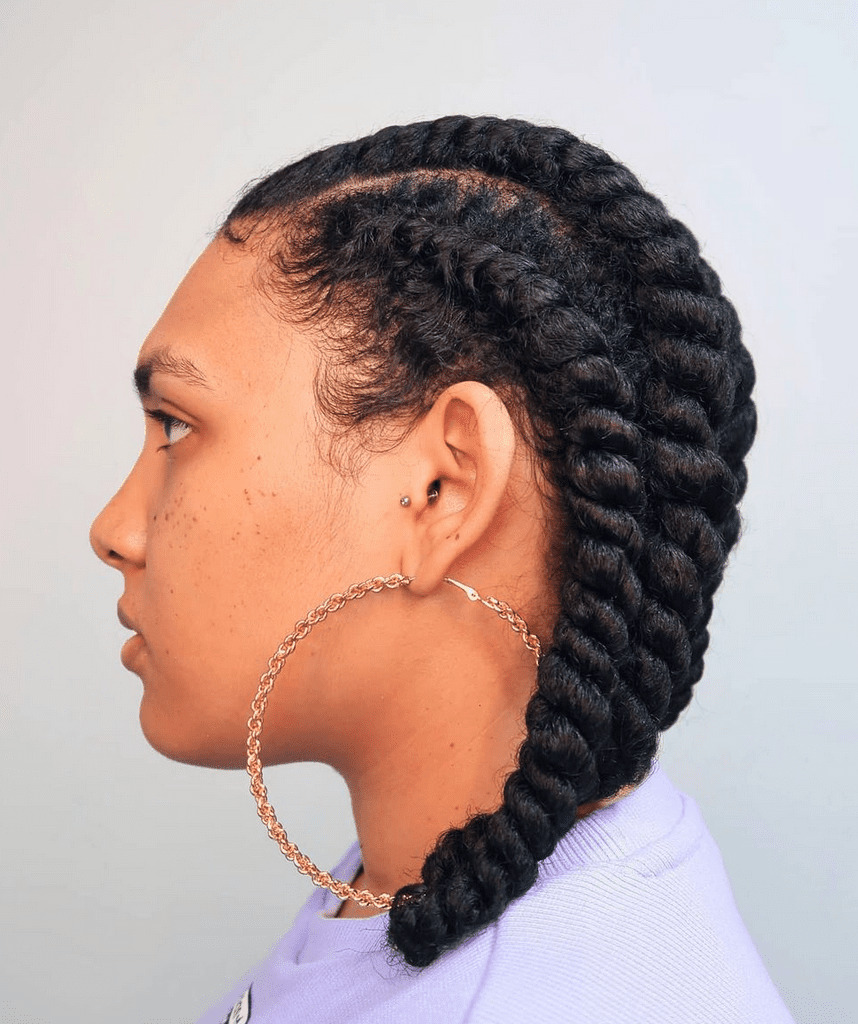 It does not have to be two strand twist for you to achieve a Senegalese twist. This hairstyle is really cool, and you can make it at home yourself which makes it the go-to protective hairstyle for naturalist that hates sitting at the salon for too long.
5. Ponytail Senegalese Twist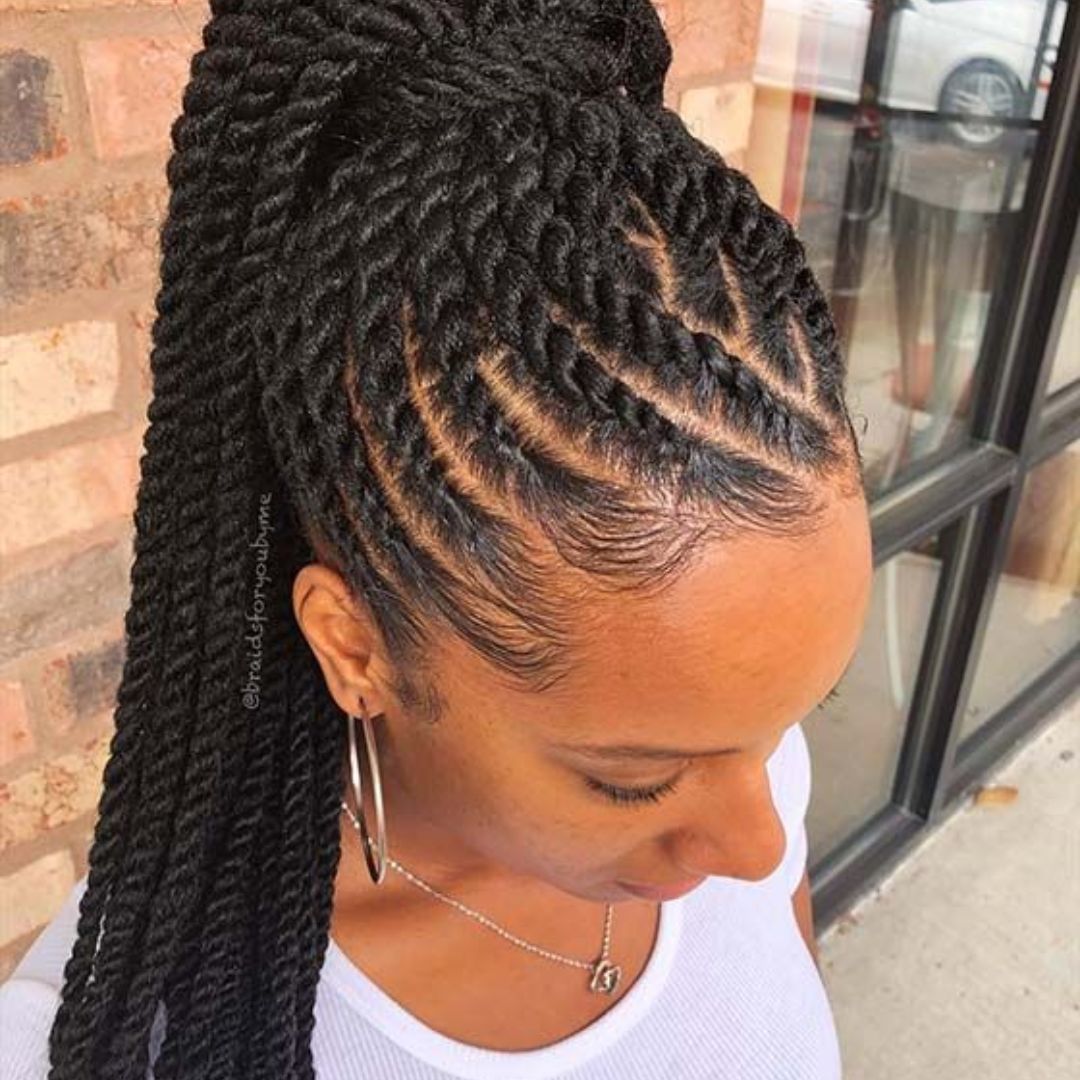 The Senegalese cornrow twist might have recently been introduced, but its increasing popularity can't be missed. It's a really cool hairstyle, although it does take time to make, however, there is less breakage compared to three strand twist.
6. Cute Short Junky Two Strand Twist
Keep it simple, short, and cute just like this. This is suitable for any hair type, shape or occasion.
7. Crochet Senegalese Twist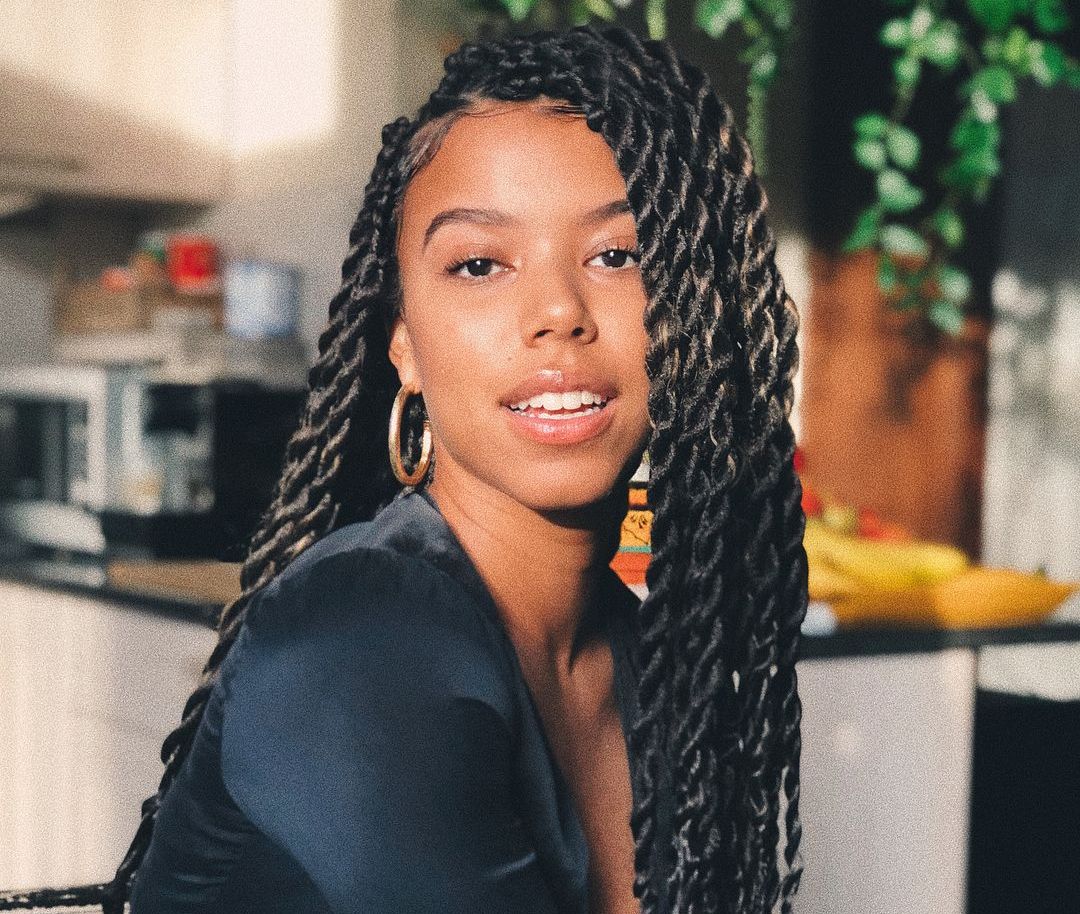 You do not have to spend hours making Senegalese twists when crochet can help make things faster and easier. This just needs some cornrows, and you can install the twist one after the other using a crochet needle. This is just the perfect all-occasion hairstyle, nothing too dramatic about it, but it's quite fancy.
8. Large Simple Senegalese Twist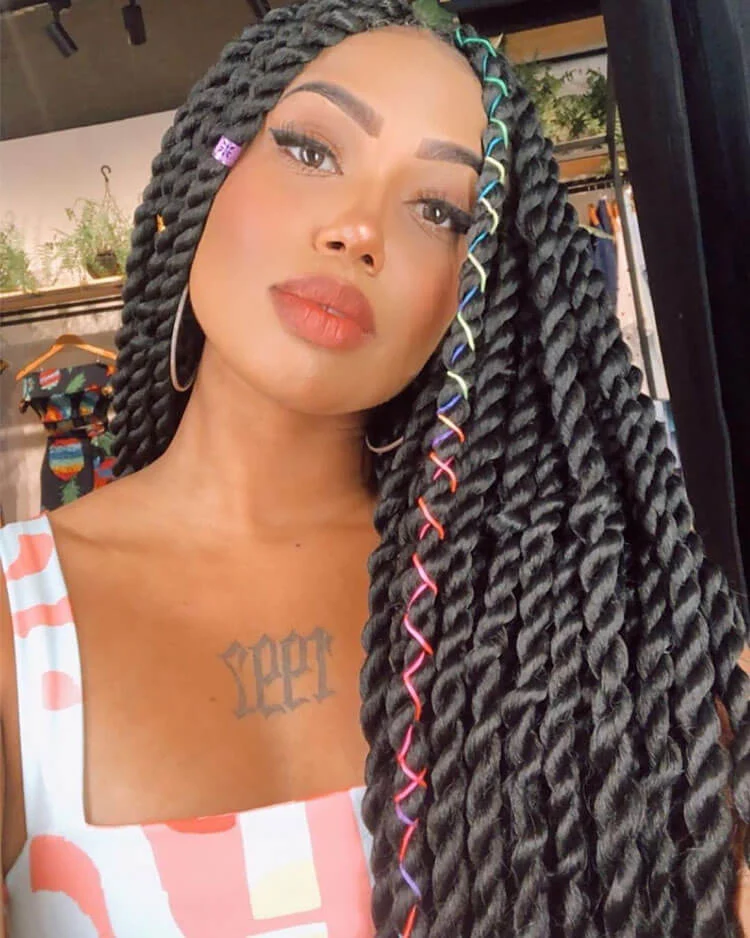 Twist can be just as gorgeous as box braids, there is a unique form of styling that comes along with it. This can be styled in so many ways which can explain why it's a popular type of twist. It's a jumbo twist braid so it shouldn't take the whole day to make.
9. Jumbo Burgundy Twist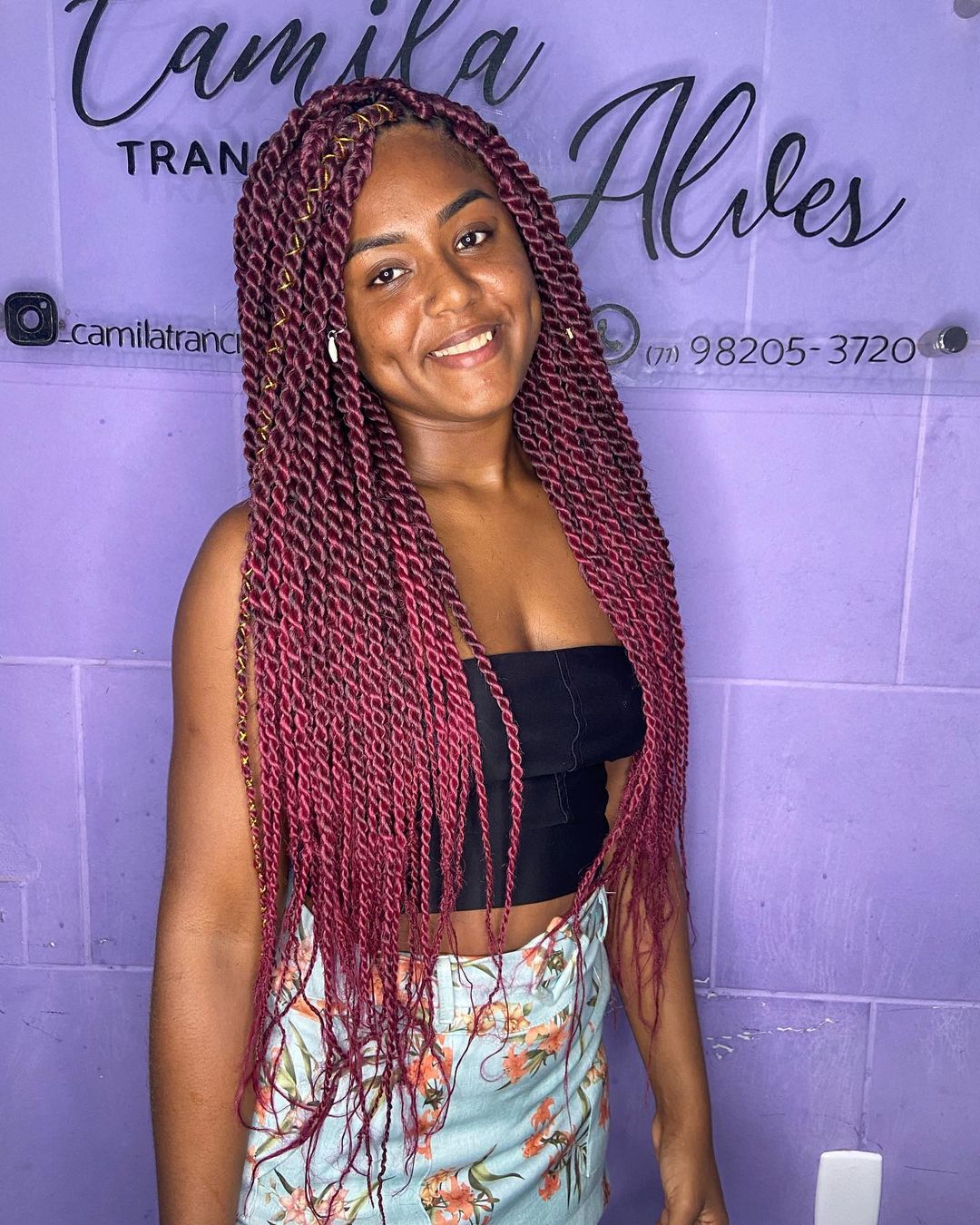 If you like colors just like the rest of us, burgundy makes quite an eye-catching extension for a twist. You can choose to have the color blended with black or another cool color.
10. Blonde Twist With Side Feed-in Braid
These twists are only going to take two hours, they always turn out really amazing. You can have your edges laid mostly on the feed-in side, but it definitely creates a lovely and elegant hairstyle.
11. Small Senegalese Twist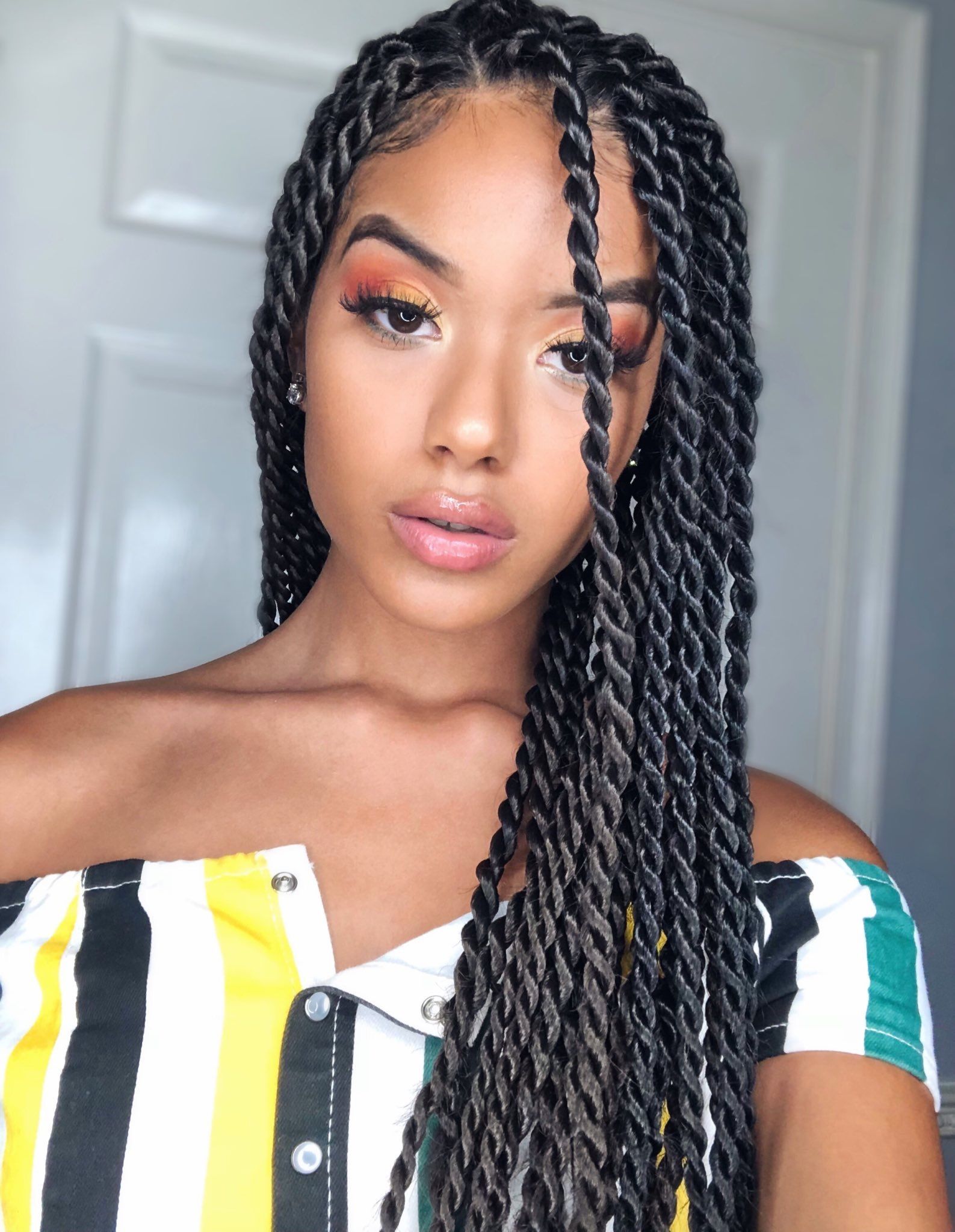 Here is one of the simplest but most gorgeous Senegalese twists for you. This one won't take much time to twist although a bit small, and you can use any kind of extension to achieve it. You can also go the long or short length, but the medium/small size is great for keeping it light.
12. Jumbo Senegalese Twist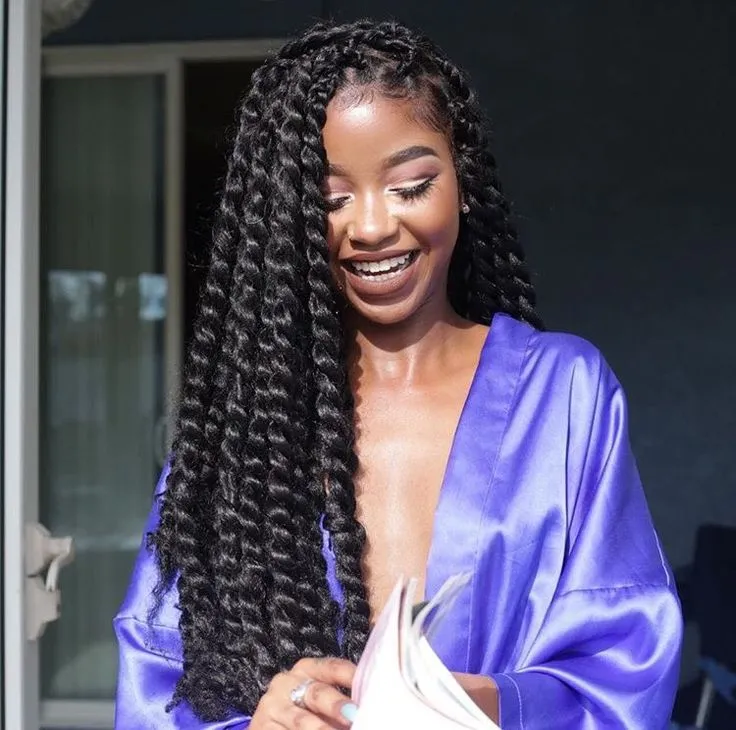 Jumbo Senegalese twist is another cute and classy way you can protect your hair from damage. This might look big and heavy, but it's and a much-preferred option to jumbo box braids on soft hair types.
13. Natural Hair Senegalese Twist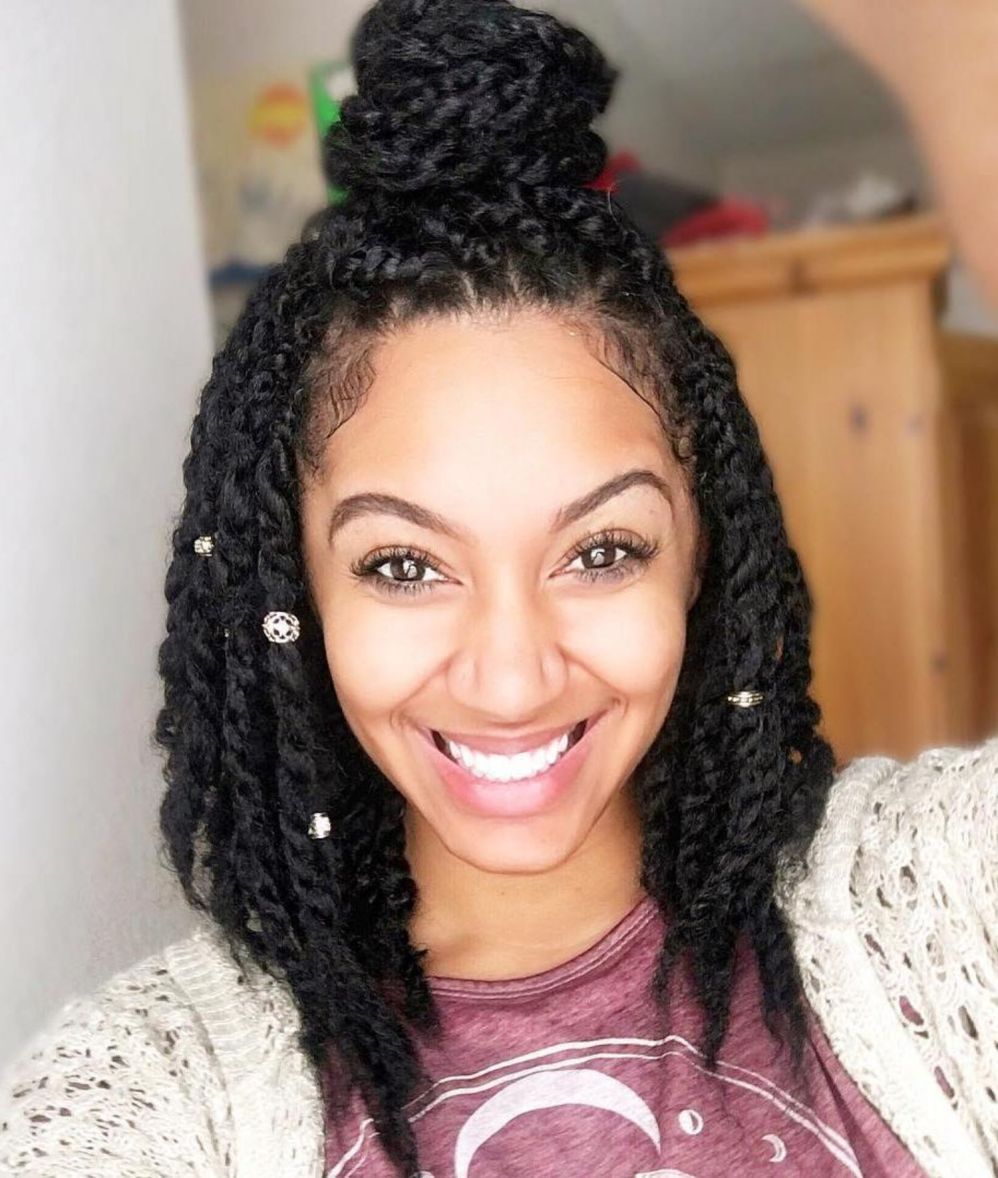 Extensions are not the only way you can achieve a Senegalese twist. The natural hair twist is down the same as you would do twist hairstyles. This is the go-to protective hairstyle for many with natural hair.
14. Medium Senegalese Braided Twist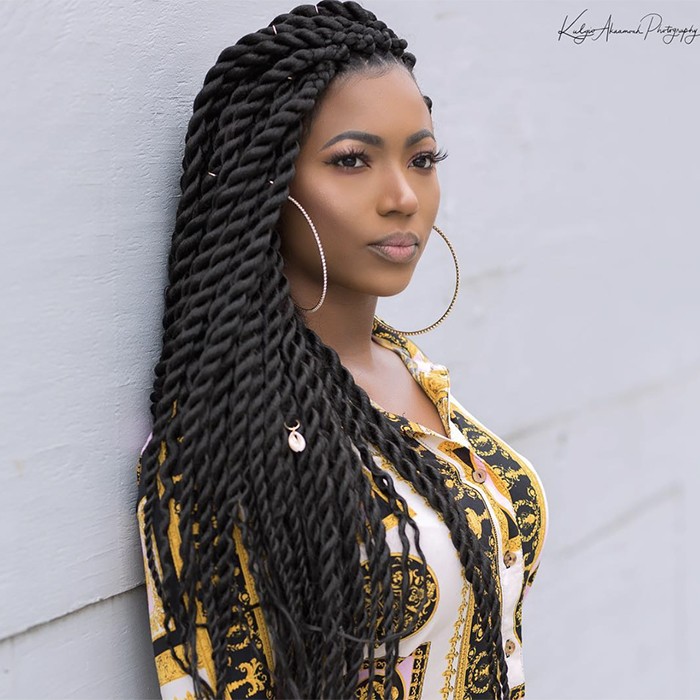 One of the interesting things about the Senegalese twist is that it makes one look chic and classy. Here is another length and size you can go for. This doesn't weigh your hair down either.
<
15. Senegalese Two-Color Rope Twist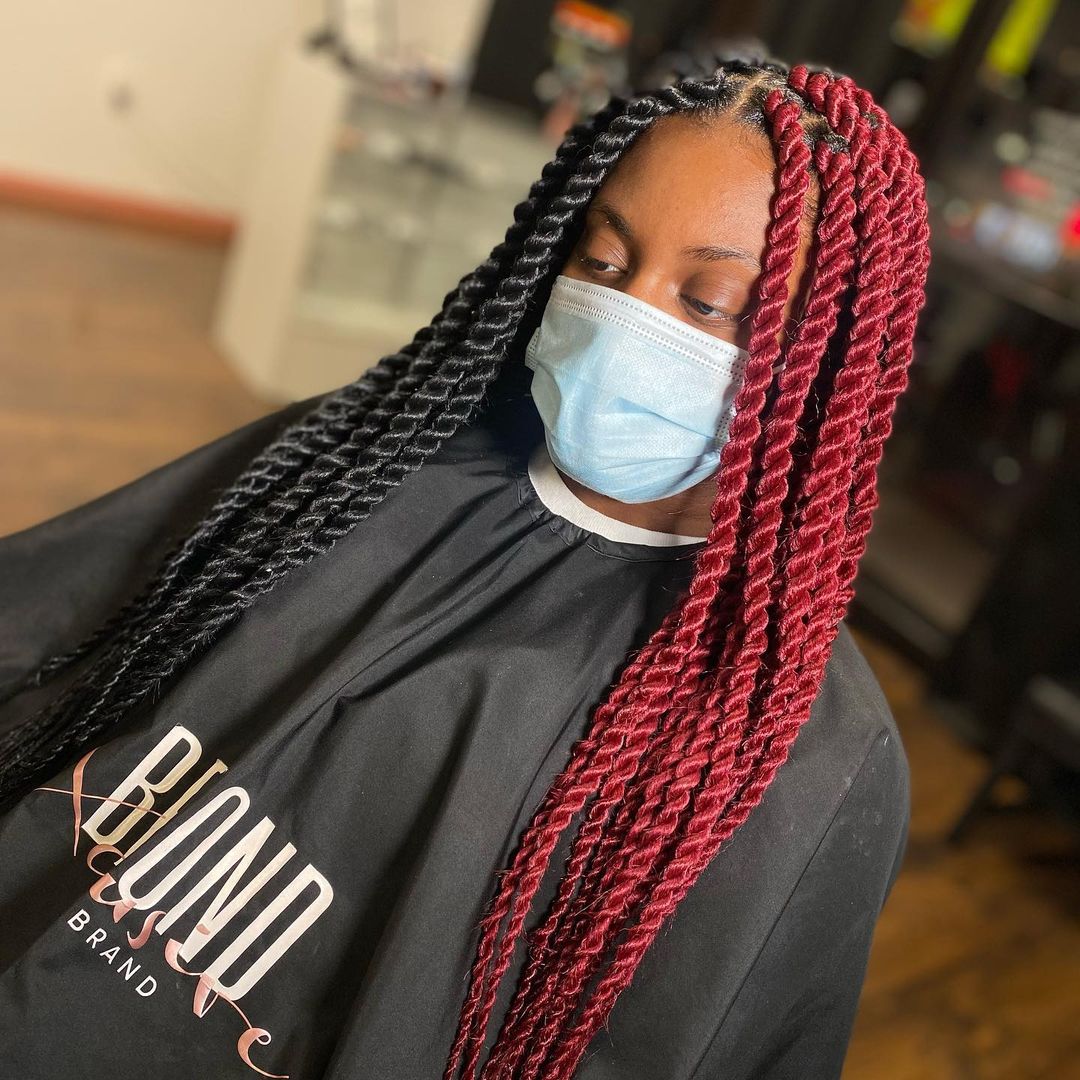 Mixing colors on any kind of hairstyle can be really fun and with twists, it is the perfect way to make it look plain. Two pattern colors work all the time on Senegalese and you can go with any length or size you want.
16. Medium Blonde Senegalese Twist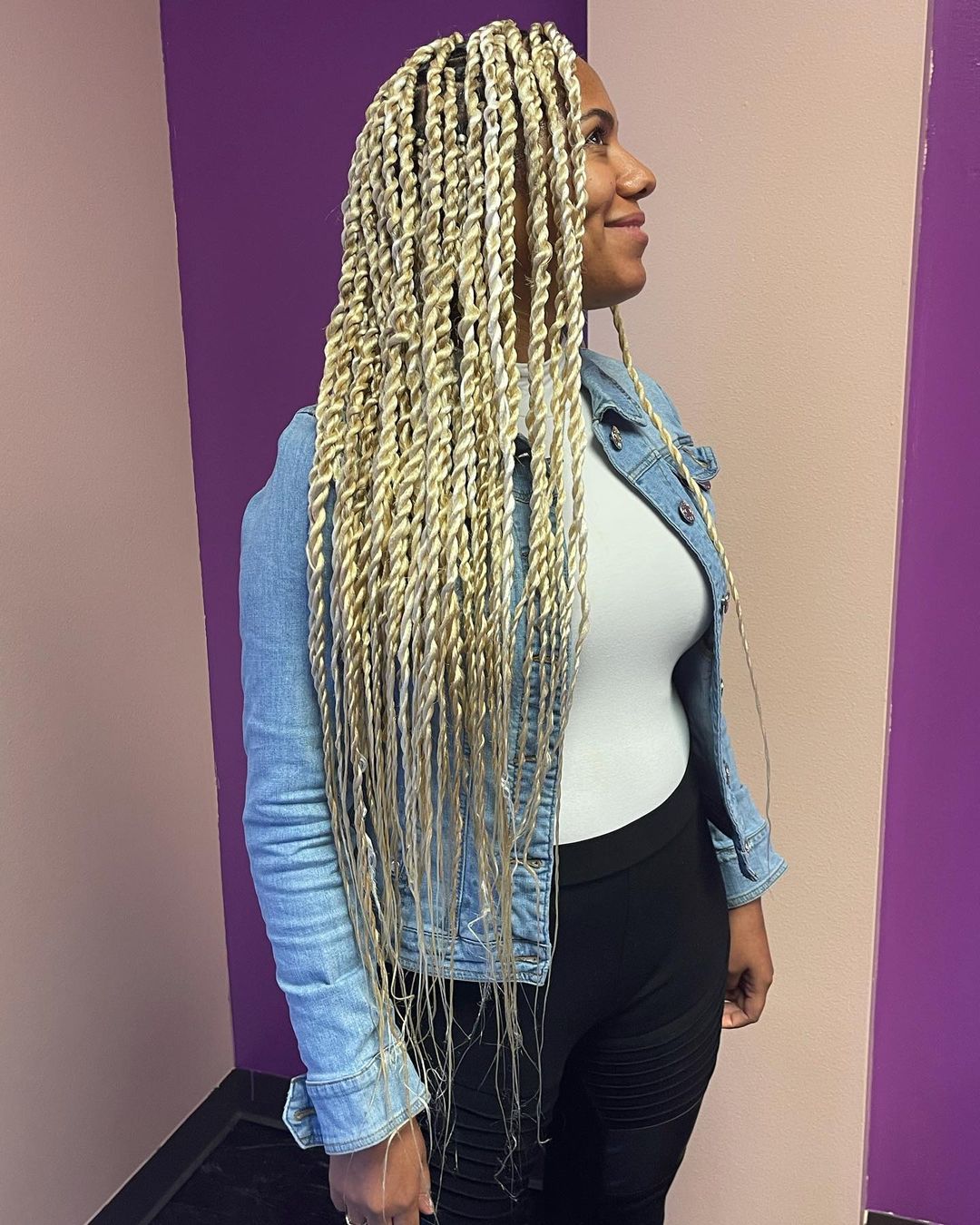 If you are tired of the constant coloring and use of heat on your hair then you should try something less damaging. A blonde twist gives you color and a protective hairstyle to wear for a while.
17. Tight Coiled Rope Twist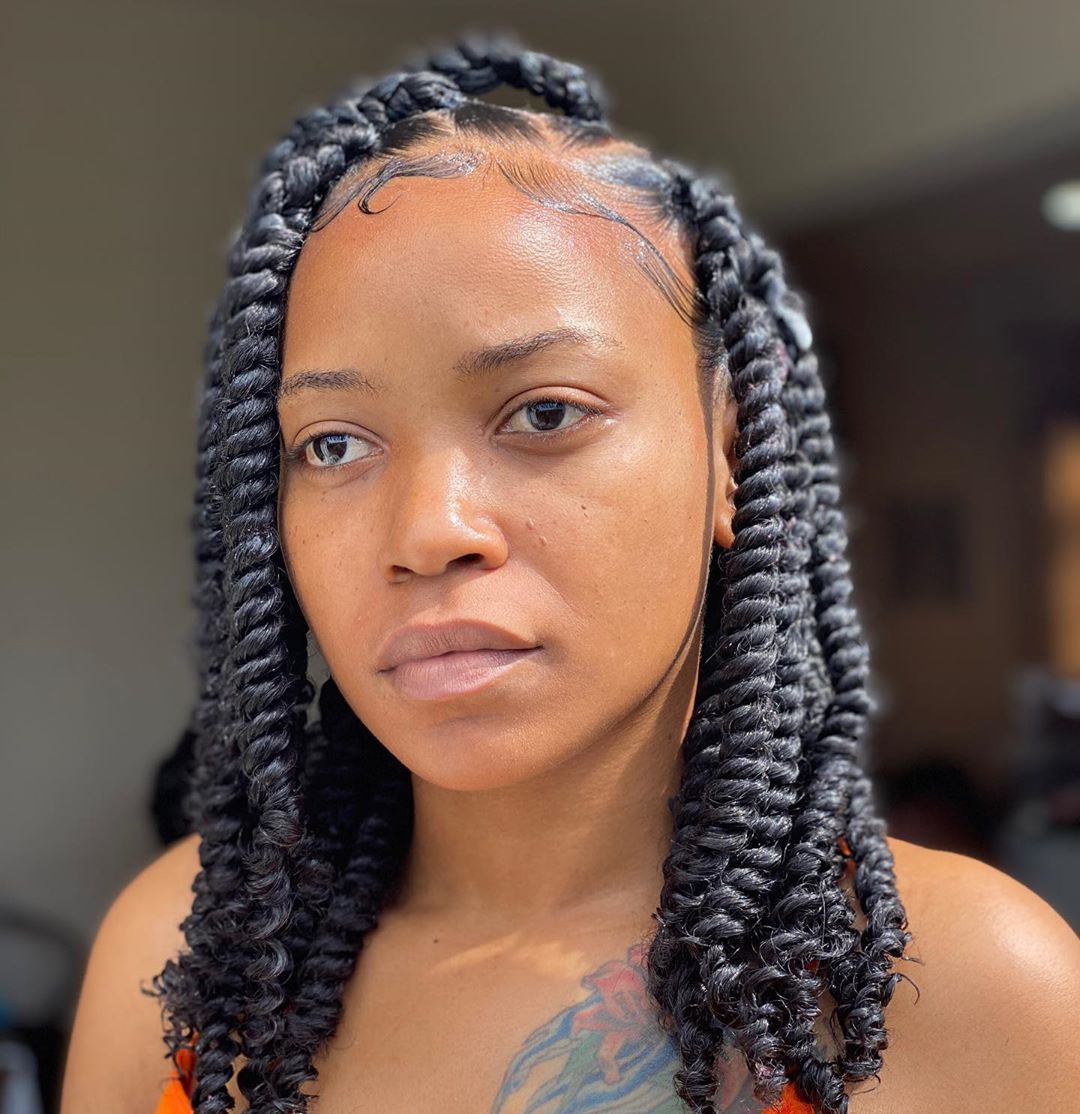 The tightly coiled rope is another form of Senegalese twist and it is called Marley twist as well depending on the type of hair you are using. This is quite cool too and although it's plaited tight at the base, it does no damage to your hair, and it's low maintenance.
18. Stylish Twist With Curls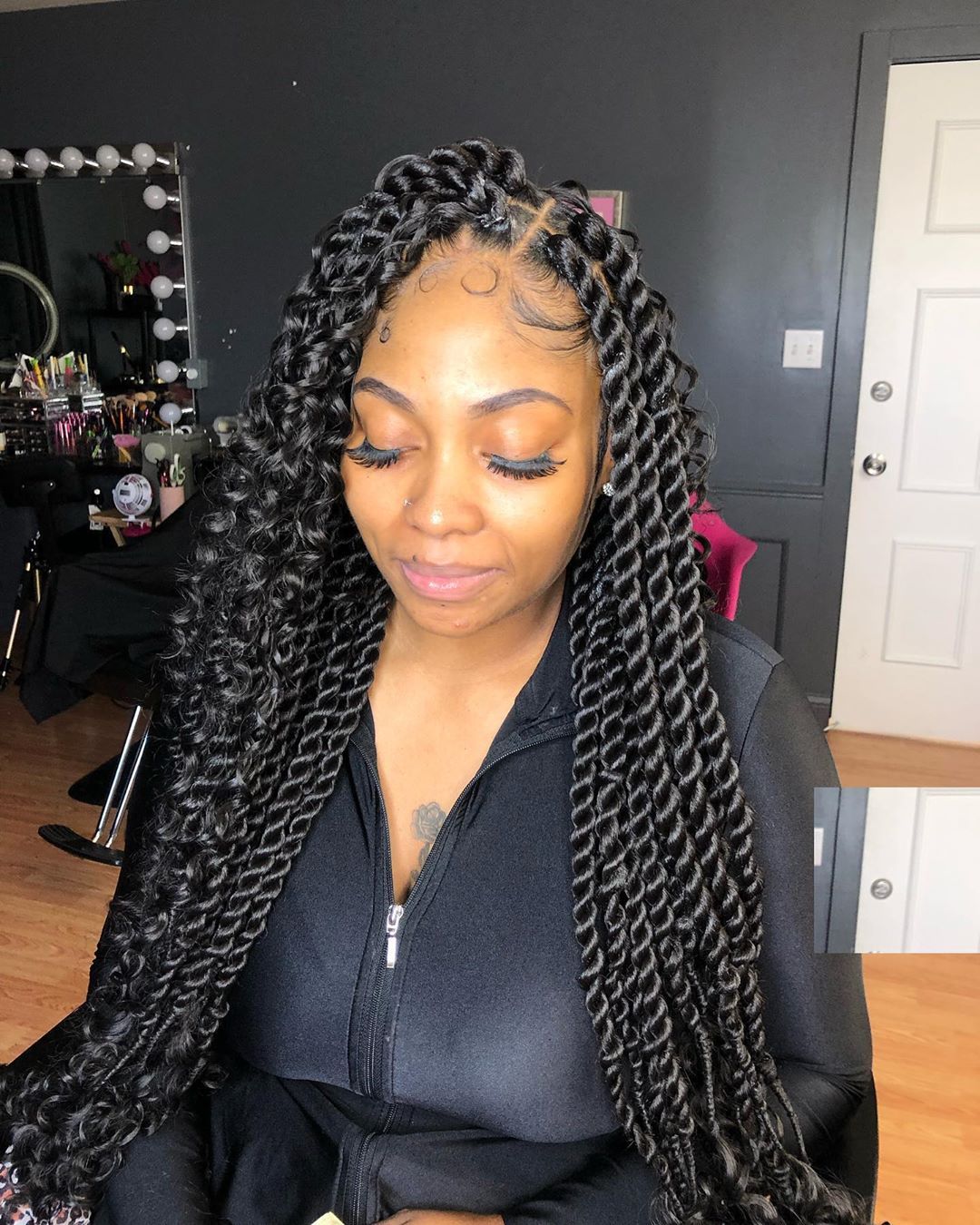 If you are looking for something fun, but less dramatic then try this. This is another protective hairstyle that keeps your hair in a lock and there are so many ways it can be styled.
19. Classy Senegalese Twist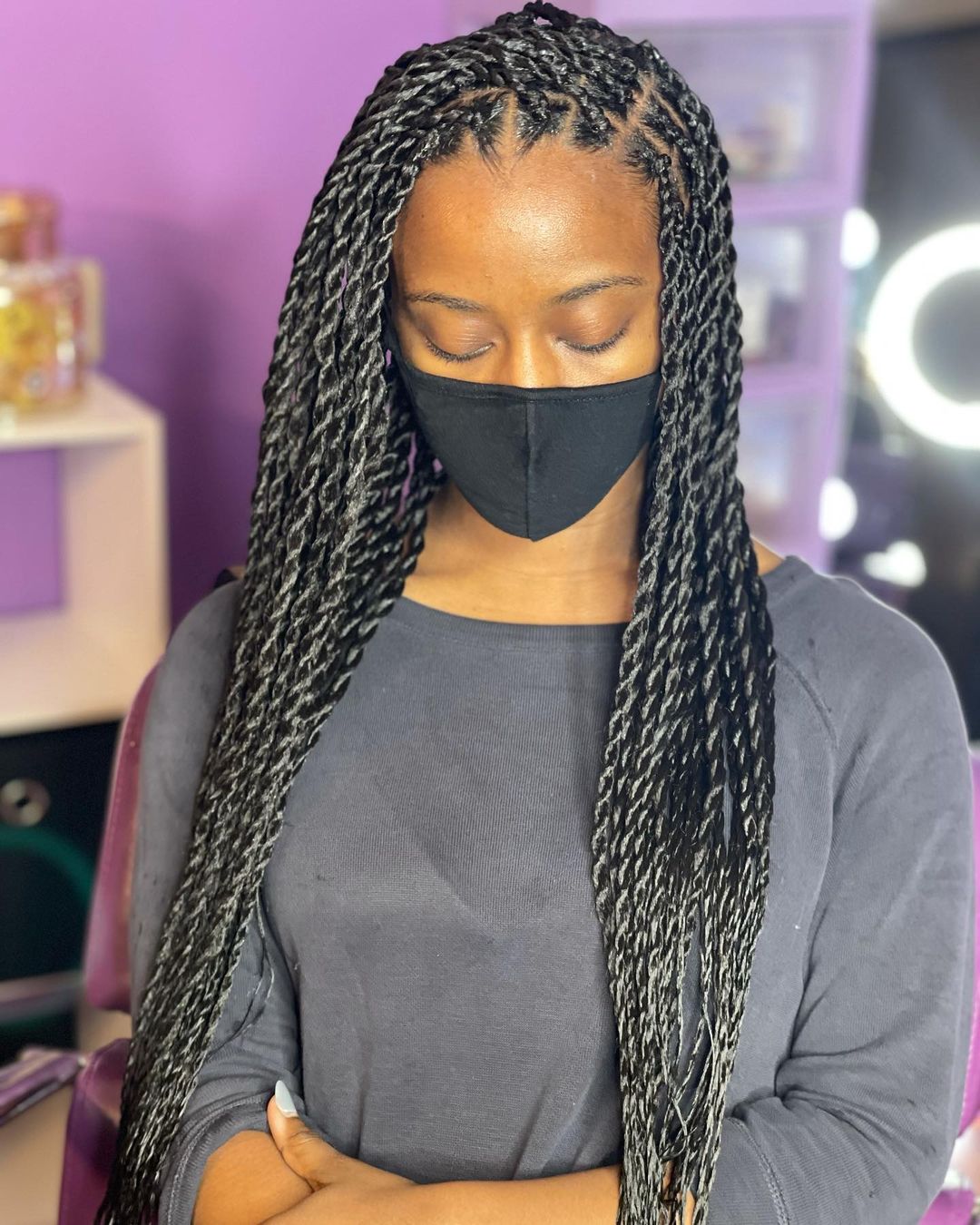 The hair length is going to determine how long you spend in the salon, but this is a real option to go for. This can be formed by using any hair extension of your choice.
20. Senegalese Box Braid Twist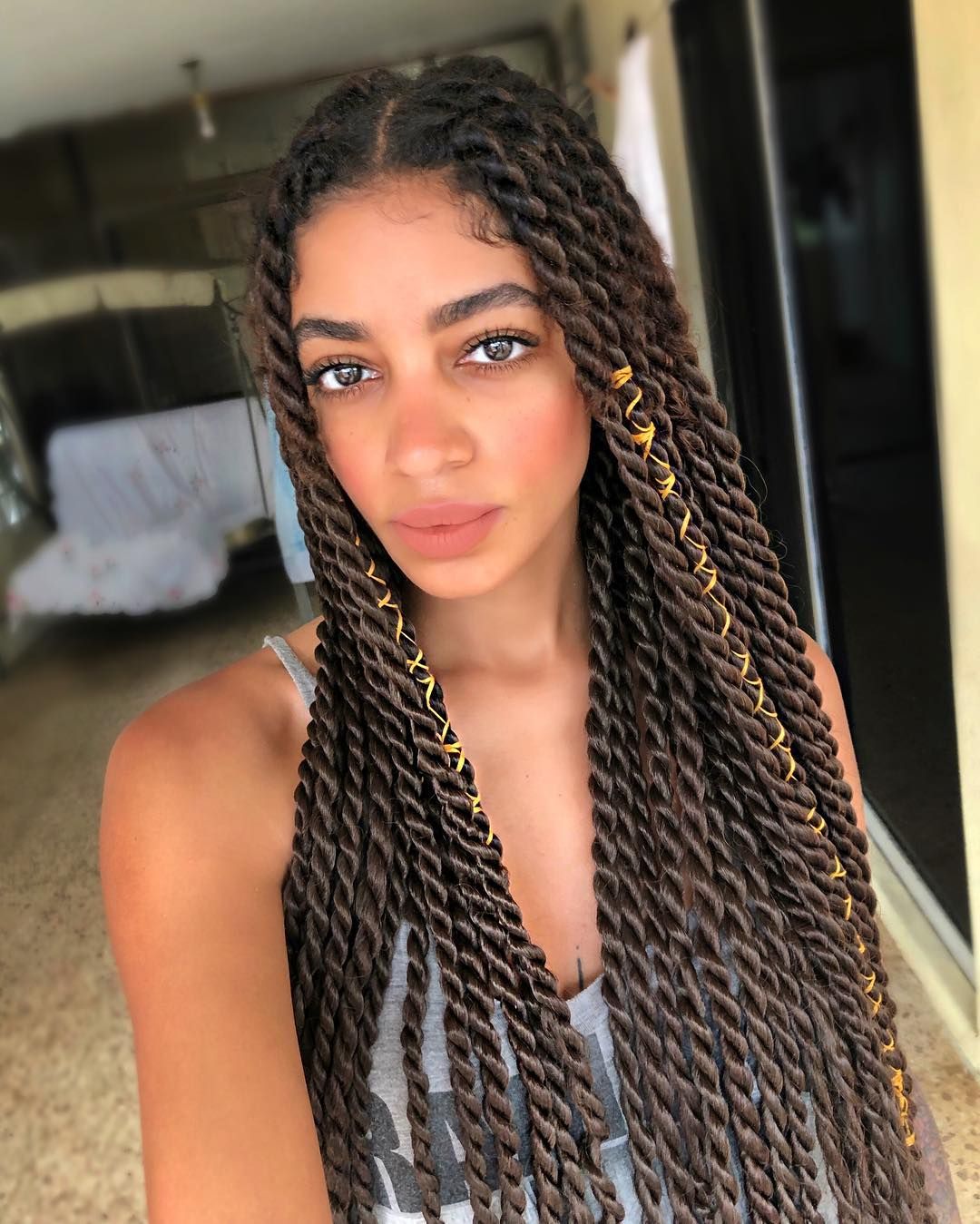 This is still a Senegalese twist but called a box braid twist since it's done o the scalp and often requires starting with a box braid. It's another gorgeous Senegalese twist worth trying.
21. Long Senegalese Twist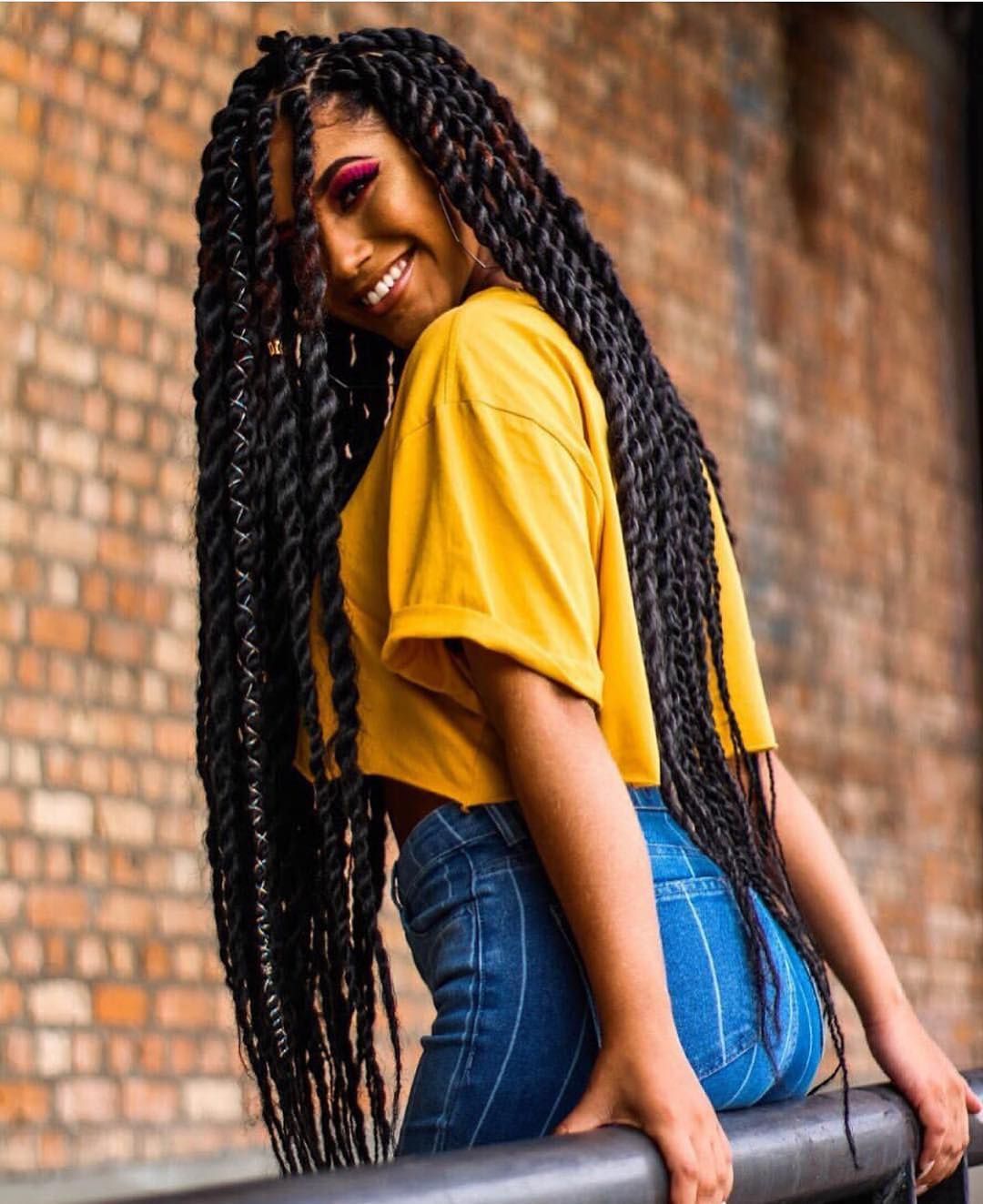 Long hair will always be in trend, and we must there is something about it, you can't help but love. You will need to add as much extension as needed, and if it's disturbing you, simply style it into a bun.
22. Loose Senegalese Twist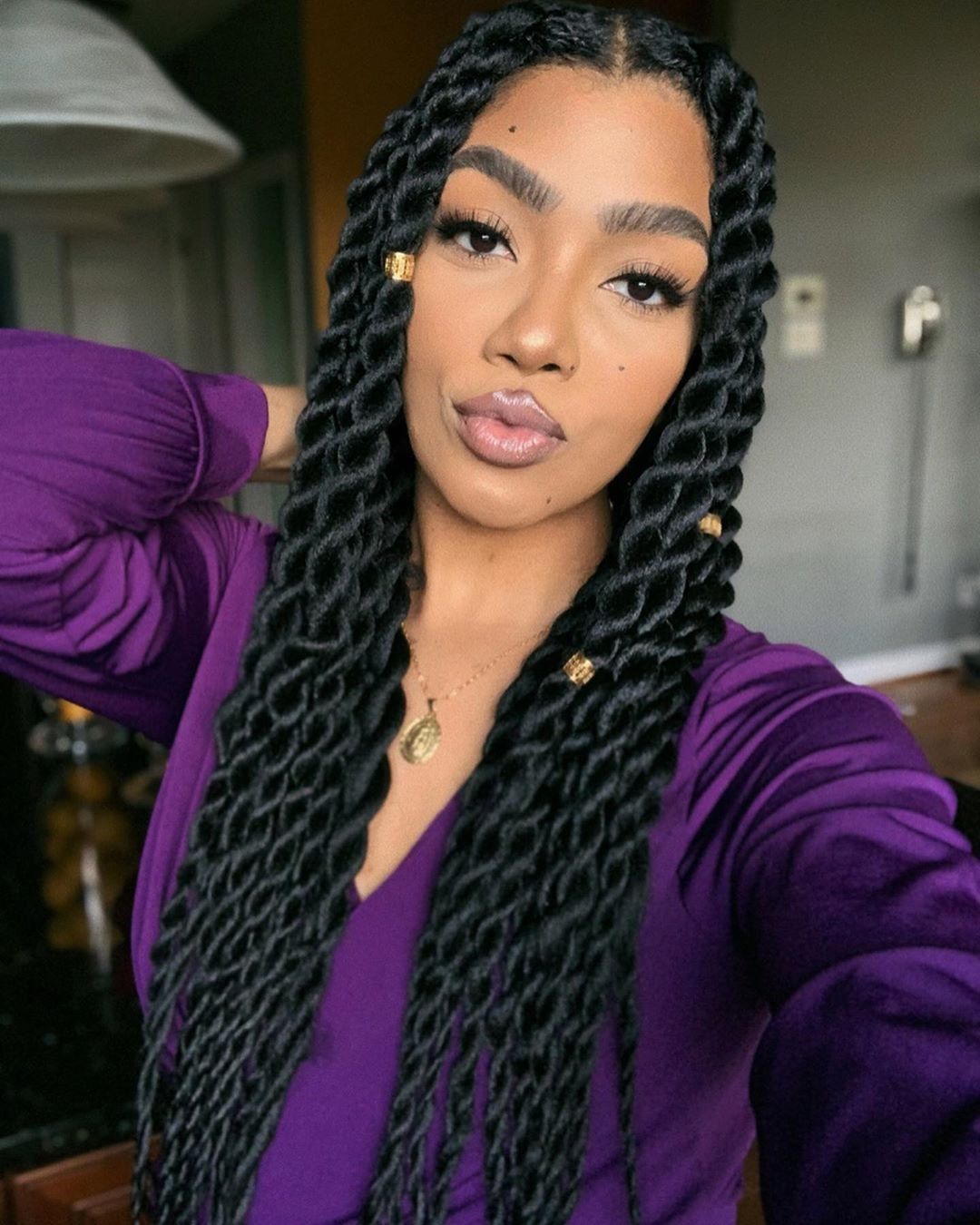 A loose Senegalese twist is another interesting way you can get this trendy hairstyle. These black rope twists are worth installing on any hair type, take less time and there is no manipulation on your hair and scalp either.
23. Side Parting Senegalese Twist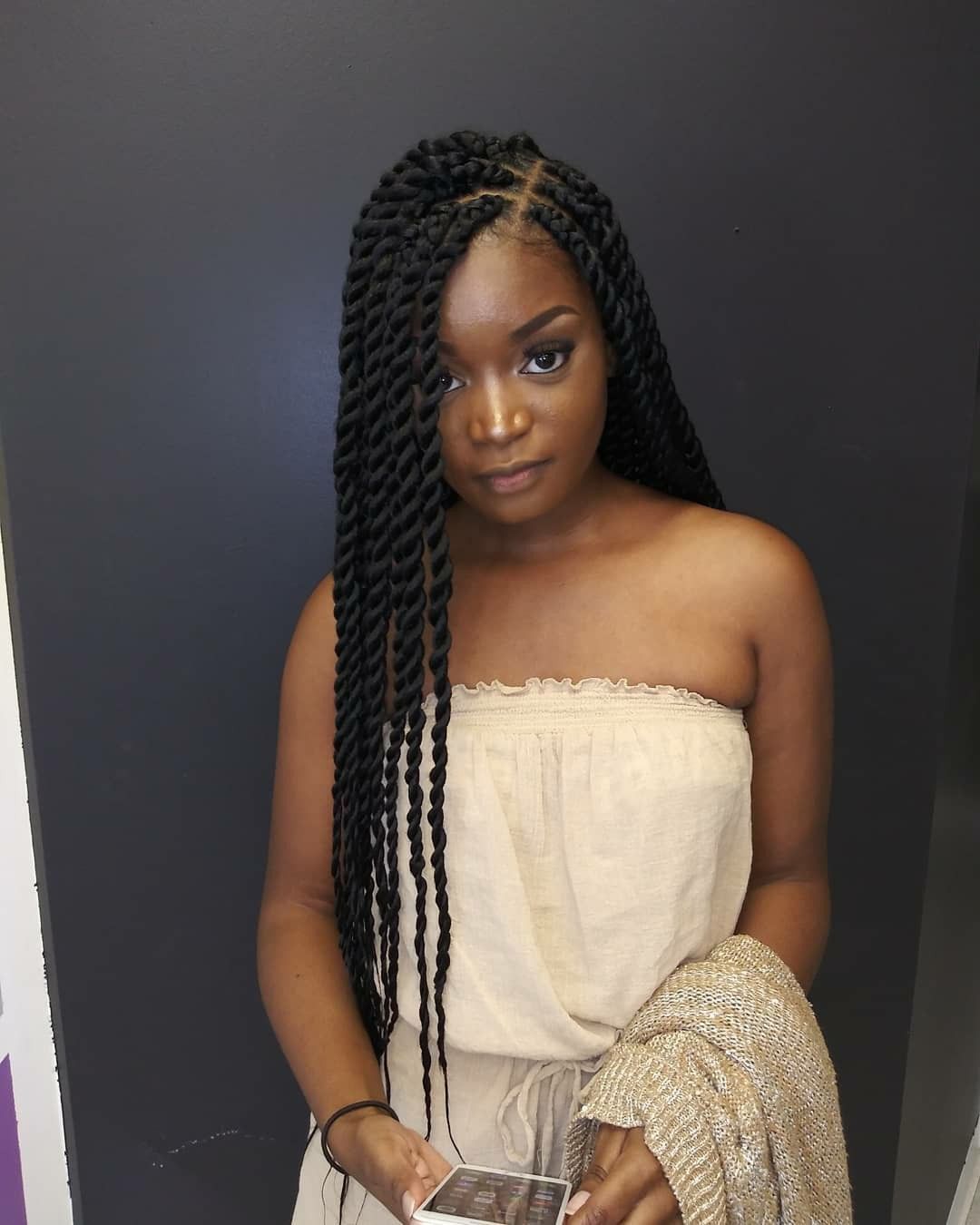 Colors are not the only way you can highlight your twist. A simple parting at the side or center will have the same chic effect.
24. Brown Senegalese Twist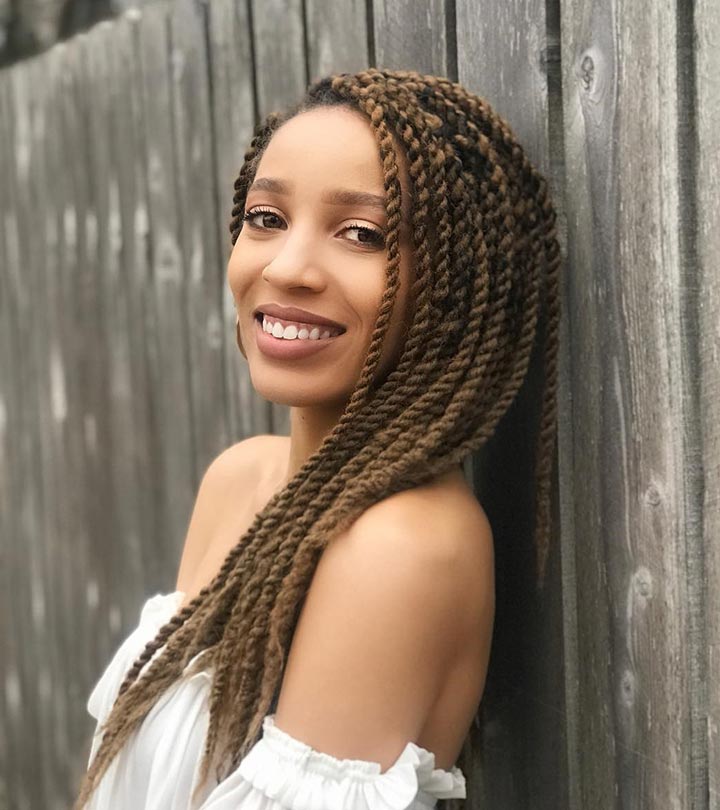 Senegalese twists allow you to be creative. So, if you are not into synthetic extensions then you can go for Brazilian wool or even kinky hair. This makes it look more polished and cute.
25. Grey Senegalese Twist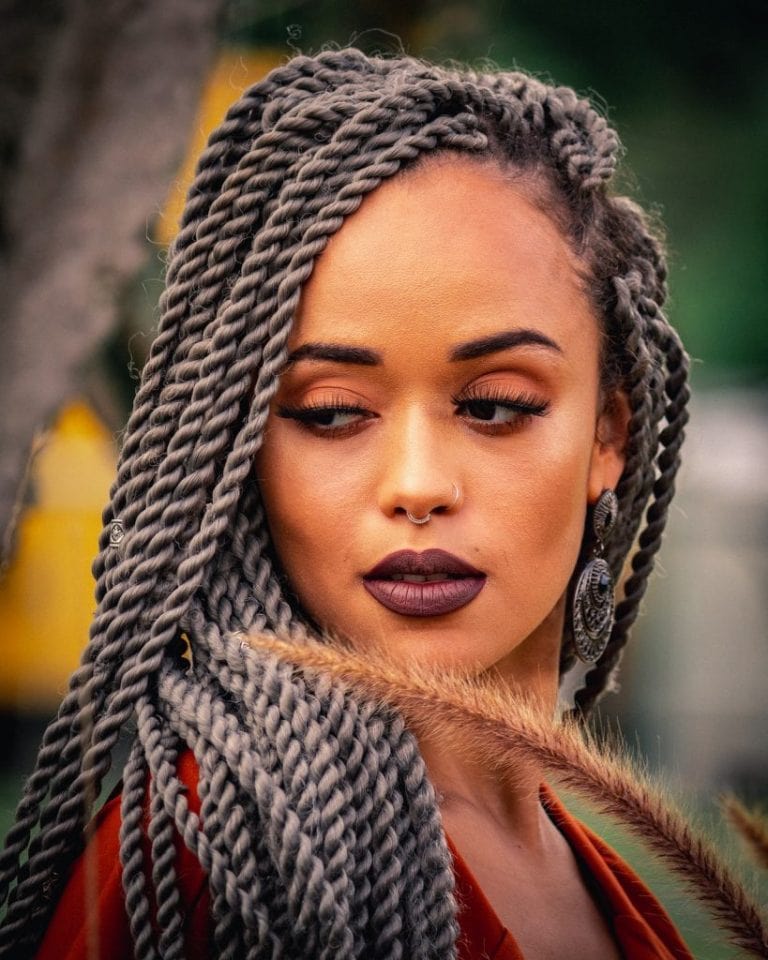 Grey is that color that helps keep things cool. To give your twist a statement and still make it look cool, gray is the color you might want to try.
26. Large Senegalese Twist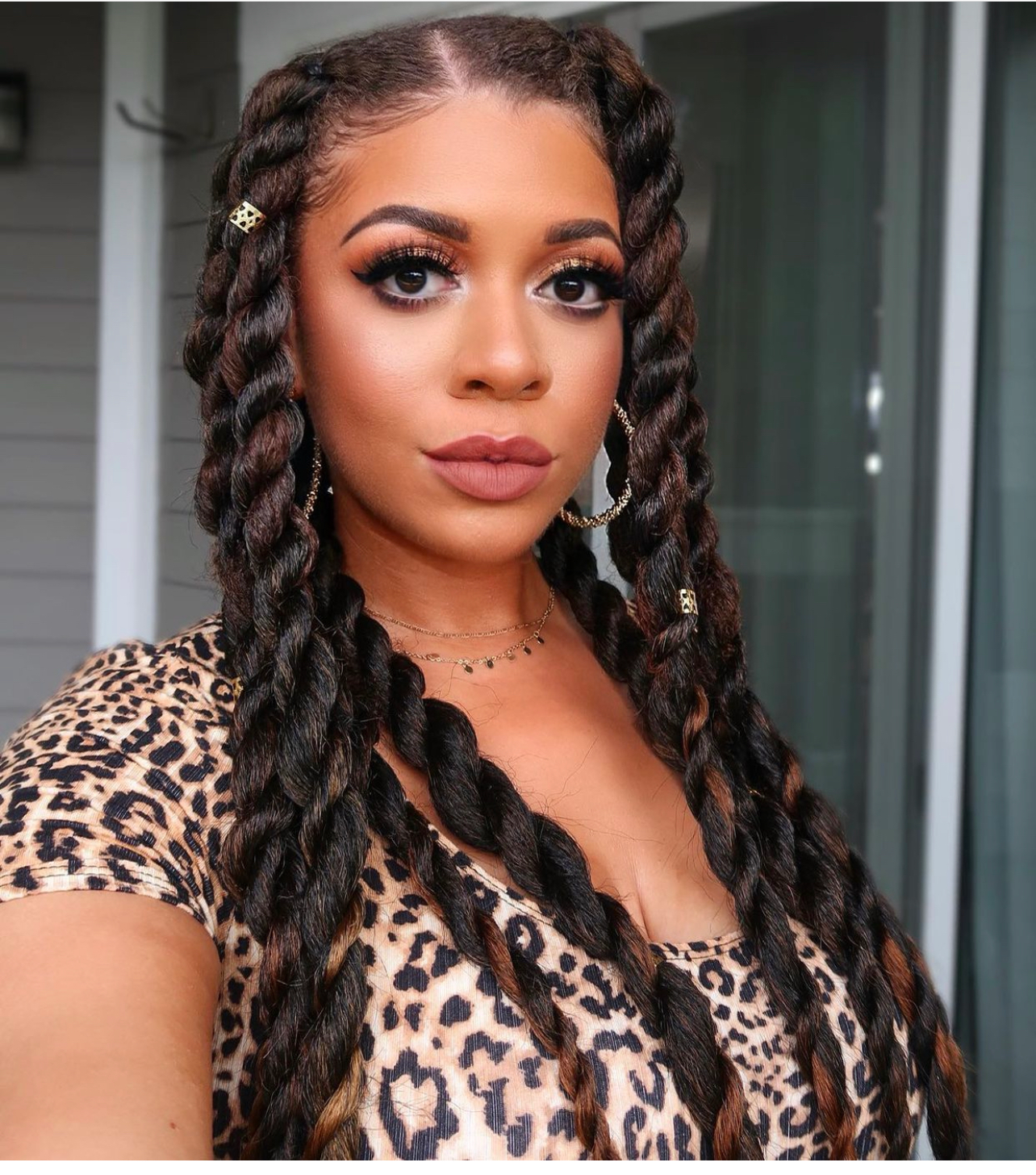 This is the easier type of Senegalese twist you can get. This is a high-maintenance hairstyle though if you have 4 natural hair since it's hard to lay the edges. But it's a choice for other hair types.
27. Marley Senegalese Twist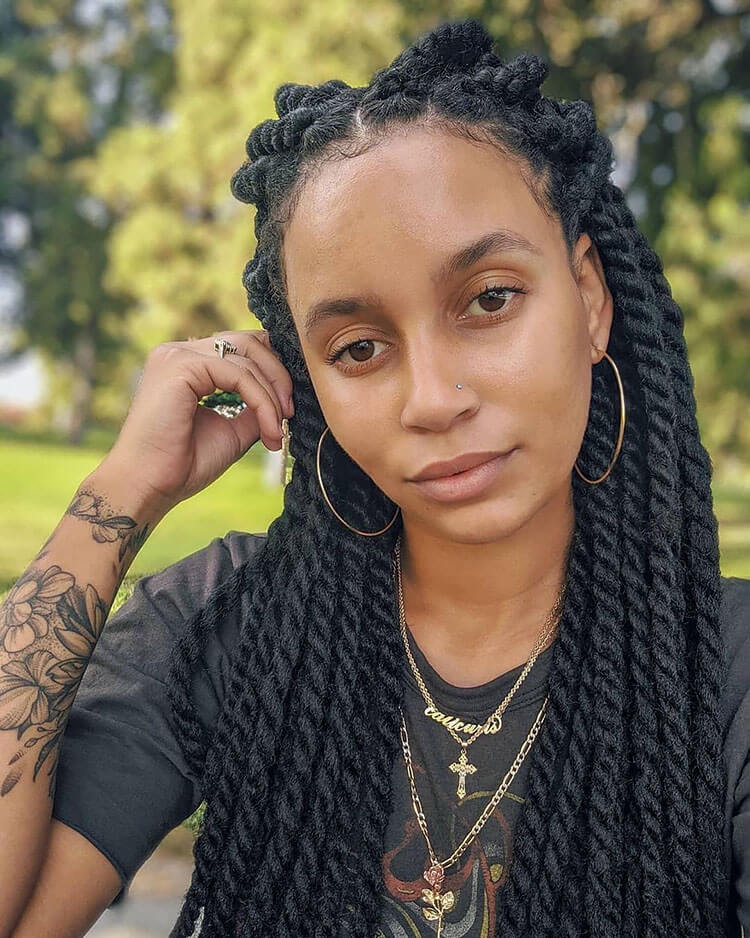 Here is another tightrope twist worth trying if you can't make up your mind. This twist can be as thick as you want to depend on the extension you are adding.
28. Lob Senegalese Twist
Tiny and short is another gorgeous way you can rock a twist. This type of twist is quite light and easy to maintain since it's short. It's a great option for any hair type.
29. Loose Grey Senegalese Twist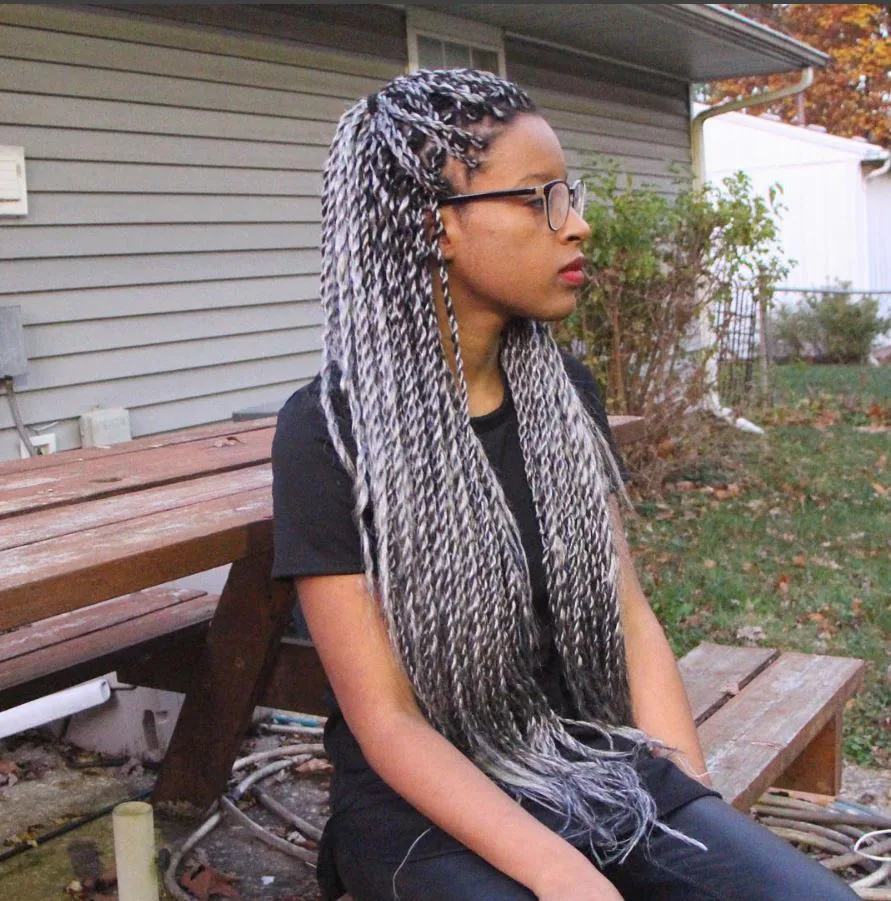 Here is another gray twist you can go for. This is smaller and a bit loose compared to the one above but still chic and suitable for any hair type. This is used to add volume to hair, and you can keep it light for a longer length.
30. Small Custom Blend Twist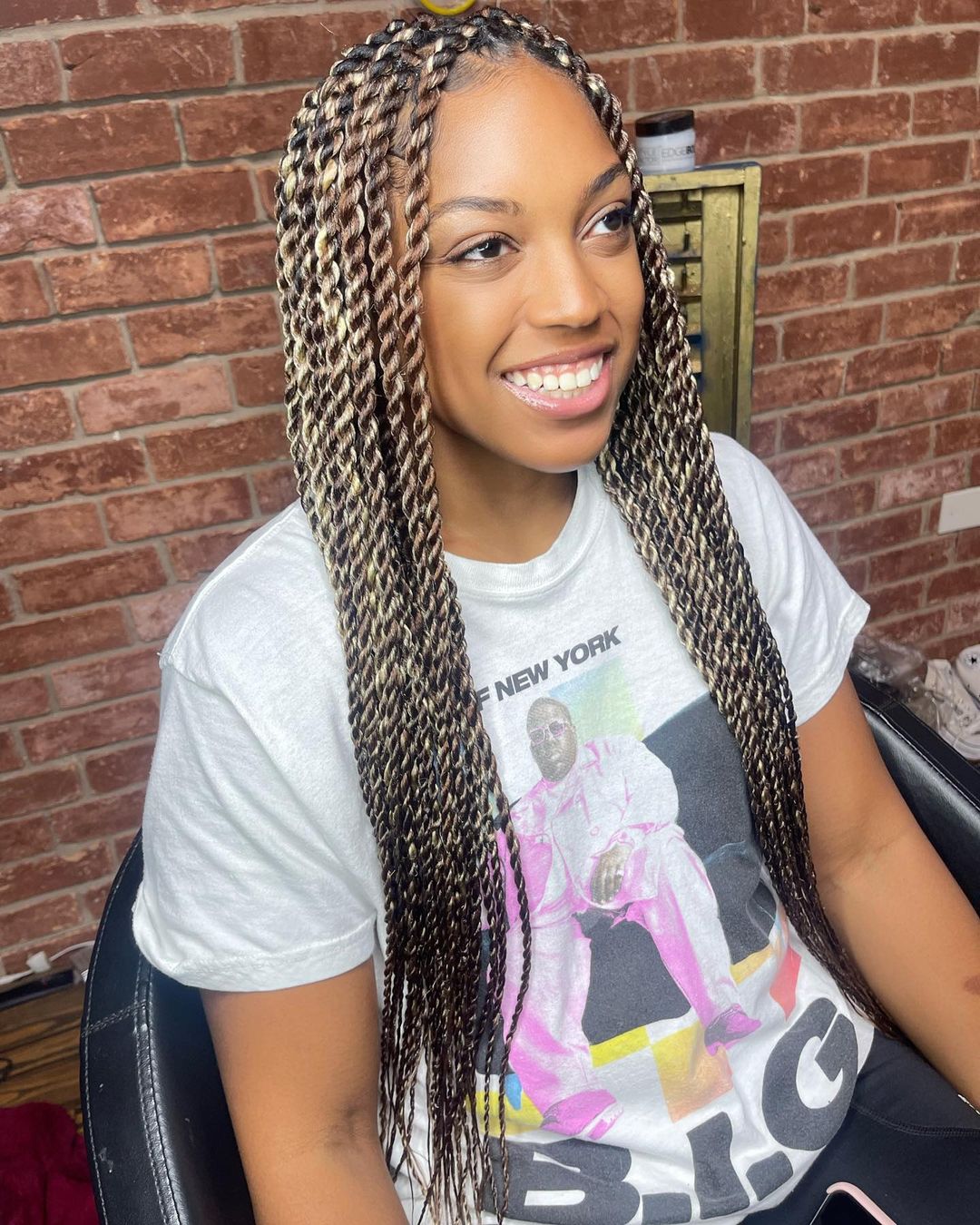 A small custom blend Senegalese twist is another traditional protective hairstyle. This is about brightening up your face but not going overboard with it.
31. Knotless Senegalese Twist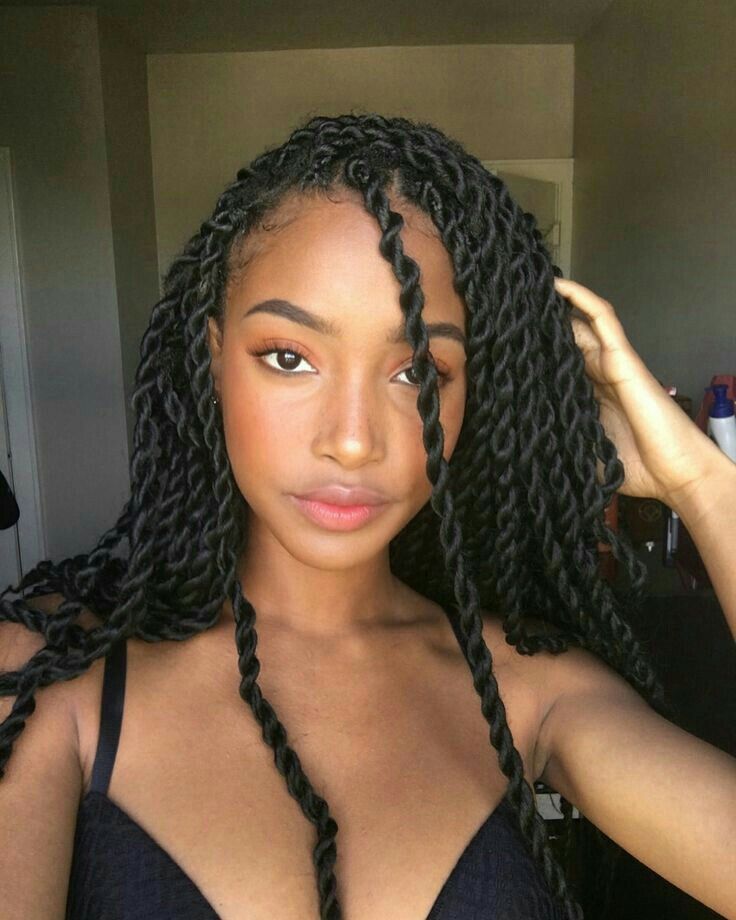 The list won't be complete without adding the knotless Senegalese twist to it. This is another classy way you can get twisted and not worry about hair damage. Making a knotless twist is just as simple as making a braided twist and this even takes lesser time.
Tips To Maintain Senegalese Twist
Maintenance is an important aspect of any hairstyle. Caring for your twist the right way is needed if you want to keep this hairstyle for a month or two. Senegalese twist can last anywhere from 18 weeks but to avoid it looking all rough and smelly, here are simple tips to guide you on maintaining it.
Do not make your twist too tight to the root
Make sure your hair is washed and dried before making it
Wash your Senegalese twist with shampoo every 4 to 5 days to keep it clean
Apply edge protection (not too much to prevent the hair from breaking) and leave in conditioner to seal in moisture
Don't pack your hair in a tight styling, keep it loose but secure.
Wrapping Up
Senegalese twist has been around just as long as box braids. This hairstyle is an ideal way to give your hair a break from the constant weaves and combing. Senegalese twist is pretty easy to make and if you make twist-outs yourself then you can do this at home by yourself too.