Are butterfly locs protective styles? Butterfly locs are protective hairstyles and they are considered less damaging to natural hair compared to box braids.
Butterfly locs are a variant of faux loc but the method of achieving this is less stressful and there are lots of extensions that can be used for butterfly locs.
If you are on the lookout for a stylish protective hairstyle then you need to consider butterfly locs. This style has been around for decades just like faux locs, passion twists although it has recently gained popularity.
It happens to be one of the easiest locs out there and you can have it done at home yourself. But for something neater and classy, best to go to the salon. The braiding technique takes time though but it's pain-free and stylish.
20 Beautiful Butterfly Locs Styles You Should Try
Butterfly locs have been all over Instagram lately and we can understand why. The hairstyle is simply made by wrapping a traditional loc loosely thereby giving it a distressed and unraveled look but it happens to be cute.
If you have been searching for the right loc, then not to worry, we have rounded up 20 beautiful butterfly loc styles you need to try.
1. Auburn Red Butterfly Loc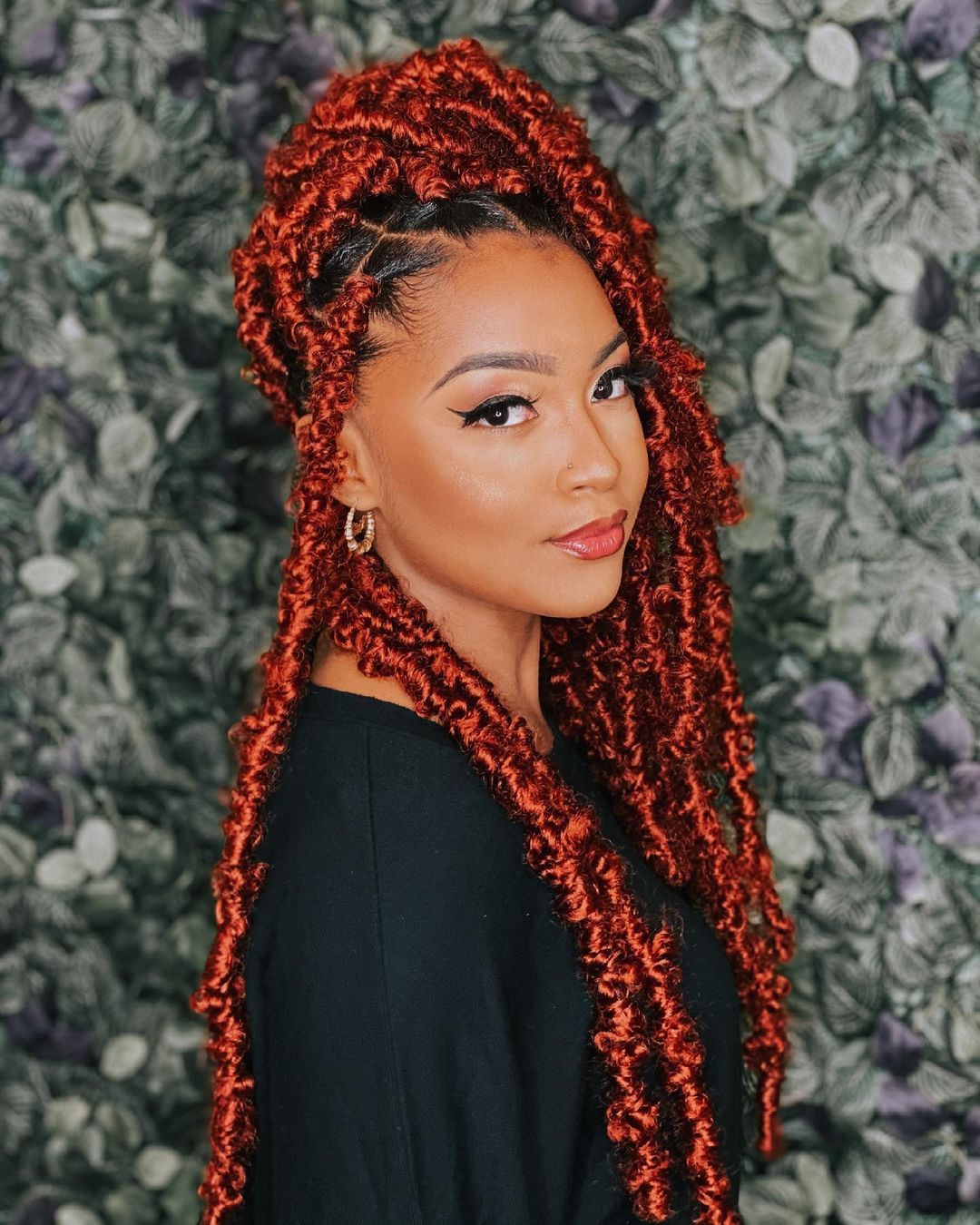 Auburn red butterfly locs are the perfect hairstyle for you to make statements. This hairstyle is classy and there are so many ways it can be styled. This style is all occasion hairstyle and you can go with any length you want as well.
2. Jumbo Butterfly Locs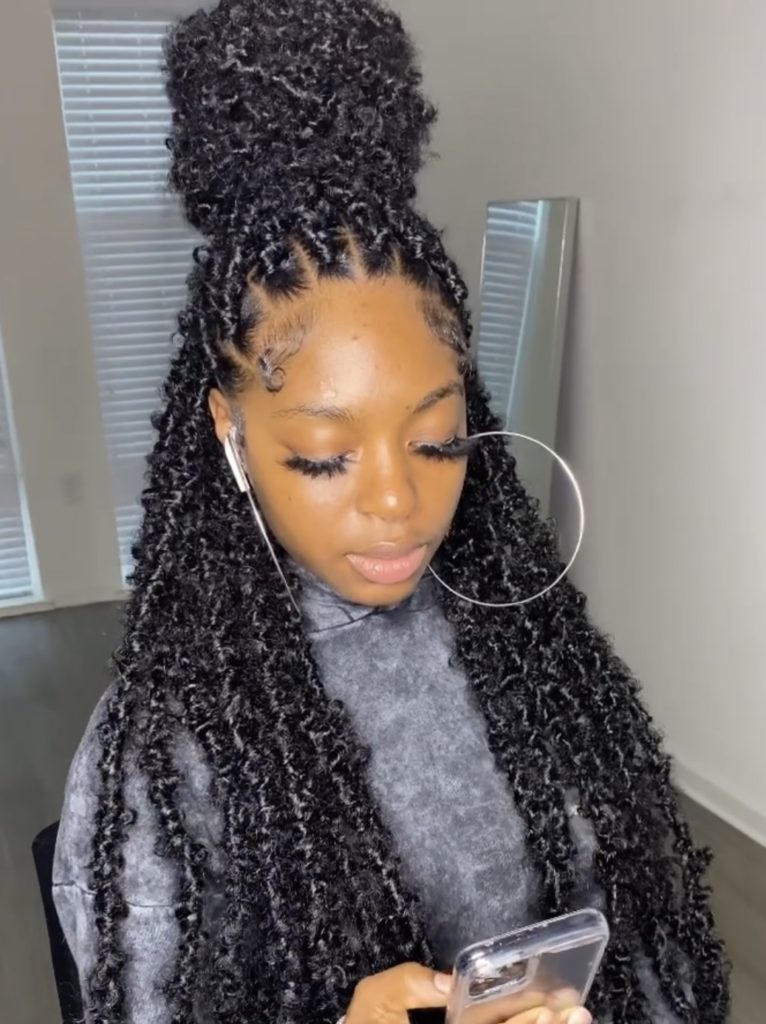 This is similar to goddess locs but it's even more interesting and cute. This loc type is plaited straight into your hair and although there is crochet for it, lots of people enjoy making it direct.
3. Mid Length Chunky Butterfly Loc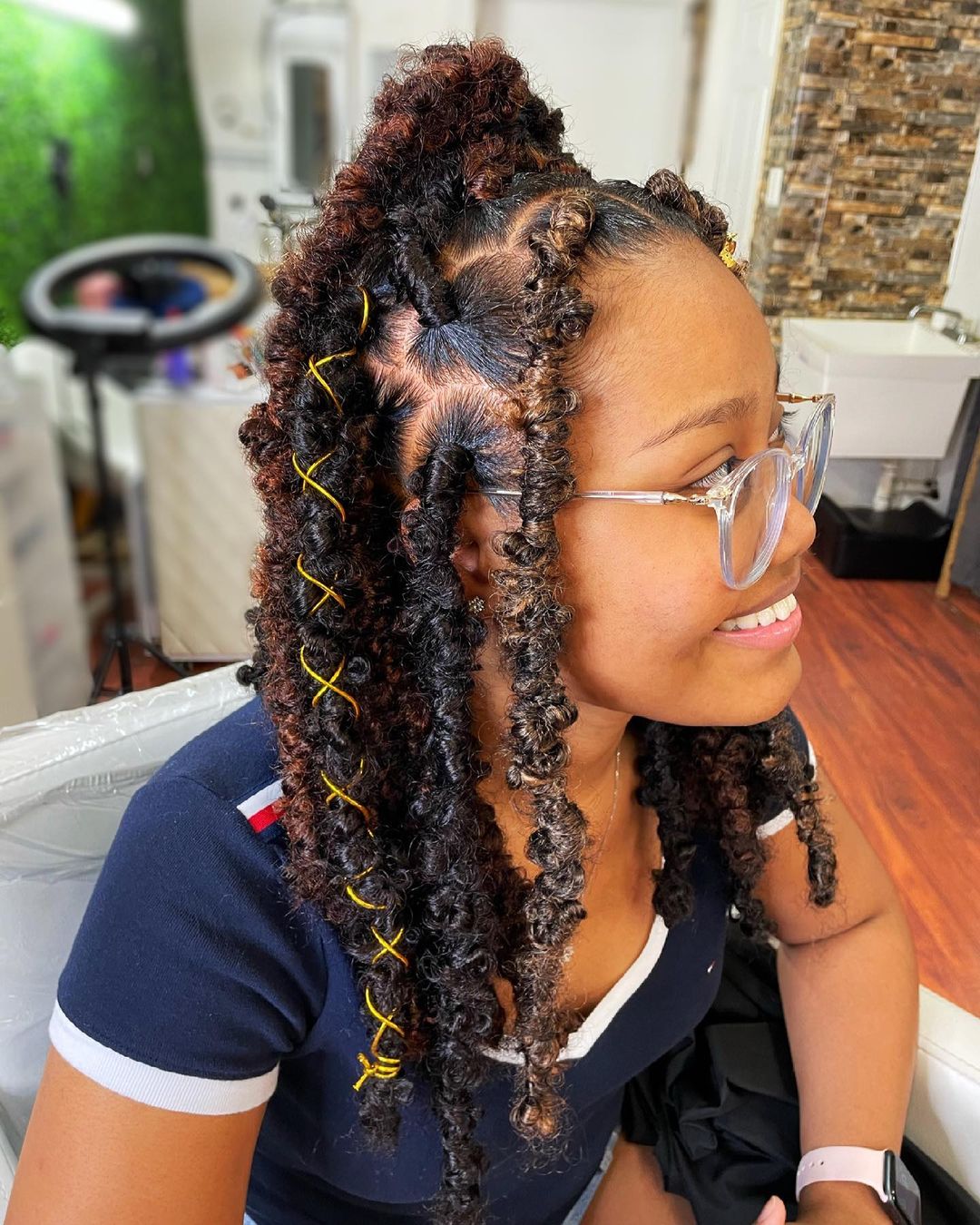 This is the perfect butterfly loc if you want something simple and classy. This type of butterfly loc is great if you don't like to sit at the salon for too long. Accessorize it to make it look even more fascinating.
4. Butterfly Faux Locs With Color Highlight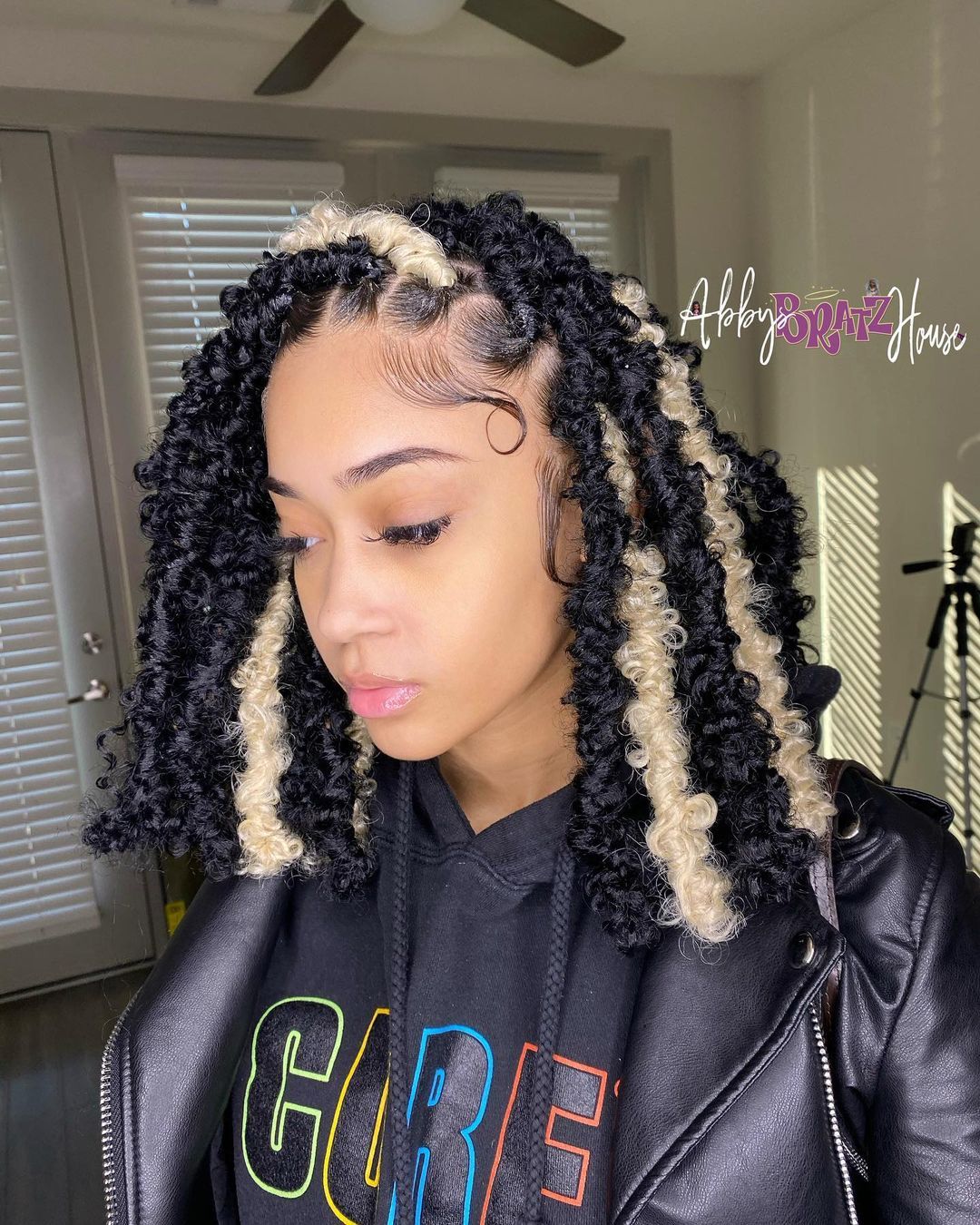 This is one beautiful loc you can't say no to. This cute loc is perfect for any face shape and you can use any of your favorite colors for the highlight.
5. Bohemian Butterfly Locs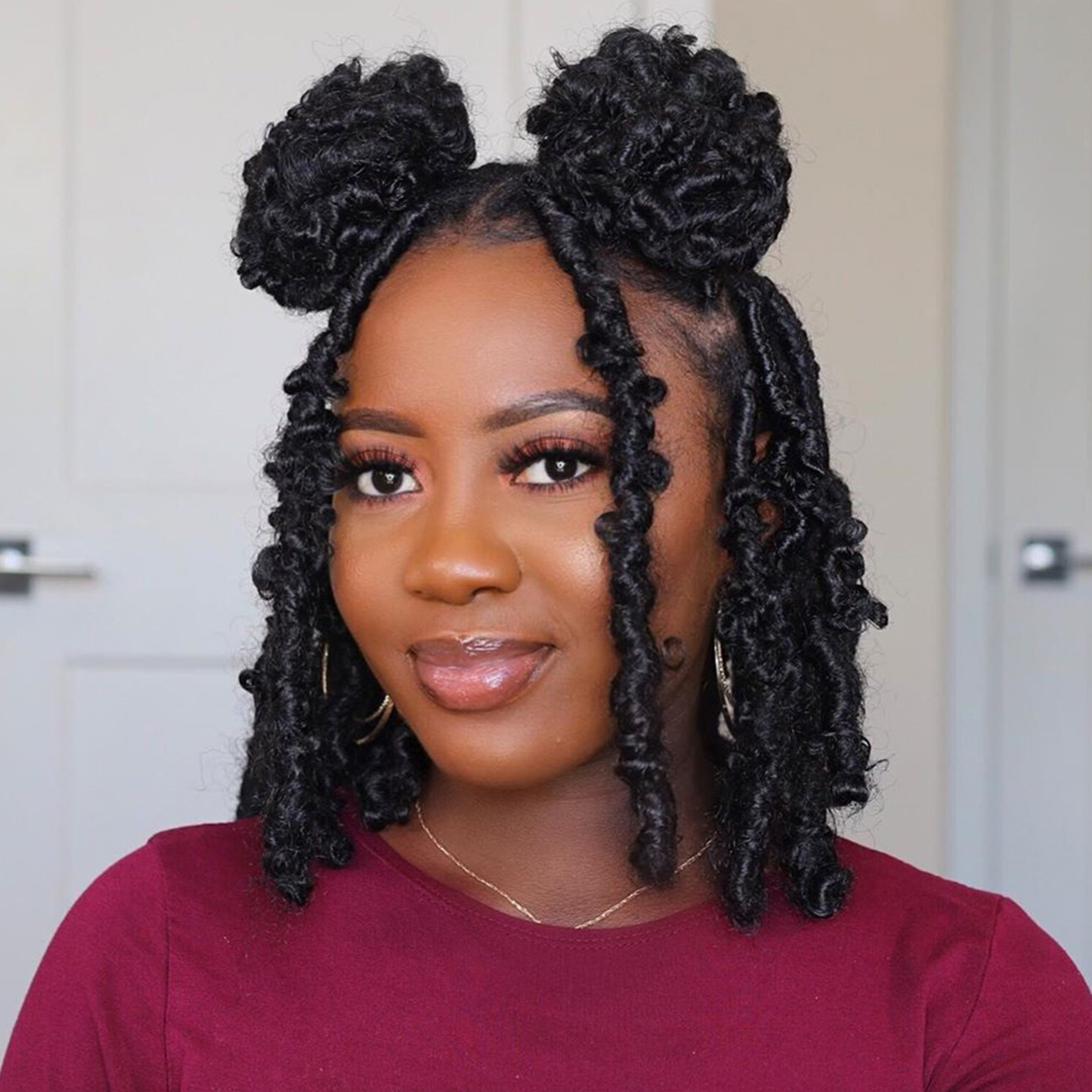 Bohemian butterfly locs are made the same way as the regular butterfly locs but they are made to e neater and with fewer locs pointing out. This style is cool and classy. This is also an 8-inch crochet butterfly locs that make getting the hairstyle an easy one for you.
6. Purple Distressed Butterfly Locs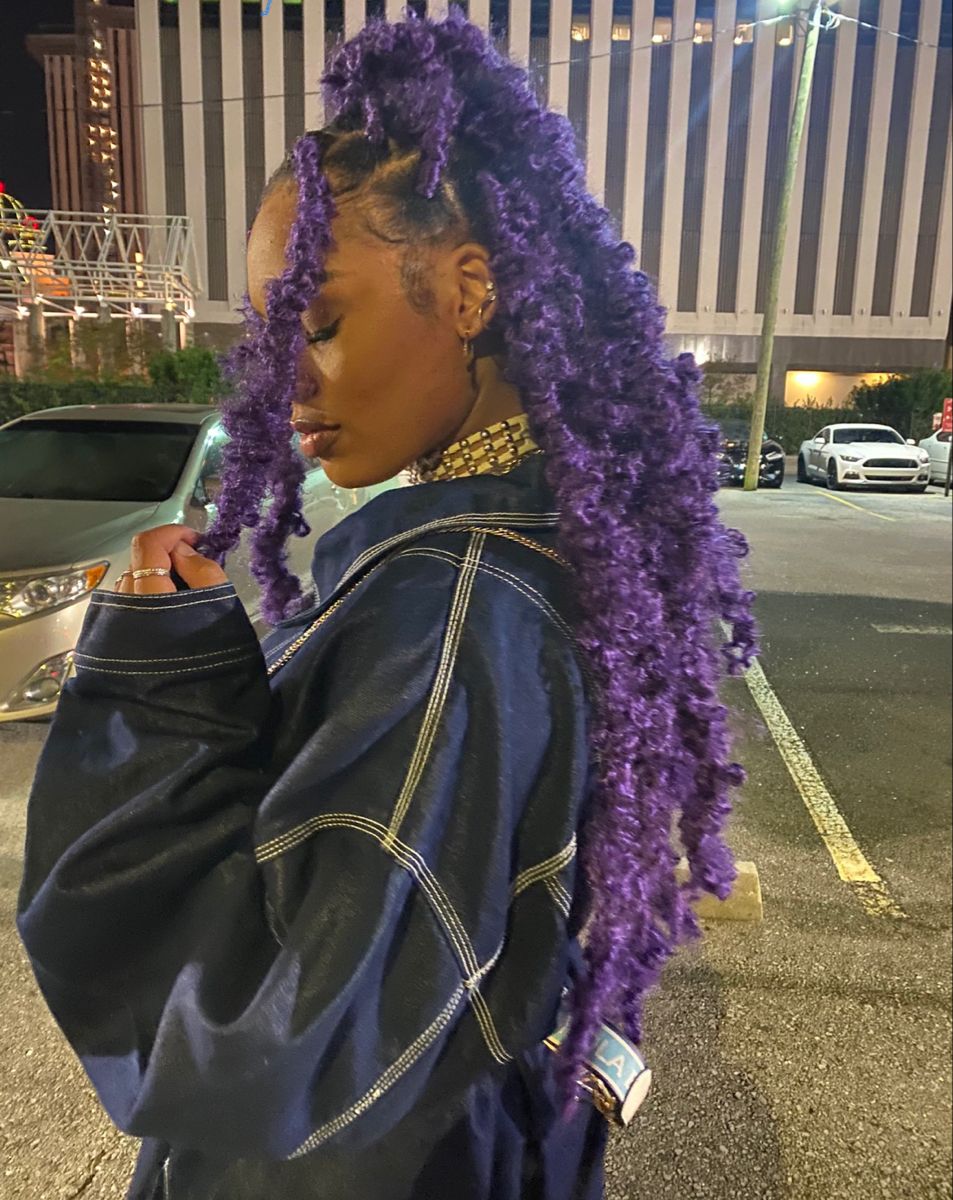 Just like every protective style, you get the option of really long, short, and a choice of color extension as well. Purple is quite an interesting color and it looks great paired with these butterfly locs.
7. Kinky Butterfly Locs
This one is pretty similar to the faux locs but it's a less painful way to get locs. This style is completed with the crochet butterfly loc. It's a pre-looped butterfly loc and lovely too.
8. 12 Inch Butterfly Locs
The 12 inc help you wrap things up when you want long and average length. To install this loc is very simple and it does last for a very long time.
9. Blonde Butterfly Locs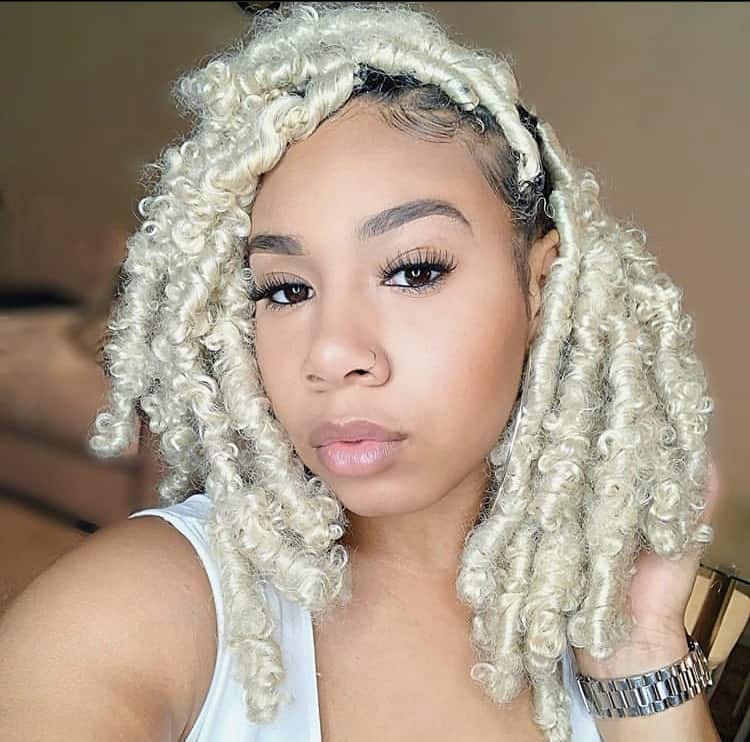 The texture of this loc is a lot different and it is believed to make it last longer. You are not restricted to a certain color either so you might as well have fun with it.
10. Soft Butterfly Locs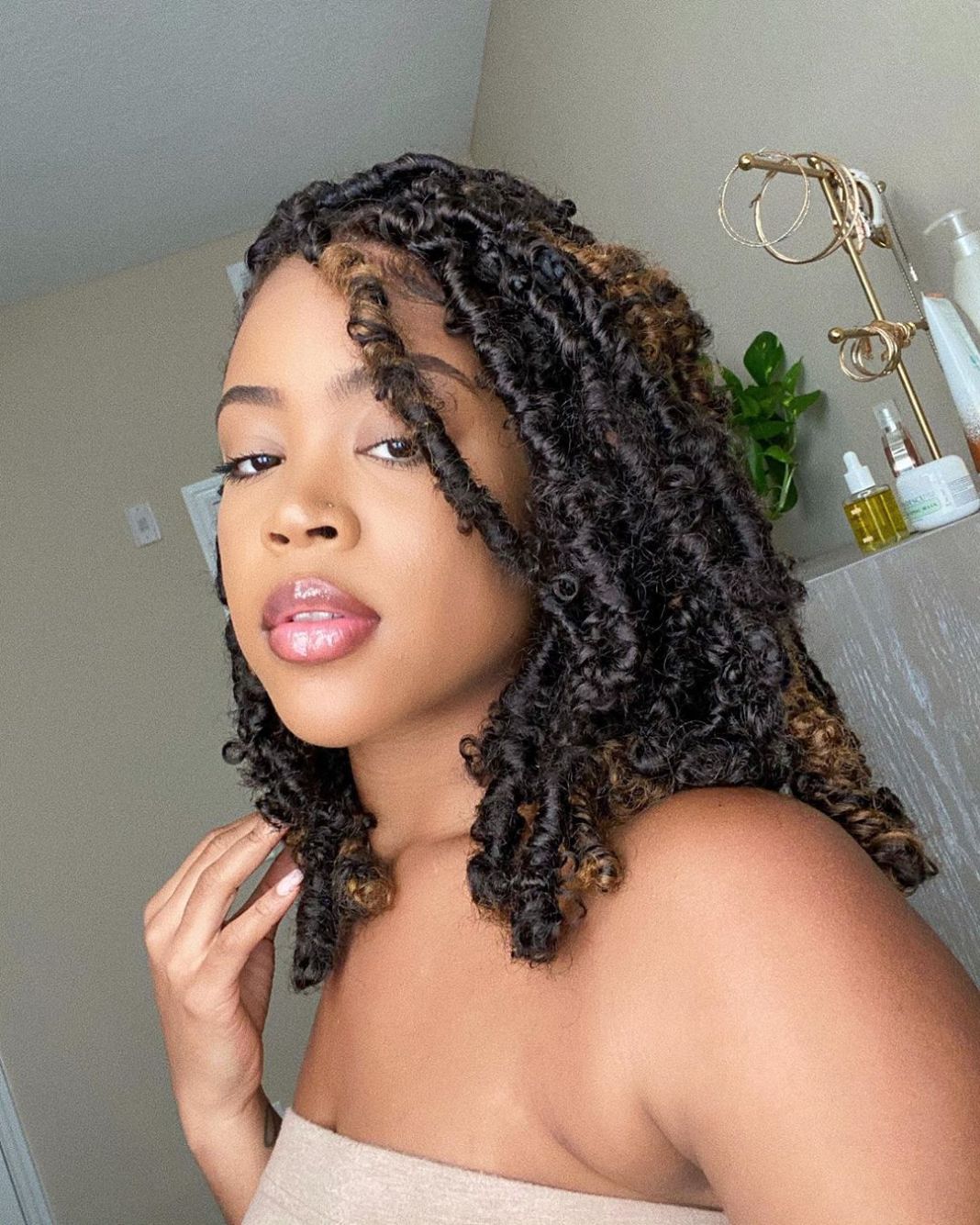 Soft butterfly locs are made to pamper your scalp hence they are not plaited too strong at the base. This is great if you have a soft hair texture and the length is ideal if you want to keep it elegant and simple.
11. Copper Red Butterfly Locs With Curly End
This is another butterfly loc that is made a similar way with faux loc but this is even more gorgeous and you get to have curls at the end for a more interesting statement.
12. Subtle Shade Butterfly Locs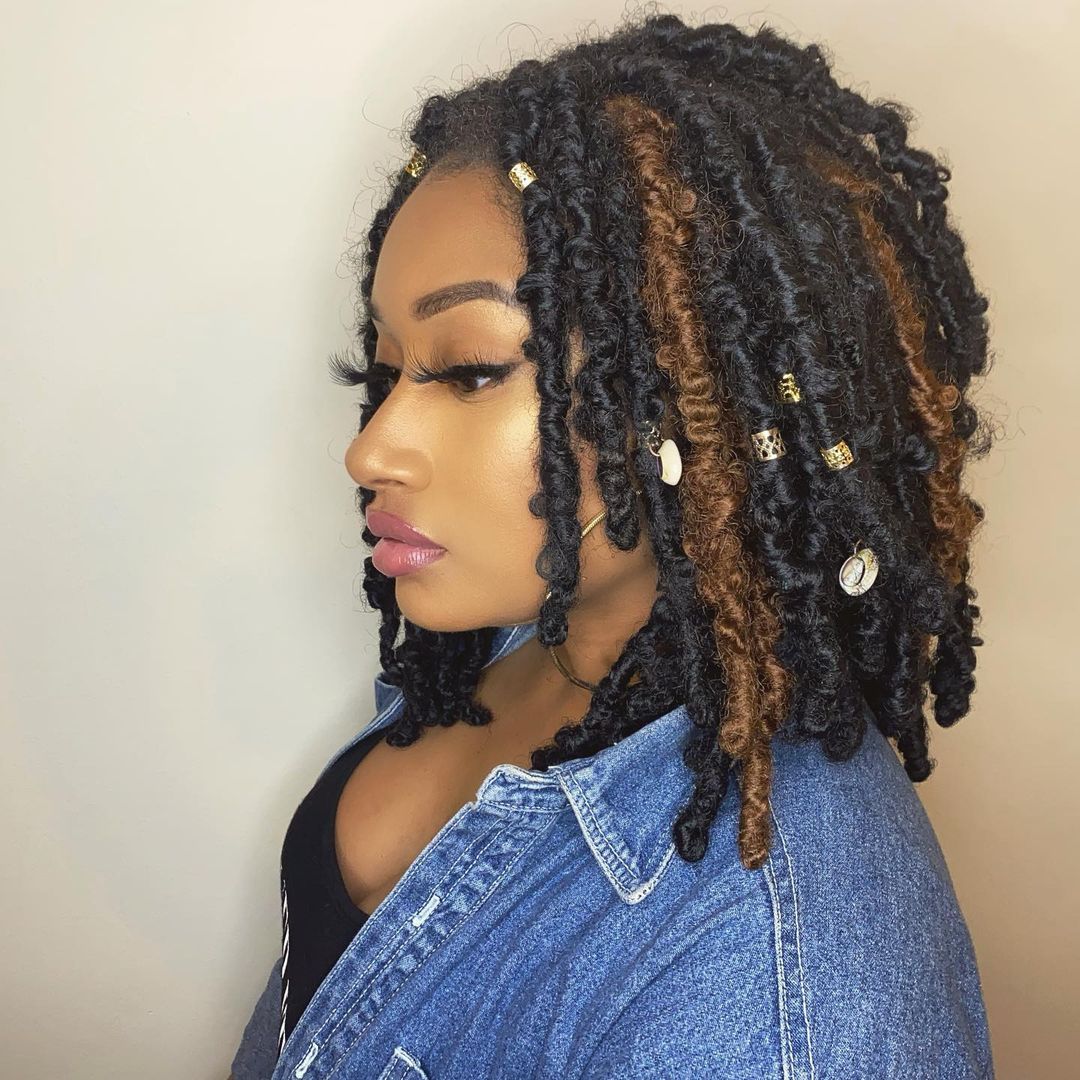 This is the butterfly loc that gives you the perfect combination of goddess loc and passion twist. It's gorgeous and ideal for any look.
13. Bob Butterfly Locs
Bob or lob, you can go with whichever one you want with butterfly locs. The crochet one takes less time and it enables you to choose the length you want.
14. White Highlight Butterfly Locs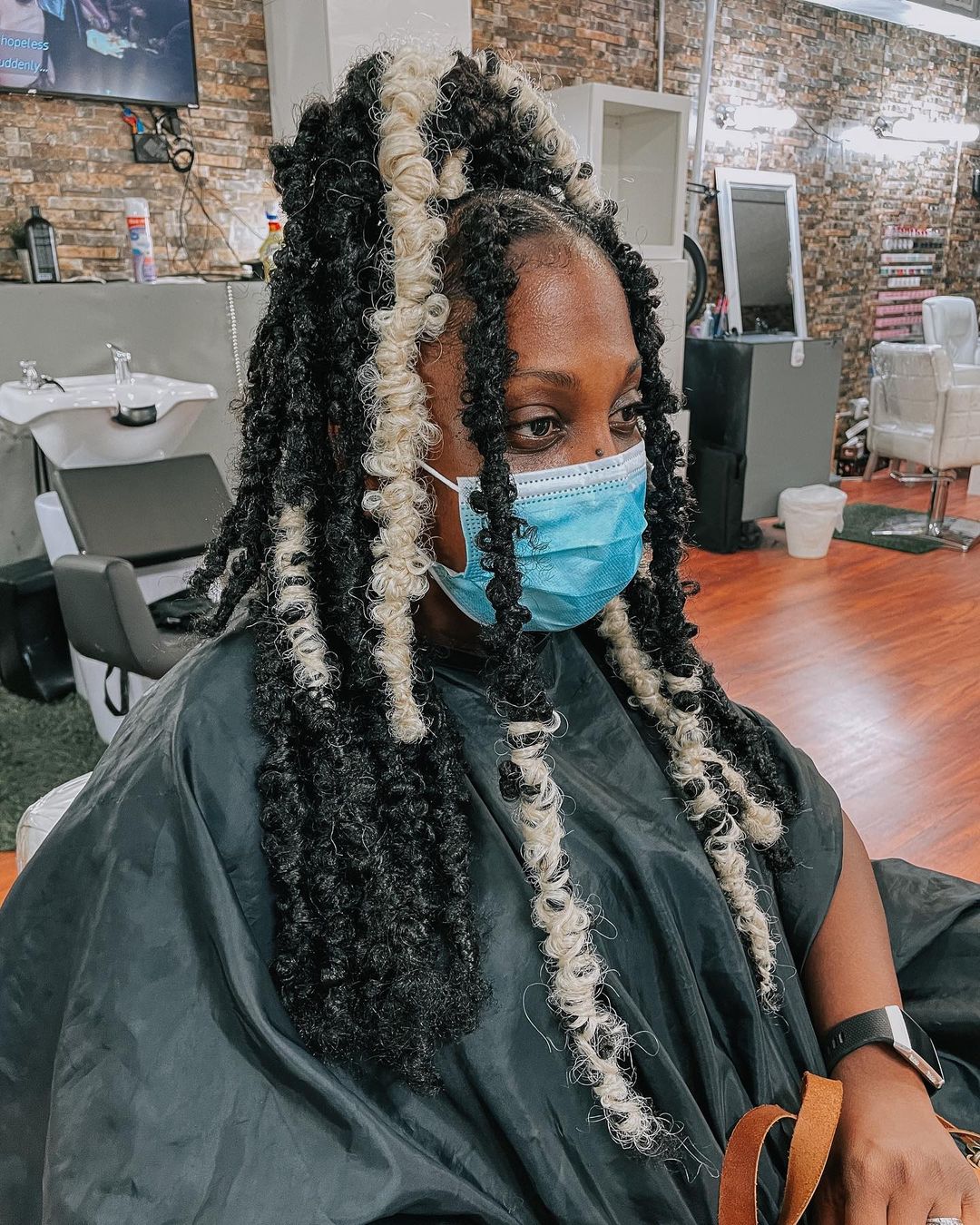 Highlighting black butterfly locs is currently in trend and here is another one to inspire you.
15. 24 Inch Butterfly Locs
24 inches is the longest length of butterfly loc crochet to get and we must admit that it is a classy hairstyle for any occasion.
16. Soft Crochet Butterfly Locs
Soft crochet butterfly loc makes sure your hair is protected and stays healthy no matter how long you have it installed.
17. Butterfly Locs With Red Ends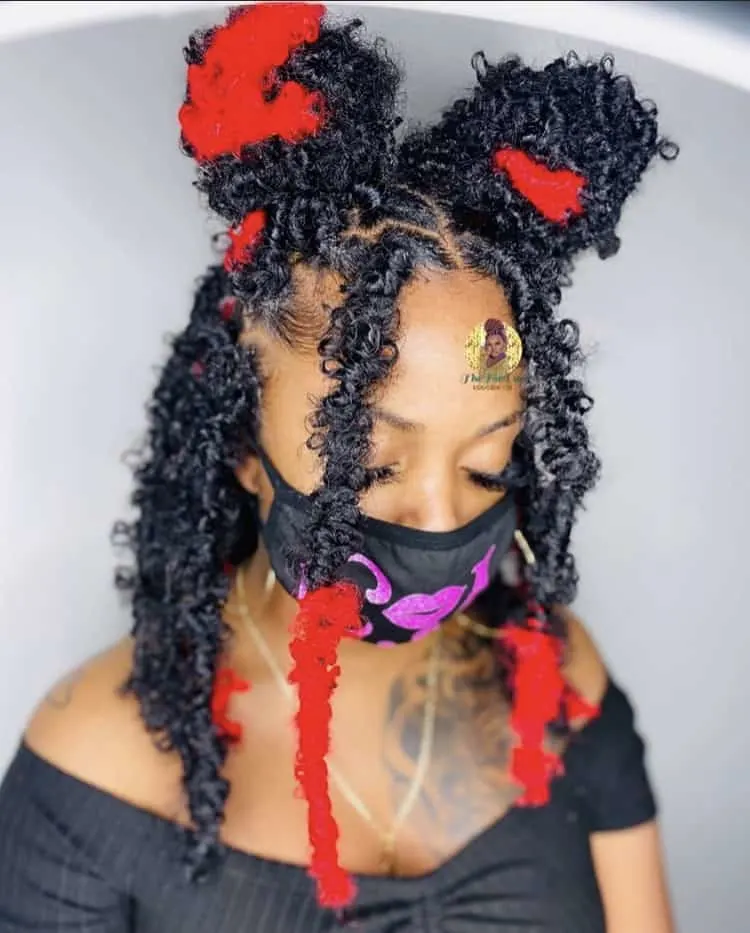 Keep it cool with a red highlight. Adding different tones to your hair is a stylish way to make it look pretty and trendy.
18. Bohemian Distressed Locs
Bohemian distressed butterfly loc is another trendy hairstyle you can't pass up, It is a cool hairstyle and there are so many ways it can be styled.
19. Pre Looped Butterfly Locs
Pre looped butterfly locs are putting a complete wrap on the butterfly loc hairstyle. This is another stylish way to maintain your natural hair strand.
20. Simple Butterfly Braid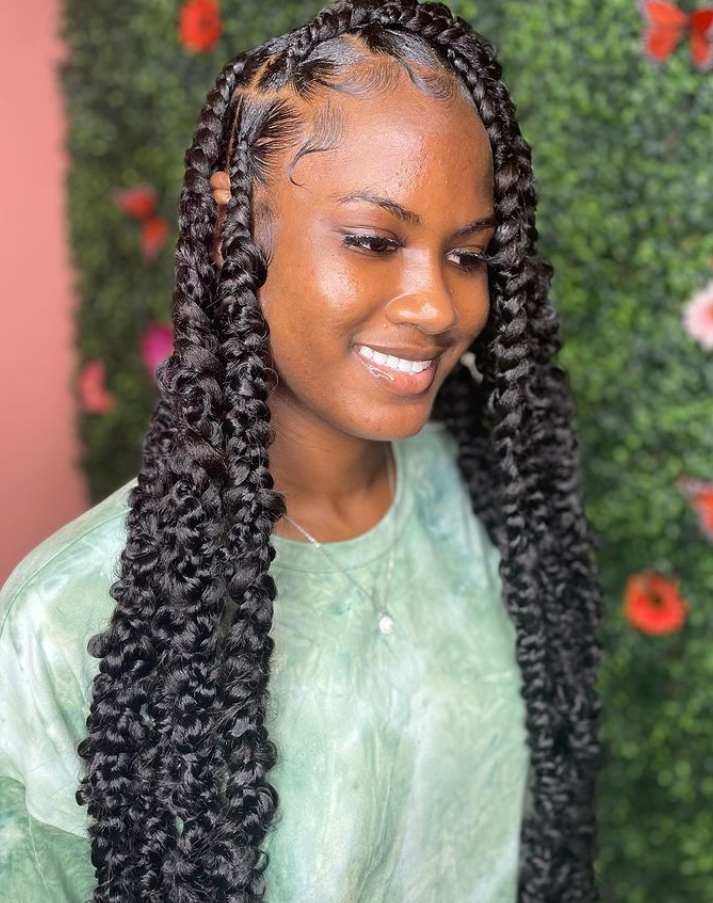 Protective hairstyles are very important and if you are used to boxing braids then not to worry, you can get butterfly box braids. This is another interesting style you do not want to miss out on this 2021.
In Conclusion
Your hair needs all the care it can get and one way you can keep it from damages is protective hairstyles. Butterfly locs are currently in trend and this is not just because it's a cool hairstyle but it is a great protective hairstyle. You just need to ensure your hair is well moisturized before installing the locs and all the styles above are suitable for any hair type.
Read more on braids and locs: