When you need a break from braids, styling your natural hair, or simply need a fun and easy way to rock braids, crochets braids are the best way to go.
Crotchet braids are sometimes called latch hook braids and are made from synthetic hair extensions which are typically looped through cornrow on your natural hair. Crochet braids can be styled in a variety of ways and this means no more sitting for hours to get a box braided hairstyle, crochet braids come in different lengths and colors for you to make a choice from.
Crochet braids are the best go-to protective hairstyles, they protect your hair while you transition to natural hair, these braids are easier and faster to make on your hair and they give a stylish look you can't help but love every time.
To give you some style inspiration, we have compiled 40 beautiful crochet hairstyle ideas, crochet braid could be really fun regardless of color or length.
40 Crochet Box Braids Hairstyle Ideas
There is something for everyone when it comes to crochet box braids, they are exciting to install, crochet braids can be styled whichever way you want and most interestingly there are lots of crochet hairstyles to choose from. If you are considering getting a crochet braid, here are 40 crochet braids we have rounded up for you to inspire you.
1.  Shoulder Length Passion Crochet Braid
If you love to crochet braids, but don't want it to be uncomfortable or heavy. Here is a simple and short crochet braid you can rock and you get to still look good.
2. Curly Stormy Crochet Braid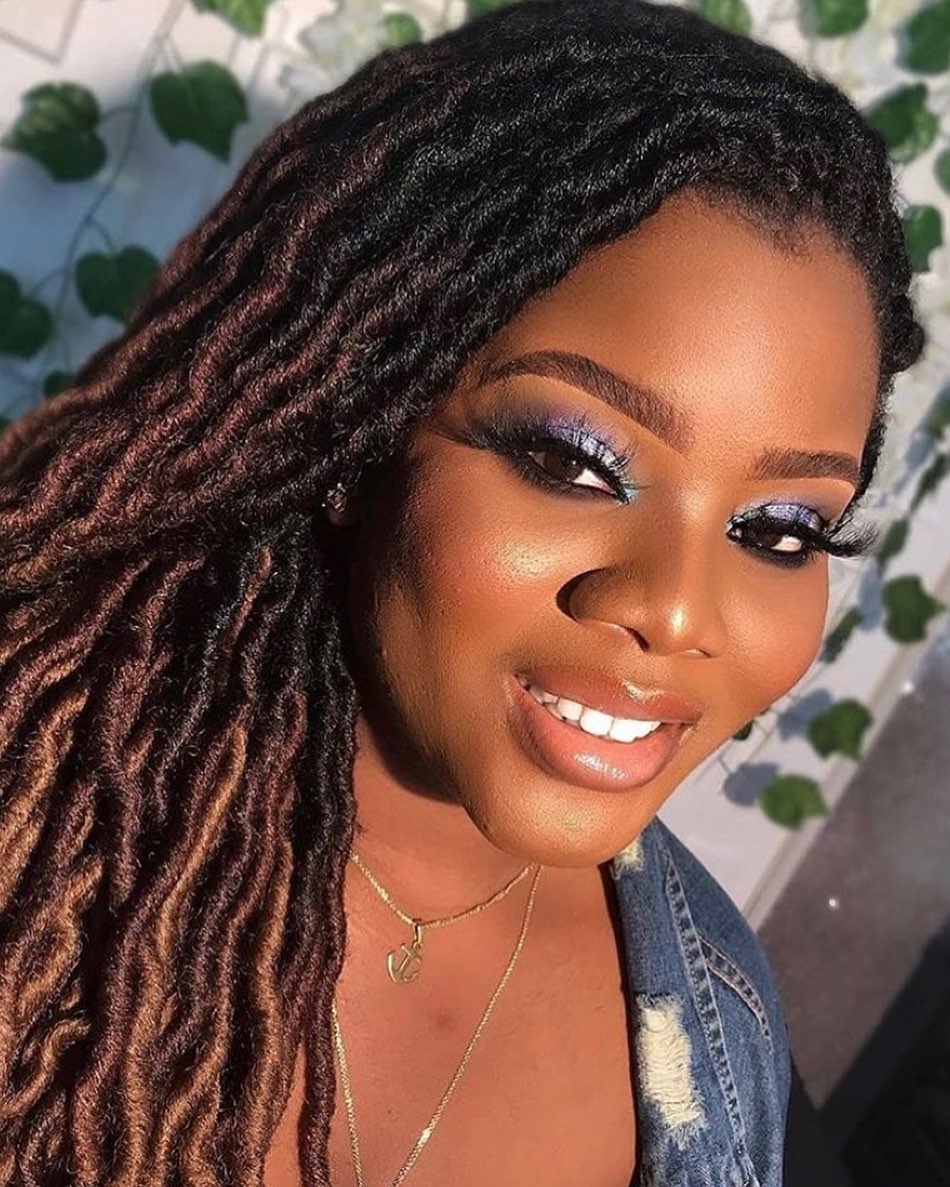 A woman's hair is an important asset. Not only is it part of her, but it also has an important role to play in how she looks. These hair trends change from season to season and it never loses touch.
3. Curly Custom Crochet Braid
Curly custom crochet braid, giving your hair and scalp the protection it needs. This crochet braid requires less style as the curl itself gave it its own style already.
4. Cute Goddess Crochet Braid
It's the color for me though. If you need some volume on your crochet braid, this color will give you the exact volume you need.
5. Goddess Crochet Braid With Bun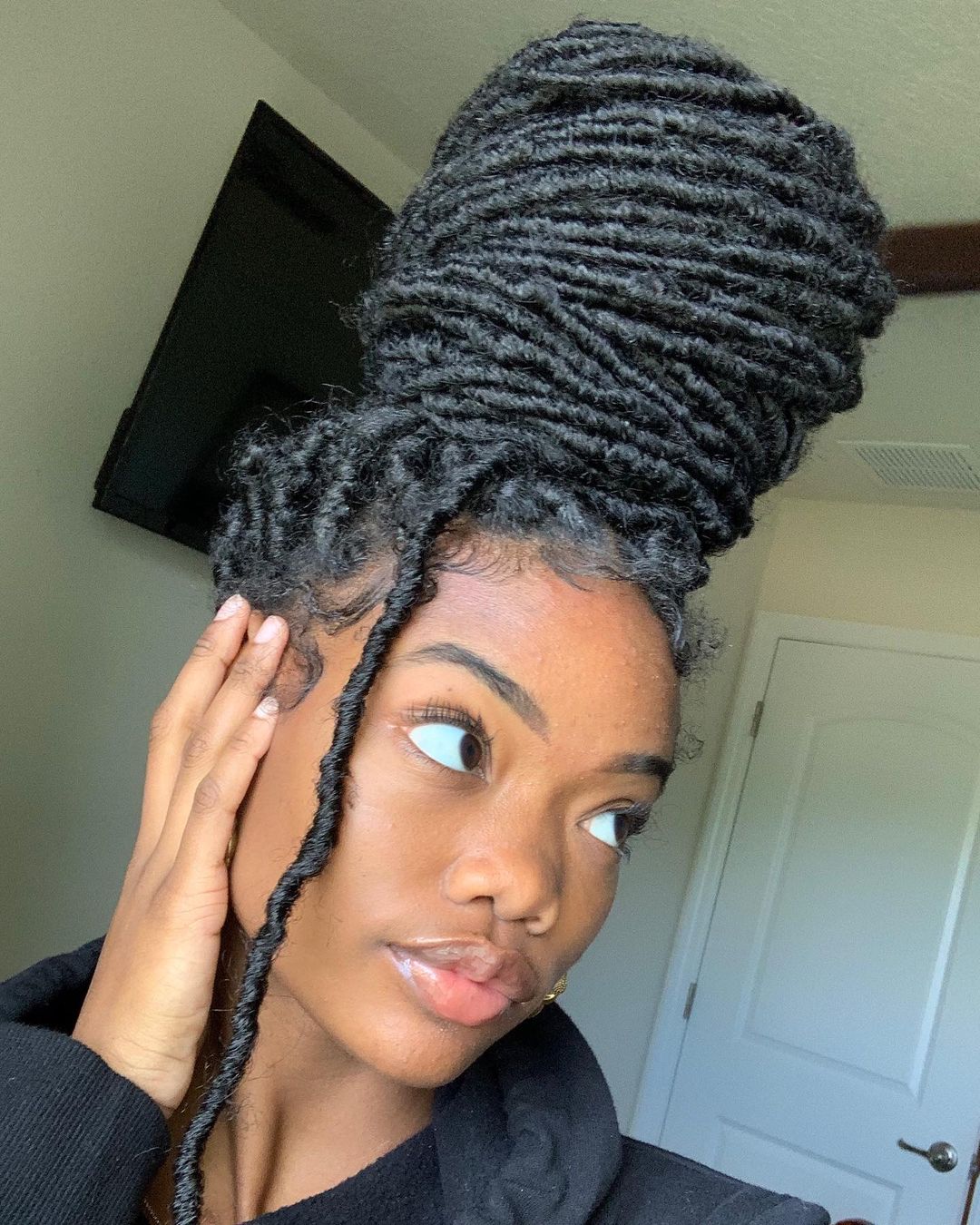 Goddess crochet braid with bun can be rocked by all, even those that don't like their hair long. All you need to do is turn it into a bun, giving you the desired exceptional look.
6. Pink Butterfly Crochet Braid
Some color pops are all you need, who says you can't change the style? Pink butterfly crochet braid looking classy.
7. Classy Custom Crochet Braid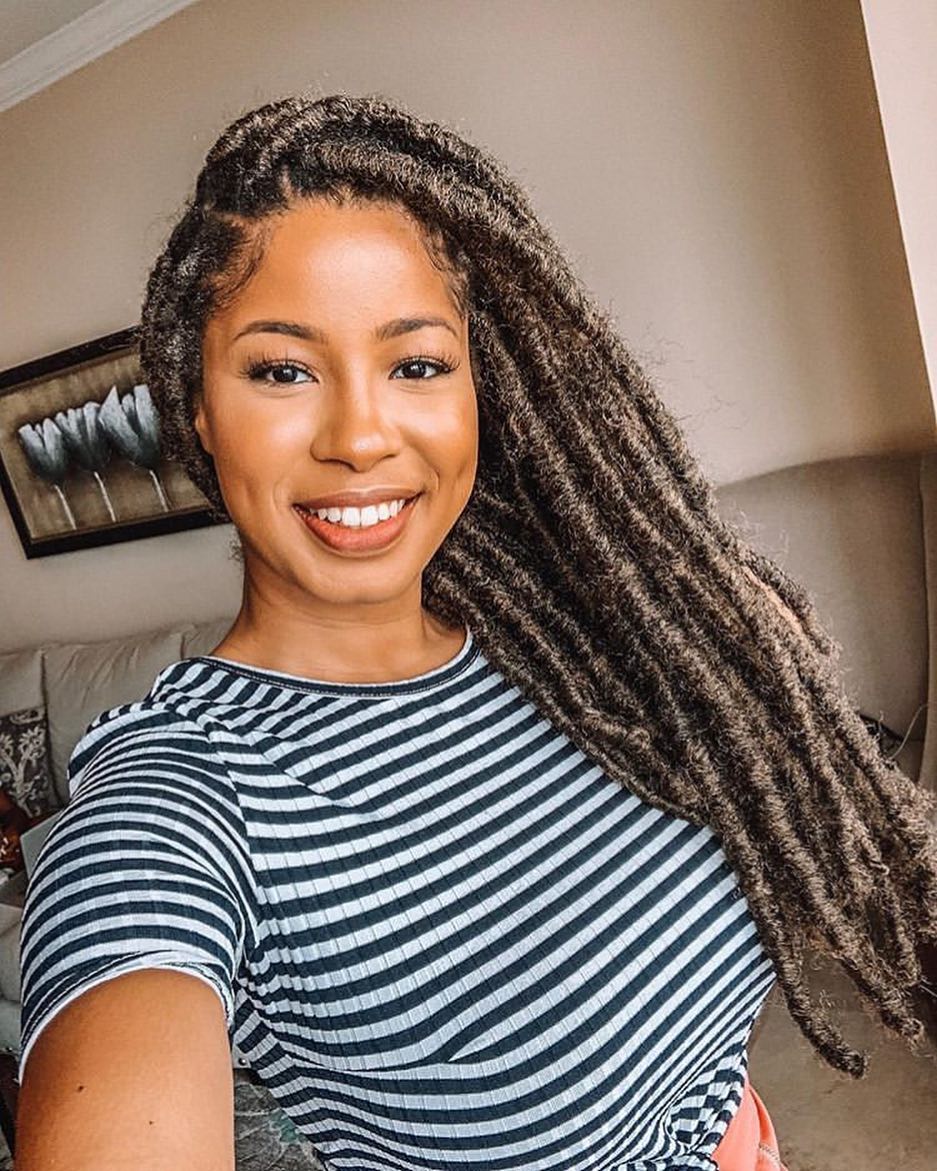 Looking for the right length? Go for this length, giving you this full-bodied style.
8. Micro Crochet Braid
This is what I call a stress-free crochet braid, looking light with zero weight on the head. Who says you can't rock crochet braid? Give this a try.
9. Shoulder Length Crochet Braid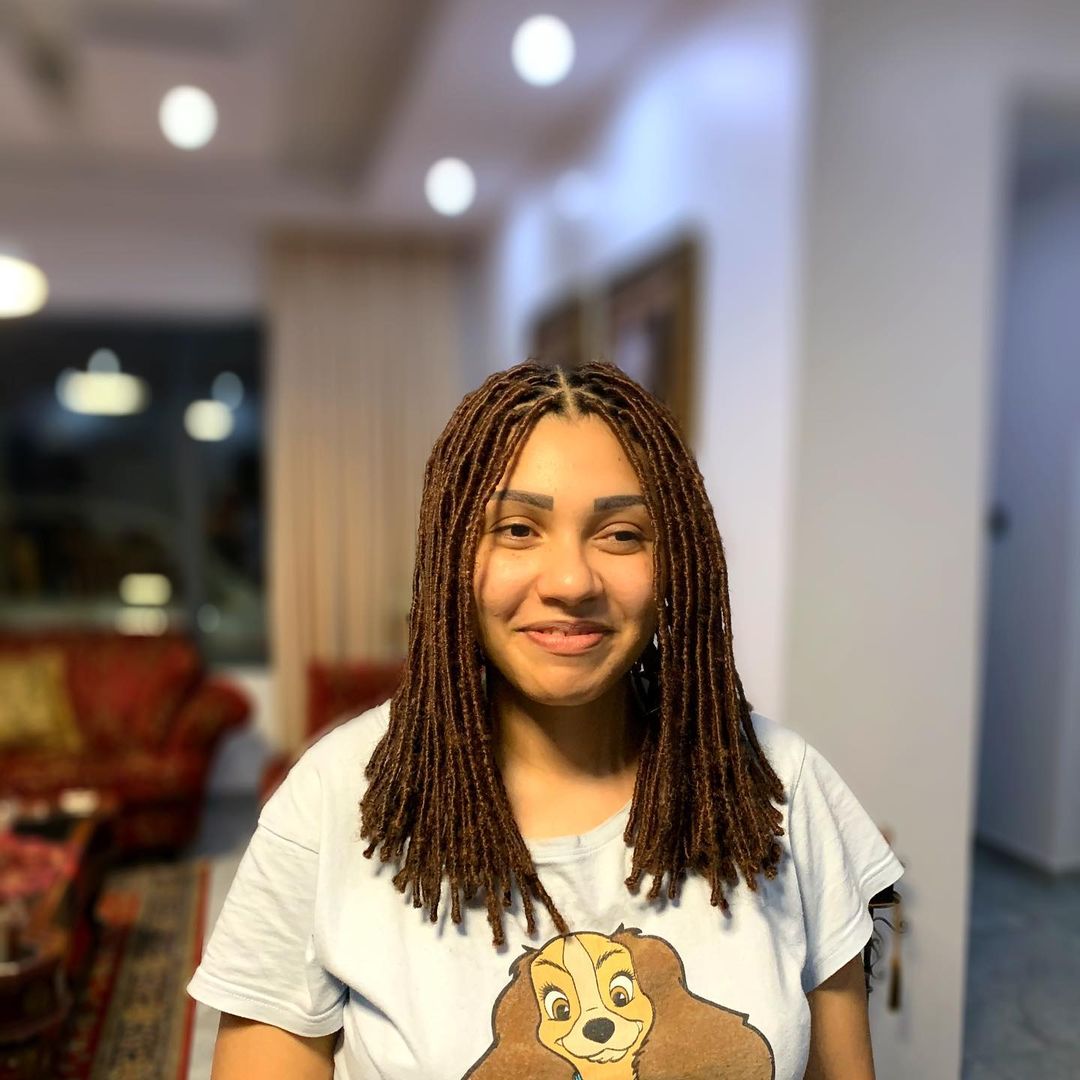 This is a classy shoulder-length crochet braid with zero stress of packing attached.
10. Passion Curly Crochet Braid
This is a "no leave-out" crochet braids style, so your natural hair is completely protected from whatever elements try to come your way.
11. Natural Goddess Crochet Braid
Go for length and a tight, uniform coil with this full-bodied style. You can wear it up, down, or a little bit of both and create even more looks with this flexible cascade of curls.
12. Soft Crochet Braid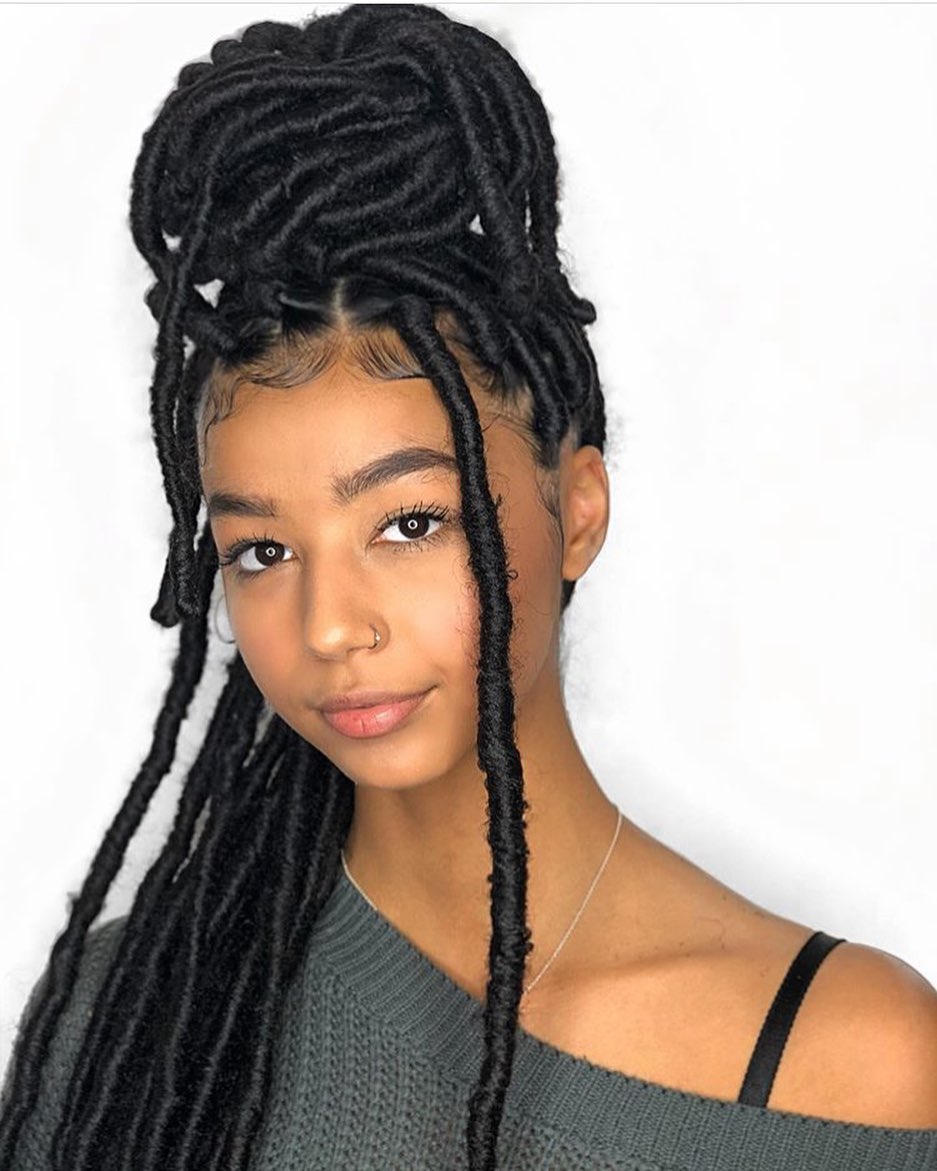 Feeling like a princess with those edges. You can always decide to switch your packing style.
13. Color Mixture Crochet Braid
This is a range of crochet textures and colors, honestly, at this rate, you can start giving yourself alter ego names with each new crochet look as you style in different ways. 
14. Color Creativity Crochet Braid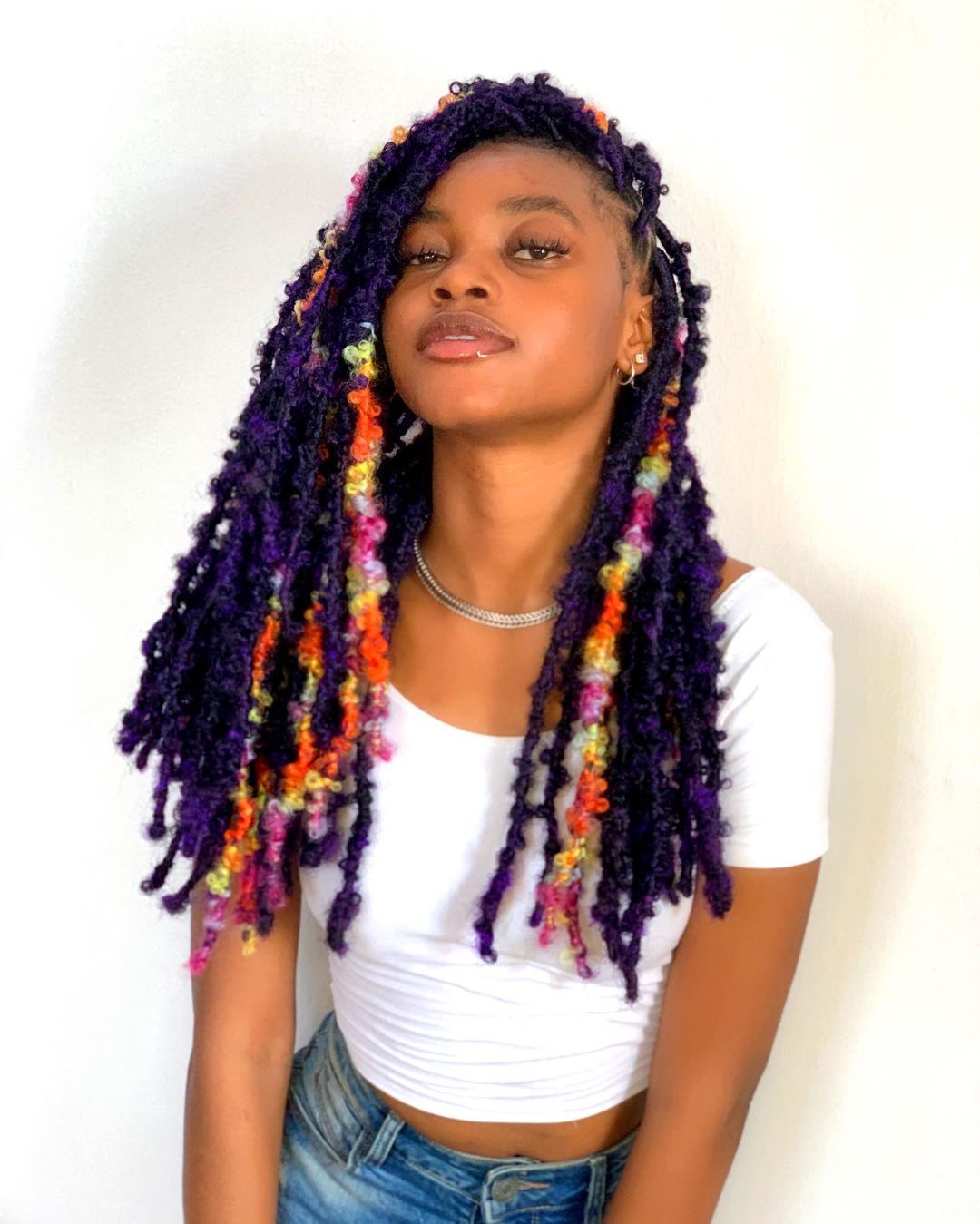 Take your crochet style to the next level by going for some color and bounce.
15.  Raining Distressed Crochet Braid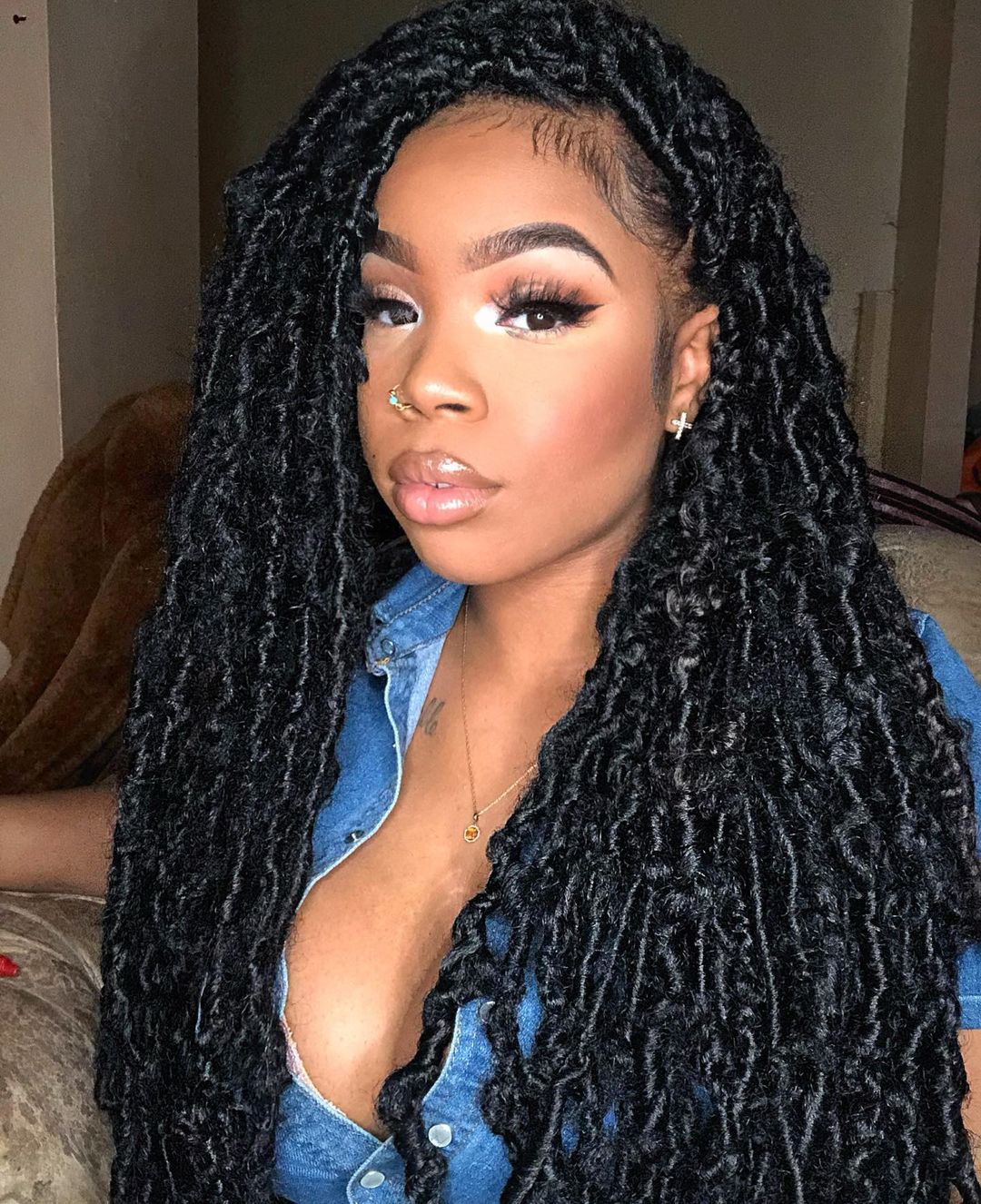 Crochet braid is the solution. Here you get sporty with this pixie look with big, soft, and piled long curls.
16. Havana Twist Crochet Braid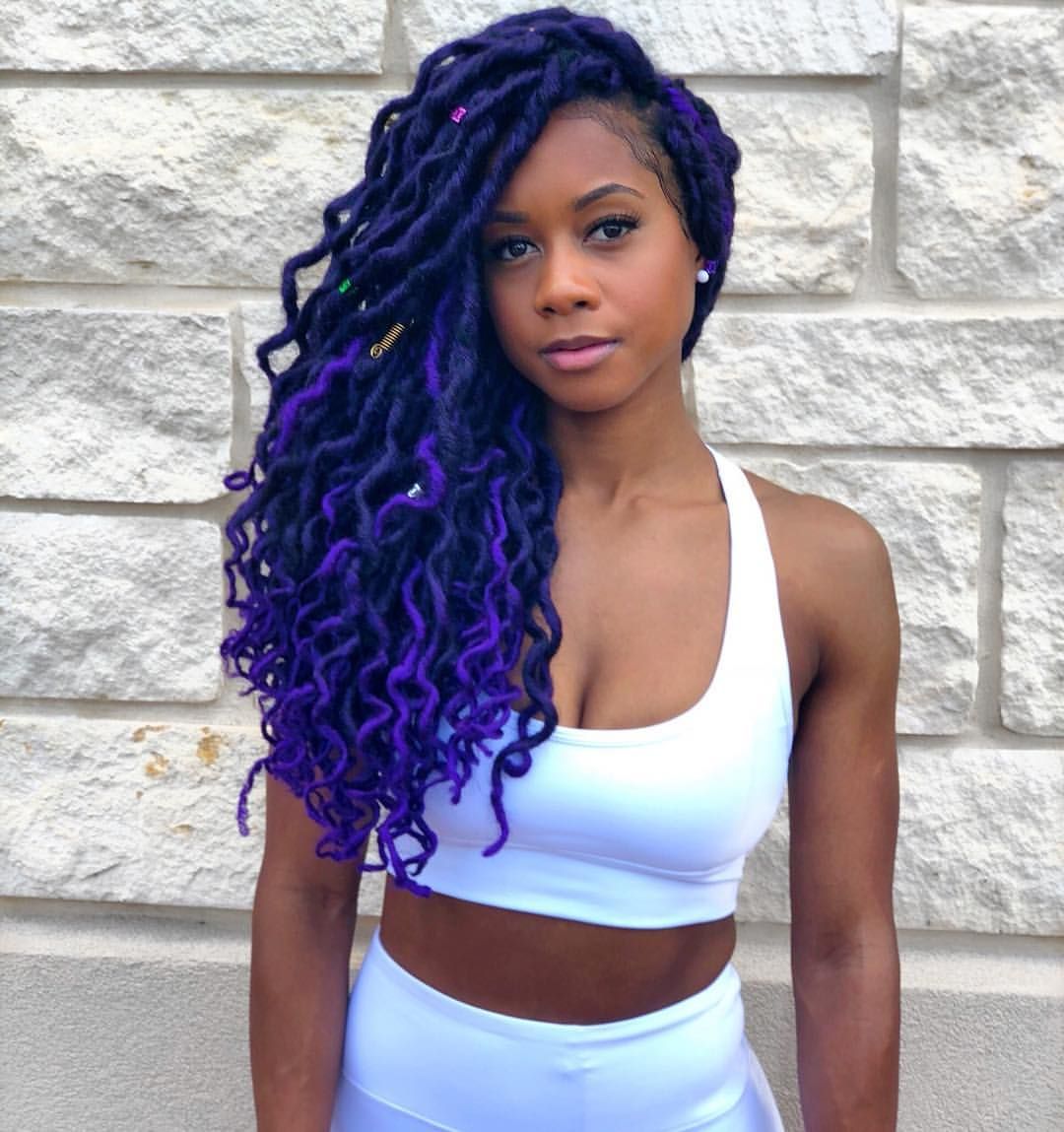 Havana twist is a great protective hairstyle for natural hair but this could take a long time to make which is why crochet braid has been introduced to make this fun hairstyle easy and faster to install, this comes in beautiful colors and can last for a very long time.
17. Grey Mambo Twist Crochet Braid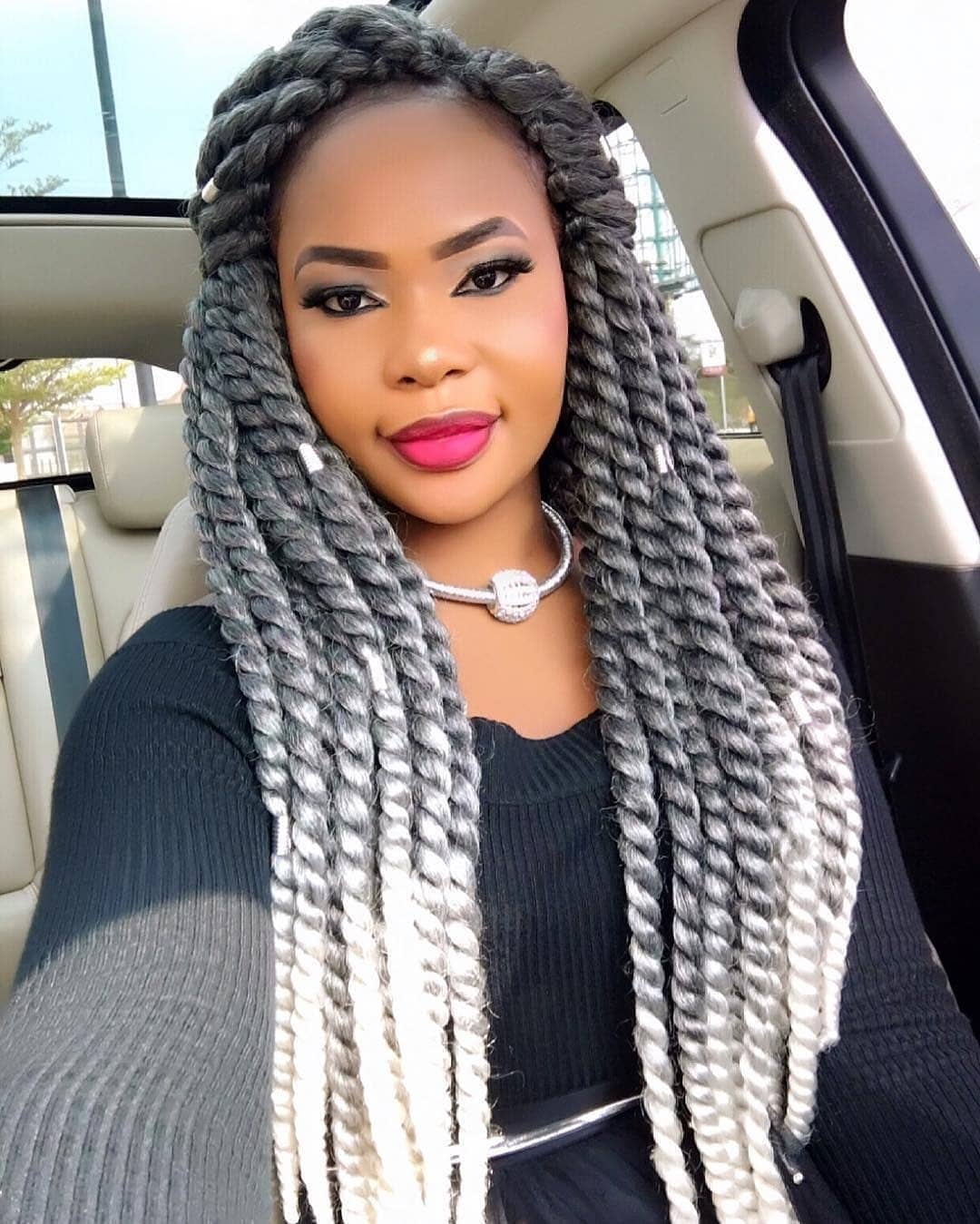 Mambo crochet braid is simply beautiful, they are made with loose tips to give you a unique way of styling and make maintenance very easy too. This is really easy to install and compare to fizzing up a box braid, we are rooting for a soft loc instead.
18. Short Twist Crochet Braid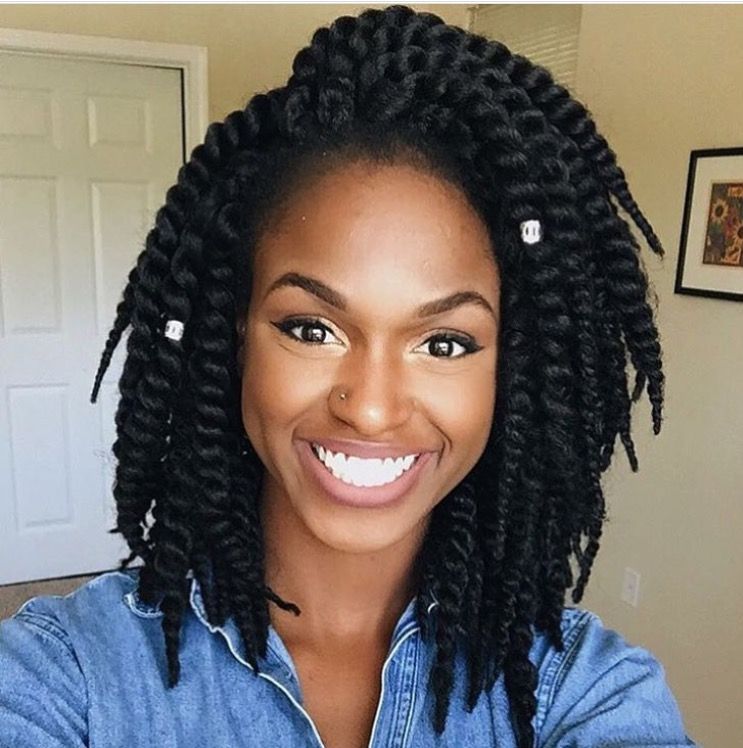 Another fun crochet braid is mambo twist crochet braid, this is lightweight and with just one easy styling method, you can rock it for all kinds of occasions.
19. Big Crochet Twist Braid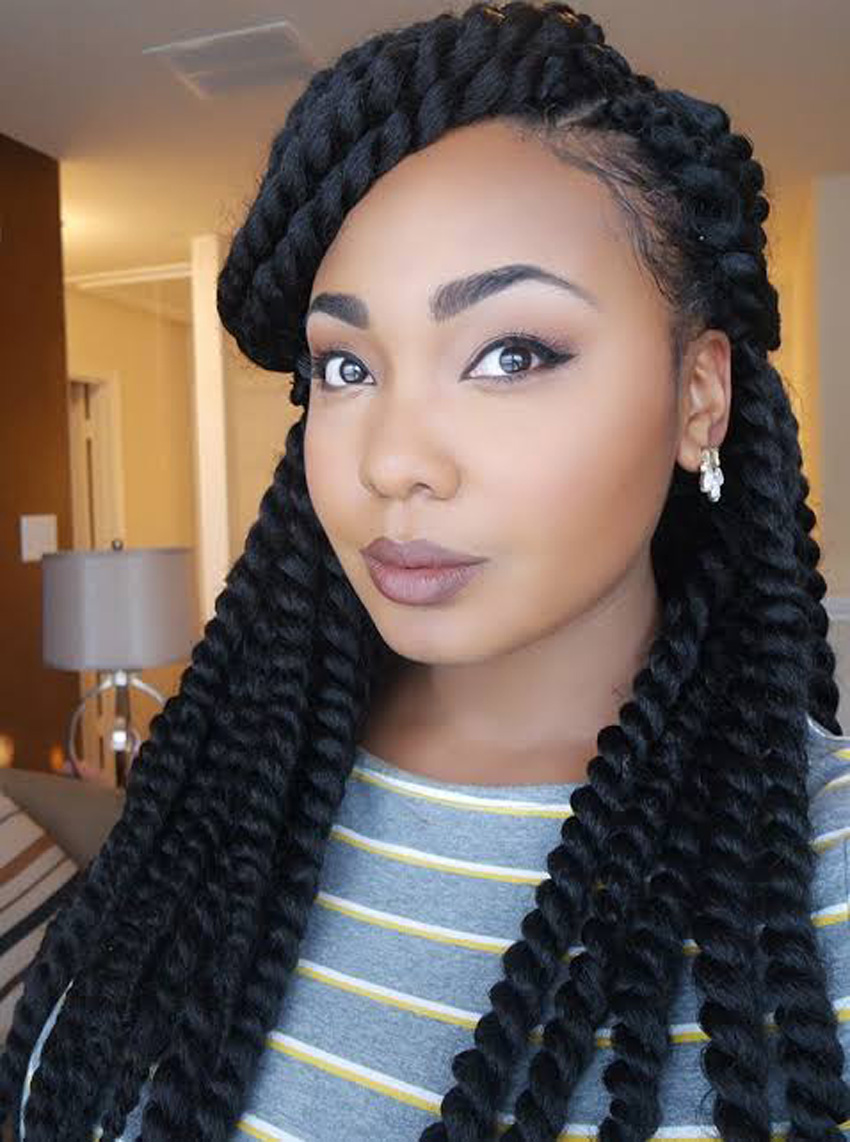 This has a unique appeal to it and just like every other twist crochet, you can style it whichever way you want and for all kinds of a bold look, this is the crochet to install.
20. Short Havana Crochet Twist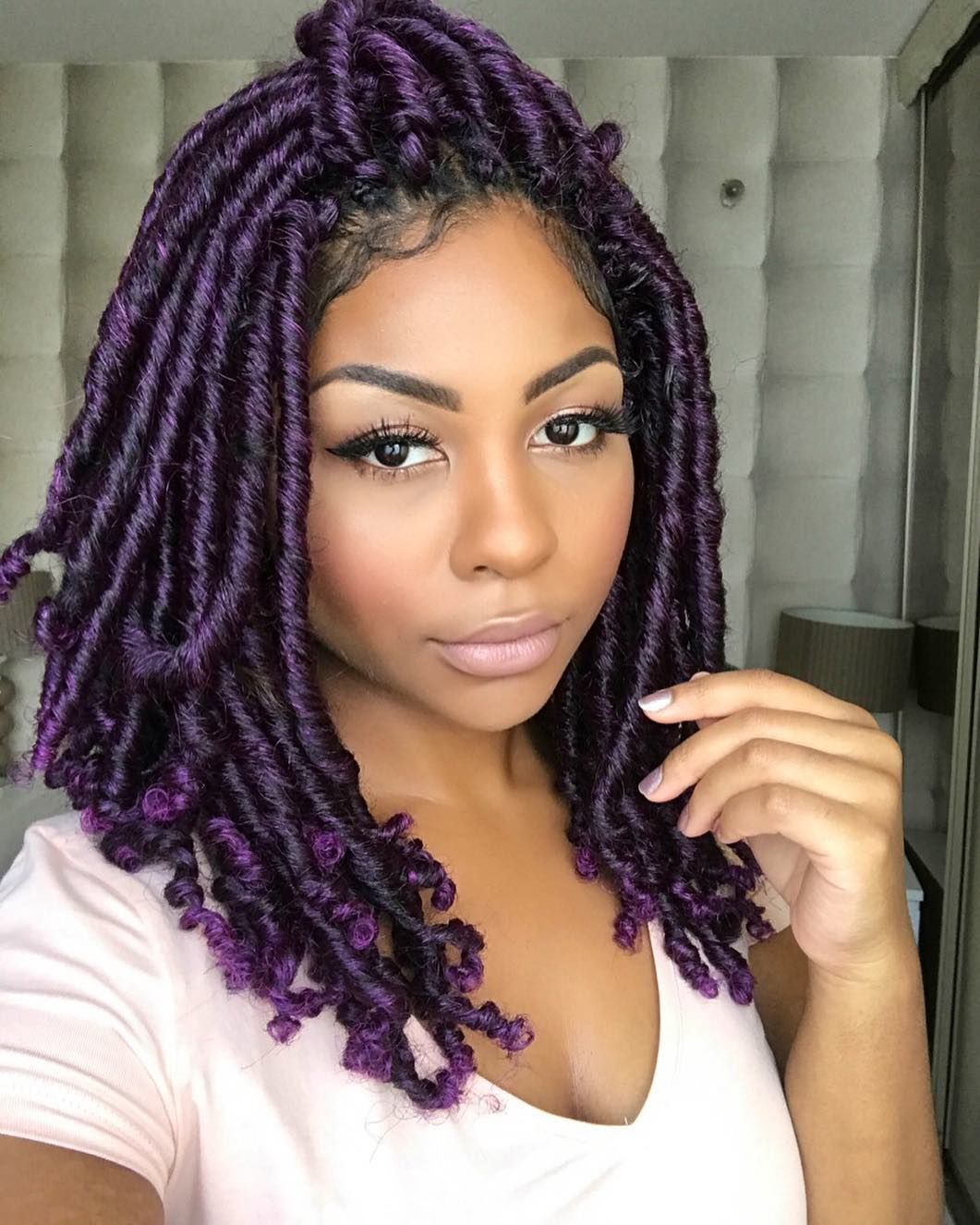 This comes with loose tips and protects your edges from damages as it is mostly installed to fall at the sides, it's beautiful and comes in lots of nice colors to choose from.
21. Loose Crochet Braids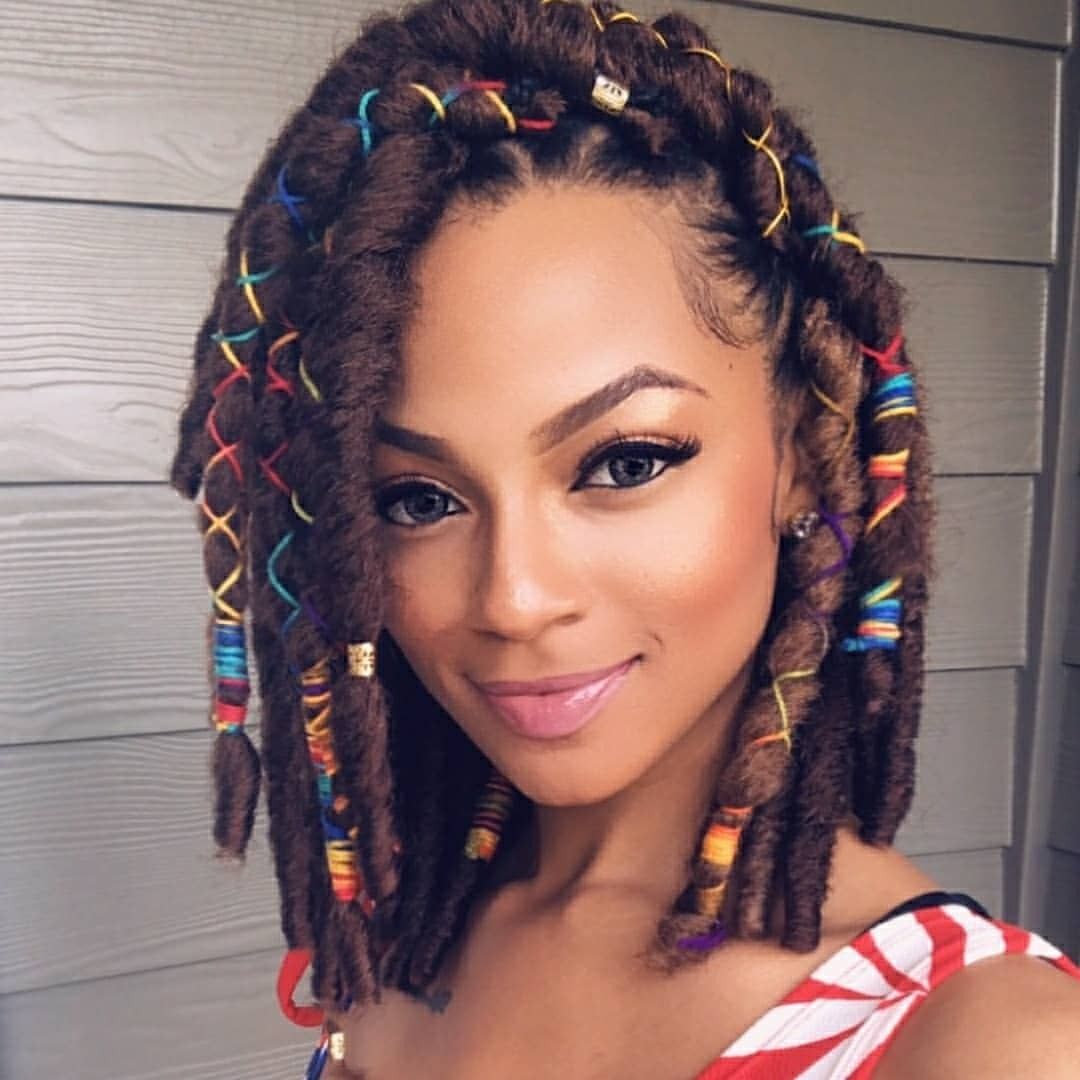 Make your crochet braid hairstyle more interesting with the new loose crochet braids, this has been designed to be interesting, and style it with colorful bands to make it look fancier.
22. Short Multi Crochet Braids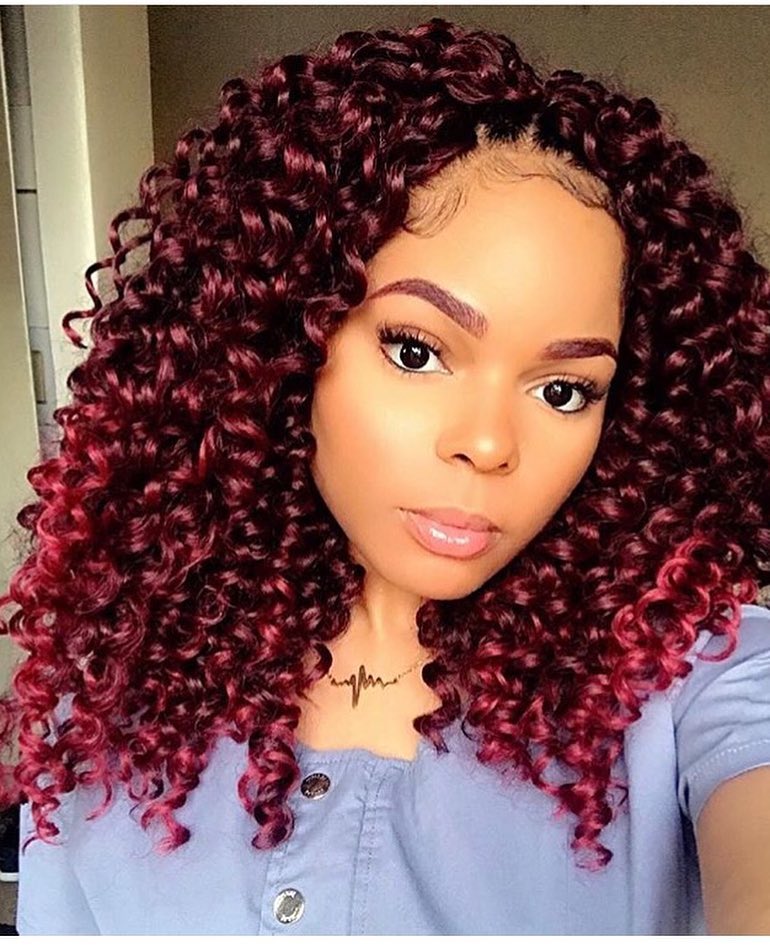 Multi crochet is one of the well-known crochet types, lot's of fascinating hairstyles can be achieved with multi crochet, and above is just one way to style it.
23. Dreadlock Crochet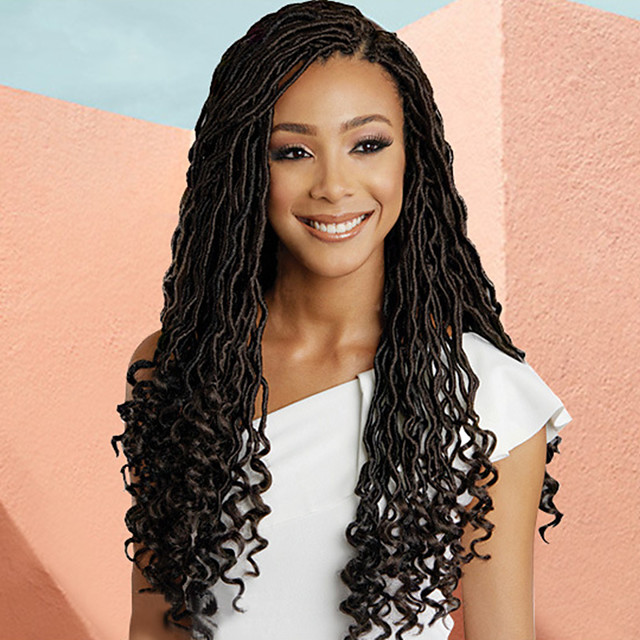 If you really want to get dreadlocks but can't take the time to grow them out or get it done then the fastest way to do this is through a crochet braid, it is gorgeous and simple.
24. Ponytail Curly Crochet Braid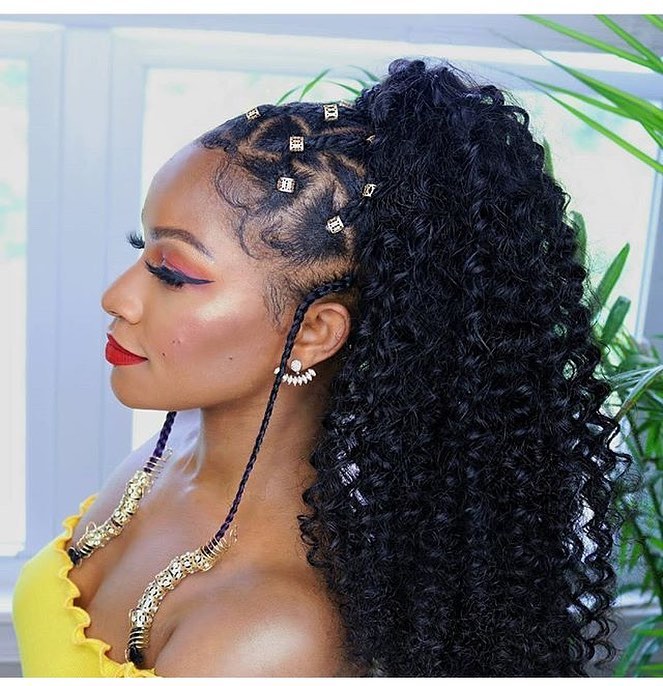 Ponytails are not just the best go-to hairstyles for ladies but the extension added at the base can be can add some unique look.
25. Long Curly Crochet Hairstyle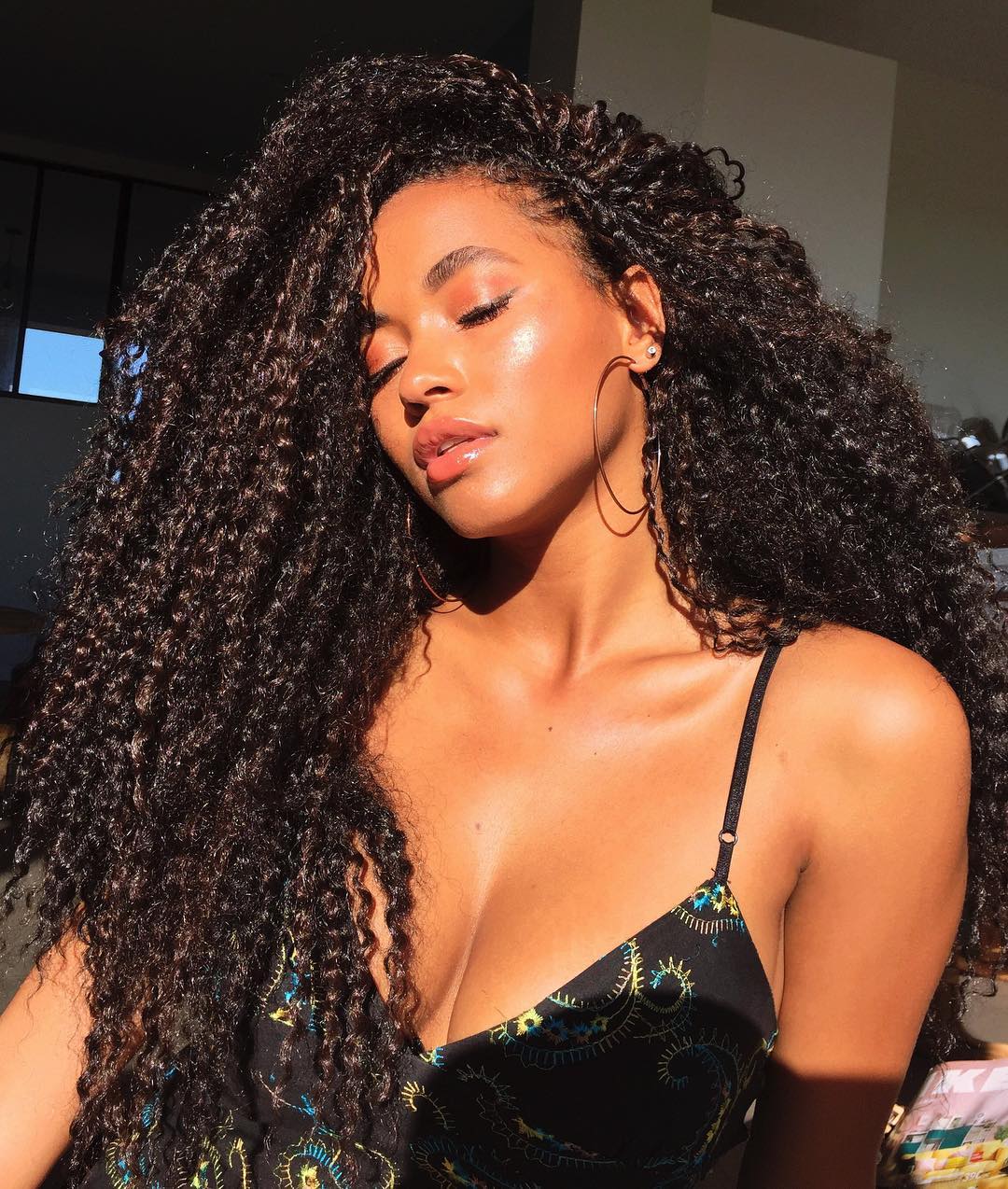 This is one curly crochet hairstyle you would love to install for classy and elaborate events, this steps up the crochet game and you can give it aside or center parting just like any curly hair extension.
26. Half Braided Curly Hair Crochet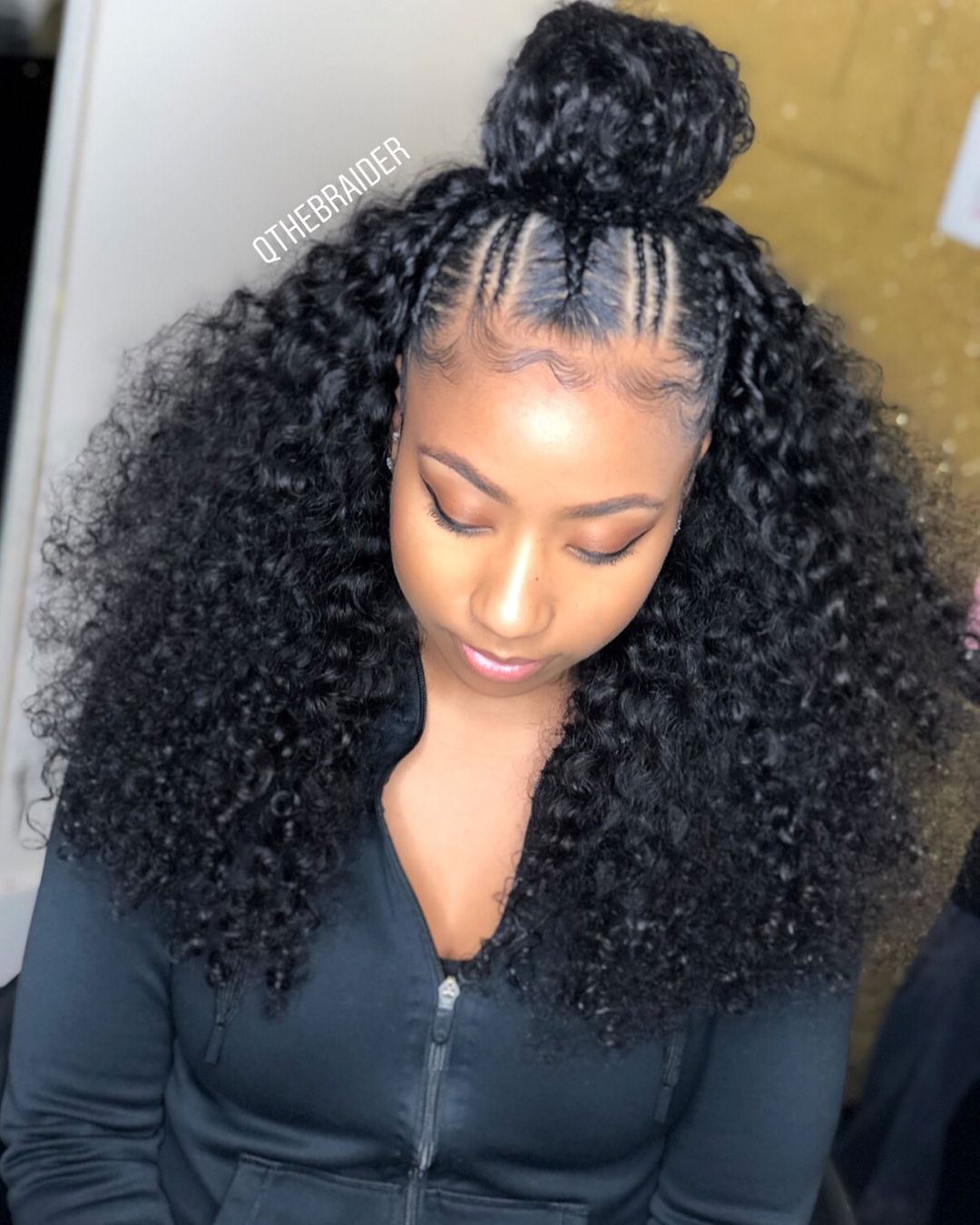 Braids in the front and get your crochet at the back, this is a pretty trendy hairstyle and quite fitting for anyone with a flair for crochets and cornrows.
27. Passion Twist Crochet Hairstyle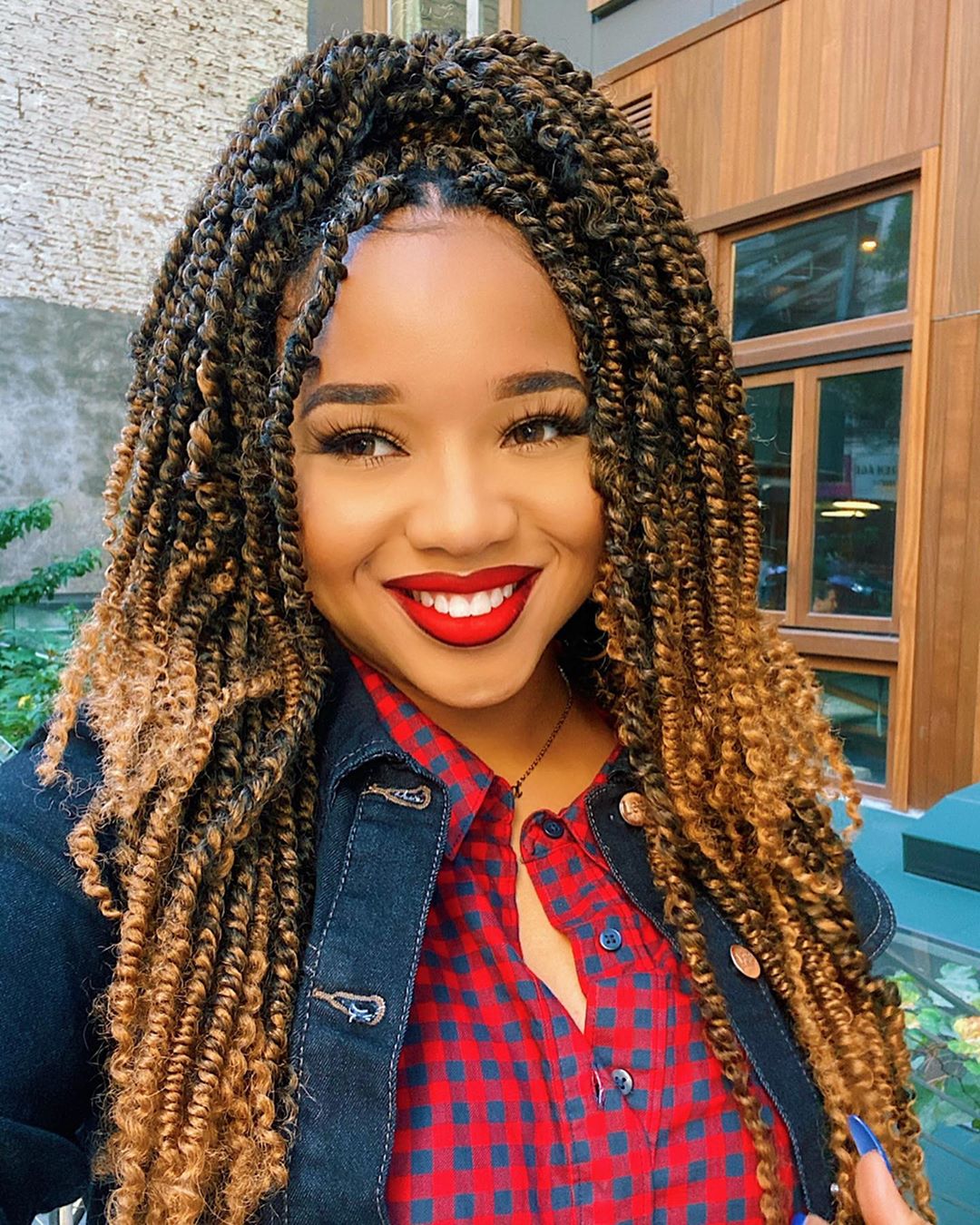 You don't have to sit long hours to make passion twists anymore when there are crochets that are even more adorable. This is a new addition to crochet hairstyle ideas and it's really cool.
28. Dark Magenta Crochet Hairstyle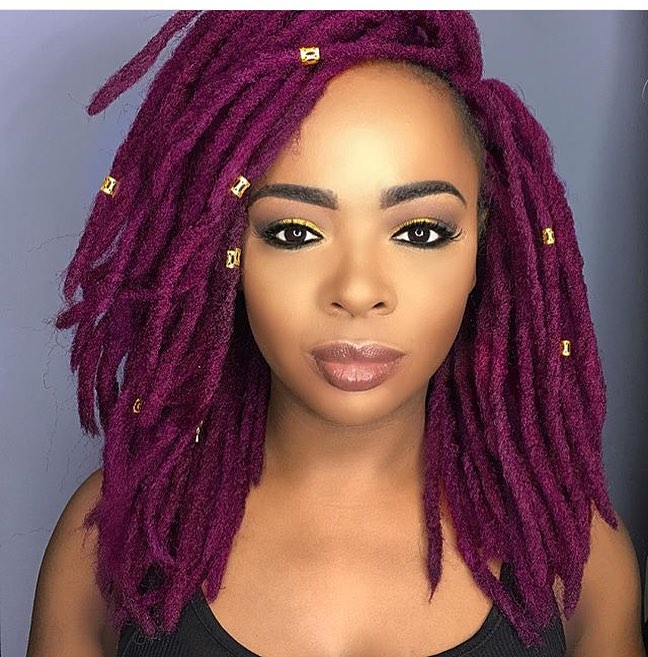 If you are looking for a cool but classy look then this crochet hairstyle might be a perfect idea, this is a bold hair color and it compliments any skin tone with its filtering magenta hue.
29. Honey Brown Crochet Hairstyle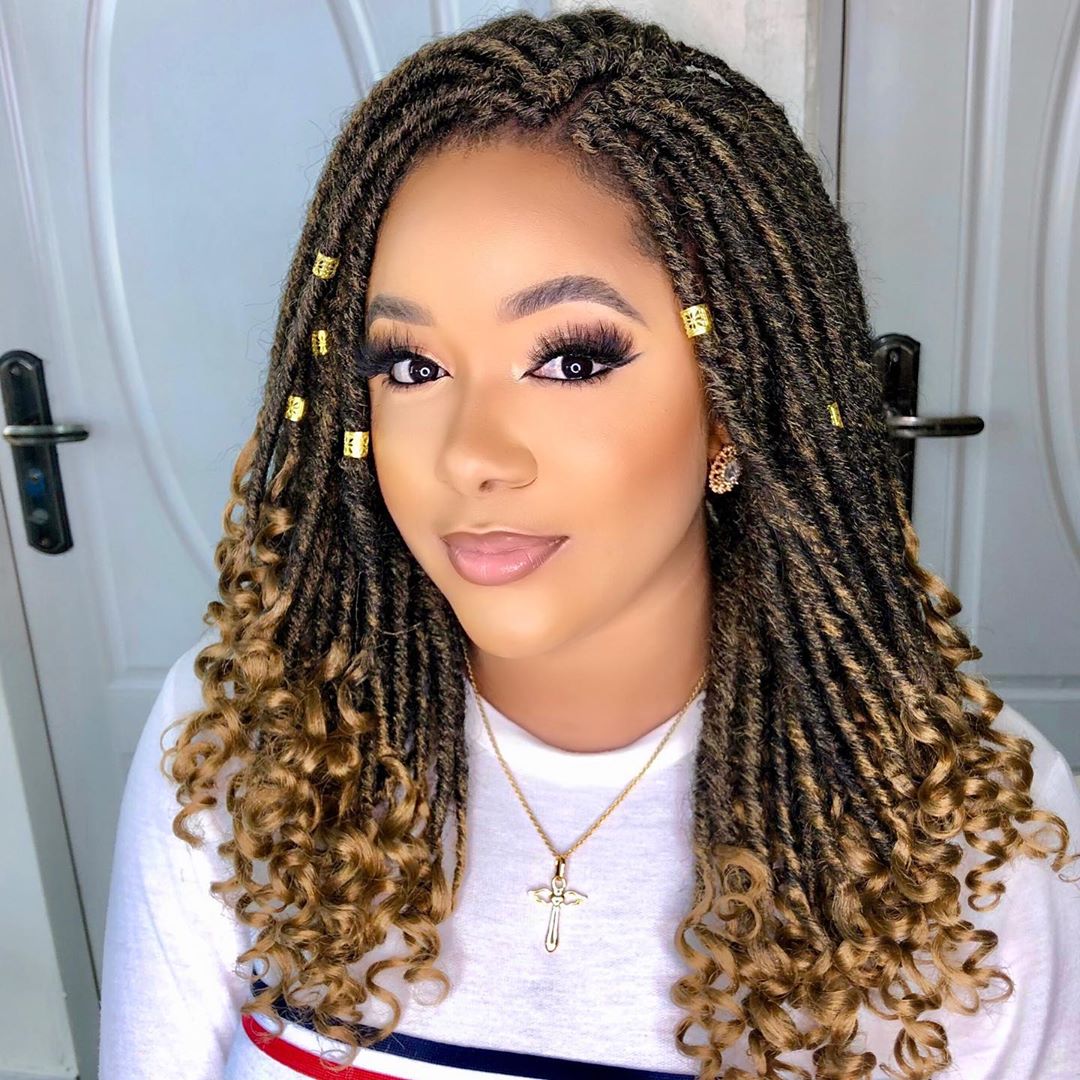 Level up your crochet hairstyle idea with this honey brown crochet hairstyle and just like every other crochet style, you can style it either center or half parted.
30. Jumbo Twist Crochet Hairstyle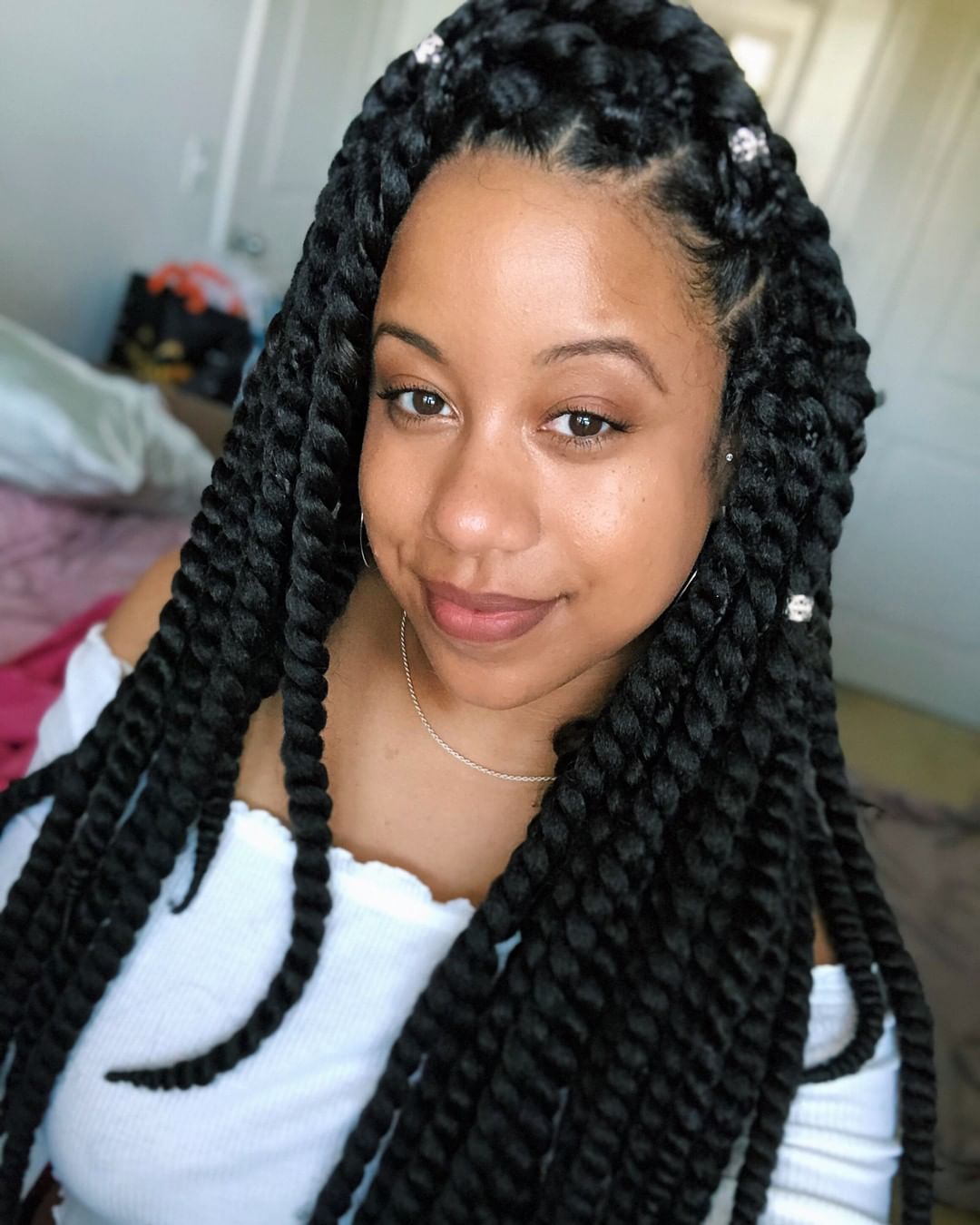 Maintain a straight fashionable look with a jumbo twist crochet hairstyle and just like a jumbo braid, this is practically for any kind of look or outfit.
31. Short Blonde Crochet Hairstyle
This blonde protective crochet hairstyle lets you experiment with a blonde color without having to change your hair color. This is a bold crochet hairstyle that is just as trendy and it is beautiful.
32. Red Multi Crochet Hairstyle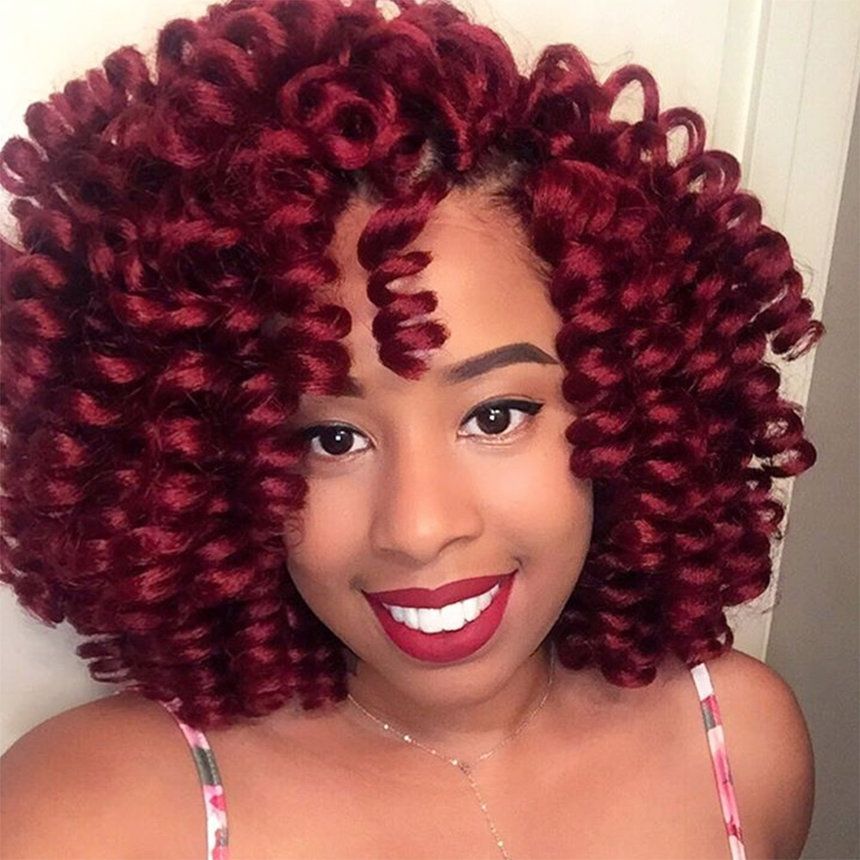 The red crochet hairstyle isn't so bad after all, this look above just shows that this is simply the right kind of protective hairstyle to get when you need to pair it with elaborate makeup for a less intimidating look.
33. White Twist Crochet Hairstyle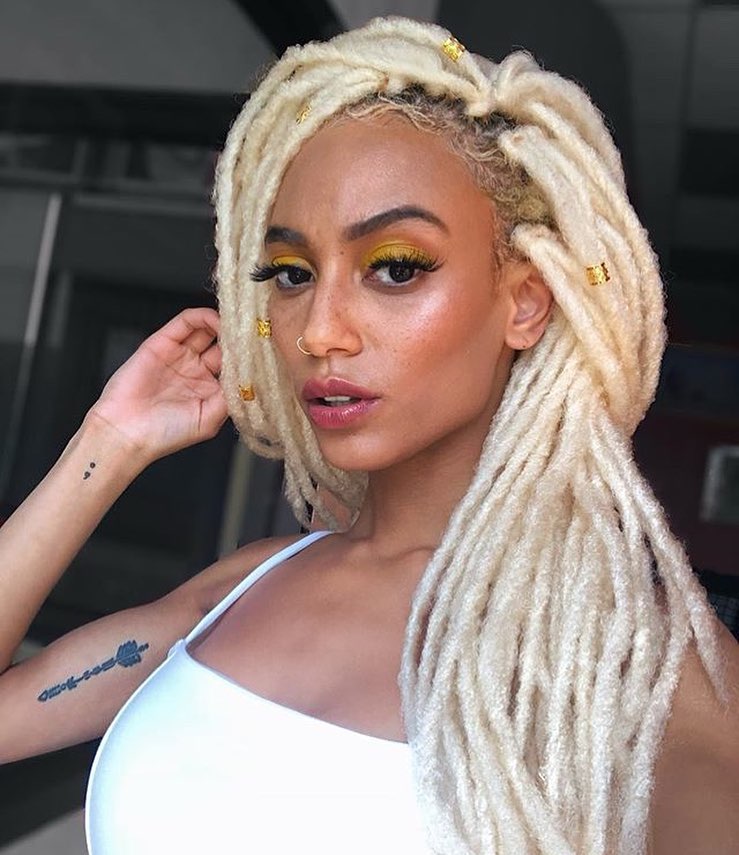 There are so many colorful crochets to choose from and white crochet saves you from getting your hair dyed, you can rather install a crochet braid till your mind is made up, it is super stylish and gives you just the look you want.
34. Senegalese Twist Crochet Hairstyle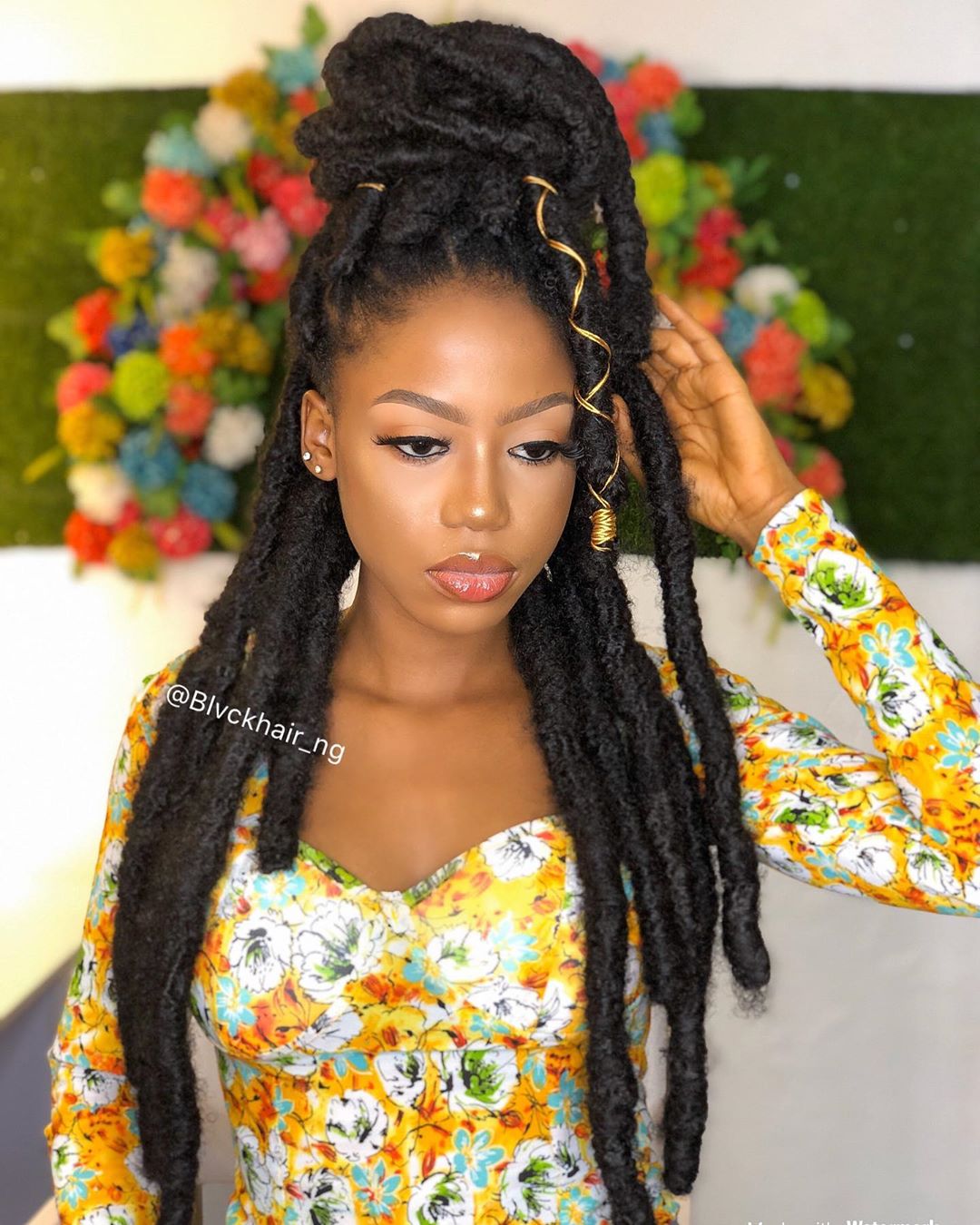 Here is another stunning crochet hairstyle idea just for you to rock, this is another trendy hairstyle you can't help but love, keep your scalp hydrated at all time and get this crochet hairstyle to protect those edges.
35. Spring Curls Crochet With Braid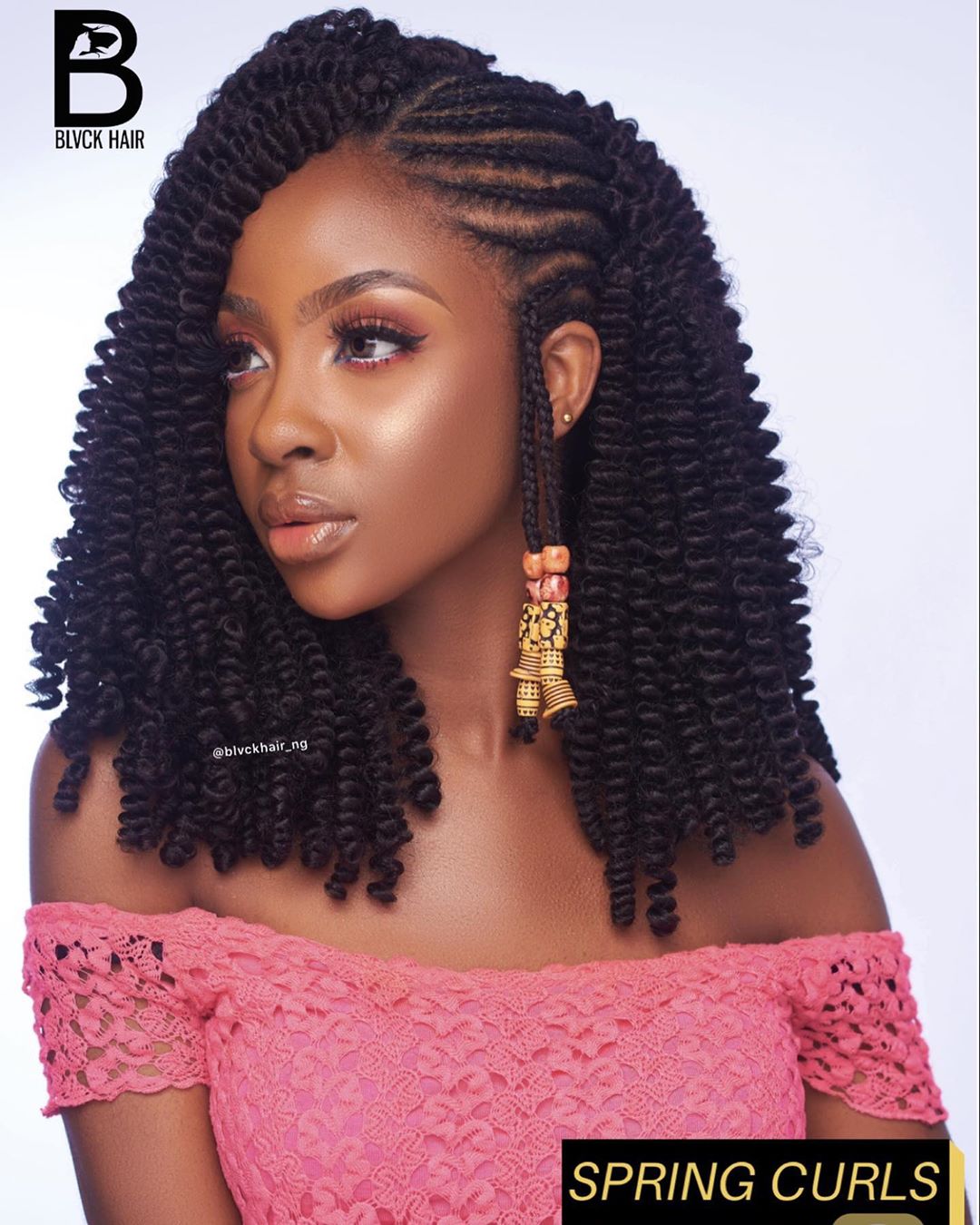 Spring crochet curls are even more beautiful and with a side braid to make it look more adorable, you are good to go.
36. Senegalese Crochet Twist
Source: PinterestNothing stops you from getting Senegalese twist now that all you have to do is install it as crochet, this is can be styled any way you want.
37. Dread Twist Crochet Hairstyle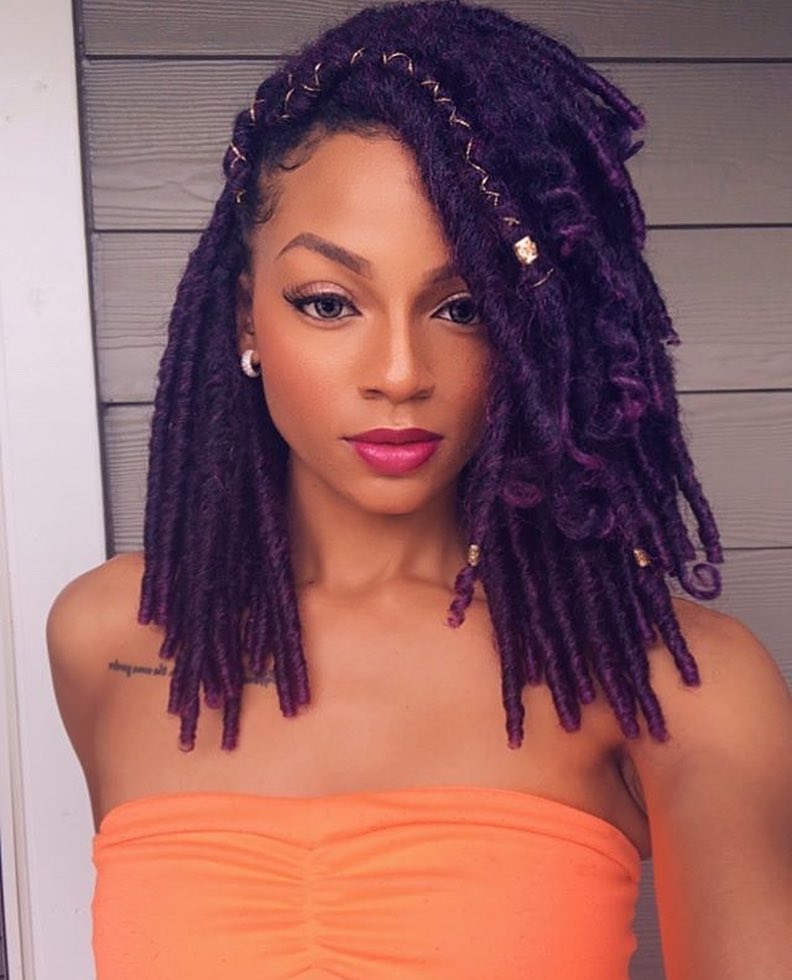 Keep it locked in and simple with short dread twist crochet.
38. Brown Ponytail Crochet Hairstyle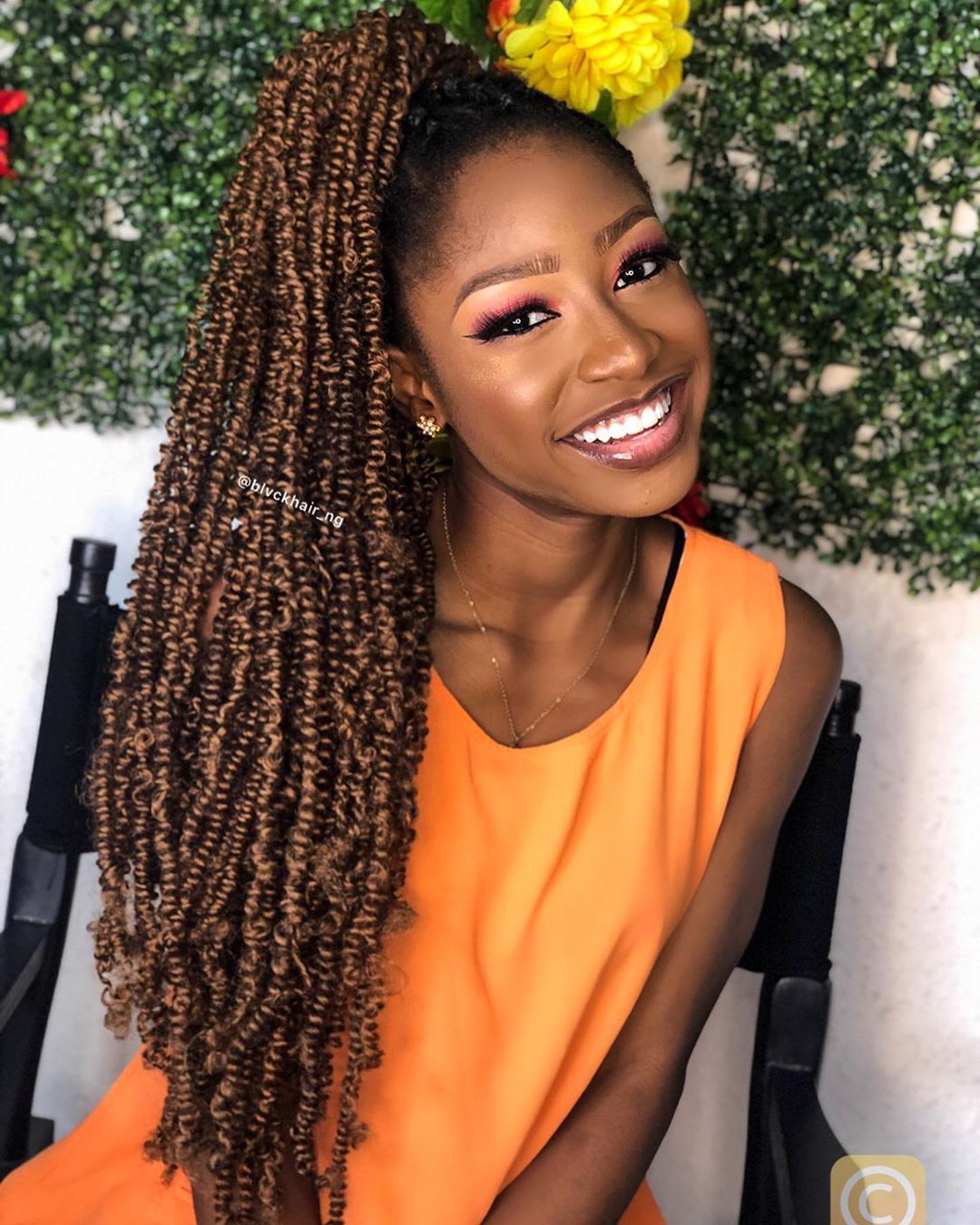 This is for those who like their crochets long and easy to style, this can be rolled into a bun or just let it fall into a ponytail for a casual day out.
39. Curly Hair Crochets With Bangs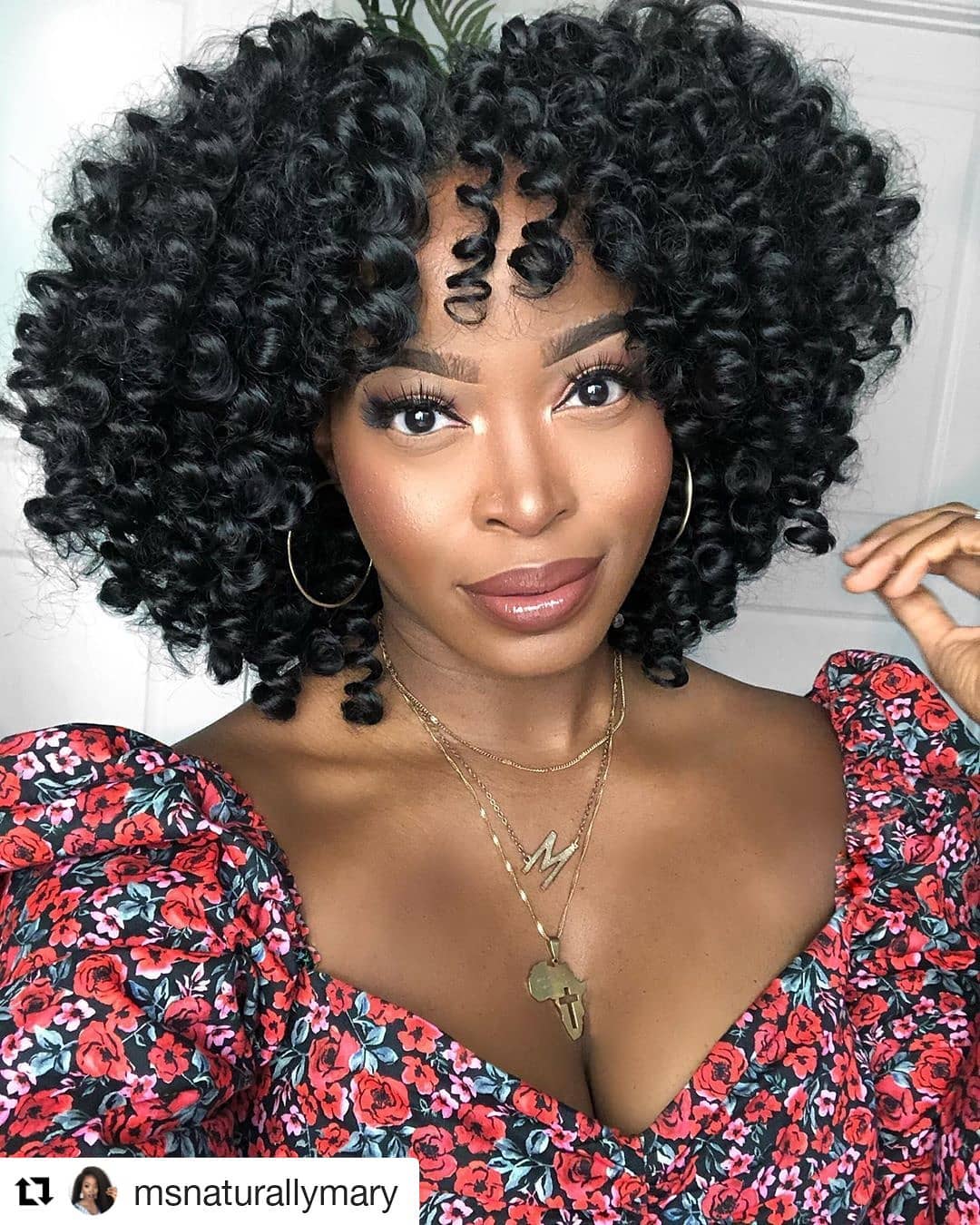 Embrace your curls and find some interesting way to make them pop, this is a mini version of spring curls and for extra curls, you can separate the crochets into thin curls for a full look.
40. Short Box Braid Crochets
A crochet hairstyle won't be complete without a box braid crochet, they were the first choice of crochet for many before other styles were introduced and for a simple look, box braid crochets are the most suitable option.
Conclusion
Crochet braids are hair extensions that are literally crocheted into your own hair and are known to save lots of time and effort, your hair is braided into a cornrow but instead of sewing in your extension, your braider uses crochet instead. Crochet braids are considered protective hairstyles and even though they are not damaging to hair, it is important to keep your hair healthy before it is braided down.
Read more on braids and protective styles for natural hair: