Medium box braid is just the right kind of hairstyle you need if you want to take a break from your natural hair, it acts as protective styling to keep your hair under wrap from breakage and can be a perfect choice if you are transitioning. Medium box braids are the most popular form of box braid and this is because most women find it to be more stylish and you can spend fewer hours at the salon compared to making goddess or jumbo braids.
It is also one of the most iconic braids for textured hair. Celebrities and every other woman are obsessed with an iconic box braid as it is just perfect for all kinds of events, from colorful hair extensions to all kinds of lengths and accessories.
Medium box braid can add more fun to your look and all you need is a different method of styling. Medium box braid is the perfect solution to rocking a protective style while adding plenty of lengths.
36 Medium Box Braids Style Ideas Trending Now
When it comes to medium box braids, you can't be bored with so many styles to choose from. Everyone likes box braids as it offers the opportunity to wear a versatile hairstyle, there are large, tiny and medium box braid to choose from and if you are on a budget, Here are 25 medium box braids style ideas trending now.
1. Medium Box Braids With White Scrunchie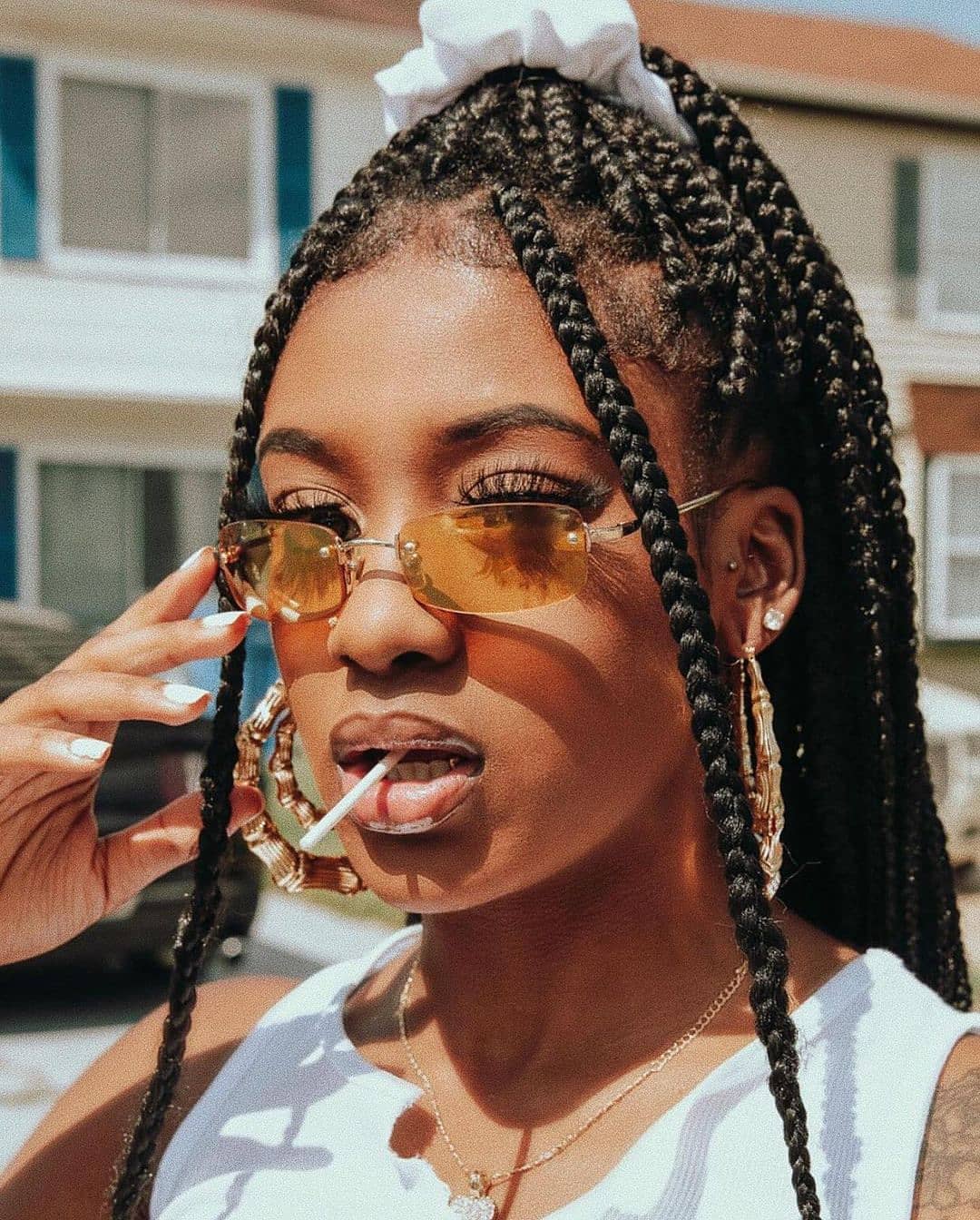 This box braid is perfect in 2021.
2. Side Box Braid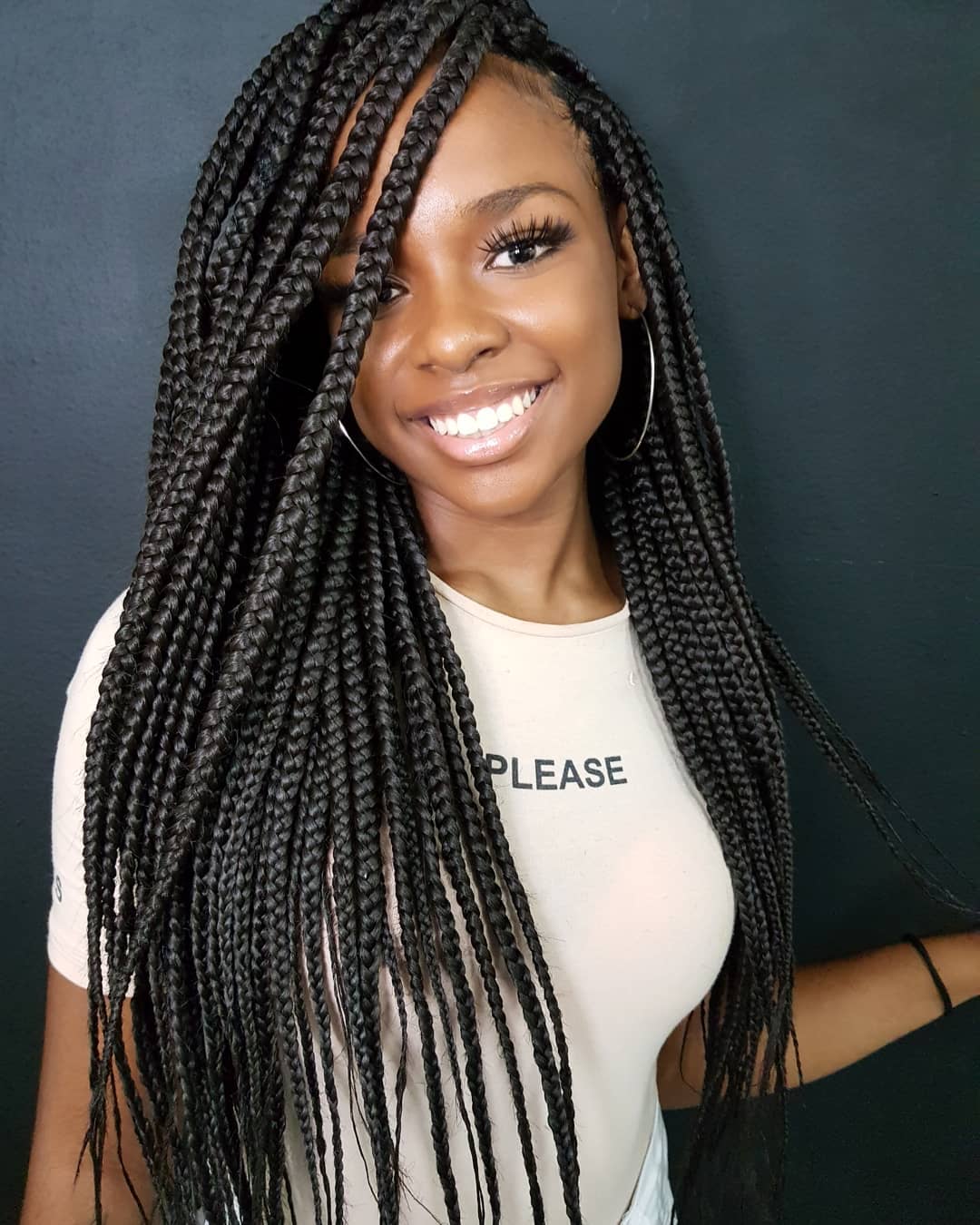 Every box braid has its own unique pattern that sets it apart from other types of braids, above is one of the trendiest braid styles, it is gorgeous and easy to style, this box braid style is great for protecting your hair strand during the cold season.
3. Brown Box Braid With Sleek Edge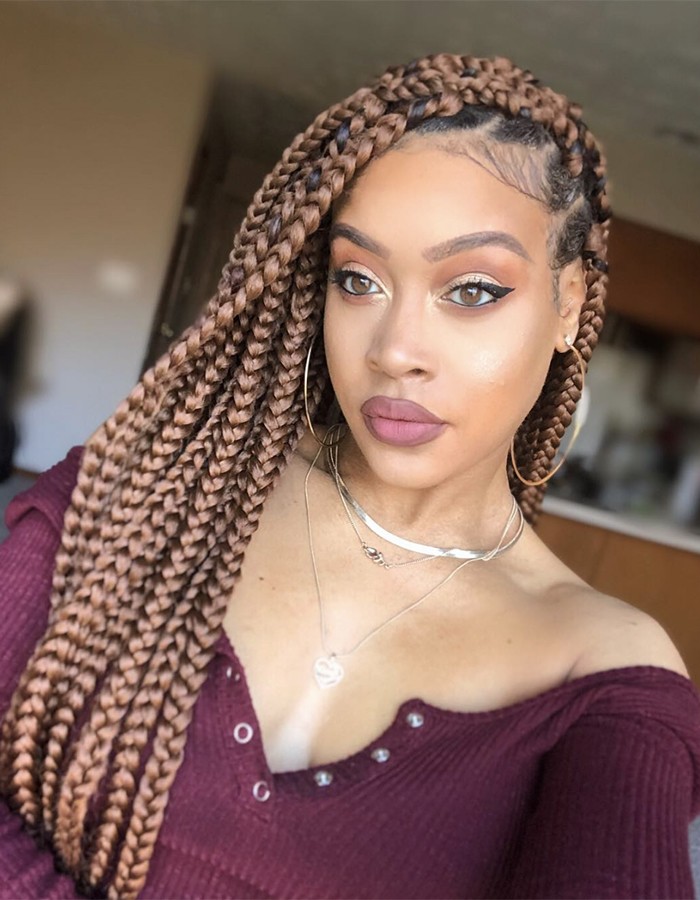 Your choice of box braid can also be based on the color of extension you are using, a brown extension has shown to be great for big box braids, it makes it look cool and fancy for all kinds of events.
4. Medium Side Box Braid With Pencilled Tip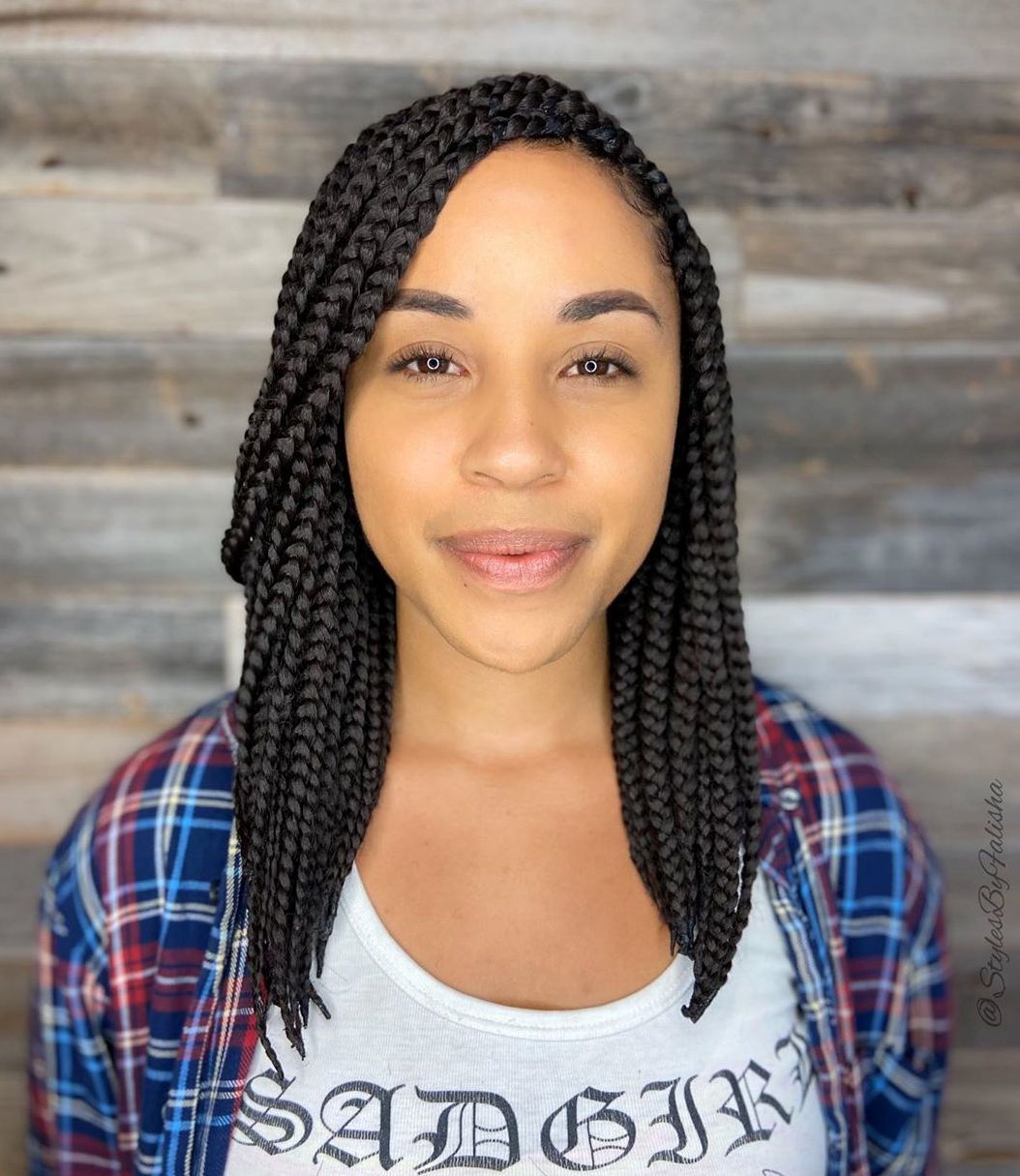 Medium box braid needs no introduction, it is an interesting choice if you want a faster and easier hairstyle. The penciled tip has been adopted for years and really suitable for all kinds of box braids.
5. Mixed Color Braid
This is simply stunning and tends to stand out with the combination of cool colors and quite long to enable you to have lot's of styling options.
6. Tiny Gold Braid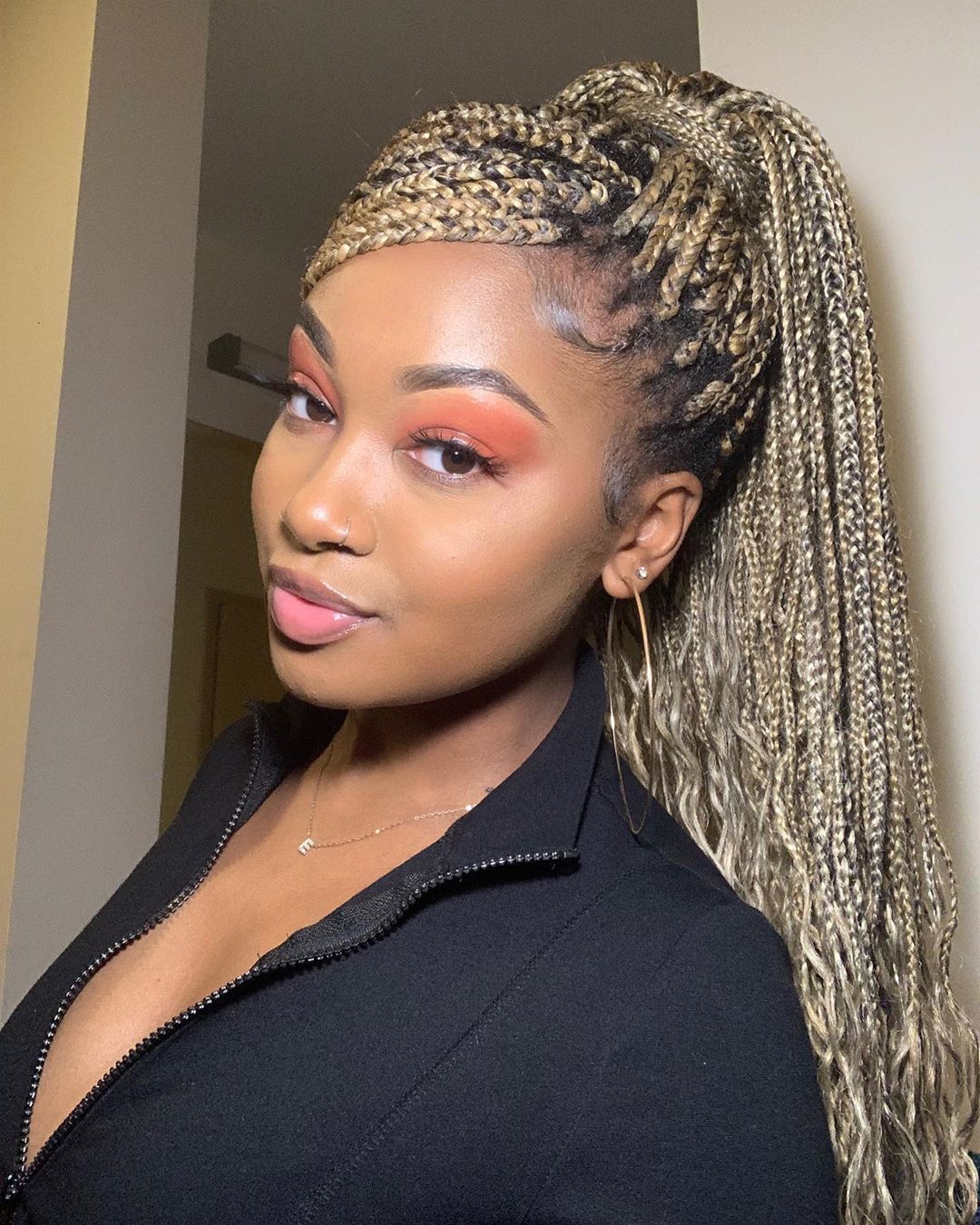 Tiny box braids are another exciting form of braids and above is just the perfect styling for this gorgeous braid.
7. Long Center Braid
Long center braid is another trendy box braid we find really fascinating and can be style with accessories for a more astonishing look.
8. Green Box Braid
For a bold and daring look, here is just the kind of box braid you might want to try.
9. Purple Short Box Braid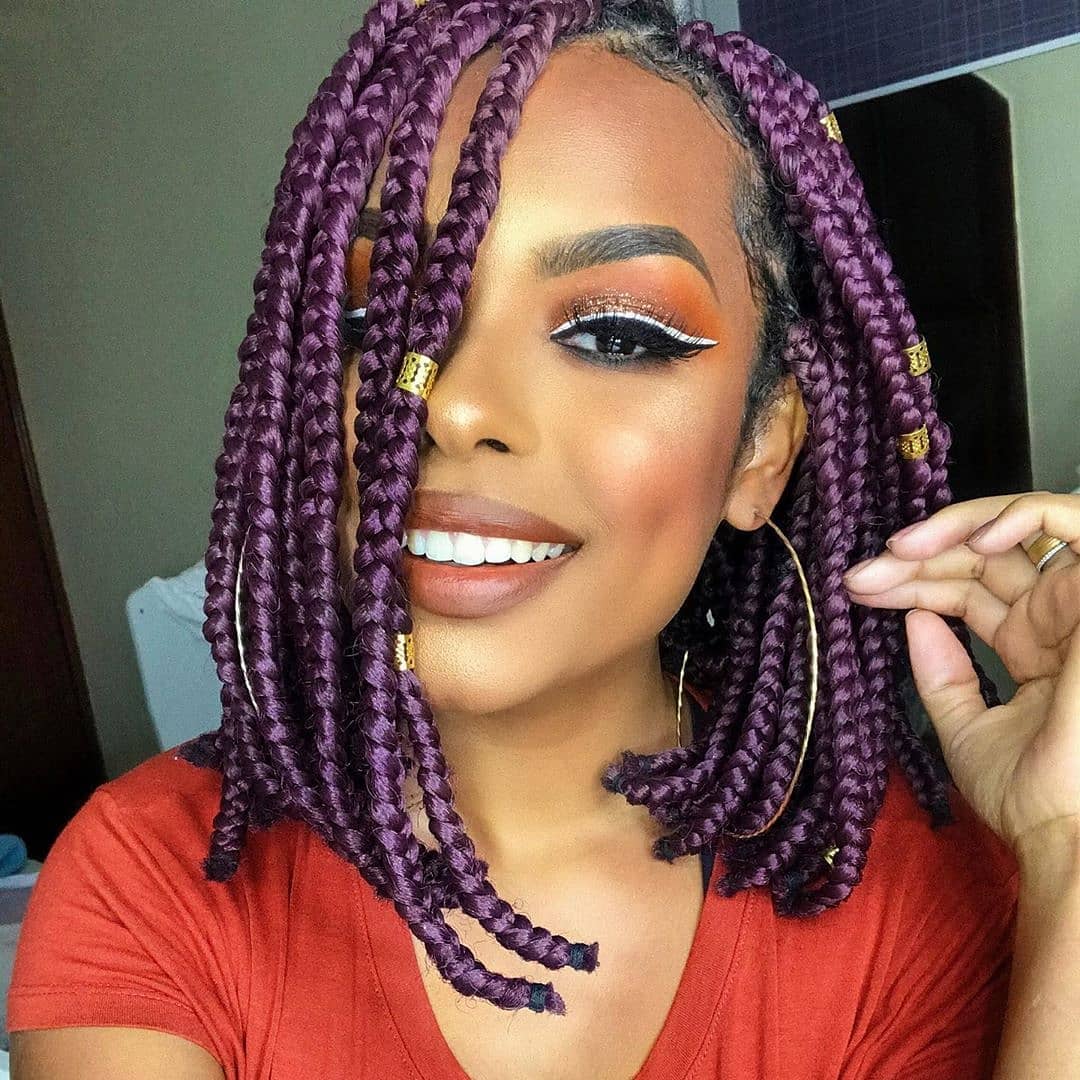 Purple is a cool color and perfect for a conservative look, short box braids are a great choice to make this color pop.
10. Medium Box Braid With Bangs
A less dramatic form of box braid hairstyle that has become quite a trend is box braid with bangs, this hairstyle is beautiful and really fancy for all kinds of occasion.
11. Honey Brown Braid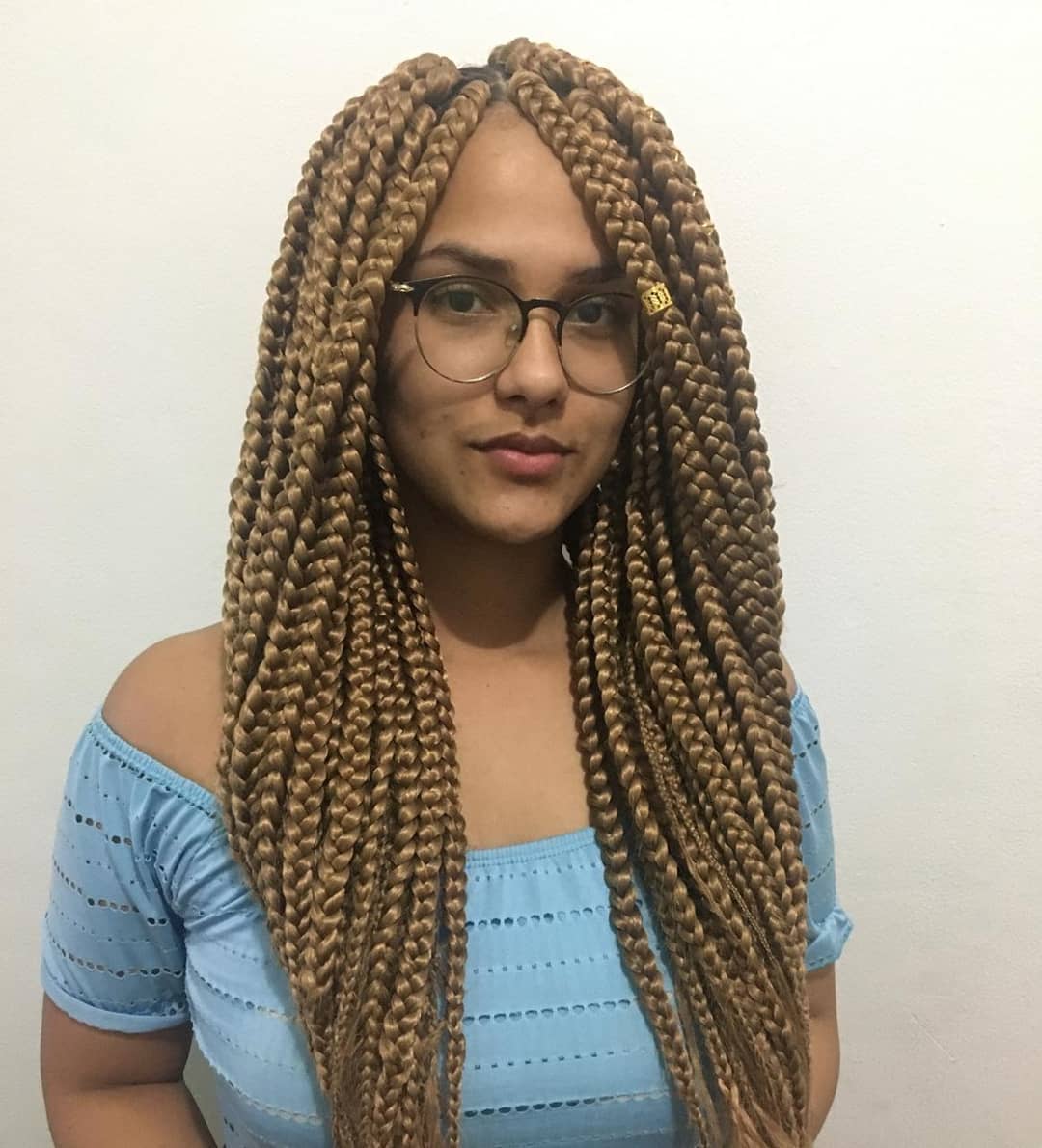 Box braids can for multiple length and color, above is another calm and fancy color you are sure to love. You can switch up this look by packing into a bun or ponytail for a more classy look.
12. Medium Twisting Braids
Box braids are fun and exciting but a medium twisting braid stands out, even more, this is unique, and whatever your natural hair texture is, twisting braids are great alternatives to regular braids. A twisted braid uses two sections instead of three and the medium-sized twisting braid is faster and easier to pack.
13. Space Medium Box Braid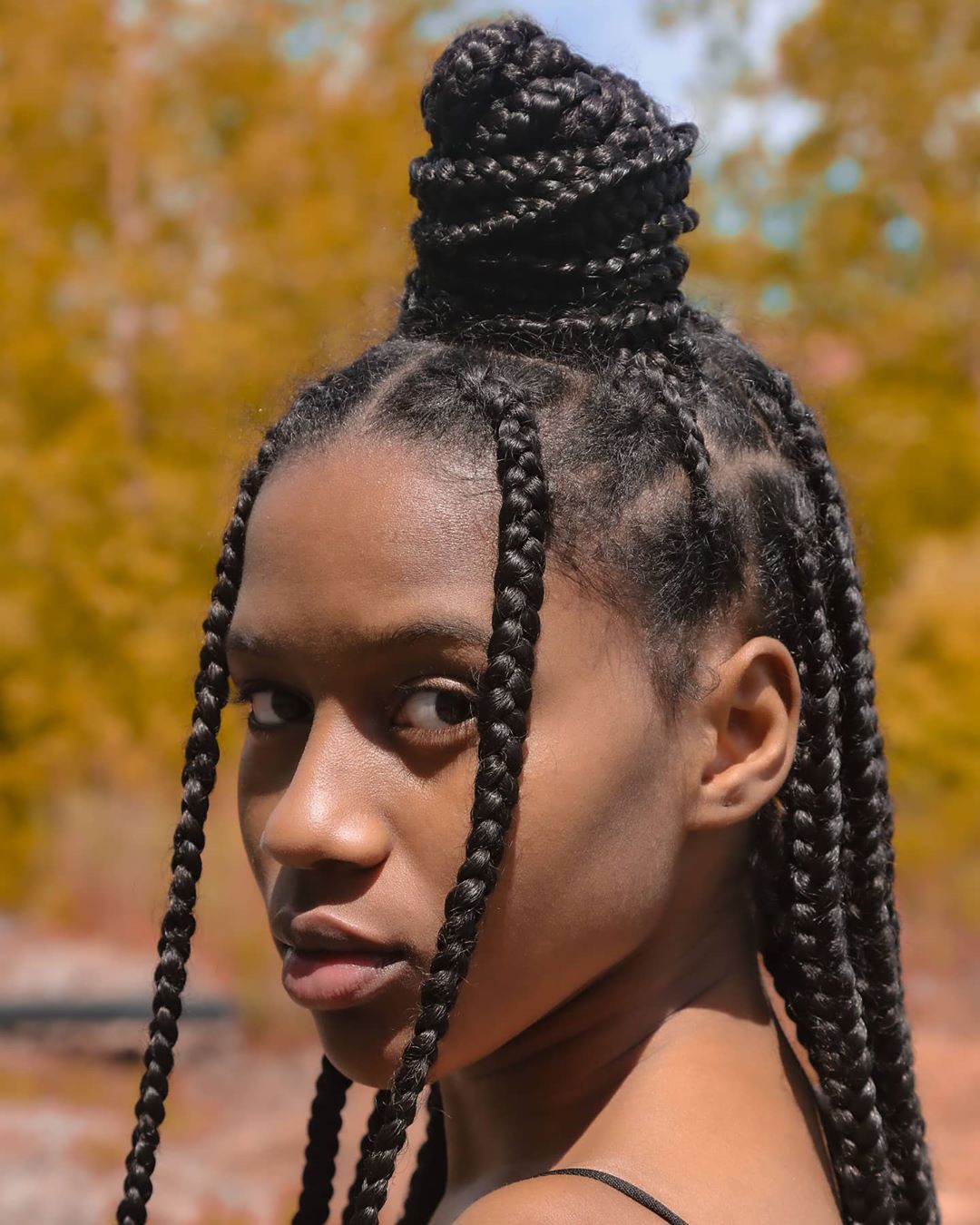 Space box braid is great for fragile natural hair, this doesn't take much time and really easy to keep for a long time without worrying about damage to your chair or scalp. This is also recommended for light and medium hair length.
14. Tight Medium Box Braid
This medium box braid is plaited to hold in short natural hair but instead of the three strands being loose, it is made tight to hold the hair in and prevent loosing or breakage.
15. Half Parting Medium Box Braid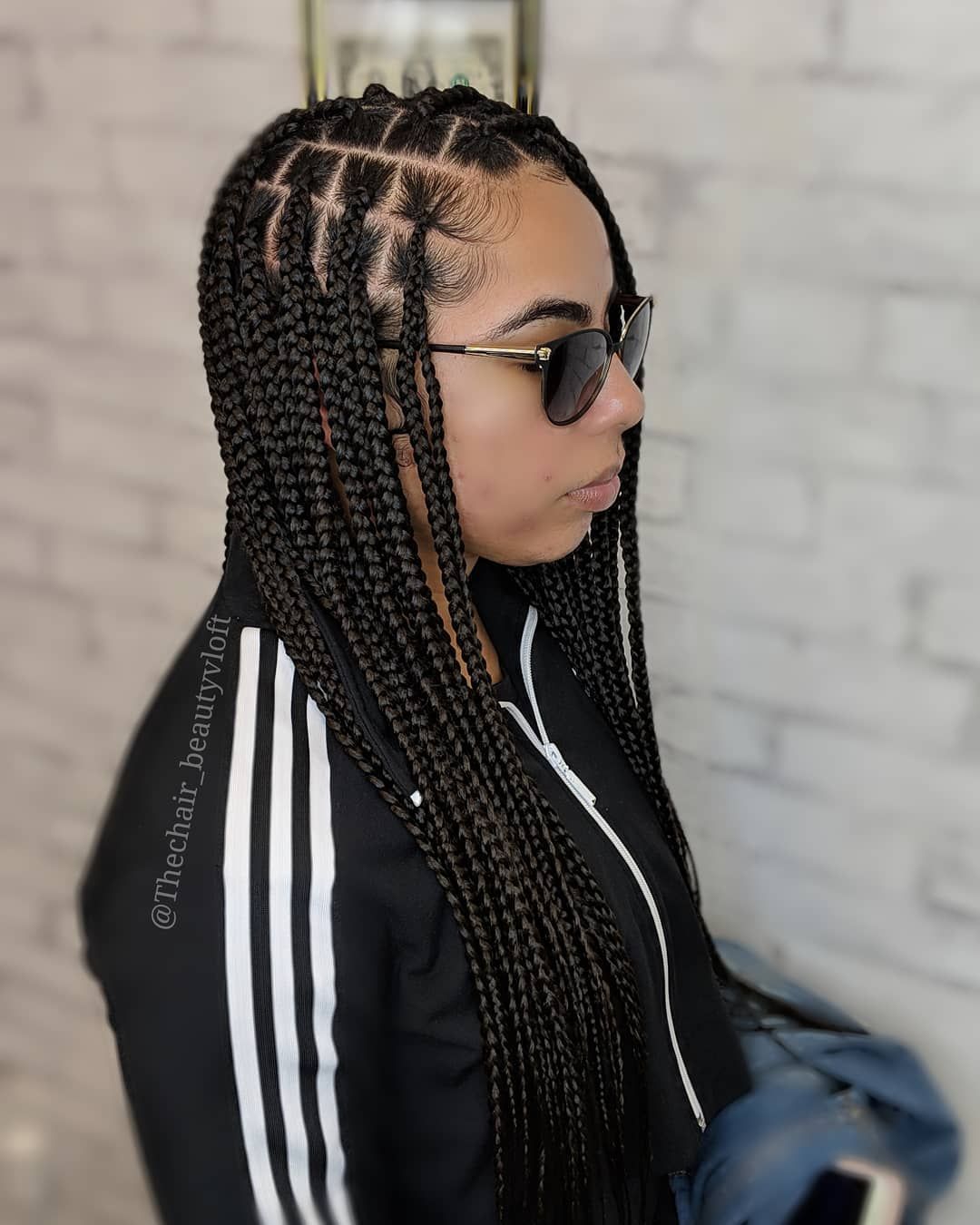 Here is another way to get your medium box braid, simple and fascinating, you can style it into a bun or ponytail.
16. Gold Medium Box Braid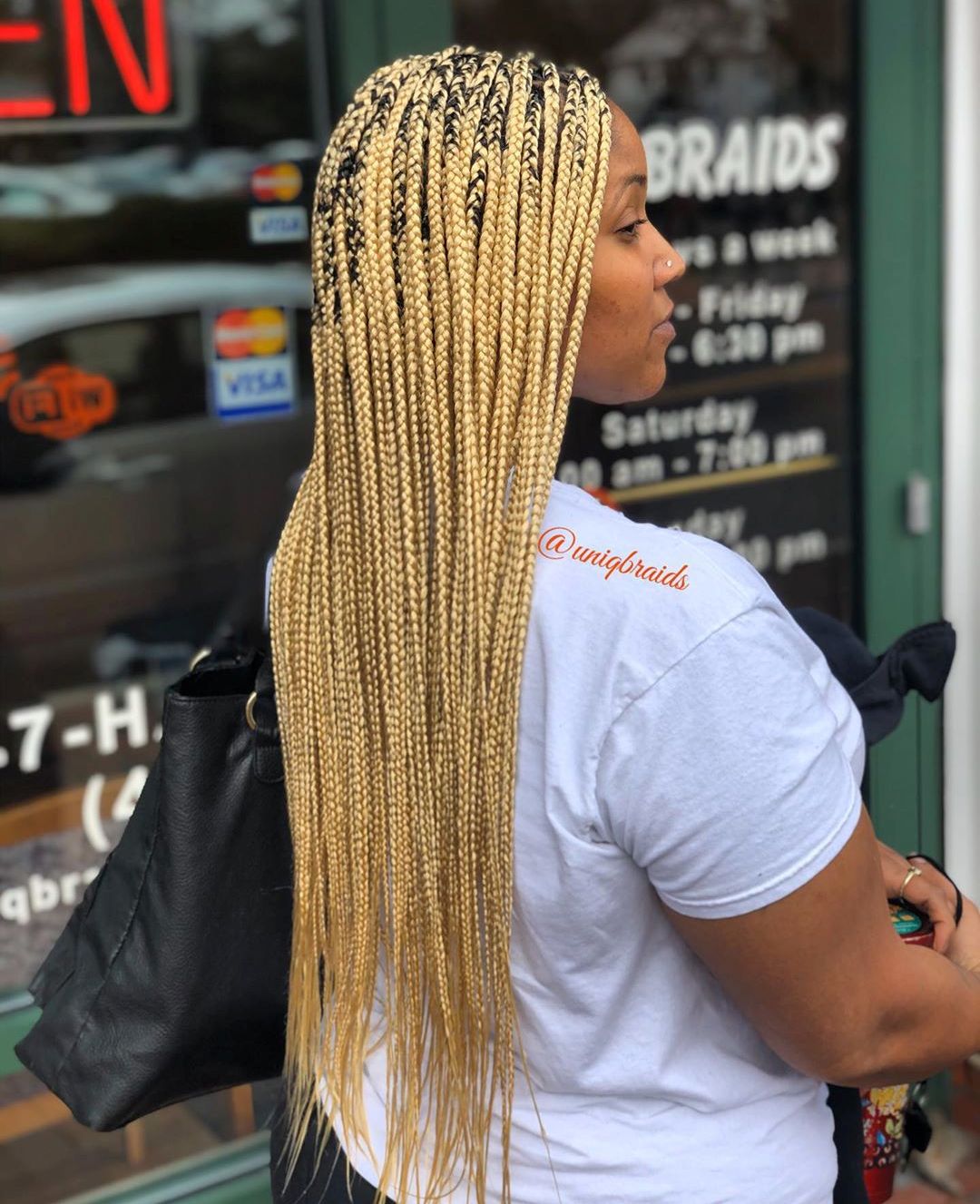 This is one medium braid that is not just easy to wear but using this gold extension makes it more exotic and fitting for any fancy events.
17. Loose End Medium Box Braid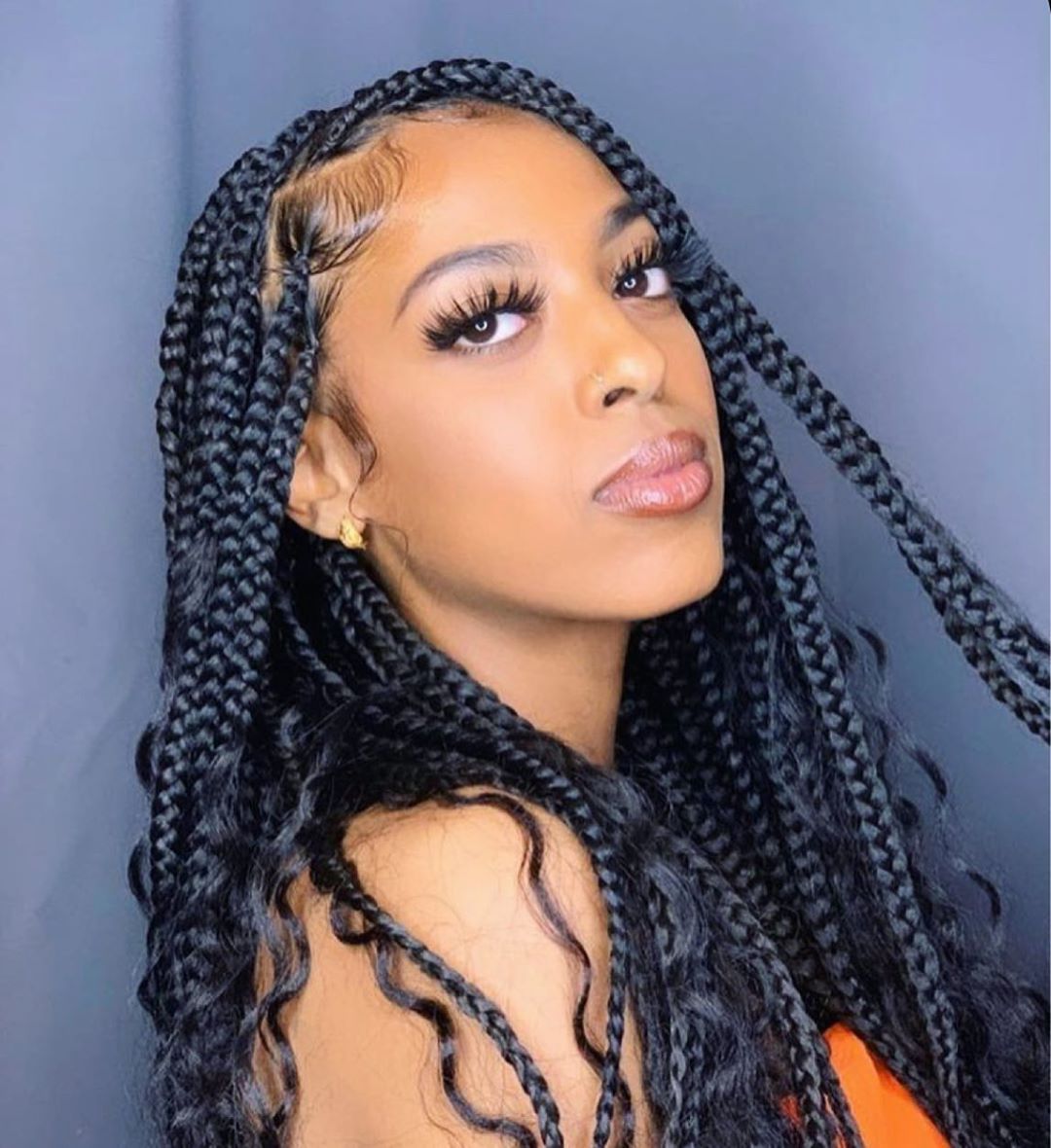 Here is a medium box braid that is fitting for a queen, this has been braid with three strands like every casual braid with some with loose ends to give it a cool but fancy look.
18. Cute Medium Box Braid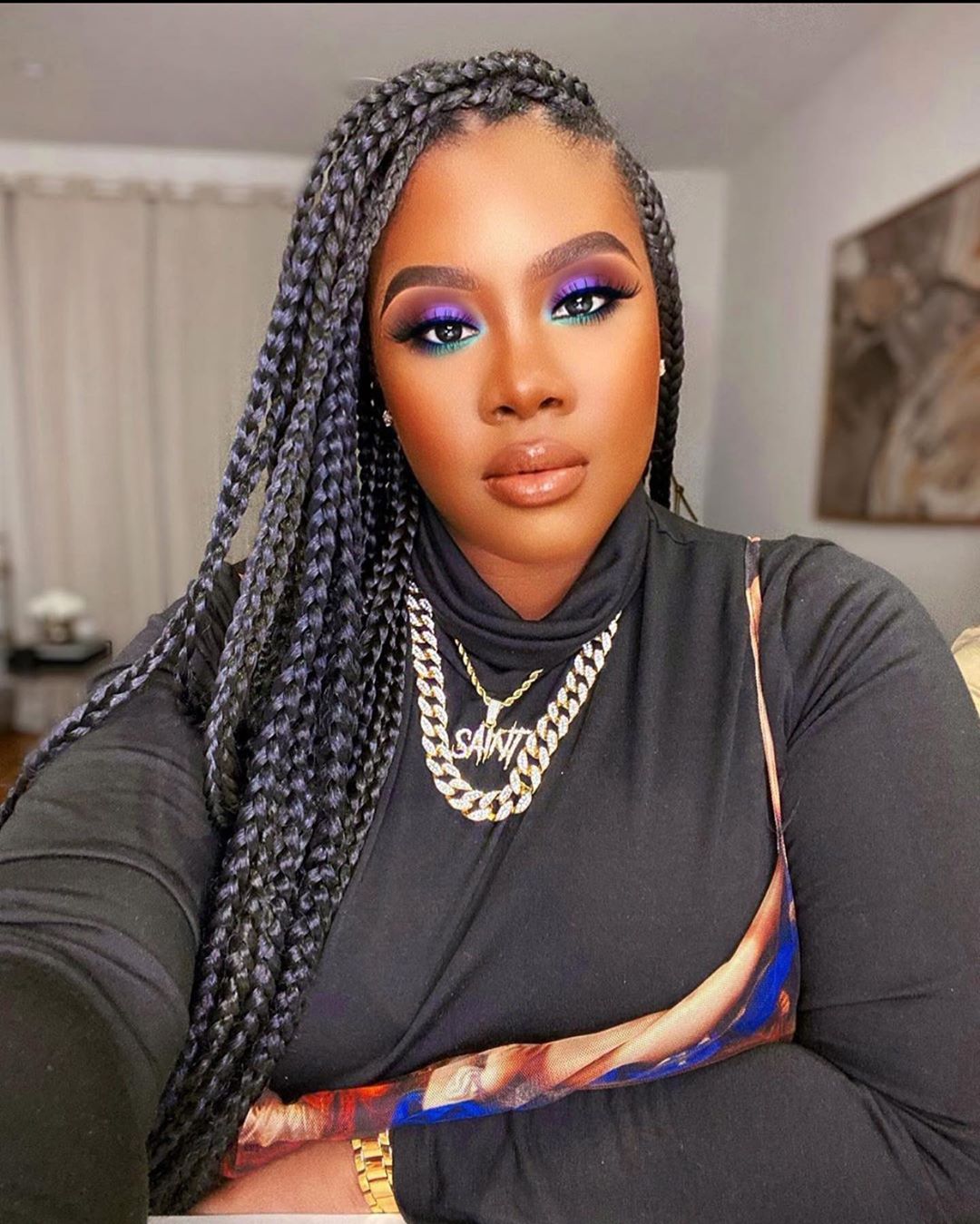 Create a hairstyle just like this if you want a simple look but for a bolder and more colorful look, you can go with bolder hair attachment color.
19. Medium Bob Braid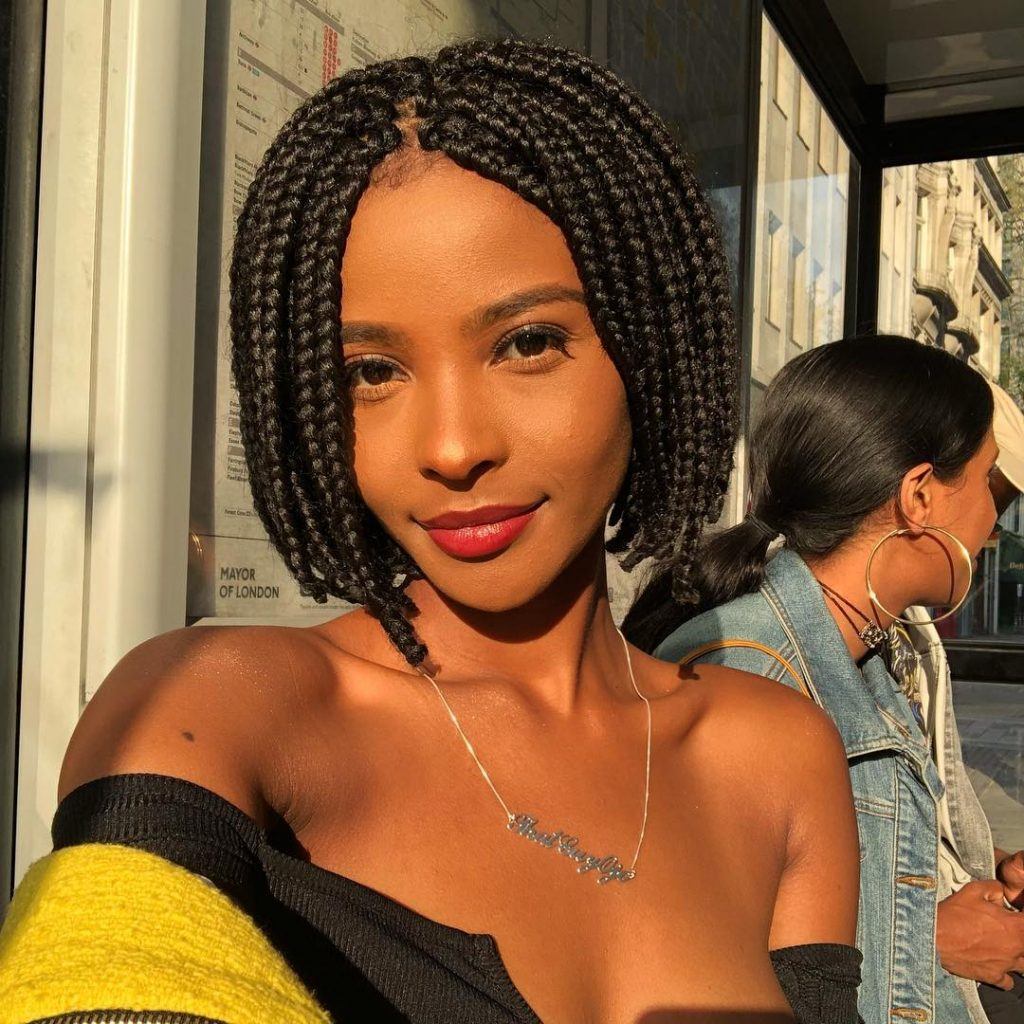 A medium bob braid is fitting for all kinds of occasions and above is a fascinating box braid bob to inspire your next braid hairstyle, this is sleek and cute for all hair types.
20. Trendy Medium Box Braids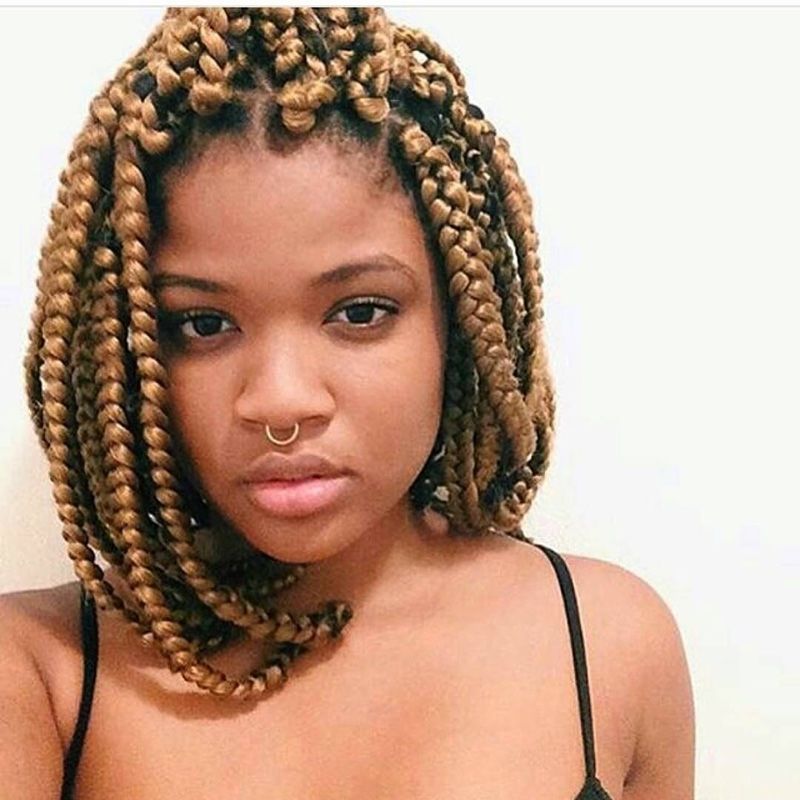 This might be above the medium range of braid for some and might pass as tiny braids but this is quite gorgeous and you can make it as a medium as you want it to be.
21. Deep Gold Medium Box Braid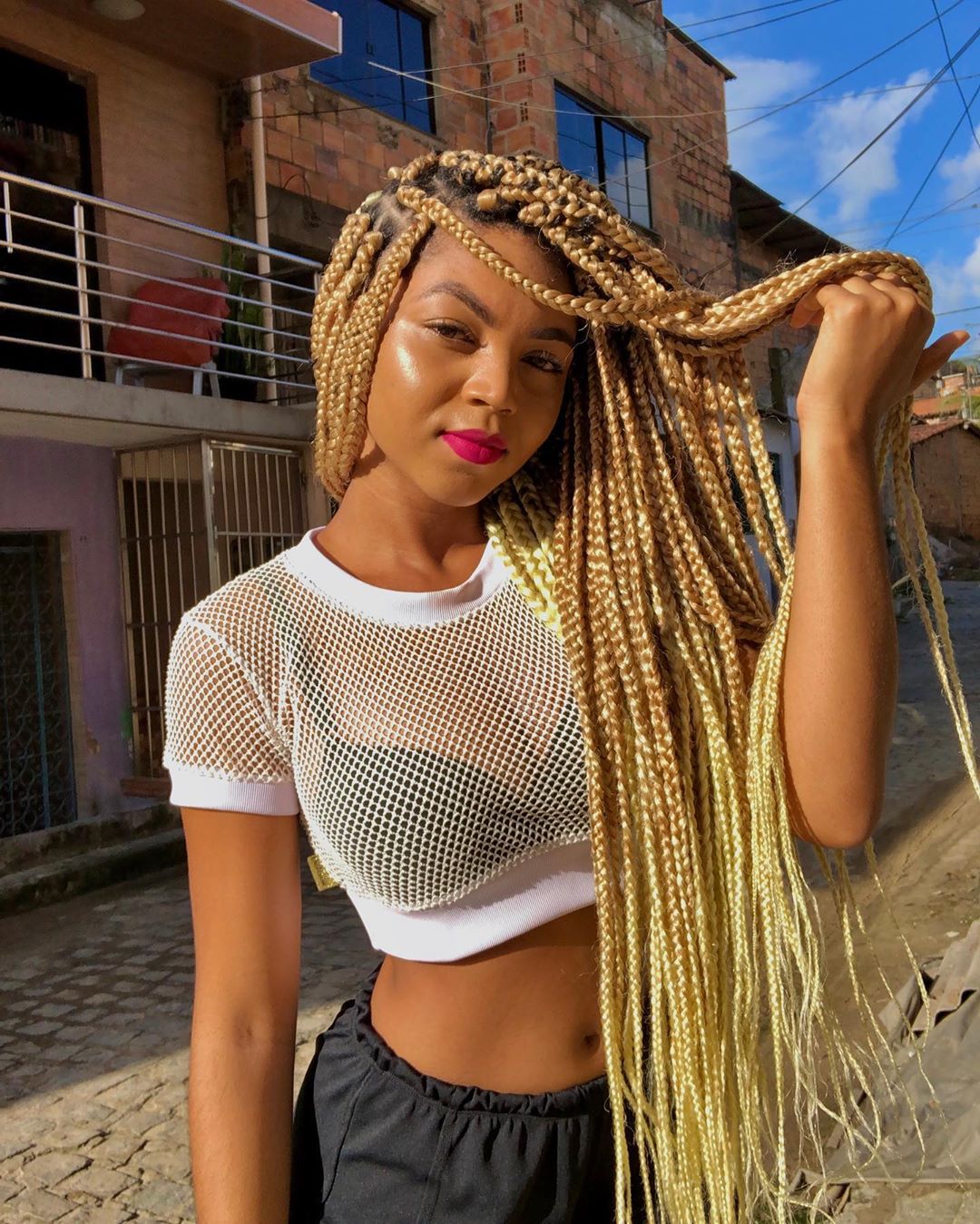 Another box braid hairstyle that might be above medium but found beautiful and really trendy for lots of African women, you can style this braid in so many ways which is why it's loved by many women.
22. Large Medium Length Box Braid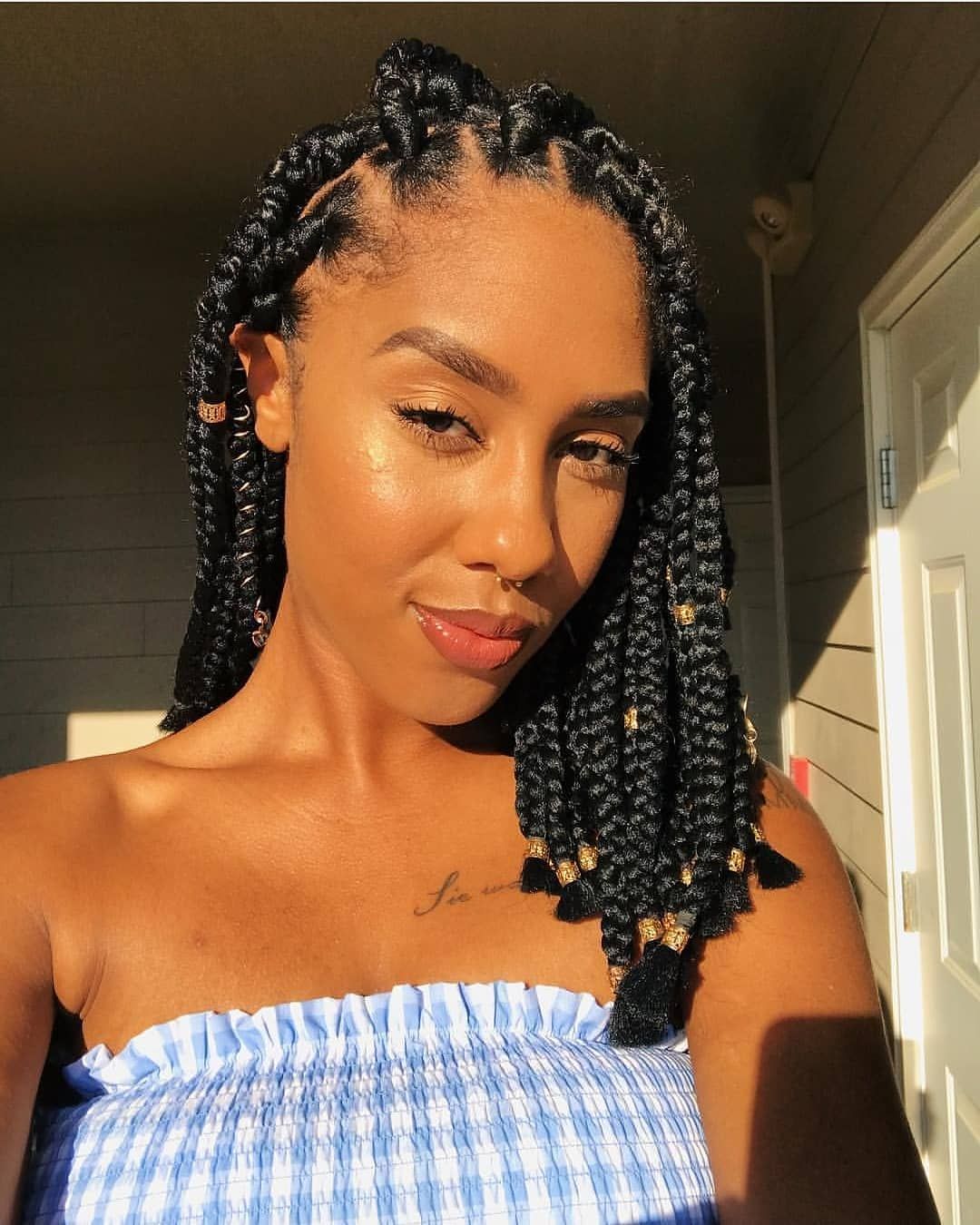 Medium Length box braids are simply fun and this is one hairstyle that will suit everyone across all ages.
23. Medium Length Goddess Box Braid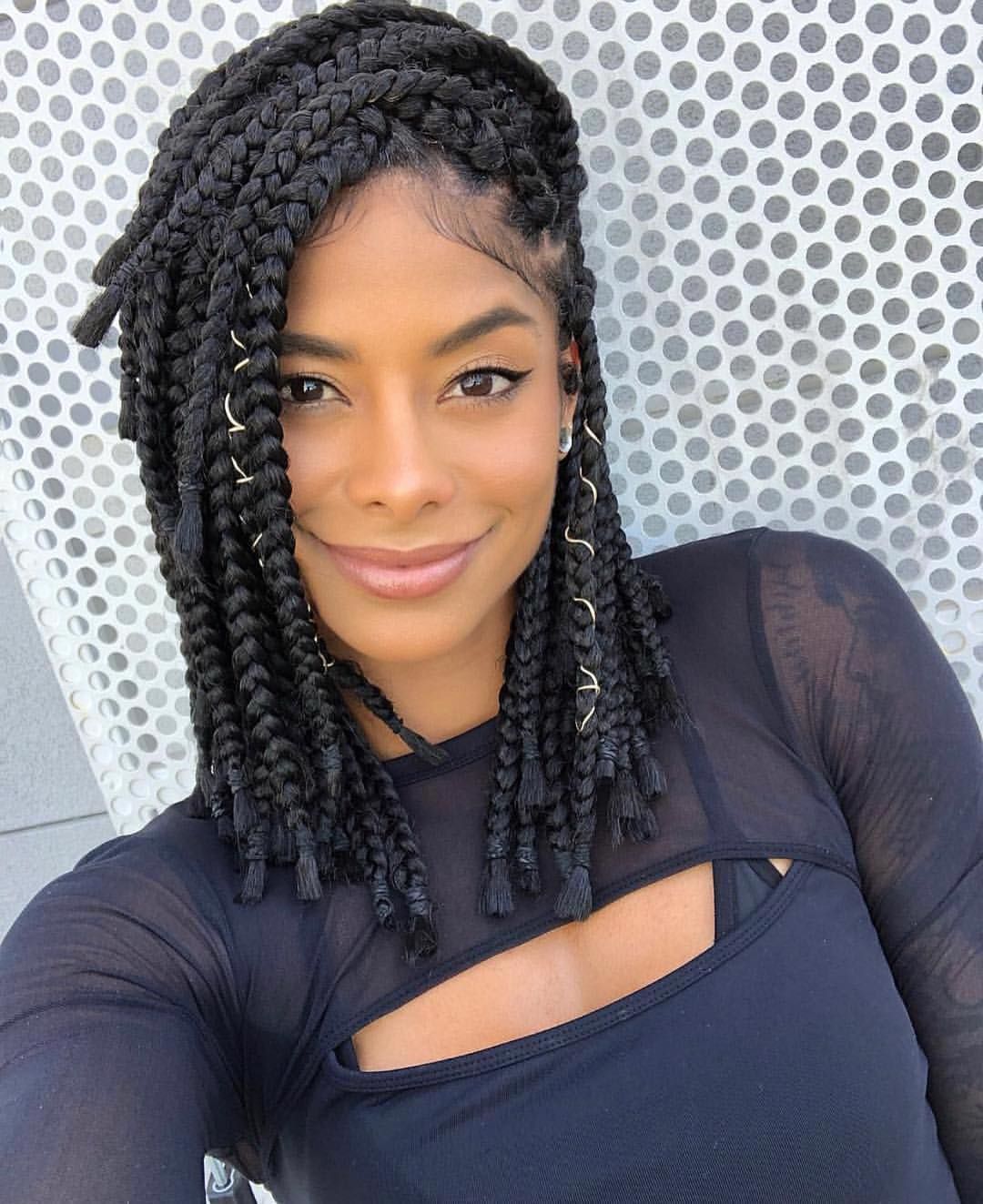 This is another easy and beautiful way to wear a braid, simple and classy and finished off the look with any hair accessory of your choice.
24. Trendy Medium Bob Braid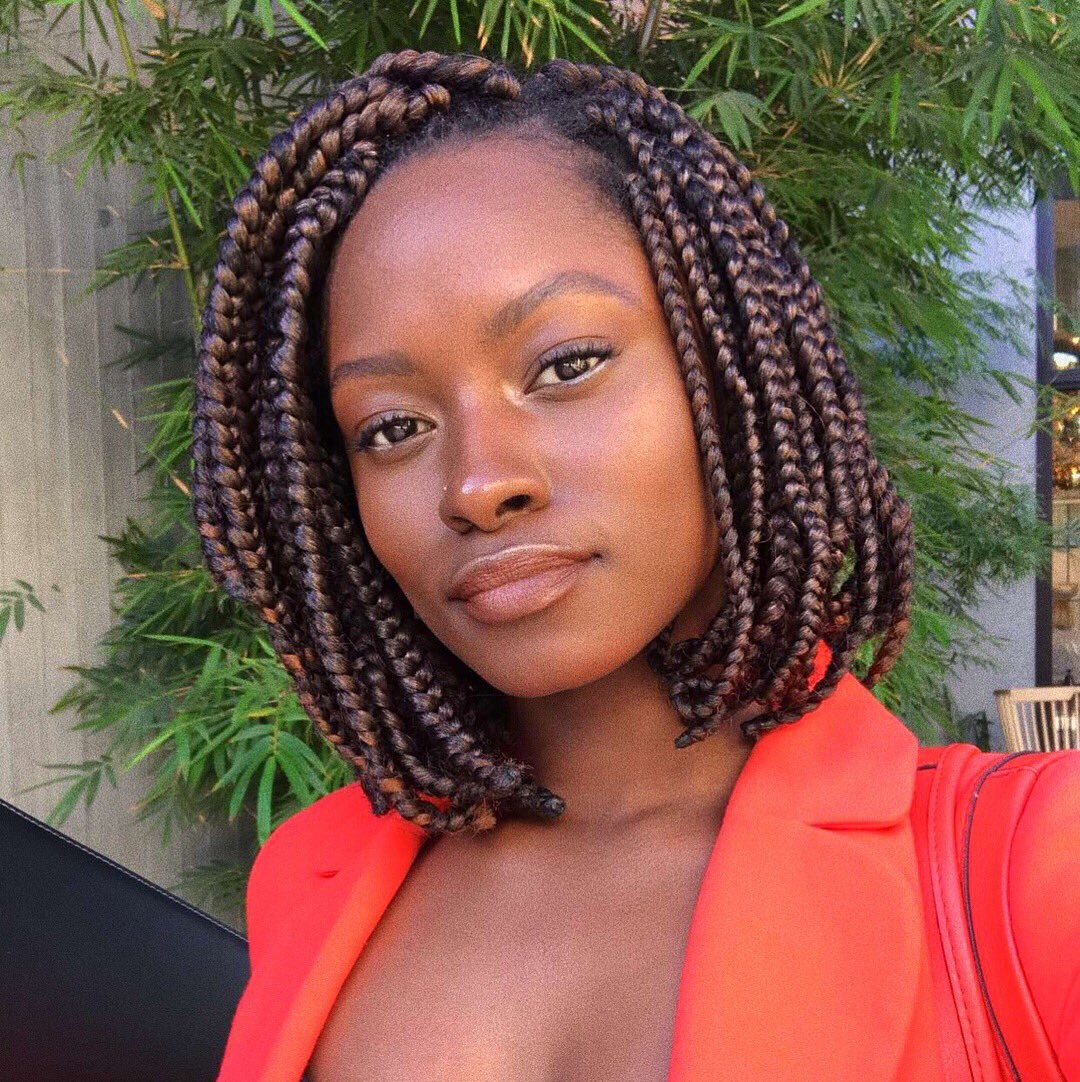 Medium bob braid has been in trendy for a while and here is another way you can rock your braid and feel comfortable.
25. Blonde Box Braid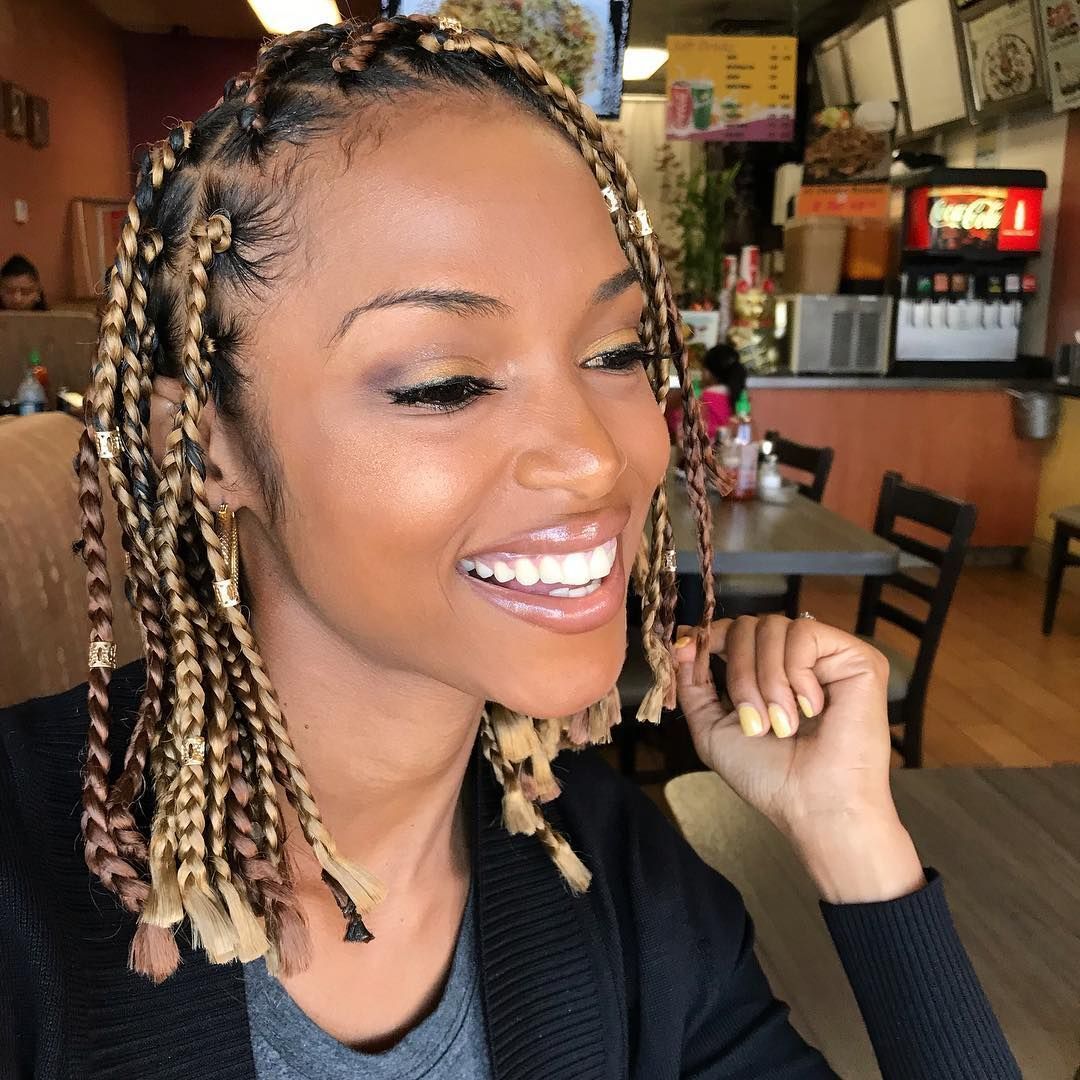 If you are looking for a trendy and chic way to rock blonde hair color then here is just the right braid hairstyle to get. This is a bit short but can be really fun if adorned with hair accessories.
26. Green Medium Box Braid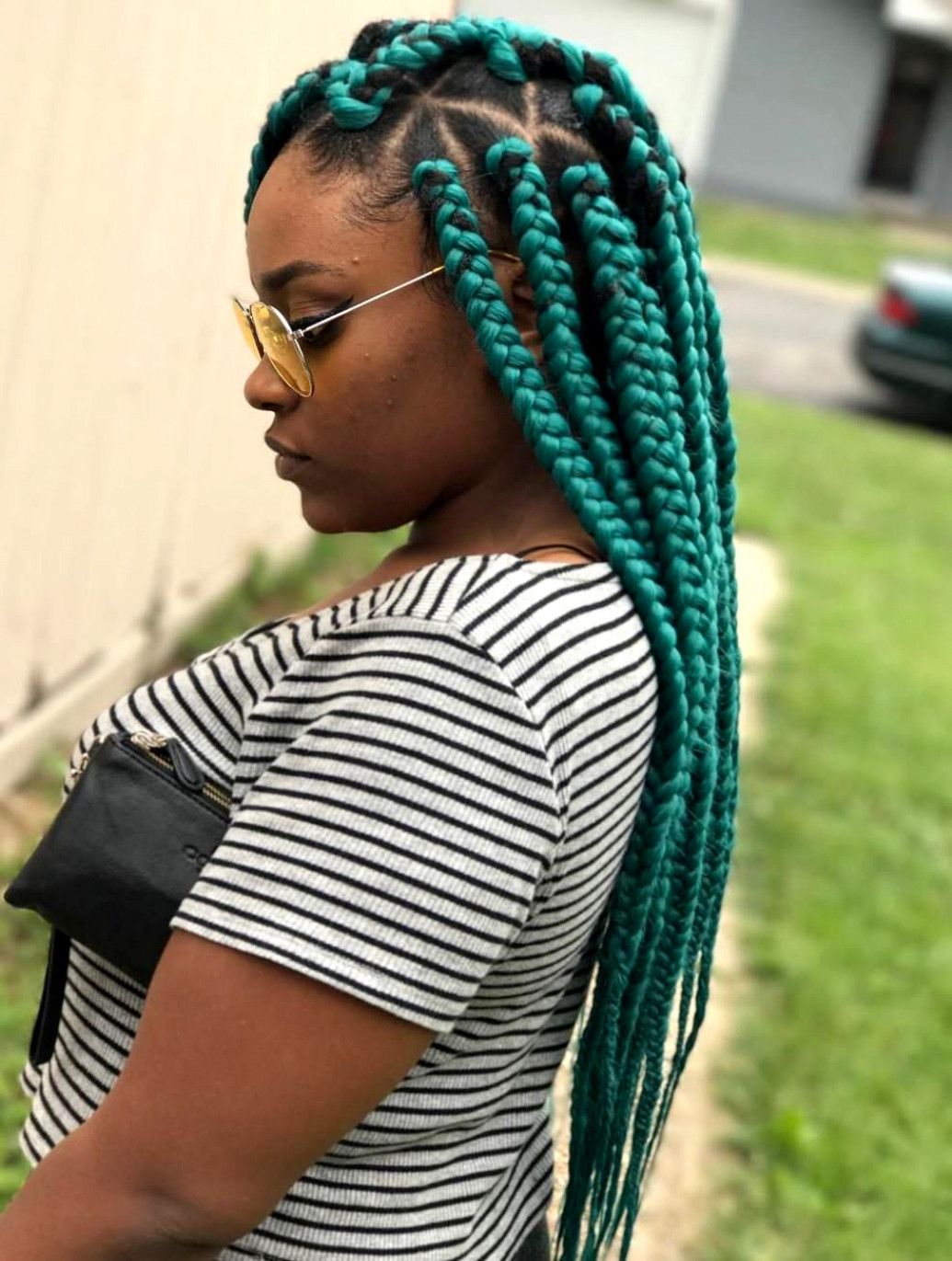 This could just be the perfect braid style for you if you like the exotic nature color adorning your braid.
27. Stylish Medium Bob Braid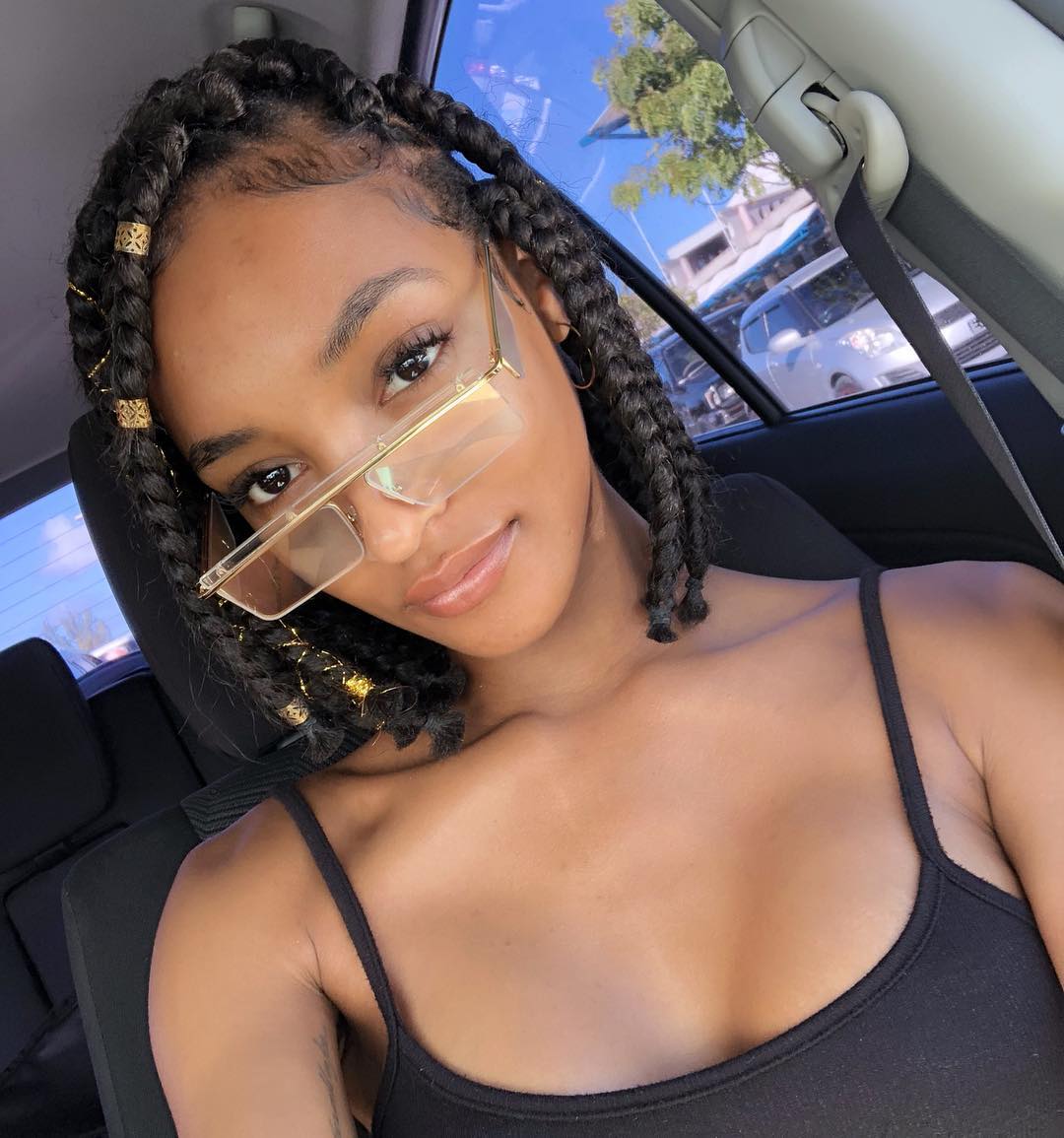 This braid is made to accentuate the face and bring out the face features effortlessly.
28. Thin Medium Box Braid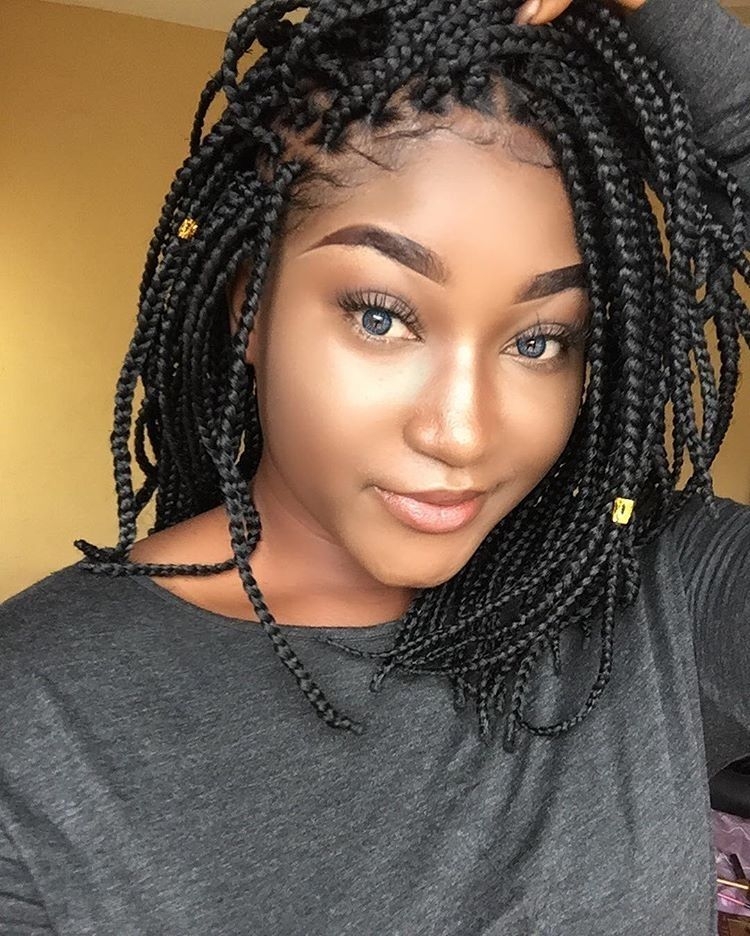 This hairstyle features thin, neat, and sleek braids which create a super stylish look and hairstyle like looks amazing on practically any face shape, you can recreate this look with bolder hair color and accessories.
29. Medium Braid With Fringe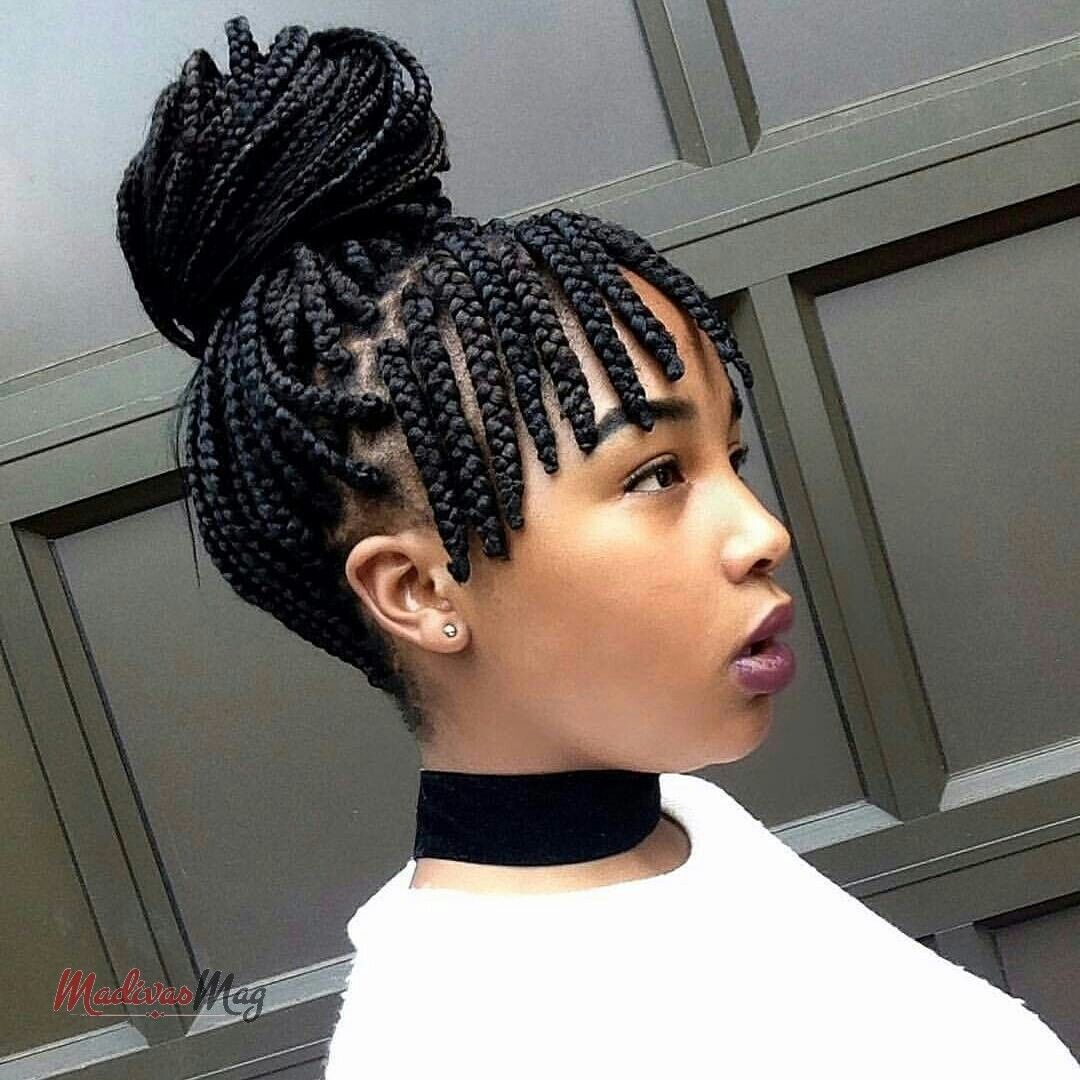 Fringe braid is fast becoming trendy and there are various ways it could be packed and above is one of those ways.
30. Medium Braided Bangs With Shell Accessories
This is one of our favorite medium box braid styles and this is one glam box braid you can't help but like and the silver shells add more stunning and shimmery look to those bangs.
31. Yellow Medium Box Braid
This is a colorful way to jazz up your look, this could pair nicely with a bold outfit or a calm outfit depending on how fancy you want it to be.
32. Pink Medium Box Braid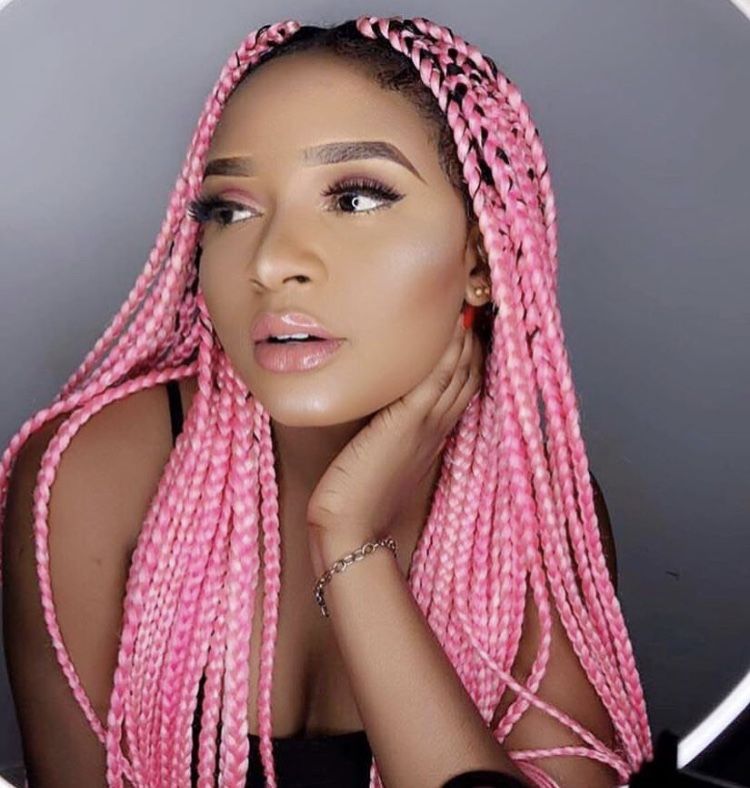 Pink is one color that can't go wrong with ladies, you are sure to give off a royal vibe when you step out with this bold and exotic color.
33. Medium Tip Box Braid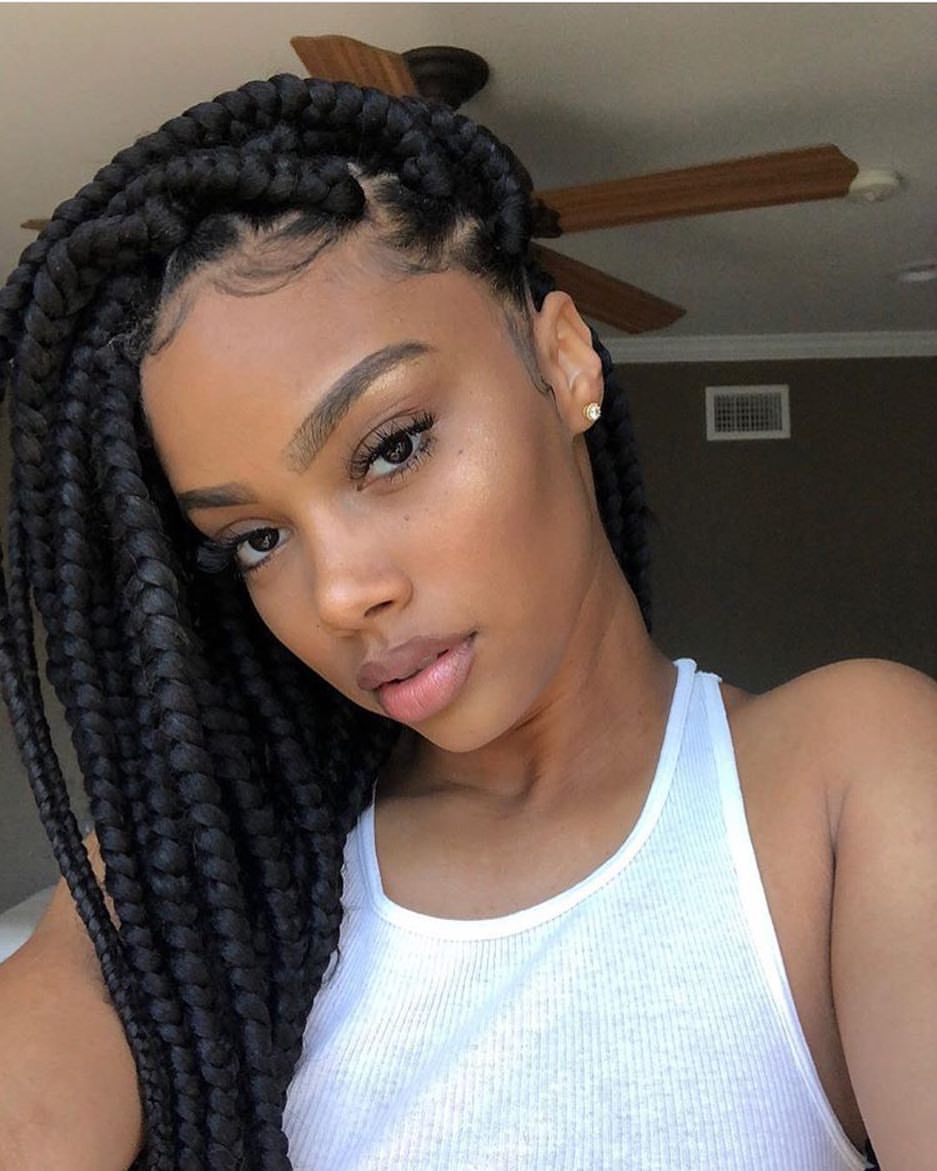 Box braid is highly loved for its versatility and here is a great definition of that, this braid has been started with three large strands while the tip turns out to be in medium shape.
34. Senegalese Medium Box Braid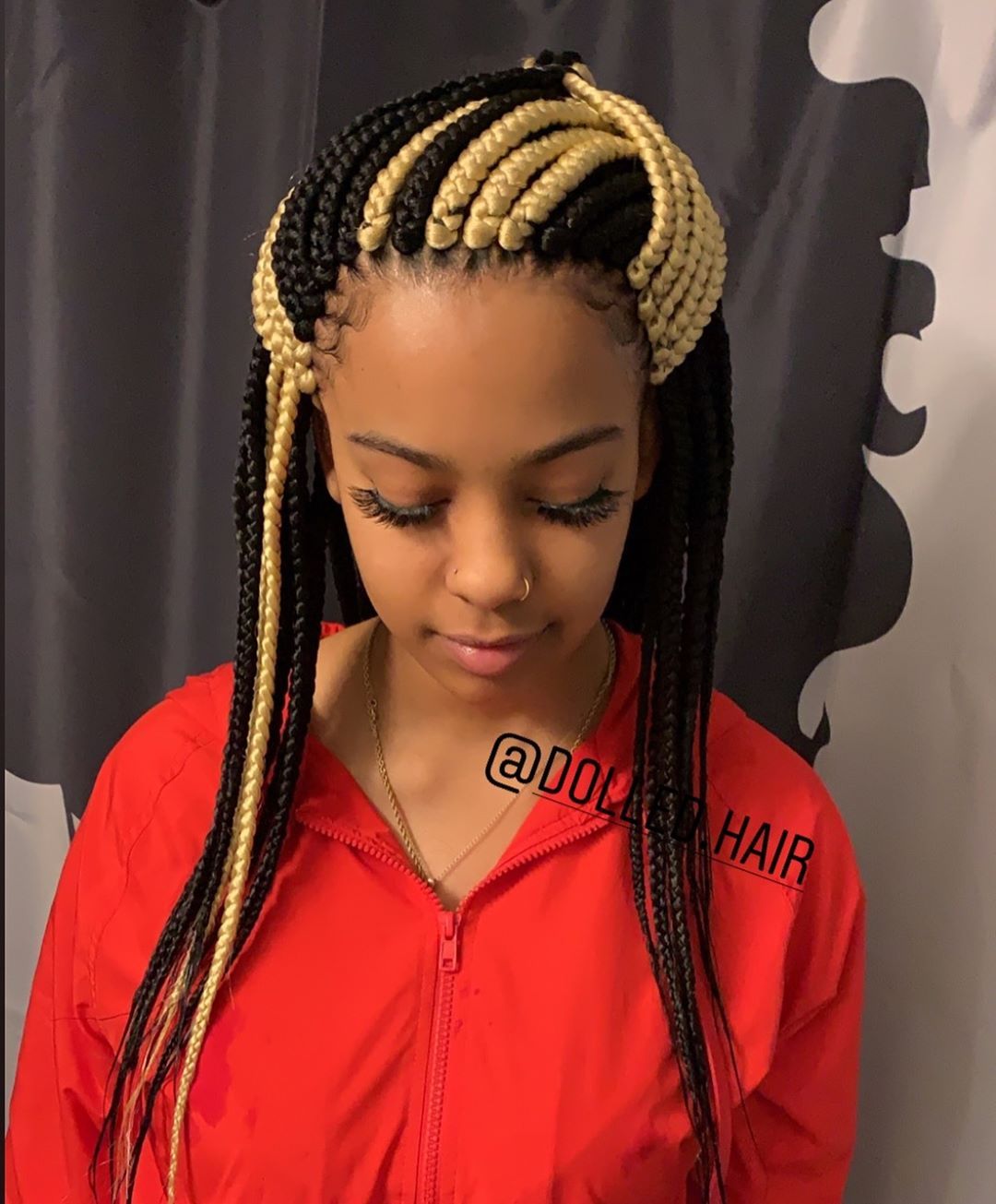 Looking for medium box braids that spice up your look and make the black attachment look less dramatic but cool? Here is the perfect braid hairstyle to try.
35. Two Colour Medium Box Braid
Next, we have another inverted braid style you are sure to love, this ha double colors to make your braid hairstyle look interesting and turn up the boring black look.
36. Brown Medium  BraidBox
Using brown attachment for braid is a common form of hair color box braid and this is due to it's calm and exquisite look, this medium box braid above offers the benefits of low maintenance and it can be styled in lots of awesome ways.
Final Thoughts
Medium box braid is probably the most popular form of the braid to create a chic and splendid look, it can be styled in lots of awesome ways. Medium box braids also protect your natural hair and offer the benefits of low maintenance and it offers you an excellent opportunity to extend your length as well. We hope you have found your favorite medium box braid look from the selection above.
Read more on braids and natural hair hairstyles: