Braid is a universal hairstyle for kids and adults alike and it does not have to be elaborate before it could be beautiful and fun, simple braid hairstyles are the best option to keep your child's hair healthy and neat, even when you are running short on time, easy braid hairstyles you can do at home can come in quite handy. Braids for kids are not just simple to style but are the most effective for of hairstyle your kid could get for school or any other occasion. They also serve as protective hairstyles to keep your kid edges safe from breakage and with a bit of patience and practice, you can braid your little girl's hair effortlessly.
Little girl hairstyle can be cute and practical at the same time, from cornrow braid to ponytail braid, there are beautiful options to select from and all you need is to set aside a few extra minutes to help your baby girl pull off the look she wants or a stylist who can handle kids hair without any manipulation.
Time to spice up your kid's hairstyle and try something more fun and unique, below are some of the most amazing braid hairstyles for children to try.
Beautiful Hairstyle Braids For Children
Braids are one of the most fascinating hairstyles you could get for your kid, it allows you to experiment with different volume, different types of braid and various designs. A braided hairstyle can never be found boring and we compiled 25 simple and beautiful hairstyle that could be an inspiration next time your baby girl wants a braid.
1. Knotted Braids With Beads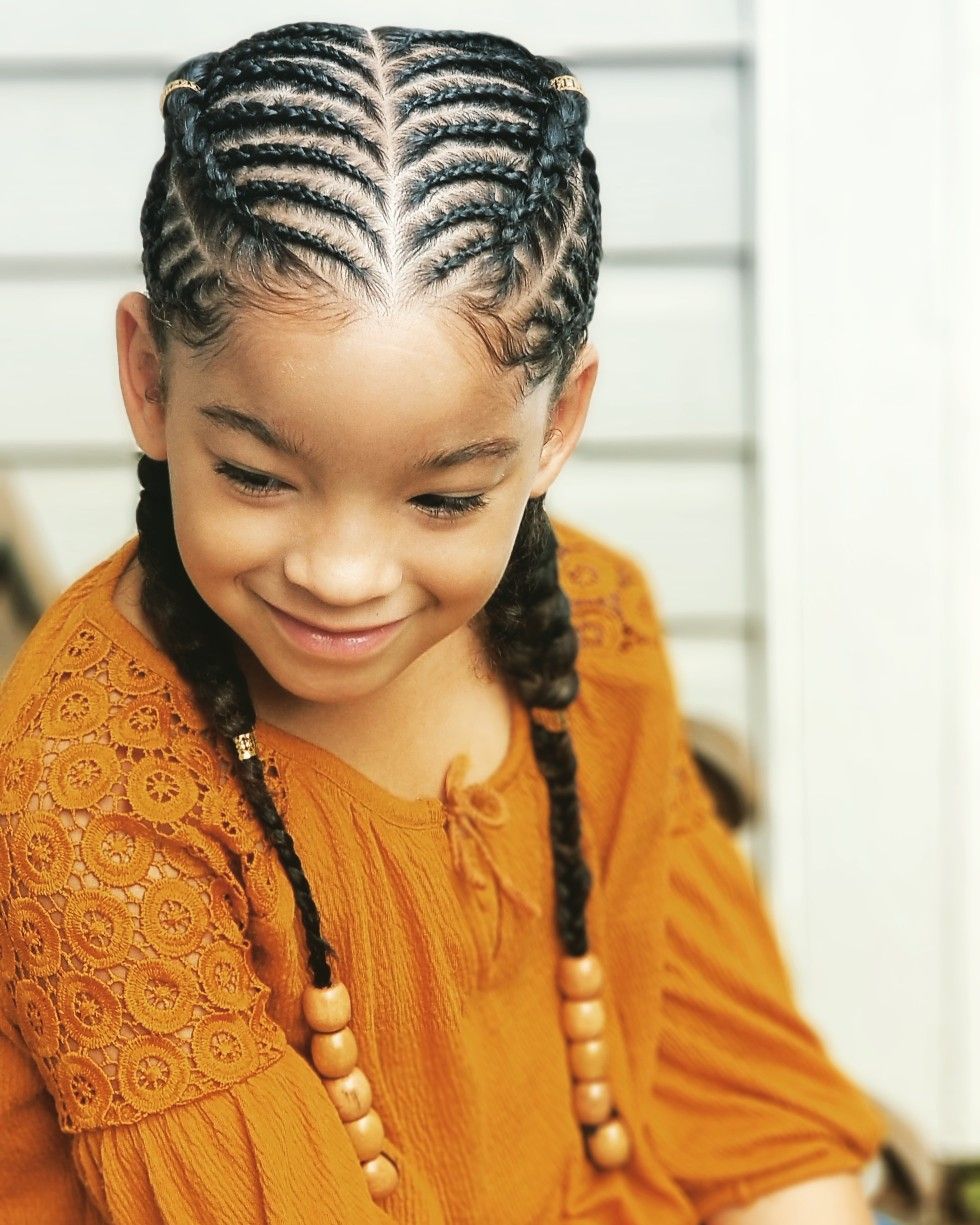 The best thing about children braids is how adorable they look after making any kind of braid, knotted braid has been a favoured hairstyle for kids, it's very comfortable and can really practical for all kinds of occasion, this is a braid hairstyle that won't take much of your time and you kid can conveniently have fun with it.
2. All Side Braid
This is a fascinating braid for kids, it is styled with precision and it is great for days when your baby girl doesn't want to sit for long making her hair, you can spend less on her hair while creating something this fabulous.
3. All Braided Cornrow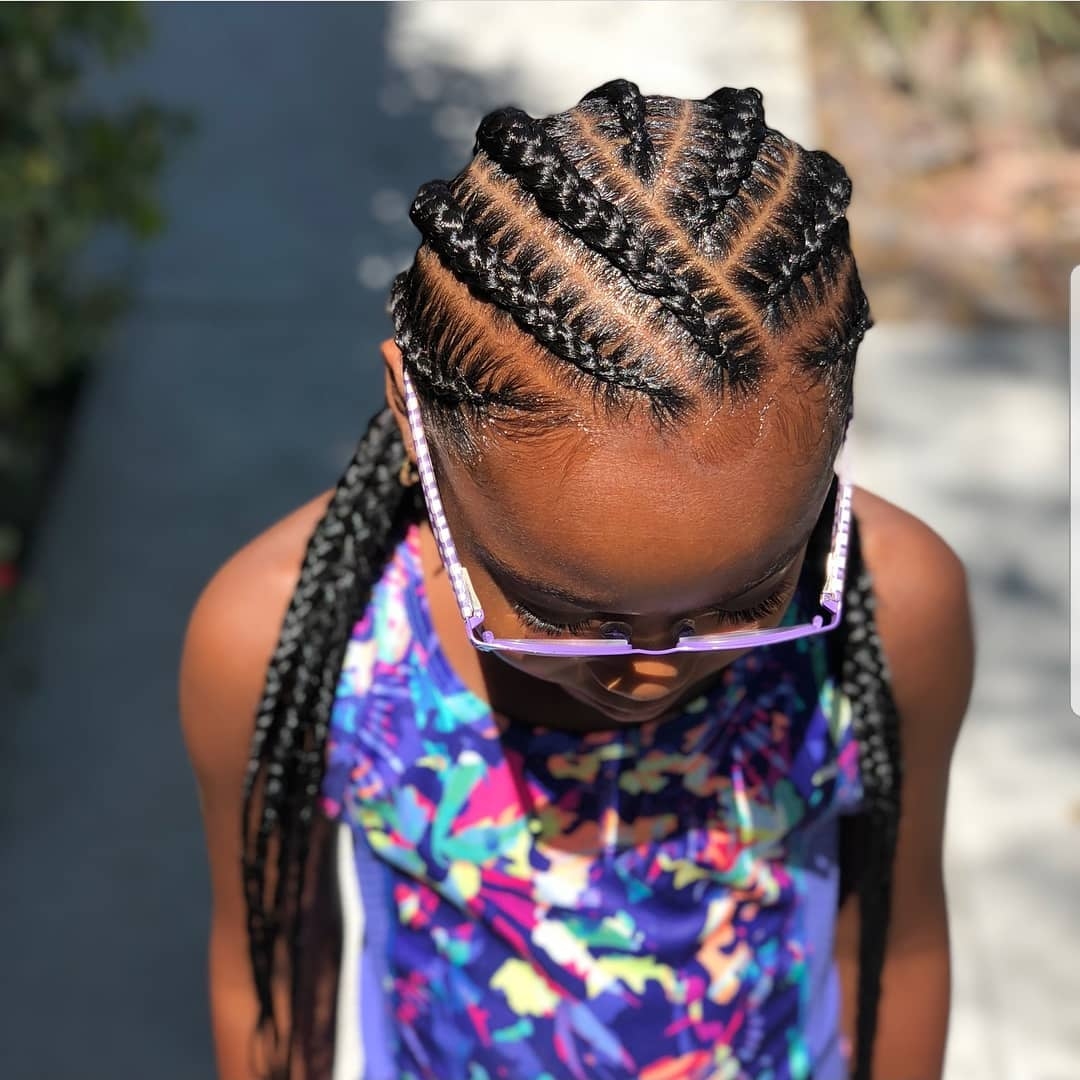 Here is a simple elegant cornrow braid for your kid, this is not just comfortable but a trendy hairstyle that has been designed to keep your kid comfortable if you are planning to go to the beach.
4. Mohawk Braid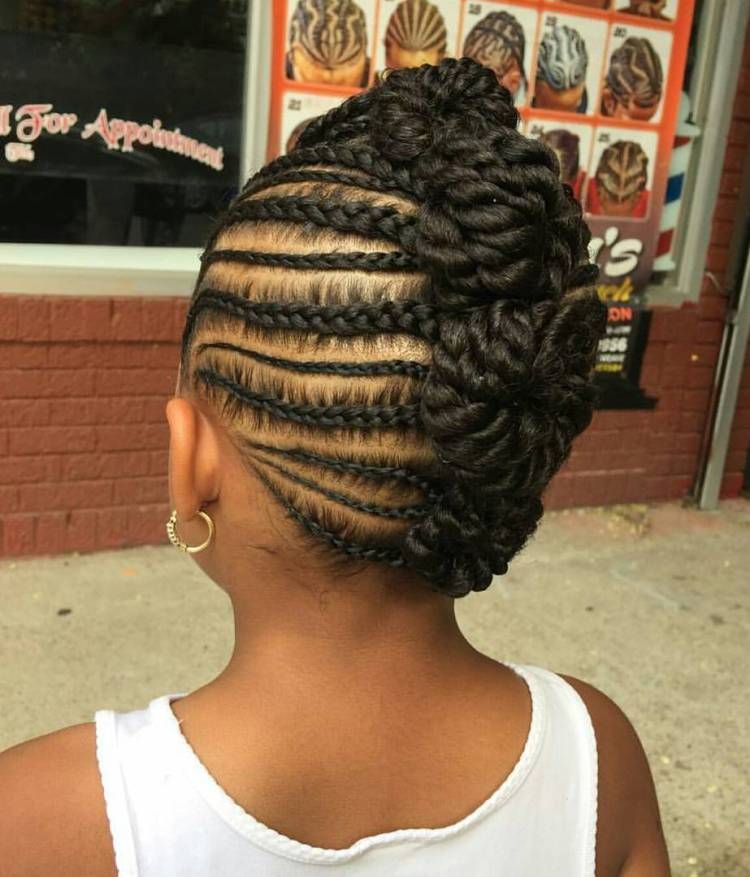 Mohawk braid hairstyle is fitting for kids who like to keep it simple and keep their hair strand ways from their face.
5. Low Bun Braid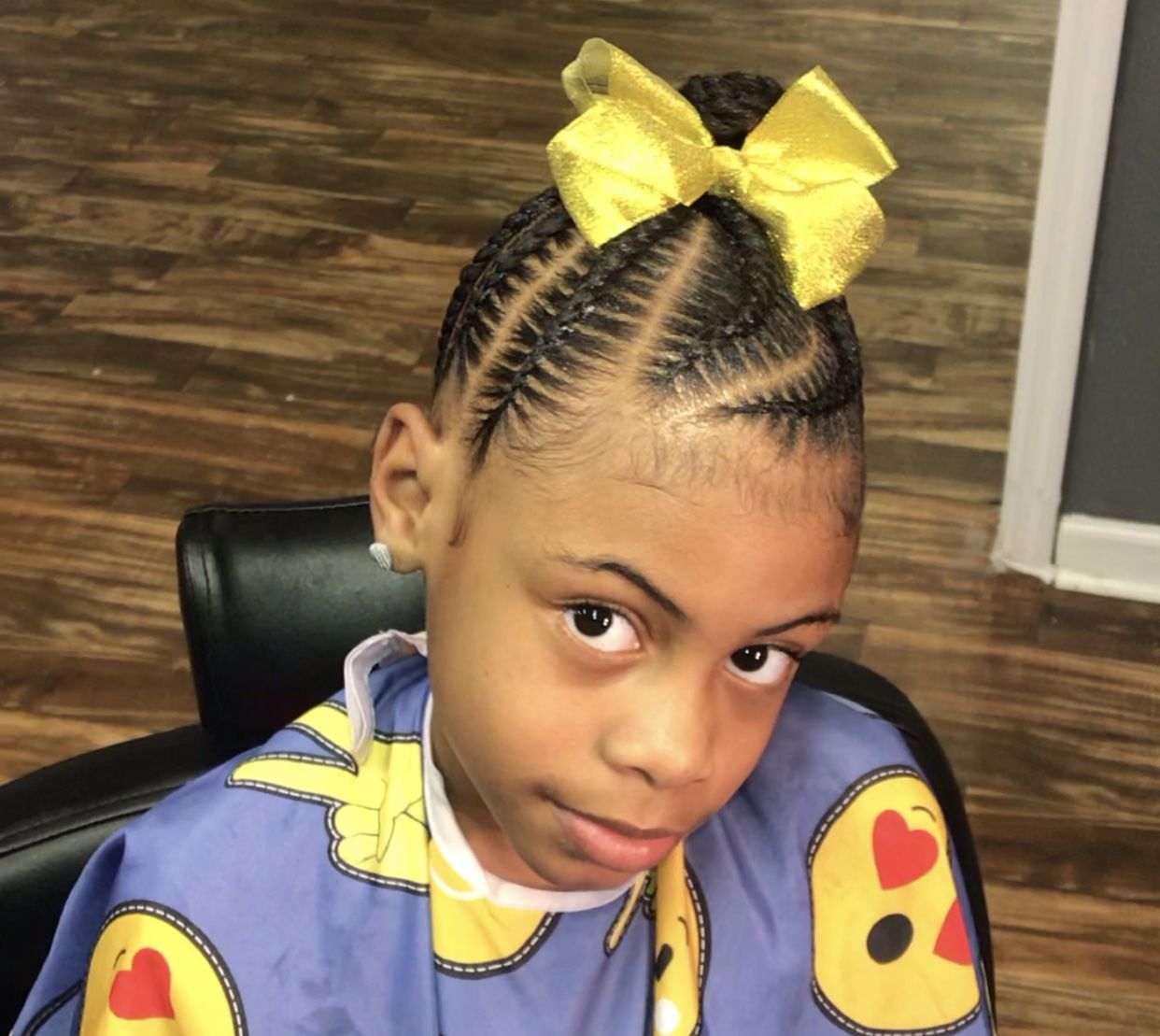 Low bun braid is another exotic hairstyle for your kid, this is not dramatic and she can feel comfortable with it too. This hairstyle protects her strand and keeps her hair in a tidy row.
6. Fulani Frowhawk Braid
Frohawk is another fascinating choice of braid for your kid, it is a cut hairstyle to opt for if you want to keep it simple and your kid can look adorable rocking this hairstyle, you can add some beads to give the look a more trendy look.
7. Cornrow Braid With Hair Band
Here is a great kid style that has a unique pattern, it is simple and easy to maintain.
8. All Side Tiny Braid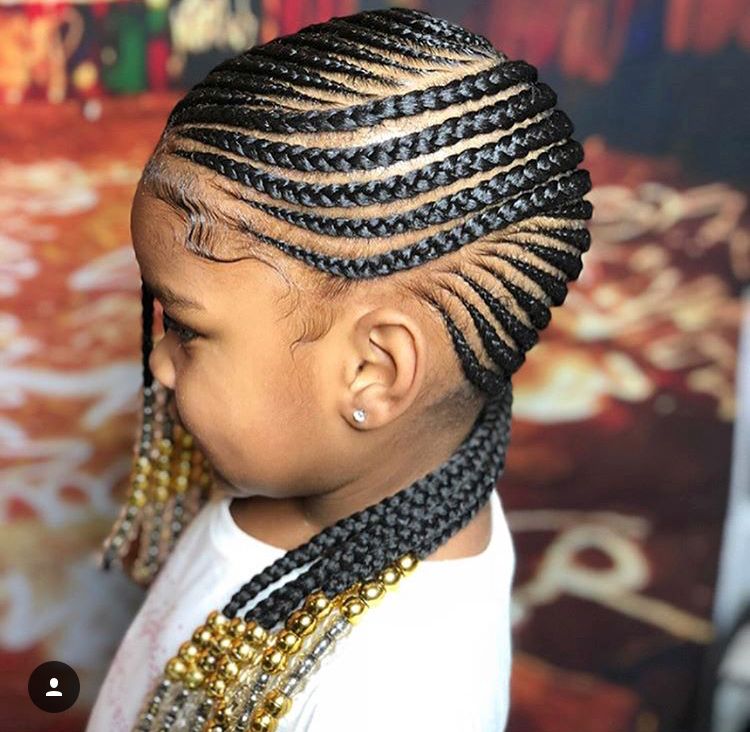 Tiny braids offer a polished look you can't help but find lovely on your kid, an all side braid is not just fancy but fitting for all kinds of occasion.
10. triangle Design Braid
This box braid is awesome a choice of braid for children, this is a pretty interesting style and low maintenance as well.
11. Gorgeous Back To School Braid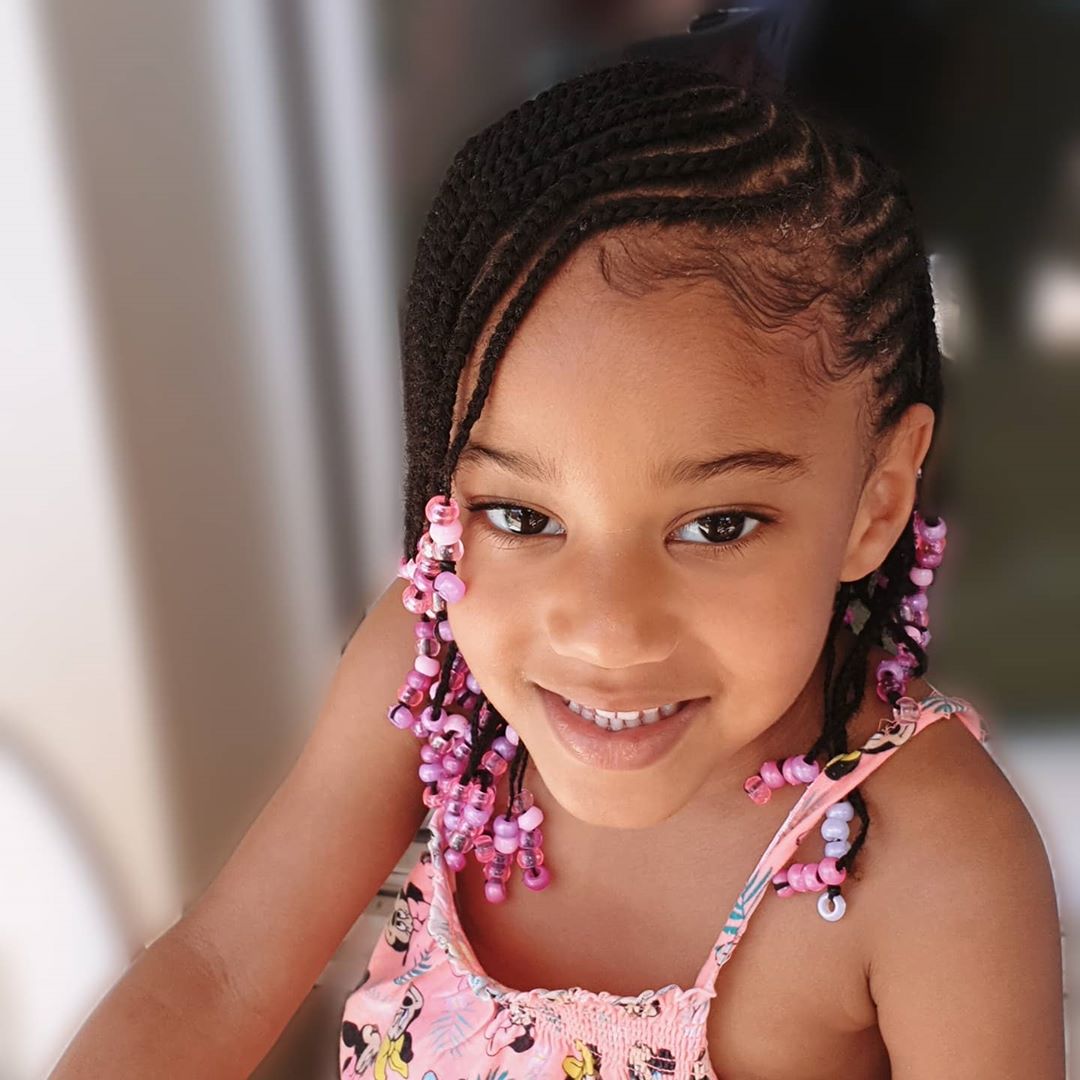 Keep it classy and simple and your kid is sure to love it.
12. Tribal Braid For Kids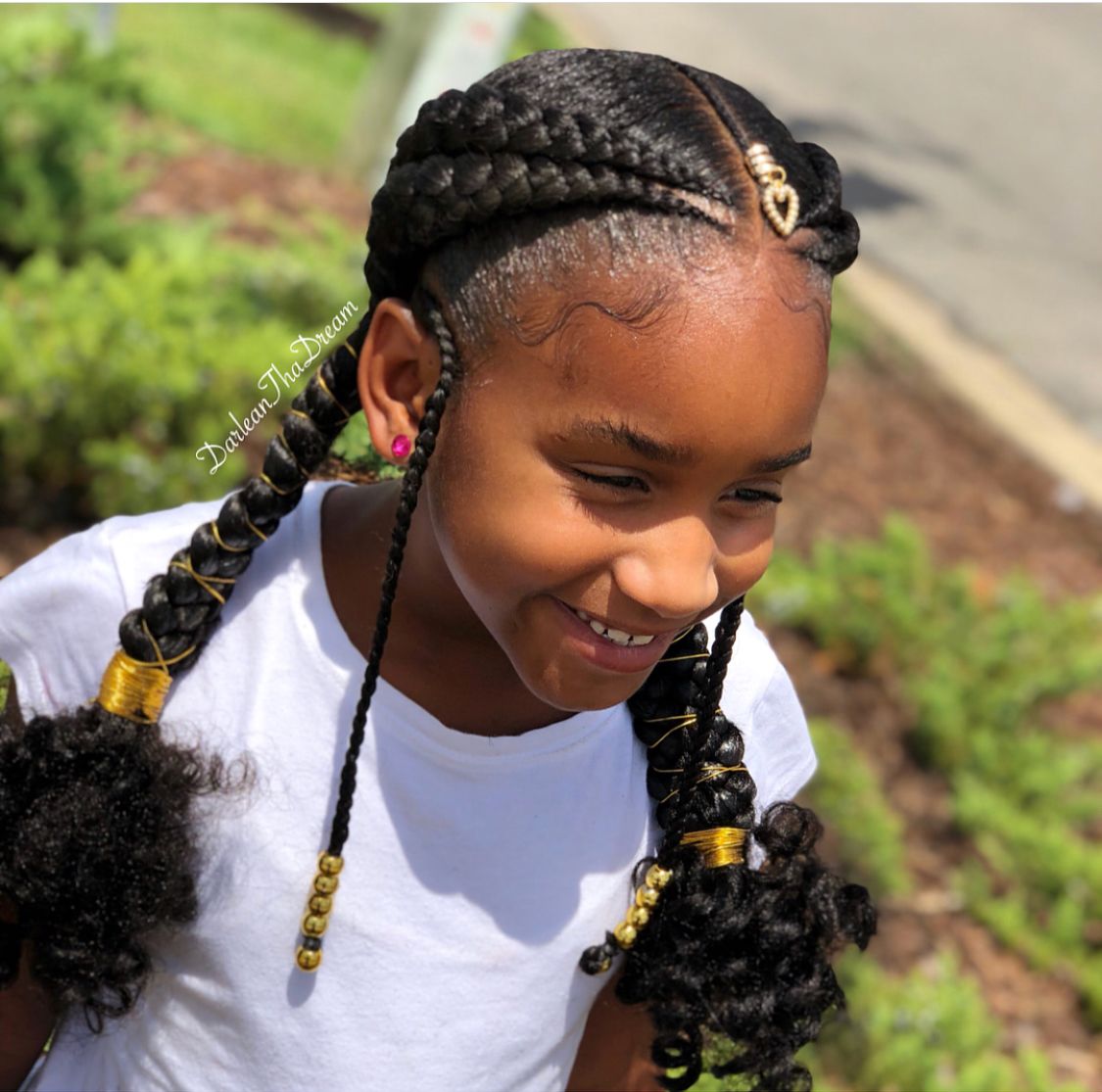 A special tribal braid to give your kid a polished and unique look.
13. Fishtail Braid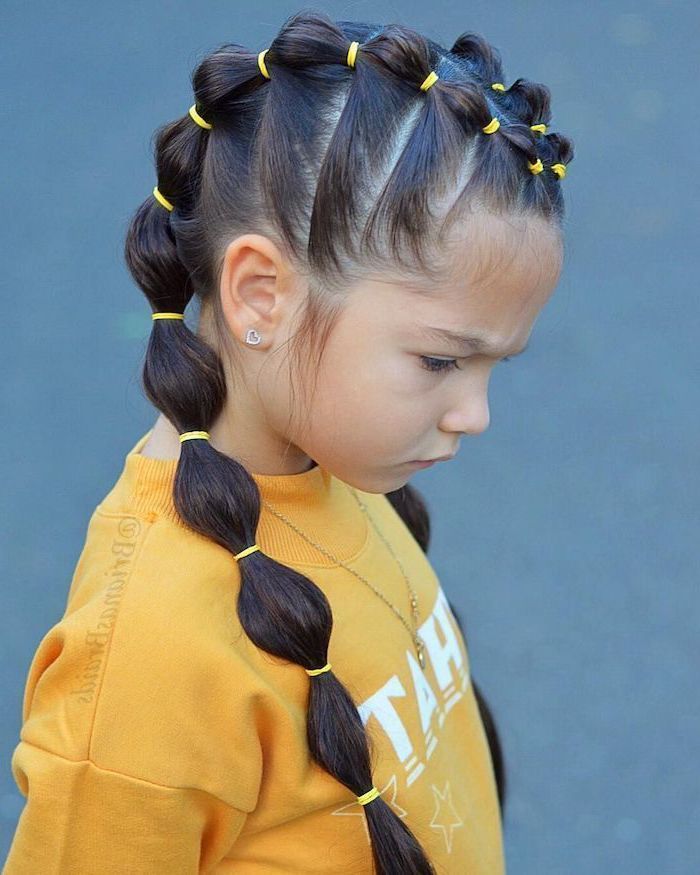 Another low maintenance hairstyle your kid will be glad to show off. This is quite adorable and hair length does not really matter, you can add a little extension to it.
14. Double Bun With Base
A bun has always been an interesting and common hairstyle for children, it is not just simple but beautiful as well, a double bun makes it even cuter and fitting for kids.
15. Simple Colourful Braids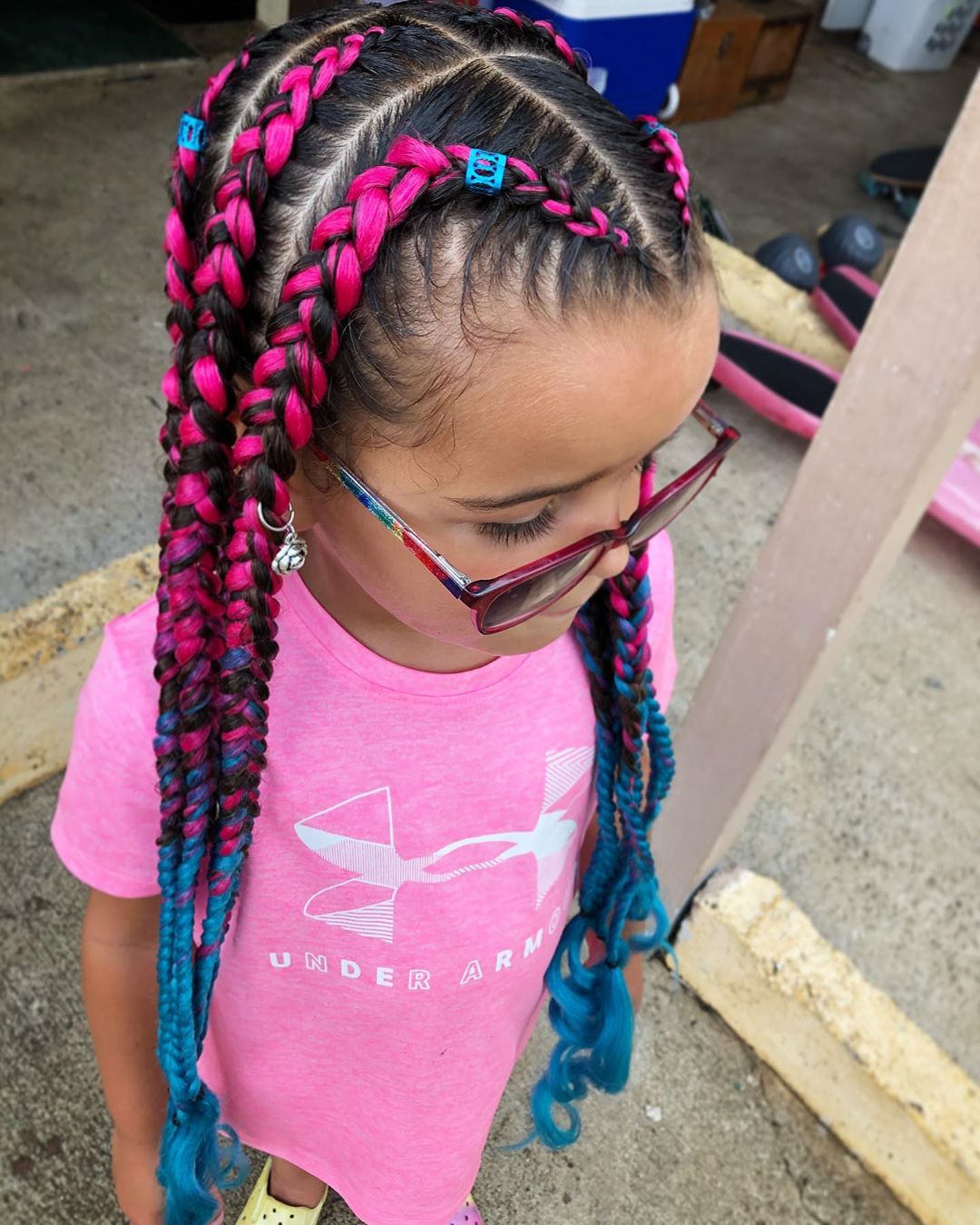 Gorgeous and simple couldn't have looked even more beautiful. Add some colour to make it even more exciting.
16. High Ponytail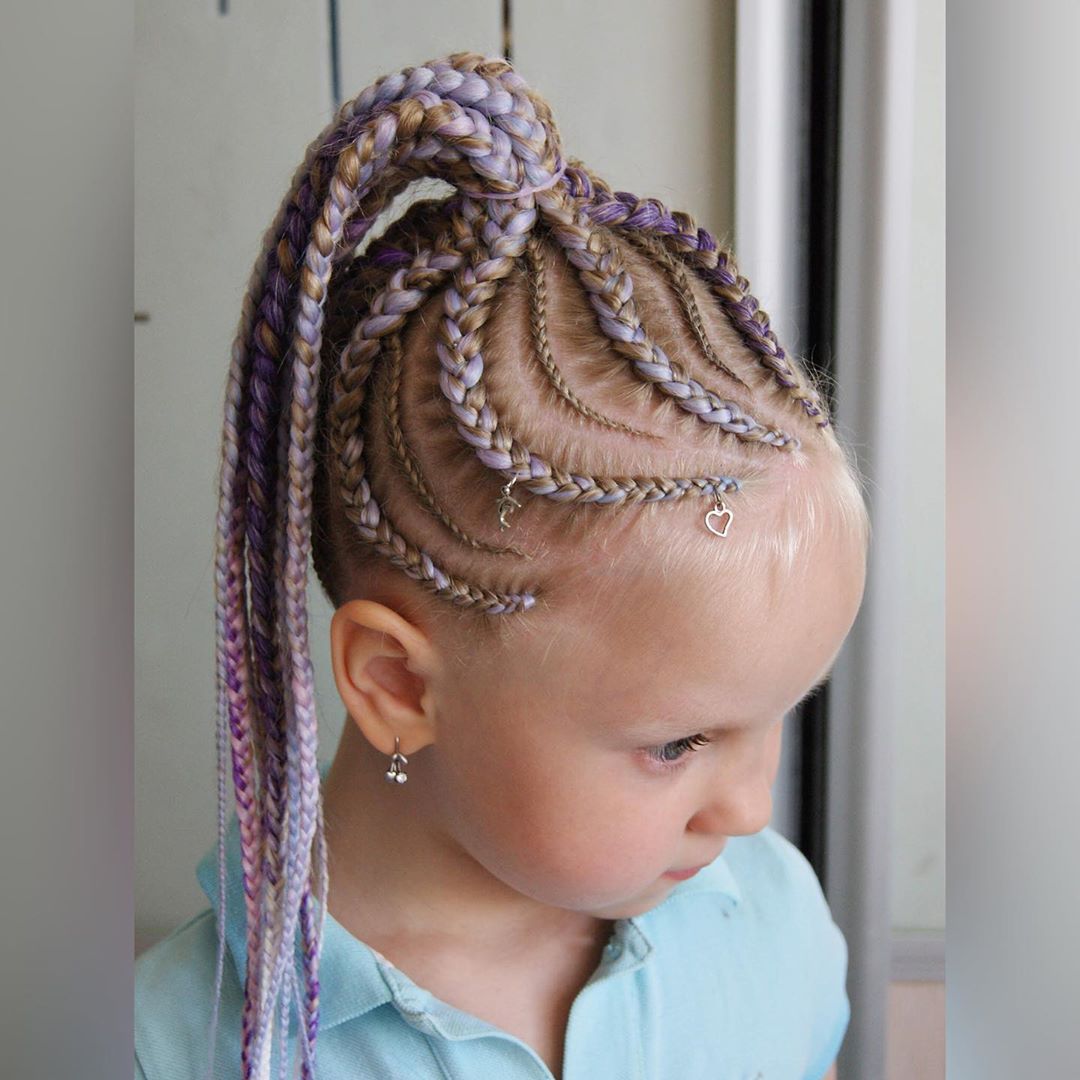 A ponytail and a braid is not just a trendy combination but it's a protective hairstyle for your kid's strands and easily has her hair tuck away from her face.
17. Half Up Half Down Braid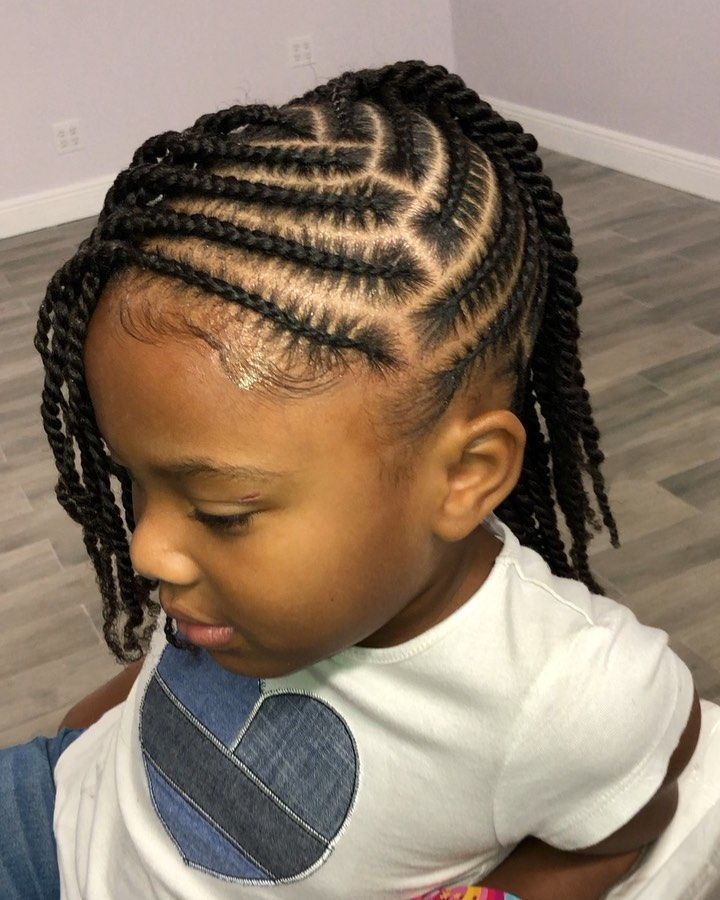 This is not just a beautiful braid hairstyle but will save you lot's of time combing her hair and it's a low maintenance hairstyle too.
18. Ponytail Braid With Side Feed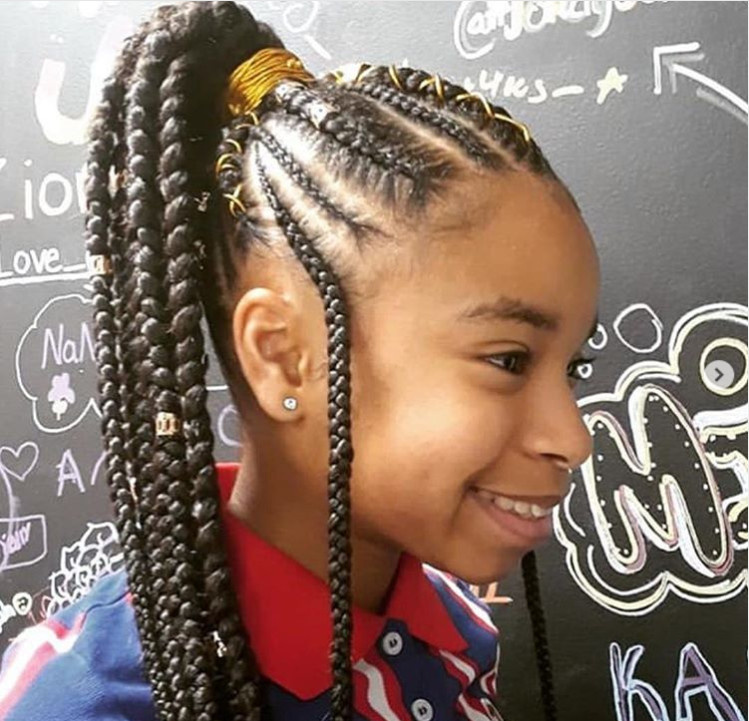 Ponytail braid couldn't have been more adorable with a side feed, this braid lasts longer and adding beds to the end completes the look.
19. Sectioned Braid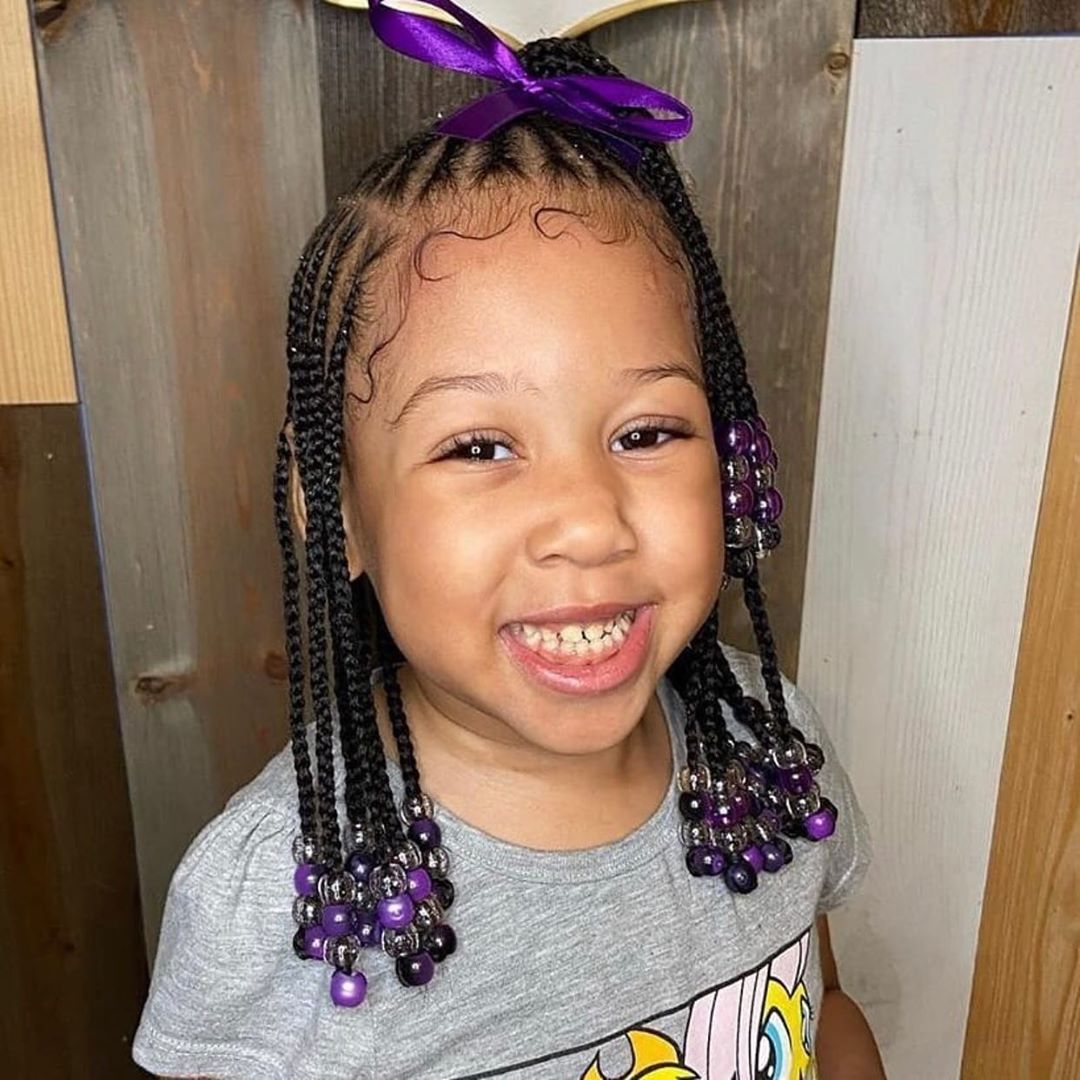 This is one of the cutest braids for children, all you need is to plait the sectioned part atop the hair in a ponytail and let the other parts fall around it and add some bead to make it look more charming.
20. Sectioned Double High Bun
This bun has a unique braided pattern which makes it a stunning intersecting braid for all kinds of kid hair type.
21. Scalp Styles
Here is another scalp friendly hairstyle, you can't help but love this braid, simple and interesting.
22. Around The World Fulani Braid
If you want to keep it simple but elegant, this might be the right braid to install for your baby girl.
23. Simple Classic Bun Braid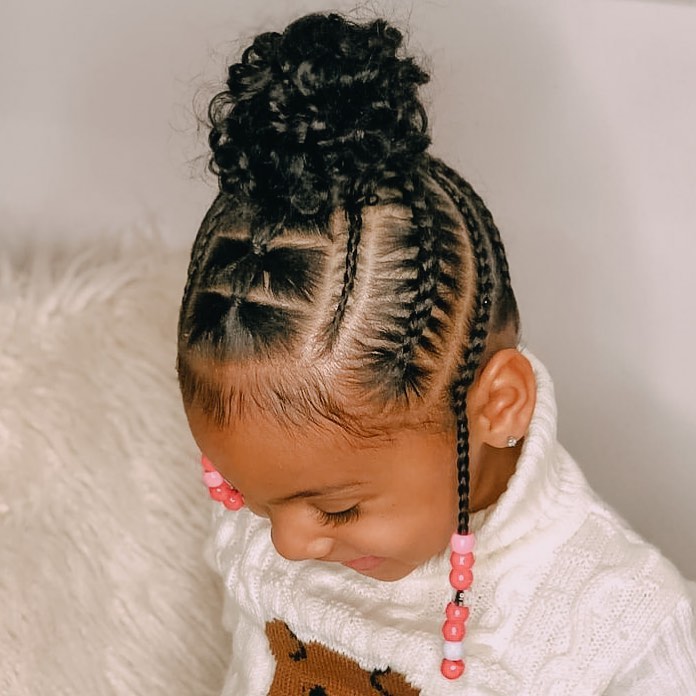 This is a really beautiful hairstyle your baby girl would surely love, this is a great hairstyle as it is an artwork and well designed to make your girl look gorgeous.
24. Fulani Braid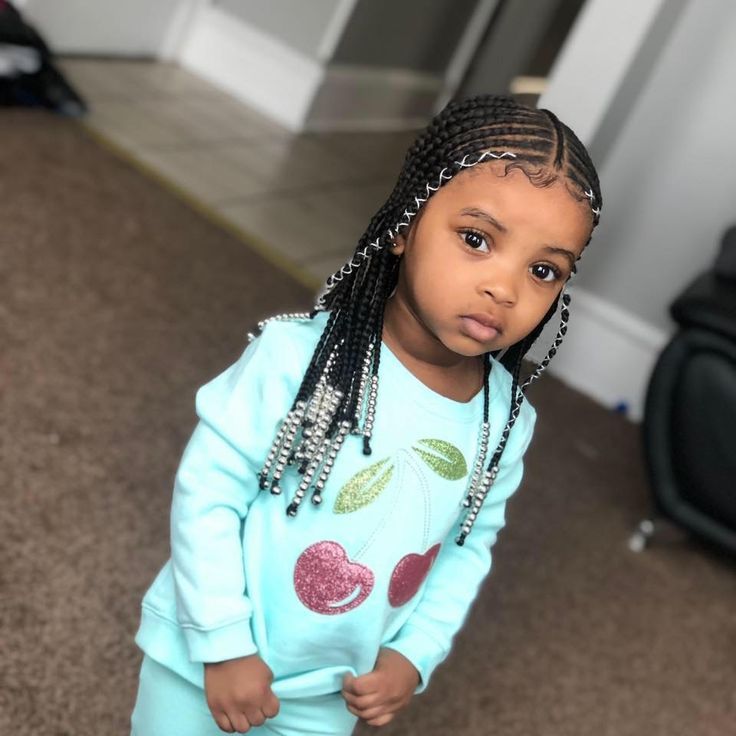 This is simply cute and the sections are clean to look at, adorned with beads for a more fancy look.
25. Center Parted Feed In Braid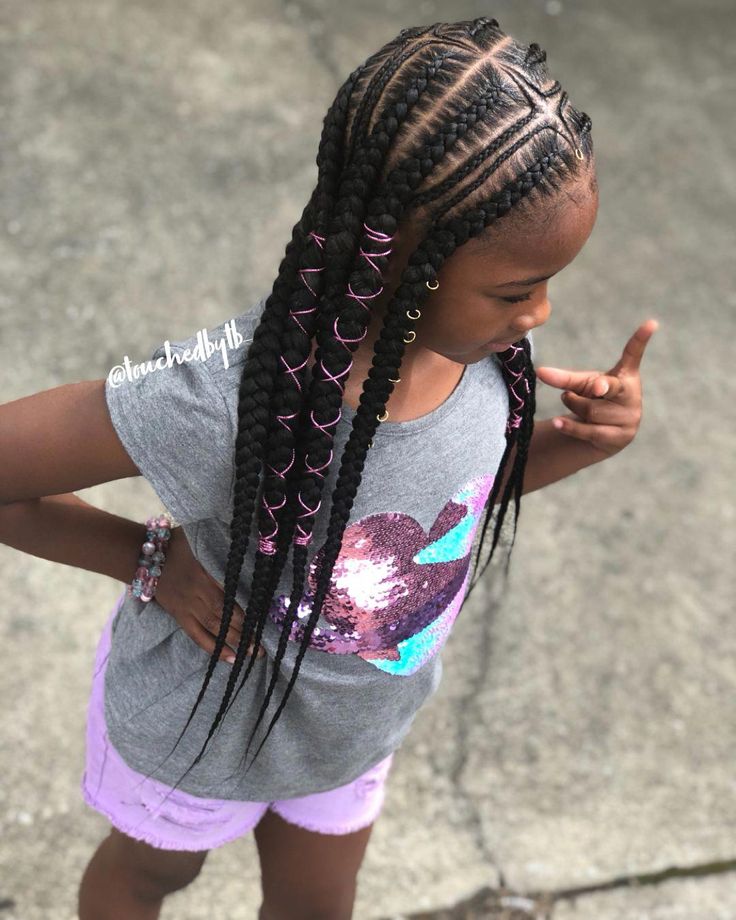 The list of gorgeous braids for kids won't be complete without adding this amazing hairstyle above, this is fitting for all kinds of occasion and it makes them look more adorable. This is a simple style and doesn't have to be elaborate if you don't want to.
---
When it comes to braiding for kids, it is best to opt for braids that are beautiful and simple as kids can't sit for long while making their hair and this can ruin the beauty of the braid intended and due to their fragile scalp as well you would want to avoid hairstyles that are too tight. There is no limit to creativity hence you shouldn't hesitate to experiment with any of the styles above and add your own unique version to make it more interesting for your kid.
Read more on braids and hairstyle for kids: