When it comes to your kids, you want to keep it simple and cute with them especially when it comes to their hair, natural hair is often common with kids as you do not want to spoil the growth with chemical or perm and this is when you need gorgeous hairstyles for them, tight hairstyles are not encouraged for kids with natural hair hence we have selected a couple of protective hairstyles for them.
Combing your kid's hair can be a bit of work especially if it's natural however you can keep that from becoming an issue with a simple hairstyle that can wear for a week or two.
You can make some of these hairstyles at home for your girl as they are pretty easy and you can easily find a tutorial on how to make cornrows or braid on youtube.
Beautiful Natural Hair Hairstyles For Kids
Go easy with the hairstyles and make it even more fun and enjoyable for your kids by adorning the hairstyles with beads, clips, and bands.
1. Kinky Ponytail To Make her Look More Adorable
Picking the right hairstyle takes a lot's of efforts, you worry about your girls liking it or making her look cuter, a kinky ponytail is your best choice, not only is it simple but also low maintenance and you do not have to worry about it causing any damages to your kid's hair or scalp.
2. Pick And Drop Braid To Get An Easy Sassy Smile
Source: Pinterest
This tends to take a longer time to make and you should only choose this if your baby girl has lots of patience while making her hair, the loose tip adds to the beauty of the hairstyle but ensure not to pull too tight on her scalp while making this hairstyle, it's perfect for all kinds of events.
3. Half Up Half Down Flat Twist To Make Her Look Classy
Make her stand out in this simple flat twist hairstyle, it's pretty simple to recreate and also would stay a while before you had to think of another hairstyle.
4. Double Bun To Show Off Her Gorgeous Curls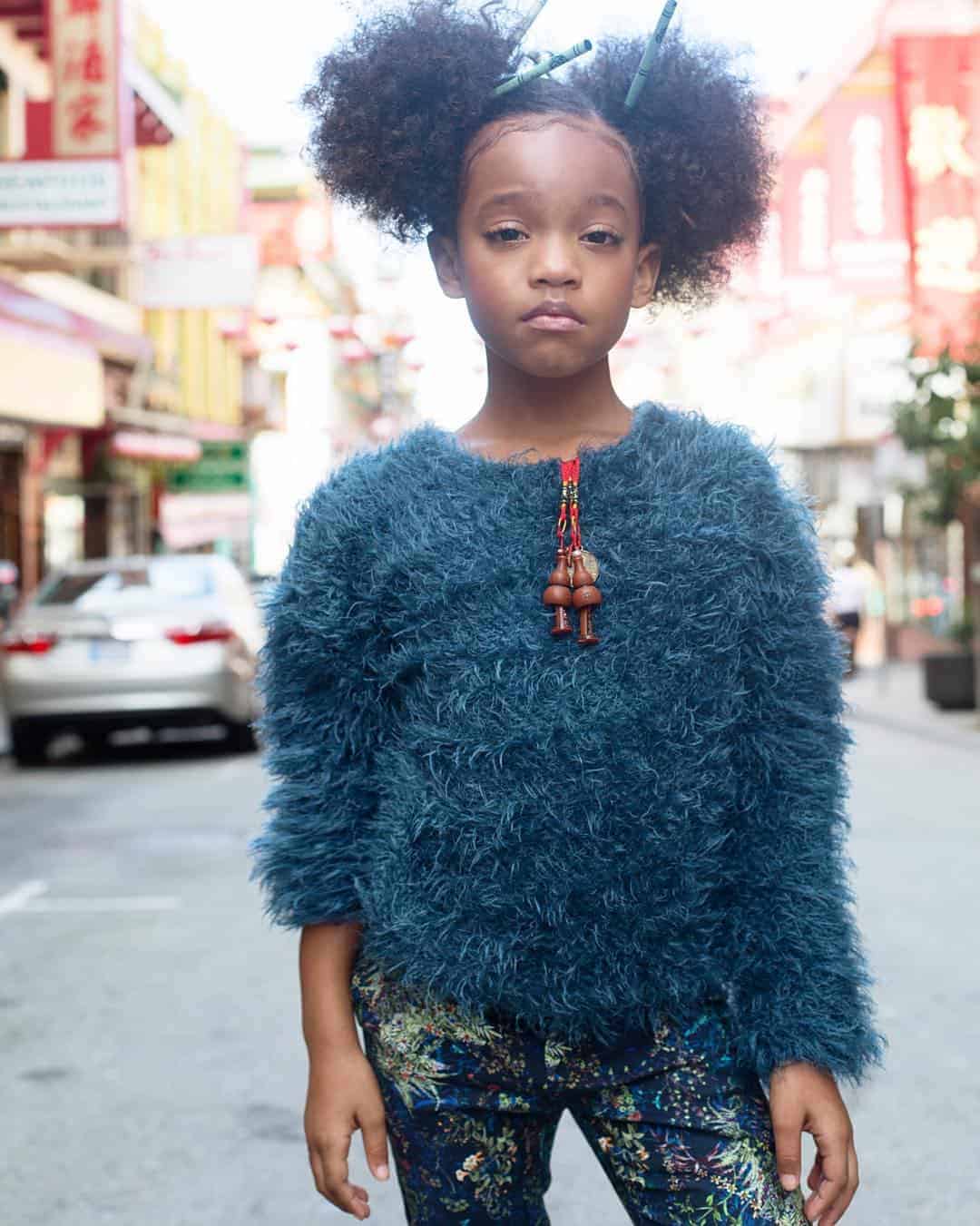 Add some swag to her look, a double bun doesn't have to be boring especially when she has just the right kind of curls to pull it off.
5. Sleek Double Bun For A Dope Look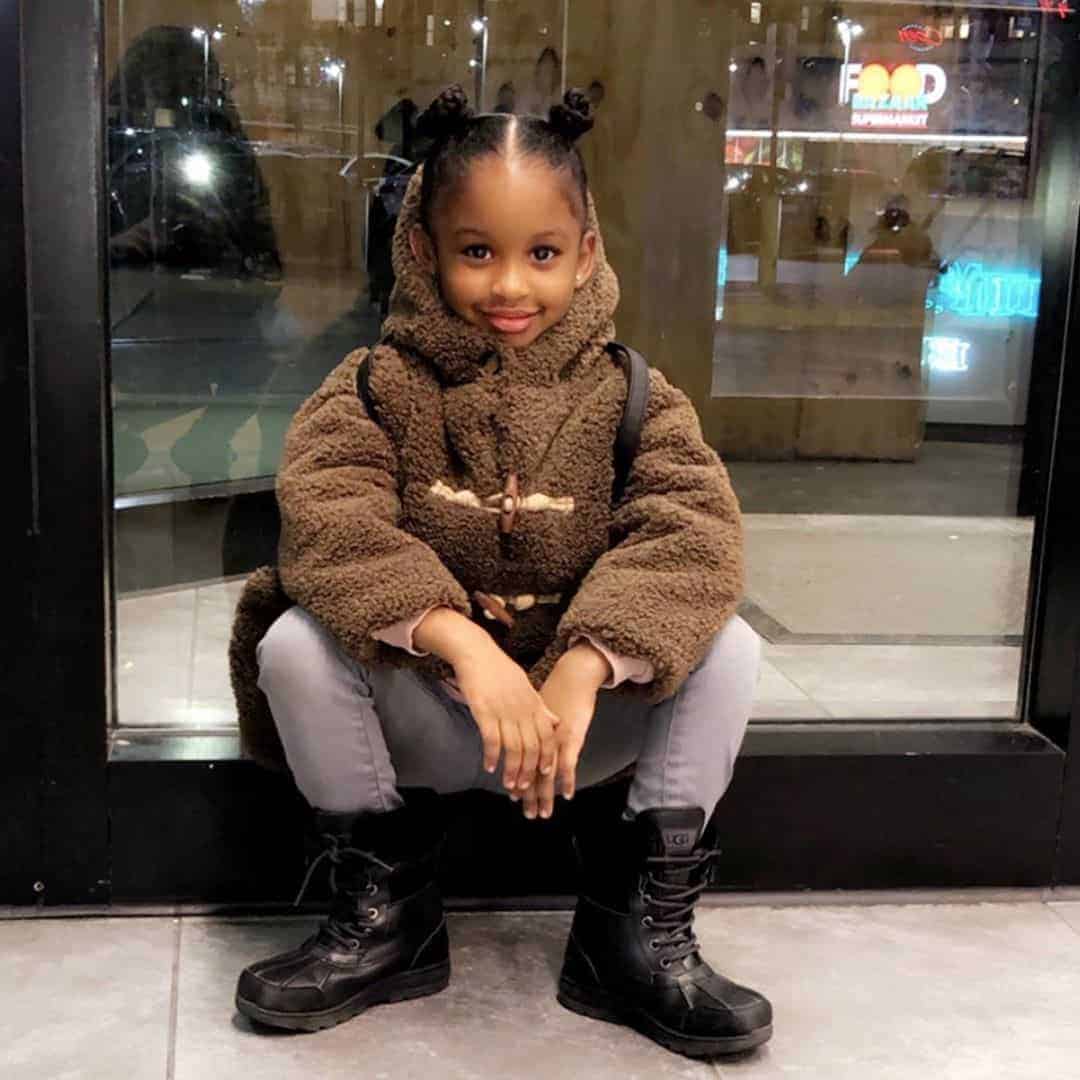 Give your usual ponytail an upgrade to a more cool look like this one.
6. Feed-In Braid To Give Her A Formal Look
Feed-in braid are usually very beautiful when plaited by ladies but even more adorable when it's on a little girl.
7. Braided Pigtail For Your Little Girl To Look All Grown Up
We are loving this grown-up hairstyle, your daughter would definitely love to have this to show how fast she is growing.
8. Side Ponytail To Show Off Her Cute Face
Source: Pinterest
Everyone loves a ponytail but this time show off her pretty face by dropping it to the side.
9. Fulani Braid To Make Her Look Elegant
Source: funky braids
African's are well known for their iconic braids and they have just the right one for your baby girl, Fulani braids do come in many forms but this is one of the simplest for a kid to try.
10. African Dutch Braid For An Iconic Look
Source: Pinterest.ru
Natural hair list won't be complete without this trendy hairstyle, lot's of ladies are finding it really cute and kids are no exception and we think it looks better on them.
11. The Right Dutch Braid For Her As A Flower Girl
You need not worry about the perfect hairstyle for your girl if she is to be the flower girl, a simple dutch braid tucked in as a bun would do just fine, adorn it with all the hair accessories you fancy and she is good to go.
12. Show Off Her Curls With Half Up Half Down Hairstyle
Source: Pinterest.co.uk
Time to show off her gorgeous skin with a simple hairstyle and this doesn't matter what colour of hair she has, let it drop on her shoulder to pair nicely with her skin.
13. Two-step Hairstyle For Her To Have An Enjoyable Sports Time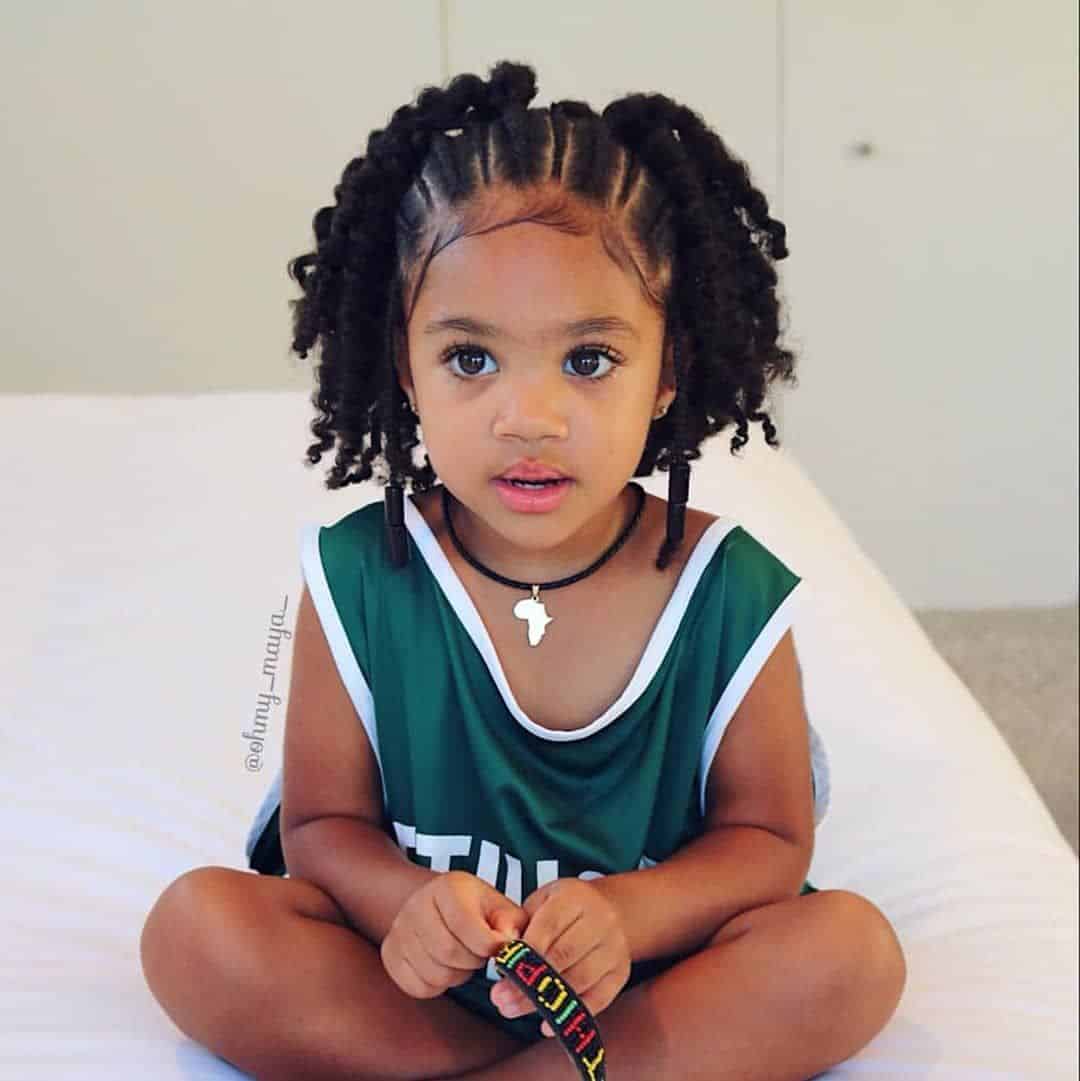 This is one look we are completely in love with, obviously very simple and adorable.
14. Flaunt Her Hair With A Simple Side Parting
Every little girl likes to look simple but cute and mothers love that too and we couldn't help but choose this hairstyle to give mothers and daughters just what they want in a hairstyle.
15. Zigzag Afro Braid For A Back To School Look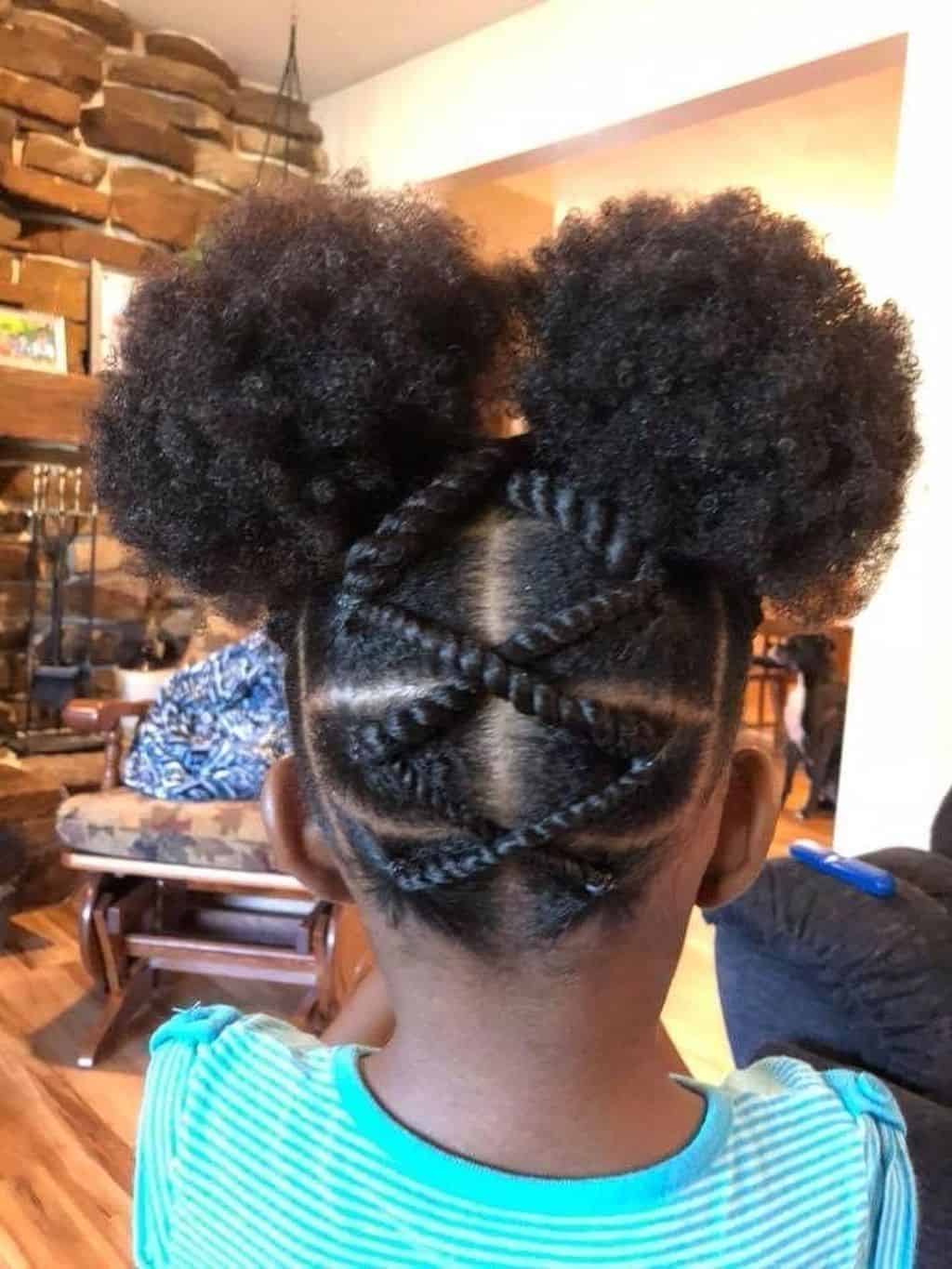 This might look a bit complicated but it's not, just have the cornrow plaited in a zigzag form and the base of the hair is packed into a bun.
<
16. Protective Double Bun To Retain Her Hair Length
Protective hairstyles are really important for your kids, it prevents breakage hence this hairstyle above is one the best protective hairstyle for your girl's natural hair.
17. Half Up Ponytail And Half Down To Make Her Look All Grown Up
Source: Pinterest
If you are getting bored with the usual ponytail and bun hairstyle then it's time to do something even more interesting and adult-like, toss up a couple of hair strand to give a half updo bun and let the rest fall at the back or side and she would thank you for this cool mature hairstyle.
---
Kids are easily fascinated with a beautiful hairstyle but it's important to keep it simple no matter how pretty the hairstyle is, this is to ensure their scalp and hair texture is kept healthy and safe from breakage, it doesn't, matter if her hair is short, hairstyles like the ones selected above will keep it from further damages and eventually help it grow properly.
Love this list of cute natural hair hairstyles for kids? You'll love these ideas: