Having natural hair can be beautiful but the real challenge comes in when you have to style it.
There are many times you wake up in the morning and it is so confusing what to do with your hair to avoid looking rough and unkempt.
In Africa, Hairstyling can be an issue since Africans are not so endowed in the hair departments like the folks from the west or anywhere else really and this has caused many to stick to wigs but the beautiful thing about African hair is how dark and natural it is and should not be denied.
We have thoroughly gathered some at home way's to style your natural hair at home without visiting the salon.
60 Natural Hair Styles You Can Try At Home
We combed Instagram and found eight different ways to style your natural hair at home.
1. Bun With Parted Bangs
Here is one of the most popular ways you can style natural hair types. This is the ideal styling if you want to show off your length and also keep your curls well tucked in. This is a great protective hairstyle for natural hair.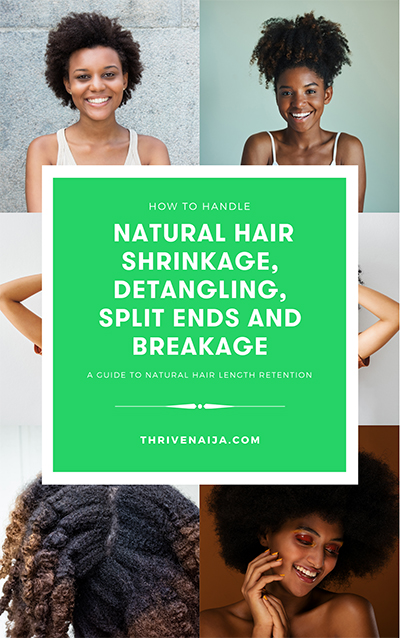 GET A COPY OF OUR NEW BOOK!!!
Dealing with a couple of issues with your Natural hair? Our guide tackles four of the biggest issues natural hair babes face.
Natural hair shrinkage.
Detangling.
Managing split-ends.
And breakage.
We call it the guide to natural hair length retention. We're excited about it and we're sure you'll find it very helpful.
2. Half Up, Half Down With Laid Edges
This is a really cool hairstyle everyone with natural hair needs to try. This is one classy hairstyle you can rock for any occasion.
3. Wash And Go Finger Curls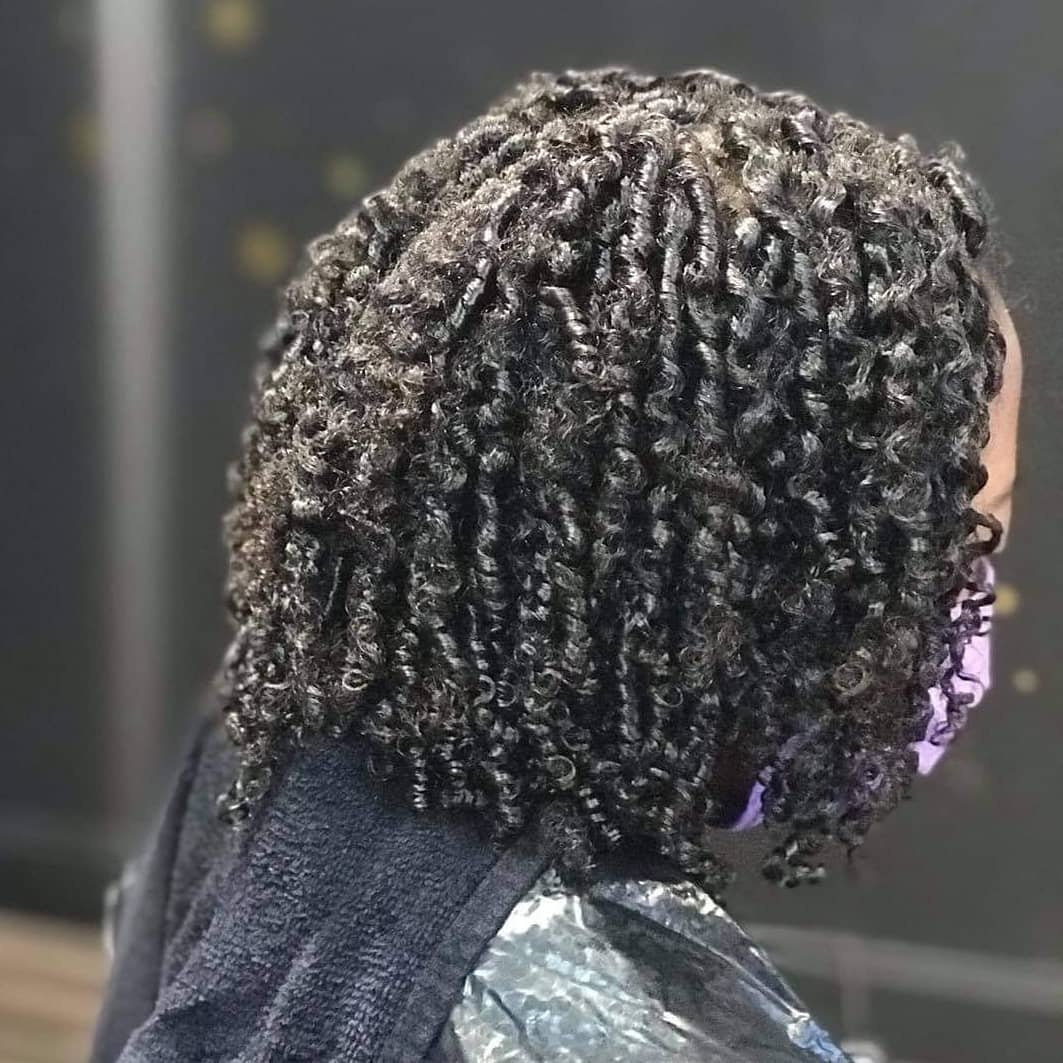 This is a really cool hairstyle if you can't figure out what hairstyle to go for. All you need is to wash your hair and have it rolled to make the curls.
4. Large Double Bun
If you have full natural hair then styling is often difficult but they can be rectified with a full afro bun. This is a really cute hairstyle.
5. Curly Bun With Bangs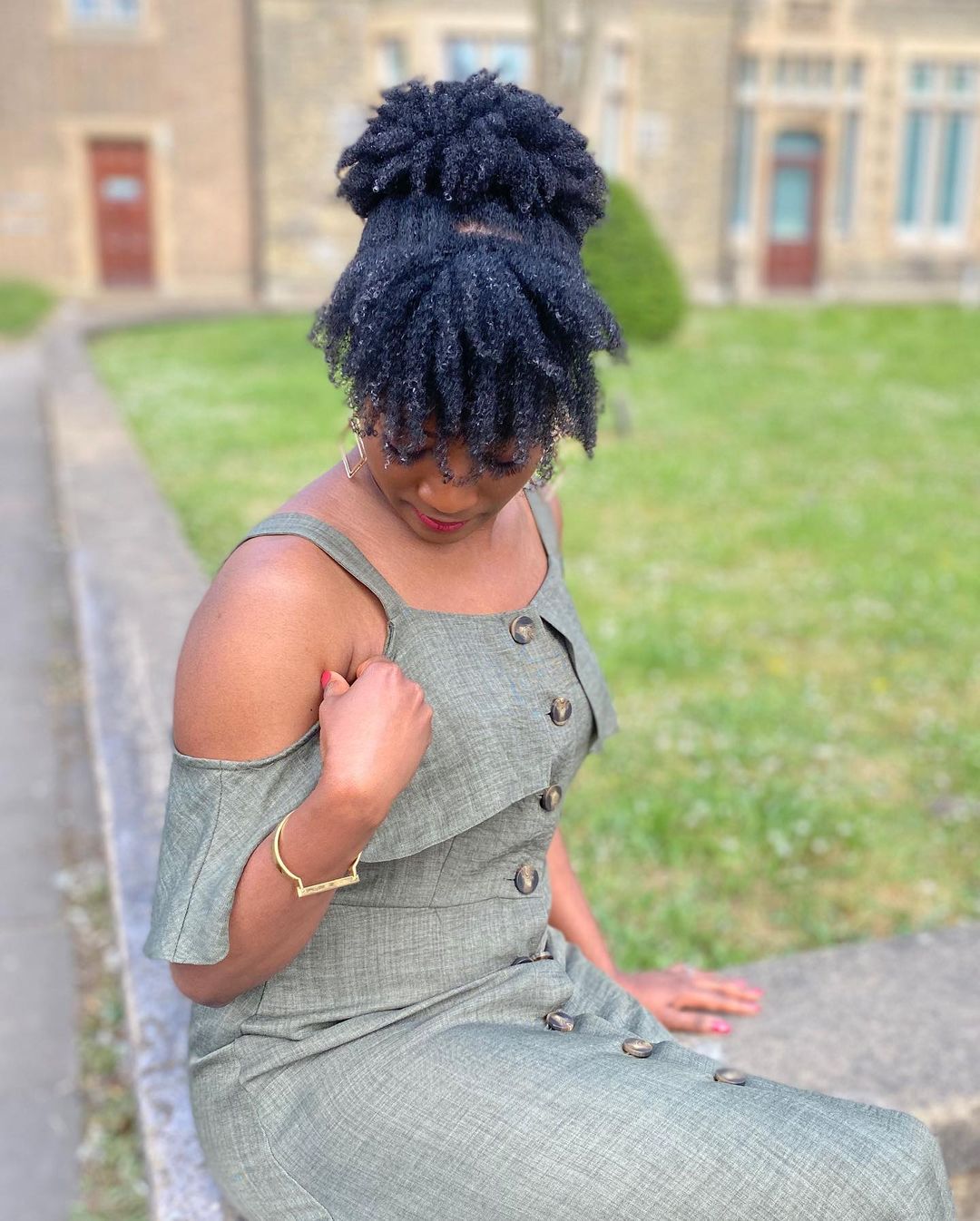 Natural hairstyles don't have to be dramatic to be fun, this is another really cool choice of hairstyle for any hair type.
6. Cute 3b Hairstyle With Baby Bangs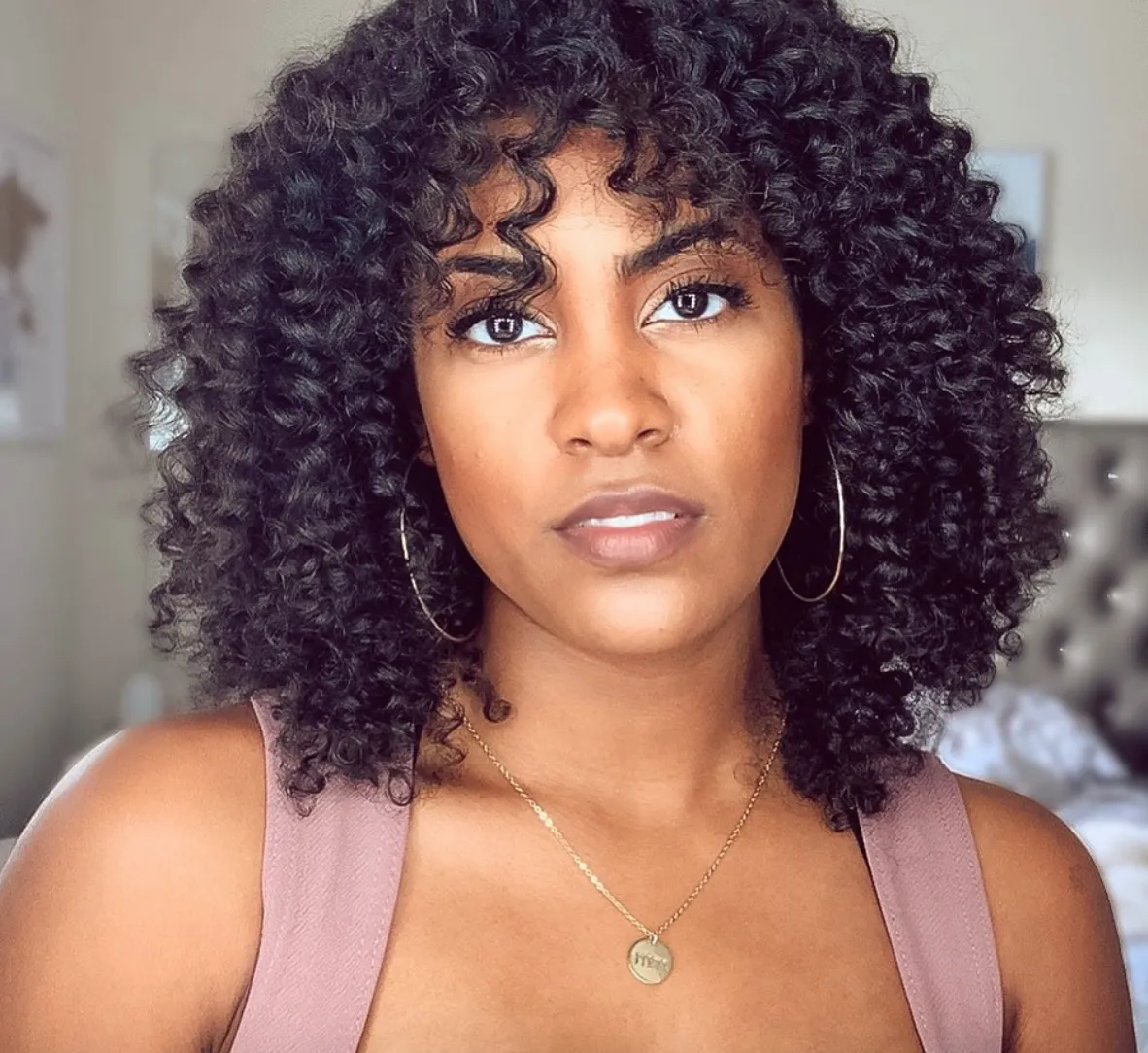 While there are lots of wigs made to give you this kind of style, you can get something, even more, stunning with your natural hair. This is easy to style and you can check youtube for tutorials.
7. Mohawk Natural Hairstyle
Another pretty way to style your natural hair without making it look too much or too simple.
8. Sponge Natural Hairstyle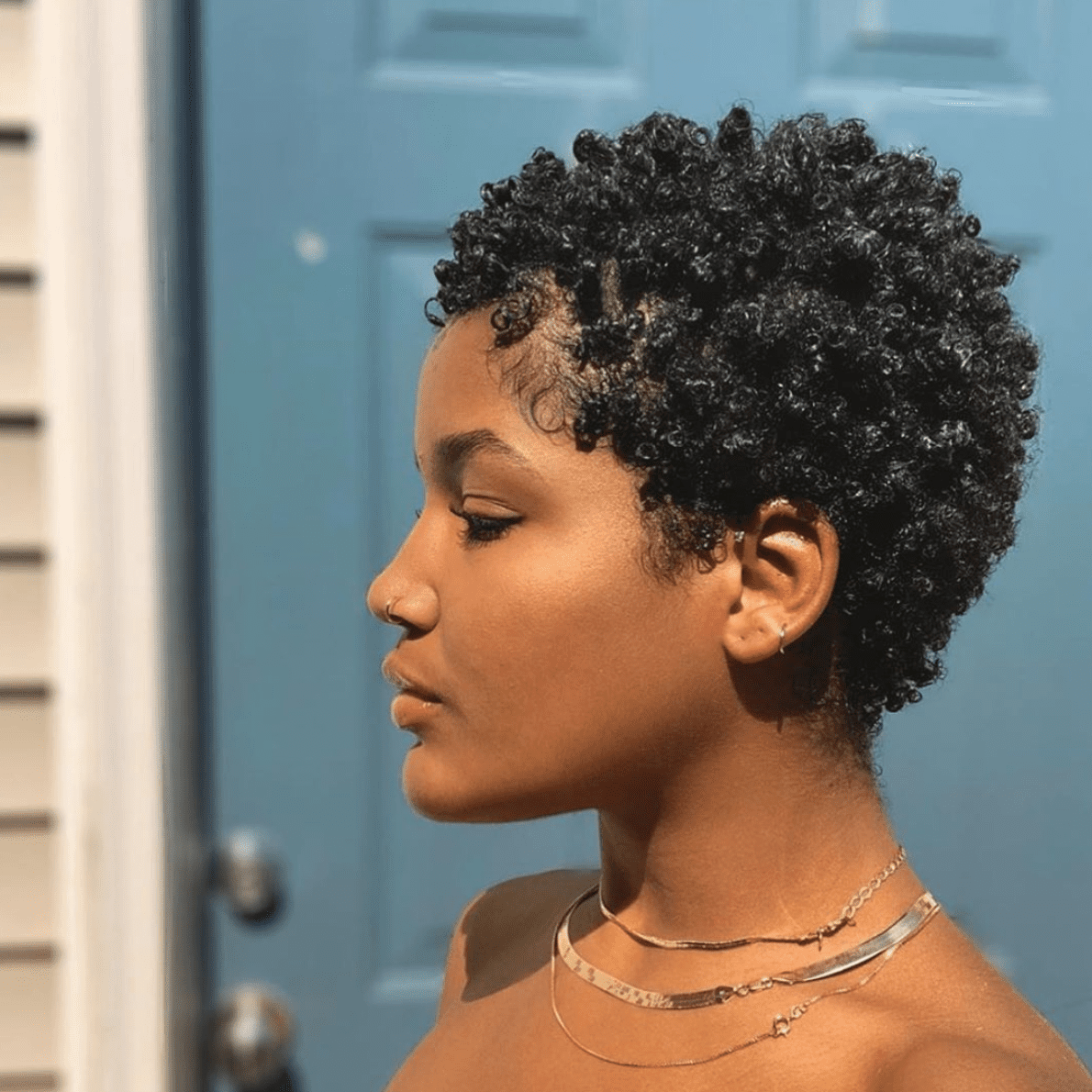 A sponge hairstyle is ideal for short natural hair or if you are transitioning to natural hair. It helps keep your natural hair tidy as well.
9. Bridal Hairstyle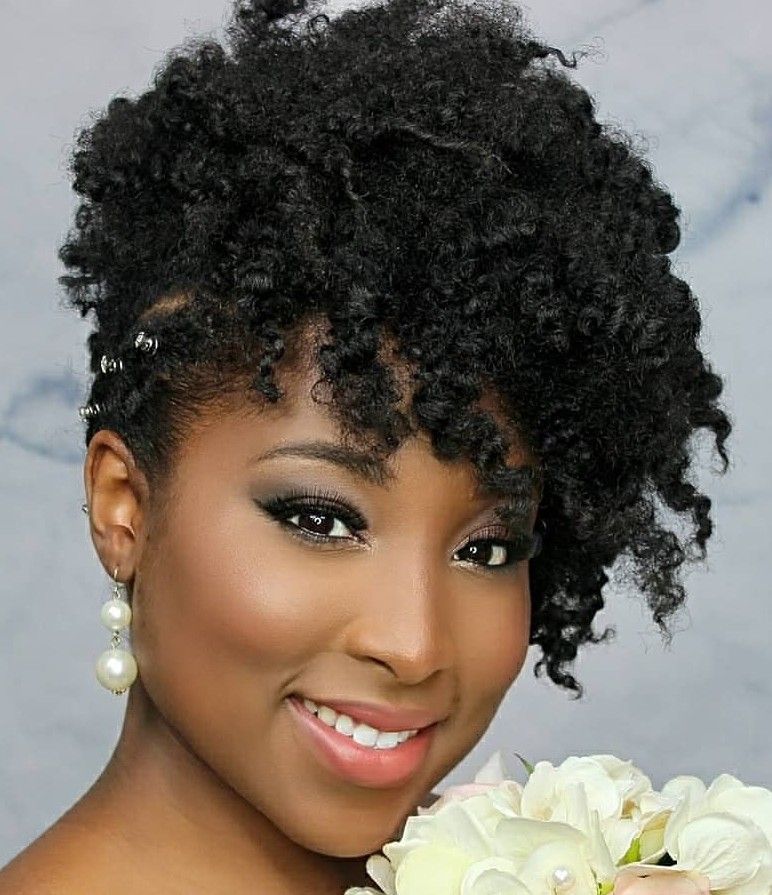 You can definitely have fun with your natural hair on your wedding day, you just need to have your hairdresser make this for you so it looks more stylish and beautiful.
10. Bantu Knot With AFro Bun
Keep it simple if you have 2b natural hair types as they are easier to care for.
11. Two Buns Half Up, Half Down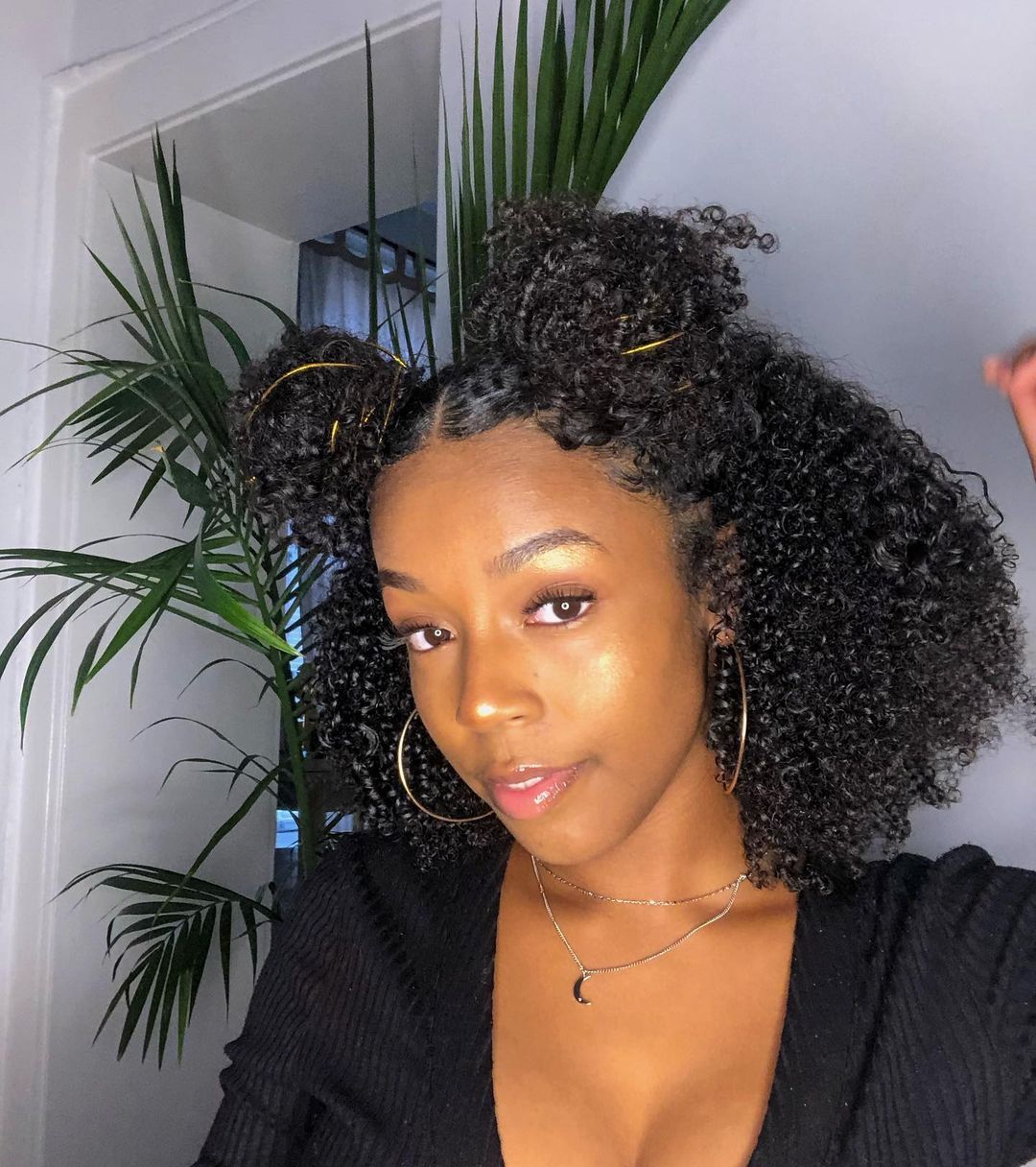 Two buns half up, half down, you can use your hair clip to get your desired look and firmness.
12. Bantu Knot With Lovely Edges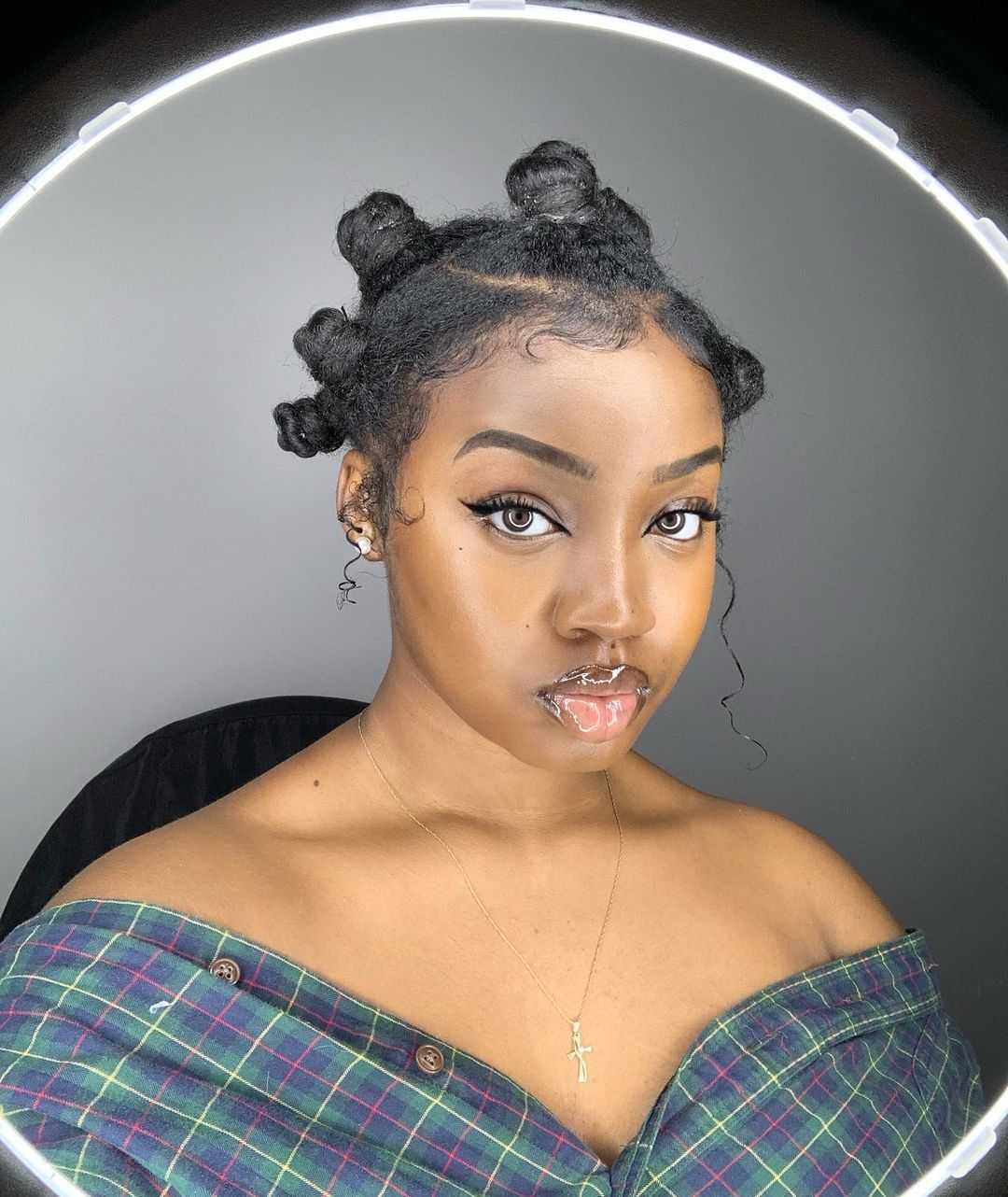 Bantu knot can be styled at home to ease you of saloon stress, and you can do it on your own. On twisting out you will get curl hair and a lovely texture.
13. Well Detailed Two Buns
Two buns with a slit in between.
14. One Side Packed And One Side Down
One packed hair with a clip at the side, and the other part down. You can rock this as freestyle at home
15. One-Sided Twist Down Style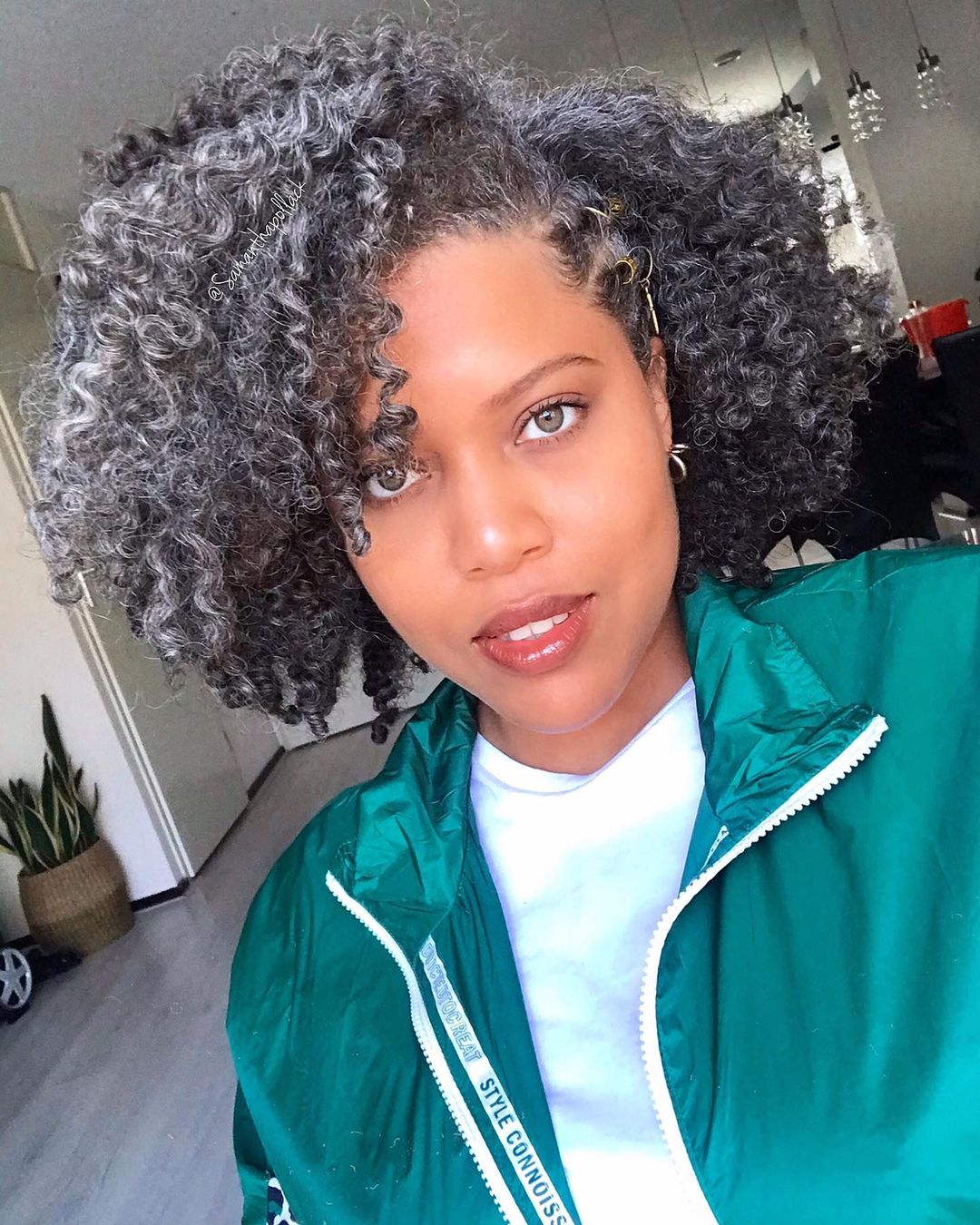 One-sided twist down with a fancy pin can be rocked to anywhere, not just indoors.
16. Front And Back Packing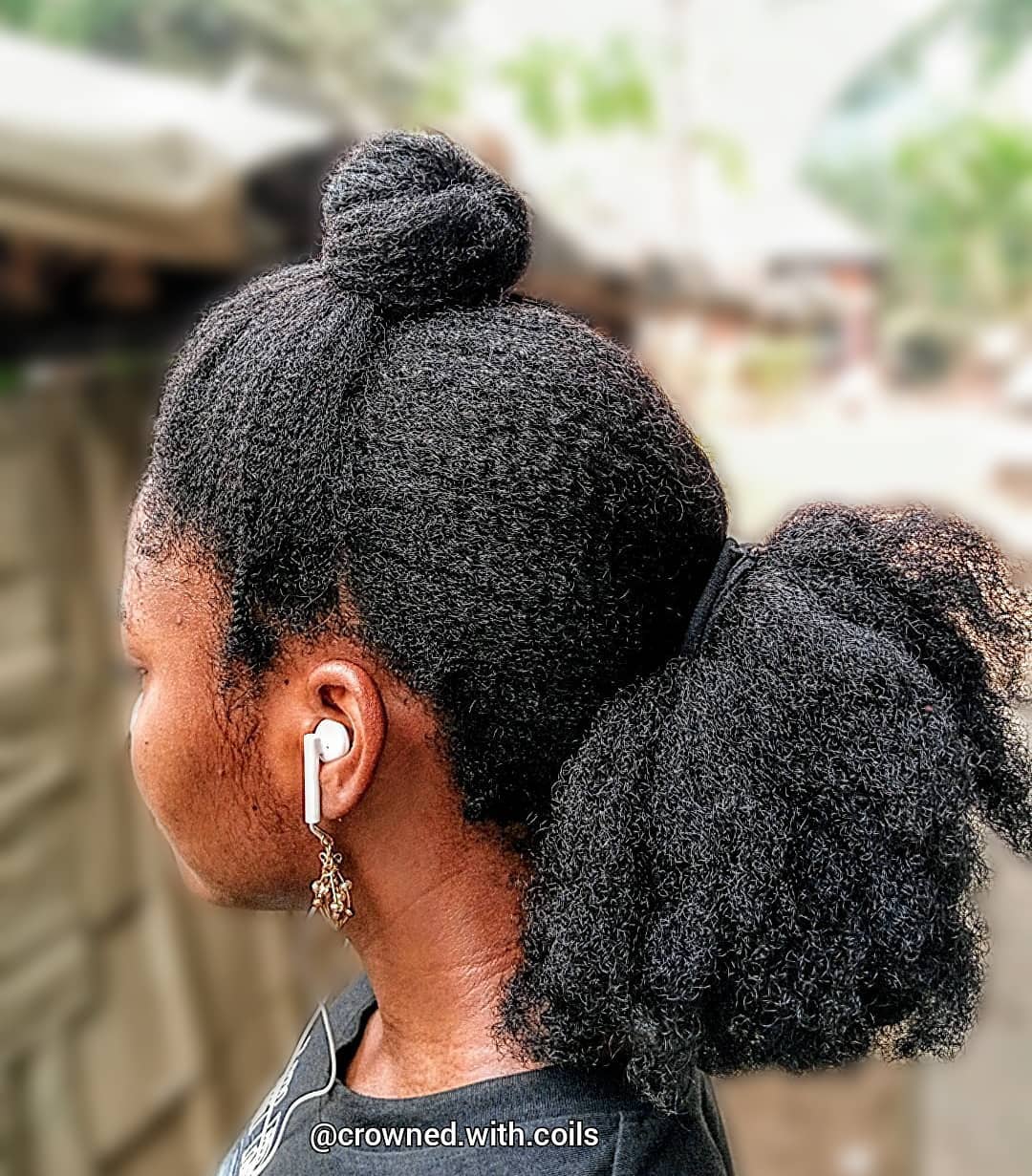 Two in one style, from being a high bun and back a loosed packing.
17. Well detailed High Bun
The high bun doesn't take time to style, you can decide to add some hair clips for a more attractive look.
18. High Bun With Front Twist
If you want something different from the regular, add a little twist to the front part of your hair. High Bun plus front twist will obviously look great.
19. Full Balanced Afro Style
Tired of styling your hair or you are confused all of a sudden? Go for Afro, no stress, no styling, just comb and go rock that party.
20. Side Way All Round Twist Down
With a hair clip, you will get the desired look for this round sideways twist down.
21. Three Strand Twist Styled With Scarf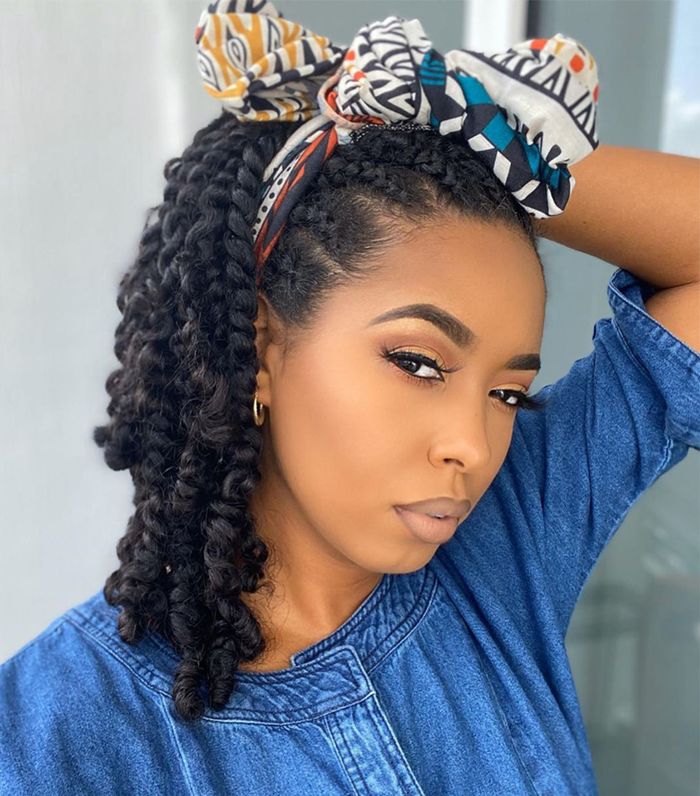 Thre strand twist is easy to style natural hair and with a scarf to make it look even more attractive, this adds a unique and simple look to it. This natural hairstyle can be done at home ins seconds and all you need is knowledge of three-strand twist and you are good to go.
22. Tribal High Bun Style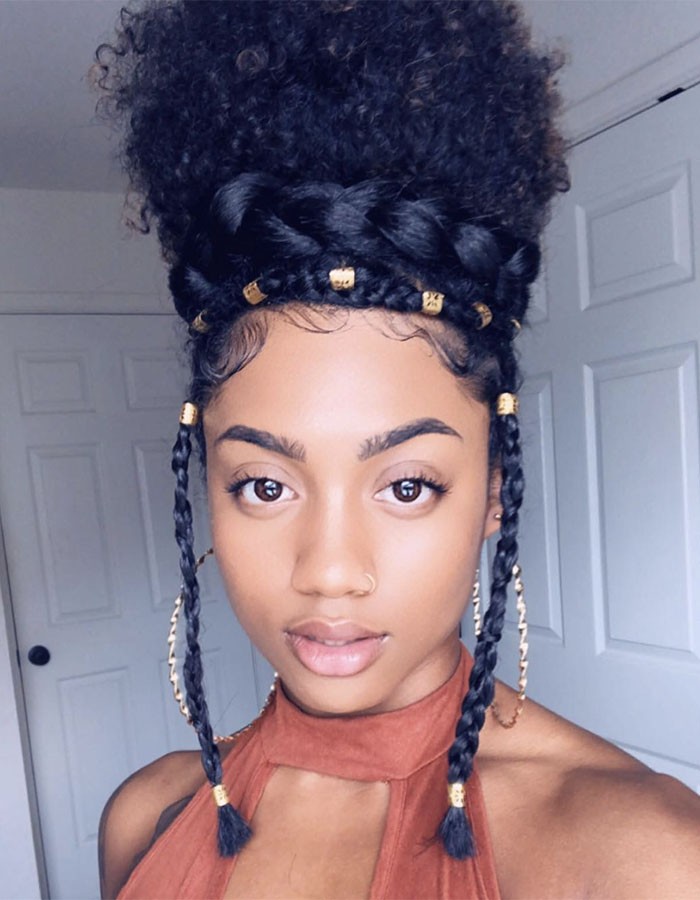 If you are looking for a cooler and formal combination hairstyle then this is the perfect hairstyle to go for, it is really gorgeous and can be styled for all kinds of occasions.
23. Front Afro Bun
Here is another gorgeous bun hairstyle that is unique and simple to make in the comfort of your home, this is an interesting style for the office or formal events.
24. Easy Twist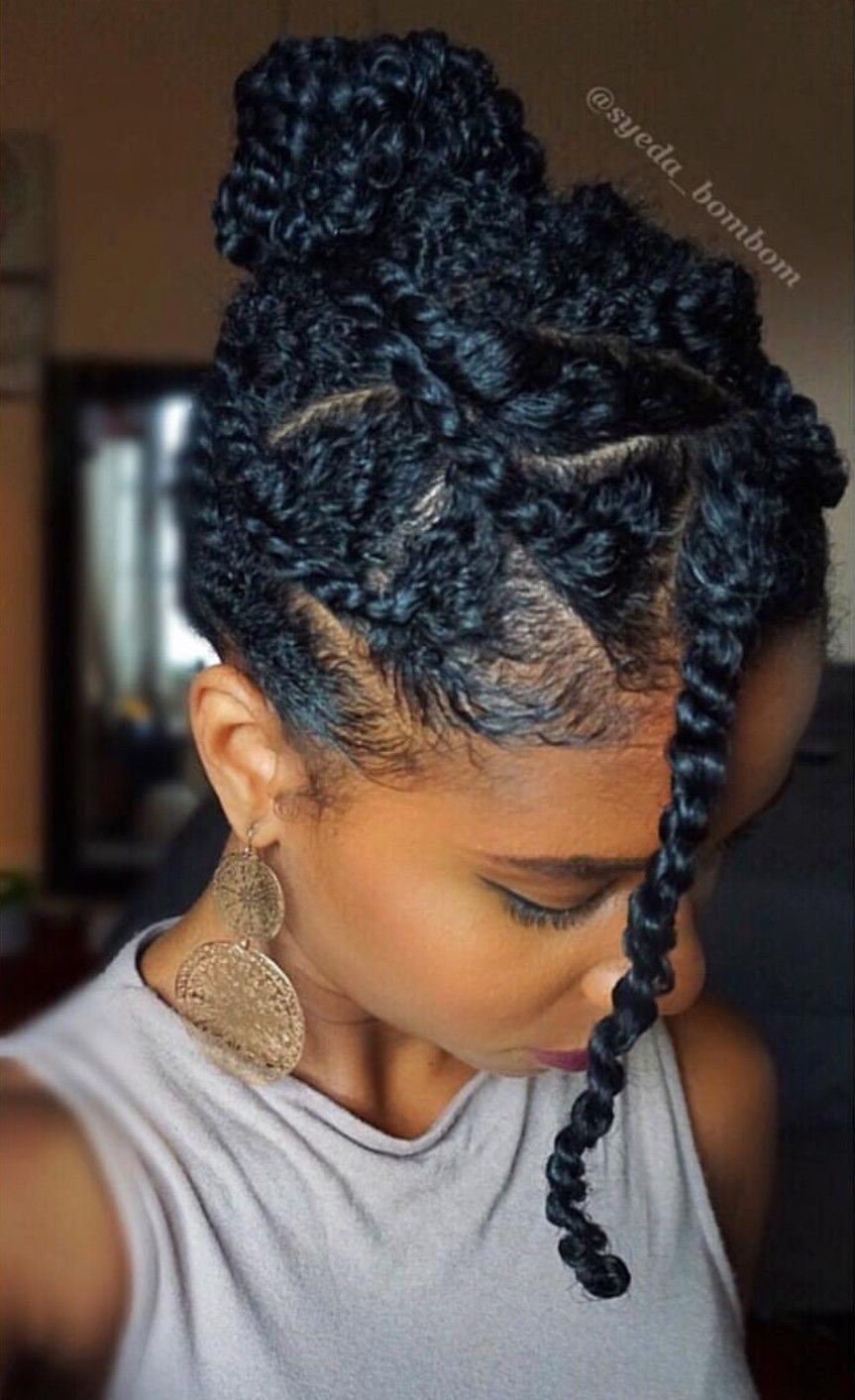 Anyone can do a twist in the comfort of their home without any issue, another hairstyle that is calm and interesting for practically by events.
25. High Bun With Cornrow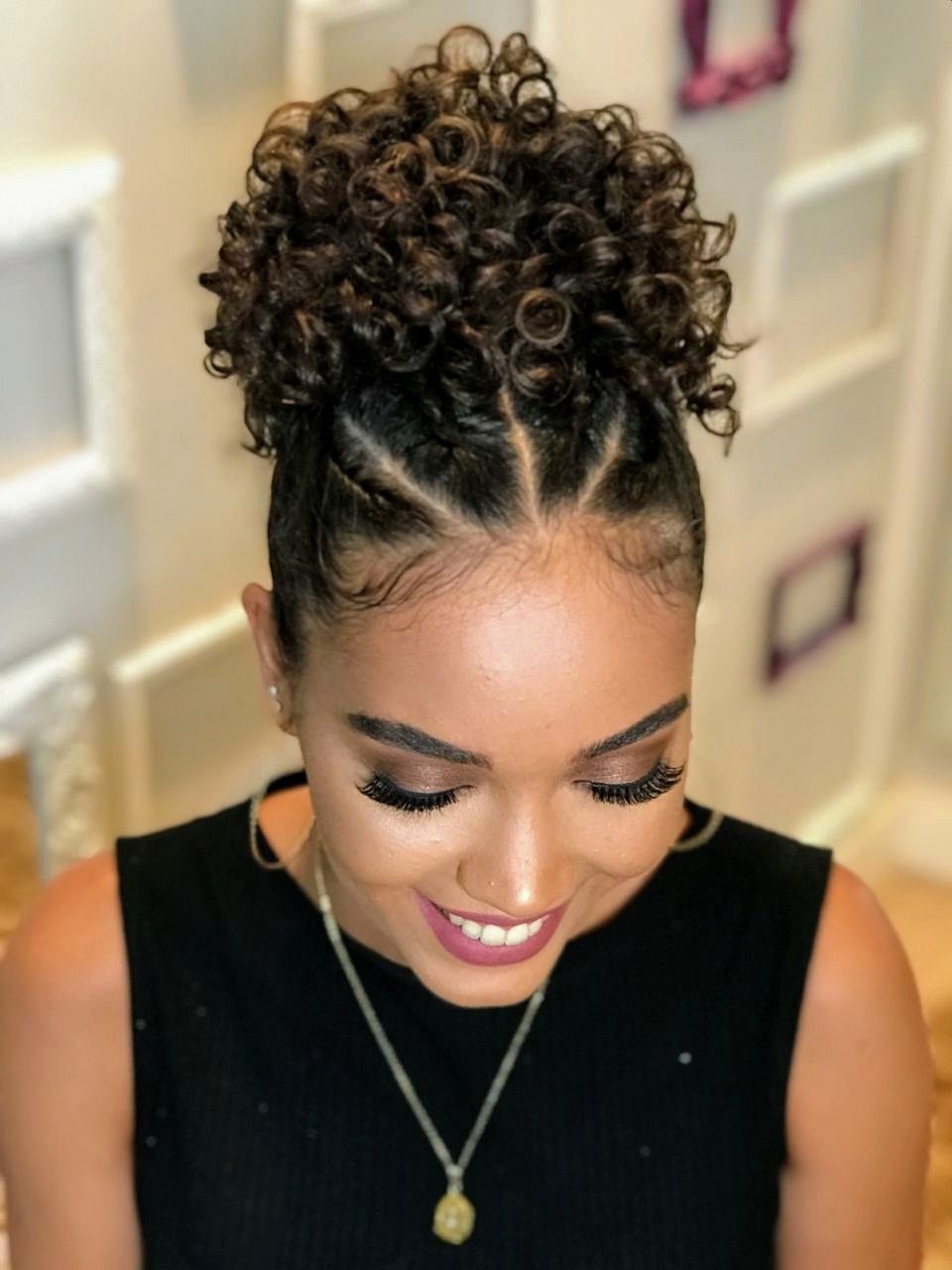 A high bun with a cornrow is suitable for a chic look and it can be styled by anyone at home with or without the cornrow.
26. Afro With Front Base
This is beautiful and great and for pairing with any kind of makeup.
27. Half Up And Half Down Fro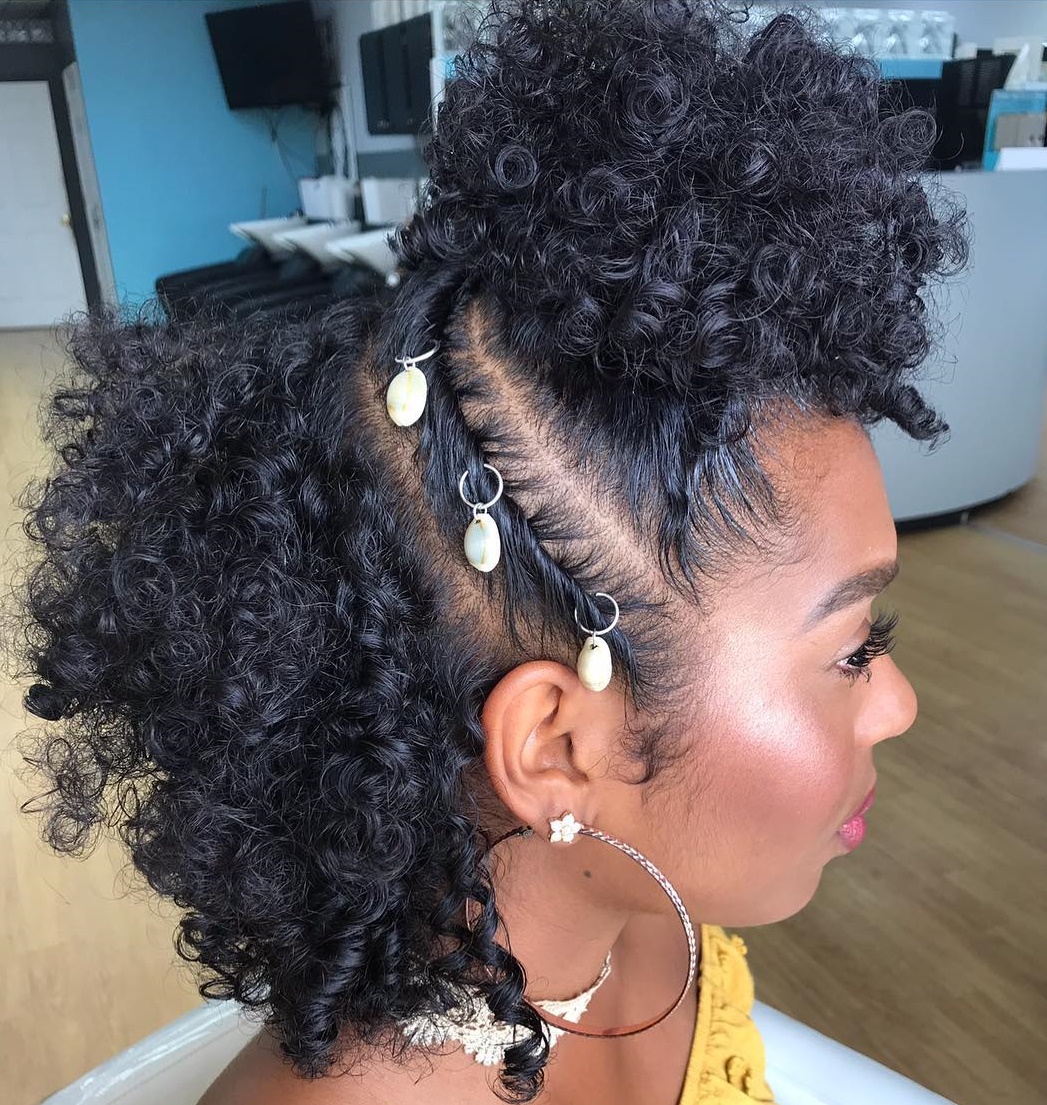 If you are looking for a simple exotic hairstyle for your natural hair fro then this is the best hairstyle to go for, really stylish and simple to style.
28. Afro With Scarf
Source: T-body
Sometimes you are too busy to go to the salon or take time styling your hair but this is a simple exotic style that you can't help but fancy.
29. Cute Start Hairstyle
This is just the hairstyle for your natural hair if you are transitioning or want to keep it classic and cool.
30. Curly Ponytail Hairstyle

Source: PinterestYour curly hairstyle can become more fascinating with this sleek hairstyle above.
31. Tiny Pop Curls With Side Partings
There are many ways you can add curls to your natural hair and make it look like a chemical or permed hair, hot tools are not advisable either so to achieve this hairstyle, you can use natural homemade remedies for attaining curls in your natural hair and all you need to complete it is a small side parting.
32. Beach Wave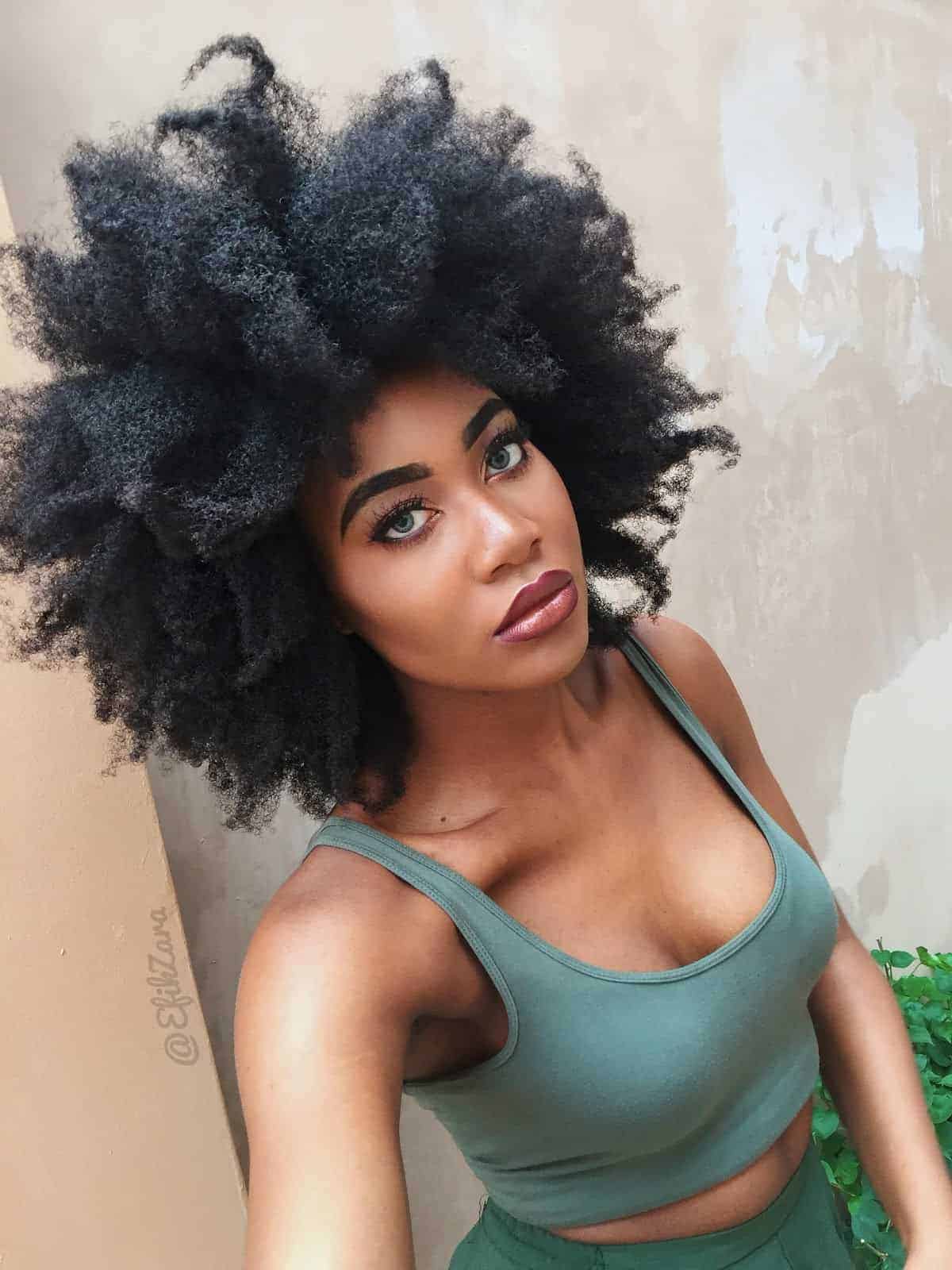 Leave your beautiful natural hair to grow all long and wavy, the edge of the hair shouldn't be combed out and instead, you can use your hands to comb through it to give it a look that says just got out of bed hence the name beach wave.
33. Long Rough Curls
How good and neat you style your natural hair at home depends solely on how good you are with styling but hairstyles like this do not need perfection, they can be messy and still beautiful, they can look smart and suitable for all kinds of events.
34. Twist Out
Twist-outs are lots similar to afro but with a more specific mode of styling, neater and looks shorter compared to large afro, you can easily wrap a headscarf or bind across it to make the twist out look fantastic.
35. Cornrow Bun Braid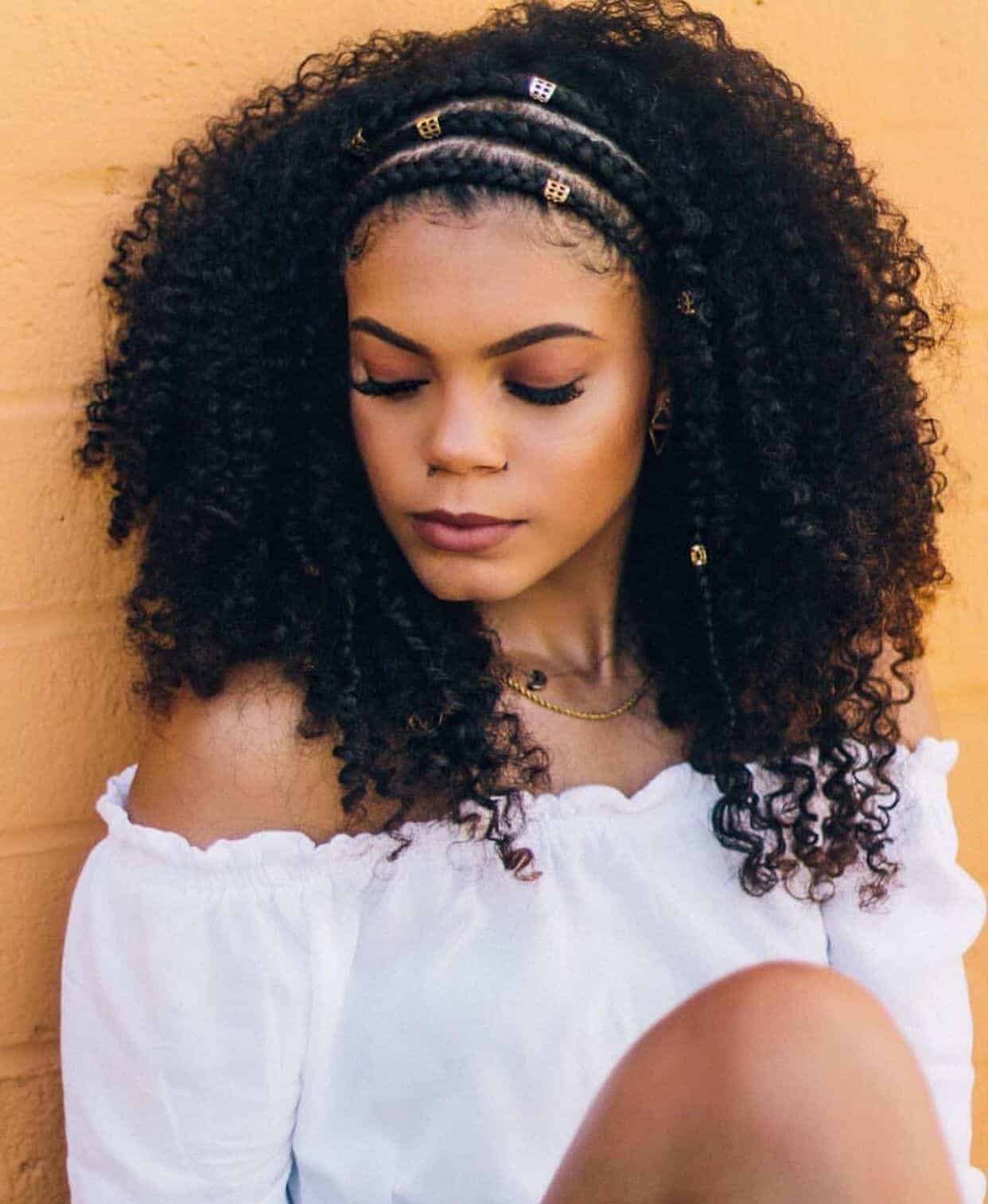 You can easily peg a way to take care of your natural hair from Zazie Beats, she has the right hairstyles for you, her natural hair is also well maintained and those curls are neatly tucked in.
36. Soft Beachy Wave
This style has a lot of curls in it. If you are into curls, this is the hairstyle for you.
37. Spring Natural Hair Style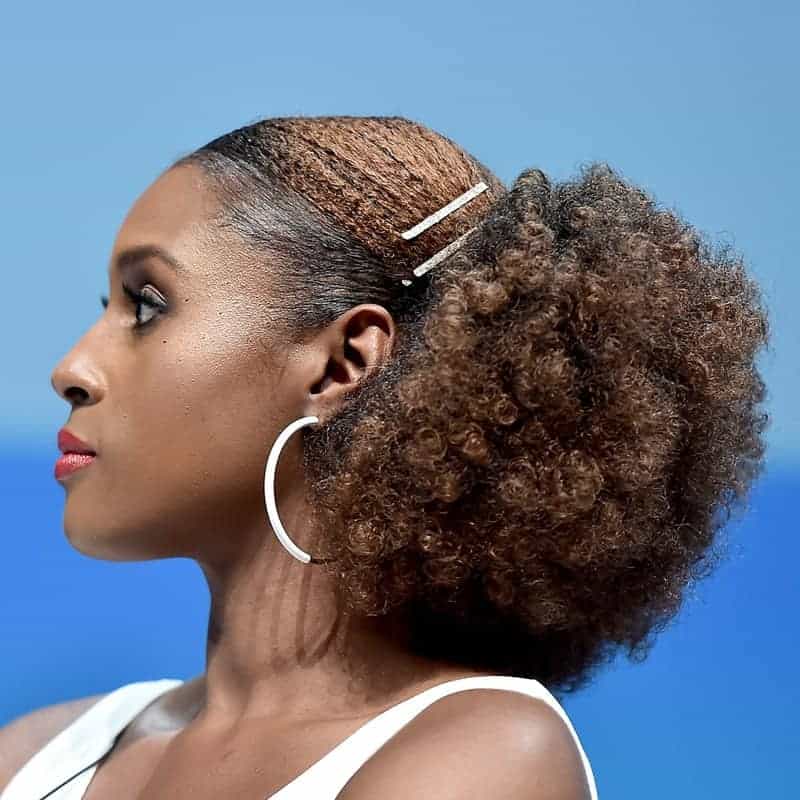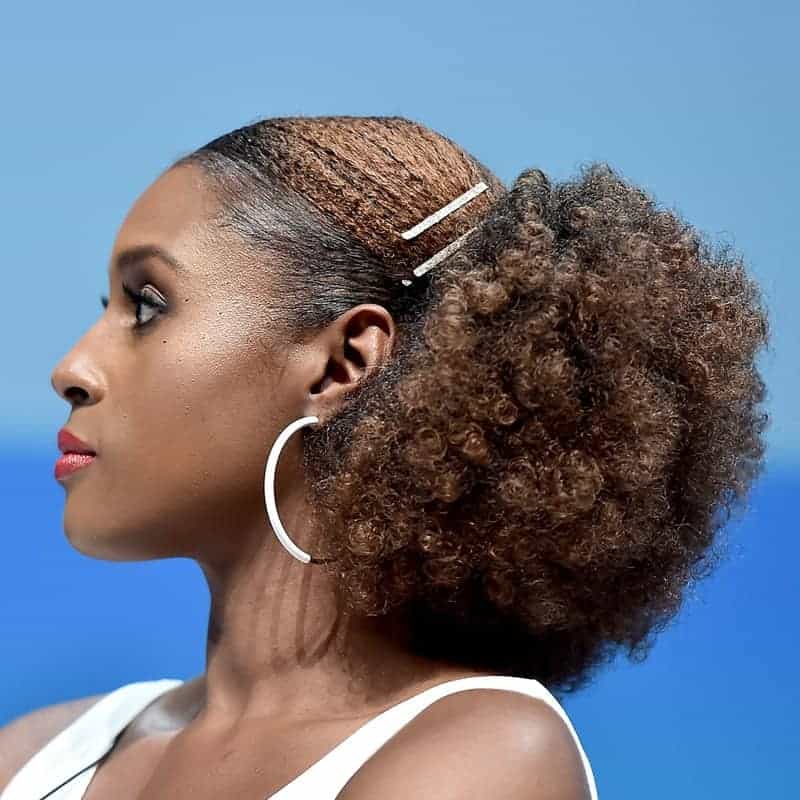 Another celebrity that struts her natural hair with some sauce is Issa Rae, we have to give it to her as we are loving this simple bun, it's all you need for spring.
38. Drawstring Styling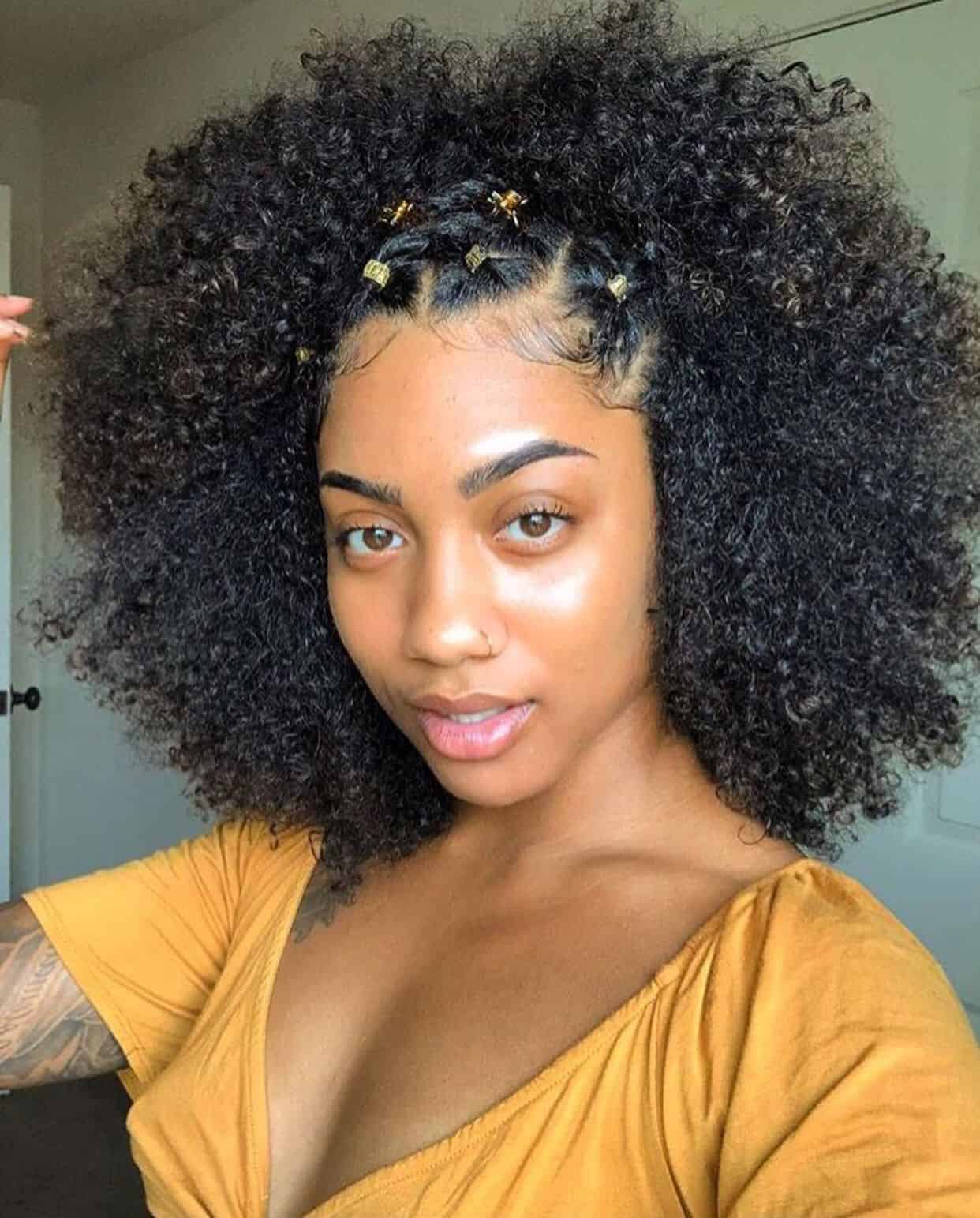 A simple elegant style like drawstring styling always looks fabulous regardless of the face and hair texture wearing it, it is also very easy to style and takes less time.
39. Diva Bangs
A simple style like this is what every lady with natural hair should try, it is considered a protective hairstyle for your natural hair.
40. 4c Afro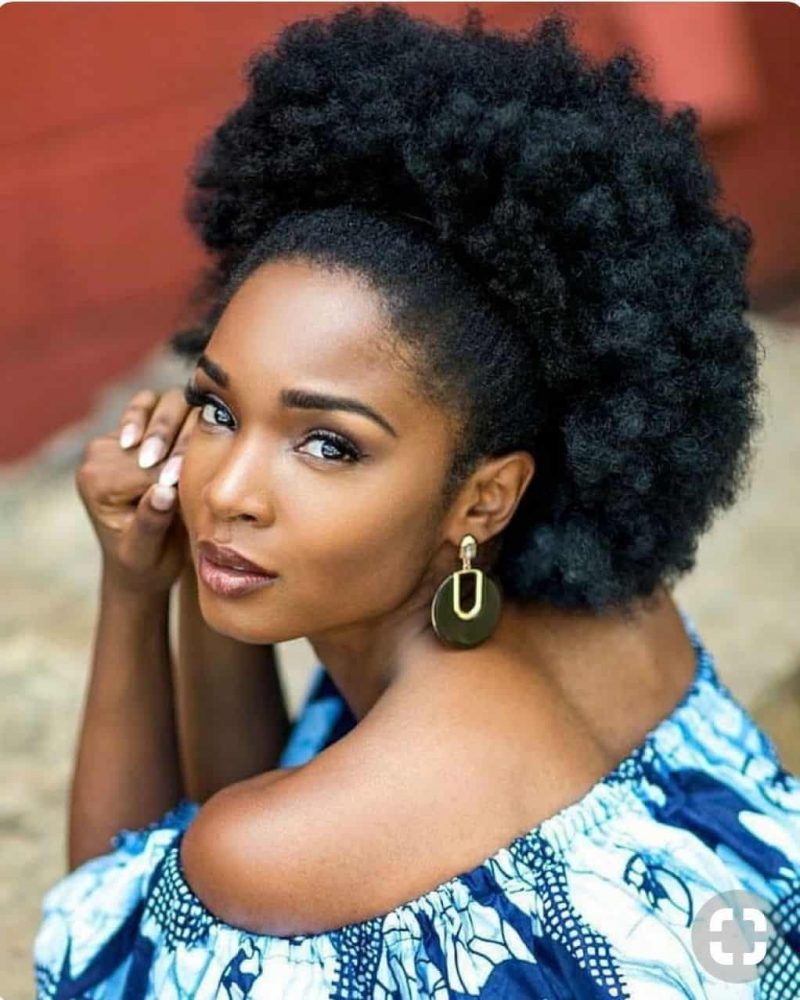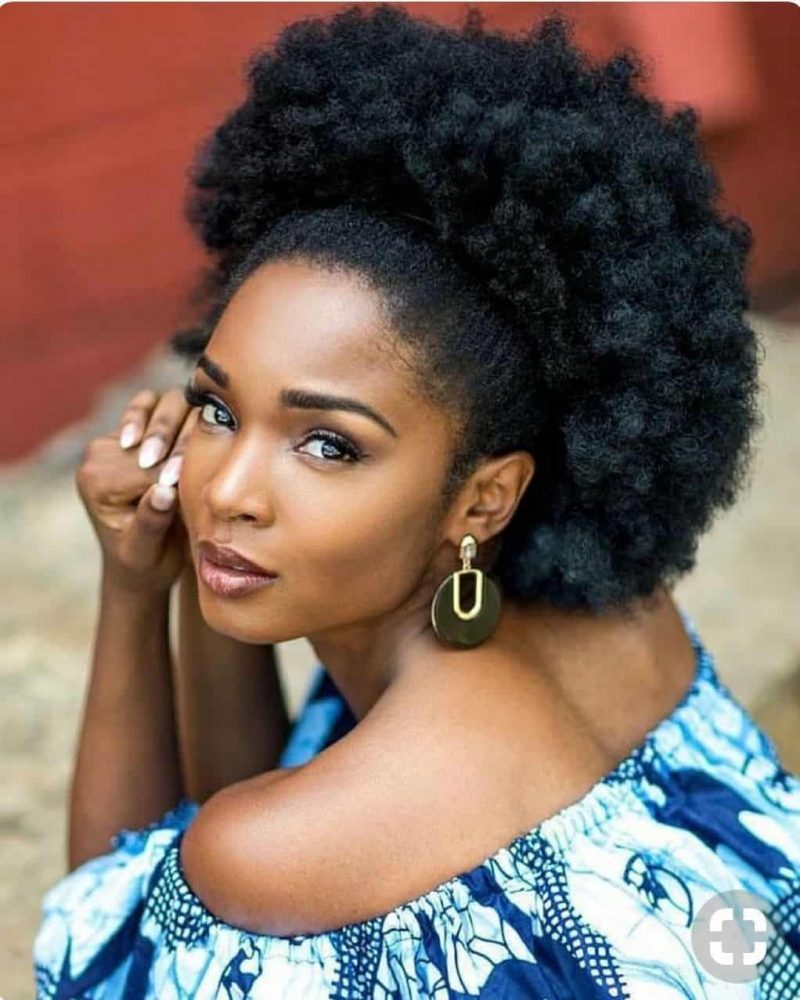 4c natural hair is usually fragile hence you need hairstyles that are not too tight on your scalp hence we recommend this simple afro hairstyle for you.
41. Soft Curls
This is just what you need if your natural hair is soft and the curls are neat, you need not keep them tucked in, just add some wave and glam to it with a hairstyle like this.
42. Side Cornrows With Afro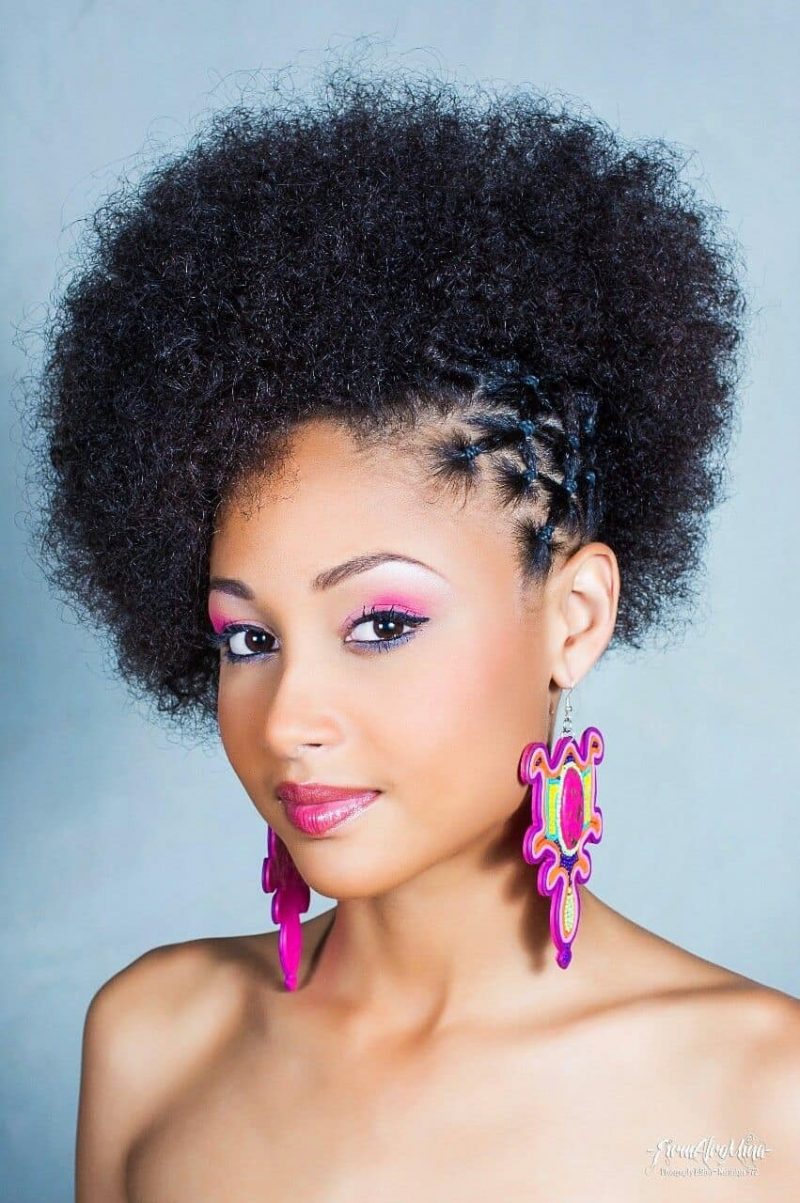 This is for transitioning hairstyle is everything simple and the cornrow added to it gave a more definite and superb look.
43. Afro With Sleek Pattern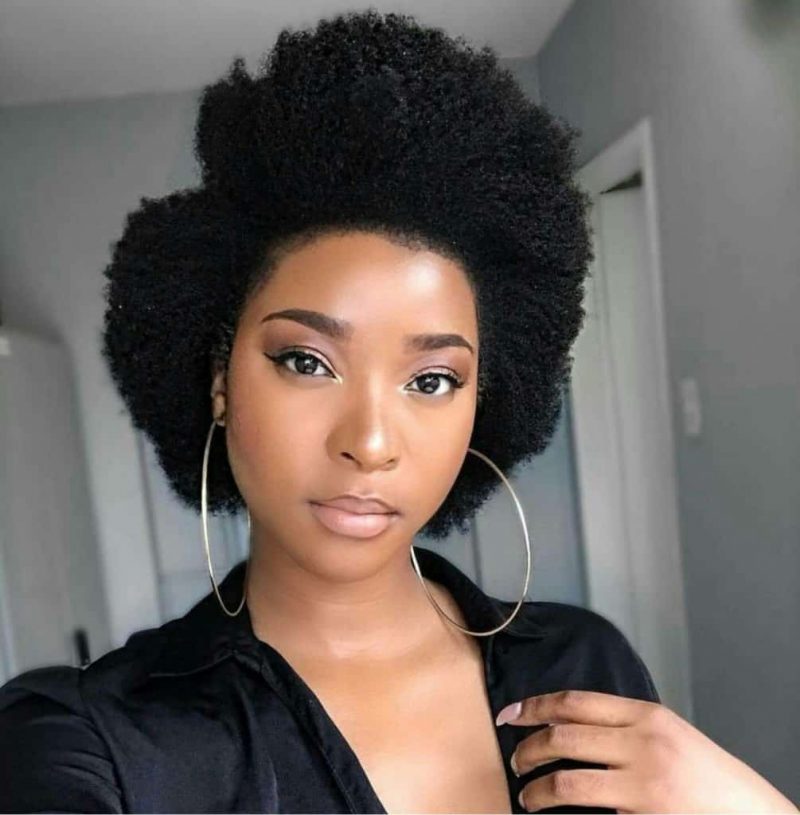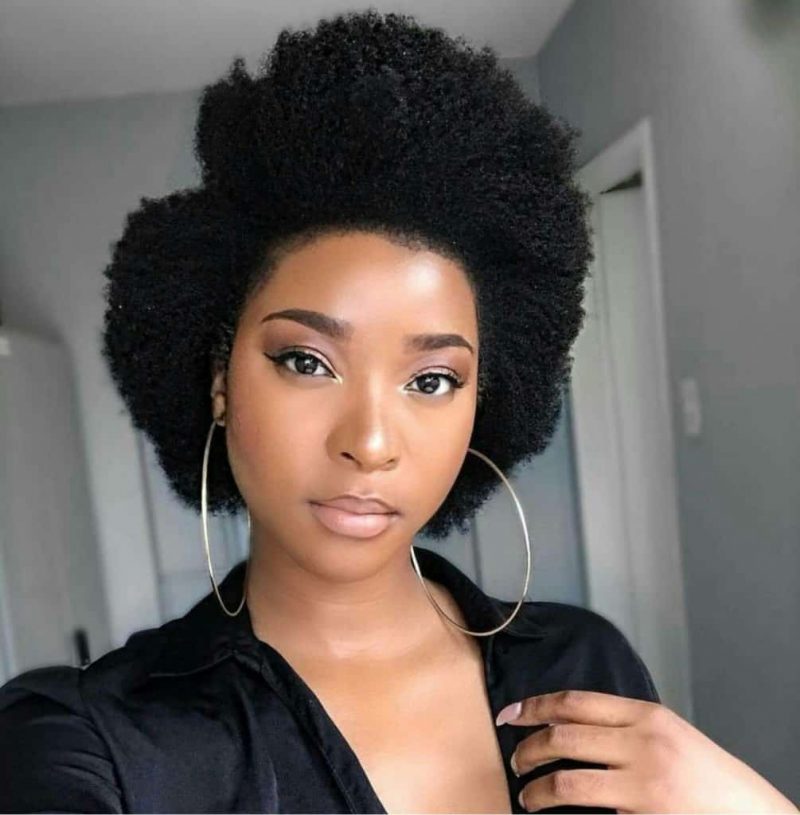 Afro style with a more unique and subtle parting to alter the usual look of it and make it look more classy and trendy.
44. Simple Bun Updo With Curls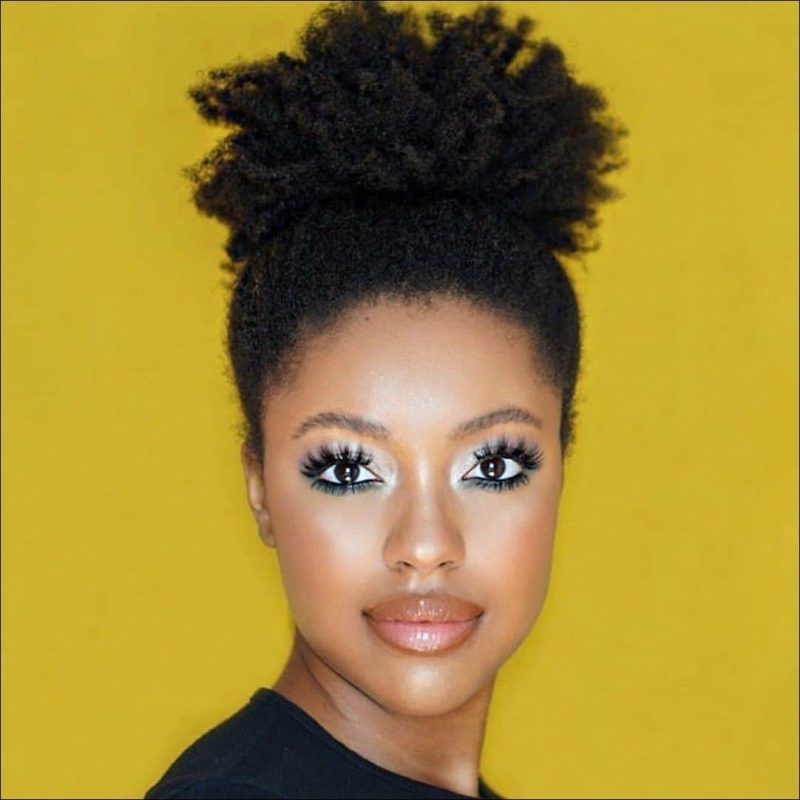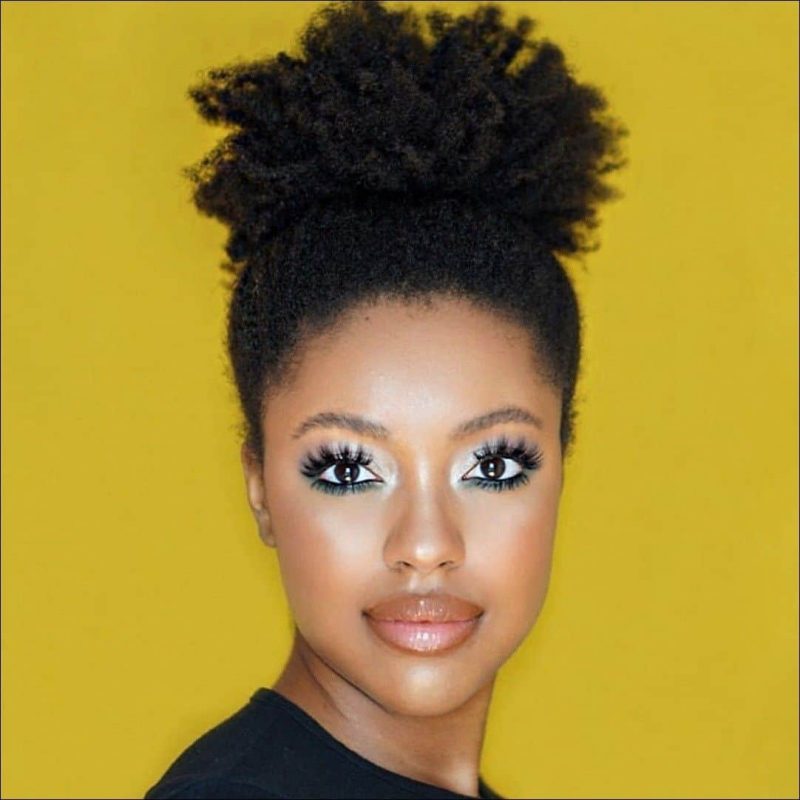 Curls add a more interesting look to your hair, instead of leaving your hair in a simple bun, you can add some glamour to it with the curls.
45. Wrapped Natural Hair With Base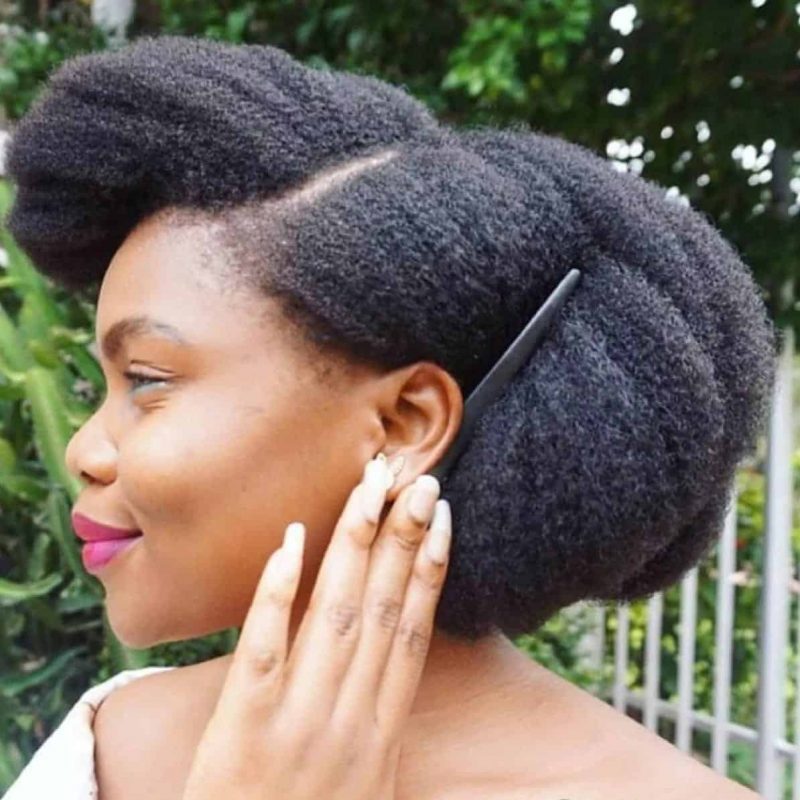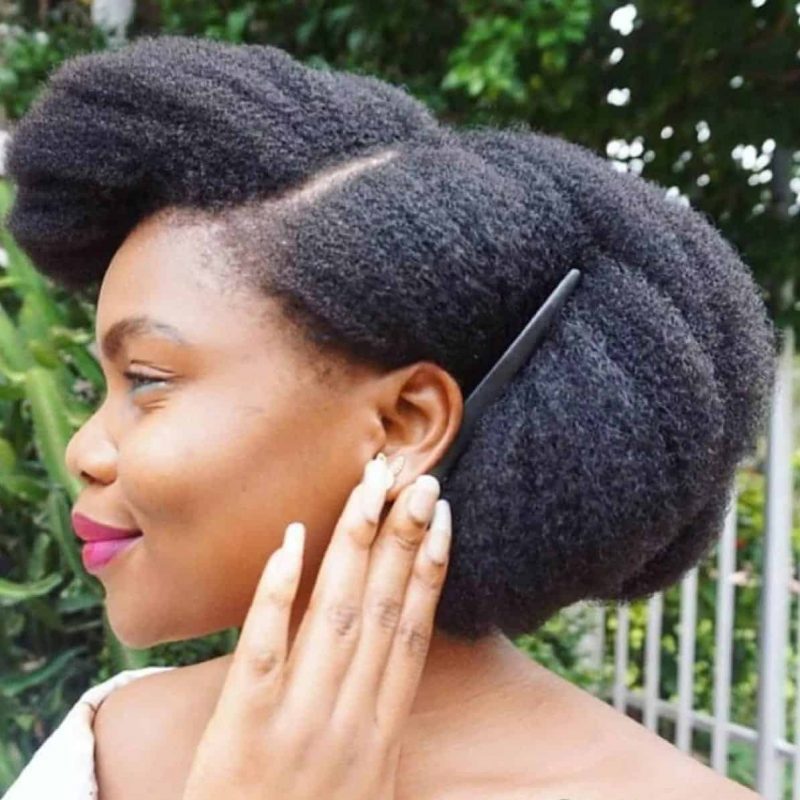 If you have very long hair and combing it tends to be a tad difficult, you can easily adapt to this style, it protects your hair from breaking too.
46. Low Bun With Coils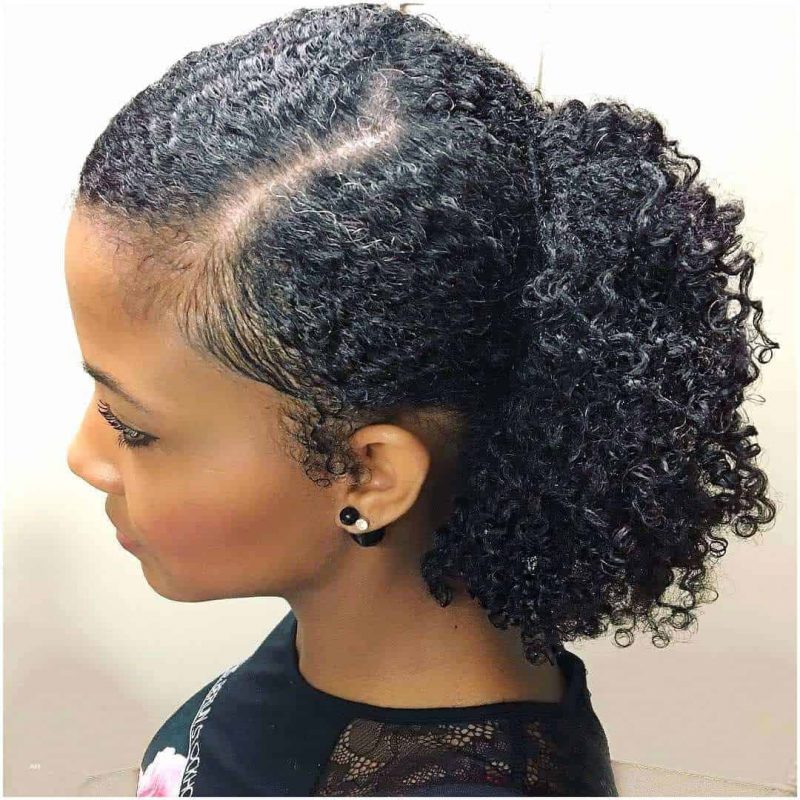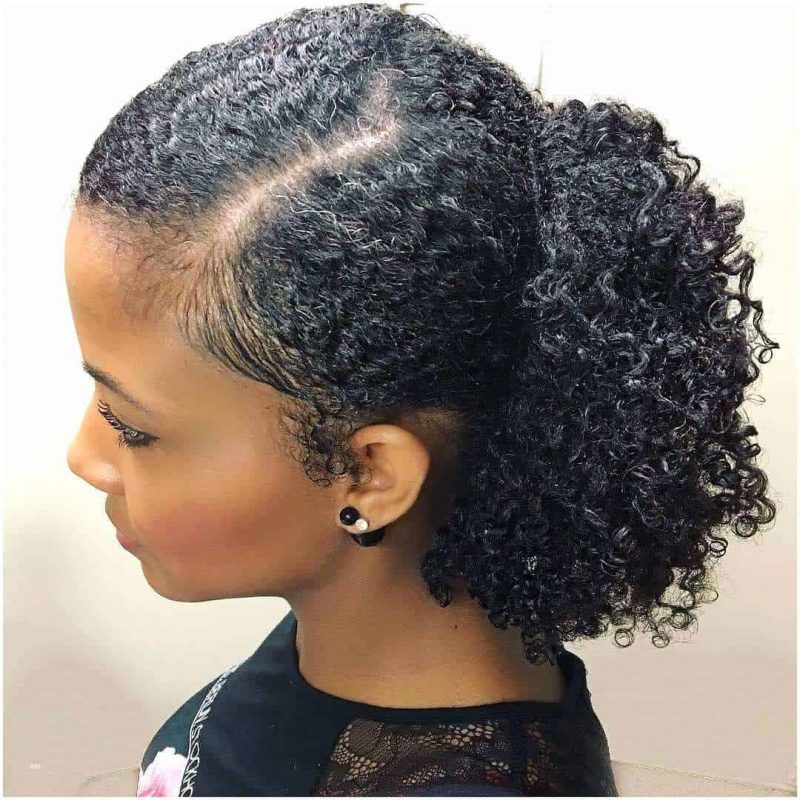 A low bun can also be fun and beautiful just like a high bun can be, you can also add some patting just like the one above.
47. Side Braid With Styling
Here is a classic hairstyle you can carry for a very long time and not worry about it becoming untidy as the trick behind this hairstyle is it gets more beautiful when it's messy.
48. High Bun With Curls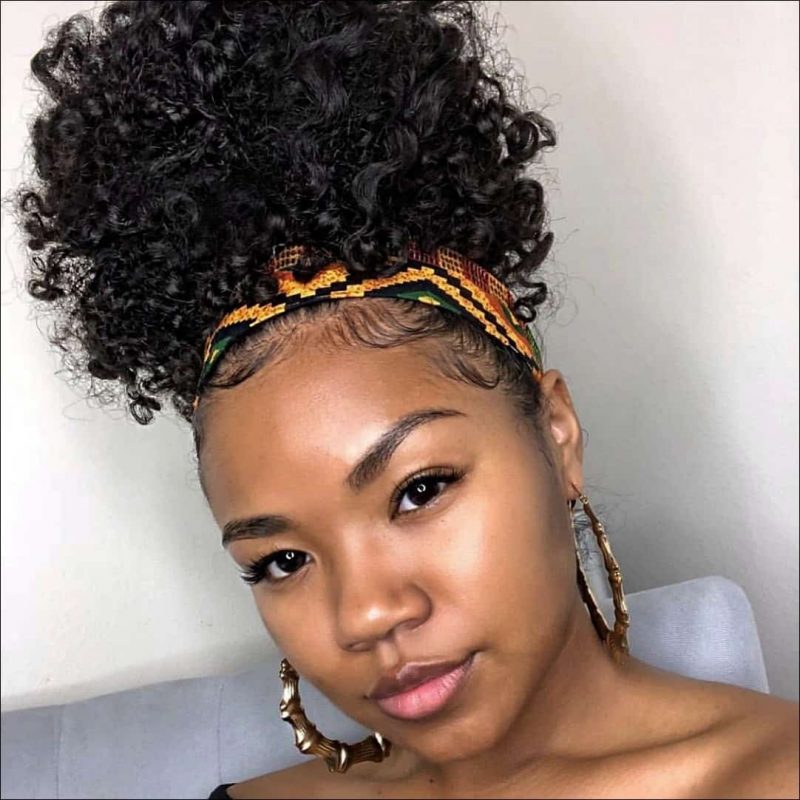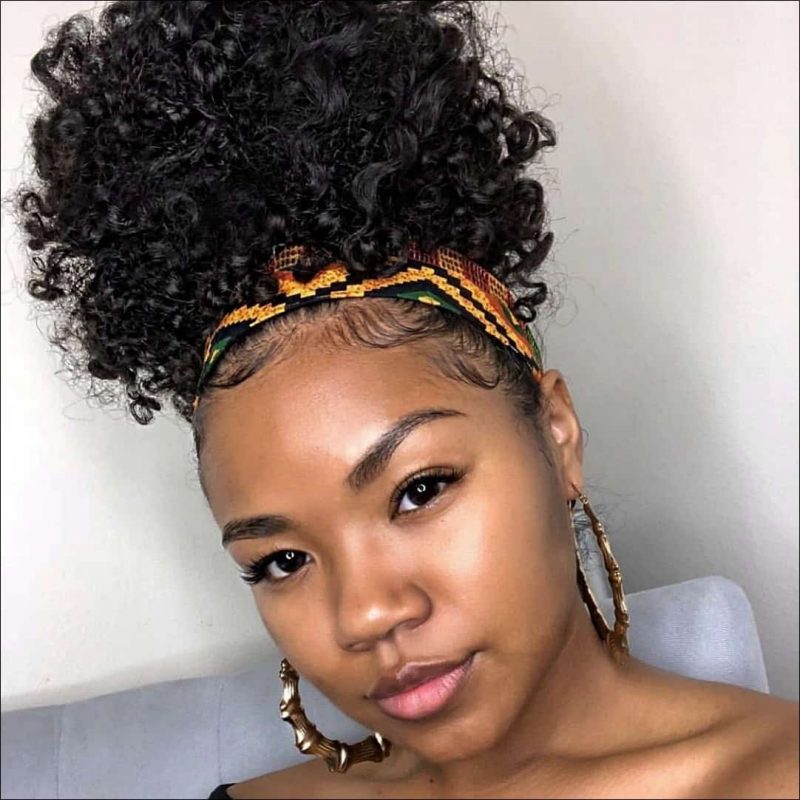 A high bun can be really beautiful and you can't help but love the formal look that comes with it but a high bun is tidy only with relaxed hair and you might need head control to make it stick on non-relaxed hair.
49. Cinnamon Roll Updo
This looks like a very interesting style and it is especially if you know how to weave your hair yourself in a neat way, an extension would need to be added to make it look big and last long.
50. Low Bun With Strand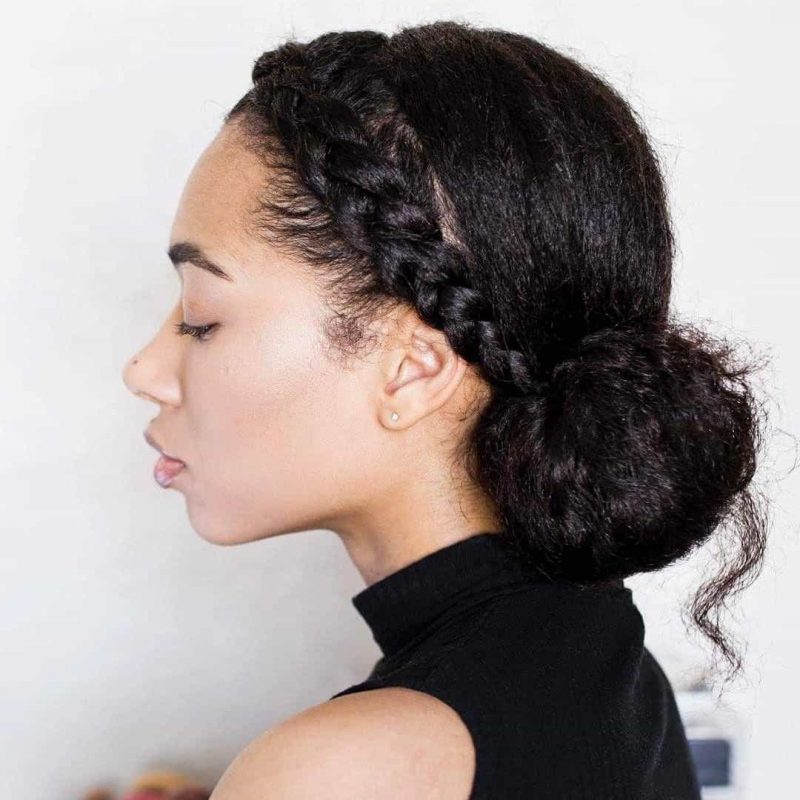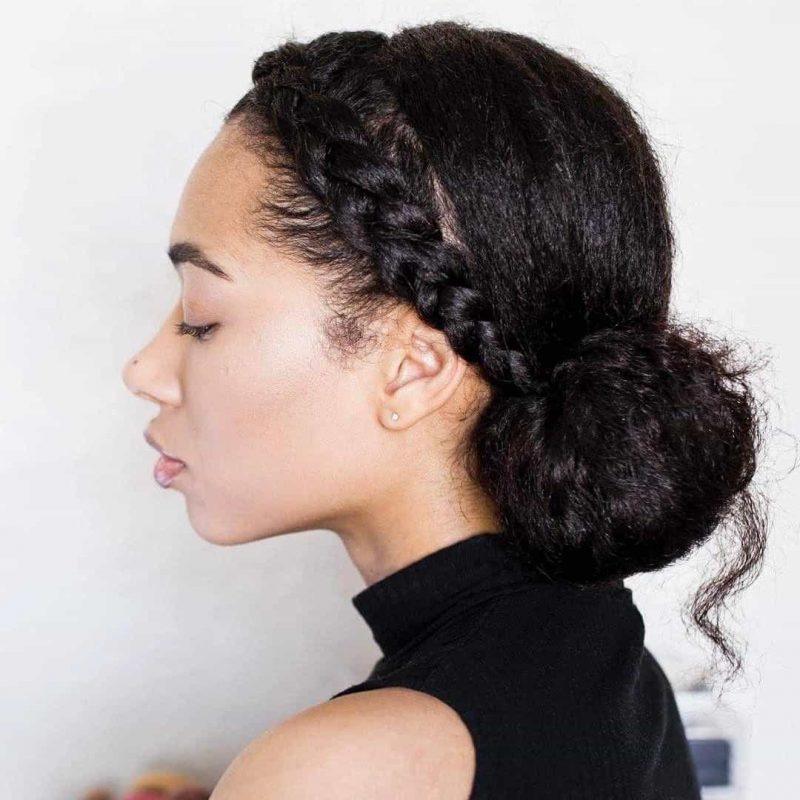 Another hairstyle that won't take forever and can be done easily yourself is this style above, you need only your hair to make this unless you want it full and thick at the edge.
51. Mohawk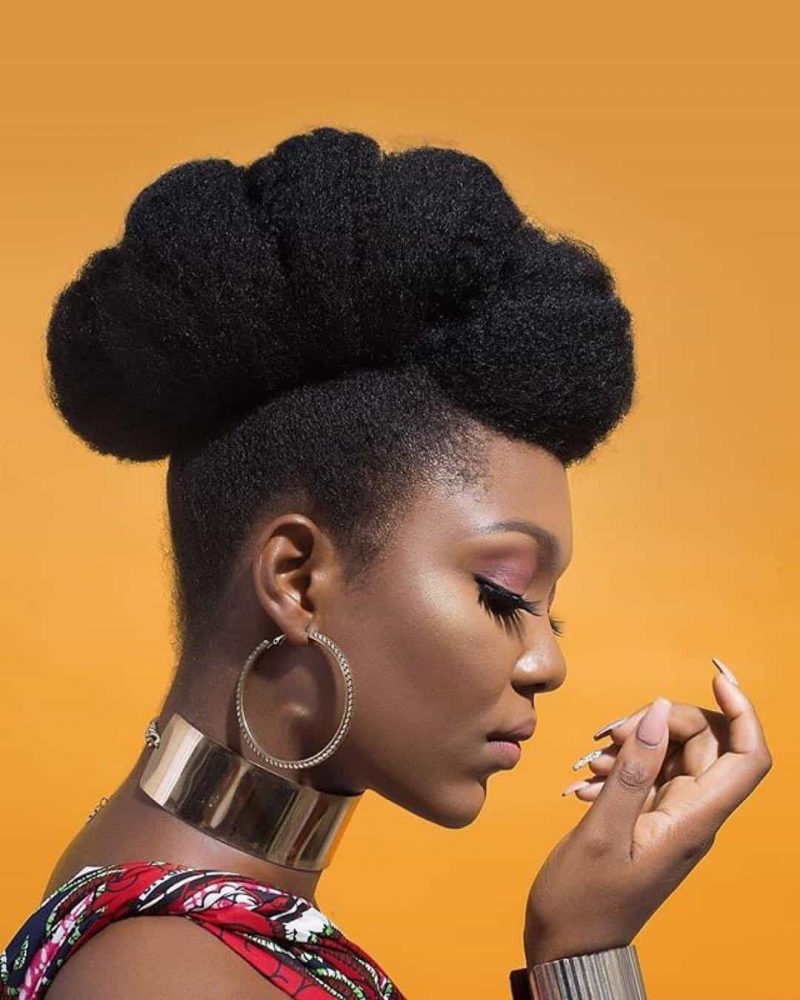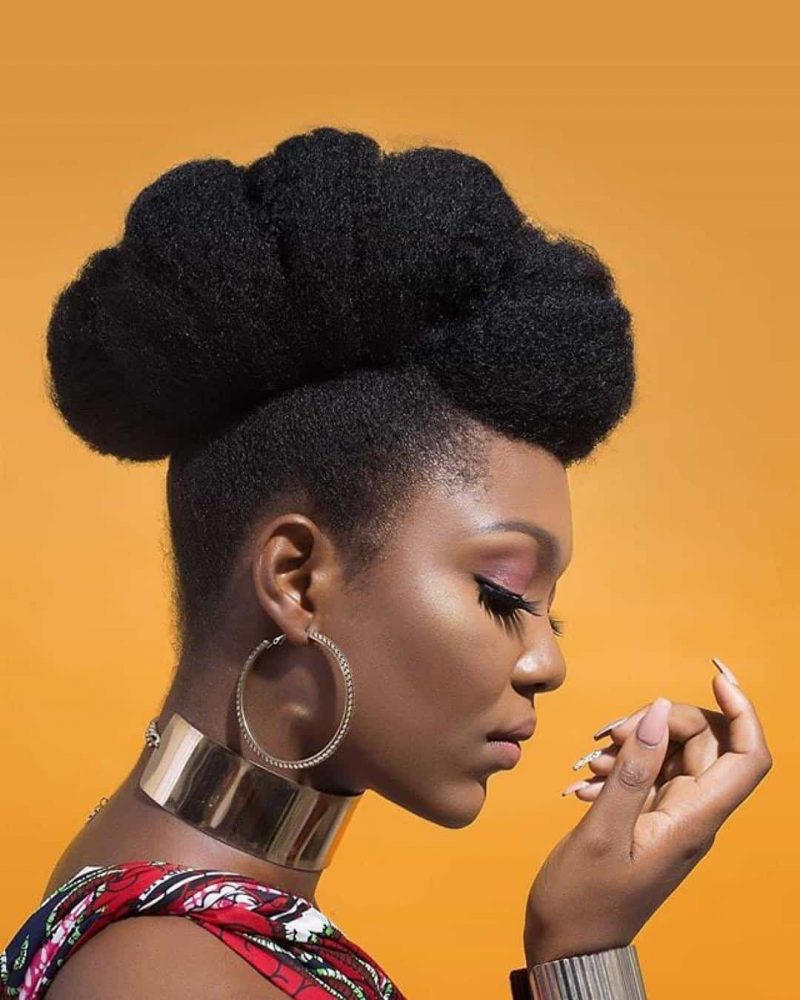 Your natural hair does not have to be boring at all, it can be easily straightened out and styled like the one above but avoid too much heat while straightening it to prevent breakage. Mohawk is a naturally beautiful style when done neatly.
52. Front Round Braid With Sleek Curls
Very similar to mohawk but in this case, it is styled to the front hence the name frohawk, it is a really beautiful style loved by a lot of women with natural hair and it tends to last longer too if you are good at maintaining it.
53. Braid Hair Bun
This might look difficult but it is not, all you need is a woven attachment, then add it to the tip of your hair and hold it with a band and roll and you have yourself a braided bun. Style as you desire.
54. Roll  Up  Style
Is your hair too natural to be plaited or even well relaxed? Then styling it like this should not be hard, you can also use a plastic hairband for this, to gently roll it in.
55. Tuck In Braid
This style could be a rock on any occasion, just needs to braid some hair at the front base and tuck in firmly across and comb out the rest of the hair at the back nicely.
56. Long Hair Up Do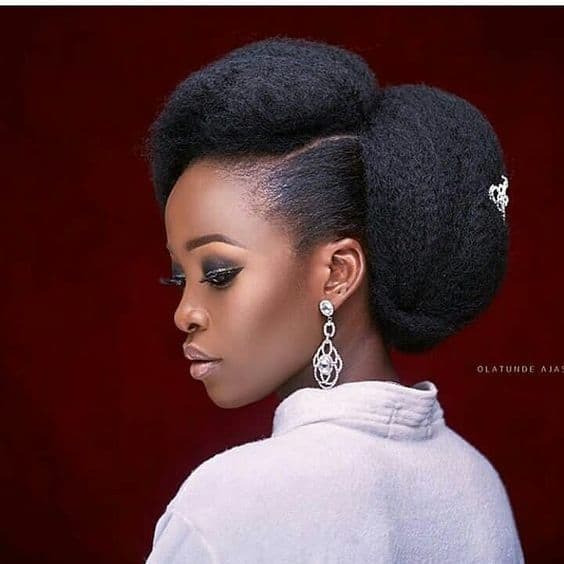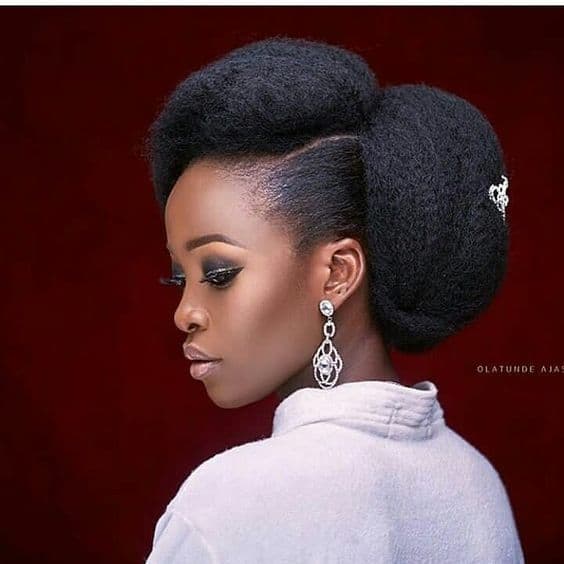 Do you have this massive hair that you just can't control? You might really find this style a perfect fit for your hair.
57. Double Braided Bun
Are you good at braiding? All you have to do is split your hair in two and have them braided and you can always do one braid around and tuck it in.
58. Natural Hair Style
If your hair is a mass of natural with no relaxer and you are just growing it out, just curl it out a little if you want and can style it with a band or a scarf or even without it.
59. Double Bun
This double bun would be done in a matter of minutes, you don't need long hair to archive this, just have your hair parted in two and tie with a band. You can also leave the edge unrolled.
60. Afro Style Packing
Team natural, you might want to add a little bit of afro to your look. After tying the hair with a ban, you should draw out the end of the hair gently to give afro look.
---
Often wigs can be a bore, you might have to style your hair the way it is then. Your hair is part of your beauty so should be embraced, be it natural or relaxed, you can find a way to rock it.
We hope this post has given you inspiration on how you can style your hair. Follow us on Instagram @thrivenaija to know when we post more interesting hair do's for you.