Nail art design has a lot to do with creativity and we can't help but notice how trendy and beautiful they are there is always something new and fascinating to make your nails look extremely wonderful and eye-catching.
Nail designs are quite versatile and to stay on-trend, there are so many cool designs that you can do for yourself in the comfort of your home after getting a manicure.
When it comes to designs for nails, there is always something to inspire you, from subtle ombre to winter neutrals through to bold artsy designs, and not to forget the shiny metallic accents and if you are looking for something modern and interesting, an extra sparkle on the classic French manicure can only get better.
You can slay the manicure game with the right nail art design and all you need is something to inspire you while you wait eagerly for 2022 to wrap up, we have just the right designs you want on your nails in 2023 plus many of them are easy to create at home.
Nail design has been a tradition for centuries and there are so many options for you to try which means it can never be boring so when next you are looking to update your nail game with something more trendy and interesting, take a look at the list of the cool nail art design to inspire you in 2023.
20 Cool Nail Art Design Ideas For 2023
There are various patterns of nails and whatever color you choose to pair with it does not have to be dull, all you need is something fun to inspire and whatever your ideal nail design is, you are going to have exactly what you are hoping for.
1. Vibrant Bold Marble Nail Design
This is a colorful and beautiful design idea. Nail art happens to be a common one and one reason it's pretty loved is that you can work with any color of your choice. It's also fancy and ideal for any occasion, unlike some acrylic nail arts that tend to be selective of occasions.
2. Gift Nail Art Designs
The color red is a cool choice for nails, it's fancy and just perfect for any skin tone. This is another radiant nail art design you are going to love adorning your hands.
3. Autumn Nail Art With a Touch of Spring
This is trendy nail art, it's the perfect trendy manicure that can't go wrong in any season. The colors and designs do represent autumn and there is a touch of spring added to it as well. However, you can switch out the colors for your favorite, the idea is to make it eye-catching.
4. Branded Nail Art Design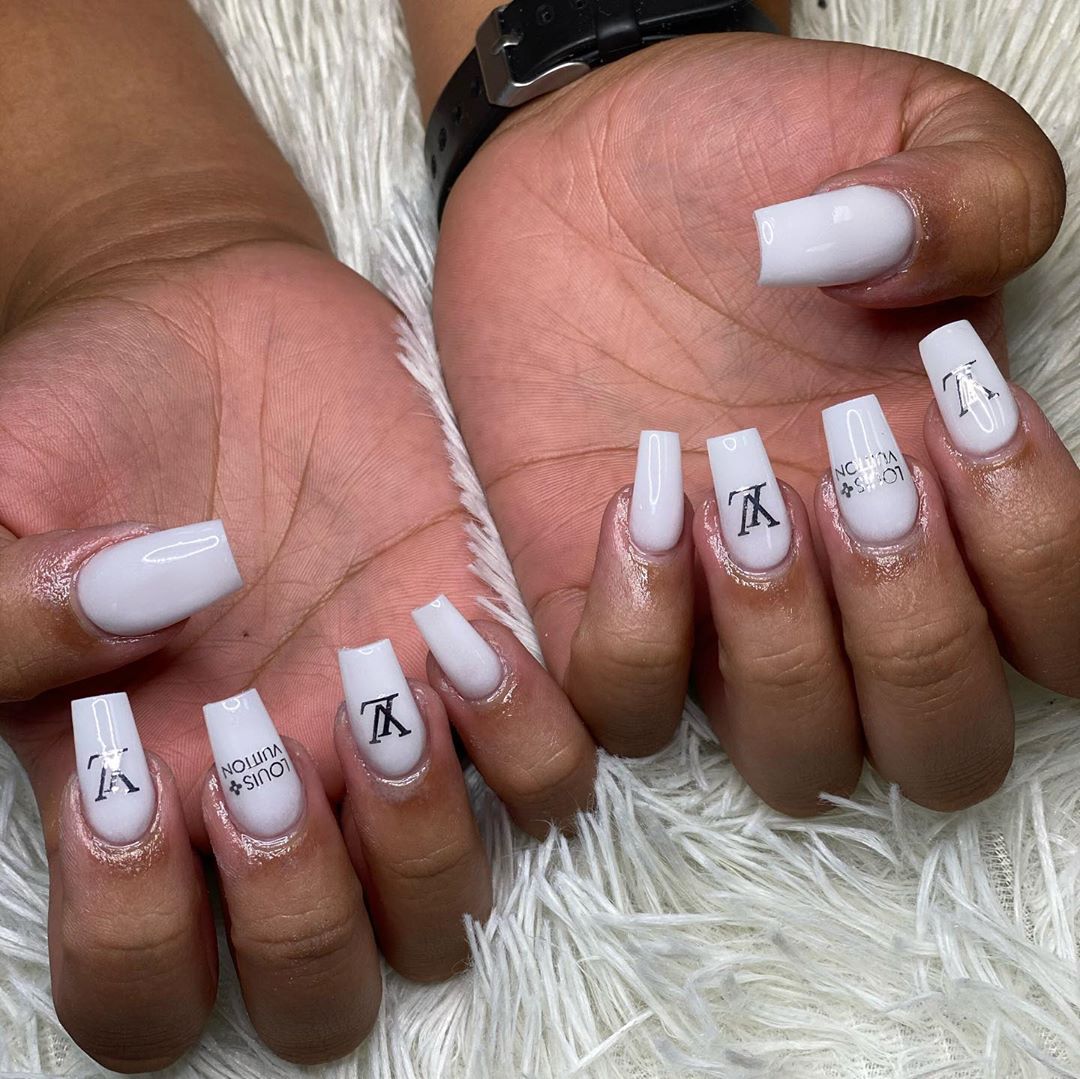 Let your nail design pay homage to your favorite luxury brands like the one above and keep it understated and elegant by sticking to a simple color palette nail art can even be more fun when you have it designed with initials designed on it and it pairs perfectly with the coffin nail.
The coffin nails are often long but for more convenience, you can keep them short, this is a simple but stylish style we look forward to seeing more of in 2023.
5. Soft Matte Pink Design
Image: raymichelle_nails // Instagram
A pink nail art design can be nothing other than beautiful and it tends to stand out, if you love flowers and pink then this is a nail art worth considering.
6. Starry Nails
If you like it simple and elegant then this is a nail art design to adorn your fingernails with, a black or navy base will make the golden or silver star sticker pop out, and do not hesitate to go bold with your favorite color.
7. French Ombre With Nude Designs
Instead of the plain old french tips, we think there are going to be more french ombre nails, and with nude-colored paint, you are good to go. This is a nail art design that is easy to get, you can either go for the acrylic nails or have it painted on your natural nails for a simple look.
8. Metallic Nails
Metallic nails are having a moment this season and are going to be around for a long while, it works in about any color and pair best with natural nails and if you like it bold then we suggest pairing it with longer coffin-shaped nails.
9. Black Matte White Line Nails Design
Black can never go wrong on your nails, they blend easily with any color or design, and above is just the perfect nail for you, to make it look even more exquisite, you only need to add a touch of white or white lines as shown above. Gold makes great colors as well.
10. White And Yellow Art Design
If you like your stiletto nails pretty long and smooth, this is the color you want on them, this is a complete yellow design with a touch of white to give you a creative sunflower look. Yellow makes a great addition to any nail color.
11. Mismatched Nail Art Design
Mismatched nail art design has been around for a very long time and it is regarded as the simplest way to design your nails, you only need to have two or more of your favorite colors painted and you can also have it designed onto an acrylic nail for a more unique look.
12. Purple Haze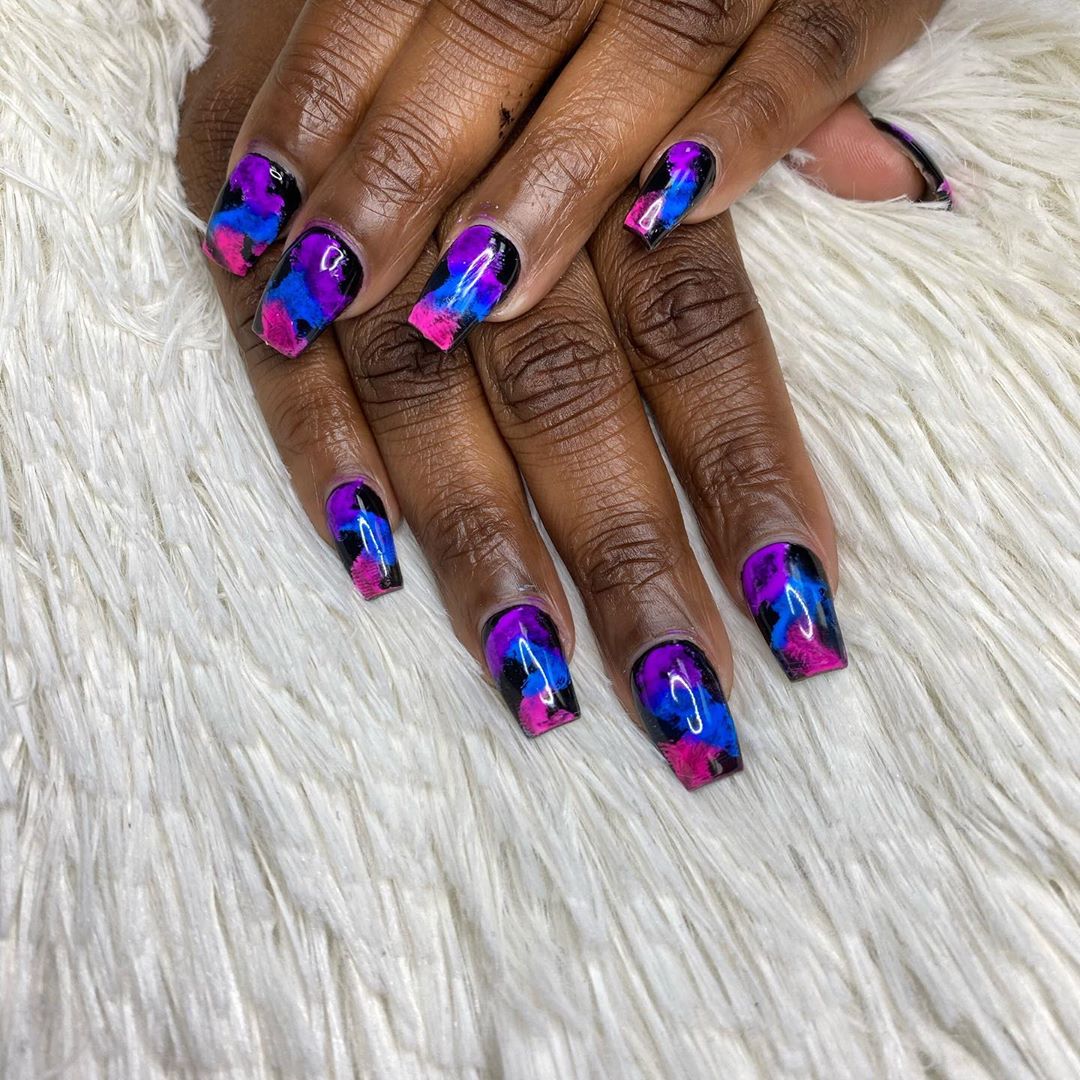 Purple is an interesting color to try with a nail art design and it did turn out not just cool but beautiful as well. If you are looking for an alternative to the usual fall color, then this is worth trying out when you get your next manicure.
13. Cow Hide Nail Art Design
You can now recreate any pattern or nail art design you want and we must say the cowhide design looks really beautiful this is an exciting trendy nail art design we look to see more of.
14. Cute Oval Nail Design
Image: @nailsoflagos // Instagram pointy nail shapes are great for a bold classy look however if you want to keep it cute and simple, above is a simple way to do that.
15. Single Stripe
Stripes are the easiest ways to blend simplicity with styles and they are perfect for days when you want to keep it cool and casual, this is a nail art you can never go wrong with, it can be done on any nail shape.
16. Black Gel Nail Art
Have a part of your nail painted with a combination of silva, black, and gold and let the rest get the black color, this keeps things simple and fun. This pairs nicely with smooth-shaped nails or french tips.
17. Bling And Pink Holo Nail Design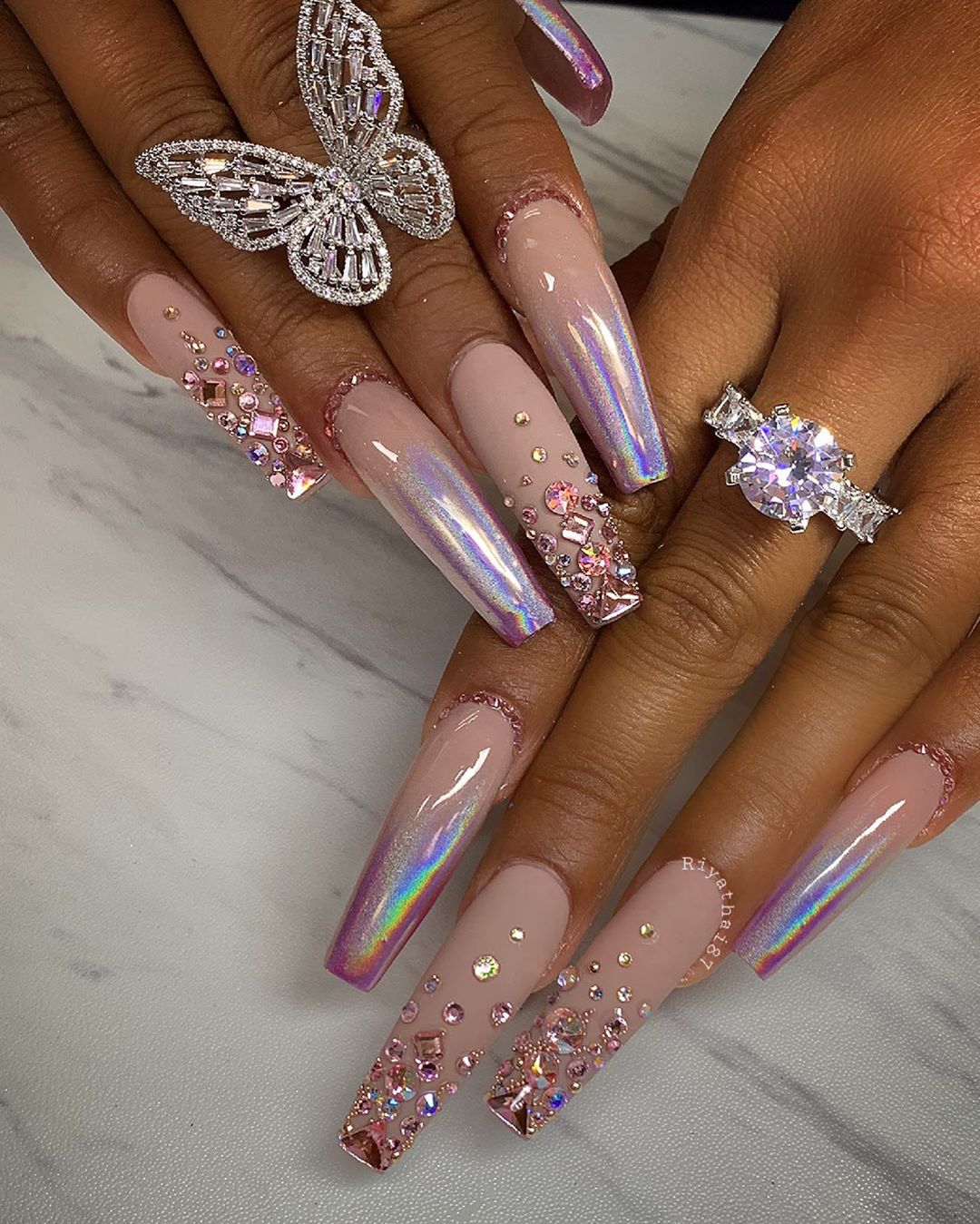 If you like your nails bold and fancy, all you need is you desired color and nail shape with lots of shiny stones, and let's not forget the glitters you might need an expert to get this nail art done hence you shouldn't hesitate to fix an appointment with your nail artist. Glitters are known to add glamour to the overall look, you can bold with glitters or keep it calm
19. Colourful Tip
This is another way to make a statement with your nails, it is described as the grown-up way to wear a colour. Instead of painting the whole nail, switch up the nail look and just add a pop of color to the tip of your nail.
19. Peach Star Design
Peach is a color that can never go out of trend, it is a popular nail pain and on days when you need it to look astonishing, add some stars to it.
20. Flinstone Nail Art Design
Want to make a statement with your nail art design? You will love this design above to help you make all the statements you want, neutral colours keep this design classic however you can have it designed with your favorite nail shape.
Conclusion
Nail art has been a measurement of style for a very long time and there are so many ways you can make a statement with your nails professional artists have continued to come up with creative designs that you can help but marvel at and you can be sure this trend is going to be lit in 2023.
What you need to make a stunning nail art design is just a little polish and lots of creativity, there is no color and shape you can't explore when it comes to nail design as long as you are comfortable with it.
Read more about nail art designs and healthy nail tips: