Looking for braid hairstyles for little girls, you'll love the ideas we listed in this post.
When it comes to little girl braids you just can't resist how cute it makes them look, you get turned in many directions and just can't make up your mind on the one you want.
Braids are even more fascinating when you style them with beads, bands, clips, and bows. Kid's braids are a very common trend for African and African-American kids.
There are so many beautiful braids that will ensure your kid looks her absolute best either at an event or school.
Another reason to braid your girl's hair is to keep it from looking untidy, it keeps the hair retained and you do not have to worry about styling every morning. Combing your baby girl's hair can be tough particularly if the hair is natural and thick but braiding her hair can help you avoid that.
These braids we have selected are too cute to be ignored, different styles but all can be archived on all kinds of hair length.
Cute Braid Hairstyles For Little Girls
To make braids your kids' braids more interesting and different, you can add hair extensions and accessories.
1. Lemonade Braid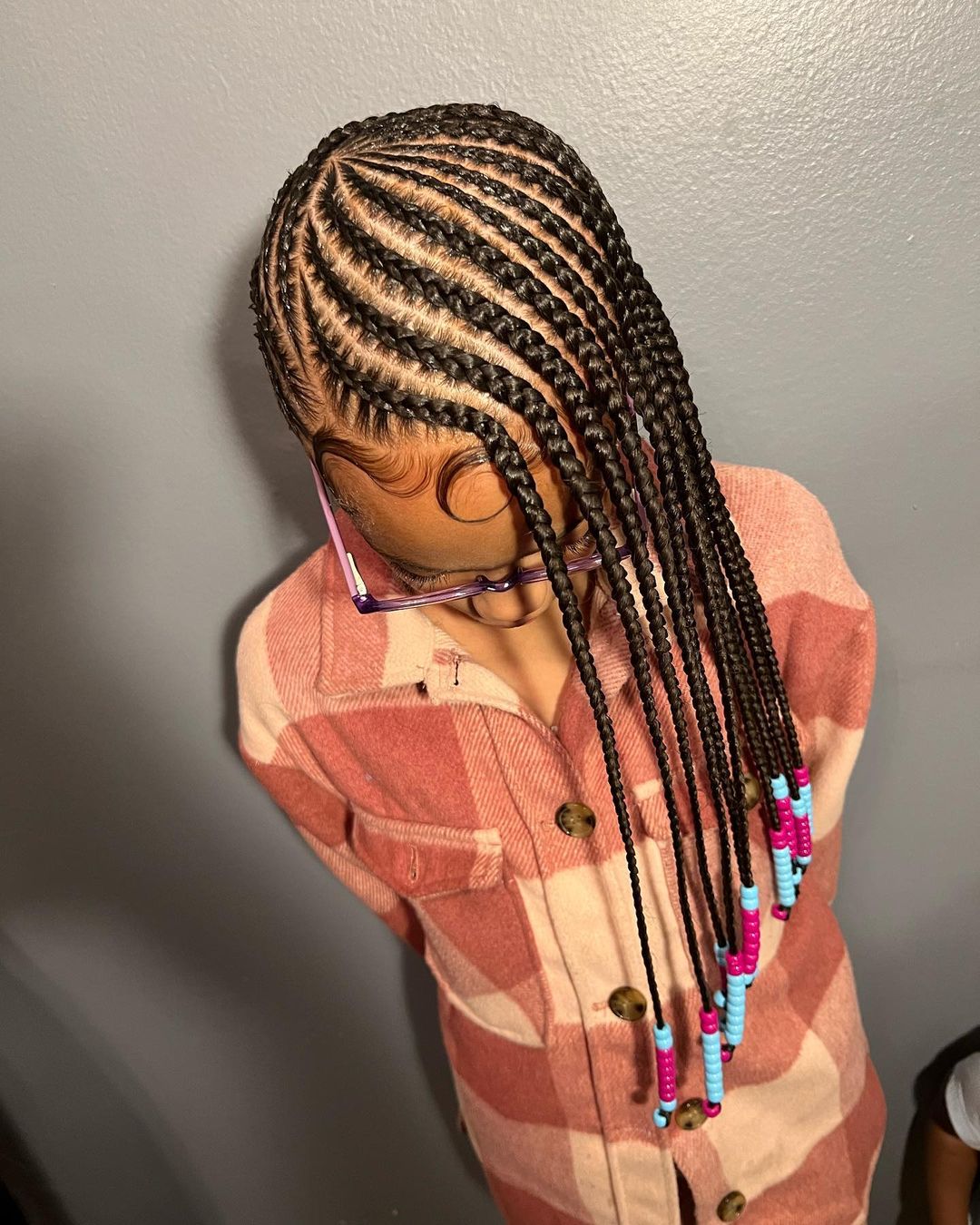 Lemonade braids are not meant for adults alone like we are meant to believe they look more adorable on kids. You can go ahead and design with any color of beads you love, it can also be styled in so many different ways but here is the popular one to inspire you.
2. Braided Top Knot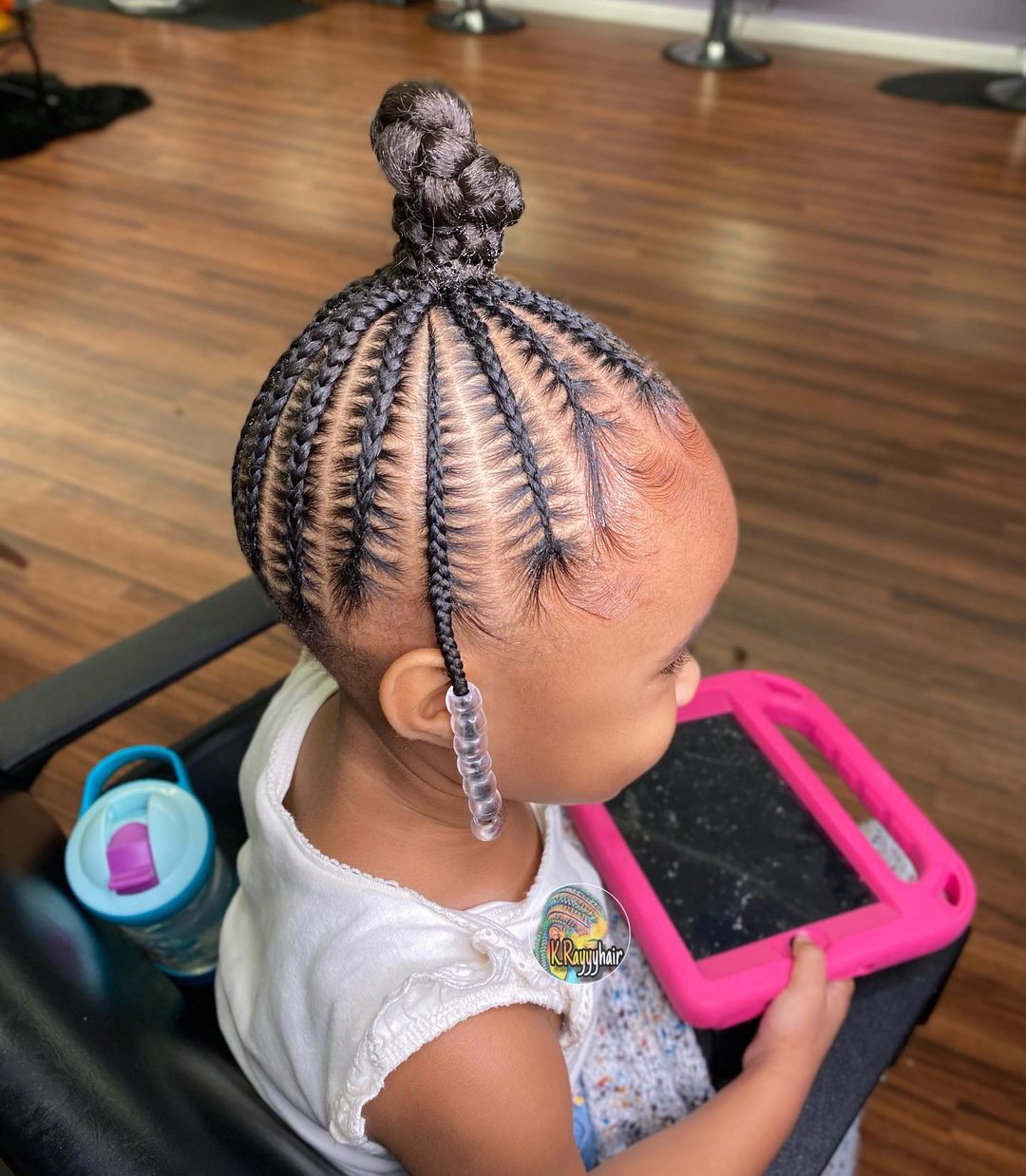 Braided top knot is another exciting hairstyle you can't help but love for your kids. This hairstyle is for your kid of any age as it won't hurt the scalp, it is a cool protective for your baby's natural hair.
3. Freestyle Double Ponytail Braid
Kids are known to love ponytails, must be due to how adorable it made them look. A double ponytail will make your baby girl smile no matter the occasion or season and with or without extension, it really does look great.
4. Up/Down Braid With A Twist
Braids do not have to be overly dramatic to be suitable for kids rather the simpler, the better which is why this freestyle braid hits on a whole different level. It looks really cool and fancy but not dramatic.
5. Straight All Back With Beads
All backs cornrow are the highlight of braids for many kids especially if they have fragile scalp. This protective hairstyle should help prevent damages while also retaining the length of your girl's hair.
6. Tribal High Ponytail
This should definitely be the go-to for kids of any age. It is not only simple but cool for school or occasions.
7. Feed-In Bob Braid
Cute is the perfect word for this kid's braid hairstyle. Bob is great for kids as it is simple and stays away from their backs. This could also be a great hairstyle for school or a kid's party.
8. Feathers Braid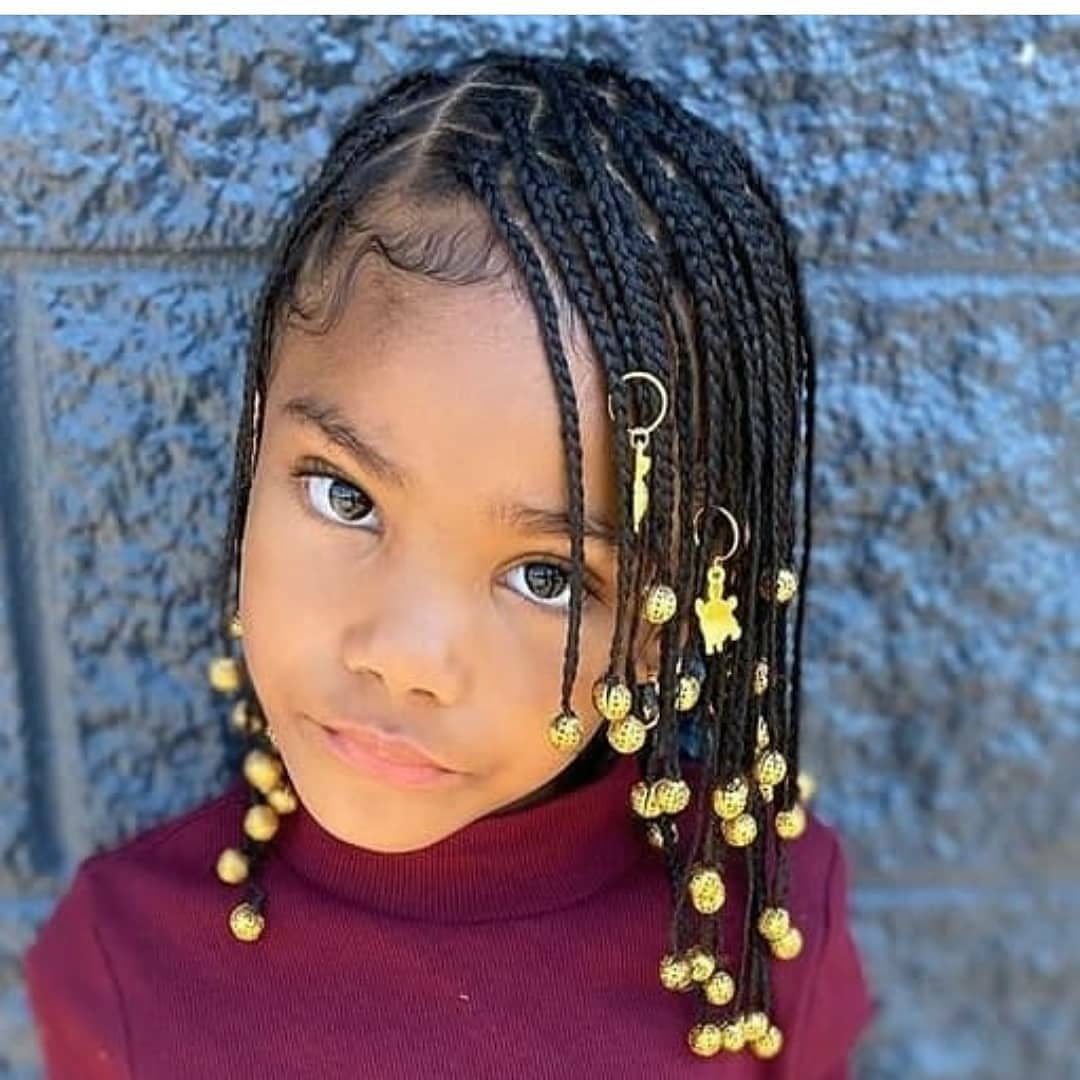 Feathers braid are the recommended choice for kids who do not like to make their hair since this hairstyle does not have to be changed every week. It's a protective hairstyle your girl can rock for 4 to 5 weeks with their natural hair.
9. Side Bun Braid
Here is another very pretty and easy to make hairstyle for kids of any age.
10. Simple Scalp Braid
A simple scalp braid can really change a kid's look and make her look even more adorable.
11. Double Pony Tail Braid
Totally adorable and all you need is a good hairstylist to do this for you, an extension might be added if your kid's hair texture is not strong enough or you want it longer but with just her hair, you can make this and it can be really beautiful even without the front base.
12. Lemonade Braid
Kids love something easy and fast and lemonade braid is very easy mainly without extension. It does not take much time to make lemonade braids as they are being twisted, very gentle on the hair's scalp too if the hairstylist does not hold the hair too tight.
13. Side Braid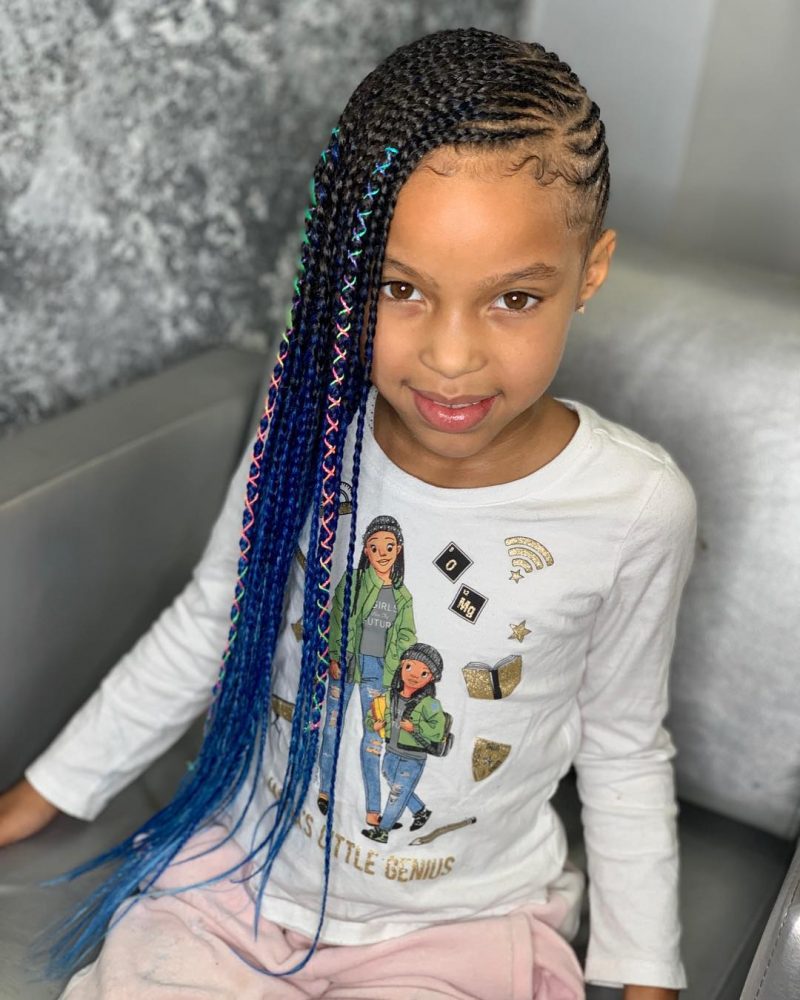 The side braid is really beautiful and changes a kid's face, you can also call it the princess' hair, they would love definitely love that. The hairstyle is one of the kid's braid that is in trend and it does not take much time to make and you do not have to add an extension if your kid's hair is long enough.
14. Bob Braid
Bob braids are becoming more than fascinating on kids these days, it is a very smart hairstyle they can wear to school, and even attend occasions with. The hairstyle can be carried for days, usually short and cropped at the edge to give the hair around look which is different from the usual sharp hair look.
15. Bun Braid
Bun braids are a lot similar to ponytail braids but in this case, the hands of the braids are tucked inside to form a bun, and also bun braid can be twisted as long as it can be made into a bun or a donut roll. A very simple and beautiful hairstyle.
16. Dutch Braid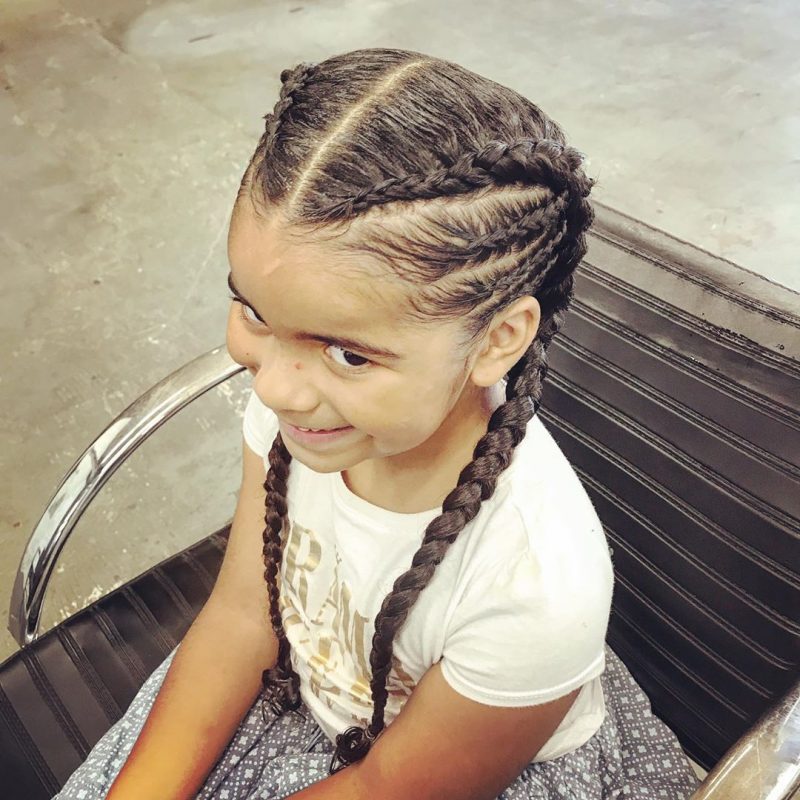 This is not just a simple dutch braid, something more fancy had been added to it which is the side braid plaited towards the side braid to make it even more pretty. This is a style you can braid yourself and a perfect hairstyle for kids with curly hair.
17. Two Steps Braid
Your kid should definitely try two steps as every child looks absolutely cute with this braid, it totally enhances looks and makes a girl more adorable. The hair will be split into two-part, front, and back, the front will be plaited all-back and the bottom side can be all-back too or box braid. Box braid might take longer than all-back though.
18. Pony Tail Braid
A ponytail is a common hairstyle for kids but it is usually plain now there are many beautiful hairbands you can make use of to beautify it and you can also add colored hair extensions to the edge to give it a colorful look. The hand of the ponytail could be tucked in to give you a bun braid.
19. Fulani Braids
You can't help but love this particular braid on kids, it is easy to make and looks really adorable on kids especially if she has curly hair, it is more beautiful when decorated with kids' bands and beads, and really attractive when made neatly and stylishly too.
20. Cornrow Braid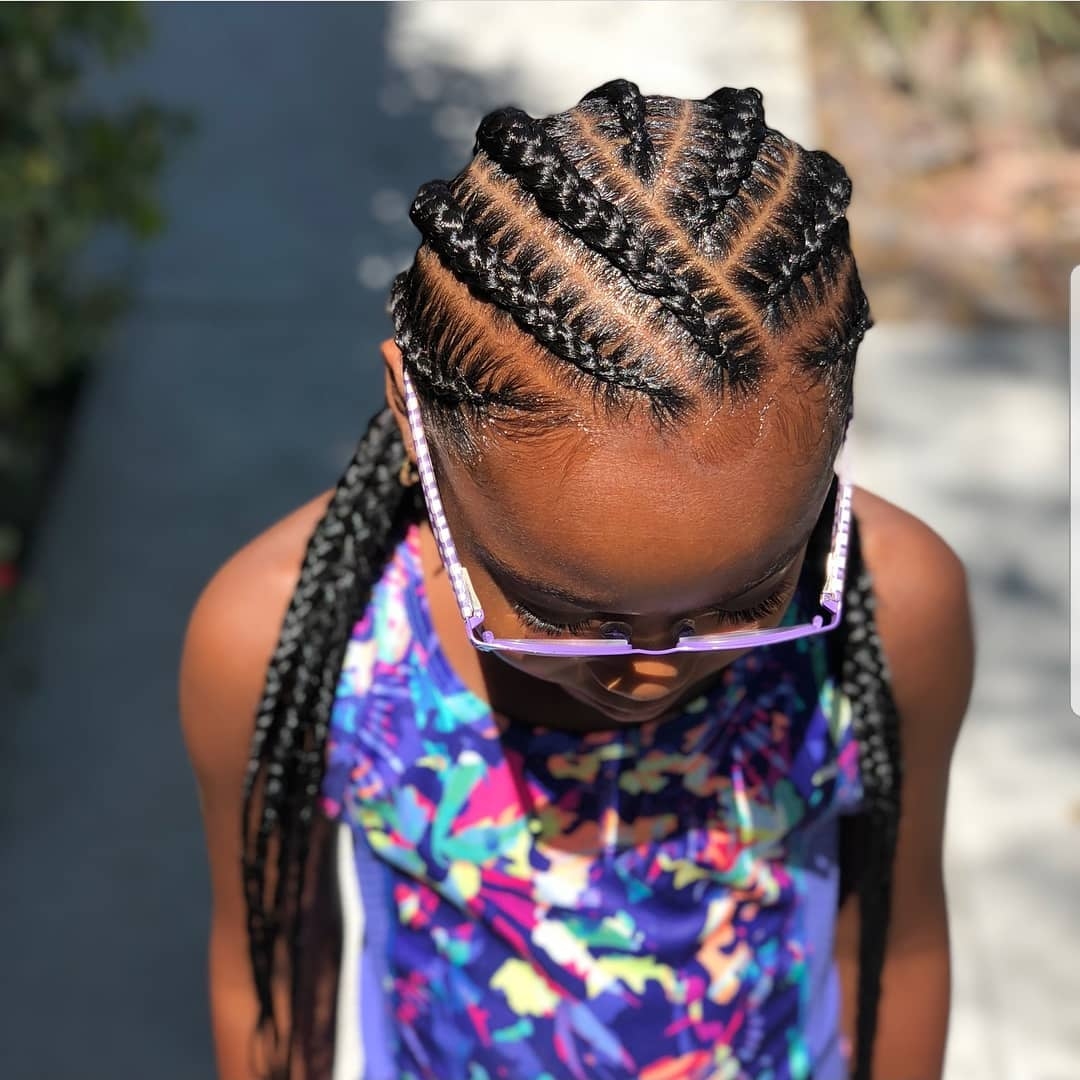 Cornrow braids are unavoidable for every kid, mothers love how chic and simple it is, and cornrow braids can even be made with natural hair, it is effortless and lovable. This braid will be the perfect choice if your kid does not like sitting for a long time or prefers something moderate.
21. Twisted Mohawk Braid
Mowhawk is a very cute hairstyle for girls, even more, stunning when designed with kid's accessories you can have the hair on both sides plaited if she plans to rock the hair for a long time. The style allows creativity so you can make it look amazing with a style of your own as long as it is Mohawk.
22. Faux lock Braid
When your kids are bored of box braids or won't just sit still for too long, the faux lock could be an option, the twist does not take very long and also lasts for a while before becoming rough, very cool on kids, and easy to pack as well.
23. Jumbo Holo Braid
Here is another classic hairstyle for your girl, not overly dramatic and a new dimension to cornrow braids, kind of wrapped from the mid-front to the back and the front is styled in a base which is called crisscross. All that is needed for this hairstyle is her natural hair and hair accessories if you want.
24. Braided Curls
These are the hairstyles you might want to go for if your daughter has this massive hair and curls you just can't comb through and also this hairstyle will help her hair grow and it's stylish enough to be worn to events and school, will also prevent you from combing through the whole hair.
25. Mini Twist Braid
This twisted braid basically is just for kids with average hair length, it is a little light though, some kids do not fancy too much twist so this will help take care of that. The mini twist is a lot easier to style when the twists are not too tiny and your girl probably has full hair.
26. Easy Twisted Ponytails
Kids kind of love ponytails that would take less than 10 minutes to make and honestly even mothers do not mind that at all, it saves time and less crying. The ponytail is always a very interesting hairstyle for kids and you do not even have to plait the long process ponytail, this twisted ponytail will do just fine and it's even cuter.
27. Top Knots With Curly Extension
This hairstyle looks just like a mohawk and it could be worn like a mohawk too, it is a perfect hairstyle for your kid during summer, simple and classy. You can also braid it into one cornrow at the center of the head to form a mohawk style and the mohawk is a little bit higher though if you wonder about the similarity.
28. Cornrow Pigtails
This a style we are sure can't go out of class and it really makes kids more adorable, spice the look more with beads, bands, and beautiful hair accessories to make it extra classy. The kids love the pigtails falling on the side even more so do not bother to tuck them in.
29. Jaunty African Braid With Curls
The perfect hairstyle for the festive season and also resume school with it because this hairstyle can last for a long while, not easy hairstyle to sit for though and you might have to give her lots of sweets to keep her sit without crying, but the effort is always worth it. It's a beautiful hairstyle and suiting for mothers who have no time for constant changes of hairstyle.
30. Braided Bun Frohawk
Bun Frohawk sounds like a funny style and it sure is but also very pretty, a very low-maintenance hairstyle that only needs need natural hair to make it gorgeous, it also takes time to get rough, especially on relaxed hair. It makes kids look formal and cool.
31. Micro-Box Braid
Box braids are not just trending among the ladies but little girls now love them too, and we think it's even more adorable on kids, it makes them look adult-like and cute if those words can be combined. Box braids can be in micro or mini depending on how long your kid can sit.
---
Kids love changing hairstyles just as much as their mothers, and here are beautiful hairstyles to change your daughter's look practically every weekend or more. Most kids love it simple hence some of the simple braids above because honestly, kids have very little patience.
We hope you like these braid hairstyles for kids, if you love them then you'll love these related posts you can use for your kid's hair as well: