Looking for natural hair ideas for short hair? You've come to the right place. Short hair can be fun too if you decide to try some of the new short hairstyles that are trending.
Having short hair and learning to style is a bold and daring step and if you do it right, you might as well inspire someone with long hair to take the plunge too, short hairstyles can be fun and spontaneous and most importantly very easy to style.
Time to hit the refresh button on your look and try one of the adorable short hairstyles with your natural hair.
This hairstyle needs no extension, all you need is your natural hair to rock the style and this also means less time to spend of your look.
Short Natural Hair Hairstyle Ideas That Actually Looks Awesome
Short hairstyles also do not require you transitioning your hair from relaxed to natural, we have some styles to cover that, we have gathered 18 beautiful short hairstyles with no extension and they are all adorable.
A quick look at the hairstyles will have you convinced that short hairstyles definitely could be fascinating.
1.Frowhawk Flat Twist
Source: Stacey NelsonOne of the most important things when it comes to short natural hair is to keep the hairstyle simple and less dramatic, this would prevent any damage on your scalp, the protective hairstyle helps blend your curl and textured hair together in case you did a transition.
2. Curls With Side Cornrow
This always makes your curls happy and this is one hairstyle lot's of naturalists would find fitting for any hair length and you do not have to be on natural to make this, whether you are transitioning or have textured hair, you make have this hairstyle done.
3. Short Hair Afro With Parting
Short hair afro is amazing and you do not have to get a professional stylist to make this look great, you can do it yourself and with any hair length.
4. Frowhawk With Side Haircut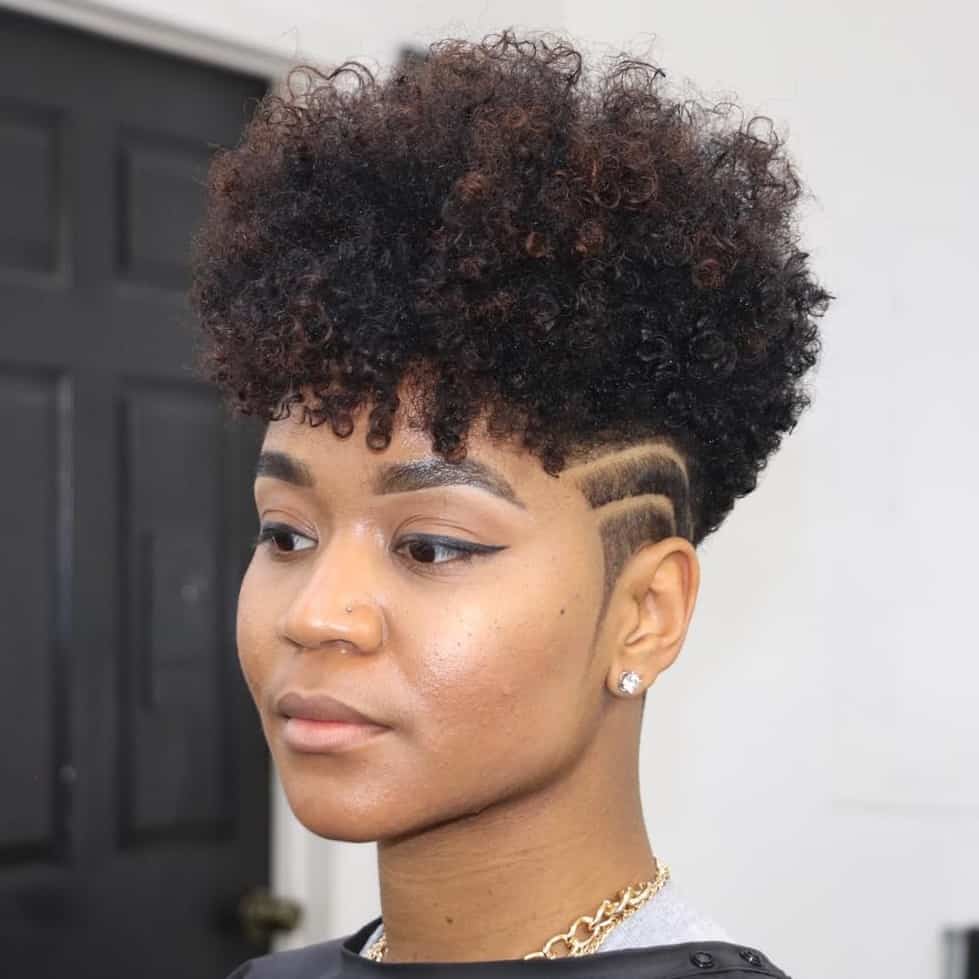 You can keep it simple and with less hassle by adding a side haircut to give you a more classical look, this is also a protective hairstyle for natural hair.
5. Tribal Styling
This is a pretty popular hairstyle for braids but now you can style it with your natural hair and not cause any manipulation on your scalp, you can also adorn it with any kind of hair accessory.
6. Side Feed
This is a hairstyle you can make easily if you need to go out fast and can't afford to spend the whole day on styling your hair.
7. Roll Out Two Strand Twist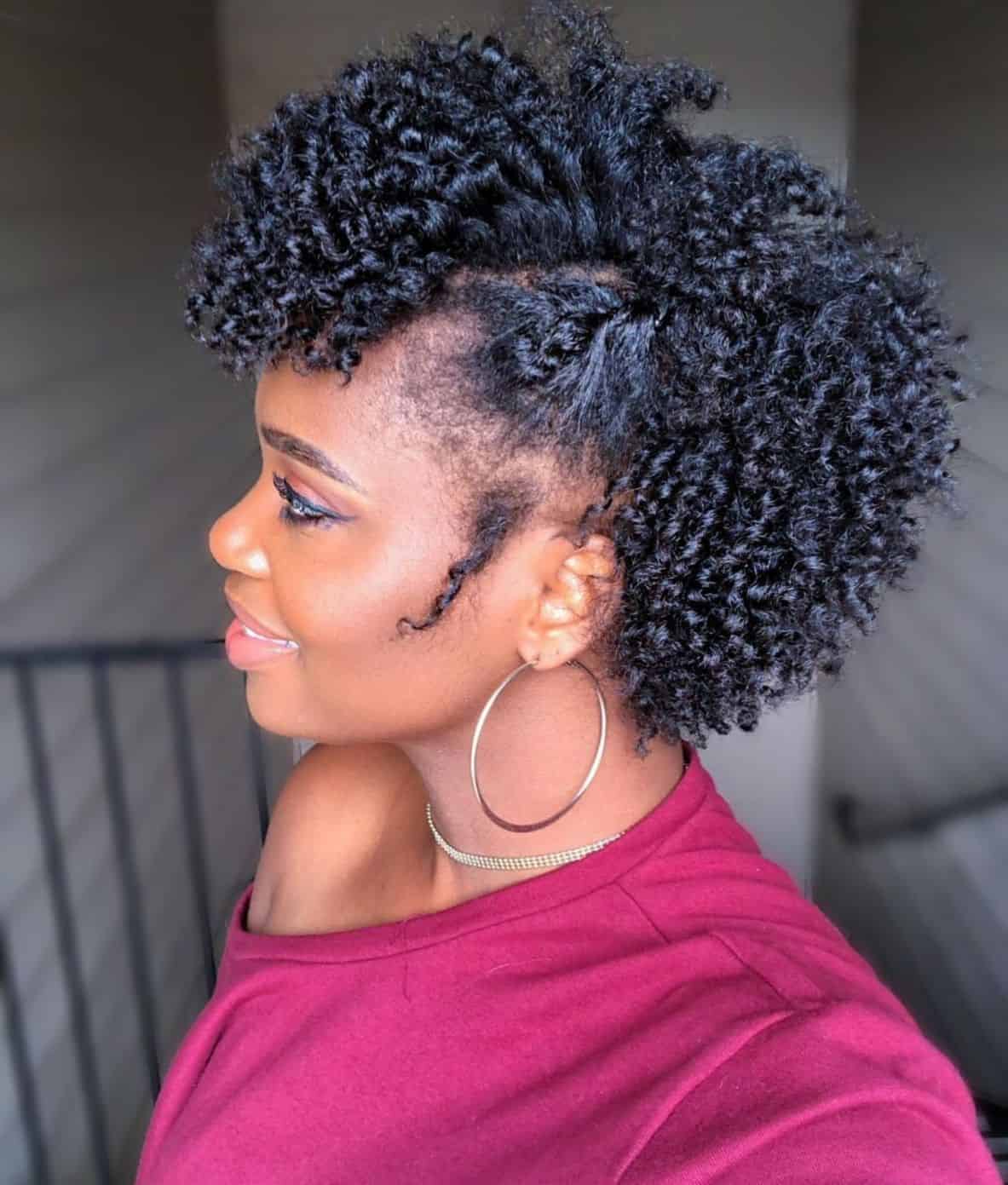 Here is another short hair style you are going to find easy to replicate, takes little time to make and you do not have to wait for your hair to dry out before styling it.
8. Three Strand Curls
Curly hair are simply stunning, they make you look effortless without even trying.
9. High Bun
This is quite a popular hairstyle, any length of hair can be used to style it and it can either be low or high depending on how you want it.
10. Short Hair Afro With Side Cornrow
Less stress is needed with styling short natural hair, this is one of the hairstyles you can totally replicate and not worry about breakage.
11. Coils With Baby Bangs
Baby bangs are stunning and even more when styled with short natural hair, these can be styled even when it is wet and you can wear this hairstyle for days without having pressure on your scalp.
12. Wet And Styled
You can get out of the shower and style your hair and it found to be fitting for casual occasions.
13. Half Shaved Natural Hair
Here is a must-try hairstyle for all short and natural hair, looks all feminine and perfect look for any kind of outfits, this is also a style you can easily have made if you are going for a low tampered hair and also if you want to transition your relaxed hair to natural.
14. Low Cut Afro
Afro is usually very effortless and the shorter version of it is even more easy to maintain, it's best for really short hair and all you have to do is to have it trimmed once or twice a month, natural hair is best for this look but if you find it hard to comb, you should wash often with conditioner to soften the texture.
<
15. Wash And Roll Hairstyle
No need to do anything special to it this time, give it a nice wash and rub on it for added measures and you get the look above, perfect for natural hair and transitioning hair.
16. Cornrow For Short Natural Hair
Just as they are cornrows for long wavy hair, they are even more interesting cornrows for short hair and they are very easy to make, takes less of your time but are mostly for casual outings or to protect your hair from breakage and struggling to comb.
17. Braided Mohawk
If you are looking for the right chic hairstyle for your short natural hair, you can give the hairstyle above a trial and note that your hair doesn't have to be as long as this before you can make this hairstyle.
18. Braid With Twisted Base
This takes very little time to make and if you have very short hair that can't be held for braids, an extension can be added for supports and crochet can be substituted for the front base.
19. Flat Twist Updo
Source: thisnaturalthing.blogspot.com
20. Short Afro With Curls
Curls are not made for long relaxed hair alone, you can also enjoy some curls in your hair, all you need is the right heat styling to pull it off.
21. Rolled Natural Hair With Parting
Source: PinterestYou do not need to struggle with combing your natural hair and hurting your scalp in the process, all you need is to deep condition it, pat dry and put some parting to add class and trend to it and you are good to go.
 22. Braid With Twisted Base
If you want natural hair with no0 stress and very easy to maintain, you can give this a go, you can also wear a wig on it if you want to change your look for an event.
23. Heat Styling For Natural hair
It is believed you can't heat style a natural hair for fear of damage but here is a simple effortless hairstyle you can try curling and it protects the scalp from damages.
24. Space Buns
A bun is a beautiful hairstyle for long and short natural hair, very simple and you actually spend less on it or you can easily make it at home yourself.
25. Side Tapered Fade
Lupita N'yongo is your go-to girl on the best hairstyles for your natural hair, she always serves it hot and trendy, you can't help but love her styles.
26. Multidimensional Tapered Fade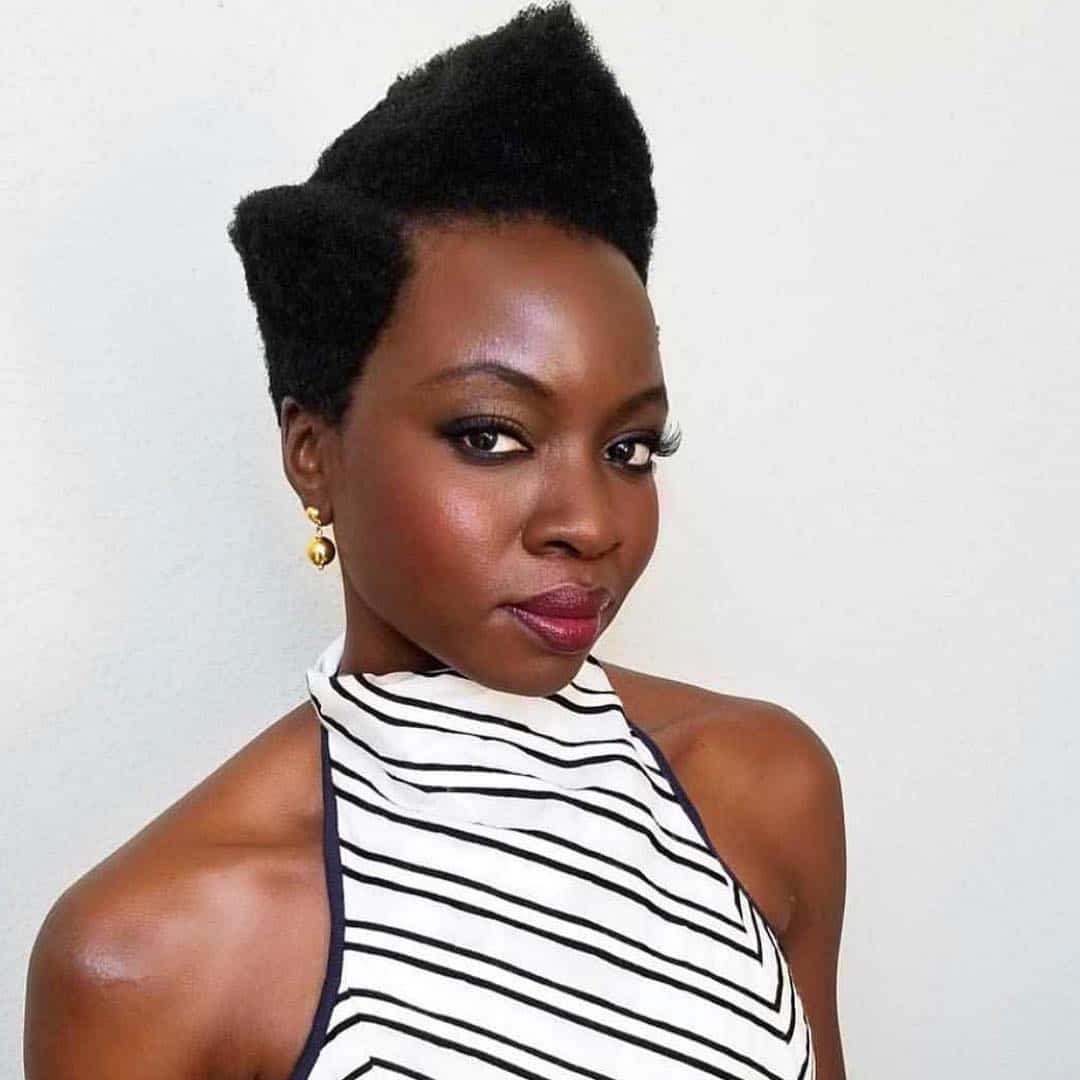 Every time Danai Gurira serves a new look, it's everything you want to take a look at, here is another new dimension you can make your hair to look hotter.
27. Short Afro Knot
If you are in a fix and needs a fast hairstyle then you can easily s=choose short afro knot, it's perfect for really short hair and takes minimal effort to maintain.
28. Short And Shaved
This short and shaved hairstyle is everything you want in a short bold and daring natural hairstyle, trendy and takes very little of your time to get it done.
29. Bantu Knots
Bantu knot is a popular Ghanian hairstyle for short and long hair types, it's also referred to as an African queen, it's elegant and suitable for all kinds of hair texture.
30. Textured Messy Bun
Issa Rea is one beautiful celebrity with gorgeous well maintained natural hair and she manages to stay on point with her styles, you can try the classic textured messy bun for a change of look and it can also be dropped down to make a simple bun.
Short hairstyles can be just as stylish and gorgeous as long hairstyles and there is no limit to the styles you can make with it, the styles above would also provide your scalp with protective measures while it grows however you can always choose a particular hairstyle and stick to it pending the growing stage. What short hairstyle are you rocking with your natural hair? We would love to know in the comment box below.
Read more on hairstyles for natural hair and braids: