Beauty, and being a natural seem to go hand in hand and yet again we have these Michelle Obama natural hair pictures to prove that.
When it comes to all things Michelle Obama, we are going to be a bit biased as the former first lady of United State never stops to impress us, Michelle Obama usually has her hair done in a perfect blowout, so on the very rare occasions she rocks her natural curls, the world goes nuts over how beautiful she looks.
Michelle looks stunning when she wore her natural hair down and although she has been out of the white house for almost two years now, she obviously hasn't been sitting idle, two years now, she hasn't been sitting idle. She's been busy hosting voting drives with her celebrity friends, writing her first book, fighting for girls' education worldwide and of cause raising two intelligent black women.
We don't know many details about Michelle's Obama decisions to embrace her gorgeous hair and what led to switching her usual blow out to natural hair but below are some of the amazing pictures we have seen of her natural hair and we love it.
10 Mitchel Obama Natural Hair Pictures (They're Gorgeous)
1. Beachy Wave Afro Paired With A White Suit To Look Even More Confident
If you ever find yourself wishing some afro curls then there might be some wonderful hair inspiration from Michelle Obama, nothing too dramatic but obviously gives a radiant and exquisite look.
2. Sleek With Defined Curls For A More Profesional Look
Keeping your natural hair sleek with defined curls seems not so bad at all, looking all adorable with Michelle Obama adding more glam to it with her smile, this looks effortless but we are sure it takes lots of efforts to have it look this elegant and stylish.
3. Straight Edges With Front Parting On A Long Suit Coat
Michelle Obama is keeping it simple with a fine edge cut and we do find it completely adorable.
4. Center Parting With Blue Power Gown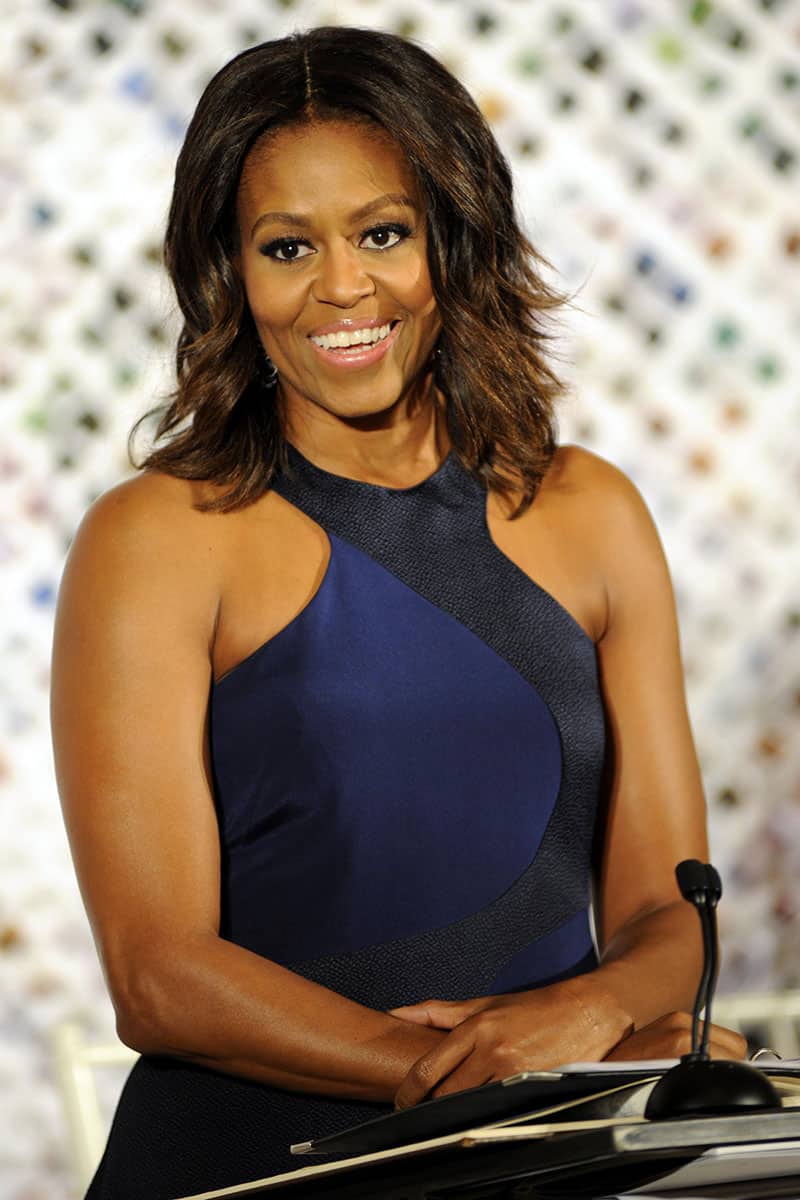 The less dramatic a dress and hairstyle are, the more volume it speaks and that is pretty obvious with this particular hairstyle and outfit.
5. Keeping It Cool With Large Curls
Michelle Obama continues to stun with natural hair and this above is no exception of her natural hairstyles we find fascinating.
6. Short And Simple Natural Hairstyle
A bit of a smooth wave on your natural hair might not be such a bad idea, Michelle Obama is sure doing justice to this hairstyle and if you ever need a cool professional hairstyle for your natural hair, we think this might be just perfect.
7. Tuck And Roll Hairstyle For A Run
Most times you did want to keep your hair from getting into your face while running and what better way to do that than with a quick tuck in.
8. Natural Up Do Paired With A White Dinner Dress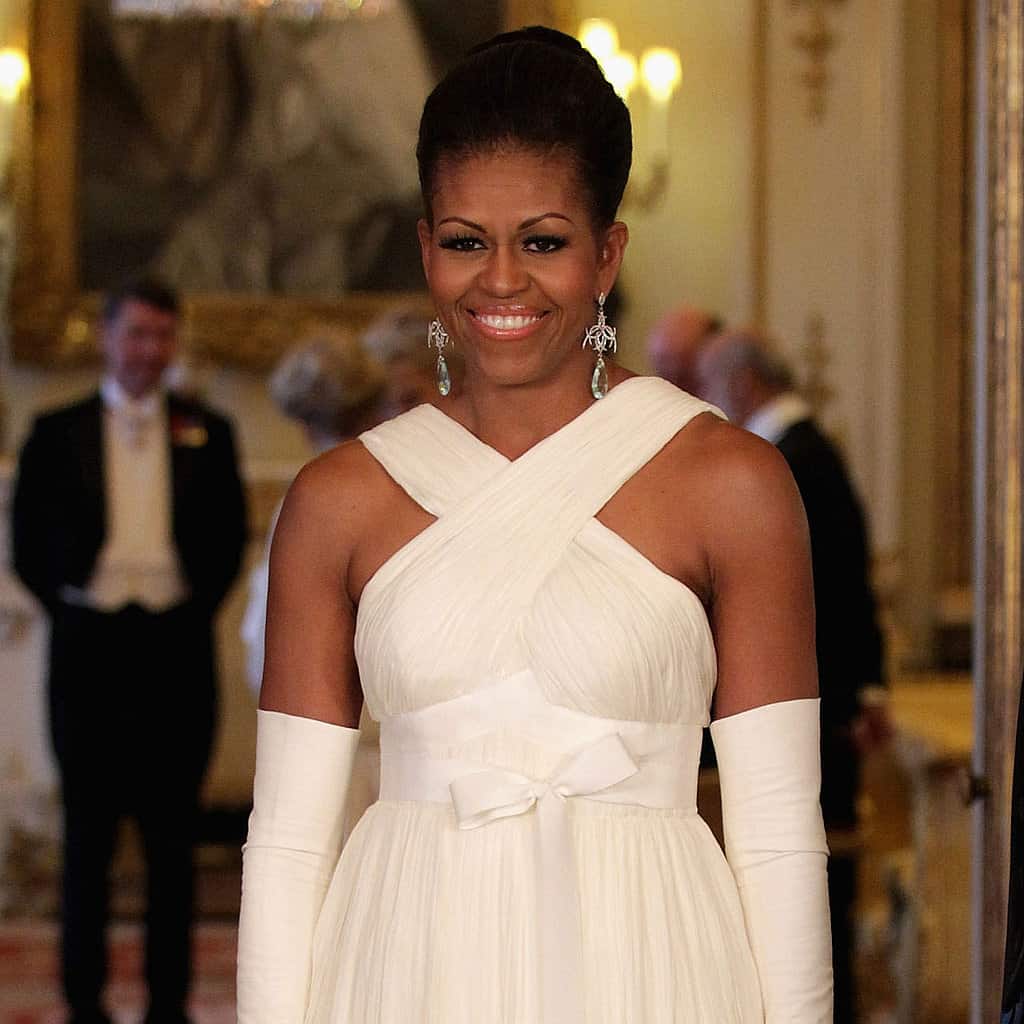 Mrs. Obama wore her Sunday best, a Tom Ford gown with matching gloves, for a state banquet at Buckingham Palace and with that Natural updo, she looks stunning.
9. Ombre Curls To Go With A Classic Outfit
The former first lady is quite the queen of natural hair and above is another spot on natural hairstyle we find completely adorable and classy.
10. Natural Curls In A Shoulder Grazing Style
Michelle Obama is well known for making a bold fashion statement, her shoulder-grazing hairstyle in the picture above pairs nicely with her off-shoulder green dress. These curls are getting as much love as her previous blow out hairstyles if not more.
---
Michelle Obama has always captured our attention when it comes to her what she wears and how she styles her hair, she continues to prove that her killer styles go beyond her term in the White House and not to mention her new approach to styles.
Natural hair Michelle Obama is something every one of her fans is finding highly fascinating and we must admit we are in awe of it as well.
Oh and in case you're wondering what the former first lady is up to these days, you're welcome 🙂
https://www.instagram.com/p/B7Bc-qfAjCX/