The more natural hair is being embraced, the more need for each naturalist to maintain and grow healthy natural hair, and one of the complaints of natural hair is how dry it is.
Natural hair is naturally dry, which is why your hair care routine is important to help distribute your hair's natural oil as your hair makes less oil. Dry brittle hair can lead to extreme breakage which is a source of concern for many 4c natural hair types as it is the most fragile natural hair.
Moisture is the number one area most women struggle with in terms of natural hair and the confusion comes in when women think they are moisturizing their hair but it is still dry and brittle. Well-moisturized natural hair is healthy, has increased length retention, and is easier to maintain.
The first step in combating dryness in natural hair is to understand the cause of it and oils do not moisturize as most think, here is what you should know if your natural hair is dry.
Why is your hair so dry?
It is important to understand the root cause of dryness in your natural hair, dryness is such a big issue with all-natural hair types and this happens when your hair doesn't make enough oil to moisturize or in common cases lets moisture escape.
If your scalp isn't making enough moisture as it should then it's sure to become dry and brittle, hair has no natural lubrication so it relies on oil made in the hair root to keep your hair lustrous and well moisturized.
Overwashing or using harsh shampoo can also strip your hair of moisture and make it dry, it is important to keep moisture in and avoid stripping your hair of its natural oil.
How do I fix my dry natural hair?
Restoring moisture back to your natural hair will prevent breakage and further damages being done to your hair and scalp, dry hair is frustrating and natural hair easily leans towards dryness due to its tight curl pattern that hinders natural oils from making their way down the hair shaft.
You can't fix dry hair overnight but here are simple methods that can help you get that soft smooth hair with time and patience.
Cut back on heat styling, this is one of the fastest ways to strip your hair of moisture, flat irons, blow dryers, curling irons, and flat combs can all cause dryness to your hair so if you use any of this daily then it's best to cut back to no more than once a week. This can help your hair recover quickly.
Use a shampoo that has been designed specifically to help dry hair because it will have fewer drying ingredients and skip regular shampooing of your hair. Black hair does better if not shampooed daily.
Use hair products that do not contain alcohol as it's drying to natural hair
Protect your hair at night with satin caps and silk or satin pillowcases and try protective styling during the day.
Always condition, moisturizing conditions will keep cuticles lying flat so they hold in natural oils. For excessively dry hair, deep condition once or twice a week.
Does drinking water hydrate your hair?
Healthy hair starts from the inside which is why one of the common ways to keep your hair hydrated is to drink enough water and your skin and hair will benefit from this.
Drinking at least two liters of water a day will help your hair grow strong and it increases its length as well and when the scalp of your natural hair is hydrated, it keeps dandruff away.
How do I moisturize my dry natural hair?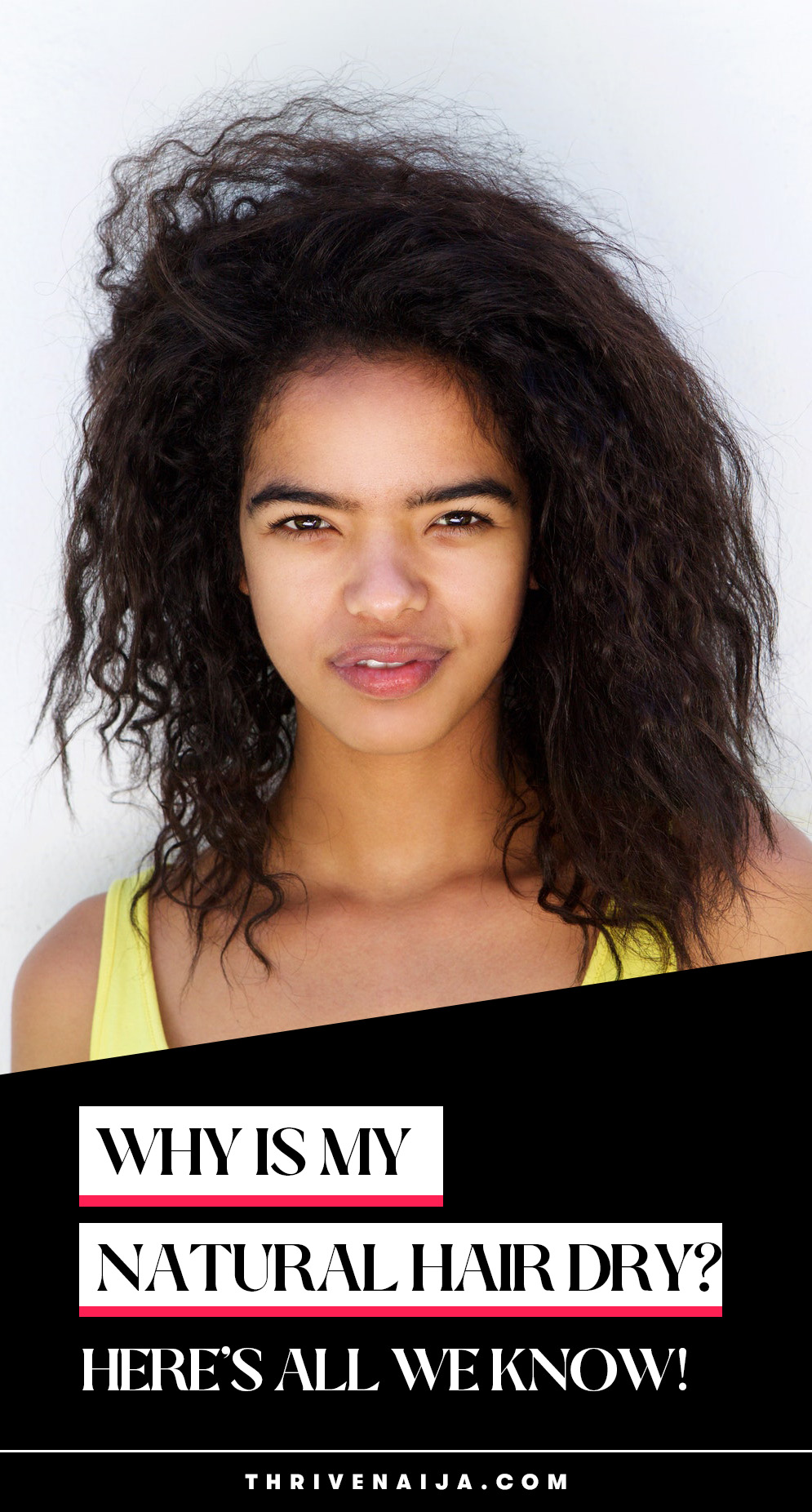 Moisturizing natural hair is vital if you want to keep your hair from drying out and breaking eventually, dryness is one of the most common hair issues, and here are tips to keep it well moisturized.
Seal in moisture using oil like, shea butter, avocado oil or jojoba oil
Use a moisturizer that has water as it's the first and second ingredient
Avoid heat styling
Trim regularly
Keep your hands out of your hair
Deep condition regularly
Sleep with your hair covered with a satin bonnet or pillow.
Final Thoughts
Keep moisturizing your hair to keep it healthy, your moisturizing method could include LOC, deep conditioning regularly locks in moisture and help retain its natural oil.
Remember oils do not moisturize but massaging oil like jojoba oil or coconut oil into your scalp can help replenish moisture and keep your hand out of your hair. Touching your curls all the time will make your hair dry out faster and the continuous process will strip your hair of all its moisture.
Read more on natural hair care tips: