Every naturalist craves a simple remedy to grow her natural hair and most organic products won't offer you this, how you grow your hair and the organic product you use plays lots of vital role in how fast and healthy your hair grows however healthy natural hair is not limited to these alone. Natural hair typically grows a quarter inch or half an inch each month however for fast healthy growing hair, you might need a secret hair growth regimen.
Having the kinkiest or curliest hair comes with great responsibility and you need to mentally prepare yourself to be patient while growing your hair, it takes time and patience to grow healthy hair and that would be if your hair is in a prime condition.
Understanding the structure of your hair should come first, this will make it easier to understand the factor causing stunted growth after this has been properly evaluated, you can go ahead and try this 5 natural hair fast growth secrets to control damages and keep your hair healthy.
5 Natural Hair Fast Growth Secrets
There are so many things you did have to stop to allow your hair breath but while waiting patiently for your gorgeous mane to grow longer, very little is required hence we have discovered just 5 simple secrets you need for a longer natural hair.
1. Understand Your Hair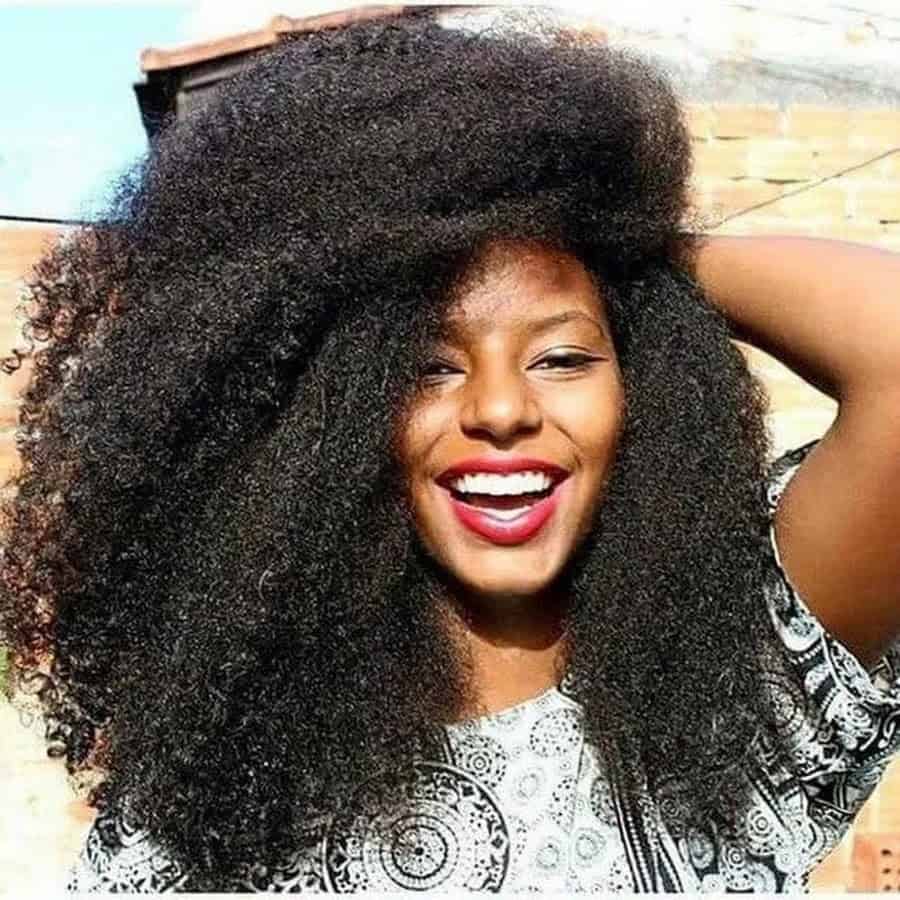 The first secret tip every naturalist should take note of is how different your hair texture could be different fro every other naturalist if you understand the behavior of your curls, it makes it easy to use products that work. Your curl type is determined by the shape of the follicle that your hair grows out of from your scalp, this can be identified with how flat or more oval-shaped the follicle, the curlier your hair, while the more circular the cross-section, the straighter your hair.
No two curls are naturally alike and when you truly know your hair type, you can easily know the root of your hair breakage or why you have dry frizzy hair. Most natural hair afro is 4c which is typically a dry natural hair and as a result, it is difficult for the natural oil to travel from root to tip.
2. Moisture Moisture Moisture
Carol's Daughter Mimosa Hair Honey Shine Pomade For Dry Hair and Textured Hair, with Shea Butter and Cocoa Butter, Paraben Free Hair Pomade, 8 fl oz
POMADE FOR EDGE CONTROL & MORE: This citrus scented shine pomade moisturizes hair & scalp, smoothes edges and controls frizz . It's sure to become a part of your daily maintenance for beautiful, healthy hair

NOURISH YOUR PROTECTIVE HAIRSTYLE: Use Carols Daughter Mimosa Hair Honey to add shine & moisture to any protective style. Paraben-free, petroleum-free, mineral oil-free.

NOURISH NATURALLY CURLY HAIR: Created for naturally curly & kinky hair, from the short-cropped 4c curly hairstyle to 1c waves, we use the ingredients your curls crave, like Shea Butter & Cocoa Butter.
Prices pulled from the Amazon Product Advertising API on:
Product prices and availability are accurate as of the date/time indicated and are subject to change. Any price and availability information displayed on [relevant Amazon Site(s), as applicable] at the time of purchase will apply to the purchase of this product.
It's very essential to keep your hair moisturized if you want to keep it healthy, this must have been sounded in your ears by your dermatologist, the importance of moisture in African American hair is vital, it keeps your hair well-nourished, prevents breakage, enhances elasticity and shine and curb brittleness and breakage. You should go for a moisturizer that has water as the first and second ingredient and remember to also condition regularly.
3. Cleanse Your Scalp
Another secret to growing a healthy natural hair is keeping your scalp clean, it is always easy for natural oil and dirt to build up in your natural hair which could easily cause your hair to stop growing, your hair needs a deep cleaning every now and then, this will further prevent breakages.
You can easily clean your scalp at home with apple cider vinegar, oil or use a pre-shampoo scalp treatment which would leave your scalp clean and prevent dandruff as well. Ensure to condition your ends after each wash.
Also, read 10 itchy scalp Home remedies that actually work.
4. Essential Oils Are Essential
Time to start making use of your essential oils more often, your essential oils are not limited to hot oil massage alone but you can actually grow your hair with some natural hair-friendly essential oil. The essential oil can help eliminate itchy scalp grow your hair and more, below are the most nourishing oil for natural hair.
Tea tree oil helps purify the scalp, gets rid of dandruff and keeps the scalp free of nasty bacterial and fungal problems
Sage oil keeps the impurities of your scalp enhancing it grow properly
Coconut oil penetrates deep within the cortex to help seal in moisture
Olive oil works best for hot oil massage
Avocado oil is good for dry hair and moisturizing your scalp.
Castor oil
Peppermint oil
Rosemary oil
Lavender oil
Basil oil
Image
Title
Prime
Buy
ArtNaturals Tea Tree Essential Oil

Prime

Eligible

Buy Now
100% Pure Tea Tree Oil Natural Essential Oil

Prime

Eligible

Buy Now
Castor Oil (2oz) USDA Certified Organic, 100% Pure, Cold Pressed

Prime

Eligible

Buy Now
Artizen Peppermint Essential Oil (100% Pure & Natural)

Prime

Eligible

Buy Now
Artizen Lavender Essential Oil (100% PURE & NATURAL)

Prime

Eligible

Buy Now
Pompeian Robust Extra Virgin Olive Oil

Prime

Eligible

Buy Now
NOW Solutions, Avocado Oil, 100% Pure Moisturizing Oil

Prime

Eligible

Buy Now
5. Keep it Simple
A healthy natural hair regimen needs to be kept simple, piling your hair with different hair products every week or as much as you can only cause more damages rather than good, natural hair requires less manipulation.
Once you have determined how to build your natural hair regimen and find a product that works amazingly well, it is best to stick to it and ensure you are using one product at a particular. Minimal manipulation is vital for your hair to thrive, keep your hair care product as natural as you can.
Natural hair grows just like every other hair but it's can be quite confusing if it never grows past the shoulder length but maintaining afro curls can be easy if you know what works for you, everyone has a different unique type of afro which makes hair care regimen different however below are some questions every naturalist needs an answer to.
Why is African American Hair Dry?
African American hair needs supplemental moisture for it to grow stronger and healthier as it is naturally dry and this dryness is caused due to it curls, curl texture tends to be the most vulnerable to dryness and breakage, the bends in kinky hair make it difficult for the natural oil to work their way down the hair shaft. Natural hair can also get dry as a result of your scalp not making enough oil to moisturize your hair properly hence why moisturizing is vital.
How can I soften my coarse hair naturally?
Black hair is notoriously known for dryness however there are natural ways you can limit this, this can be done naturally at home, before you go too far with products on your coarse hair, below are simple remedies that work better and considered healthier.
Understand your hair type before trying any home remedies as this will help you choose the one which works perfectly for your hair type.
Use essential oil for a hot oil massage, pre-poo and treating of your scalp.
Use a weekly hair mask to restore damages done to your hair and scalp
Don't wash with hot water, it only causes your hair to become dull and dry.
Wash only as often as needed
Avoid manipulative hairstyles
Go easy on frequents treatment
Wash your hair strategically.
Natural hair can grow as long as you want when it properly cared for, how you treat your hair and what product is being used plays lots of role in how fast your hair would grow and most importantly, you should try more of healthy foods that aid natural hair growth, you can grow your hair to any length if the right regimen and diet is adopted.
Additionally, find out why your hair is falling out or why it has simple refuse to grow, this would help curb the cause and eventually grow out your hair, natural hair can be really beautiful and there are even ways you can style short natural hair and with less manipulation on your scalp.
Read more on styles and tips for keeping natural hair healthy: