There is a lot that goes into a wedding, from the dress, the guest list, and the food but for curly girls, the dilemma of what hairstyle to rock on that beautiful day is a hurdle to be tackled, natural hair requires more effort than a relaxed hair and if you do not feel like adding an extension to your natural hair, then the perfect hairstyle has to be well thought of.
Most naturalists believe natural hair requires a ton of hair products to style it and regardless of what you do, it won't stick through the day, however, this can be remedied with amazing protective hairstyles that require less fuss.
Thinking of rocking your natural hair at your wedding? That should not be a cause for concern as there are so many beautiful hairstyles a bride can style with her natural hair, we have compiled just the right hairstyles naturalists can rock on their big day.
19 Natural Hair Bridal Styles You Can Replicate
1. Twist Updo For A Stylish Wedding Court Look
Not every bridal natural hair hairstyle has to be huge, something simple and classy like this is the ideal traditional look. Twist updo is one of the most popular hairstyles for natural hair, it works as a protective hairstyle and also ensures you stay comfortable throughout the wedding.
2. Feed In Braid With Bun To Give A Timeless Vintage Vibe
Want to recreate hairstyles with a vintage vibe? This is the perfect bridal hairstyle to go for, if you have short natural hair then some extensions will be required, but this is a cool fancy hairstyle.
3. All Back Cornrow Braids For Keeping Your Natural Hair In Check
Natural hairstyling is not meant for everyone, you might worry it will get out of place when you dance, and this is where braids come in to save the day. All back braids are nice, and they are great protective hairstyle when you are just growing out your natural hair.
4. Tapered Afro Cut to Look Fascinating And Different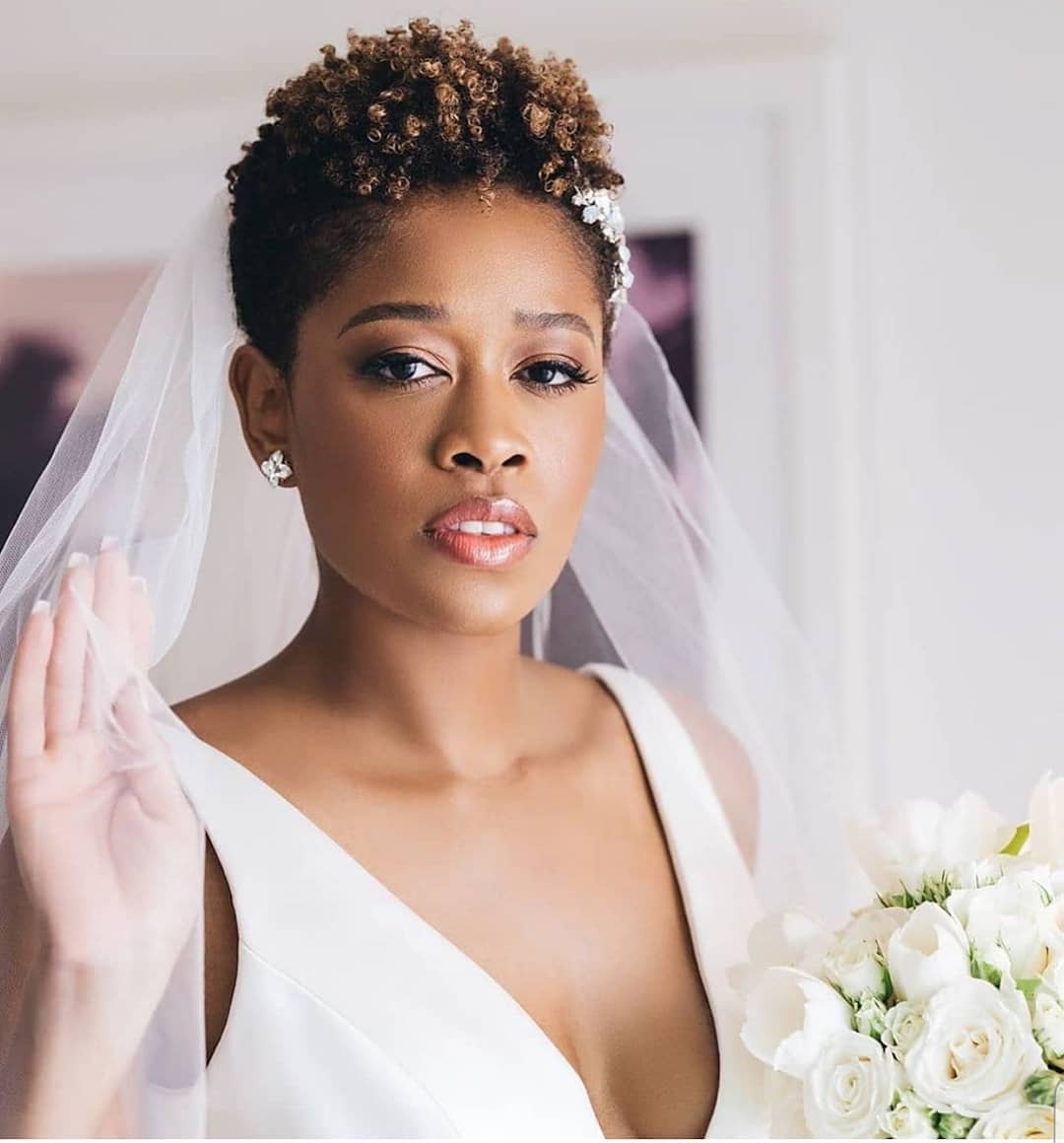 A tapered natural haircut for your big day will surely be bold but also stunning and will be the talked about look for a while. This is nice, and the bride looks stunning. You can be sure this look will have your groom staring and the guests will be stealing glances as well.
5. Afro Bun Paired With Rings For That Uniquely YOU Bride Look
We already agreed that not every bridal hairstyle has to be overly dramatic to be gorgeous, and here is another hairstyle that proves that to be true. Afro bun will always be a favorite for naturalists, so why not take it up a notch and get it replicated for that big day?
6. Side Flip Natural Hair For A Wedding In The Garden
A side flip hairstyle is one of the best hairstyles a bride can replicate on her big day, it looks amazing on any hair length and requires less fuss to make it, you just need a styling gel for natural hair to make it stick through the day and you are good to go.
7. Stylish Afro To Pair With Shimmery Bridal Makeup
Planning a simple but exotic wedding then you need to show off your gorgeous curls, this hairstyle above is perfect if you have 3b natural hair or just growing out your natural hair. It is simple to style and the flower tucked in represents the wedding mood.
8. Thick Roll And Tuck Hairstyle For A Bridal Makeover
Roll and tuck hairstyles are one of the most talked-about hairstyles for naturalists and above is just the most suitable way this can be made for a wedding, additionally, hairpins and hair buns can be used to adorn this hairstyle which makes it more glamorous and fitting for the occasion.
9. Natural Low Bun With Side Cornrow For A Summer Wedding
You can perfectly walk down the aisle with a well-adorned low bun hairstyle, this hairstyle adds a confident look to one's face and you can be sure to be the glamour bride you want with this adorable hairstyle. This hairstyle also serves as a protective hairstyle to help retain your hair length and it's fitting for all hair types.
10. High Ponytail To Keep Your Hair From Your Face
A simple ponytail hairstyle gives you a unique and calm look, nothing beats having a simple hairstyle that keeps your hair from disturbing you, and a high tuck-in ponytail offers just that, you can easily hit the dance floor while your hair stays neatly tucked in.
11. Natural Hair High Bun To Go With A Round Face
Worrying about the right hairstyle for your natural hair is also as tacky as wondering what hairstyle is suitable for your face shape however you shouldn't worry too much if you have a round face, here is just the perfect hairstyle, not only are high bun fascinating and beautiful but gives you a secure confident look while you enjoy your day.
12. Updo Natural Curls With Pins For A Spring Wedding
Thinking of the perfect hairstyle that shows off your curls and makes you look elegant? Updo curls are a natural hairstyle that offers the perfect elegance and classic look you want to wear on your big day, it suits best for a spring and summer wedding, this is quite an easy hairstyle, and you can use as much hair accessory as you want, depending on how you want your curls to be tucked in.
13. Sleek High Bun Natural Hairstyle To Give You An Elegant Look
The high bun hairstyle is one of the best ways you can show off your features, it's an amazing hairstyle for practically all kinds of hair types and face shapes, and it requires fewer efforts to make as well. You can add more fun to it by using a flowery band or hairpin to hold the bun in.
14. Creative Updo For A Chic Bridal Look
Being a bride comes with looking your best and nothing stops you from looking all chic and beautiful on that big day, a natural hair creative hairstyle might need a long 4c natural hair and lots of patience to make it look stunning, but that would be worth it if you get to recreate a look just like the one above, with or without a veil, this hairstyle is gorgeous.
15. Updo Mohawk For A Lovely Bridal Look
Mohawk is a graceful natural hairstyle you can't help but love, this hairstyle is even more exotic with the few cornrows added to it, your natural hair need not be strung too tightly so as not to hurt your scalp or cause your natural hair to break.
16. Wash And Style Natural Hairstyle For A Unique Bridal Look
A unique bridal look is achievable with a wash and style hairstyle, all you need is to let your curls and scalp breathe, keeping your short natural hair free and adorned with just a few side cornrows is a great idea for your natural hair, feel free to decorate this hairstyle with lovely petals and hair pins to make this look even more fascinating.
17. Side Tuck Afro For A Beach Wedding
Side tuck afro is just the hairstyle you need for a beach wedding and even more awesome for a 4c hair type, this is a modern hairstyle you can be sure is trendy and classy, this hairstyle would be perfect if you are worried about hair breakage.
18. Roll And Twisted Bun With Base To Maintain a Graceful Look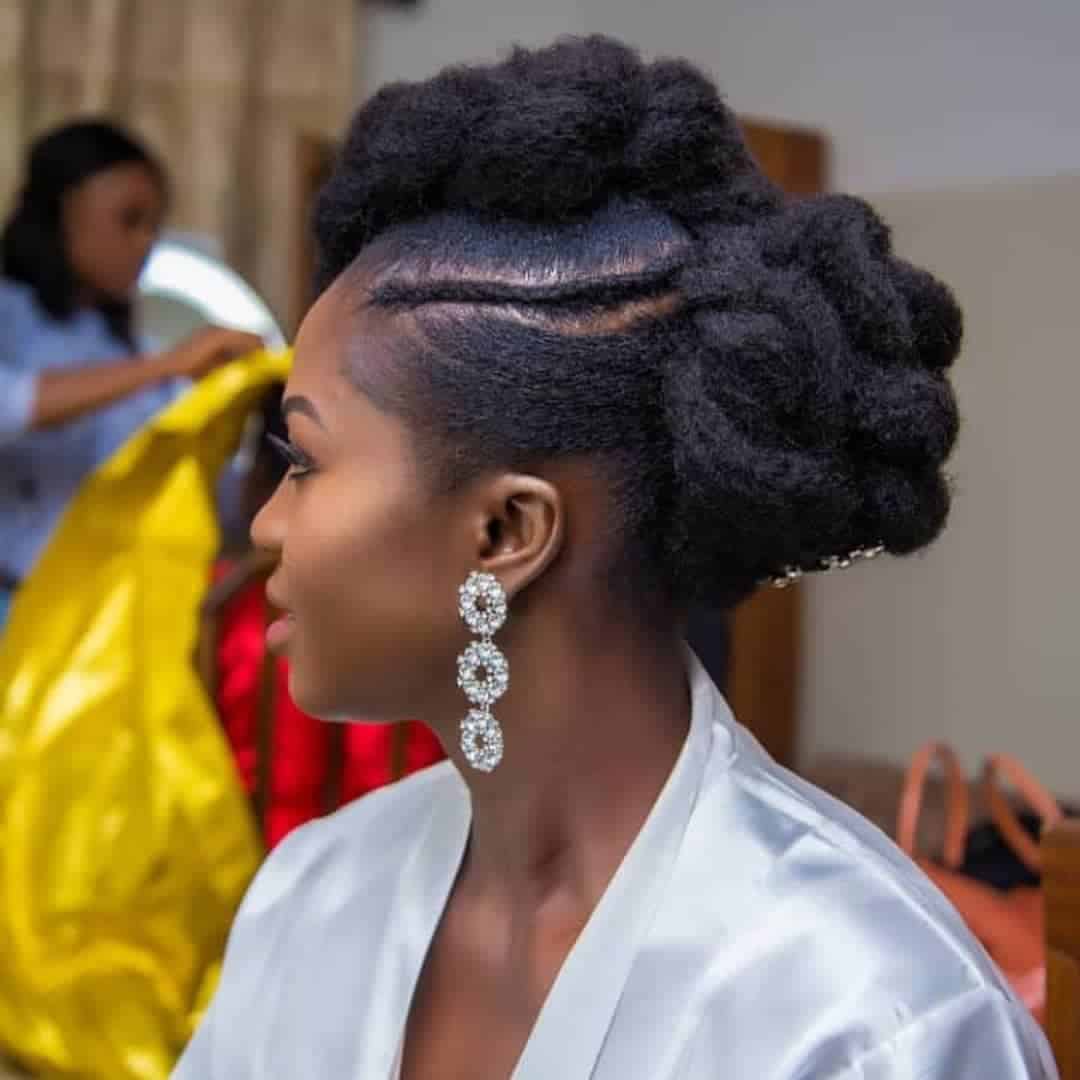 Rolled and twisted bun is another gorgeous hairstyle we found lovely for a bridal look, this hairstyle needs a professional to make sure it's neatly tucked in, this hairstyle can last through the day while you enjoy your big day.
19. Rolled And Secured Braids Hairstyle For A Cute And Stylish Bridal Look
Another exciting hairstyle for natural hair babes is rolled and secure, you do not have to worry about retouching your hair as this hairstyle tends to stay neat provided a professional style and the right hair get is used, this is a wedding hairstyle option for African and African American naturalists. This hairstyle doesn't need an extension or attachment if your hair is long enough, all you need is a cute hair crown to adorn it.
---
Flaunting your natural hair on your wedding day is a precious and memorable experience for the bride, this offers you a unique feel and look, practically we think there is a great feeling that comes with looking exquisite on your wedding day with no extension or attachment added to your natural hair.
Natural hair hairstyle is a much easier option if you do not like sitting for too long on a fancy hairstyle, you can try a variety of hairstyles with your natural hair before your wedding day to ensure you pick the right one that helps achieve the look you want.
Read more on hairstyles for natural hair:
Follow us on Pinterest @ThriveNaija to see more natural hair ideas 🙂