Bangs are becoming an interesting choice of style to add to your hair, it's becoming quite trendy and you can create a simply chic look with any side length of bangs, the easiest ways to try bangs is to have a clear image of what you want to be recreated, this will enable your stylist to get the actual style and you can easily add a swing or two to make it look even more dashing.
Side bangs are not just beautiful but an effortless look is accompanied by it, celebrities are also proving to us that side bangs are really no big deal and you can get a mini makeover with any kind of side bang.
15 Beautiful Hairstyles With Side Bangs
We combed the internet to find you the most beautiful side bang hairstyles, we're also working hard on updating not just this one but all of our posts on hairstyle ideas. In the meantime, please enjoy what we have for you 🙂
1. A Classic Fringe Bang That Gives You A Look You Can Pull Off At Any Event
A classic fringe bang is one of the most recommended side bangs for ladies, celebrities are giving it a go and you can too, pretty simple and classic, this might need lots of trimming and care though to keep it looking tidy and not too overgrown, you can also let go of the fringe and give it a simple classic look.
2. Curtain Bangs For Anyone Who Wants To lay Back Easy To Style Fringe
Brigitte Bardot curtain bangs are definitely effortless and you can sure it's suitable for kinds of makeup, easy to style and requires less cutting, this can be done on any length of hair and all you need do is to schedule every week trimming with your stylist to help keep the fringe neat and well-trimmed.
3. Ponytail Fringe Bangs For A Beach Look
Get into the beach mood with just the right bangs, simple and with less drama obviously, this requires minimal trimming and you get to retain the length of your hair.
4. Grazing Bangs For A Youthful Look
Kelly Rowland's super thick straight bangs are just the perfect go for hairstyle for her oval face, the hardest part of grazing bangs is the length hence you should not attempt to have it trimmed at home, schedule a trip with your stylist to get it done.
5. Textured Bangs For An Iconic Look
There are some bangs that are worth the big chop and Vanessa Hudgens textured bangs would definitely be making that list, nothing too dramatic but just the right length if you have short hair and thinking of taking the plunge. Easy to keep the bangs neat too.
6. Iconic Bangs To Keep Your Curls Happy
Zoeey Deschanel's iconic bangs are looking all neat and elegant, just the right kind of hairstyle you would want to be spotting at red carpet events, suitable for all kinds of face types and nothing could go wrong with those curls.
7. Curly Fringe For A Polished Look
This is a side bang that takes curly hairstyles to the next level, everything about this hairstyle is definitely amazing and jaw-dropping.
8. Wispy Bangs For A Cool Calm Evening Outing
Enjoy a cool calm evening out with while rocking this unique side bang, time to give your curls some break, a simple wispy bangs helps retain your hair length and keeps the bang easy to trim and maintain.
9. Side Parted With A Bob To Show Off Your Sexy Lip
Source: Vogue
10. Go Bold With A Stick Straight Bangs
If you are a little conscious about your forehead then we recommend going bold like Tyra Banks with these amazing straight stick bangs.
11. An Updo With Smooth Bangs For A Casual Look
Source: BEST HAIRSTYLE
If you want bangs but you are not ready to give the elaborate makeover yet then this might be just the perfect go for, you can keep your ponytail neatly tucked into a bun or let it fall to give you a new beach bang.
12. Curly Bangs For A Fun Effect
Bored of those boring bangs? Let Rihanna inspire your next side bangs hairstyle, we love everything about this hairstyle, gives just the right amount of sass and this would take your stylist very little time and not worry about the hair colour, any colour suits just fine.
13. Playful Bangs For A Sweet Vintage Look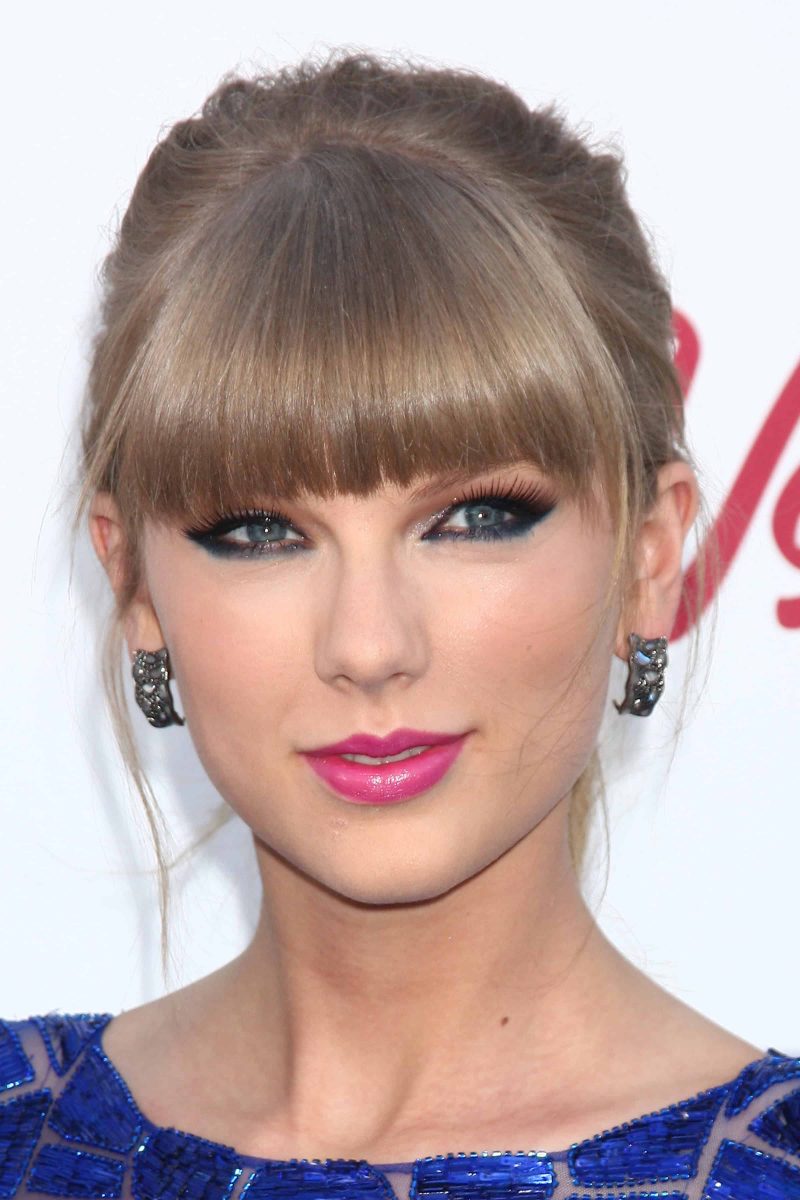 Playful bangs are pretty and they did look even more unique on Taylor Swift, less fuss with the bangs but you really should be sure about this before taking the plunge and this requires more attention than the previously mentioned bangs but are really beautiful and suitable for all kinds of makeovers.
14. Short And Sparse Bangs For All Occasion
Source: Katy PerryKaty Perry has got just the right bang hairstyle for all kinds of occasion, nothing too dramatic and if you are the bridesmaids at a wedding, this might be just the right hairstyle to keep you from tucking your hair in at all time, the trimming should be done by a stylist.
15. Wispy Bangs With Shag To Keep You In Trend
Jennifer Lopez wispy bangs with bangs are never a bad idea. If you have long layers toward the front of your hair, blow them nice and trimmed smoothly, just make sure to blow them out with shampoo. This is everything you do not want a frizz to be.
---
The simpler the bangs, the merrier, side bangs does not have to be boring, you can dare to go bold and fun with it by trimming it a bit short and edgy just to add some sauce and glam to it, you can easily trim and style bangs at home but for a more professional and neater look, get an appointment with your stylist.
Which of the bangs did you find fascinating? Leave us a comment in the box below and do follow us on Instagram @thrivenaija for more hairstyle inspiration.
Read more on hairstyles and braids: