We know fixing a bride's hair is just as hard as figuring what hairstyle is perfect for your bridesmaids and every bride does want her bridesmaids to stand out especially with her choice of hairstyles, you do not have to fret, there are many beautiful bridesmaids hairstyles for you to pick from and we must admit selecting them were a little tacky as every hairstyle is found to be unique.
What type of wedding are your planning, beach, white or traditional? The kind of wedding it is will help you easily determine what kind of hairstyles you want your bridesmaids to have on.
Below are 25 of the best bridesmaids hairstyles for all kinds of hair, your bridesmaids can step out looking classy and beautiful.
Hairstyles For Bridesmaids You'll Really Like
1. Down To The Side Bridal Hairstyle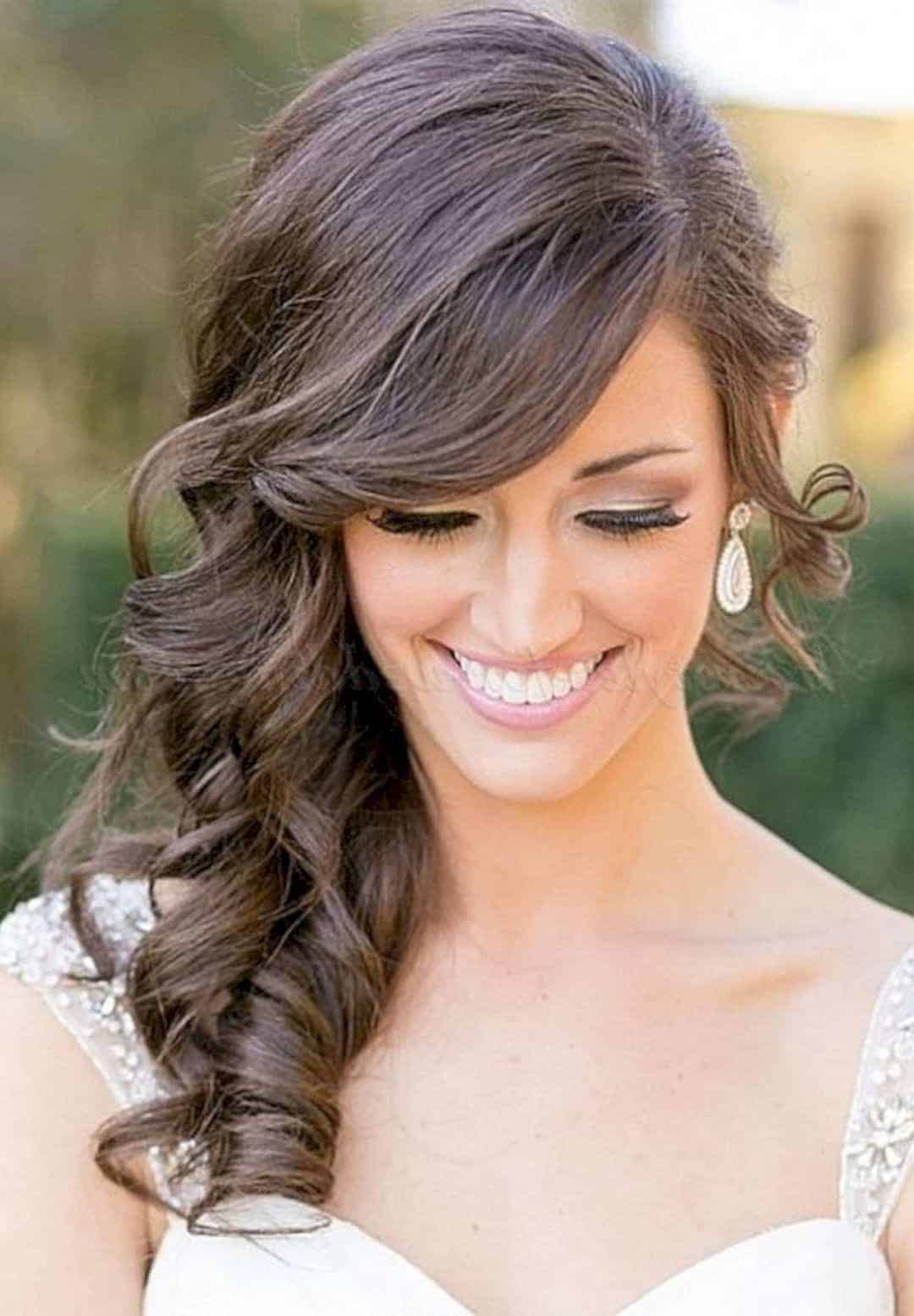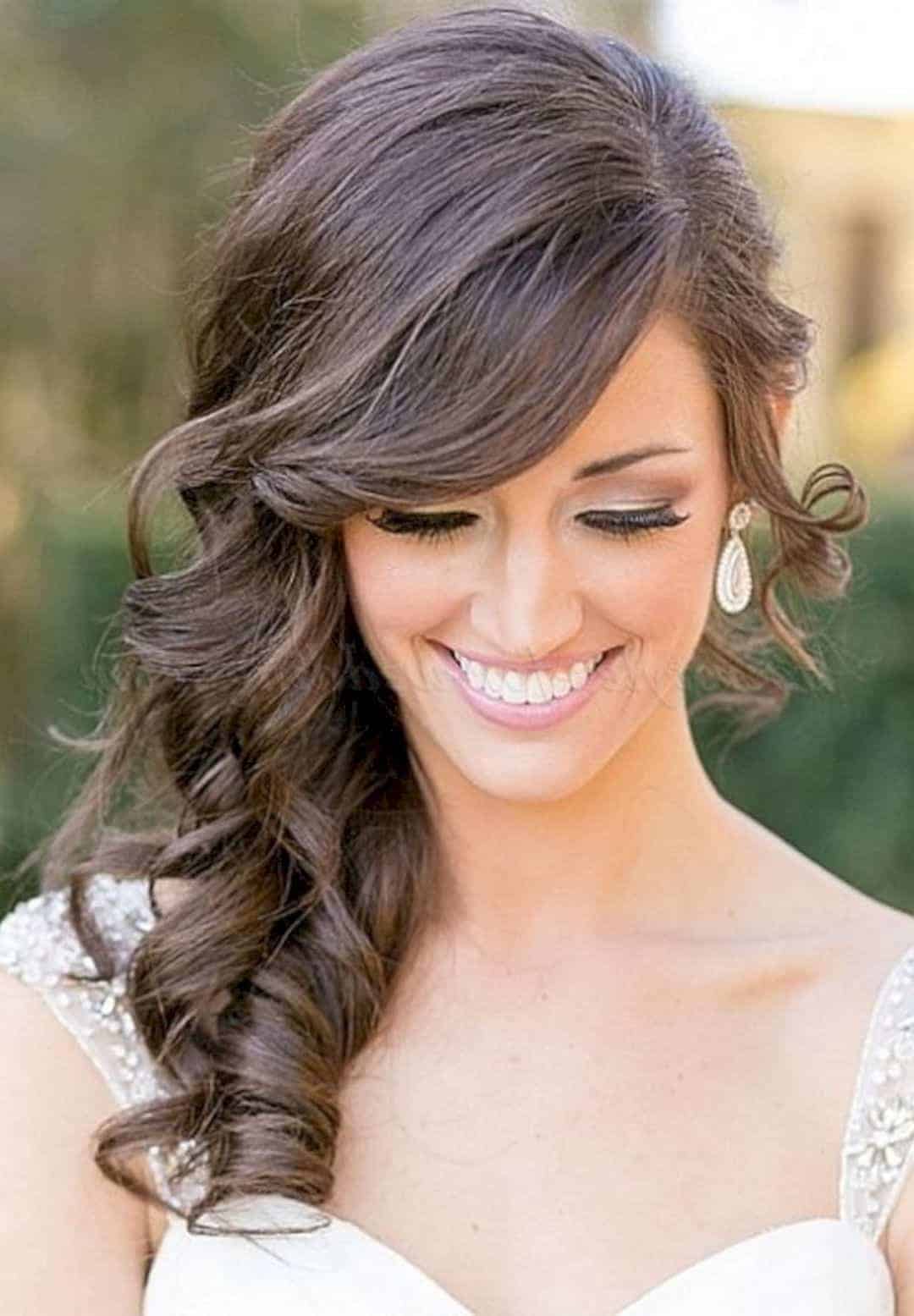 You bridesmaids do need to look good which means nothing but the best hairstyle, an elegant down to the side style like this brings out the beauty of any lady wearing it and also very easy to style, your bridesmaids do not have to worry about getting it messed up before the wedding is over.
2. Bun Updo
A bun updo can never go wrong for a wedding, it's simple and neatly tucked in especially if your bridesmaids are a little picky with hairstyles, this can also be a nice hairstyle for a bride, all it needs a little side styling to make it look different and befitting.
3. Roll And Tuck Flat Twist
The flat twist is a common hairstyle for brides and bridesmaids, neatly tuck in if you do not like hair getting in your face, some more glamour and hairpin can be added to it if it's for a bride. This is also the perfect hairstyle for you if you are on natural hair.
4. French Updo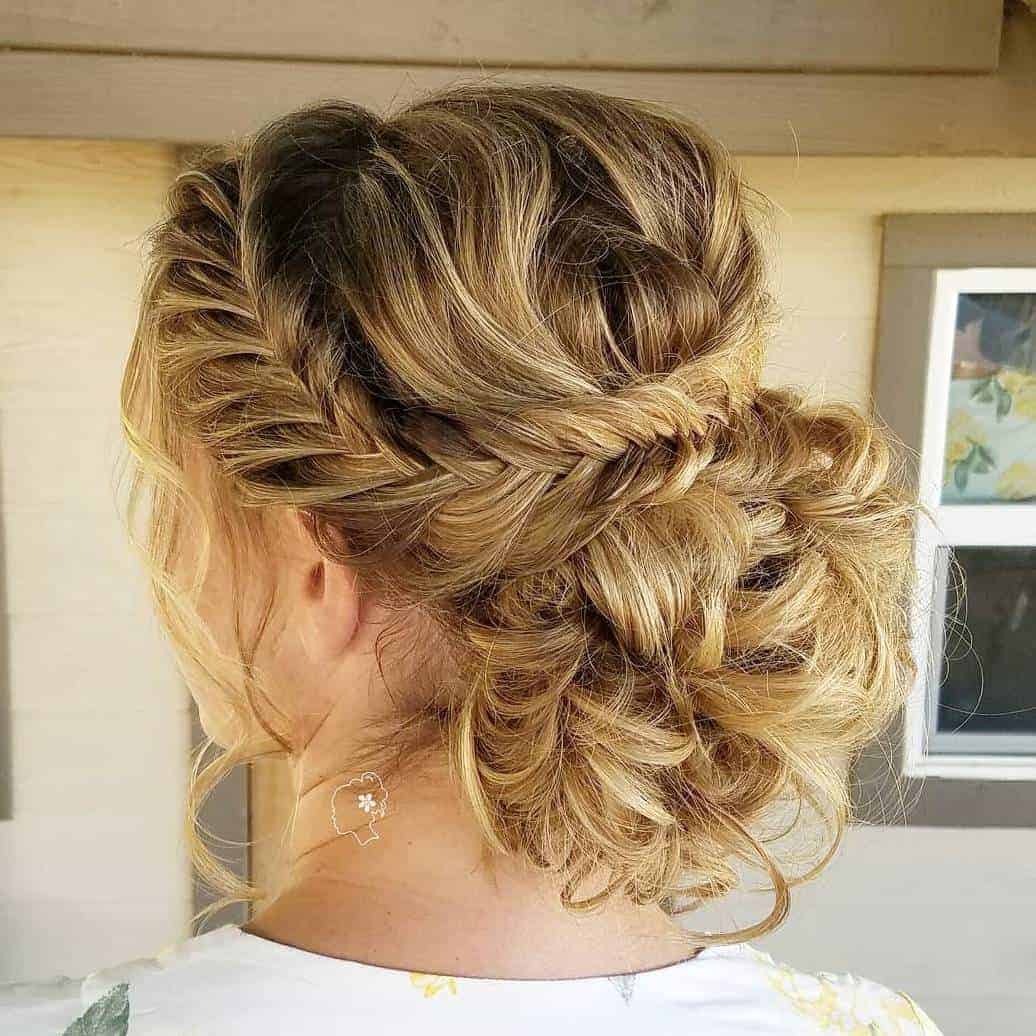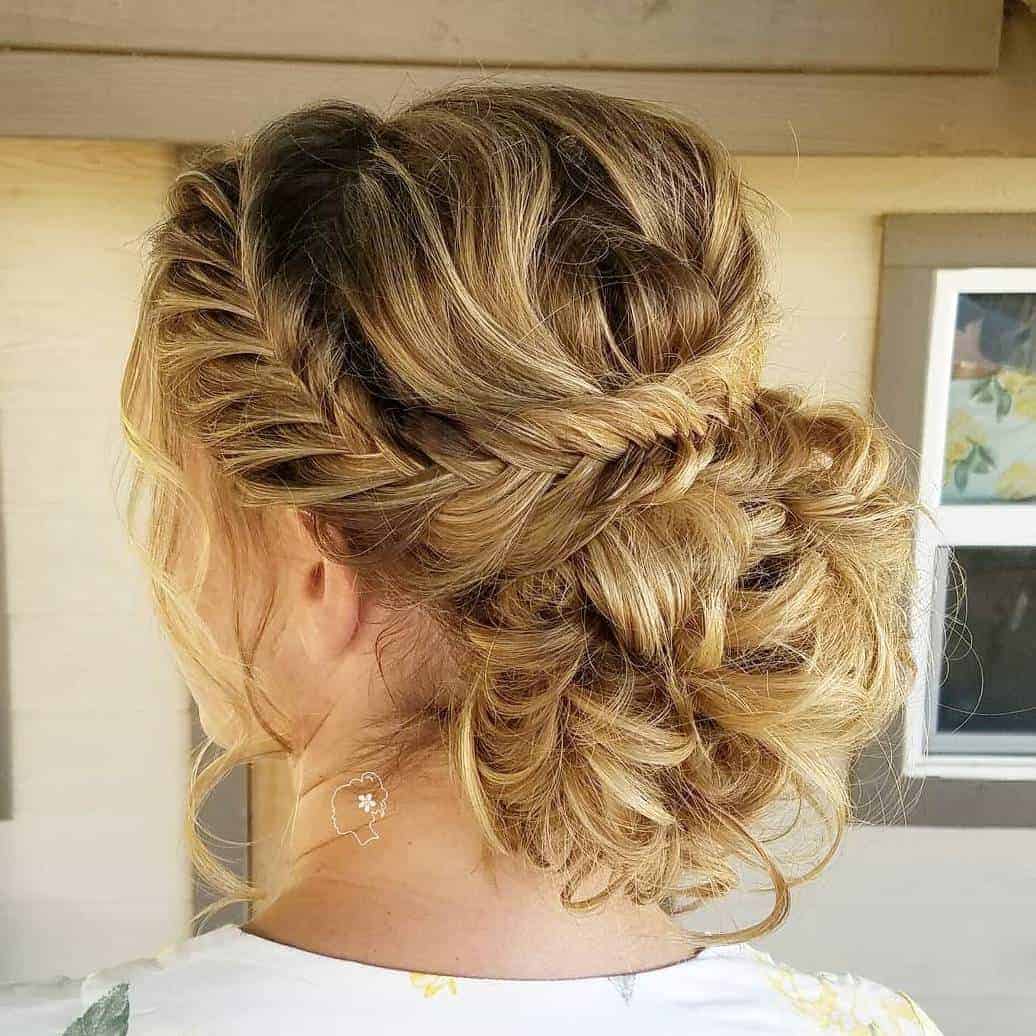 French updo can never go wrong at a wedding, bridesmaids have always been found to love this style and find it really suited for a mermaid gown and it requires less effort styling it.
5. African Curl Braid
Planning an African wedding? Then you definitely should have your bridesmaids go for this, really neat and befitting of a traditional wedding. It offers an effortless look that no one can refuse.
6. Dutch Braid Bun
A dutch braid is pretty similar to a french updo but with a more unique bun to alter the look but that turns out even more splendid, your bridesmaids might find this hairstyle more elegant and simple.
7. Medium Length Vintage Styling
Your bridesmaids deserve to feel pretty even if they do have short hair, something chic and elegant just like this hairstyle above is all every short hair length needs.
8. Center Parting With Straight Curls
Just like a side parting can make all the difference in hairstyle so does a center parting, this hairstyle requires less fuss and would last for a while before you did have to retouch it again.
9. Bloom With Curls
Add a bloom to your bridesmaid's hairstyle and that's all the difference their hair needs to have, for longer hair, you can add some curls to it or simply add an extension to make it look just as elegant as the one shown in the picture.
10. Roll In Curls
Source Braidsmaids_HairstyesA tuck in curls will ensure you are ready to help the bride when the need arises and your hand won't have to keep straying to tuck in loose curls.
11. Side Fishtail Braid
Source: Wallpapers
Another elegant hairstyle bridesmaids can pull off with ease and it's also perfect for embracing your natural hair texture with or without attachments.
12. Chunky Braid
This will pair wonderfully well with a one-shoulder A-line gown, start a brig braid at the top of your head and let it fall slowly to one side, it's simple and pretty comfy.
13. Blunt Bob
A blunt bob deserves all the attention at a wedding, can be simple and dramatic and at the same time, also a very good hairstyle idea if you want to be comfortable.
14. Center Parted Wavy Locks
Go dramatic with those wavy locks and bloom can be easily tucked at the side for a bride to make a difference, it's a simple effortless look which is really perfect for either the bride or the bridesmaids.
15. Rosette Waterfall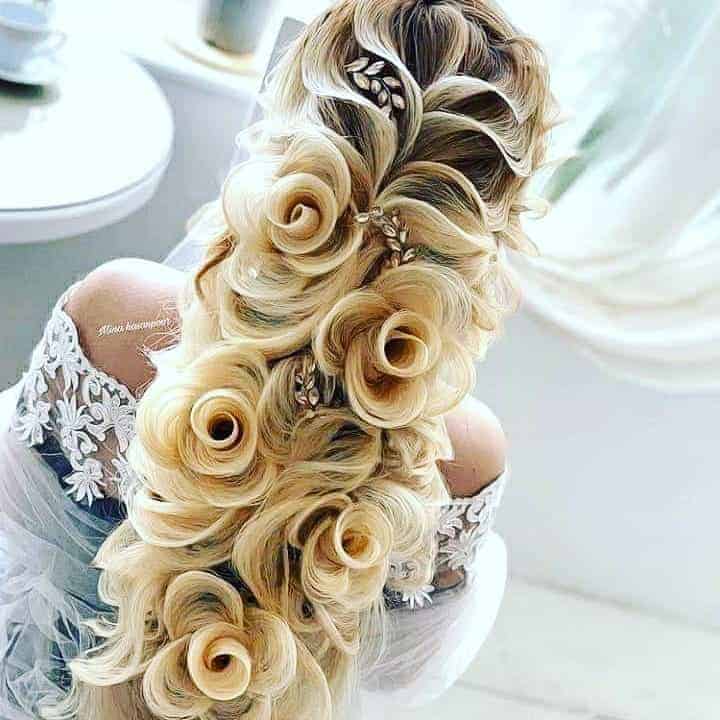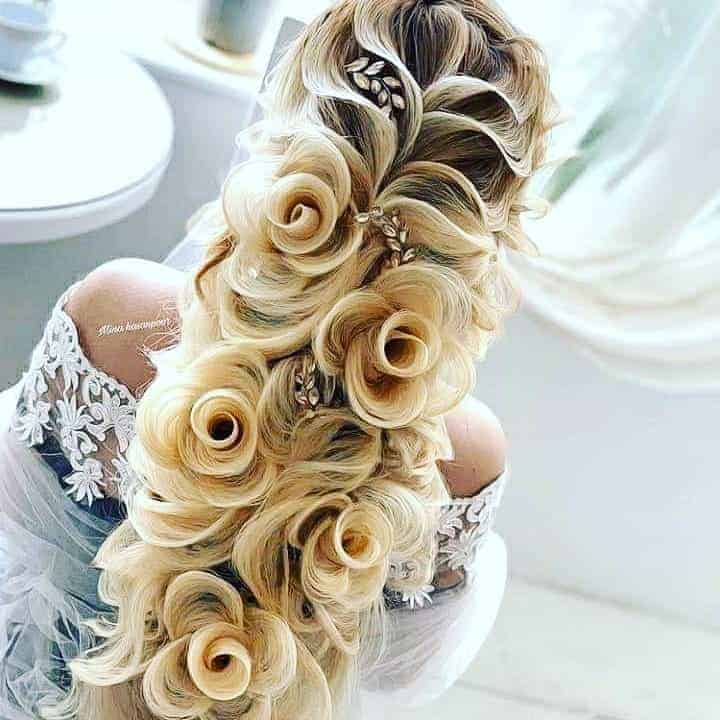 Time to do something totally jaw-dropping and different from the usual hairstyles, let your stylists get to work of adding five distinct rosettes and ornamented with small gemmed clip to make this glamorous style.
16. Layered Braids
This hairstyle can be chosen either by the bride or bridesmaids, a really elegant style that doesn't leave much to the imagination, offers comfort and also effortless.
17. Blown Out Locks
This hairstyle requires very little effort, just have your curls blown out and styled simply.
18. Pierced Layers And Bob Cut
Add some old fashioned glam to it, nothing dramatic nut enough for you to look like the gorgeous bridesmaid that you are.
19. Cornrows And Fingerwaves
This hairstyle like this will ensure you do not have to deal with any unruly hair stand being in your face.
20. Sleek Side Bun
You would be stepping out with all the confidence of beautiful bridesmaid with a hairstyle like that, one side is to look sleek and the rolled bun to be done on the other side.
21. Pompadour
Another hairstyle that will have you turning heads and you do not need any attachment to make this lovely hairstyle, your natural hair would do just fine.
22. Voluminous Ponytail
This is quite trendy for guests and pretty suitable for bridesmaids as well. This natural hair look is one of the best hairstyle ideas for bridesmaids.
23. Wrapped Updo
Let your hair do all the taking as you simply wrap it in a neat updo at the side, you can as much hair decoration as you want to give it a more dramatic look.
24.Off Center Part
Get to look exquisite with a simple center parting, your hair should sleek and soft enough to lie smoothly.
25. Simple Ponytail
With a hairstyle like this, you can achieve the look that says not trying too hard but definitely beautiful, suitable for a bride too and also a really common hairstyle.
---
You can easily add your own design to any of the hairstyles above and make it more suitable, we do believe the true beauty of a wedding is not limited to how gorgeous the bride looks but how much the bridesmaid's compliments the bride.
Read more on hairstyles and bridesmaid outfits: