If you're looking for the latest Ankara styles for a wedding or for your owambes, then you'll like this one. Also, if you're interested, we have some nice ideas about what to wear to a wedding here, you'll love them as well.
Fashionistas will agree with us that there are some incredible styles you can see with your Ankara that will make you the center of attention at any occasion, these are styles that are referred to as exotic styles and if you love classy, then you are going to fall for some these styles we have gathered.
Ankara styles are even more interesting with the way designers are adding a twitch or two either to the sleeves or bodice.
Owambe can even become more perfect if you are putting on the right outfit and we have some of the most beautiful styles to help inspire you.
When you have the right style at hand, you will definitely find it easier to accept party invitations as you can't wait to showcase your beautiful style at the party.
40 Owambe Ankara Styles For Wedding
Fashion Enthusiast does say the right style coupled with the right material instills some party confidence and we think that might be true and here are 17 styles to buttress that point.
1. Shirt Jumpsuit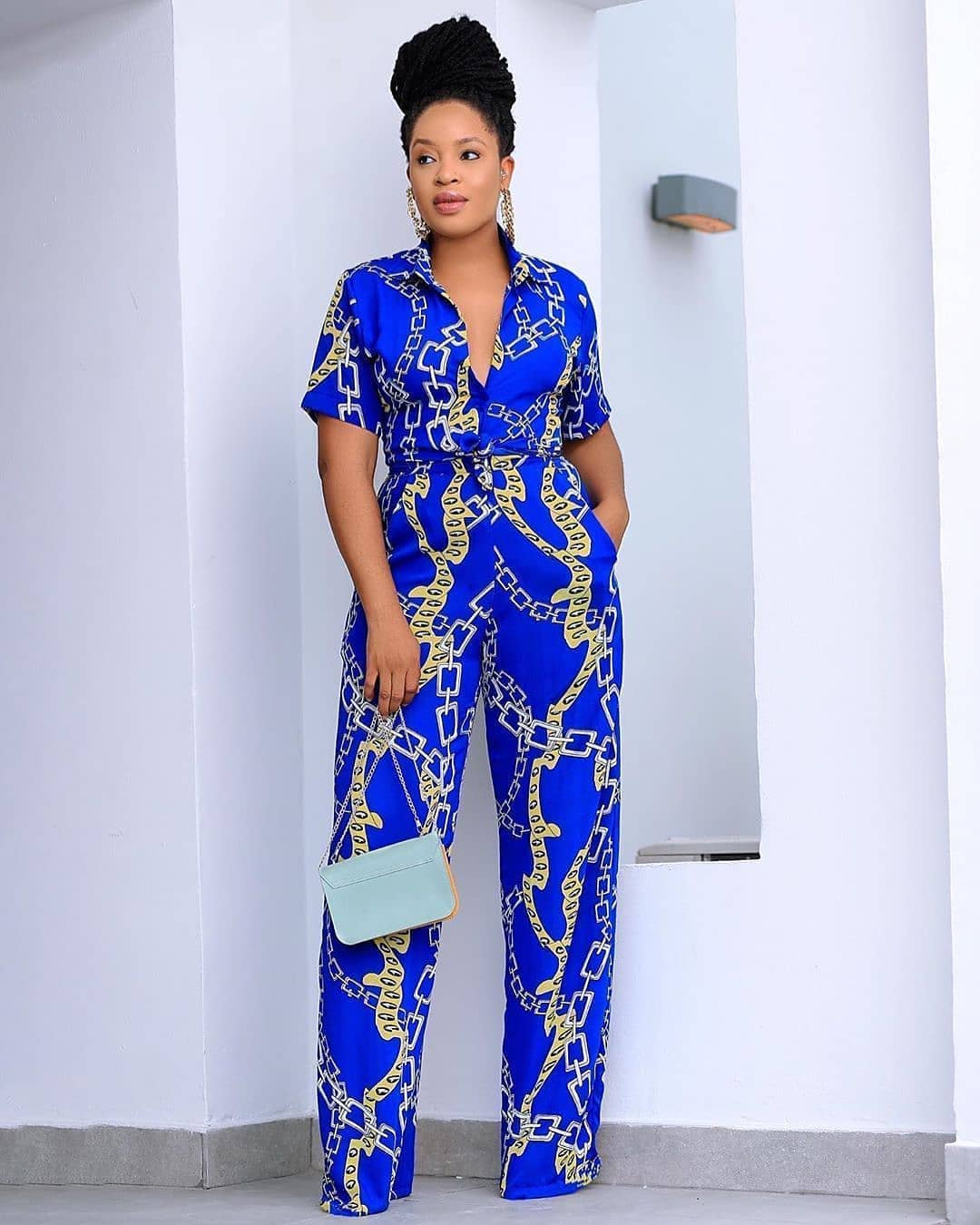 Jumpsuits are fast becoming part of the trend and there are so many ways this can be incorporated into your Ankara styles for an owambe party, this shirt jumpsuit is fashionable and convenient for anyone and practically won't take forever to sew.
2. One Hand Sleeve Flare Gown
Image: @ankaradigest // Instagram
Here is one interesting style you can't help but love, not too dramatic and really free for you to hit the dance floor at any kind of event.
3. Owambe Playsuit

A playsuit could be just as fitting for an owambe like a jumpsuit, this is bold and classy if you are looking for a style that is free and not too dramatic.
4. Fancy Ankara Style With Kimono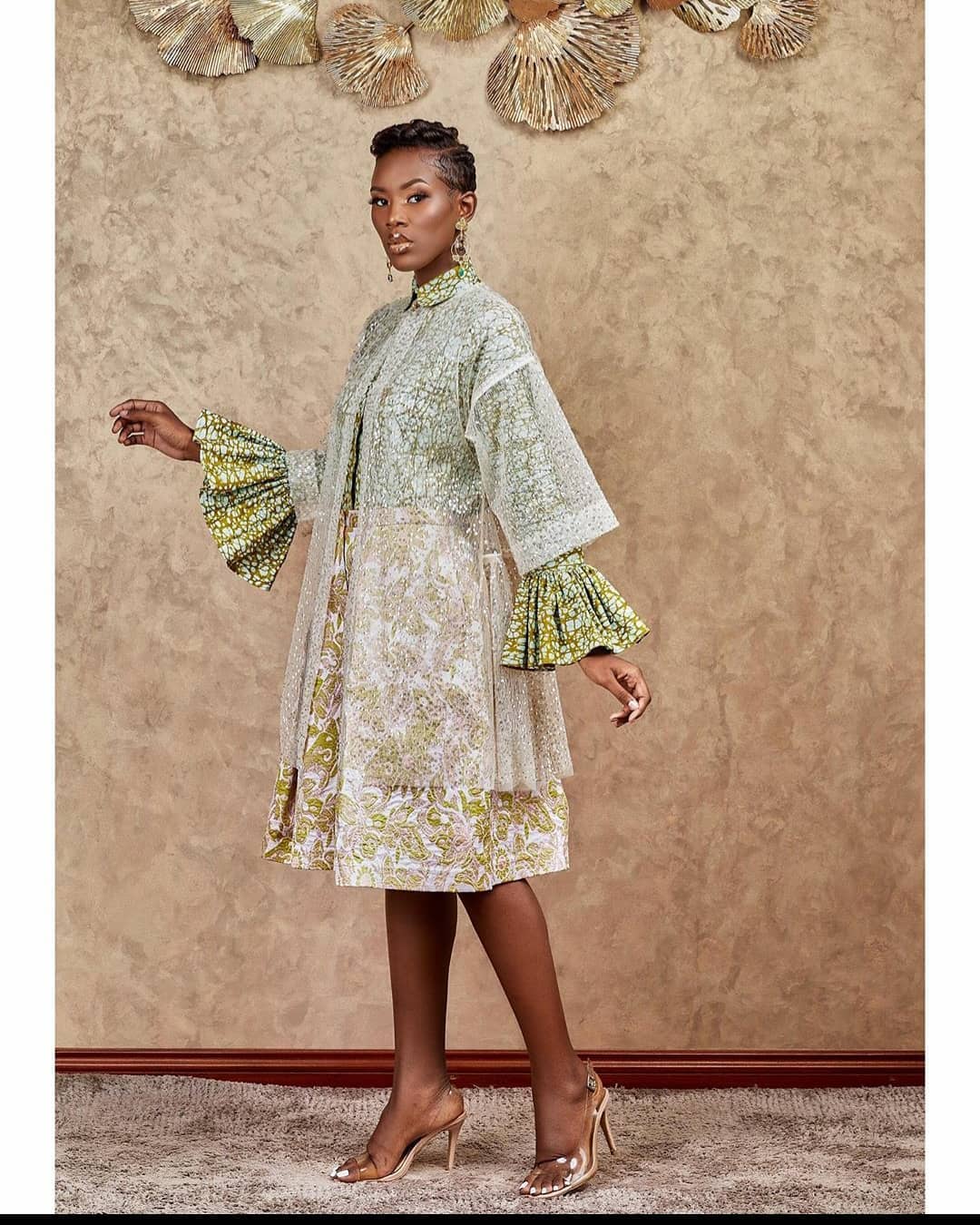 This is simply gorgeous and fitting for all kinds of occasions, you can always have your sleeve whichever way you like and it would still look fancy.
5. Flay Gown With Corporate Bow
Bows are fun and when implemented into an Ankara style the right way, it can be really exciting and fitting for all kinds of owambe.
6. High Waist Skirt With Blazer Jacket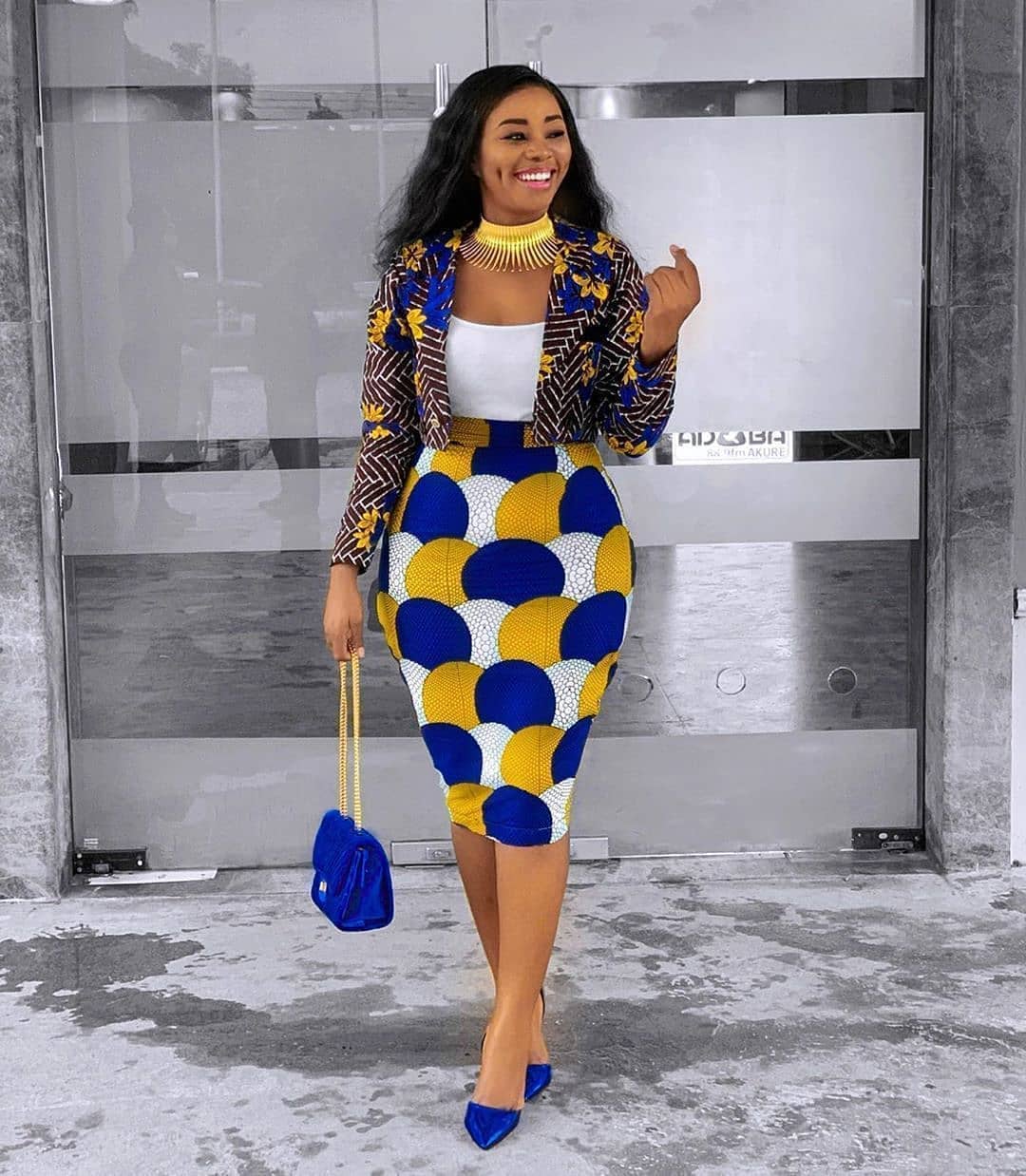 A blazer jacket is becoming an interesting outfit to wear to a party, it's simple and you can have it paired with a palazzo or a penciled skirt as shown above.
7. High Neck Gown With Split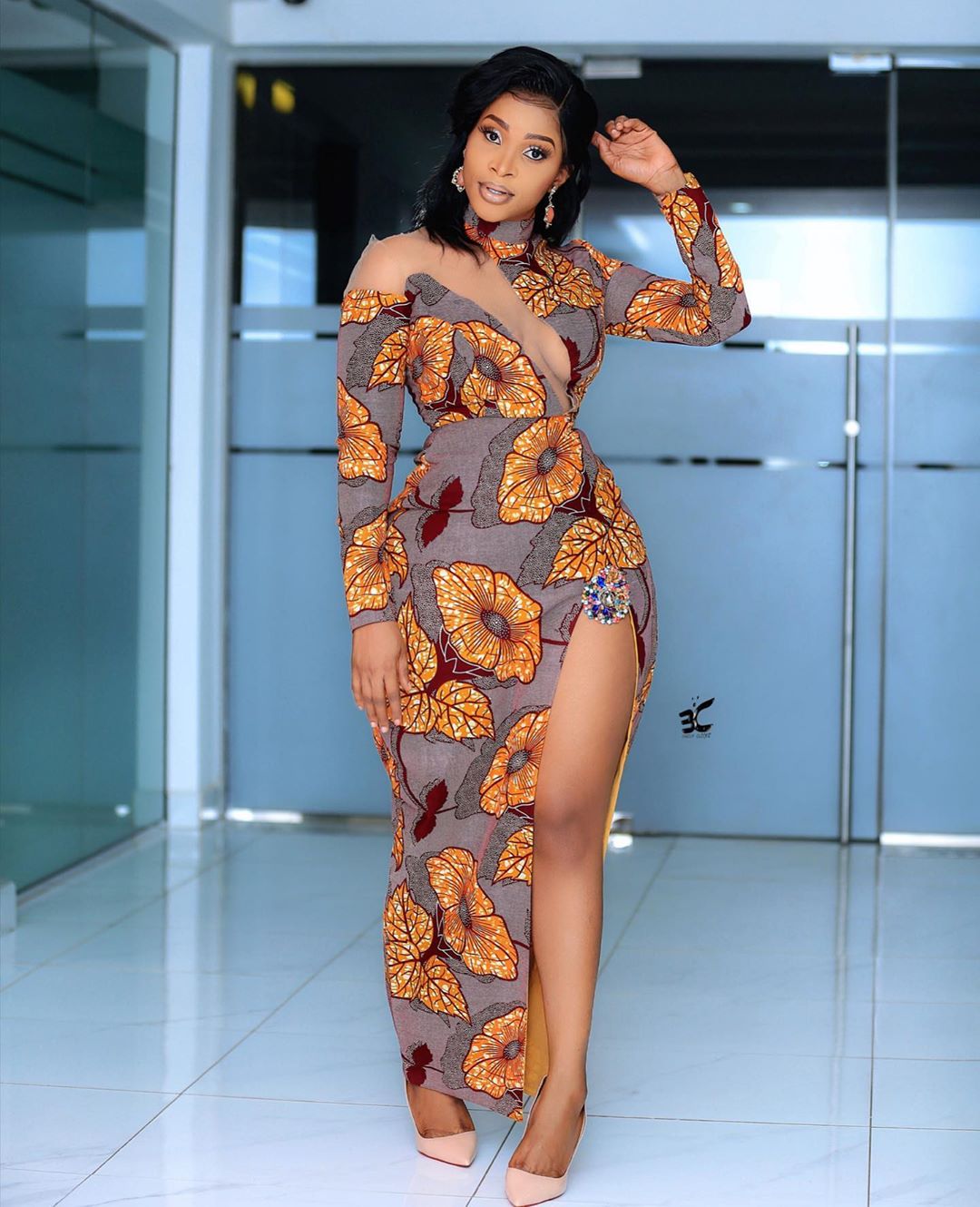 Bold and sexy is definitely the 2020 owambe fashion style you do not want to miss out on.
8. Formal Ankara Style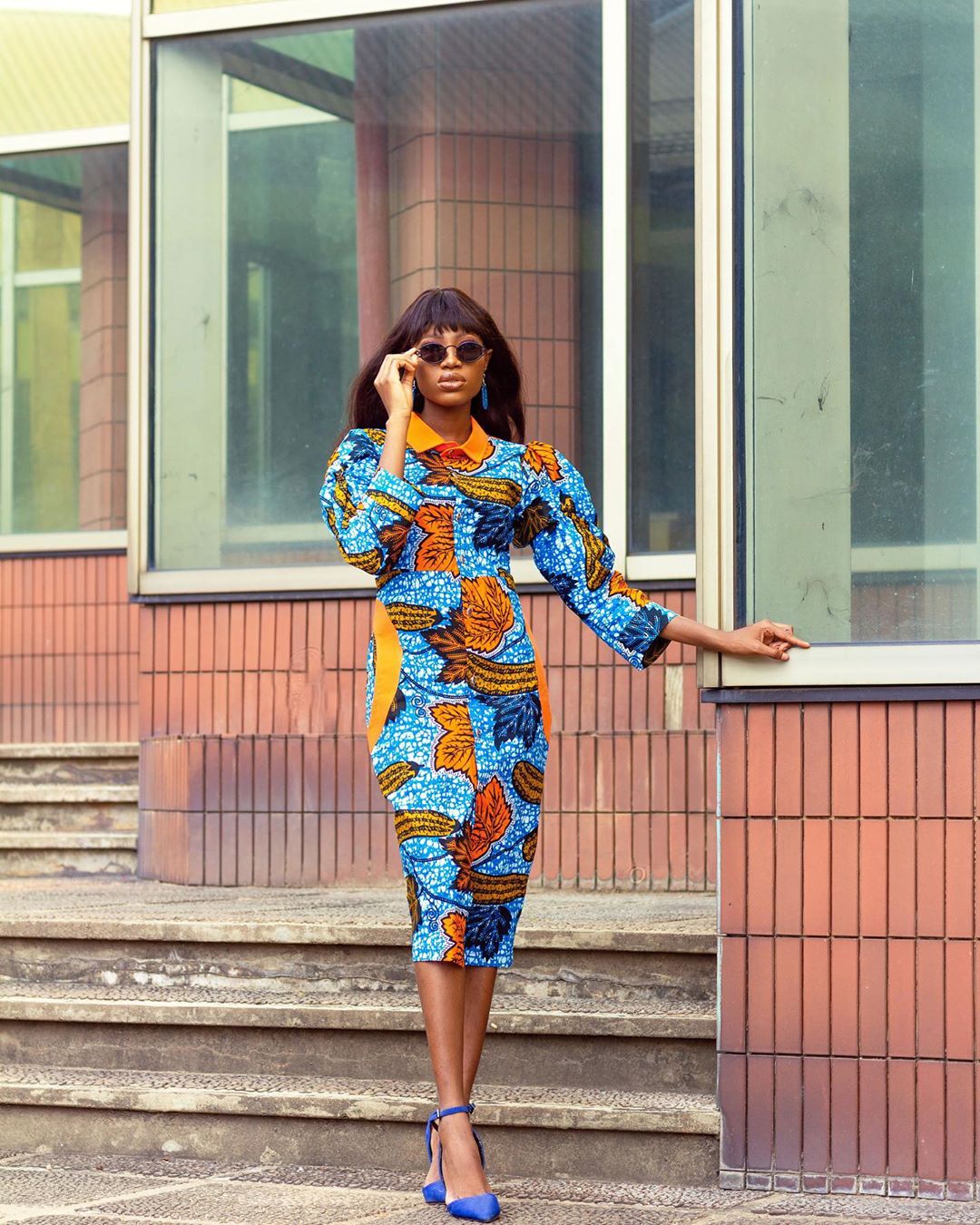 Keep it classy and formal for a more comfortable and easy movement at any kind of wedding.
9. Wrap Ankara Style With Bell Sleeves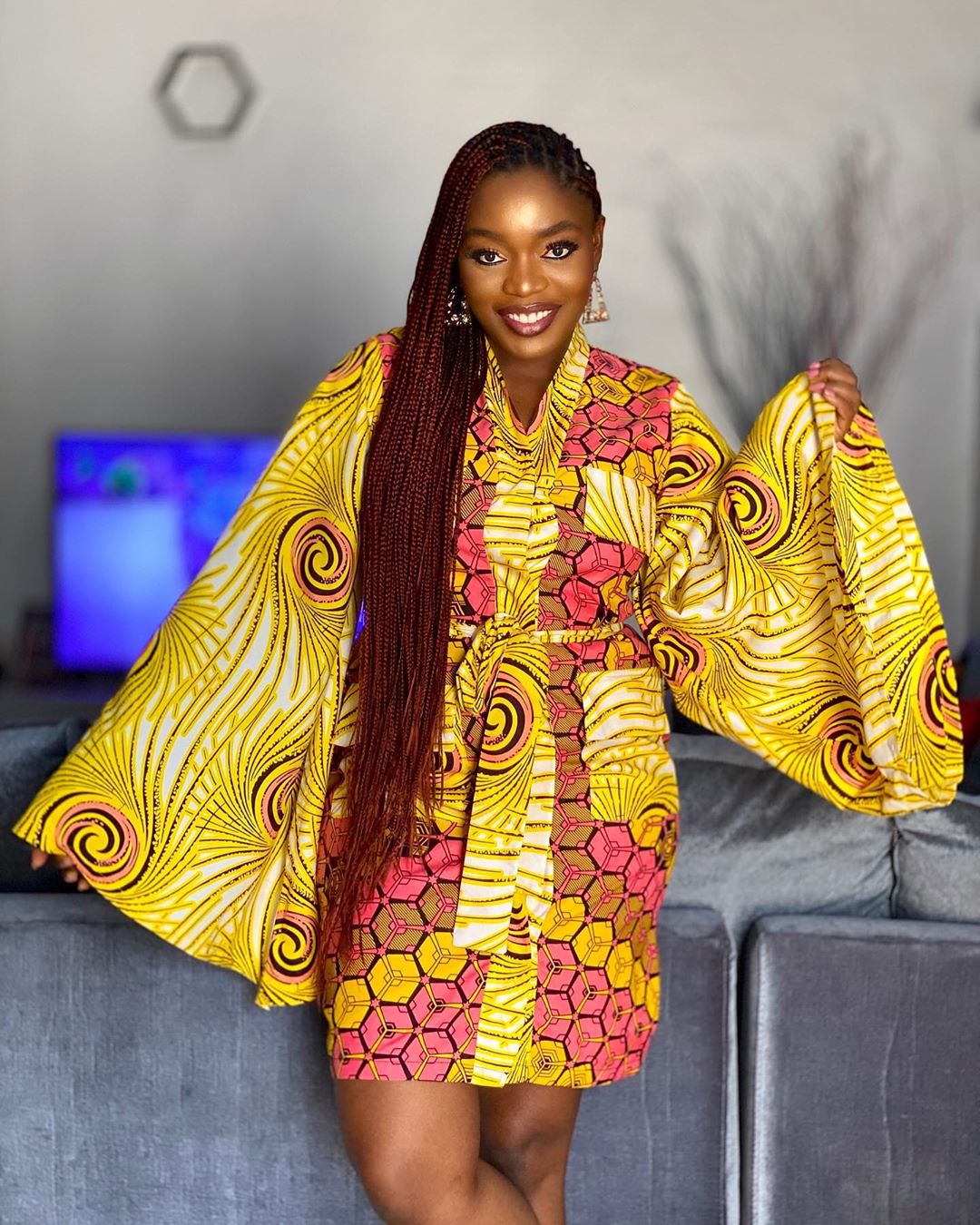 You can be sure this is a style that is sure to garner attention at any wedding. This is a beautiful wrap dress with bell sleeves to add to its glamour and make it comfortable for anyone to rock.
10. Simple Off Shoulder Mini Gown
Another interesting style that lets you hit the dance floor with ease and splendor is this simple mini off-shoulder gown.
11. Off Shoulder Icon Gown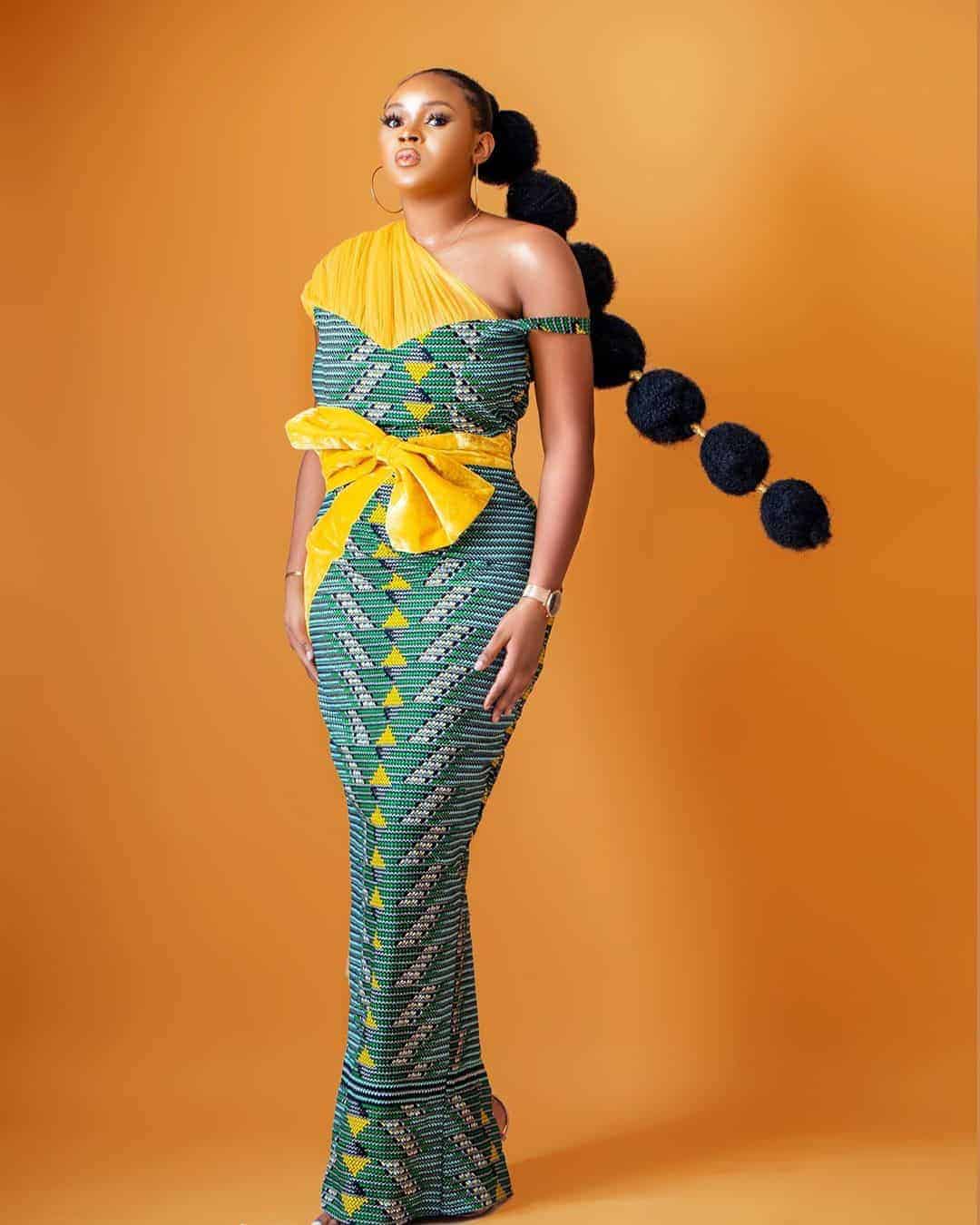 Elegant wedding style ought to have something that differentiates it from just a casual evening Ankara style and we must say that has been included in this gorgeous gown above.
12. Cap Sleeve Flare Gown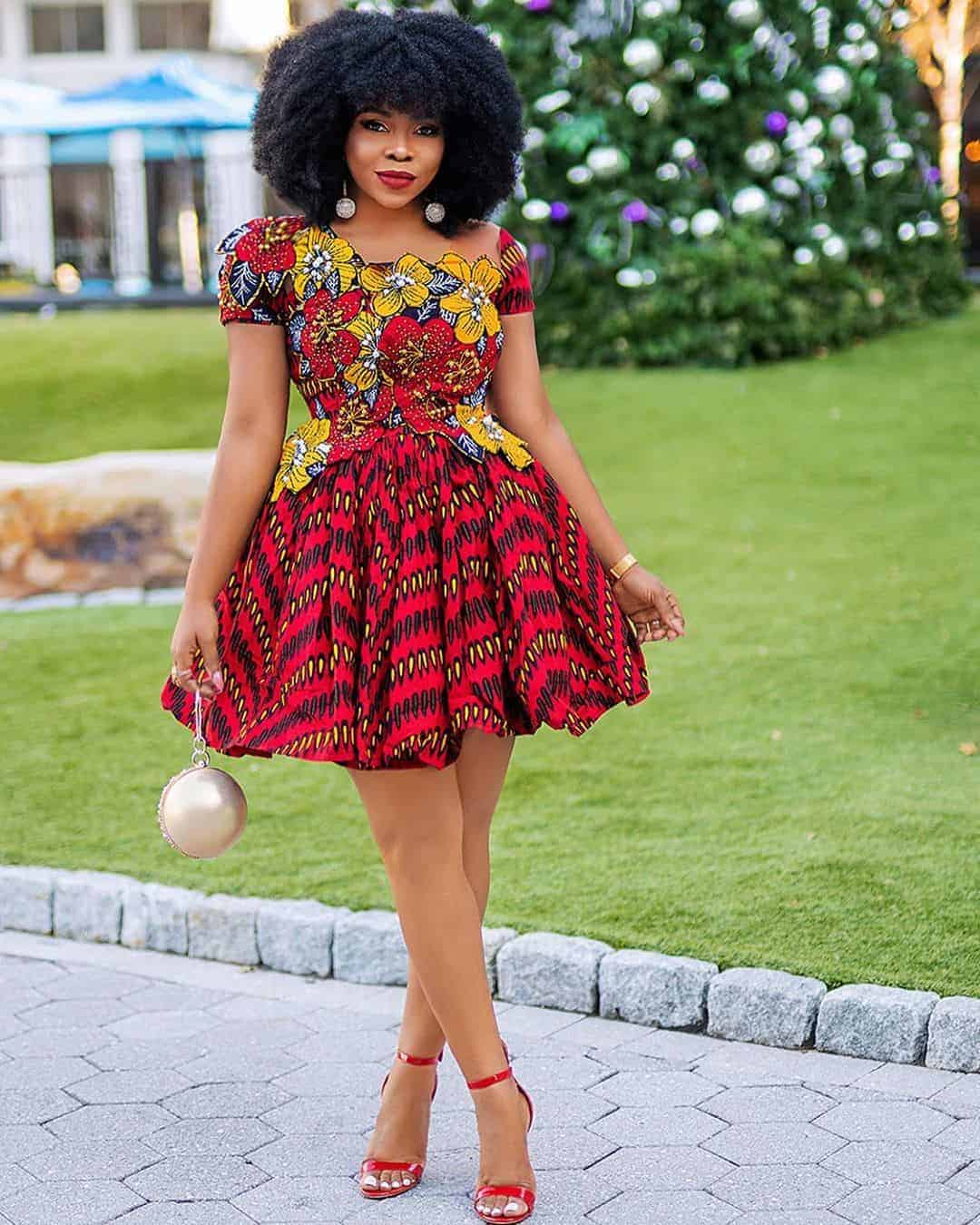 This is one beautiful micro gown every lady should have tuck somewhere in their wardrobe, perfect for a simple wedding.
13. Empire Gown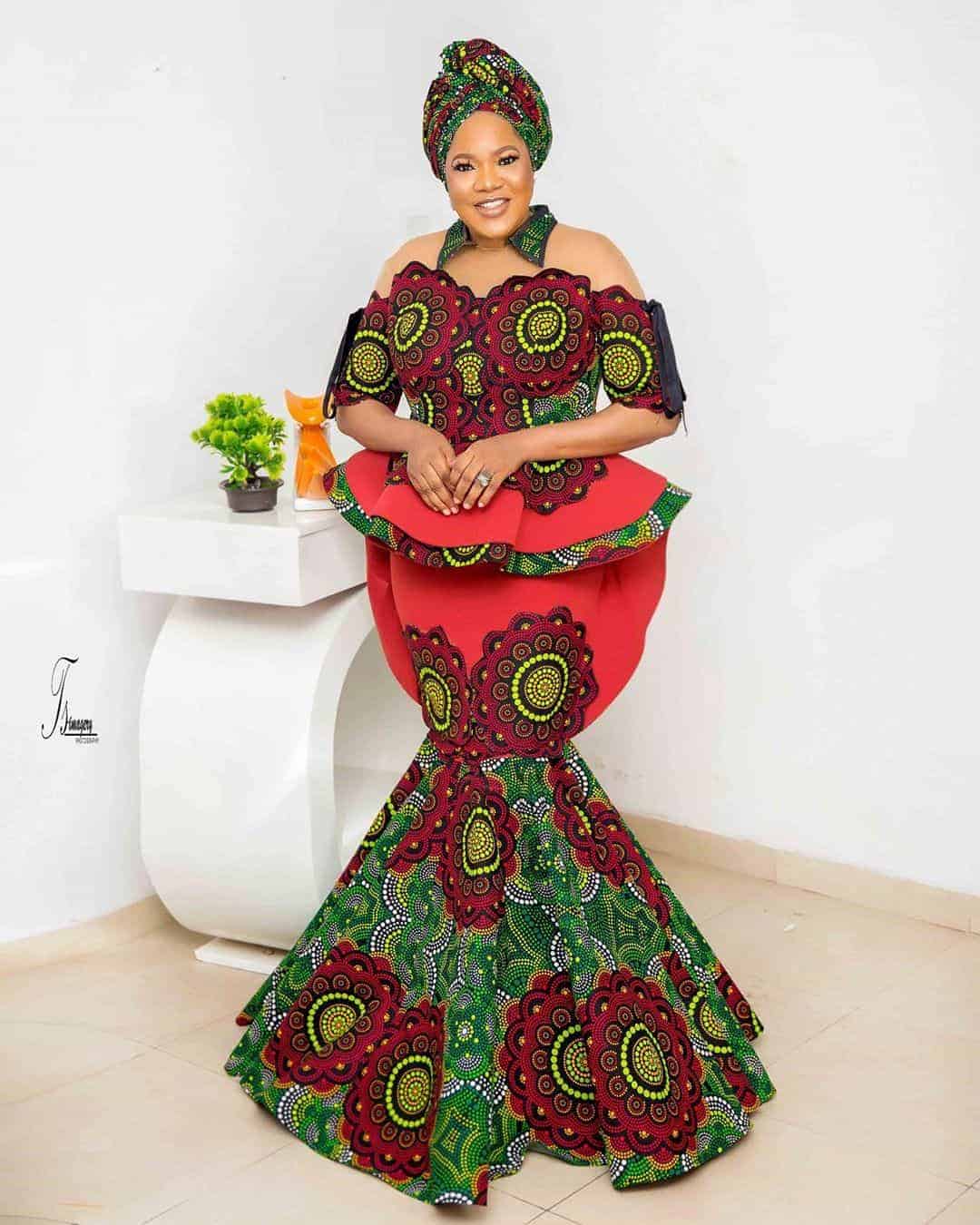 Toyin Abraham is an actress with an A fashion game, she has impeccable taste in styles, keeps it classy and trendy, we definitely love the empire recreation style.
14. Two-Piece Flare Gown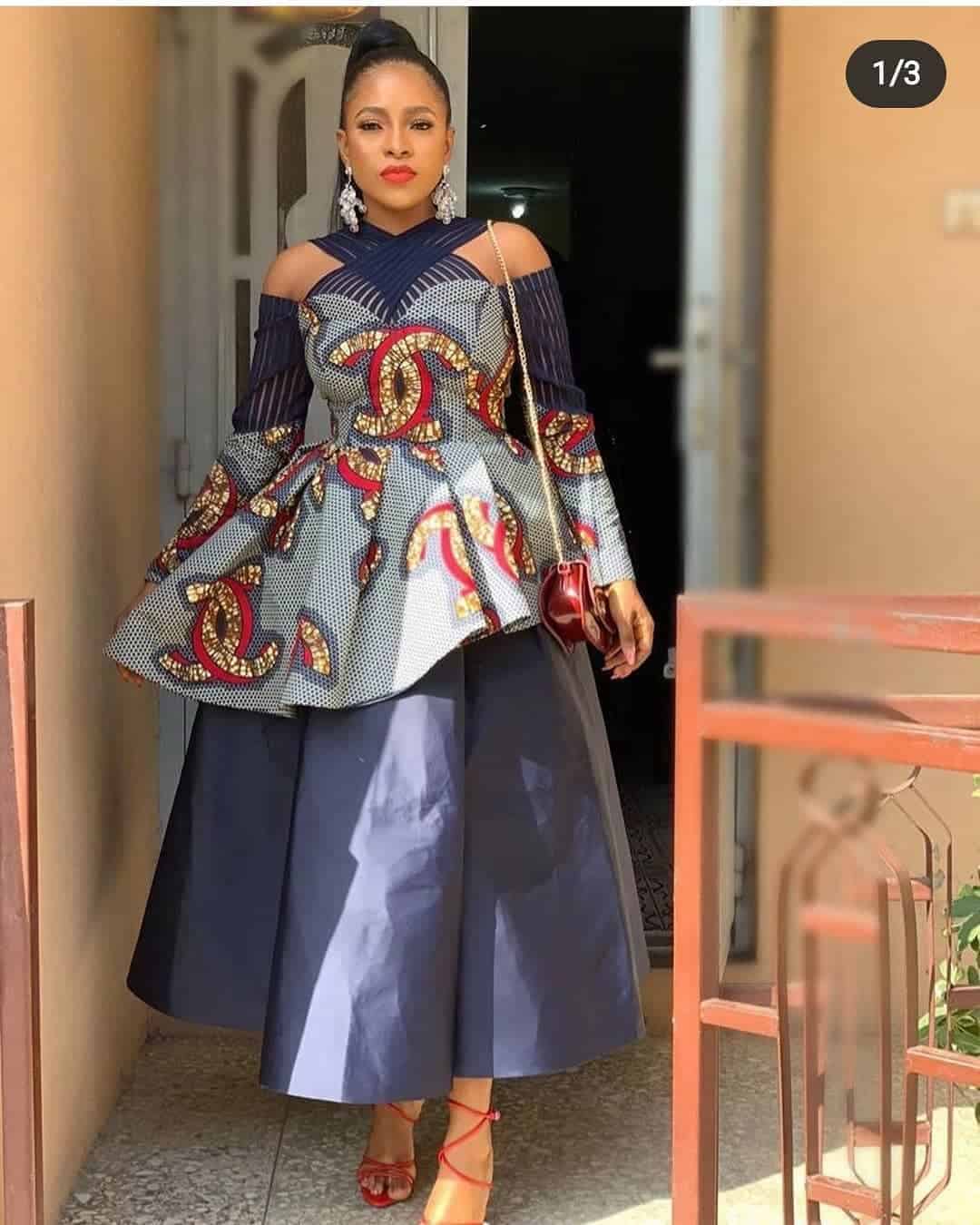 Keep your Ankara game on a top-notch with this exquisite style, seems to be in the trend of late and we must say the look is wowing and cool.
15. Off Shoulder Mini Gown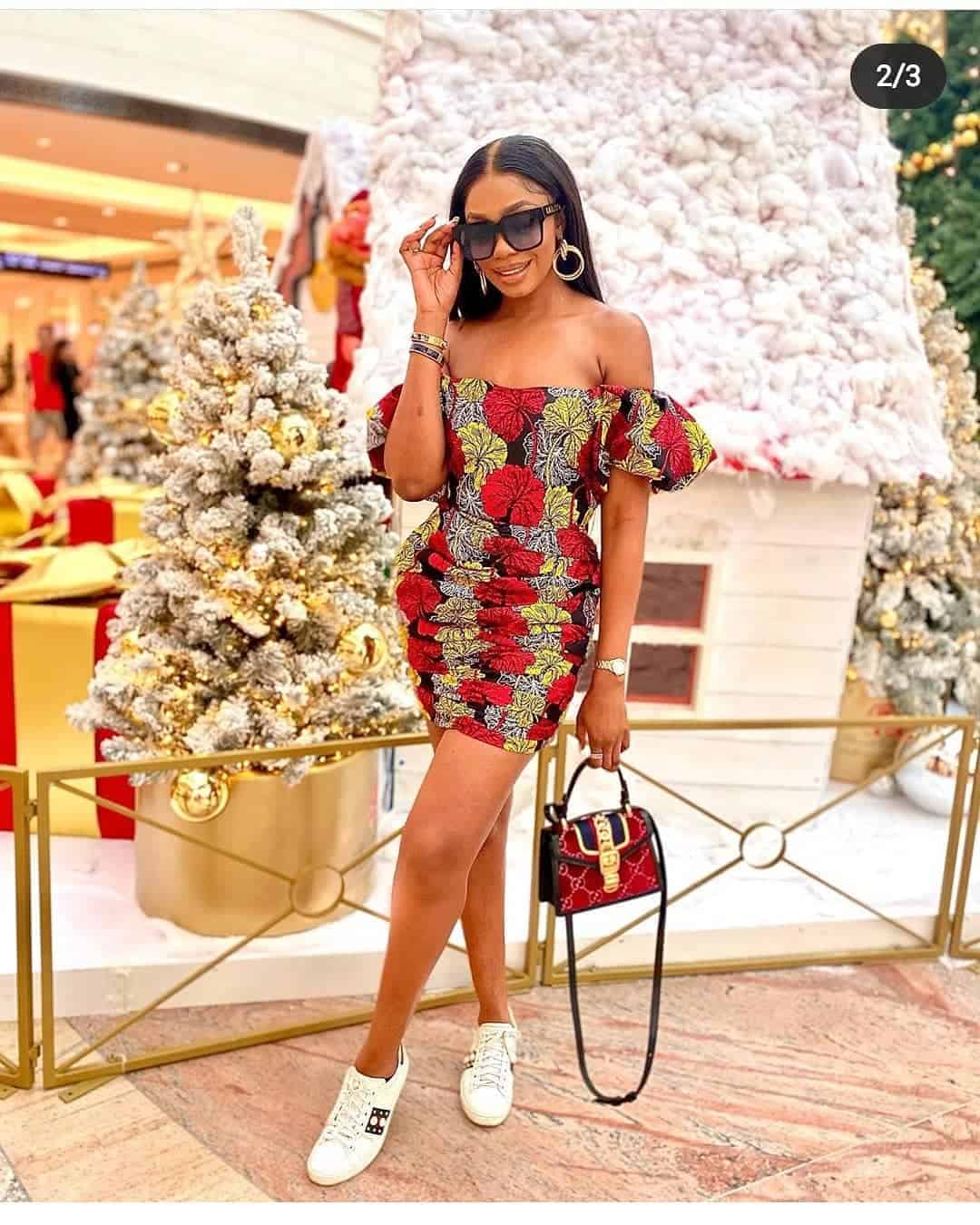 Here is the most comfortable wedding outfit you do not want to miss rocking, we love how simple and comfortable it looks, perfect with sneakers or heels to boot.
16. Open Back Crossed Front Vneck Ankara Gown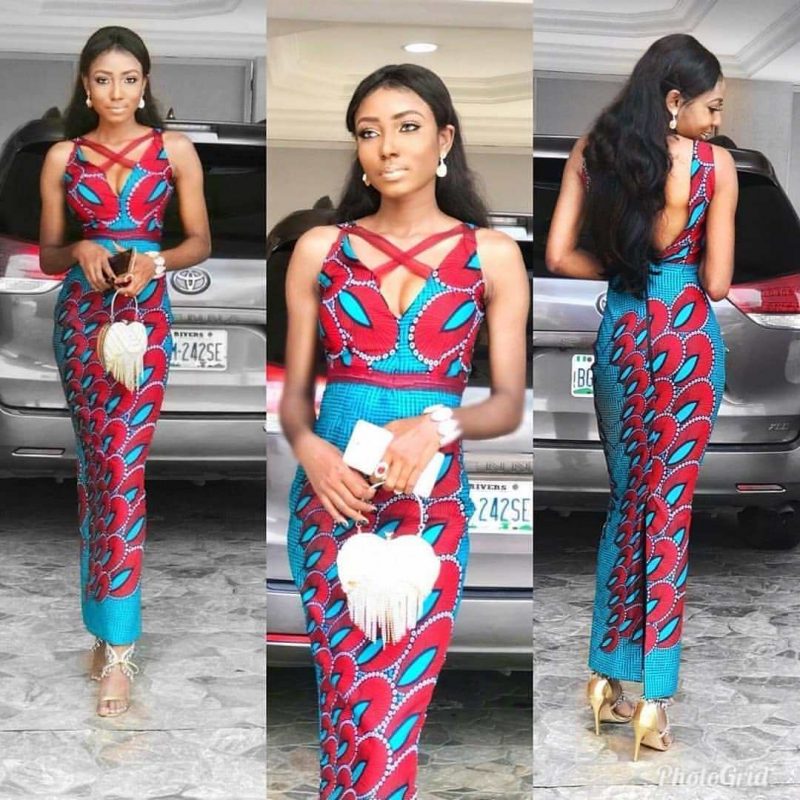 This crossed front open back Ankara gown is elegance at its peak, the sleek frock adds some glam to it and you can be sure to get the best-dressed guest at a wedding with a style like this.
17. Butterfly Sleeve Mini Ankara Gown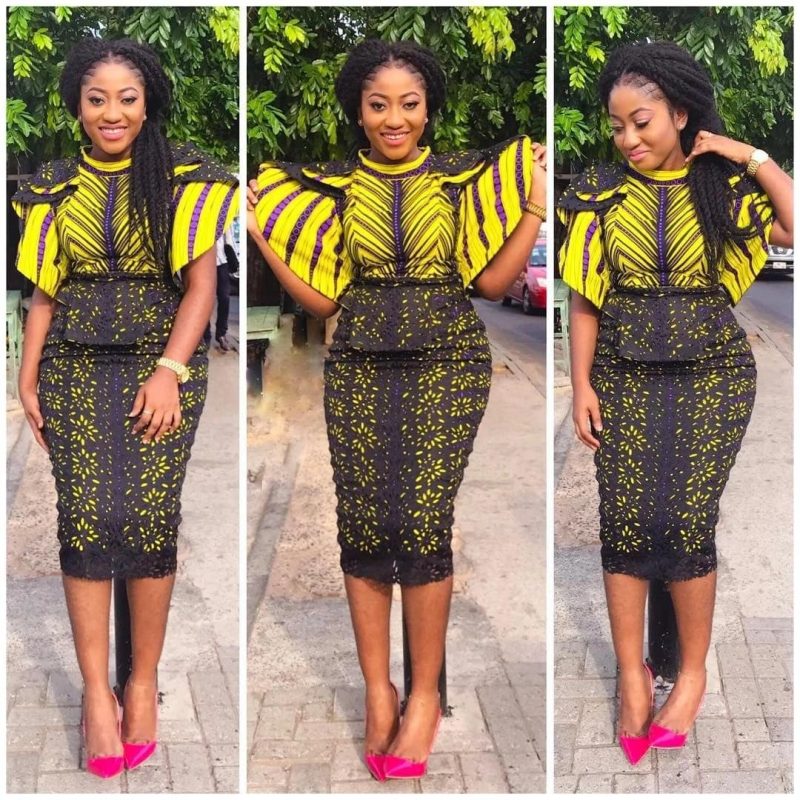 This butterfly sleeve mini Ankara gown is a go-to dress for weddings it's stress-free beautiful and classy, you can easily add your own style.
18. Laced Up Ankara Patterned Gown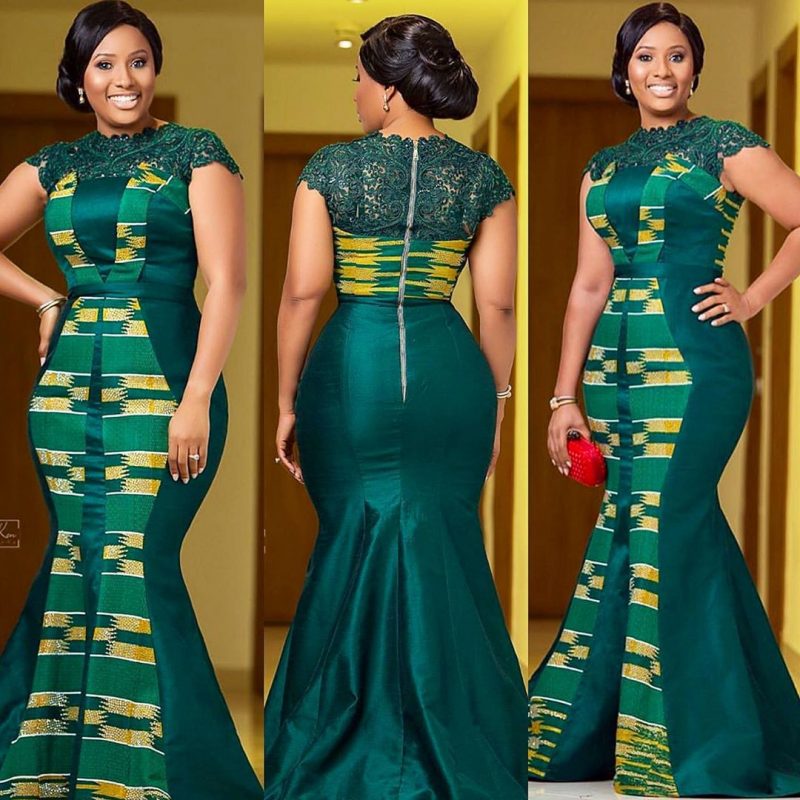 This is a four in one kind of dress simple, classy, elegant, and sassy but also it depends on how it is been rocked maybe with a gele to spice it up and change the look.
19. One-Handed Six Pieces Gown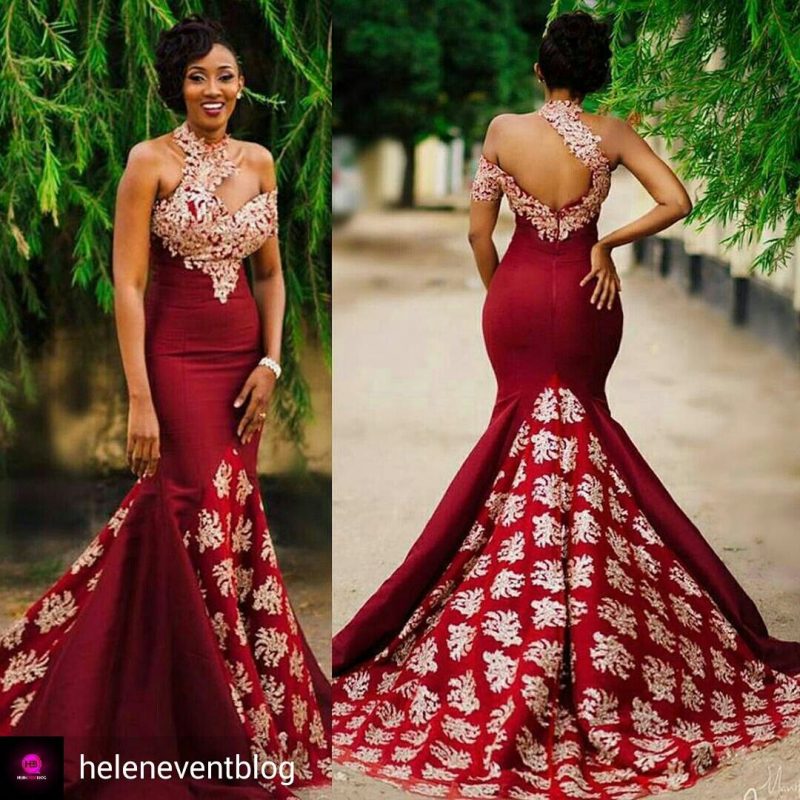 Attend a wedding in this jaw-dropping one-handed six pieces gown and trust me to be the talk of the party, this is nothing but gorgeous.
20. Offshoulder V.Back ThreeQuarter Gown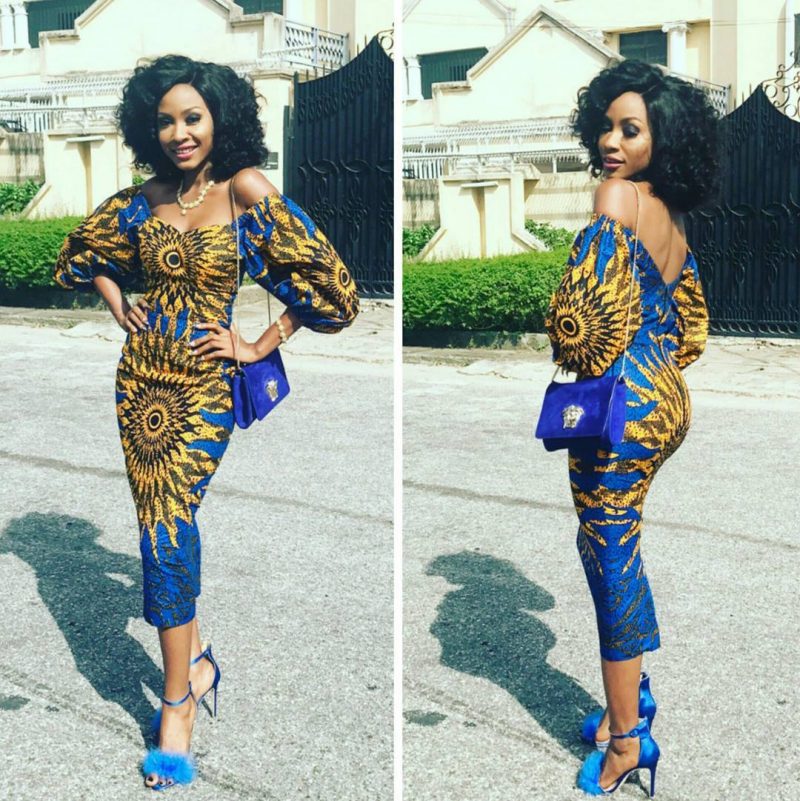 This V. back off-shoulder three-quarter gown is very simple and elegant super classy in its own way, the best thing about this elegant Ankara style is that no matter how you rock it, with or without gele it still makes a statement.
21. Off Shoulder Gown With Tied Sleeves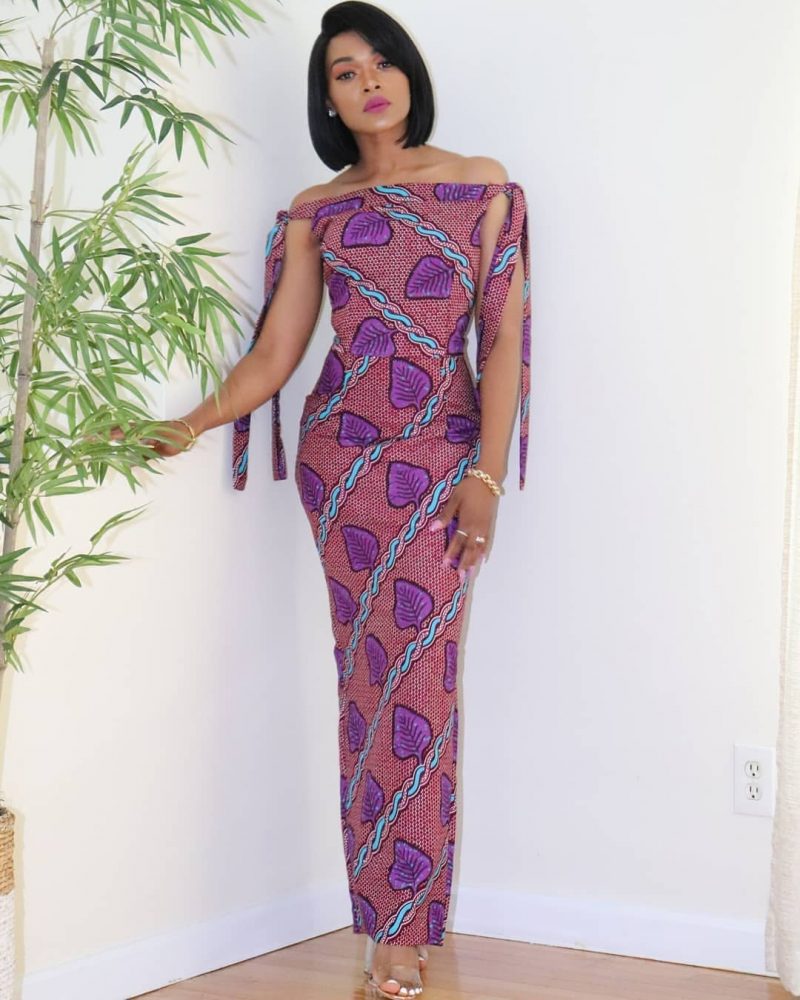 Here is a simple elegant gown that won't make you look too little or too much, just the right dose of beautiful which makes it perfect for a simple wedding outfit.
22. Short Tub Ball Gown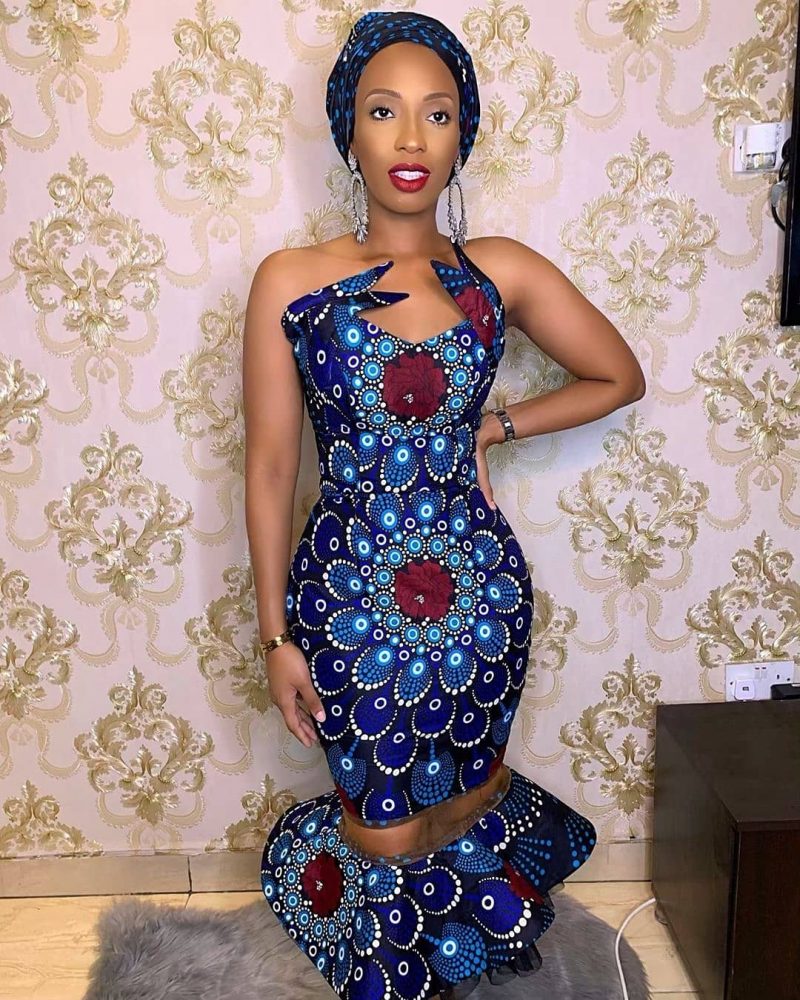 The design is like a ball gown and a mermaid design intertwined, makes it even more adorable and easy for your tailor to recreate it.
23. Stylish Fulani Ankara Style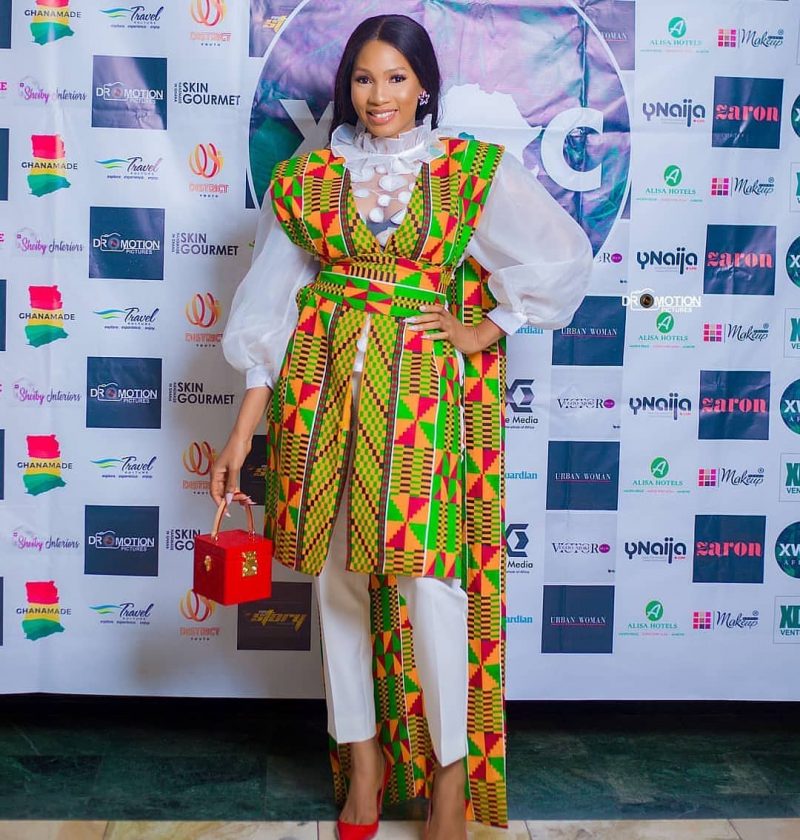 A perfect qualification could not be found for this Ankara style, we can only say it's adorable and suit if you want to stand out in a beautiful best-dressed wedding guest style, this is a style that is also very comfortable if you plan to hit the dance floor.
24. Iyabo Ojo In Pattern Ankara With Lace Designs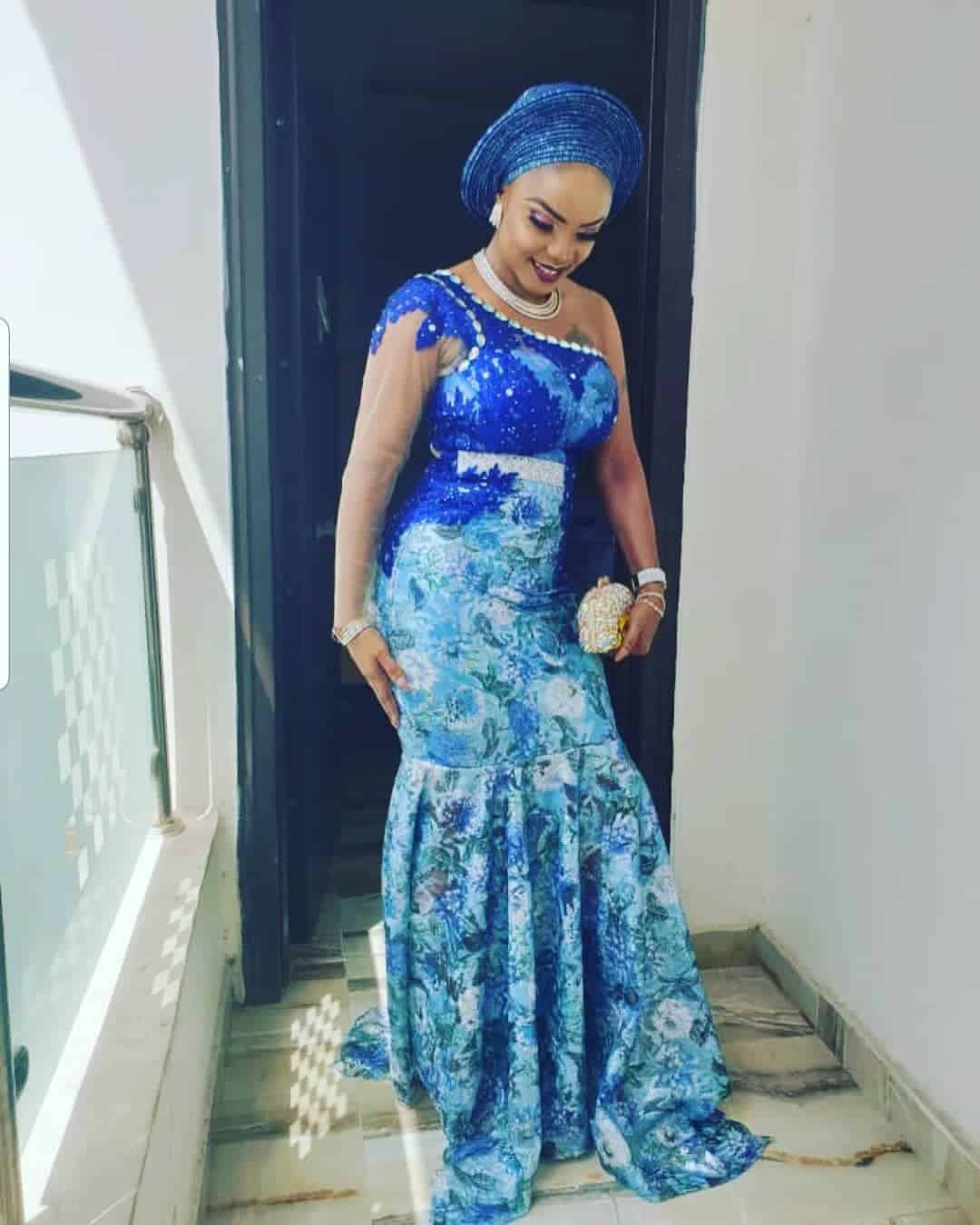 Iyabo Ojo is well recognized as a fashion icon and we can say that this style of hers proved the point, very trendy for the right party. Using lace as the front petals design makes it look very fascinating and might be difficult to tell if it's Ankara.
25. Bottom Slide Wavy Gown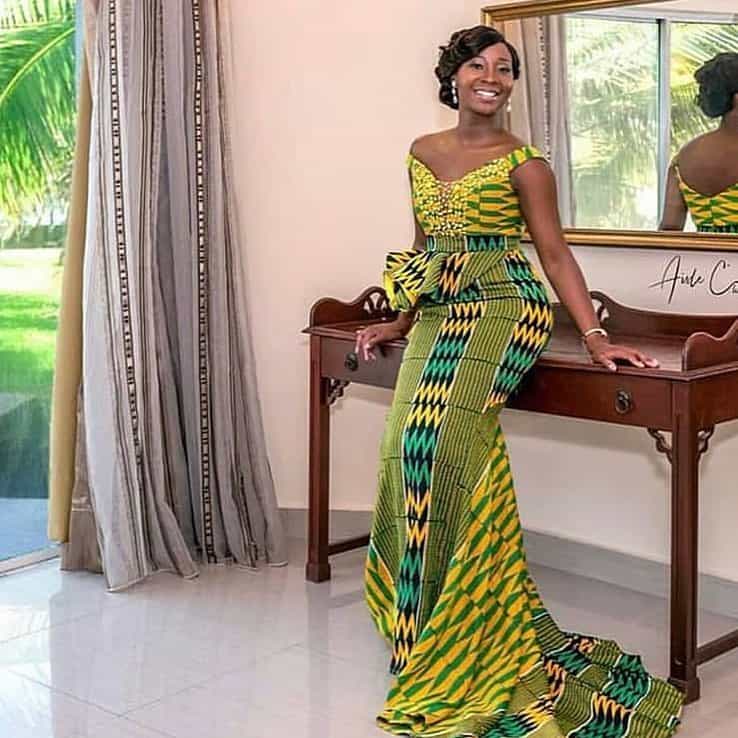 Who doesn't like a long wavy gown especially when it is not looking too revealing and shabby, a very convenient outfit to opt for if you do not want to look too dramatic but beautiful.
26. Cross Strap Skirt And Blouse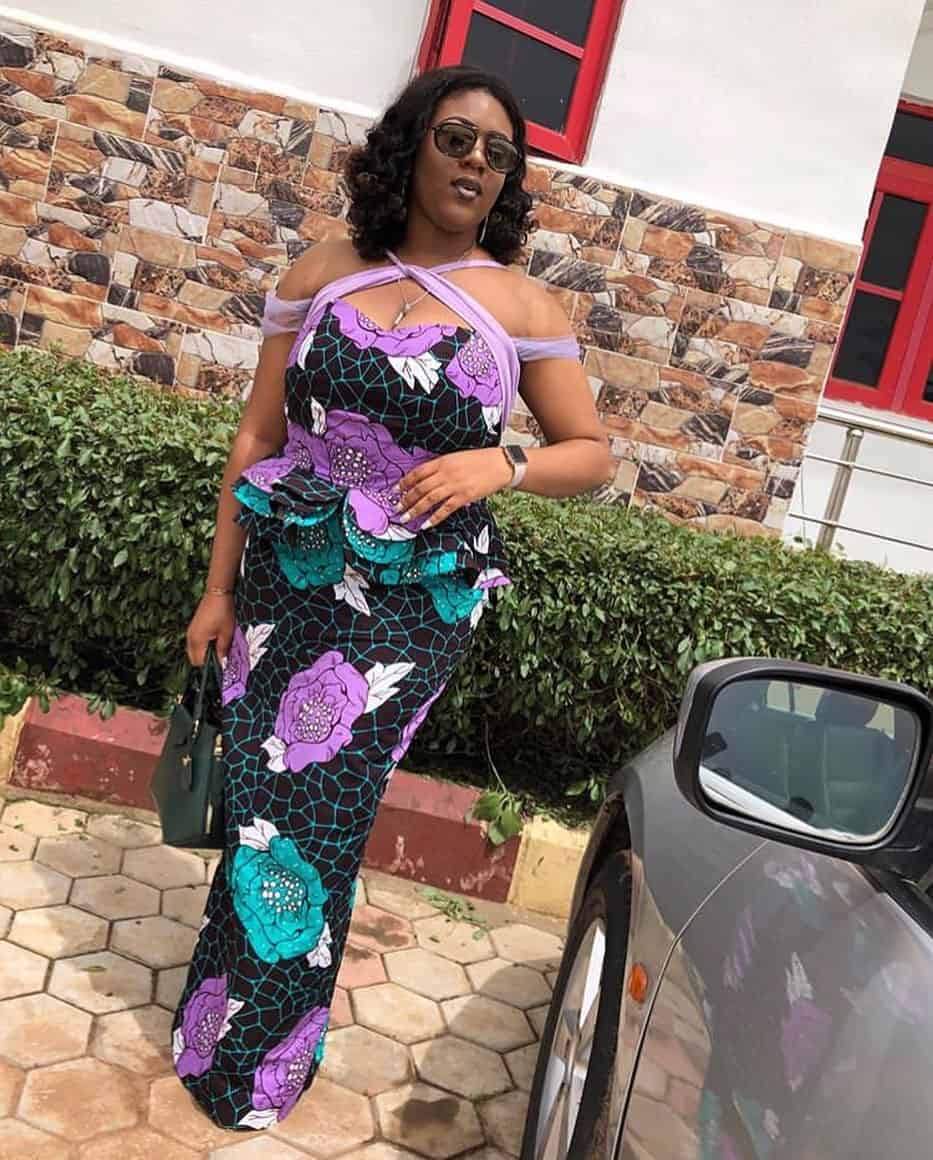 This style would be a really good fit if you do not want a style that will take your tailor a very long time to sew, it is easy to understand and in the place of the cross straps, you can have a normal long or short sleeve fixed.
27. Jumpsuit With A Flap Cape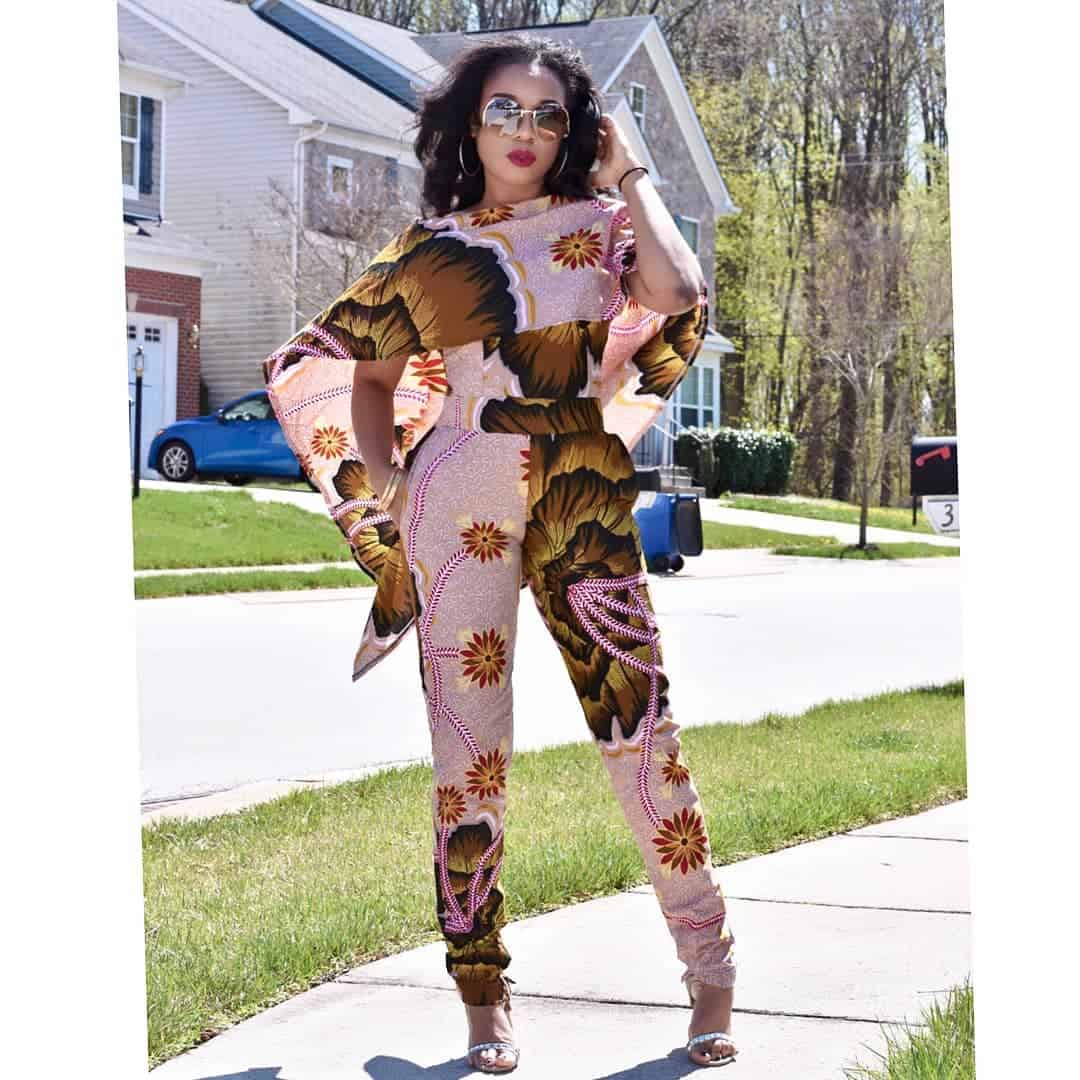 This is worth loving, a style that speaks class and trend, an obvious standout. Very comfortable to dance with too.
28. Off Shoulder With Edge Designs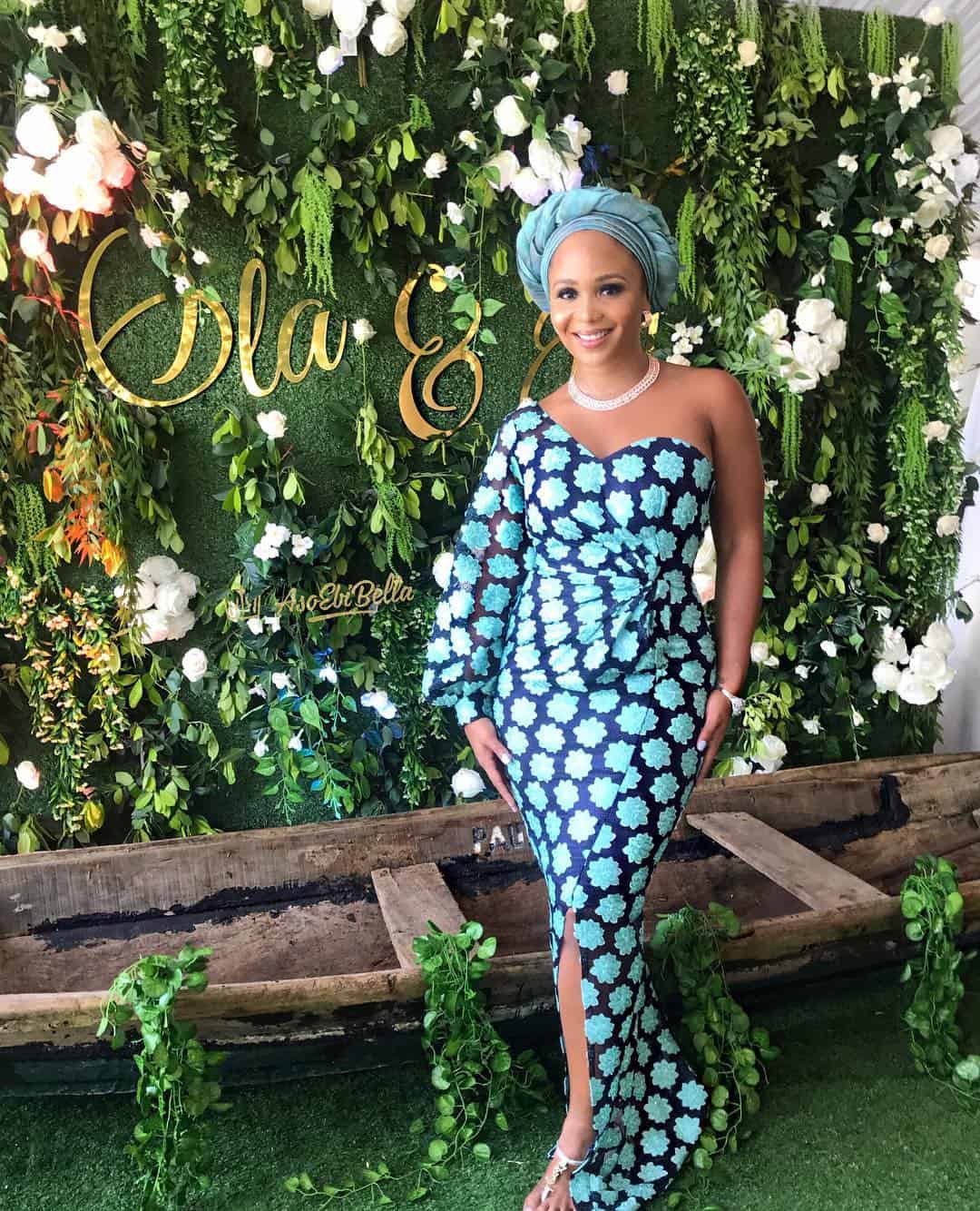 We are totally rooting for those designs at the edge of the gown, different from the usual styles, a more fashionable and easy to wear off-shoulder too. This has to be one of the finest on our list of Ankara styles for wedding.
29. Alter neck Ankara Straight Gown
Alter necks are not always uncomfortable especially if done the right way like the one above, simple and classy. Nothing too dramatic but still splendid.
30. Chic Split Ankara Style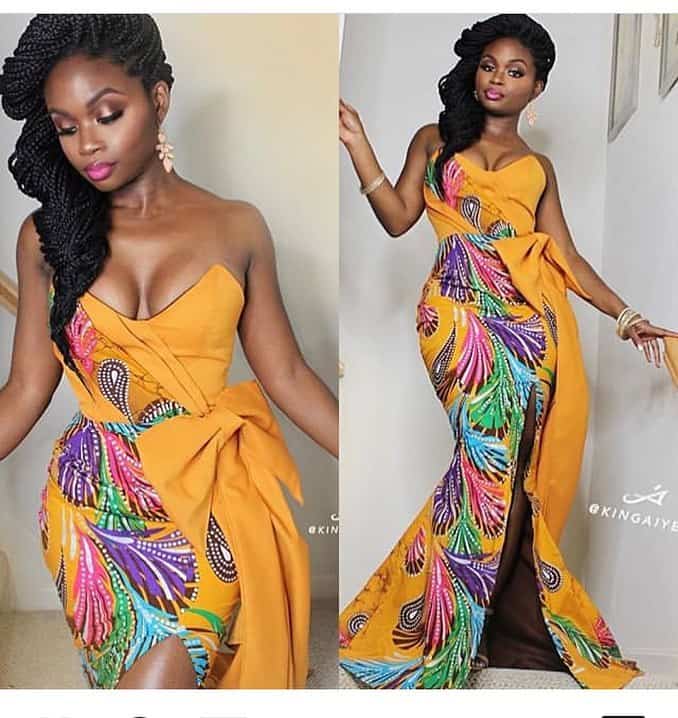 Can't say no to this style especially if you do not mind something spontaneous and charming. This style will surely be making a wave for a long time.
31. English Pattern With Ankara
Often times we are confused about what style to sew if you do not have enough of the Ankara to make a complete bodice, hence this style, it is unique and an obvious stand out at a party.
32. Low Bodice With Flip Layers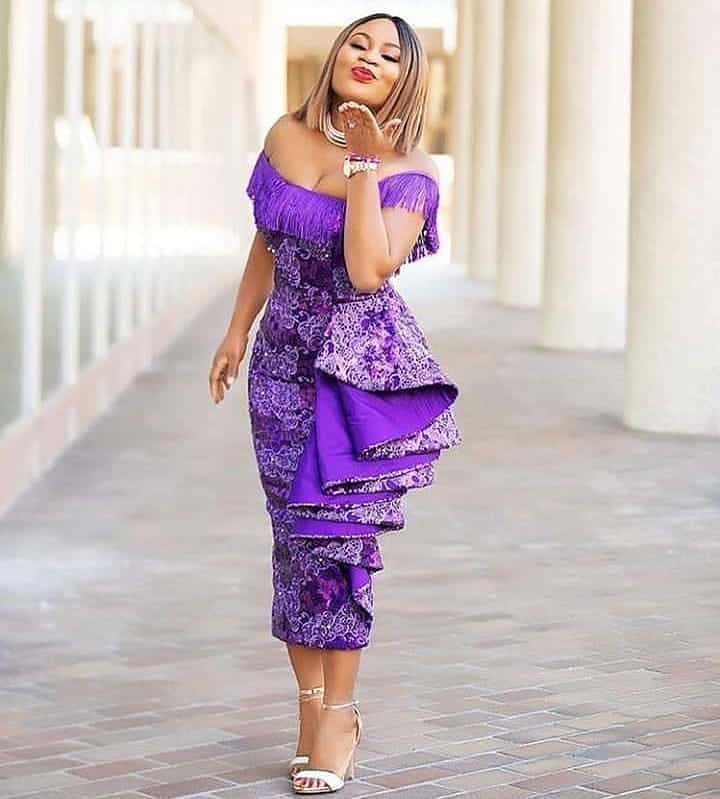 We have not decided if it's the low bodice we find really fascinating or the flip layers but you must agree with us that there is something exotic about this style. An ideal style if you like your style with less drama and more glamour.
33. Ankara Gown With An Exposed Sleeves And A Brim Hat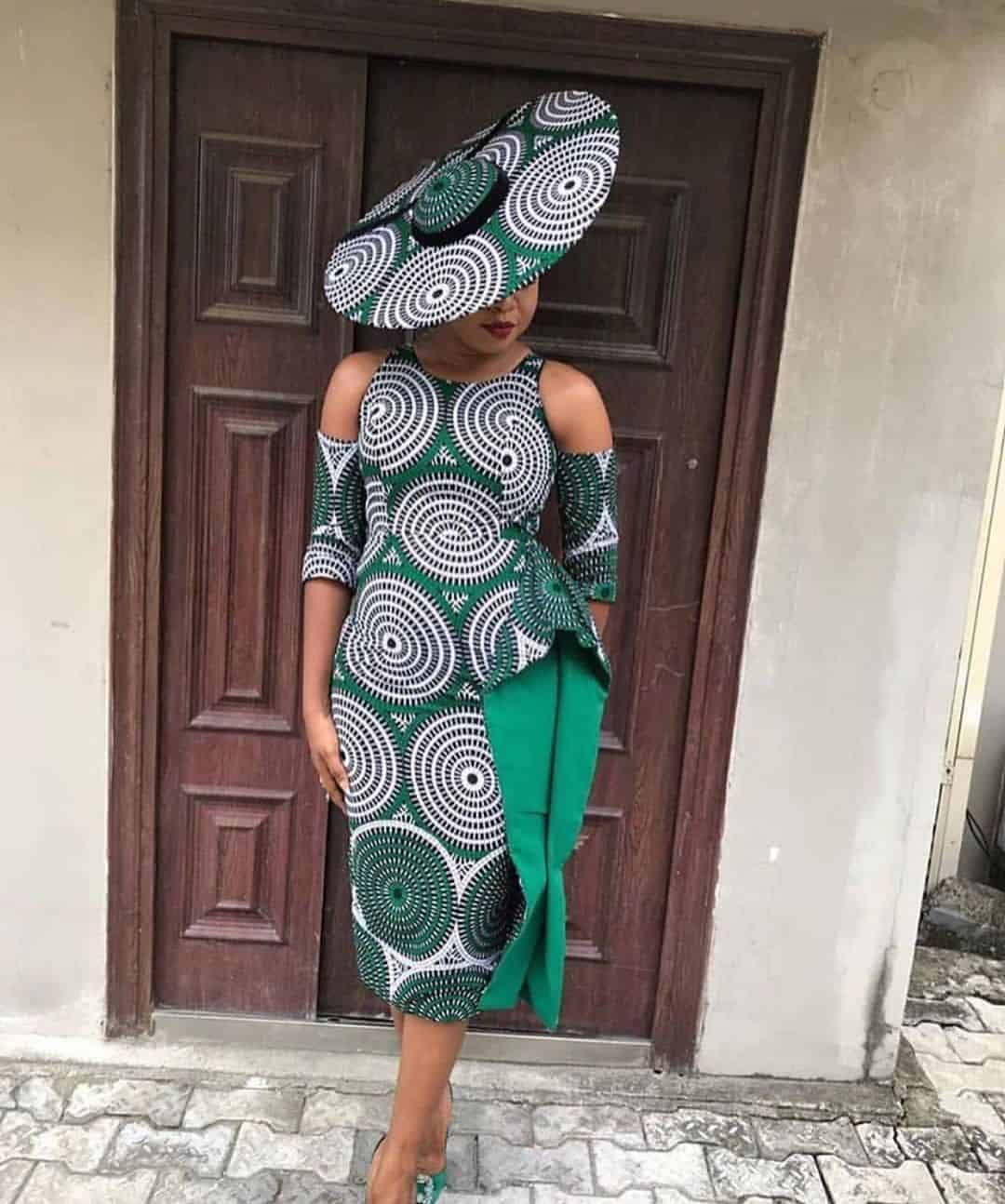 This should be referred to as the England style because of the hat, if you are not into hats, scrap it and the style will still be fantastic.
34. African Ankara Style With Fringe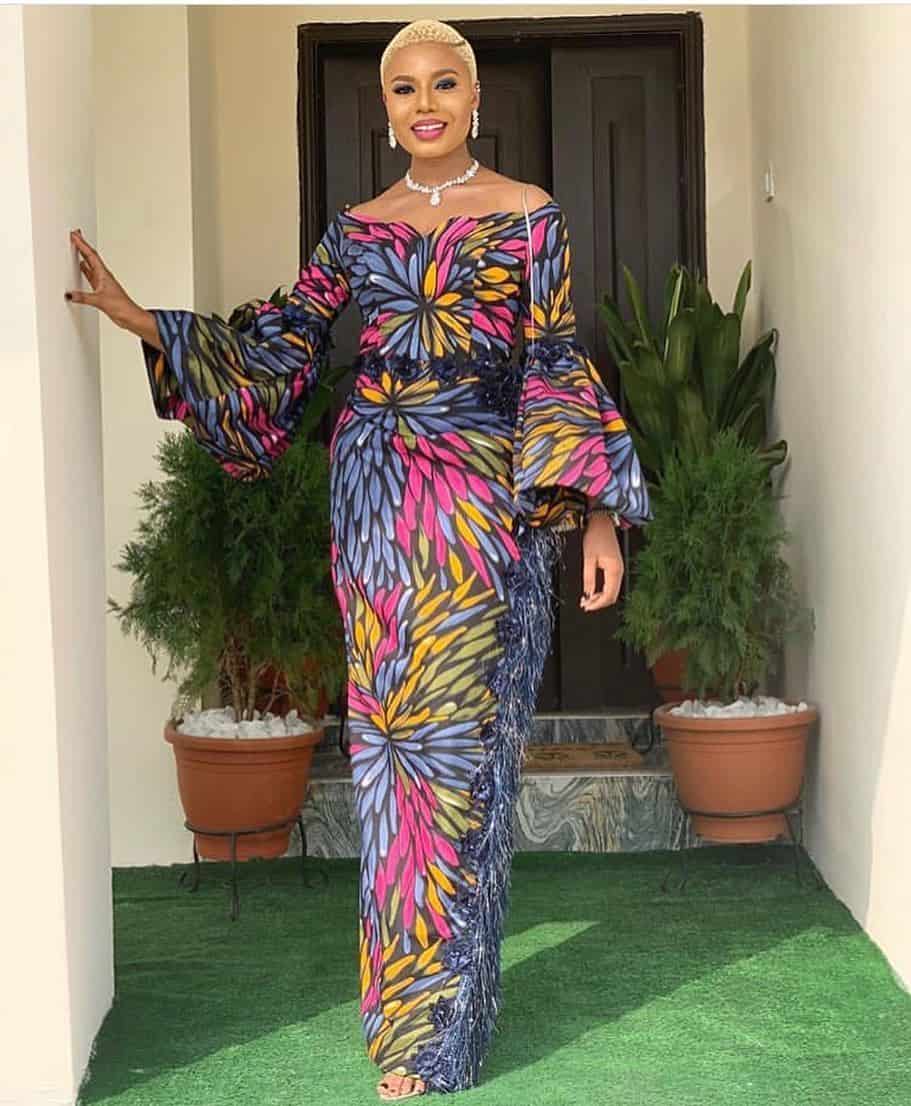 When this style is critically analyzed, you will realize the simplicity of it is amazing, a true African style with less drama and comfortable enough to stun a party with.
35. Cross Body Ankara Gown Style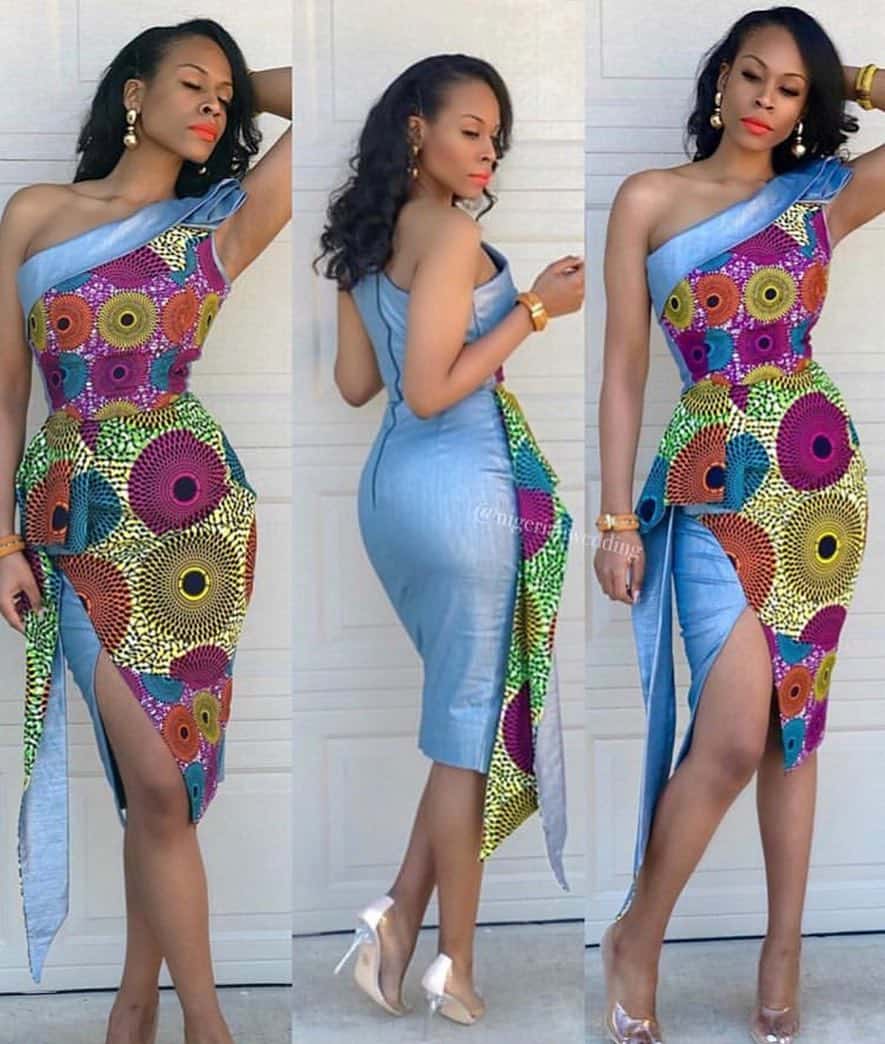 If you are contemplating on what to make of pieces of Ankara that can't be used a full bodice or did you share the Ankara with friends and you need a style that stands out, you should not hesitate to take a second look at this style.
36. Ankara Style With Ribbon Design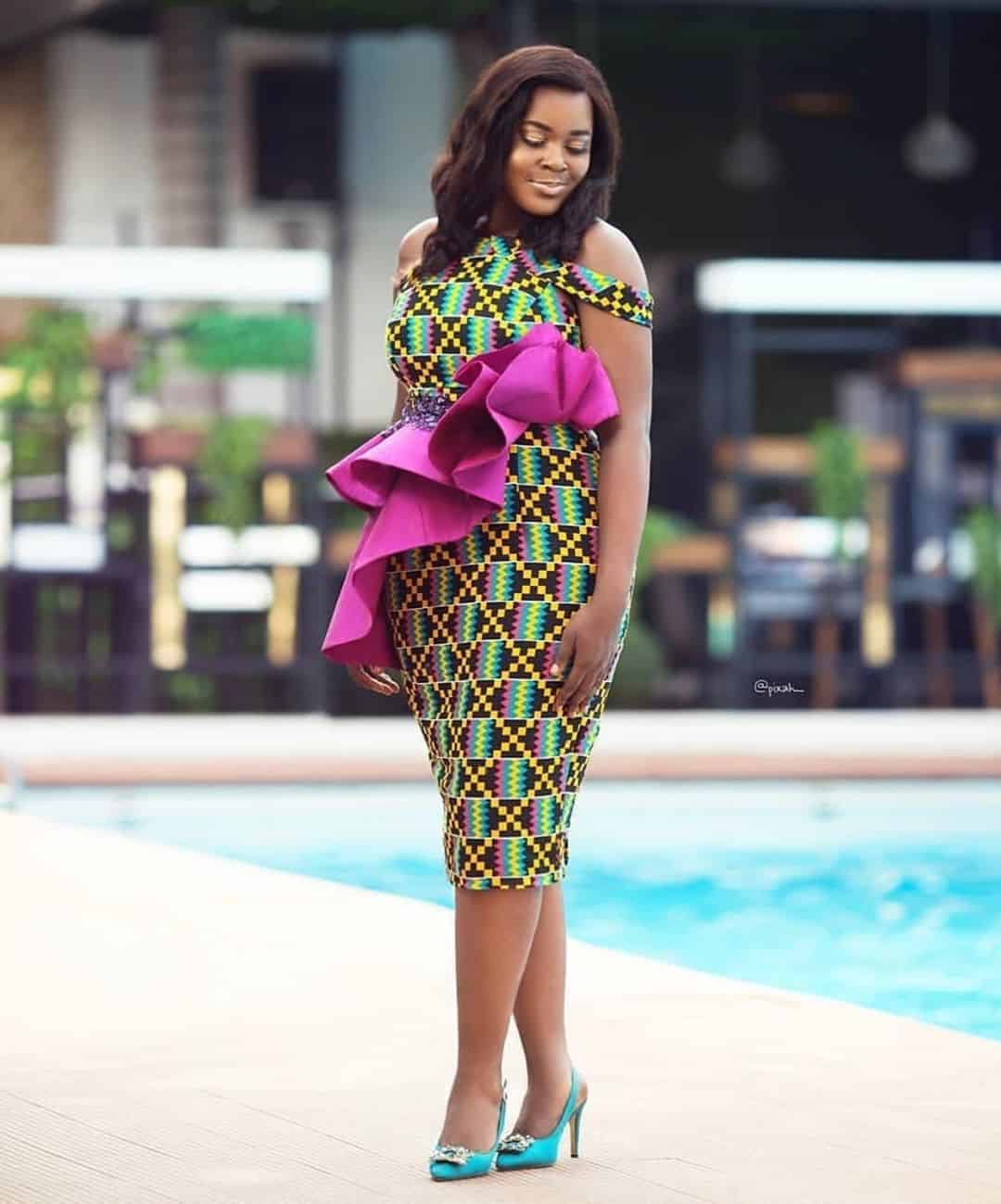 Some styles just do not require much stress or overthinking it and still turns out really amazing, this is one of those styles we are talking about.
37. Ankara Skirt And Blouse With Designs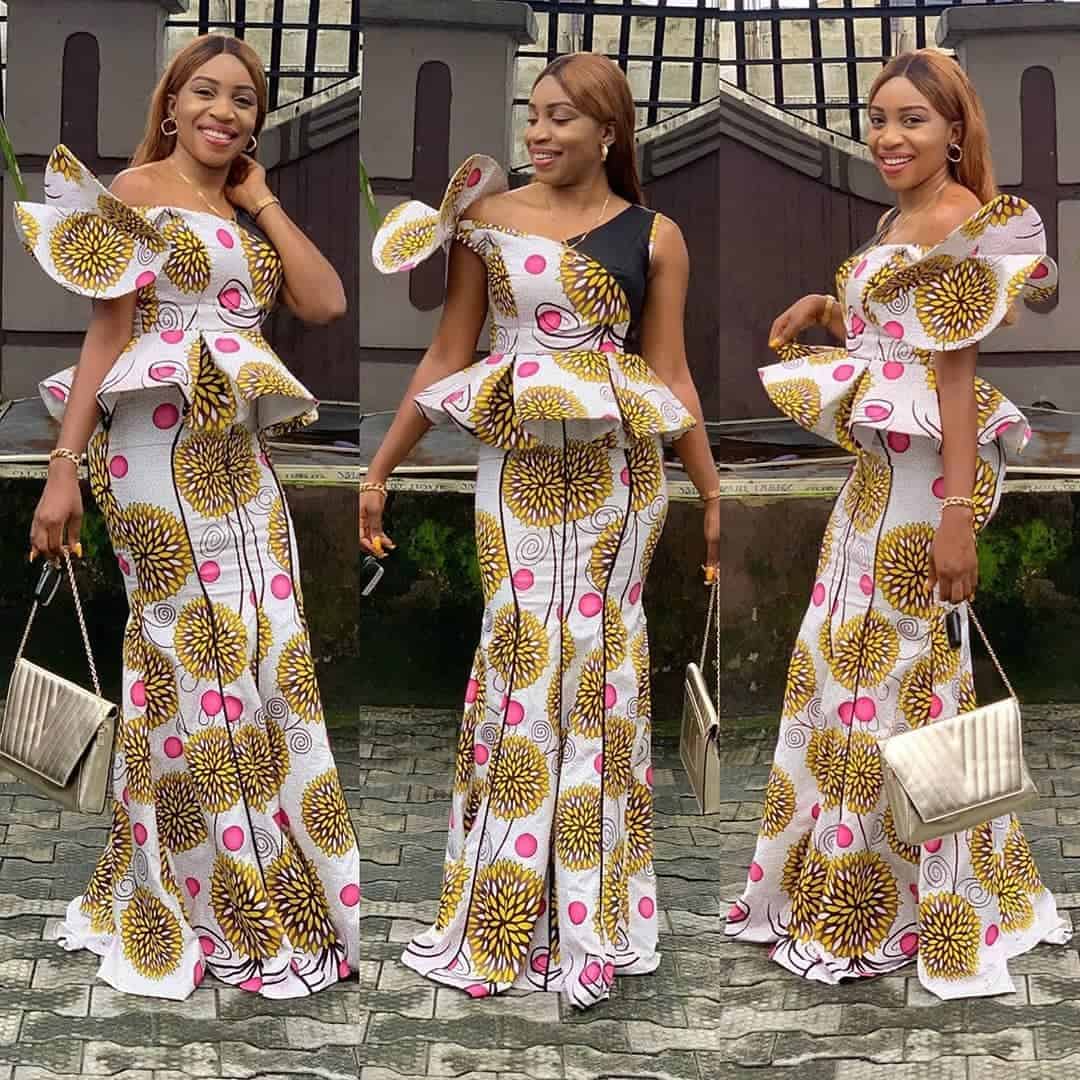 An interesting style for a party, for skirt and blouse fans, here is a style that can lit up the mood at an occasion because the compliments won't stop rolling in.
38. Ankara Style Long Sleeves And Fringes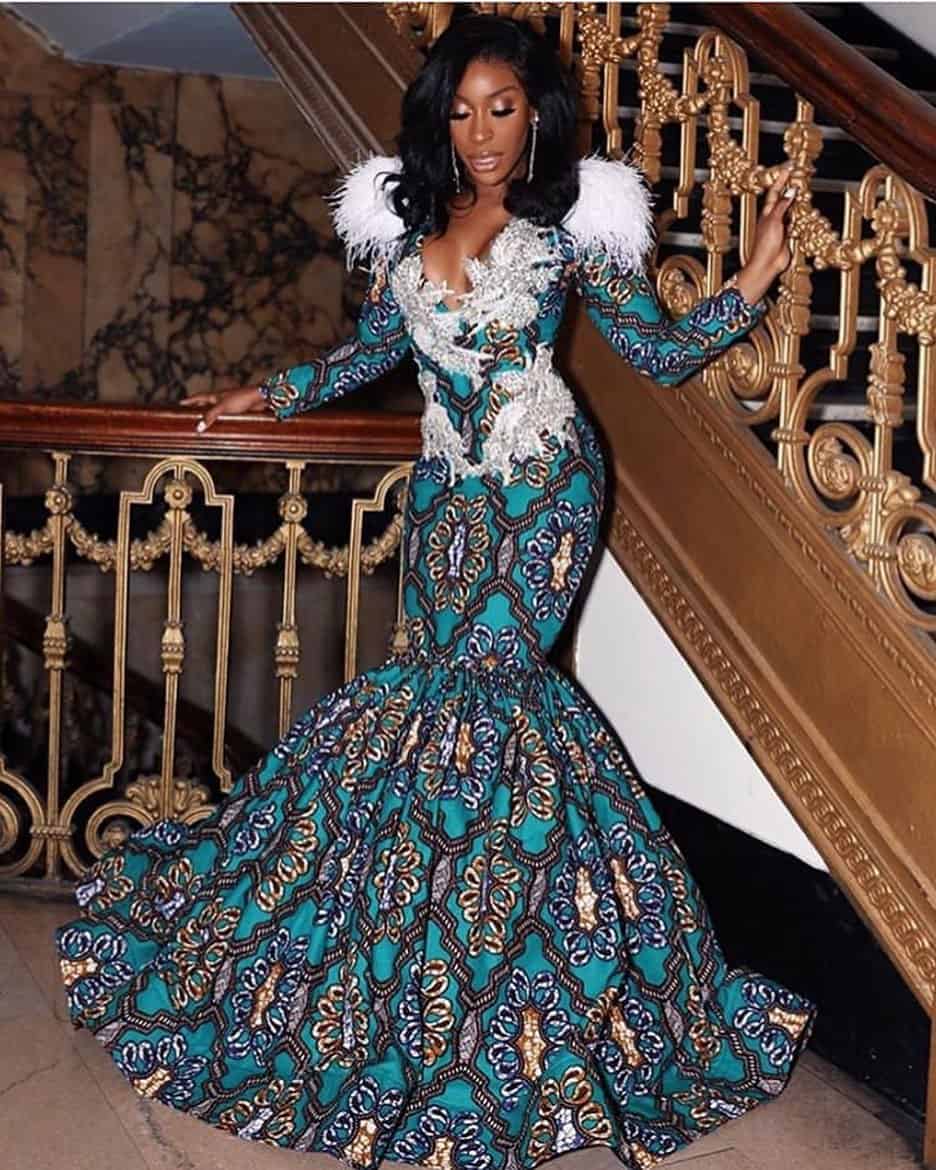 This is simply beautiful and if you d not mind long and flowing gowns, this is just the right style to stun any party. A unique style, the style does all the talking and all you need is the right tailor to sew this.
39. V-necked Gown With Layer Sleeves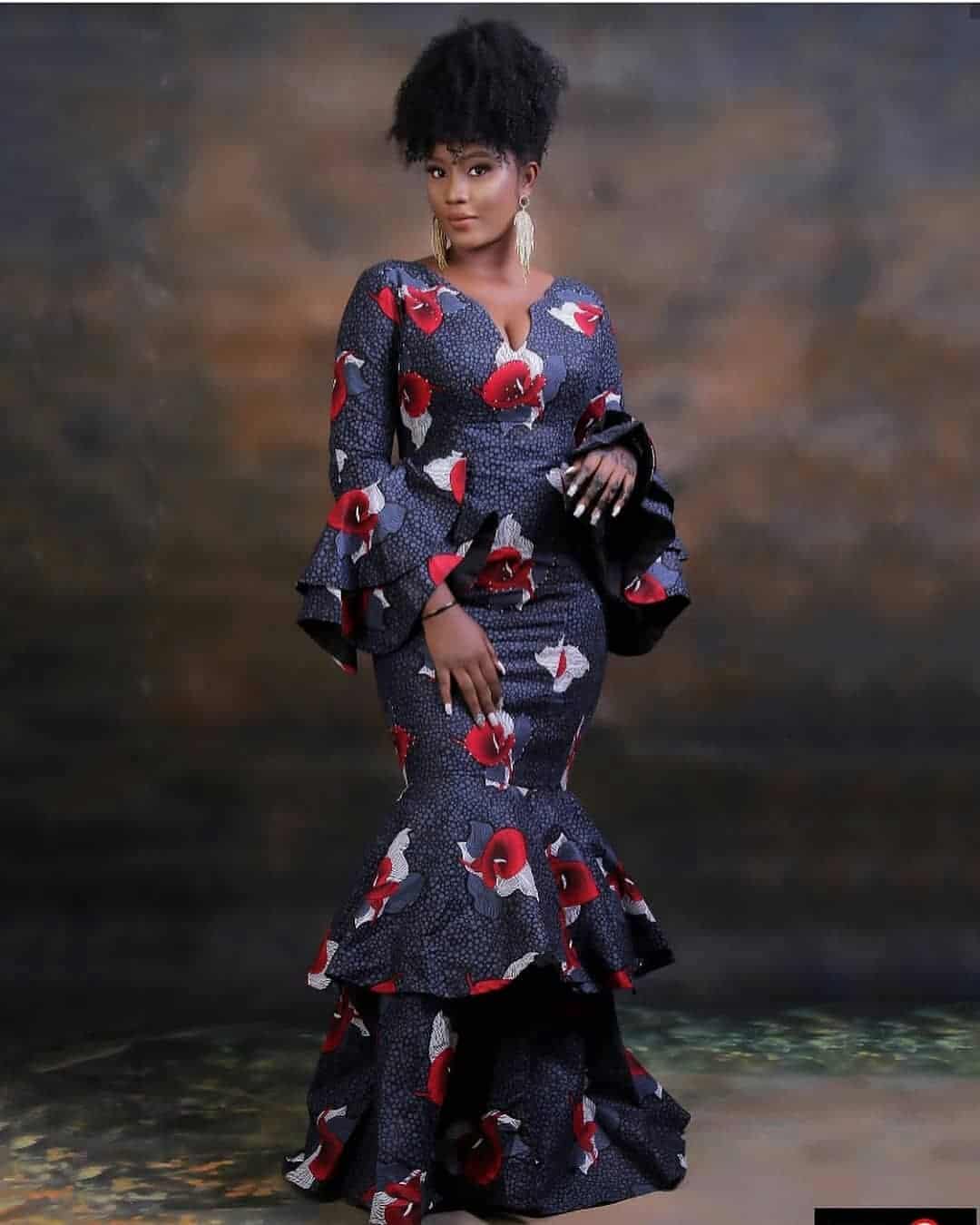 A little twitch in the sleeves and the bottom might be all you need to make your style different, this is one of the latest styles that gathered lots of attention on Instagram and we are guessing you can't wait to show your tailor.
40. Long Ankara Gown With Bell Sleeves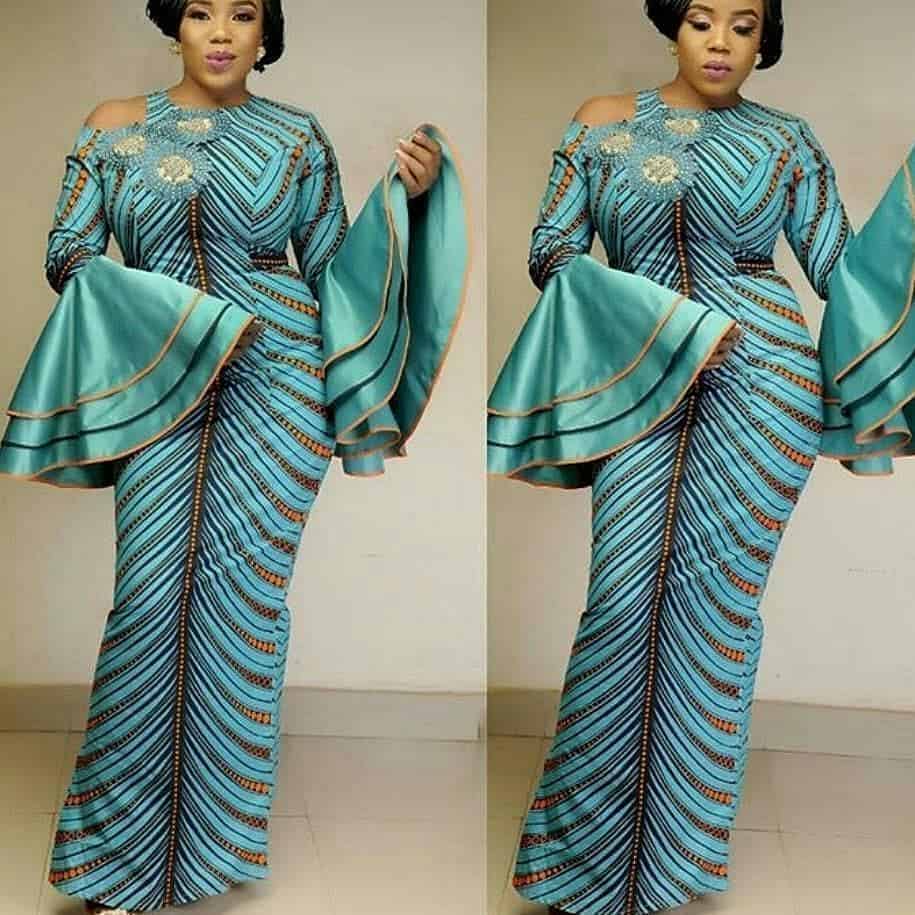 Bell sleeves are becoming more fashionable and trendy these days and what better way to have them than with your Ankara material in a simple and loving style. Long gowns are even more respected at owambe and coupled with those bell sleeves, you will be the center of attention.
---
The best styles are the ones with fewer frills and designs, fancy but not dramatic. These are styles that you can wear to a high-class owambe party and have everyone talking about how fabulous your style is.
We are sure you have a favorite, let us know which is your favorite among these gorgeous Ankara styles. If you want more styles you'll love the ideas we've posted before.
Make sure to follow us on Instagram @thrivenaija