It's time for some African Jumpsuit, or otherwise, some beautiful Ankara jumpsuit styles 2021 loved 🙂
Every woman loves Fashion and especially when you can make it simple yet classy. Explore Ankara's designs to the fullest ladies. What can go wrong with a well-tailored Ankara jumpsuit, It's is a classy and convenient one-piece outfit.
Ankara jumpsuit can go for any look you want, either professional, casual, or that cocktail party you have this weekend. Show them what's trending with this list of the latest Ankara jumpsuit pictures in 2021.
See also:
Let's get your jaw dropping with this latest gorgeous Ankara jumpsuits.
1. Fashionable Ankara Jumpsuit
A simple but fashionable Ankara style has a unique way of flattering any figure and shape. It's a really glamorous style that you can't help but love and we do understand why it's now one of the trendiest Ankara jumpsuit styles in 2021.
2. Ankara Pallazo Jumpsuit
Palazzo jumpsuit is currently in trend and we are sure this is due to how comfortable it can. It is important to be comfortable no matter what you wear and this is exactly what this palazzo Ankara style above has done. It is not just comfortable and in trend but there are also lots of fascinating ways you can get it styled.
3. Chic Ankara Style
Keep it stunning and ideal for fancy occasions.
4. One Hand Ankara Jumpsuit Short
The one-hand sleeveless jumpsuit is another exciting Ankara jumpsuit style we are completely in love with.
5. Ankara Palazzo Pantsuit With Sleeveless Strap
A lot of ladies love their Ankara style simple and classy and this is just the perfect style;e we recommend for you. This jumpsuit is not just simple but great for all occasions.
6. Simple Jumpsuit With Puffy Sleeves
This is a beautiful jumpsuit for practically any occasion, this is not just classy but convenient as well and this has been in trend for quite a while and has continued to be so due to how comfortable and simple it is.
7. One Piece Jumpsuit With Flappy Sleeve
Chicama is a fashionista with an incredible taste in styles, this jumpsuit is just what you need in your closet, for casual or elaborate owambe, it is also great for the weekend at the office.
8. Jumpsuit With Short Sleeve And Net Frontline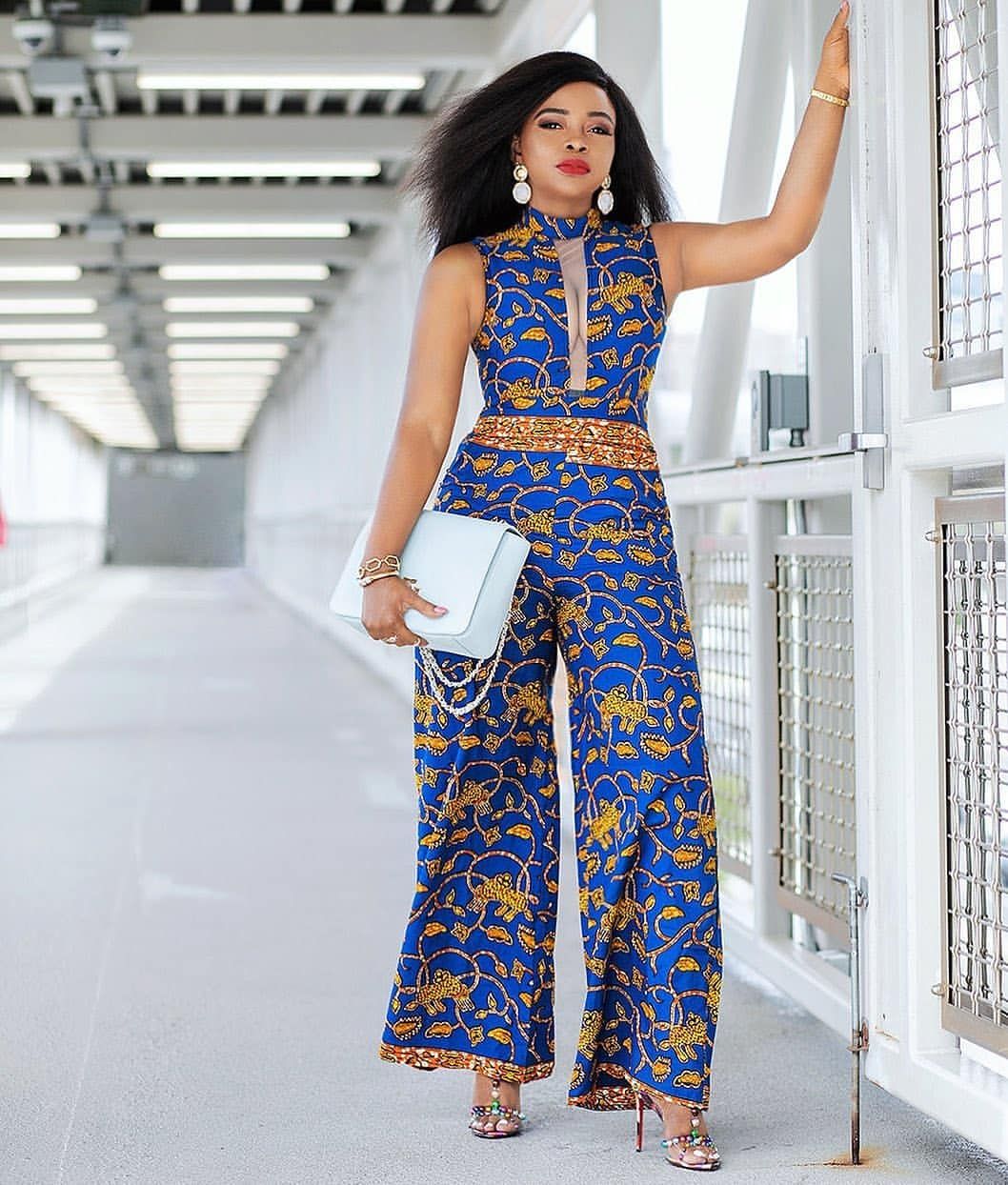 This is another beautiful Ankara jumpsuit style that is sure to garner attention at any event you rock it to, it is styled to look formal and sexy at the same time.
9. Off Shoulder Jumpsuit With Pocket And Belt
Off-shoulder style is one flawless design you can't help but love, it makes any outfit look effortless but beautiful and this is just the right kind of jumpsuit to style with off-shoulder.
10. Sleeveless Jumpsuit With Boogie Trouser
This is simply stunning and perfect for any kind of shape and figure.
11. Cute Jumpsuit With Cape
Another exciting jumpsuit style that is definitely going to stand out is this fancy style above, the cape does add some uniqueness to it.
12. Shirt Jumpsuit With Pockets
Keep your one-piece outfit simple and fancy with pockets, this is suitable for corporate outings.
13. Off Shoulder With V Neck
One of the interesting things about jumpsuits is how you can get creative with them and look fabulous rocking them, above is just another creative way to style a jumpsuit.
14. Utility Jumpsuit With Waist Belt
Utility jumpsuit is quite a common jumpsuit, it's stylish and comfortable.
15. Stylish Off Shoulder Jumpsuit
If you love it bold and sexy, here is a perfect style inspiration.
16. Bell Sleeve Jumpsuit With Bootcut
Another trendy jumpsuit style to have this 2020, quite an interesting combination of bell sleeves to match with a boot cut all in one piece.
17. Penciled Jumpsuit With Alter Neck
Keep drama out your jumpsuit with this simple style, just the right kind of jumpsuit you need to stand out at an elaborate party.
18. Wrap Around Jumpsuit
Another exotic jumpsuit style that requires less time for your tailor to recreate for you.
19. Classy Tub Palazzo Jumpsuit
This very classic Ankara jumpsuit is a must-have for every party rocker, it's convenient, simple, and classy with or without the gele adorned with it.
20. Bell Hand Off-Shoulder Jumpsuit
This is how you grace a wedding without making noise but instead, you make a statement. This elegant bell-hand jumpsuit is all you need to slay.
21. Bishop Neck Elegant Ankara Jumpsuit
This elegant bishop neck is a must-have for every classy chic coupled with headgear to add class and glamour to the look, you can easily pair it with heels or nice sneakers to complete the look.
22. Simple Palazzo jumpsuit
This simple very free and convenient Ankara palazzo jumpsuit can be rocked to any event depending on how it's been worn and the event it's been worn too.
23. Offshoulder Lagbaja Jumpsuit
This bossy and stylish Ankara jumpsuit can be worn casually but when prepped with a nice pair of heels, you can wear it at all kinds of events.
24. Creative Wrap Ankara Jumpsuit
Every lady should have this jumpsuit tuck among important Ankara outfits, you can easily put on this one-piece style and have a great day with it, easy to dance in, and does adds some confidence to a ladies' look if we must say.
25. Juka Baggy Jumpsuit
Another simple style of jumpsuit you have to consider sewing, it's less dramatic and also very fascinating.
26. Button Up Jumpsuit
Button-up styles are not getting the attention they should and we think they are appropriate for Friday work outfits or formal events.
27. Alter Neck Ankara Jumpsuit
We do not think anything can go wrong when you are wearing a jumpsuit style like that, it's simple and interesting.
28. Ankara Jumpsuit With Waist Layers
Check out the new way to rock those jumpsuits, stylish, and definitely perfect for all occasions.
29. Pocket Jumpsuit With Materially Sleeves
The perfect jumpsuit for any occasion, nothing too dramatic about it but still beautiful regardless. The sleeves can be a complete Ankara but we think the material added to it gave it a different unique look.
30. Off Shoulder Jumpsuit
A combination of sexy and some class, some styles really do not need too much and this is an example of simple but beautiful.
31. Cross Ankara Jumpsuit
This jumpsuit is suitable for all occasions, it is modern and convenient. the belt can be included or ignored whichever suits you best.
32. Conventional Ankara Jumpsuit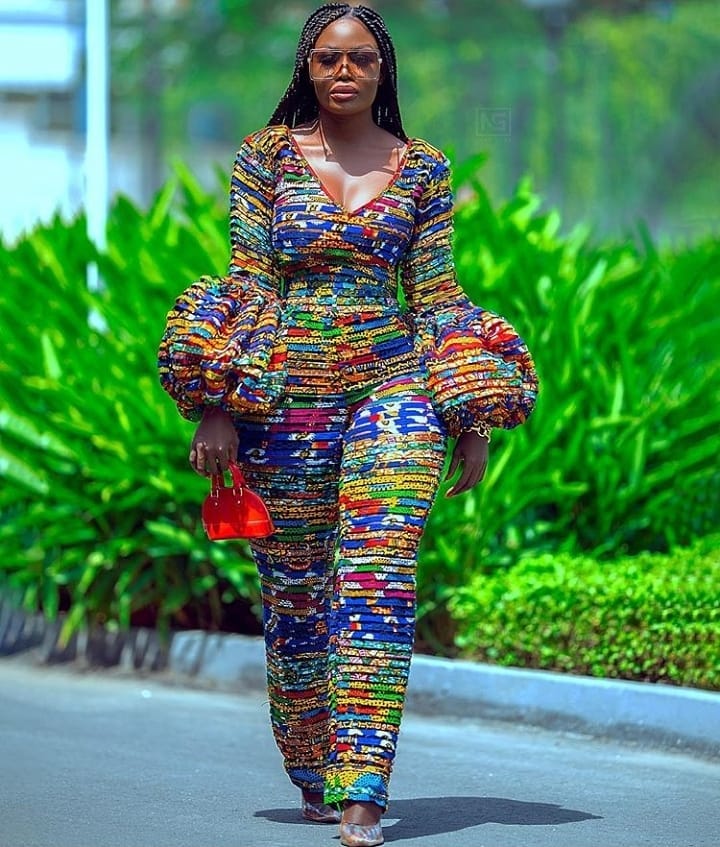 This is indeed conventional and definitely an easy-to-rock outfit. The freehand adds a classy stylish look to it.
33. Short-Sleeved Ankara Jumpsuit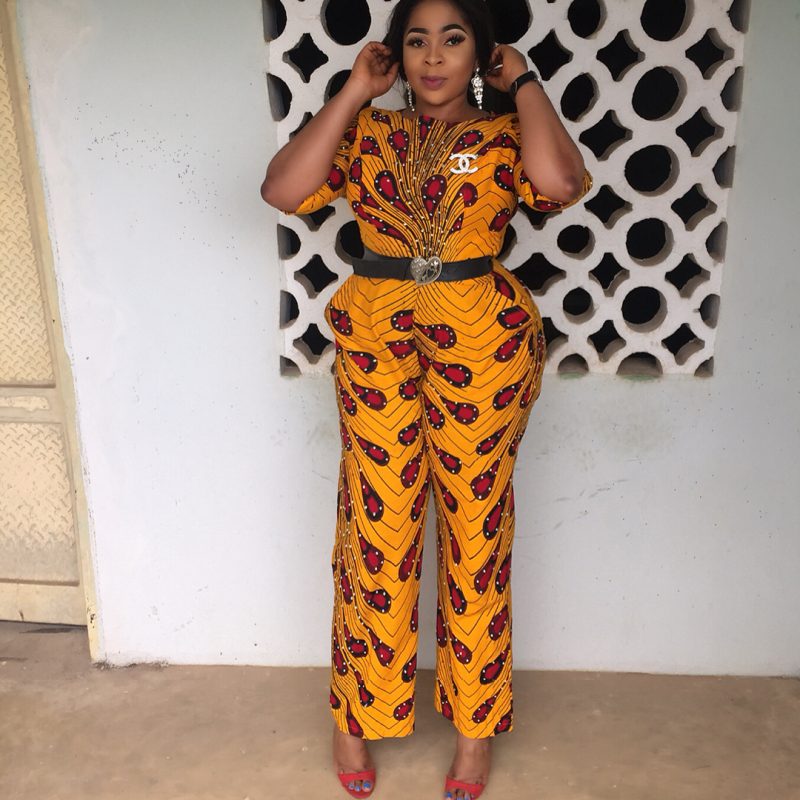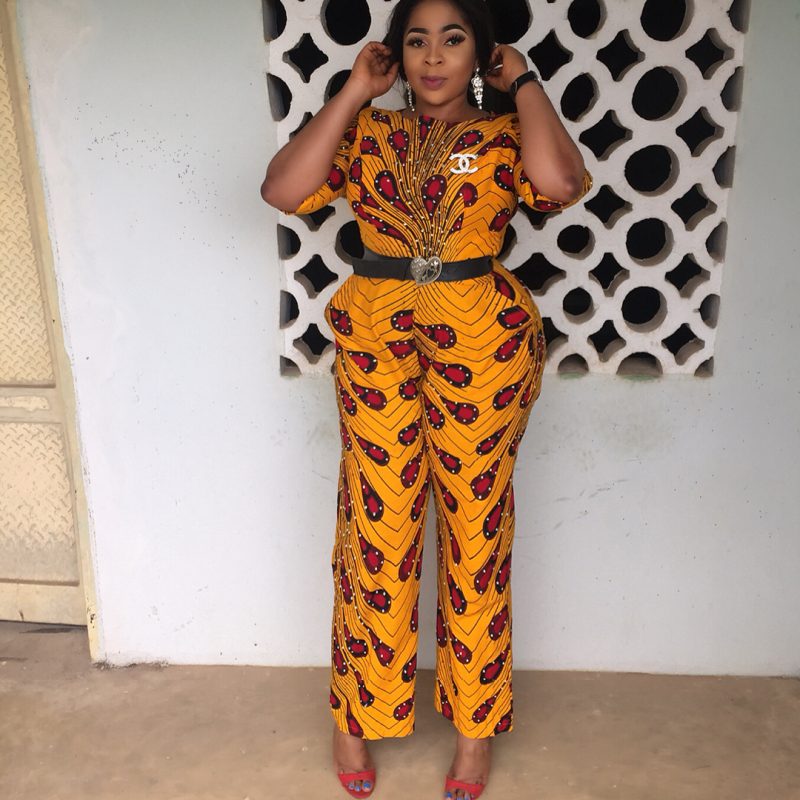 This is a simple yet fashionable jumpsuit style, it is trendy and classy all rolled in one.
34. Mini Jumpsuit With One Flair Sleeve
This mini flair jumpsuit is easy to rock for a casual evening date. It is smart and convenient and leaves you smiling in comfort.
35. Ankara Jumpsuit In Shorts
This is a jumpsuit with a stylish appearance that comes with an impeccable taste for fashion lovers.
36. Flair Hand Ankara Jumpsuit
Do you have a passion for simple and trendy? then this design is for you.
37. V-neck Ankara Jumpsuit
Fashion keeps getting interesting. This simple yet modern jumpsuit can be worn for any occasion of your choice.
38. Fashionista Jumpsuit Ankara With Tie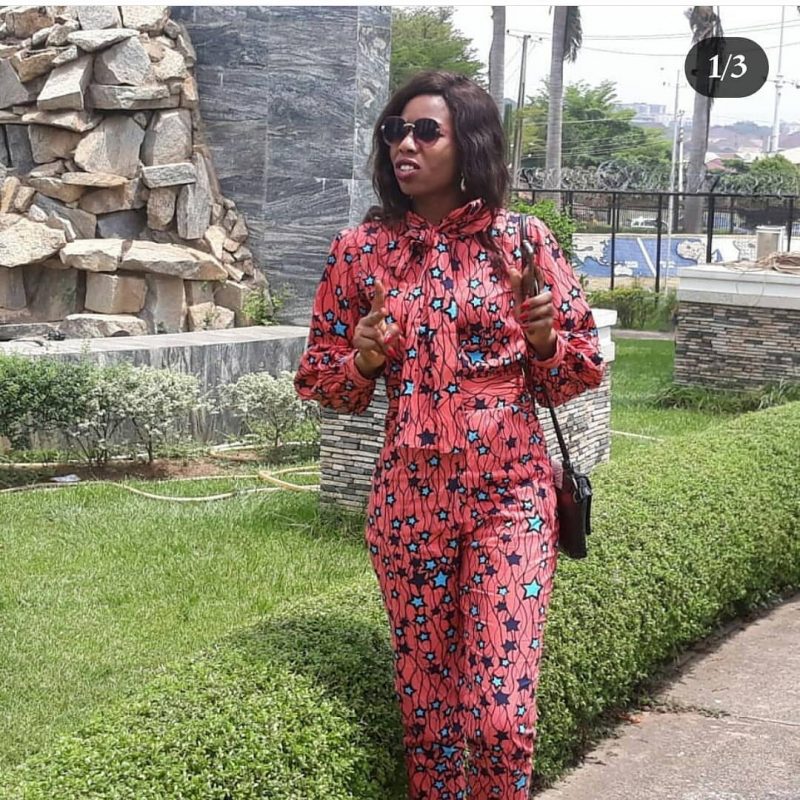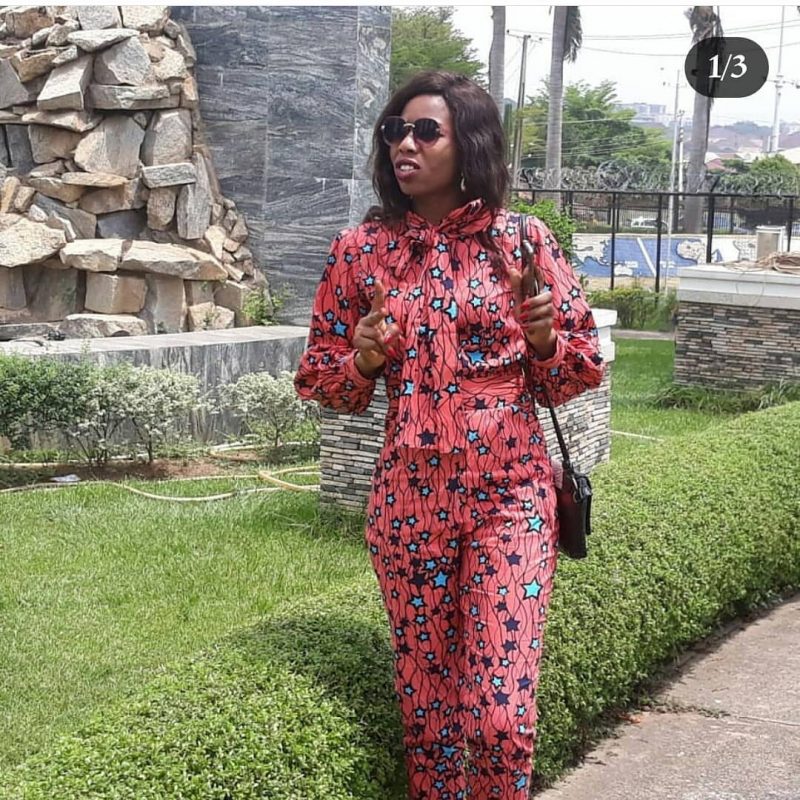 This is sure every fashion lover outfit. It has a formal appeal to it and can be rocked as Friday office wear.
39. Jumpsuit With Thin Strap
Lighten the mood up ladies with this thin strap jumpsuit. It is savvy and comfortable.
40. Off Shoulder Ankara Jumpsuit
This is an Ankara jumpsuit that is suitable for all flexing. Has a classy appeal to it.
41. Ankara Jumpsuit With Belt Waist
This is African women chic and classy all in one piece. The belt at the waist adds to its beauty.
42. Ankara V-necked Collar Jumpsuit
Modern Ankara keeps getting better and more creative. This Ankara with a v-neck and collar can be worn irrespective of the occasion.
43. The Dinma Ankara Jumpsuit
Get this fashionistas dinma jumpsuit and add it to your Ankara collections soon, it is a modern style that should not be ignored.
44. Drawstring Jumpsuit
The drawstring Ankara jumpsuit has a string that can be adjusted and it accentuates your lovely shoulder. It also gives an option of a belt.
45. Savvy Ankara Jumpsuit
What can go wrong when you know your fashion and you rock them well. Add this simple style to your wardrobe soon ladies.
---
The reality is that fashion will only get better, more creative, and definitely more interesting. Jumpsuits are interesting outfits that are going to be slaying for a very long time. Follow us on Instagram @thrivenaija to see more Ankara styles.
Read next: 17 Beautiful Ankara Styles For Wedding