Are you a fashion enthusiast looking to jazz up her Instagram account for inspiration or other purposes in the fashion industry? We've got the perfect list for you.
What makes this one even better is that this list is so complete and these guys are doing Africa proud in the fashion space.
Keep reading for a list of fashionistas with African roots and their dripping hot profiles on Instagram. Hey, we speak fashion too. Follow us @thrivenaija first.

1. Stella Uzo
Follow on Instagram @jadorefashion
Stella Uzo is a fashion blogger. She owns her personal style blog, Jadore Fashion Blog. She's our favorite shoe addict and a lover of colors. Her page on Instagram is amazing and we think you should check it out.
2. Cynthia Etonga
Follow on Instagram @simplycyn
Simplycyn is a Cameroonian-American fashion blogger and also a lawyer. How diverse! Her style is always happy I would say. follow her on Instagram and you would understand.
3. Marii Pazz
Follow on Instagram @mariipvzz
Marii Pazz is a chronic fashion influencer based in Spain. She has a whopping  227k followers on Instagram, we need not say more. We love her chic form of style. Did we mention that she's Nigerian? Yes, she is 🙂
4. Jennifer Oseh
Follow on Instagram @theladyvhodka
Jennifer Oseh, popularly known as the lady vhodka is a Nigerian Style influencer and fashion stylist. She always delivers style like its liquid. She's versatile and puts a lot of layering when styling. Quick Advice: Pay more attention to her for fashion vibes.
5. Veronica Ebie
Follow on Instagram @veronicaodeka
Veronica is an image and style director, fashion communicator and consultant. Veronica is a famous celebrity stylist and the most stylish mom on the block, she's got 3 kids and she still slays fire. Being the CEO of Vane style and also Vane polish a luxury nail polish brand you know she's a boss lady.
6. Sai Sankoh
Follow on Instagram @sai.sankoh
A powerful woman in fashion and she didn't come to play. 47.3k followers are no joke people. Are you a fashion enthusiast? You can live on her page. Check out her blog at saisankoh.com.
7. Alexandriah Sho-silva
Follow on Instagram @tostos_
Our dear tostos, we call her the flower girl (as it's possible to see flowers in every one of her pictures), tostos gives us the simple fashion vibe undiluted. A fashion and lifestyle influencer that never disappoints.
8. Chinyere Chi-chi Adogu
Follow on Instagram @the_real_chi
The real chi is all shades classy. We love her simple and classy fashion sense and she sure loves bright colors (as you can see). Did you know That she wears pink every Wednesday? Now you know.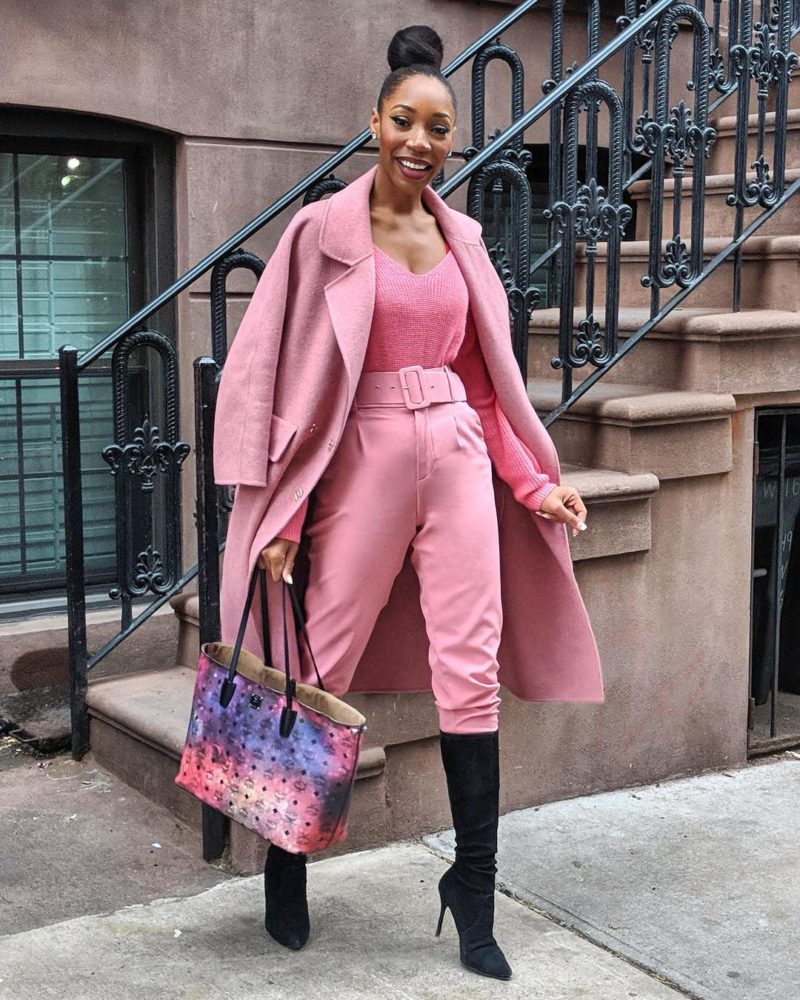 9. Shade Akinosho
Follow on Instagram @s4de_u
The Nigerian bad-ass fashionista. Shade owns a style blog, Sade4u.com. Her style sense is strong and profound and every fashion lover should follow her on Instagram. Ps:50.4K followers can't be wrong.
10. Julitha Kabete
Follow on Instagram @julitha.kabete
<
Fashion content creator and brand strategist, she believes that your style is a form of self-expression. This beauty from Tanzania is an epitome of elegance. Follow her on Instagram and see for yourself.
11. Palesa Mahlaba
Follow on Instagram @simplypalesa
Colors! Colors colors! Palesa is a style blogger and a sucker for colors… Of course. She pours out fashion and style statements around colors and that's certainly what we love about her.
12. Angel Obasi
Follow on Instagram @Styleconnaisseur
Angel is a young fashion influencer with great love for African prints an amazing page on Instagram as she turns fashion into a fun activity, you can be sure to get vibrancy and value with her style inspirations. Need some queening like it's nothing vibe? Style connaisseur is a goal.
13. Nwando Ebeledike
Follow on Instagram @thenwando
thenwando is an African fashionista who we definitely love. One thing we love about her is her ability to pour out peace, light, and love through her style expressions. She is the proud owner of the fashion brand @thenalegirl. We greatly think you should follow her on Instagram for amazing style inspiration that is chic and classic.
14. Hafsah
Follow on Instagram @hafymo
Hafsah is a Muslim girl in her twenties. Her fashion sense is decent and very moral. She owns a blog @hafymo.com. She is also the founder of the awesome Elora Collection
15. Crystal Kasper
Follow on Instagram @crystal_kasper
Crystal is a personal style blogger and the co-founder of @theduodesk. This fashionista is talented and never stops from wow-ing us. Her fashion style is very practical and that's one of the reasons why we love her.
16. Folake Kuye Huntoon
Follow on Instagram @stylepantry
Folake is also the owner at @shopfksp and has one of the most sophisticated fashion profiles with over 548k followers on Instagram.  Her style is amazing and the aesthetics of her page would no doubt inspire you to create something amazing for yourself.
17. Olarslim
Follow on Instagram @olarslim
Ola is an award-winning fashion designer we can't stop drawing inspiration from. The aesthetics of her Instagram profile is so pleasing to the eyes and we literally can't stop looking at her page. Going from broke girl to entrepreneur with almost 200k followers on Instagram is very impressive and we at thrive Naija celebrate her. Definitely worth following!
---
As you follow these guys on Instagram, You'll follow us too eh? @thrivenaija For more fashion and beauty inspiration. See you there.