2021 is just around the corner and one style that we are sure is going to be in trend as always is Ankara gown styles. The Ankara skirt and blouse style might have been the ideal style for occasions but it is not limited to skirt and blouse alone or jumpsuits but the short and long gown styles add more to the glamour of this fabric. We all know when it comes to African prints, Ankara is the most fashionable fabric you do not want to miss not having.
Do you want to stand out in Ankara styles? Ankara is the best African print you can rock to any occasion and it is regarded as a fabric that gives you respect at any occasion. Ankara gown styles are not just stylish, but you can easily make a fashion statement with them, and we all know this style can be fascinating and not forget comfortable.
Irrespective of the pandemic, which leads to postponement of many occasions, designers have found a way to become more creative, and we are sure simple styles are something we are going to be seeing more of next year.
We have compiled a list of simple Ankara gown styles for you and you can go ahead and choose the one that will be added to your Ankara styles achieve.
50 Simple Ankara Gown Styles For 2021
Gorgeous Ankara style can't be ignored especially when it comes to certain trends that are not going anywhere anytime soon. Styles are constantly evolving and the trick to sophistication is to keep it as simple as possible. Looking for fashionable but simple Ankara gown styles? Here are 50 simple Ankara gown styles we look forward to seeing in 2021.
1. Short Sleeve Ankara Gown With Robe Waist
Ankara gown styles are fun due to how convenient they are. Here is a  perfect example of a stylish Ankara style to help you look different at an occasion. You can also get creative with this outfit and have it style with a longer cap sleeve or make it a longer gown.
2. Long Dramatic Ankara Gown With Side Layers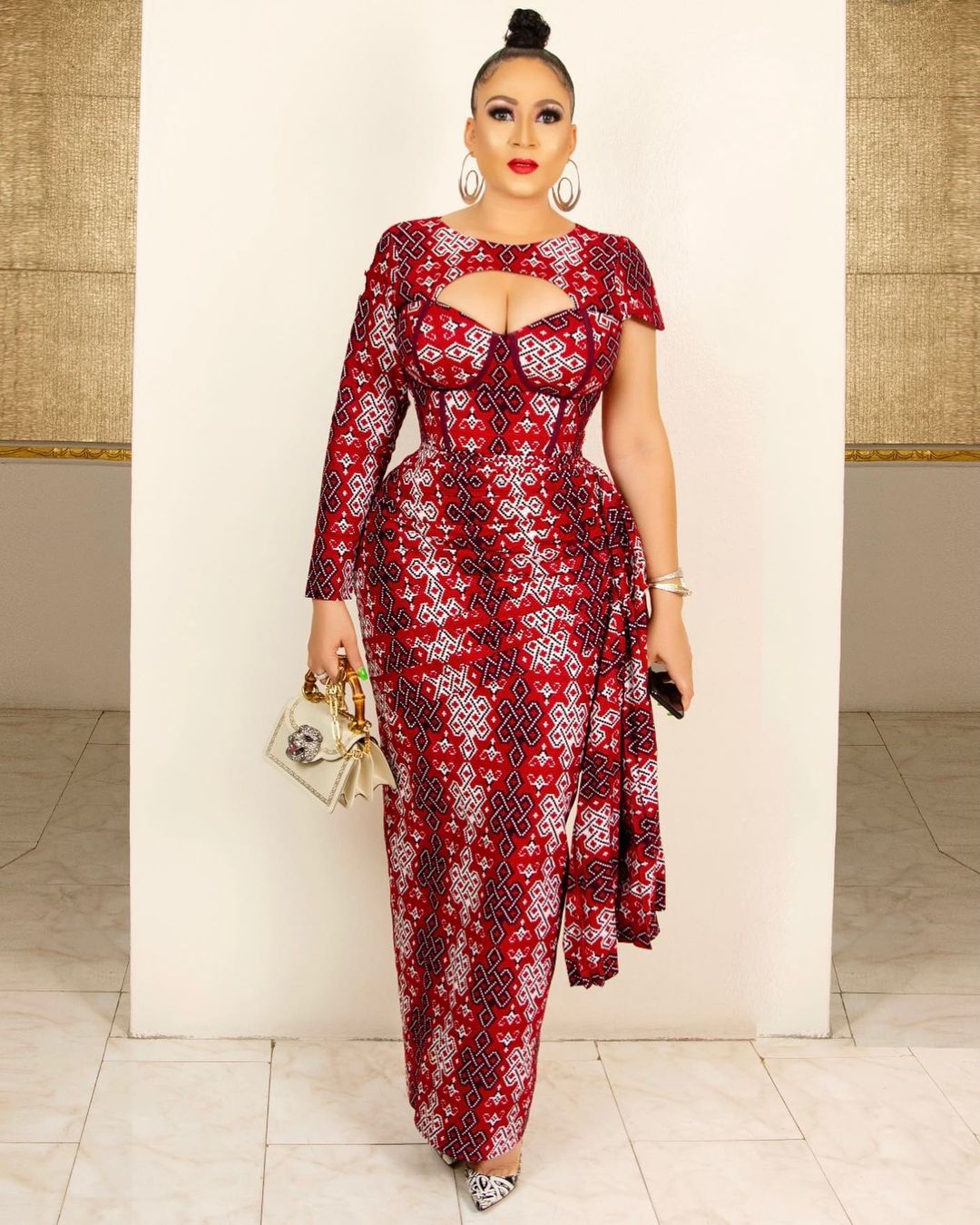 There are so many Ankara styles, it might be hard finding a favourite but here is an astonishing style you can't help but love. This comes with two sleeve types and that adds more to the fun of this stylish outfit.
3. Kimono Wrap Dress
A kimono shirt dress can never go wrong, it is smart and convenient. This style might have been around for a long while but it will only continue to get more interesting next year.
4. Formal Ankara Style With Layered Frock
A layered style is just as old as Ankara fabric itself and designers have found ways to make it more exotic and fitting for all occasions.
5. Simple Micro Gown With Raglan Sleeve
Keep it simple and stylish and you will be glad you did.
6. Straight Gown With Long Sleeve
A dashing yet easy to make Ankara style is just what every lady needs in her closet. This is a style you can wear for a casual day out or fancy outing and all you need is a pair of heels.
7. A-Line Ankara Style With Material Sleeve And Frock
An exotic Ankara style to help you stand out at any occasion is just what you need. Above is a style that we trust isn't going anywhere anytime soon.
8. One Hand Ankara Gown Style With Layers
Looking for a style that stands out at any occasion? Here is a simple dashing Ankara style that can't be missed. This is a simple one-hand gown which has been made more interesting with ruffles.
9. Ankara Style With Inner Shirt And Simple Frock
This is an interesting style to have in your wardrobe. This looks simple but really worth all the excitement and it's a style you can rock to the office on a Friday. You can always go with a short sleeve shirt if you find that more comfortable.
10. Elegant Ankara Wrap Gown
Another exotic style to set your love for Ankara in motion. Your designer should really enjoy making this style for you and don't be afraid to get more creative with it. The wrap around the waist adds more to the glamour.
11. Short Cap Sleeve Ankara Style
Ankara style does not have to be overly dramatic to be beautiful. This is a simple but elegant Ankara style, you will love to rock to any fancy occasion, you can easily hit the dance floor with the exciting outfit. This can be styled with a long sleeve to add glamour to it.
12. Simple Flare Gown Style
A simple flare gown with sneakers seems to be one combination we would be seeing more of next year. This is a style that has been around for a very long time and will continue to be due to its simplicity.
13. Mini Free Ankara Style With Cap Sleeve
A simple flare gown with cap sleeve can never go wrong at any occasion and all you need to complete this look is a pair of heels.
14. Kimono Ankara Style
Kimono Ankara style is one of the trendiest styles in 2020 and this fashionable style will be more interesting in 2021. This is a simple style for all kinds of occasion.
15. Wrap Ankara Shirt Dress
Looking for a trendy wrap dress that stands out? Here is an outfit we are all looking forward to seeing more of.
16. A Stylish Ankara Style With Attached Sleeve
Every Ankara style has a special way of standing out and here is just the perfect outfit to help you stand out anywhere. This is a great style for church and weddings.
17. Classy Short Flare Ankara Dress
A classy Ankara gown can be simple if you want. This classy Ankara gown will have you locating your designer as soon as possible to have created for you. This is the right Ankara style if you like it bold and simple.
18. Micro Off Shoulder Long Sleeve Gown
Another style that is sure to stand out among Ankara style si this bold micro gown. If you like your styles sexy and comfy then here is a style you should add to your Ankara style archive,
19. Straight Ankara Gown
A fashionable Ankara for days you want to attend church in a simple but fashionable outfit. This style is not just fascinating but there are many lovely ways the sleeve can be styled.
20. Ankara Gown With Flutter Sleeves
Another interesting way to wear a flutter sleeve s having it styled with a short gown. The flutter sleeve adds an extra effect to the beauty of this Ankara style.
21. Straight Gown With Vintage Sleeve
Here is an Ankara style that is sure to put a smile on your face. This is an interesting style you can't help but love.
22. Simple Flare Dress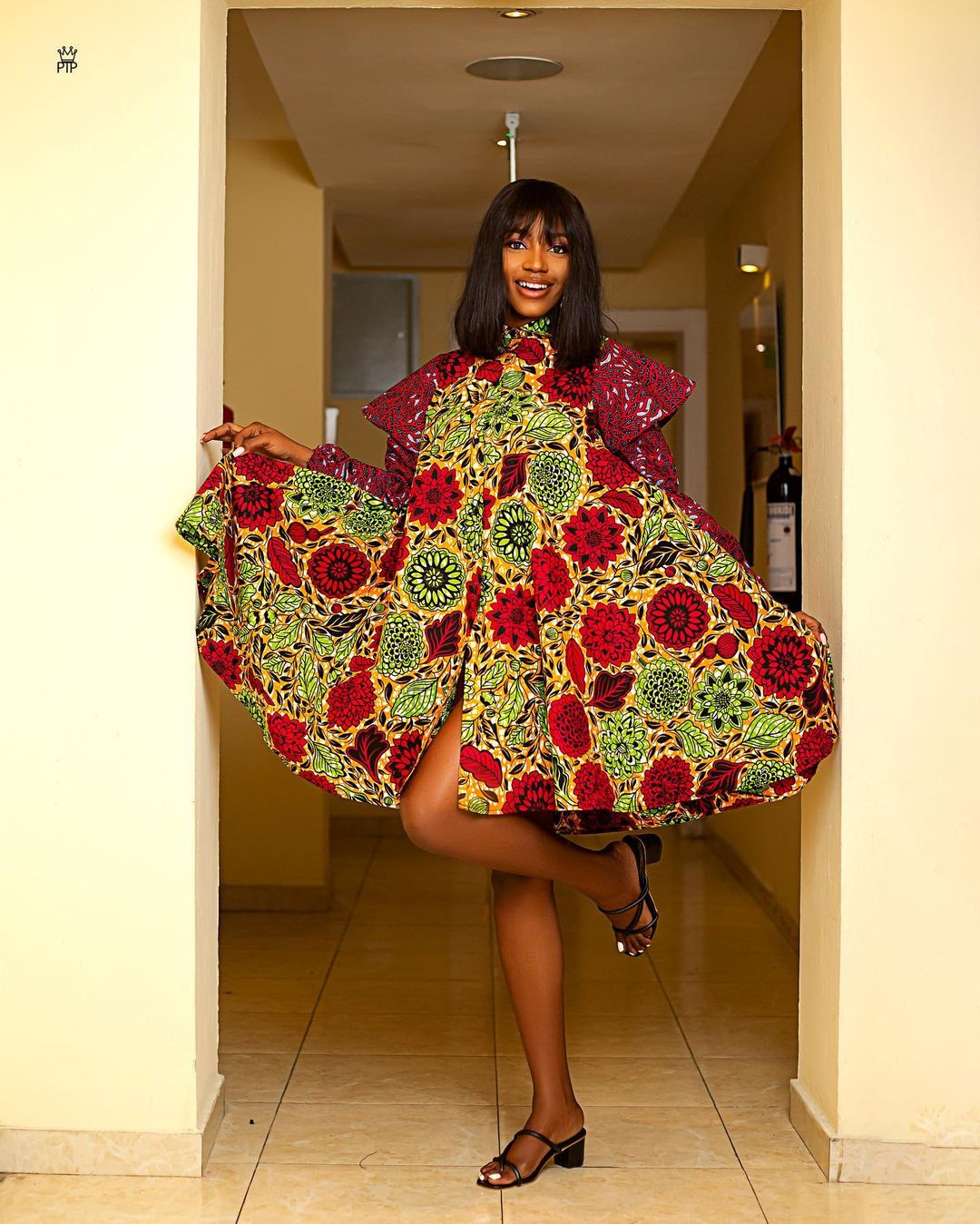 A flared dress will always be in trend and one way to make it stand out is to add an interesting sleeve to it. This simple flare Ankara gown is the perfect outfit when you want to keep it comfortable enough to hit the dance floor. This style is paired with over sleeve which is also called a double sleeve.
23. Long Elegant Gown With Butterfly Sleeve
Butterfly sleeve has recently been added to sleeve styles and we must say we love it. It makes every Ankara style unique just like the one above.
24. One Hand Ankara Flare Gown
This style above has an impeccable effect on anyone who loves one hand style. It is simple but with a fancy look.
25. Ankara Style With Front Split And Layers
Want to keep your Ankara style smart and sassy? Here is the perfect style to make that happen and with a pair of heels, you are good to go. It is suitable for weddings as well.