41. One Hand Sleeve Ankara Gown
Another one hand sleeve style to add to your fashion archive.
42. Off Shoulder Short Puffy Sleeve Gown
The puffy sleeve trend has continued to wow us. We now have long puffy and the short puffy sleeve which is the more comfortable option. Above is a cute pouffy sleeve with a short gown and this is a style your designer should have made for you in 2022.
43. Short Ankara Gown With Collar
Ankara gown with collar and bell sleeve is not just simple but really comfy.
44. A Modern Ankara Style
A modern Ankara style is only going to get better and it is worth having around for weddings or fancy events where you want to stand out.
45. Imani Ankara Dress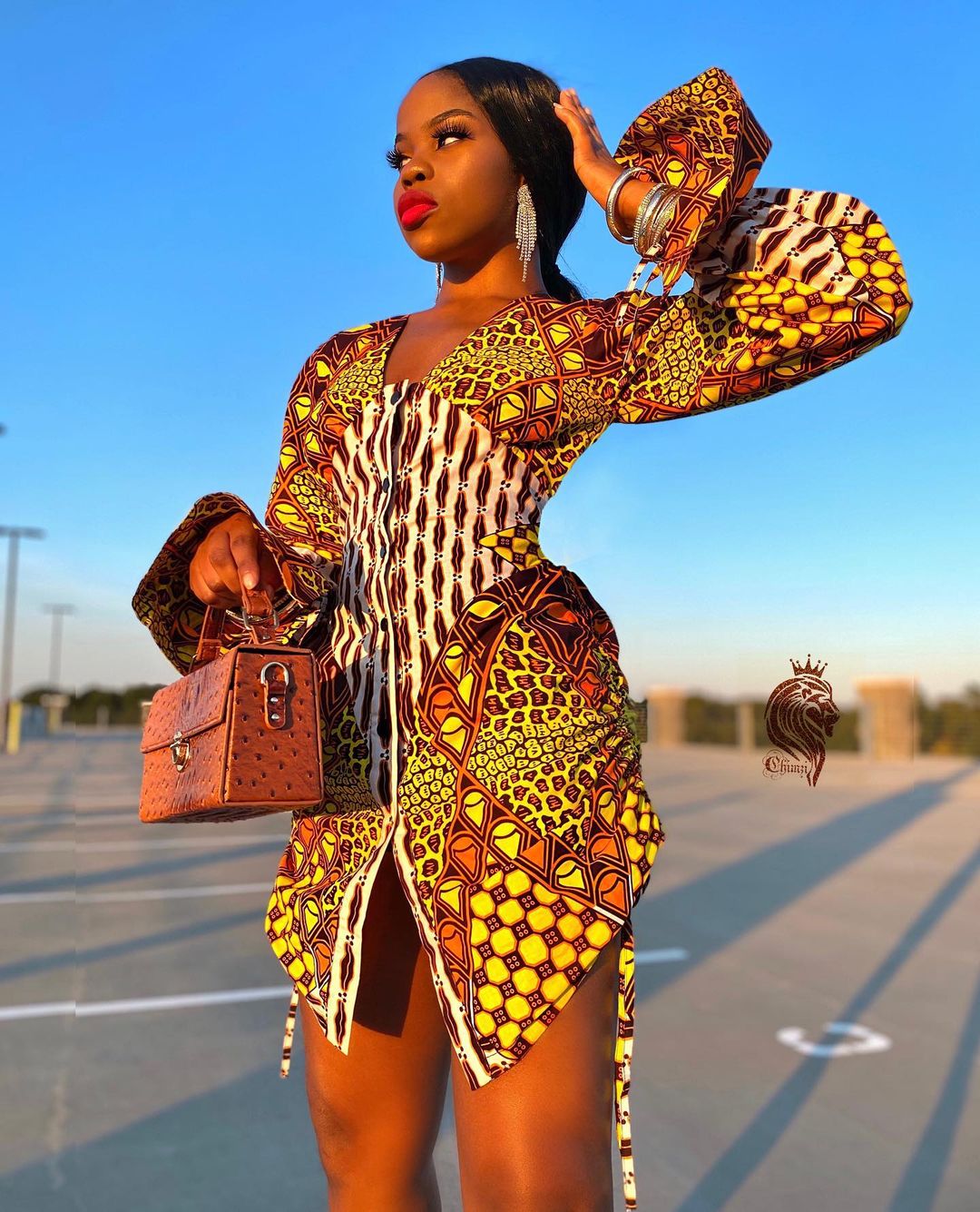 Want a combination of sexy and cute Ankara style? Here is just the style you need your designer to make for you.
46. Simple And Cute Flare Ankara Gown With Draped Sleeves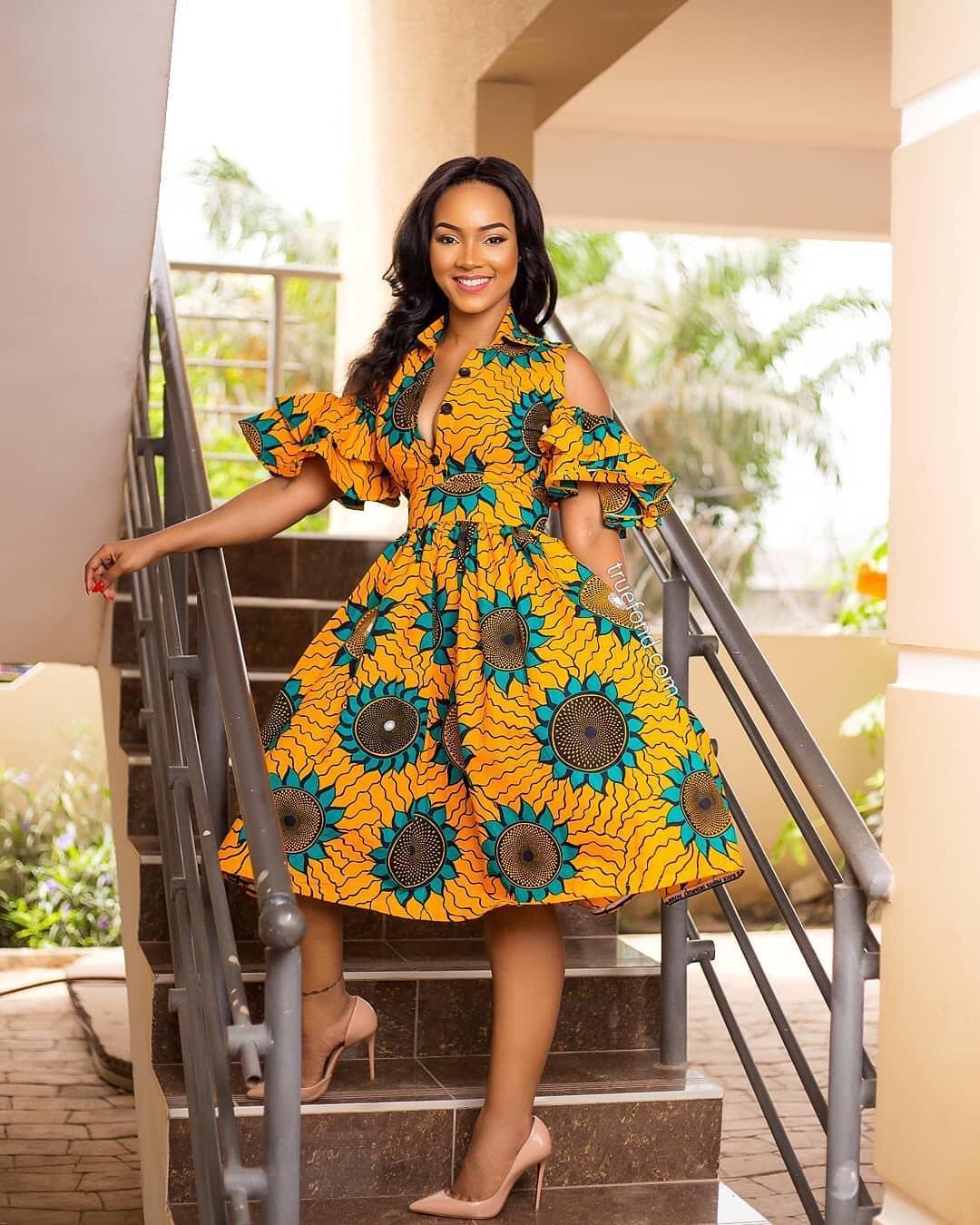 This is another unique style we can't get enough of.
47. Regular Sleeve Ankara Long Gown
A regular sleeve style might have been around for a while but it's not going anywhere anytime soon and most fascinating about this is how reserved and convenient it can be.
48. Off Shoulder Plain Short Gown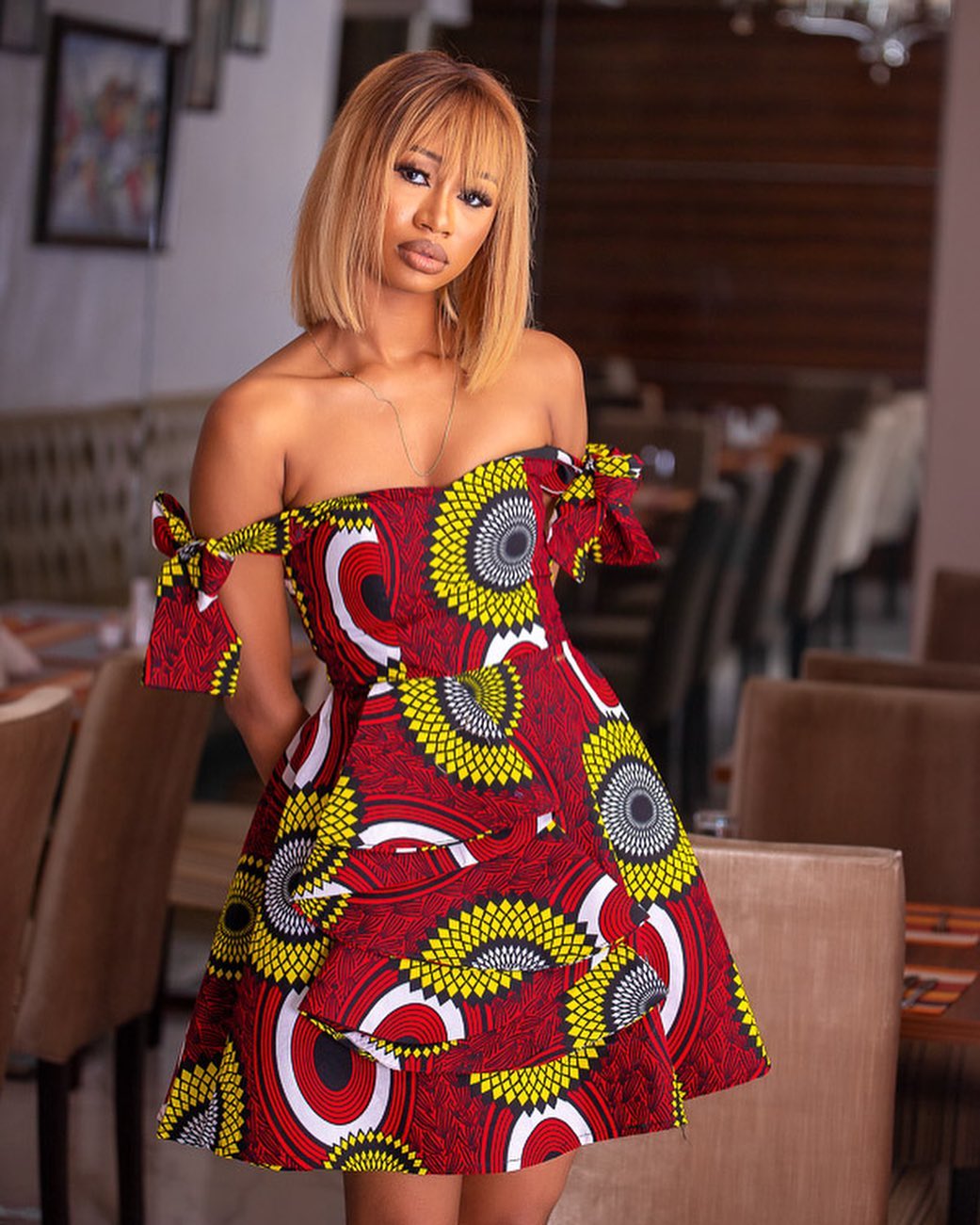 Every Ankara lover wants a simple off-shoulder gown in their closet hence we have just the perfect style to make this happen.
49. Rema Maxi Infinity Ankara Gown
This style is popularly known as maxi Infinity Ankara dress and we must day it's pretty obvious why it is named maxi. It is a free gown that can be rocked for any kind of occasion.
50. Infinity Romper Ankara Dress
Your Ankara styles would never be boring again with a style like this to inspire you. It is bold and fun which is something every Ankara style should have.
51. Off Shoulder Ruffled Shift Dress With Belts And Pockets
It is simply amazing what you can create with Ankara fabric. Here is another exquisite Ankara style you need.
52. Blazer Ankara Style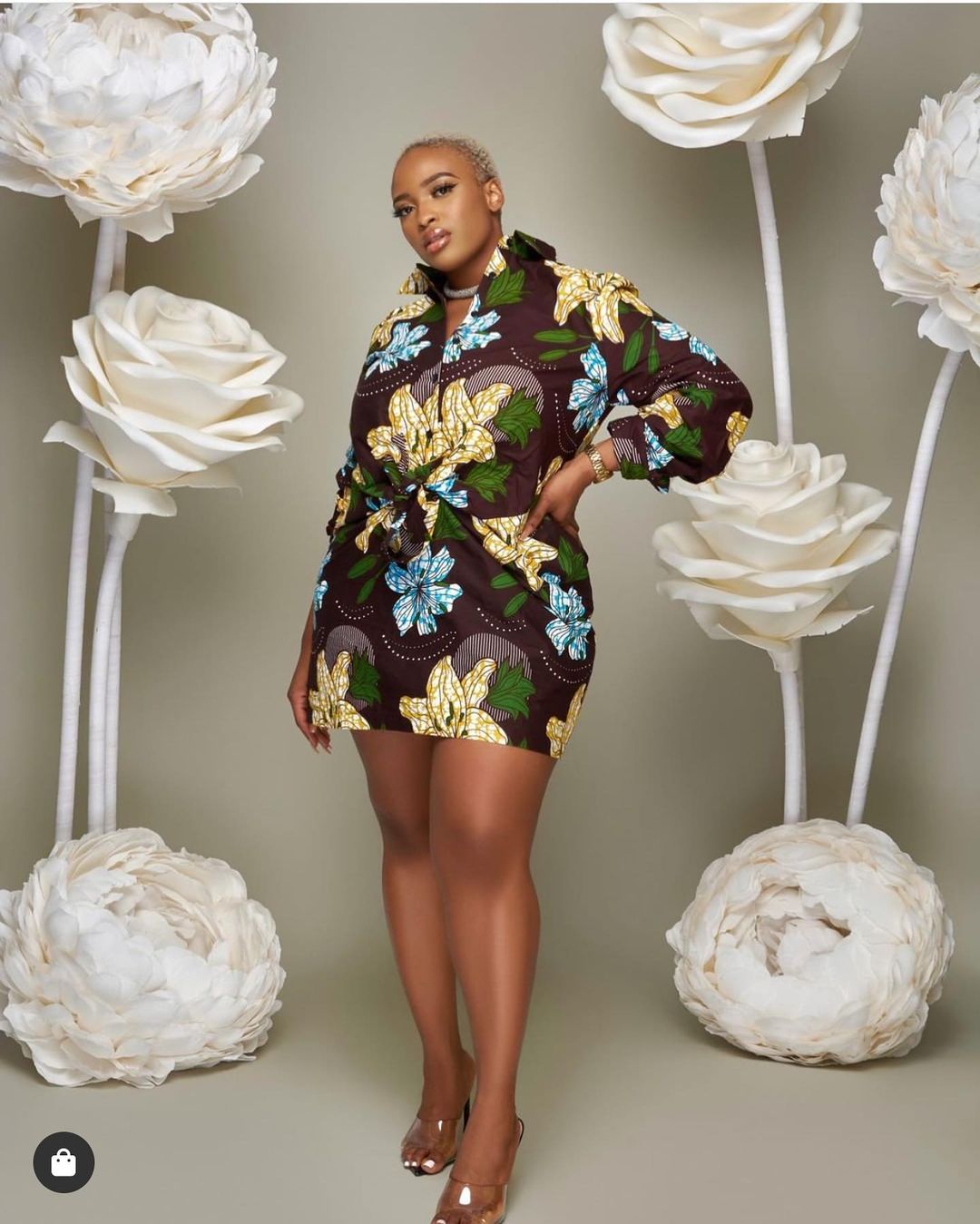 A blazer is an interesting fashion piece everyone always has and having it in Ankara makes it even more fun. You can have it worn as a shirt dress or have it paired with jean.
53. Ankara Style With Belt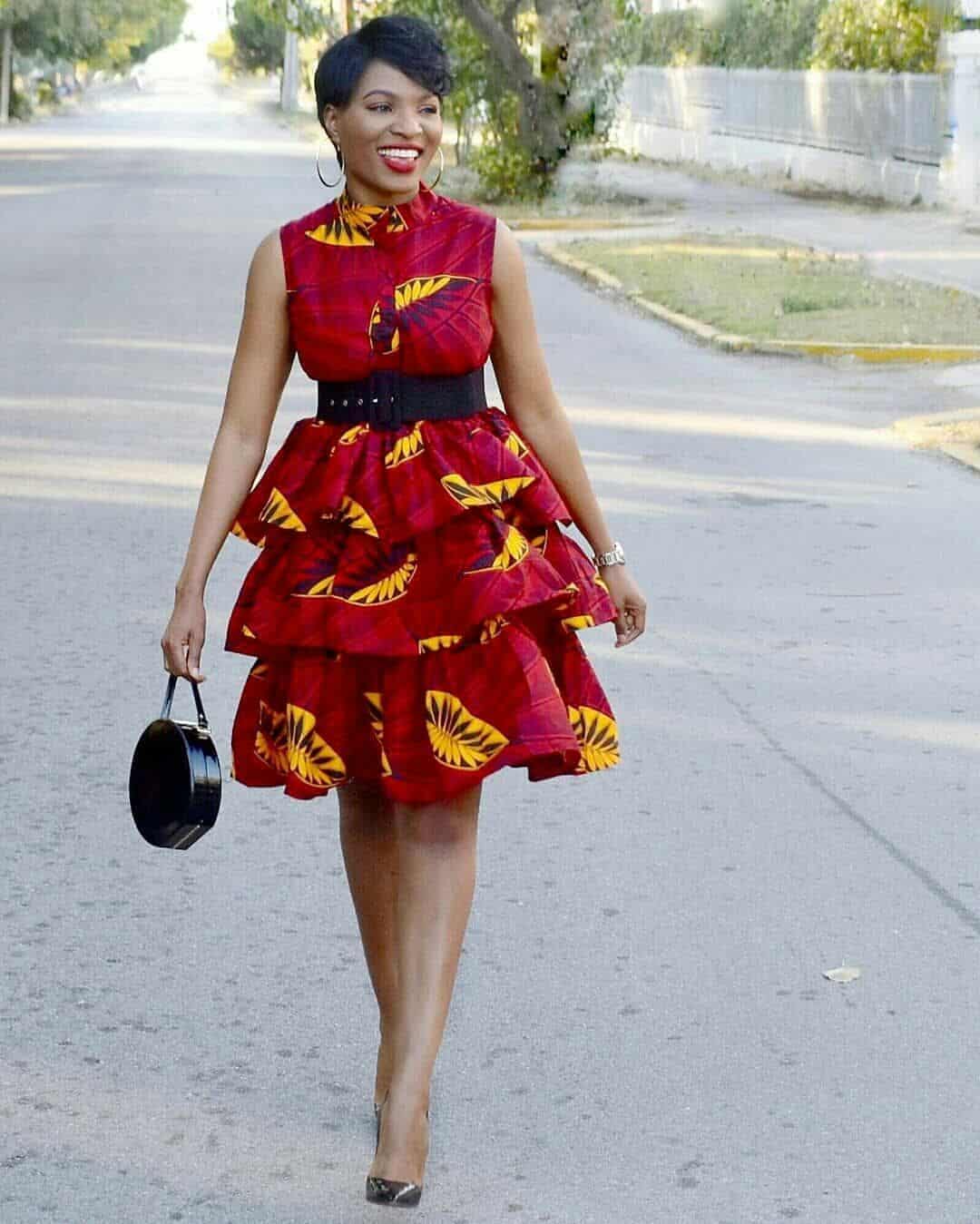 For a sassy formal look, put a belt on your simple flare gown and you are good to go.
54. V-neck Layered Ankara Gown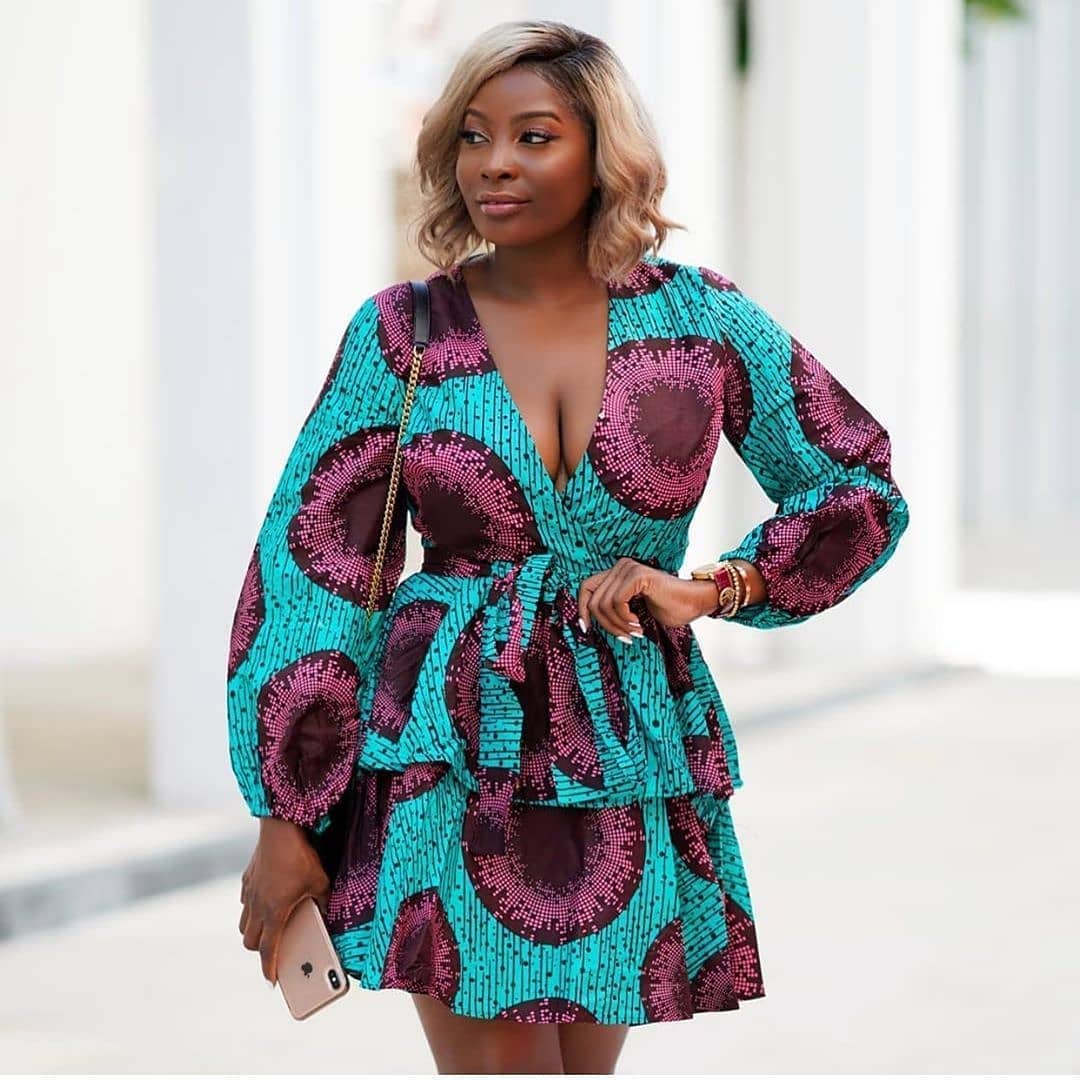 A v-neck style is starting to be the favourite for many Ankara lovers nad this is because it is easy to style compare to round necks.
55. Free Flare Gown With Ruffled Sleeve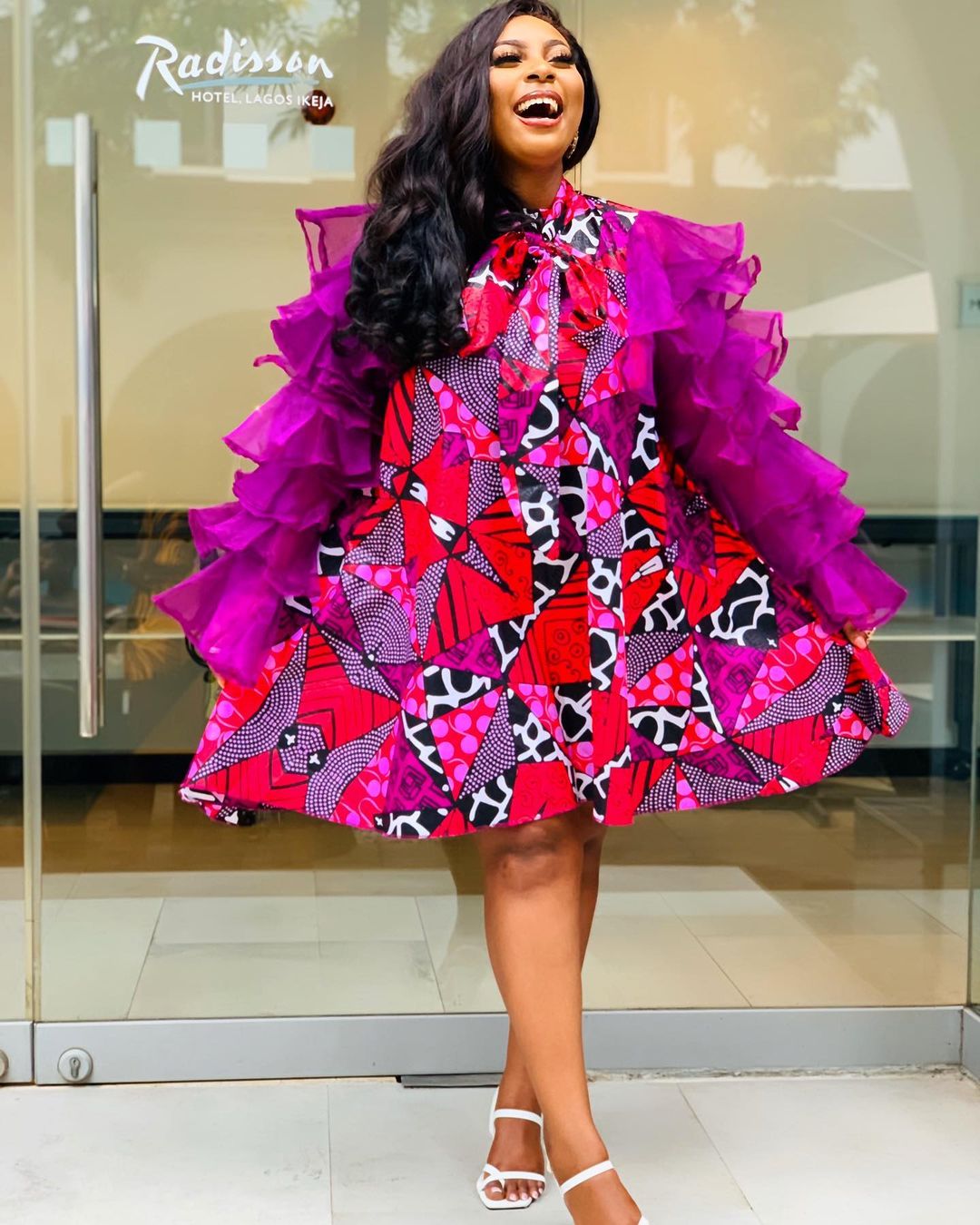 Stylish and free is another Ankara style to watch out for.
56. Short Gown With Over Sleeve
If you are bored with the usual boring sleeves then an over-sleeve is the next sleeve you should give a try. An over sleeve can go with any type of style however it sure looks beautiful on this short gown.
57. Turtle Neck Ankara Gown
this is another effortless Ankara style that lets you be a diva without trying too hard. Whatever the event maybe, this is the style for you.
58. Simple Pencil Straight Gown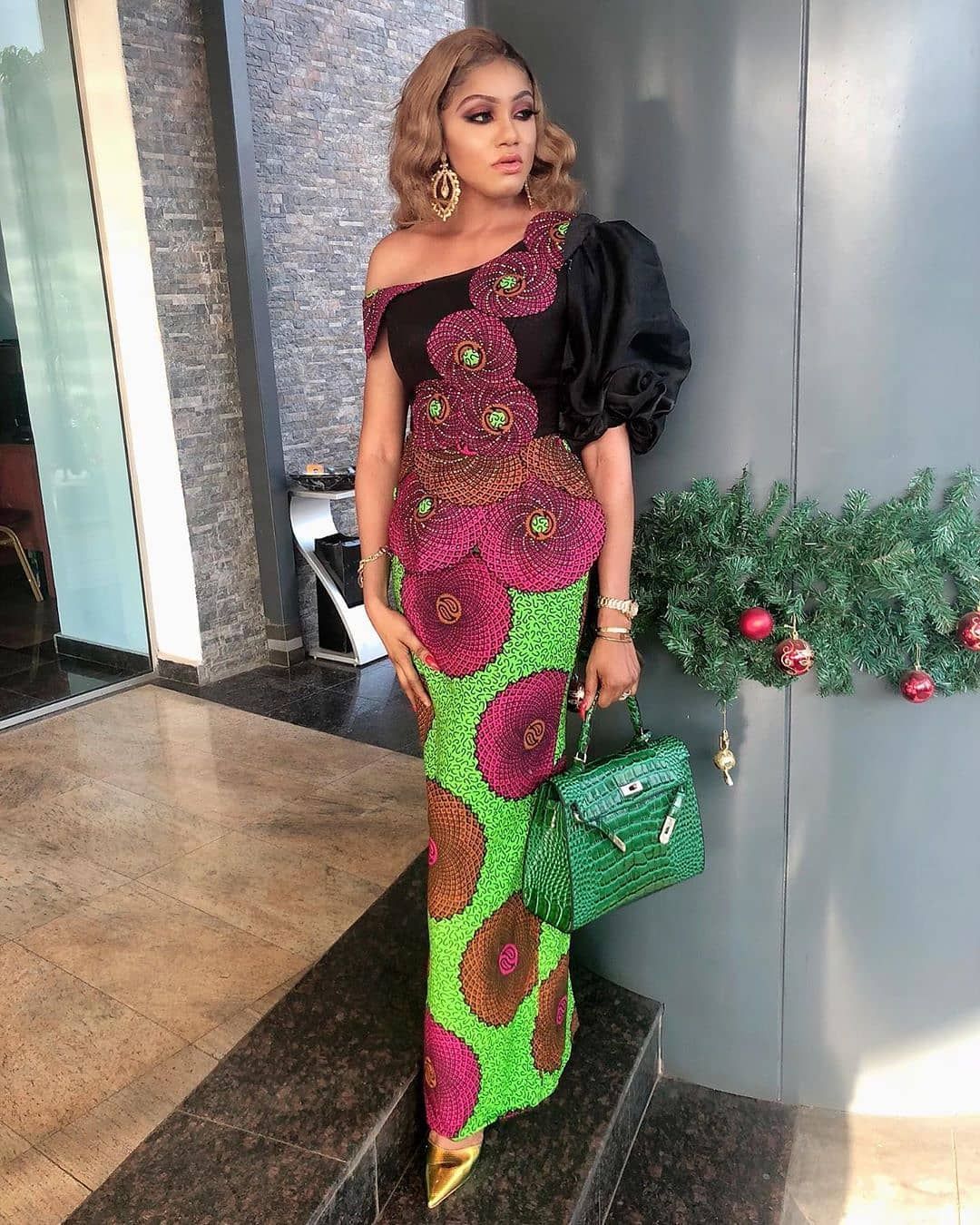 Here is how to style your Ankara fabric effortlessly. This is an ultra-chic style you should definitely try.
59. Low Neckline Ankara Dress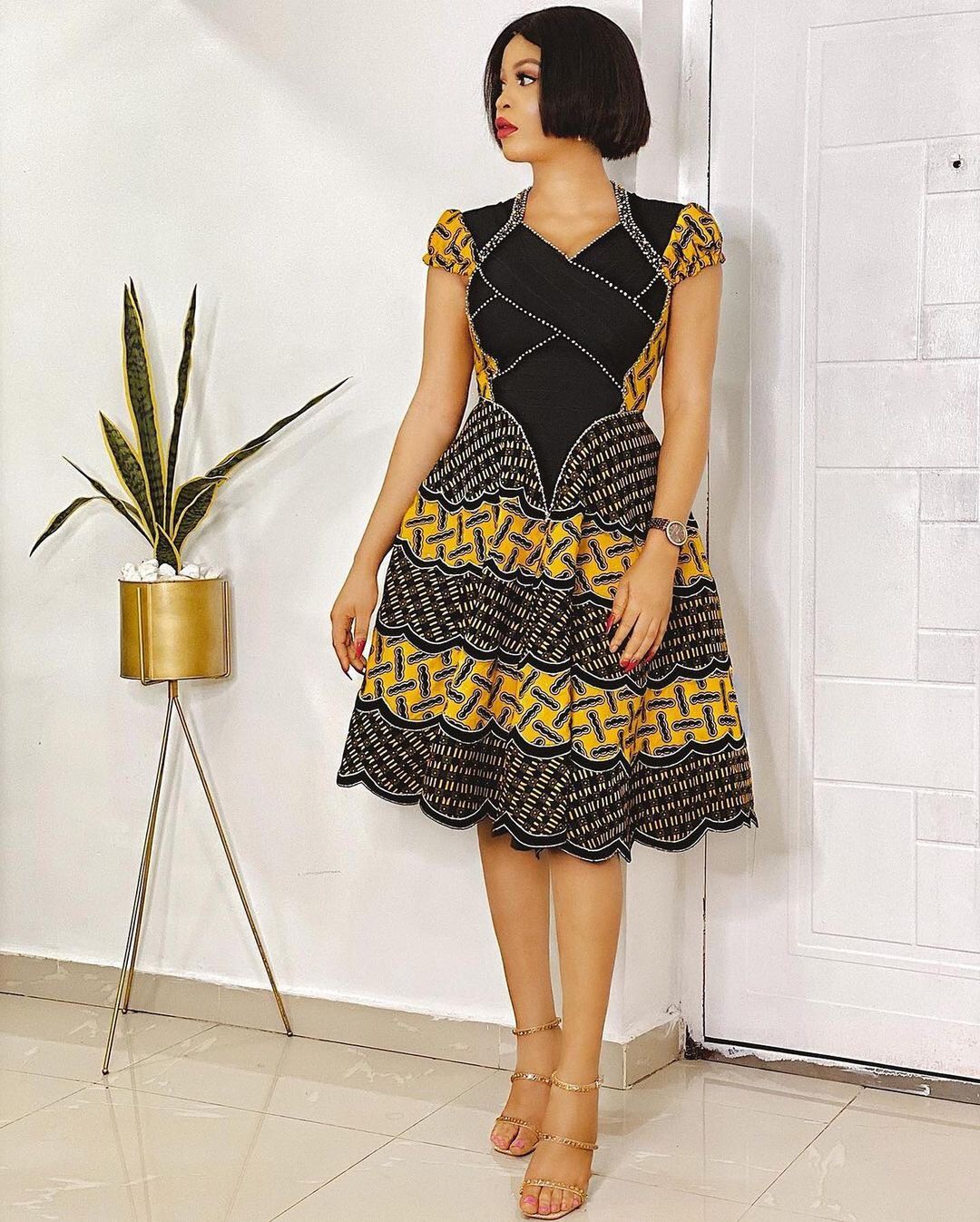 Every unique Ankara style has what makes it stands out and in this style above, we are voting for the love v-neck and the short regular sleeve as well.
60. Straight Off Shoulder Gown

Image: @lolaomonaija // Instagram
Keep the smile bright and add some confidence to your steps with this straight off-shoulder gown.
61. Round Neck Cap Sleeve Gown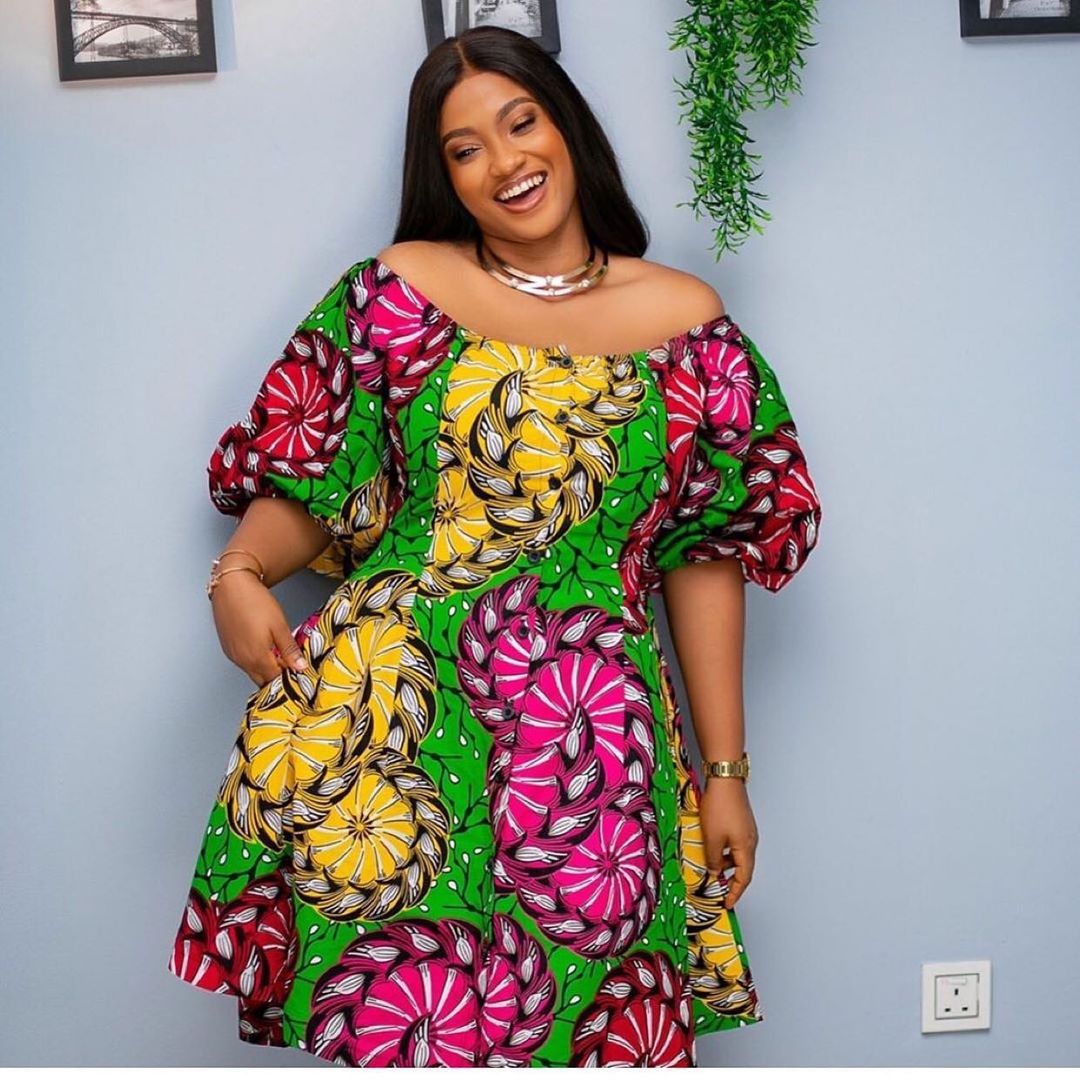 Here is one of the trendiest and beautiful Ankara styles that have been around for a while and will continue to be.
62. Ankara Maxi Dress
Ankara maxi dress is an Ankara style that has recently been introduced and it designers have gotten really creative with it. There are so many ways a maxi dress can be designed and above is one of the fanciest styles you are sure to like.
63. Tube Kente Gown
A tube gown is one of those styles you just fall in love with. This is perfect for you if you like your Ankara styles bold and fascinating.
64. Mini Gown With Long Cap Sleeve
This is a style that will definitely have heads turned. It is bold and one of the latest Ankara styles we hope to see more of.
65. Average Gown With Front Ruffles
Finding a style that flatters ones shape without being uncomfortable isn't easy but here is a simple Ankara that does flatter one shape without being too much. This is exotic and really adorable for any occasion.
---
The fashion industry has continued to grow every day and when it comes to the most known fabric, Ankara will be found on the top. Ankara's prints are a way to make a fashion statement at any event but most especially at a traditional occasion. Whether you are looking for layered styles or hoping for a smooth gown that highlights your curves, just sit back, relax, and above is the perfect compilation of styles to get you through 2022 events with ease.
Read more on Ankara styles: