Modern Ankara styles in 2020 have become more fascinating and we have gathered a list of some of the best ones you would love, these styles show fashion can only get better, they are simple and easy to recreate and interestingly is how these styles accentuate shape and make one you appear classy and elegant.
These modern Ankara styles are hot and come in every form, from skirt and blouse to short and long gowns and jumpsuits are not excluded.
Everyone loves classic Ankara styles they can wear to all events, finding a style you love and your tailor deeming it simple to make is kind of tough however we can guarantee you will love this styles as they are not just simple but you might be getting the best-dressed guest if you wear any of these styles to an occasion.
Here are 70 beautiful styles to Inspire your next style.
Just click Next to see more modern Ankara styles on the next page.
See this: 120 Ankara Short Gown Styles to Inspire You
1. Micro Gown With Corporate Sleeve
This is beautiful and not too elaborate which makes it just right for casual and fancy events, you can as well go for a longer gown depending on your preference, this is also stylish and great for evening outings.
2. Dansiki Frock Gown Style
A dansiki gown is a convenient and stylish choice of style for any ankara fabric, it brings out the look of a material and tend to stand out in an amazing way, you can also go with dansiki skirt or trouser.
3. Cap Sleeve Crop Top With Micro Skirt
This is another beautiful Ankara style that is in trend and you can wear it for all kinds of casual events you can think of.
4. Boogie Gown With Thin Straps
Modern Ankara styles are never going to be boring for you again with this convenient Ankara style, not too elaborate but just the right way a conservative style should be.
5. Fancy Ankara Style With Layers
Here is a great Ankara style that is sure to bring a smile to your face while rocking it.
6. Dansiki Gown With Split And High Neckline
Another splendid dashiki style that is worth re-creating, it is great for weddings and you did be the center of attention in this great style.
7. Off Shoulder Ankara Blouse With Flowing Net Skirt
Image: @ankaradigest // InstagramAnkara blouse could just beat s fun as a complete Ankara gown.
8. Modern Bow Ankara Style With Hat
You can definitely keep it fancy with an Ankara style and love it and here is a good example of a style like that, it is glamourous and perfect for a fancy event.
9. Cute Modern Jumpsuit
Image: @ankaradigest // InstagramOne piece jumpsuit is the new Ankara style idea and can be re created to suit your taste.
10. One Hand Flare Gown
This list wouldn't be complete with this simple and less dramatic gown.
11. Micro Ankara Gown With Classic Cap Sleeve
A classic micro gown is what you need to represent a bold less dramatic look, it's simply stunning and obviously the new trend, you can be sure this is going to garner all the right attention. This is an easy style to replicate and nothing professional is really needed.
12. Empire Gown Design
Empire gown design is obviously new but worth being part of the new trend, it is easy to replicate as long as you have a good designer working on it and you can slay like the queen you are.
13. Official Blazer And Pantsuit
Nothing says you can't rock a simple jumpsuit and blazer jacket, this is an amazing style and every figure and shape can wear it and make it look even more outstanding.
14. Long Sleeve Shirt Dress
A long sleeve shirt dress is one of the most conservative styles you can enjoy with your Ankara fabric and this is one style we love.
15. Wrap Slit Gown
A slit wrap dress is another fantastic dress style we are in love with and 2020 is going to get hotter and more interesting.
16. Off Shoulder Blouse With Trouser
You can obviously wear this style above to any kind of event and also made the best-dressed guest of the day.
17. One Sleeve Wrap Bow Design Gown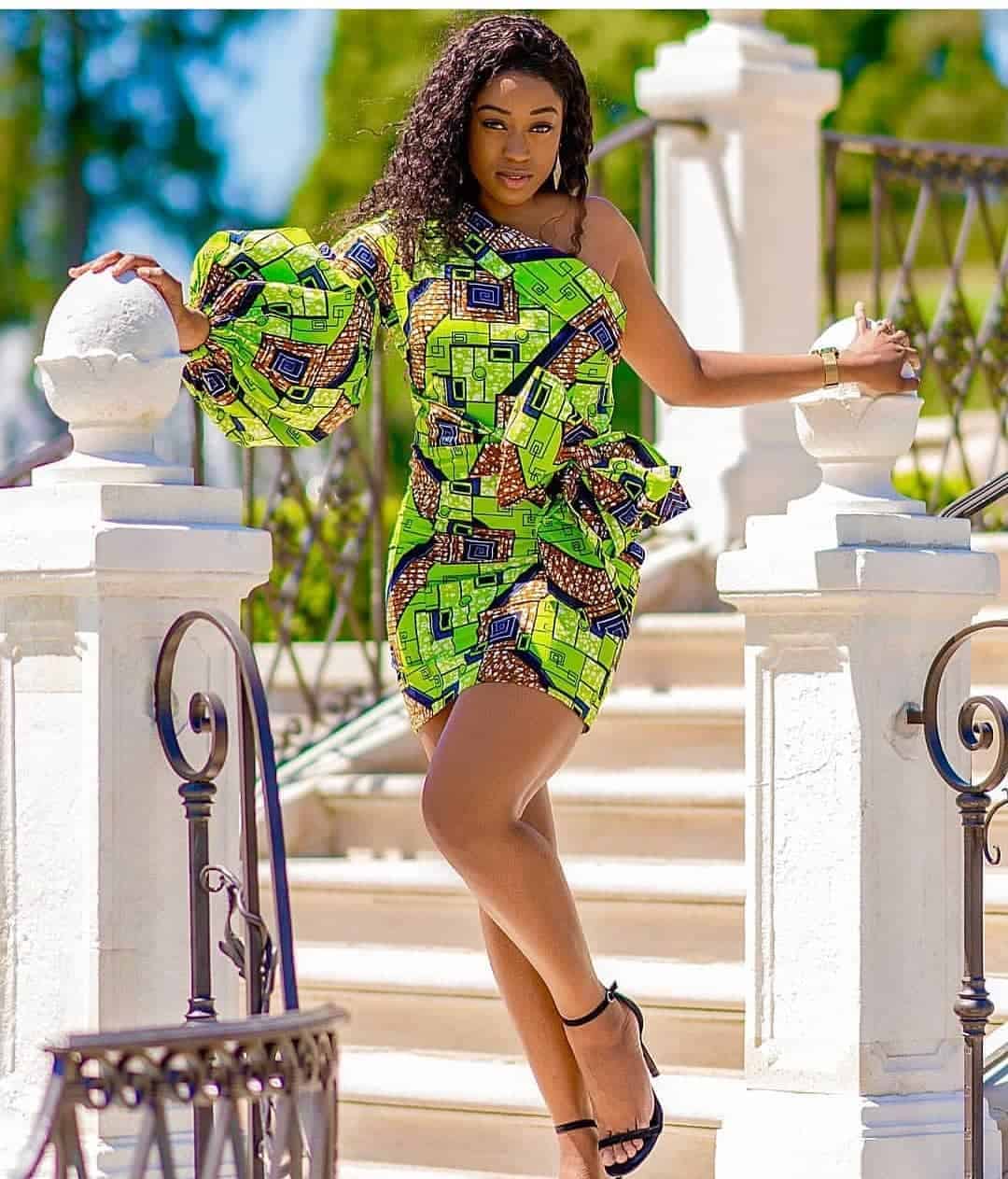 A more fascinating way has been created for you to enjoy a wrap dress and it does not have to be along gown for you to design it the way you and the perfect example is the style above.
18. Maxi Gown With Belt
Often times you want to keep it simple and not overly dramatic, a maxi Gown suits that, you can add a studded belt to make all the difference and a strip sleeve looks perfect with it.
19. High Neck Blouse With Ruffled Skirt
Here is another modern Ankara style you do not want to miss having in 2020, elegant and suiting for all kinds of occasions, add a nice pair of heels to give it a more unique appeal.
20. Ankara Style With Material Design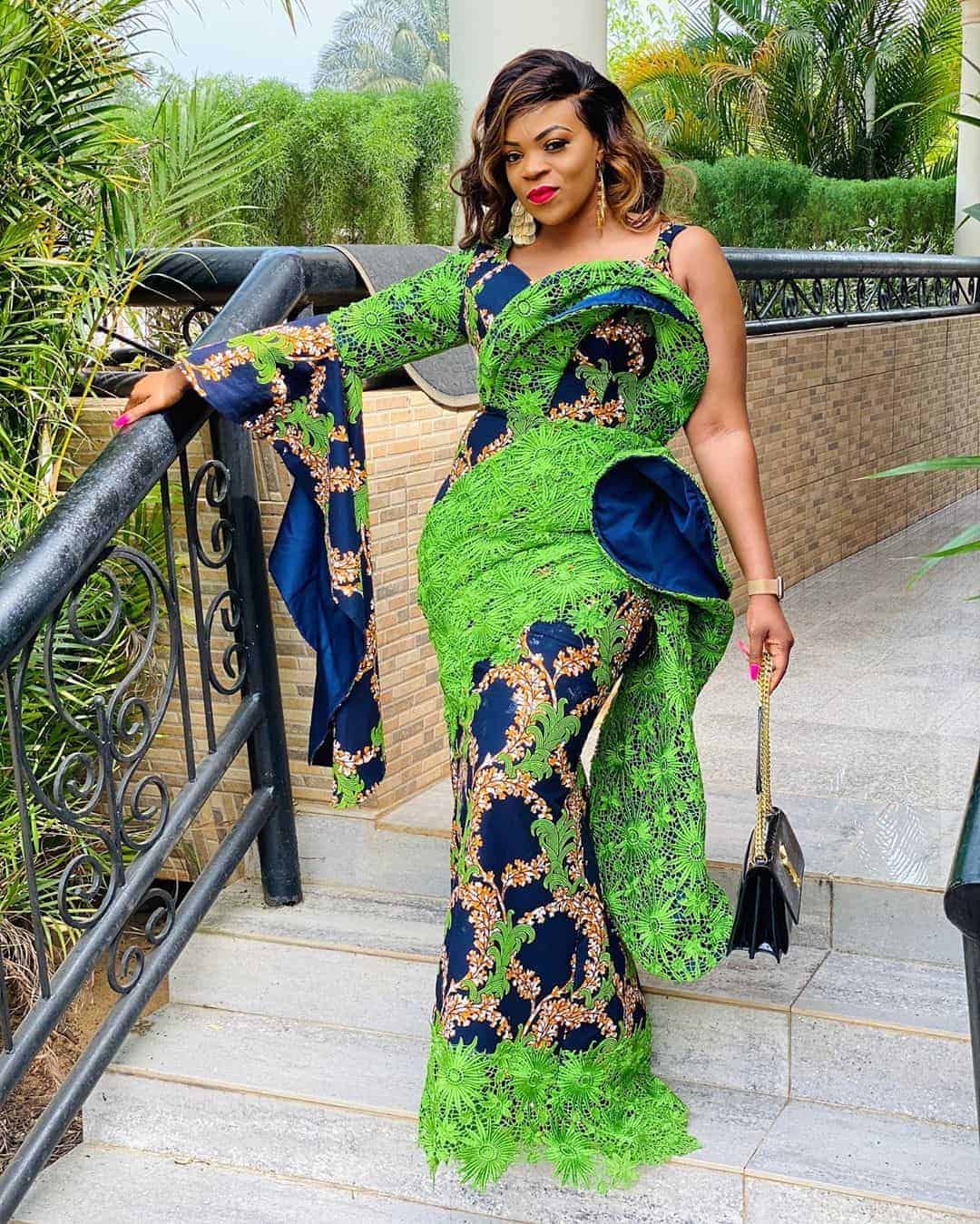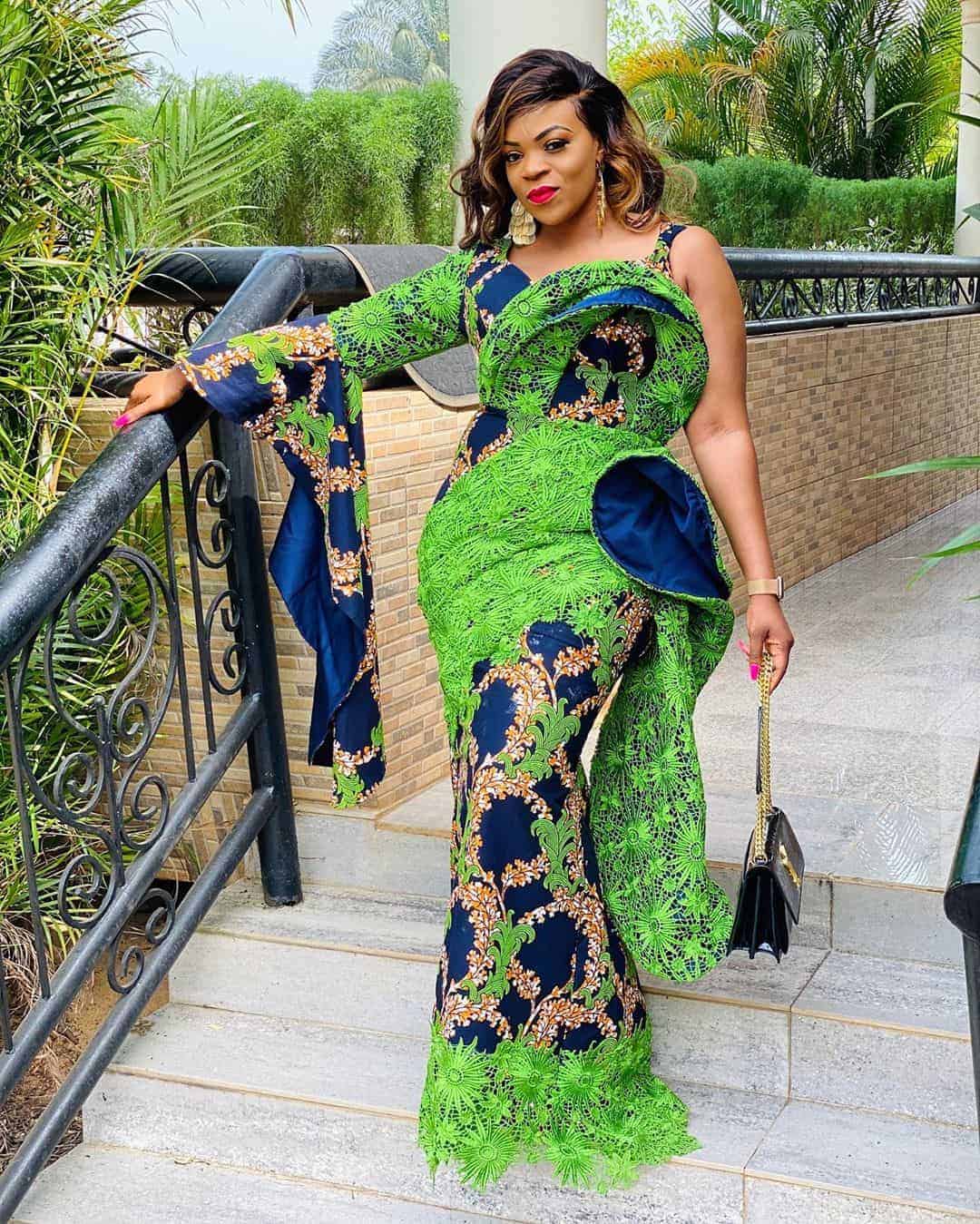 The right way to define this style would be dashing and we find it just fitting for the modern Ankara world, the material enhancing the style can be lace or chiffon, depending on which you find interesting.
21. Blazer Jumpsuit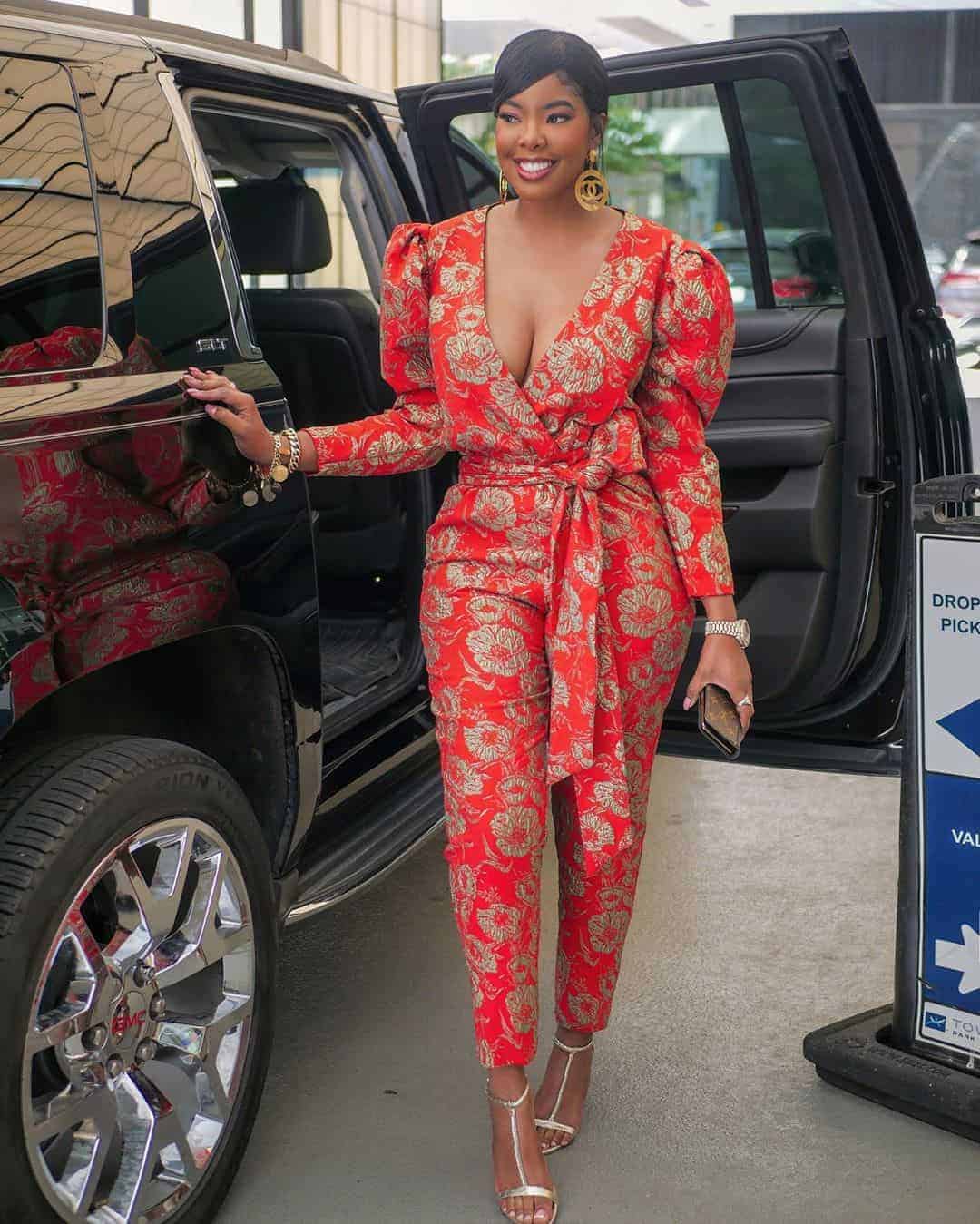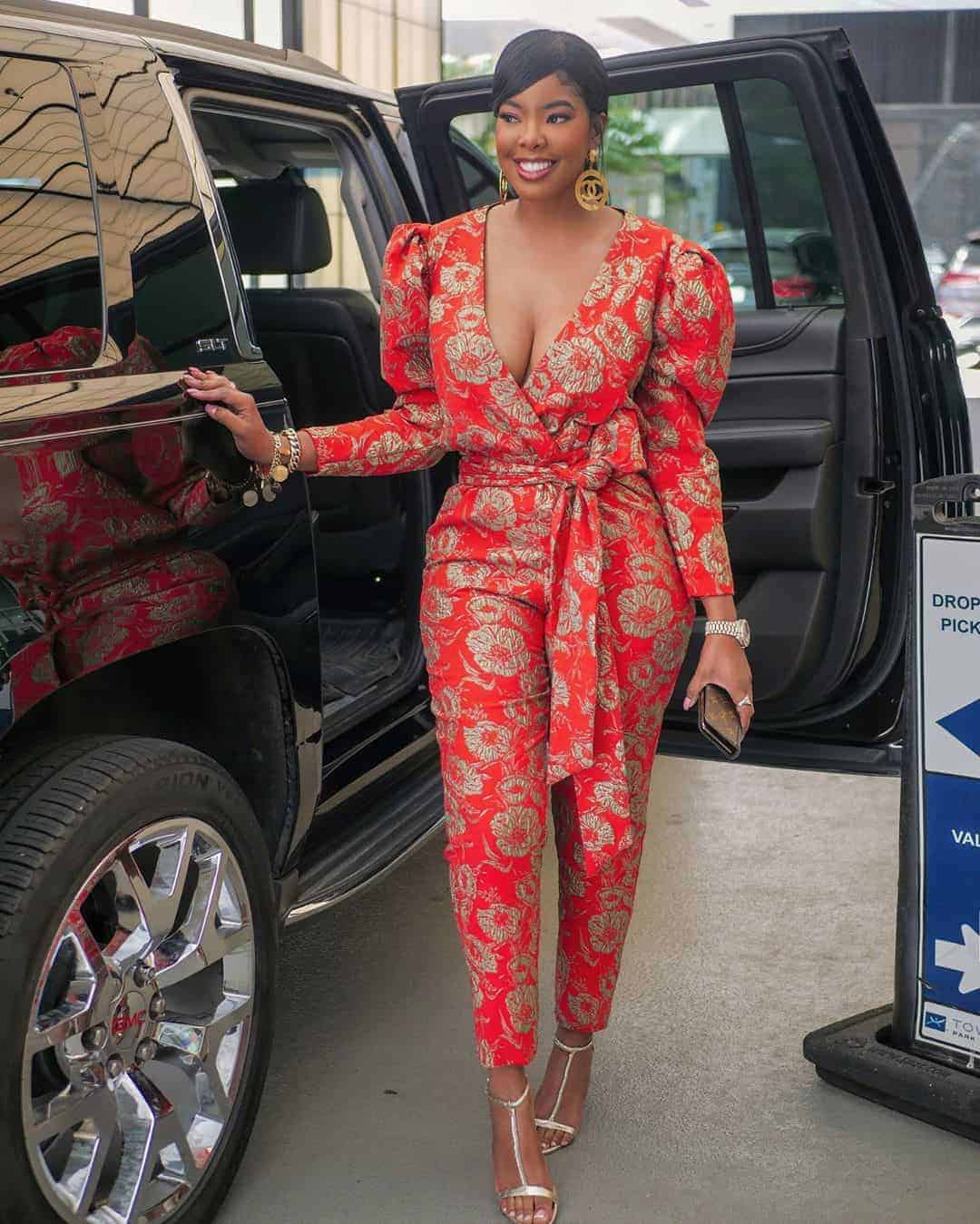 A jumpsuit is another way to make a statement in the fashion world and Ankara has introduced amazing ways to make that even more interesting, a blazer Ankara jumpsuit is clearly going to make a wave in 2020.
22. One-Off Shoulder Ankara With Frock Ruffle
Short Ankara gown is just what you need for a casual date out, ruffles are now used to form a pattern you can't help but like.
23. Micro Tub Gown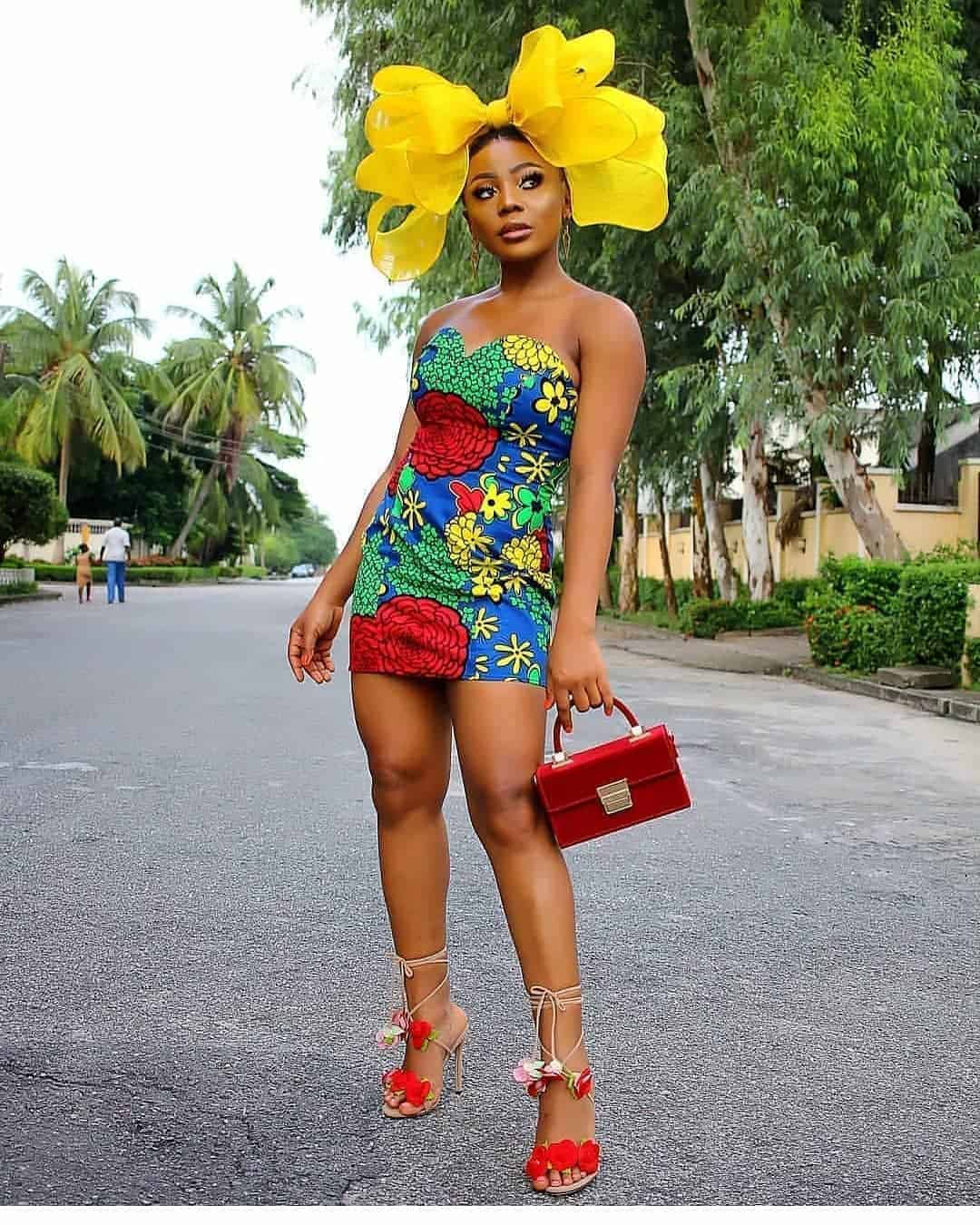 Micro tub gown is just what you need to get a bold and daring look, the head-tie looks fascinating as well.
24. Off Shoulder Empire Gown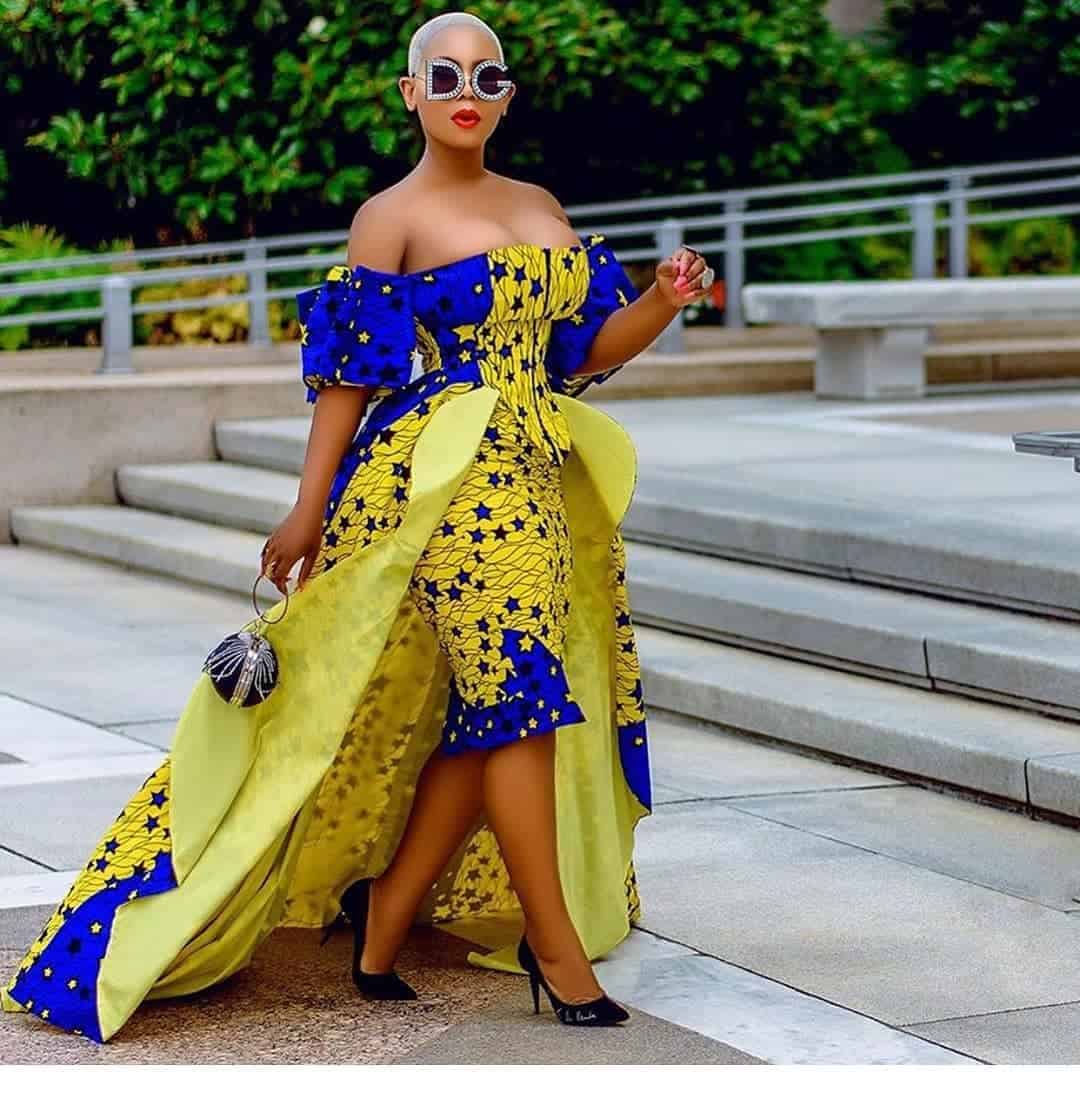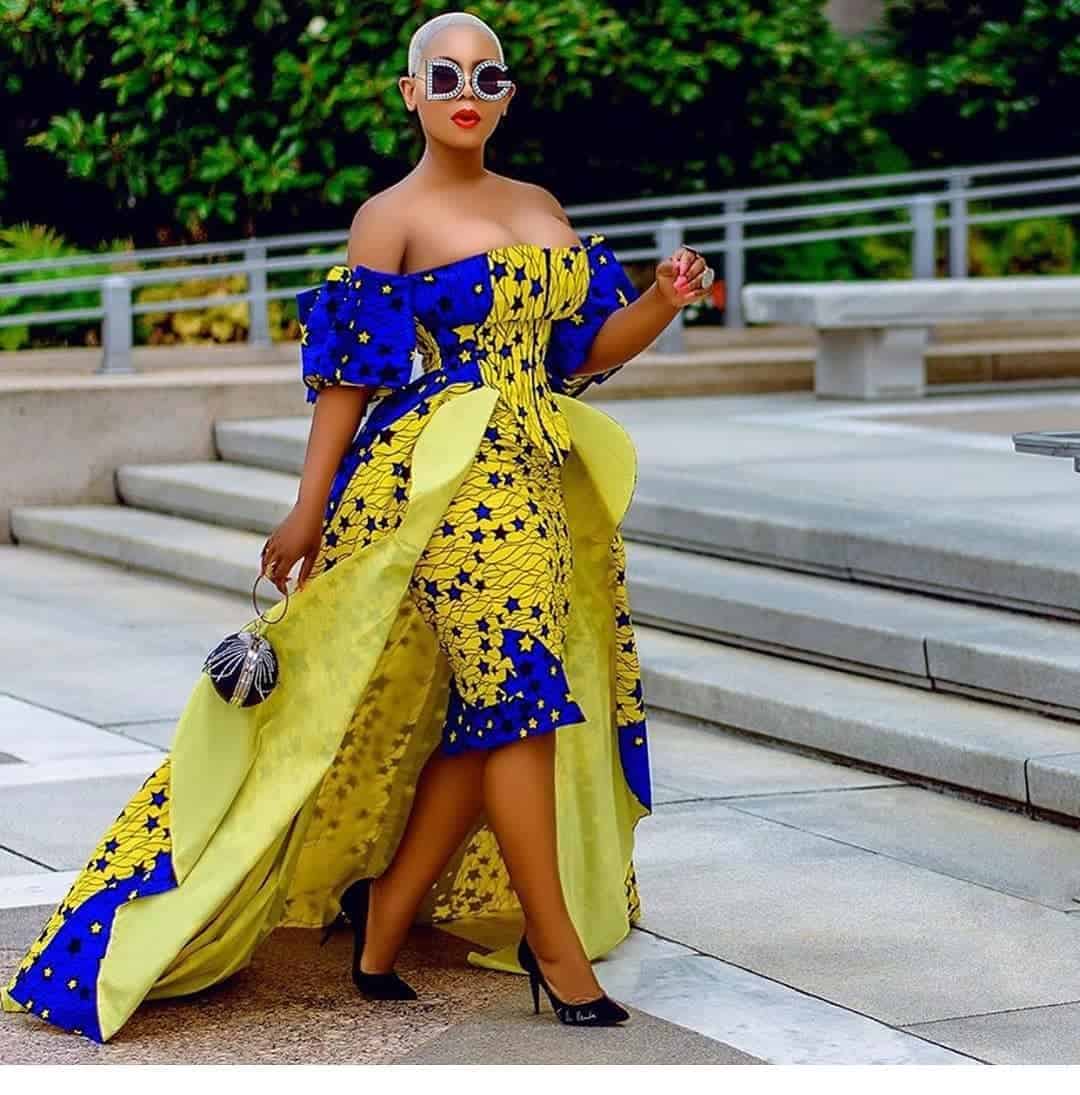 The festive season is still in full swing and this might be just the right kind of Ankara style you need to get into the festive mood.
25. Micro Gown With Layers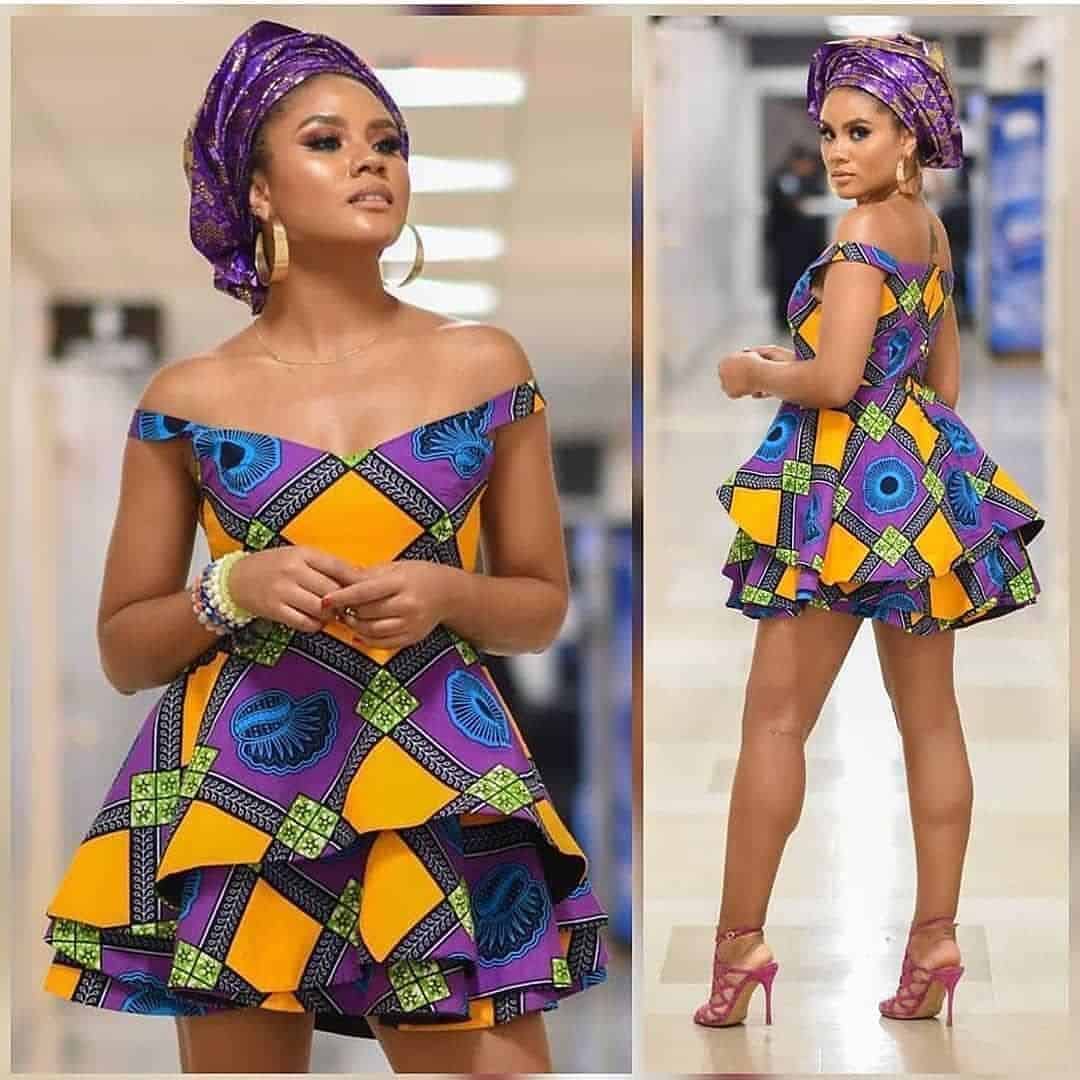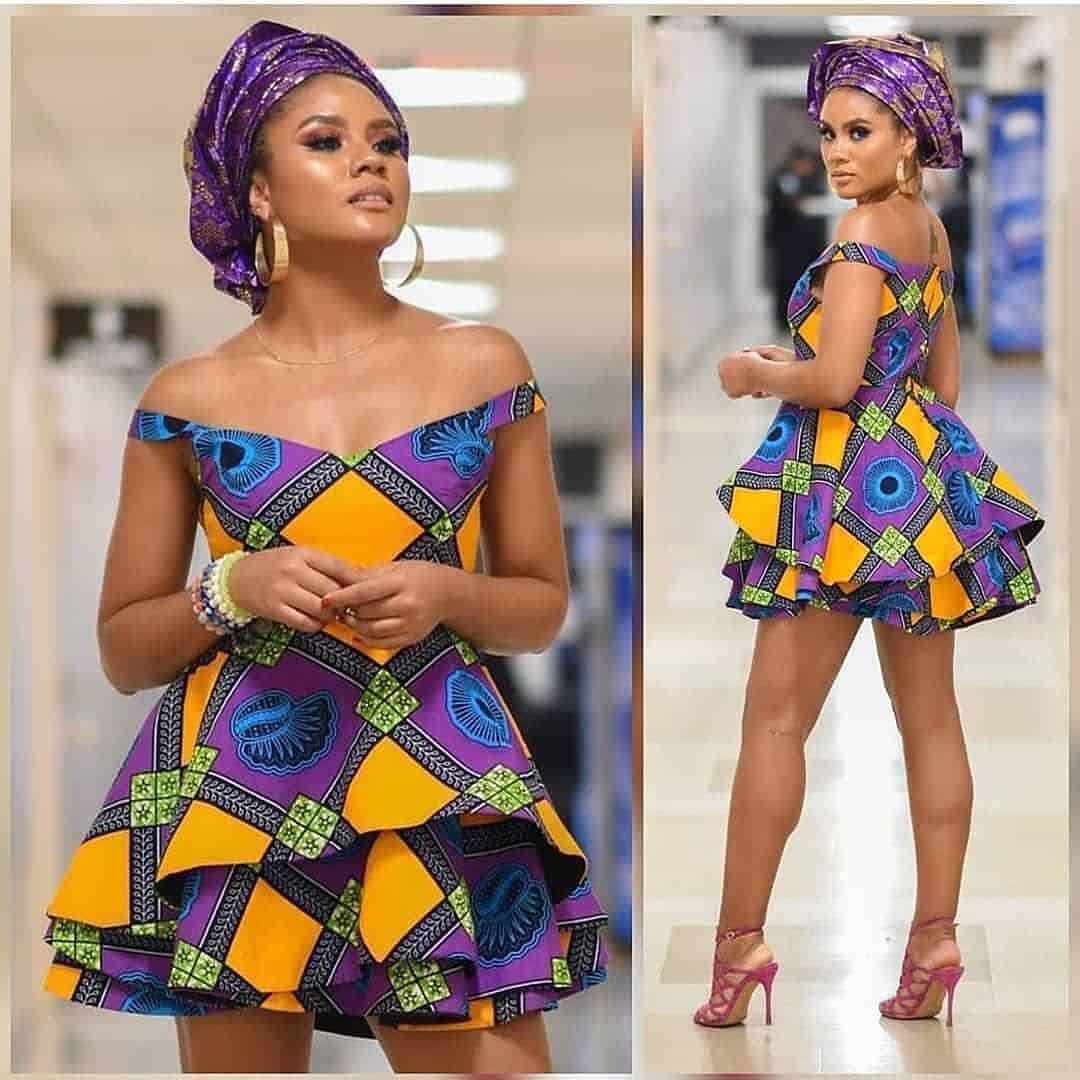 A micro Gown seems to be a new style and what better way to rock it than with double layers and a bit of flay.
26. Ankara Gown With Dramatic Frock
Ankara styles for a traditional wedding is allowed to be dramatic just like the one above, keep it simple but elegant.
27. Shirt Jumpsuit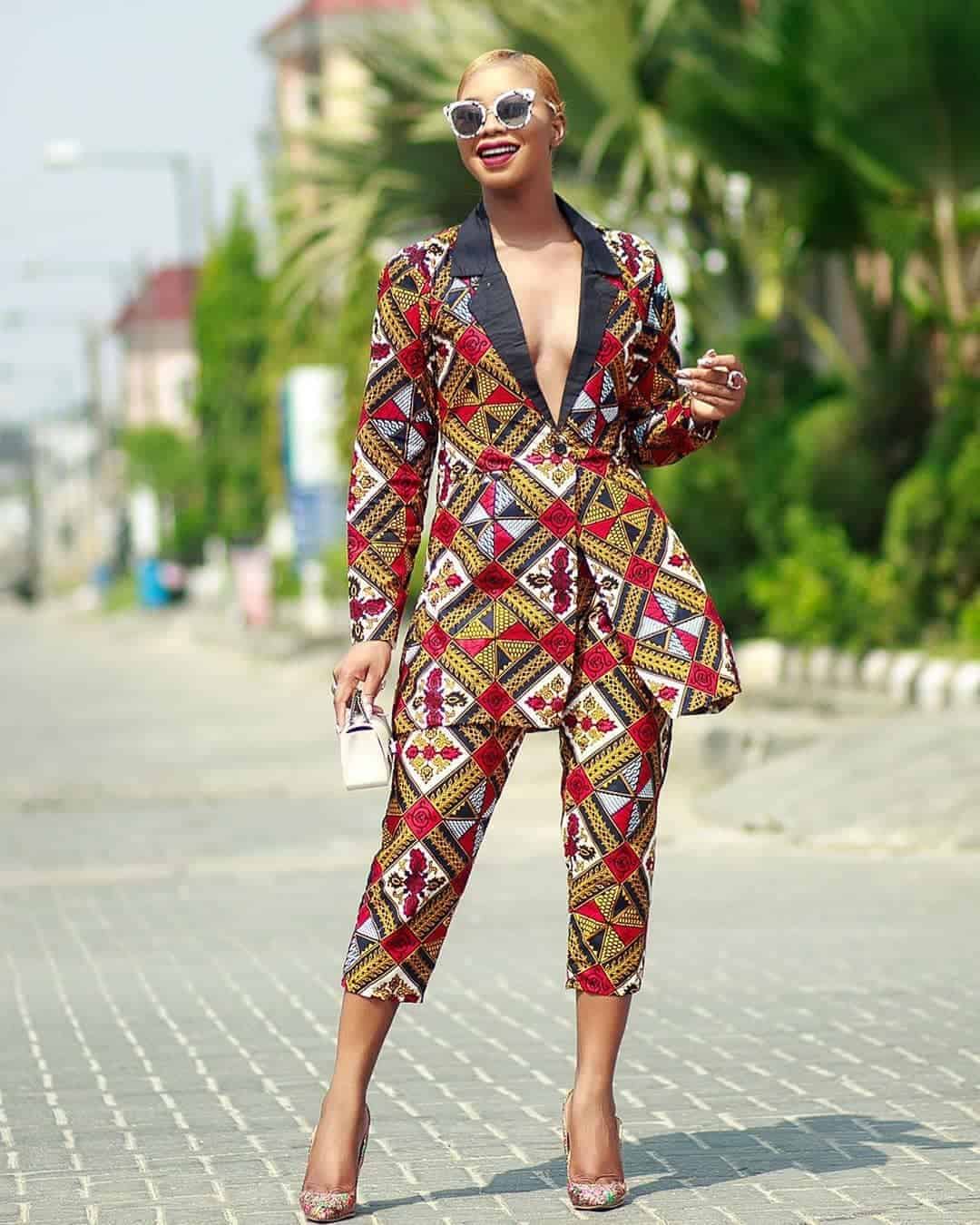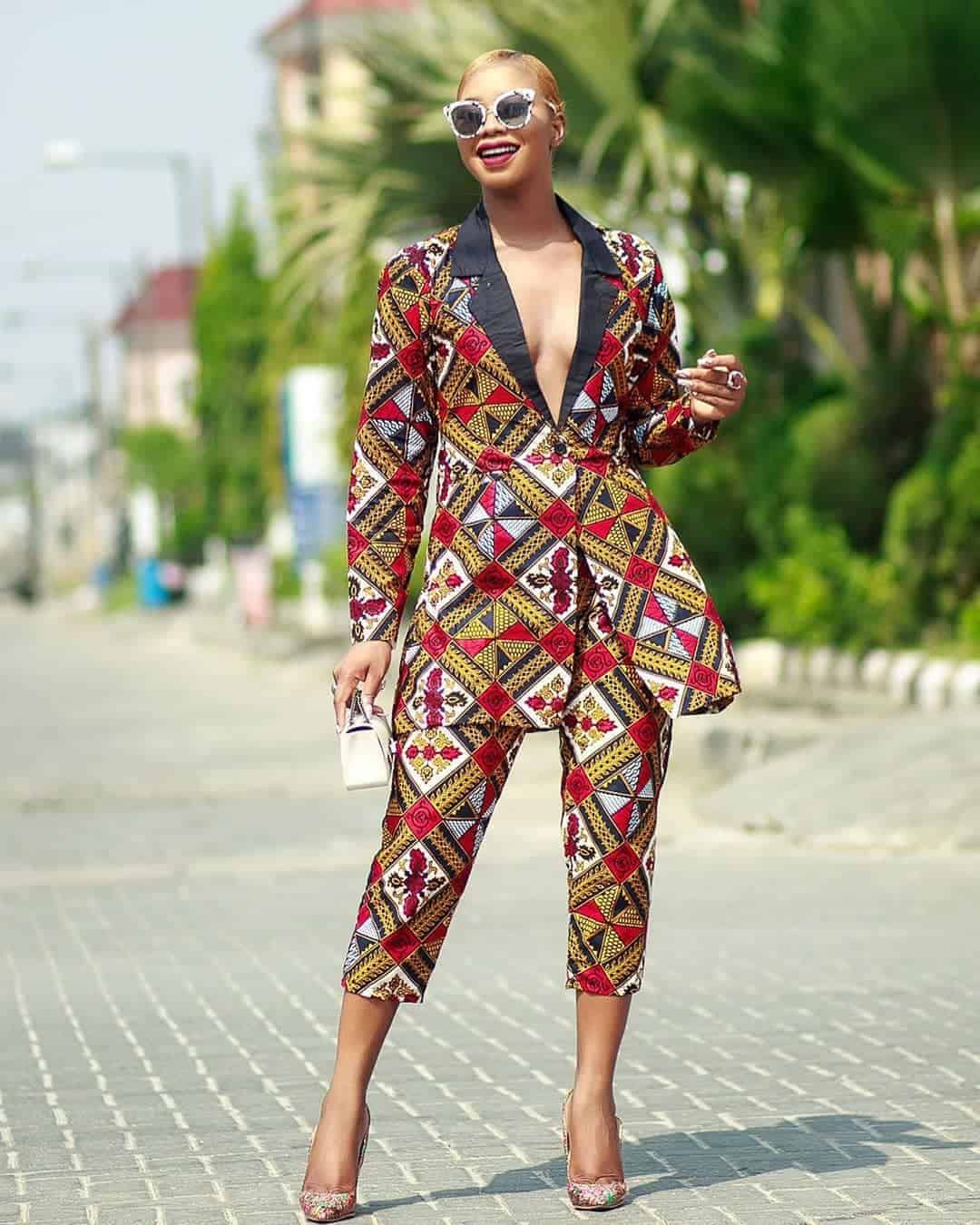 This is pretty similar to blazer Jumpsuit but a shirt jumpsuit is more formal and you can easily wear it to a party or office on a Friday.
28. Layer Gown With Short Cap Sleeve
Here is a gorgeous modern Ankara style designed by a top-notched fashion icon, styleconnausseur can be your go-to when you need a simple but exotic style
29. Short Wrap Dress
Another style we find quite stunning and modern enough is this gorgeous wrap dress, nothing too fussy about it and it obviously looks comfortable.
30. Shirt And Pencilled Trouser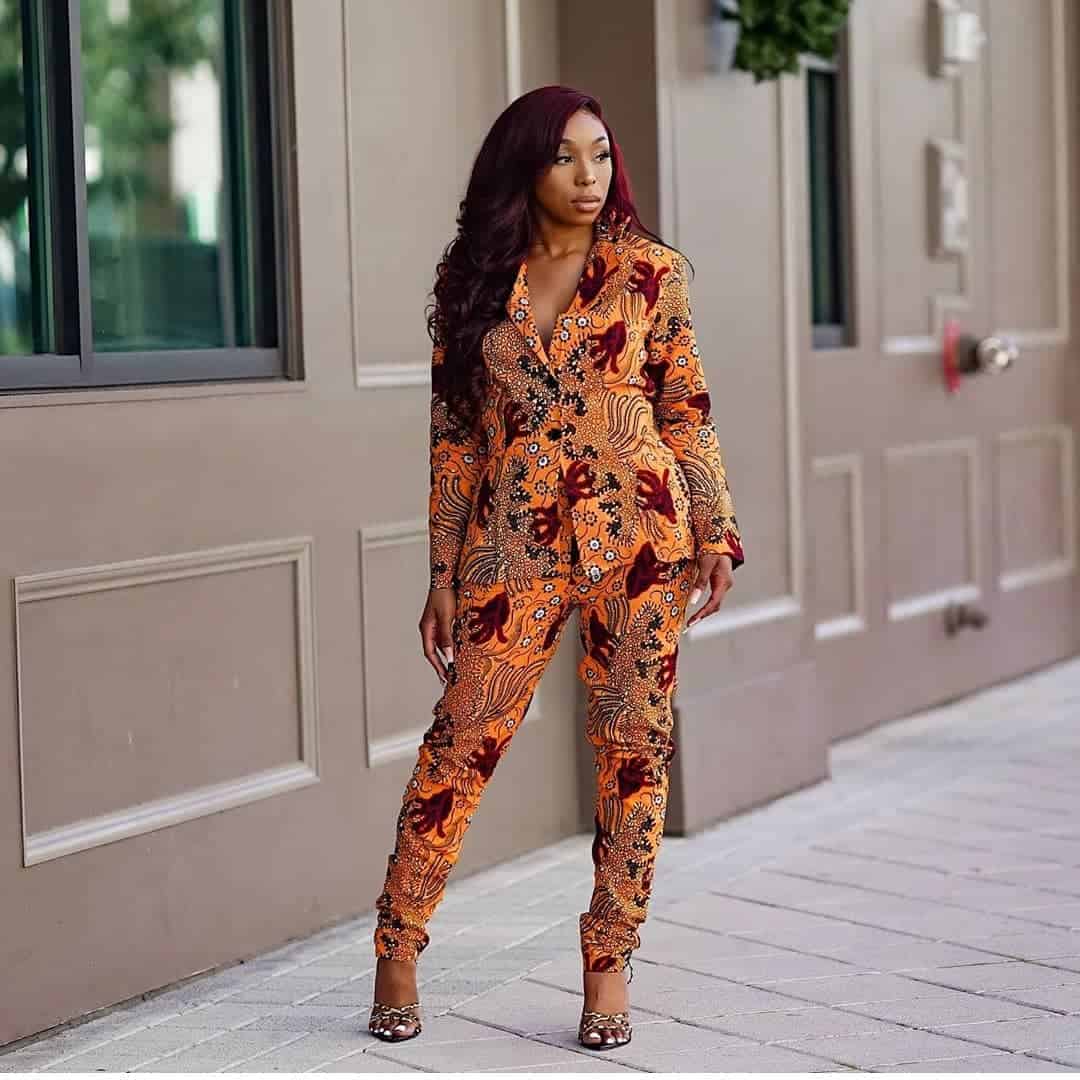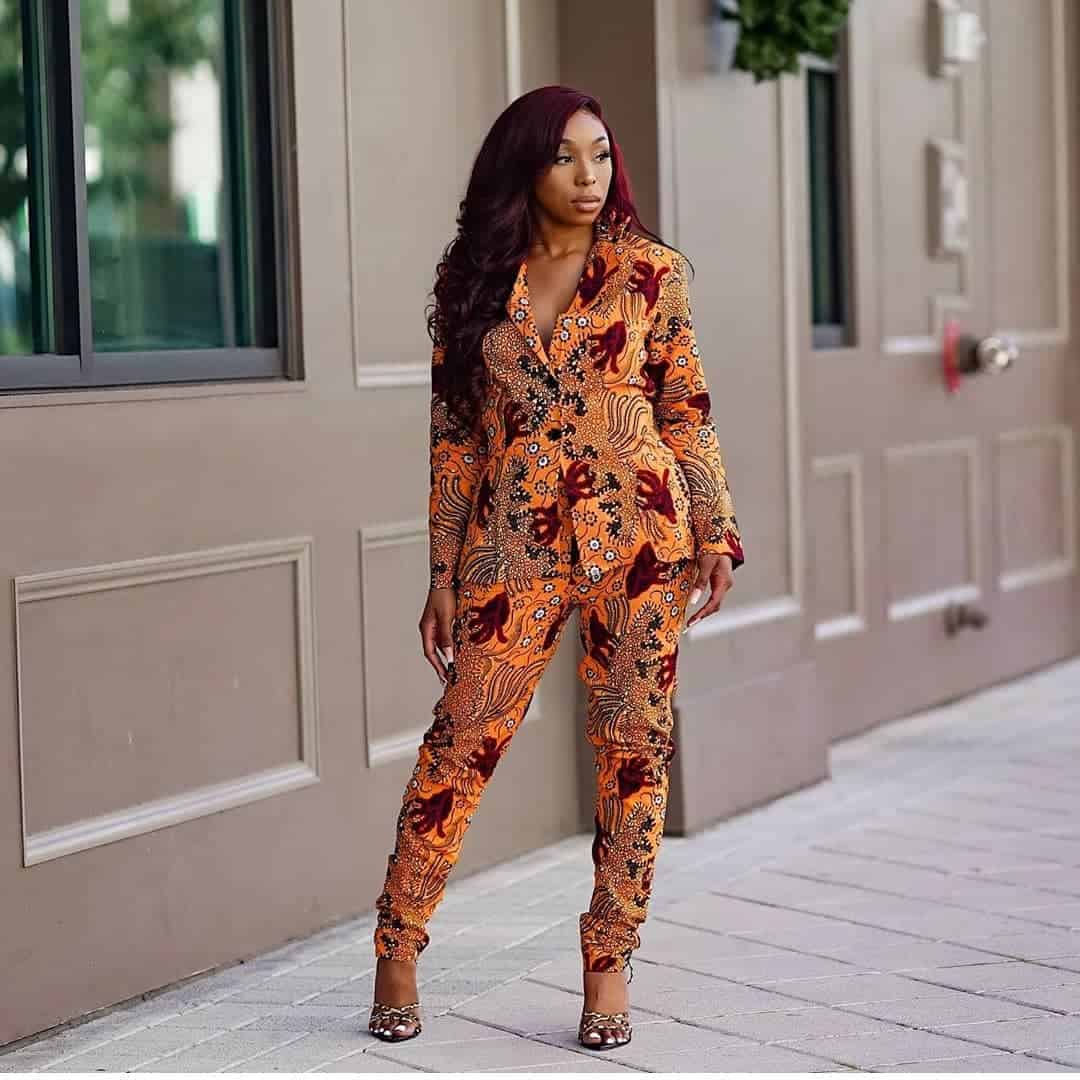 This is one beautiful Ankara style lots of ladies are adding to their Ankara collections, you can wear to all kinds of events and definitely stand out in a good way.
31. Simple Gown With Pleated Design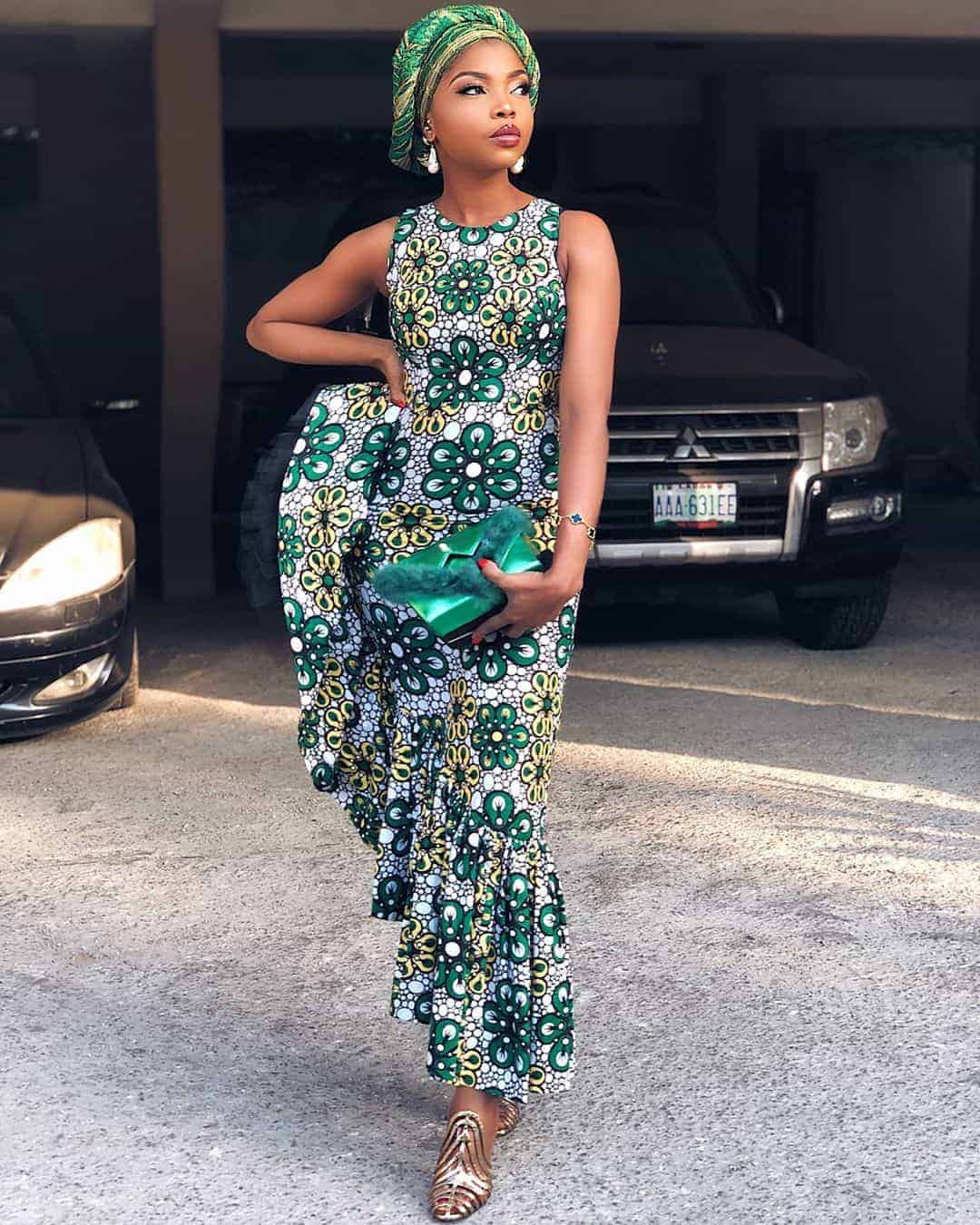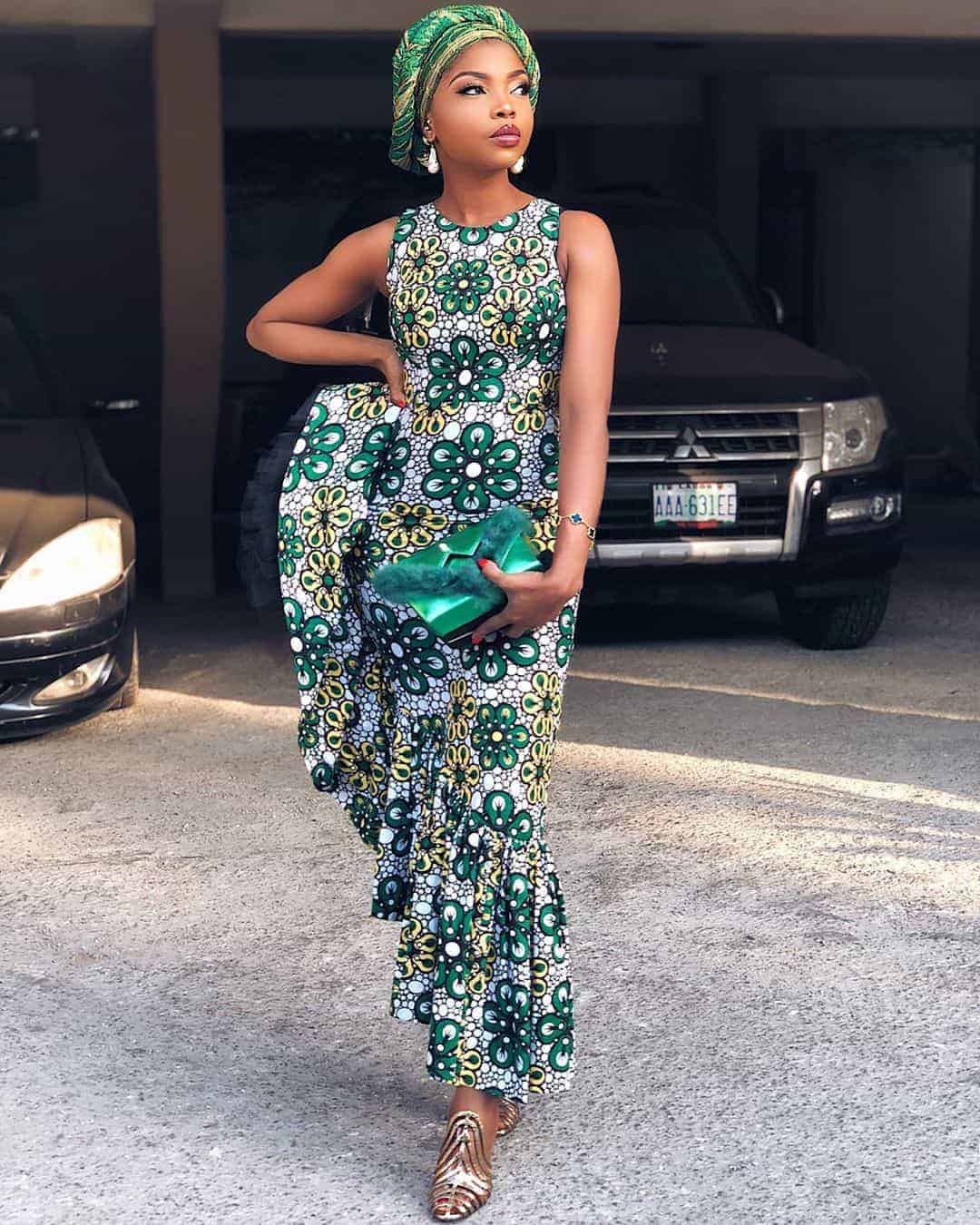 Adding pleats to the frock of a gown is becoming quite trendy, the style above is a good way to work pleats into Ankara styles and we find it lovable.
32. Ankara Shirt Blouse With Net Skirt
Light up the party mood in a comfortable Ankara shirt blouse while you keep the skirt purely material.
33. Off Shoulder With Bell Sleeves And Palazzo Trouser
Interestingly, you do not have to match your blouse and trouser with the same Ankara fabric if you do not want to, pairing different speck of Ankara fabric seems to look even more fascinating.
34. Flay Gown With V-Neck And Elbow Cap Sleeves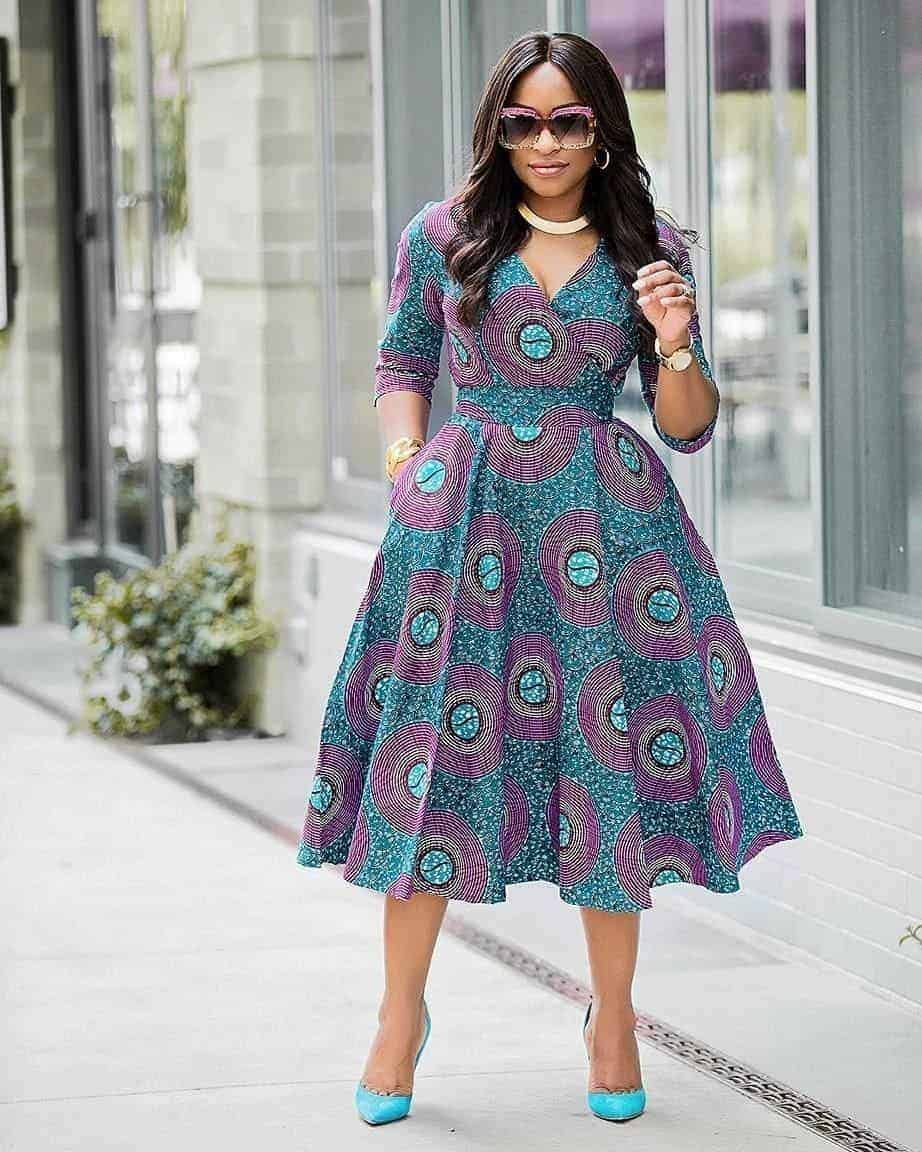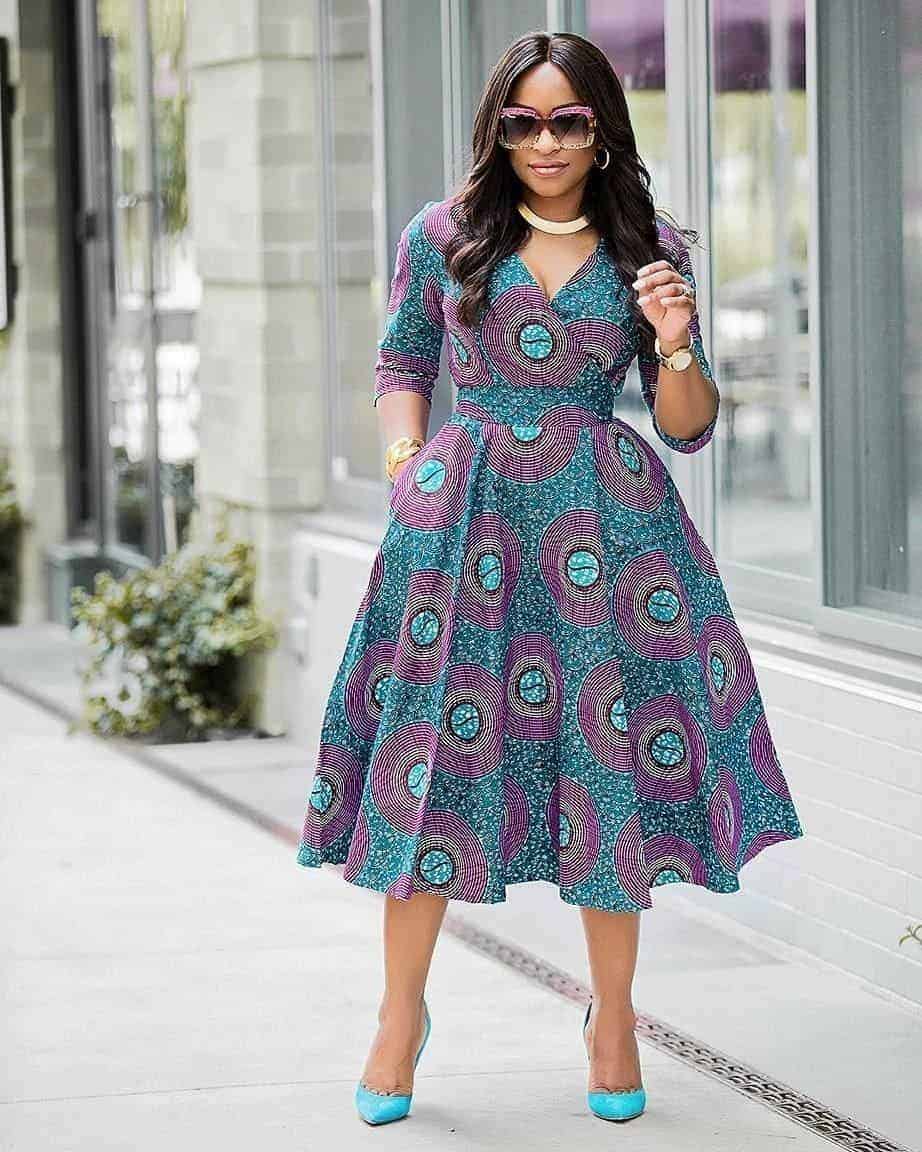 This is the perfect style of you want to feel comfortable while you hit the dance floor.
35. Shirt Waist Flare Dress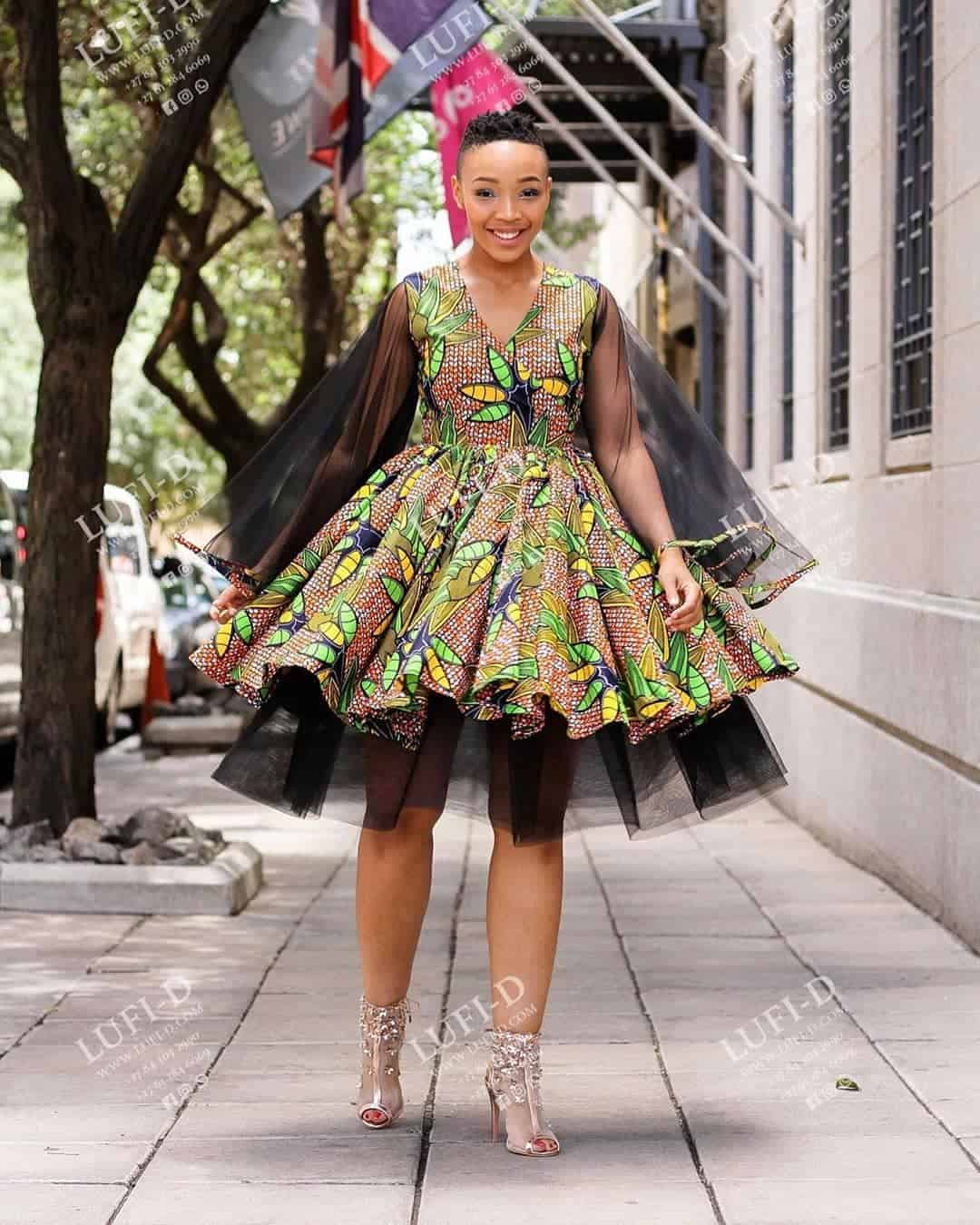 This resembles a shirt only in the top portion with a v closing to give it a classic look and the flare at the bottom is just what it needs to complete the look.