Don't you just love weddings? It's that time when you have to dress up in your best to honor the bride and the groom, being a bridesmaid at a friend or family wedding is an honor no one wants to pass up, and if you are the bride you want your bridesmaids dressed in nothing but the trendiest and most beautiful outfits that compliment the bride's dress.
Do not fright if you are faced with the choice of style's for your bridesmaids as we have selected some of the best bridesmaids styles that are not just in trend but most talked about, won't beat the bride's style but will definitely show off the bride's style even more.
Bridemaids should not be found in a boring style and this post will give you the perfect idea of what a true bridesmaid style should look like.
13 Stunning Bridesmaids Style For Inspiration
How a bridesmaid dress really does have some influence on the bride hence why we had to compile 13 of the best bridesmaids styles to inspire you.
1. Mermaid Lace Gowns With Split Side Long
You want your bridesmaids looking like beautiful mermaids in class, this style will obviously fetch that look, it's traditional enough if you are worried about that and also right for an elaborate wedding too and won't overshadow the bride.
2. Dark Red Summer Style
Something with no drama yet unique and fashionable, a style that would make sure your bridesmaids are comfortable enough to hit the dance floor, really superb and fascinating.
3. Unique Off Shoulder Style
This is definitely unique, compliments all kinds of weddings and also really simple with less drama, it would really stand out at a wedding.
4. Elegant Coral Long Bridesmaid Dress 3/4 Sleeves
This is fabulous, and this style would definitely have your bridesmaids looking all glamorous and compliments a nice wedding outfit.
5. Peach Bridesmaid Dress
This is a style we are completely in agreement with, it's la hot and la perfect for a calm cool wedding even at the beach, bridesmaids couldn't look hotter than this right?
6. Cute Tub/Off Shoulder Dress
What if your bridesmaids can get off the shoulder, tub and thin strap all rolled in one outfit, fabulous right? They can dance with it too as the down is not tight fitted.
7. Down To Earth Bridesmaid Style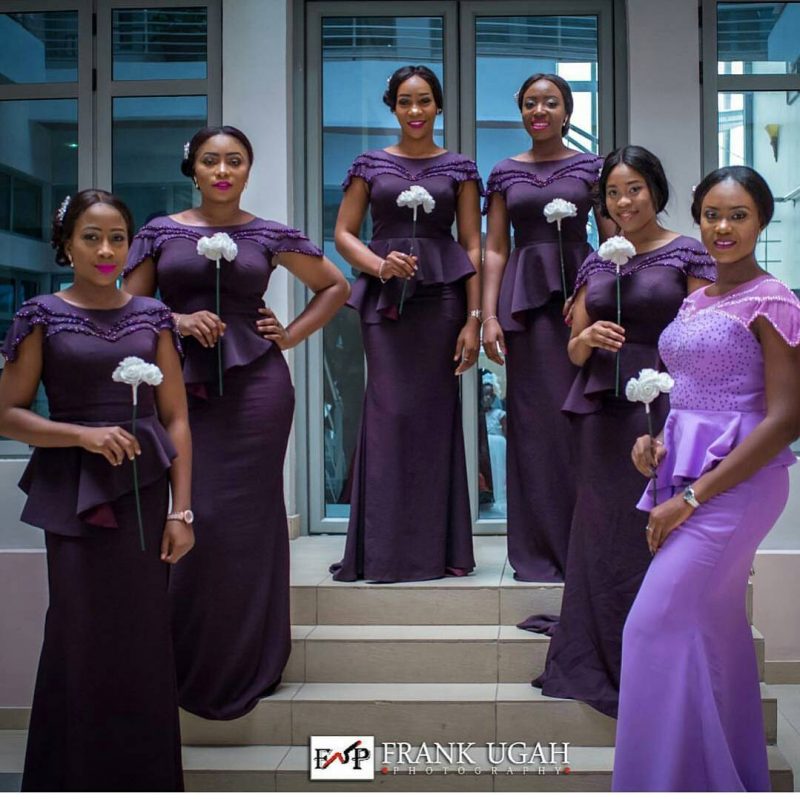 If you want something conservative, go for this style above, it's elegant too so there are no worries of it not getting attention.
8. Lace Off Shoulder Design Style
This really did trend on Instagram and we think you might like it too, not too dramatic and at the same time not too simple which give an alluring appearance you can't refuse.
9. Flambouyant Bridesmaids Outfit
This should really make a bridesmaids day at the wedding, they can hit the dance floor comfortably and even manage to keep the bride on her fit on the dance floor.
10. Elegant Body Shape Dress
Absolutely gorgeous and really trendy, mostly used for white weddings and won't be a bad idea for a simple wedding either. The cool calm demeanor of the style is suiting for a cool beach or white church wedding.
11. One Hand Red Sleek Dress
A style like this can't be refused, been a bridesmaid requires looking sharp and sweet and what better way to achieve that than with a style like this, furthermore, a style like this will make dancing easy and effortless.
12. Traditional Bridesmaid Styles
It's a traditional wedding and you want a style that speaks a different yet unique terms with your wedding theme, here is the perfect bridesmaid style to get that done, your bridesmaids will love it and it would blend perfectly with your wedding dress.
13. One Shoulder Bridesmaid Dress With Cap Ivory Satin Sweep
When gold is the wedding theme and you want your bridesmaids to stand out in more captivating ivory gold and one-shoulder trendy style then you get a style like the one above, it's simply stunning and worth recreating, your bridesmaids are going to love it and a happy bridesmaid means a dancing bride and glowing bride.
---
Everyone loves weddings, especially the bridesmaids who have to keep the bride on her toes, they do deserve a nice effortless style and some of the styles above would definitely get that done.
Are you about to be a bride or a bridesmaid and find one or two of these styles above fascinating and right for you? We would love to know in the comment section.
<
Read more on weddings and style: