How do you braid your hair the African way? African braid is becoming quite trendy and can be worn for months without it causing any breakage to your hair or scalp however there are various kinds of African braid and while are simple and takes less time, some require an extension which takes a lot of time and efforts to complete but is believed to be the most beautiful.
There are also African braids in the form of cornrows, also braid cane rows in the Caribbean are becoming a style of hair braiding for Africans.
An African braid is a form of hairstyle where the hair is braided very close to the scalp, using an underhand, upward motion to make continuous raised rows there are so many types of African braids that are elegant and fitting for any kind of event.
Braiding started in Africa and over the years, more amazing styles have been introduced and we compiled 55 new hairstyles to make African braiding easier.
60 New And Easy African Braids
African braids are beautiful and seem to stand out among other choices of hairstyles, you can an African braid whichever way you want and it also lasts longer than other forms of braids, below are 60 new and easy African braids for any kind of hair length and texture.
1. Two Layer Curly Braided Hairstyle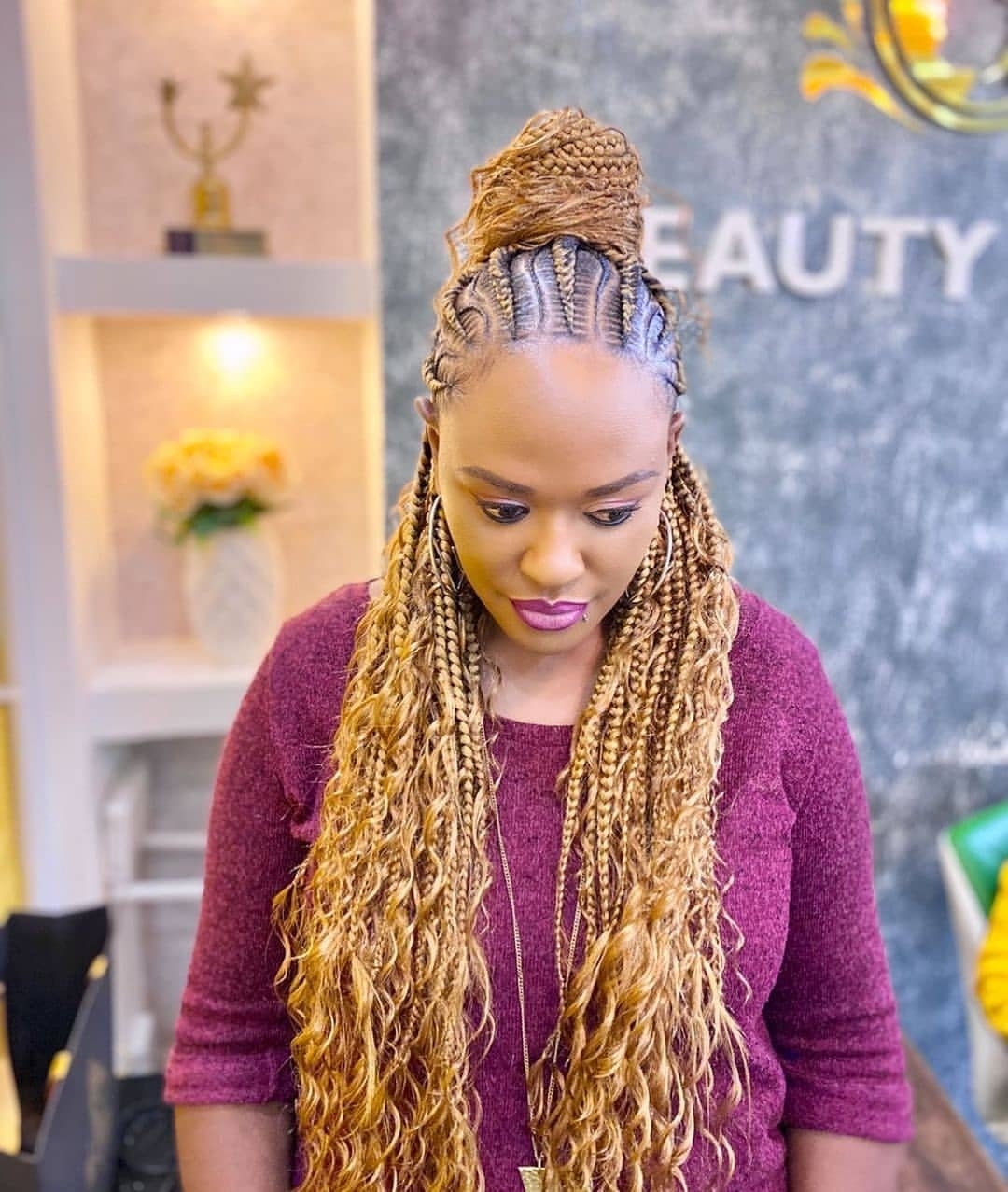 This is one of the most stylish hairstyles you should try out this year. This can be styled in so many ways, this can also be complemented with many colors of extension. It also has a unique design that makes it classy enough for any occasion.
2. Blunt Cut Box Braid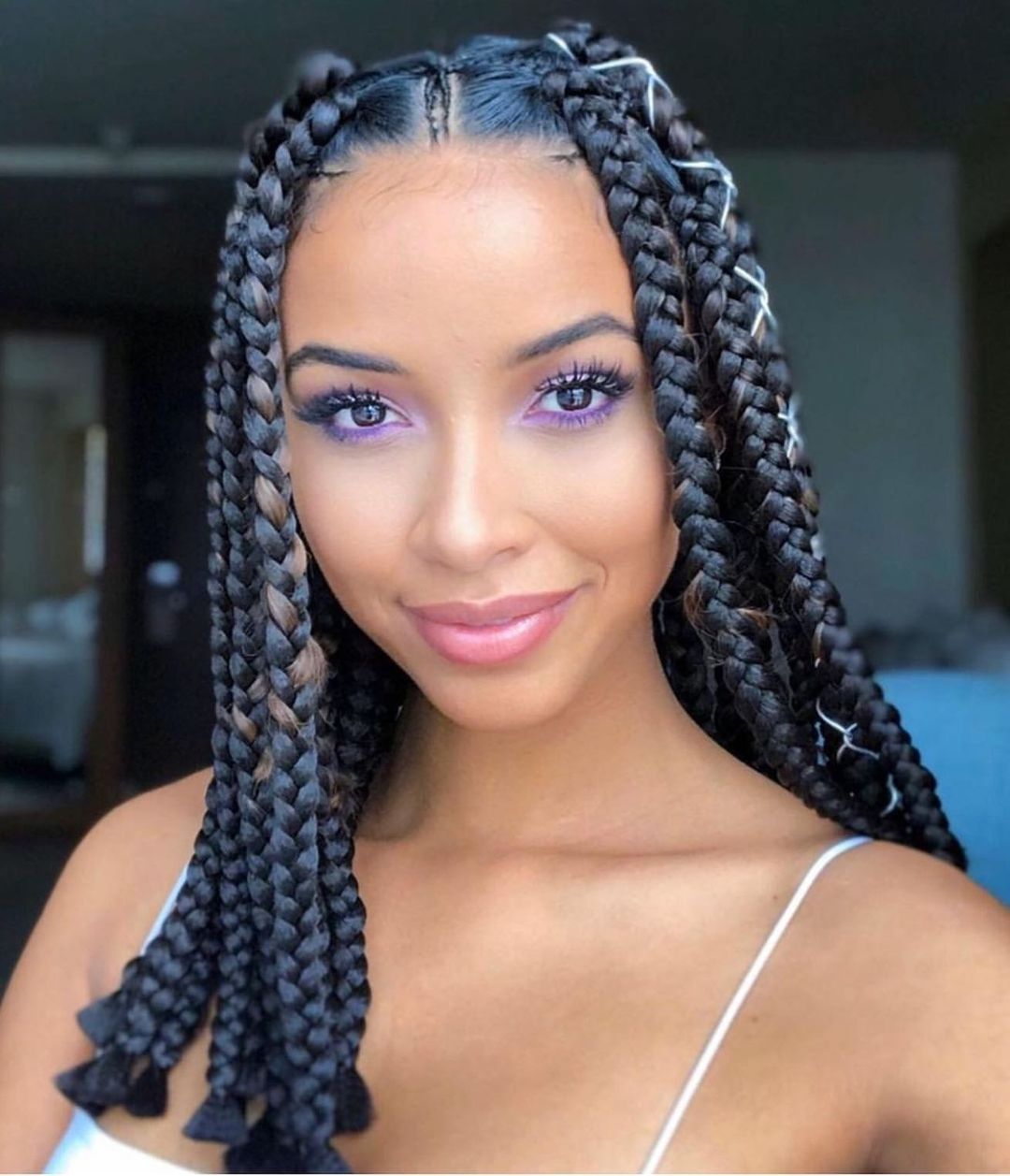 Blunt-cut box braids are another very simple yet fascinating African braid hairstyle. This is a cool protective hairstyle that suits any face shape. The creative cross added to the front is classy and makes it stand out compared to other types of box braids.
3. Jumbo Double Cornrow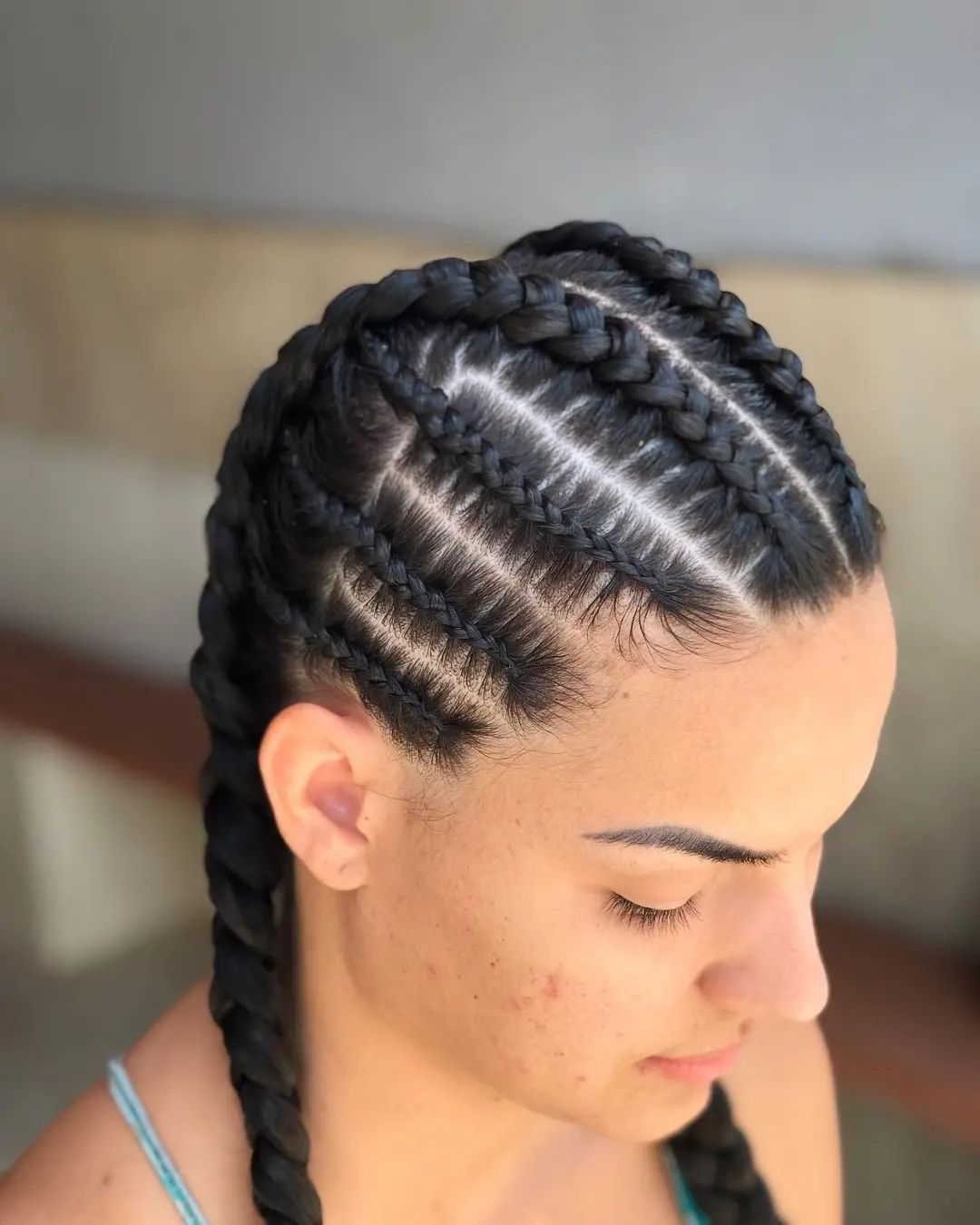 The next exquisite hairstyle on the list of best African braid hairstyles is this double jumbo hairstyle, this is simply fascinating, and you don't have to spend hours making it.
4. Knotless Braid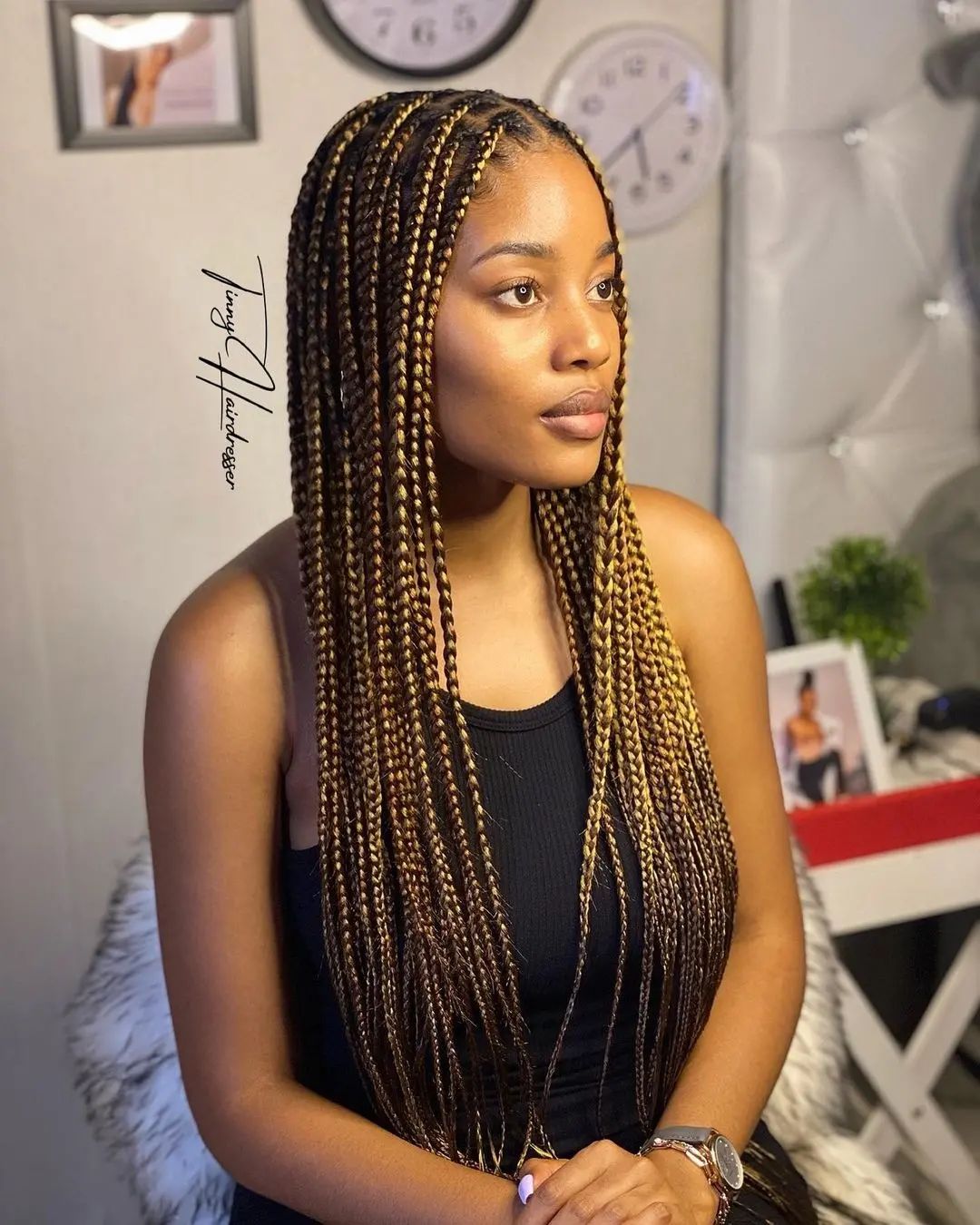 Knotless braids have taken the world of African braids by storm, and it does make a nice protective hairstyle.
5. Feed In Stitches With Curls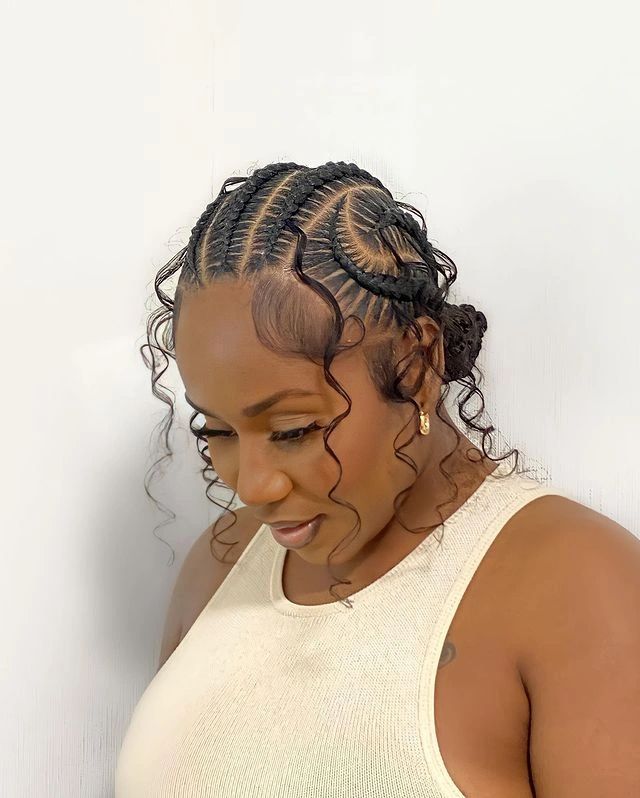 Just the African braid hairstyle you need to promote hair growth, look stylish and protect your hair from damage.
6. African Box Braid With Bantu Knots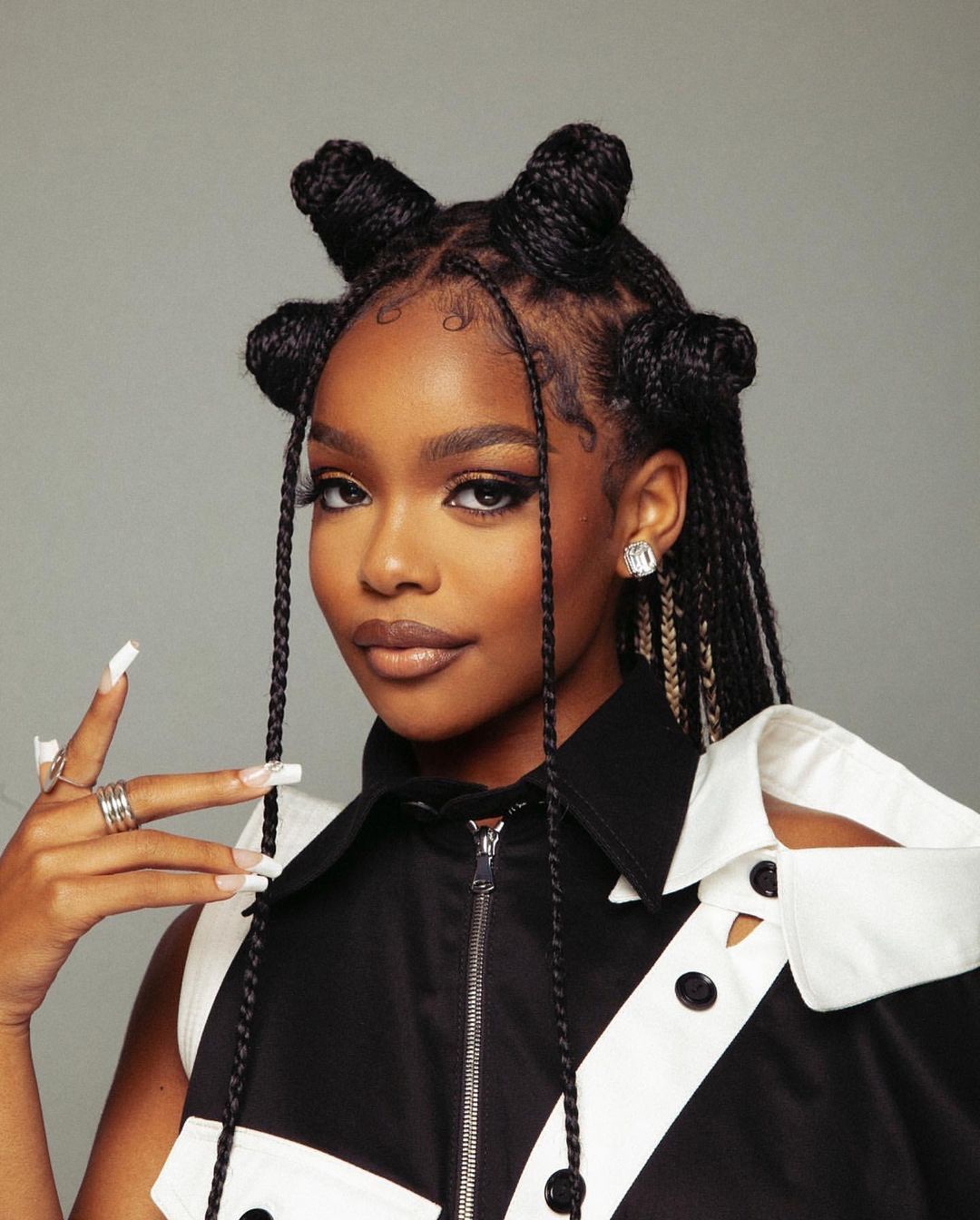 African braids will always be here to stay but this doesn't stop how fun and creative you can get with them. Box braids and Bantu knots are two common types of braids and here is a style that proves that they go well together. You can simply have your box braid hairstyle styled and it would still look great.
7. Criss Cross Braid Hairstyle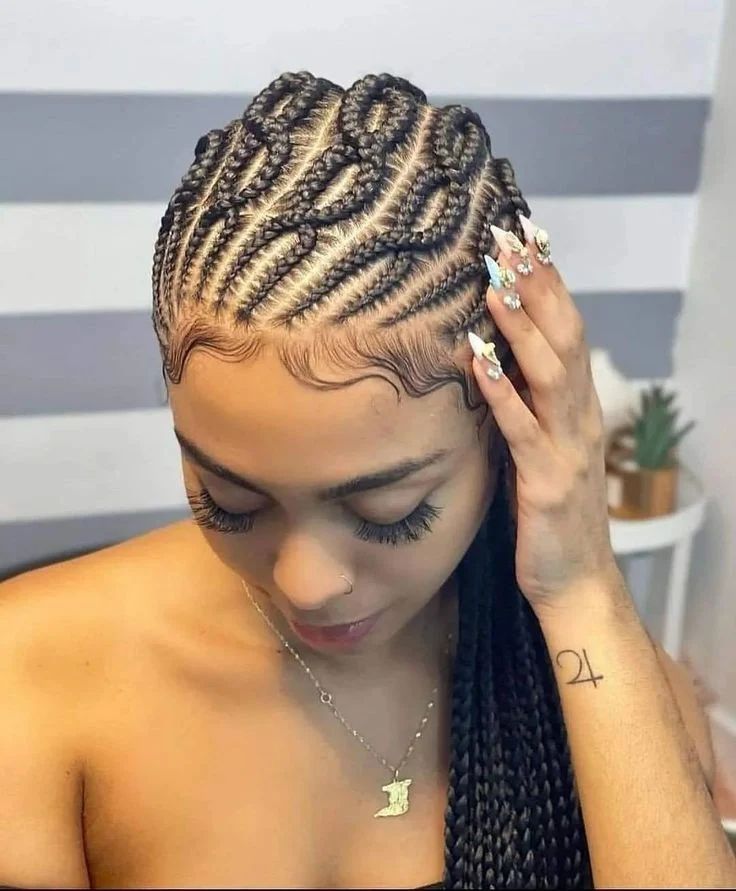 This is a recent African braid hairstyle but it's a really lovely one and simple compared to other types of braid. You can also go with a zigzag cornrow or add straight braids to it. The design is what stands out and the crisis cross is easier to get than zig-zag.
8. Twist Braid With Stitch
This is another popular African hairstyle you can get no matter the occasion. It's also considered a cool outfit for brides or wedding guests.
9. Big Roll-Up African Braid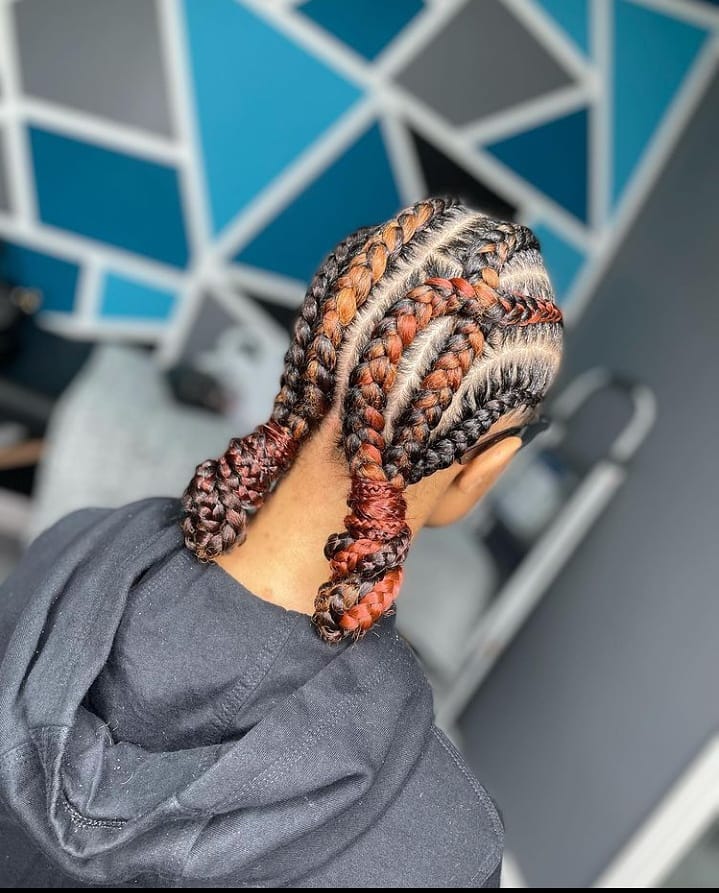 If you are looking for a fancy but simple braid hairstyle, here is one that has everything wrapped in one. You can choose to drop the hands if the roll-up seems too simple.
10. Ghana Weaving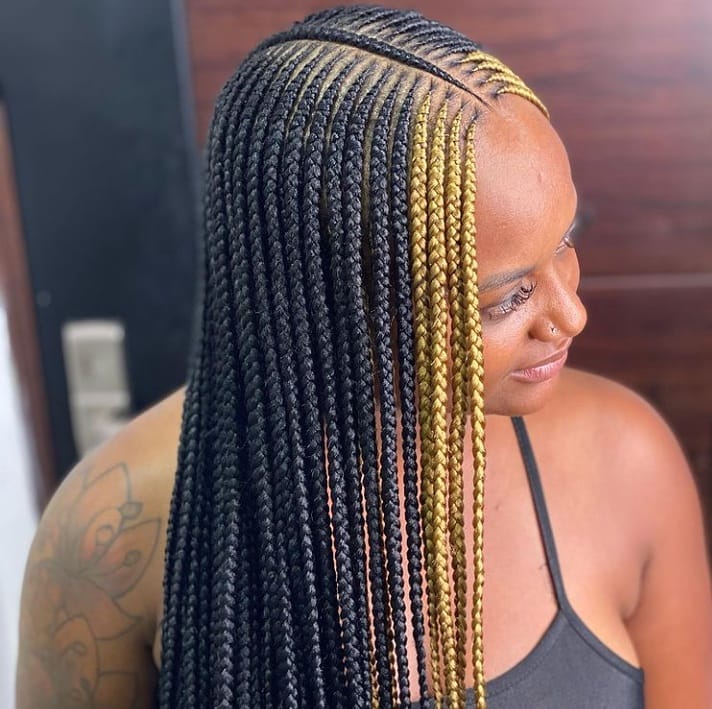 Braids are not going anywhere anytime soon hence there is no reason not to have fun with them. This is a nice braid hairstyle to recreate and it can also be called a tribal braid with a middle parting.
11. Parted Box Braid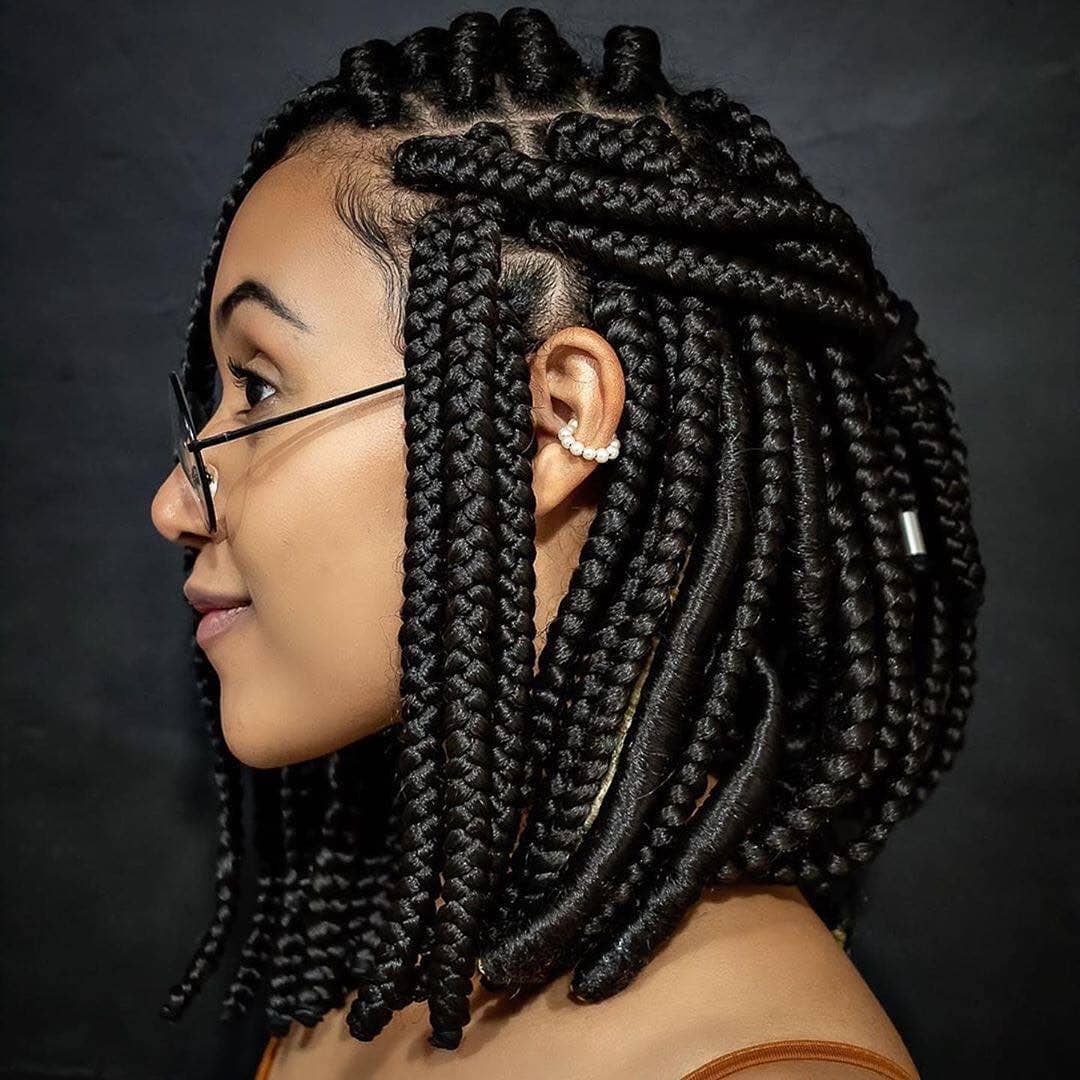 Image: @beautyandthekurls // Instagram
Box braids are easy to make and perfect if you have a medium hair length or trying to keep your hair away during summer, an extension is needed to make this hairstyle look exquisite, it is also a very trendy hairstyle, and can be paired with any kind of look and outfit.
12. All Side Braid Cornrow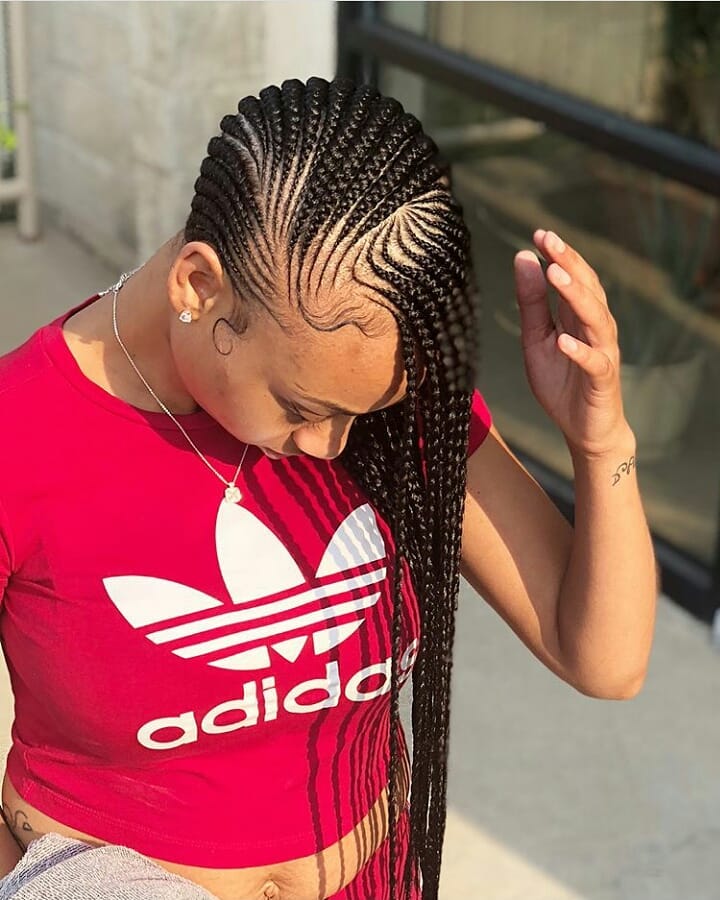 Keep it all rolled to the side for a different kind of appearance, it is another hairstyle that is easy to make although you might not be able to style these different ways it's a amazing hairstyle.
13. Hight Ponytail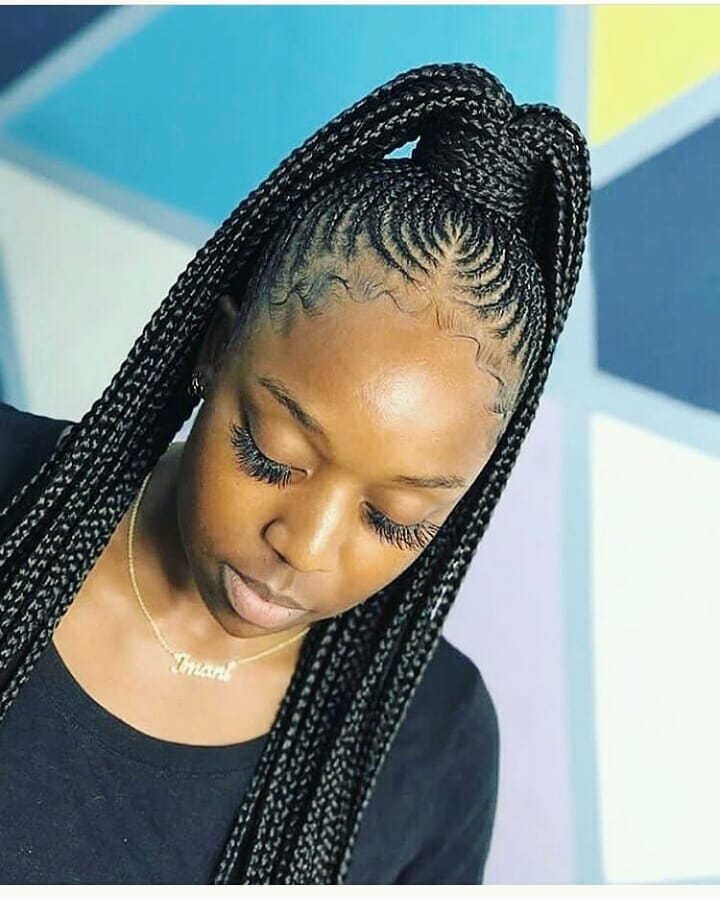 A high ponytail is another chic African braid that can keep your hair from breakage, this is a good choice of hairstyle if you want a cool formal look.
<
14. High Ponytail With Side Feed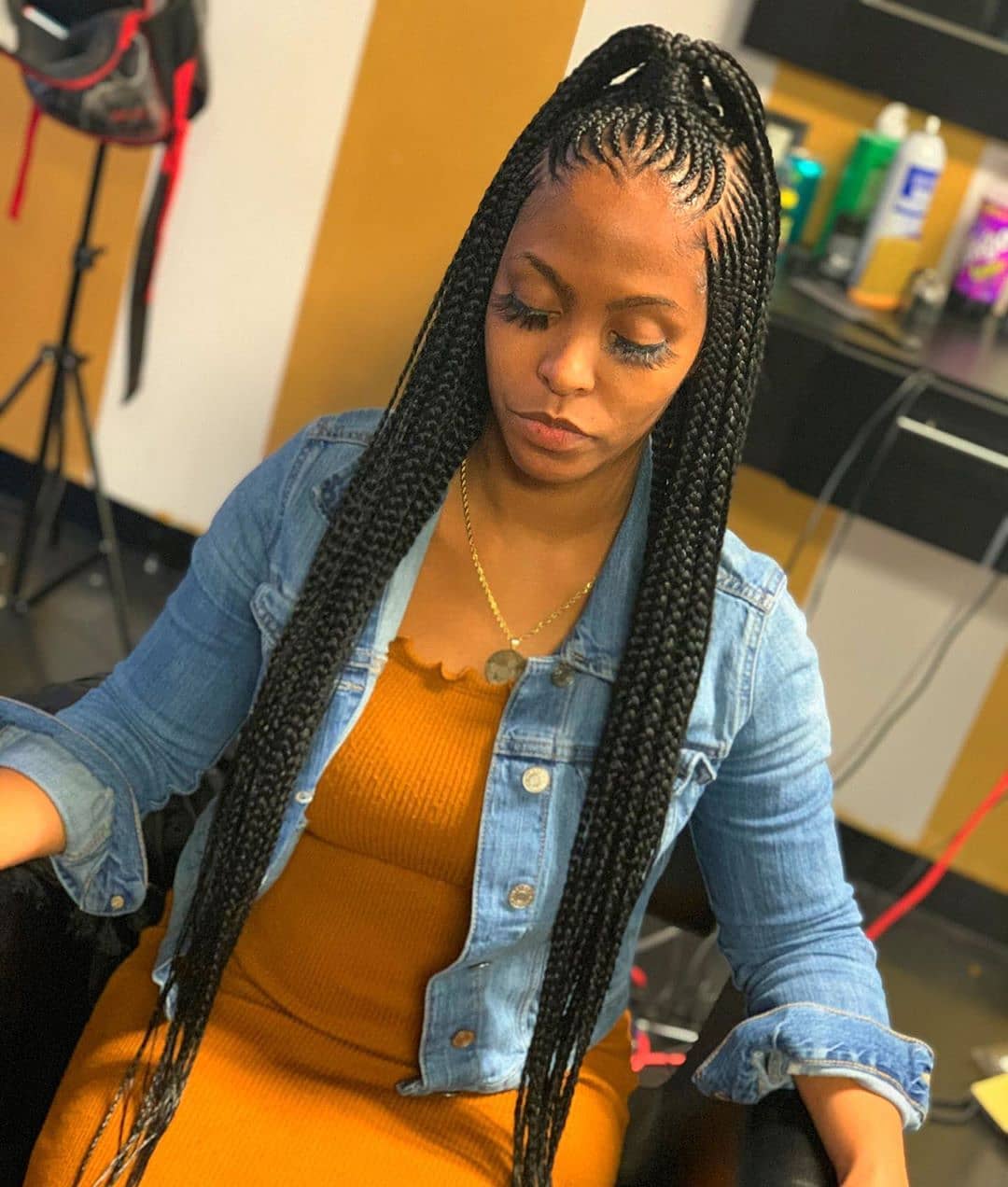 If you want to make your usual ponytail look a bit different and more glamorous then you might want to add a feed at the side to it, this makes the hairstyle turn out more elaborate.
15. Feathers Braid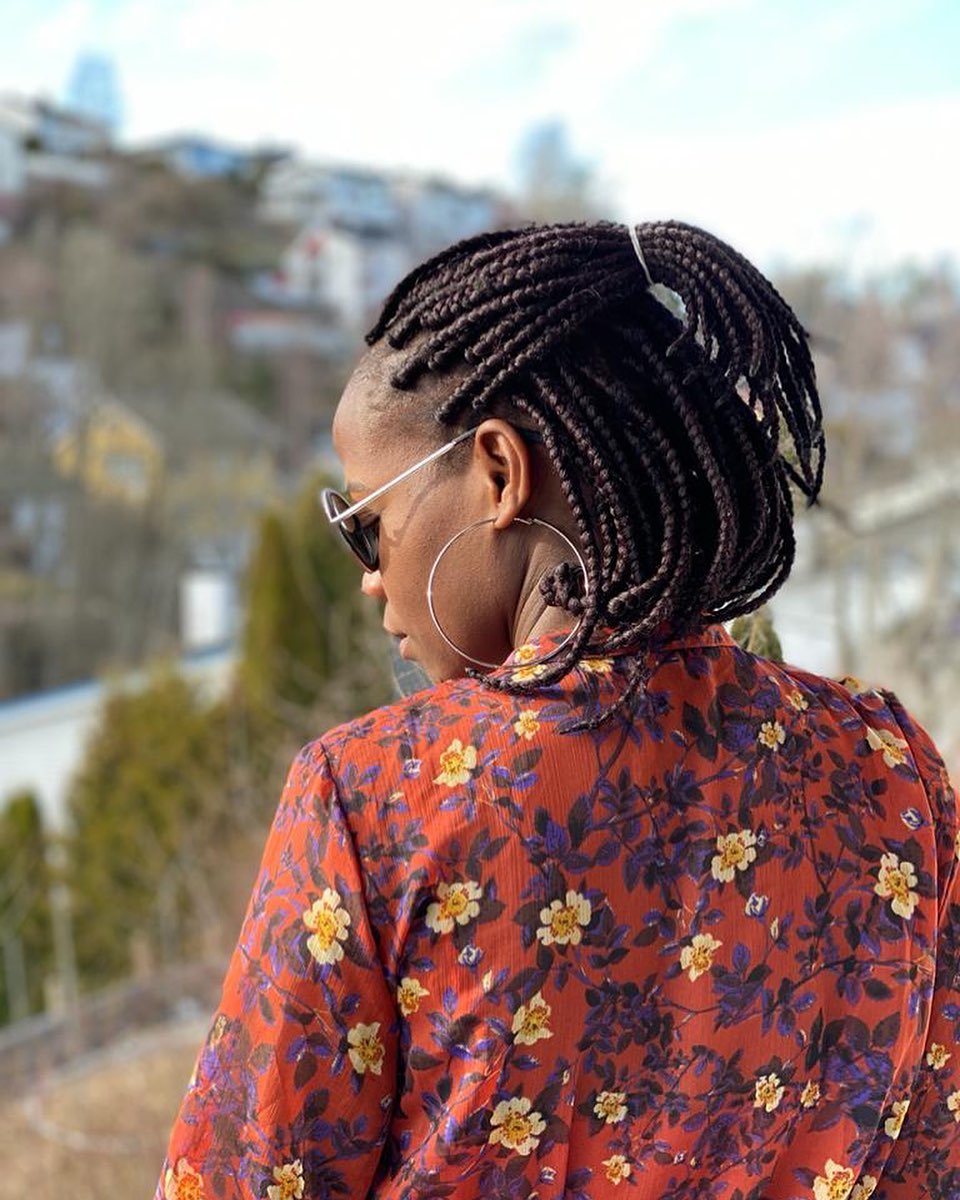 Feathers braid can be done with your natural hair and not add any form of extension or attachment to it, it is another African braid that has been in trend for a very long while.
16. Basket Braid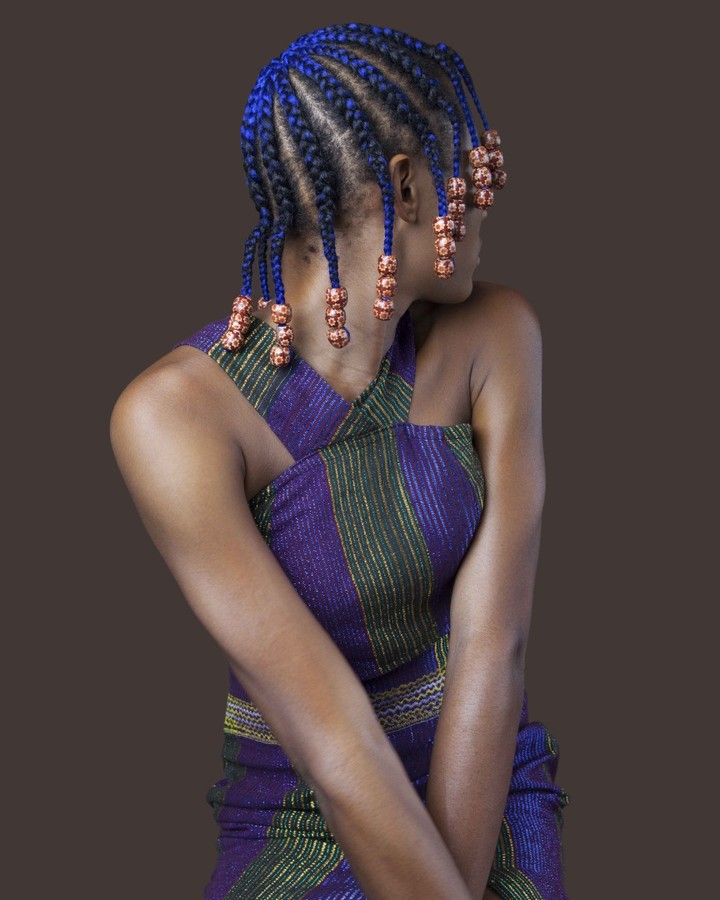 The basket braid is an amazing hairstyle and can be rocked by anyone, and you can always add a base to it for your kid, no extension is needed for this hairstyle except if you are adding color or have very short hair.
17. Tucked In High Bun Braid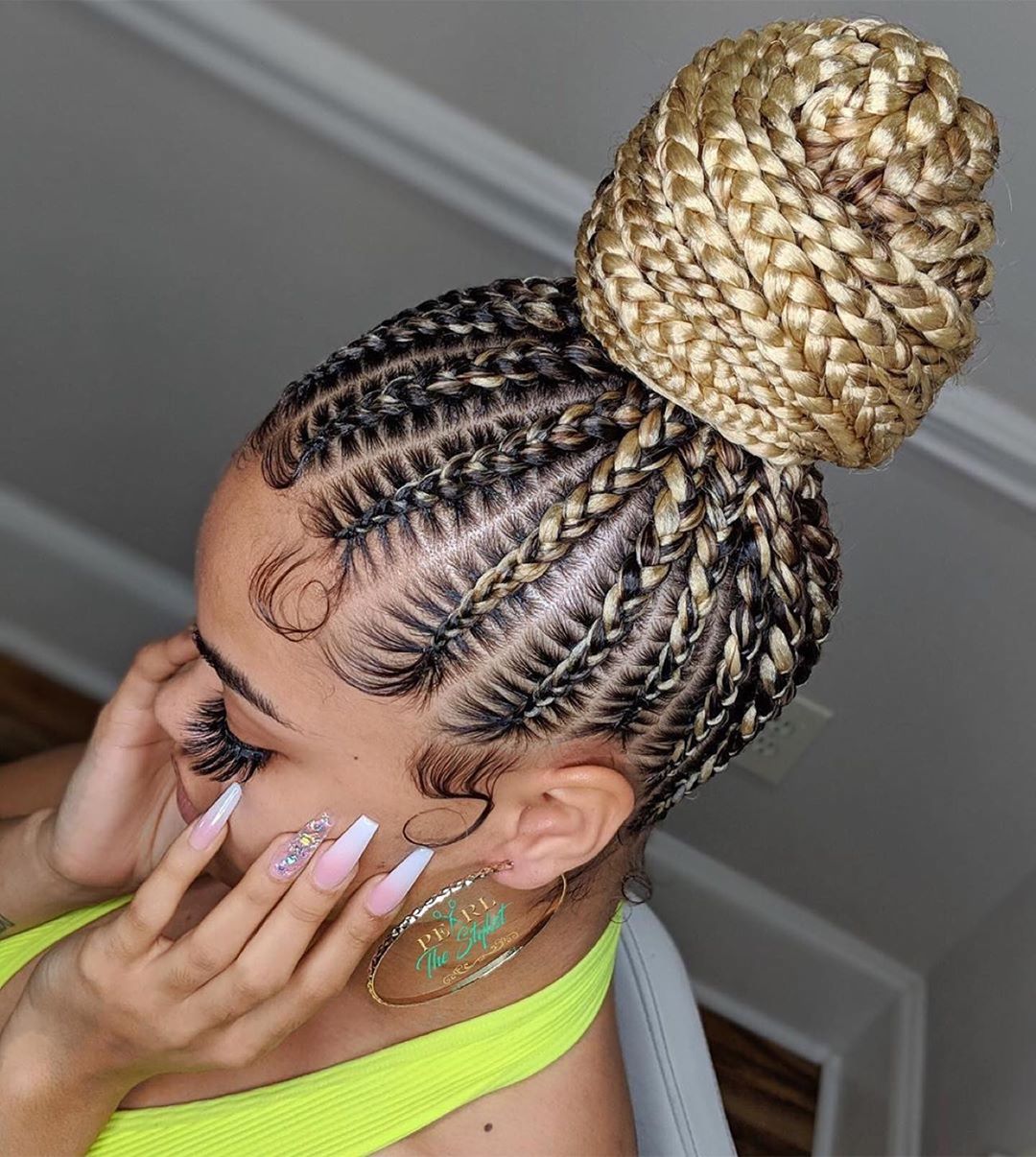 Add a bit of color to your African braid and you will be glad you did, there are lots of ways a high bun can be done and this is one of the most popular ones, you can drop the braid hands down or roll it up as seen in the image above.
18. Half Up Half Down With Feeds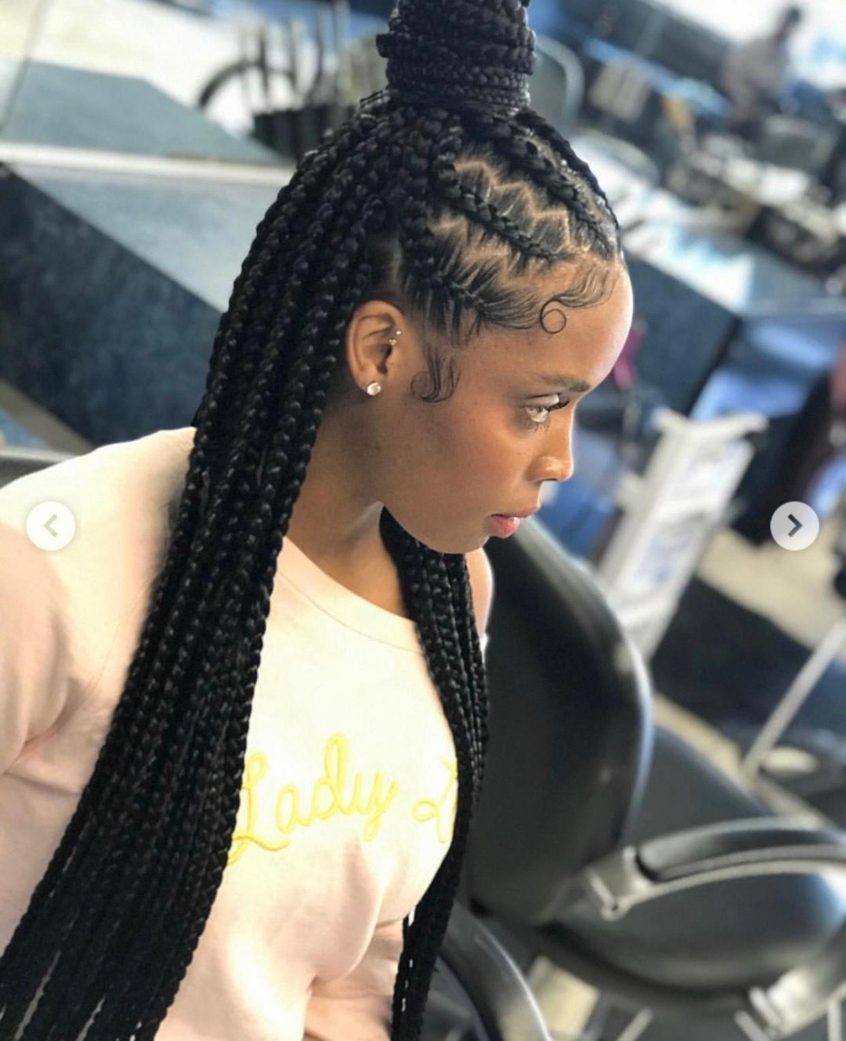 Another African braid that is found to be easy and fun, you can add different methods to it and all you need is a good stylist to help with the styling.
19. Center Parting Cornrow Braid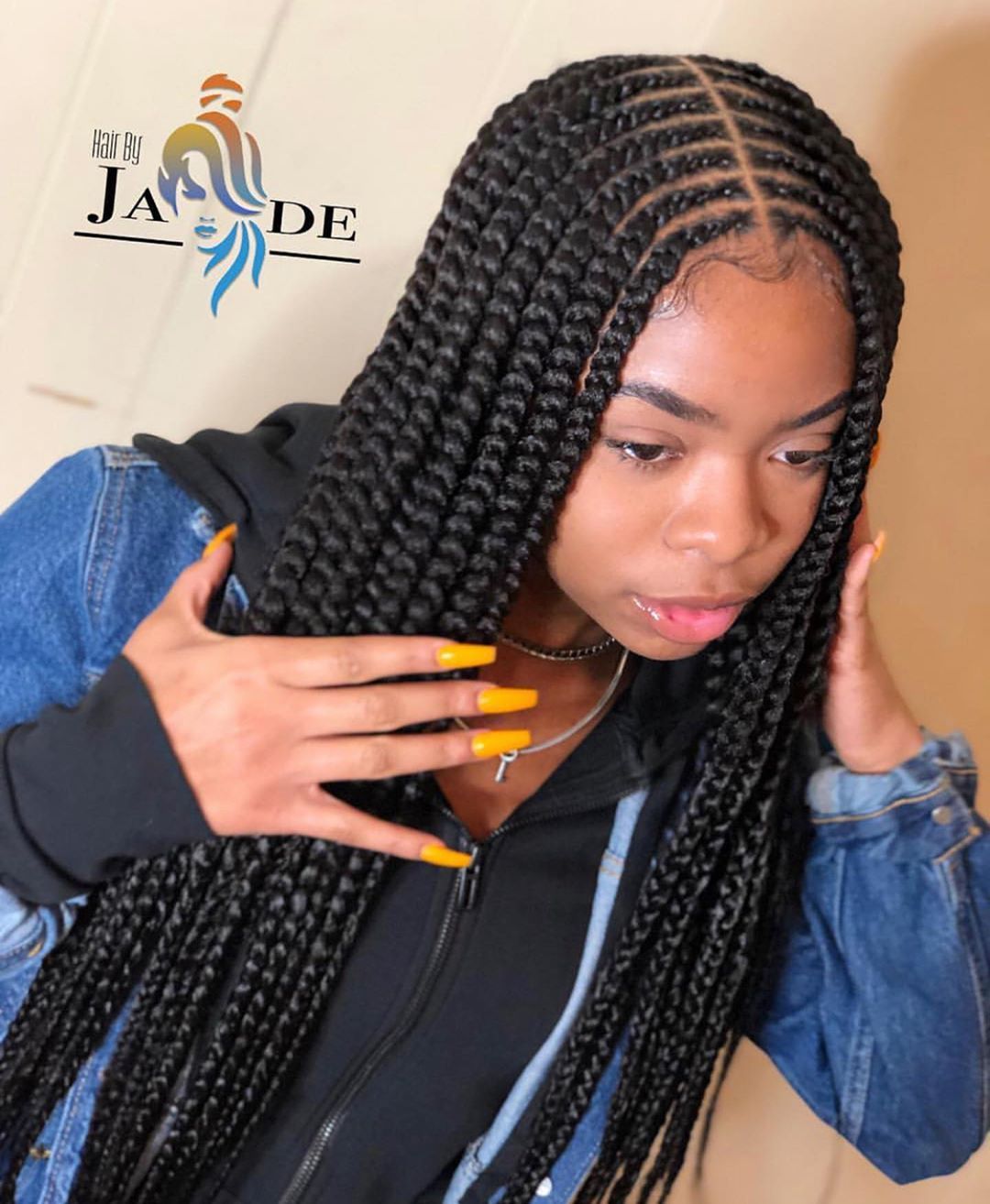 Here is another African braid that gives just the amount of sass and glamour you want in your hairstyle, this would be best for winter to avoid feeling uncomfortable and you can spark it up with a color attachment.
20. Twisted Ponytail Braid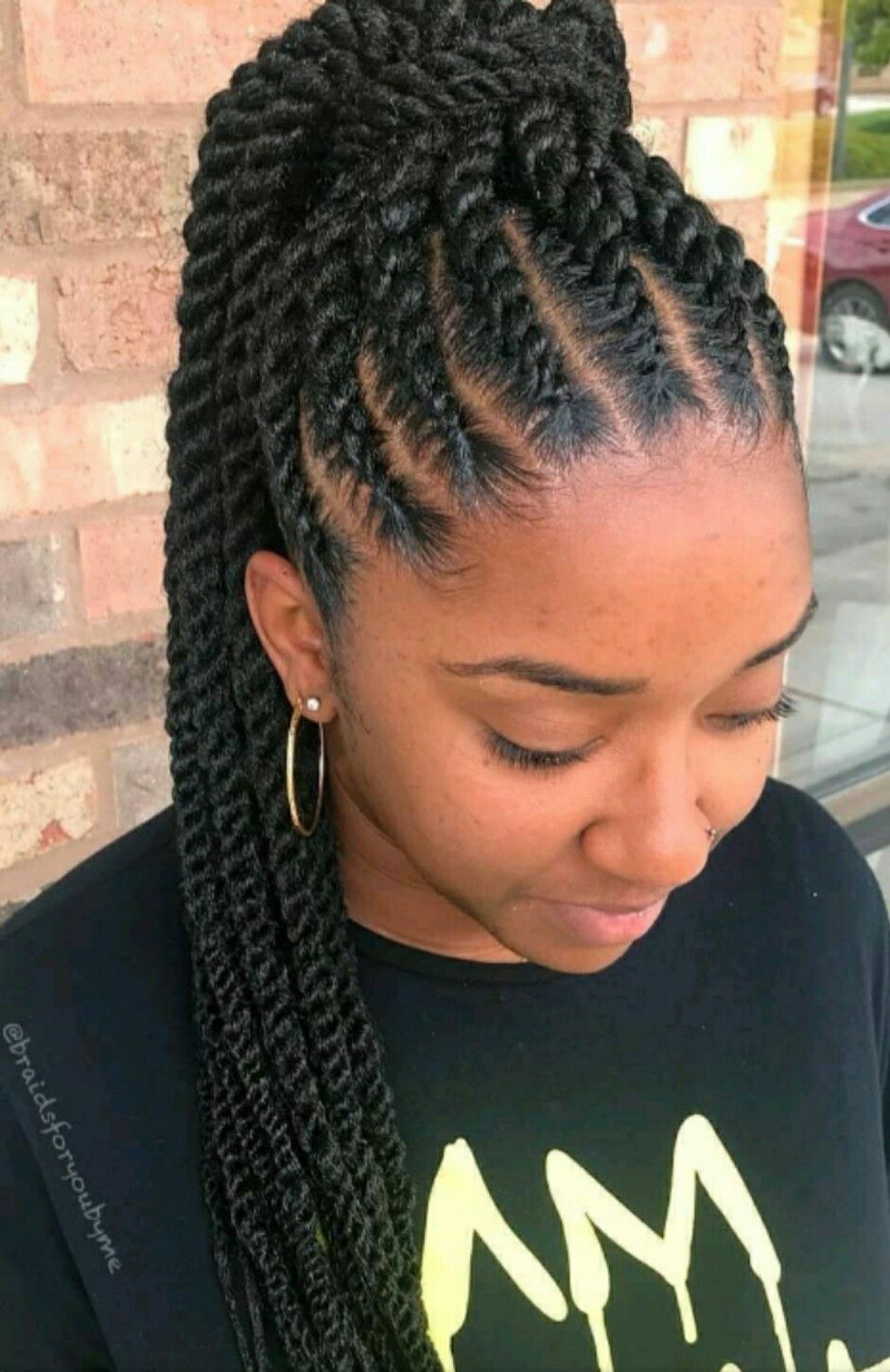 A twisted ponytail is easy to make and comes with one form of styling, it is gorgeous and chosen to complete a formal look.
21. Center Parting Box Braid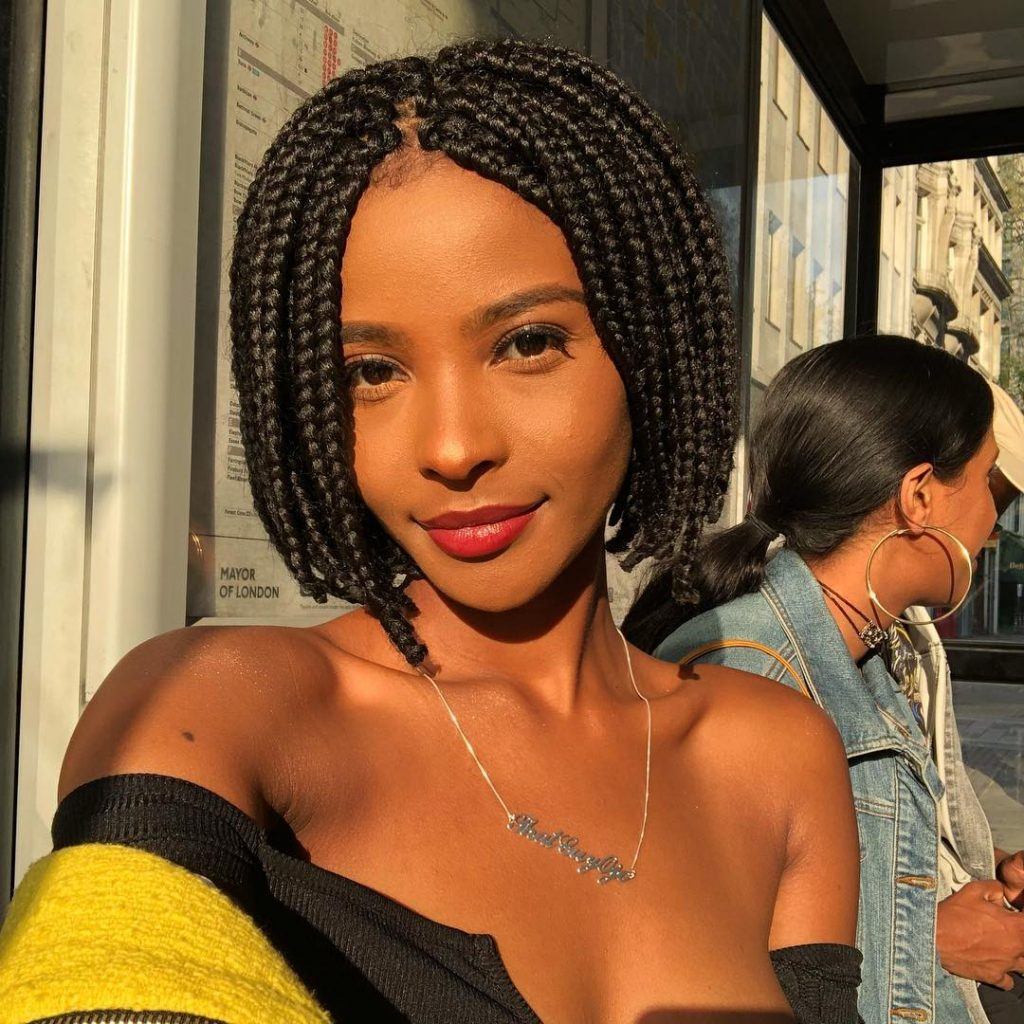 You can add more glam to your African braid with a center parting or a side parting, a box braid center parting like the one above is a fitting summer hairstyle and acts as protective styling for natural hair.
22. Two-Step Braid With Front Styling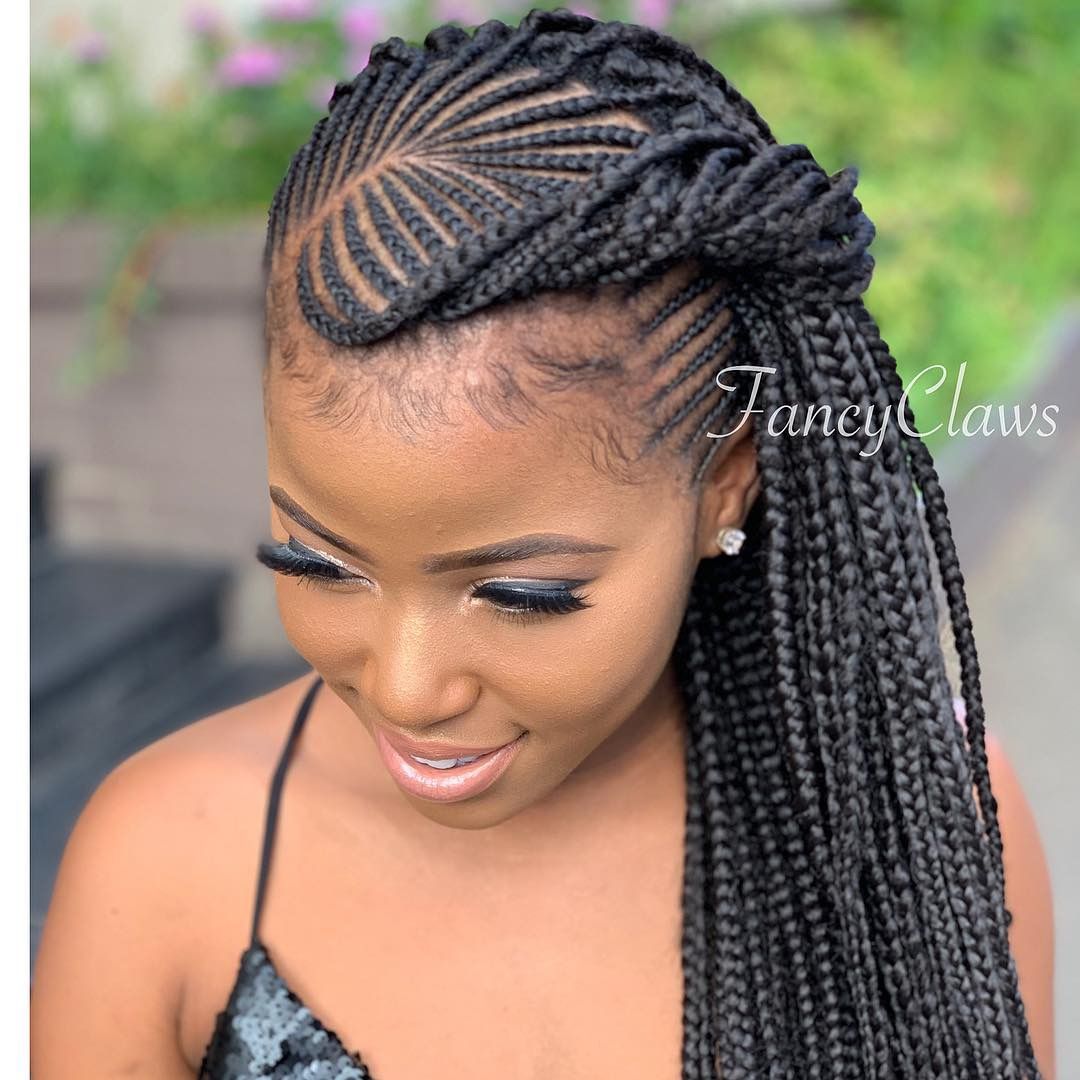 Two-step braids are made by laying layers of cornrow on themselves, it's another chic hairstyle that adds a practical look to one's outfit.
23. Feed All Back Braid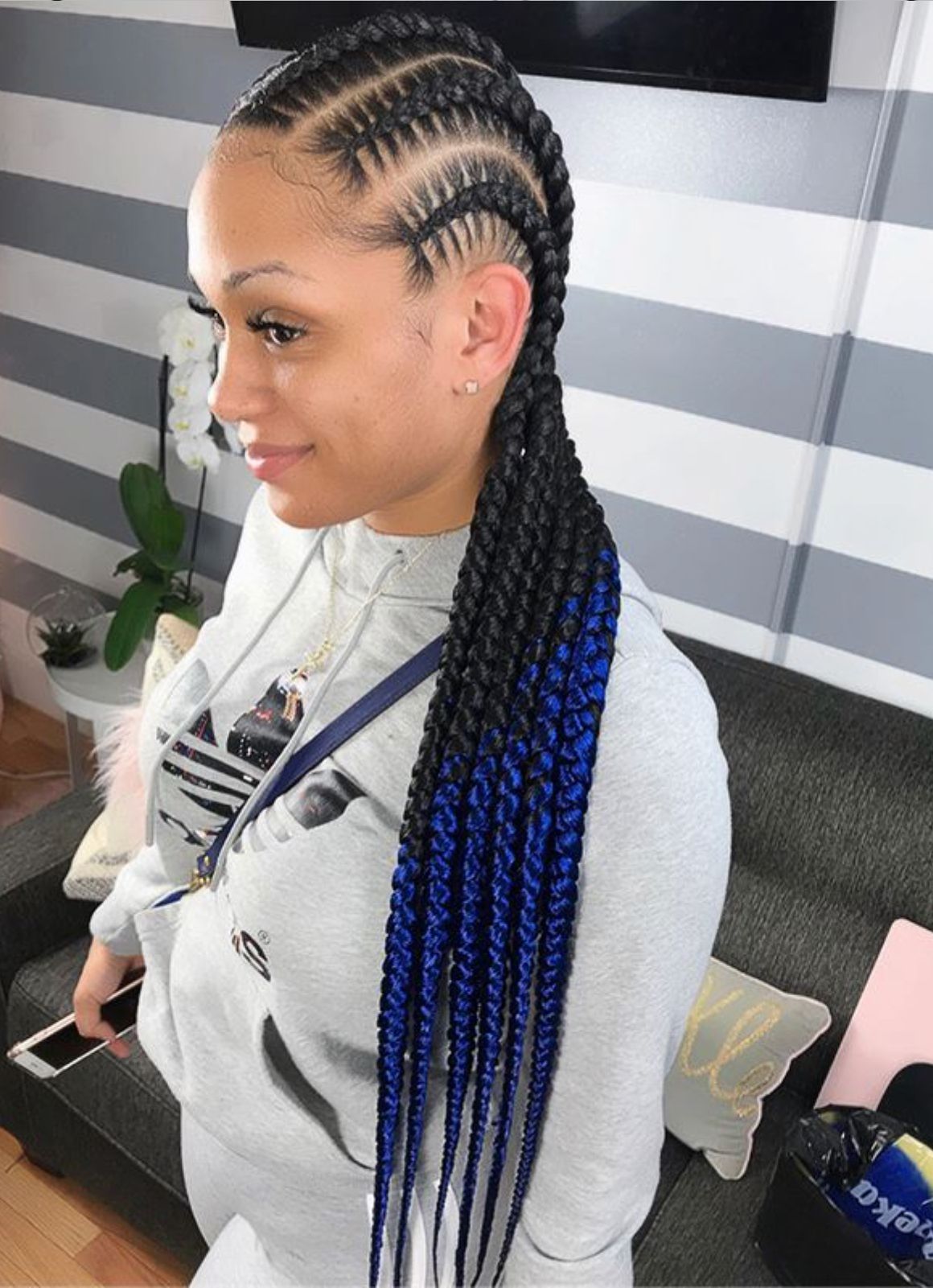 If you want an African braid that is classy and simple then this is the perfect braid to go for, nothing dramatic about this braid and it takes less time to install compared to other forms of braids.
24. Easy Wrap Around Braid With Bun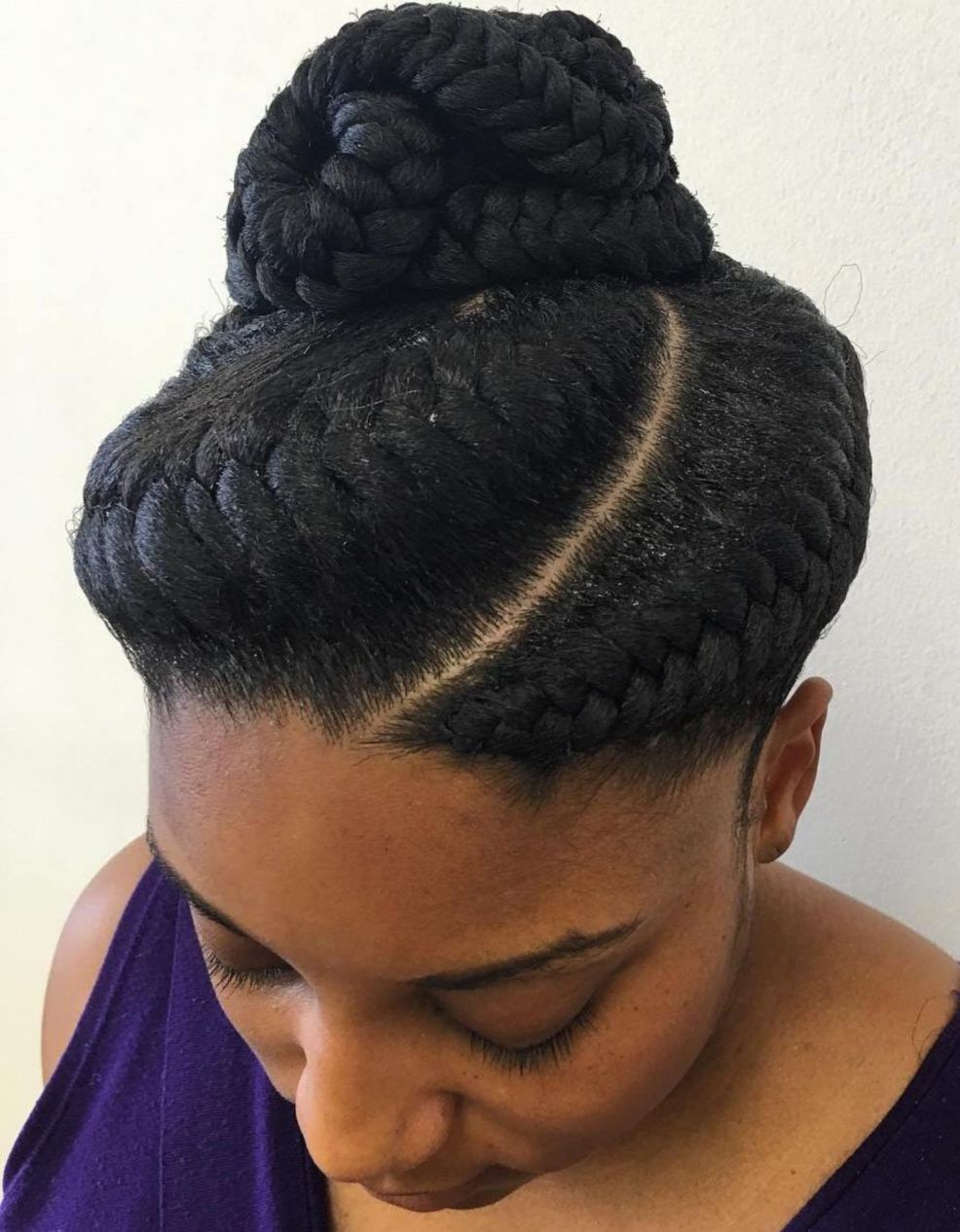 African braid can be really simple if you want, this is a protective African braid and nothing much is required to make it however an attachment might be needed to make it thick and easy to wrap around.
25. Zig Zag Cornrow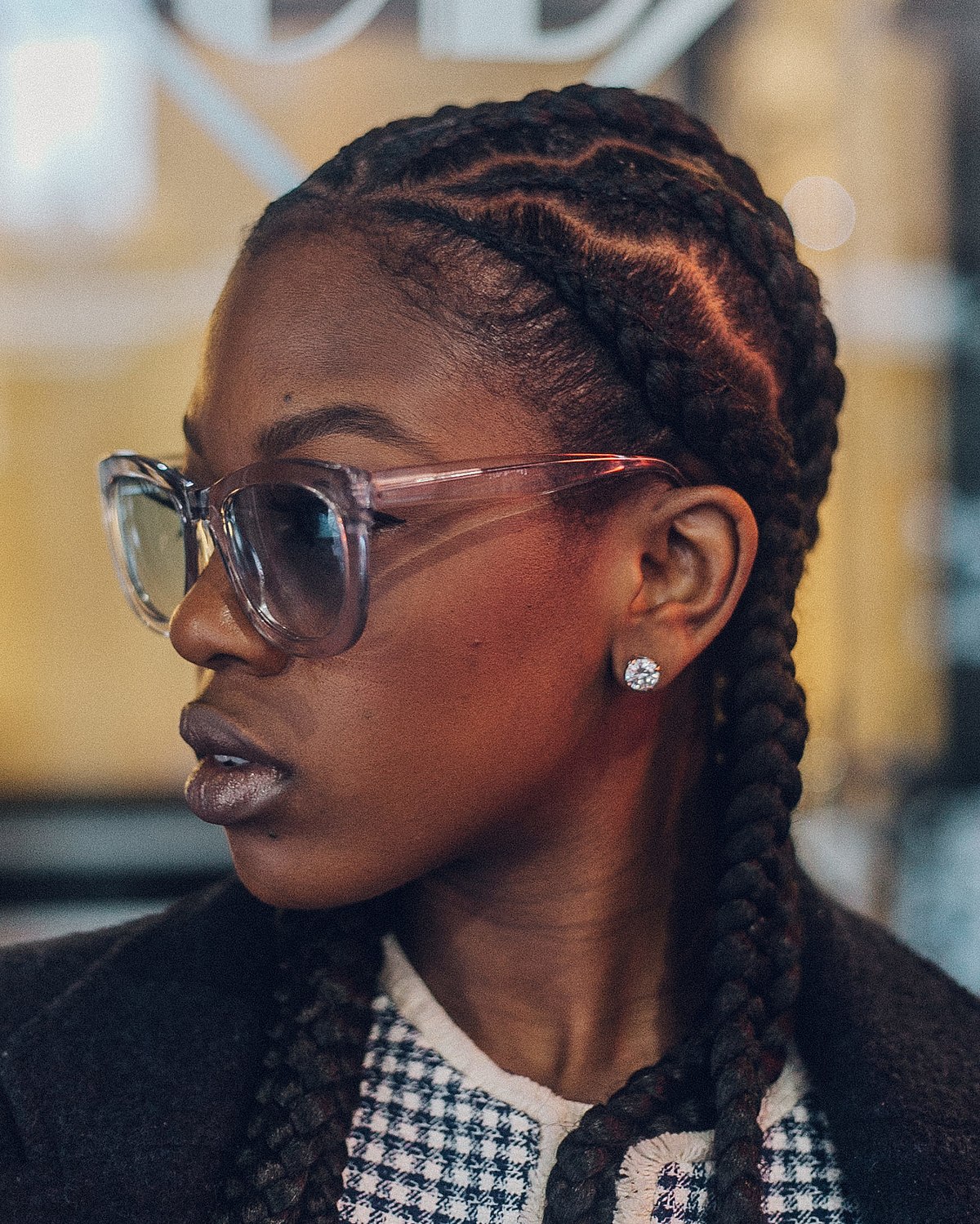 This is called zigzag mainly because the linings are not straight, it adds a more unique appeal to the braid.
26. Fulani Braid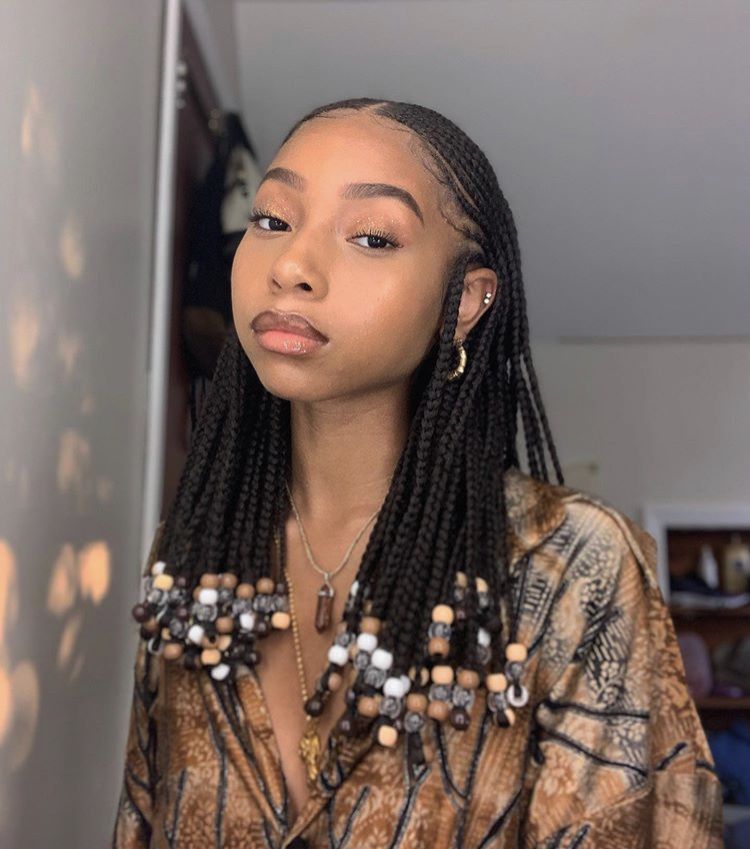 The Fulani braid is pretty awesome, it is trendy and fast becoming one of the trendiest African braids.
27. Big And Small Cornrow Braid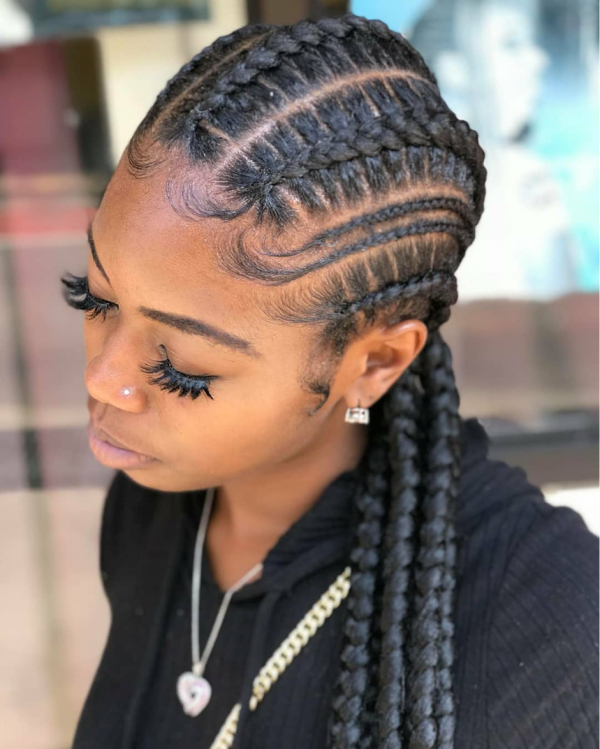 Cornrow braids do not have to be boring with the same size, you can add an interesting look to them with a small and big size feed.
28. Medium Ponytail With Round Cornrow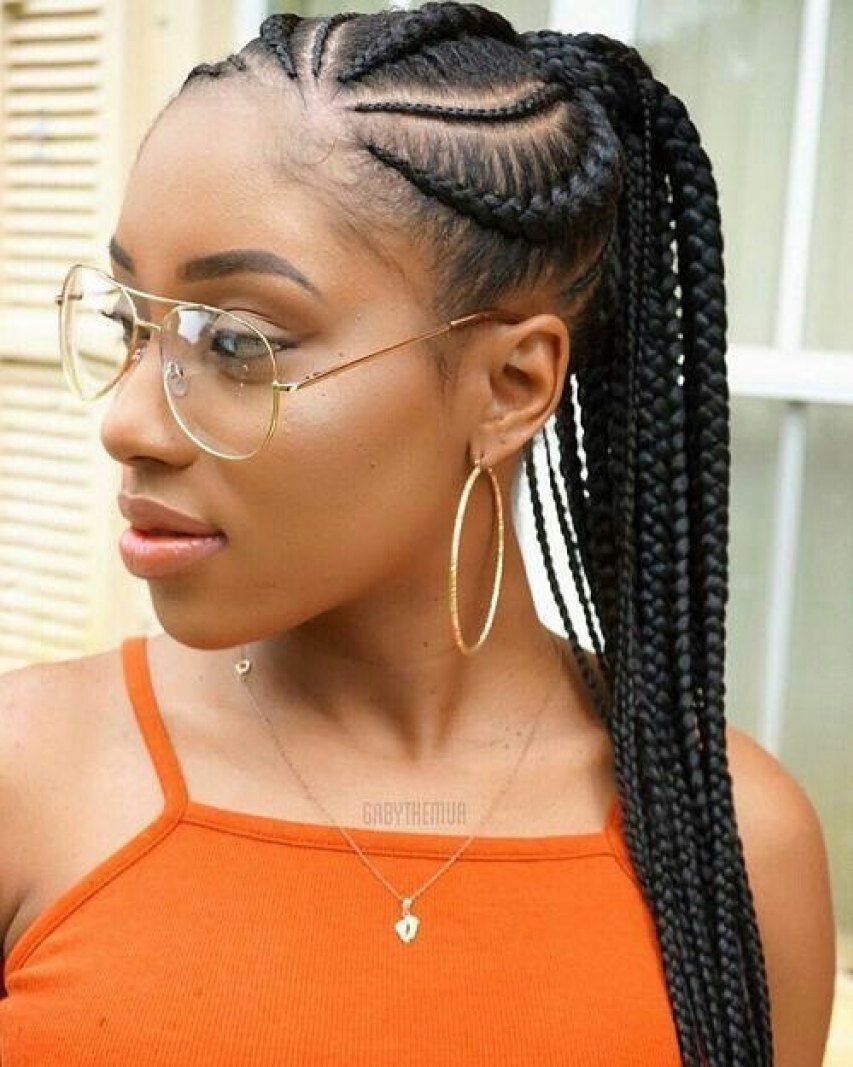 Enjoy another form of the ponytail with these interesting braids above, you can easily roll up your braid into a bun during summer.
29. All Side Braid With Another Side Base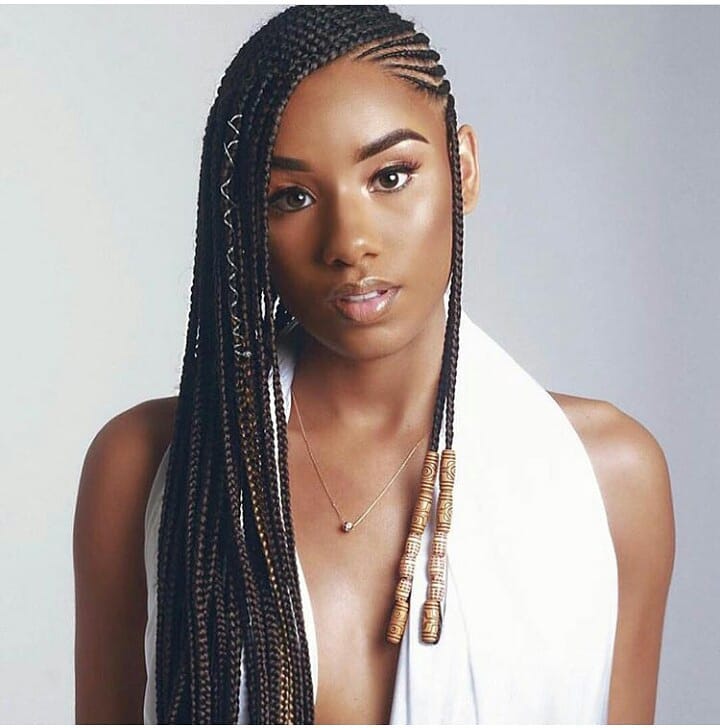 This could also be referred to as a Fulani braid but with just two cornrows and beads to adorn it. The O-form of styling can be adorable.
30. Front Fish Styling Two-Step Braid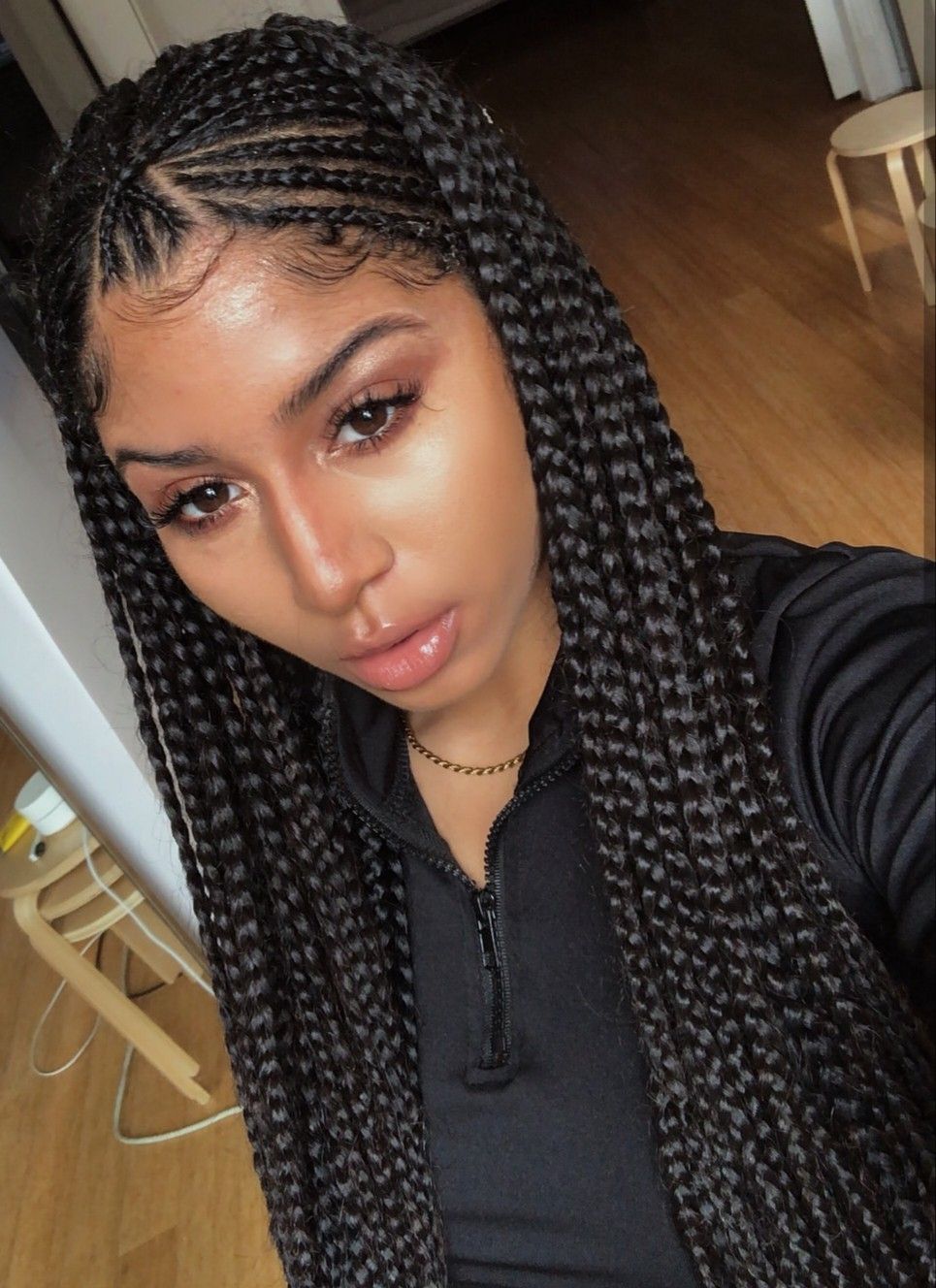 This African braid has been styled with a twisted feed at the front hence why it is called a fishtail braid, if you want a different styling then you can talk to your stylist before installing it.
31. Simple All-Back Fulani Braid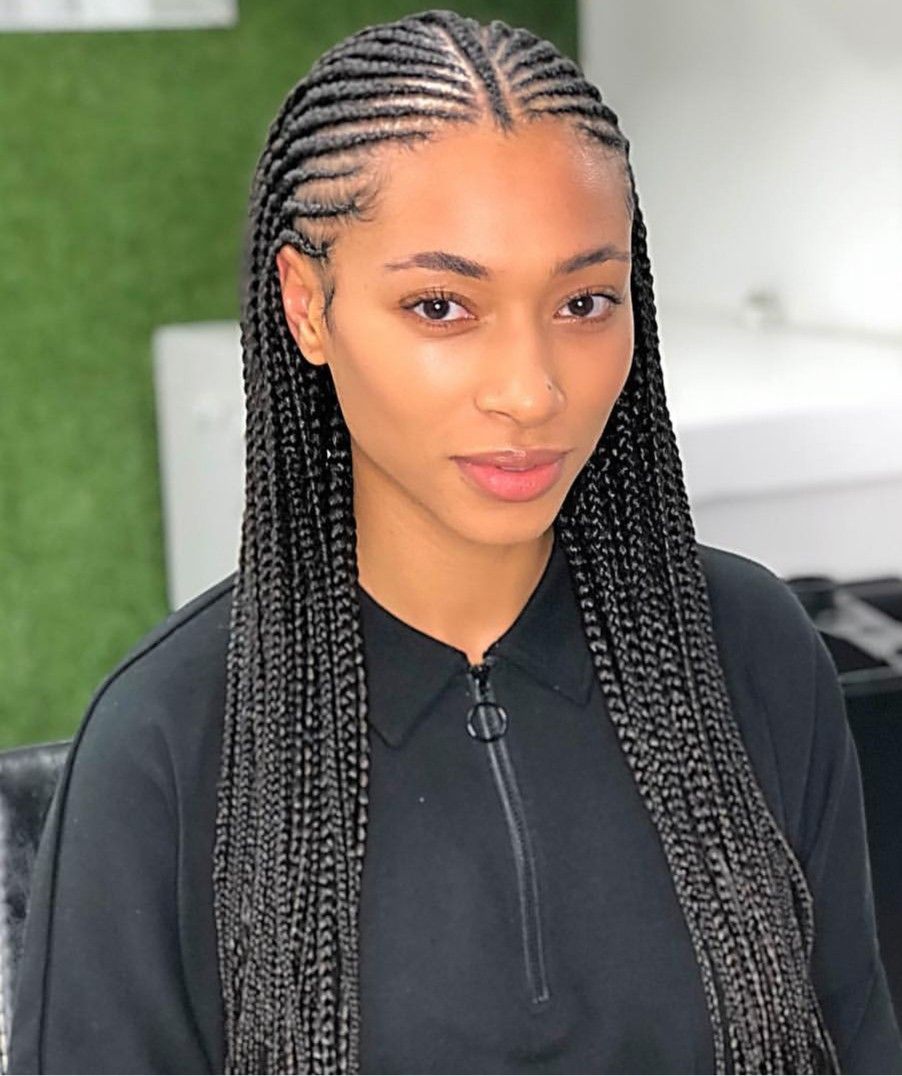 Another Fulani braid but a really simple one this time with no side braid or feed, it is done by having cornrow at the front and goddess braid at the back.
32. Chunky Braid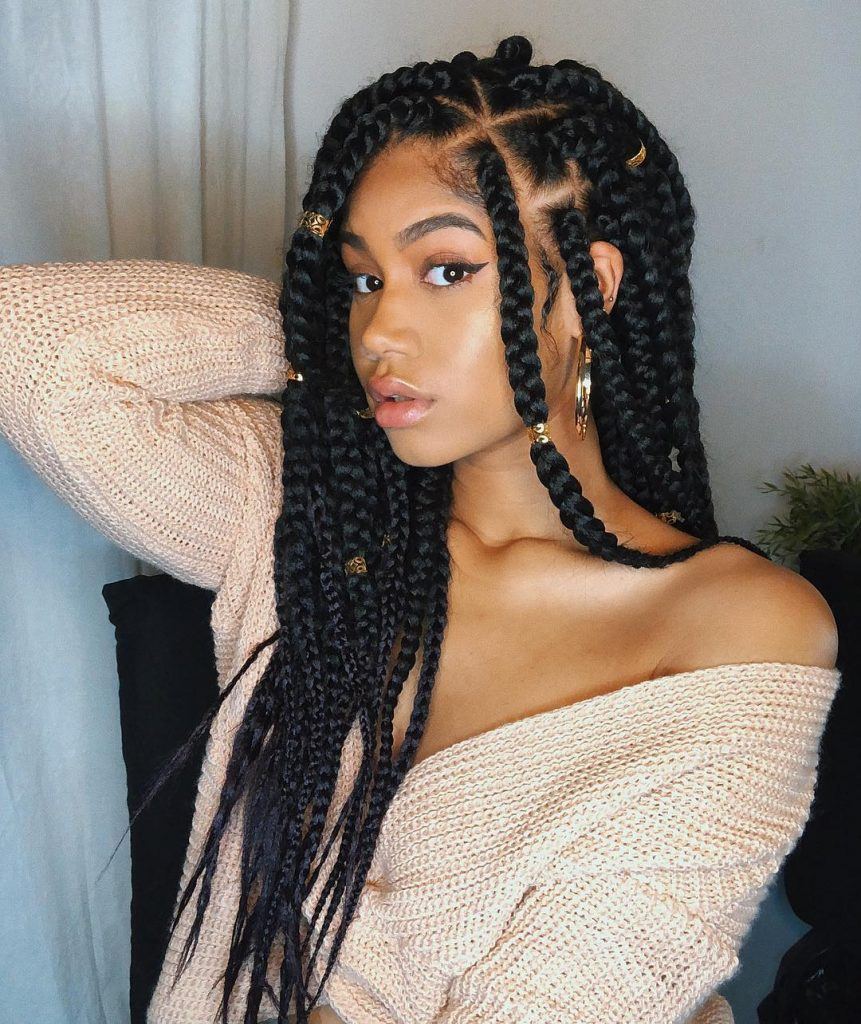 A chunky braid is a protective hairstyle for natural hair, it is simple and really pretty.
33. Long Fulani Braid With Blue Attachment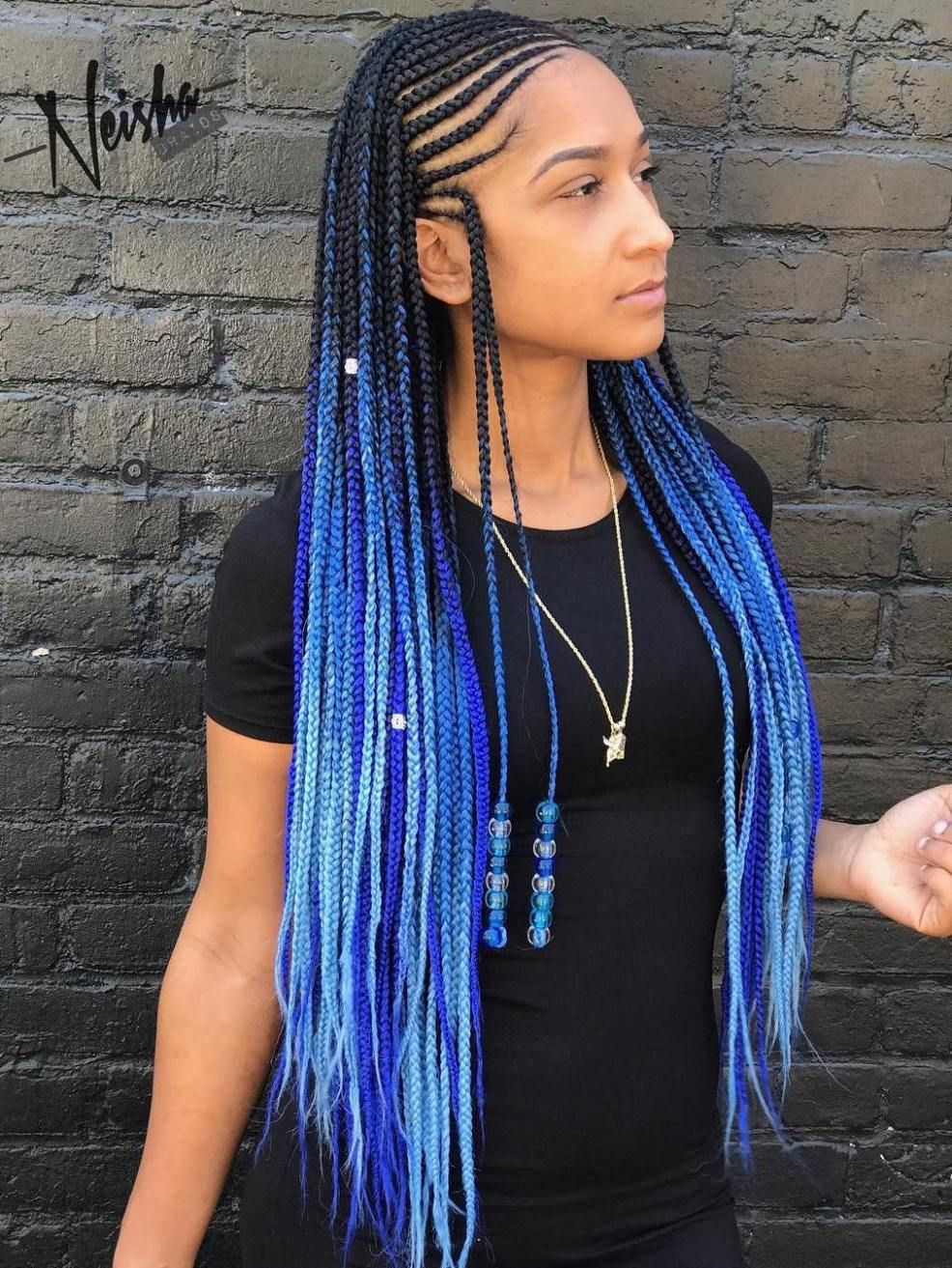 Color is added to the braid to beautify it and just like this exotic Fulani braid.
34. Medium Ponytail Braid With Barrets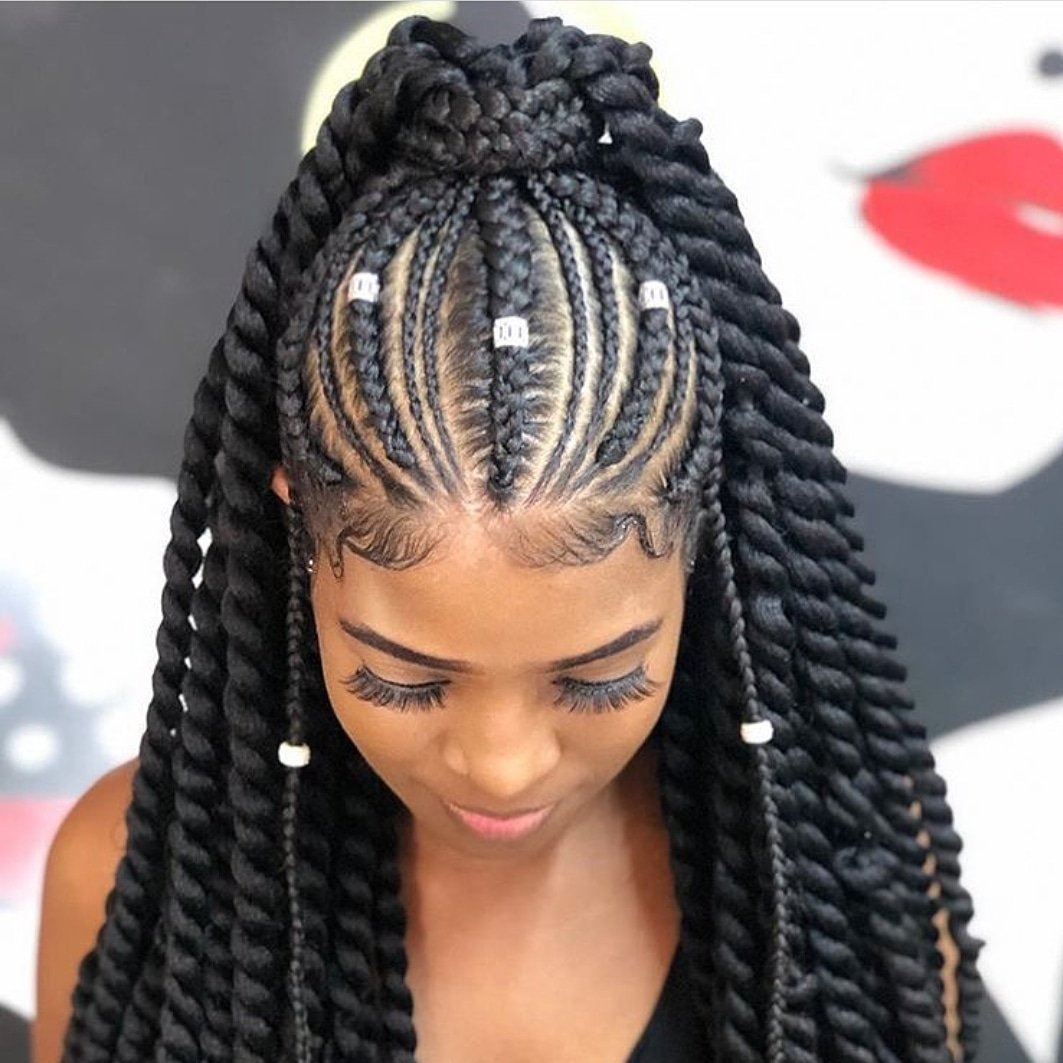 This is a gorgeous hairstyle and even more amazing when styled with a barret or other hair accessories. this is also known as a high ponytail hairstyle.
35. Wine Braid With High Ponytail Styling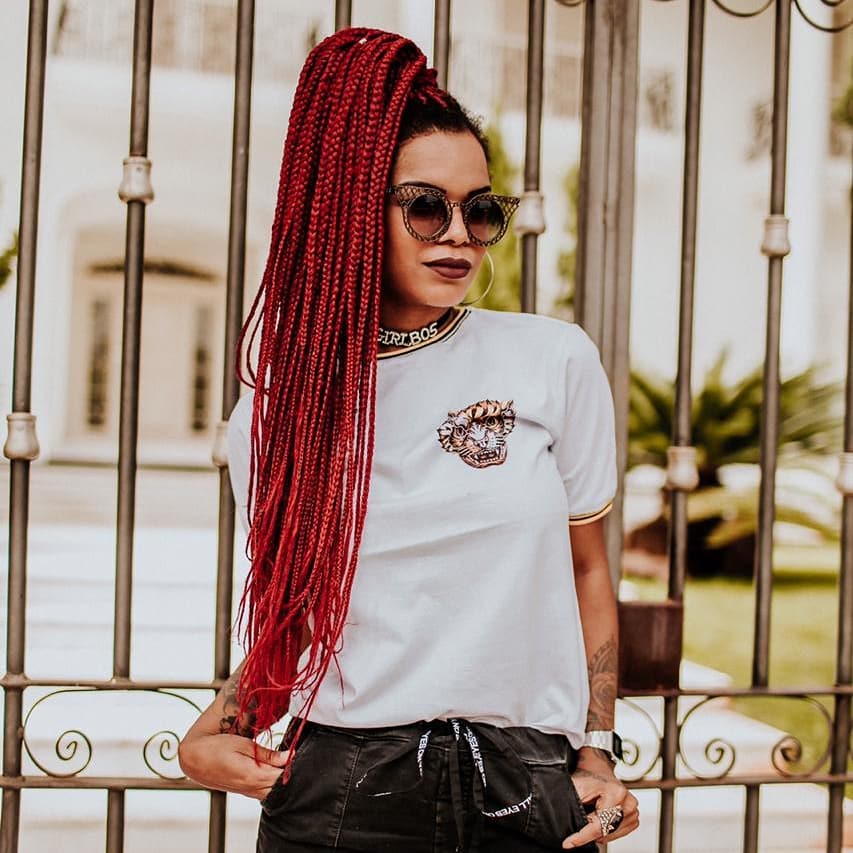 Most box braids are referred to as graceful hairstyle, it beautifies the face even more than a casual braid.
36. Scanty Braid With Side Cornrow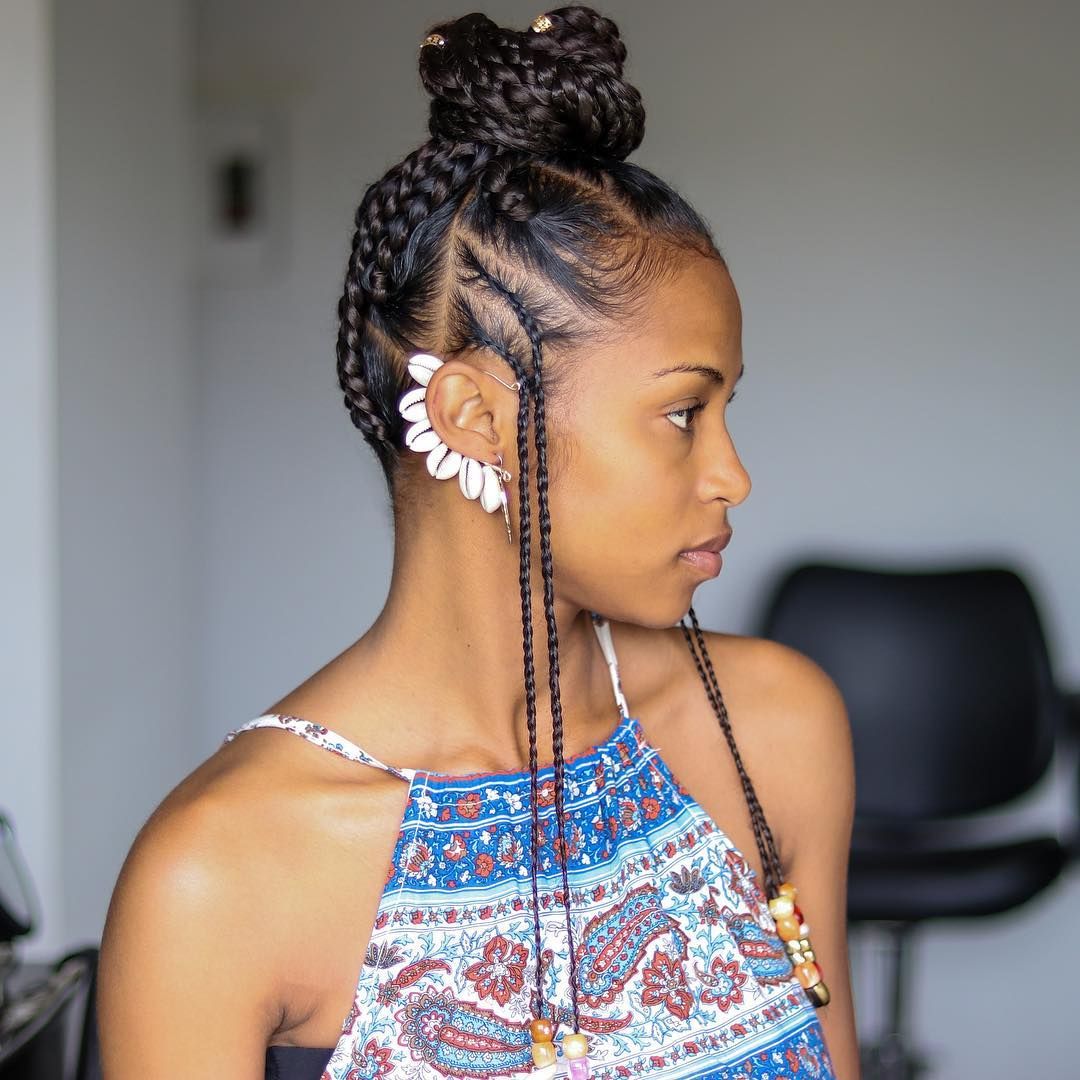 Scanty cornrows can be adorned with beads to give them a more unique appeal, this can be done without extension if you have long hair length.
37. Short Box Braid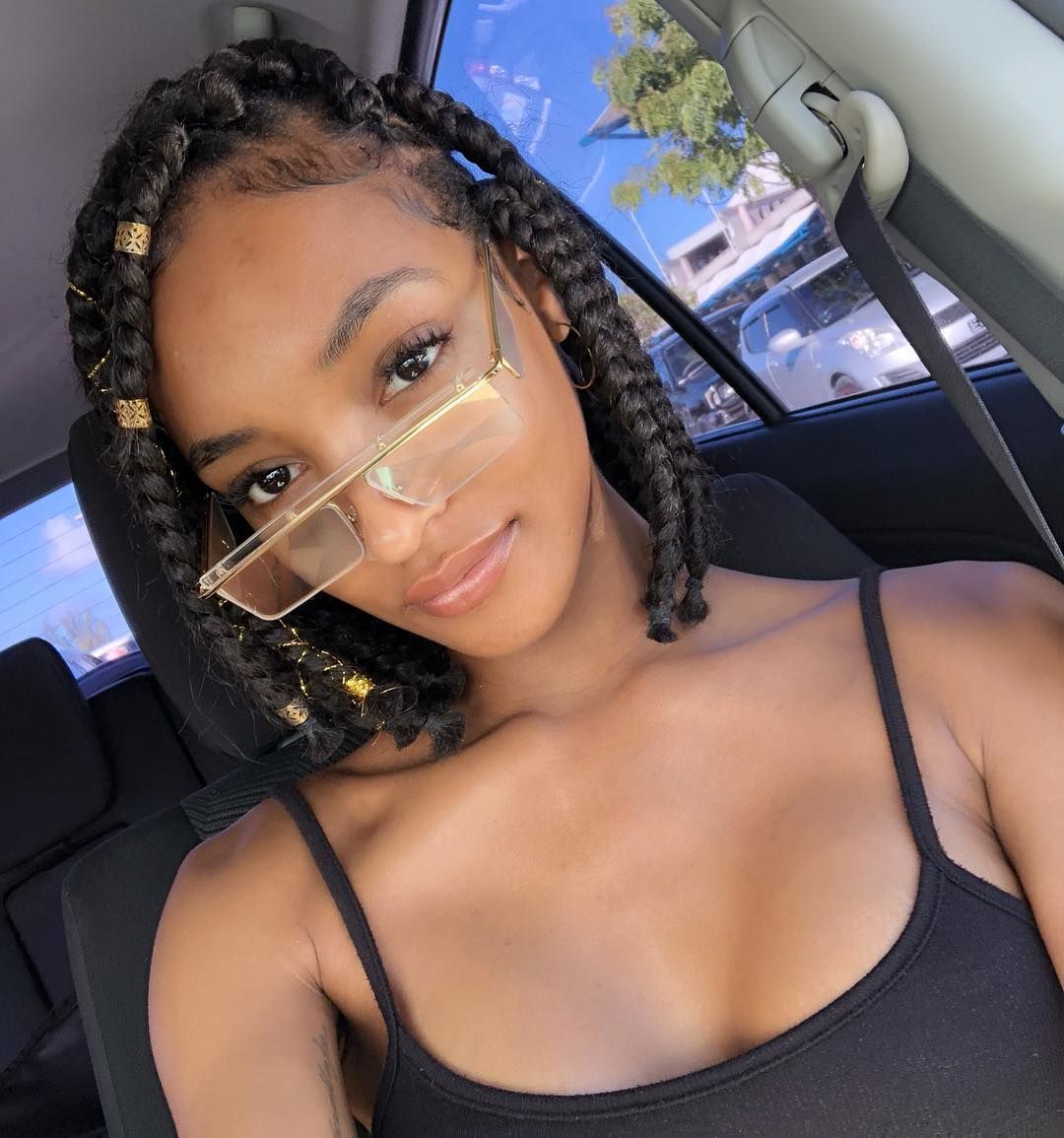 Short box braid is not new when it comes to African braids, it is simple and very scanty which means you can spend less time at the salon.
38. Loose Tip Twisting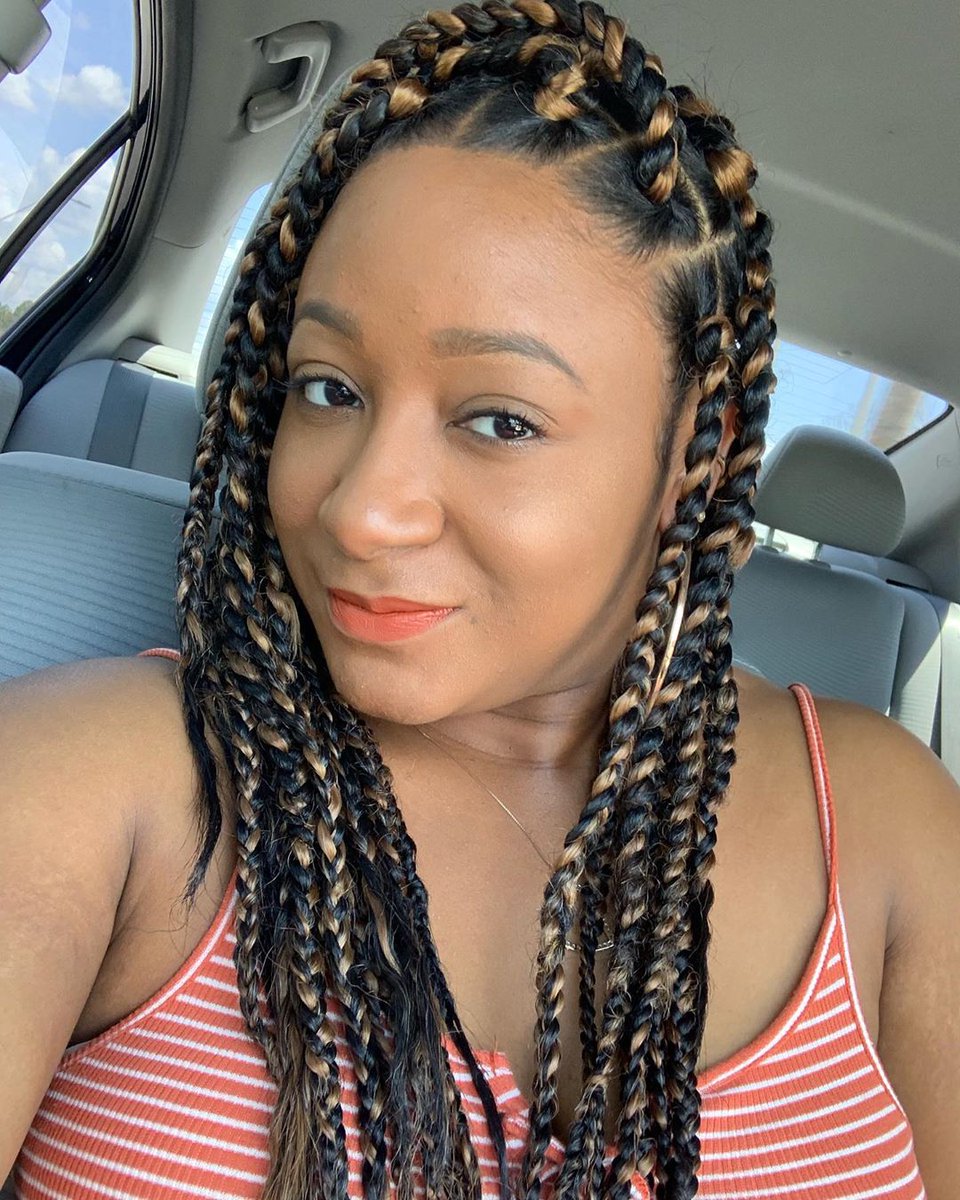 Most fancy braid hairstyles are twisted as this is faster and with less fuss. Above is a classic twisting hairstyle for all kinds of hair lengths, not too dramatic either.
39. Long Goddess Braid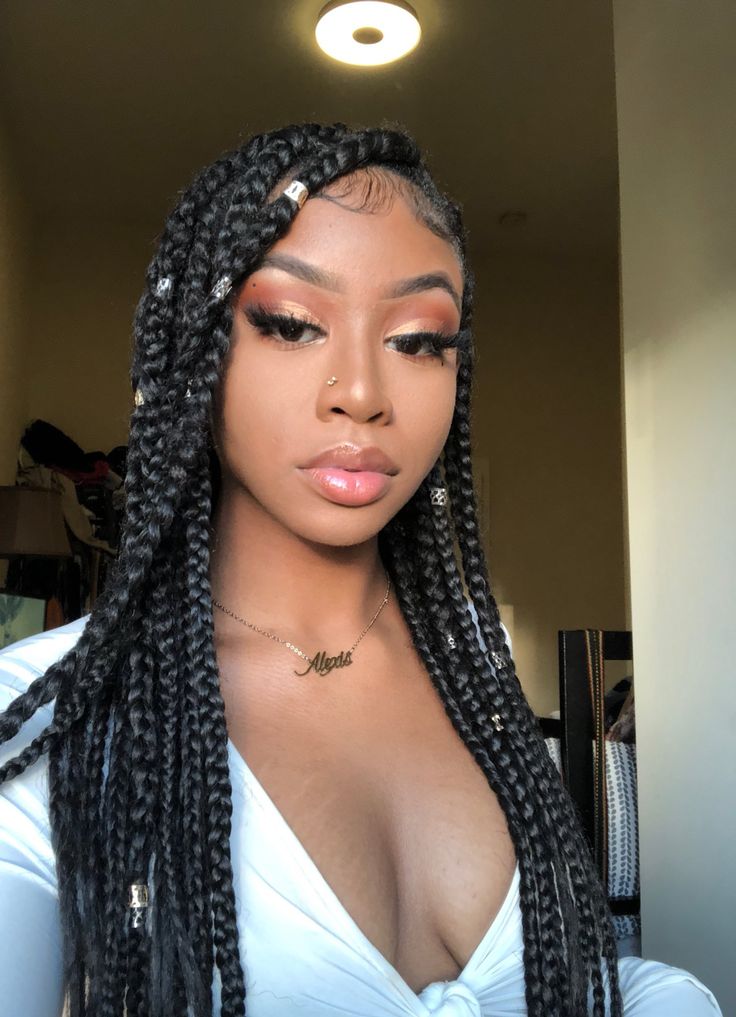 Instead of going for a short goddess braid, you can always try the long one, it is fancier and classic too. This hairstyle can be done for any kind of event and it's known to add class to one's look.
40. Stylish High Bun Braid With Base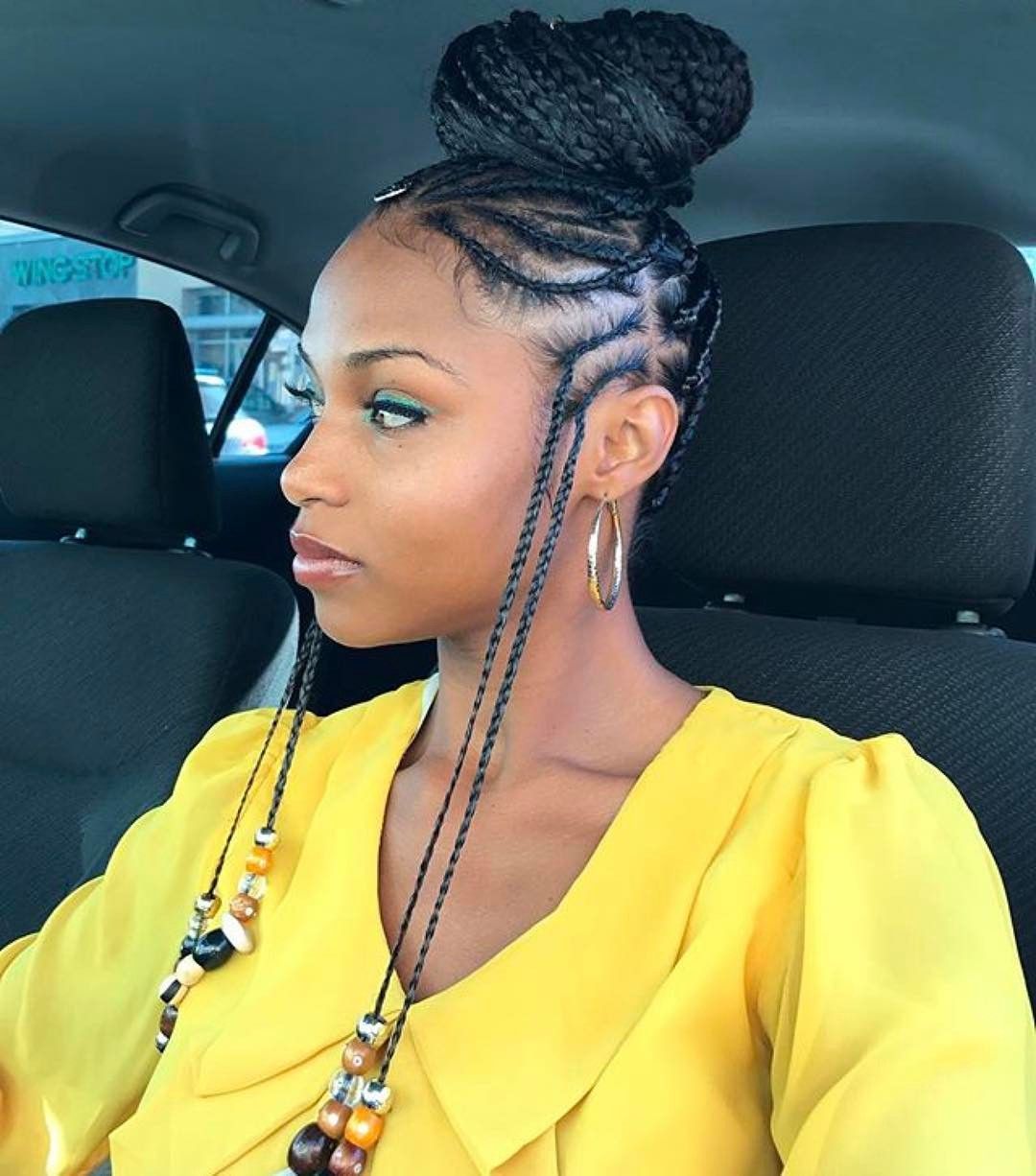 If you have natural hair then you might want to keep most of your hairstyles simple to prevent breakage. This simple hairstyle above is one of the most suitable hairstyles.
41. Big Twisting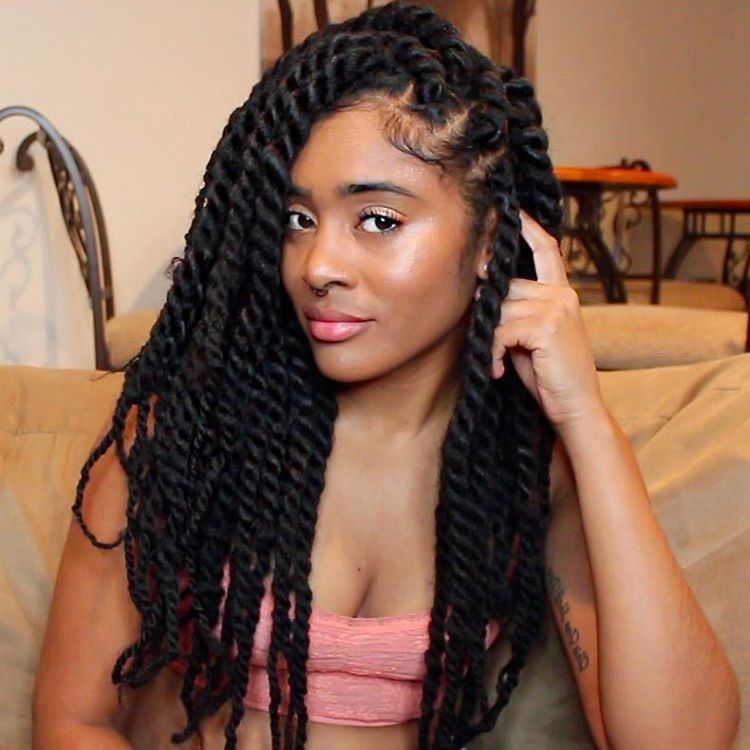 If you are not so into medium or tiny twisting braids then here is another braid style you can give a trial, interesting choice of African braid if you want to keep the front of your hair healthy.
42. Double Bun Fulani Africa Braid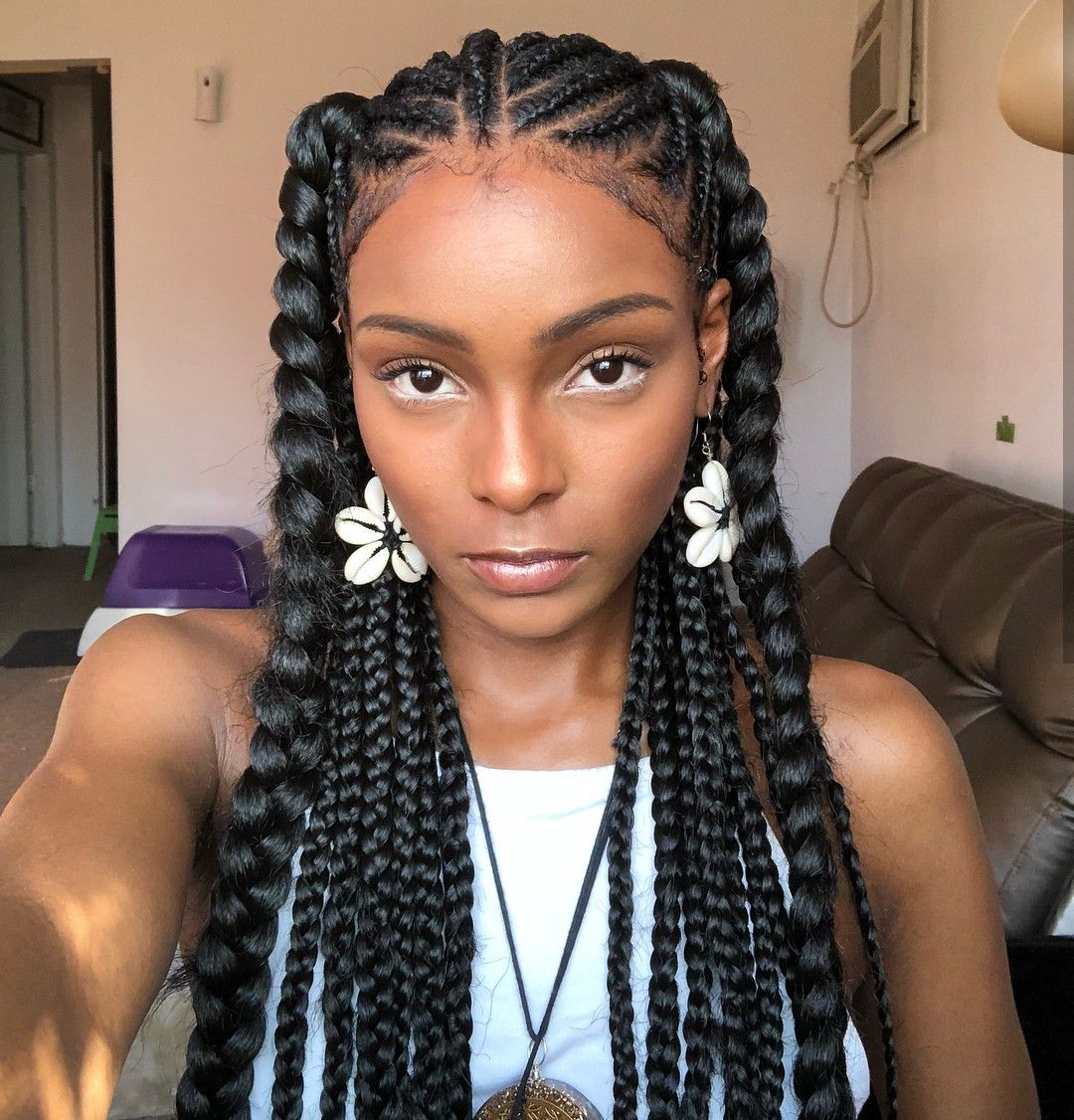 A double bun braid is a simple hairstyle with a bun styling on either side of your head, it's a exquisite hairstyle.
43. Two-Step Braid With Parting Feed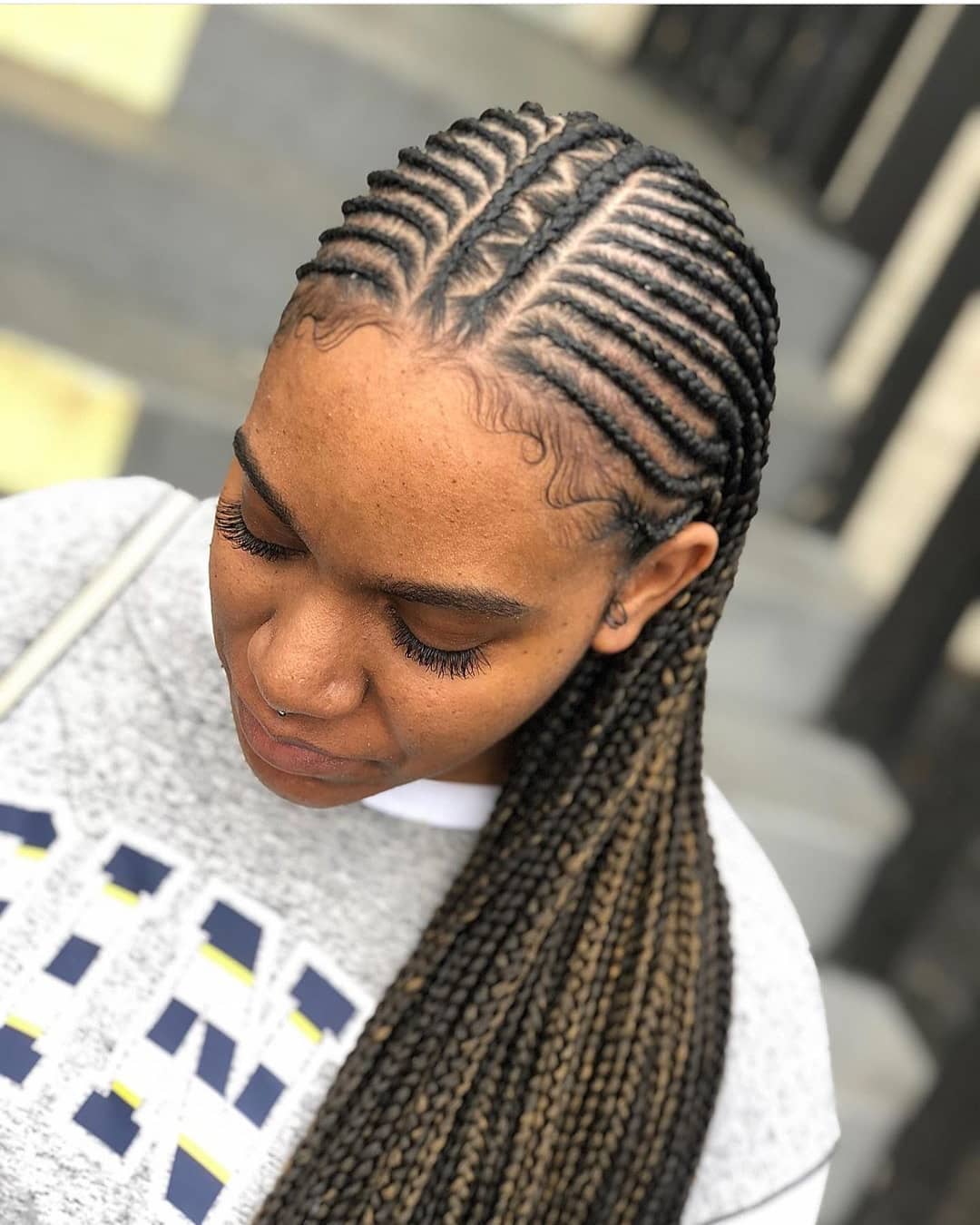 Fulani braids are one of the African most cherished braid styles and this is mainly because there are different amazing ways it can be implemented above is one of those ways, this is classic and simple, and the feed in the middle replaces a center parting.
44. Ponytail With Dramatic Styling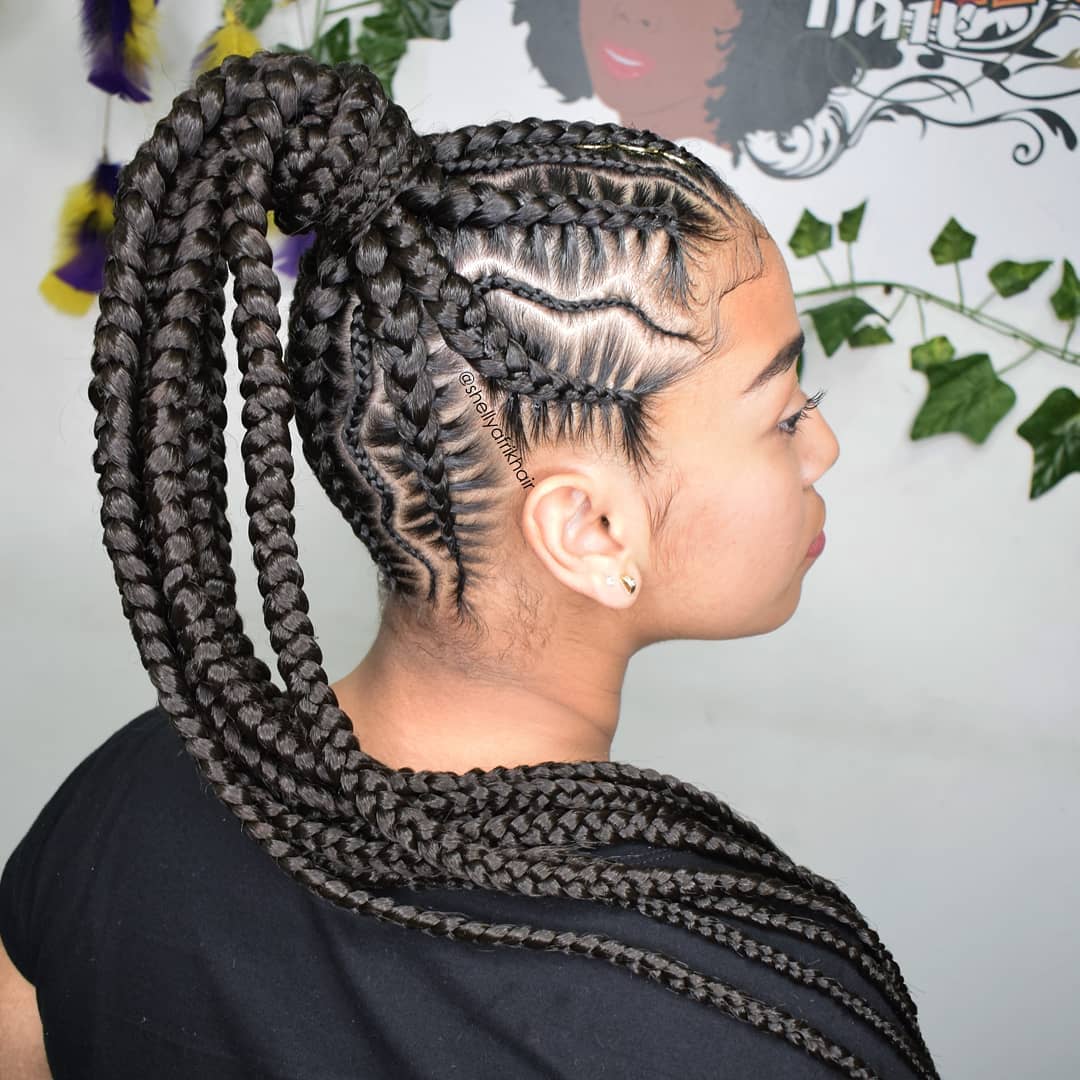 Time to give your ponytail a more interesting design, this is also referred to as the snake and ladder ponytail and happens to be one of Africa's favorite hairstyles.
45. Box Braid With Cornrow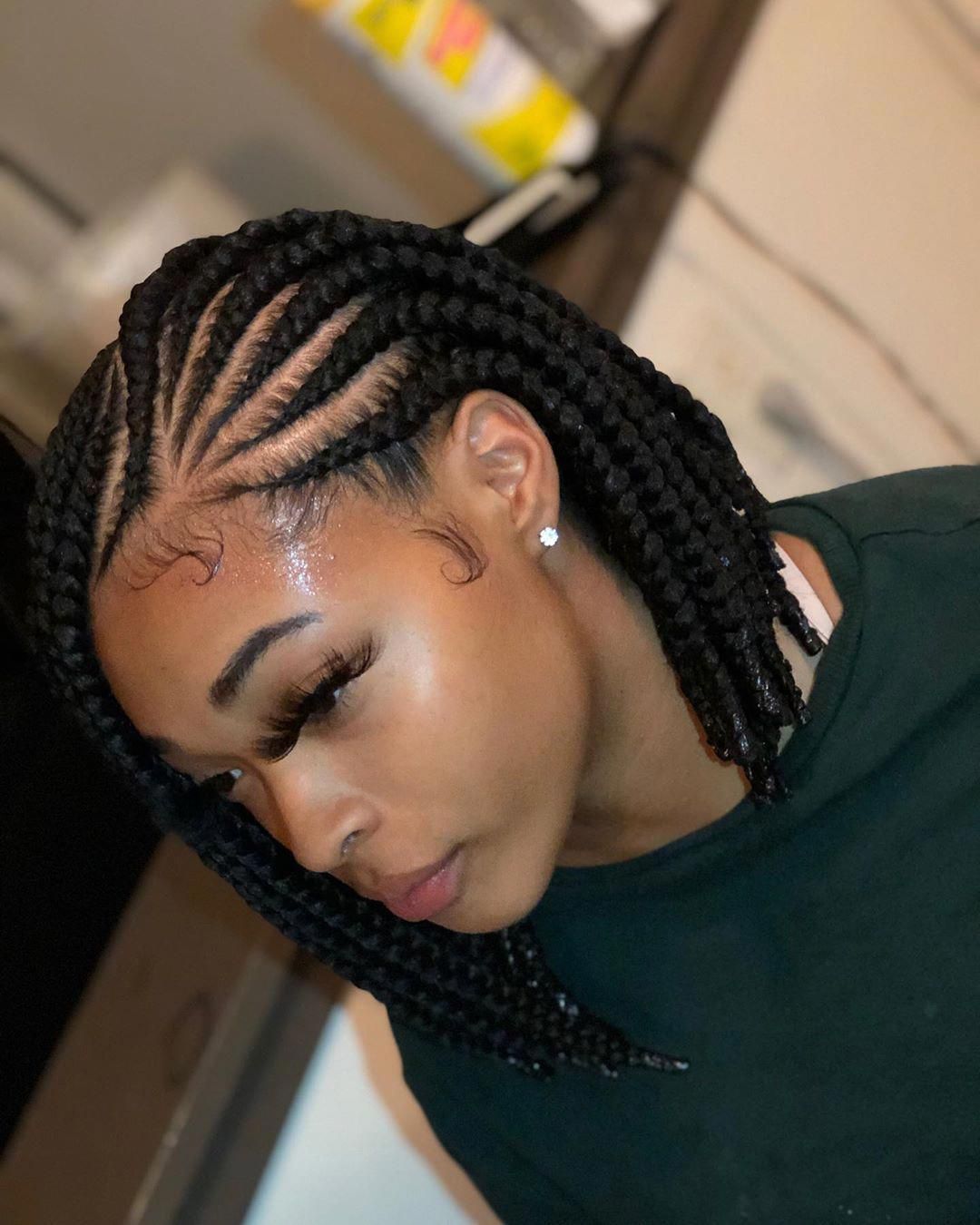 Short box braids can also be done with cornrows to add more glam and make you look even more beautiful.
46. One Side Braid Interwoven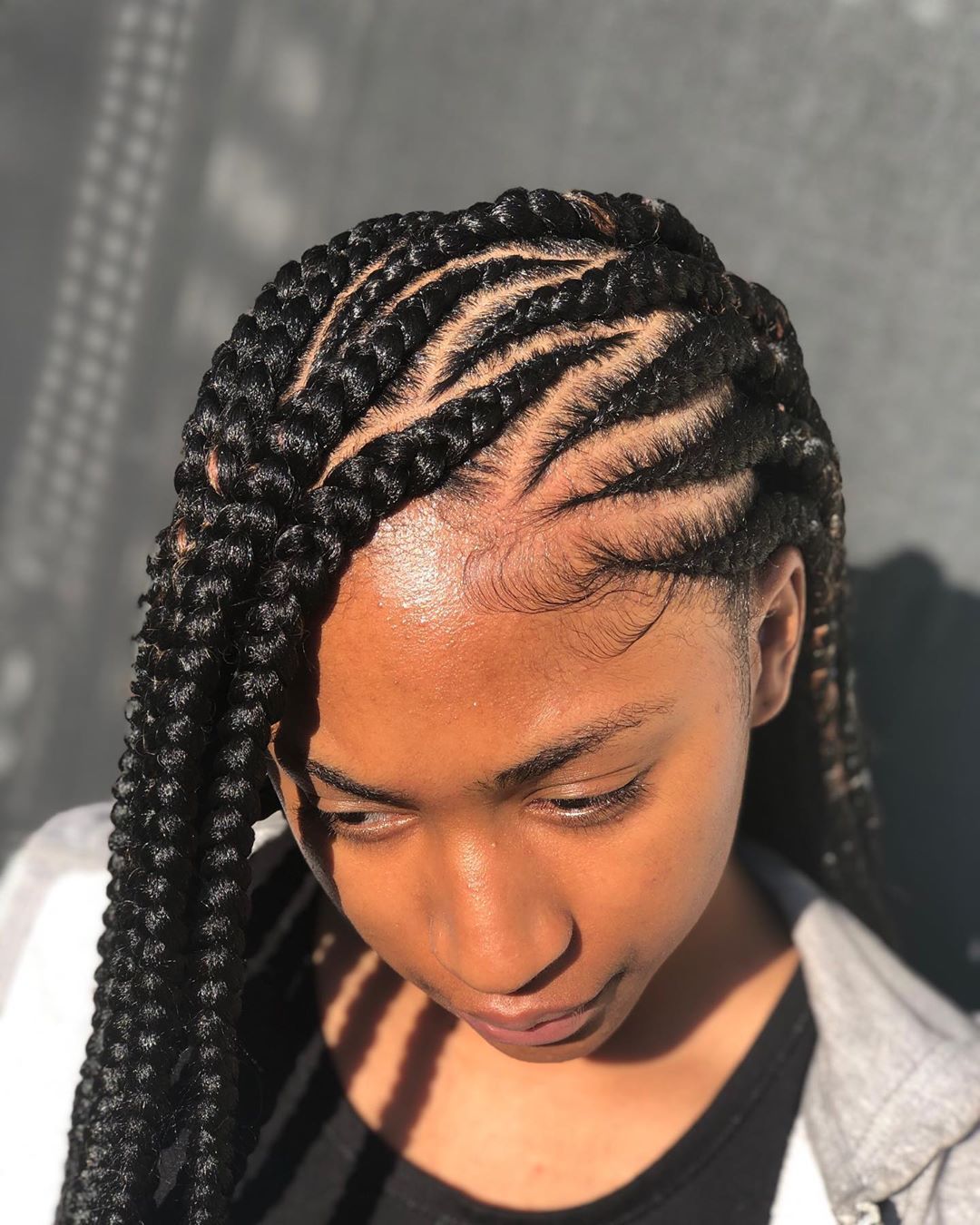 This is a great braid hairstyle that gives you a chin unique look, all side braids can only be packed one way but with different ways of styling.
47. Bun African Braid Medium And Big Cornrow
Get your stylist working on this beautiful bun braid for you and you will be glad you did, it is easy and takes less time.
48. High Ponytail Bun
African braids can be very fun and interesting and this applies mostly to bun braids combined with a ponytail and you get this beautiful style above.
49. Simple Tribal Braid With Beads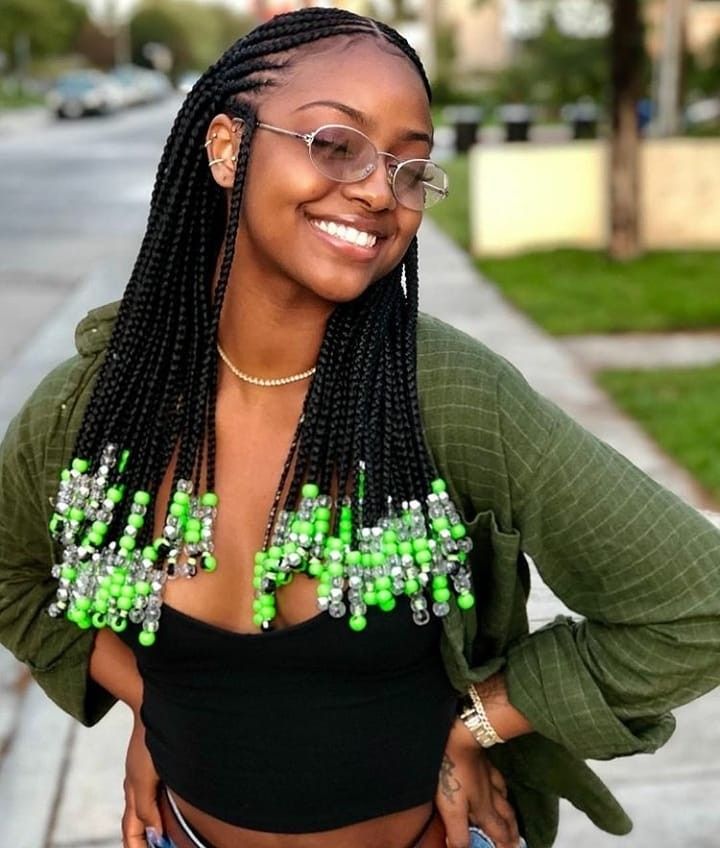 Tribal braids are becoming quite trendy this 2023 and this is due to how beautiful and exciting it makes the face looks, you can have this plaited in different ways.
50. Grey Box Braid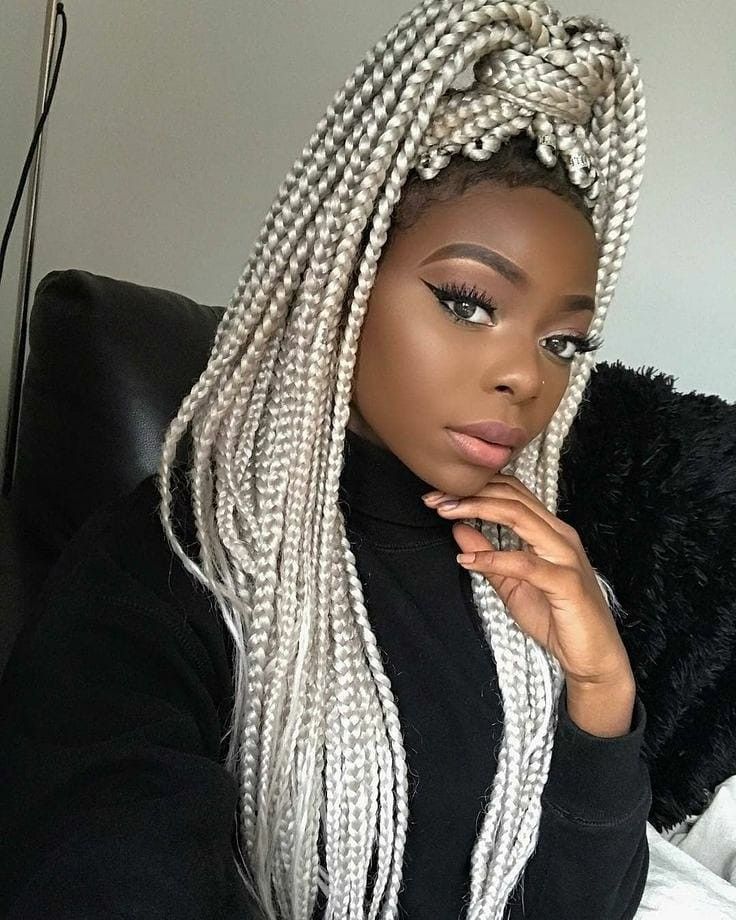 Grey box braids highlight the face features, this can be paired with any makeup, and it makes the face look bold and glamorous.
51. Center Parting Side Braid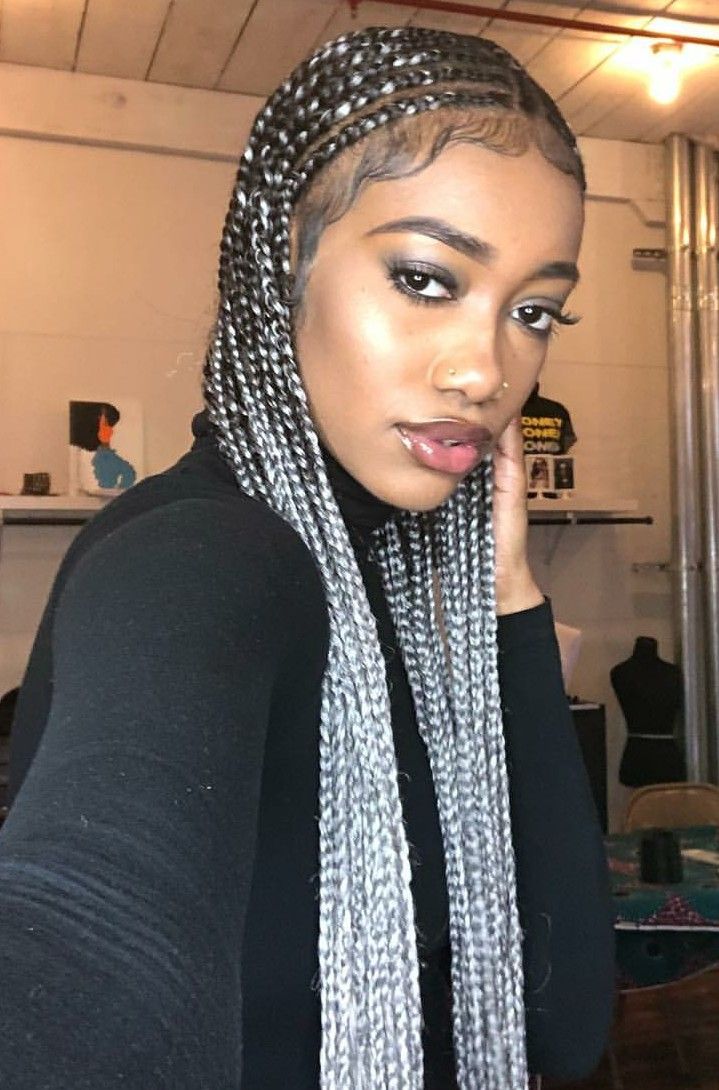 A Center parting side braid is a cool hairstyle if you want to keep it on the low, not too overly dramatic.
52. Side Bun Braid With Feed And Beads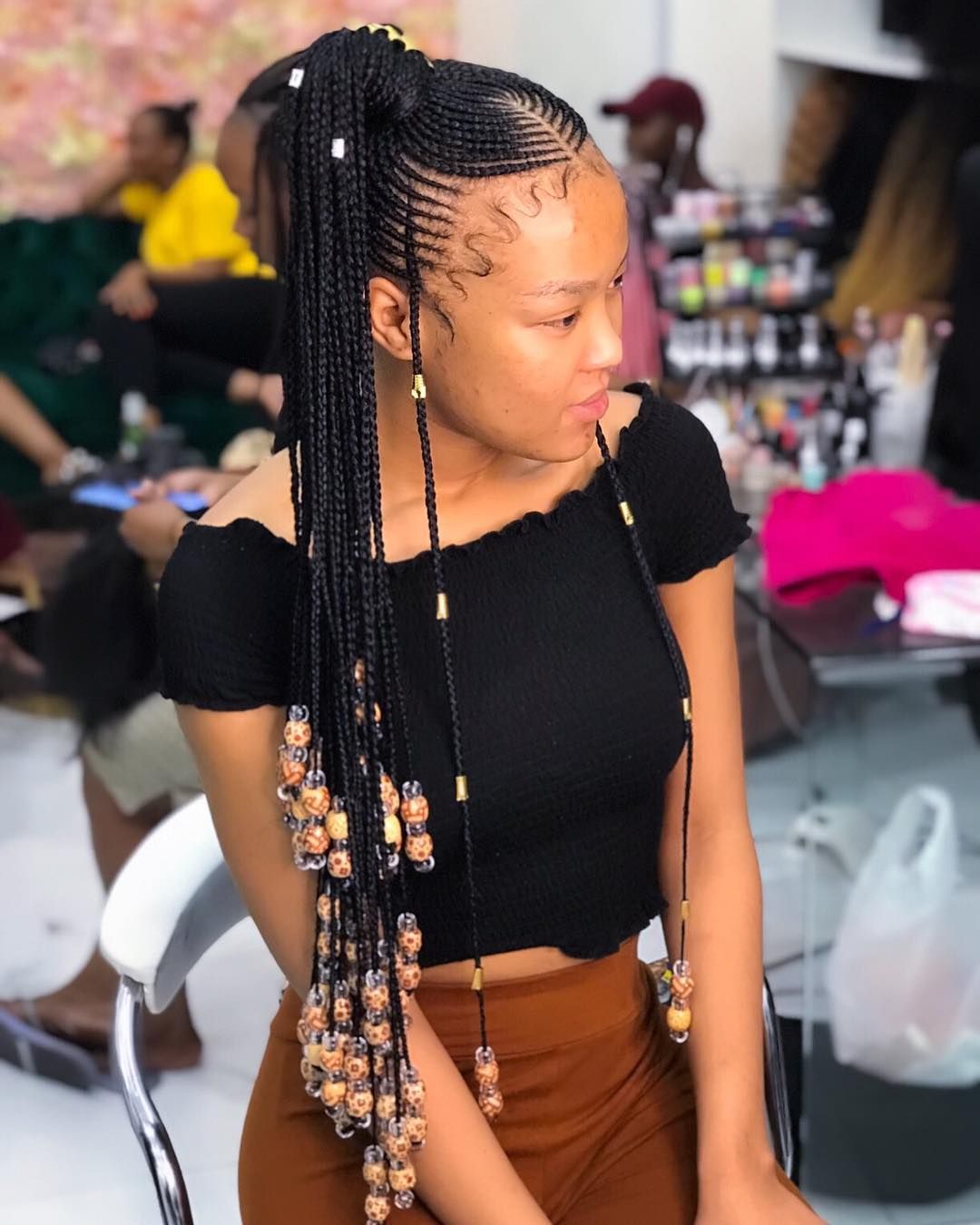 This is a lot similar to a tribal braid but in the form of a bun braid, and it is a very simple hairstyle that can last for 6 weeks if you take proper care of it.
53. Two-Step With Scissor Styling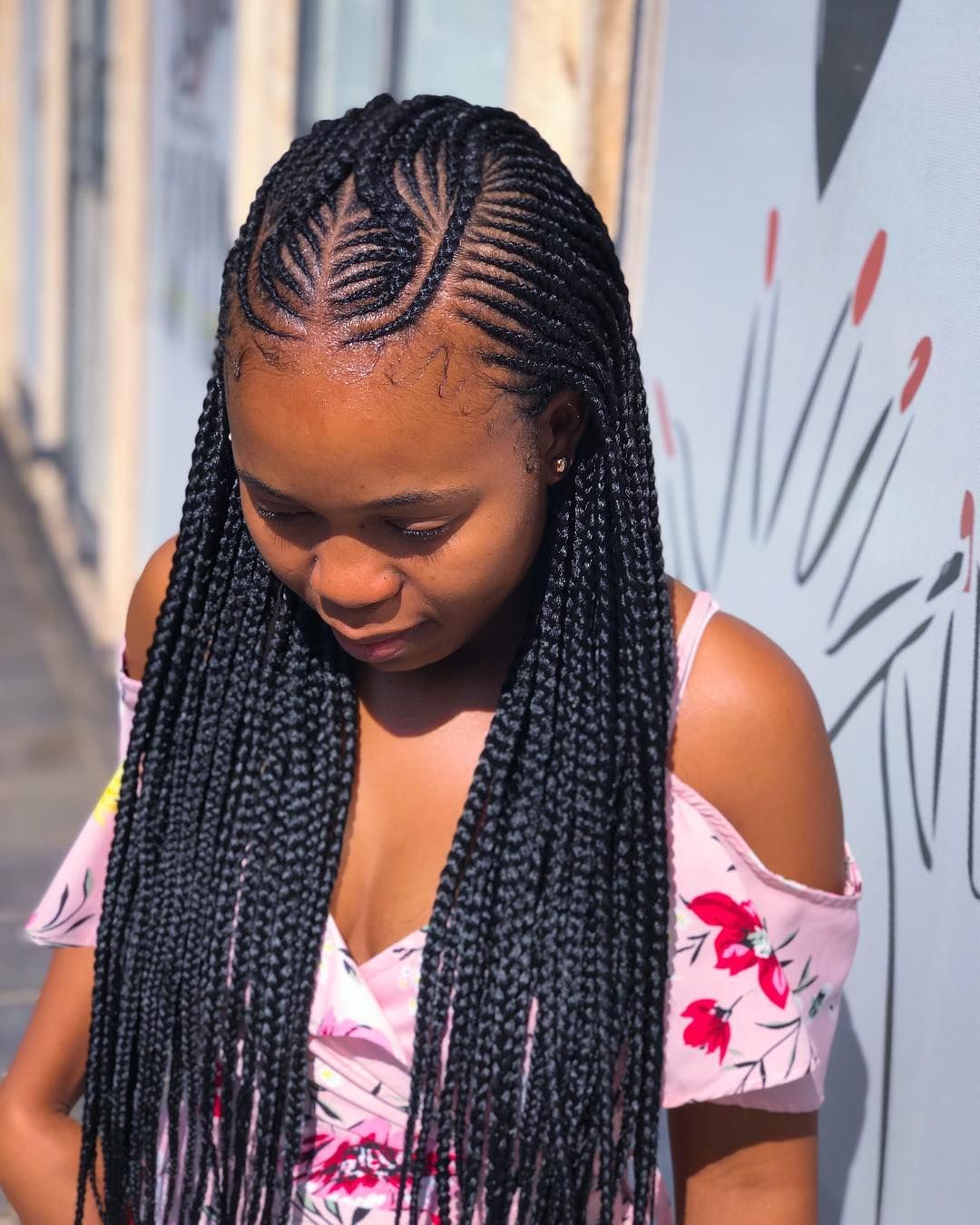 A smooth sleek two-step braid makes a lot of hairstyle difference, you can easily have this rolled up or dropped.
54. Tuck In Cornrow Braid
Time to spice up the usual glamour hairstyle with an even more unique hairstyle.
55. Half Up And Half Down Africa Braid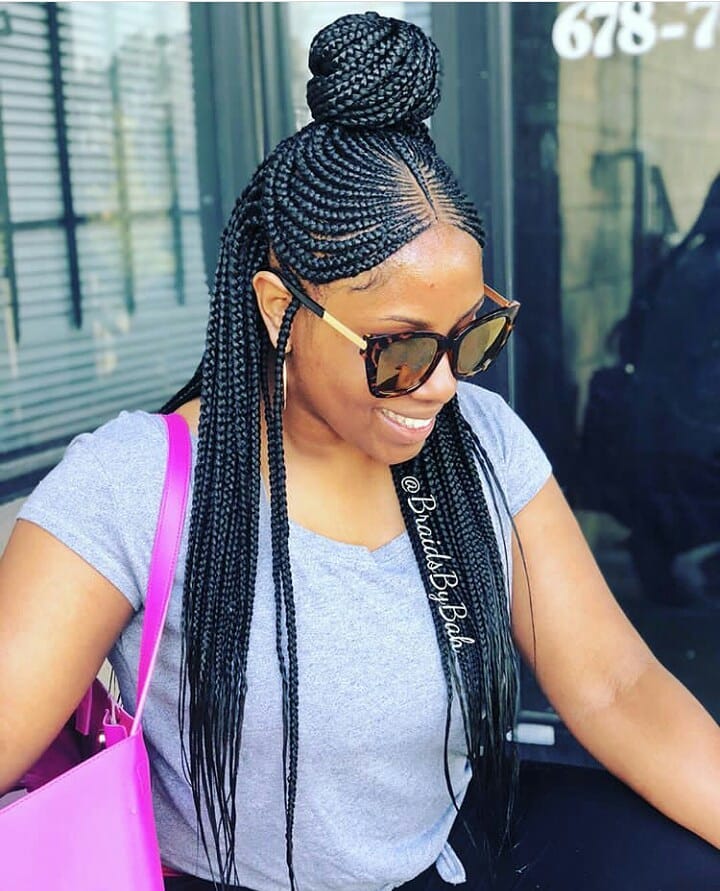 Half up half down African braid is not just an elaborate hairstyle that is found fitting for all kinds of events but also very beautiful too.
56. Cornrow With Box Braid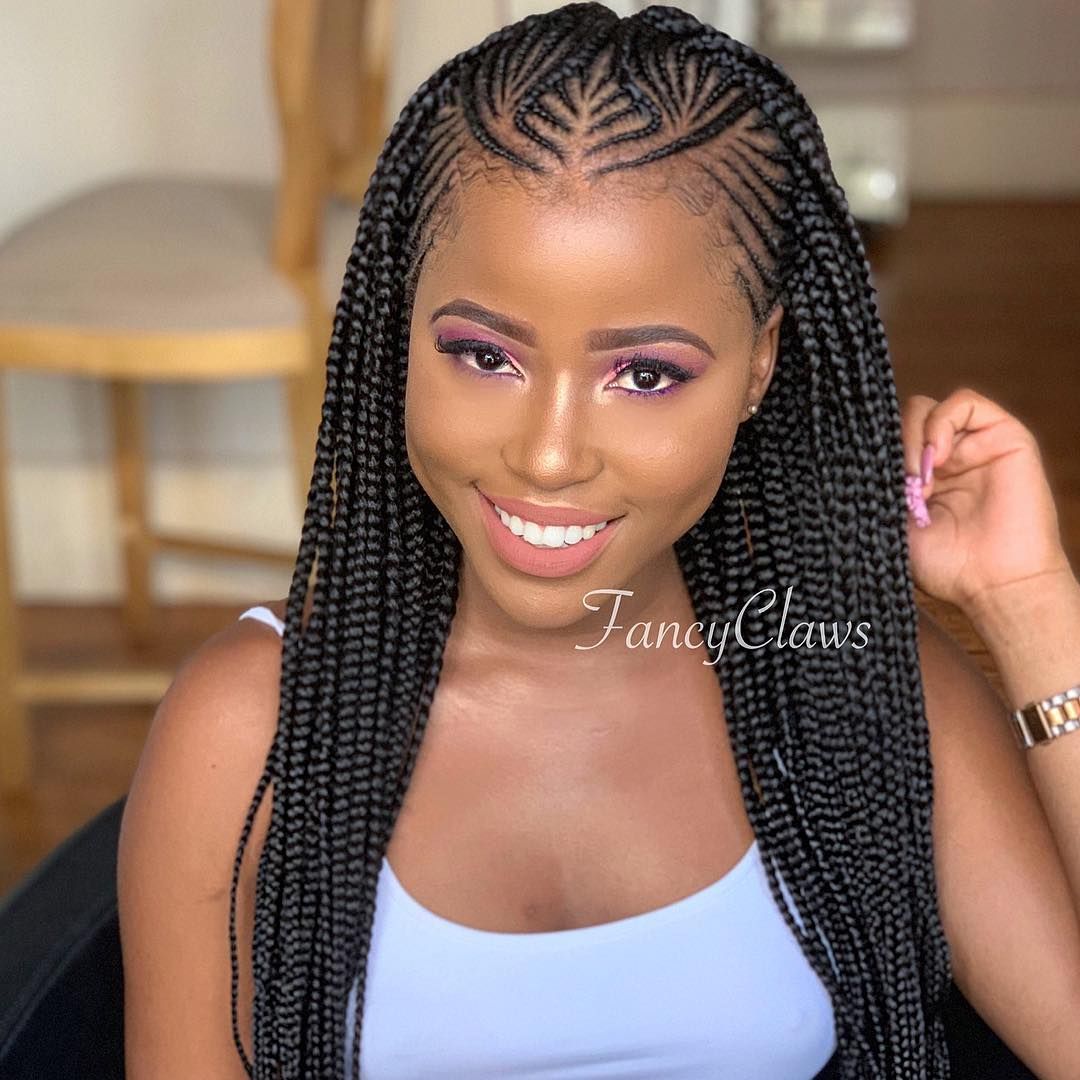 A stylish Fulani braid can never go wrong and is even more fascinating when styled with Conrow and simple designs at the front to make it look different from casual braids.
57. Fishtail Braid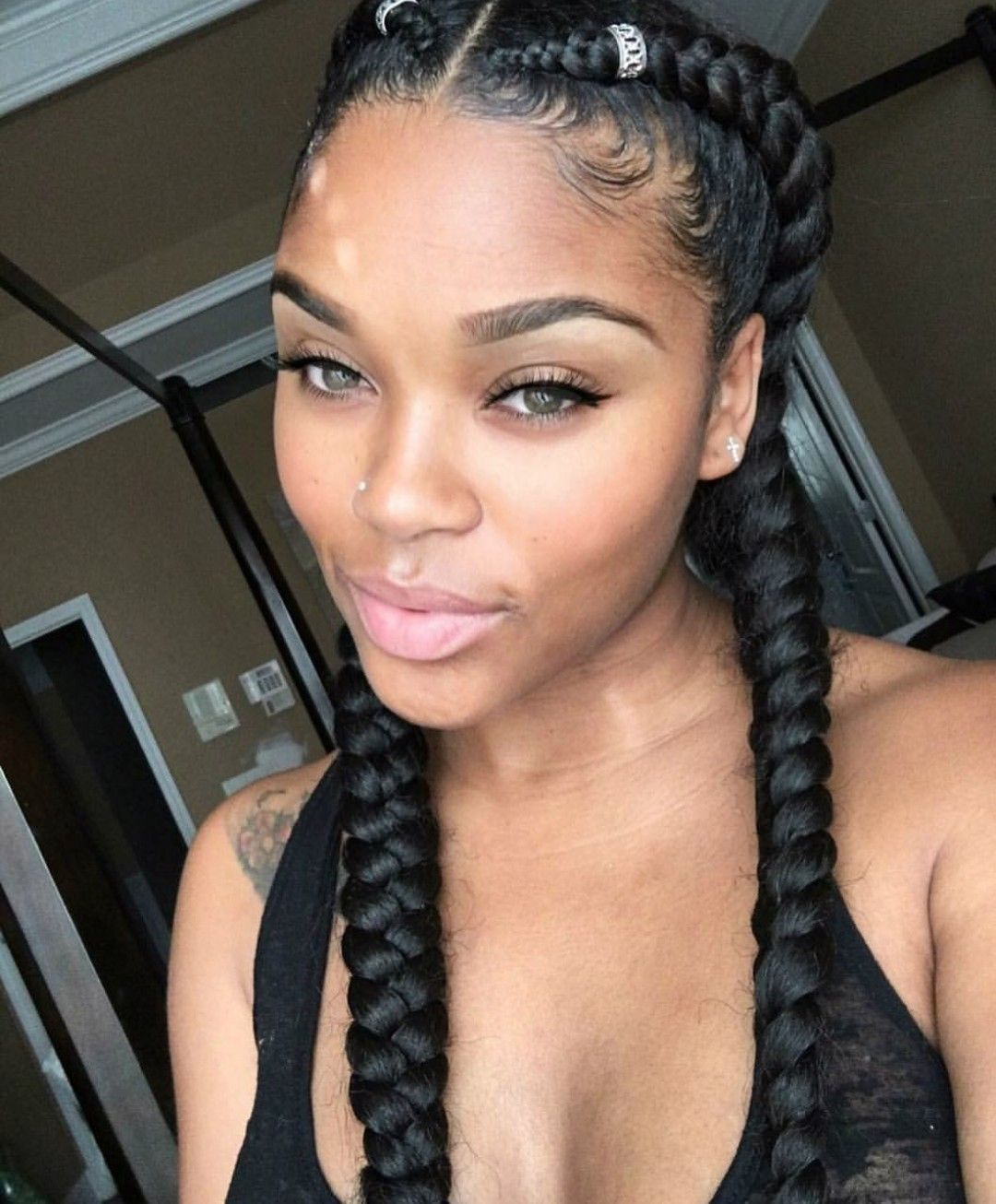 A fishtail braid is not too dramatic and you can do this in the comfort of your home, really beautiful, and takes very minimal time to make.
58. Straight Bun Braid With Side Base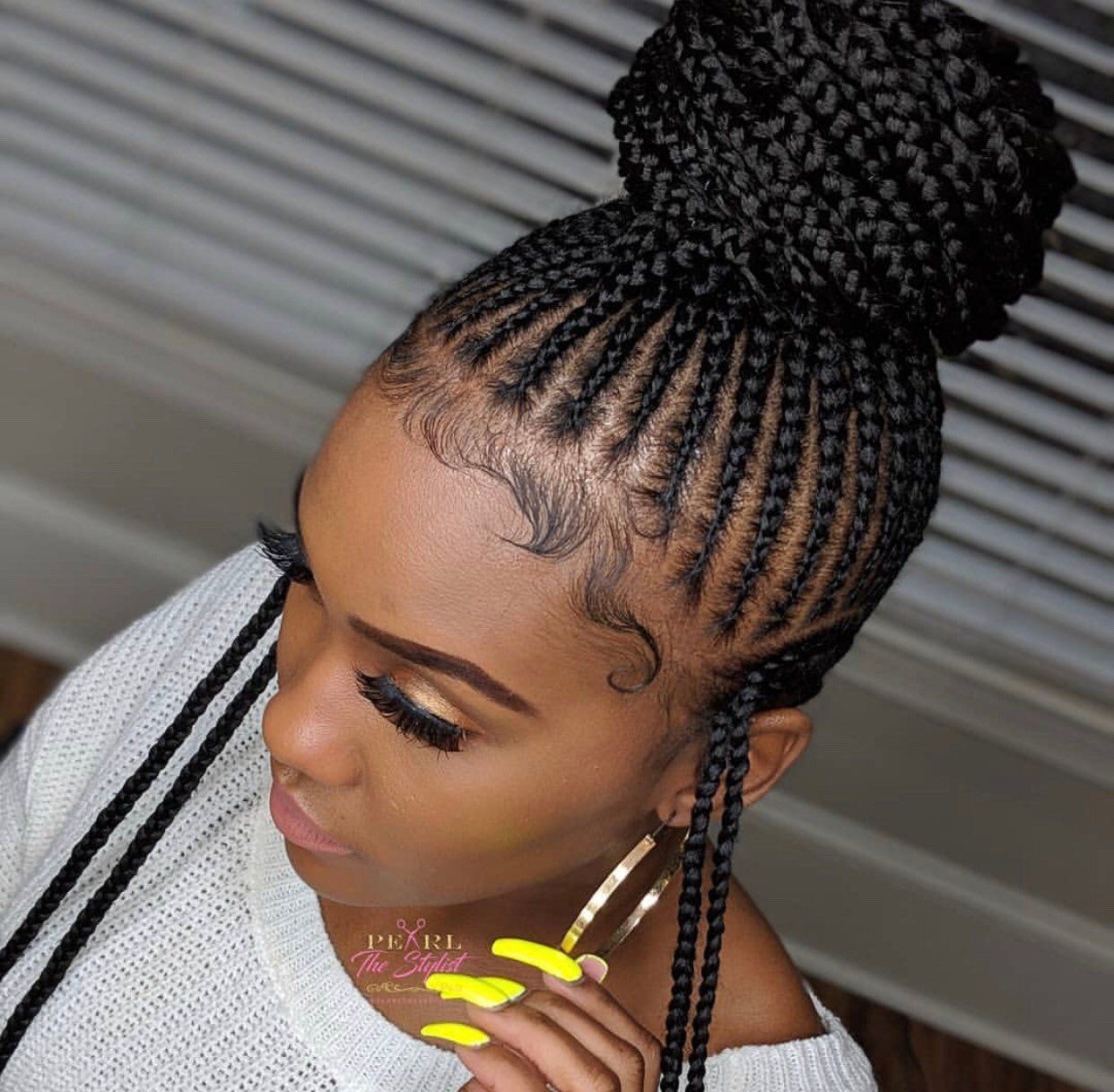 Another fascinating African bun braid every braid lover should have done is this classy, and tend to stand out at any kind of event.
59. Easy Bun With Large Cornrow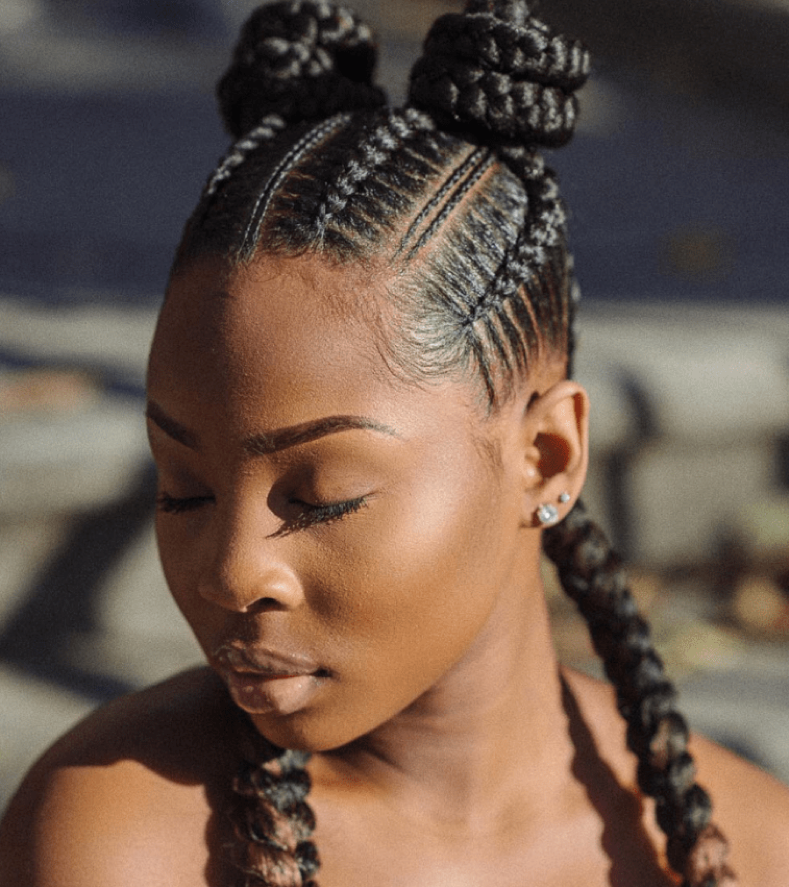 This is another easy African braid for lovers of braid, it can be done with your natural hair but the cornrow at the back might need an extension to make it look thick and long.
60. Tribal Box Braid Style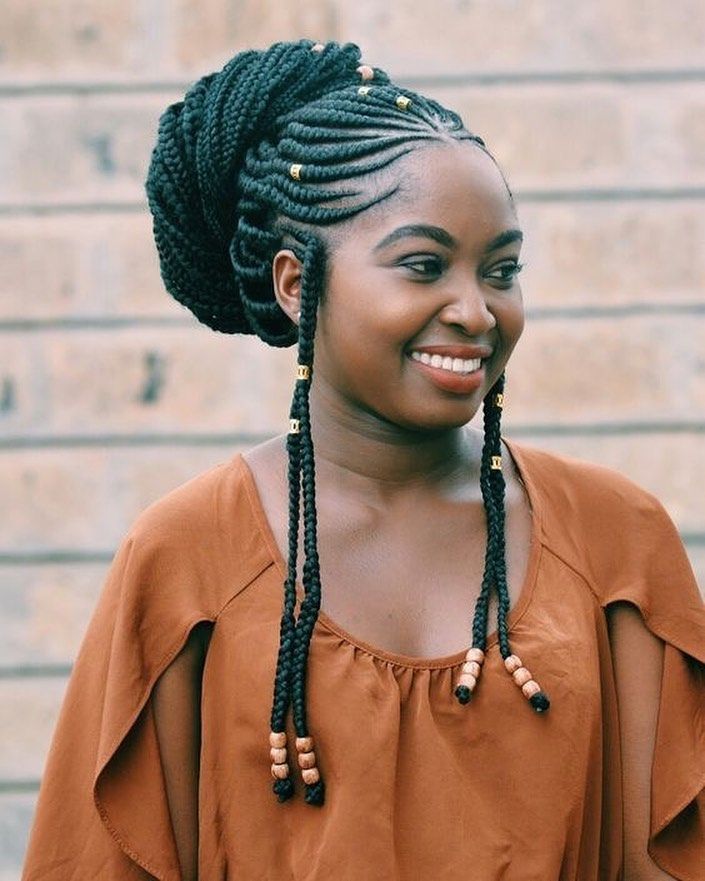 A tribal box braid is an easy-to-make hairstyle, but this depends on the full and elaborate you want it to be, the box braids could be medium and with less extension added to the baseline, this might give you a scanty tribal braid but still beautiful, and fancy.
African braids are stylish and most of these styles listed above are modern and quite fancy for 2023, with African hair braids you can give your hair rest, it protects your natural hair against harsh environmental elements. Hair braiding also creates a chance for creativity, you can pick any style of your choice and have it blend to your preference. The best way to get these braid hairstyles is to let professionals from an African braiding hair salon do it to avoid mistakes.
Read more on African braids and protective styling: