Everyone likes a box braid and one of the reasons is that it's pretty versatile and styling it can add some fun to it the hairstyle, there are pretty many chic ways you can style it, and braids are also counted as a low-maintenance hairstyle as it can last up to three months with awesome ways to style it every week.
Braids are one of the most trendy hairstyles due to the fact that it offers an opportunity to extend one's hair, it's a very exquisite hairstyle and very simple to do.
Time to spice up your braids and do something even more creative with them, here are 40 chic hairstyles for braids you can make with braids.
1. Short Jumbo Braid to Keep It Off Your Shoulder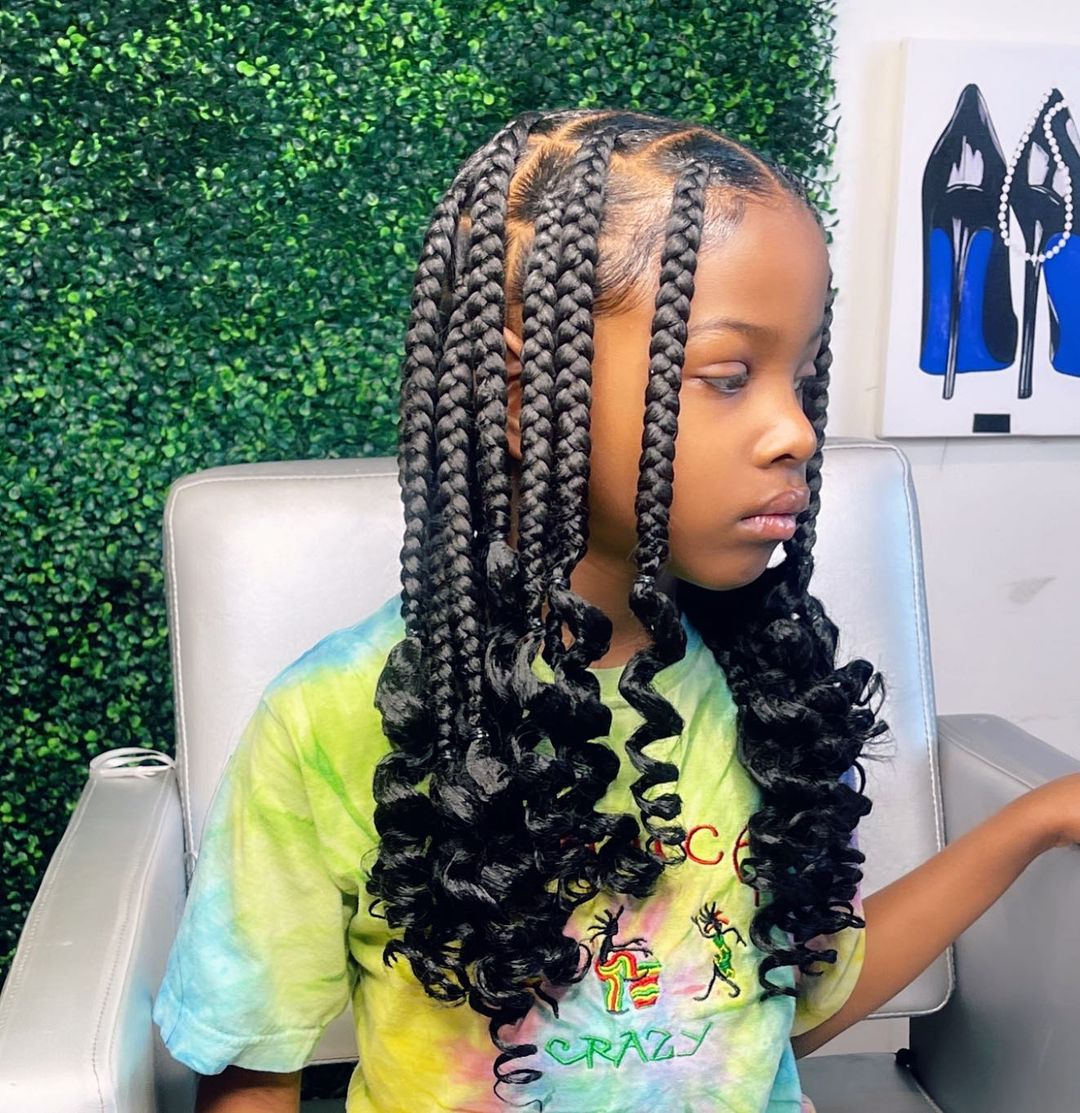 Short jumbo braids are always going to be in trend and with the modern introduction to it, there is no reason not to have it plaited. Also, this is shoulder length for girls who would like to rock braids without it disturbing them. There is limited styling available, but it's quite cute.
2. Latest Large Boho Knotless Braid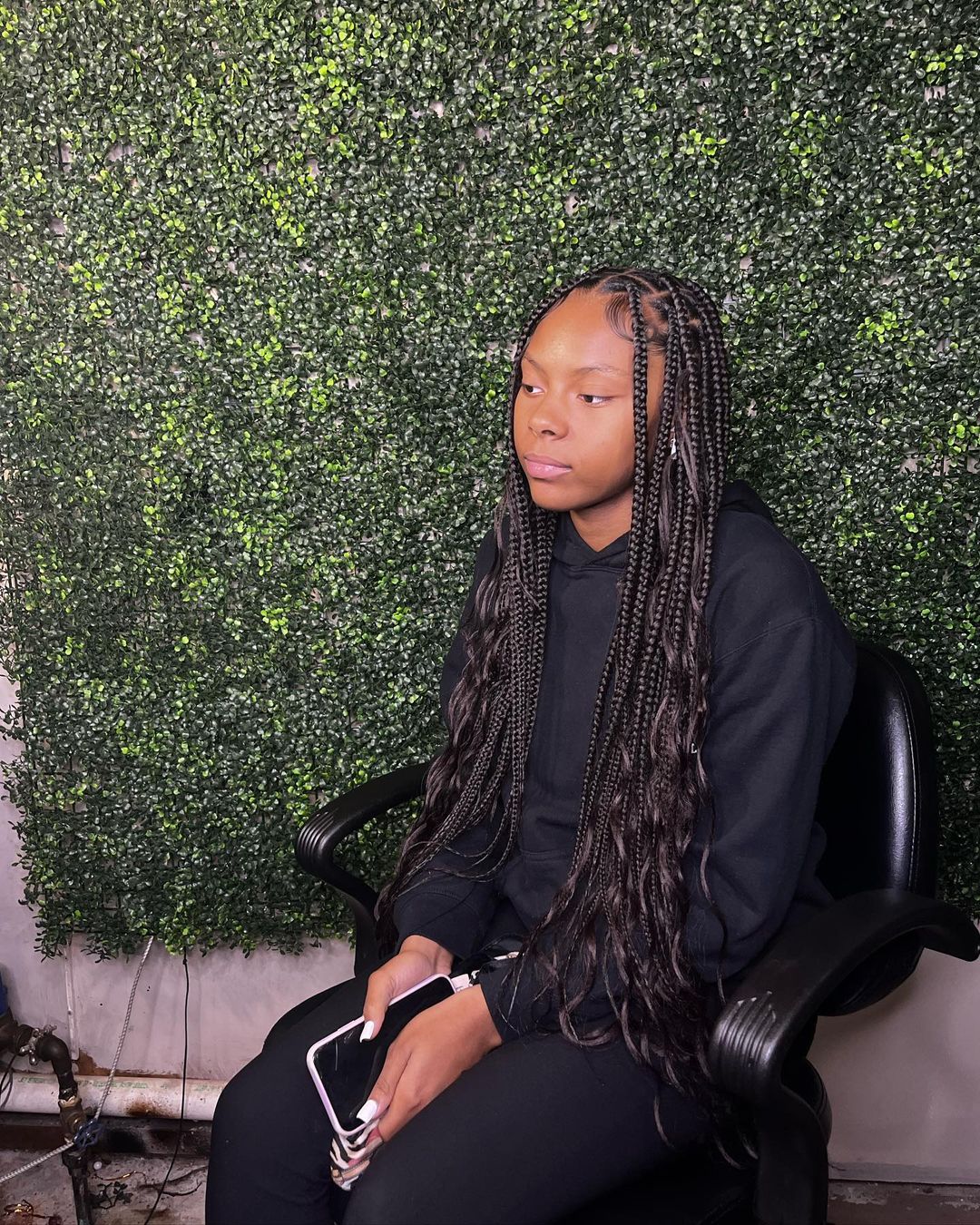 Not all braids have to be dramatic or bold in colors to be beautiful. Something simple yet gorgeous as this will do just fine. This is lightweight since the shape is square, but due to the length might be a bit uncomfortable at first, you can always pack it into a bun.
3. Gipsy Braids Make The Best Curly Hairstyles
Gypsy braids are just like the regular curly type of braids, but they are quite long and include lots of curls to make them more bold and classy.
4. Creative Feed In Braids To Brighten Things Up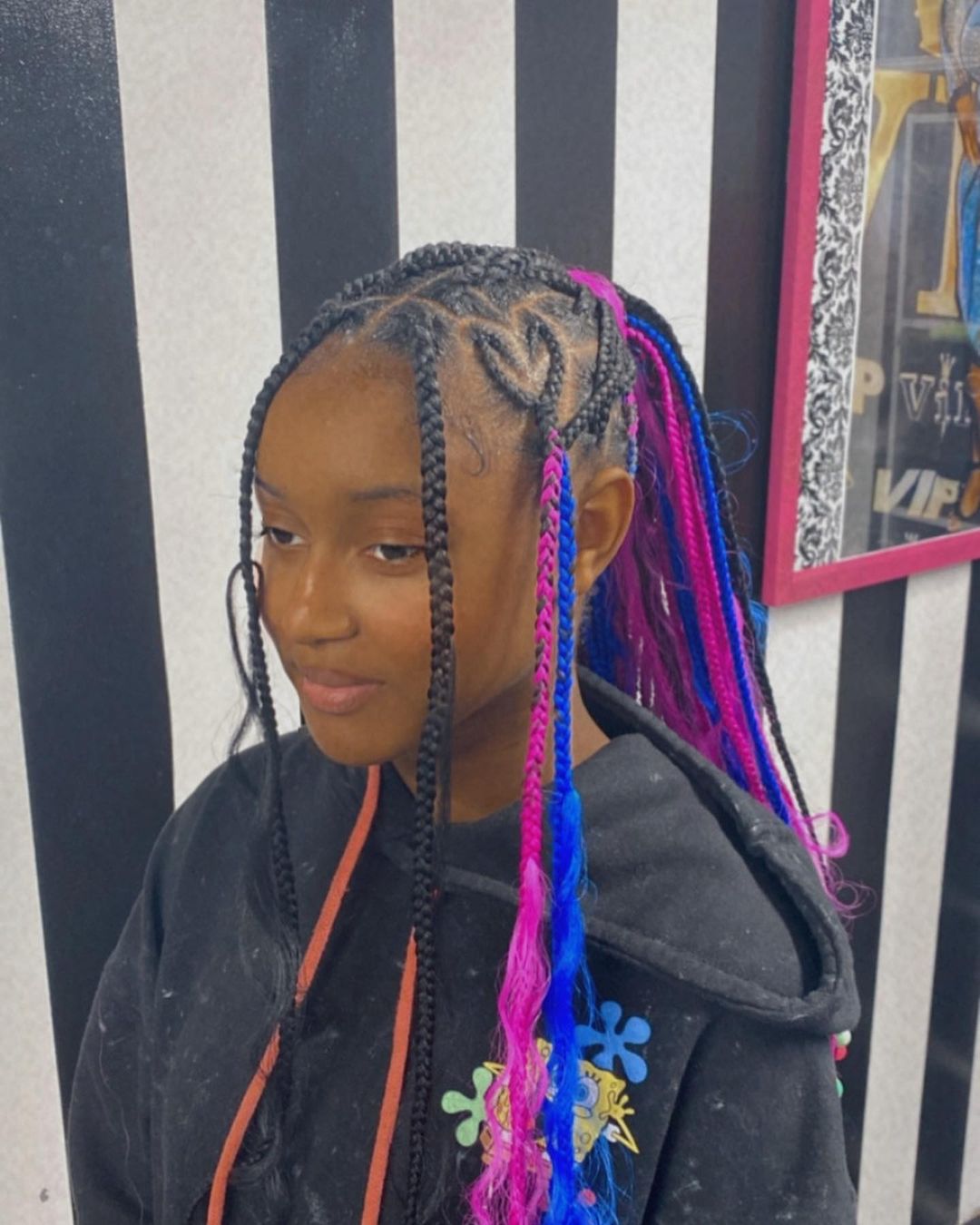 Creative braids are currently in trend. They are simple and make the ideal protective hairstyle for fragile hair and scalp.
5. Medium Knotless To Keep It Simple
Keep it light and easy if you have a soft scalp. Braids can easily weight your hair down but that won't be the case with this gorgoue medium knotless braid.
6. Burgundy Braids And Beads Are Always In Trend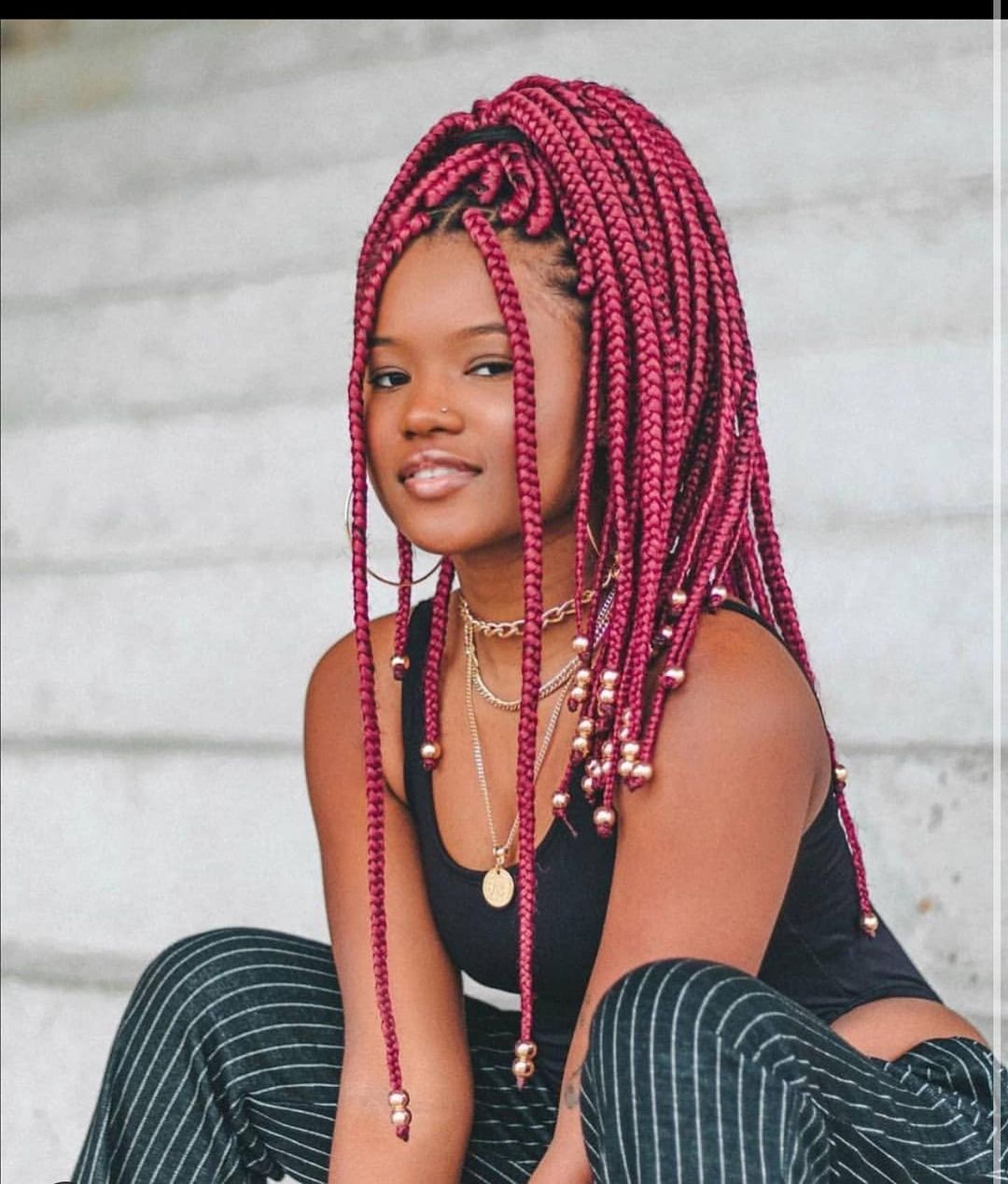 This is one of the most popular braid hairstyles in 2023. This hairstyle stands out mainly because of how simple and fun it looks. You can have it made with any color of your choice.
7. Platinum Blonde Braid For A Bold Hot Look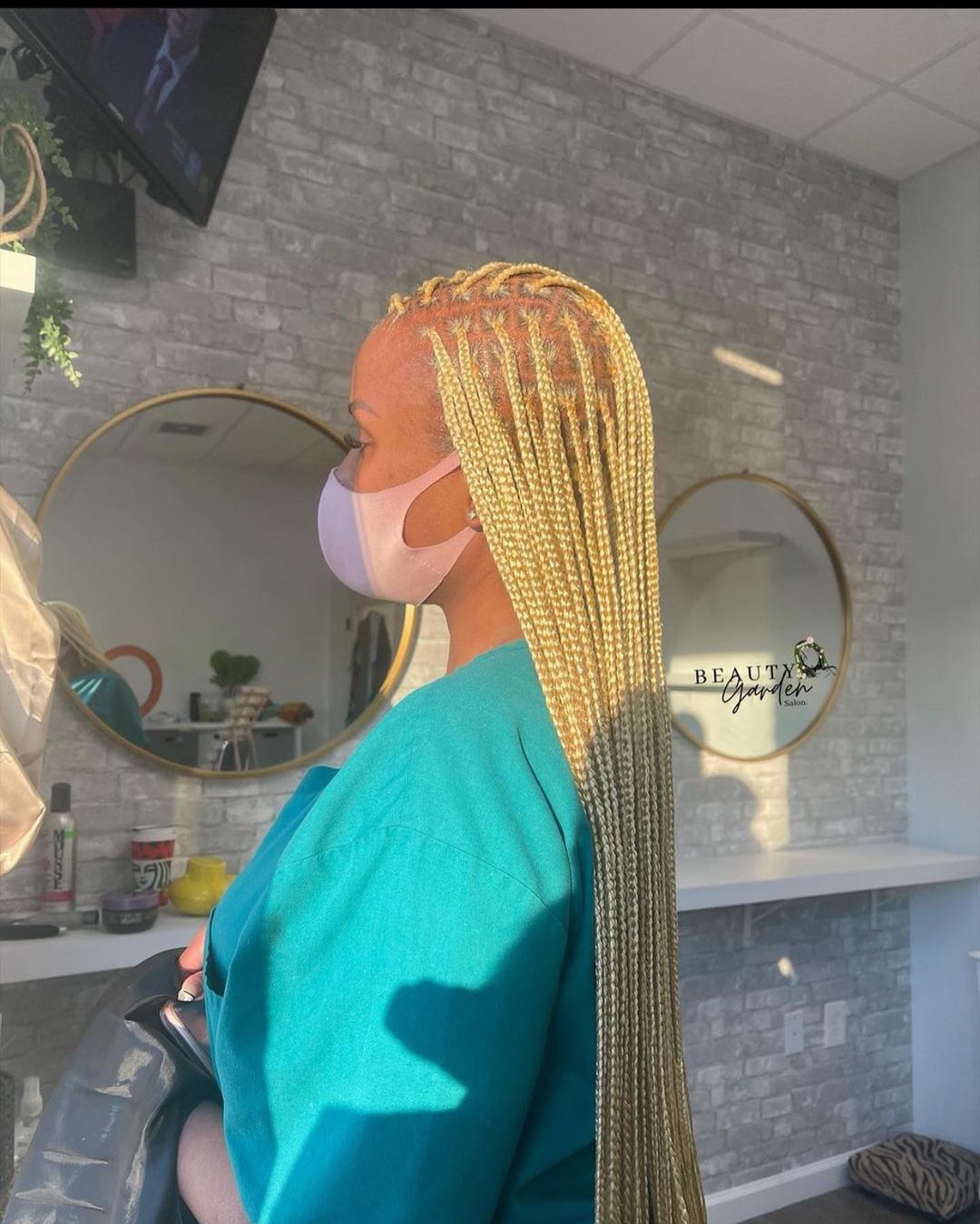 Blonde platinum seems to be the new trendy braid color and it happens to look stunning when made in a knotless braid style. It's not just easy to style but very comfortable as well.
8. Knotless Bob Braids Look Gorgeous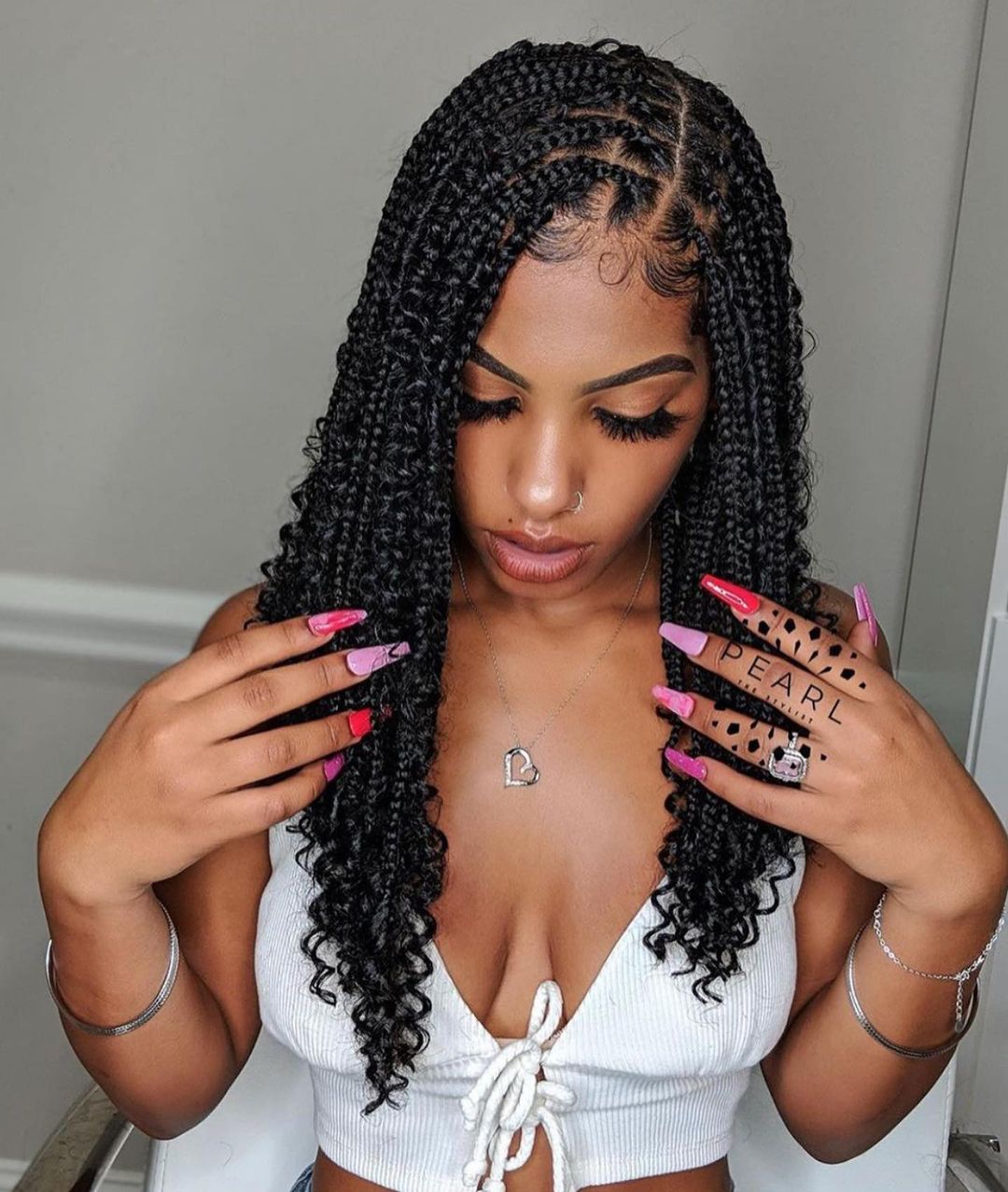 This is another chic and trending braid hairstyle you should definitely try.
9. Jumbo Box Braids For Keeping Things Cool
Jumbo box braids take less time compared to other braid styles and you can go with as long as you want for a more elegant look.
10. Short Knotless Braids Pair Well With Any Face Feature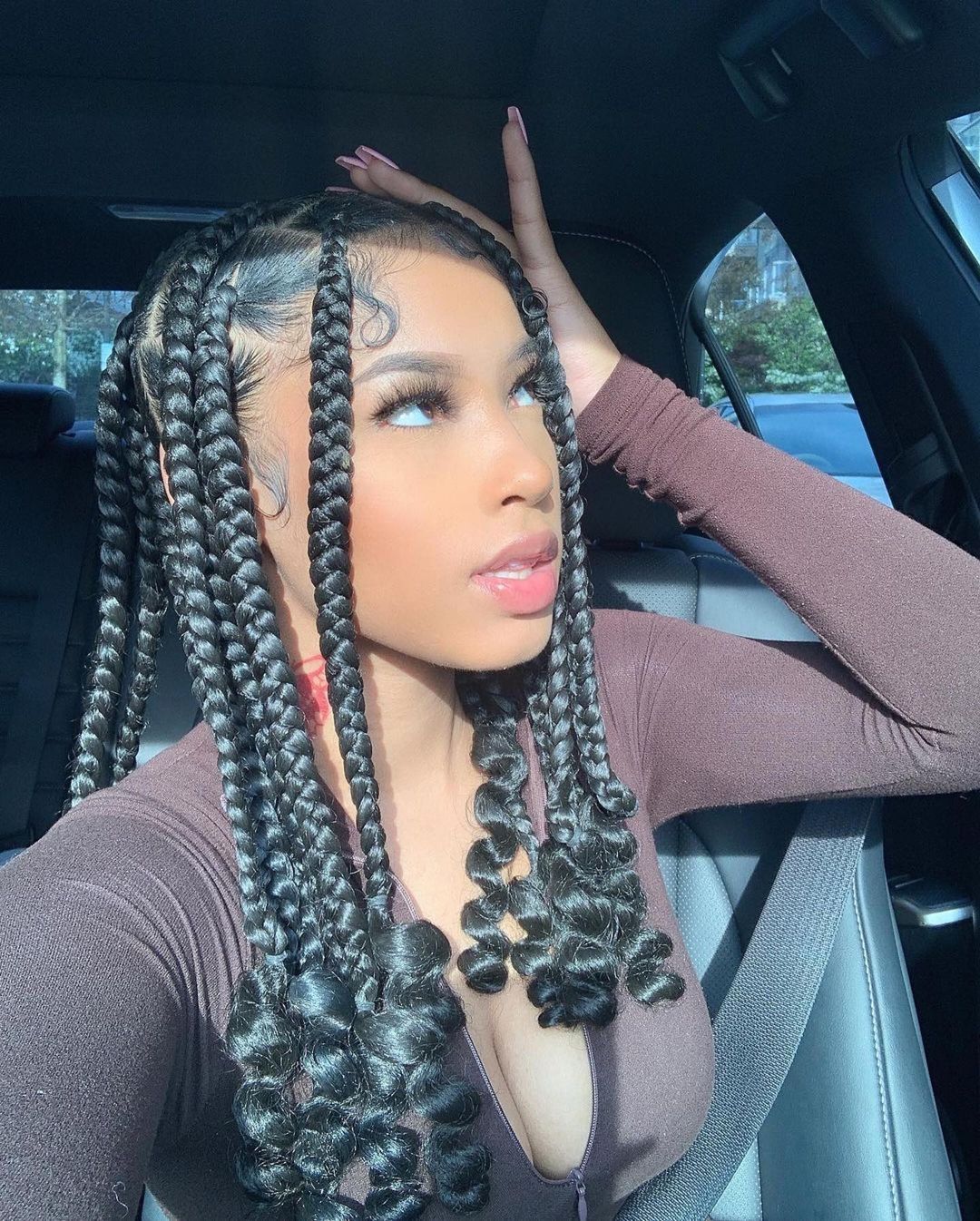 Keep it simple if you want to spend less time at the salon.
11. Long Big Box Braids To Help Keep Things Simple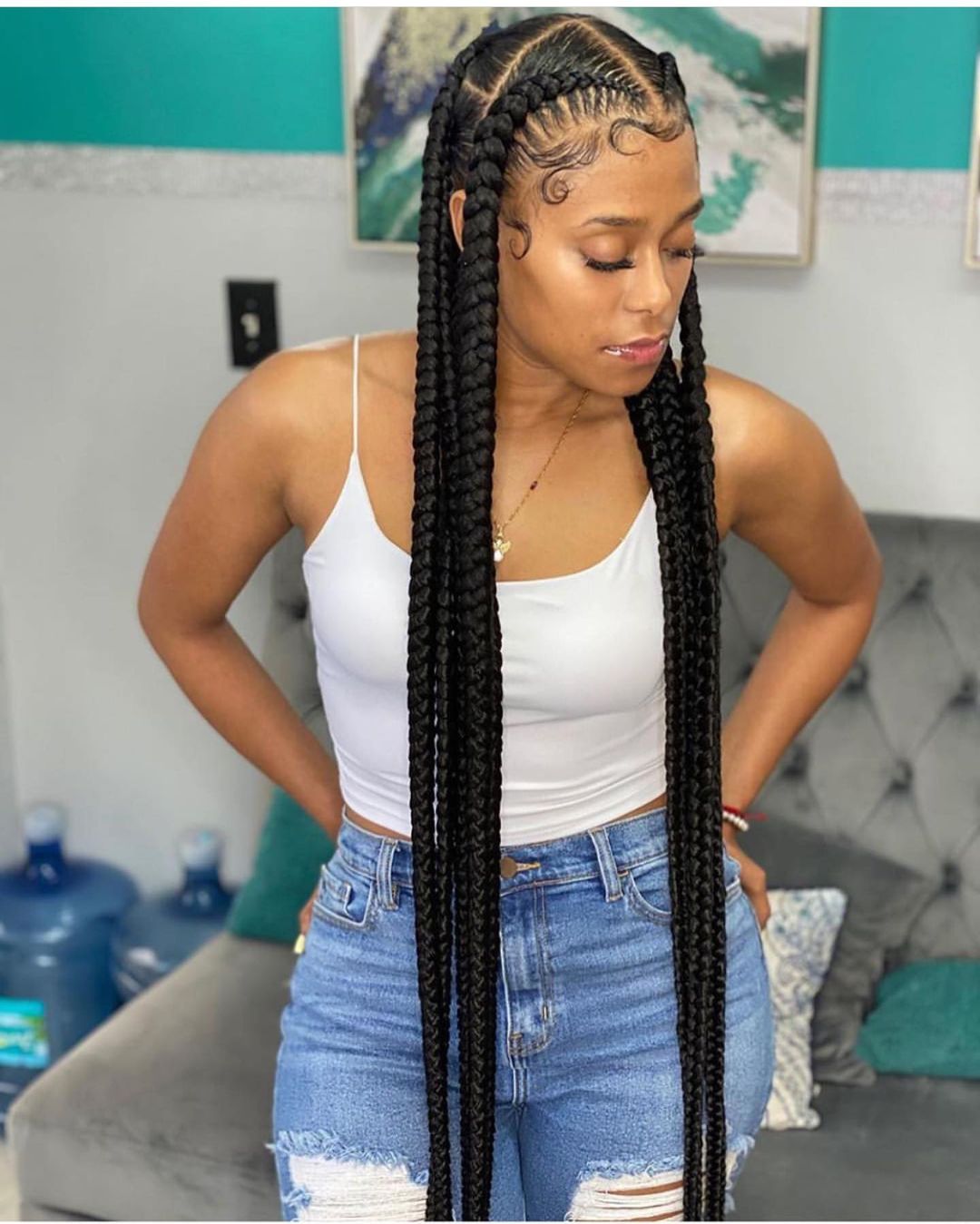 We all love long braids and here is the trendiest box braid and cornrow combination you should definitely try.
12. Rainbow Braid With Curls To Highlight Your Look
This is not just fun but really fascinating as well.
13. Blonde Braids For A Cute Dramatic Effect
Every braid has its own unique reason for standing out. This gold braid is perfect for a calm but dramatic look and it's suitable for any skin color.
14. Blue Braids Can Do No Wrong On Any Outfit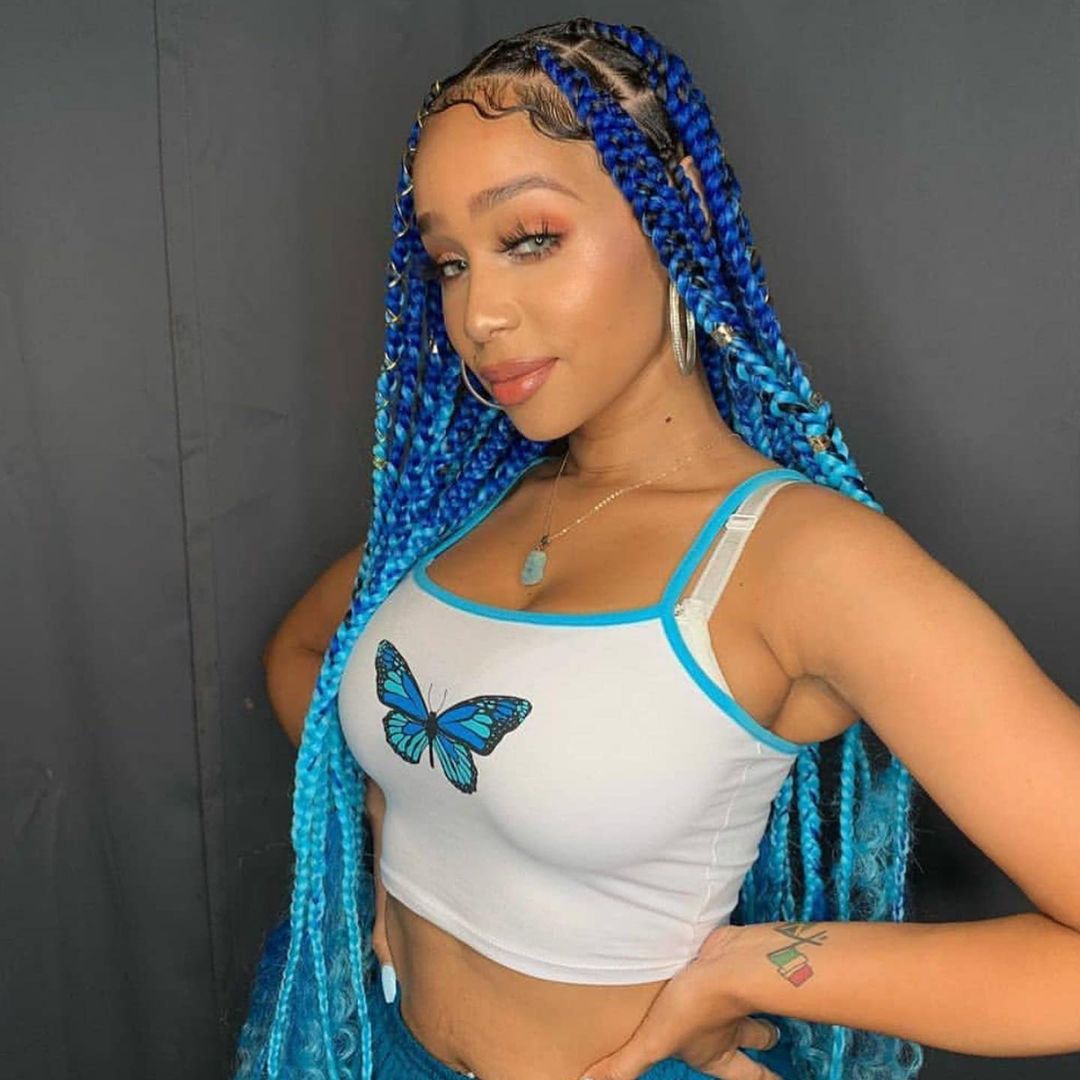 Most ladies like to pair their braids with their choice of outfit but not to worry, blue braids are regarded as cool and suitable for outfits.
15. Shoulder Length Braid With Loose Tips Are Setting Trends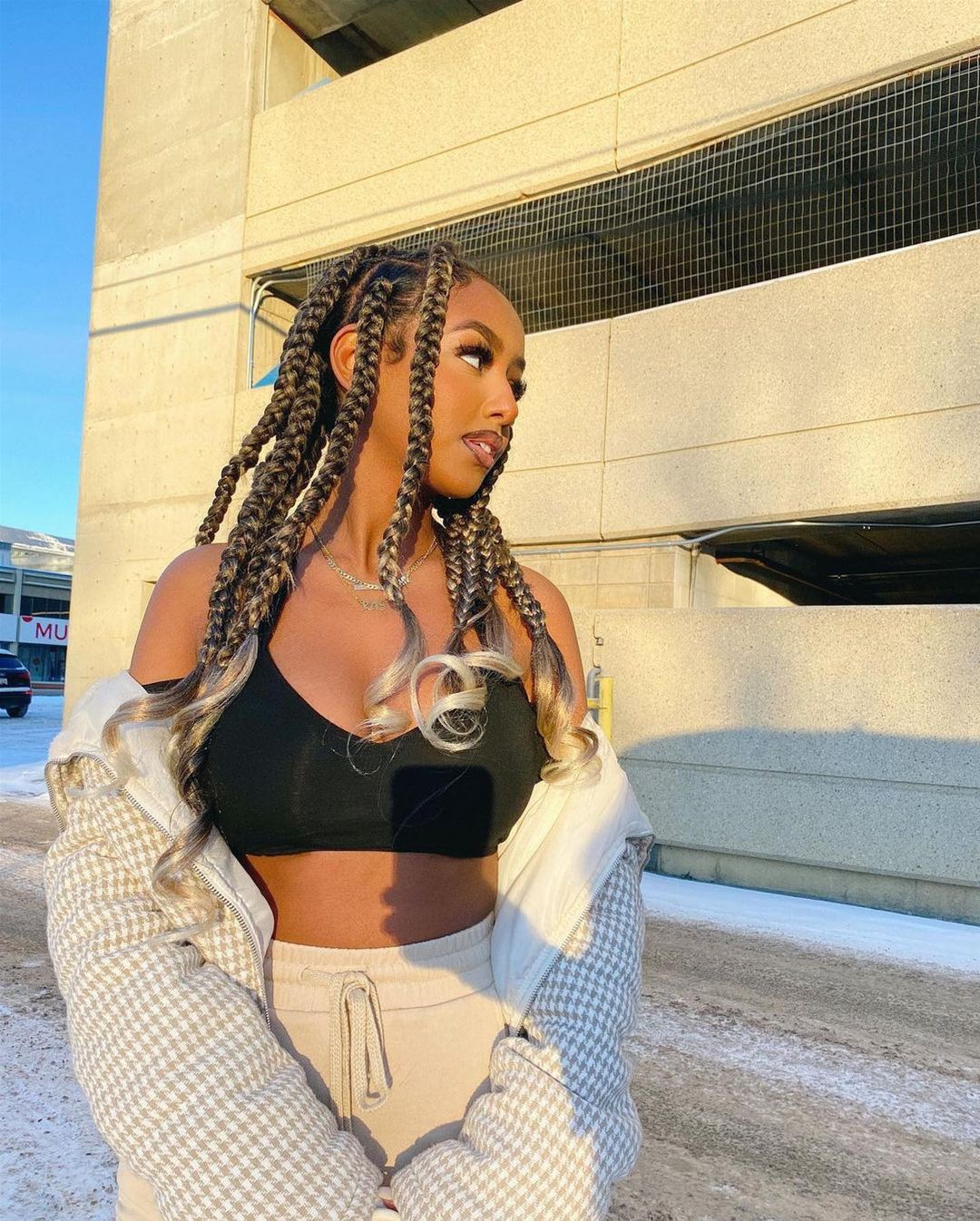 This braid style is really beautiful and perfect for all kinds of occasions.
16. Rainbow Braid To Give A Bold Colourful Look
Rainbow braids are quite colorful and fitting for a bold and glamourous look, this is also very stylish and it's the form of braid you go if you want a casual way to show off colors, the colors could be something not so flashy depending on how you like colors and how bold you can go.
<
17. Full Medium To Tune Up Full Pout Lip Makeup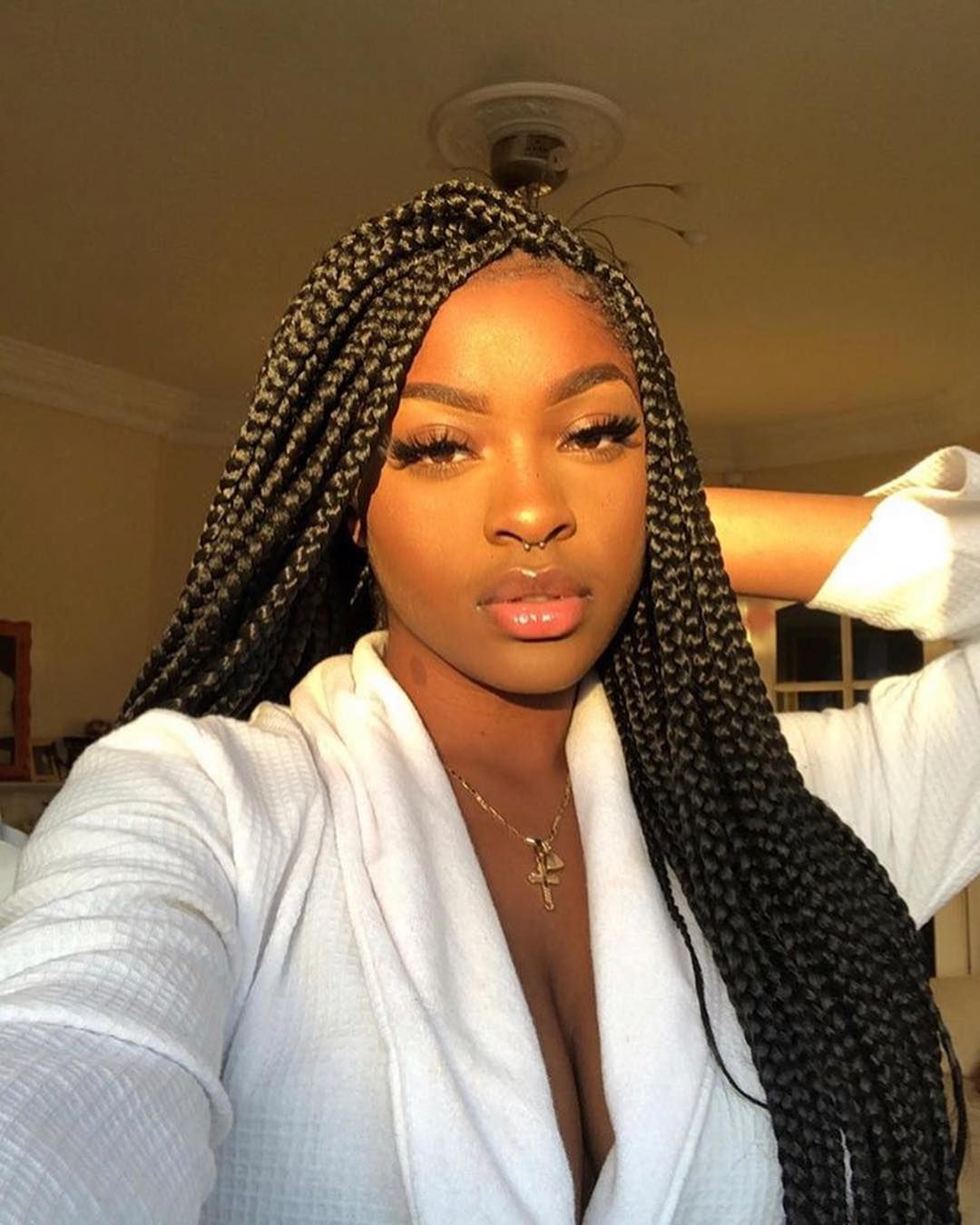 This is a beautiful braid for any kind of look, it is exotic and might take more time but totally worth it, very practical for all kinds of events, especially a formal event.
18. Scanty Blonde Braid Gives An Impeccable Look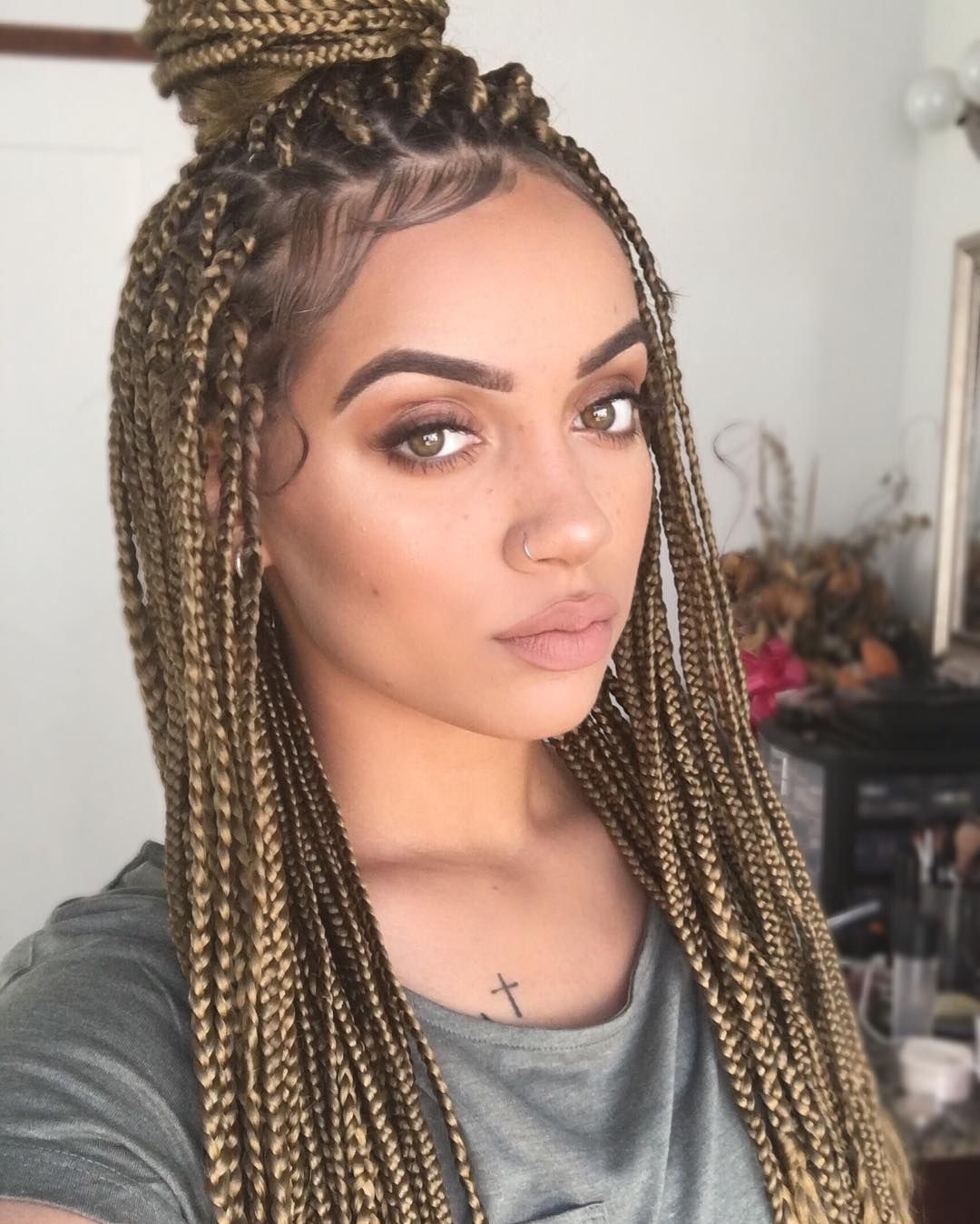 Another hairstyle that brings color to your face and tunes up your makeup is a blonde braid, it is beautiful and suited for all kinds of events, this braid doesn't take much time if it is scanty but a full braid might take longer time.

19. Half Up And Roll Down Braid Look Elegant And Fitting For All Braid Style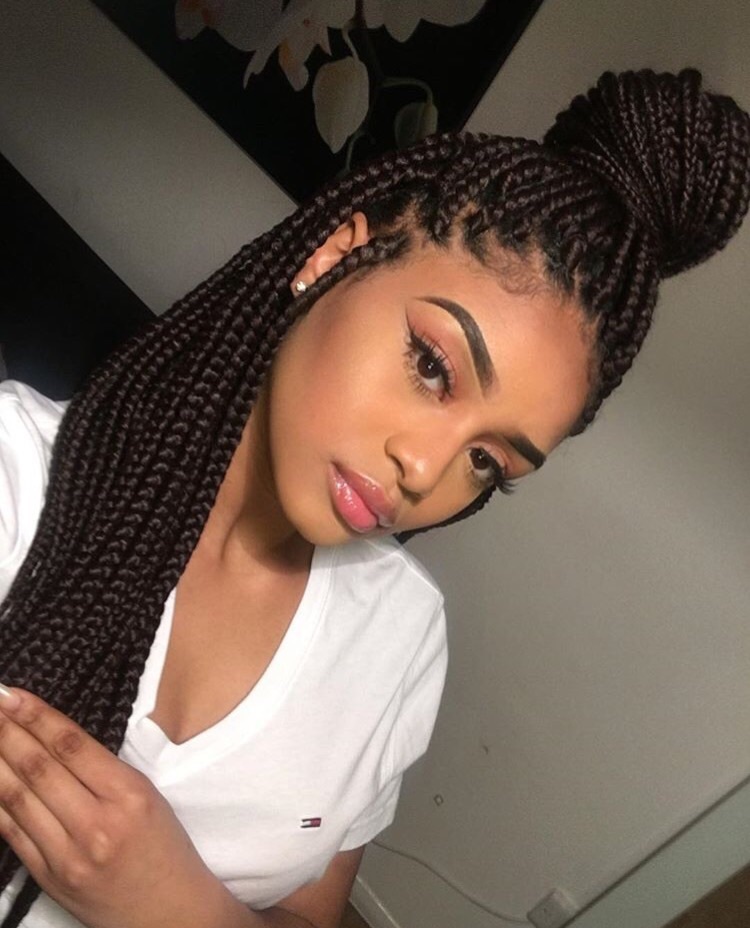 Elegant styling is important for any kind of braid you choose, it brings out the beauty in your braid, accentuates your facial features, and most interestingly can last up to a month or more.
20. Tribal Braid For A Unique Classical Look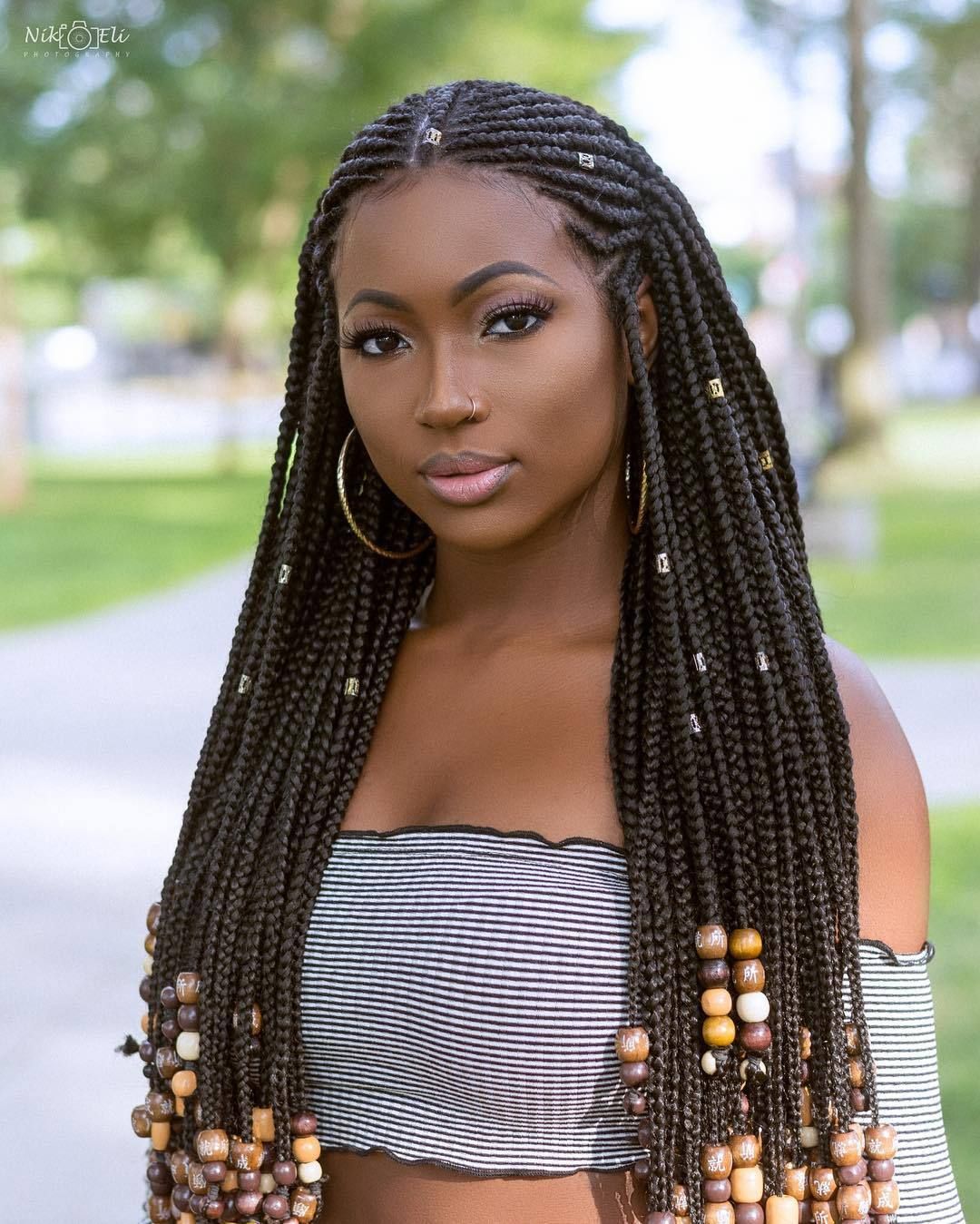 A unique tribal braid might be more fun than a full goddess braid, it adds more beauty to your look and can also enhance your hair shaft too. This hairstyle is becoming more trendy and interesting.

21. Roll Your Curls In With Medium Braids And A Flip Side Style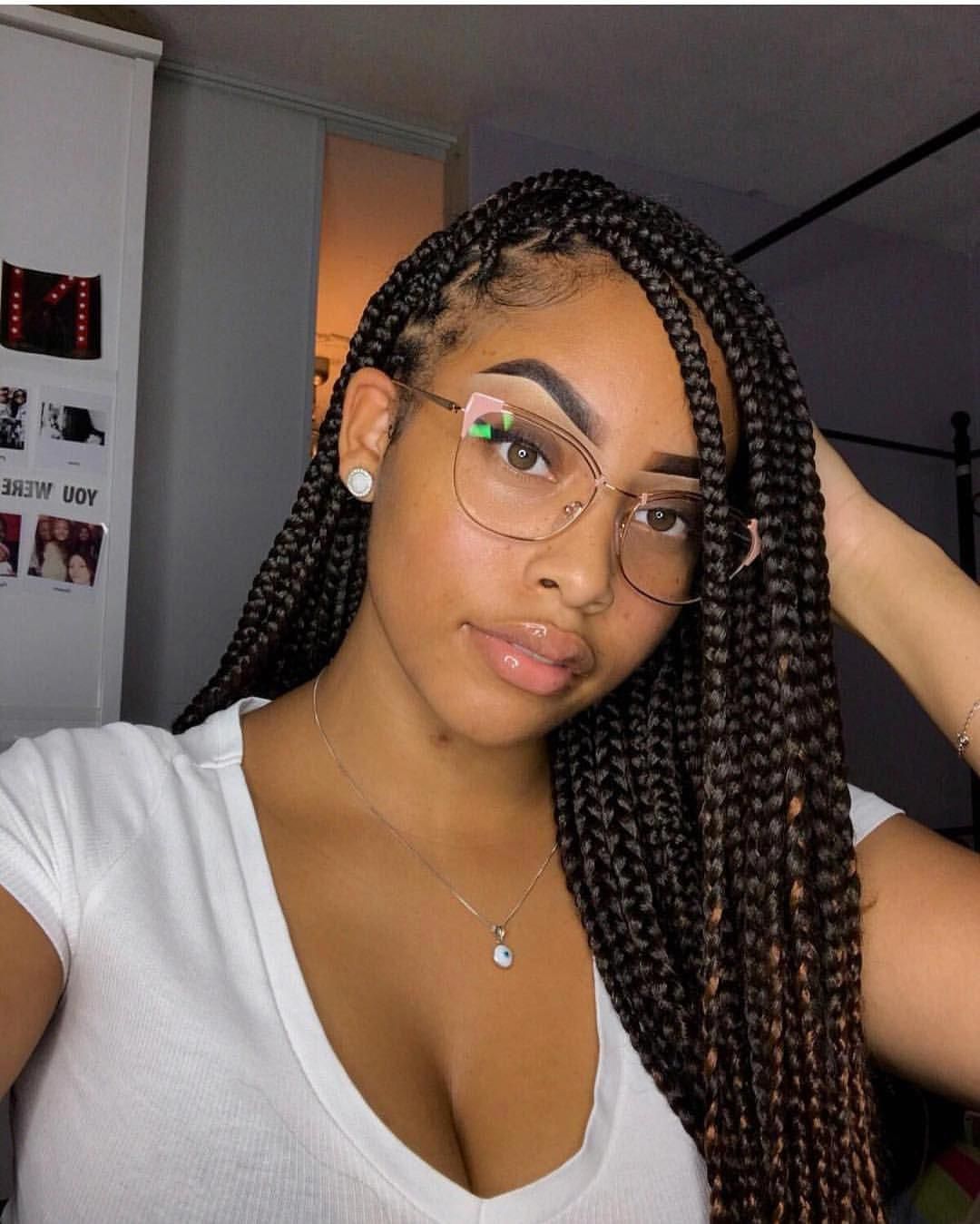 Your curls will thank you for this hairstyle, it requires time and patience to make but the effort is always worth the result, you can also experiment with colors, which makes it more exotic.
22. Big Braid With Pencil Tip For A Simple Look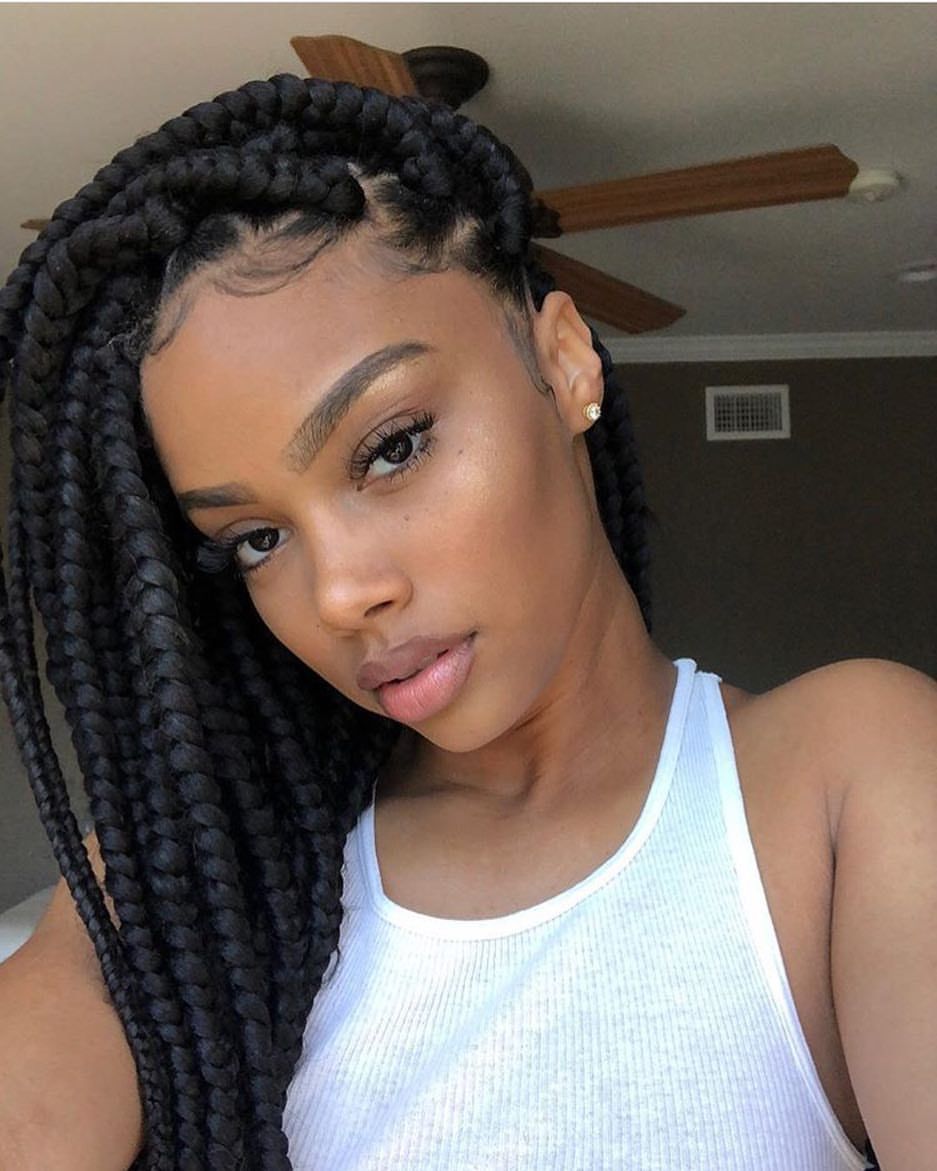 Big braids are just the perfect go-to if you want to spend less time at the salon but it requires more an attachment and makes the face look
23. Side Braid Bun To Inspire A Smile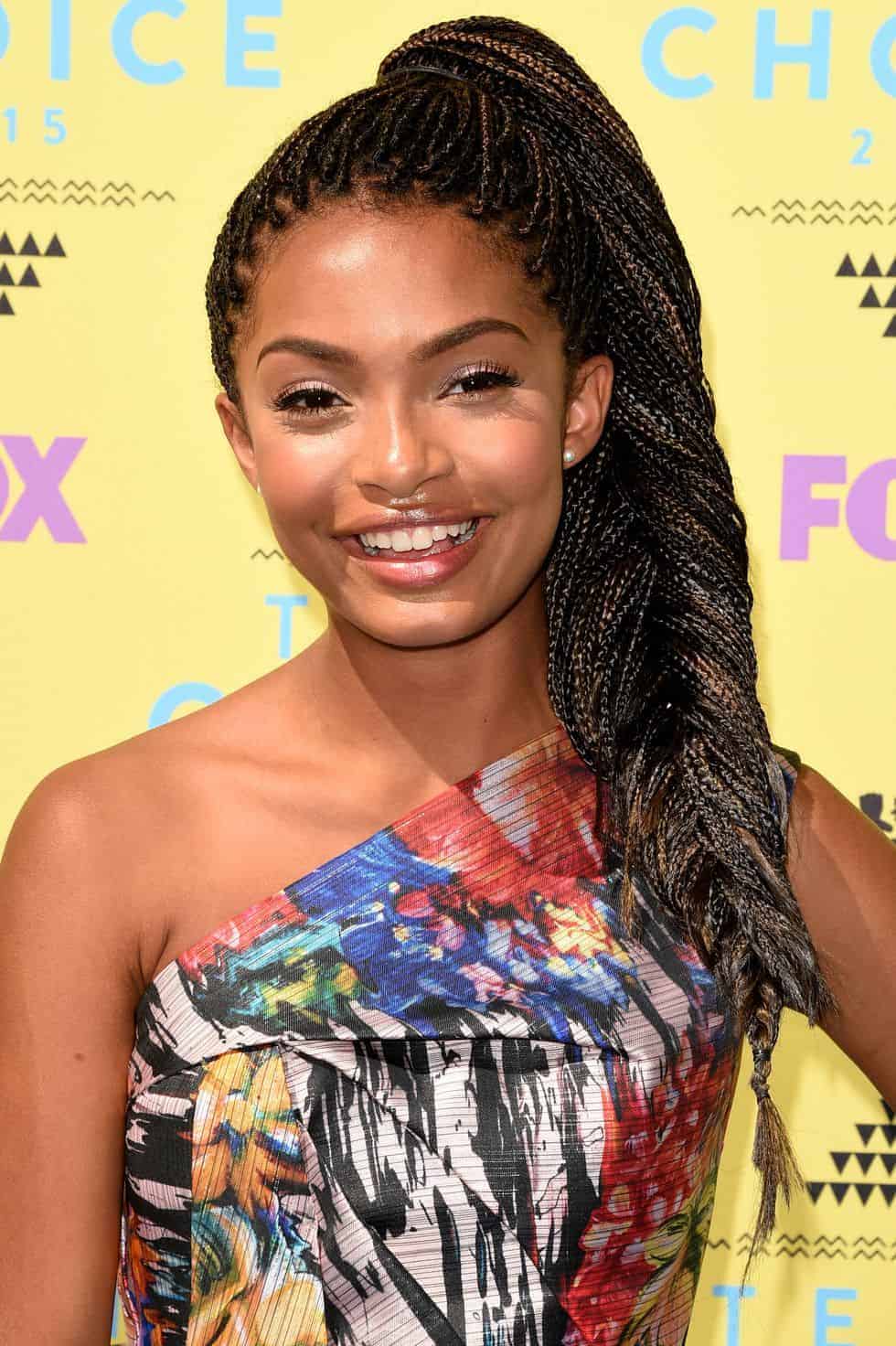 To look like the chic you are and inspire some style and confidence, you can go with Yara Shahidi's simple braid styling, the trick is to have the braid fall to one side and hold with a band to secure the look. You can pair this with any kind of outfit.

24. Deep Side Part Braid To Show Off Your Beautiful Face
Jhene Aiko has another special beautiful way you can style those gorgeous braids, this is a very easy way to style those braids, it's an elegant and exotic style.
25. Blonde Jumbo's If You Like Some Colors In Your Braid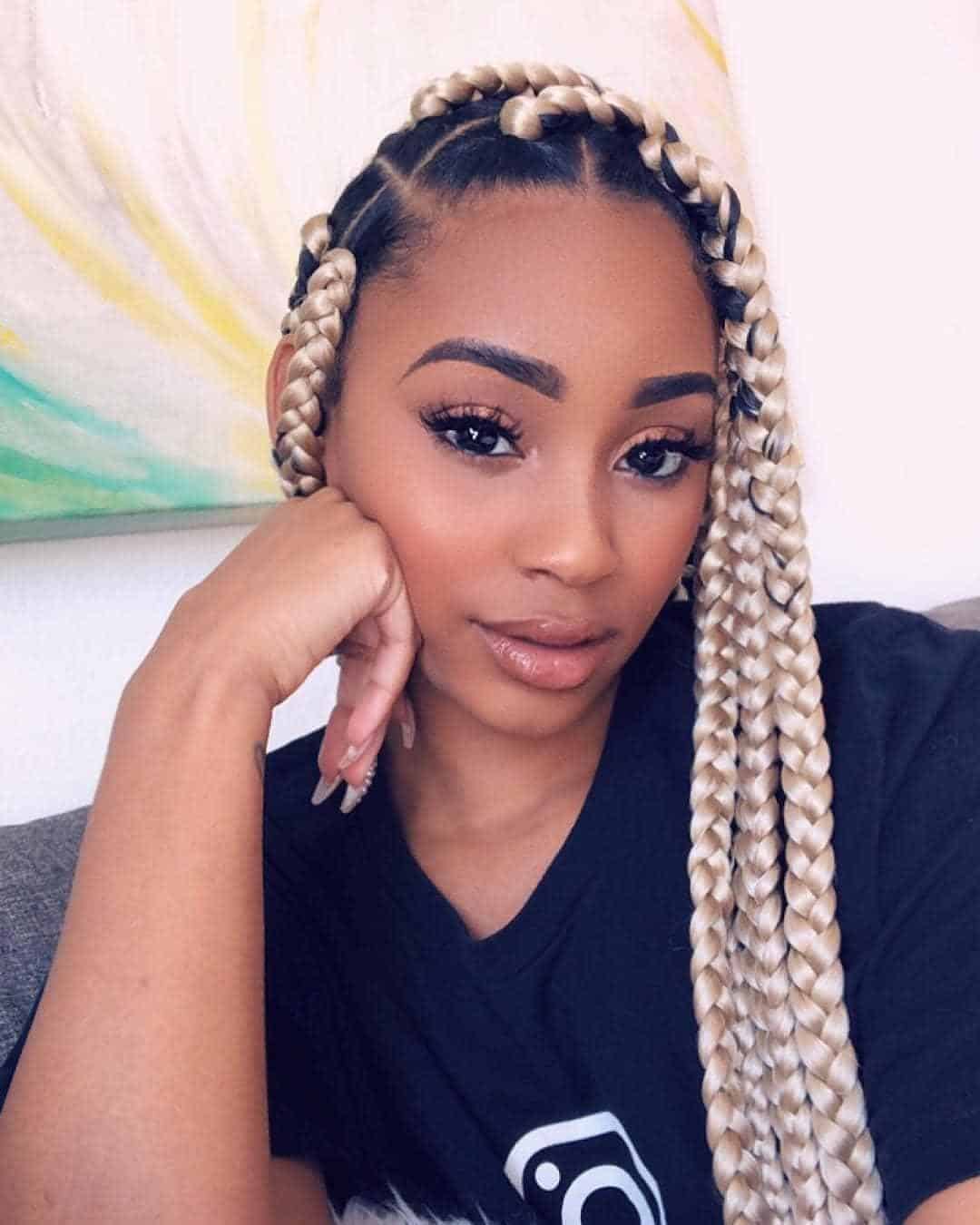 A blonde jumbo braid says it all when it comes to looking chic and glamorous, blonde jumbo braids are perfect for lighting up the face and adding more colors to your outfits.
26. Medium Braid With Middle Bun To Pair With Any Makeup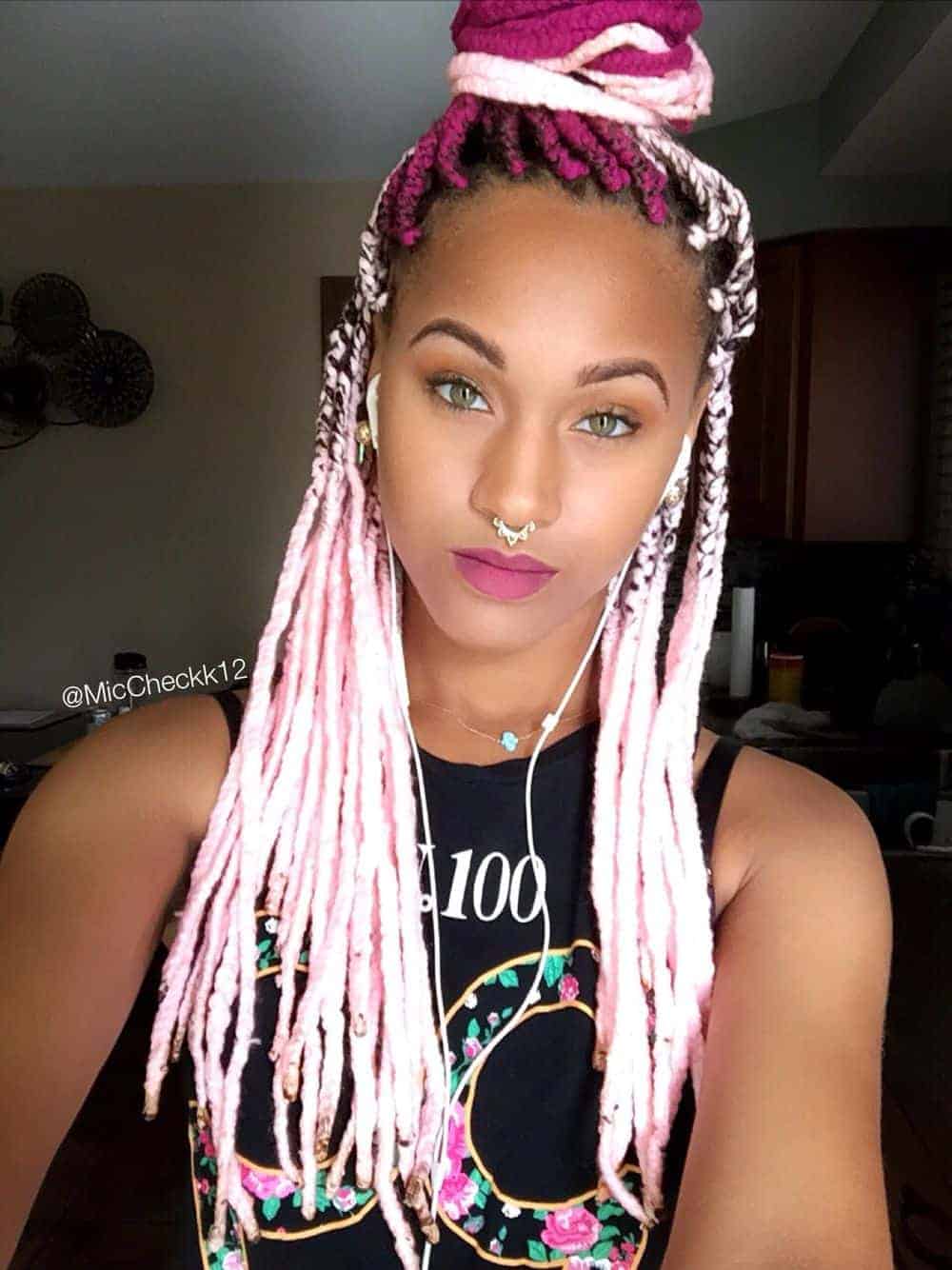 A simple exotic style to highlight your look and add a more interesting outlook to your makeup, have a small part tucked upwards and hold then let the rest fall to the side in a simple less dramatic way.

27. Large Jumbo Braid With A Spiral Bun That Goes With Little Jewelry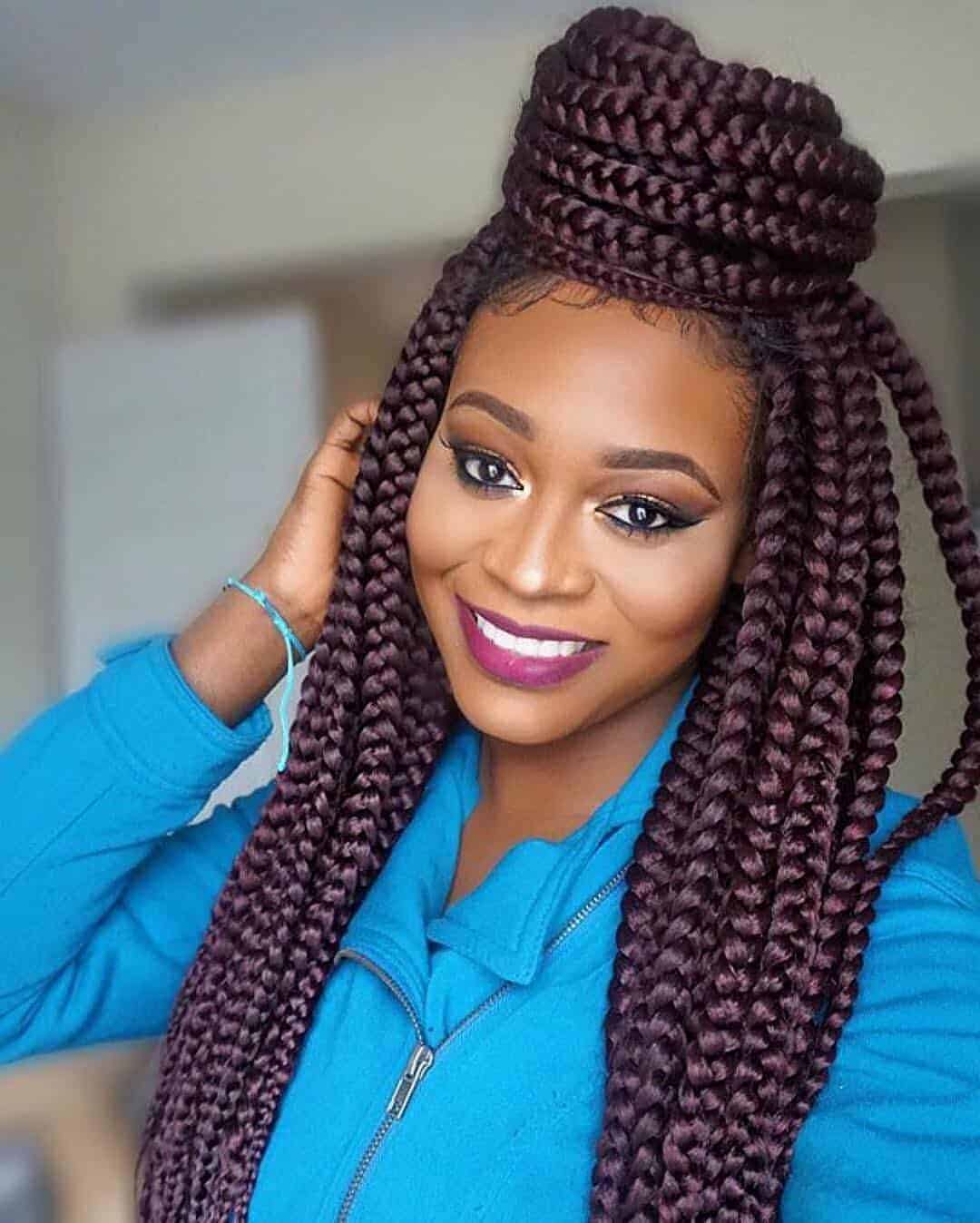 Here is the perfect braid style for you if you are planning to go with a small piece of jewelry, it brings out the face and makes you look elaborate.
28. Front Bantu Knot With Box Braid To Give You A Sleek Traditional Look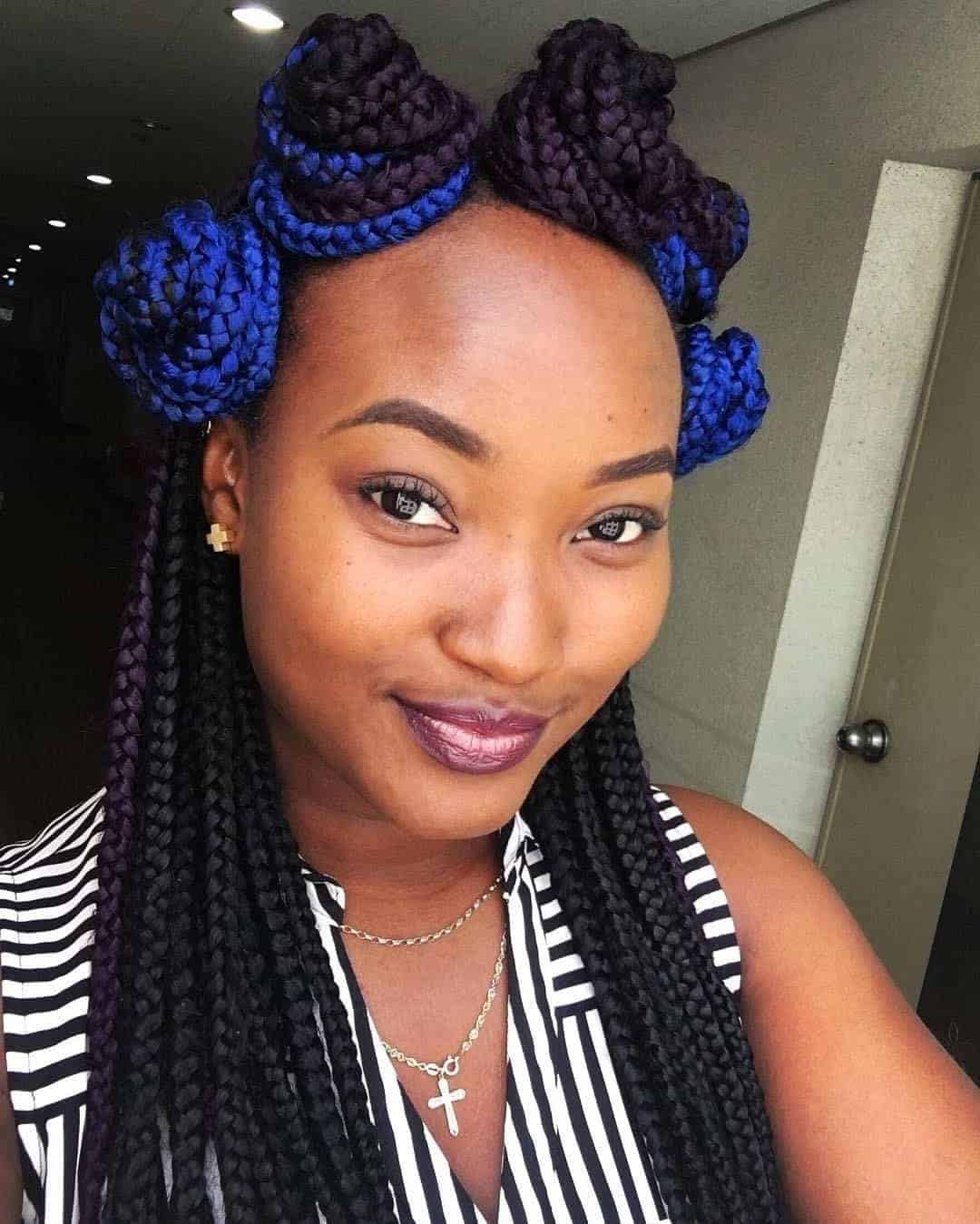 Planning to attend a traditional wedding and you want a style that is exotic and different from the normal usual trend, you can add more style to it and make the Bantu knot simple and less dramatic.
29. Rolled Up Ponytail For A Casual Stay At Home Look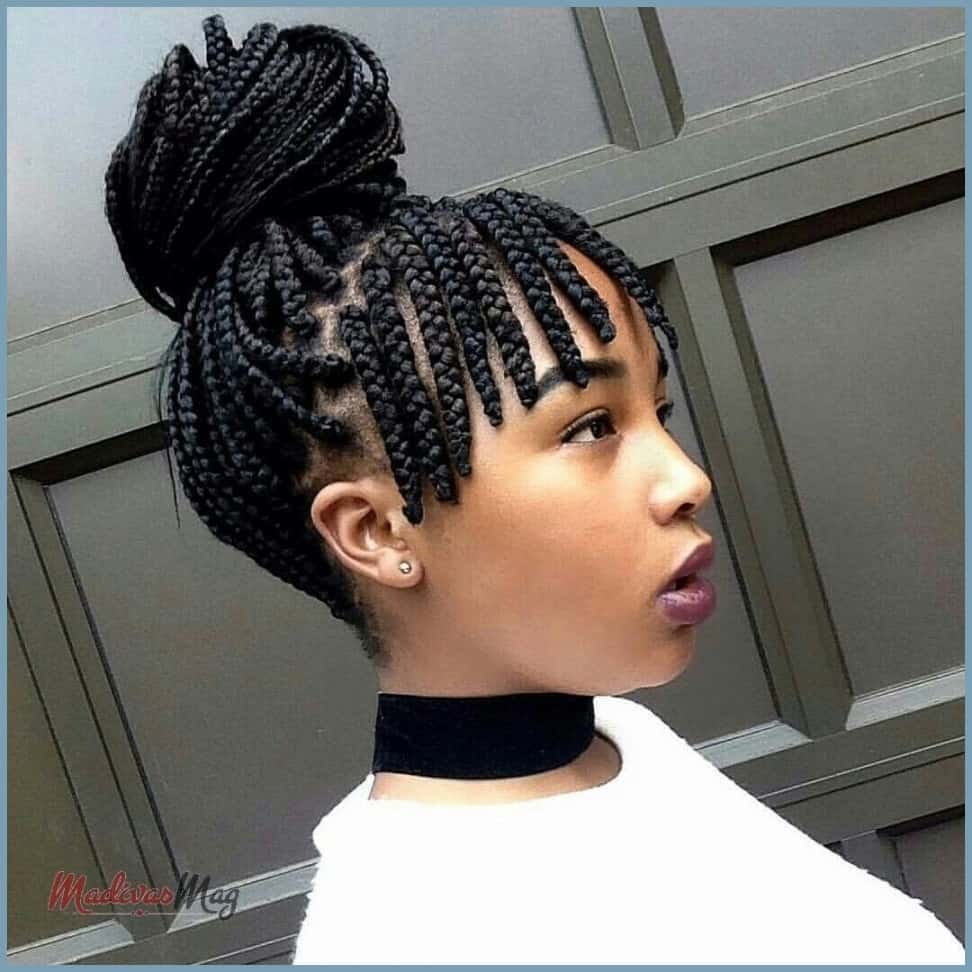 Source: ShpockHere is one of the best ways you can keep your braid from disturbing while you get some house chores done, it's simple and easy to roll up, and also an easy-to-do style for an evening outing.
30. Scanty Braid With Loose Tip To Make You Comfortable
No reason to go dramatic or too much with those braids, keep it light and simple with some colorful extensions and it's going to be just perfect.
31. Parted Braid Box For A Formal Event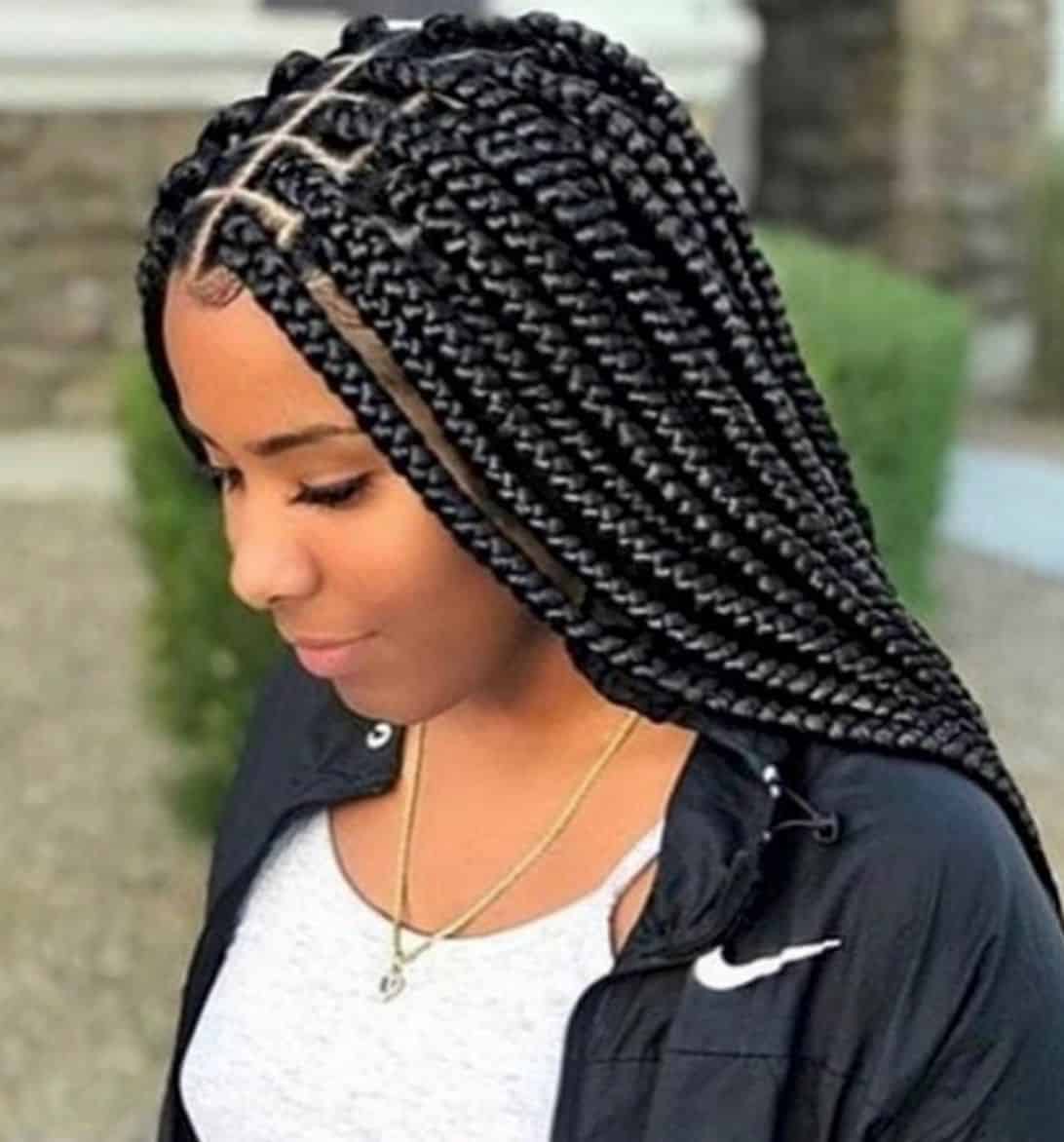 Just a deep parting at the front and you are good to go.
32. Large Roll Up Bun To Show Those Beautiful lips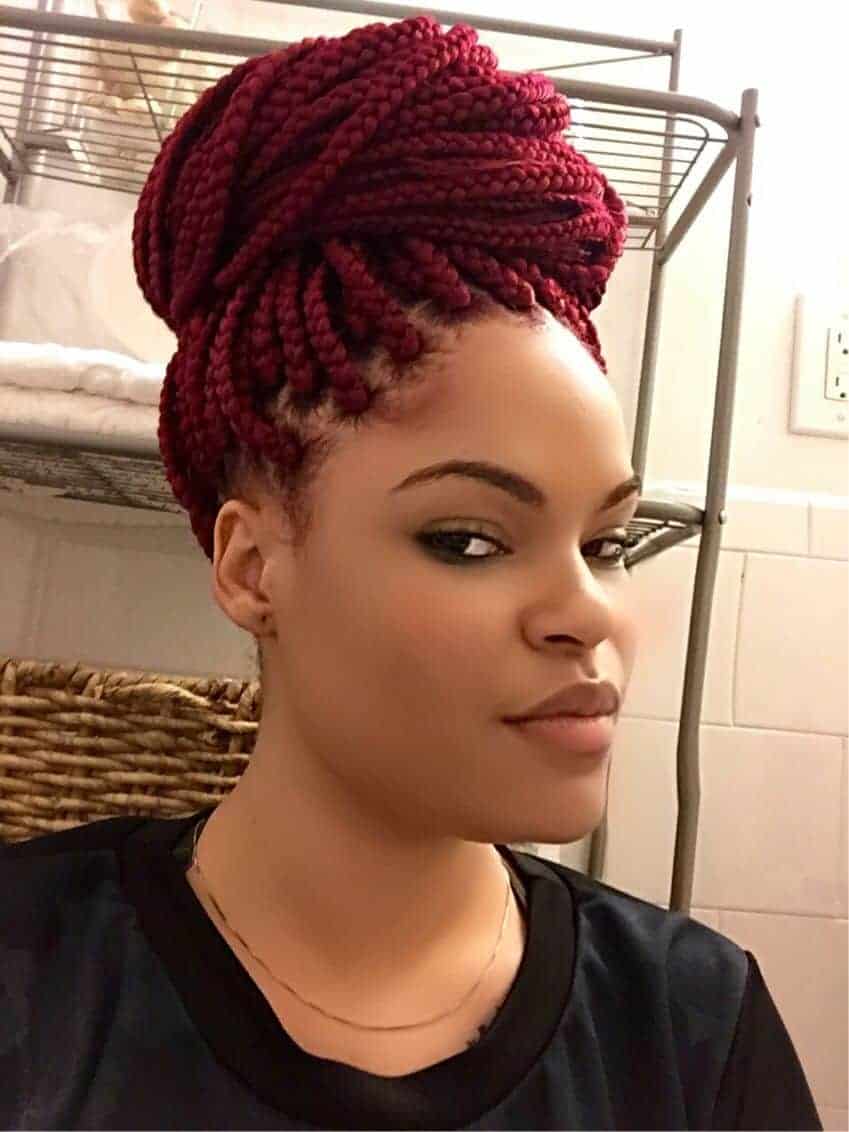 Nothing looks better than a hairstyle that lets you show off your sexy pout lips and is perfect for a party too as you do not have to worry about your hair getting into your face.
33. A Half-Parted White Braid Extension To Show Off Your Shimmery Makeup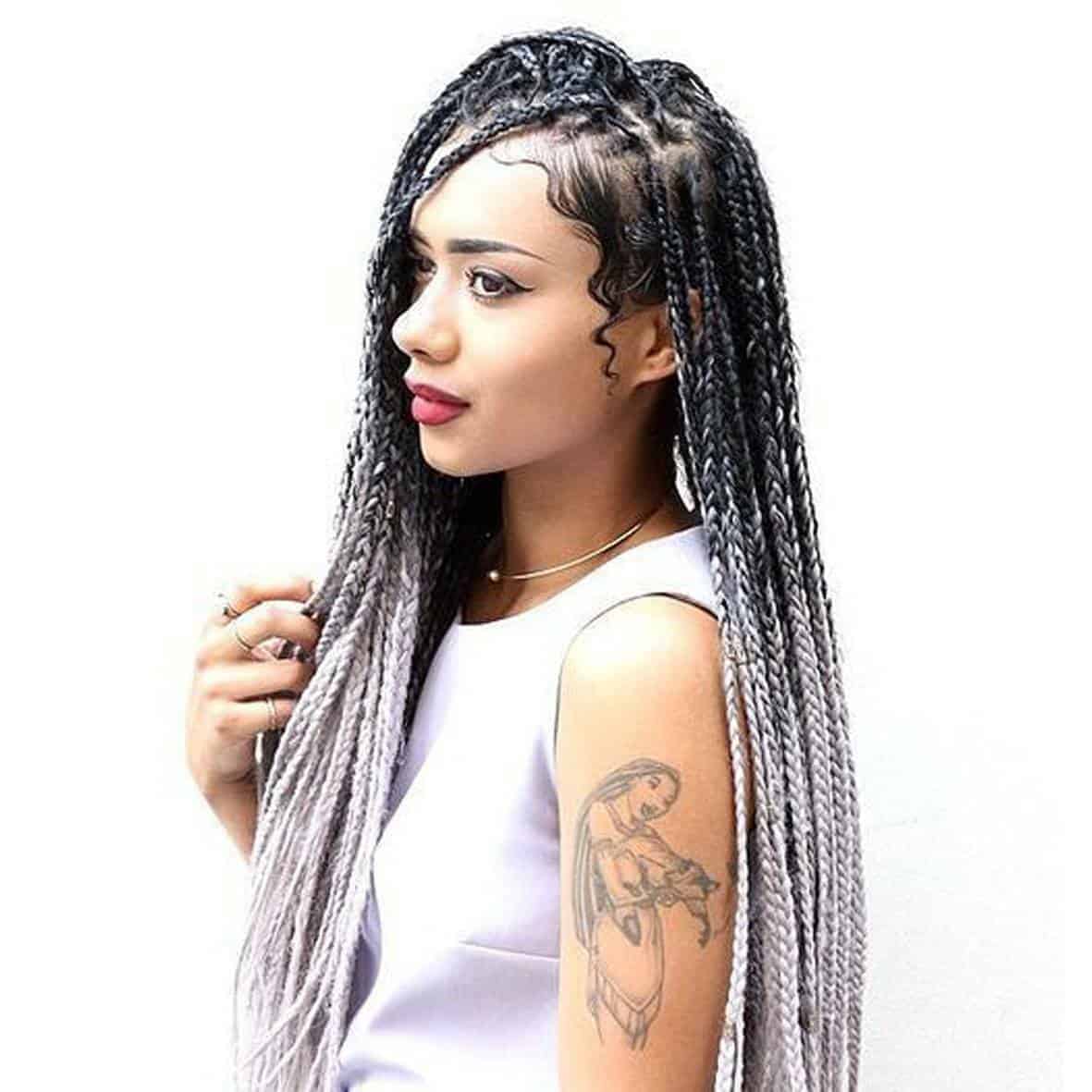 A touch of white makes all the difference in a braid, it adds some unique trend to it and you can style it whichever way you want.
34. Side Cornrow Braid For All Kinds Of Events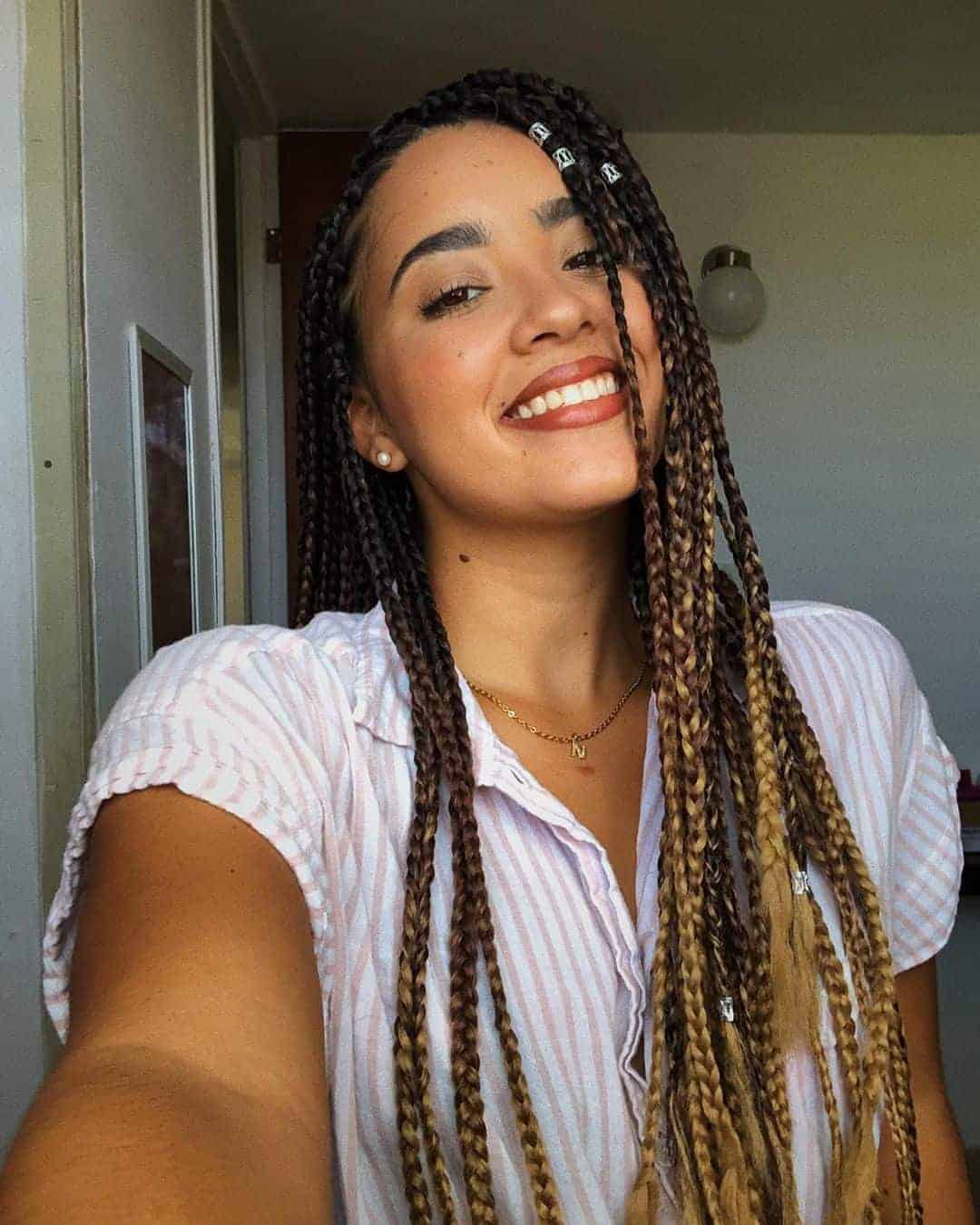 We are absolutely swooning over this style, it adds a chic personality to your look and it's just the perfect way for you to show off your gorgeous face.
35. Deep Parted Box Braid Adorned With A Butterfly Hair Accessory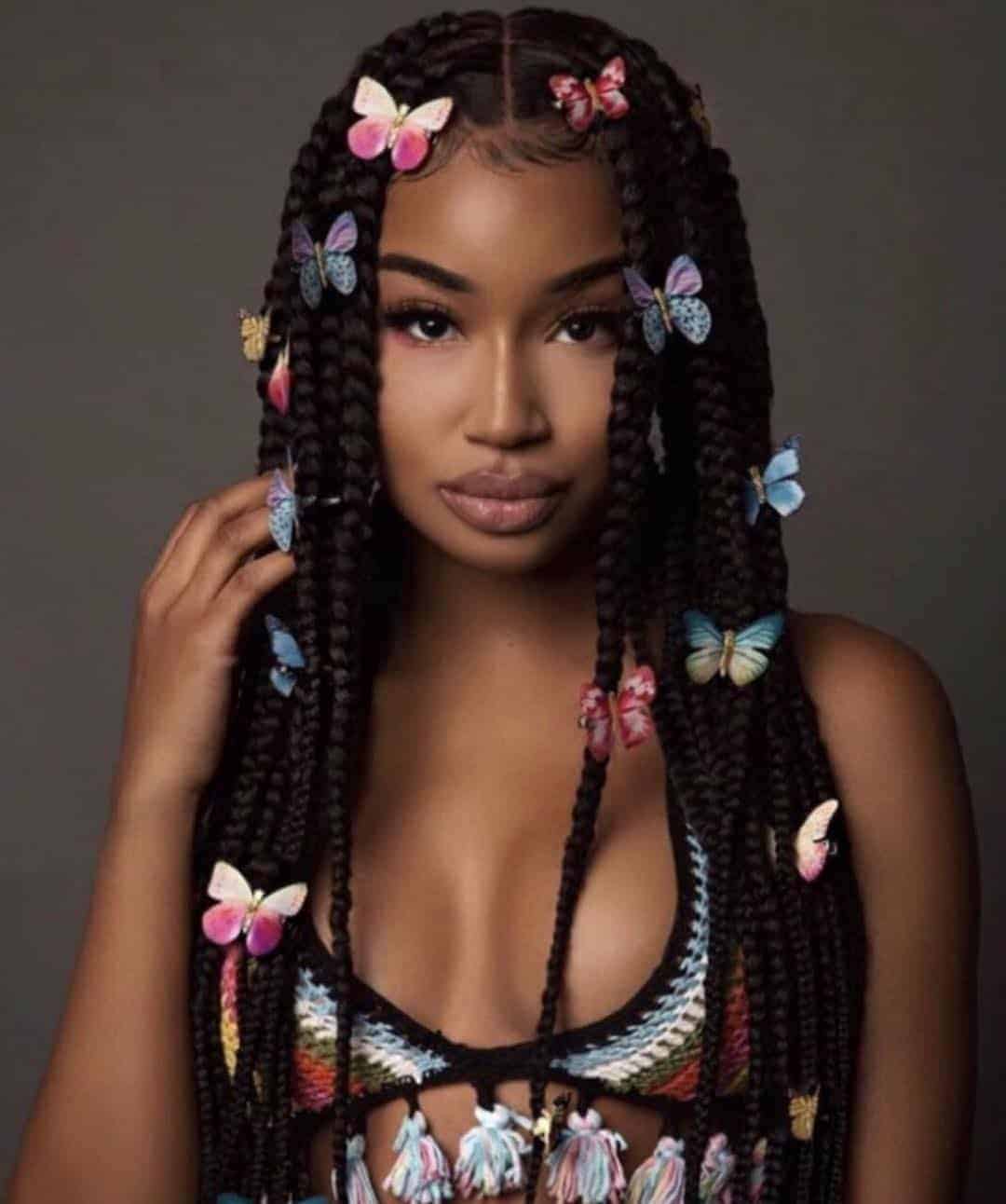 For a more stylish look that turns the head, adorn your braids with some gorgeous butterfly accessories.
36. Keep It Simple With A Tuck At The Back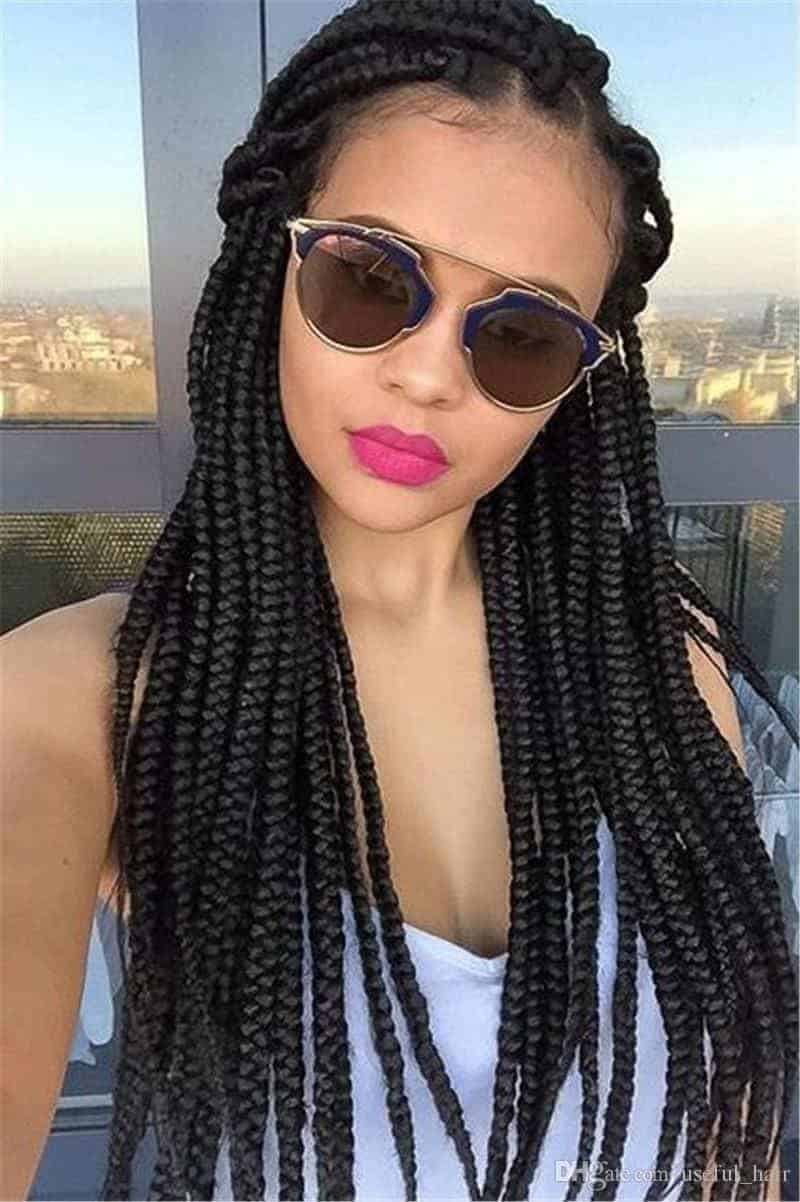 You do not need to take it overboard, have it styled by draping a few braids at the front over the ones at the back to tune up the look and look even more chic.
37. A Few Front Roll-Up Bun To Keep It Less Dramatic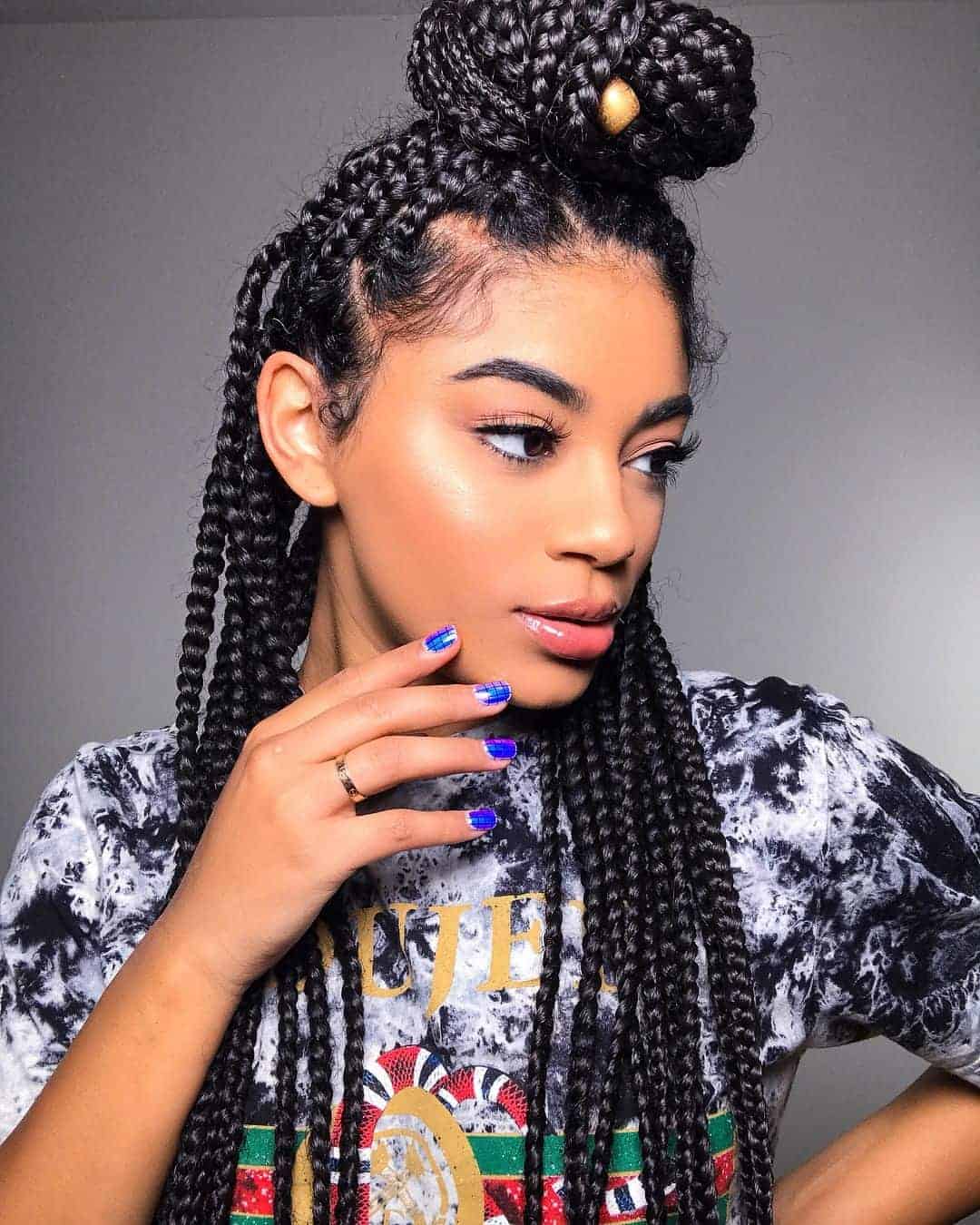 One thing you need to know about basic braids is that they do not have to be elaborate to be beautiful, just something simple like this would do, it keeps your front hair from breaking.
38. Big Blue Box Braid To Pair With  A Flawless Makeup
Add more glam and interesting personality to your braids with this amazing blue box braid, you can match this with bold exotic lipstick.
39. Elevated Box Braid In A Side Updo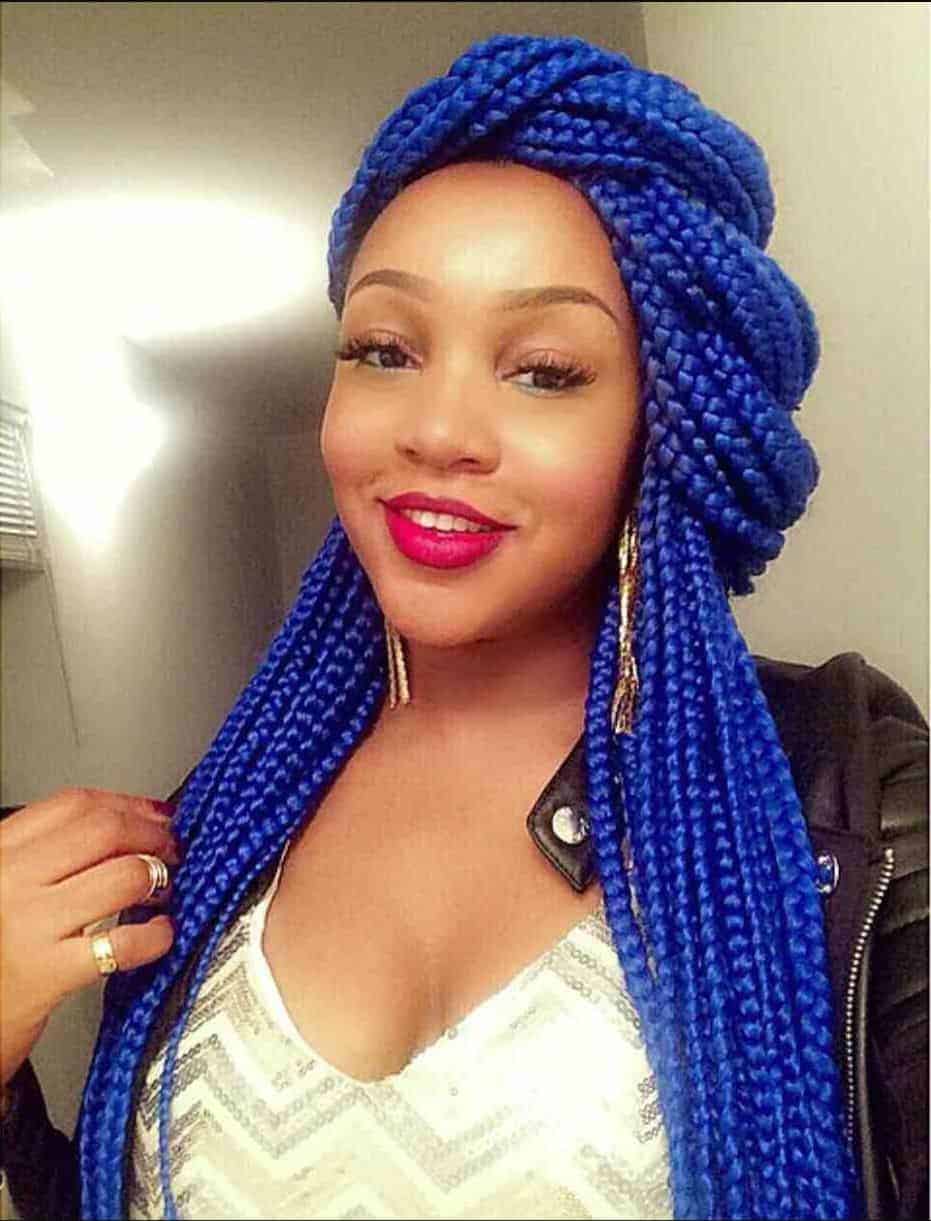 There are many ways to elevate a braid and add a simple interesting up do it, this is a pretty trendy style for a wedding guest, not too fancy but it's not to be paired with heavy jewelry.
40. Messy Braided Bun For A Casual Outing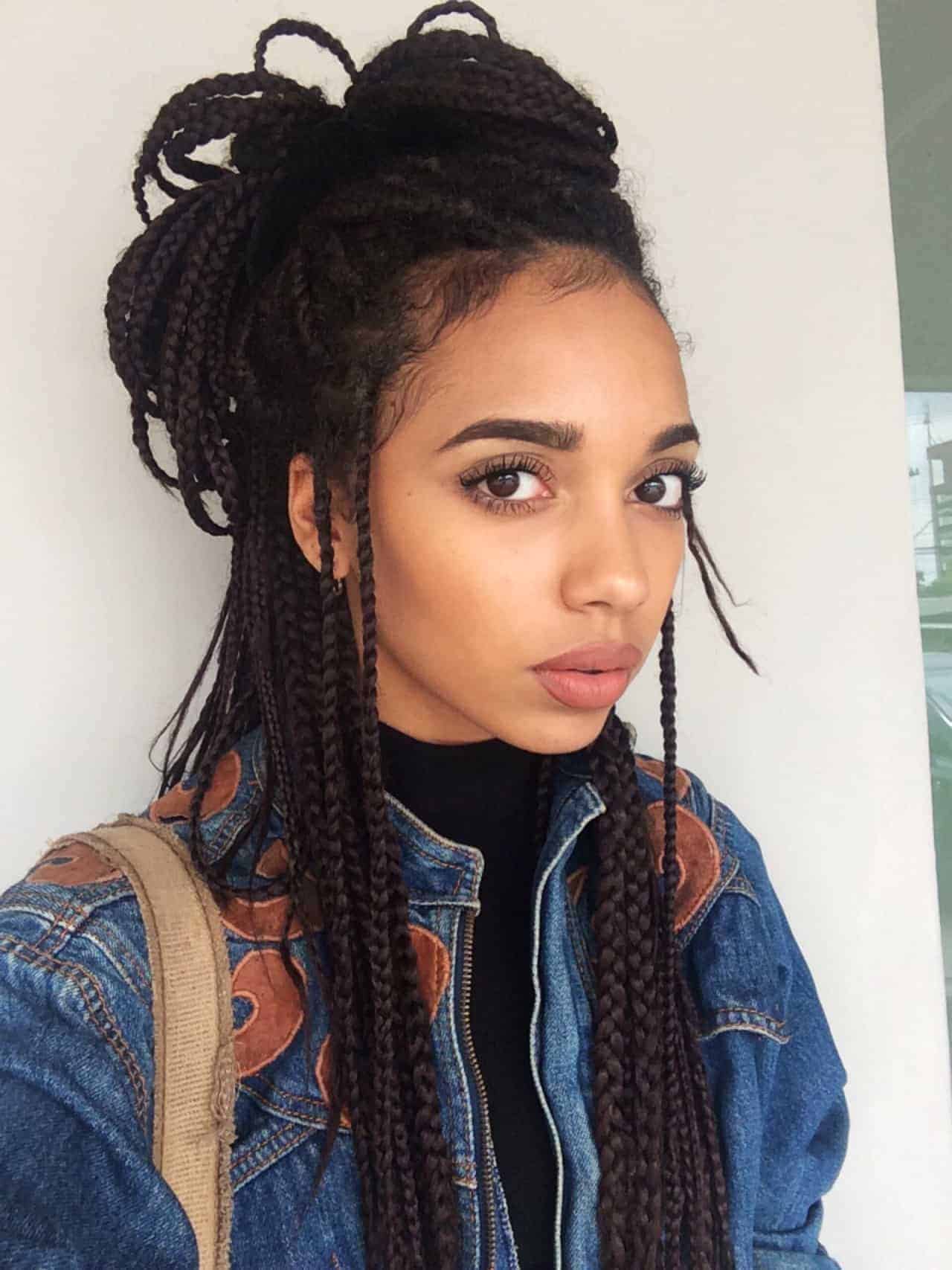 If you want to wear your braid casually and with less fuss or care about flashy makeup then we recommend you go with a superb hairstyle like the one above.
---
Whether you go for a mini bun styling or a ponytail styling, braids still have the tendency to look fantastic and fitting for all kinds of occasions, braids are not limited to chic styling alone, you can make it even more interesting by adding some colored extensions to it.
Which of these braid stying is your best go-to? We look forward to your reply in the comment box below and follow us on Instagram @thrivenaija for more style Inspiration.
Read more on hairstyles for natural hair and braids: