Cornrow braided hairstyles require a unique ability to braid hair close to the scalp to create cool designs and beautiful styles. Cornrow styles can be simple, natural, classic, modern, sexy, big, small, and just about everything in between.
To help you see the latest trending braid styles, here are the best cornrow braids to get this year. From box braids to straight back rows, these cornrow hairstyles will transform your look and truly let your hair shine!
Cornrows are the cornerstone to beautiful hair, and you can't go wrong rocking any of the styles below, you want to feel like a princess or a queen you sure will with our varieties of cornrows all-back hairstyles.
Here is a compilation of 35 cornrows all back hairstyle ideas you'll love…..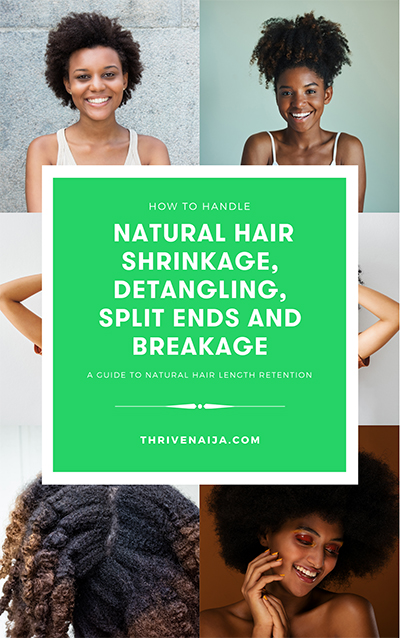 GET A COPY OF OUR NEW BOOK 🎉
Dealing with a couple of issues with your Natural hair? Our guide tackles four of the biggest issues natural hair babes face.
Natural hair shrinkage.
Detangling.
Managing split-ends.
And breakage.
We call it the guide to natural hair length retention. We're excited about it, and we're sure you'll find it very helpful.
1. Cute Cornrow Braid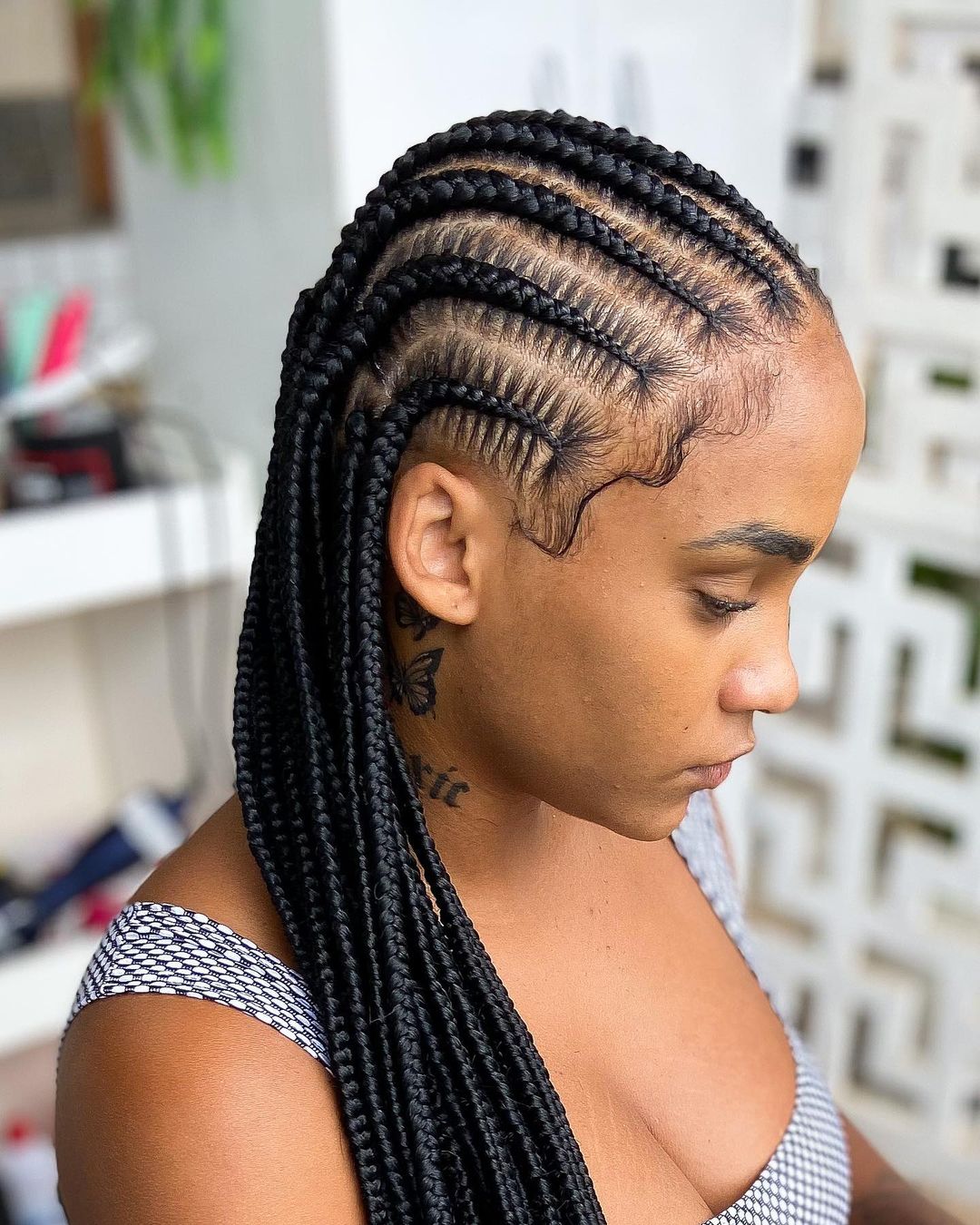 While box braids are not going anywhere anytime soon, they can take forever to make which is not something we love to do at all times so on days you need to go for something simple then here is the ideal hairstyle for you to go for. This is cute and won't take the whole day to make.
2. Ombre Highlight Cornrow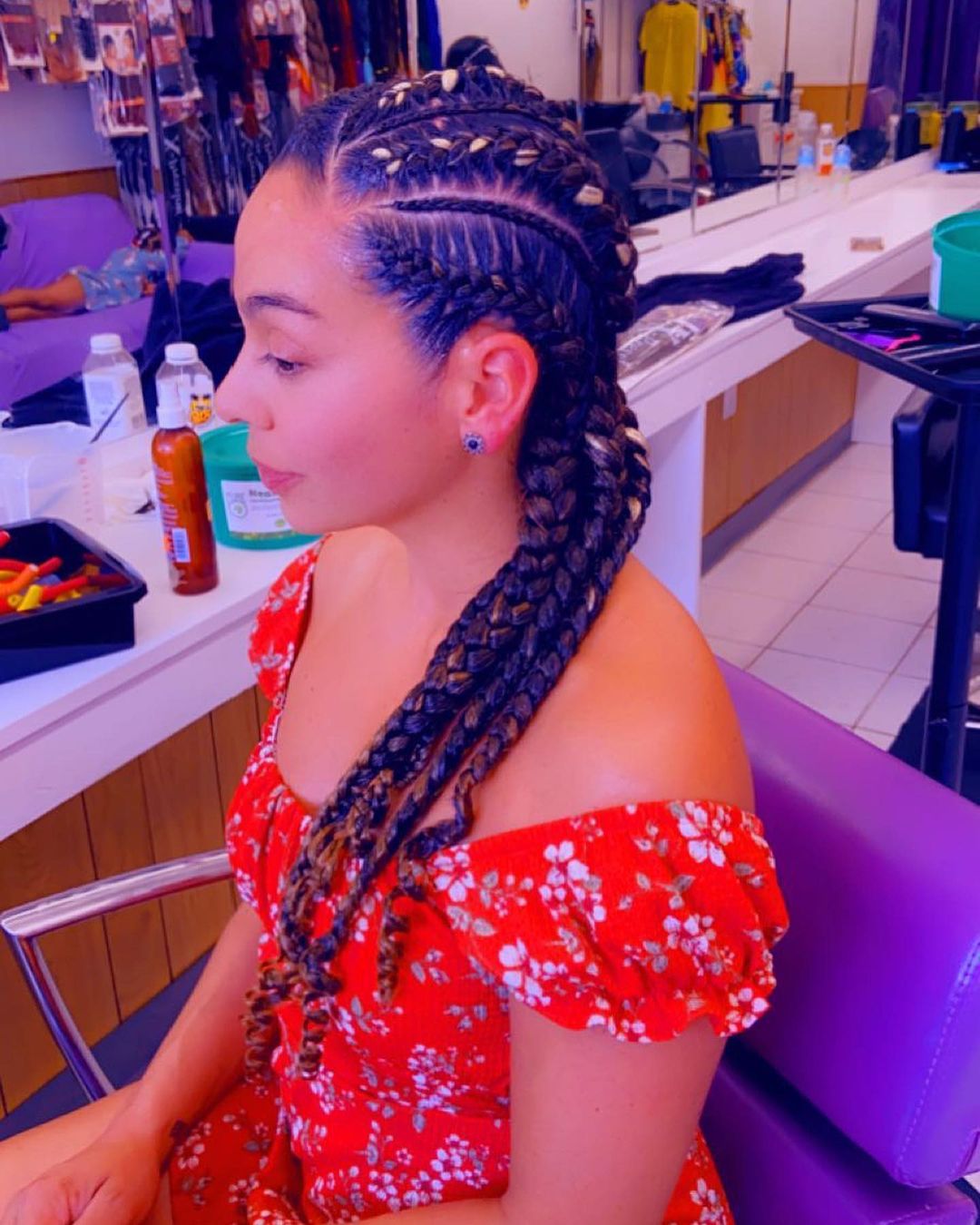 Here is another exciting cornrow all-back hairstyle idea. This is even more simple compared to the one above.
2. Natural Hair All Back With Beads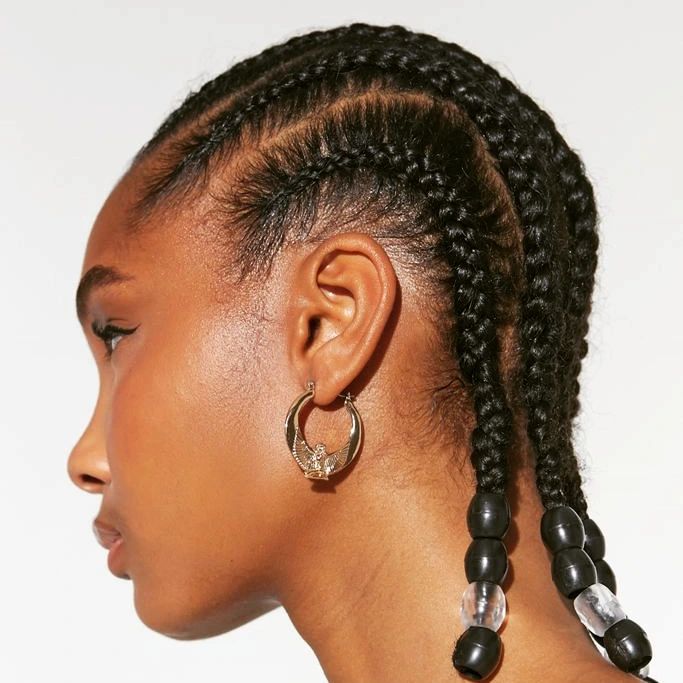 If you do not like adding extensions to your hair, you can still make all back cornrows provided your hair is not extremely short. The end of the hair and been styled with beads which makes it look pretty and classy.
4. Freestyle Stitch Braid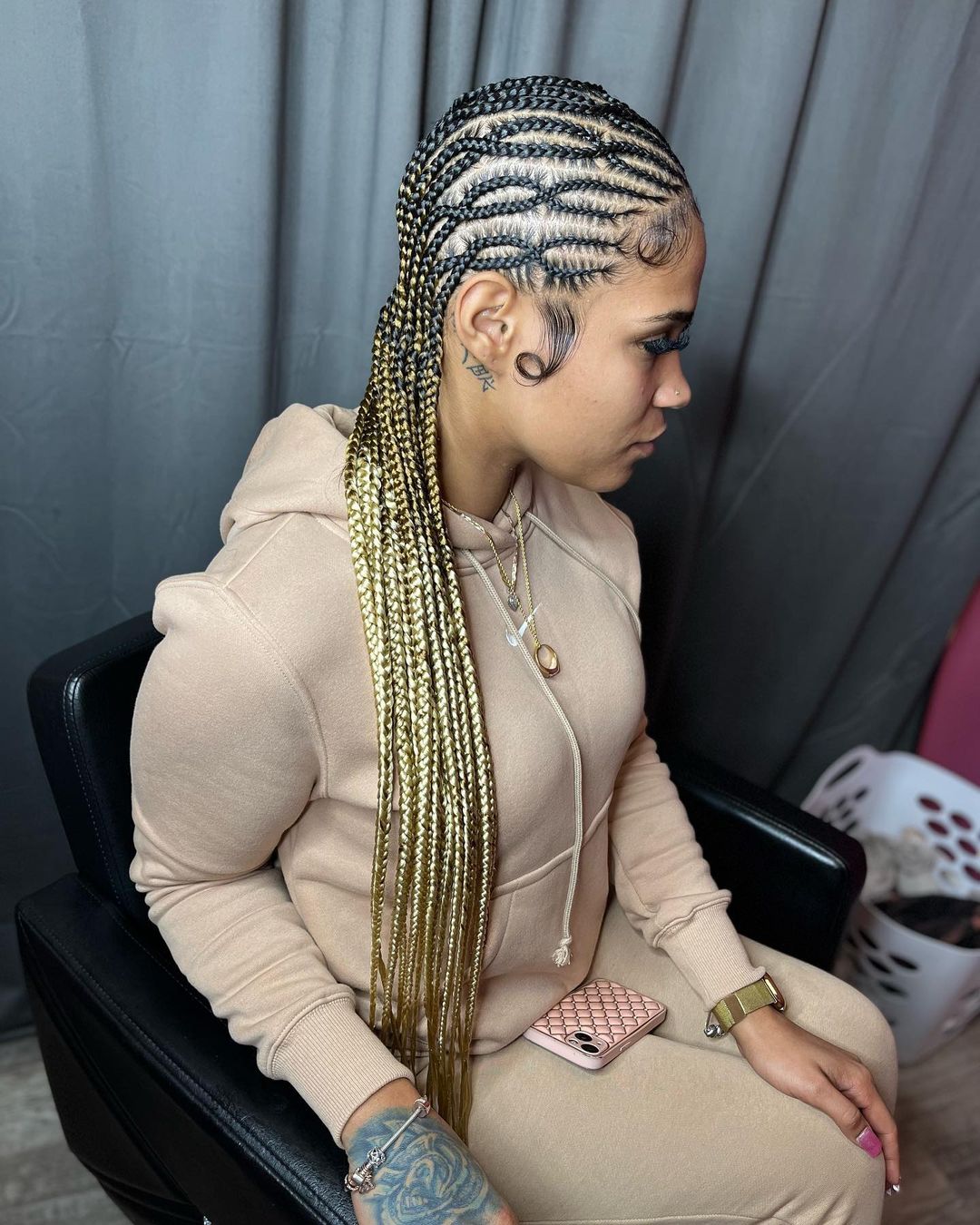 Freestyle stitch braids are the height of the season, there is something exquisite and simple and these hairstyles. The stitch braid is currently in trend, so it's time to get it plaited.
5. Side Parted Two Layer All Back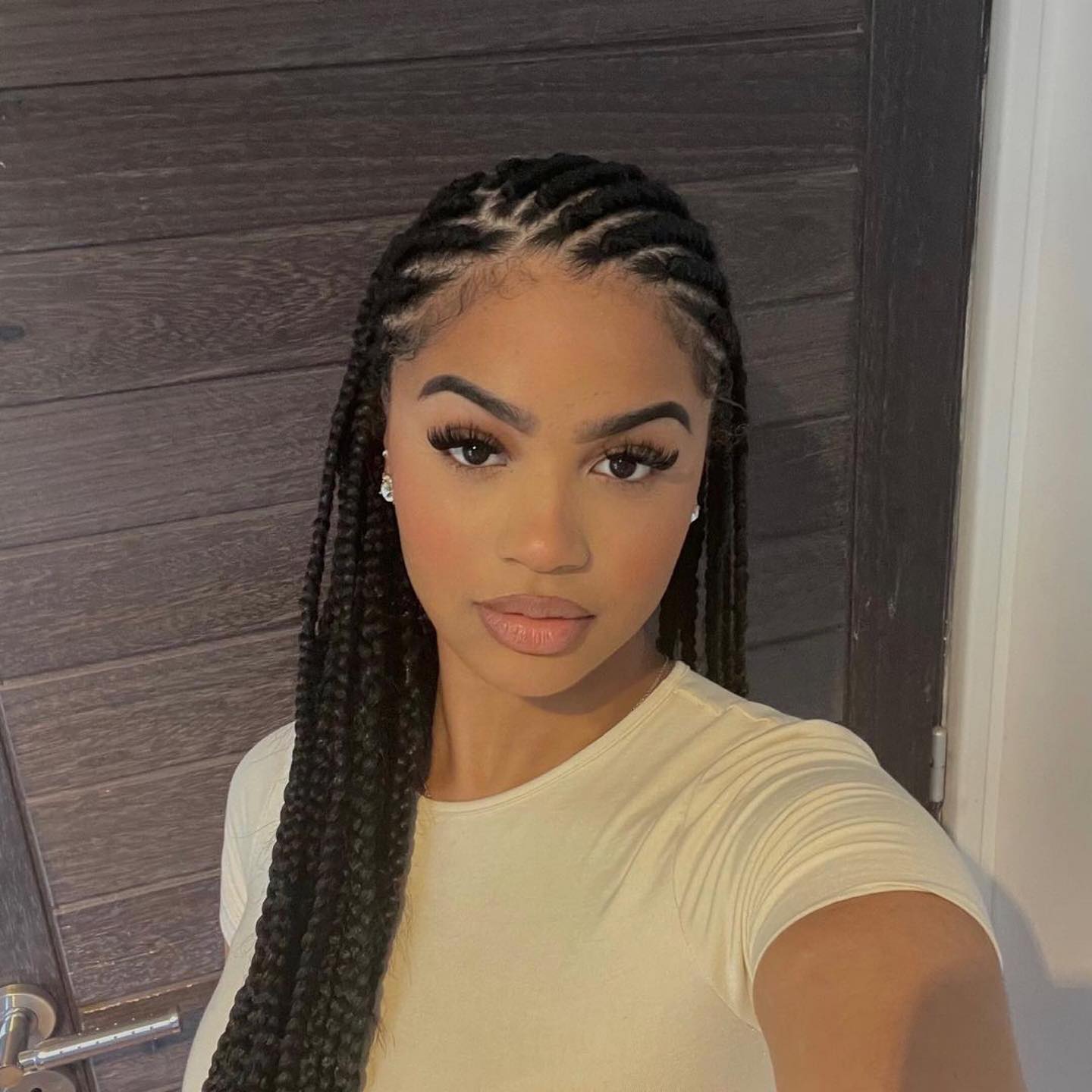 Just a side part and box braids can change the definition of a cornrow all-back braid. This is commonly known as a two-layer braid, but it sure passes as a cute all-back braid too.
6. Simple All Back Braid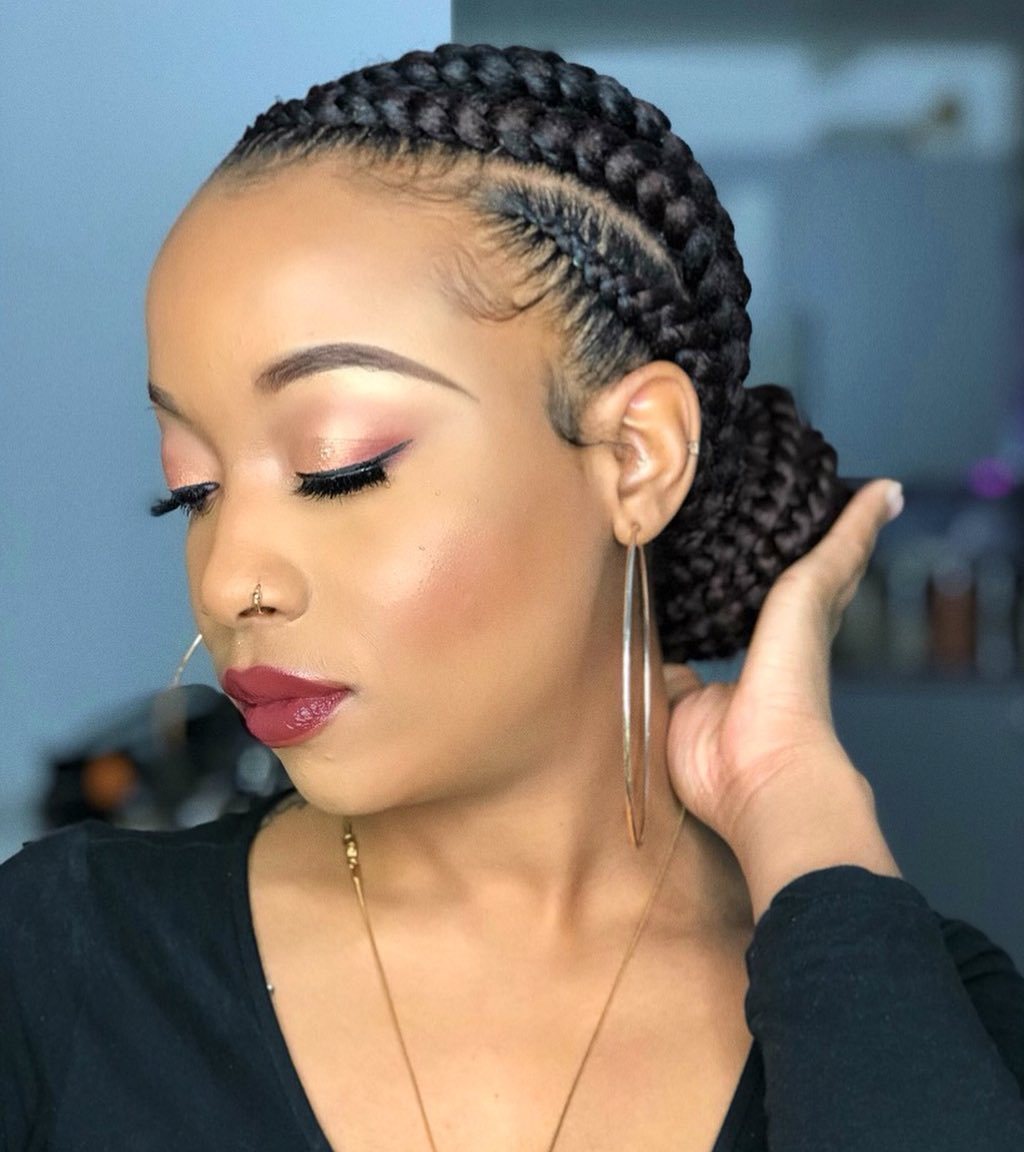 A simple all-back braid is great for all kinds of occasions. It's less stressful compared to other braid hairstyles too, and you don't have to worry about it getting into your face. This can be styled with a pattern or simple all back.
7. Stitch Cornrow Braid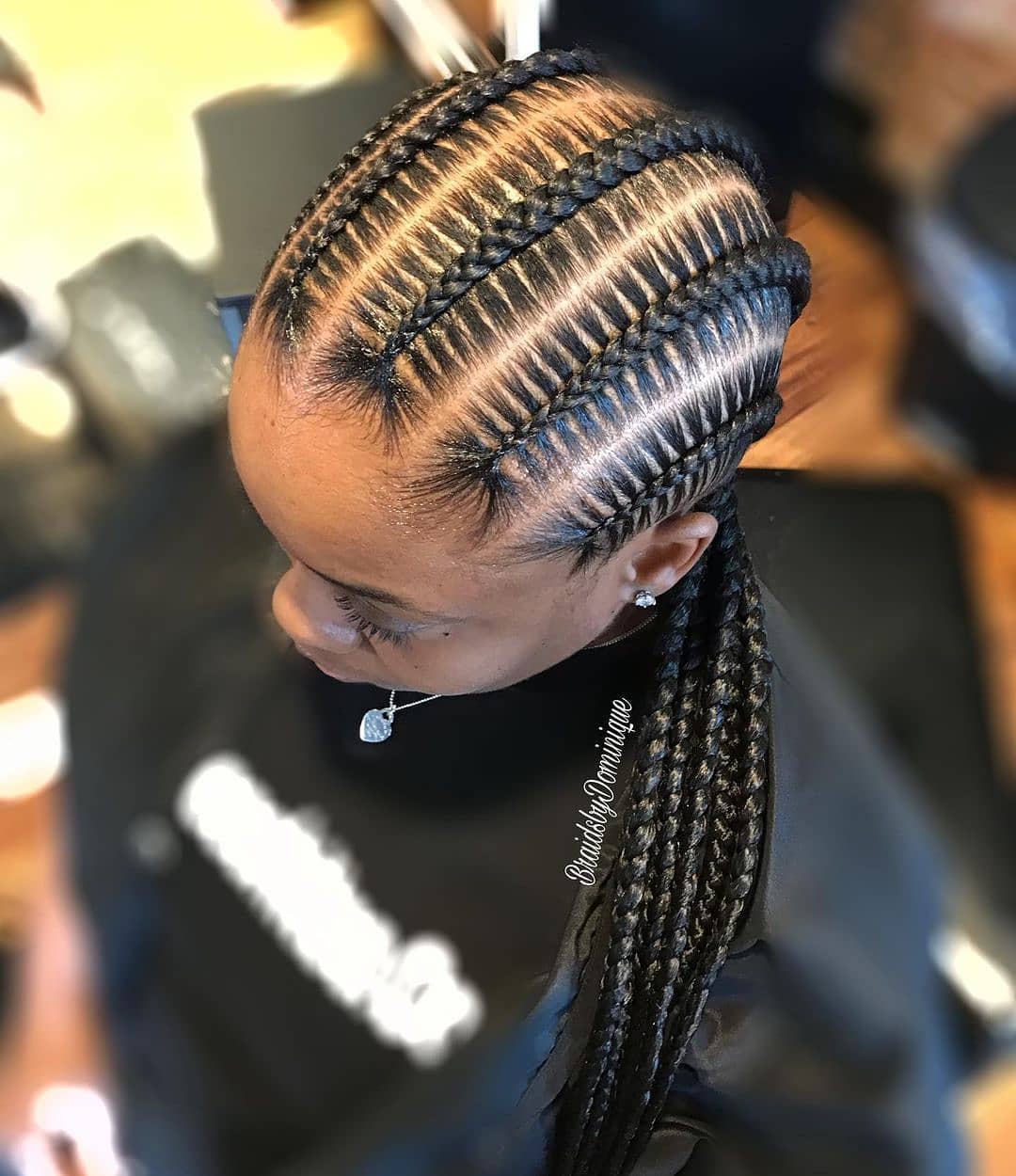 Stitch cornrow has recently been introduced, and we must admit, the hairstyle is worth the hype. It happens to be really classy, and it's a great protective hairstyle for natural hair.
8. Fulani Weaving Cornrow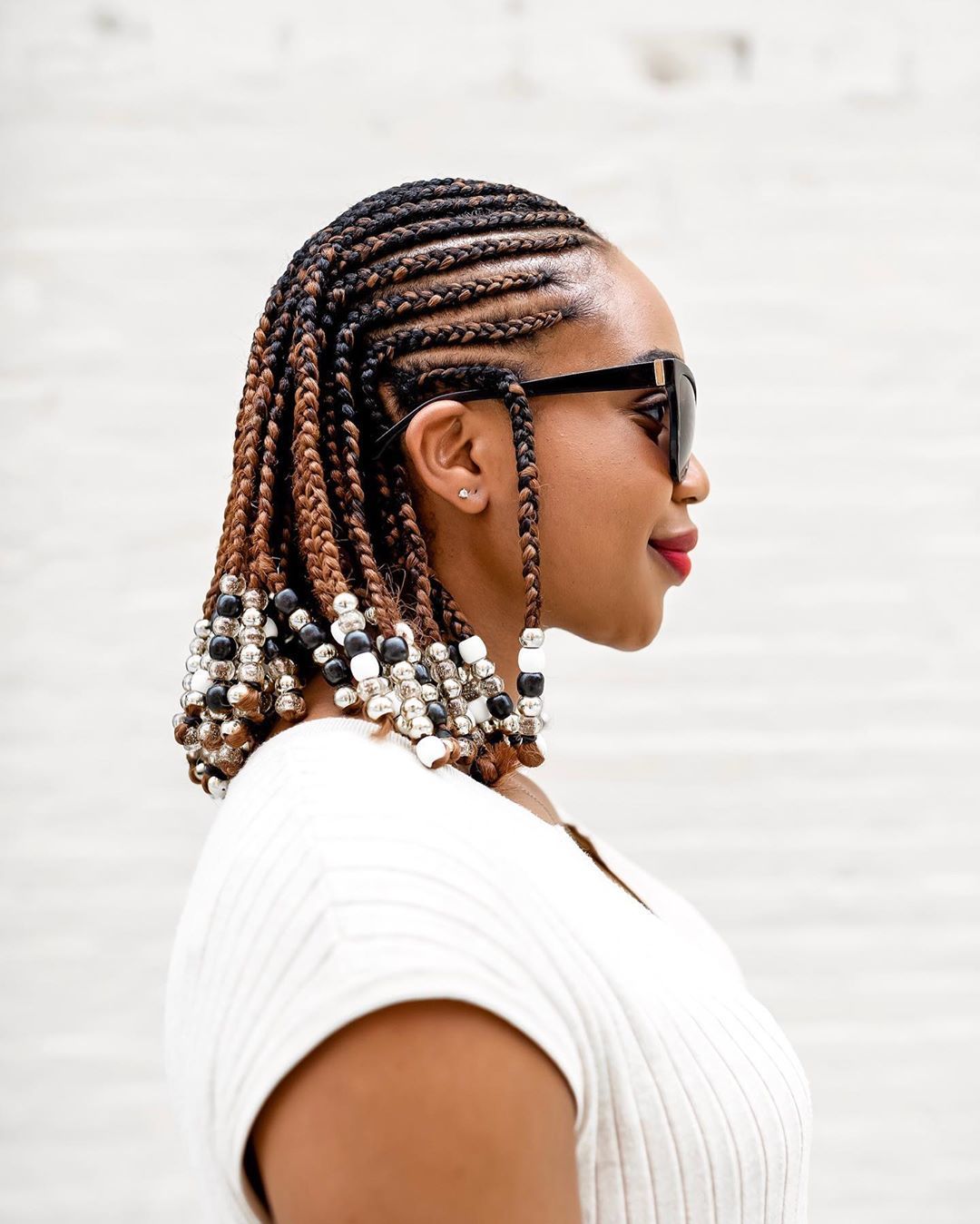 Cornrow does not have to be styled all back to be fun. Another really interesting way to make cornrows is in the Fulani braid style. This is just as fun as any braided hairstyle.
9. Orange Cornrow Braid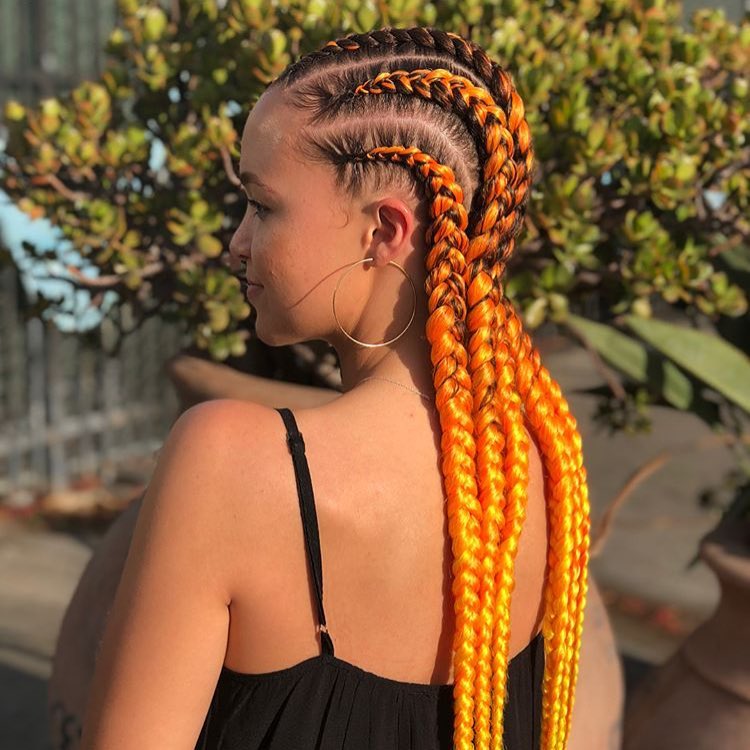 If you want to take a break from the usual black extensions then here is an orange cornrow all-back braid to inspire you.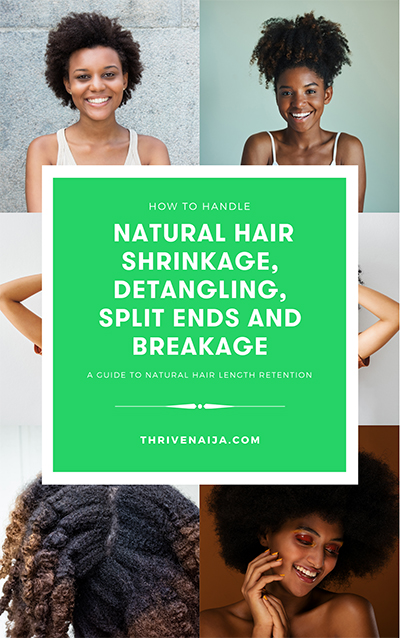 GET A COPY OF OUR NEW BOOK 🎉
Dealing with a couple of issues with your Natural hair? Our guide tackles four of the biggest issues natural hair babes face.
Natural hair shrinkage.
Detangling.
Managing split-ends.
And breakage.
We call it the guide to natural hair length retention. We're excited about it, and we're sure you'll find it very helpful.
10. Cornrow All Back With Scissor Pattern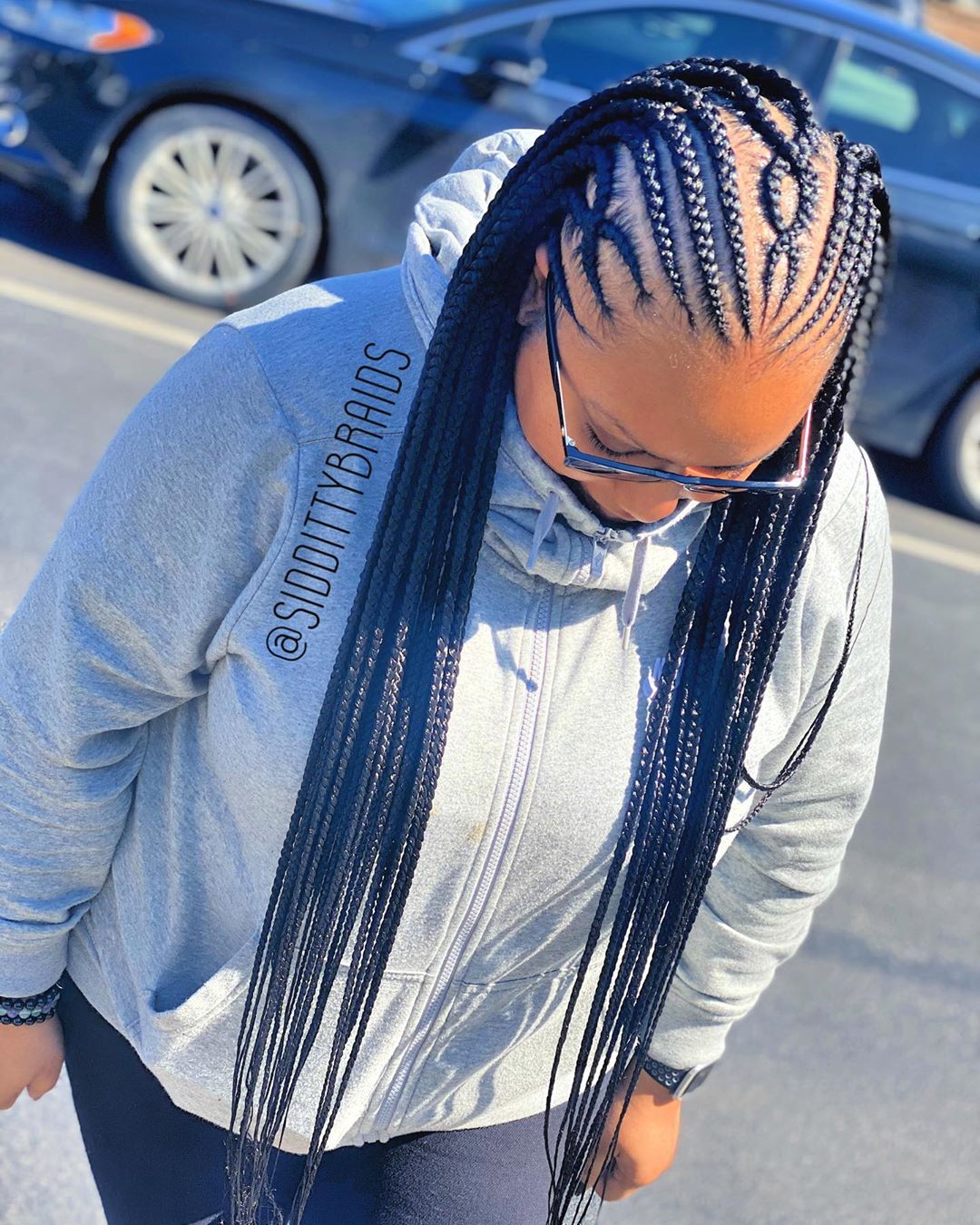 Adding patterns to cornrows is another really fancy way to make it. This shouldn't take all day to make as long as you have an idea of what you want.
11. Mixed Pattern Cornrows With Beads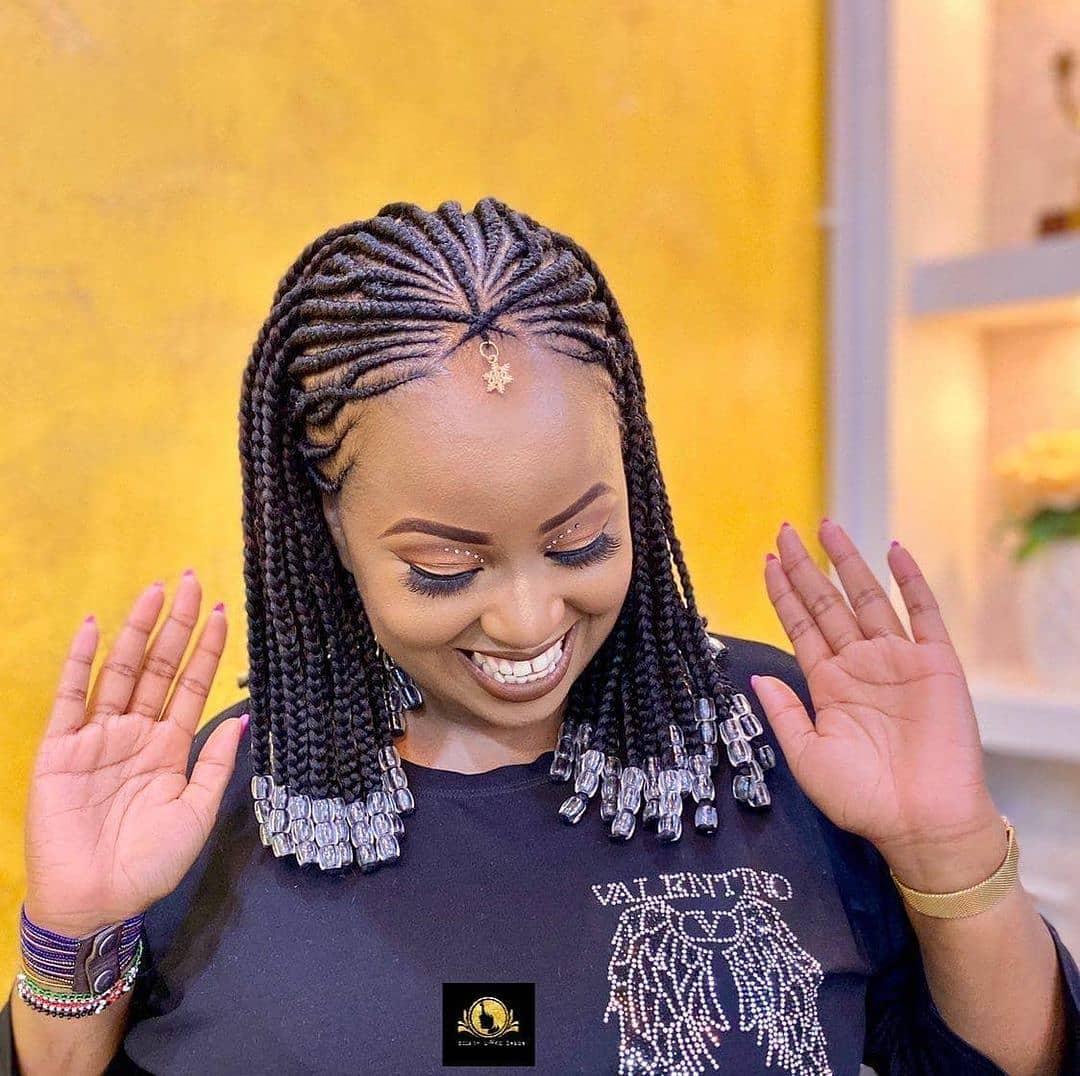 When you need a generous amount of compliments go for this glam and sophisticated look that'll undoubtedly make you receive a lot of attention.
12. Half Cornrows With Curls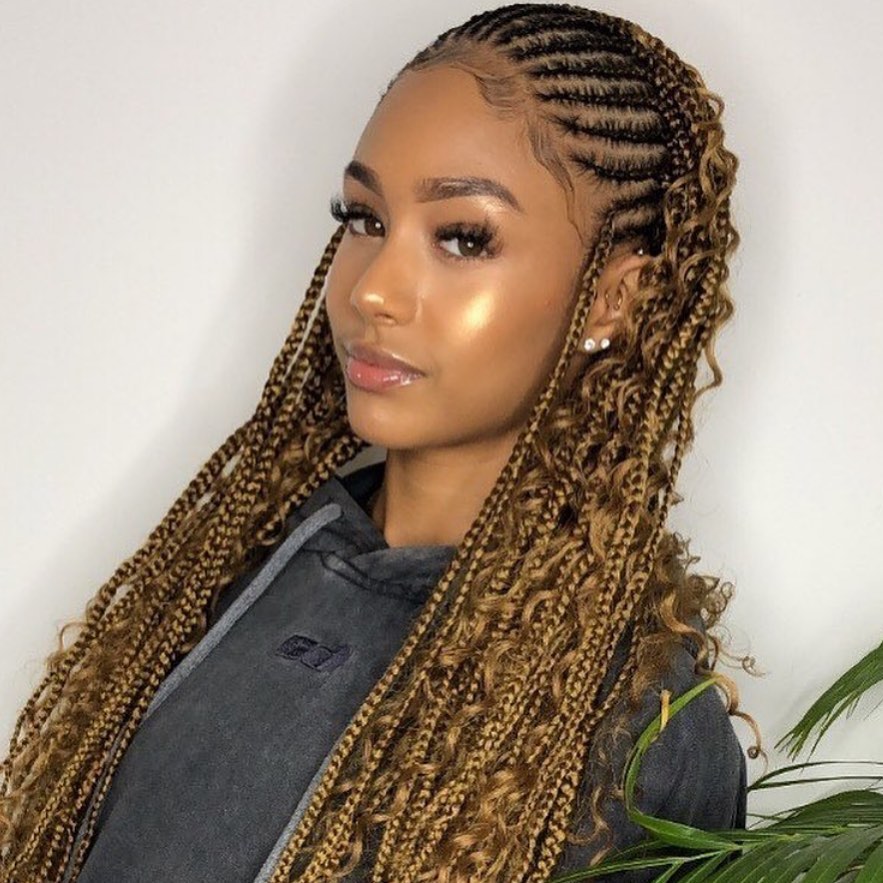 Beautiful and unique half-head cornrows with beads style that allows you to showcase some lushness of your braids and curls.
13. Creative Lengthy Cornrows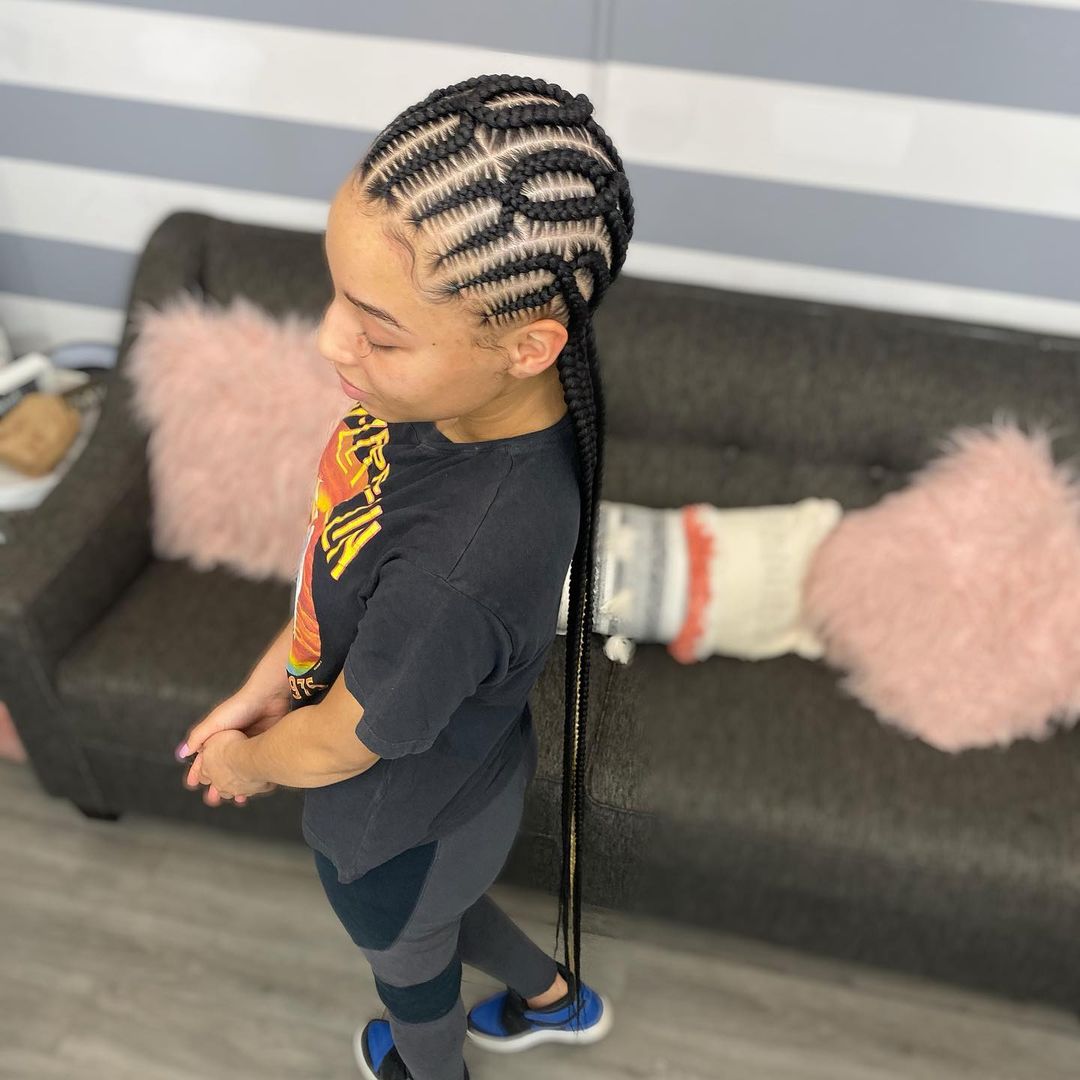 Cornrows are super versatile, you can decide to style them in a million different ways and look your best while at them.
14. Feed-In Cornrow Braids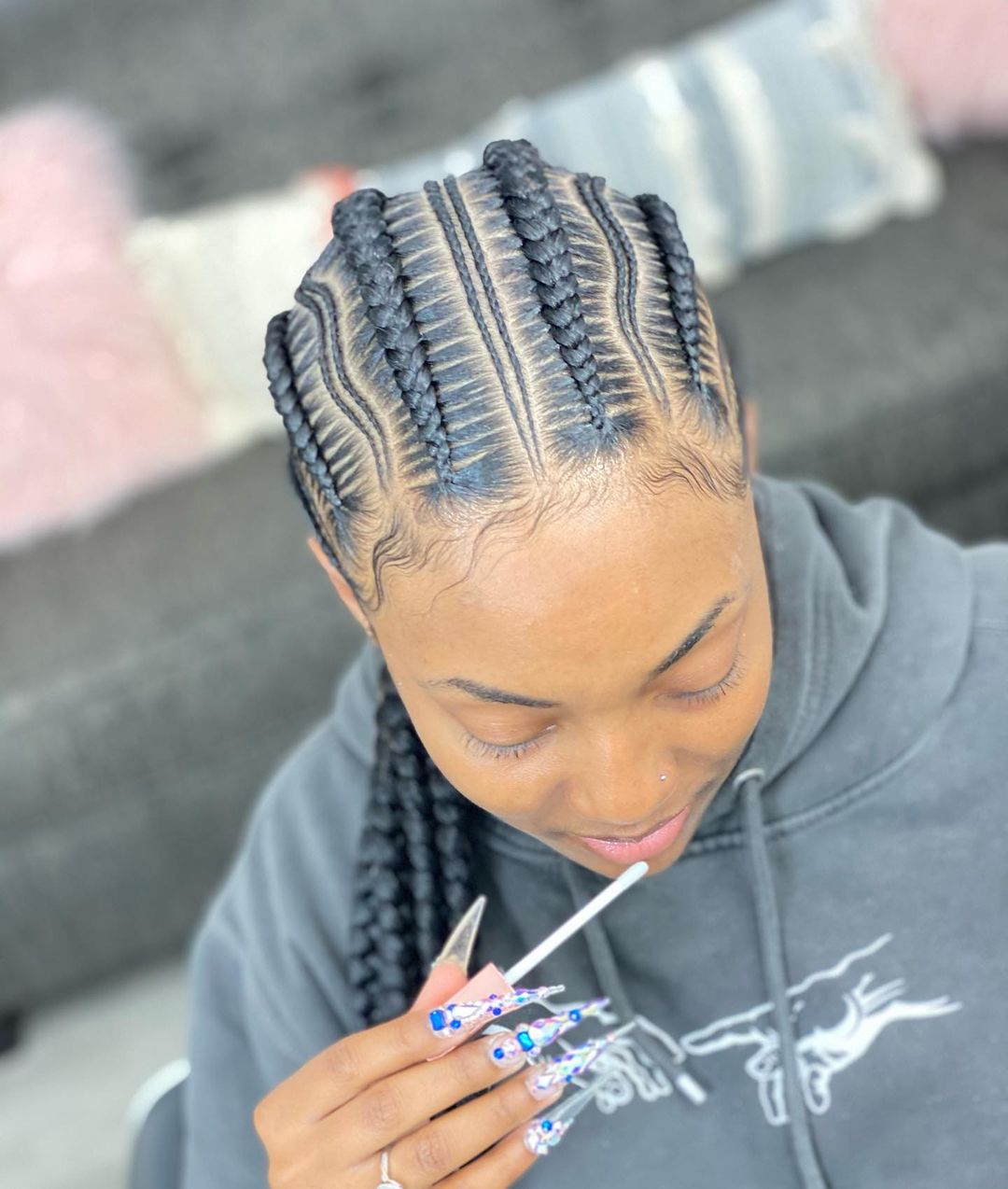 Feed-in braids are a way to create an illusion of long cornrow braids, without the need for hair extensions. First, you create a starter braid using your natural hair, then add synthetic braiding hair to create a long cornrow that still looks natural.
15. Classic Cornrows With Curls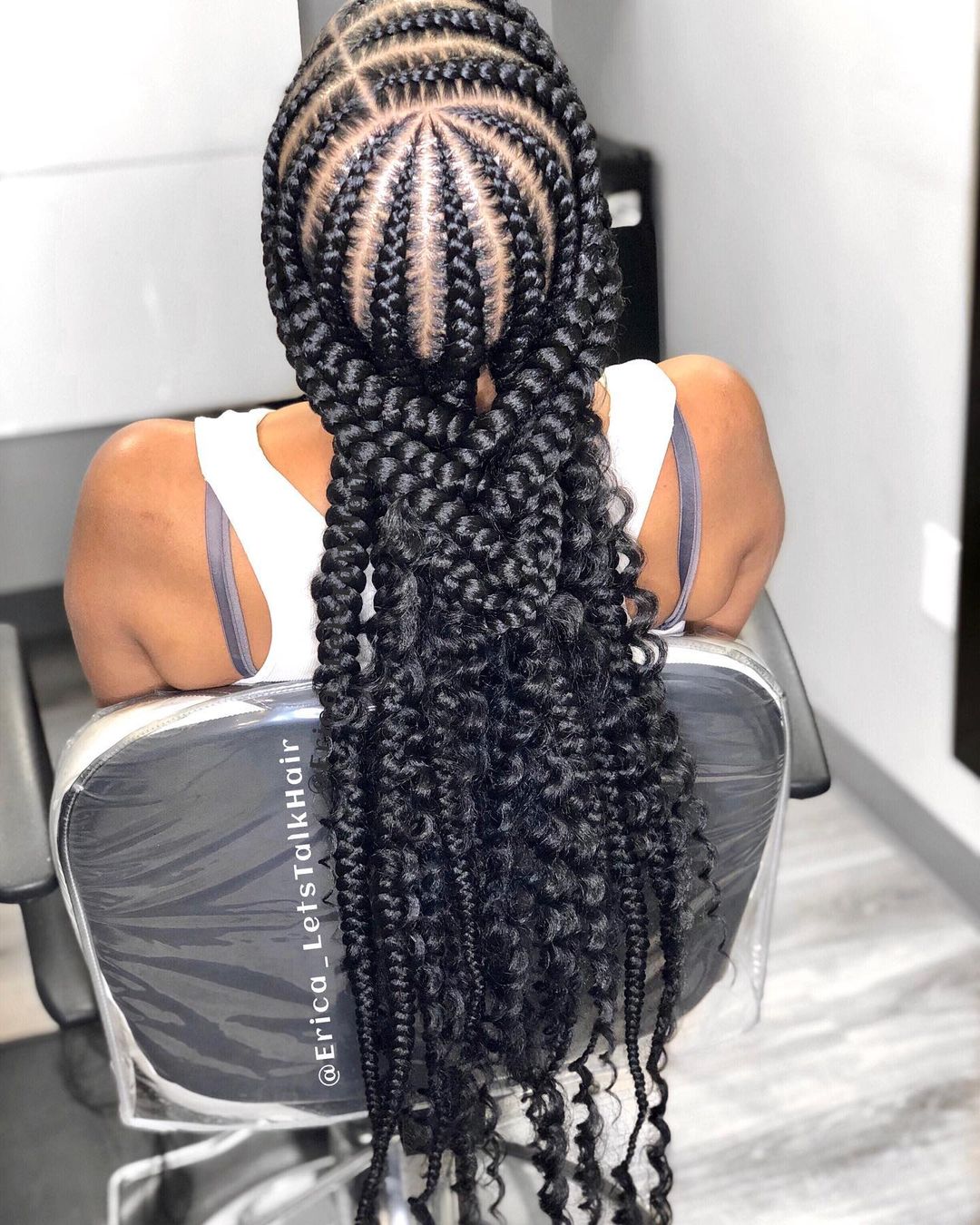 Simple and classic cornrows. Easy to make, and you can decide to leave part of the braids as curls, to get more attention and compliments.
16. Goddess Cornrows With Braids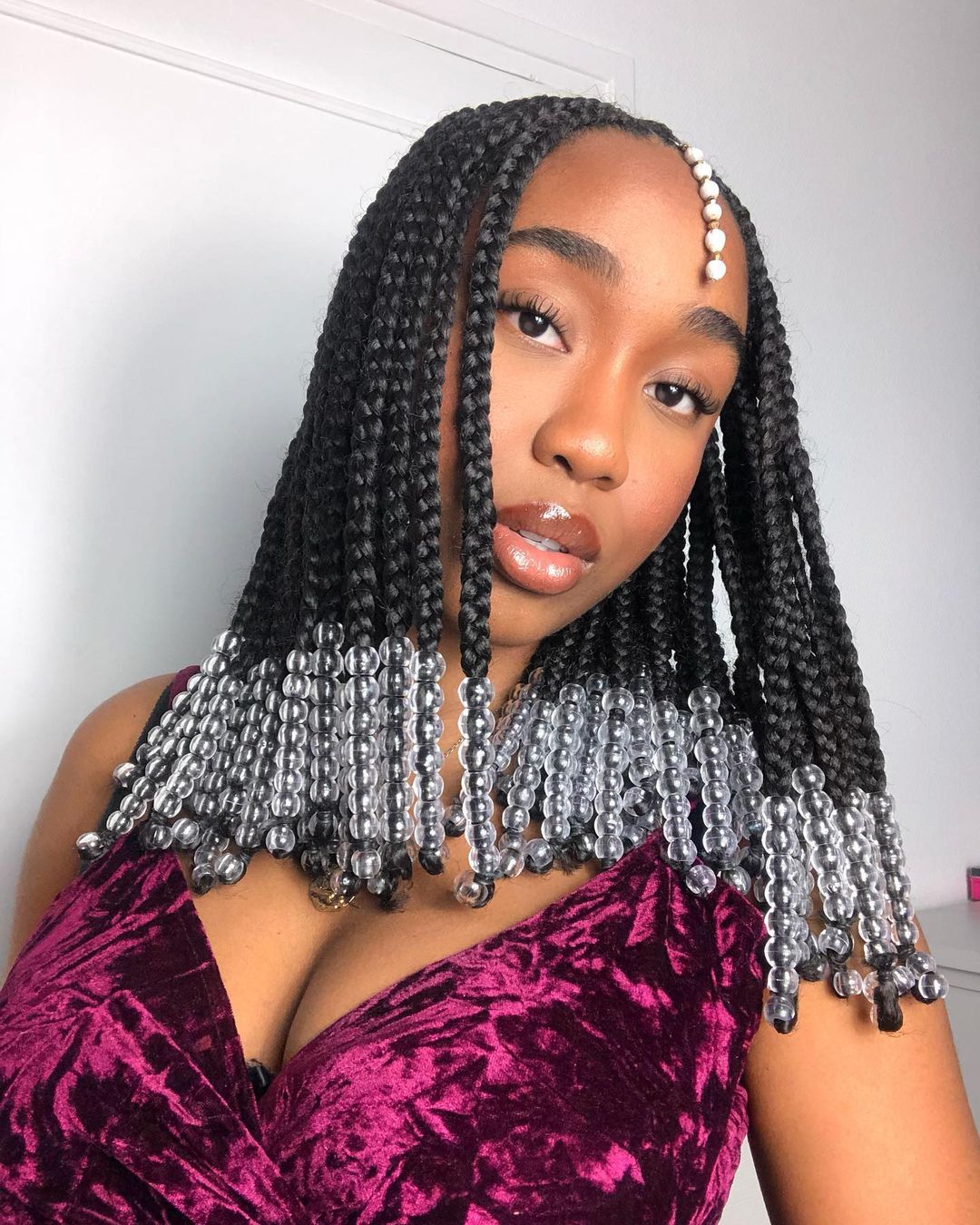 If you're looking for a hairstyle that'll make you look and feel like a princess, then opt for these beautiful medium cornrow braids, decorated with beads.
17. Zig Zag Clean Lines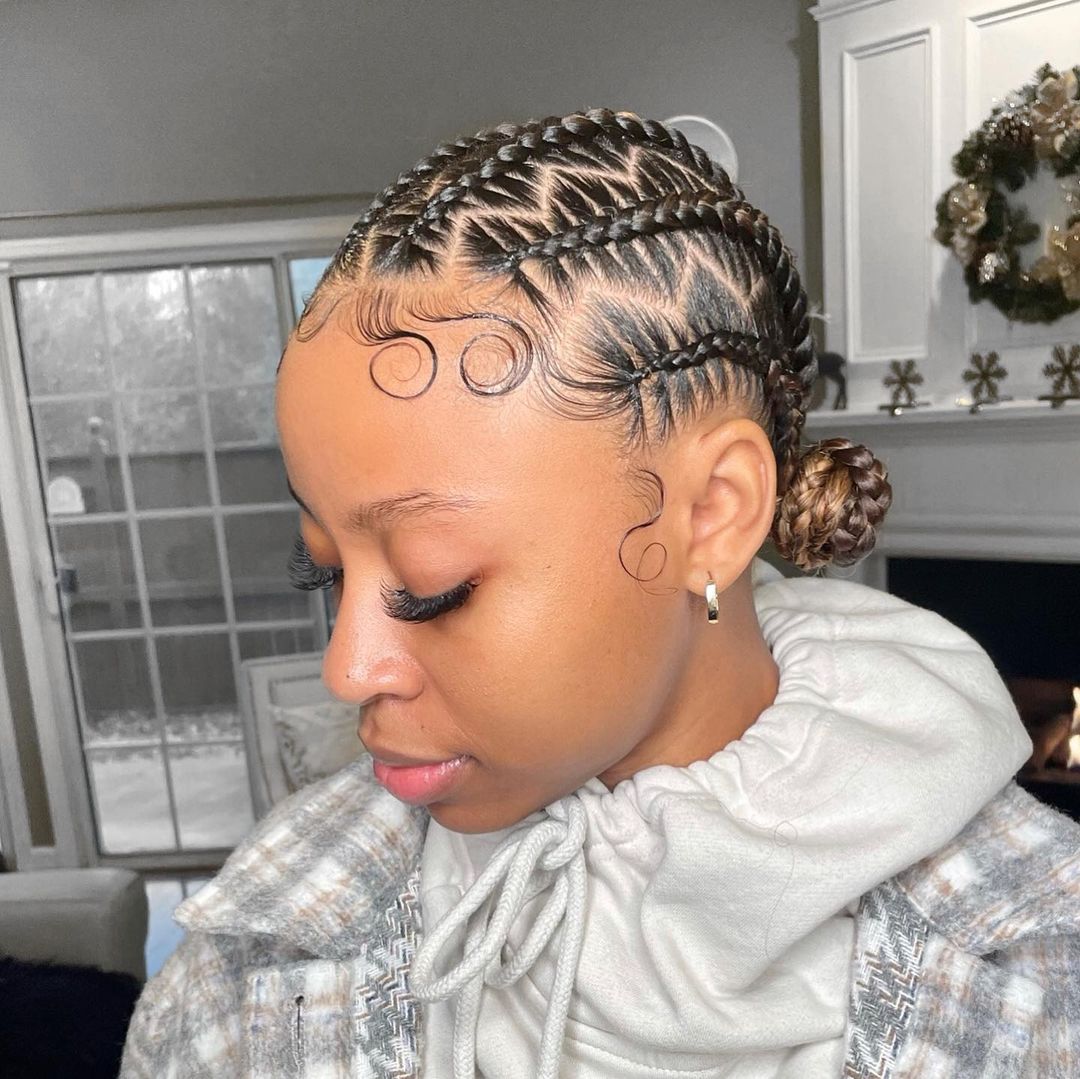 Sophisticated, bold, and elegant unique zig-zag unique patterns.
18. Symmetrical Cornrows With Beads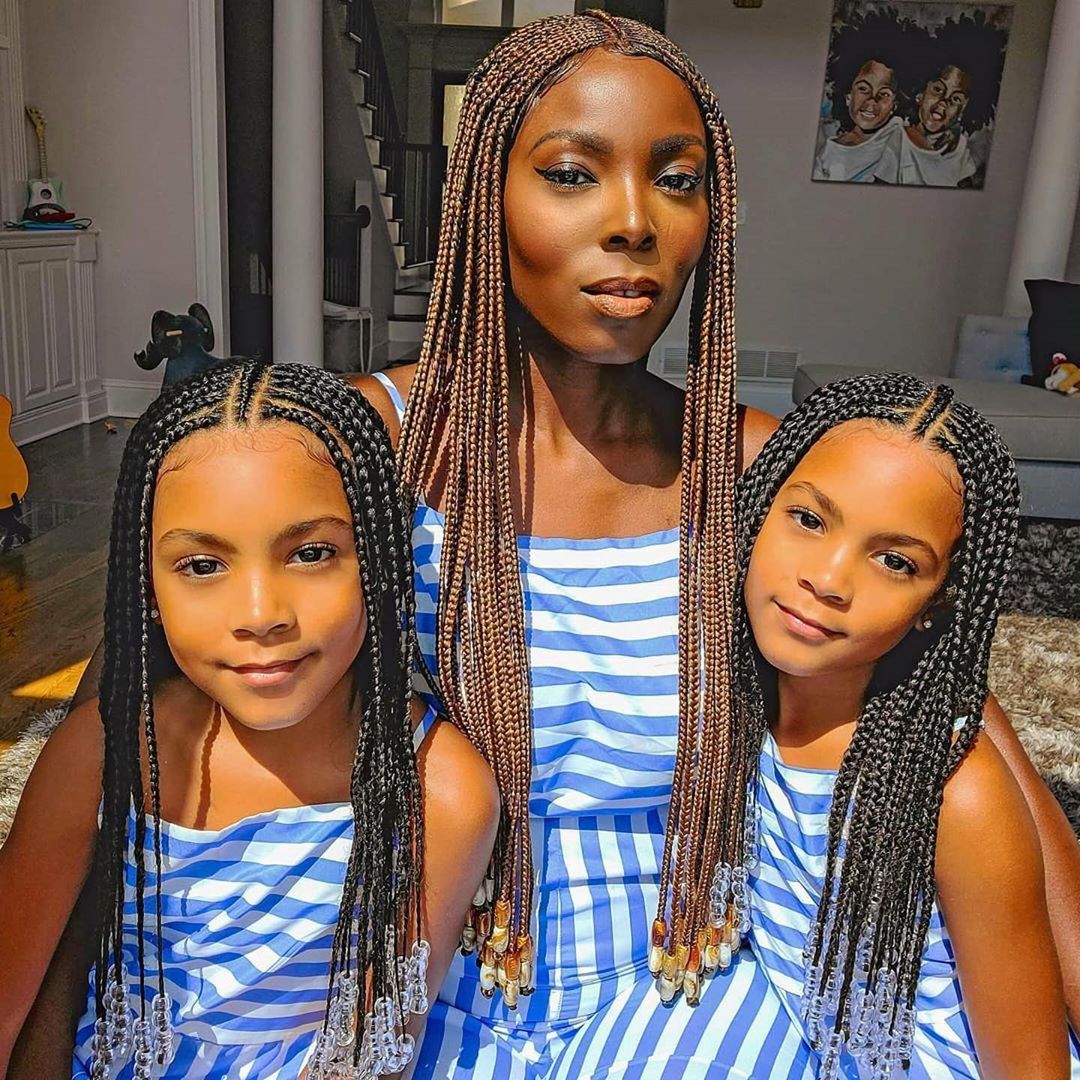 Systematical cornrows with beads look elegant on both young and old.
19. Thick Creative Extension Cornrows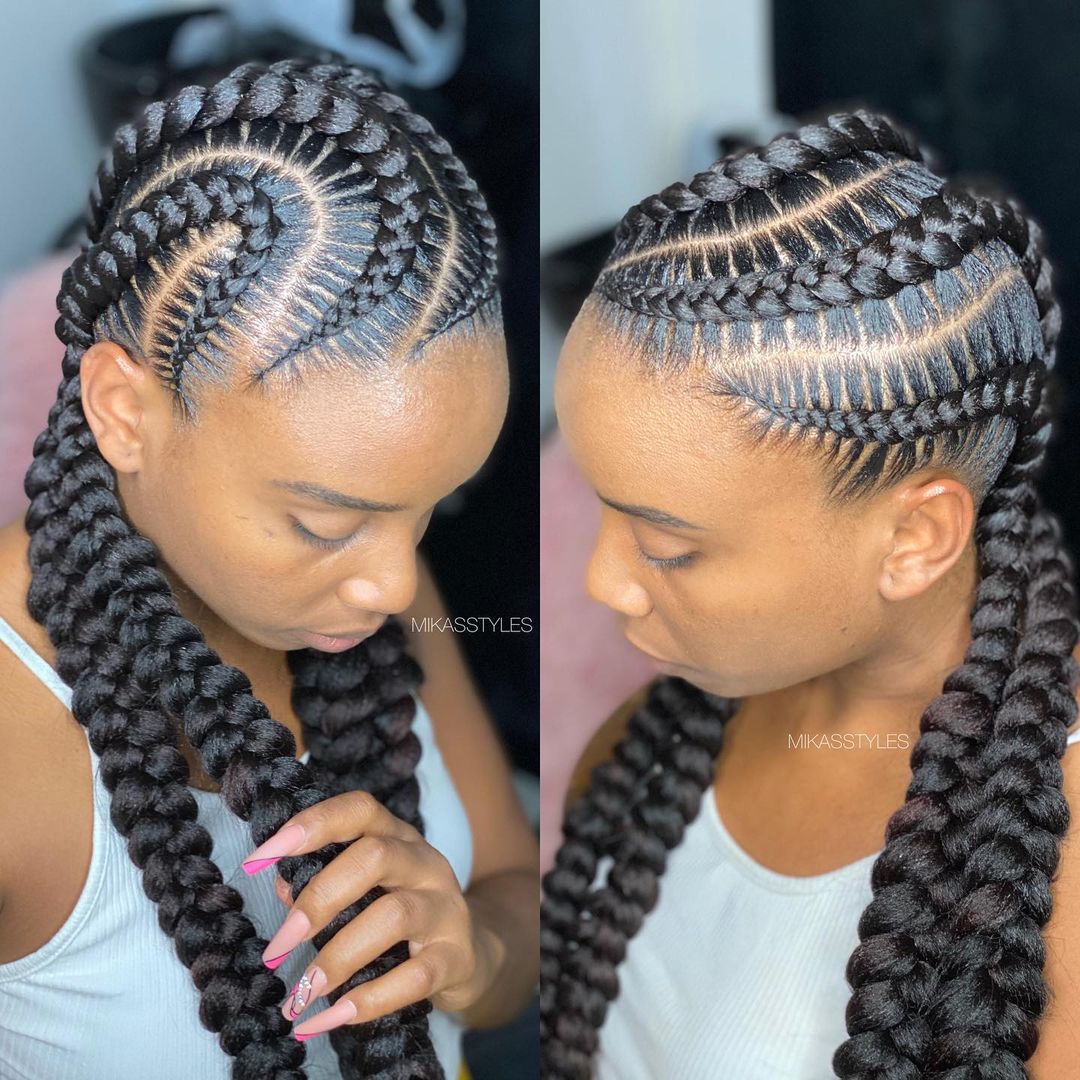 Thick creative extension cornrows hairstyles are so easy to fall in love with it! These large cornrows achieve classy, feminine, and quirky all in one go. Well-detailed lines, It's all about the details!
20. Colored Curve Lines Cornrows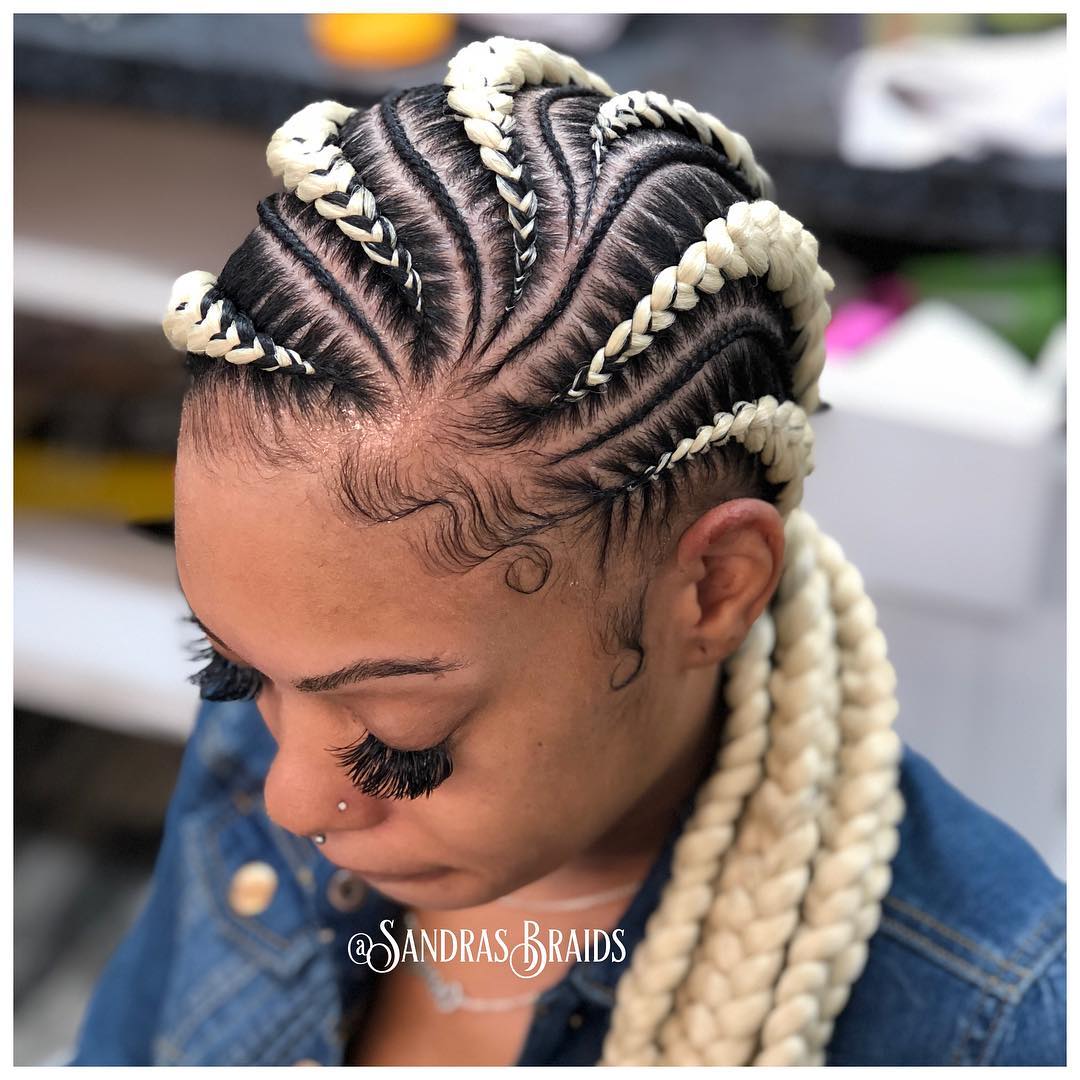 Lighter colours tend to show off your cornrow braid pattern easier. This is especially true with a pale shade like gold.
21. Two Big Cornrows For Pretty Ladies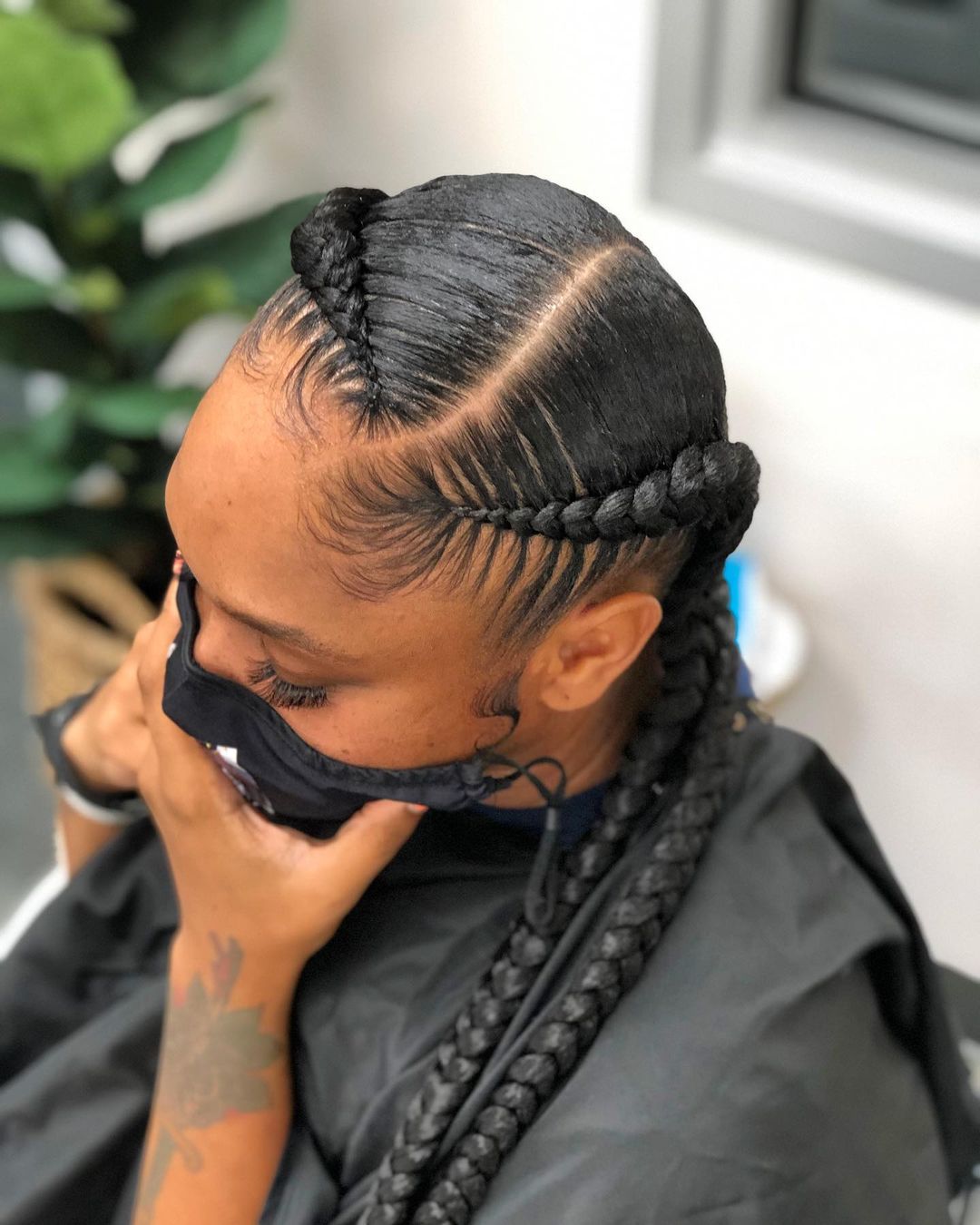 If big cornrows hairstyles are what you're after, there you have it. This what I call a stress-free hairdo with no time consumption. 2 big cornrow braids are absolutely easy and makes give you an elegant look.
22. Four-Part Side Cornrow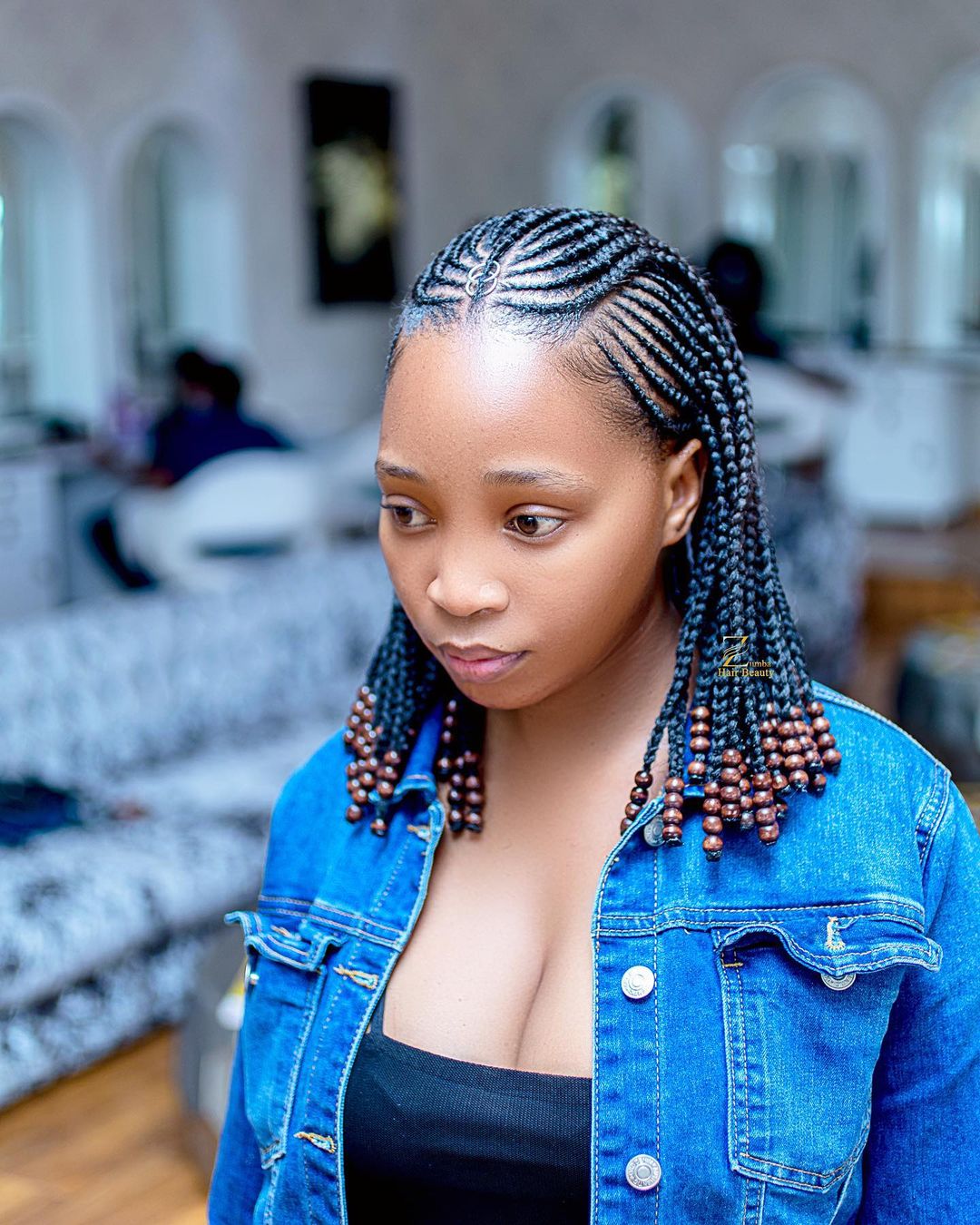 There's no need for your cornrows to be complicated for them to look absolutely beautiful. Small cornrows deserve just as much praise as complex African cornrow's designs and patterns.
23. Clean And Simple Cornrows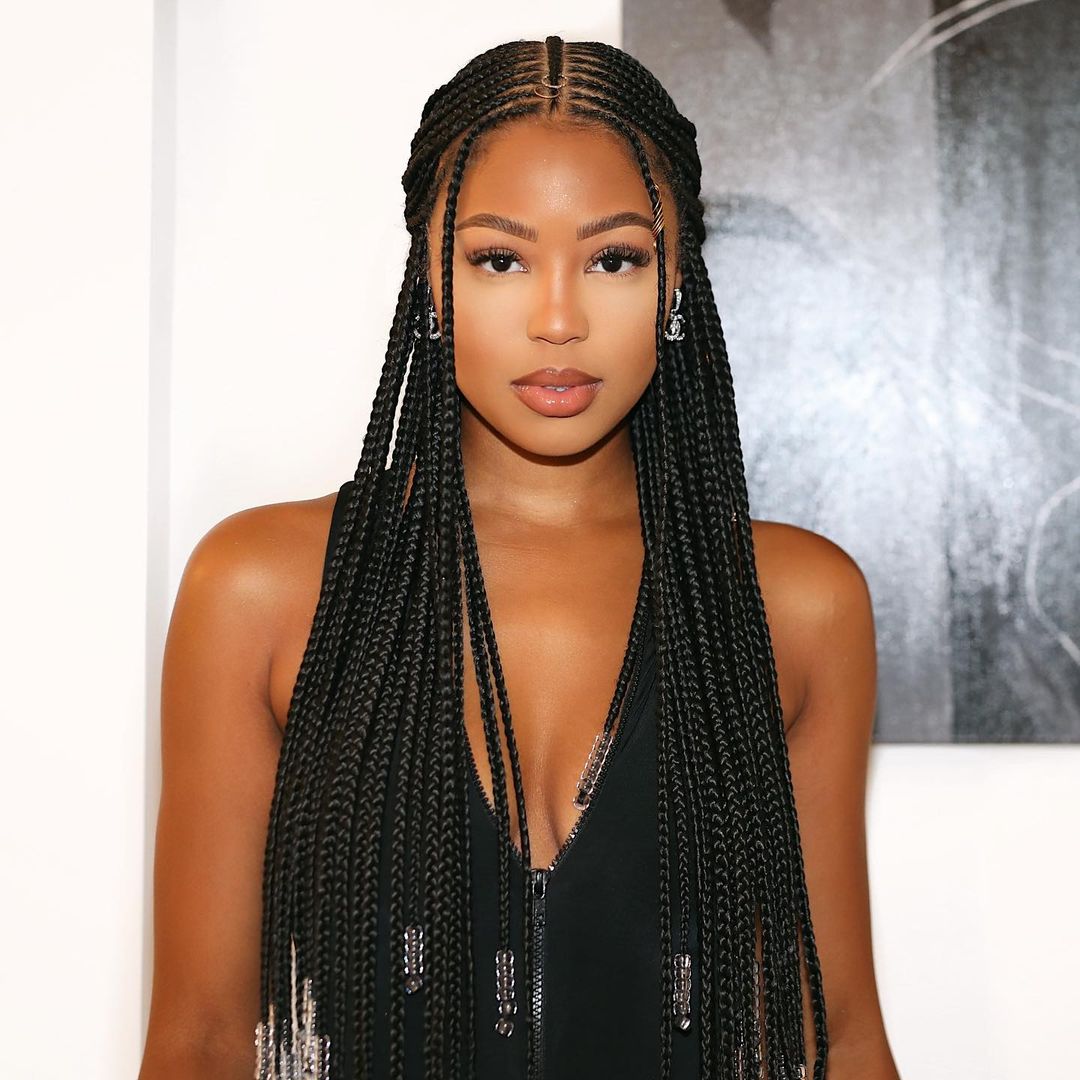 Clean cornrows keep the braids tight and keep the hair neat to prevent any frizz.
24. Shoulder Length Cornrows Braids With Beads
Cornrow looks flawless and it's easy to maintain. It leaves lots of room for individualized style choices and can be decorated with beads and other hair accessories.
25. Tiny Long Extension Cornrows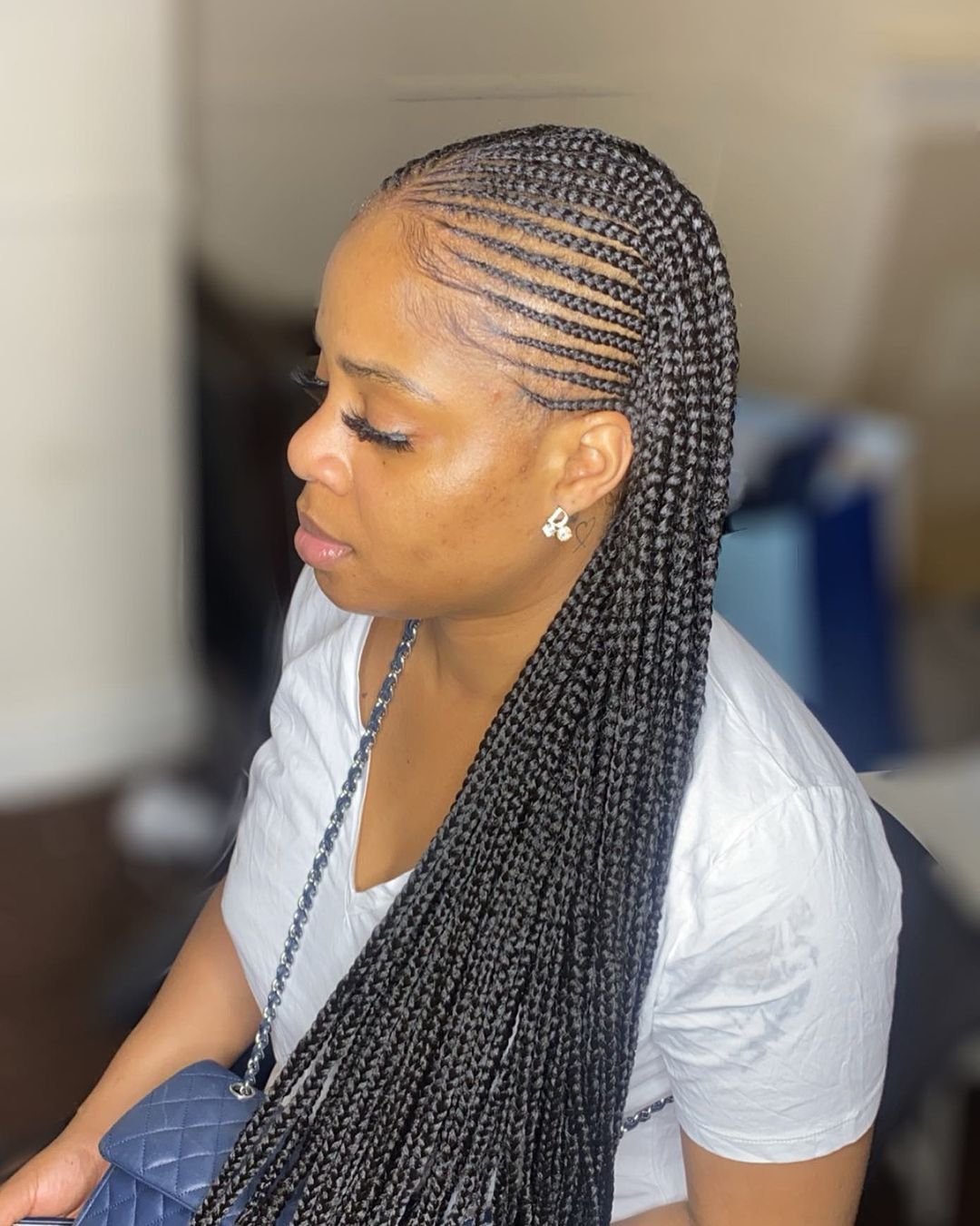 Hair extensions are a popular way to add length and more body to your hairstyle and can be paired with hair jewellery like beads, wraps, or cuffs to complete this lovely style.
26. Side Part Cornrows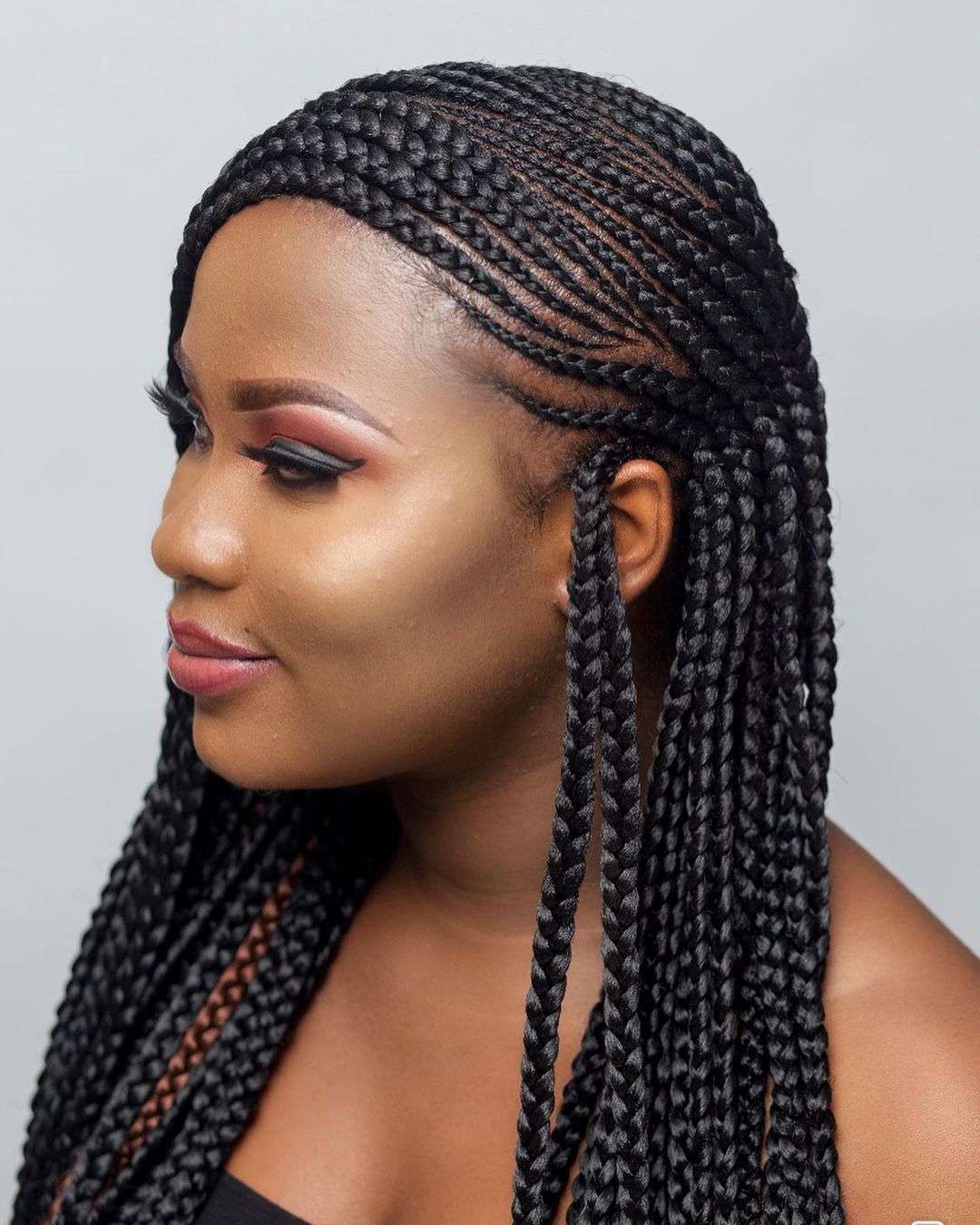 If this is a look you have not considered yet, then you totally should. This side cornrows hairstyle is for someone who would love a pronounced look.
27. Tiny Cornrows With Colorful Extension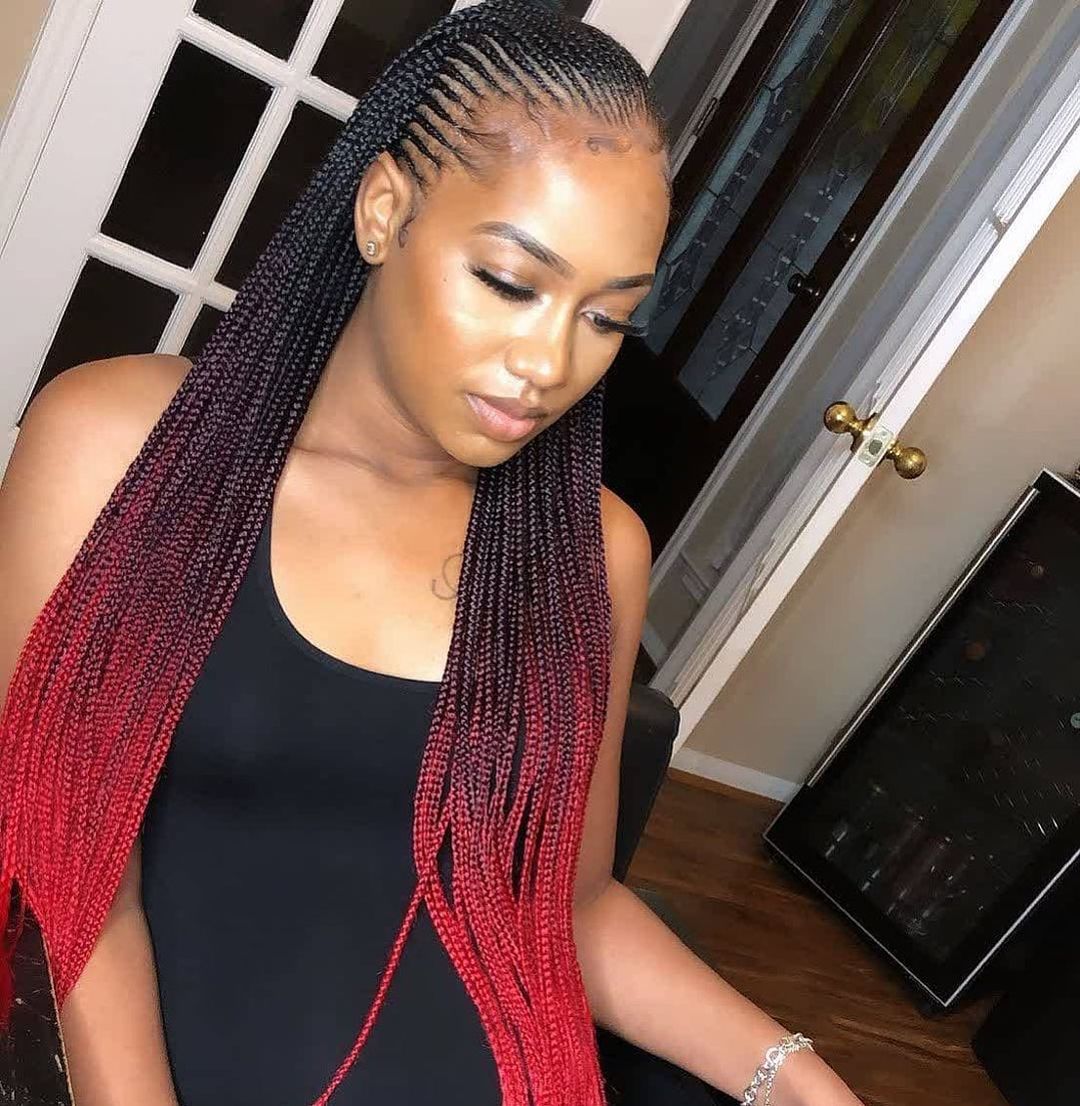 Adding a bit of colour to your tiny cornrows will do absolutely great trick to the look, making it more colourful and having a playful look at the same time. You can achieve the look by adding a different colour to the part of the braid. You can add one colour or a few.
28. Blonde Half-Part Cornrows Braids
You sure can't go wrong with extra length, different colors than your natural hue, and exploring ways to add volume to match your neat cornrows braids.
29. Half Cornrow-Half Box Braid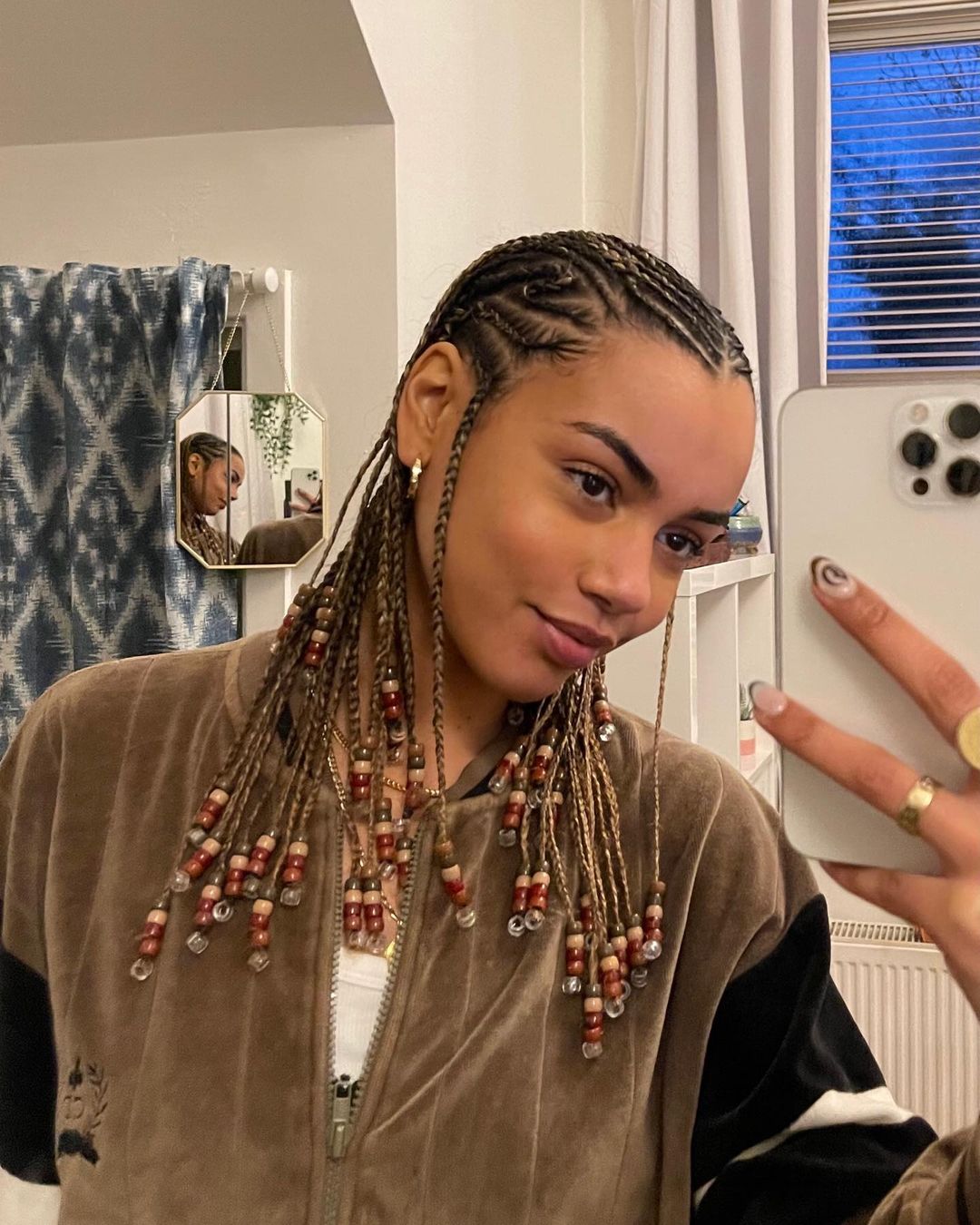 Sophisticated and unique. You won't regret a trip to the stylist when what you're left with is this wonderful hairdo.
30. Classic Look With Clean Lines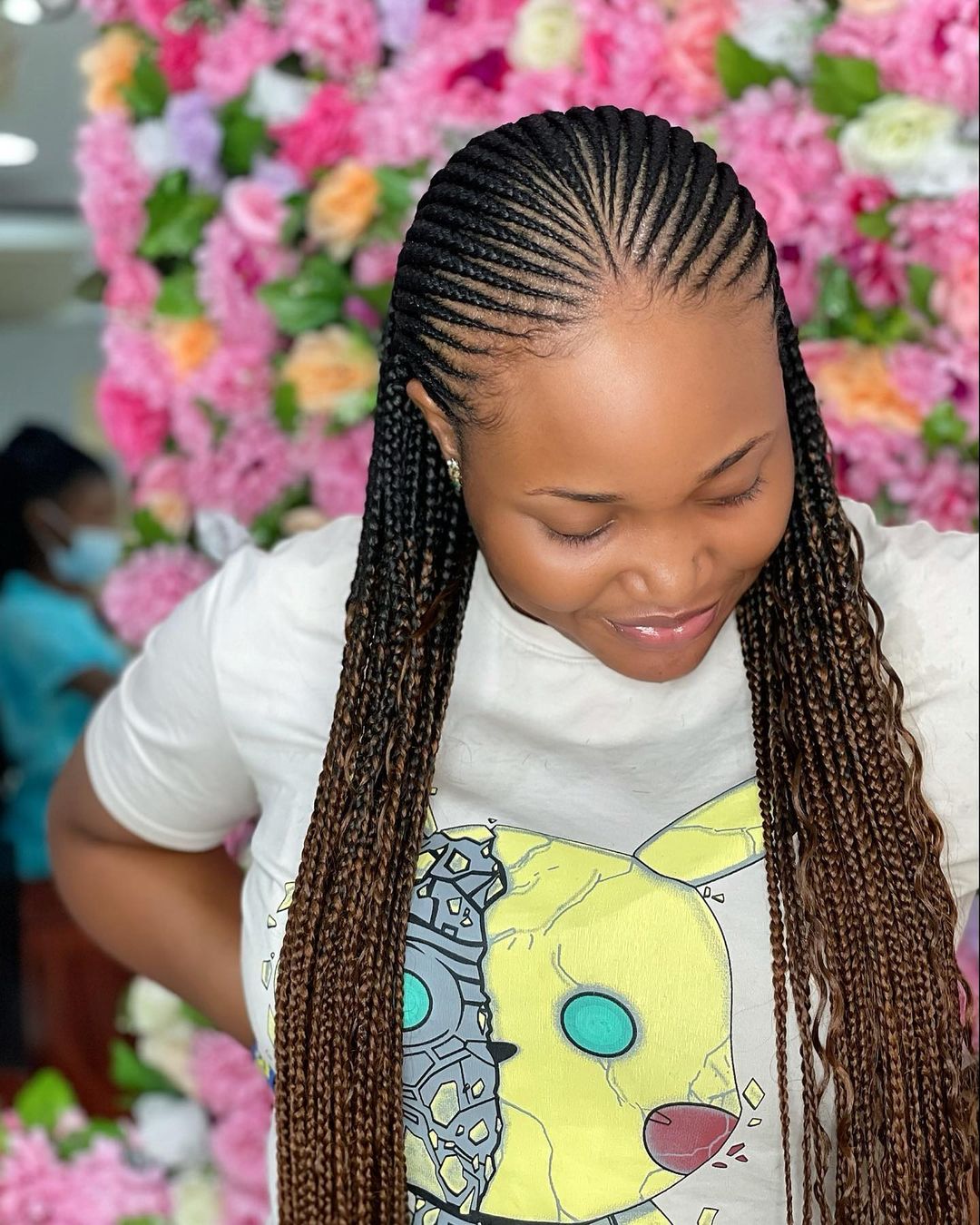 Classic look, yet a cool way to braid your hair, without having to come up with creative designs and quirky patterns.
31. Alternating Cornrows Braids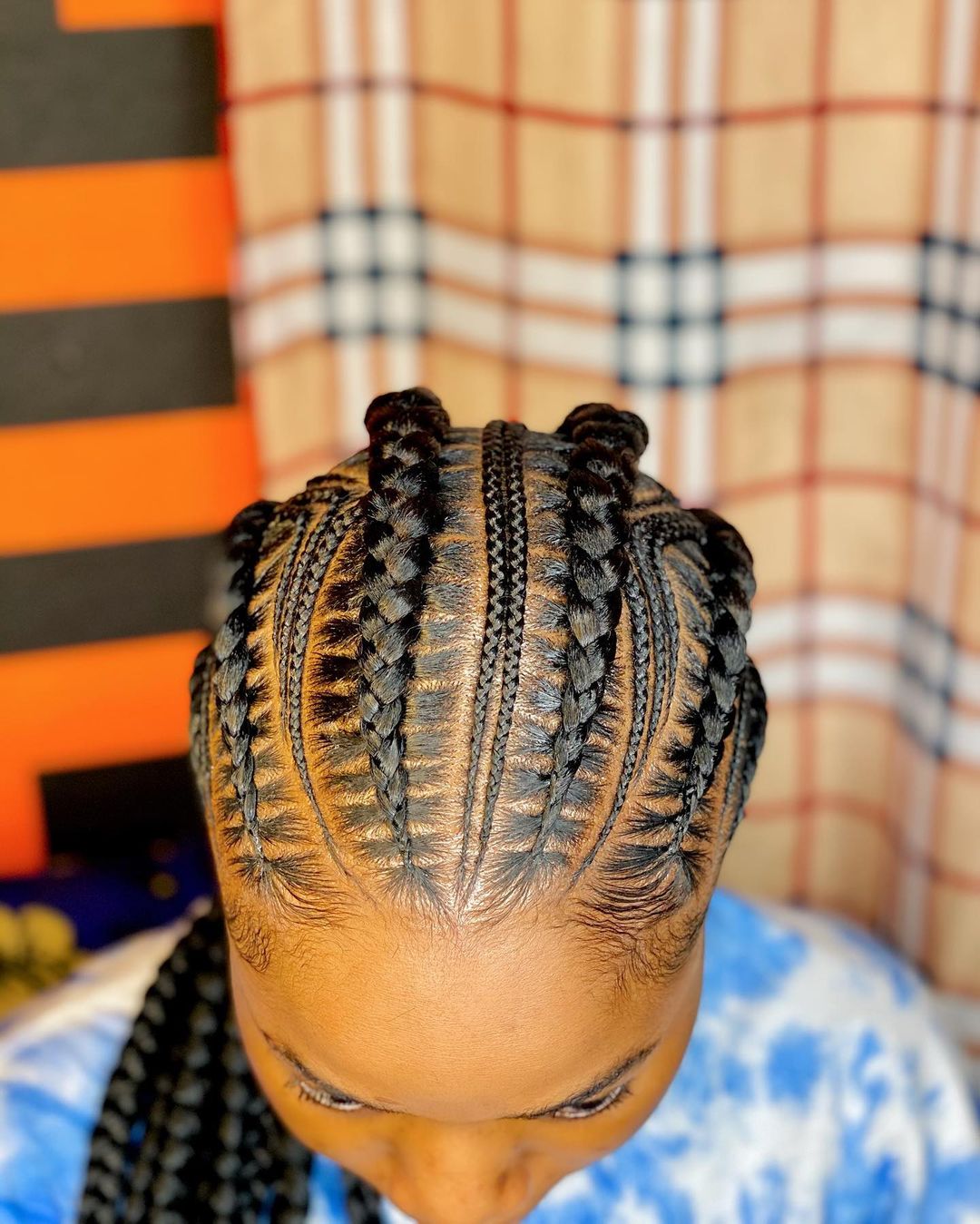 Braiding your hair into beautiful cornrows will not only save you hours of precious time you would spend on styling your hair, but you will unavoidably receive praise wherever you go with your cornrows hairstyle.
32. Something Creative With Clean Lines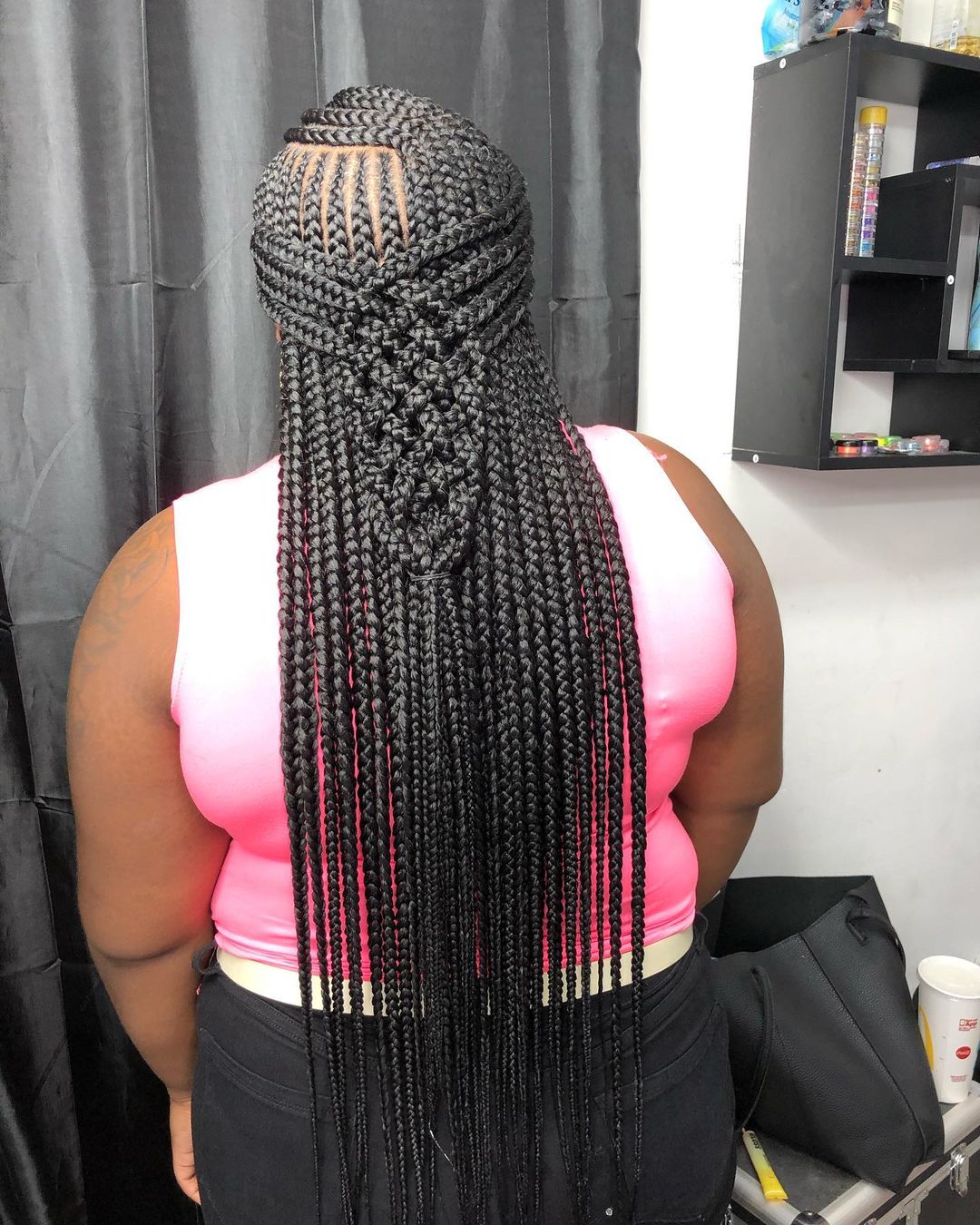 Something creative with a curvy line at the front, giving the hair a classy look.
33. Half Cornrows With Curls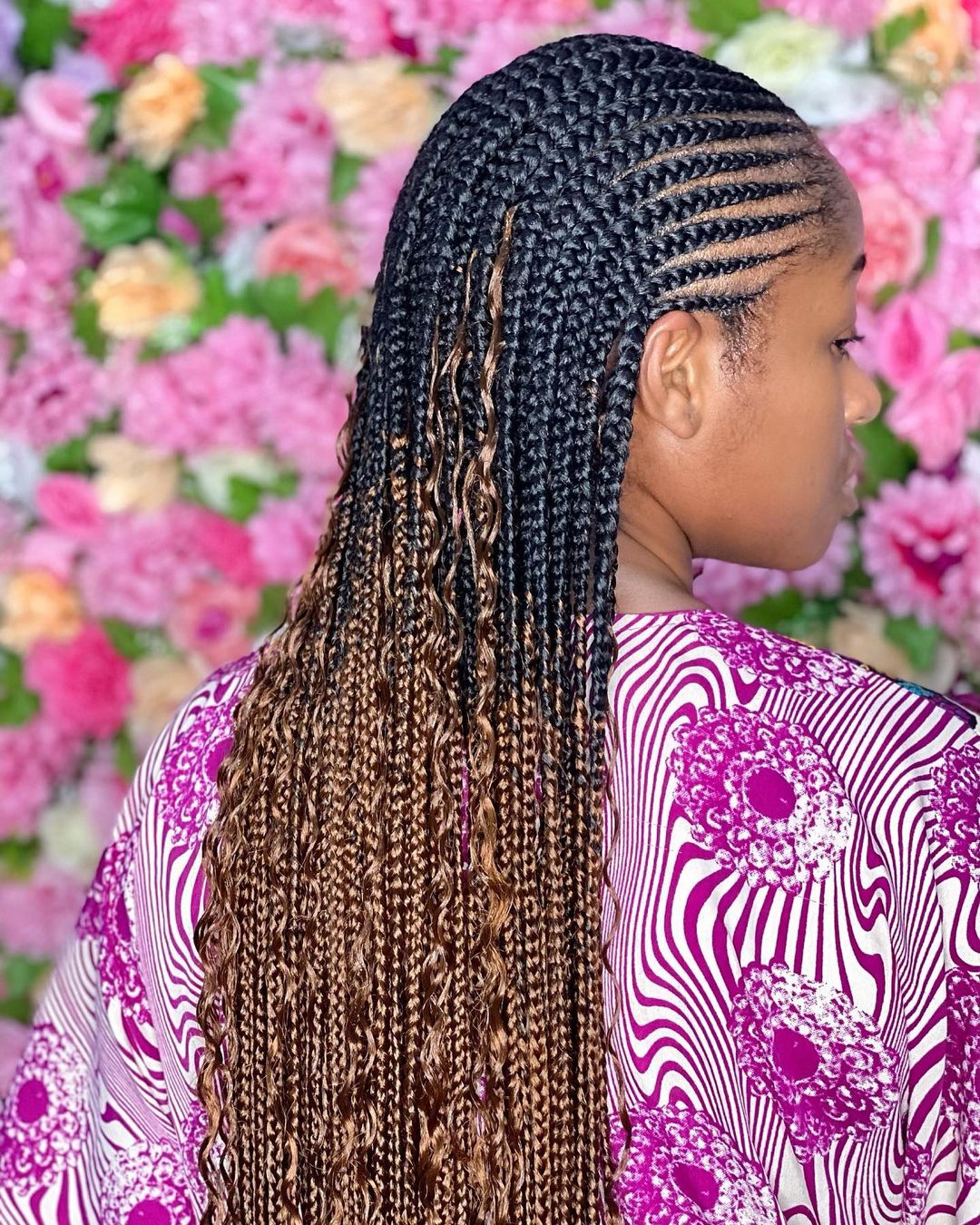 One great way to bring vibrancy into your braided hairstyle is to have cornrows with extensions. The added blended hair can be any colour of your choice.
34. Eye-Catching Sideways All Back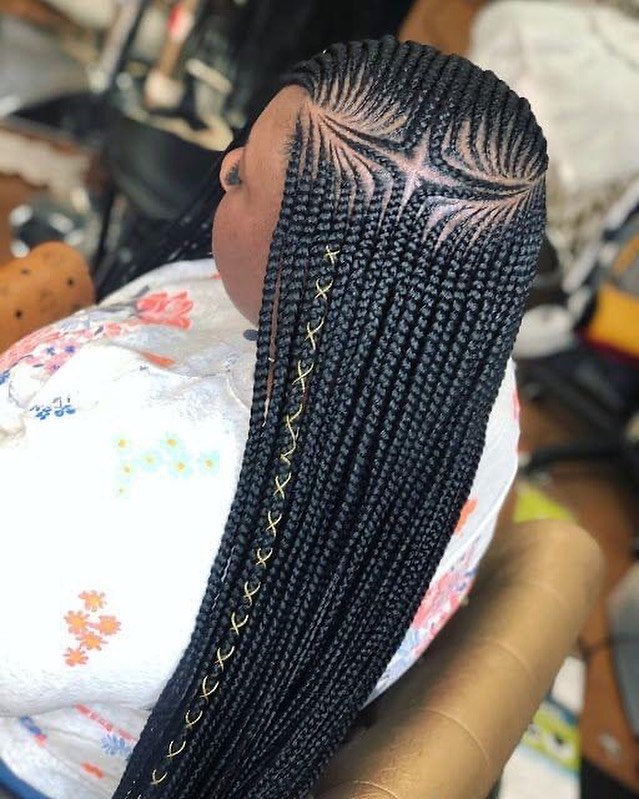 An epic and creative combination, of clean, polished, and cute eye-catching sideways cornrows.
35. Blue Cornrows Braids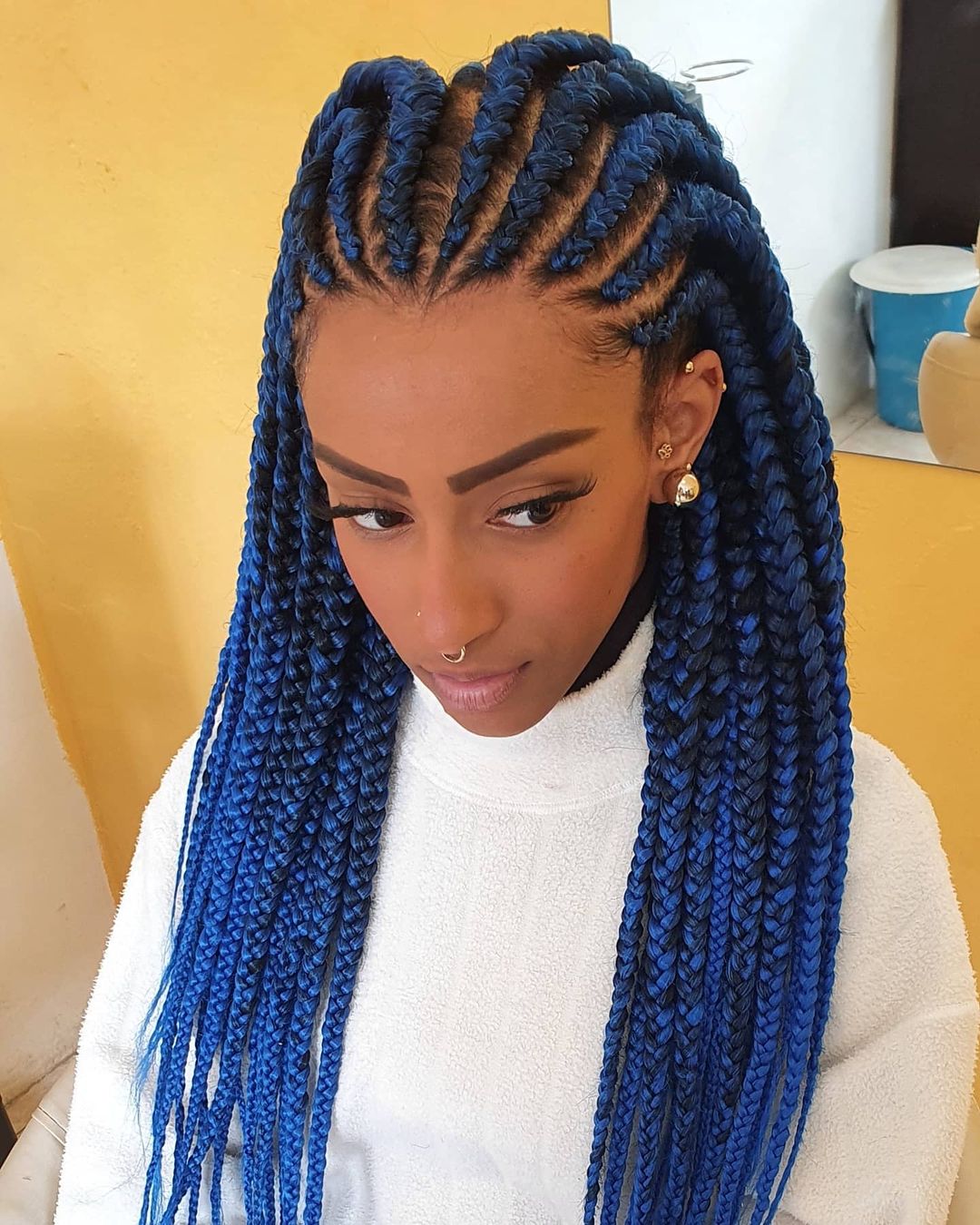 You can pair your cornrows with any colour of your choice for a gorgeous look.
In conclusion:
Cornrows hairstyles give you the best look if styled by a talented professional stylist.
Some of these looks are easy to duplicate on anyone's hair, both young and old, but some others are more intricate and may require a professional to undertake.
So you might want to have your stylist on speed dial before viewing these beautiful styles because you will get inspired.
Read more on our hairstyle: