Jumbo box braid is one of the most convenient box braids for female and it can be done regardless of hair color or length, it is a simple exotic hairstyle for all kinds of natural hair and unlike micro braids, your hair is parted into sections which allows the braiding process to move quickly and jumbo braid makes use of attachments to make it thicker and add more length to it.
This form of braids is used to make a statement and has become trendier among naturalist who wants to take a break from doing their hair. If you are looking for a suitable protective hairstyle for all kinds of the season then a jumbo box braid is a great option.
Your protective braid does not have to be boring, it is such a beautiful and versatile way to style your hair and we have compiled some of the most stylish braid ideas to inspire you.
25 Beautiful Jumbo Box Braids You'll Love
Box braids are a convenient and one of the trendiest hairstyles African women love and if you are looking for the form of box braid that is casual and won't damage your hair or scalp then a jumbo braid is perfect. Here are 25 beautiful jumbo box braid style you can't help but love.
1. Gold Jumbo Box Braid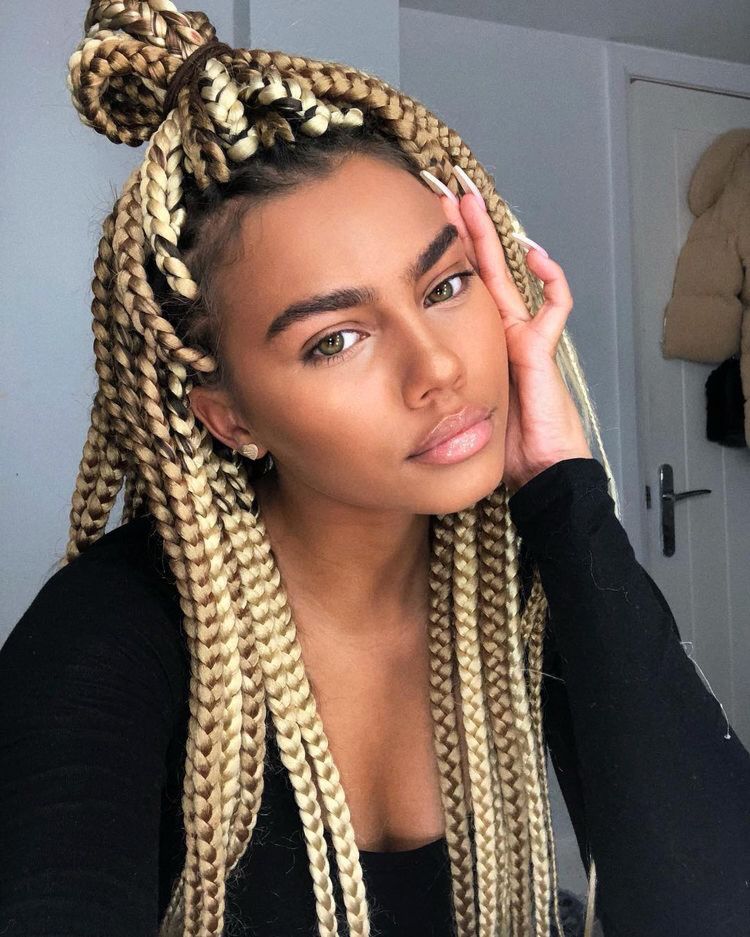 A simple jumbo box braid is for all season, it adorns the face features and with a gold extension, you can have more fun with this braid style, you can style it's whichever way you want. This braid hairstyle is in large size and won't take much time but if you are adding an extension, you will need up to six-packs of it.
2. Black And Brown Jumbo Braid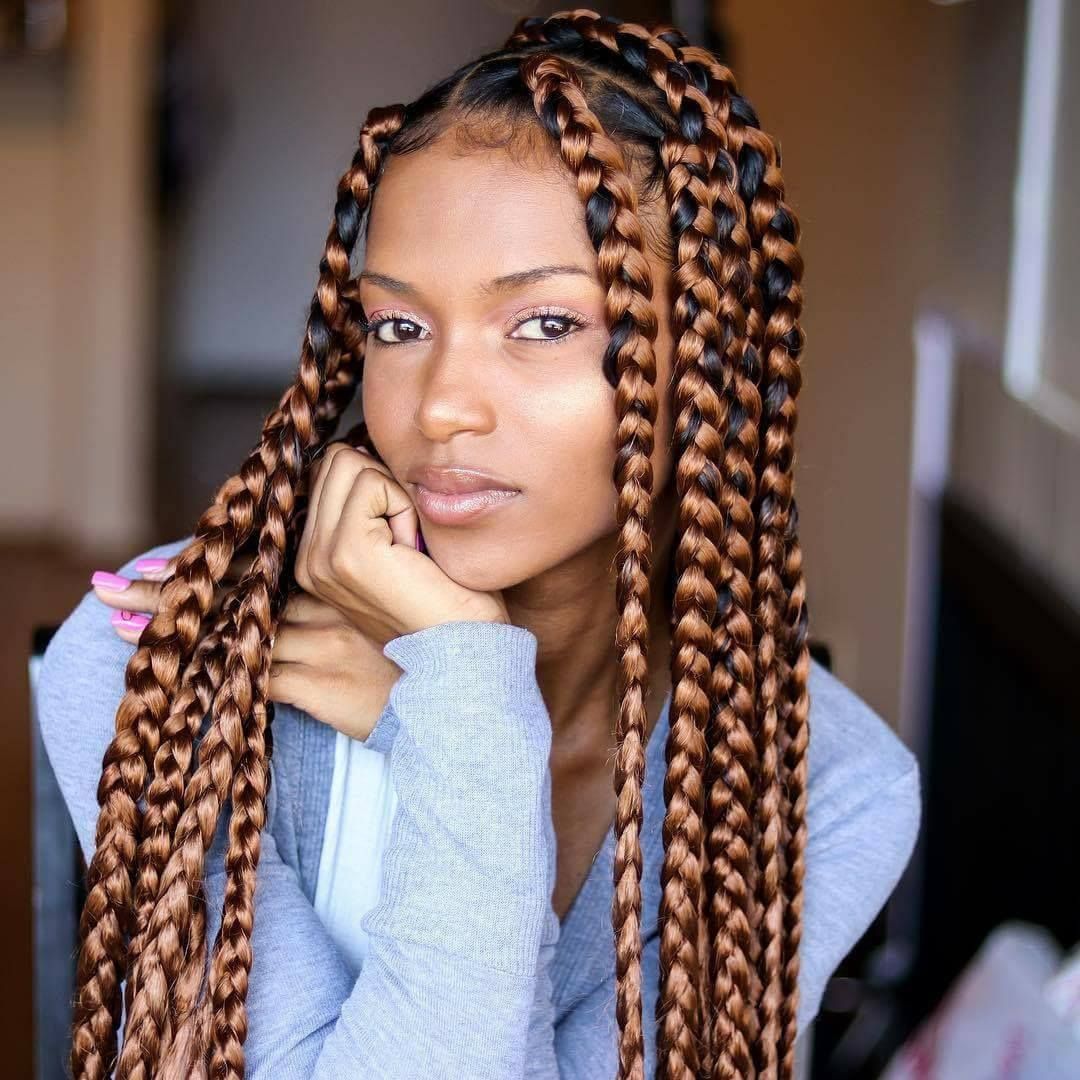 Here is an exotic jumbo box braid you can't have enough of, simple just as expected of a jumbo box braid and not too dramatic either. This look can pass as casual and fancy at the same time.
3. Large Jumbo Box Braid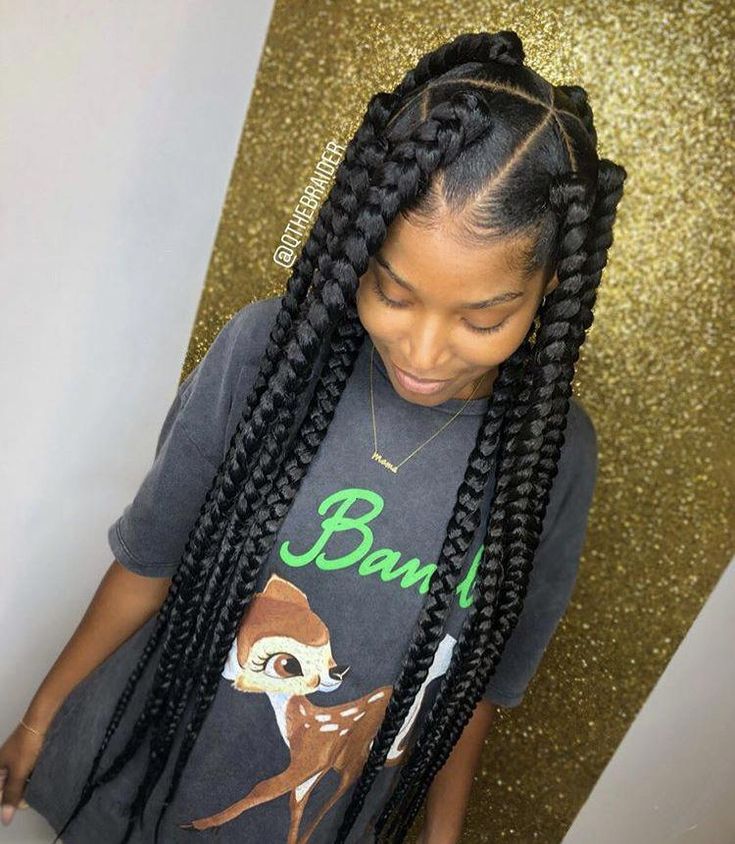 Large jumbo box braid could be just as exciting as any size of braid, it takes less time and very easy to wear for a very long time without wearing your hair or scalp out.
4. Feathers Jumbo Braid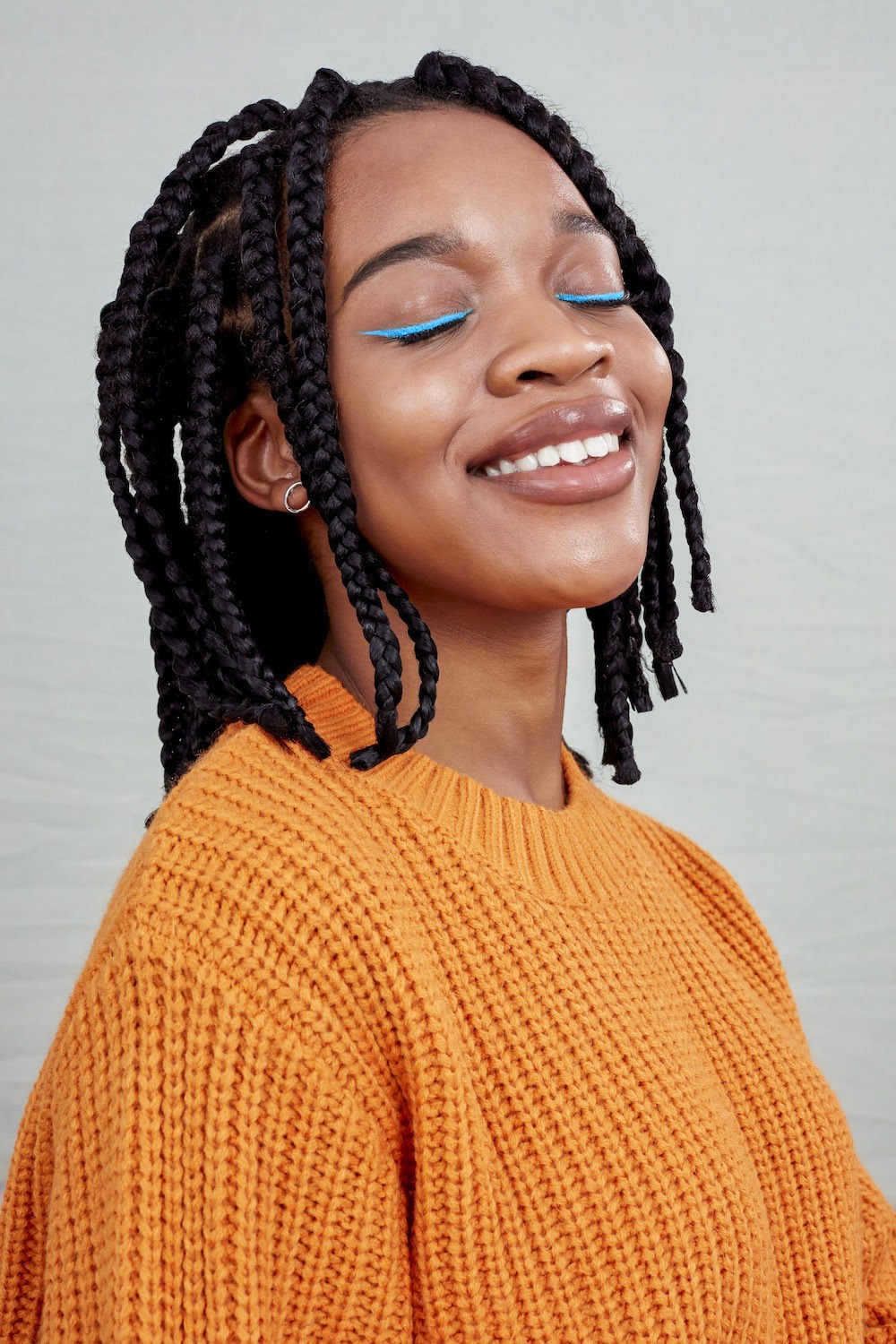 Feathers braid are known to be tiny and short which take lot's of time to make but a jumbo box braid takes less time because it's not tiny and could be more fun and fitting for a casual outing.
5. Brown Gold Triangle Jumbo Braid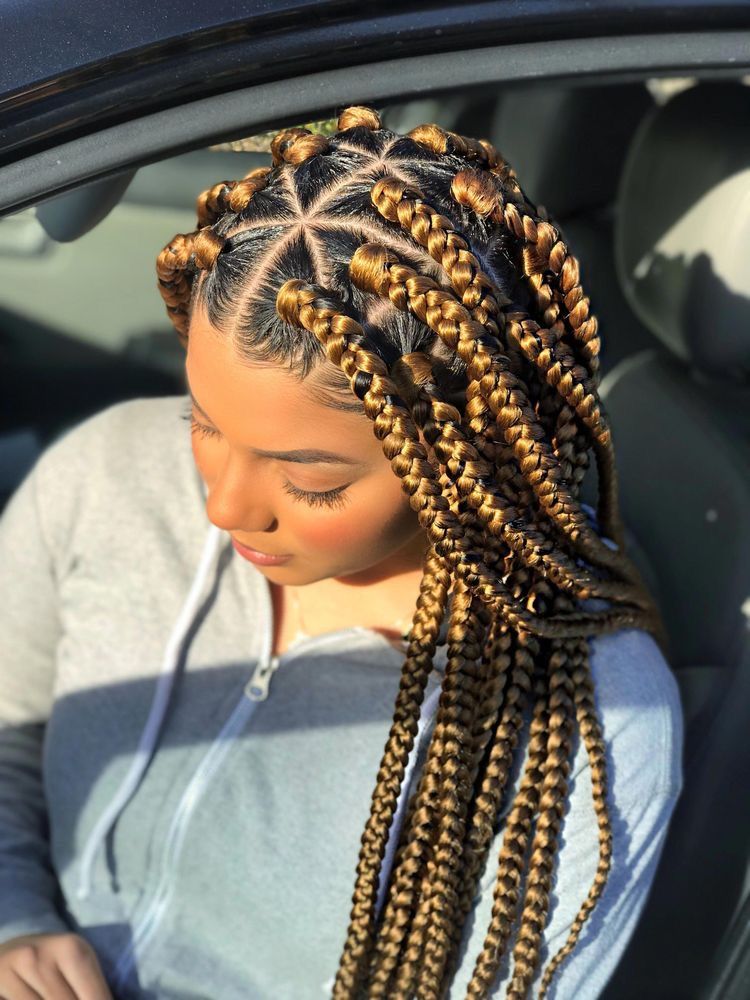 Here is another interesting braid you can't help but love, simple and quite trendy too.
6. Ombre Jumbo Box Braid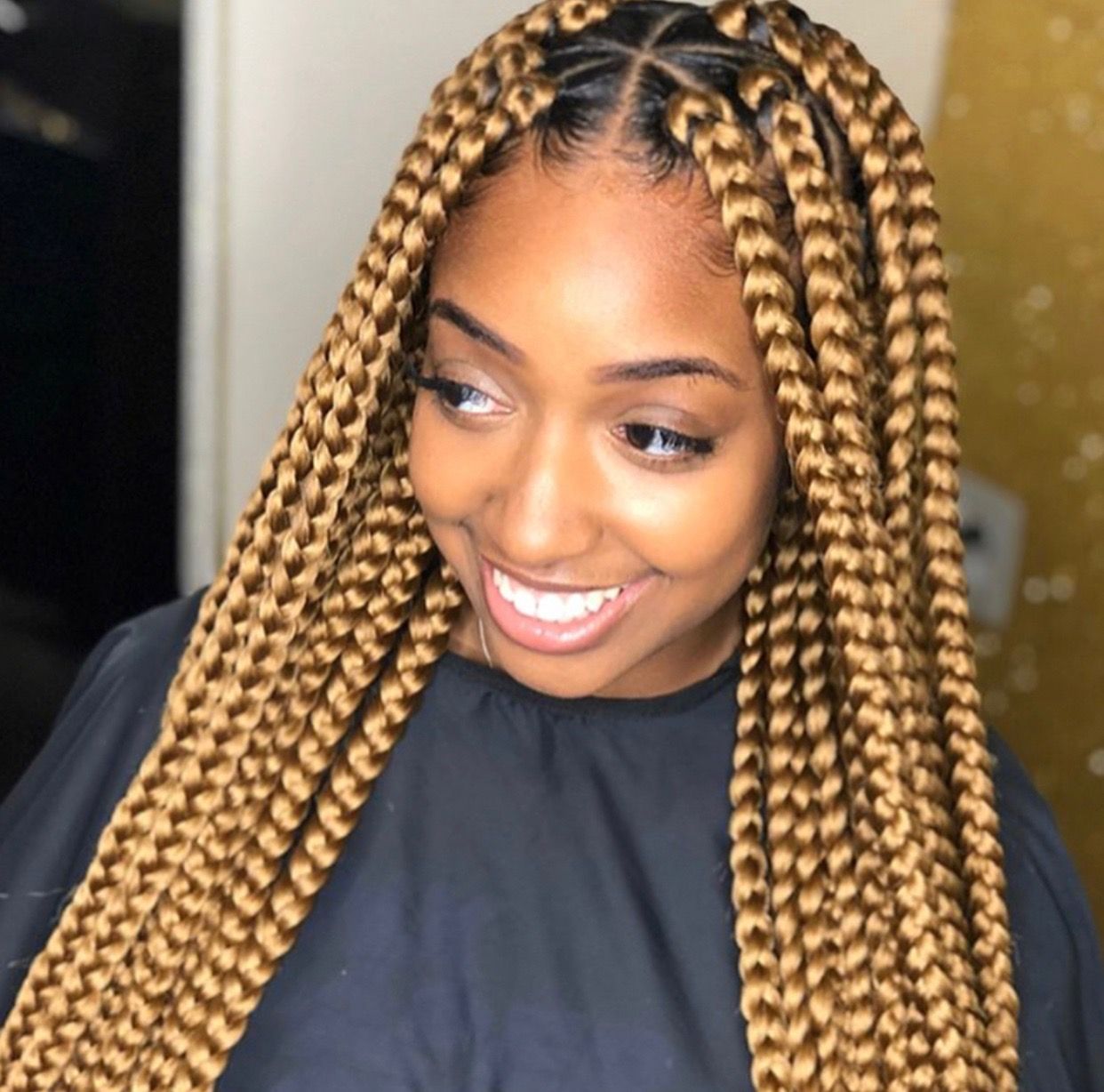 Another easy way to switch up your look and tune up your colour gorgeous look, you can be sure to match this with any outfit.
7. Mix Up Colour Jumbo Box Braid
Don't be afraid to mix match colours when it comes to jumbo braids, two tones of colour with this braid look super cool and fun.
8. Bob Jumbo Box Braid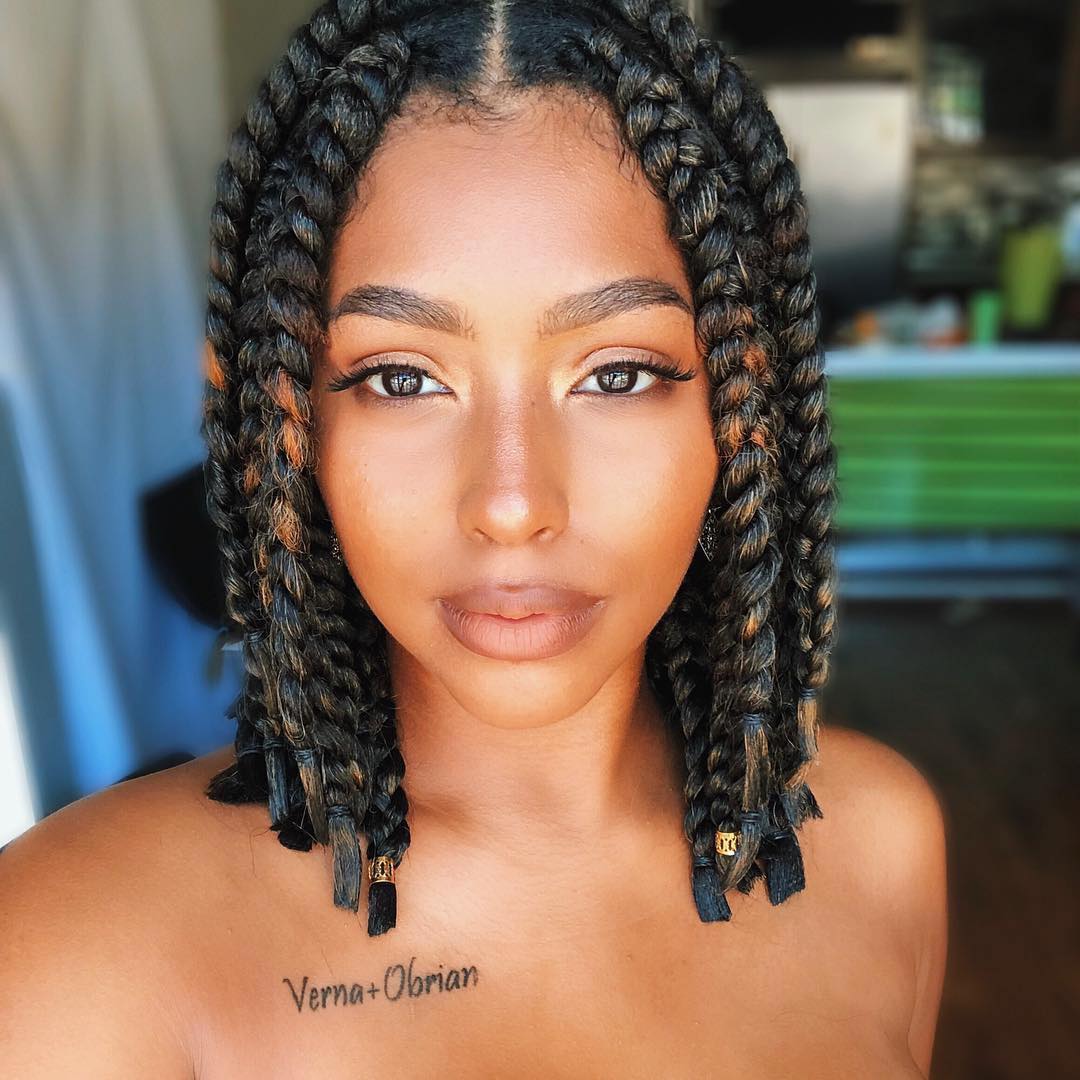 Bob jumbo braid is a splendid hairstyle for all kinds of occasion, this is fitting if you want a shorter length and all you need is to spritz your braid with a leave-in conditioner to keep it hydrated.
9. Lemonade Jumbo Braid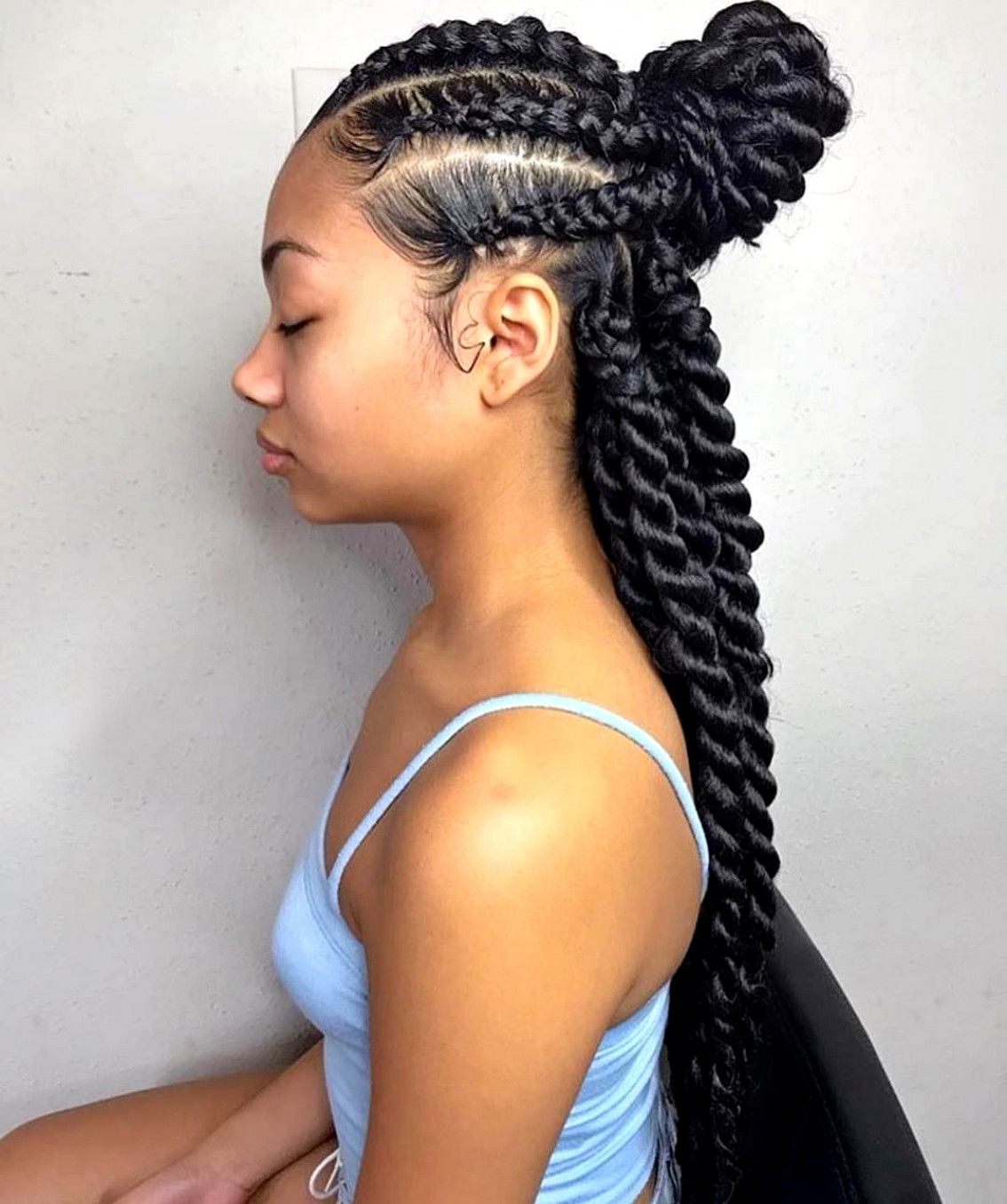 A lemonade jumbo braid is exciting for keeping your transitioning hair under wrap and it is not overly dramatic.
10. Casual Center Parted Jumbo Box Braid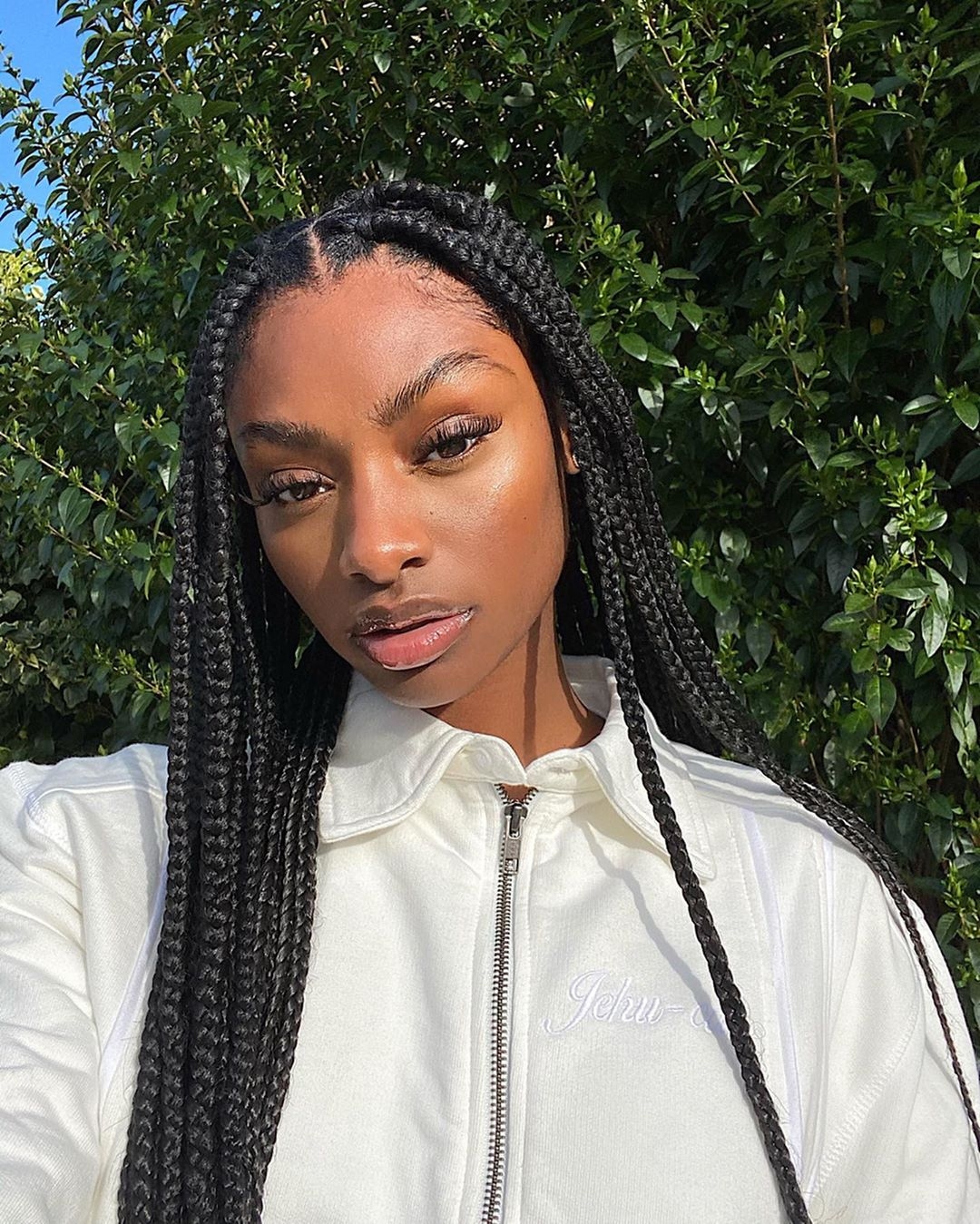 Want to look casual but glamorous? Then here is the perfect jumbo braid style you need to try.
11. Brazillian Jumbo Box Braid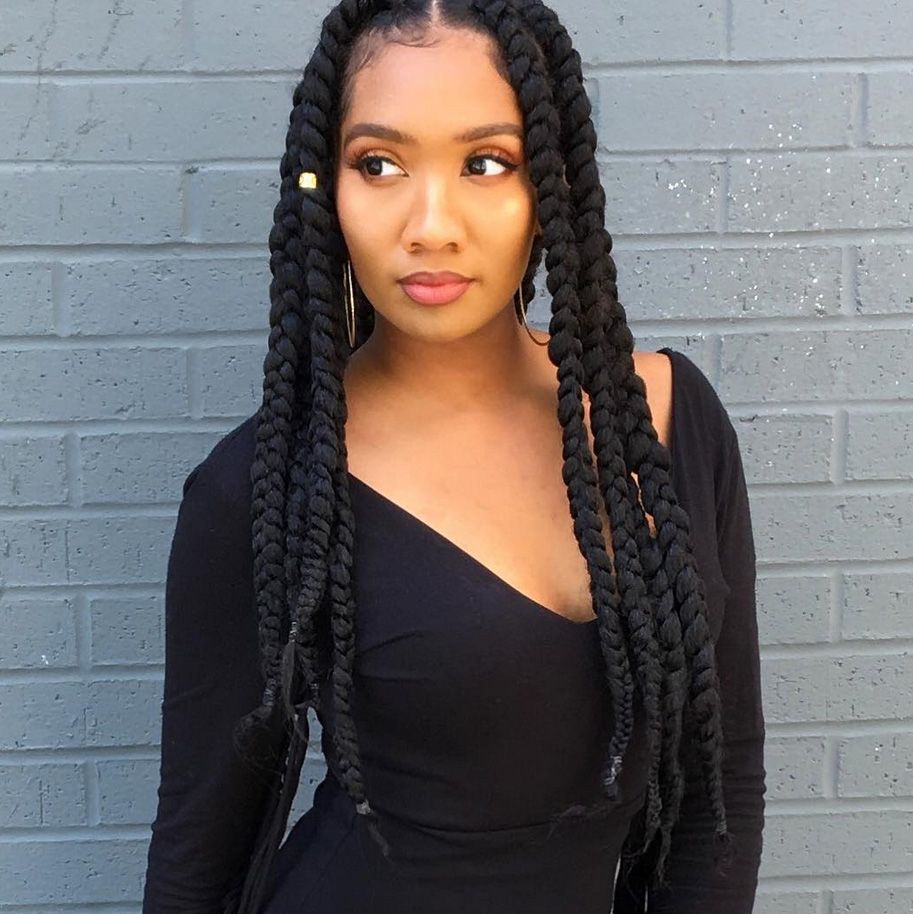 Braizzillian jumbo box braid is just what you need to keep your edges happy during summer, it's fancy just like a box braid should.
12. Thight Jumbo Box Braid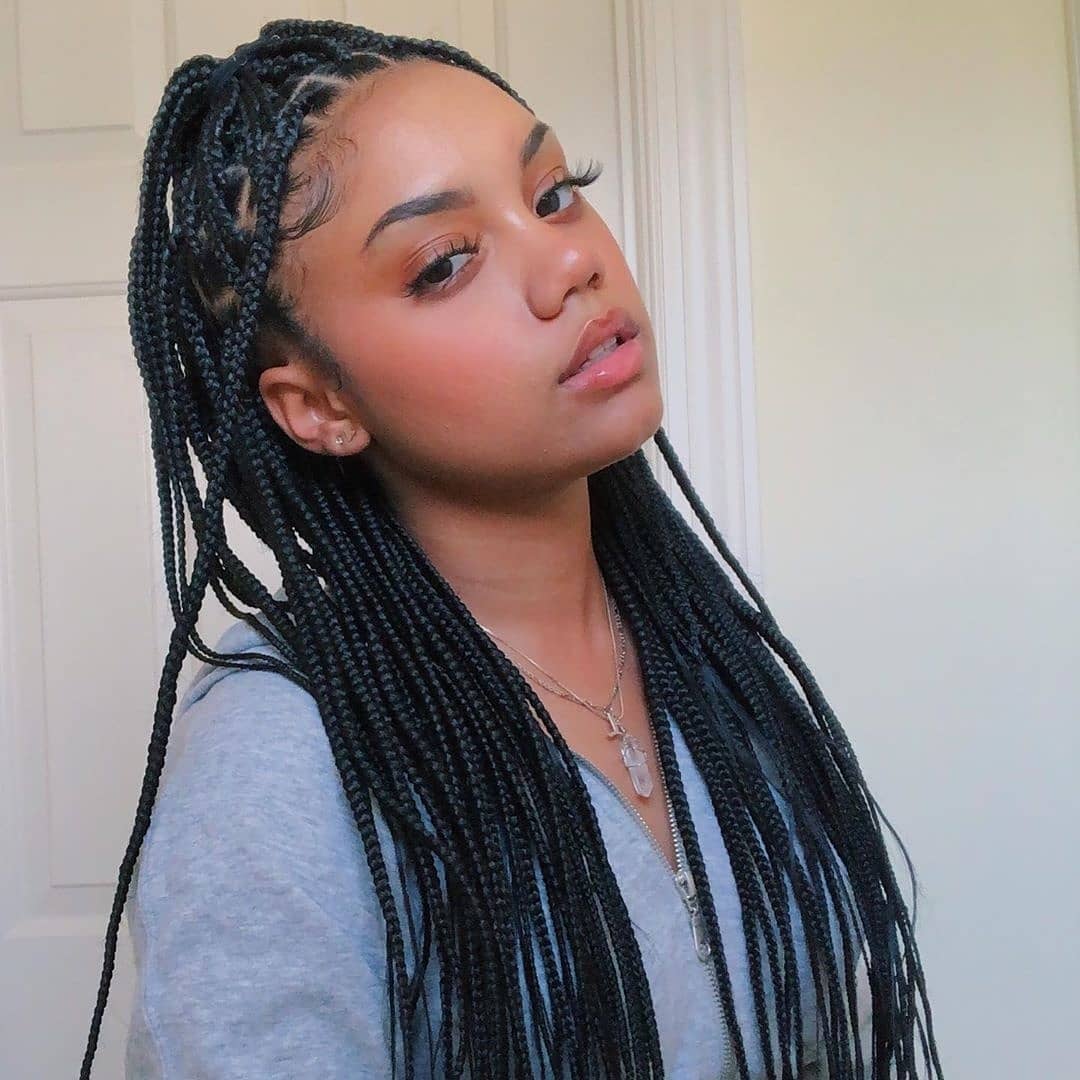 This is also one jumbo box braid we found trendy and beautiful for all season.
13. Side Swept Jumbo Braids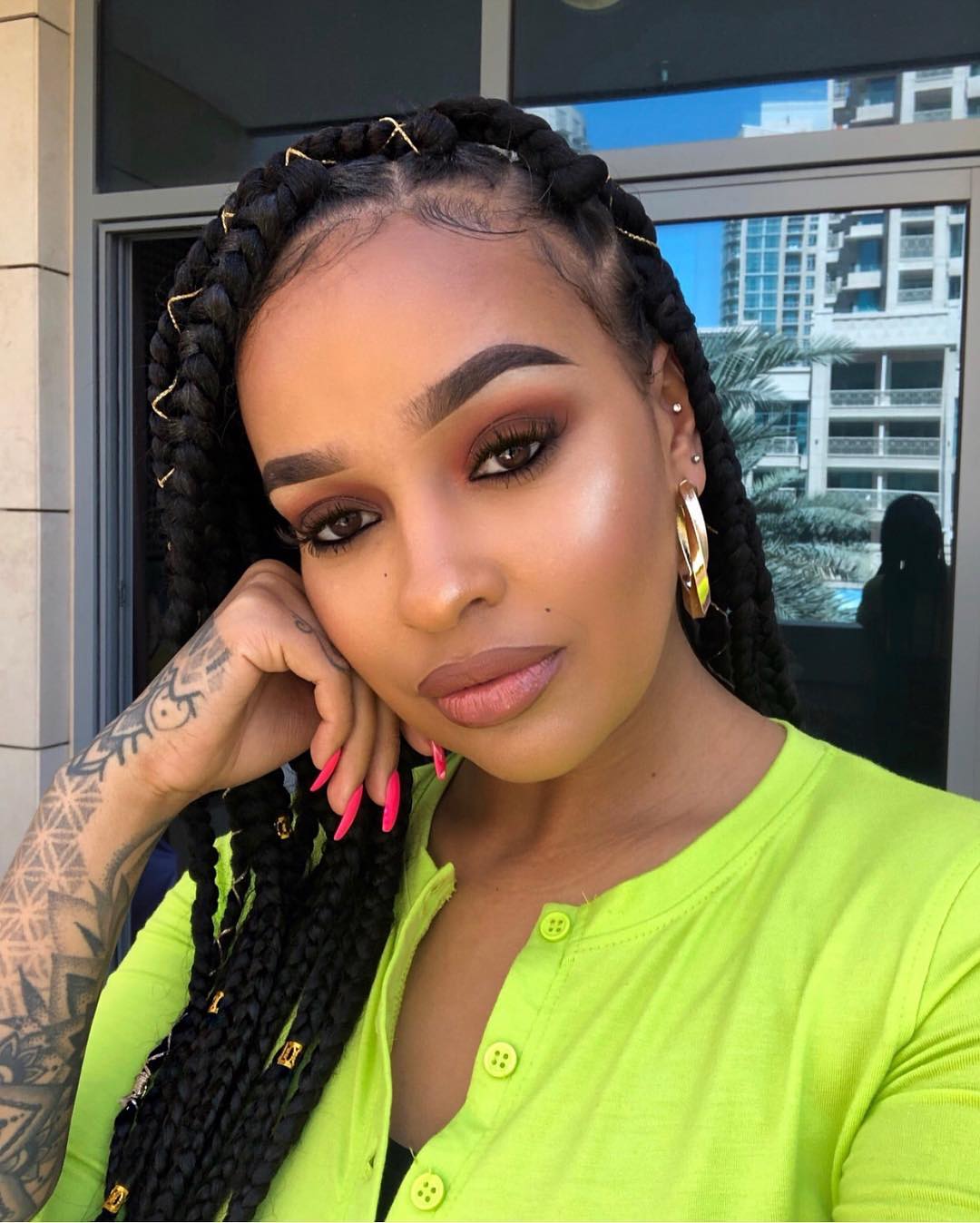 This side-swept braid is literally everything beautiful about a jumbo braid, this can be adorned with beads and some gold accents like cuffs and threads.
14. High Up Ponytail Jumbo Braid Styling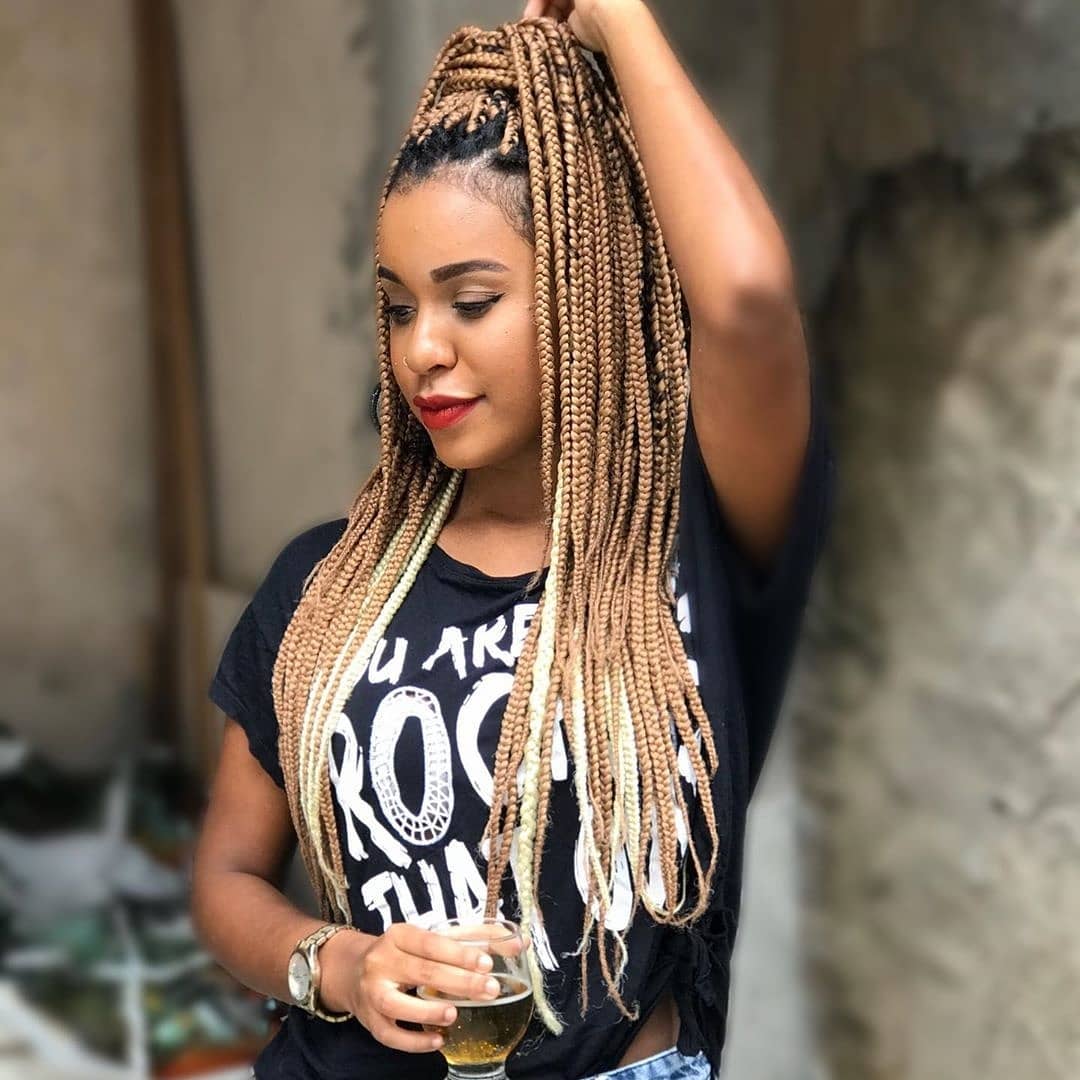 Keep it formal and lay off your edges with a non-flaky edge control gel.
15. Light Brown Jumbo Box Braids
This is the perfect shade for your jumbo box braid if you want to take a break from the regular black braid and it's calm and casual which makes it subtle but fresh.
16. White Jumbo Braid
Forget your messy hairstyles and take it up a both with white extension for a jumbo box braid, this is simply stunning and fitting if you love cool colours.
17. Ombre Jumbo Braid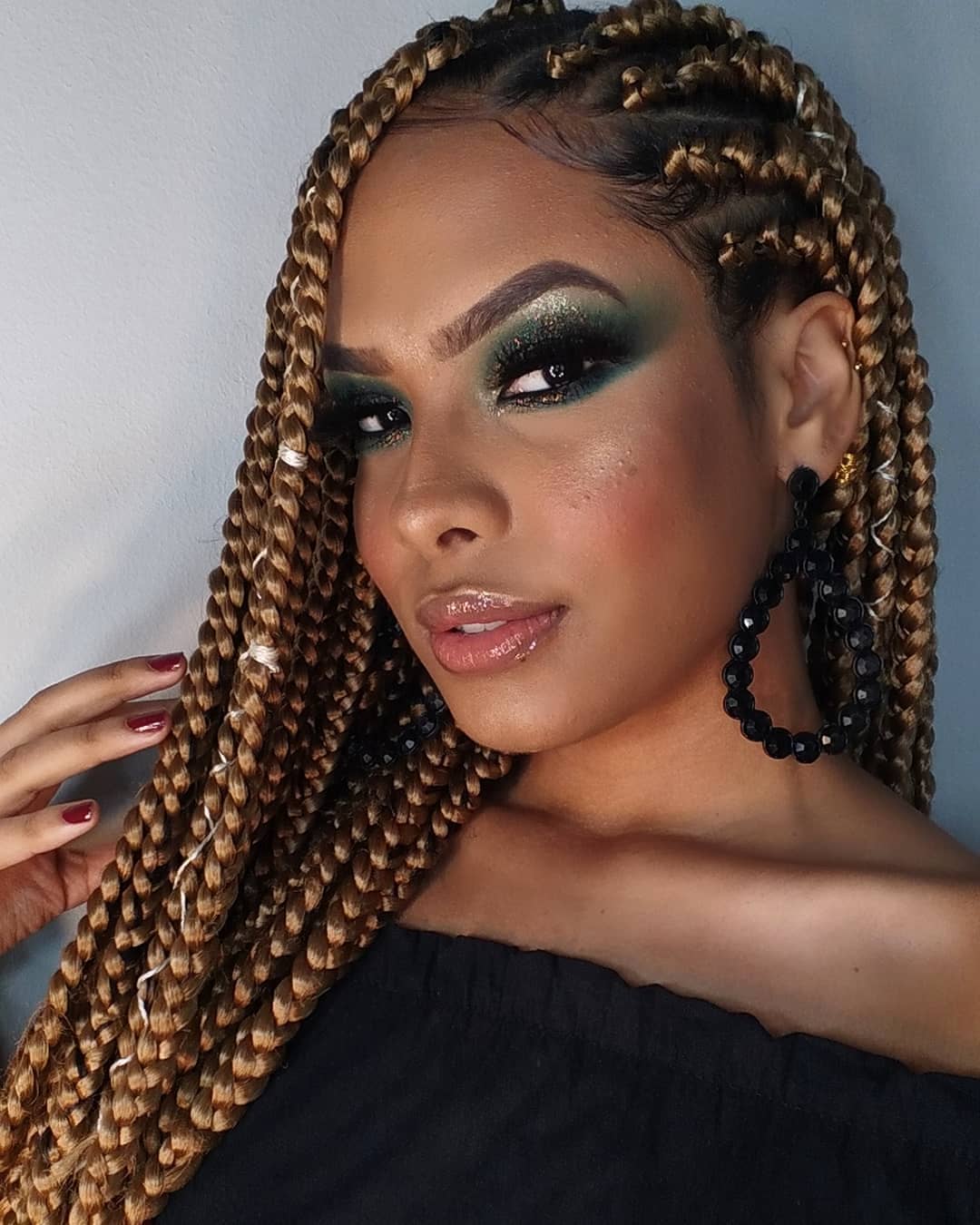 Another amber braid you might want to give a try.
18. Mix Coloured Jumbo Box Braid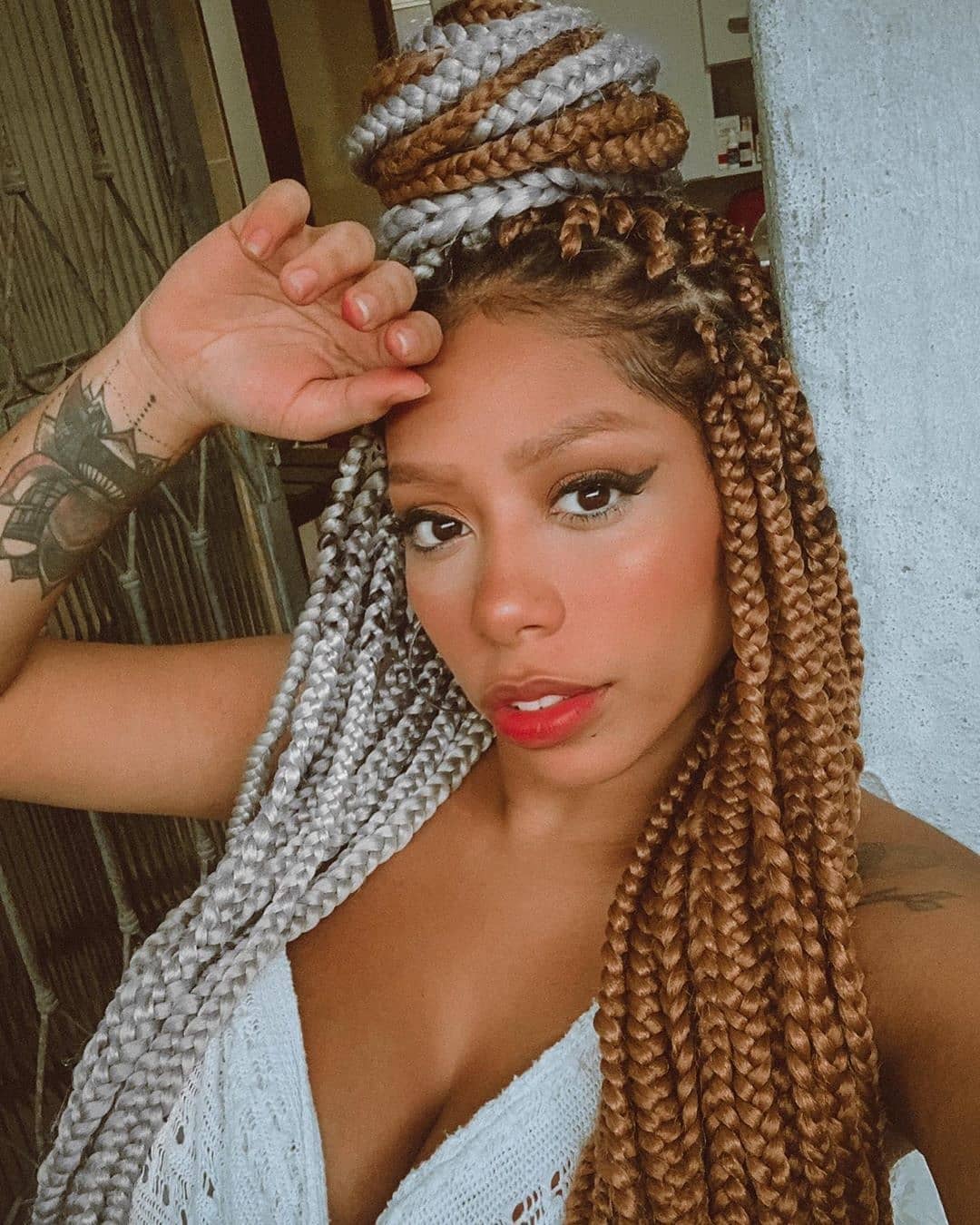 Rock you jumbo box braid with highlighted colours that can't be missed. This can be paired with any outfit.
19. Short Jumbo Braid With Gold Thread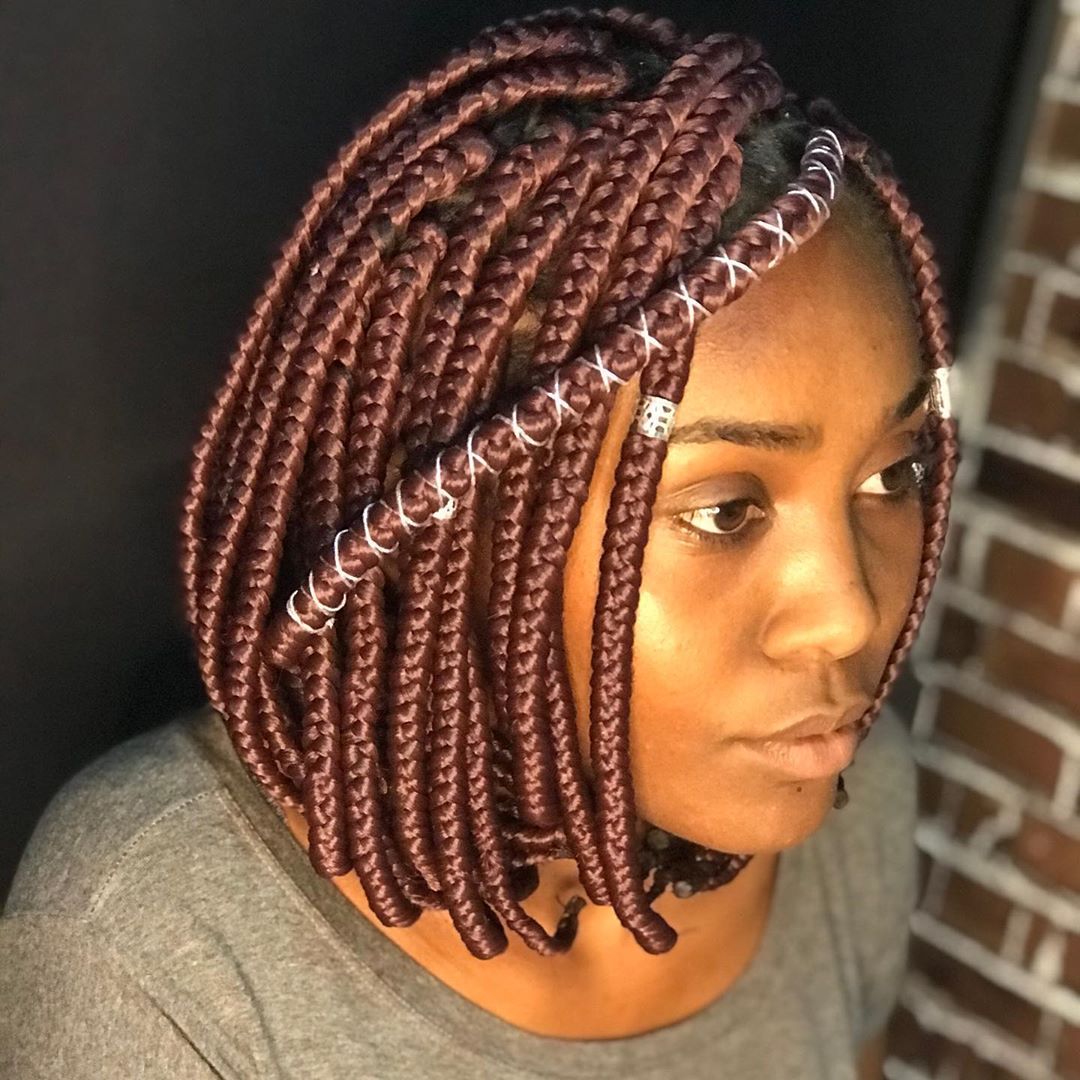 If you are looking to make a difference with your short jumbo box braid, wrap a gold thread around a couple of your braids for a cool accessory look.
20. Shimmery Jumbo Box Braid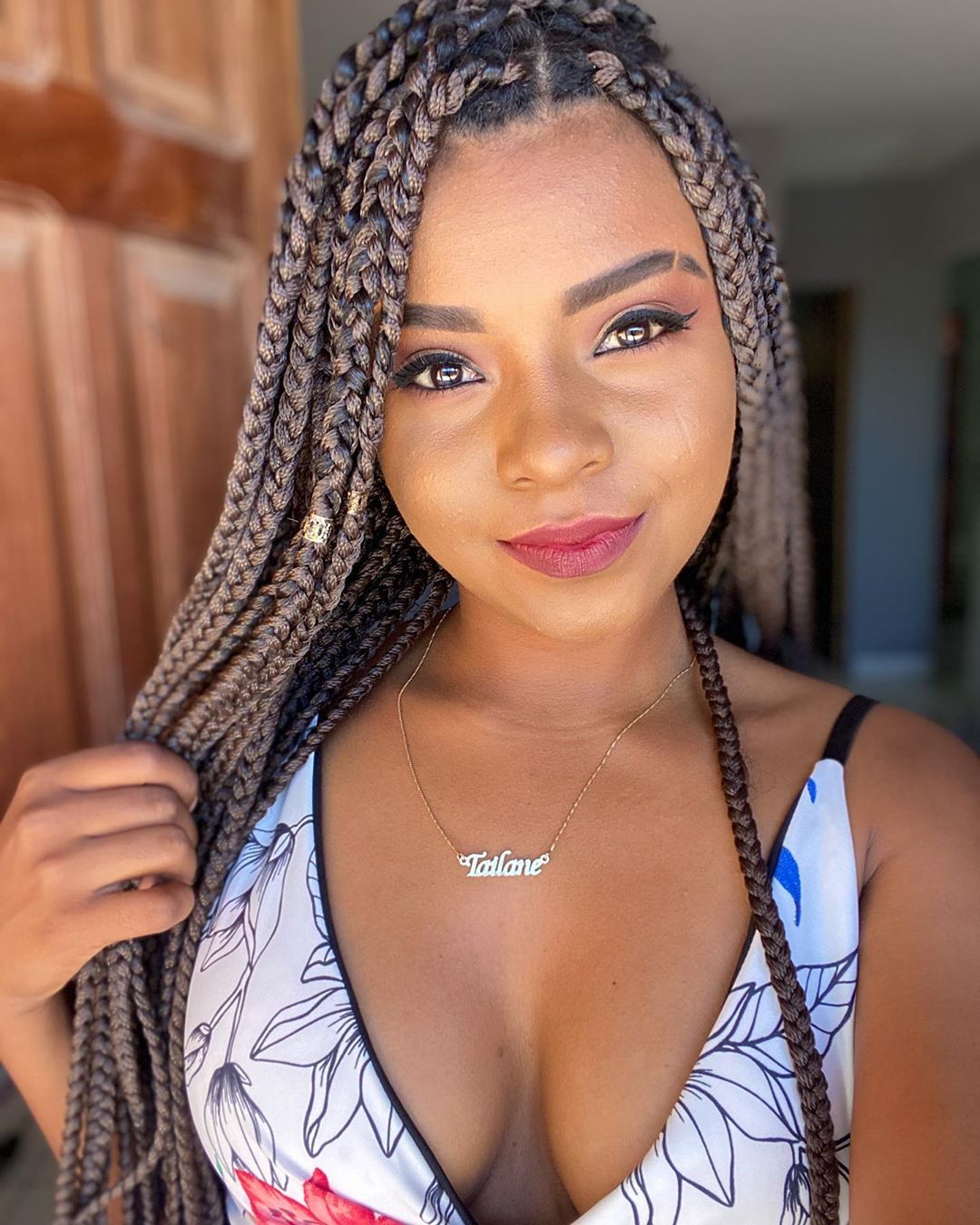 This is also shiny and suitable for a shimmery makeup.
21. High Bun Jumbo Braid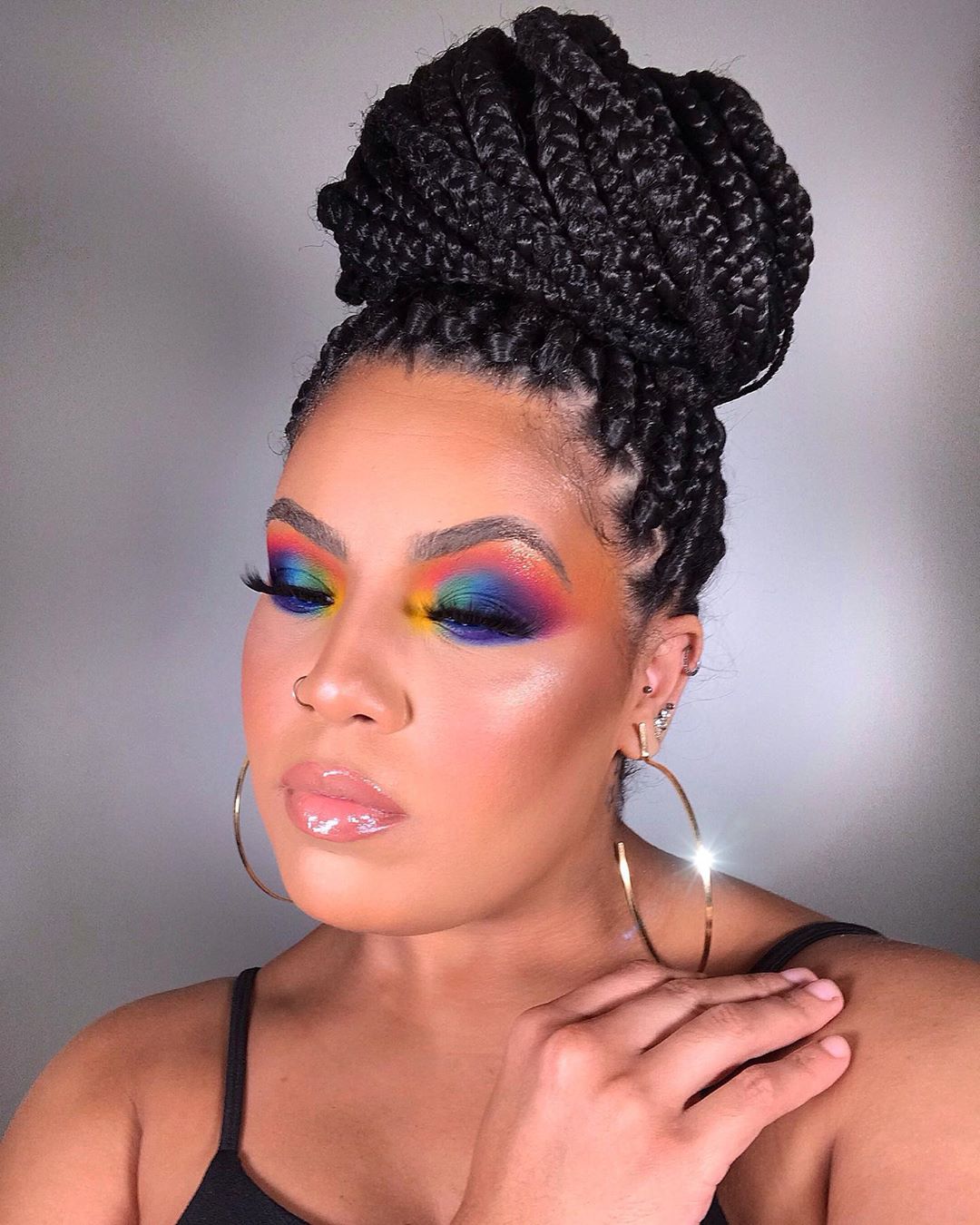 Throw your jumbo box braid into a top bun knot to keep it tidy and fitting for formal events.
22. Triangle Jumbo Box Braid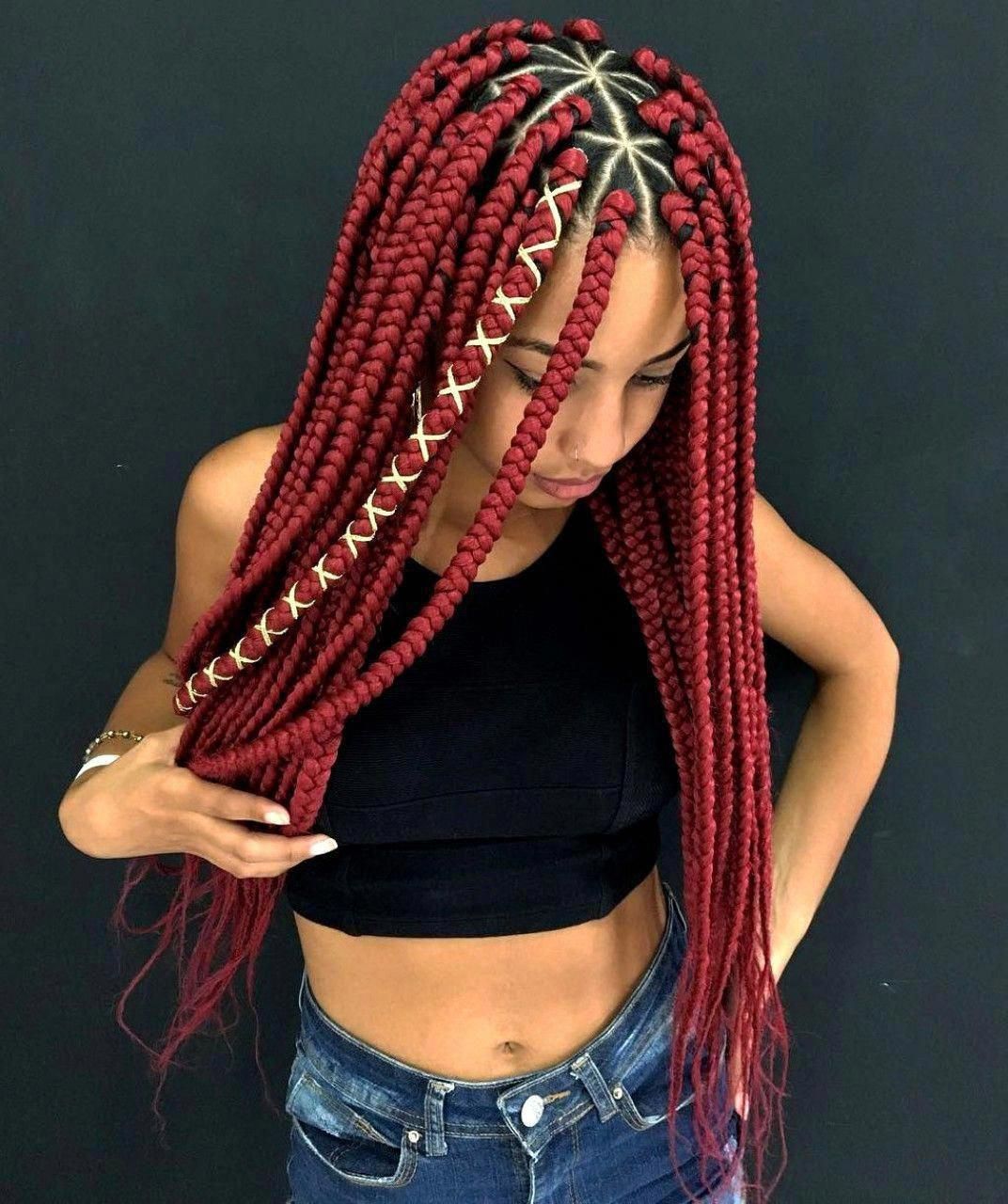 Triangle jumbo braid adds a more interesting feel to all kinds of braids. You can style this whichever way you want.
23. Long Jumbo Braid With Gold Cuff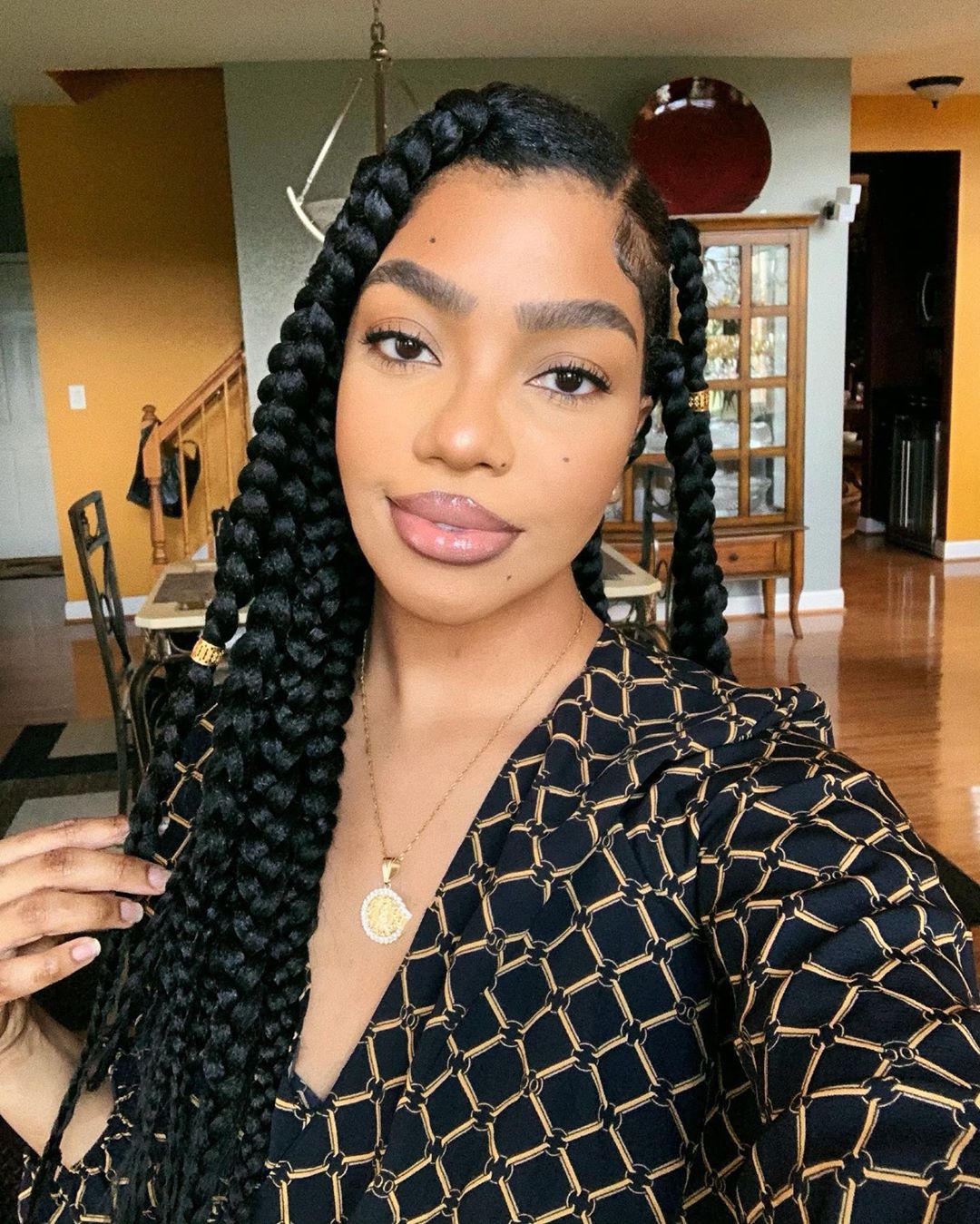 Here is a jumbo box braid that allow you to add some sparkle to it and style it in a high bun if you need to keep it in a tidy look.
24. Brown And Black Jumbo Braids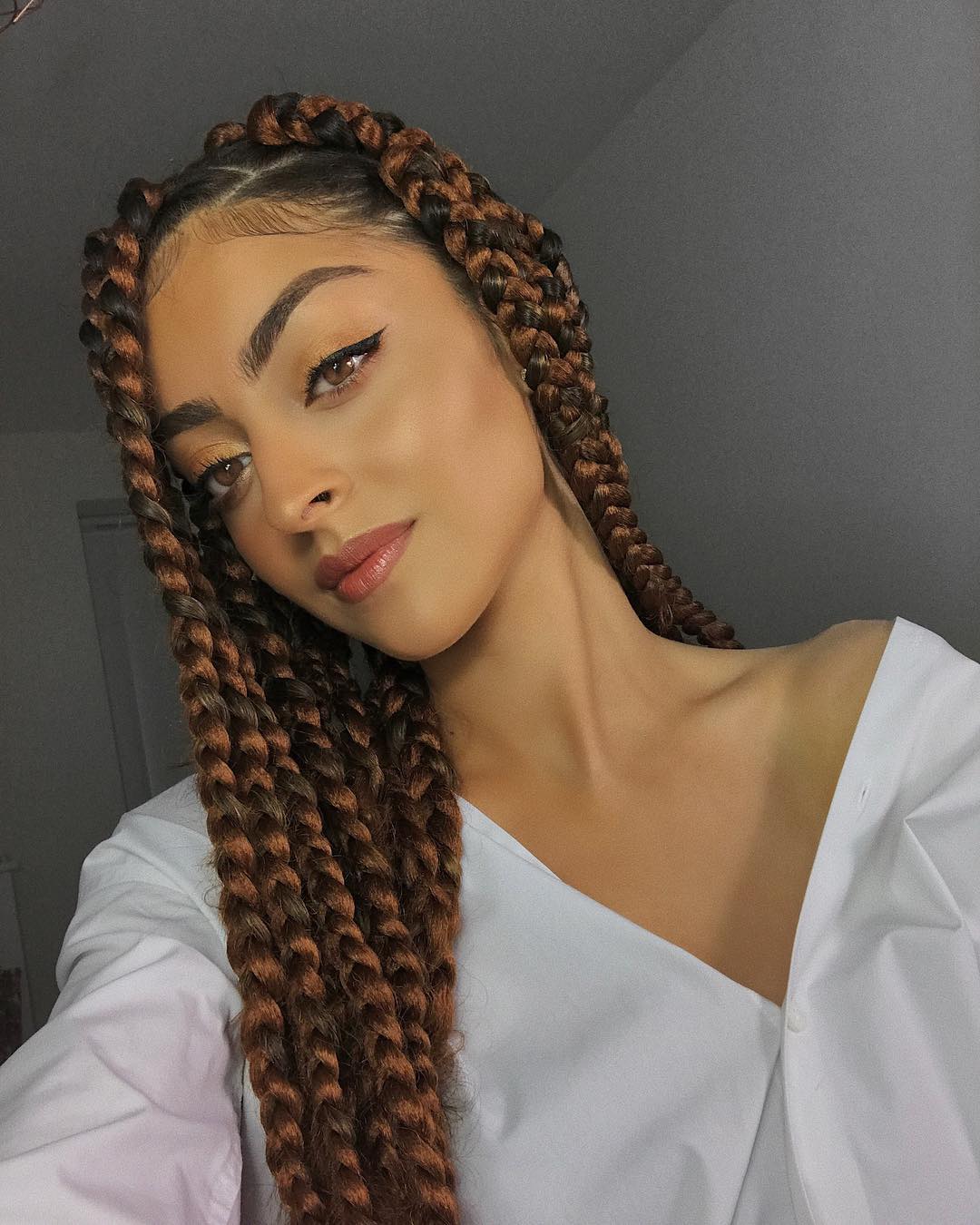 What could go wrong with the combination of black and brown for your jumbo braid, not only is this colour calm and beautiful but they also add another layer of dimension to your style.
25. Jumbo Braid In A Topknot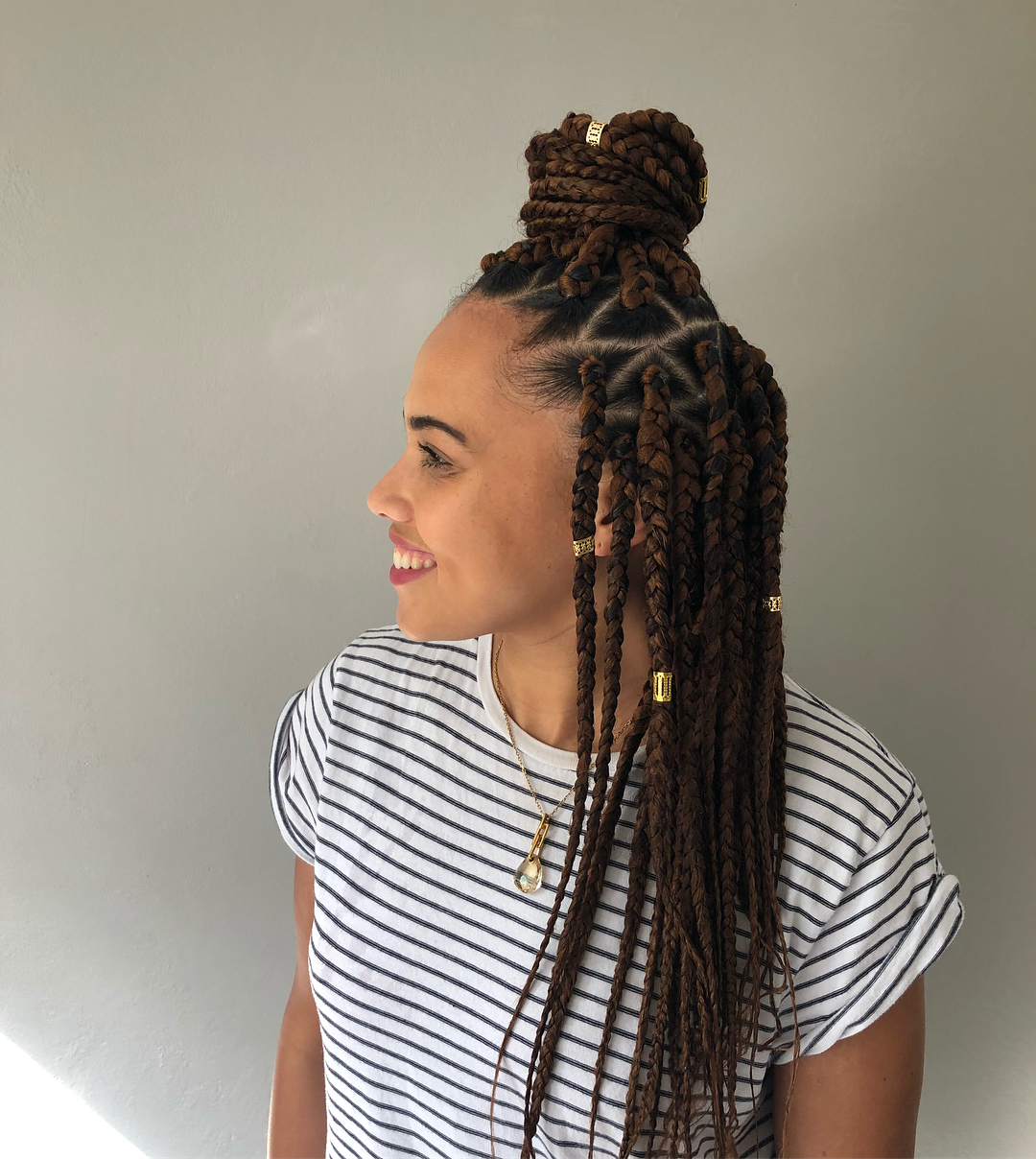 Time to throw your jumbo braid into a half-up, half-down updo for a tidy look and secure it with bobby pins. If you know you will be wearing your hair up a lot then you should have your hairstylist play with the angles of your part by giving it a triangle or round parting.
Conclusion
All kinds of shade are perfect for jumbo box braid, you should choose according to your choice in colour and how elaborate you want your box braid to be. Jumbo box braids can last from 4 to 6 weeks and this is the highest recommended time to keep your braid in. Make sure to keep your scalp clean and restore some moisture to the hair with natural oil and leave-in conditioner after washing your braid.
Read more on box braids: