Want proof that braids on white girls look absolutely gorgeous?
Braids are a way to change your usual look to something more exciting and lots of American celebrities are now showing up at red carpets with braids either with or without extensions and you shouldn't be an exception so if you have any doubt about braids looking good on you.
We have compiled 17 beautiful braids on white girls to convince you otherwise.
Apparently, braids on white girls are in trend now, and you are not if you are not joining that trend because you worry it might be damaging to your hair, then they are simple braids you can make to avoid that.
Finding the right inspiration for white girls braid is not easy, mainly because you have to be sure it looks good on you and your hair color does not make the braid look too cheesy and full.
Your hair color should not stop you from making the hottest and trendiest braids, short hairs won't look bad with any of these braids either.
17 Hottest And Trendiest Braids On White Girls
These braids are ideal for girls who want some adventure with their hair, some bold and interesting. Braids can be styled with ease and here are 11 suggestions we have for you.
1.  Medium Box Braids
Box braids are a very interesting choice if you are new to braids and you want to keep your hair safe from breakage, box braids can be really fabulous, and easy to style. Box braids can be in any length but the common ones are with long hairs, can be done with any hair color.
Soft hair texture and scalp would make it neater but you need a stylist that is good at box braids.
2. Half-step Braid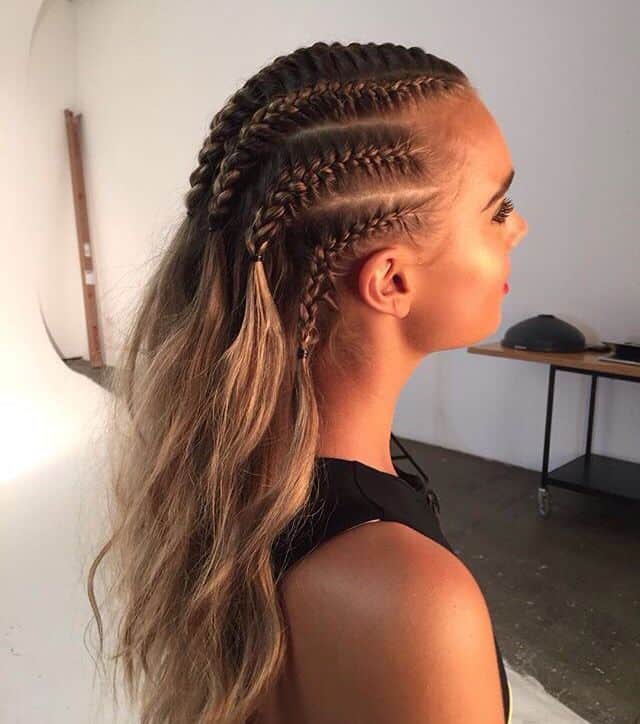 Braids do not have to be plaited with all of your hair, something easy and fast like a half-step braid will do just fine. The texture of your hair might determine how long this might last though, would become rough fast if you have a hard hair texture. The reason why most avoid half-step braid is that it can get the part of the hair not plaited tangled especially if you have curly hair.
3. All Back Braid
This is even more beautiful and trendy than the half braid, it is also simple and an interesting choice of braid for any hair color.  Extensions can also be added either at the tip or from the beginning to make the braid longer or colorful. All-black braids are perfect if you plan to attend a cocktail party or when summer is around.
4. Bun Braid
Bun braid can be a very interesting choice of style to make. it doesn't take much time and really nice when plaited by a good stylist, different styles can be made of bun braids, Extensions might not be needed to make this look really awesome though.
5. Double Bun Braid
Another fascinating thing about bun braids is that you can have a double bun and have them rolled or tucked in neatly. Double buns do not require many braids, just a neat line to separate the braids at the middle of your hair.
A double bun is not very common among the white girls because of hair color but if you want bold and different then you should go for it.