What are knotless box braids and what makes them so fascinating? Knotless box braids are becoming the trendiest form of braid for women, unlike regular box braids, the knotless braids are just knotless as the name implies, there is no bulge of hair stemming from the scalp and instead, the root is flat and smooth which gives it a unique and simple look.
Knotless braids look near to a regular braid, this is due to what is called the feed-in technique, it is a protective hairstyle to get for your natural hair.
The knotless braid method starts with your natural hair and gradually pieces of hair or extension is added to the braid as you go and this creates tension on the scalp thereby reducing the chance of hair breakage, knotless braids can last up to 4 or 6 weeks depending on how you can for and maintain them
Knotless braid is another variation of box braid and there are amazing styles for you to rock, this hairstyle has become really popular and this article contains a beautiful style that makes it so trendy.
30 Most Beautiful Knotless Box Braid Styles Trending Now
Everyone seems to be embracing the trend of knotless braid cause of its simplicity and less manipulation on your scalp, you can avoid the tugging and tightness that comes with getting a regular braid and instead choose a knotless braid and there are plenty of options to consider when going for knotless braids.
Here are 30 beautiful knotless box braids that are trending.
1. Big Knotless Box Braid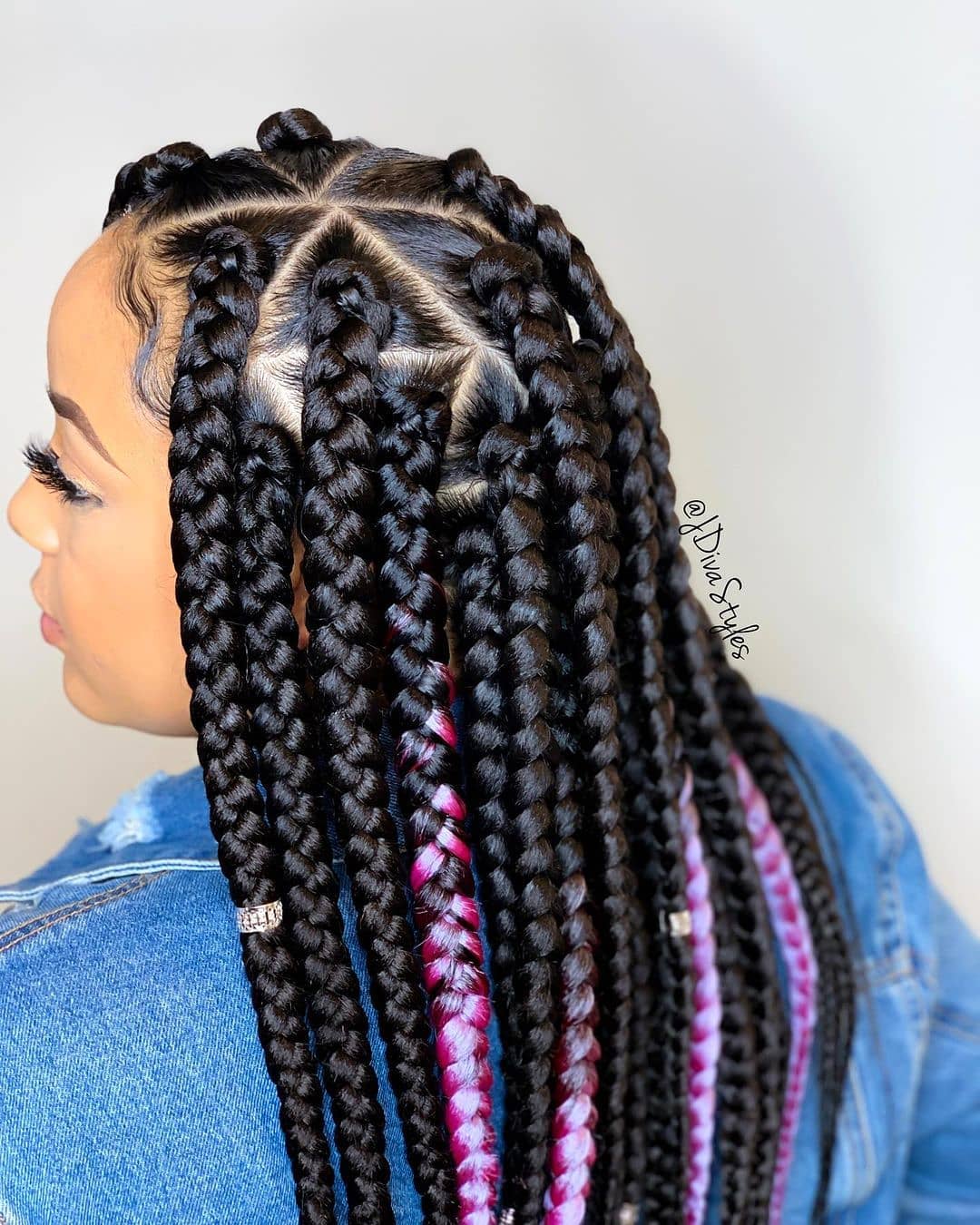 Image: @jdivastyles // Instagram
Not all ladies can sit for hours to get their desired look, but with this big knotless box braid you won't only get your desired look but you will as well save time and stress at the saloon.
You can as well mix with some colors for a more attractive look.
2. Baby Rocking Space Knotless Braid With Bead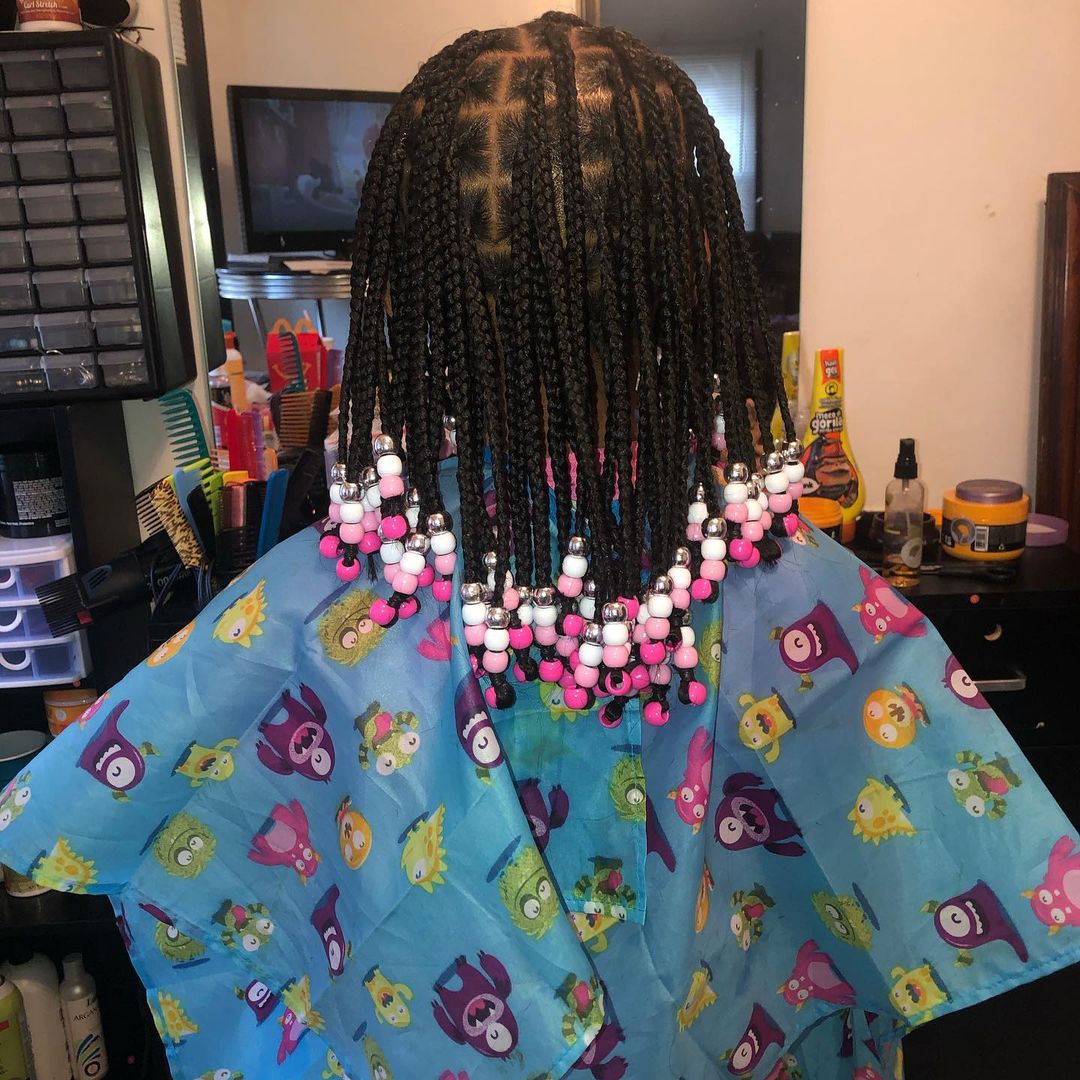 Image: @thebraidbar // Instagram
Knotless box braid isn't just meant for some set of people, both young and old can rock this hairstyle. Babies can rock with more hair bead for more amazing pronounced beauty.
3. Classy Shoulder Length Box Braid

Image: @braidsgang // Instagram
Classy shoulder-length knotless braid will go well on some ladies that don't like their hair long to avoid any inconvenience.
4. Gorgeous Knotless Box Braid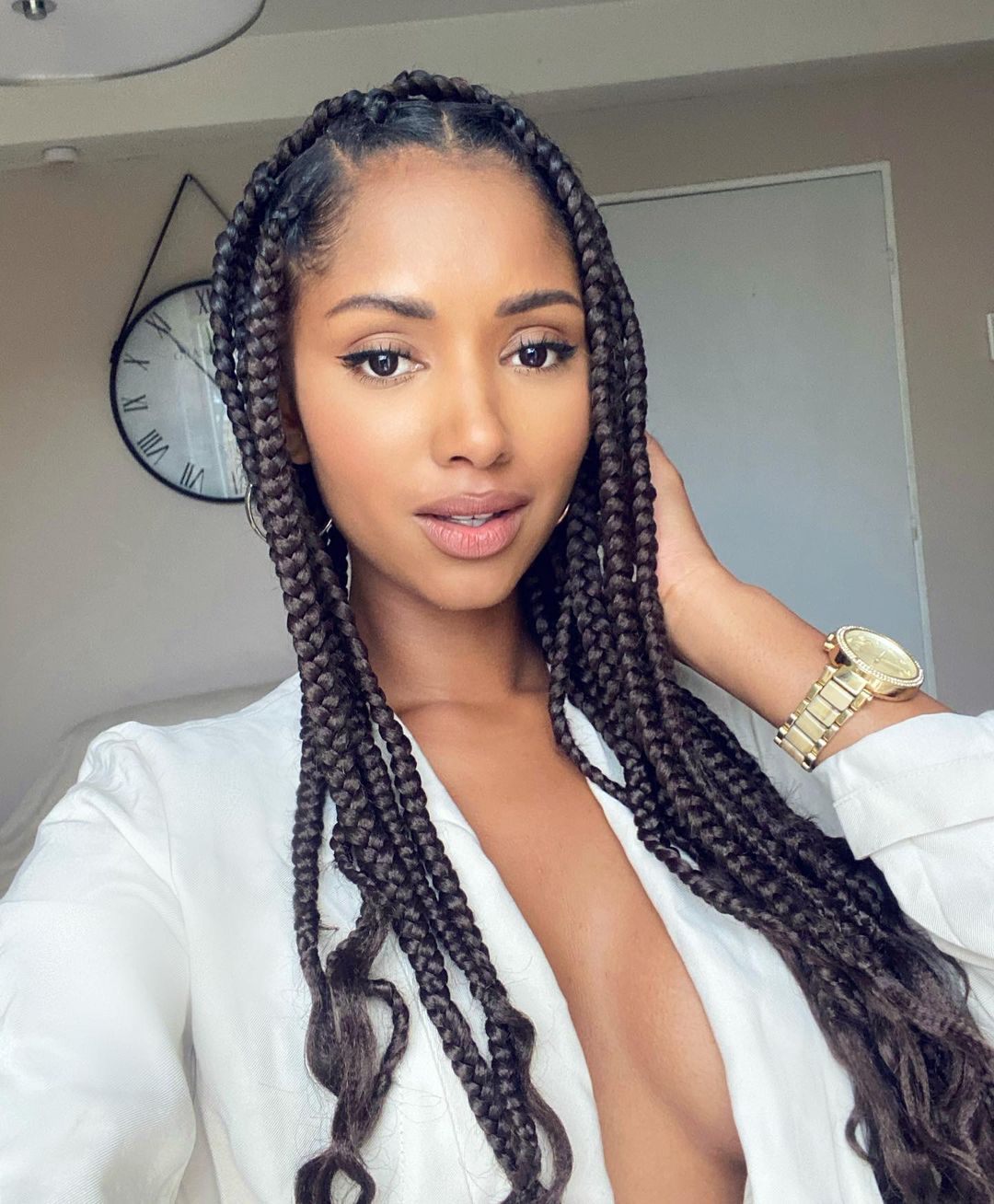 Classy knotless box braid that can be styled and rocked for that special occasion without thinking of what style to rock with it.
5. Long Knotless Box Braid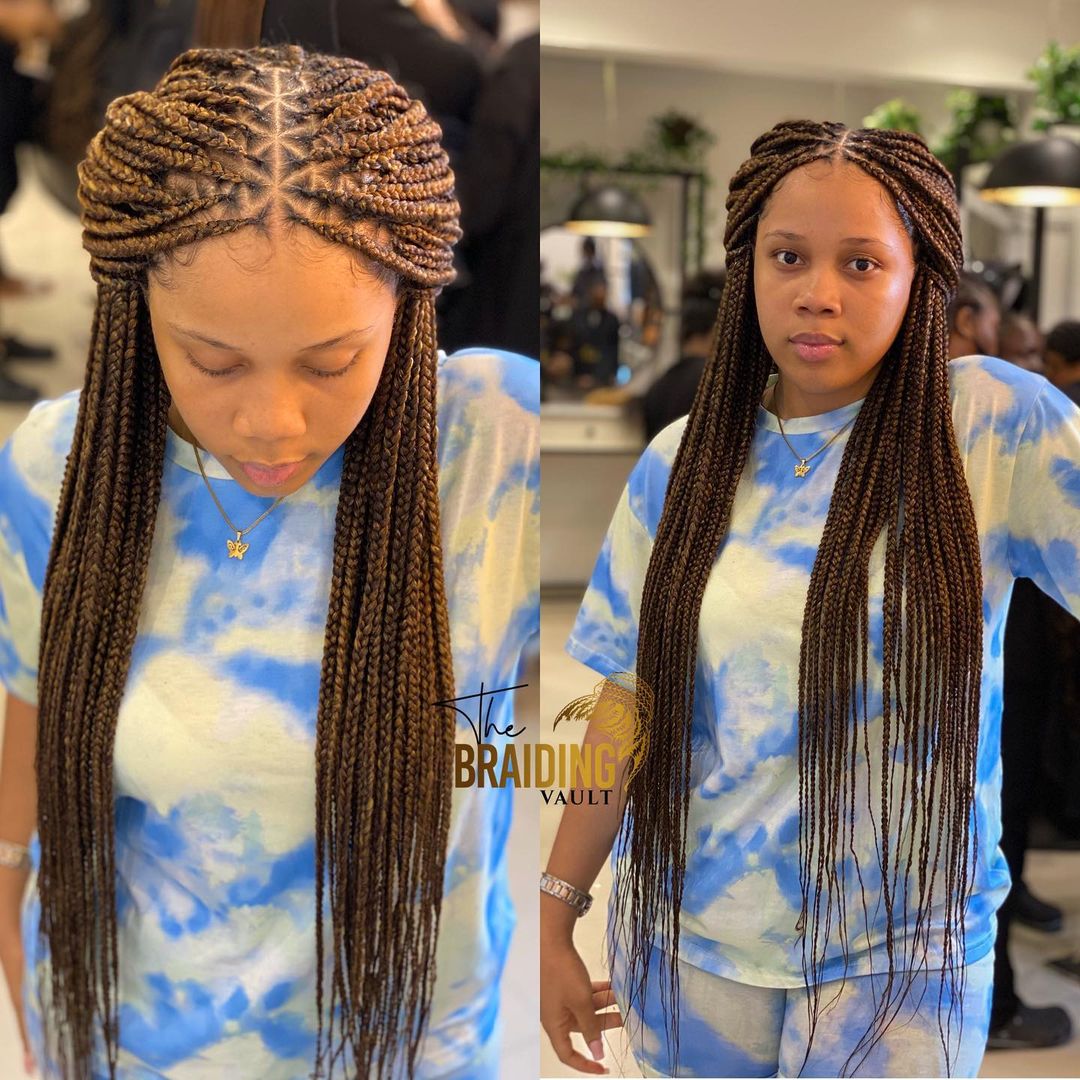 You sure can't go wrong rocking a knotless braid, you need the right hairstyle for a perfect girl date? Well going for a knotless box braid will be a good one.
6. Simple Knotless Summer Braids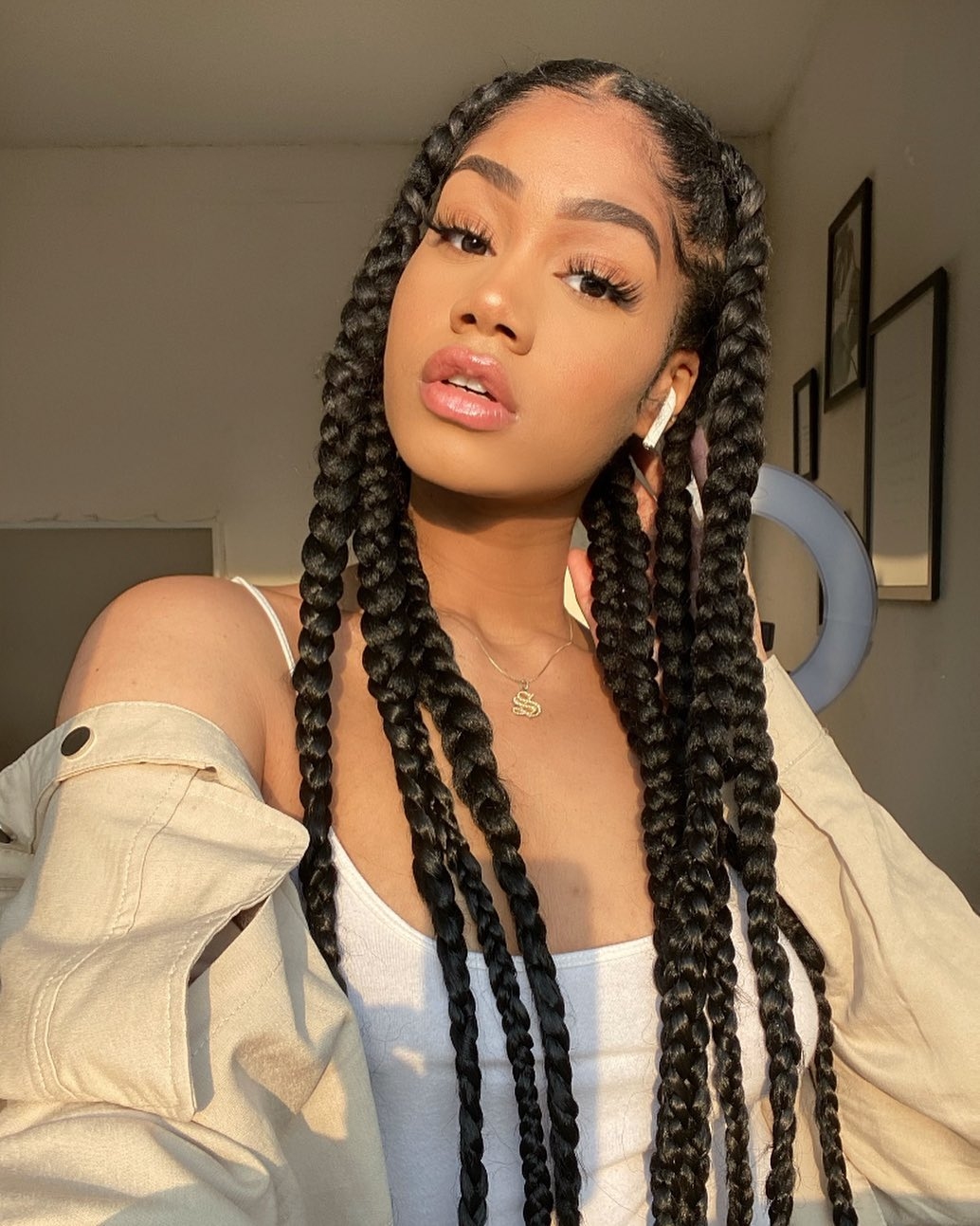 Knotless box braids are fitting for all kinds of season and weather but if you want to keep it elegant and simple for summer, above is a fitting hairstyle to choose from, you can have it packed into a bun to keep the hairs away from your face or simple let it fall while pairing it with a casual summer sunflower dress.
7. Stylish Knotless Box Braid In Ponytail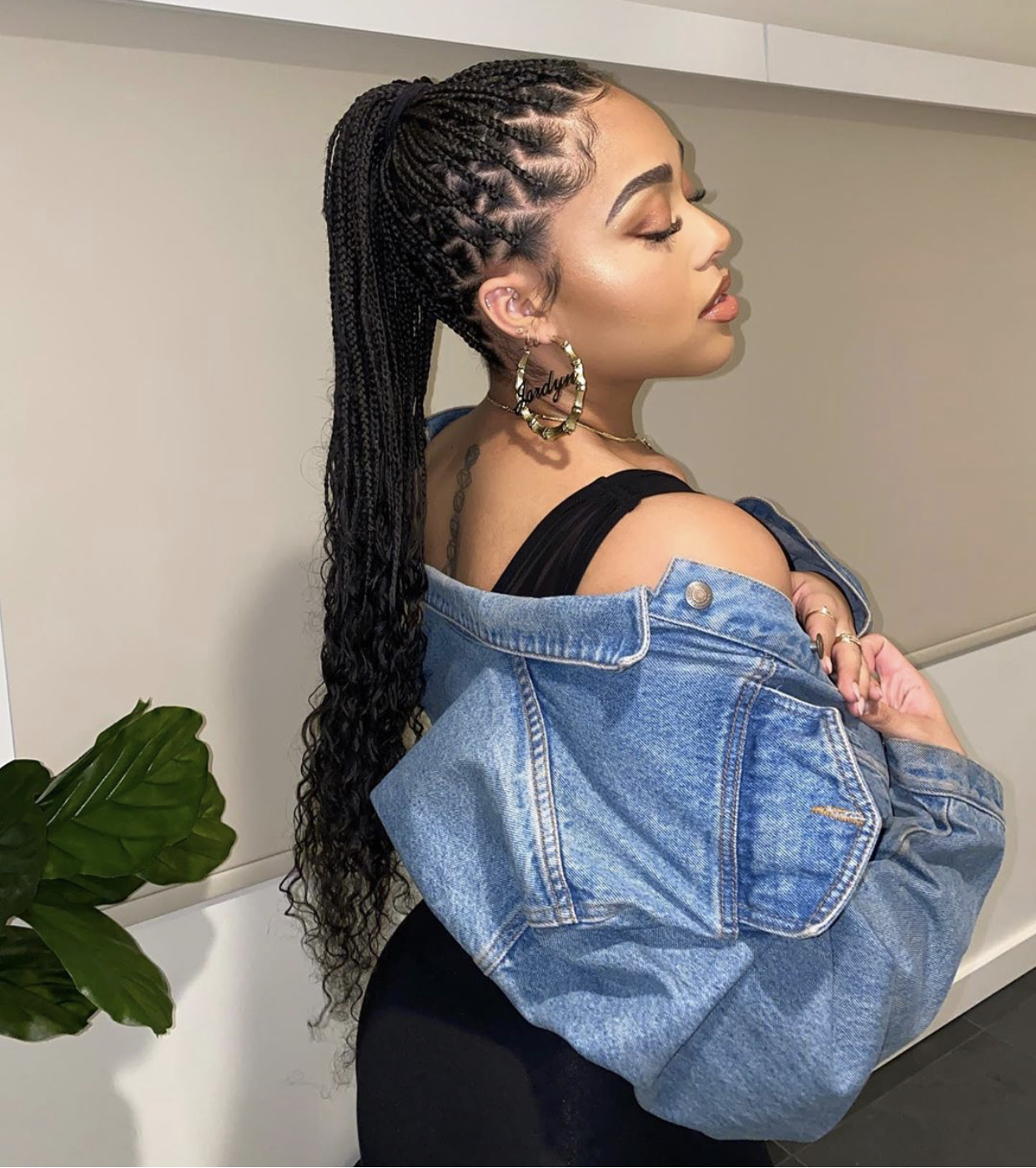 Getting knotless box braid means wearing a ponytail styling that doesn't drag at your scalp, it is very easy to style it without pulling it too tight, and leaving it loose adds more interesting loo to it. This takes more time though but really fascinating and fitting of any face shape.
8. Loose Knotless Braid
Beyonce is one of the celebrities who found knotless braid really exciting and trendy, this is a simple way to keep your natural hair in a protective style, it won't cause any breakage or scalp injury as it doesn't pull too tight and all you need is a professional stylist to helps you create it.
9. Tiny Knotless Braid With Side Parting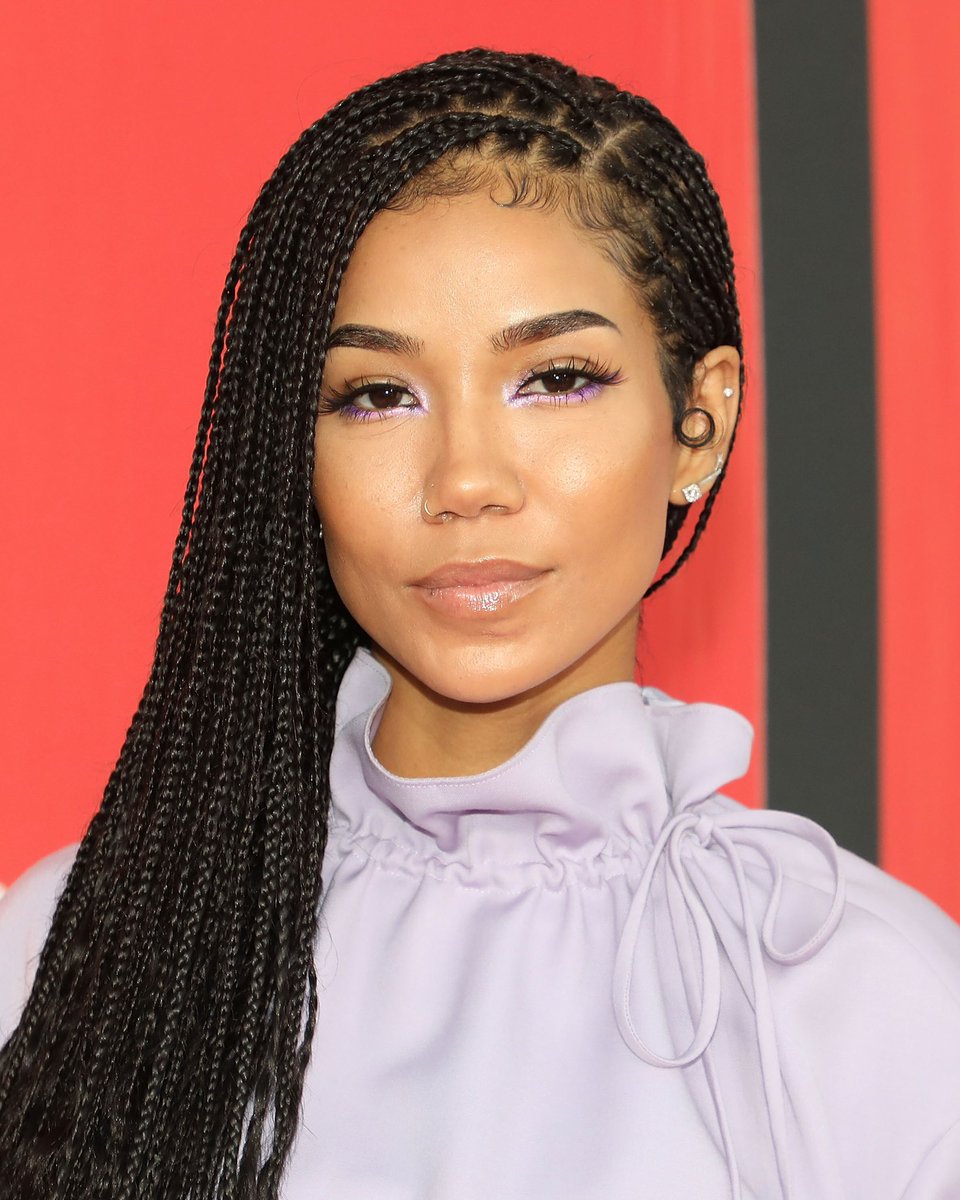 Jhene Aiko looks really gorgeous rocking this knotless braid and compared to a large braid, this could take time especially if an extension is added but it's a trendy and beautiful hairstyle for the red carpet event.
10. Rainbow Knotless Box Braid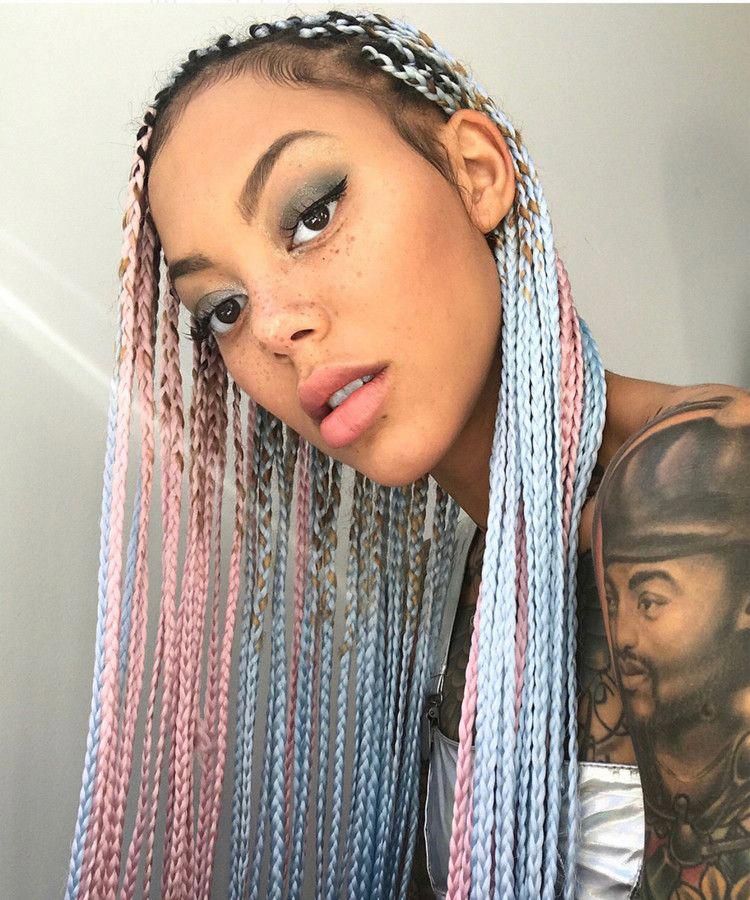 If you love it all colorful and fun then above is a color combination you can try out, this is fascinating and not too dramatic too.
11. Knotless Box Braid With Deep Parting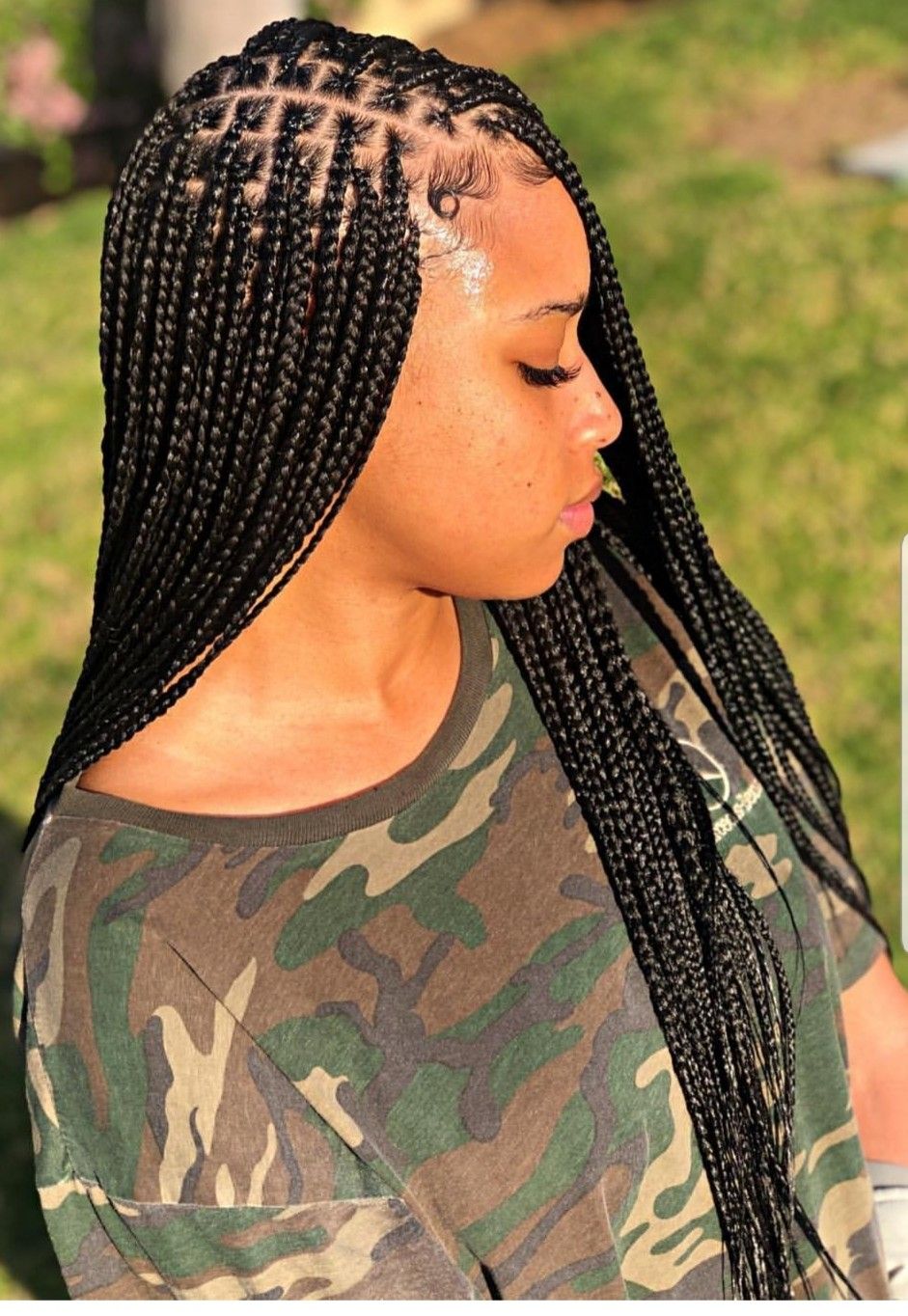 Most women like their braid all flowing around them and if that is the case then this is the best knotless braid to get, the deep parting adds some edge to it and you can style it into a double bun or ponytail if you want.
12. Knotless Box Braid With Loose Braid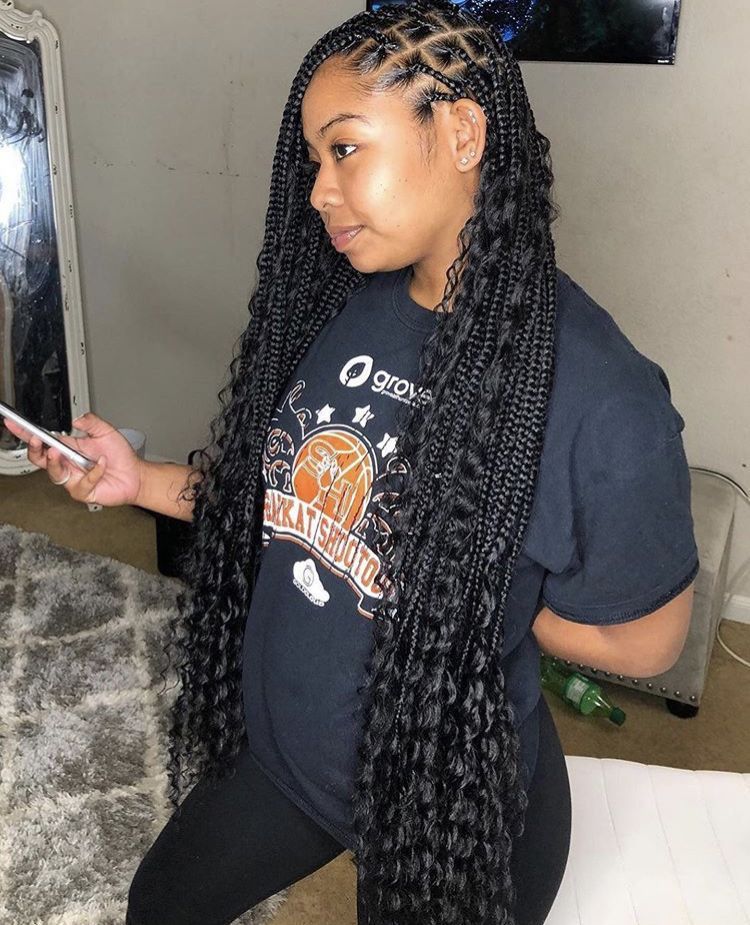 Combining loose braid with knotless box braid is another trendy way to wear a braid, you can style this any way you want.
13. Space Knotless Box Braid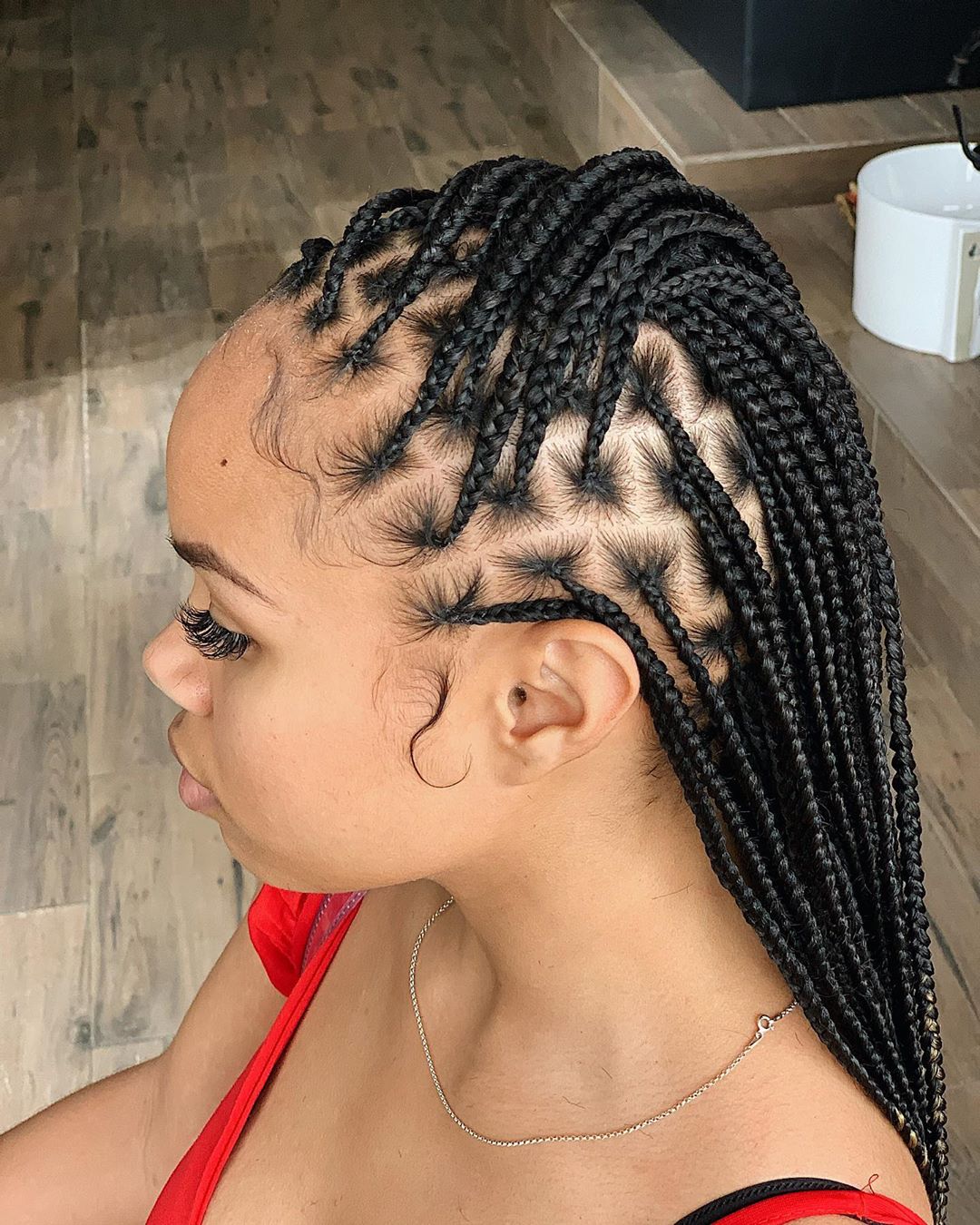 Let your scalp breathe with space knotless braid, you can easily keep your scalp clean with this form of knotless braid and it's fancy as well.
14. Triangle Knotless Braid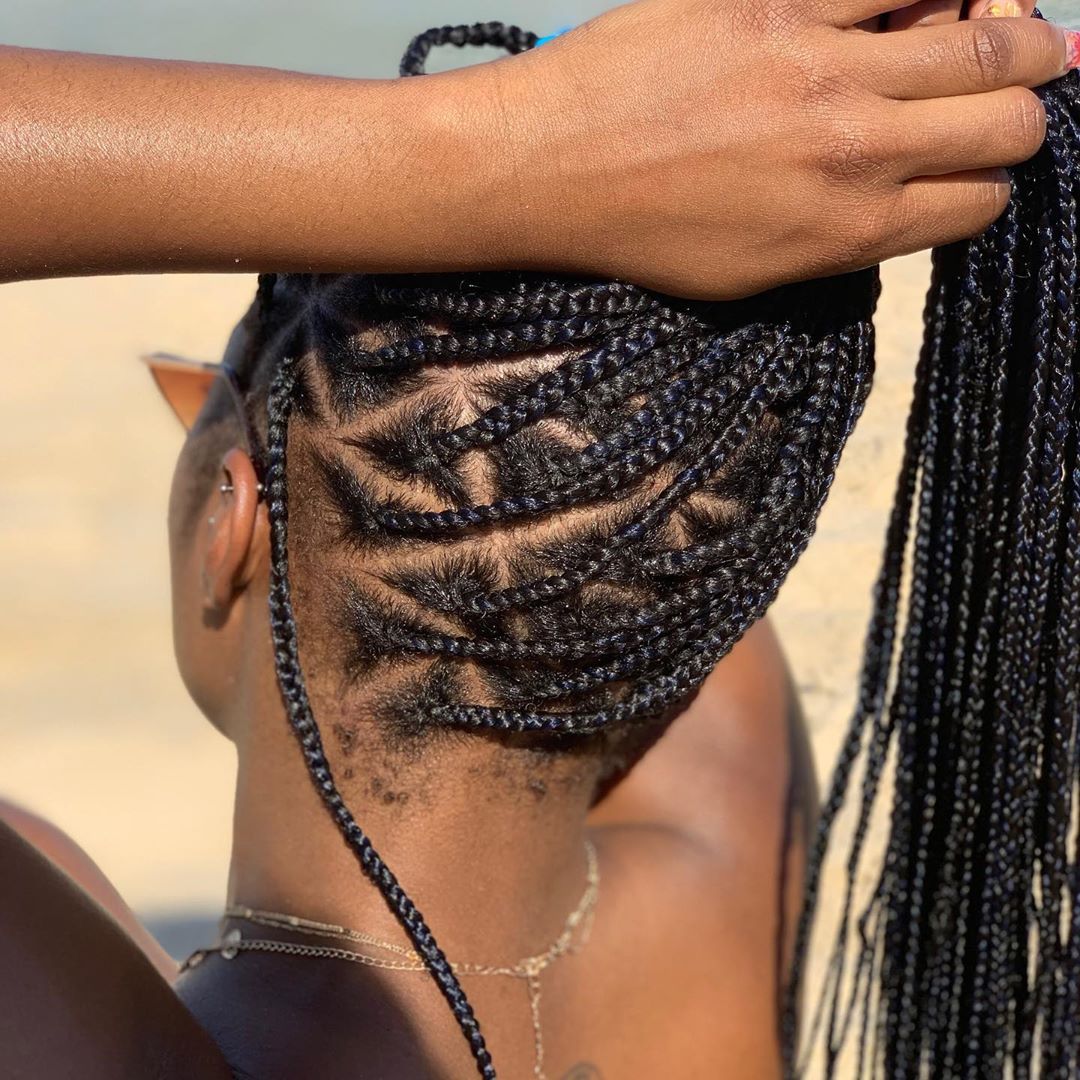 Another way to keep it simple and interesting is the style above, every knotless braid would give you a chance to keep your scalp clean and a triangle parting is just fitting for that.
15. Classy Knotless Box Braid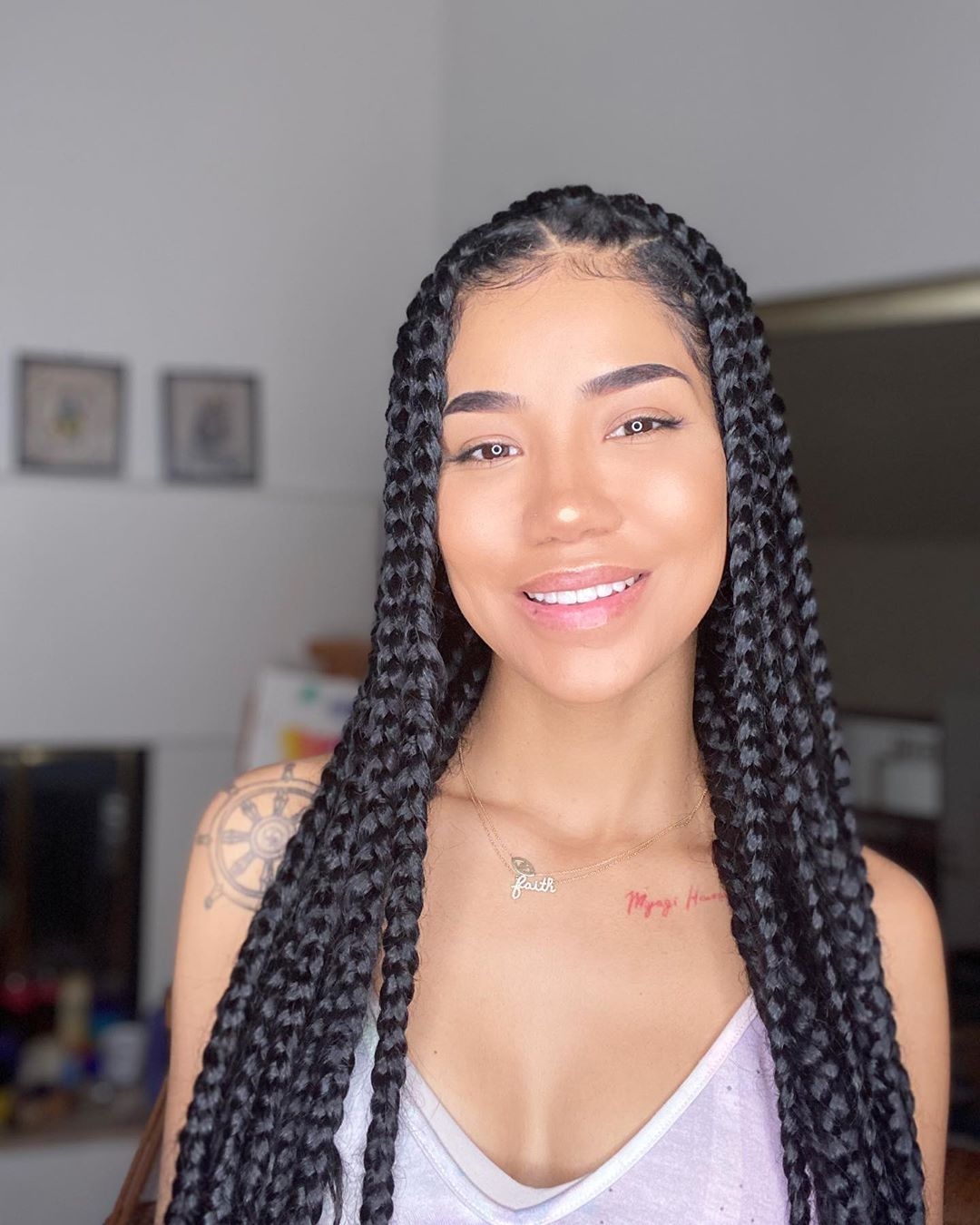 Classy knotless box braid is stylish, effortless and just like every style of knotless braid, it is beautiful.
16. Dep Ombre Knotless Box Braid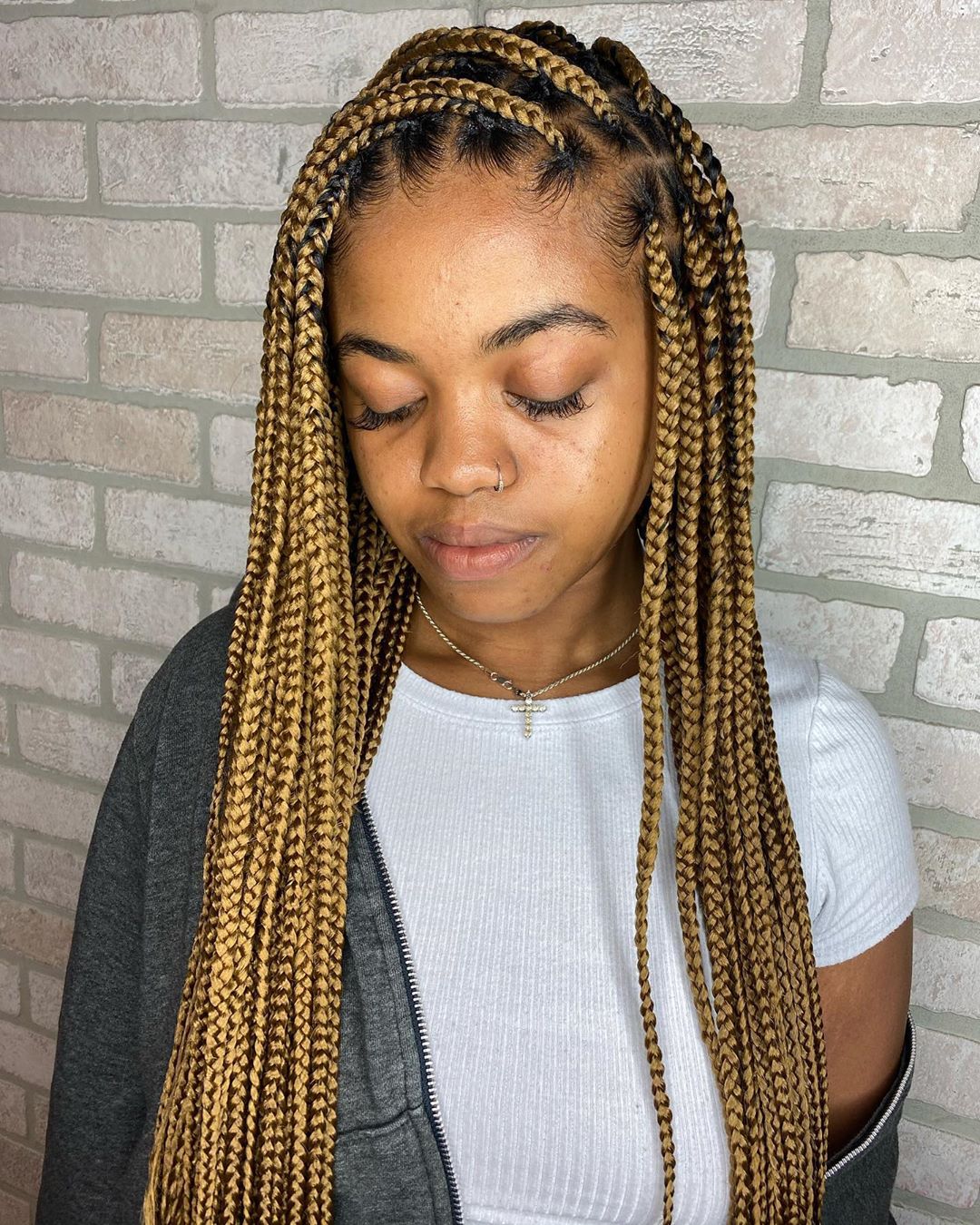 A cool ombre color for your knotless braid is perfect for spring and you can protect the ends of your hair during this period.
17. Rock Knotless Box Braid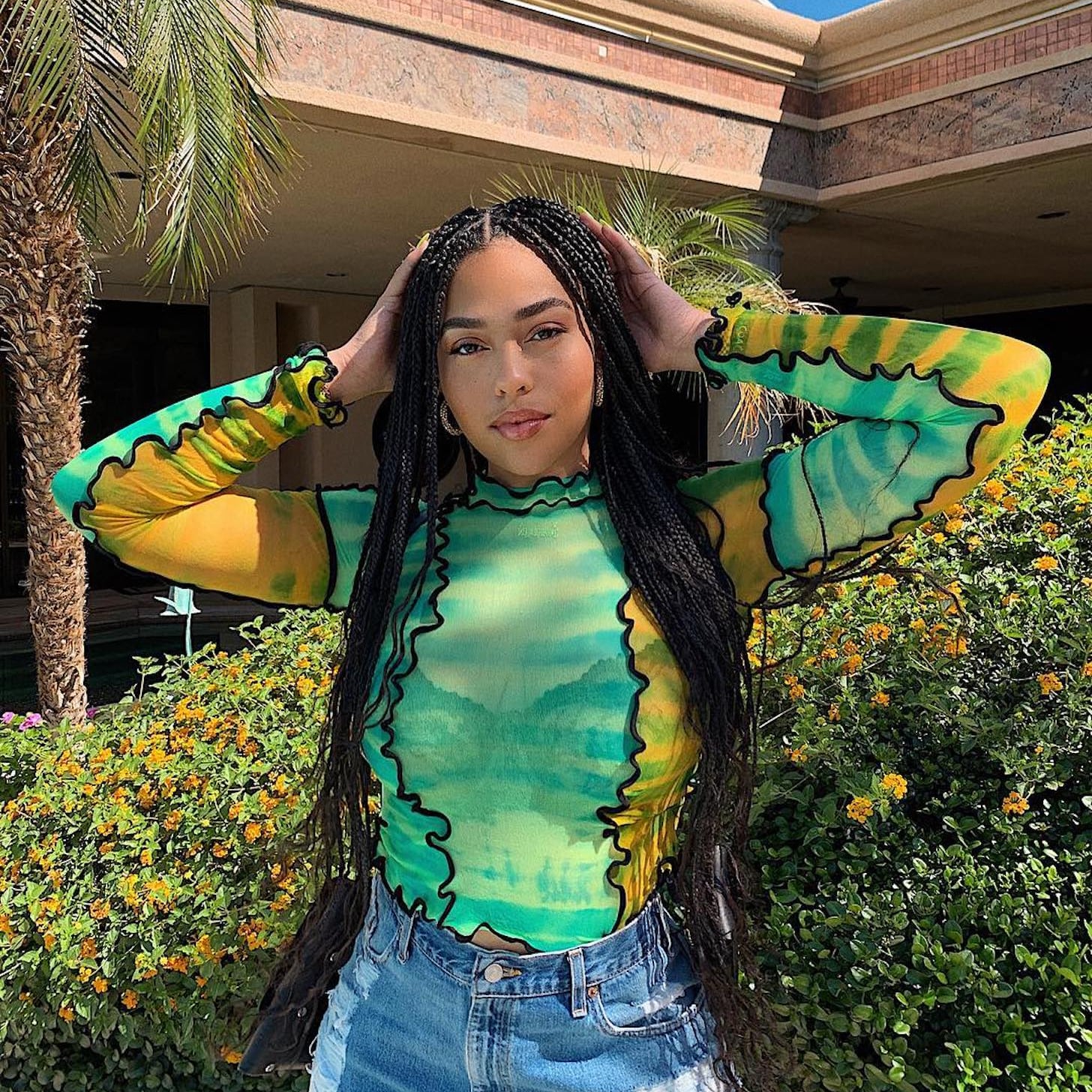 Rock knotless box braid if you like your braid full and long, you can also style it whichever way you want to provide you do not pull on it too tight and ensure to keep your scalp clean.
18. Beach Knotless Braid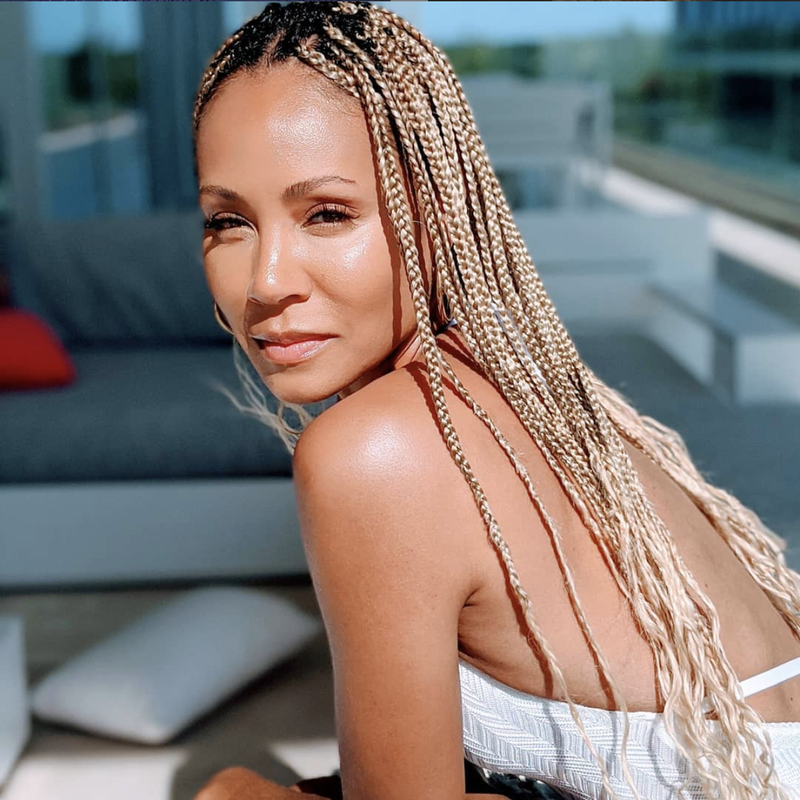 Want to complete the whole beach look with a knotless braid? Jada Smith Pinkett has just the perfect braid style for you to rock, not too elaborate and the color is just perfect if you like it calm.
19. Jumbo Knotless Braid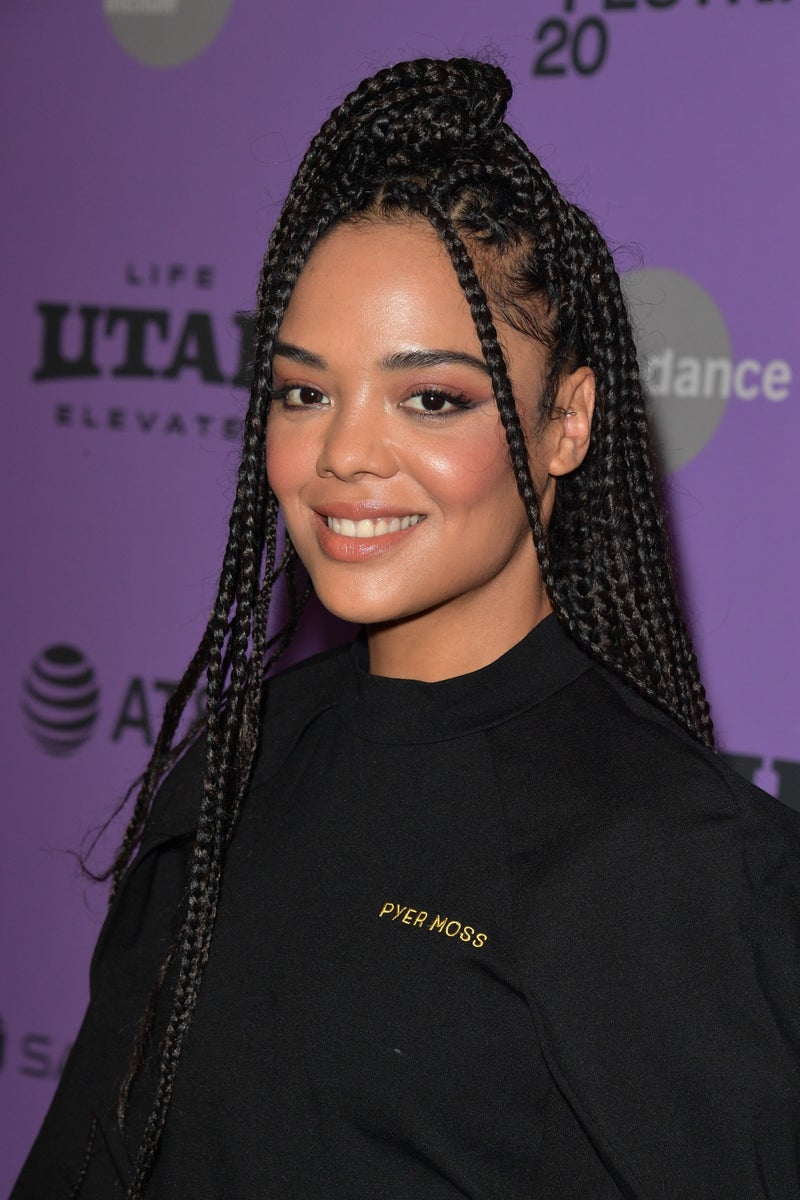 Jumbo box braid has been in trend as long as knotless braid and combining this two-box braid is an exciting style you do not want to miss out on. Tessa Thompson couldn't have chosen a better hairstyle to show off her beautiful face.
20. Gold Knotless Braid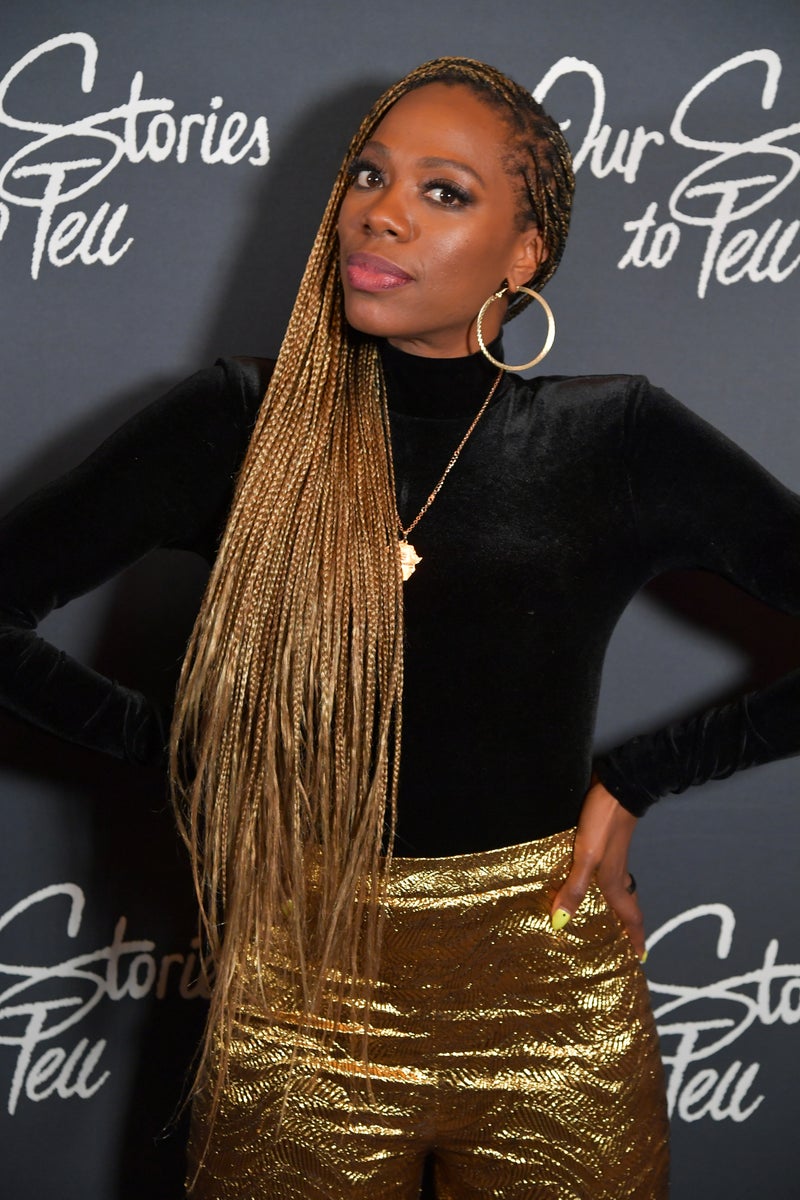 Here is another knotless braid with a color you can't help but like. Yvonne Orji did pair it with a gold skirt to make it pop even more.
21. Bold Knotless Box Braid In High Bun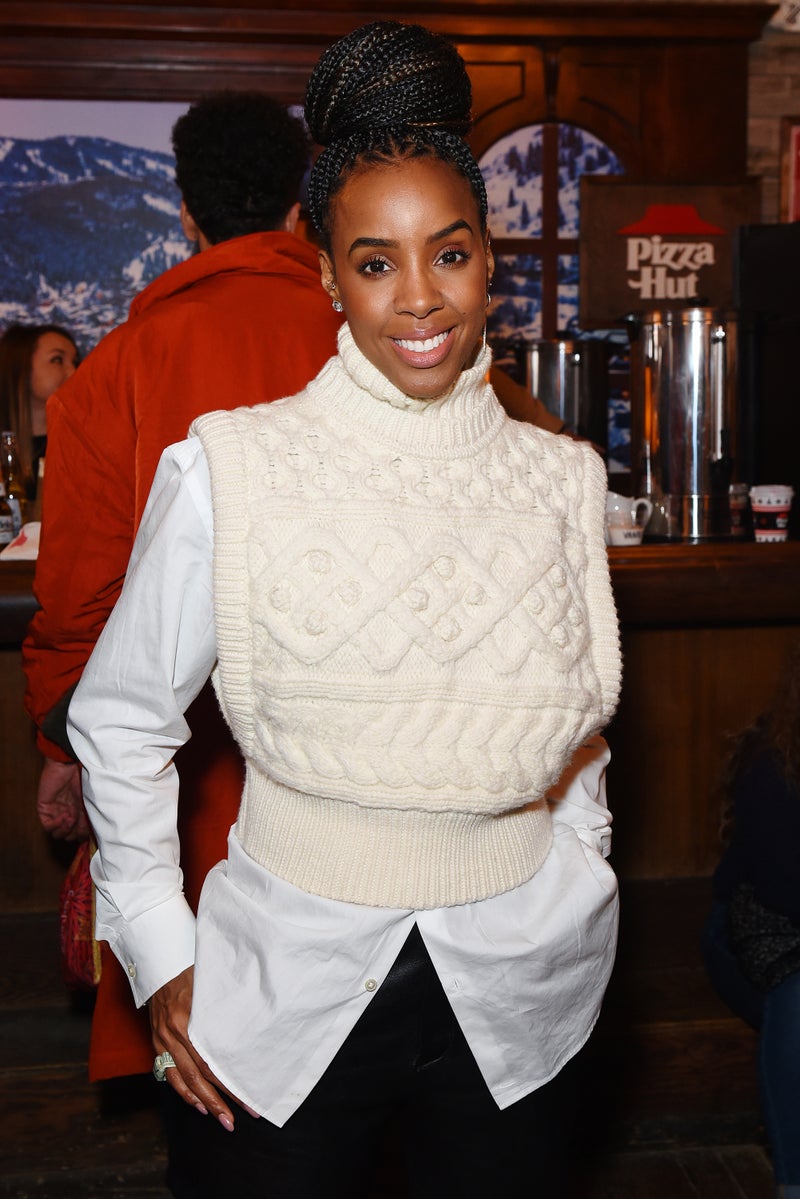 Kelly Rowland is another celebrity that we trust her choice of braid and if you are looking for a thick high bun knotless braid then above is just what you need to show your hairstylist.
22. Green Knotless Box Braid
This green knotless box braid will leave you speechless and get you the best knotless braid award, this is exotic and colorful as well.
23. Space knotless Braid With Gold End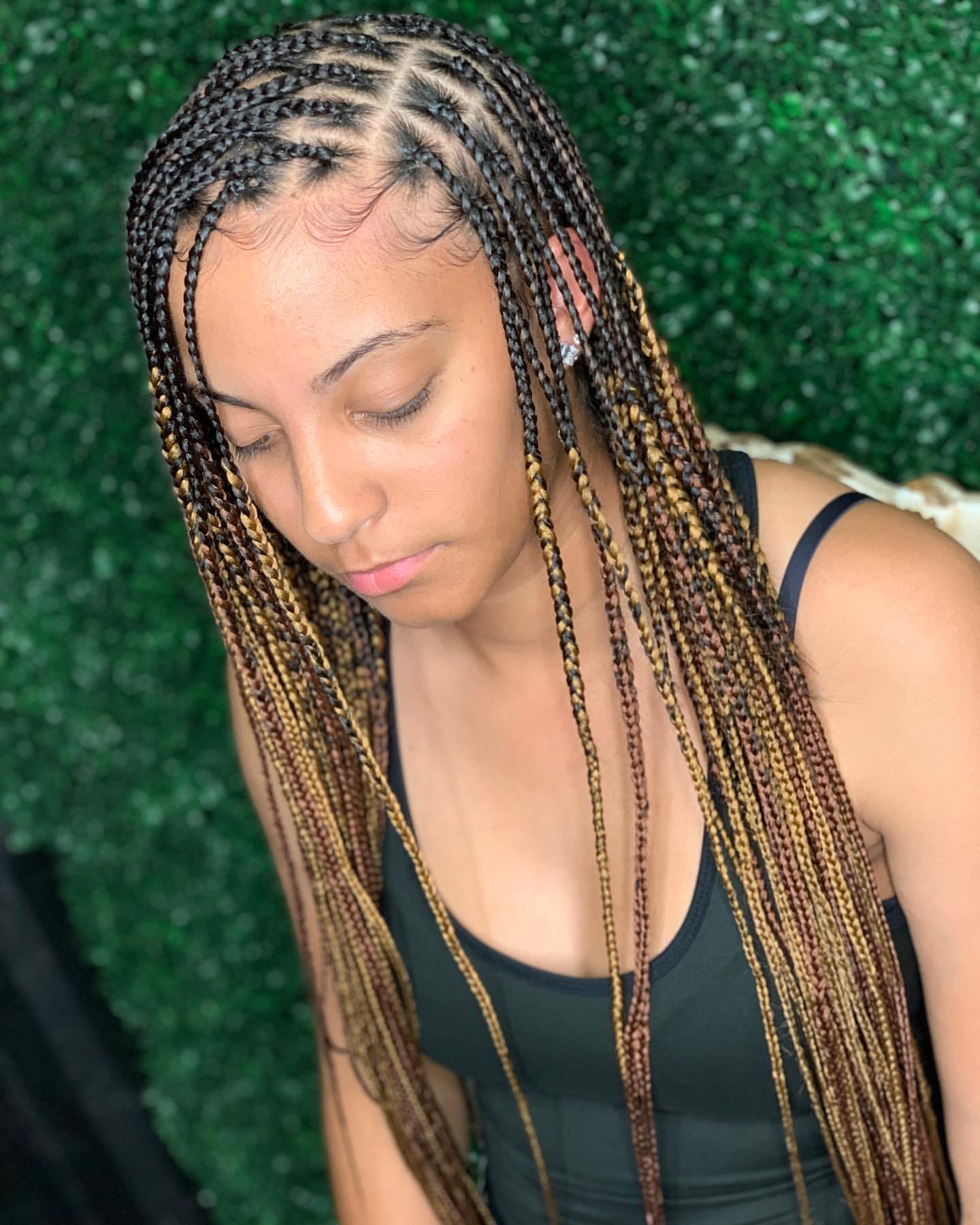 The double-colored extension will need to be used for this if you want this double color, it is one of the trendiest ways ladies rock all forms of a braid.
24. Wine Long Knotless Box Braid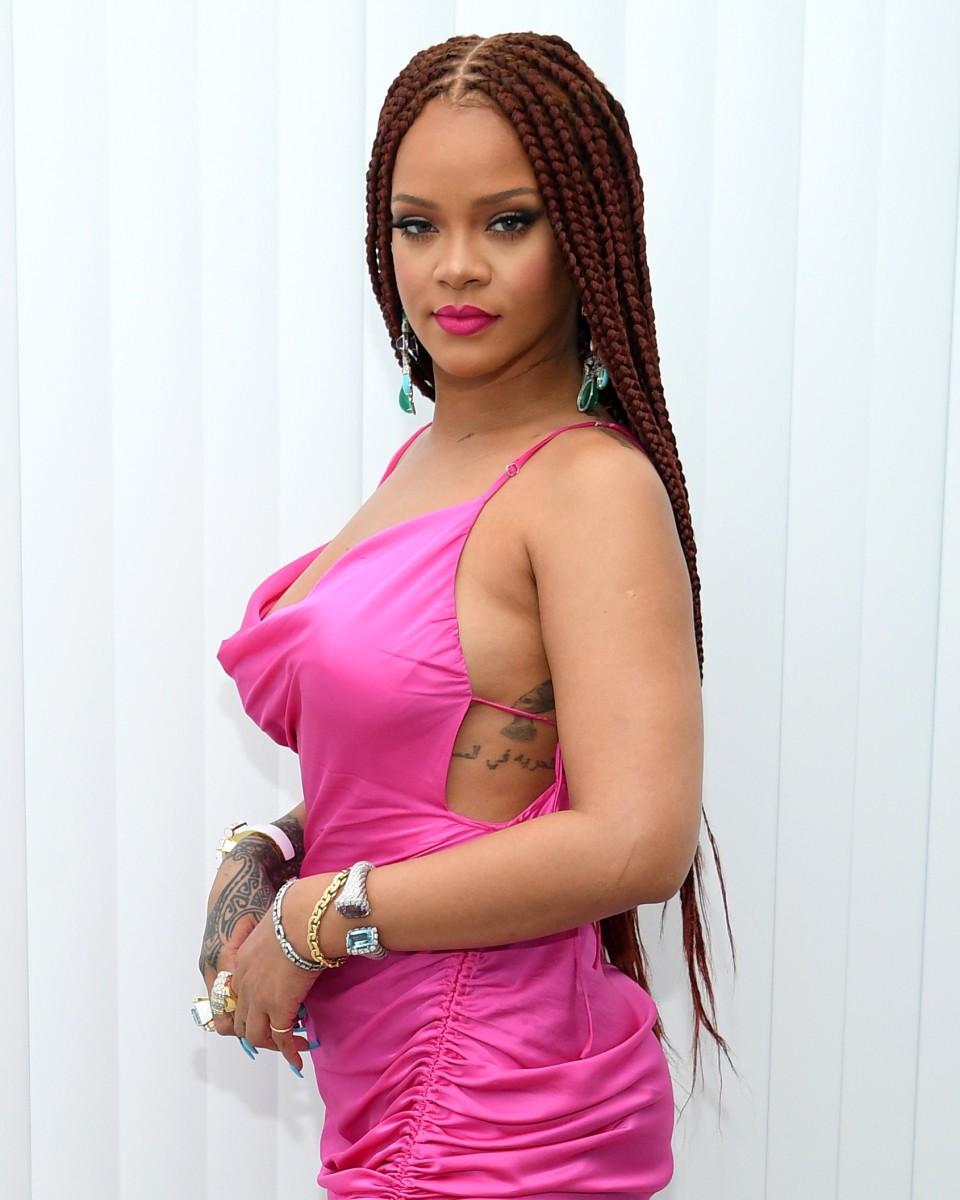 Rihanna did pull off this look with ease and we are not surprised at her love for this knotless braid as it comes in handy on days you need to look effortless at the elaborate event.
25. Half Up Half Down Known Braid Styling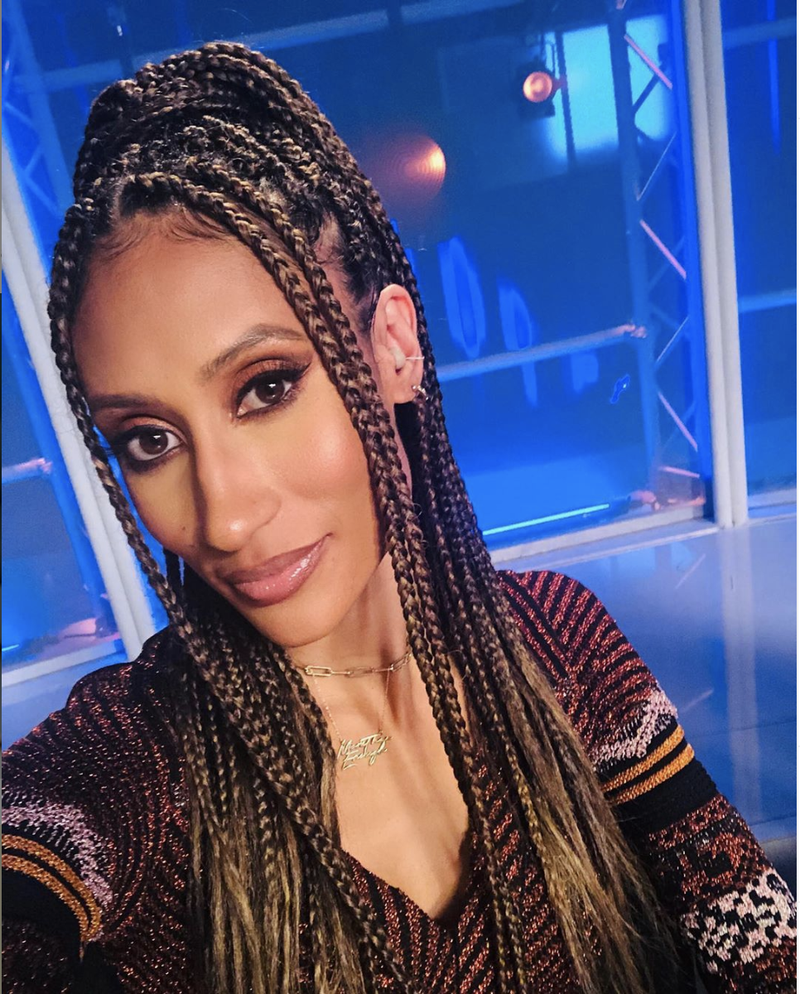 Looking for a delightful way to style your braid? Here is one of the most suitable ways you can rock a knotless braid for all kinds of occasions nd not feel disturbed.
26. Loose Knotless Braid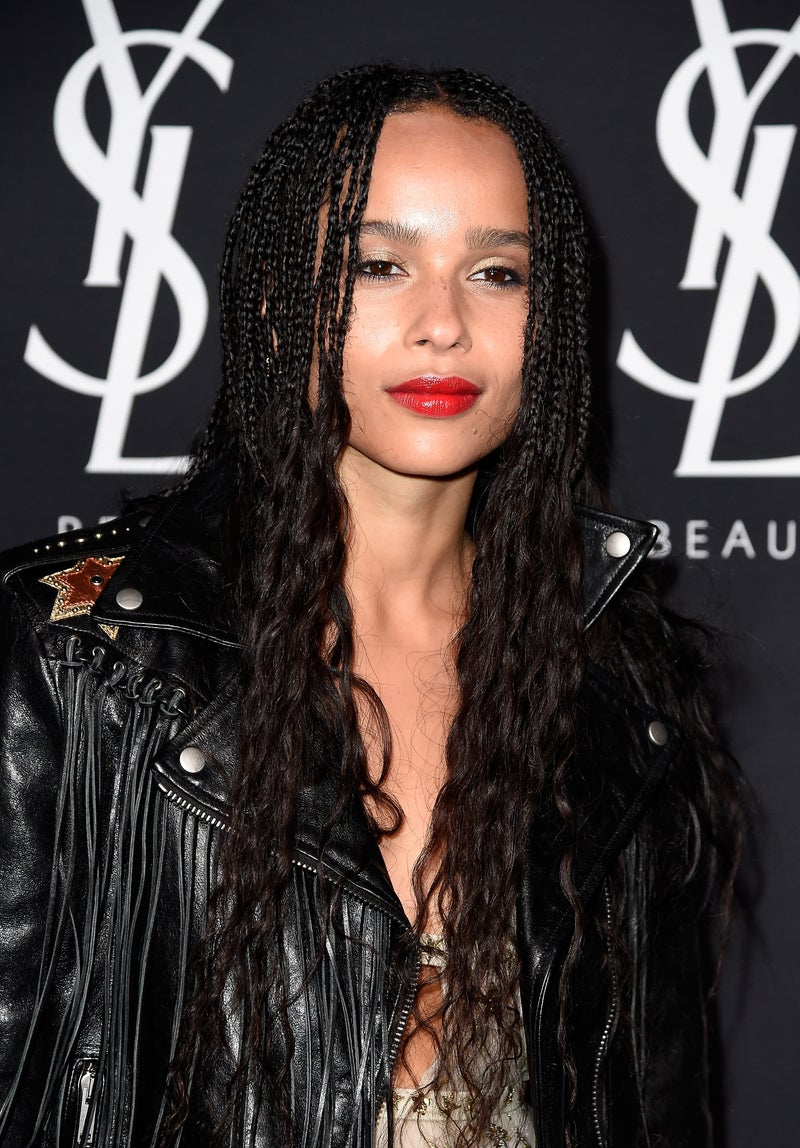 If you want to keep your transitioning natural hair save from the harsh weather condition and grow it at the same time then we recommend a loose knotless box braid.
27. Simple High Ponytail Knotless Braid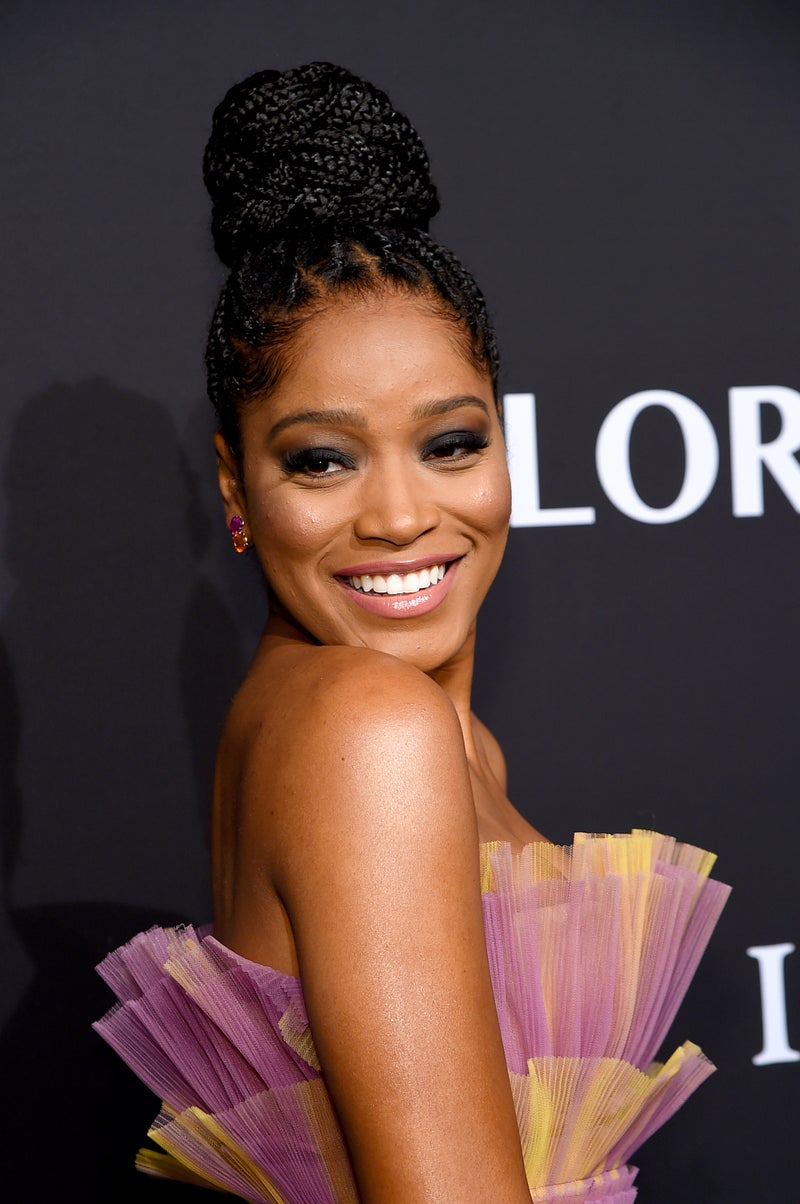 Keke Palmer definitely did justice to this knotless braid, you can maintain a formal and casual look at the same time with this styling of the knotless braid and just the kind of braid for all season.
28. Medium Knotless Braid With Loose Ends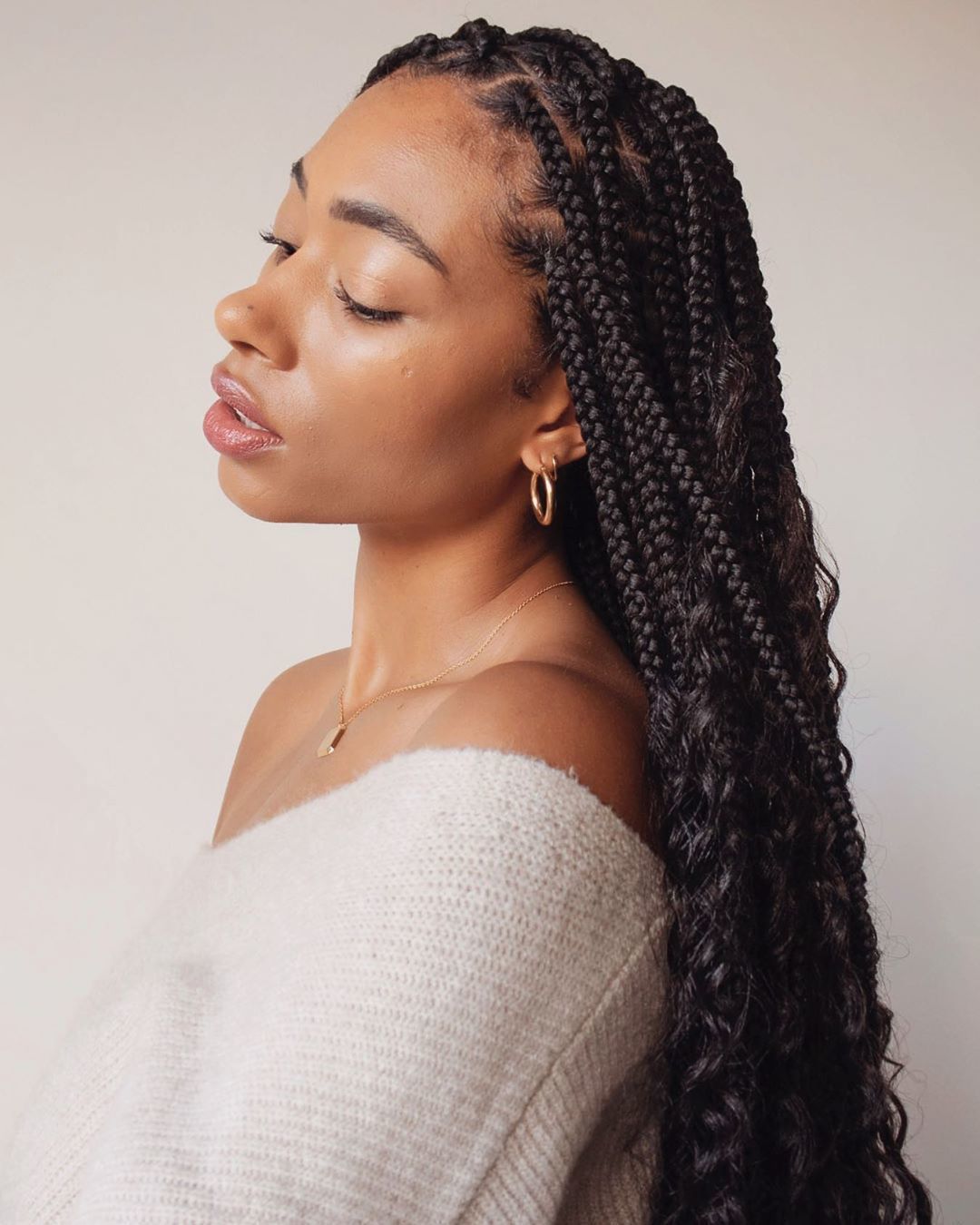 Medium knotless braids have been made just so you won't have to sit too long or find it too much to maintain.
29. Tiny Knotless Braid With Loose End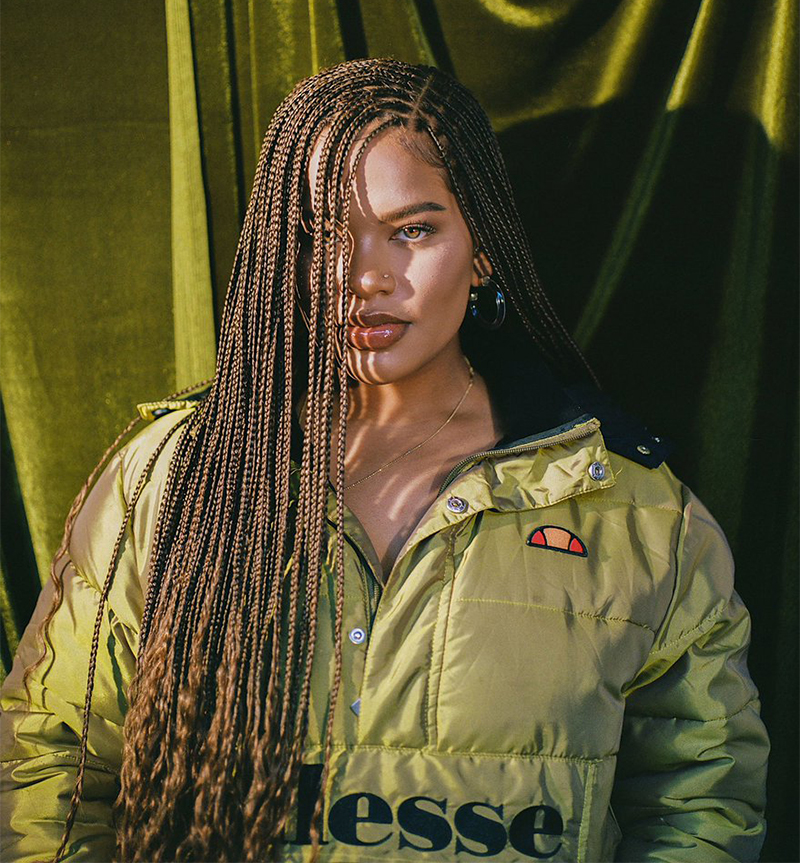 We wonder what can go wrong with this amazing knotless braid above, not only is the loose end adding some glam to it but being tiny mean you can wear it for a long while and not worry about scalp manipulation,
30. Goddess Knotless Box Braid With Center Parting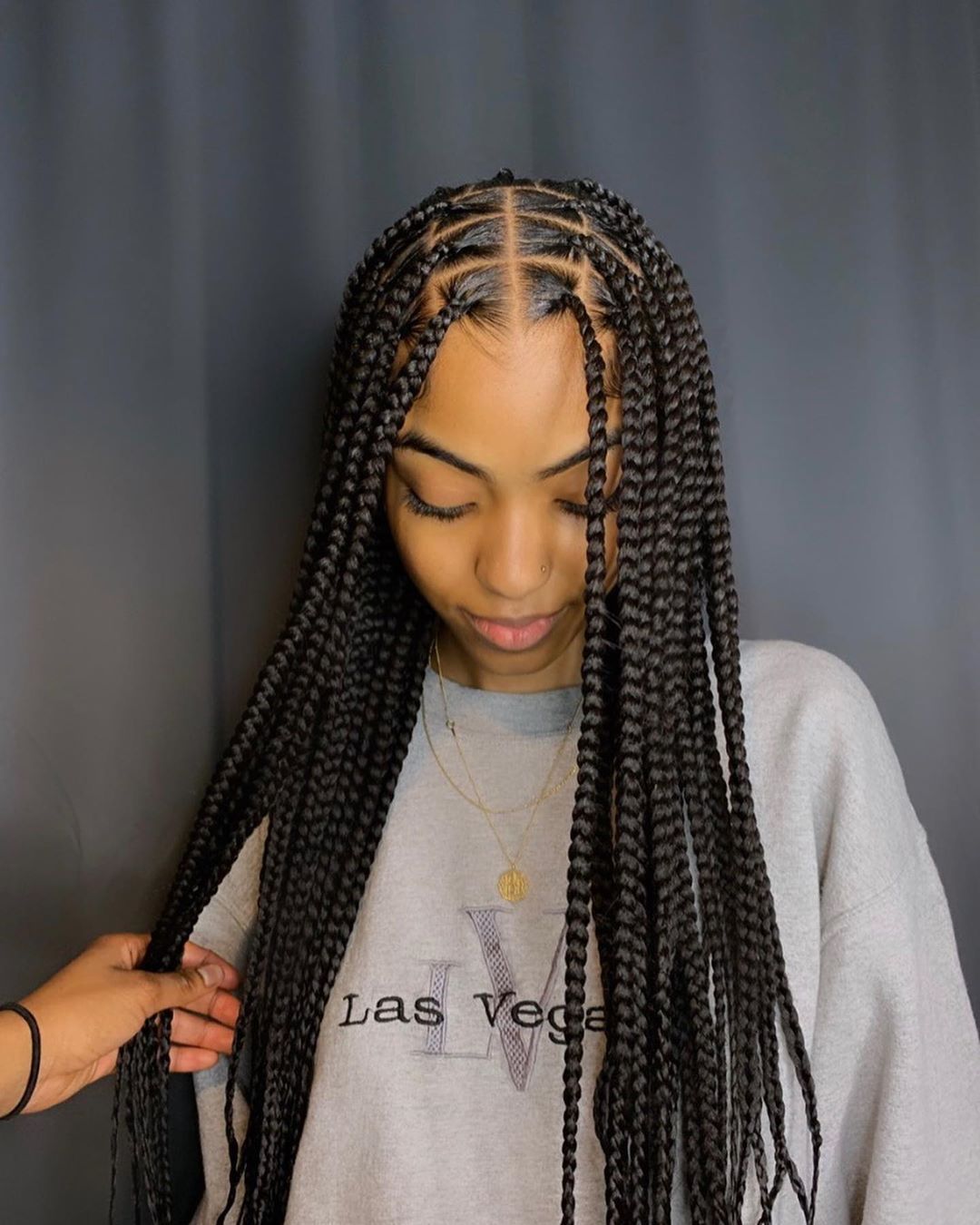 Medium knotless box braid is one of the most common sizes of the braid to ger, not too overly dramatic and just like every knotless braid, you can style it whichever way you want and you can add small beads to it but be careful not to use too much that can weigh down the braid.
Conclusion
Every style of the knotless braid has something that makes it stand out, it does not have to be dramatic, just fancy for all occasions, and simple enough to protect your scalp and save your hair from breakage. You can experiment with color and hair accessories to add more glamour to it. Knotless box braid is one of the season's biggest hair trends.
Read more on box braids: