Looking for easy to wear braids? Bubble braids have been around for a while and they are perfect if you are looking for easy braid hairstyles. Braids go way back and if you love looking like you put far more effort into your hairstyle than you actually did then you should opt for a bubble braid.
Bubble braids are very simple to create and it basically just involves bubbles and knots however there are so many ways you can wear bubble braids.
Why should you try bubble braid? Not everyone is an expert in french or milkmaid braid at a moment's notice but this is not the case with bubble braid, which you can pull off in seconds. These easy to achieve hair is not just fancy for all occasions but you do not need to be a pro to make it perfect.
No need to go the extra miles trying to create french braids when you can simply have your hair made into really amazing bubble braids.
21 Ways Beautiful People Are Wearing Bubble Braids
Bubble braid might not be new but currently found trending on Instagram. So, whether you are hitting up the beach, sunbathing by the pool, or just want to look simply stunning on a casual day out, we have rounded up 21 beautiful ways people are wearing bubble braids to inspire you.
1. Pigtail Bubble Braid
Pigtail bubble braid is one of those sweet easy hairstyles you find yourself making every time you have to visit the beach. The hairstyle is not only fun and simple but can be styled for all occasions and all you need is some simple hair accessories to make it stand out.
2. Cute French Bubble Braid
The French braid is an interesting braid hairstyle but it can be a bit complex to make however this si different when styled with bubbles. The french bubble braid is a formal hairstyle for practically any event. The french bubble braid above has been style with a little mohawk to elevate your look.
3. Low Bun Bubble Braid
A simple low bun bubble braid with curtain fling is another trendy way to wear braids. Technically this isn't a braid, but it works in the same way a braid would, and it is easier to learn than a french braid.
4. Cool Dutch Bubble Braid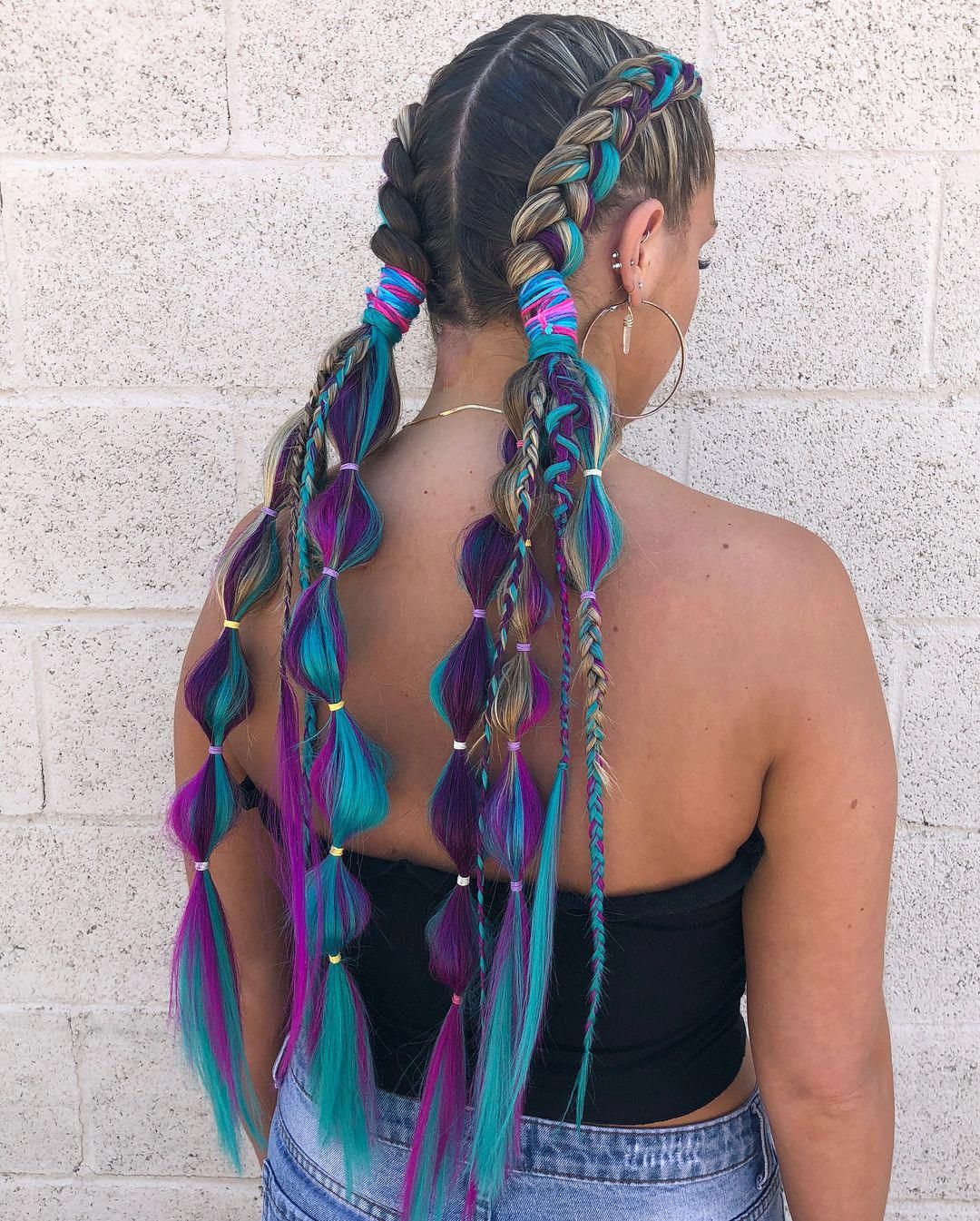 This is a style you can wear to practically any fancy event and all you need is a fancy outfit to pair with it. You can decide to go with colorful hair bands or simply have the braids plaited with colorful extensions.
5. Ponytail Bubble Braid With Fringe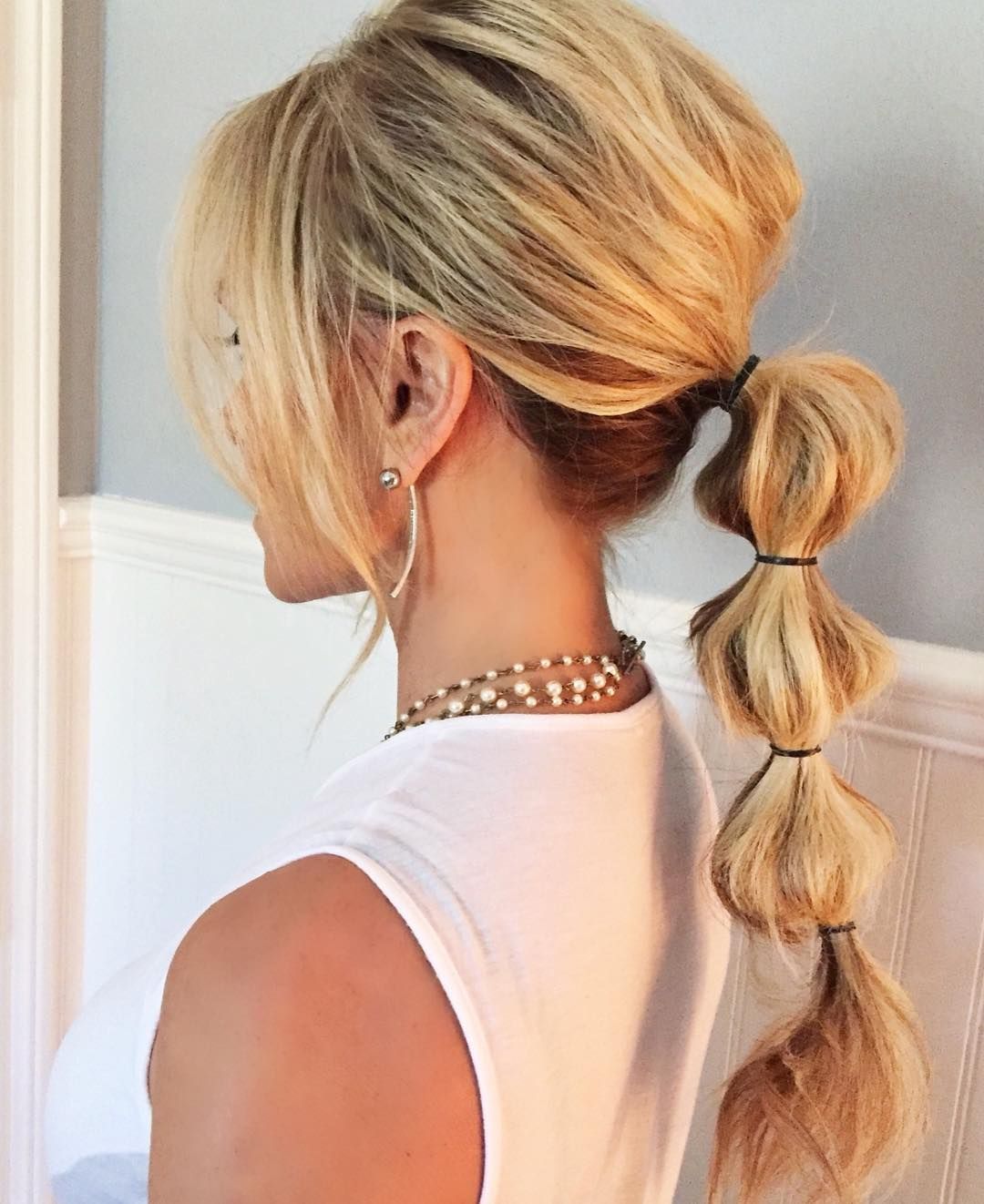 Ponytail bubble braid with fringe is another exciting hairstyle worth trying, the hairstyle is classy and fitting for garden weddings.
6. Feathered Bubble Braid
You can go for a cool twist bubble braid which is fancier than a casual ponytail braid. This bubble braid hairstyle is basically easy to create and you can either have it style with headbands or barrettes.
7. Colourful Bubble Braid
If you like adding some color to your hair then here is the perfect bubble braid to go for.
8. High Bubble Braid
High ponytail is a trendy type of bubble braid, and this is even more sophisticated than box braid hairstyles.
9. Double Bubble Braid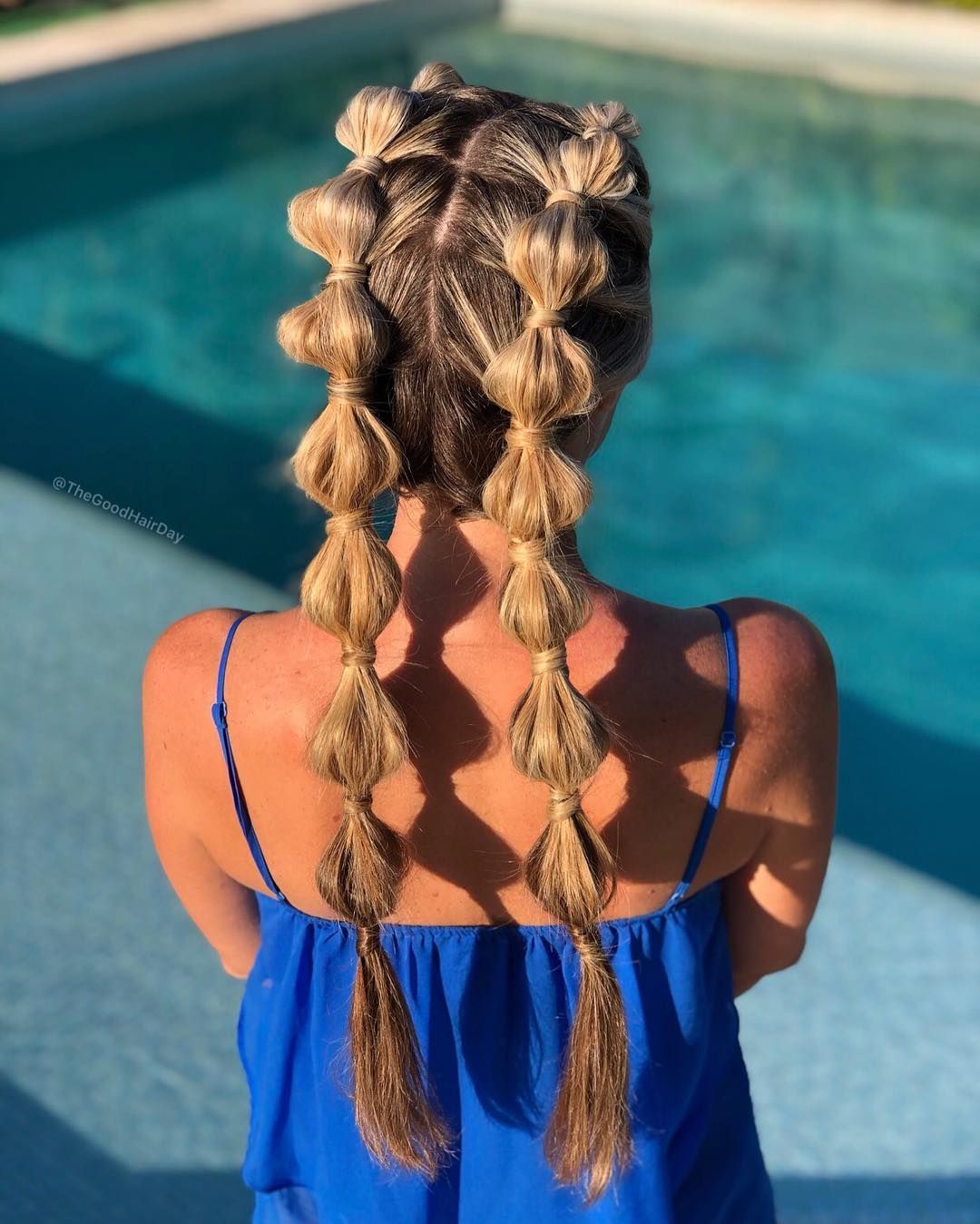 instead of braiding in one strand, keep it more dramatic with a double strand of bubble braids. This hairstyle is great for all hair types.
10. Dutch Braid With Bubbles
Dutch braids are just like french braids but even more beautiful. Dutch bubble braid is the perfect hairstyle for a romantic dinner date or a casual day out.
11. Afro Ponytail Bubble Braid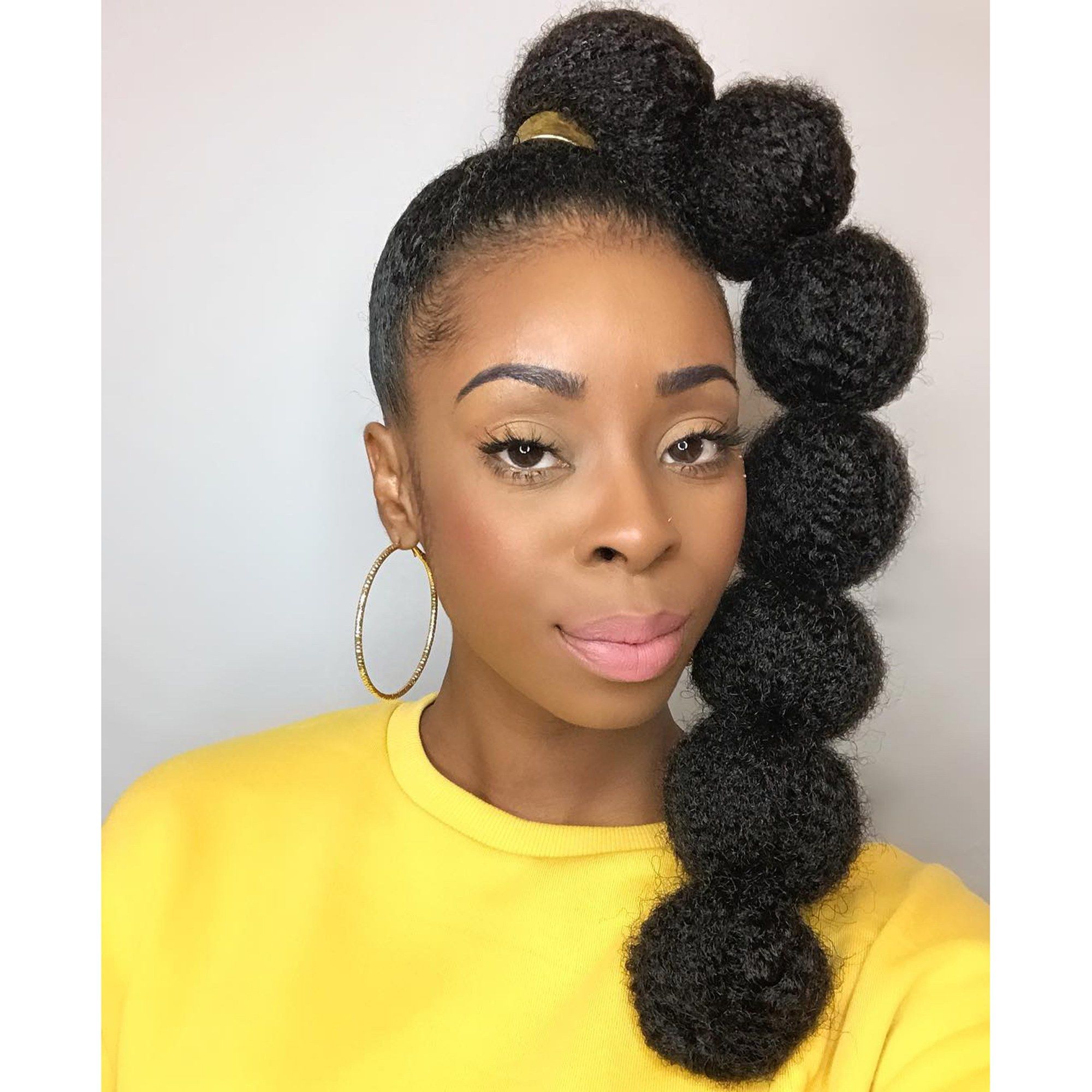 Afro bubble braid is another popular ponytail hairstyle you should try. This afro bubble braid is perfect if you have long natural hair you want to keep away from your face.
12. High Ponytail Bubble Braid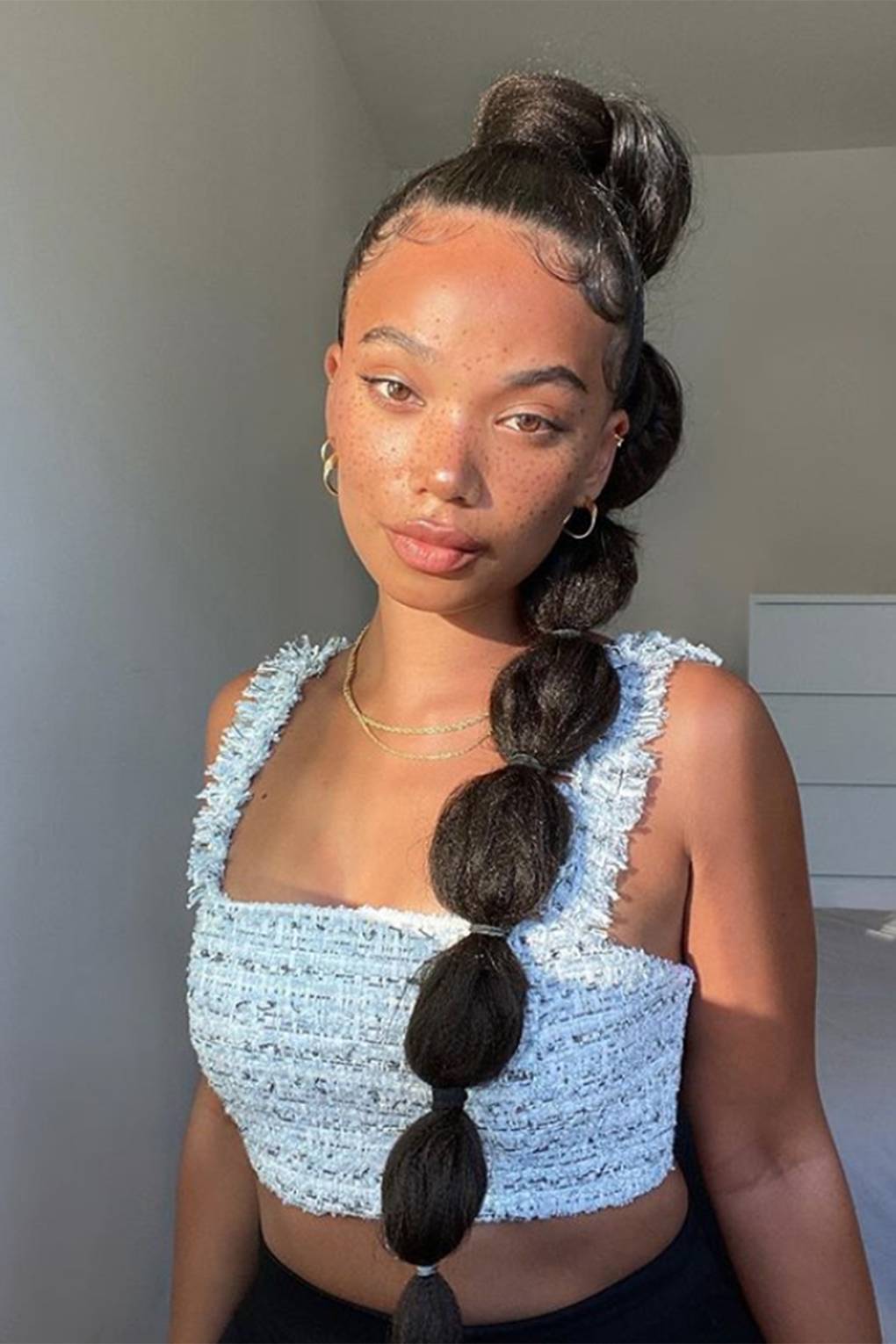 A high bubble ponytail braid adds a slight enhancement to any face shape and it's also an excellent way to look casual without spending too much on hair.
13. Stacked Up Bubble Braid
Stacked up bubble braid won't be going anywhere anytime soon as it's pretty obvious this bubble braid type is loved. It helps organize your hair and keep then out of the way.
14. Sleek Ponytail Bubble Braid
A sleek ponytail braid is perfect for taming your edges and it's a low maintenance hairstyle as well.
15. Mohawk Bubble Braid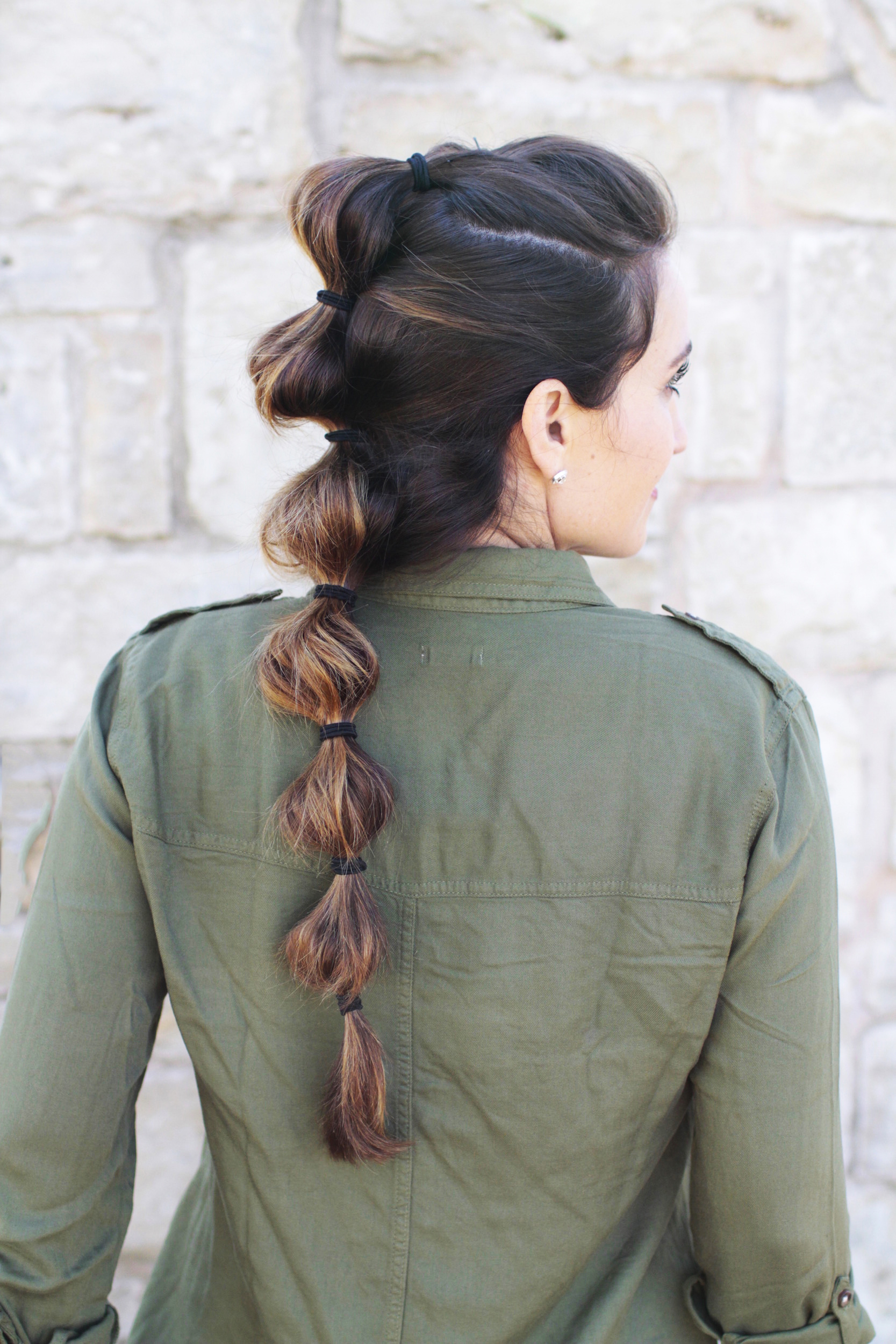 With some creativity, you can create a mohawk bubble braid in no time and get ready to pull up for a casual party. You can switch this look up with a bigger mohawk depending on your preference.
16. Double Bubble Braid
Another way to rock a bubble braid is this classy hairstyle.
17. Mohawk Bubble Braid With Afro Twist
Here is another creative way to wear mohawk with a bubble braid. This is a really stunning hairstyle and is becoming increasingly popular due to how celebrities tend to rock it often.
18. Half Up, Half Down Bubble Braid
Keep it stylish and simple and you will be glad you did.
19. Simple Double Bubble Braid
One of the benefits of wearing a bubble braid is that it increases the volume of your hair especially if you have thin hair and here is the perfect protective hairstyle for all hair types.
20. Rainbow Bubble Braid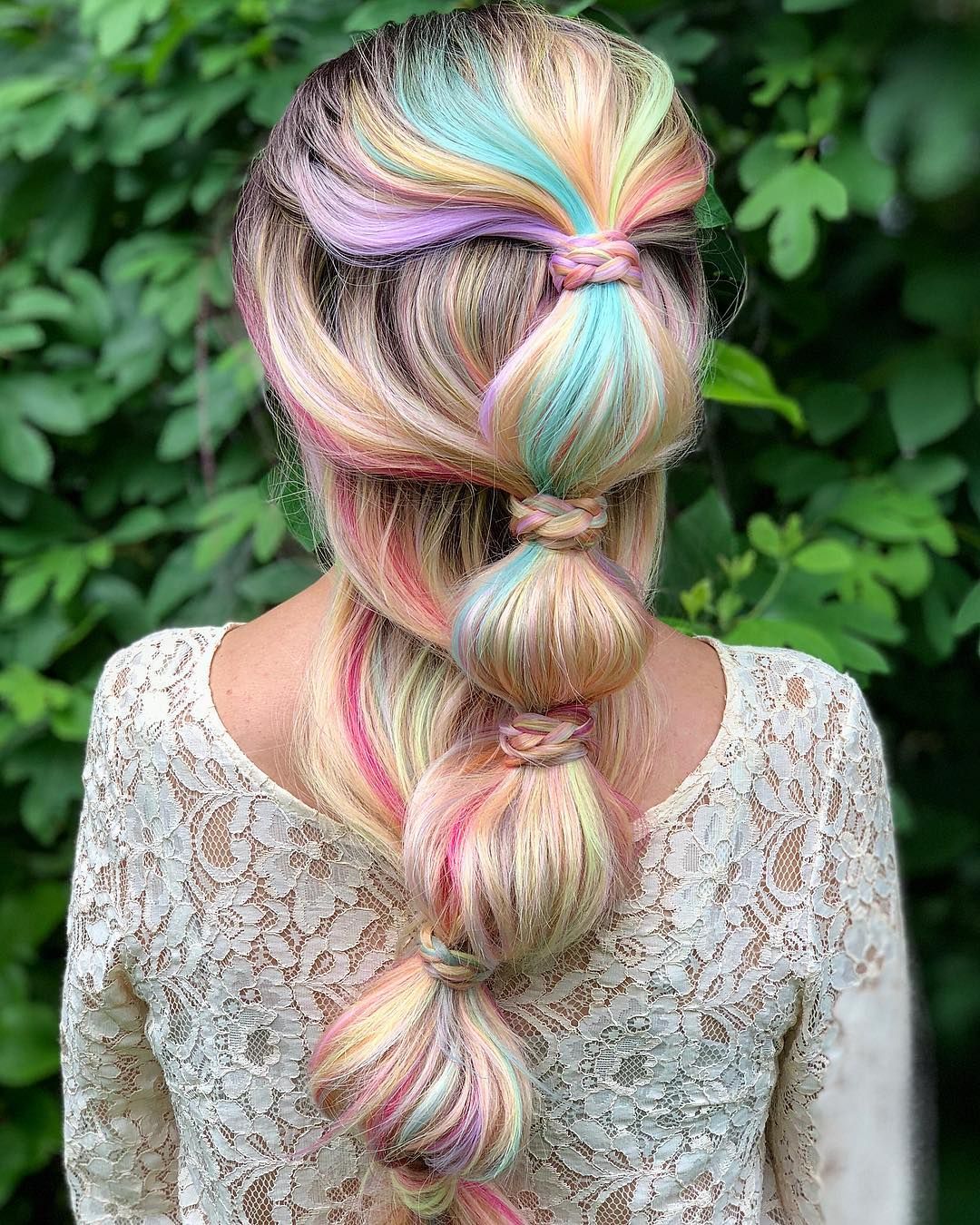 If you are up for some color, a rainbow bubble bring will help show off those colors without looking too elaborate.
21. Cute Short Hair Bubble Braid
This bubble braid is quick and so cool which is why it's one of the trendiest bubble braids. This hairstyle can be done on any hair length and it is a no-heat hairstyle which makes it a protective hairstyle for any hair time.
Final Thought
Bubble braid is easy to achieve hairstyle and it consists of fluffed up sections of hair which are the bubbles. This is an Insta worthy hairstyle that you don't have to be perfect to create. This braid style is also a protective hairstyle for your hair as it is a no-heat hair hairstyle which means no use of any hot tools, keeping your hair at its healthiest.