Looking for that trendy hairstyle and you seem not to get your hands laid on one? Feed-in braids are one hairstyle you should consider, this hairstyle goes perfectly well on all heads. Feed-in is one that obviously has come to stay as this hairstyle doesn't segregate when it comes to an individual head shape.
Feed-in is one hairstyle that helps to protect the hair, this kind of hairstyle is not just creative, it is beautiful and lasts for as long as you can maintain it. When extensions are added to feed in braids it adds more liveliness to it, color mixture will also pop out more beauty if you are the type that loves giving your hairstyle some volume.
Why wouldn't you want to give it a try? These feed-in braids are called an "invisible braid" which is pretty cool in itself. The reason it's called this is that it gives you a natural look then you can call your own in the end. We hope these 20 feed-in braids meet your needs and you enjoy that exceptional beauty of yours all while you rock it.
1. All Back ZigZag Feed In
This is a stunning elegant cut, you can't go wrong on this well detailed Zig Zag feed in.
2. Sleek Feed In Braid
It's the edge for me though. A stunning style that gives your scalp a special style. It's elegant and has an air of sophistication on it.
3. All Back With Curls Feed In
All back half zigzag and half straight cut, looking classy with the extension curls. It of low maintenance and can be kept for as long as you want it but don't forget to bring it down when it gets frizzy.
4. Zig Zag Clean Feed In
This looks like a pretty popular hairstyle and there's a reason for it. It's stylish and can be rocked anywhere.
5. One Sided Ponytail Feed In
This is not the regular ponytail or high bun. Do you want something more classy and not common? You can give this sideways ponytail a trial.
6. Two sleek braids with zig zag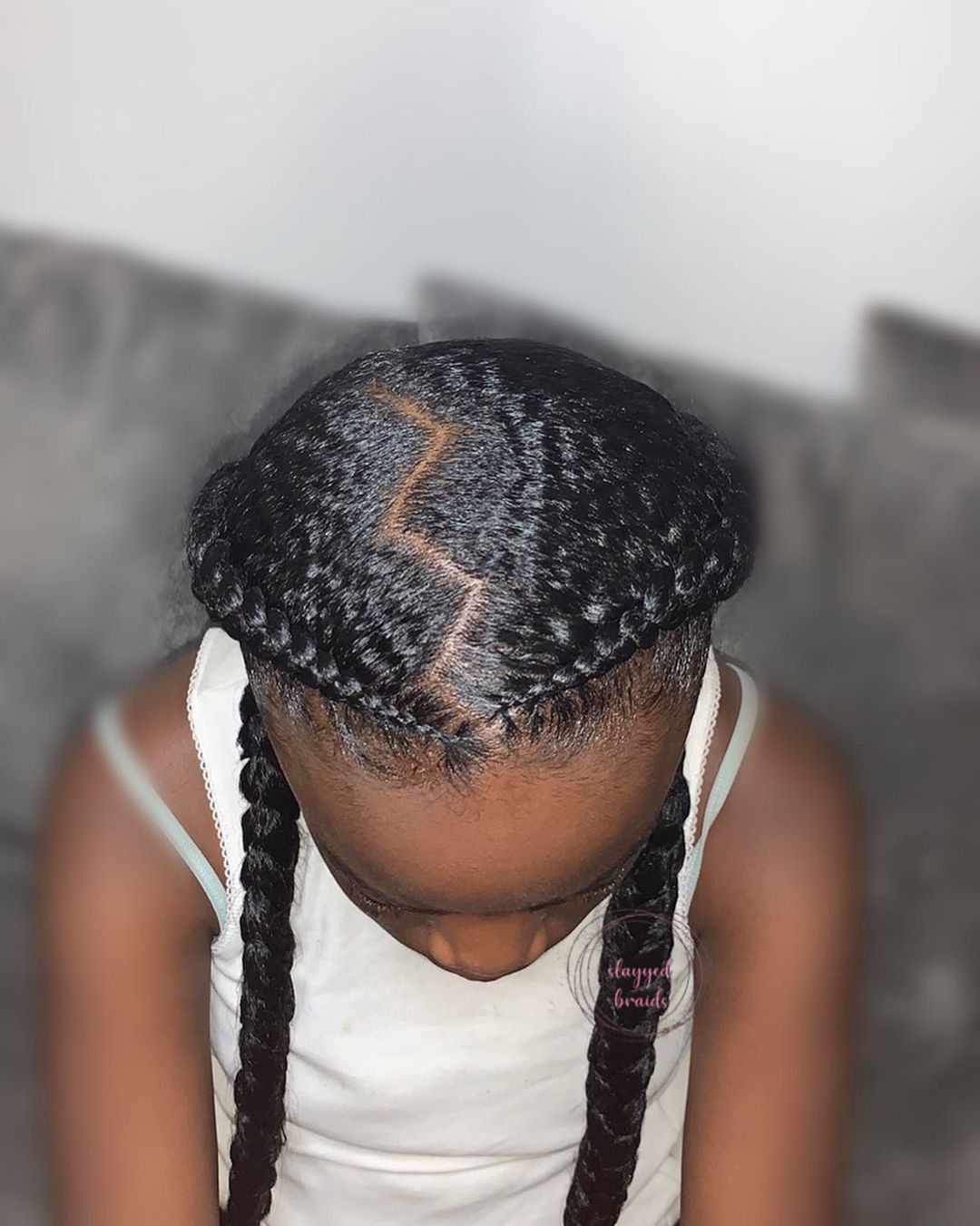 This looks more like a Fulani hairstyle, with two sleek feed-in that come with no stress. You don't need to waste time in the saloon just to look beautiful, this two sleek will do much justice to your beauty.
7. Polished Colored Feed In
This is a standard hairstyle that's eye-catching. Using this color will make people around notice your presence, it gave more volume because of its unique color.
8. Stunning Creative Feed In
Creative sideways all back looks stunning with those silver clips. This sure does not look like the regular feed-in.
9. Little Damsel High Bun Feed In
Little damsel looking classy on feed-in. Who says certain hairstyles are meant for only adults? Well, not feed in, this high bun feed-in will look elegant on kids as well with beads giving it a more pronounced look.
10. Classy Color Mixture Feed In
This feed-in looks polished, the color mixture doing more justice to the style. This indeed isn't looking boring.
11. Stunning Ponytail Feed In
This is a great feed-in that is tight and pulled back into a ponytail. If you like casual styles, then this is the one for you.
12. One Sided Butterfly Ponytail
This baby-angled feed-in reminds us that we can be simple without being boring with our hairstyle, all we need is to be a bit creative.
13. High Bun With Gold Clip Feed In
This is a striking hairstyle, wrapped around the head in a glamorous style with a gold clip, add life to the feed-in.
14. Zig Zag Feed In
This looks regular and classy. It can be rocked to any occasion.
15. High Bun Feed In
This high bun is not in one dimension. You can wear this look a few different ways, in a bun, a bun mixed with a little hang time, or let it all hang out.
16. Well Detailed All Back Feed In
This indeed looks well detailed with a long extension. You love your scalp looking polished and neatly cut, this feed-in will give that to you.
17. Simple Slay Feed In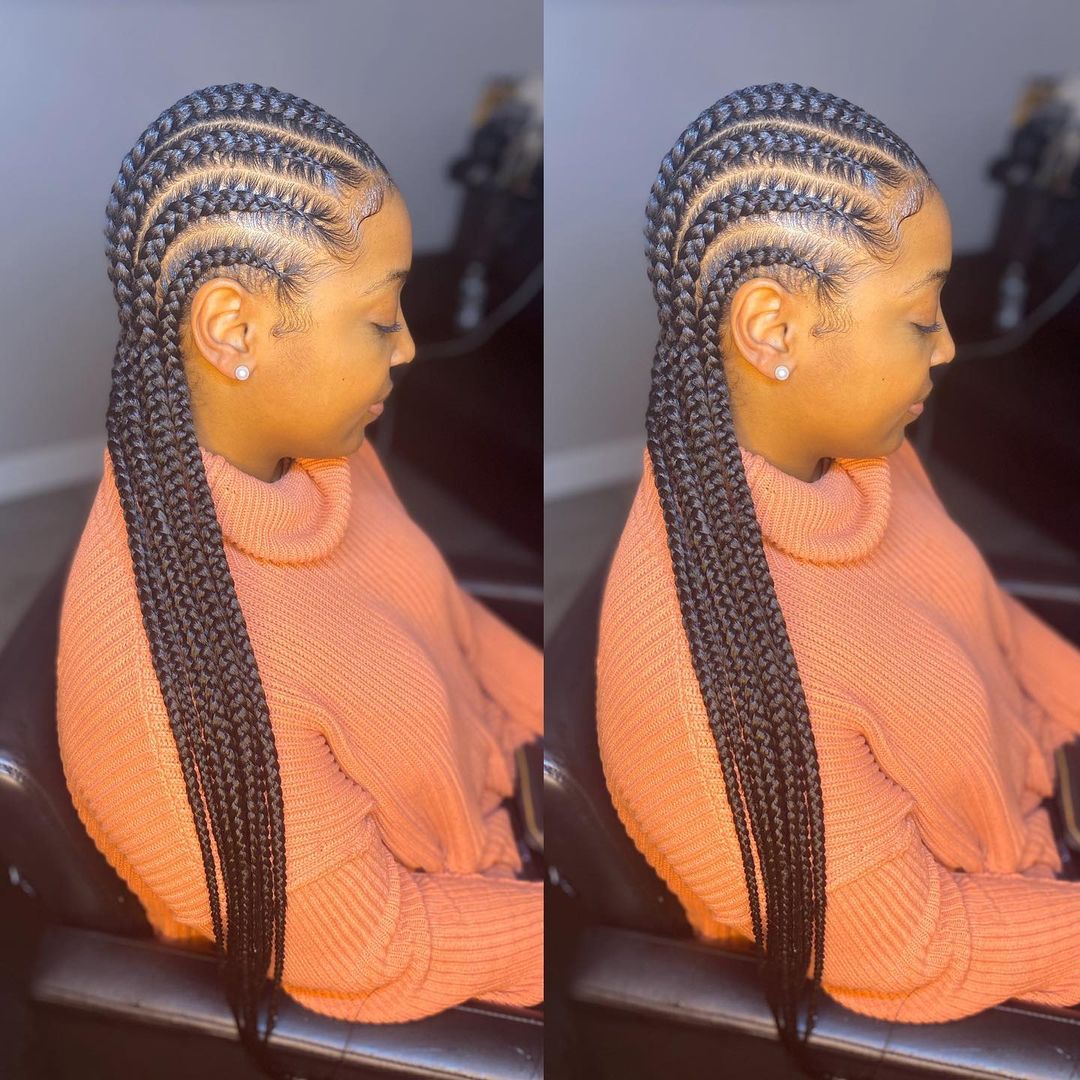 Looks like the regular feed-in, you can touch this up with beads and hair clip to give it more life and some pop-up.
18. Rolled Bun Feed In
You can completely change the way your braided style looks just by adding different hair accessories. This unusual style really looks unique with these hair accessories.
19. High Ponytail With Curls Feed In
This feed in style is braided with a bun with a curly extension. These are very popular looks because they can be worn on any occasion.
20. Creative High Ponytail Feed In
This stunning high ponytail looks unique, elegant and beautiful.
In Conclusion
You might see some of the feed-in and feel they are too regular or simple, irrespective of the one you want to go for, know that it all about creativity. You can decide to make use of another color for your feed-in to make yours more attractive, elegant, eye-catching, stunning, and beautiful.
You don't have to go all boring, remember the aim is to look good on whichever feed-in style you are going for. While at it make sure you go for what looks best on you and be sure it a style you can maintain.
Read more on our hairstyles: