Where ever you go, you can always see women rocking box braid hairstyles and we can admit it's not just another hairstyle people are going to slide through as they continue to get more interesting and creative, ladies are finding box braids to be such a vibe all through the year.
We can't get enough of these gorgeous box braids and we are sure they are definitely going to be in trend in 2021.
Box braids are also protective hairstyles for your natural hair, best at retaining the length of your hair, you only need to install the extension and you get to make different kinds of braids and even more, interestingly, these braids can last up to three months.
All you need is the right occasion to rock these amazing braids, here are 19 fantastic box braids people are still in love with.
Beautiful Box Braids People Loved Through 2021
Box braids are also low maintenance hairstyles as they do give your hair a break from blowouts and twist outs but whatever your reason's for loving braids then they would be no exception to these gorgeous braids we have compiled.
1. Big Shoulder Length Braid
Big shoulder-length well-detailed box braid, with a neat tip. This will go well on all facial shapes as it tends to cover even forehead geng.
2. Colored Butterfly Knotless Box Braid
This is what I call creativity. Beautiful colored butterfly knotless braid with hair accessories, looking all classy and exceptional.
3. Bra Length Curl Knotless Box Braid
Curls with that beautifully layered length, giving the braids a gorgeous look.
4. Half Up Half Down Knotless Braid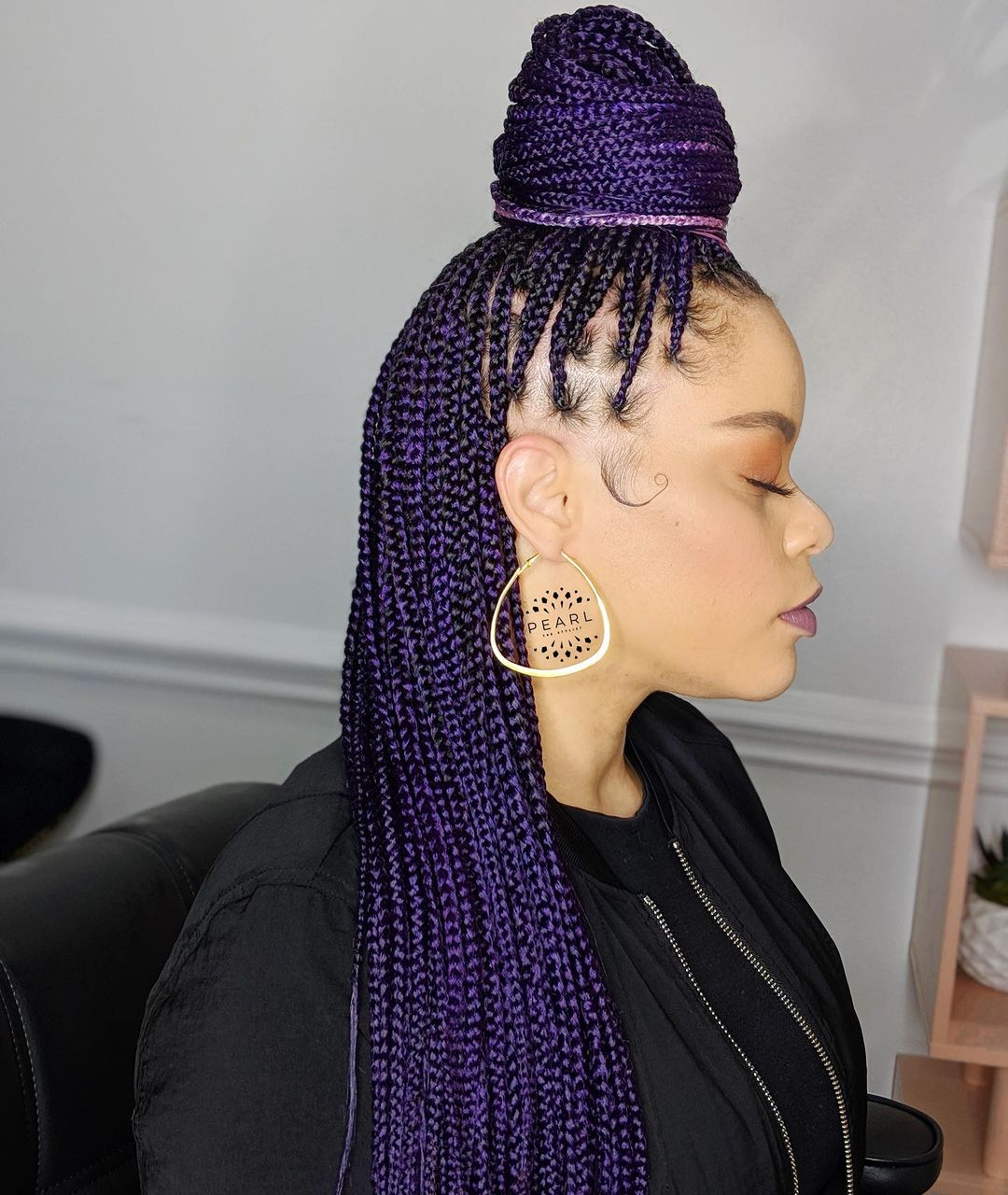 Color purple half up half down knotless braid, looking all attractive and great.
5. Classy Jaw Length Knotless Box Braid
It's a sharp color for me, this hair obviously isn't looking boring. You want a shouting color for your knotless braids, then go for this amazing color.
6. Color Mixture Shoulder Length Knotless Box Braid
It's the color mixture for me and the hair tip, giving the knotless braid an unusual lovely look.
7. Colored Half Up Half Down Knotless Braid
Color knotless braid with colored beads, complementing the sophisticated look.
8. High Bun With Fancy Bond Knotless Box Braid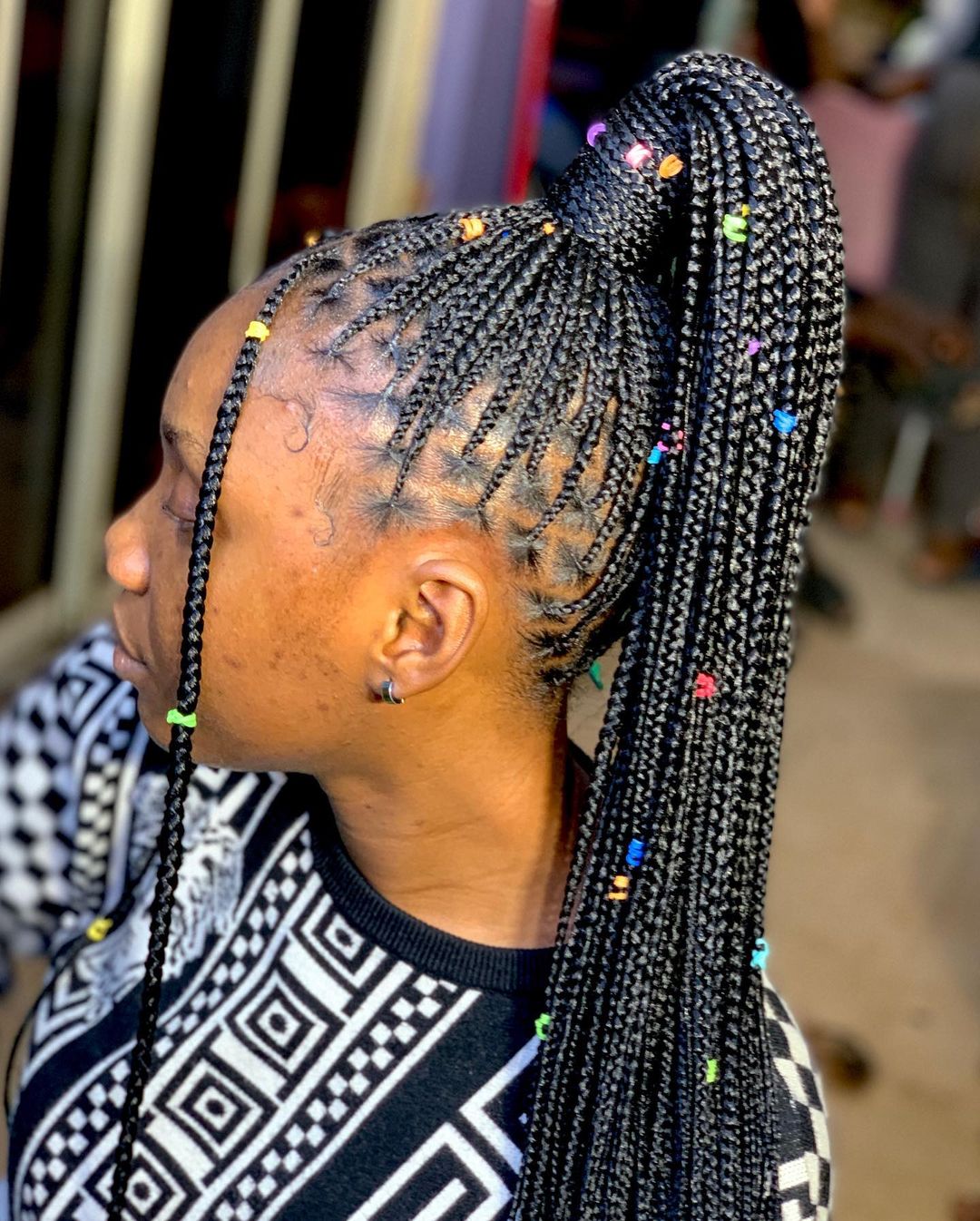 This one is not a regular one, the colored hairband is doing so much justice to the knotless braid. This looks creative.
9. Classy Rainbow High Bun Knotless Braid
This is indeed a rainbow knotless braids, the color mixture is on point.
10. Purple Side Part Knotless Box Braid
Purple side parting knotless braid is just as awesome to wake up and not have to do anything to your hair at all. No need to style, a fall-off will be great.
11. Curl Bun Knotless Box Braid
It's the falling curls for me with the braid having a super cute and super high bun.
12. Colored Knotless Braid In A Bun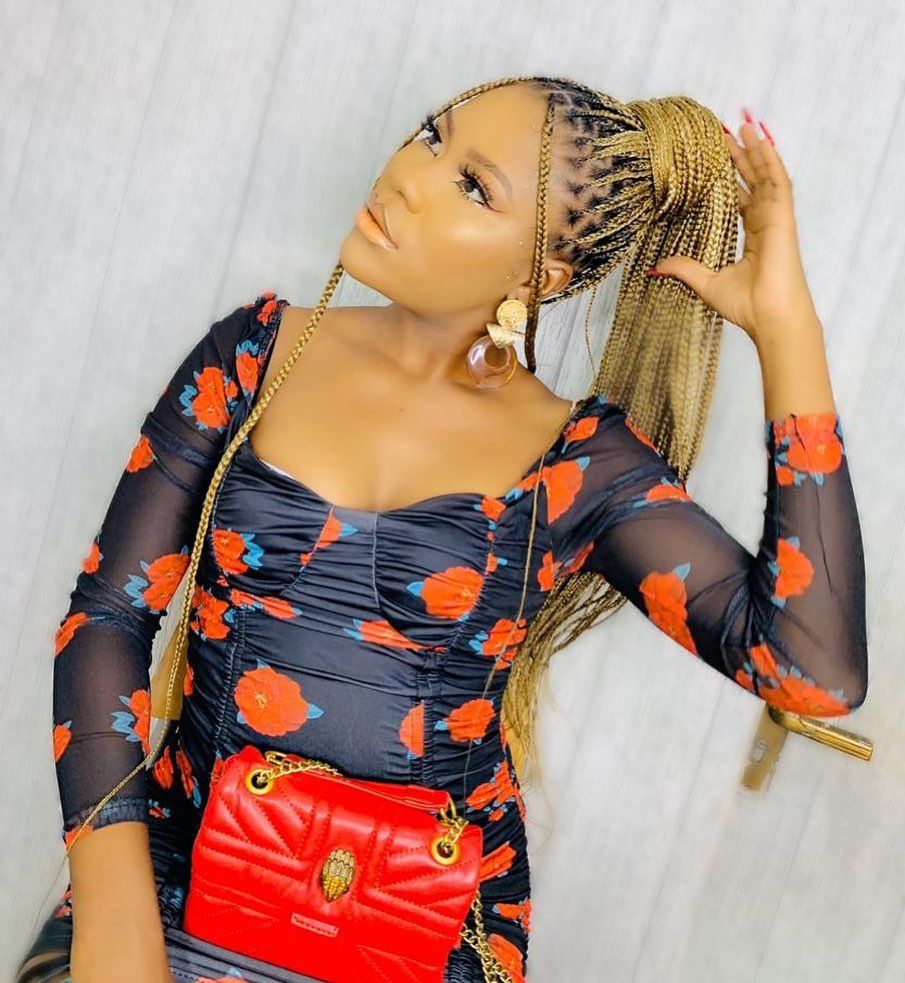 With long braids as smooth as these, all you need to do is whip hair to one side for a sexy style.
13. Clean Lines Knotless Box Braid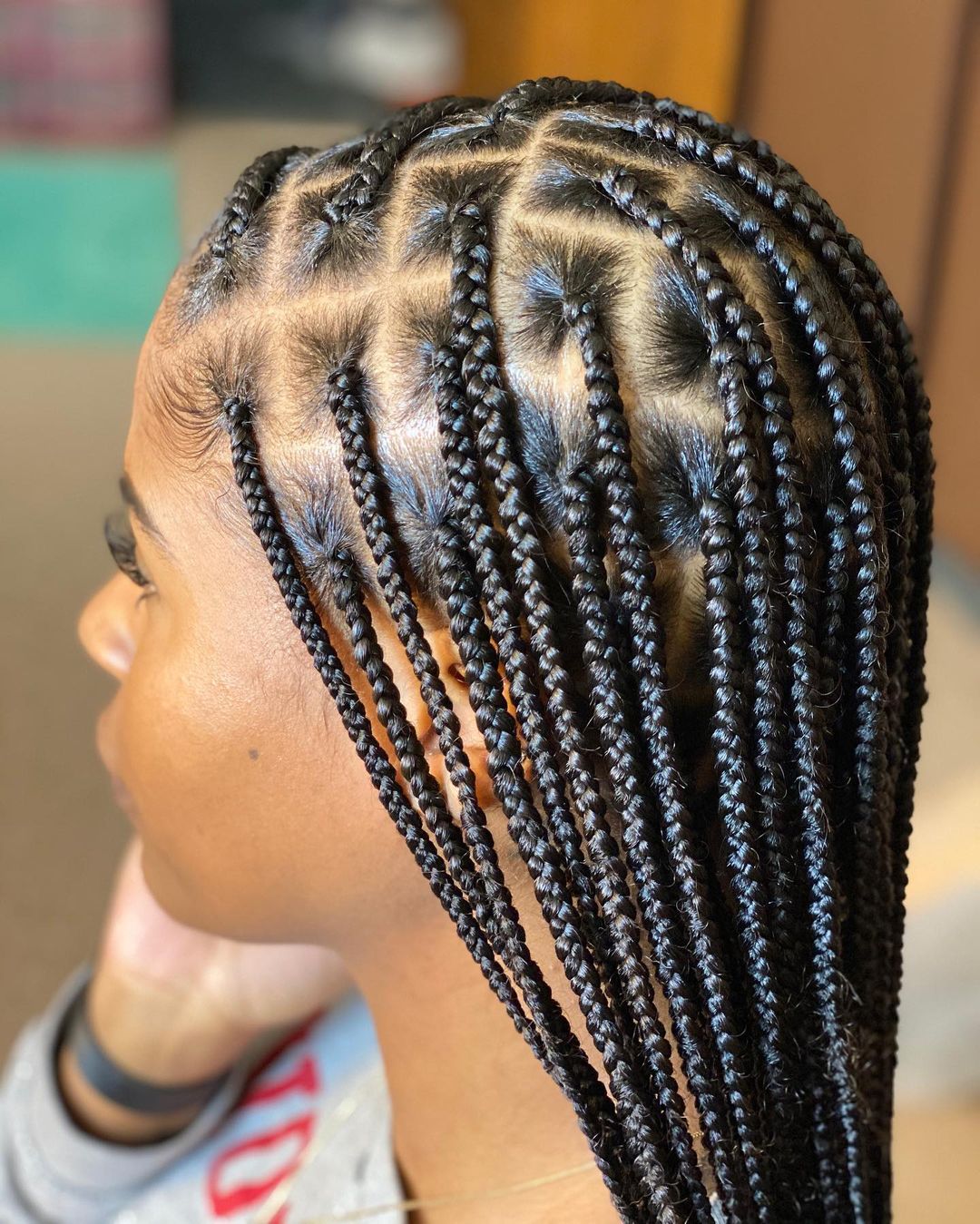 Well detailed knotless box braid, this can be styled anyhow with low maintenance.
14. Classy Shoulder Length Knotless Box Braid
Large box braids can be styled in so many beautiful designs, one of the best is being a crown of hair that you make yourself.
15. Long Knotless Box Braid
This knotless box braid is perfectly smooth to keep the overall style fierce. Now that you know perfect box braids are possible, you can reconsider.
<
16. Short Knotless Box Braid
A short knotless box braid comes with zero worries about how to style or pack it. It is super comfy for anyone that isn't a fan of long hair.
17. Mixture Of Knotless Braid With Curls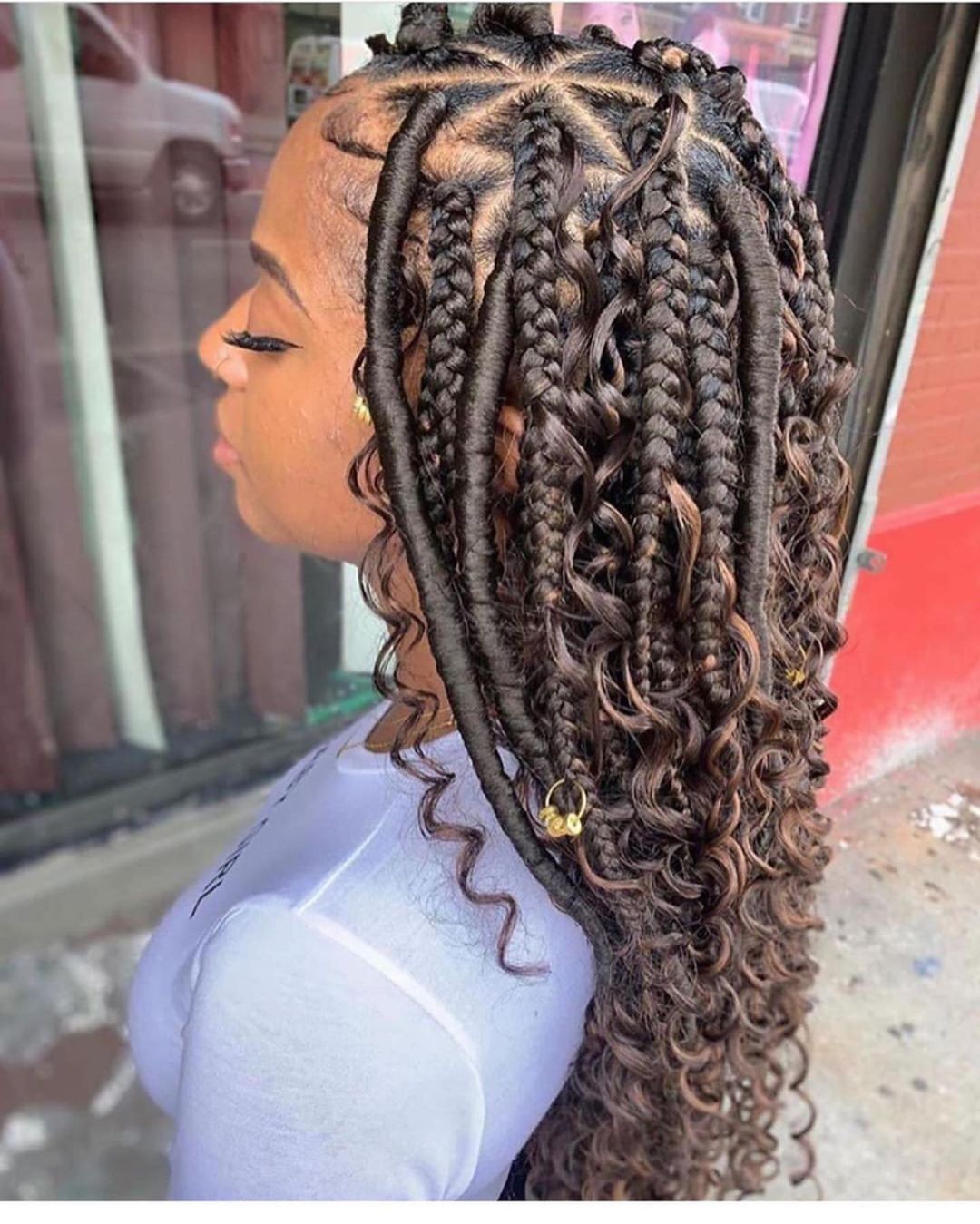 This mixture of the knotless braid with curls is classy, looks more lovely on hair accessories.
18. Jumbo Knotless Box Braid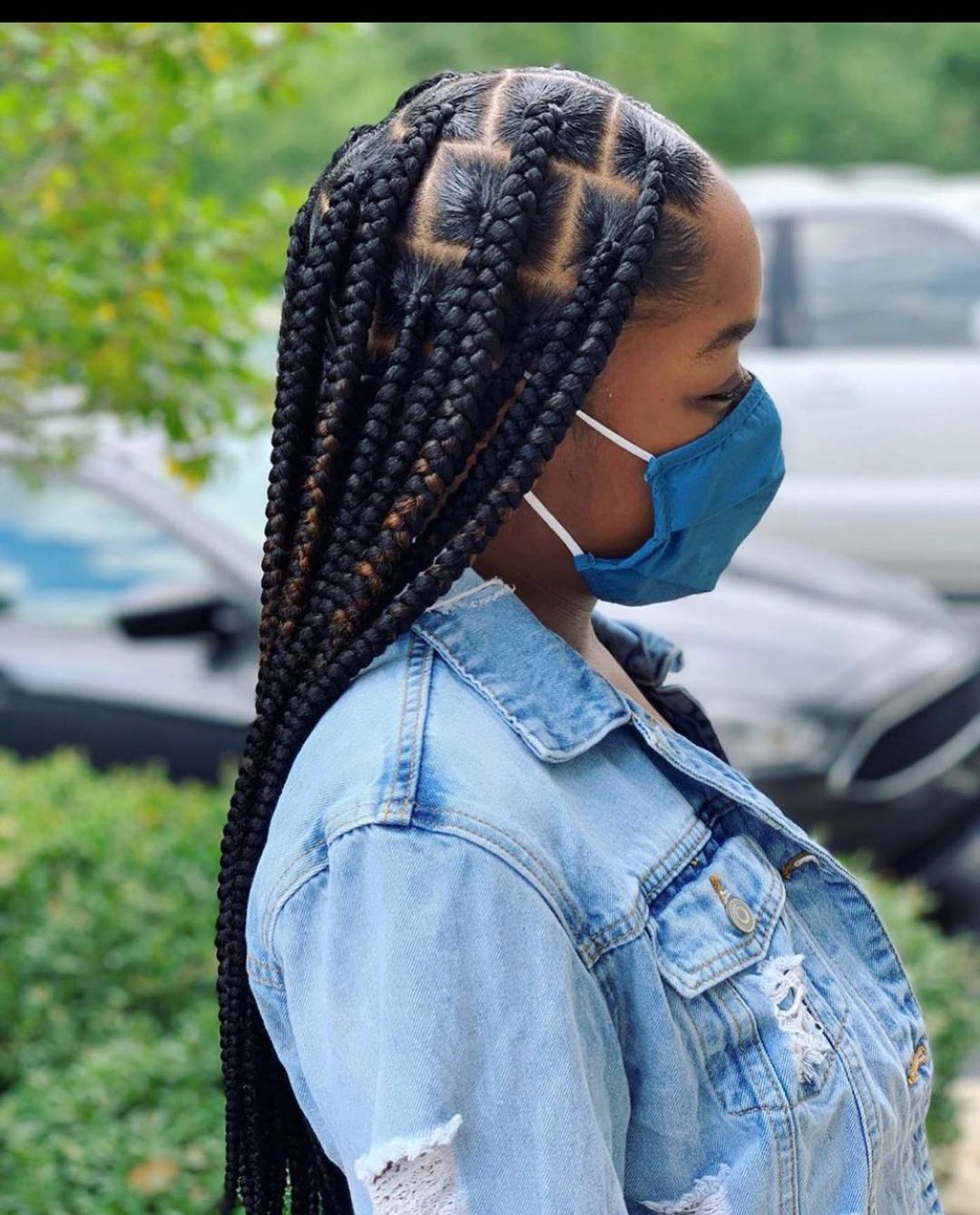 Jumbo knotless box braid will be a lifesaver for those that don't like staying long at the saloon, as this doesn't take time and still bring out the sophisticated look.
19. Beaded Knotless Box Braid
Knotless box braid with bead, giving the braid more volume.
20. Well Detailed Long Knotless Braid
Long knotless box braid can be packed into any style, you can add little hair accessories to give it a more pronounced look
21. Green Knotless Box Braid For A Classical Trendy Look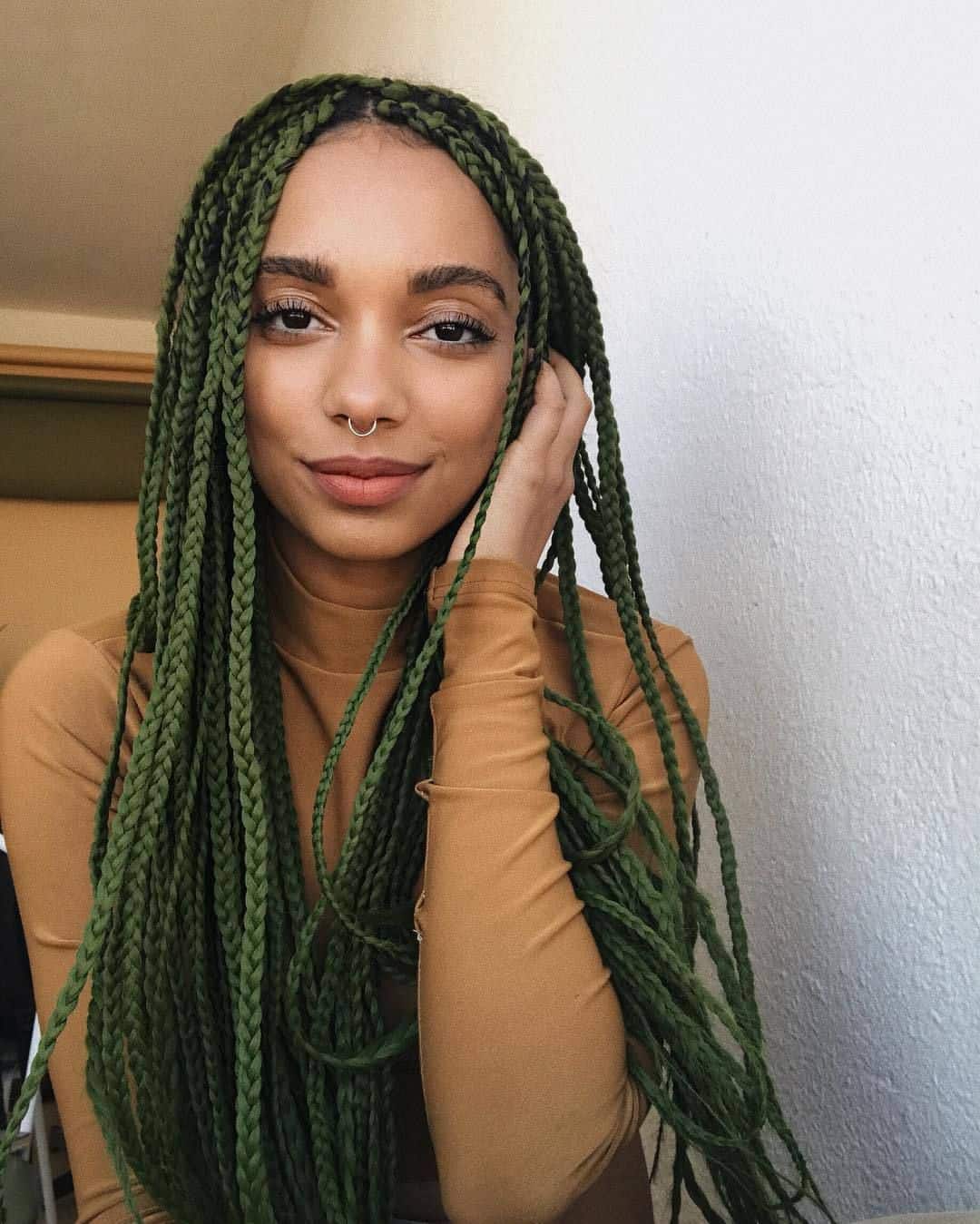 This hairstyle always stands out and not just because of its length but the green attachment did add more glam and the braids are pretty wide. With this hairstyle, you are sure to attract some crowds and this hairstyle requires a bit of volume and it does bring out that sense of style and glamour in hair and appearance.
22. Top Bun Designed Box Braid That Pairs Well With A Cool Casual Look
This style has a bohemian approach and you can enjoy it for all kinds of occasions, it is not a new way to get your box braids styled and has always been an approved hairstyle for any hair length. You can add different colors to enjoy this more.
23. Tiny Box Braid With Loose Tips That Highlights Your Bold Face
Here is one of the trendiest and simplest box braids, this braid is quite exotic and simple, you can style with a top bun or a medium bun. This hairstyle is also light and you won't feel pressured or uncomfortable if lots of attachment is used.
24. Big Box Braid With Curls For Practically Any Events
A large tight knot braid is beautiful and worth the trend, it is just the kind of box braid you would wear to practically any events, there is no pulling or tugging done on your hair provided you do not have it braided too tight, you can pair up this box braid with any kind of outfit or most suitable with a crop top and a denim jean.
25. Twisted Box Braid Goes With Just Any Makeup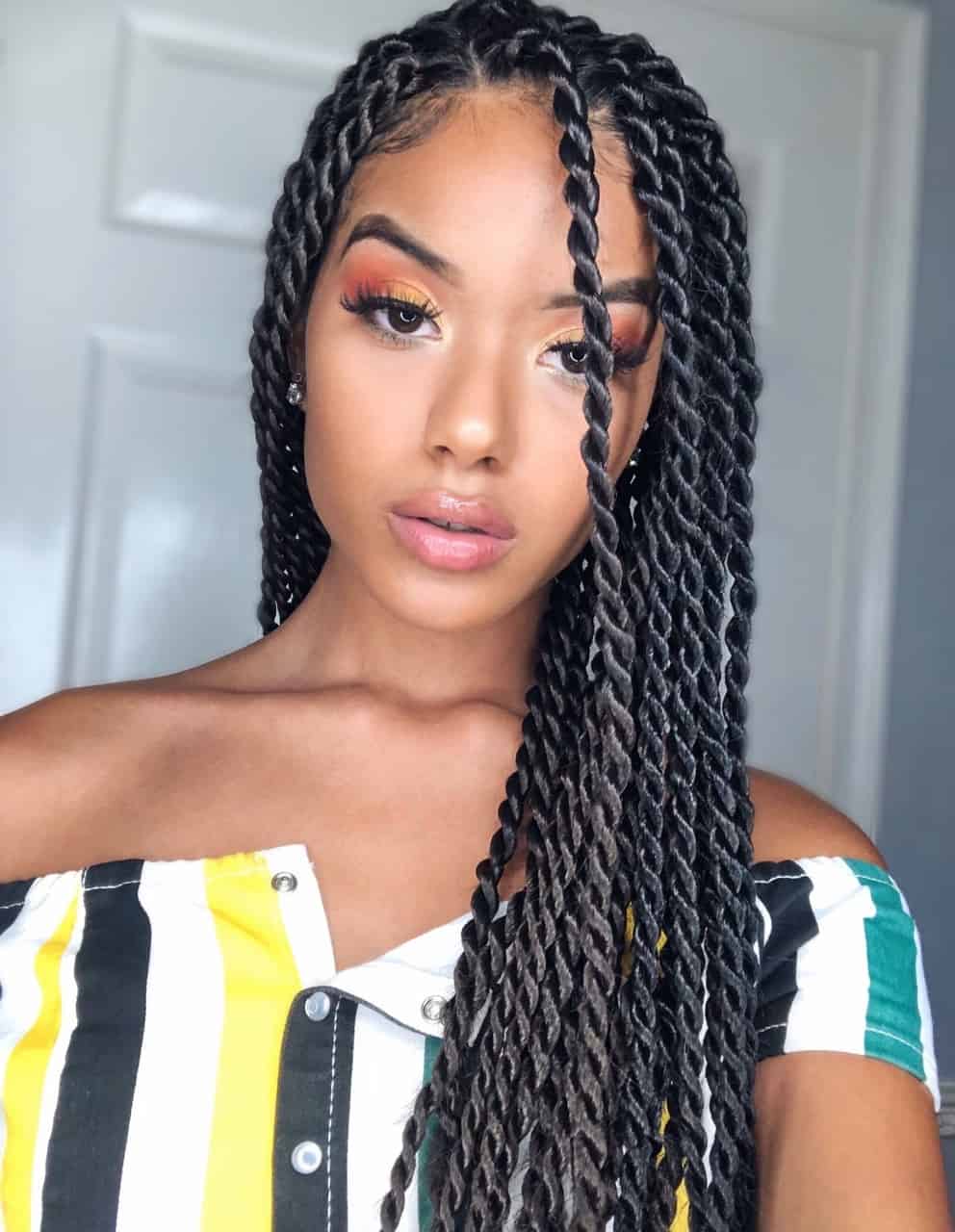 A twisted braid allows very minimum manipulation on your hair and scalp most especially on natural hair, this is a sassy and beautiful hairstyle you can rock with any outfit.
26. Knotless Gold Box Braid Gives You An Overall Top Notch Look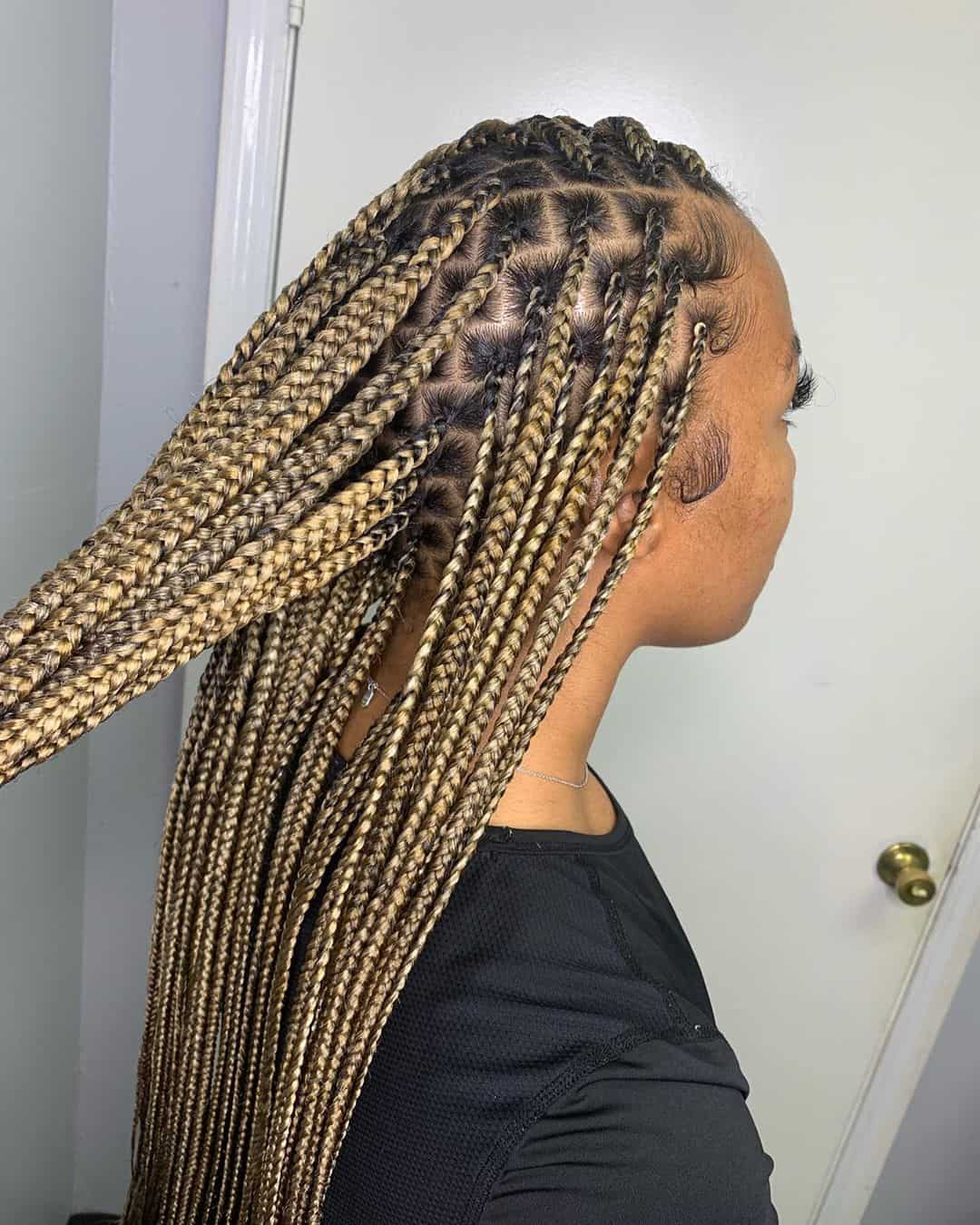 This gold braid is quite lovable and most fascinating is how it's is not too tight on your scalp and leaves your hair space to breath and it does last a long while too.
27. Side Parted Knotless Braid For A Simple Look And Casual Outfit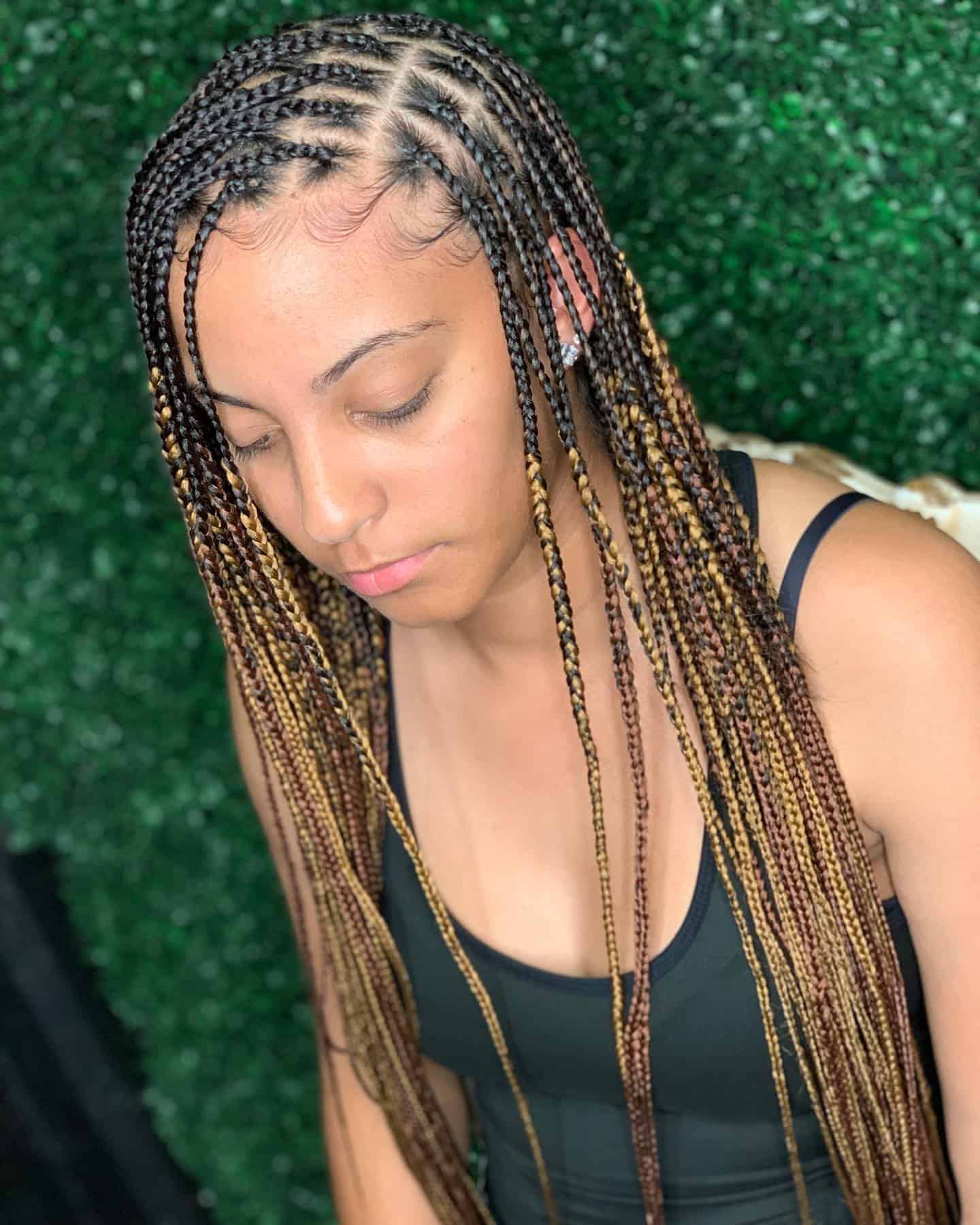 You can keep it less dramatic but fun with a gold highlighter at the tip and a knotless braid to keep your scalp safe from damages. The installation of the braid is done that the patterns fall on the side of your hairline and have a cupping effect on the face.
28. Feed-In Box Braid For A Shimmery Make-Up
A short box braid makes the height of fashion when it comes to braiding and adding feeds to it only makes it even more beautiful, this feed could be on both sides or one of the sides.
29. Pink Box Braid Is Just The Perfect Color For A Box Braid
One of the hottest color attachments for a braid is pink and above is just the perfect hairstyle to represent it, it's quite stunning and it makes the face well defined.
30. Short Goddess Braid Can Never Go Wrong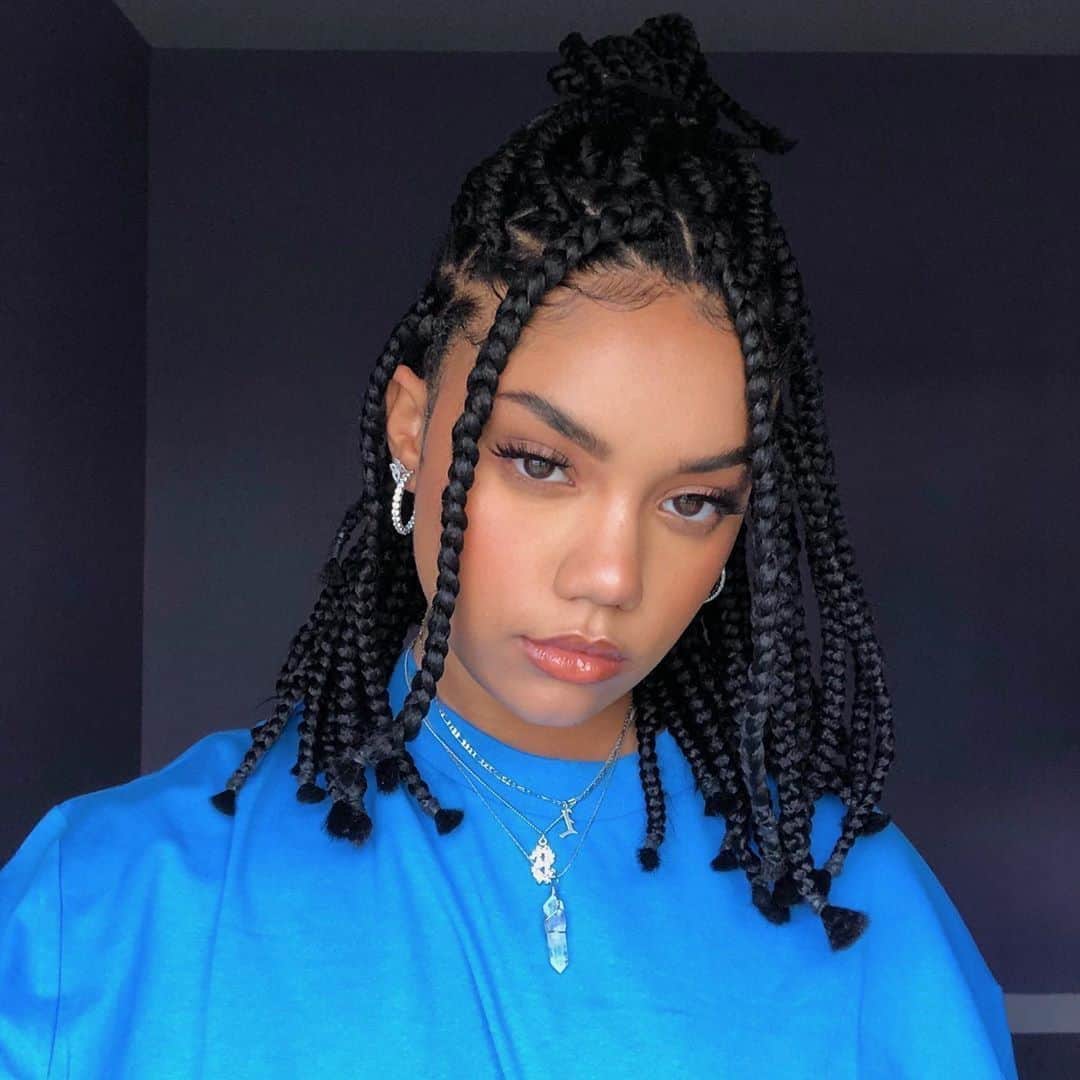 Goddess braids have a high cute quotient, it brings out the facial features more, it tends to stand out regardless of what outfit it is paired with.
31. Large Patterened Braid Brings Out Your Face Features Effortlessly
Patterened braids are stunning and leave room for your hair and scalp to lock in moisture, you can easily keep your scalp clean with this kind of box braid.
32. Tiny Jumbo Braid To Look Sleek At Events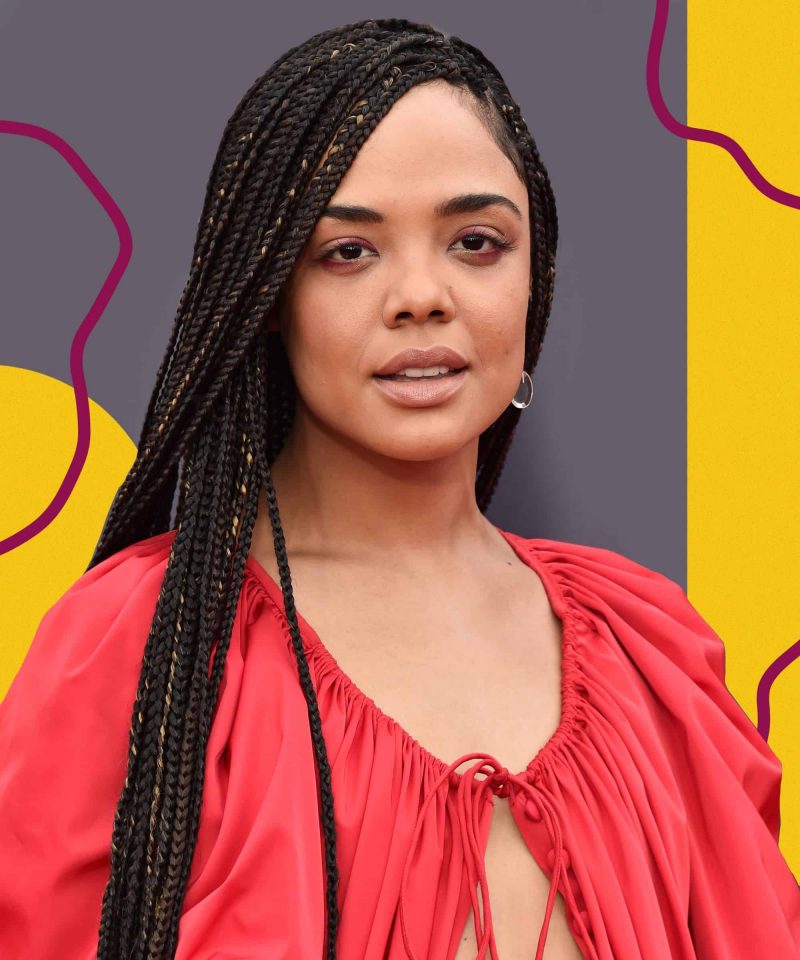 Tessa Thompson does have the perfect box braid to set things in motion in 2021, simple and definitely worth the fuss, this particular box braid tends to take a whole lot of time but acts as a protective hairstyle for natural hair.
33. Loose Mouth Box Braids To Match Your Purple Lipstick
A loose box braid is not just gorgeous but perfect for elaborate makeups and just like tiny braids, it takes lots of time and effort.
34. Gold Goddess Box Braid To Give You An Exotic Look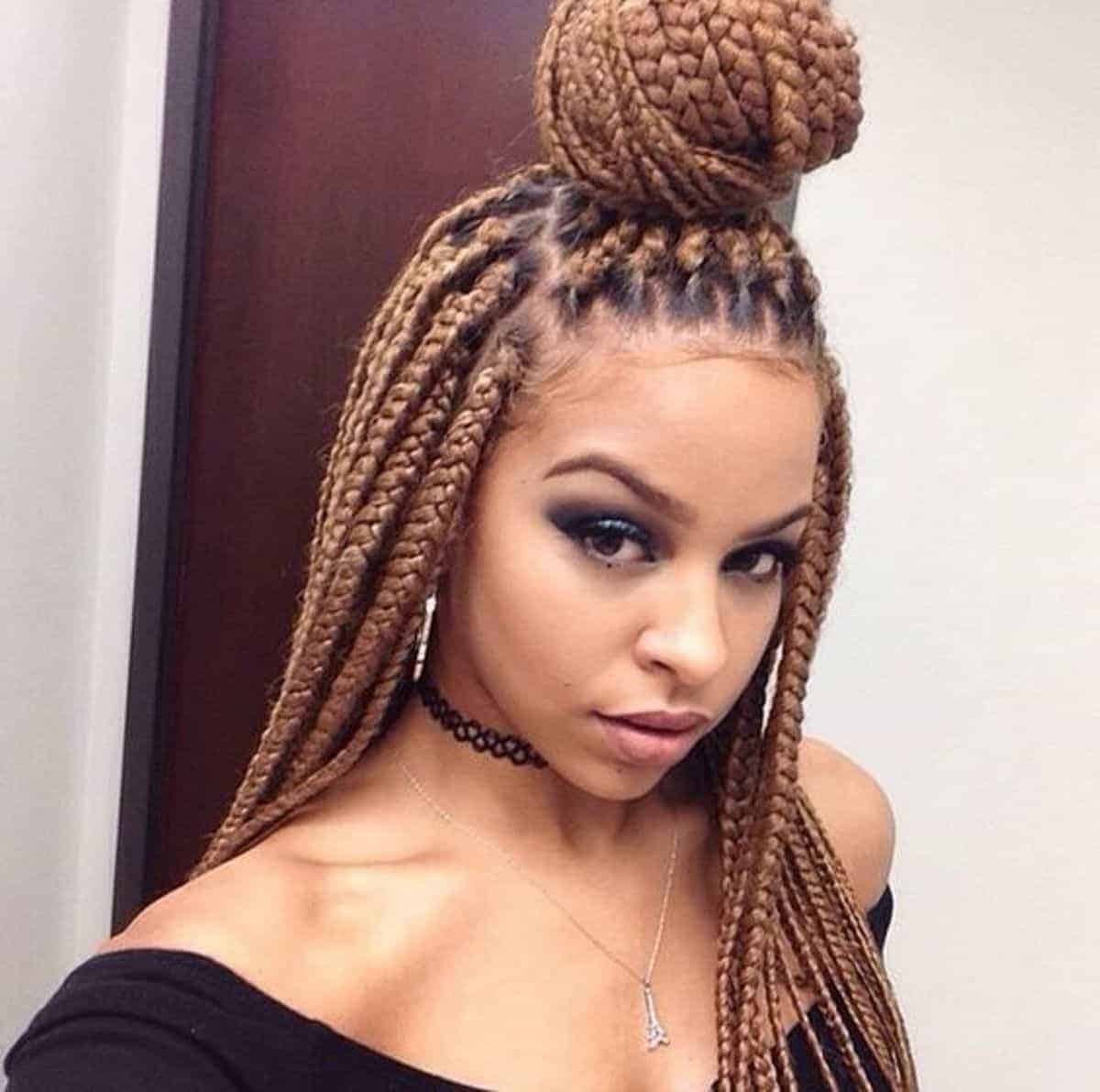 Source: Shpock
An exotic braid to match with simple exotic makeup, it pairs with all kinds of outfits and it goes well with any color of extension as well.
35. Big Box Braid For A Bold Calm Look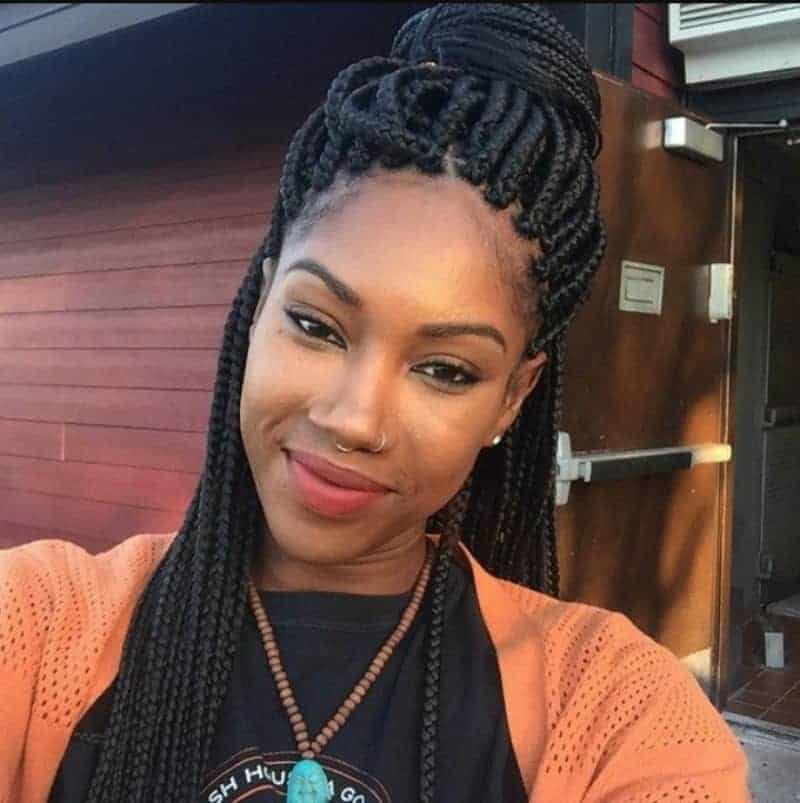 With big box braids, you can be rest assured your hair growth is protected, big box braids can last up to three months and not cause your hair to have split ends.
36. Colour Box Braids To Put Your In A Fun Mood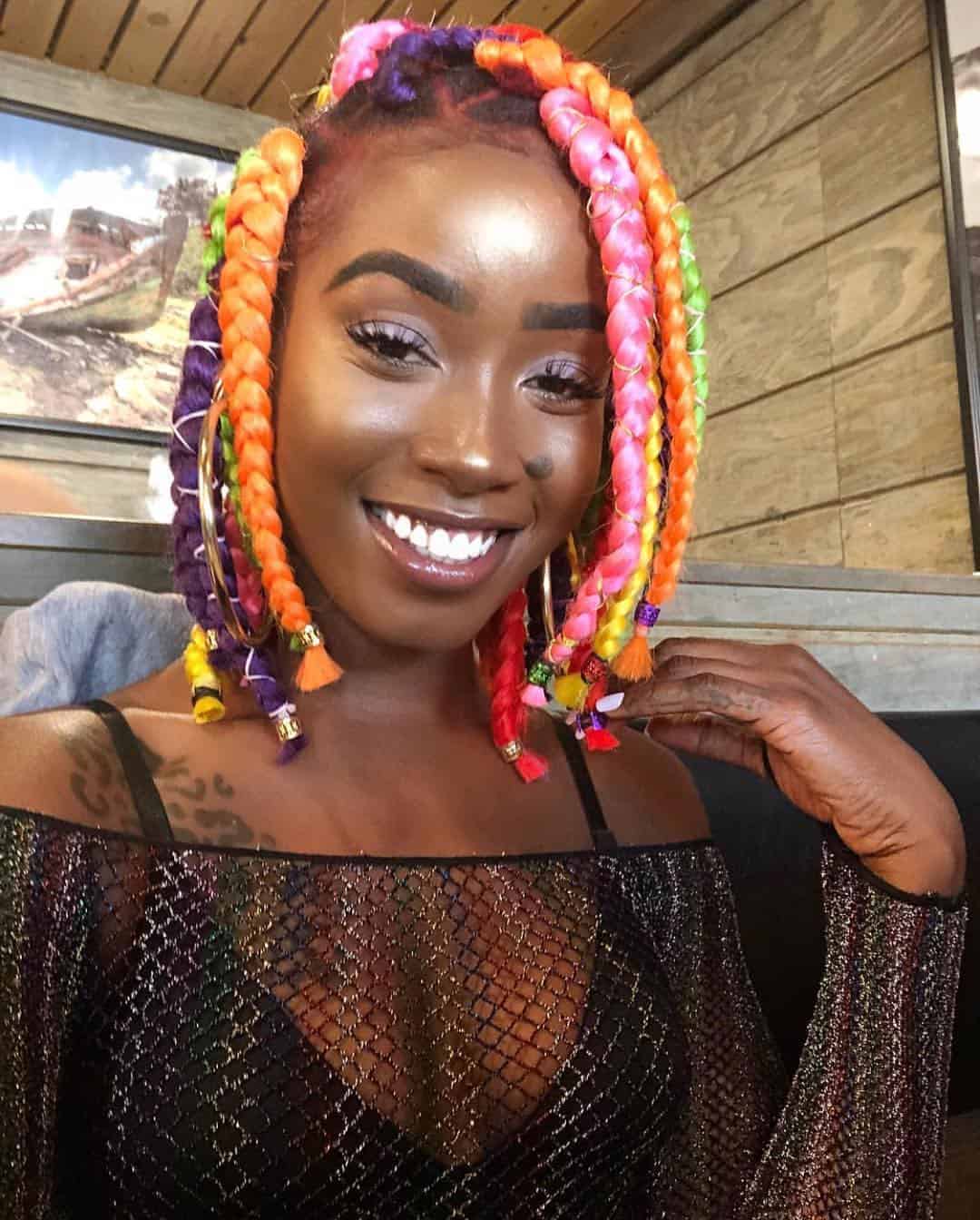 Coloured box braids are too much fun to resist and really classy too, the shorter the length, the more beautiful and fun it can be.
37. Rainbow Braids To Brighten Your Look
A rainbow braid is just what you need to spice up your outfits, no makeup is needed to complete this look, was a quite trendy braid, loved by all ladies for its unique color combination.
38. Classic Scanty Box Braid To Give You Iconic Look
To look like and step like a classy lady, you need a braid that is not too dramatic but gives you just the right dose of cuteness.
39. Short Goddess Braid With Hair Clamps To Turn Heads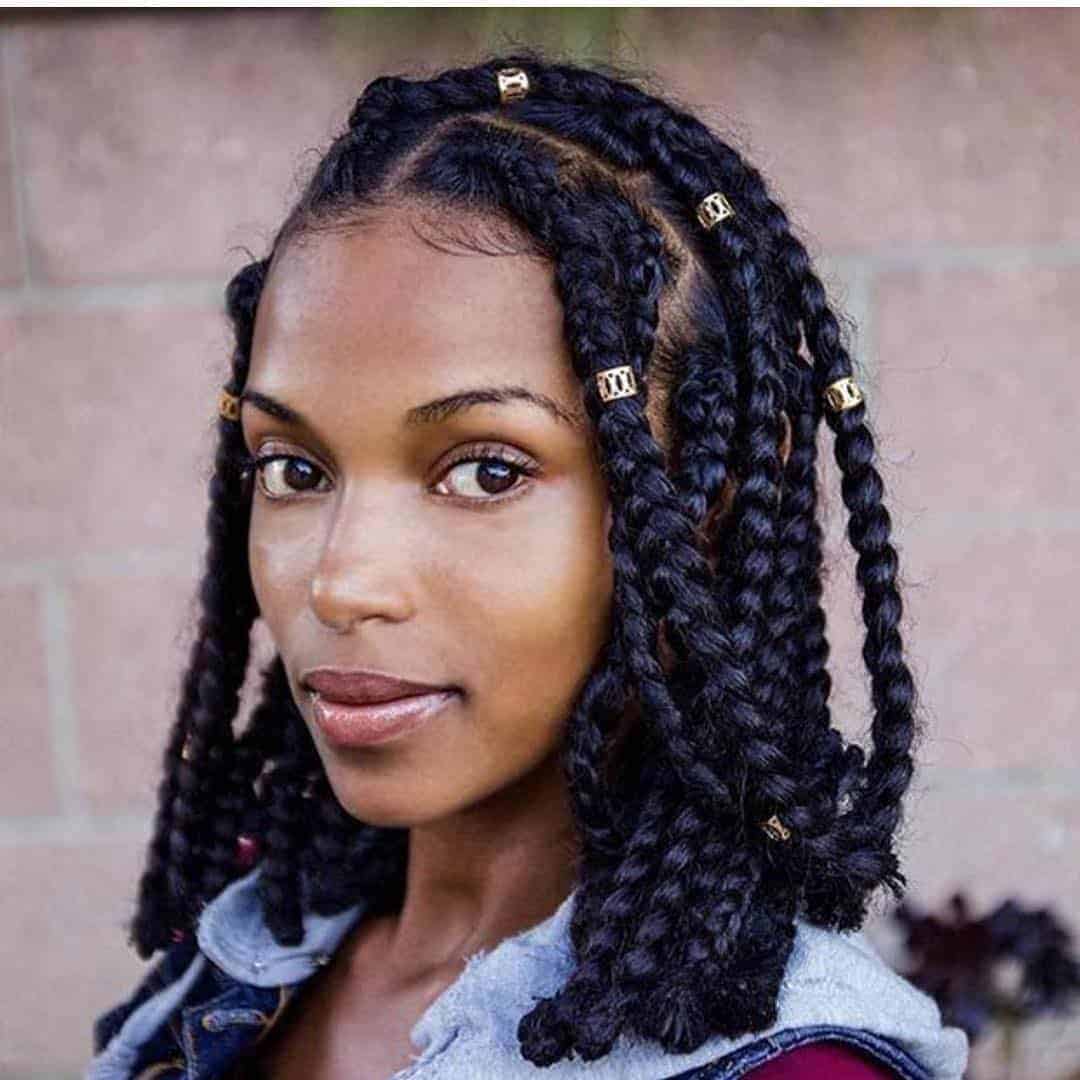 A short goddess braid is just like every other goddess braids but this time it's a braid that takes your stylist minimal time to make, all you need is a gold clamp to make it even more stunning.
40. A Down To Earth Box Braid For An Innocent Look
Jada Pinkett can be trusted to have the perfect braid for us, with or without extension you can have the perfect braid installed.
41. A White Box Braid To Show Off That Beautiful Smile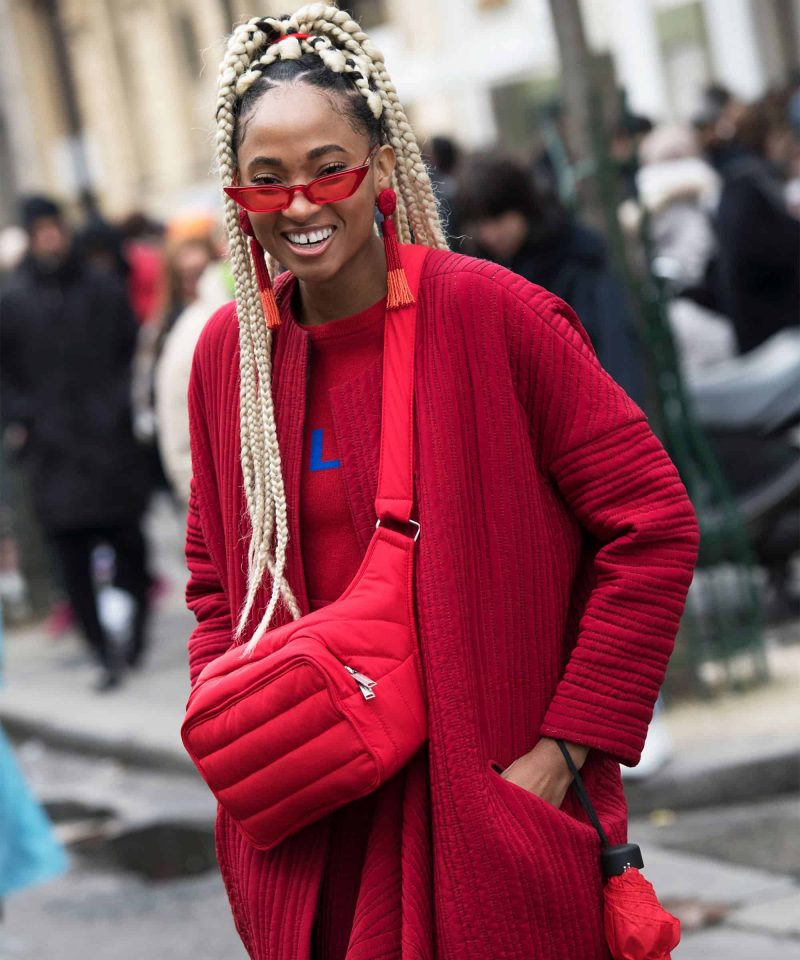 A nice box braid is sure to bring such beautiful smile to your face, a white box braid is one of those braids every woman can't help but find fascinating and if you do have a particular hair color then all you need to do is to get a colored extension and let your stylist work the magic.
42. Add A Double Bun For An Iconic Look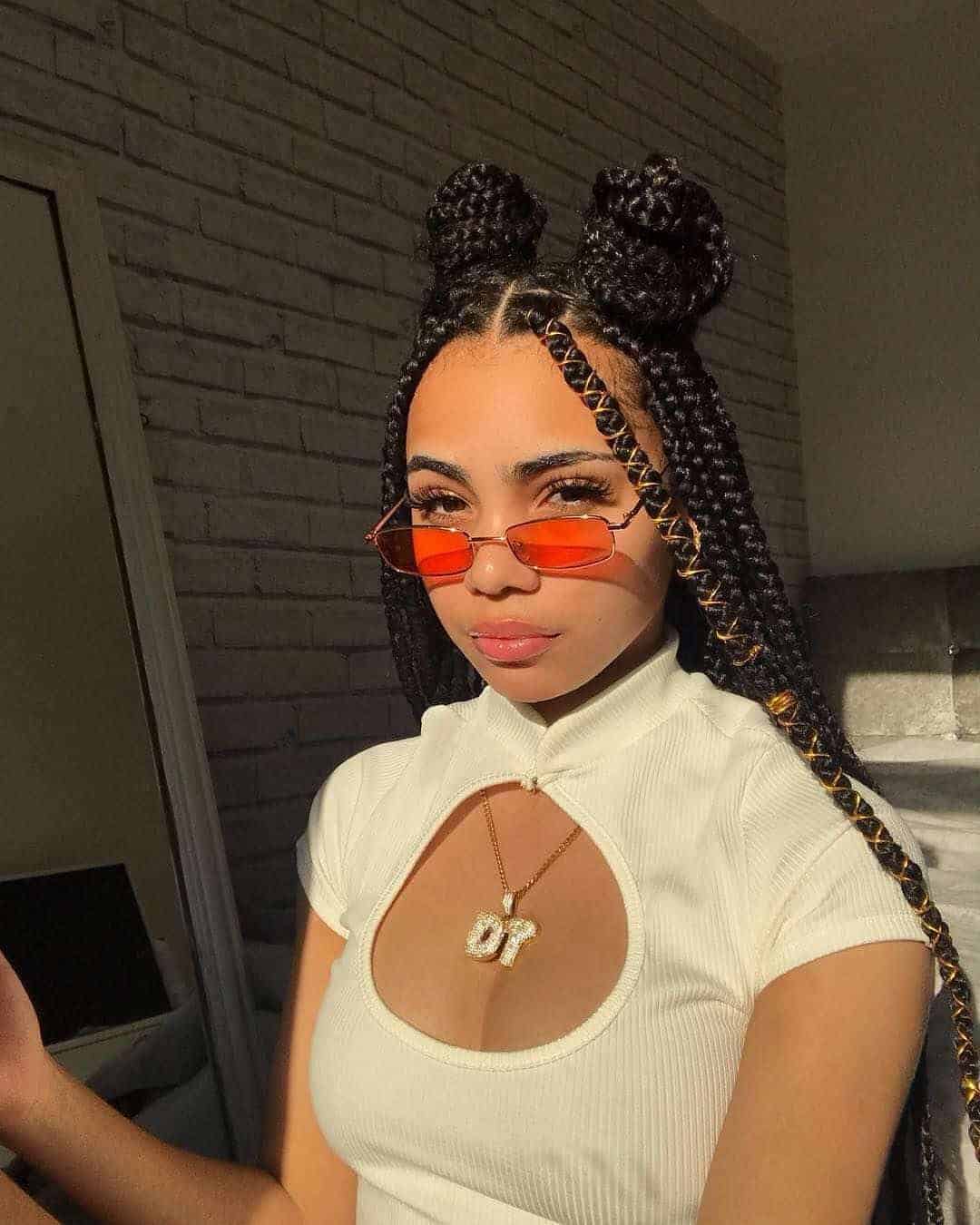 Just the right braid you need to maintain that beautiful African woman look of yours.
43. A Center Parted Braid For That Classic Celebrity Look
Source: Rihanna
If Rihanna can do some justice to those braids then you can be sure you can to, the perfect braids for all kinds of occasions.
44. Honey Blonde Box Braid Goes Well With Your Smokey Makeup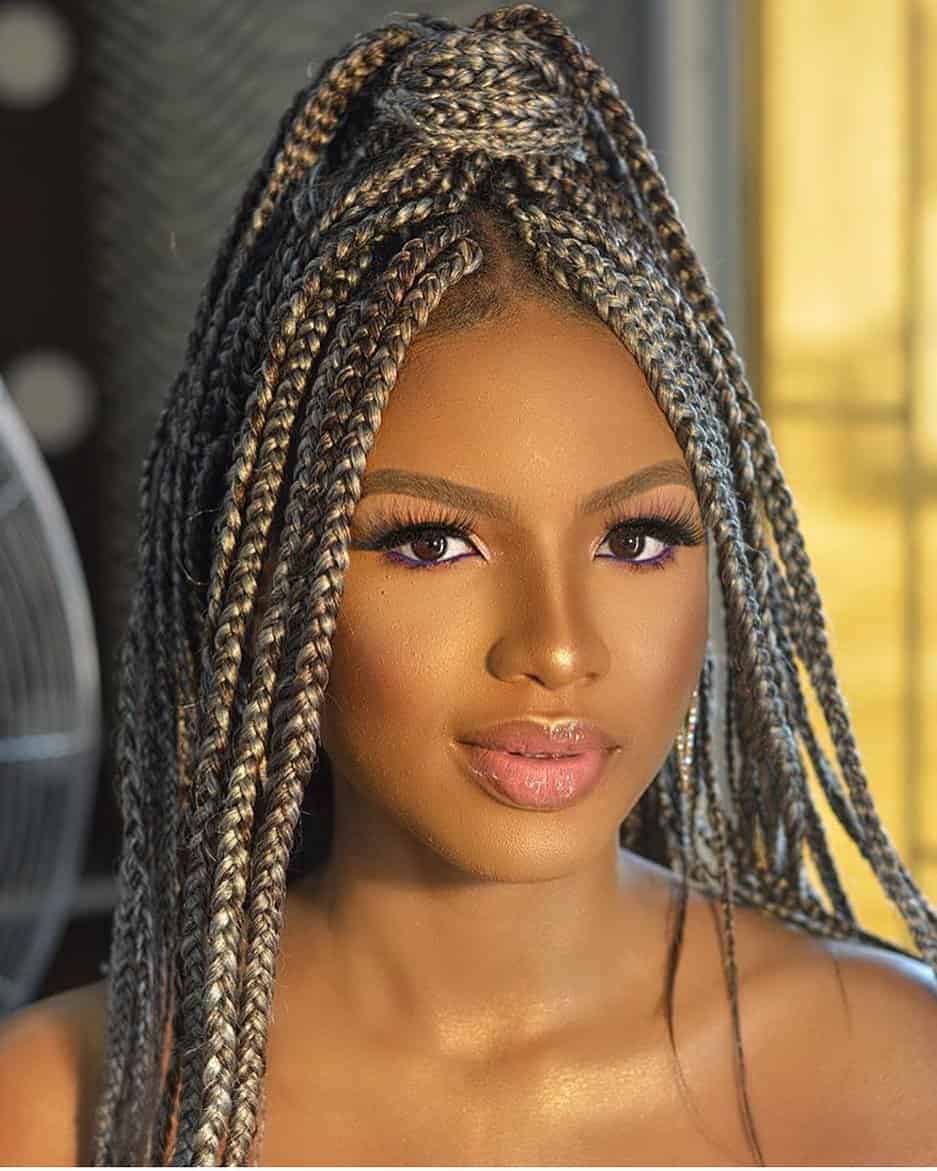 Now here is another box braid we couldn't get enough of in 2021 and we can be sure it's going to be really trendy for a long while.
45. Faux Locs Box Braid With The Right Essence Of Cuteness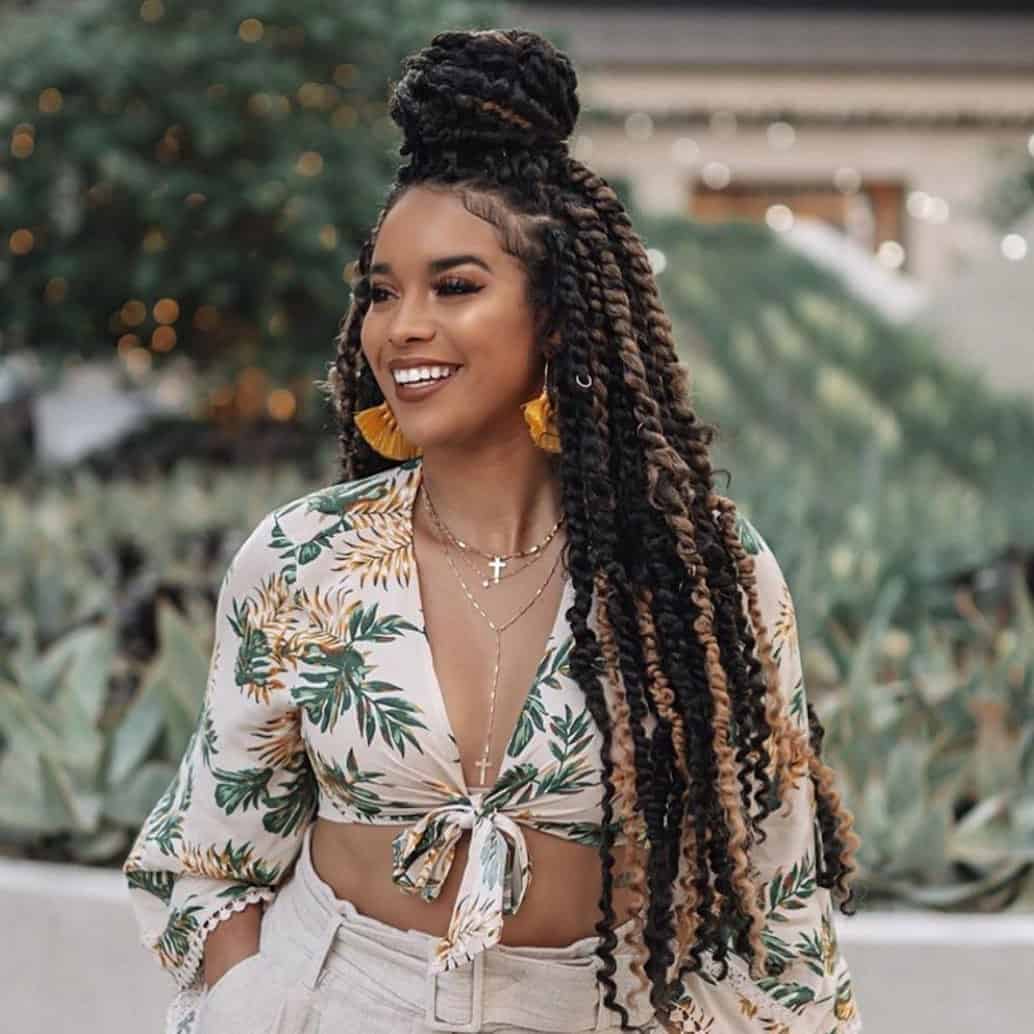 Get that confidence kicking with this amazing box braid.
46. White Loose Braids To Look All Flirty And Exotic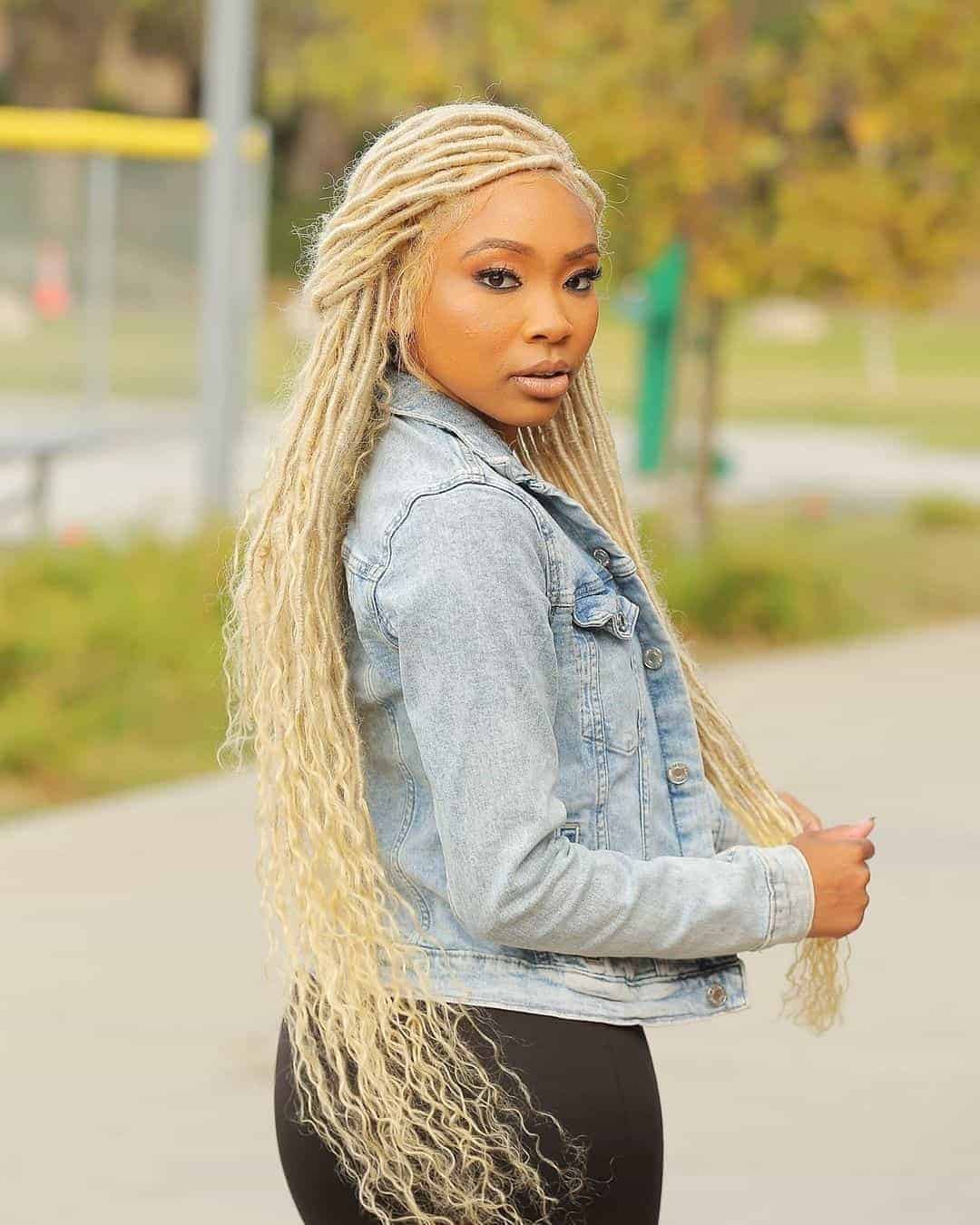 Nothing is yet to beat the look that you are sure to get with a loose white braid, the longer it is, the more beautiful it gets.
47. Goddess Box Braids With Loose Tips For That Baby Doll Look
You can totally pull this look off and it doesn't even take much of your time unlike other long braids, colored extensions also make this box braid look even more stunning.
48. Havana Braids Are Too Good TO Ignore
Source: braidsgangGet those amazing Havana braids fixed and all you need is some glasses to get that classic look you want.
49. Messy Braid For An Interesting Day Outdoor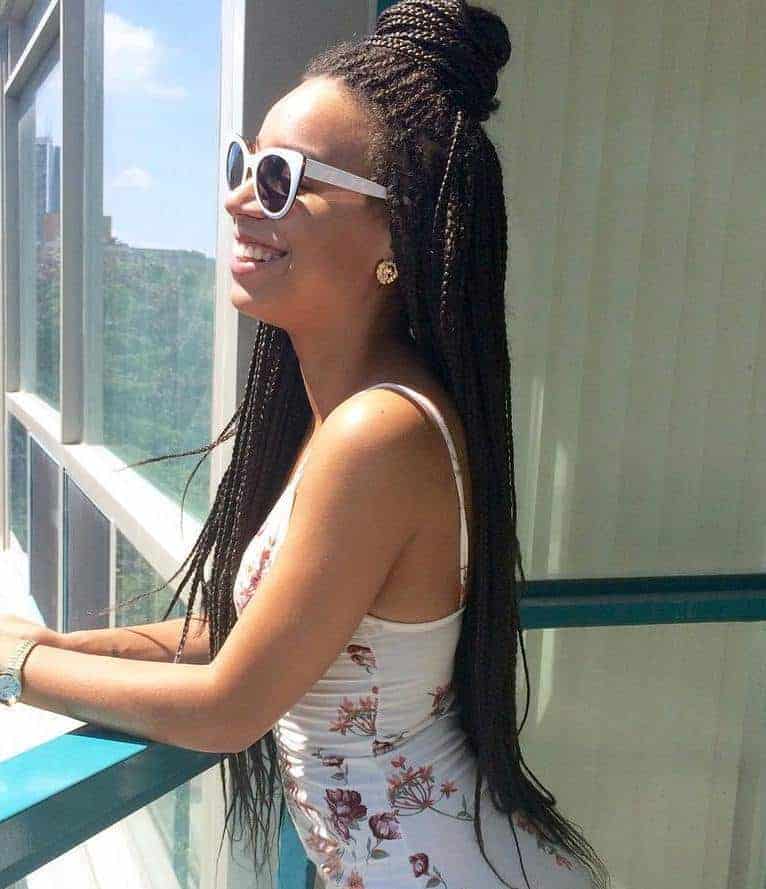 Trying going with a box braid that says too lazy to see my stylist and we bet you are going to love the simple glamorous look that comes with it.
50. A Side Medium Braid To Pair With A Shimmer Makeup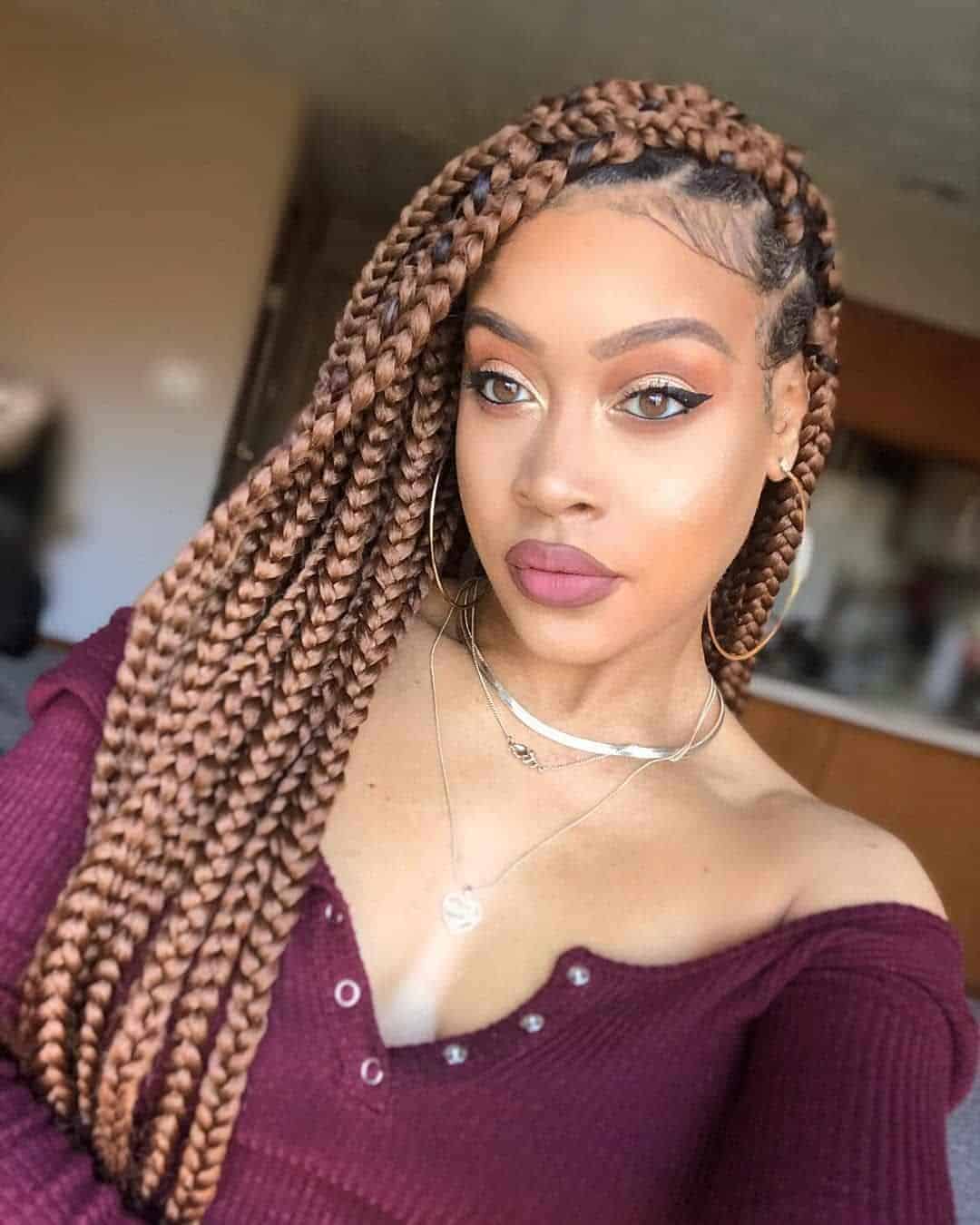 Just the right kind of box braids every woman needs to make before 2021 rolled over and you can rest assured it's going to be in wave for quite some time and you can't help but love the smart and neat look that comes with it.
Box braids are quite trendy in Africa and fast gaining momentum all over the world and women find box braids even more interesting as they can last up to two months without causing breakages however you shouldn't leave your box braids in for too long if you have weak tresses.
You can have these box braids made with your natural hair or go bold with colored extensions.
Read more on hairstyles and hair care: