Cornrows a.k.a Ghana weaving shuku are one of the most popular braids, particularly for black ladies. Its popularity is thanks to both its ability to protect natural hair and for the braider to get creative. Cornrows are the base for many other braided styles, including crotchet, Lemonade, feed-in, and goddess braids. You can be certain to get plenty of compliments.
You can do almost any hairstyle with cornrows shuku. Tie them up into a ponytail, high bun, cute space buns, or rock them as a pony. Half-up styles that use additional twisting look incredible, and you can get really creative. You can also style them as pigtails, bow ponytails, as part of updos, or even upside down.
With the awesome hairstyles listed below, you will attract attention, admiring glances, and sincere smiles. If you're not into skuku styles, You may as well check out this list of trending Ghana weaving all-back style ideas, it's loaded.
Here are 21 amazing Ghana weaving shuku styles that have been compiled for you.
1. Crown Bun With Braids
Braids in bigger plaits save lots of time, as more hair is used in each row. The less time in the salon chair, the better. This draws the eye across your face and focuses the attention on the crown of your hair and your pronounced glowing forehead.
2. Zig Zag Clean Lines Ponytail
Sophisticated zig-zag clean lines, you can decide to add an extension to get more glances and feel like a real queen all while you rock it.
3. High Bun Cornrows
If you want a hairstyle that makes a statement but you seem short on time most days, this is a great option. They're also a good choice if you have thin hair but still want the cornrow look.
4. Classic Bow Ponytail With Curls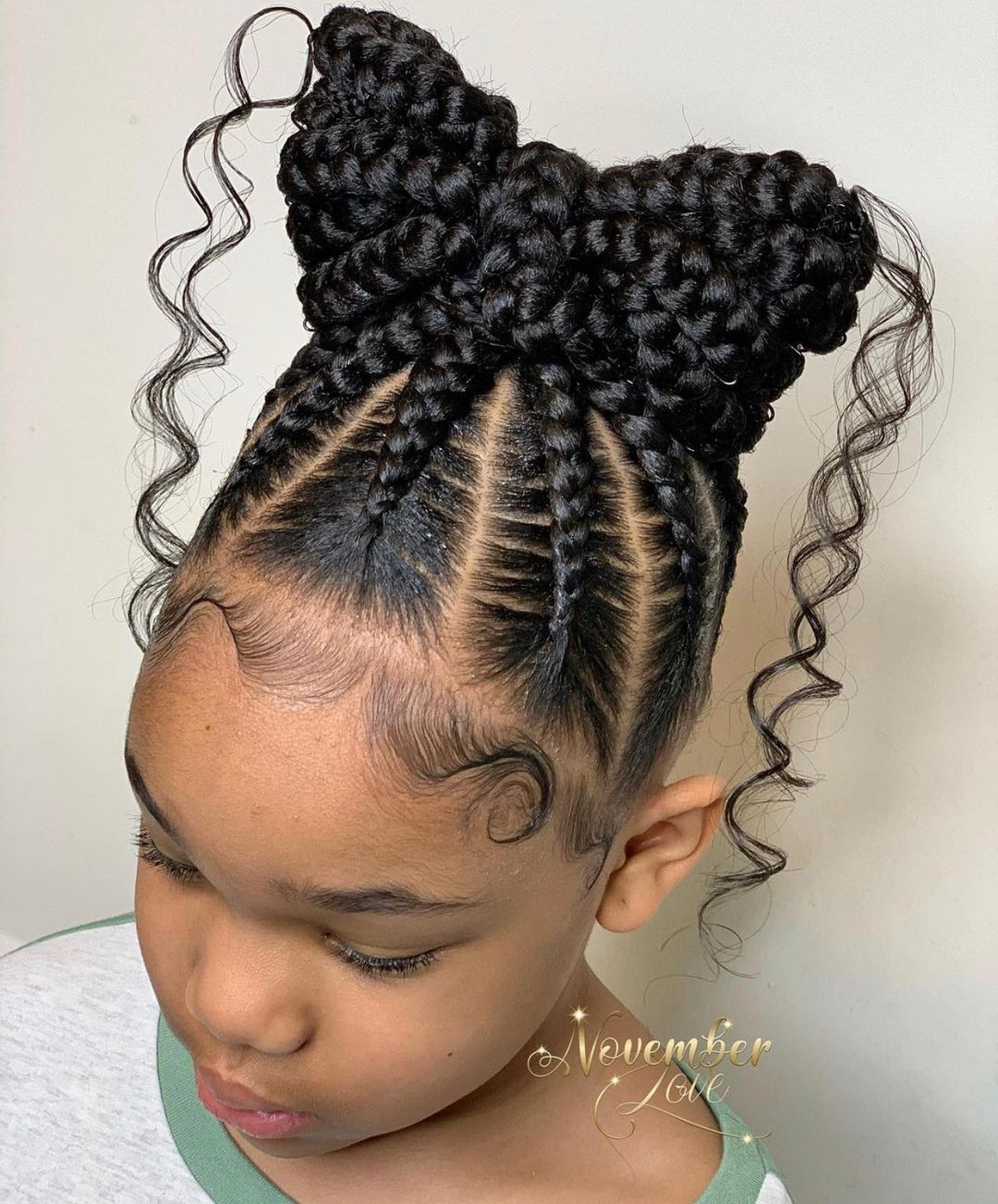 Classic ponytail cornrows have less tension on your scalp, while they can last for weeks and are very low in maintenance.
5. Two Bun Cornrows With Butterfly Effect
To make your braided ponytail look perfectly polished and exceptional, secure it with some hair accessories for some extra personality. a clear snag-free elastic and wrap some of your braids around to cover it. Finally, add hair accessories for some extra personality.
6. Thick and Thin Asymmetrical Feed-in Cornrows
If you are looking for a hairstyle that commands attention, then this thick and thin feed-in is for you. When you're short on time, plait a thick Dutch braid along the center section of your head, then tie the rest of your hair back in.
7. Two In One, Colored Shuku With All Back Cornrows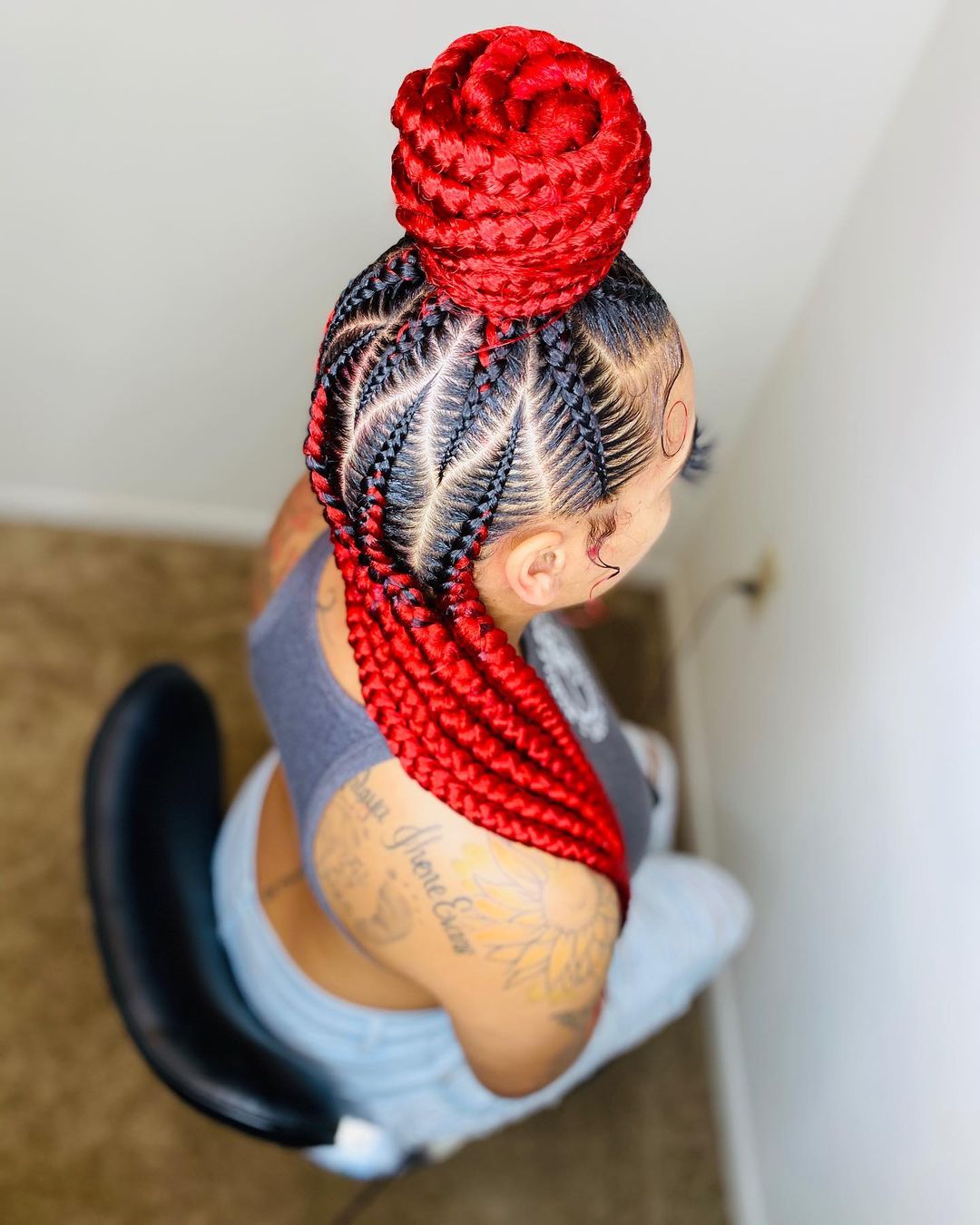 Two in one hairstyle with a well-detailed line. if you don't just want the random ponytail hairstyle, you won't go wrong by opting for this hairstyle.
8. Ponytail Cornrows With Beads
Keep it super smooth for a more professional look, or pull a few face-framing pieces out for a soft and romantic vibe with this medium-sized ponytail cornrows with beads.
9. Chic High Ponytail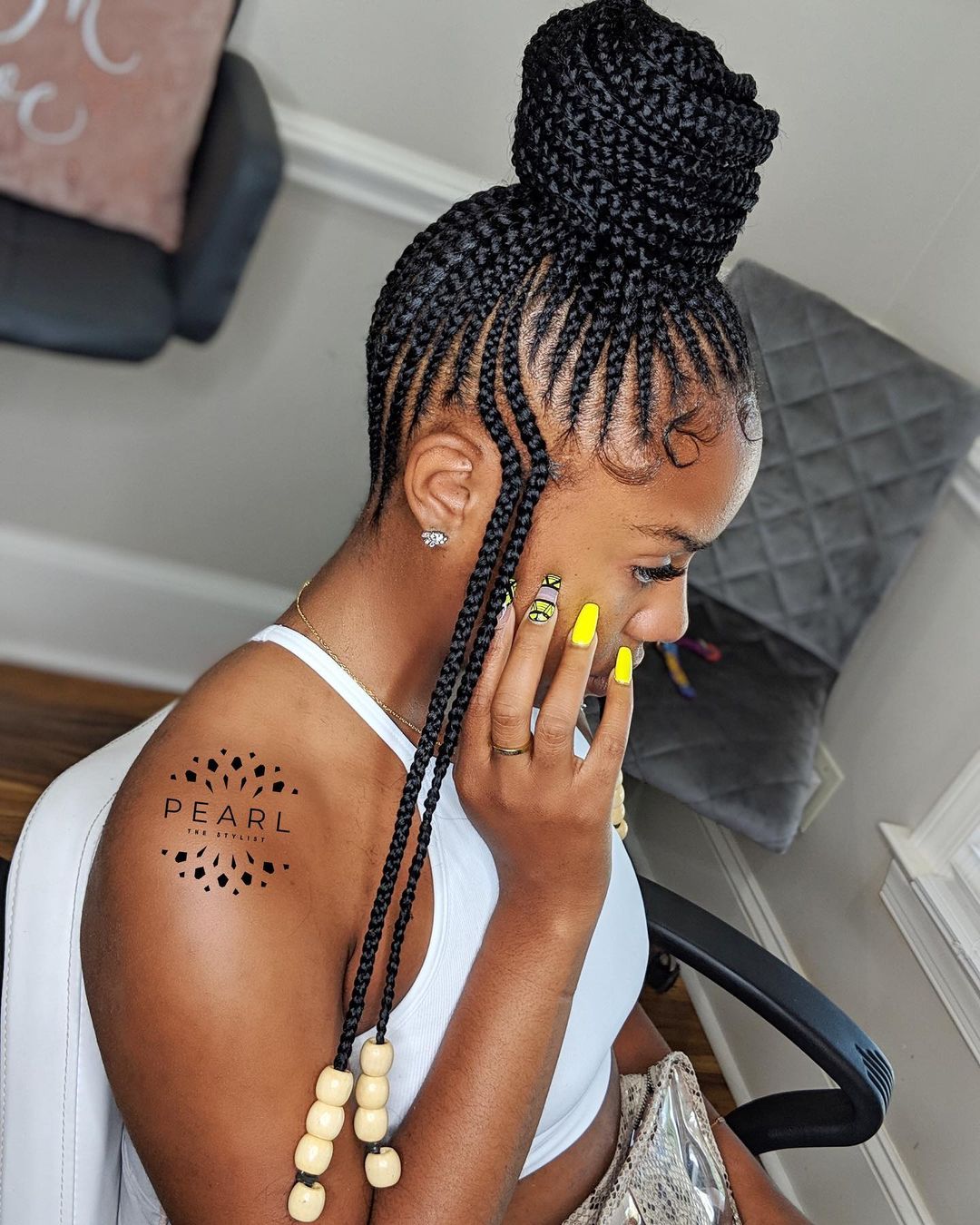 Classy and classic ponytail for anyone seeking attention. Chic high bun with sideways beads will do justice to your look.
10. Goddess Double Ponytail With Beads
Goddess ponytails, are perfect for days when you want to give your hair a break or when you are going on a beach vacation and would rather not worry about styling your strands every morning. 11. Feed-In Buns With Ghana Braids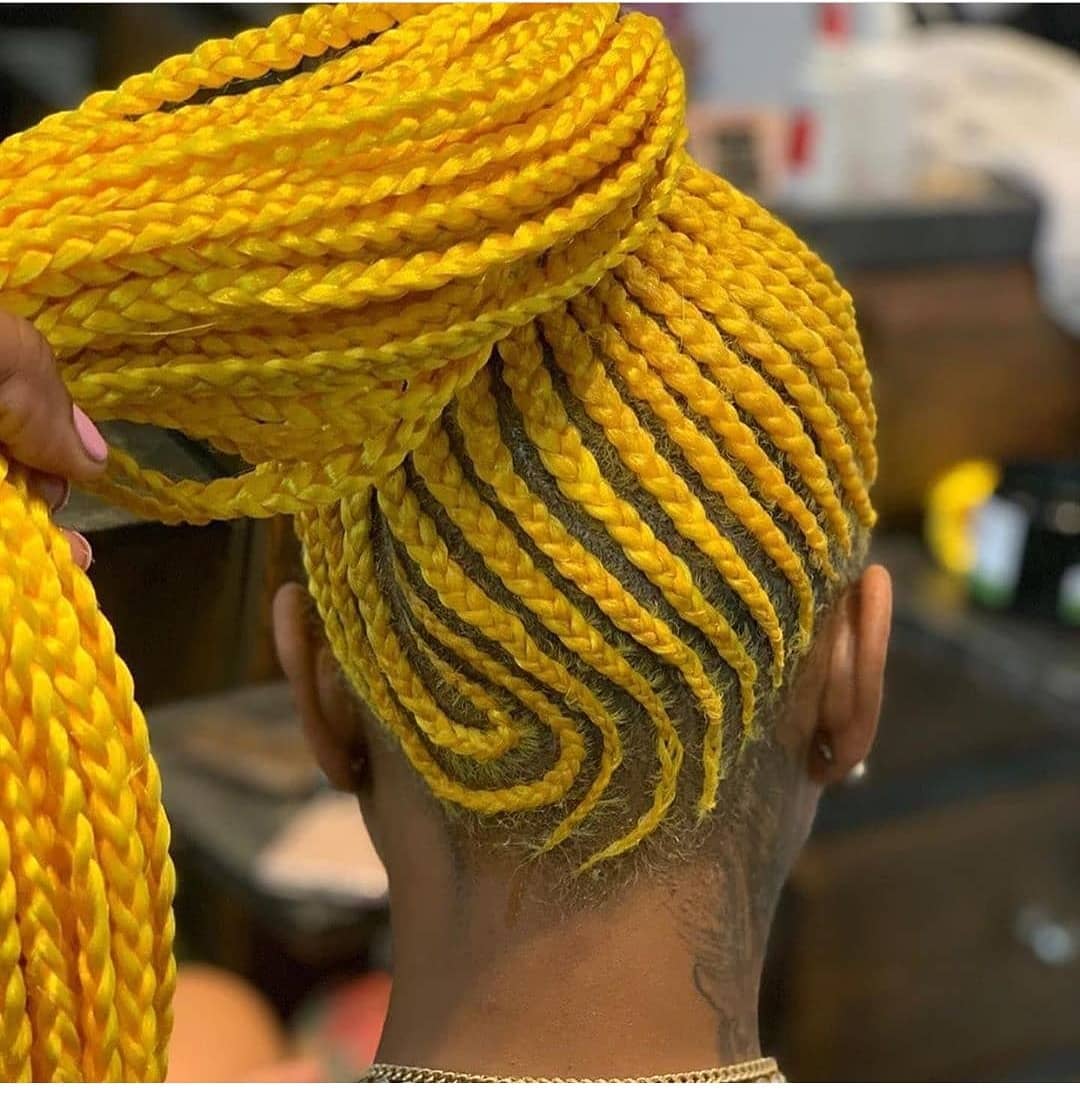 Do you like it shouting? You can go for this color, giving the style a pronounced and attractive look.
12. Tiny Ponytail With Curls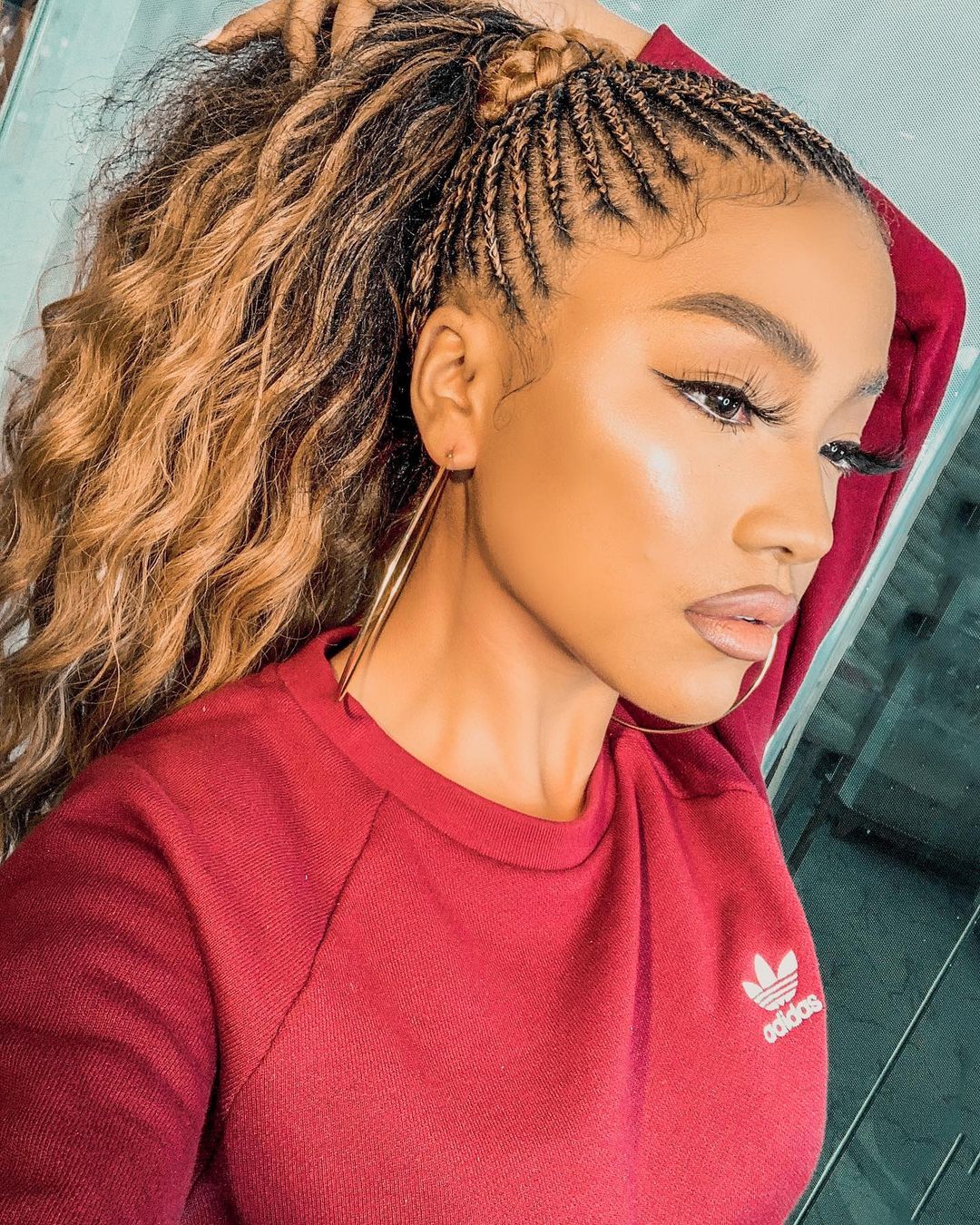 You need not braid the whole cornrows, you can take part of it and make it curly, giving the hair a full look with a classy breathe taking look.
13. Detailed Feed-In High Bun
You don't have to worry about maintaining this detailed feed-in. The braids will stay in place and keep your hair out of your face especially when there is heat.
14. Long Curvy Braids
Braids giving a curvy statement with lovely extension.
15. Four-Part Side Cornrow With Two Bun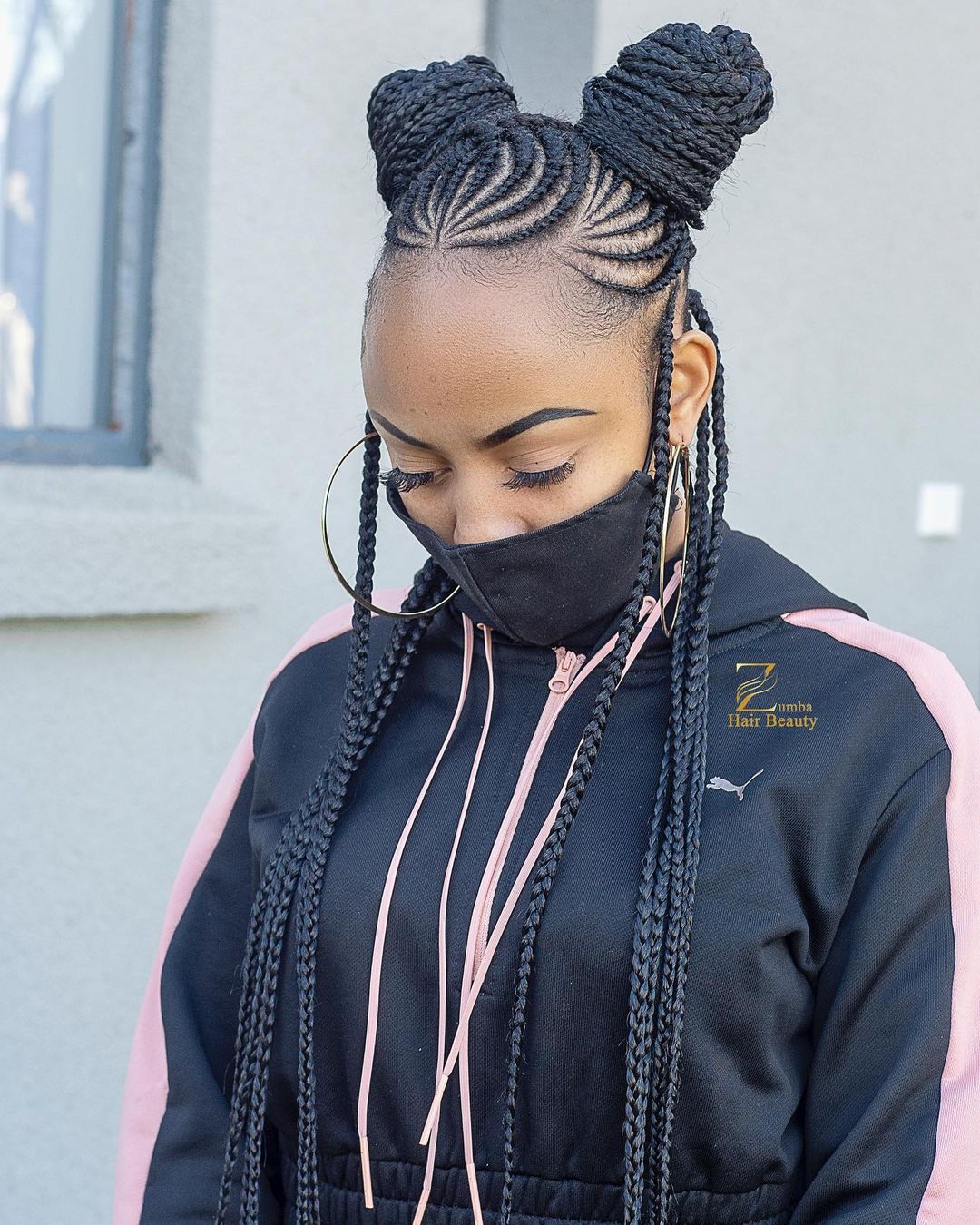 Four side parts with two buns looking elegant, you can always add knotless braids to the back to give an exceptional view.
16. Crossed High Bun With Curls
Adding extensions to the braids and leaving the rest of the hair free gives the ponytail braids another style. It's a bold contrast, and the result is a modern one.
17. Systematical Lengthy Bun
Simple and classy lengthy bun.
18. Perfect Black Ponytail
Curvy side cuts can be properly maintained, these braids create a cute and cool effect with a lot of attitudes.
19. Dynamic High Bun
The great thing about this dynamic high bun of this size is that they don't take too long to do and are easy to take out.
20. Tiny Bun Cornrows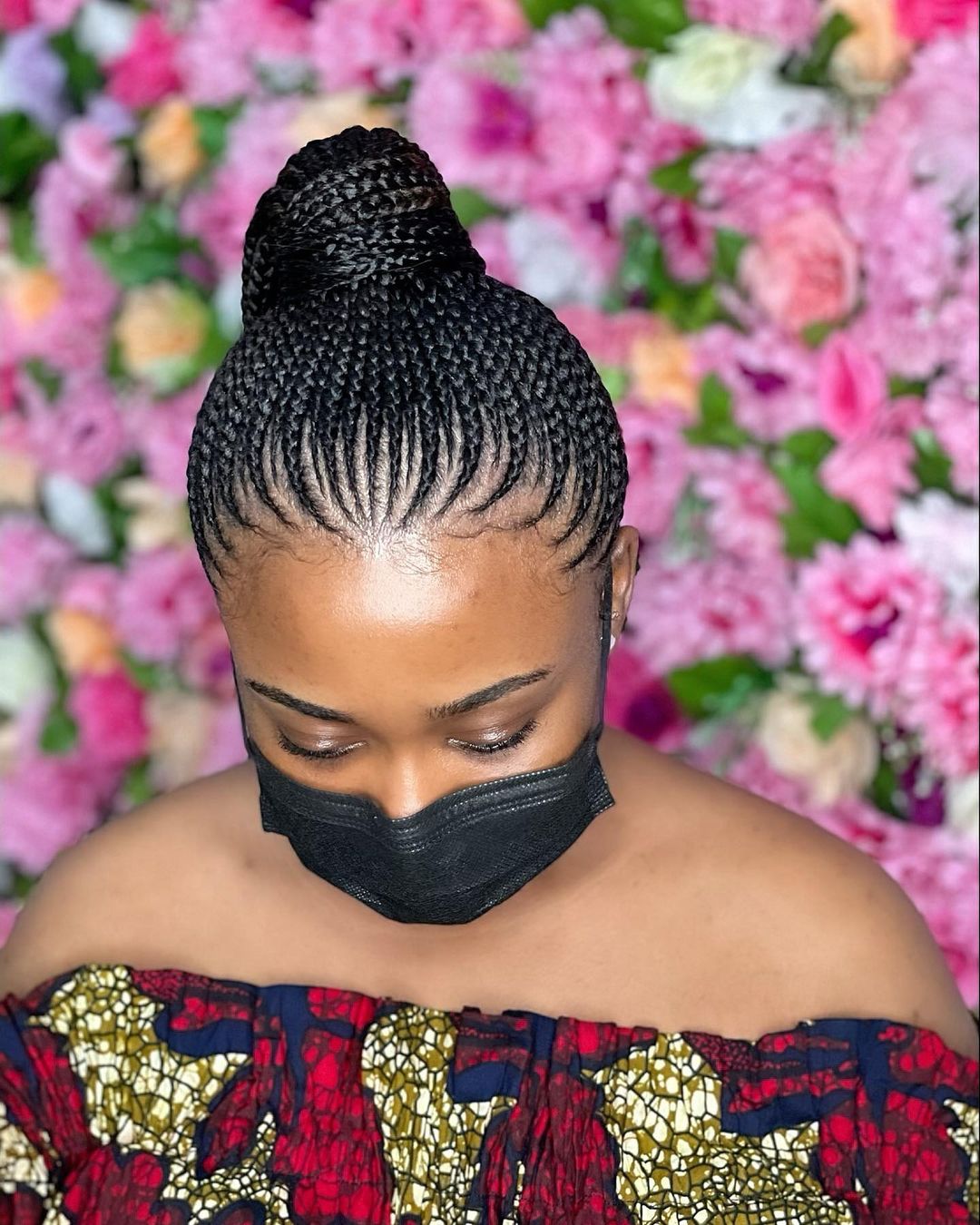 Tiny bun cornrows nailing the look with closed lines.
21. Snake Ponytail Cornrows
Sophisticated snake ponytail cornrows, can be maintained for weeks without any damage to the scalp.
In conclusion:
Cornrows shuku hairstyles make space for creativity. There are many interesting braiding techniques to make every head unique. Besides, you can experiment with highlights, natural or curly texture, clips, beads, patterns, shapes, etc.
Cornrows shuku will always set a pace for you out there, giving you the desired confidence and boldness you deserve.
Read more on our hairstyles: