A bun is one of the best protective hairstyles for natural hair, it is simple and it's a low maintenance hairstyle with no manipulation on your hair strand and scalp. A hair bun is suitable for textured and natural hair however it is even more beneficial to natural hair and just what every naturalist needs to grow out their hair especially if you transition, you can also have it attached to your hair if it is not long enough for a bun.
How you do natural hair bun? Styling natural hair bun is quite easy and there are always new ways you can get them styled. A sleek bun can be perfect for any kind of occasion, work or play, follow our quick and simple guide on how to achieve any kind of a bun on natural hair.
Buns are simply lovely and you can also have them styled with braids and we are always finding new ways to give them life in naturally curly hair, the variety of styles you can make with buns are endless hence we have also compiled 15 amazing natural hair buns for some inspiration.
How To Do A Bun On Natural Hair
Buns work for every occasion and a natural bun is even more interesting however natural hair requires lots of TCL and bunning and if done incorrectly, it can result in breakage especially along the hairline and where the hair tie is placed to secure the hair but when done correctly, however, buns are a great style that can last for days and keep ends protected. It does not matter if you do not have length, there are simple ways bun can be done with your natural hair.
If you intend to wear your bun for days then it's important to keep your scalp clean and it is also best to keep your hair stretched, you will have more length to manipulate, which will also make the process a lot easier. Your hair should also be properly moisturized. Below are simple steps you must follow to create a sleek bun.
Get your hair and scalp cleaned and well detangled
Gather everything you will need which are bobby pins, hair ties, brush, hair gel or edge control
Smooth your hair back and create a ponytail at the appropriate location for your bun and also the shorter your hair, the easier it will be to have your hair stretched prior to styling.
Do not pull your hair on too tightly, ensure there is a space between the hair tie and your hair to prevent breakage.
Create your bun as appropriate and how you want your bun to look would help determine how the style and shape of your bun can be manipulated to create texture or volume.
You may use an additional hair tie and hairpin to secure your bun in place (Read: The best cheap natural hair accessories)
Cover your hair with a satin cap or bonnet and let sit for five to fifteen minutes, or more if you prefer.
15 Hair Bun Styles With Natural Hair
Buns are suitable for practically any occasion you could think of, from running errands to attending a formal event or wedding and there are basically lot's of hair bun you can choose from, this is high bun, low bun, medium-length bun, bun for short hair, bun with bangs, bun with weaves and extension. Here are 15 natural hair bun styles to inspire your next hairstyle.
1. Double High Bun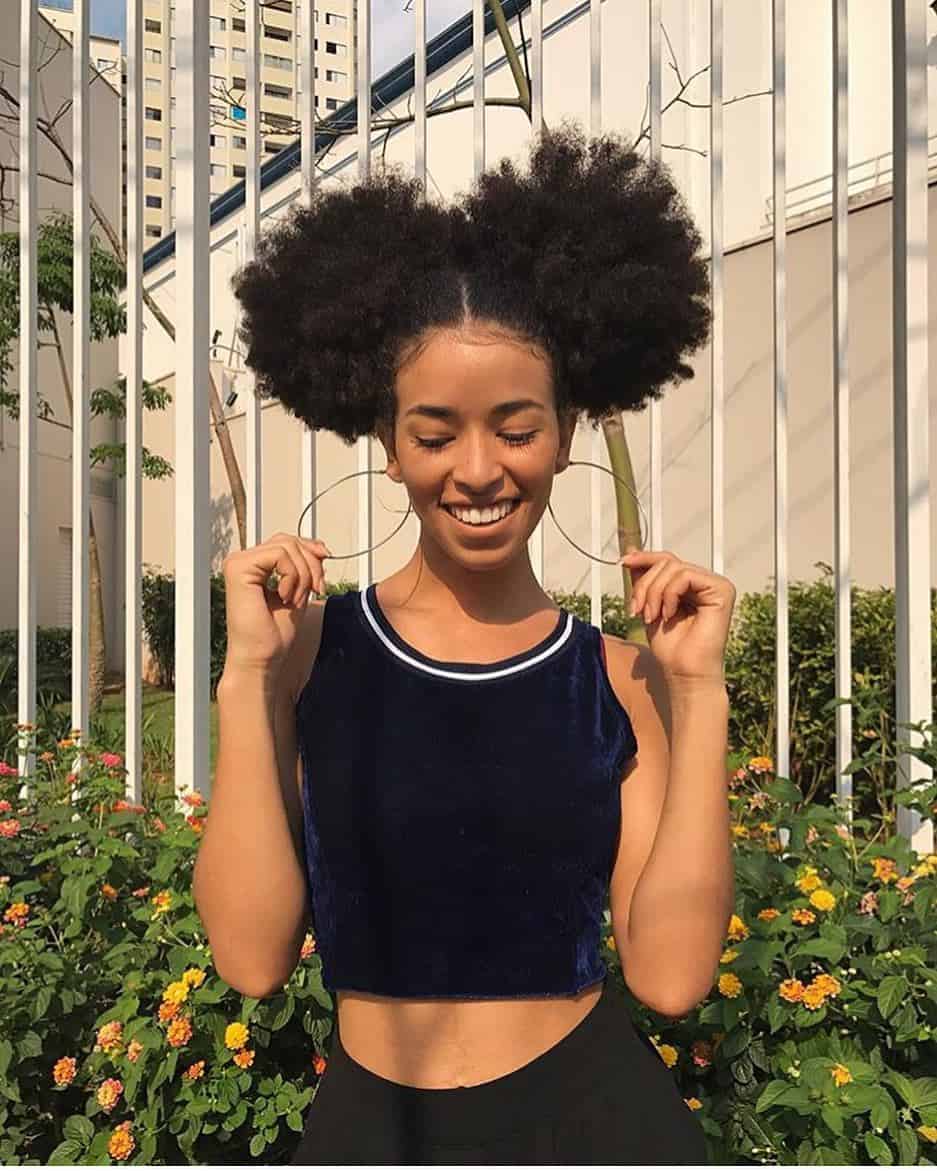 A double bun can be really beautiful if you have long natural hair and it does not matter what kind of curls you have, this is one hairstyle you can go to when you need to keep your hair from getting in the way, it is perfect for all kinds of occasion. Short hair can also go for a double bun but there would have to be an attachment added to give it volume and length.
2. High Bun With Side Bangs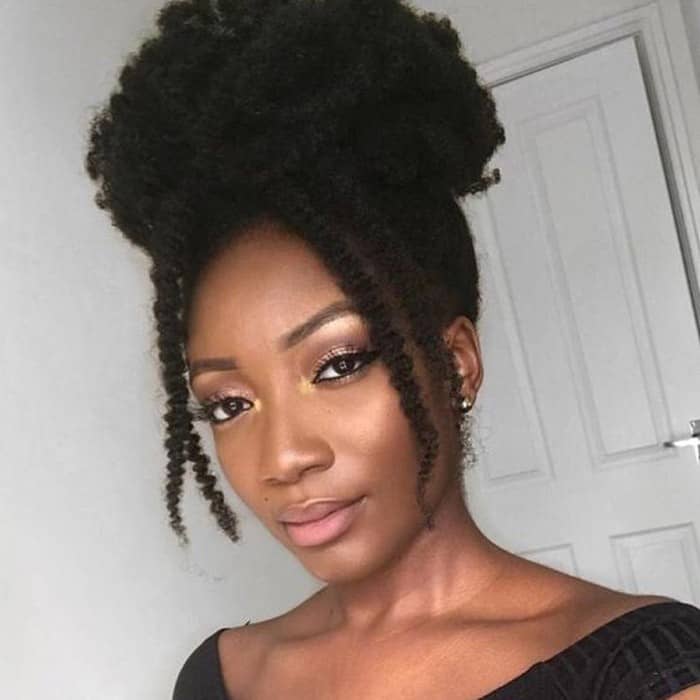 High buns are even more gorgeous when a bang is added to it, you can decide what kind of bang you want after checking out some other bangs included in this post. Side bangs can go well with a high or low bun and it adds a unique appeal to your look. You can easily have this styled even on wet hair.
3. Medium Sleek Bun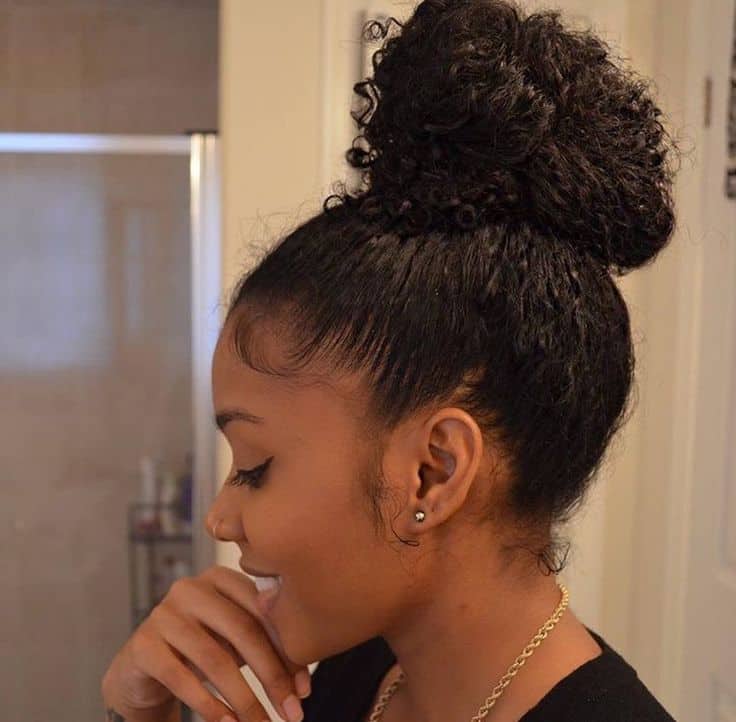 A sleek bun is usually the best hairstyle for a naturalist who is just growing out her hair, you would need hair gel or hair control to make this sleek though but you are definitely going to love how formal and interesting it makes one look.
4. Messy Curly Hair Bun
A messy curly bun is another fascinating way you can enjoy a bun on your natural hair, this would enable you to show off your gorgeous curls, this hairstyle can be done easily after using the shower and minimal efforts is needed, you do not have to worry about it looking messy as that is exactly the aim.
5. Messy Low Bun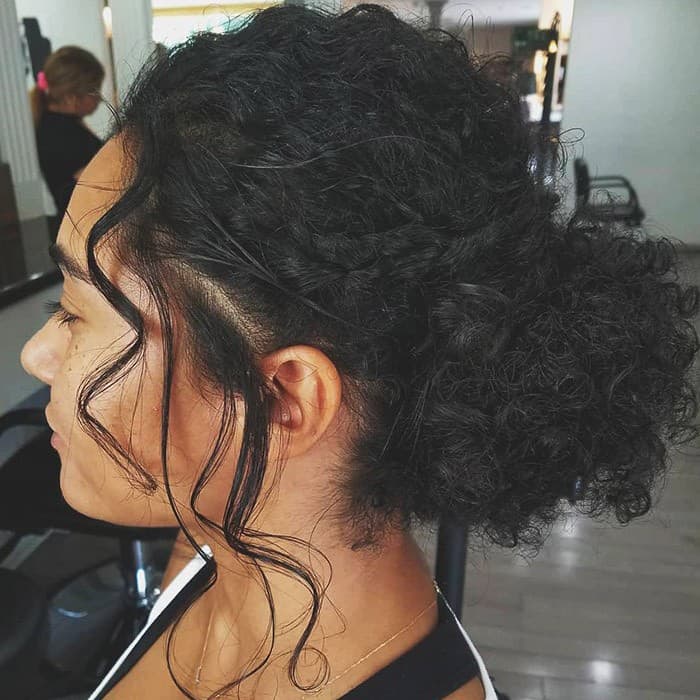 Another messy hair bun you might find lovely enough to replicate is this hairstyle above, this is a low bun and a few bangs can be added for a more casual look. This hair bun style is one of the easiest ways to style your hair and no manipulation is done on your scalp.
6. Medium Low Bun With Braid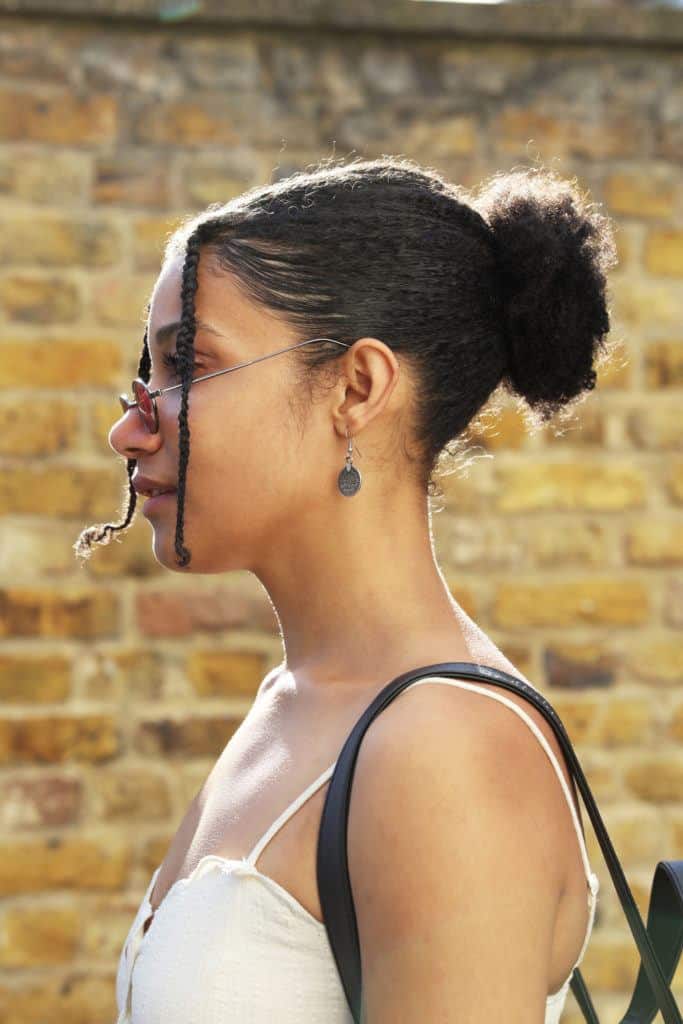 Short hair can definitely rock and a bun and love it, a medium-low bun is just the perfect bun for most short hair, the braided bang length does not really matter, this does not require much and you can have it styled with different bangs every time.
7. Top Bun Twist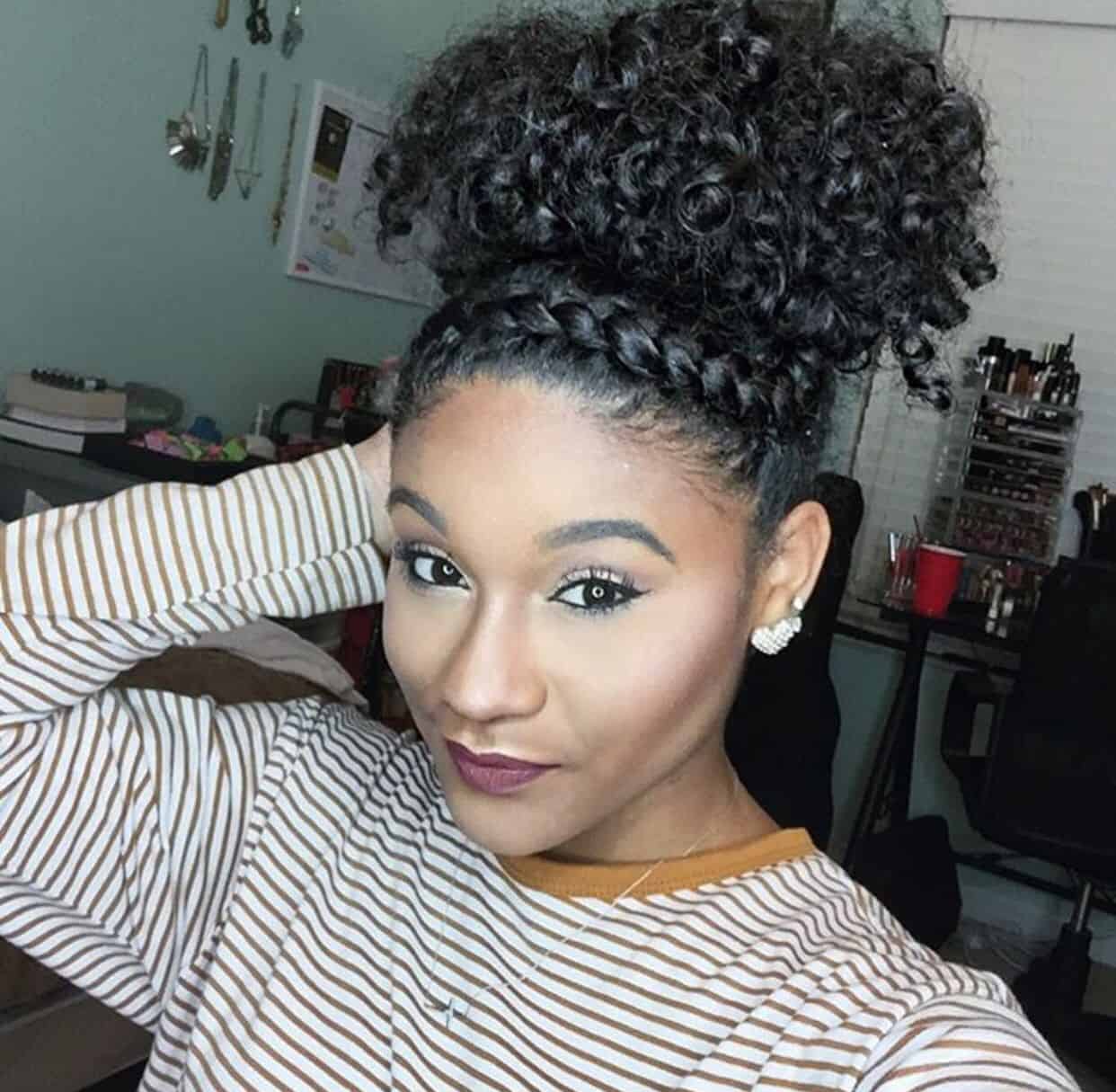 Another way you can style a bun and keep tight bands away from your hair is through a top bun twist, this is a low maintenance hairstyle and your curls does not have to be manipulated to get this hairstyle, it is simple to make except you need help with the cornrow which would require the help of a stylist or a friend, you can have this done yourself at home.
8. Afro Bun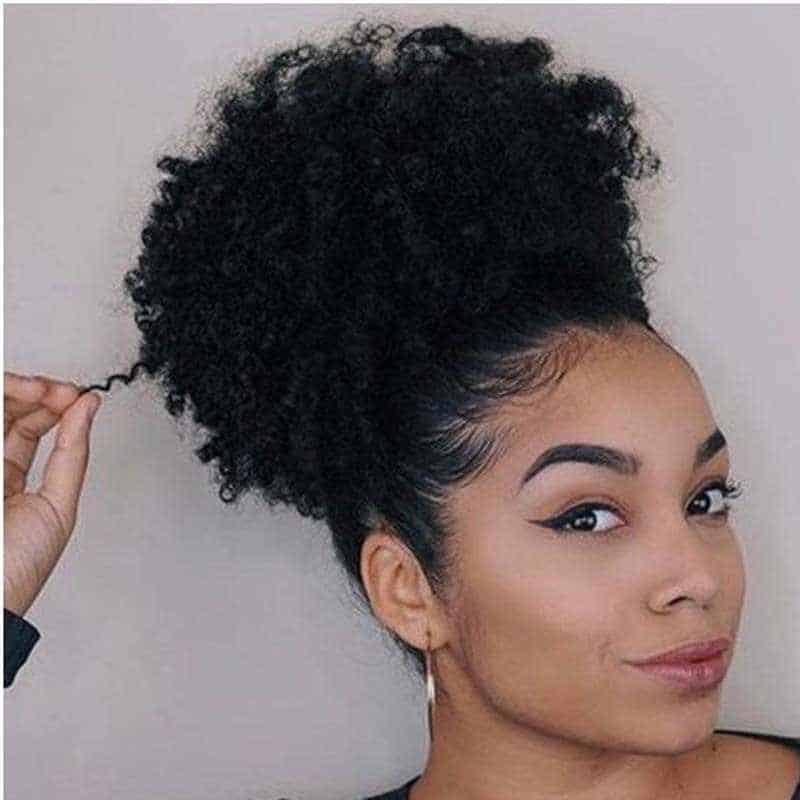 Afro bun keeps it simple and healthy for you, this is one of the best protective hairstyles you can go for on 4c natural hair, you can give your hair a break from braids and manipulative hairstyles with this simple bun hairstyle.
9. Sleek Bun With Baby Bangs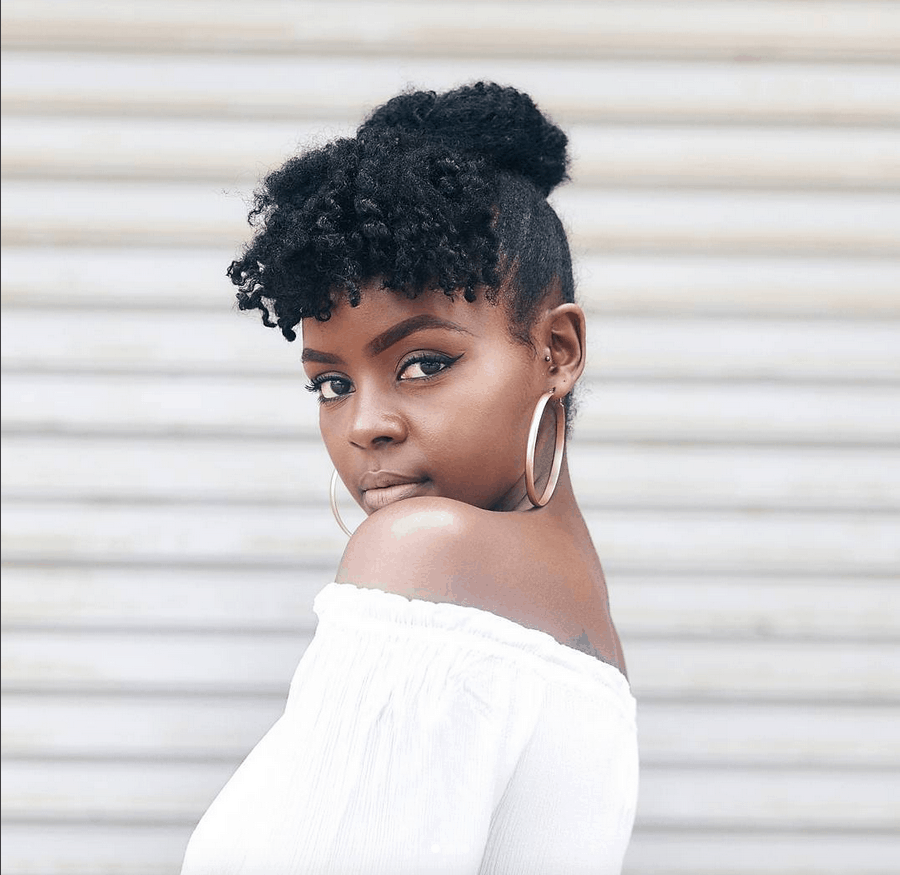 Baby bangs pair well with ponytail and bun, above is just a great example of that. A sleek bun with baby bangs accentuates the face and you can wear this for practically any occasion, it is even more perfect for short natural hair.
10. Cornrow With High Bun
Cornrow with a high bun is fitting for all kinds of hair length and also any face shape can rock this hairstyle it is just as easy as any hairstyle styling. You can always have your bun low or high with this hairstyle and edge control would be needed to make it sleek and not messy.
11. Messy Bun With Space Bangs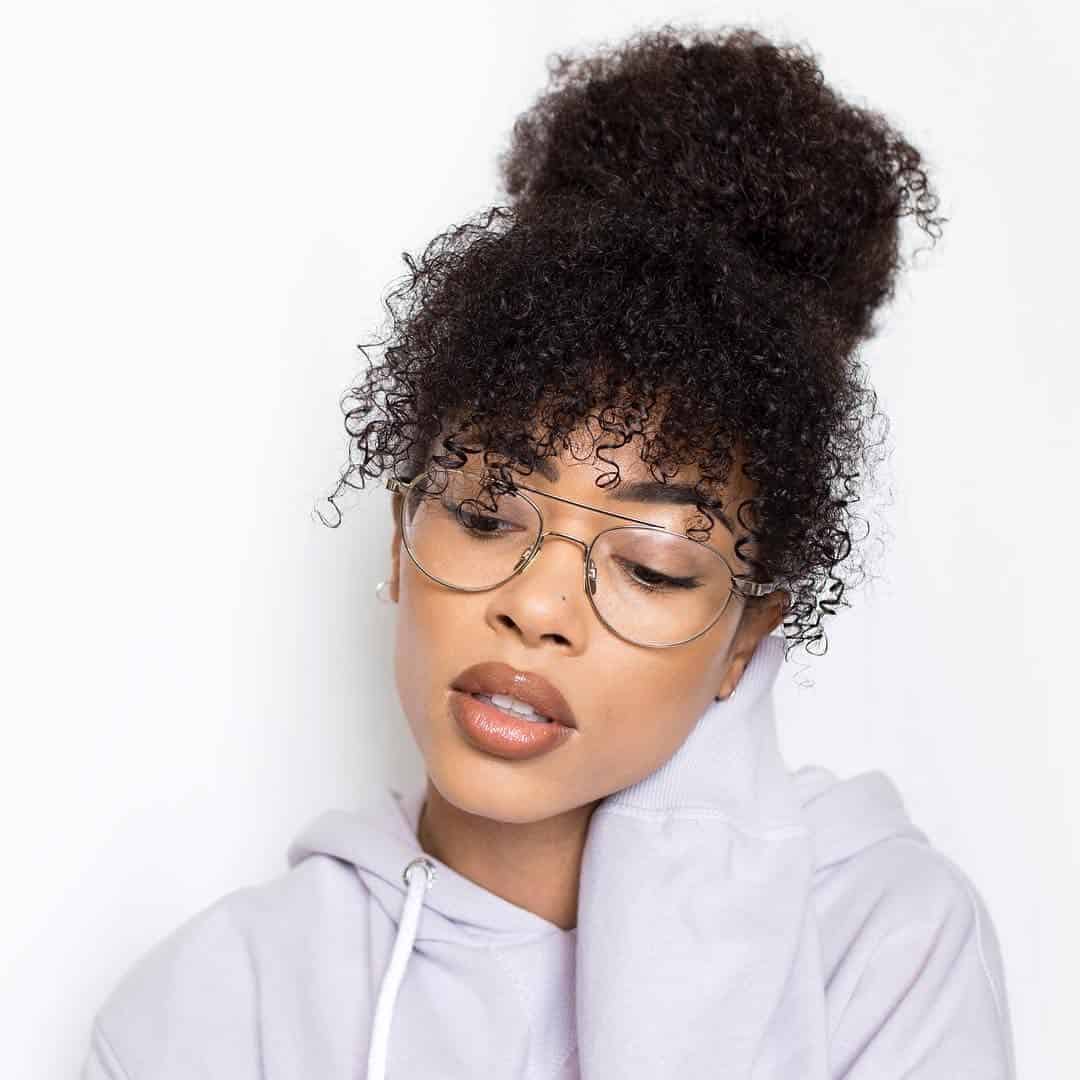 Messy bun definitely pairs well with space bangs and we love how it looks, this would surely go well with any kind of makeup and it is formal enough for any kind of occasion.
12. Curly Bun With Faux Bang
Curly bun with a faux bang is another interesting way you can enjoy a bang and a bun, tis hairstyle is quite fitting for any hair length, it is simple and keeps you from going to the salon to get your hair done, it is one hairstyle you can have styled to suit your preference.
13. Curly Bun With Side Bang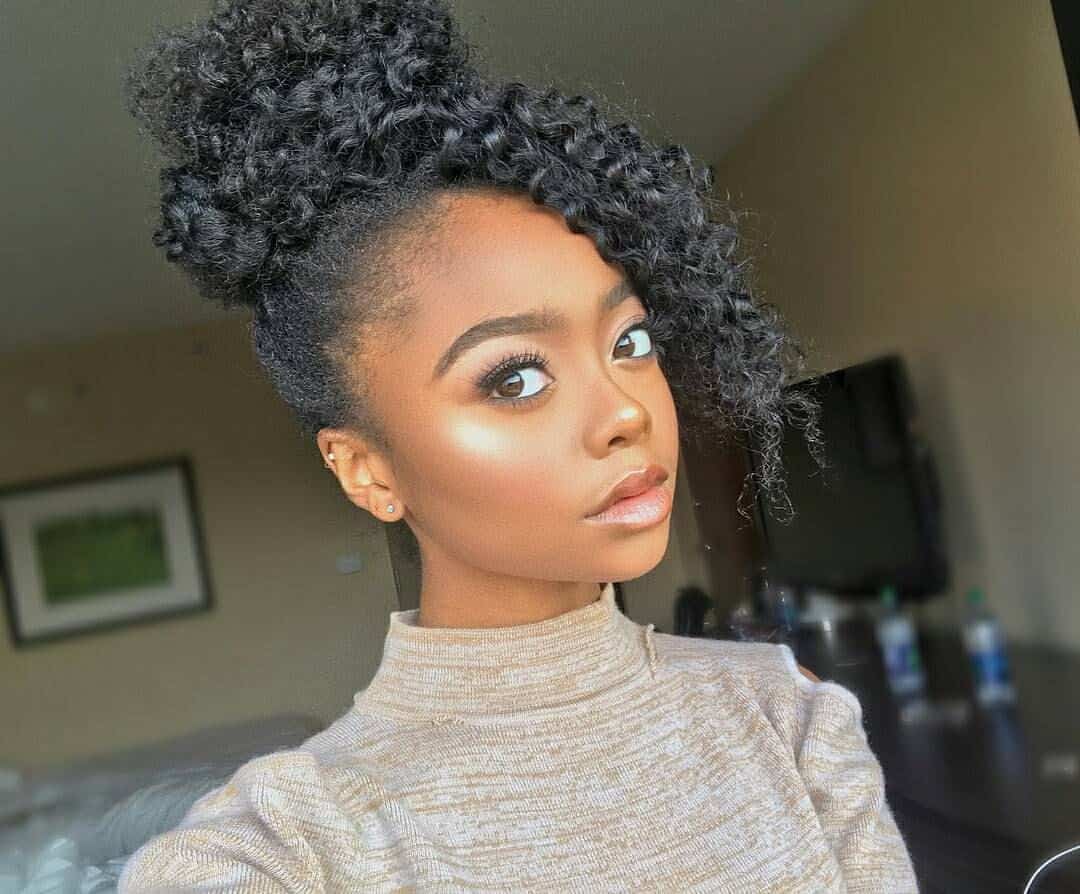 Here is another bun hairstyle we found lovely and interesting for a naturalist, it protects your curls and ends from split ends. Curly bun with side bang can be done by any hair length however short hair might need to add an extension to the tip.
14. Loose Bun
Loose bun is just what your fragile natural hair needs, this is easy on your hair and scalp, nothing too tight to cause breakage to your hair. It is another protective styling most natural 4c hair needs to stay healthy and this is also a m=low maintenance hairstyle which means you can spend less and keep your hair healthy.
15. Cornrows In Two Buns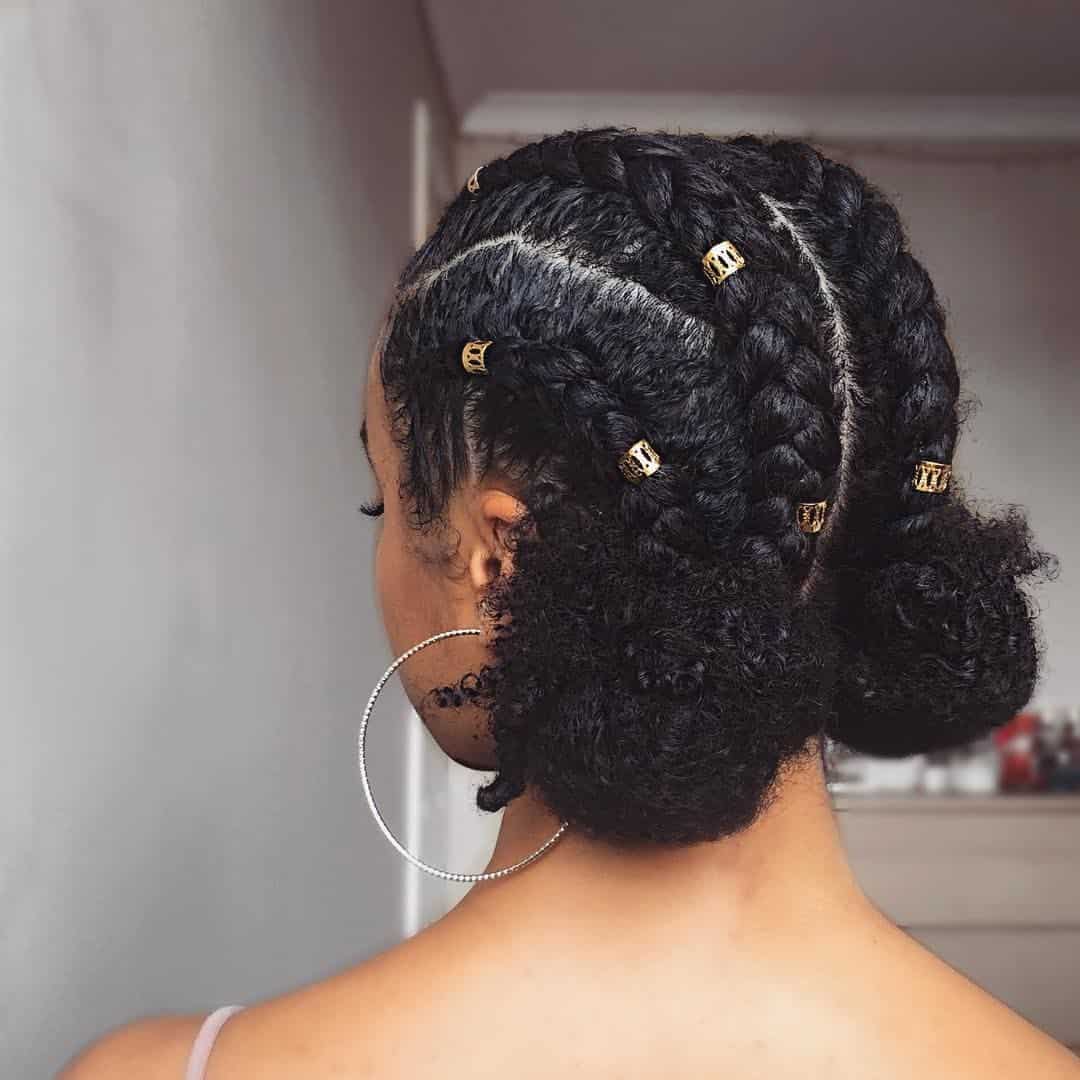 Cornrow with 2 buns tends to last longer than any other for, of bun hairstyle, this helps keep your curls well tucked in and ensure the cornrows are not done too tightly to prevent breakage, you can have as much cornrow as you want but ensure the tip is left unplaited to give your bun a volume and make it easy to roll.
---
A natural hair bun is not just the perfect hairstyle for naturalist but it can also be the best go-to hairstyle if you are transitioning, this would keep your hair healthy and prevent constant manipulation on your scalp. You can always add a curly bang to your bun to give it an exquisite look and make it more fitting for an occasion. Bun hairstyles can be really quick, cute and fun.
Read more on hairstyles and natural hair tips: