There has always been a misconception that big curly natural hair is easier to style and is even more lovely, hair growth is a beautiful thing however short hair can be just as lovely.
There are so many amazing ways you can style short hair in the comfort of your home and remember there are no rules that stop you from styling your natural hair.
Short hair is gorgeous whether you did the big chop transition with a medium hair length, it can be just as versatile as long hair. short hair can be worn in many different ways depending on which you find the most suitable and fitting for you.
We have gathered simple hairstyle ideas to inspire your next hairstyle and if you wonder how to go about styling short hair, below are a couple of tips to get it done.
What are the benefits of having short natural hair?
Many of you are excited about the big day when you finally meet your hair length goal but in the meantime, you can enjoy your hair, short natural hair does have some useful advantages which make it easier to take care of your natural hair while growing it out.
Shorter hair means less maintenance and other benefits which would no longer be the case with longer tresses.
Moisturizing short hair is a bit easier than moisturizing long hair, moisture in long black has a hard time traveling down to your ends, unlike short hair.
You do not need to have your curls prepared for bedtime
You do not have to worry about protective styling retaining your length
Easier to wash and style.
How do I take care of my short natural hair?
Taking care of short natural is not as complicated as it seems and rather it is the easiest stage of your natural hair journey, as your hair grows it becomes hard to effectively moisturize it hence at this stage you can make sure you are taking care of it the proper way.
Here are simple ways you can take care of your short natural hair.
Use a sulfate-free shampoo to cleanse your scalp or alternatively use conditioner alone to prevent your hair from drying out.
Follow every shampoo wash with a deep conditioner to hydrate your scalp and lock in moisture
Detangle your hair while it is wet using a wide-tooth comb or a paddle brush
LOC method for moisture, Loc stands for (Leave-In, Oil, and Cream). This helps seal moisture into your hair.
Always wear a satin bonnet or scarf to bed at night
25 Hairstyle Idea For Short Natural Hair
1. Neat Low Bun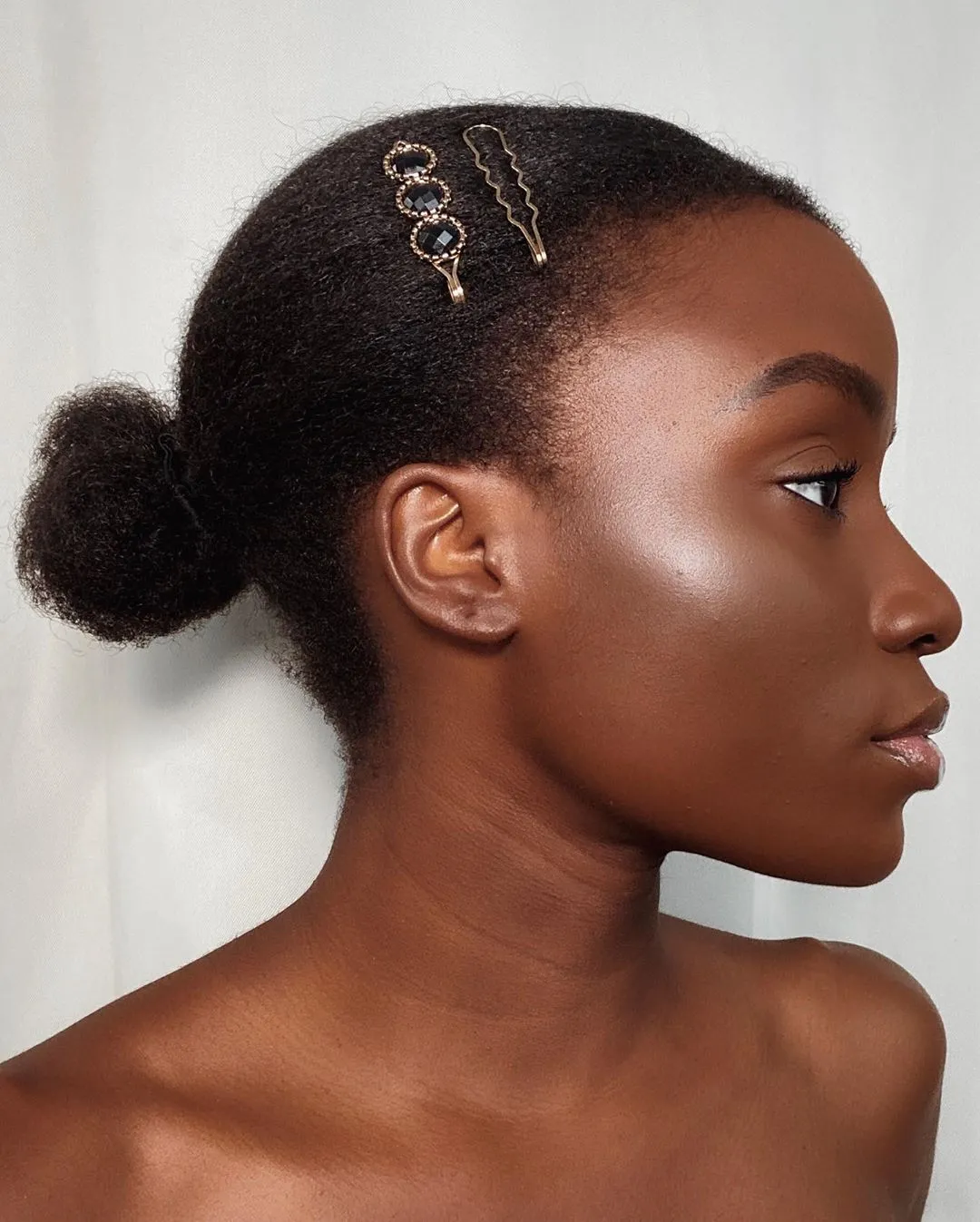 If your hair is just growing out, it might be quite hard to get it to stay down however that can be achieved with this hairstyle. This is a lot simple and shouldn't take time to style. You can style it this way after washing, so it can be neat and don't forget to use a leave-in conditioner to detangle it properly.
2. Finger Waves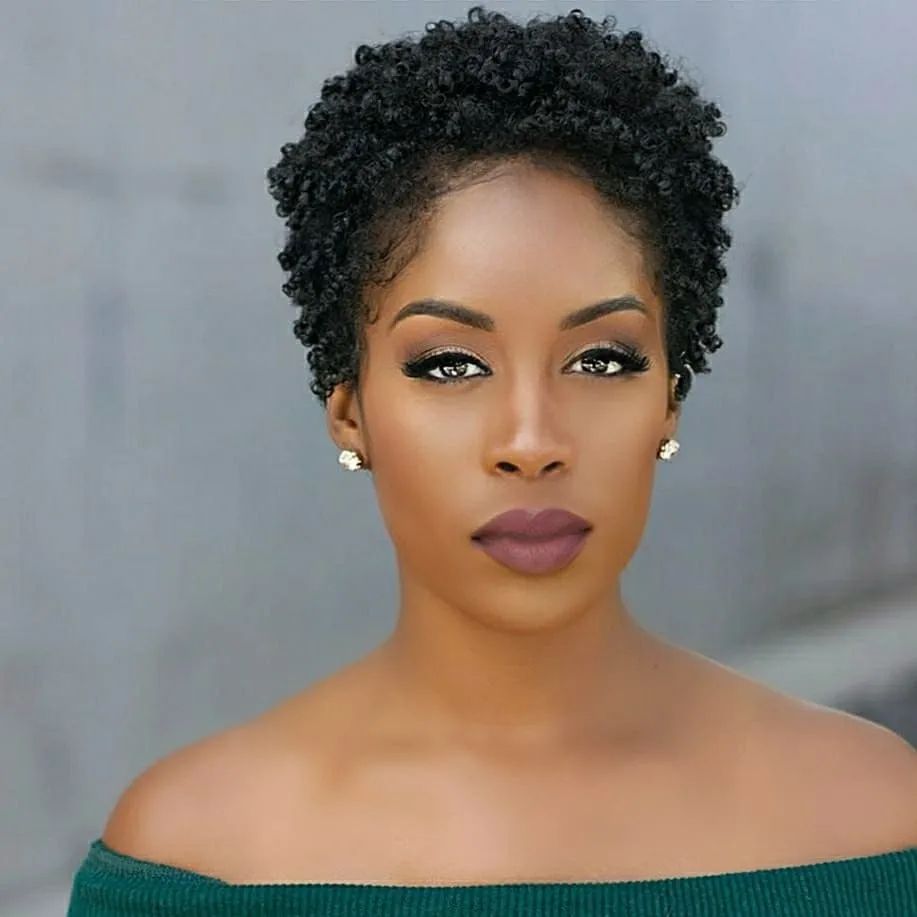 This is a really cute hairstyle, and you don't have to try much to achieve it. Also, you can make this at home yourself without having to spend any money on extensions or accessories.
3. Wet Curly Side Part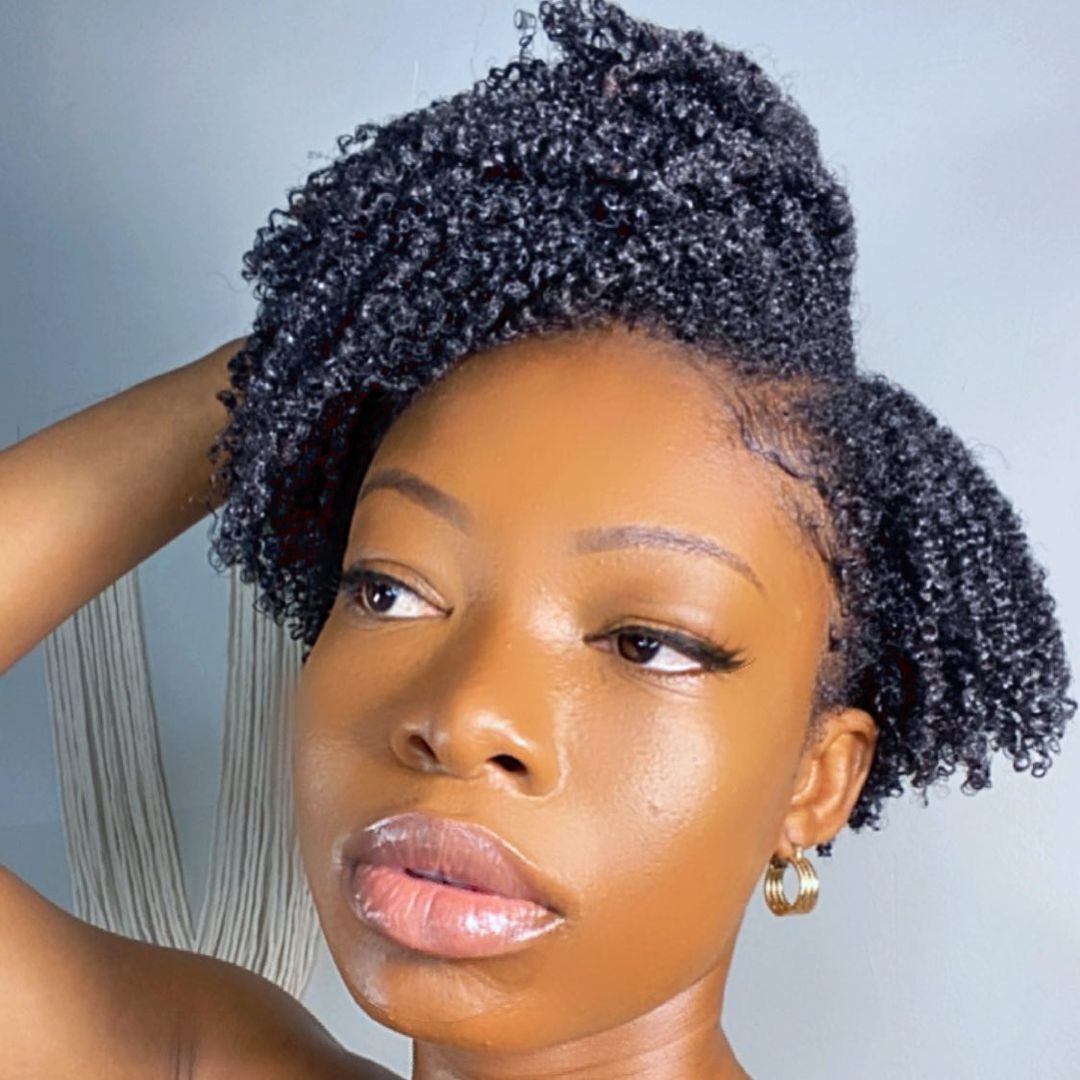 Here is another exciting hairstyle that can ensure that your hair never looks boring. This is ideal after washing your hair, and you don't have to comb it, simply part it on the side, and you are good to go.
4. Ponytail With Chunky Twist Bangs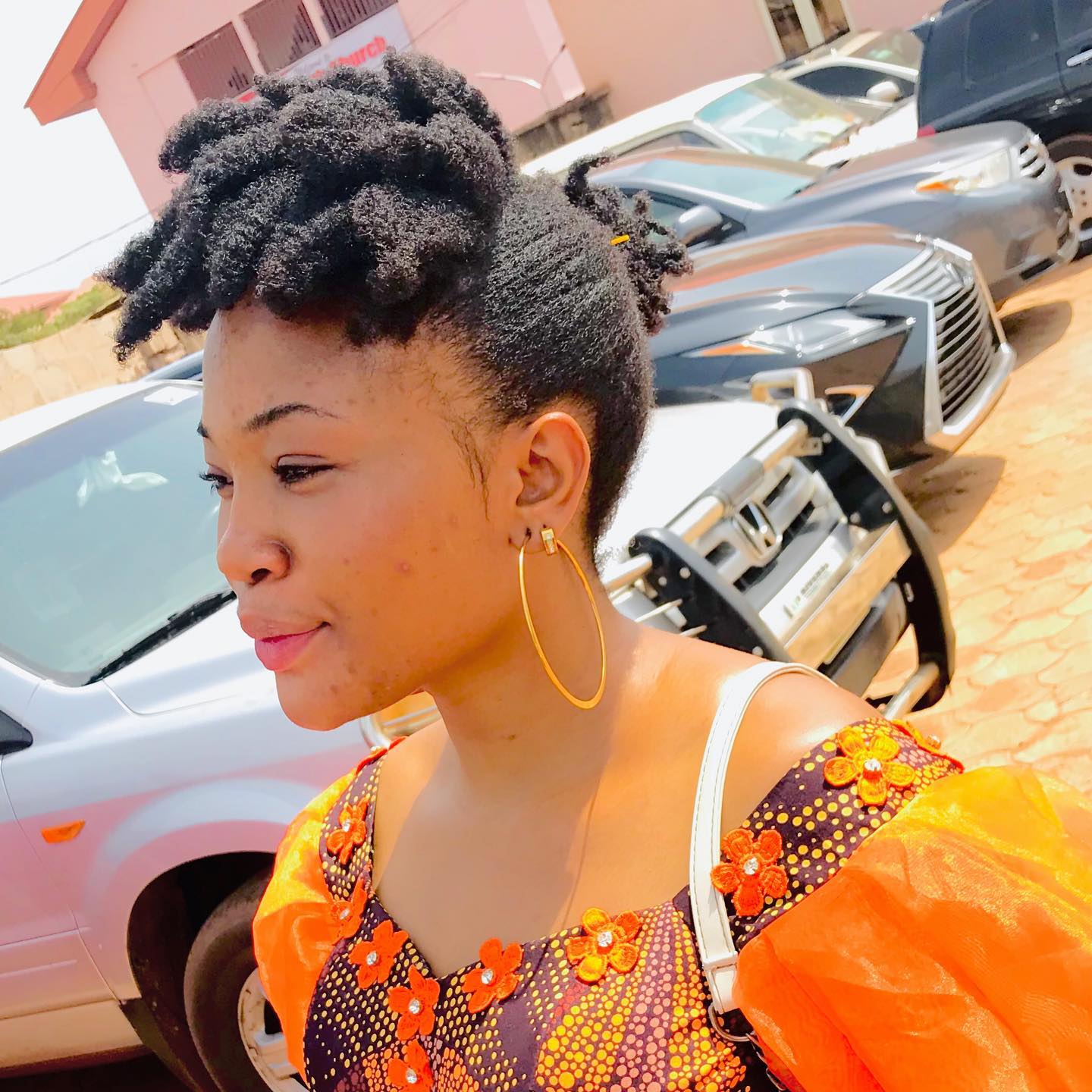 Natural hair length can really just be shrinkage which means you simply have to find a hairstyle that suits you no matter the length. This is a cool hairstyle that actually looks great on all hair lengths.
5. Afro With Side Twist Bangs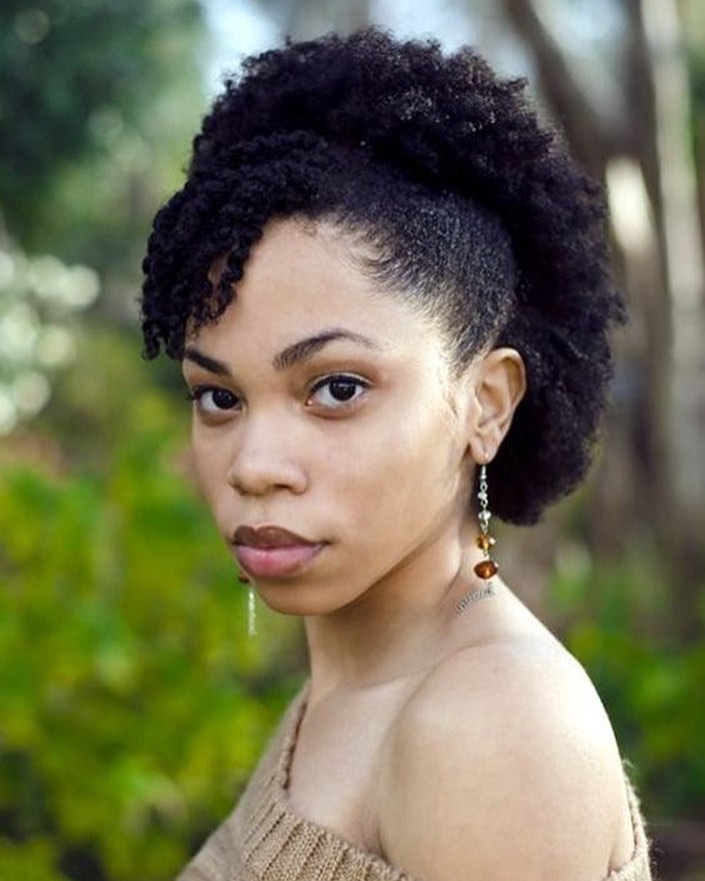 Here is another really cute hairstyle that won't take time to style and sure works for any length.
6. 4c Afro Hairstyle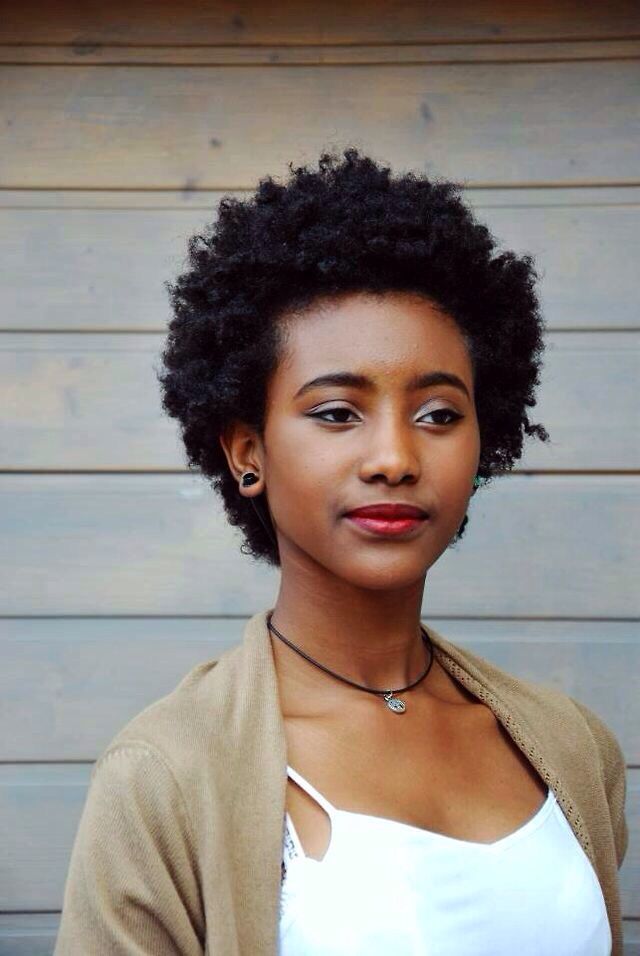 This is a short hair hairstyle that requires no fuss and less manipulation is done on your hair and scalp, most interestingly this hairstyle makes you look chic and classy with fewer efforts, it could pass as a casual hairstyle or for an event.
7. Pompadour Afro With Side Braid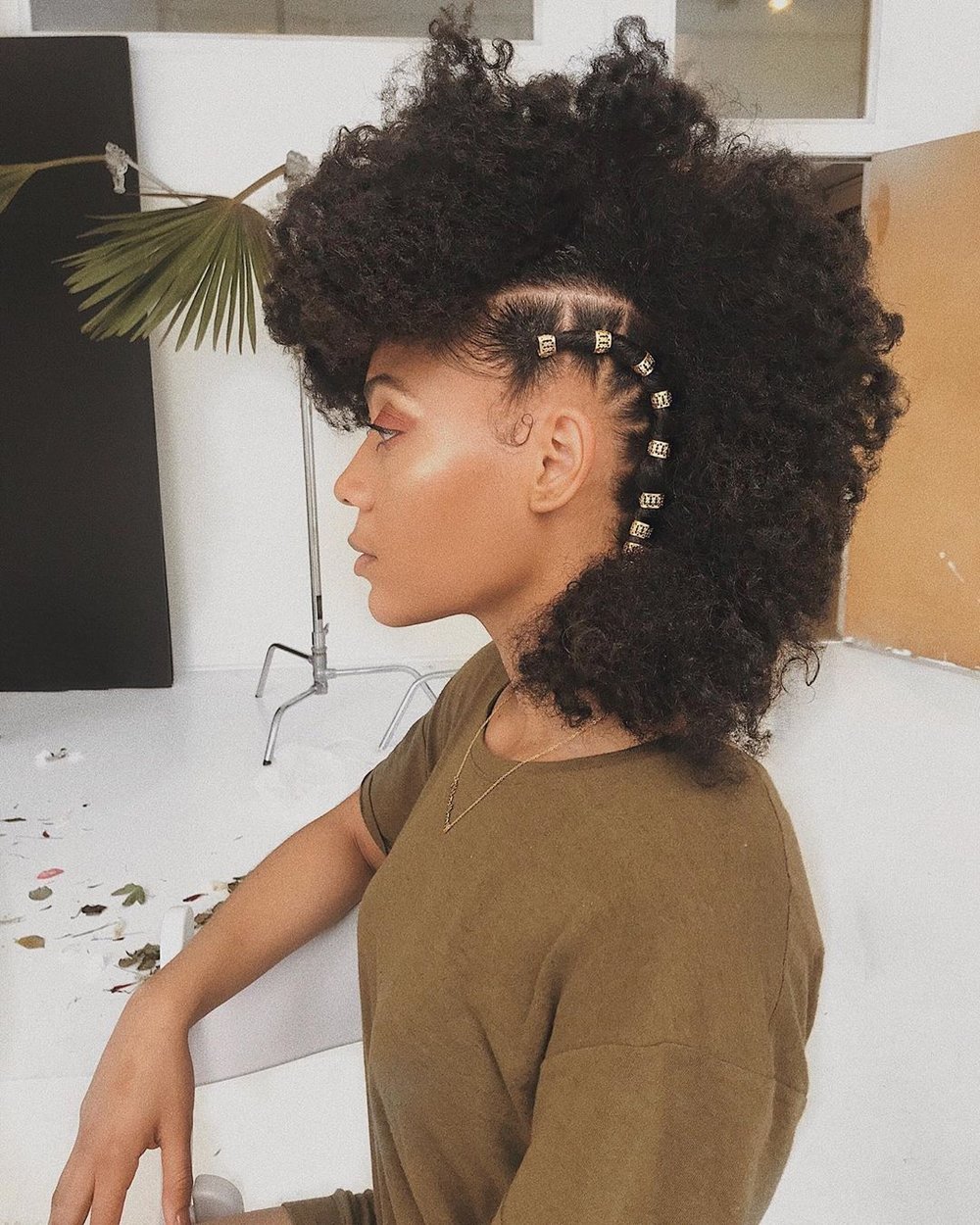 This is quite beautiful and nothing fancy is needed to keep it looking elegant, it is a low-maintenance hairstyle and there are different interesting ways you can style this.
8. Short Hair Medium Bun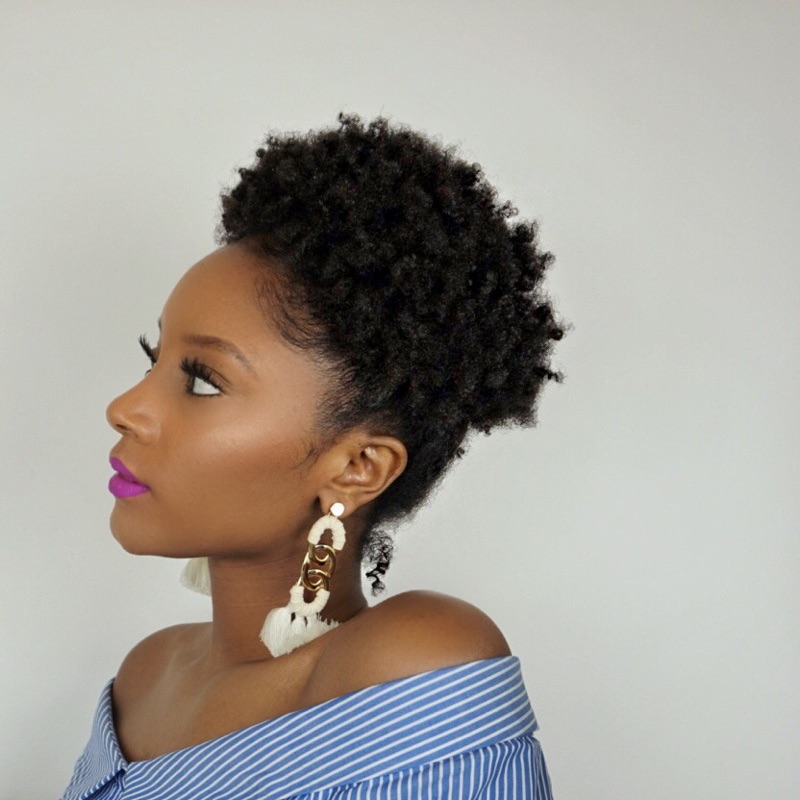 This hair bun is practical and perfect if you are still transitioning or need to keep your hair healthy and prevent breakage, this hairstyle can be done with practically any hair length.
9. Wet Curls Hairstyle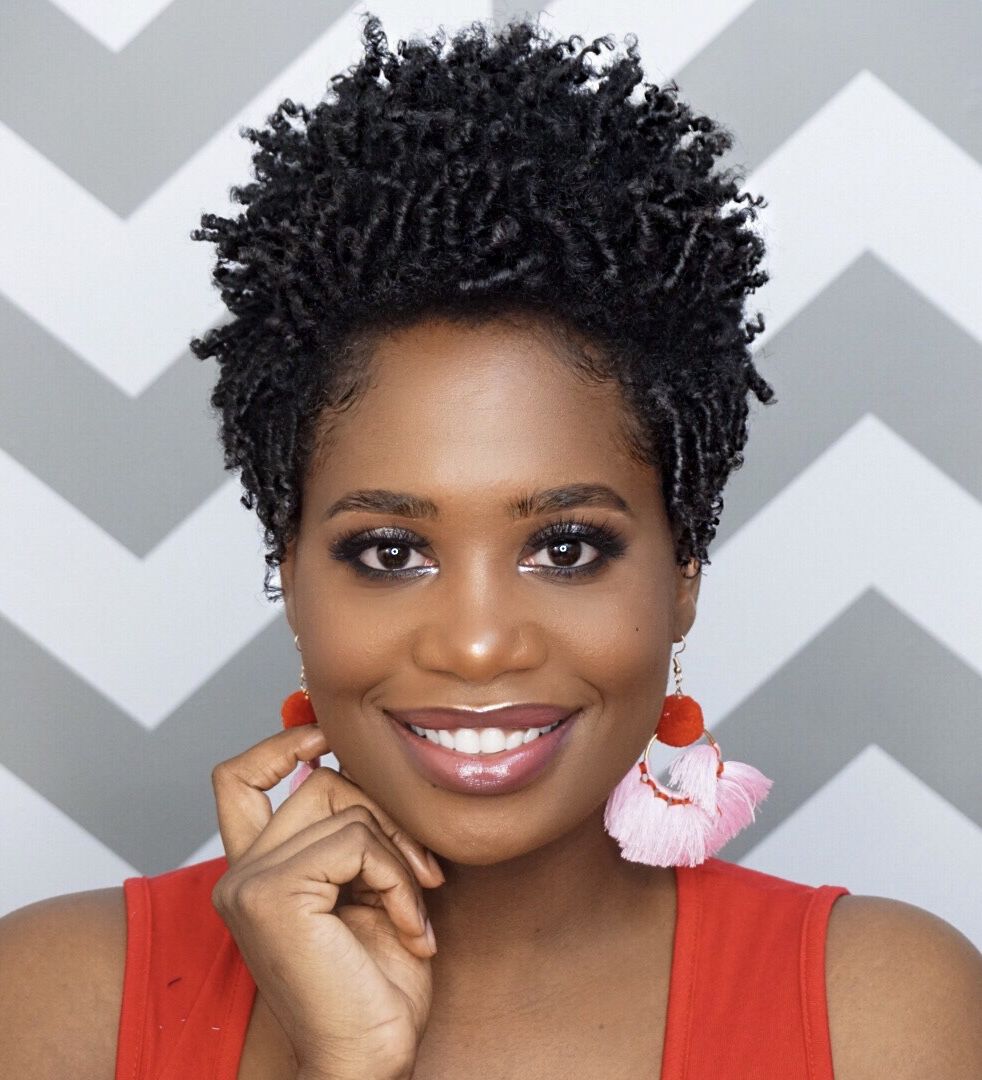 You can get amazing curls without even applying heat to your hair and short hair makes that even more possible, this hairstyle keeps your hair from having split ends.
10. Top Bun With Baby Bangs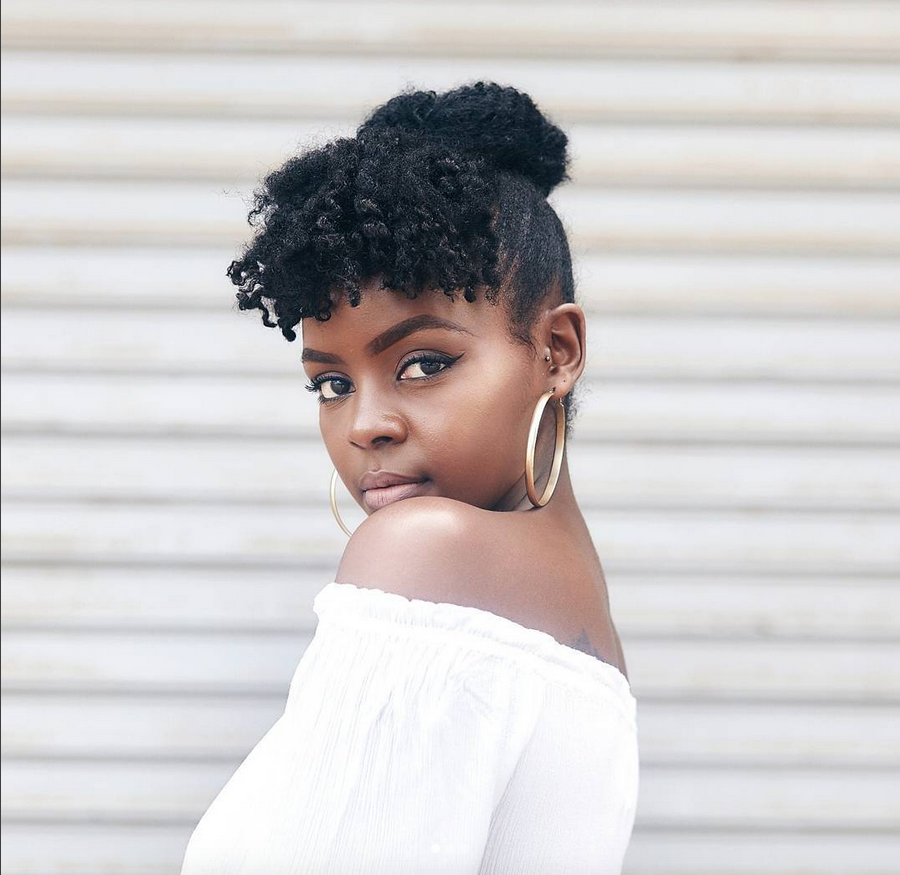 Another chic hairstyle that can change your look and make your natural hair look healthier is this amazing hair bun with bangs.
11. Mohawk Haircut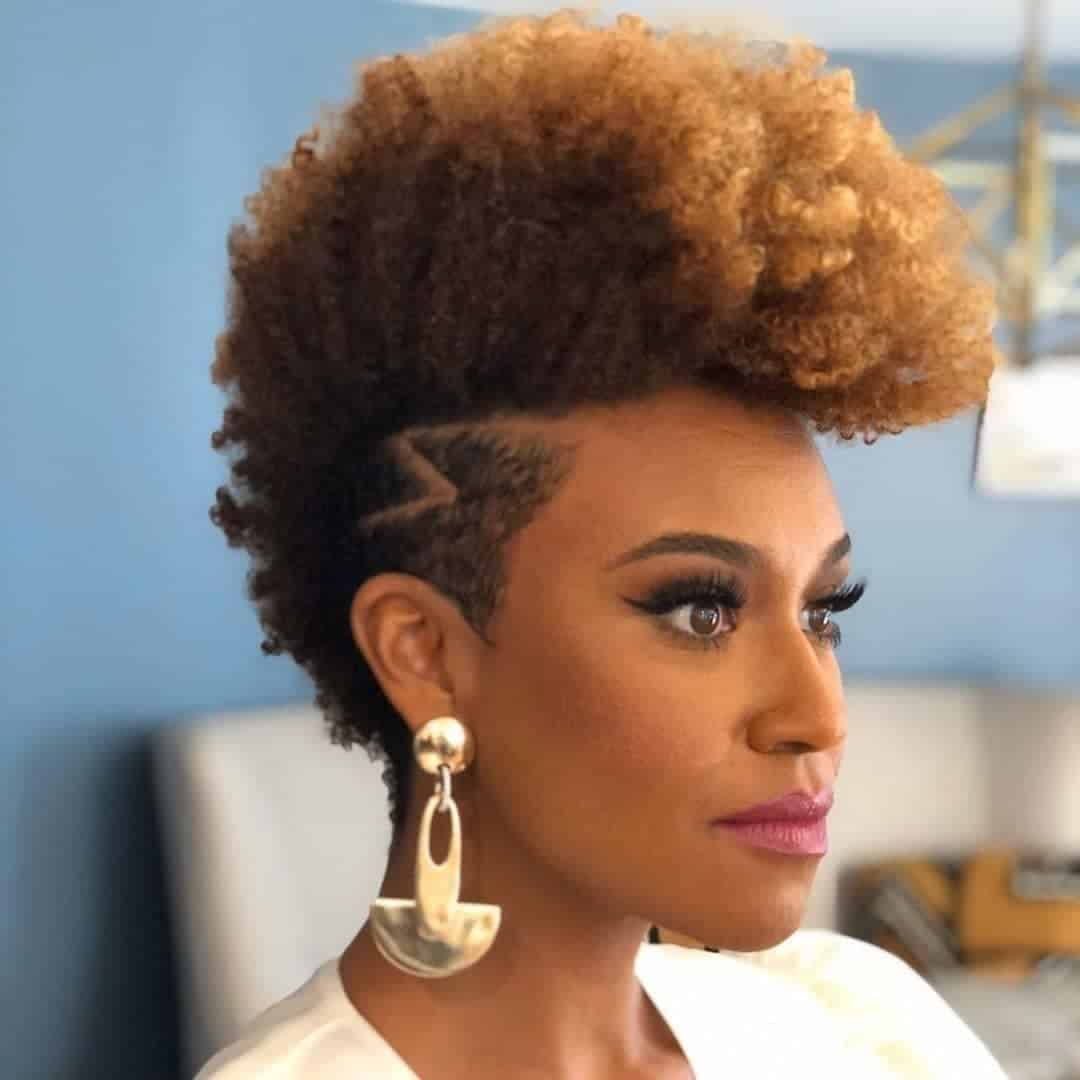 One of the advantages of short hair is that it is most suitable for a fancy haircut, you can easily rock this hairstyle with any outfit, this requires low maintenance and can be styled whichever way you want however this can only be done if you are planning the big chop to natural hair or already on a low haircut.
12. Side Afro With Cornrow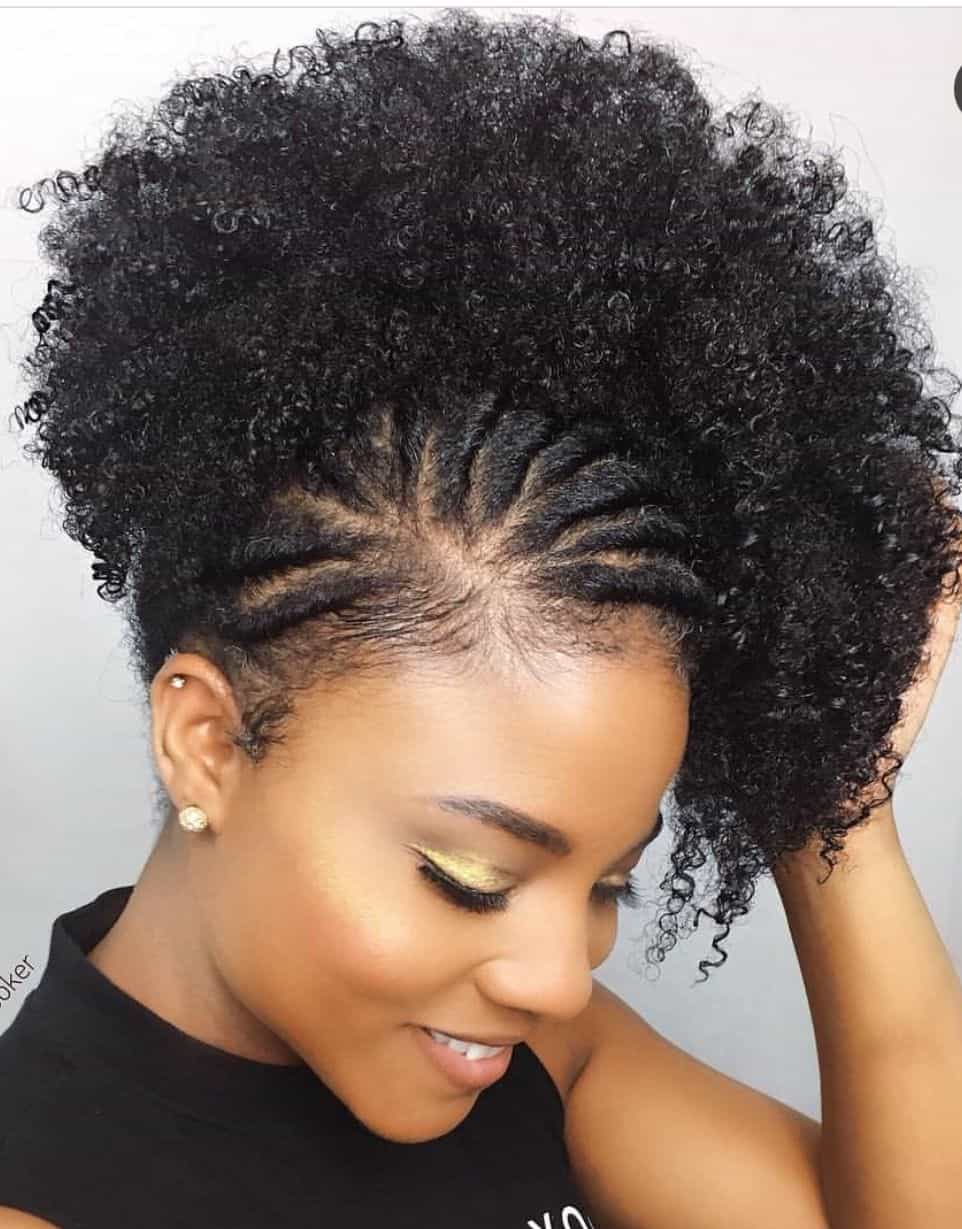 A naturalist must admit afro hairstyles make the best protective styling and when paired with a cornrow, it makes quite a difference, this is also a protective hairstyle and can last for a long while before you have to make another style, you can have this styled at home yourself.
13. Low Afro Bun And Base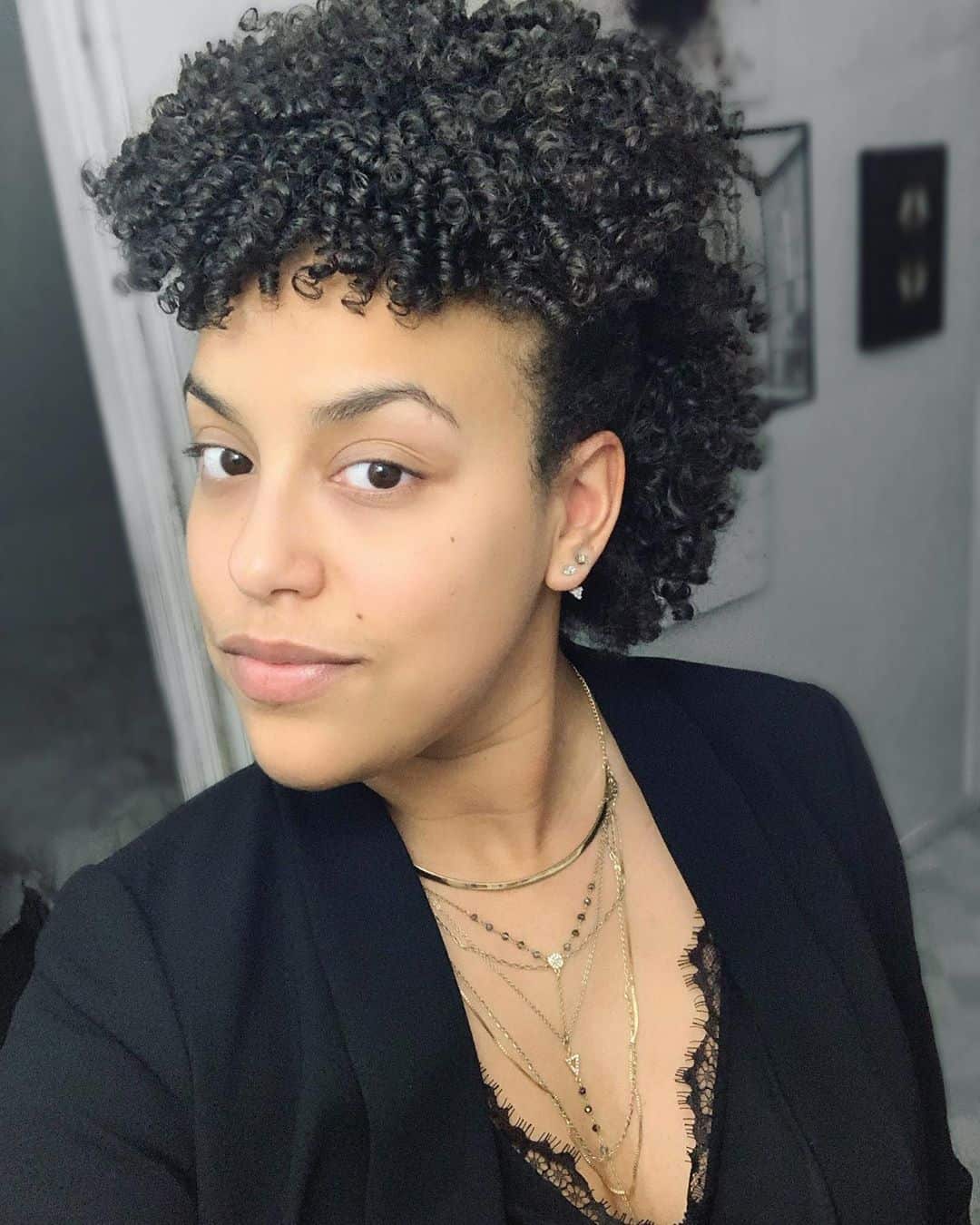 A simple low bun is found to be most accommodating and easy on short natural hair, this can help retain length and keep your hair from having split ends, you do not need a professional stylist for this either, you can easily do it at home yourself.
14. Straw Curls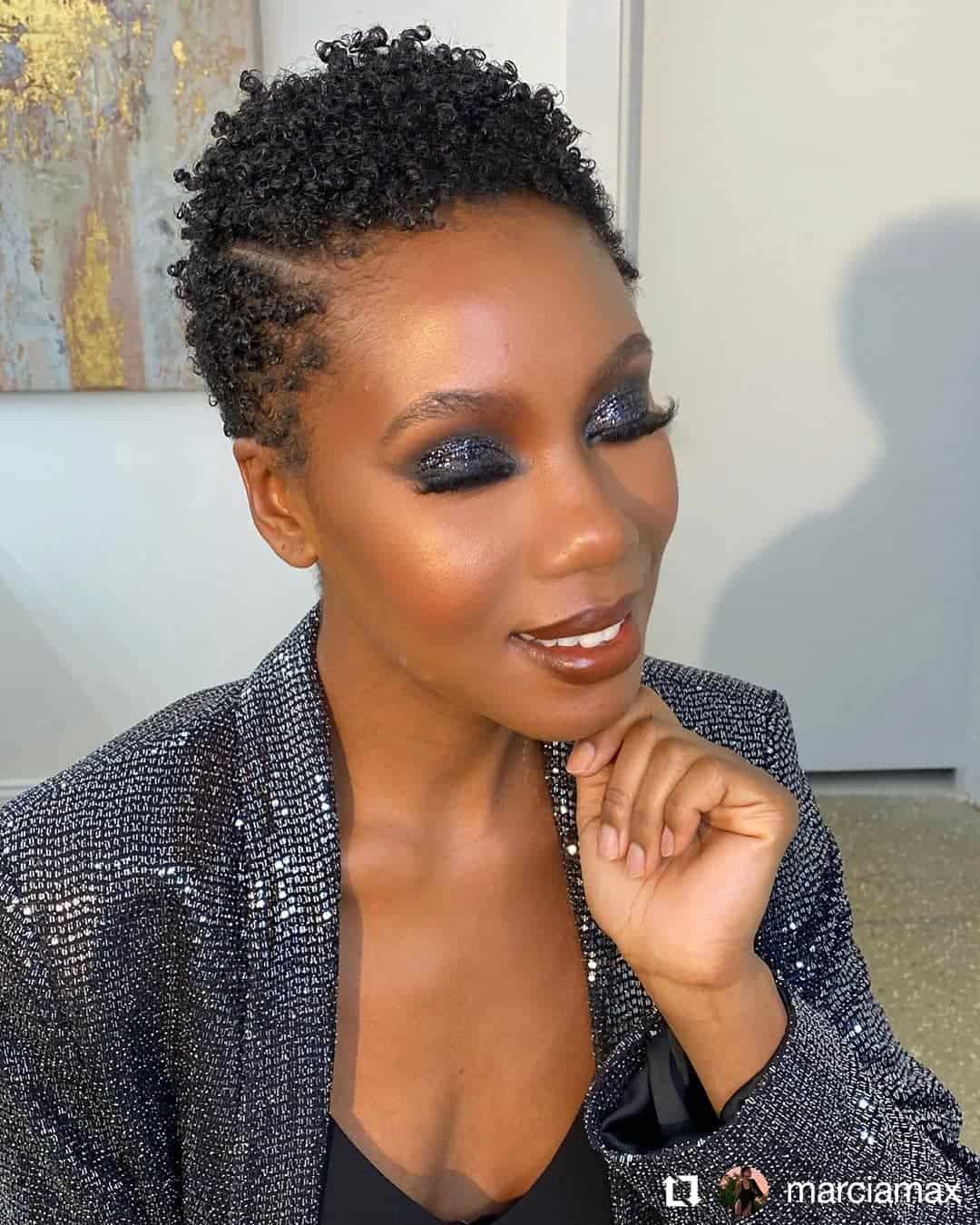 Straw curls are considered to be the best hairstyle if you just had a haircut, nothing must is required to maintain this hairstyle, but this is not advisable if you have fragile 4c natural hair and if to be done at all, it is best to use make use of heat protectant before blow-drying.
15. Two-Strand Twist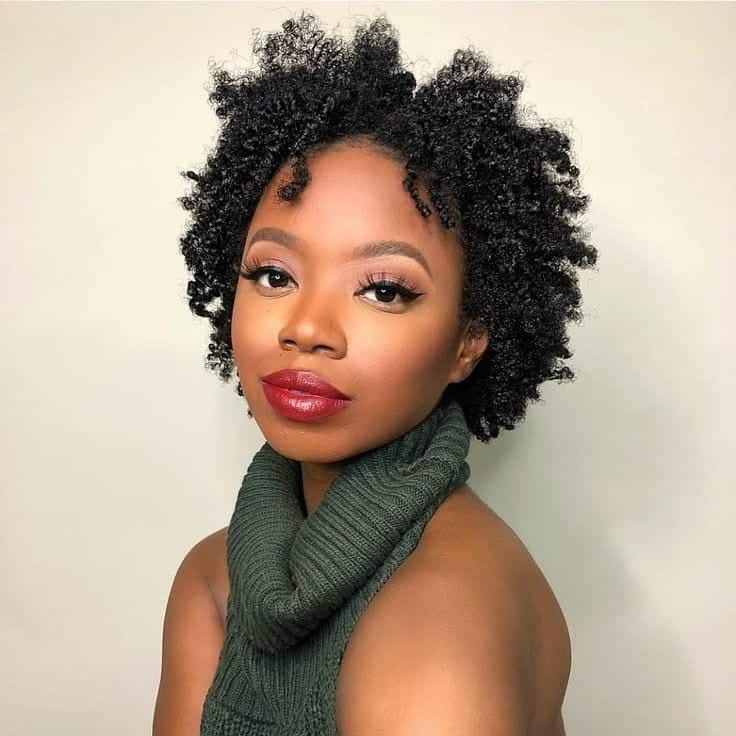 Short natural hair can be shown off with an elegant two-strand twist, this twist is simply fabulous, and you can have it combined with any outfit, and it's modern enough for any event. This is also a low-maintenance hairstyle and no chemical product is needed to keep it healthy.
16. Pompadour With Cornrow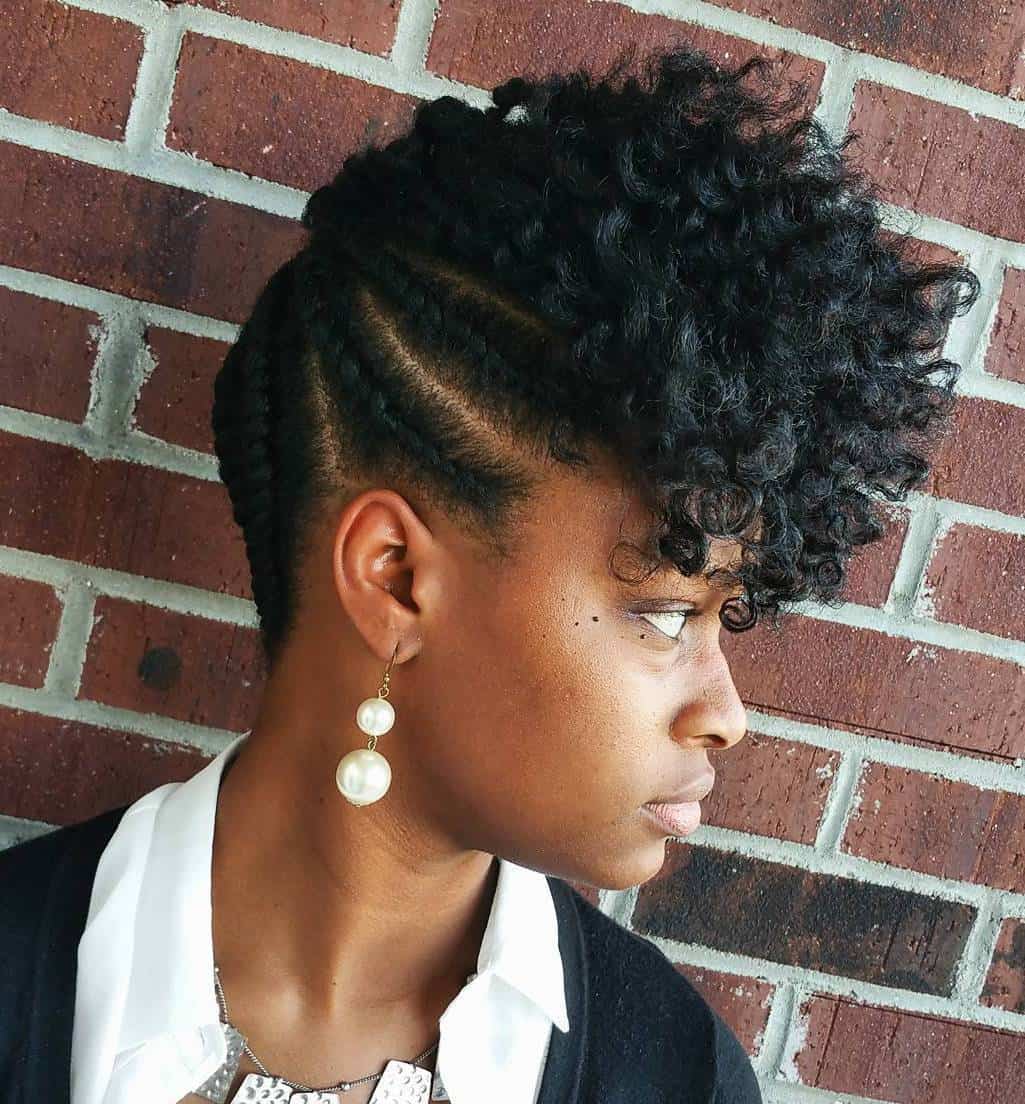 Short natural hair makes the best pompadour, sleek and gorgeous, this can be done with any hair type and necessarily does not have to be with a cornrow, you can simply have it styled in a simple high bun, this is one of the most stylish ways you can wear your short natural hair and keep it well maintained.
17. Natural Hair Afro Curls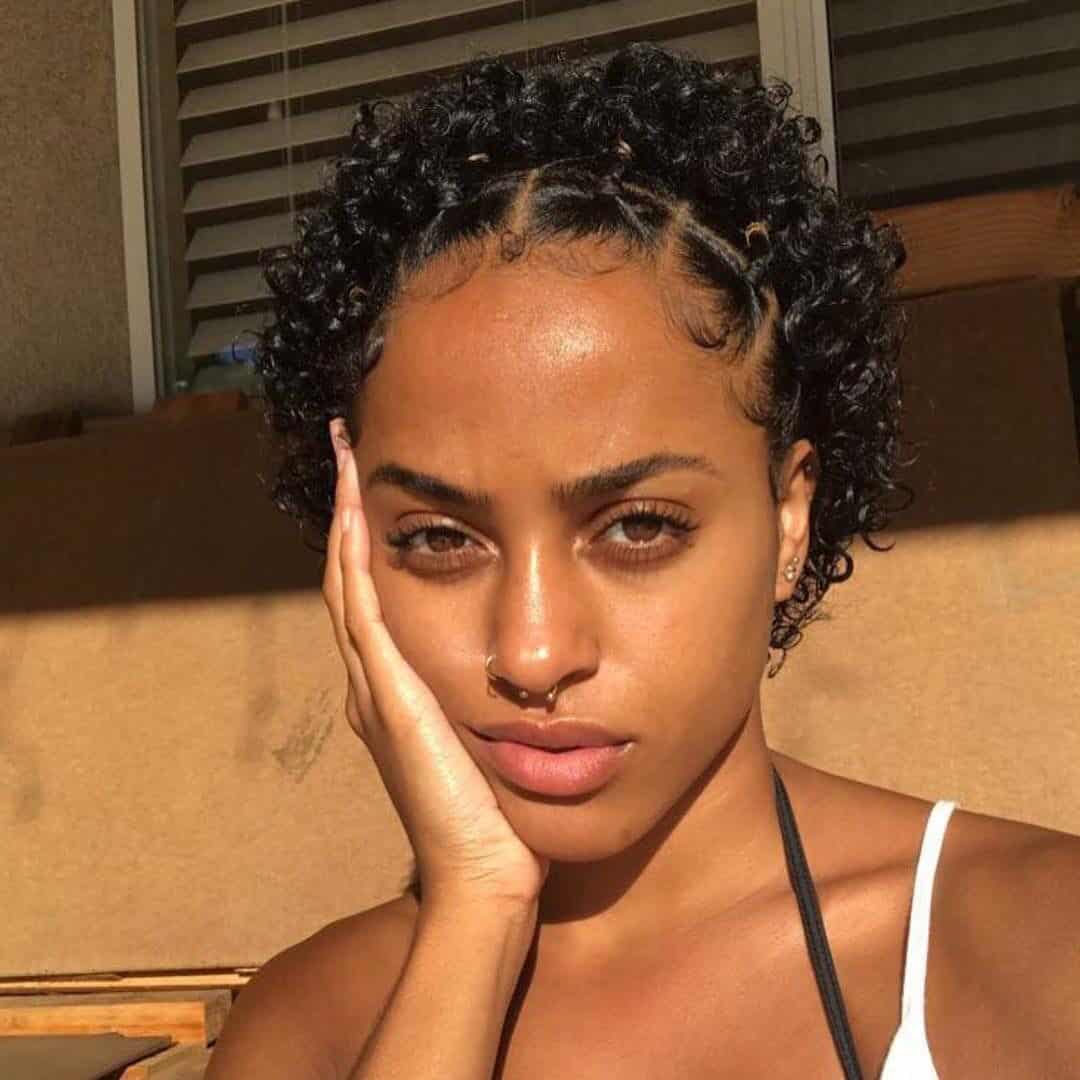 Showing off your curls can sure be done on short hair too, there is less teasing and manipulation with this short hairstyling, it rather enhances your edges and keeps them healthy. This hairstyle does not have to be made with any heat tools to make it turn out great.
18. Defined Curls With Partings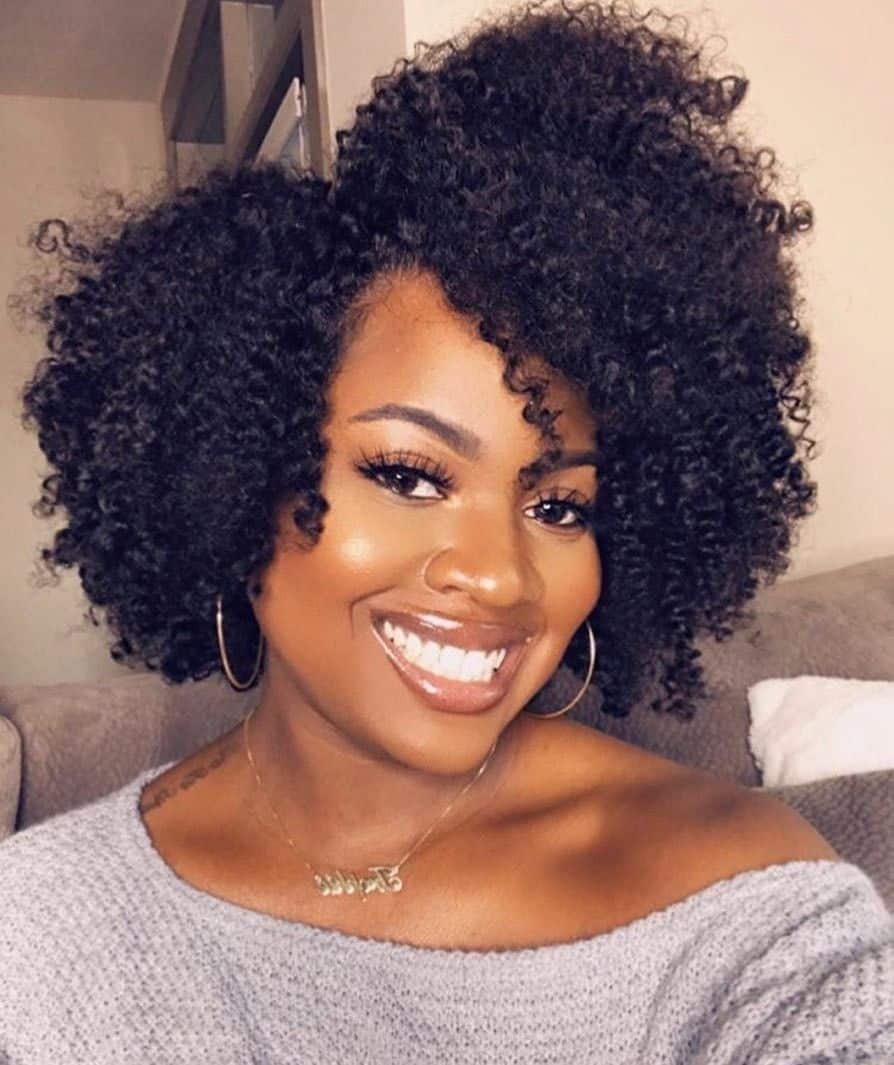 Another awesome way to enjoy your short natural hair and show off your curls is a defined curls styling, pretty stylish and fascinating, with afro curls, there is no manipulation to get the volume curls and keep your hair healthy.
19. Twist Out With Bantu Knot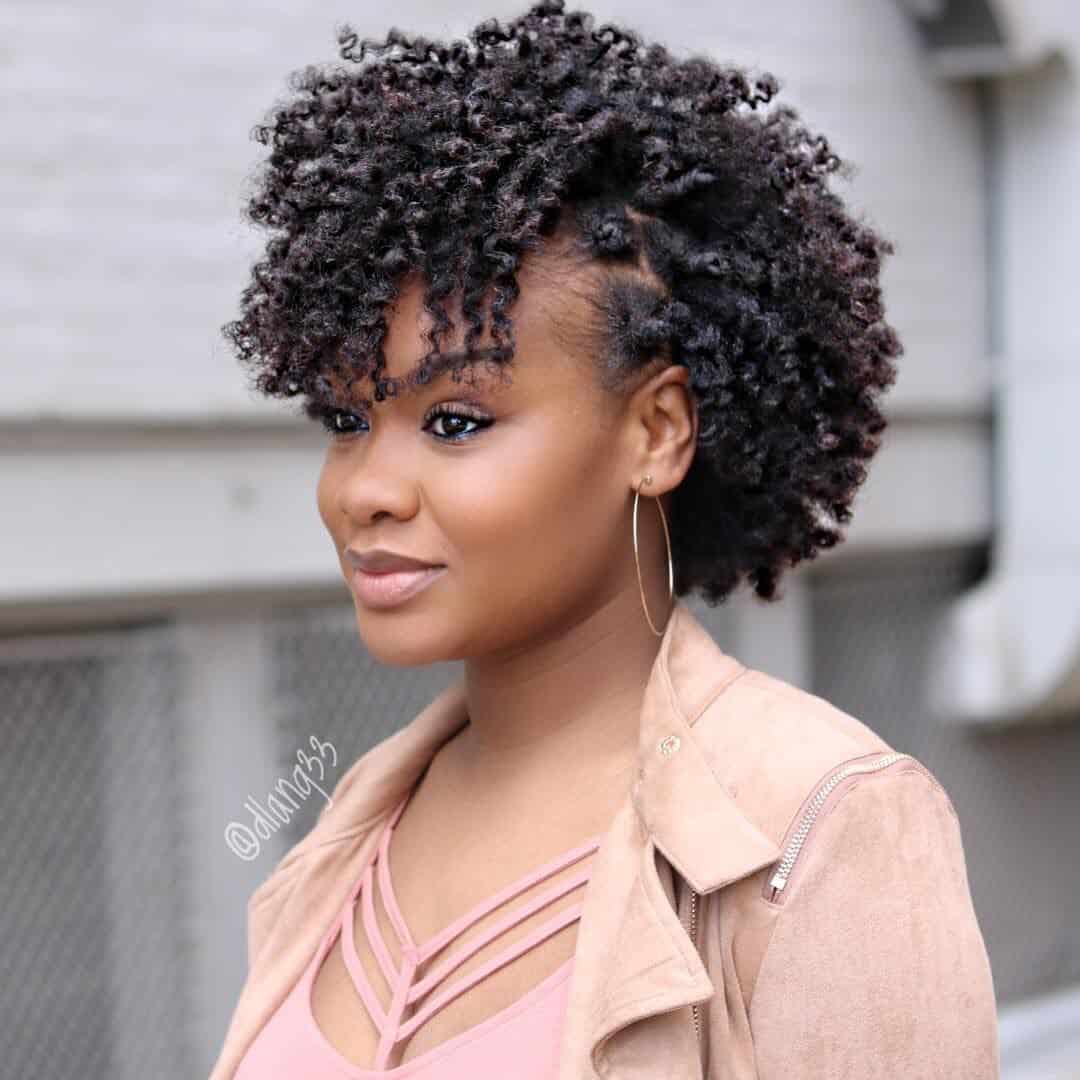 You do not need lots of lengths to make this hairstyle, the shorter your hair is, the easier it is to maintain and style. It's a common hairstyle if you are transitioning or growing out your natural hair from scratch, it's also a low-maintenance hairstyle as you can get it done at home yourself.
20. Tapered Cut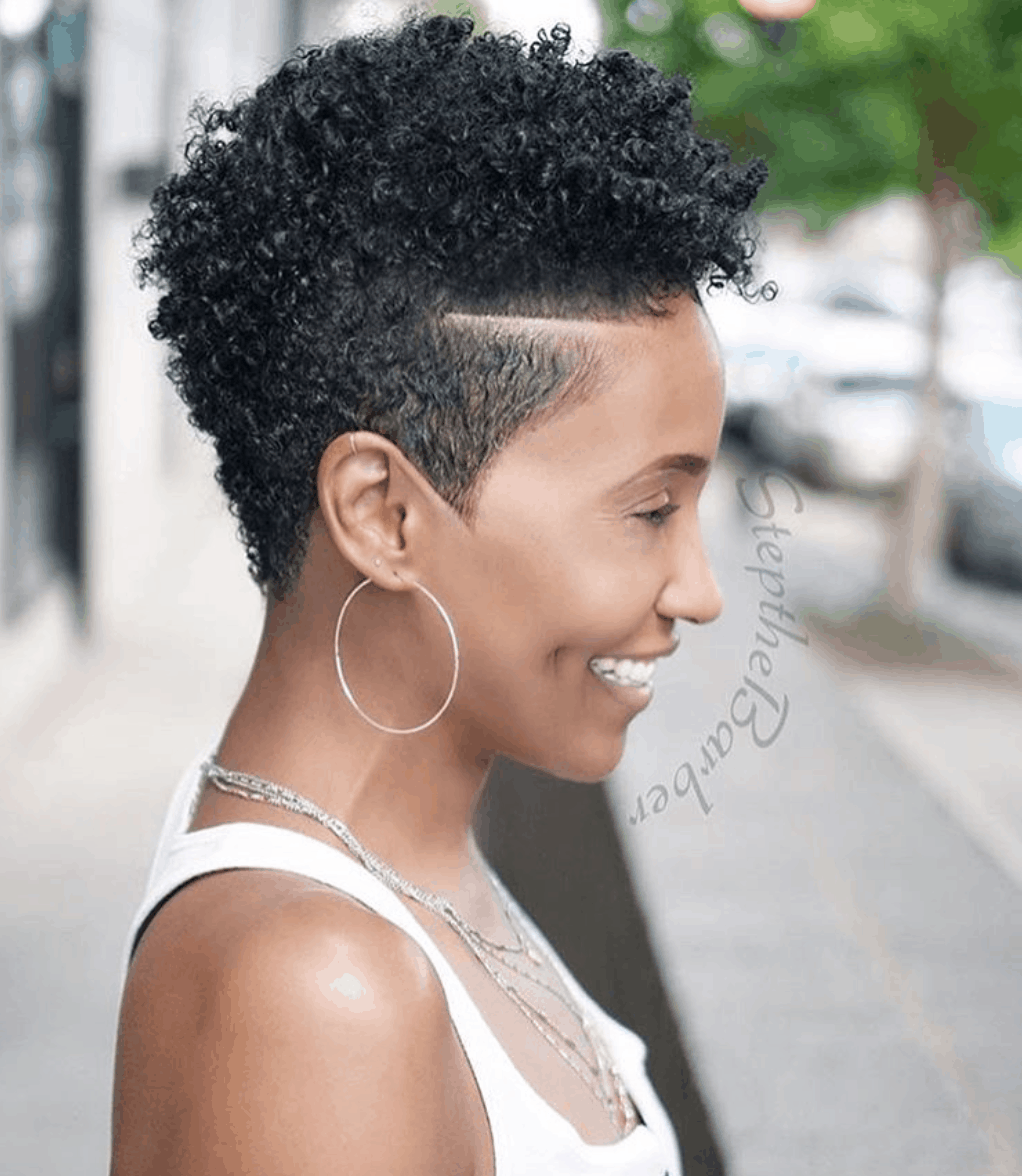 The tapered cut is easy to get hairstyle if you did the big chop, this requires less maintenance, and it is easy to use a product on a tapered cut as moisture easily reaches the end.
21. Finger Coils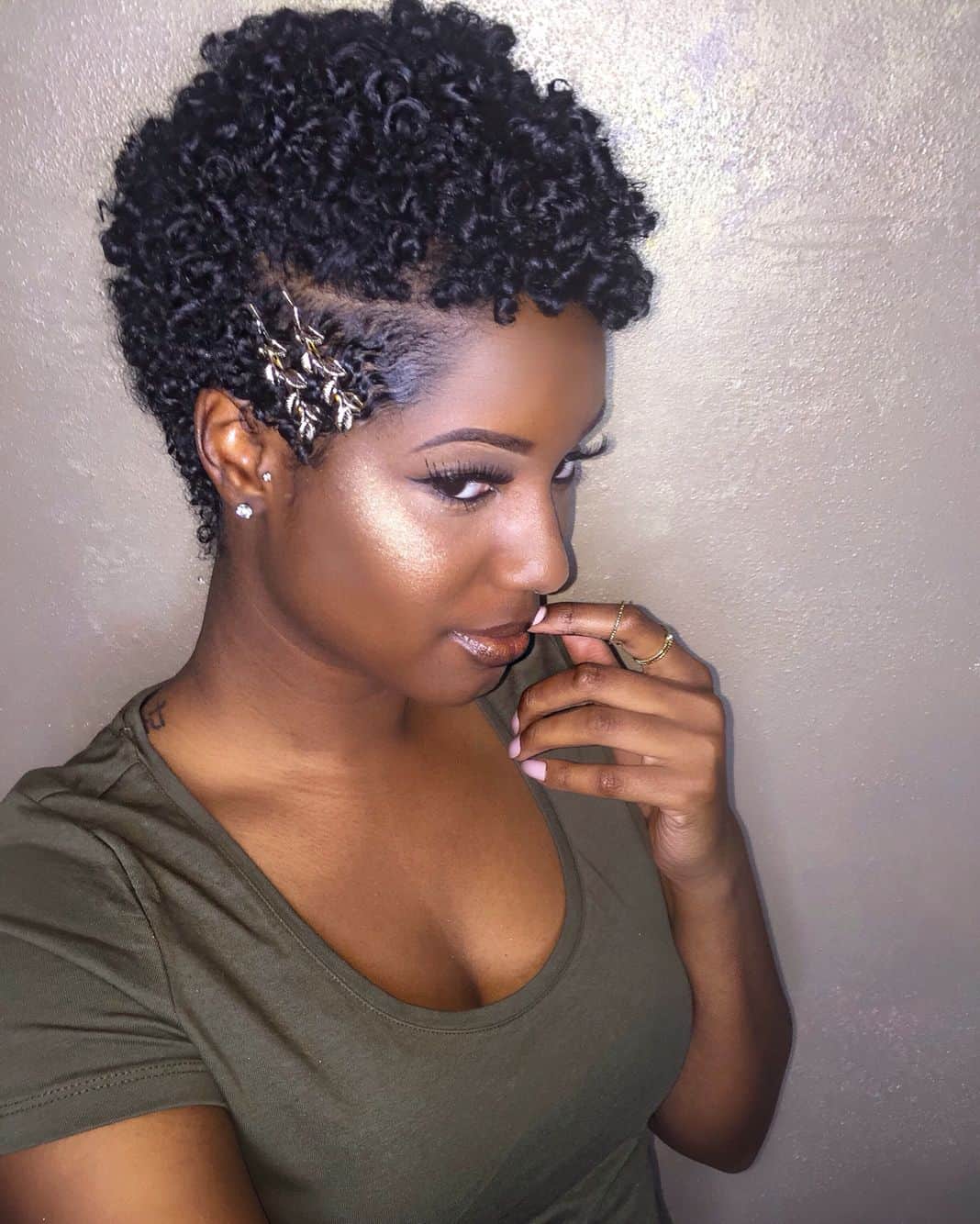 You do not need any special training before you can make finger coils, it requires no manipulation of your hair, and with the right moisturizing products, you can keep your hair healthy.
22. Wash And Style
Wash and style are best when there is no time to sit and style your hair in a fancy way, it takes less time to style, and you can enjoy your hair at this length as this becomes difficult to do when your tresses are long.
23. Mohawk With Cornrow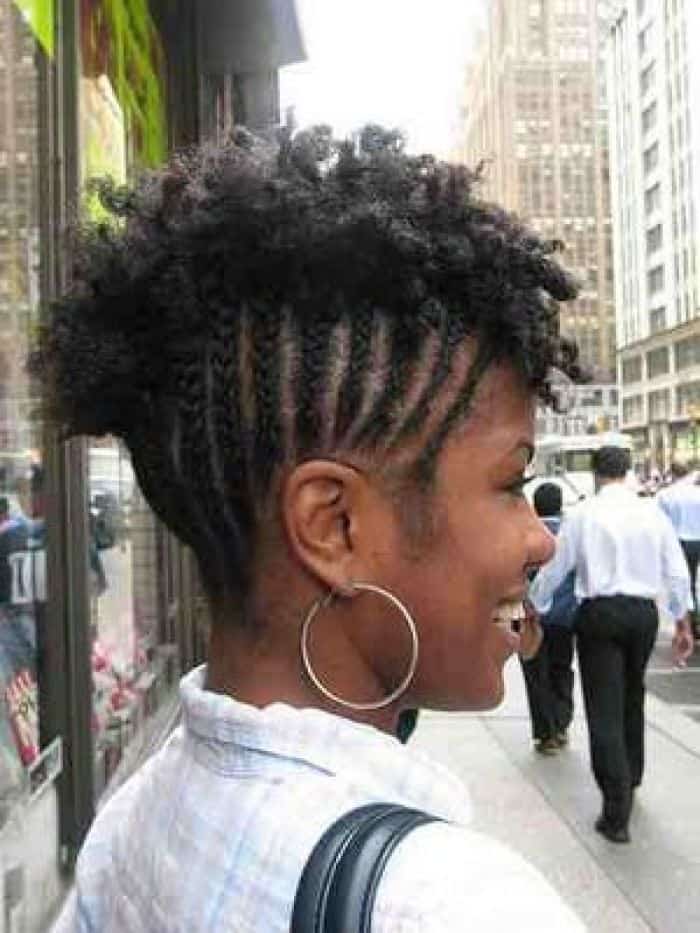 You can enjoy a Mohawk hairstyle more when you do not have to worry about your hair length, no extension is needed to make this fascinating hairstyle, all you need is a deep conditioner to soften your hair and retain nutrients before making this hairstyle.
24. Cornrow Bun
Most people think a cornrow bun can only be done on long hair, this has been proven to be incorrect with this fascinating style, you might need a stylist to ensure this is done properly and not too tightly to prevent having split ends.
25. Two Strand Twist Out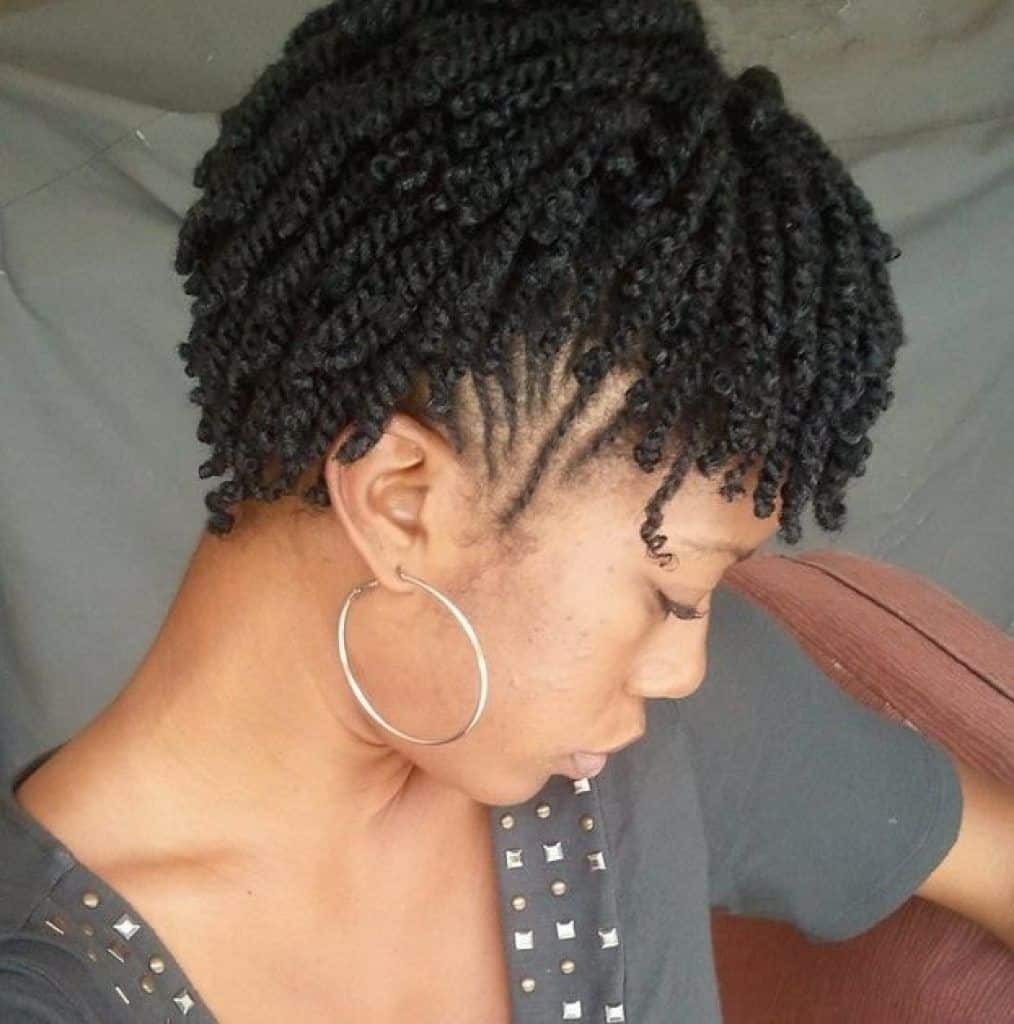 Short natural hair can definitely make a two-strand twist out, and we think it looks even more fabulous, enjoy this the shorter your hair is, the smaller you'll need to make the twist, but we love this look, and it can be easily recreated. You can make it in the comfort of your home or for a more professional look, you should get a stylist.
---
Natural hair is beautiful regardless of the length, most short natural hair can be fragile hence you shouldn't hesitate to moisturize and seal your ends, this would ensure your hair grows every month with no problem, and you can easily protect your scalp and prevent future damages when your hair is short, and you can easily detangle your hair with the protective hairstyles mentioned above.
Read more on natural hair tips and protective styles: