One of the most interesting hairstyles for lot's of naturalist is an afro, it is also regarded as a low manipulative hairstyle which could prevent your natural hair from split ends or breakage, afro style is quite easy to make and you do not need a professional to have it styles.
The trendiest natural hairstyle for black women might be Afro but it is believed there is only one way an afro can be styled but 2020 seems to have introduced more amazing ways you can enjoy this protective hairstyle.
Most transitioning natural hair has stayed away from afro hairstyles believing it can't be done with their hair texture, this hairstyle is elegant enough for a wedding, easy to wear every day and no heat styling required to make it look awesome.
Afro Hairstyle has always been for short and long natural hair, below are a compilation of some of the trendiest afro hairstyle ideas for 2020.
20 Natural Hair Afro Style Ideas For 2020
An afro hairstyle can be easily made with any type of natural hair but knowing what hairstyle you want with it can be confusing however that can be easily rectified after looking at these amazing afro hairstyles below.
1. Tapered Natural Hair Afro To Give You A Break From Braids
Tapered hair natural hair is one of the best afros for natural hair, it is protective and keeps your curls healthy, this hairstyle would also prevent a constant visit to the salon as all it needs to keep it maintained is a healthy trim. This is one hairstyle you can go to on days you do not want to sit for too long at the salon.
2. Drawstring Ponytail Big Afro Compliments Every Makeup
Drawstring natural hair is another way you can keep transition hair from breakage, it is simple and protective of your hair shaft and scalp. You can style this yourself with less hassle.
3. Big Afro With Baby Bangs Gives You A Casual Look And Pairs Nicely With A Denim And Crop Top
Big afro with a bang has always been an interesting choice of hairstyle for some naturalist, it shows off your hair length and also a low maintenance hairstyle.
4. Puffy High Bun Afro Shows Off Your Curl Length And Pairs Nicely With Smokey Eye Makeup
If you love ponytails then you are going to find puffy high bun afro a worthy hairstyle for your natural hair, length does not matter in making this hairstyle.
5. Loose Twist Afro For A Classic Look
Loose twist afro gives you an exotic, classic look, any face shape can make this hairstyle however it is best to keep your scalp clean before making this hairstyle and it's more fitting if you have this hair shaft.
6. Classic Afro With Top Bun To Give You A Unique Look Suiting To A Naturalist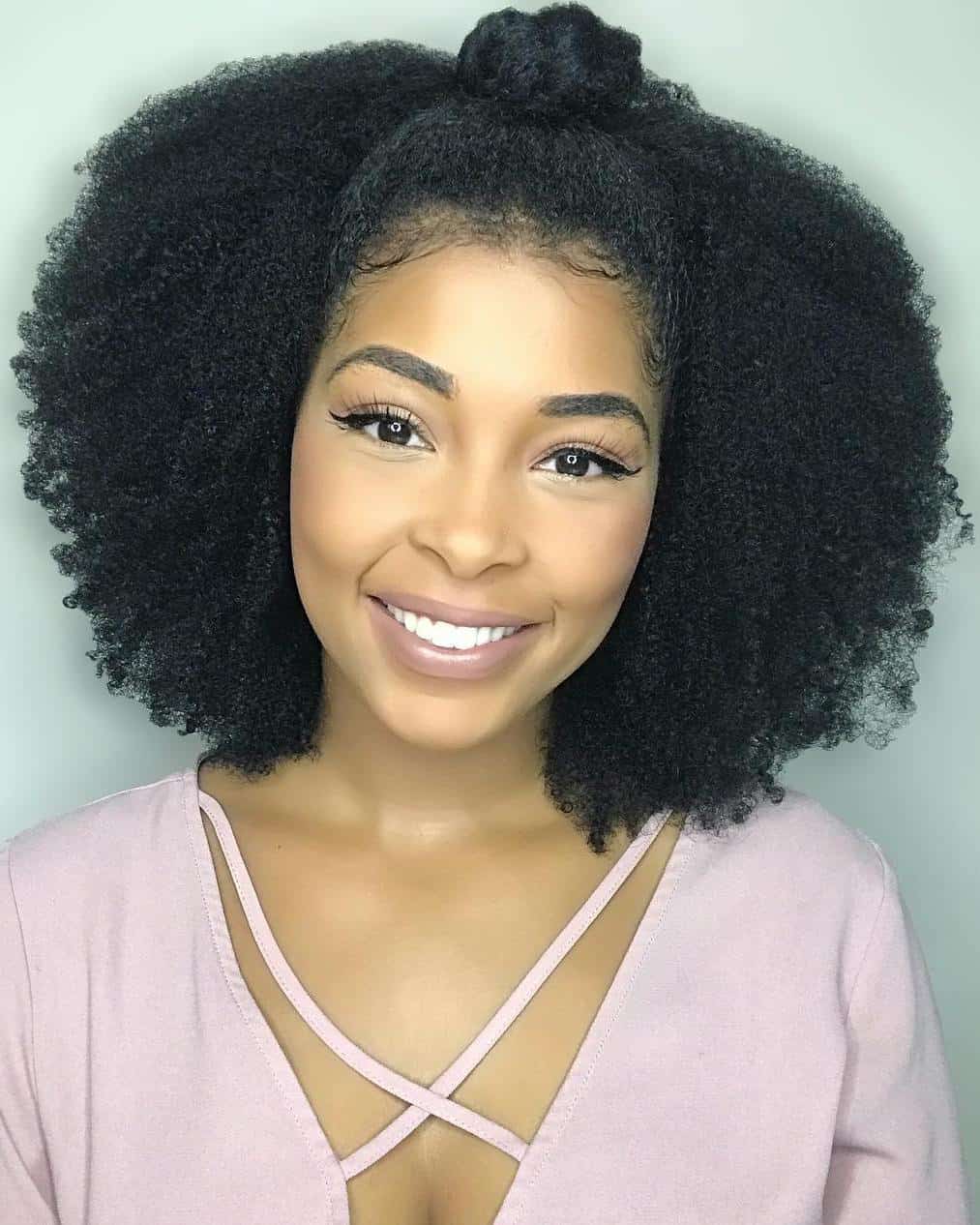 Classic afro style is considered top-notch and viable for showing off your hair length and how healthy your curls are, this is also a protective hairstyle for fragile 4c natural hair, it's can be made with any hair length and you can easily style this at home yourself.
7. Helix Styling Afro To Accentuate Your Face And Show Off Your Coils
You do not need to have a wavy long hair before you can style your hair in this amazing afro hairstyle above, it's exactly what every fragile natural hair needs to retain length, nothing too elaborate about this and it won't cause any damages to your hair strand or scalp.
8. Mohawk Afro Gives You Just The Right Amount Of Glamour And Sassiness
This can also be a pompadour depending on how it is styled and what side your afro falls on however it is considered one of the most amazing afro hairstyles for natural hair you can wear for a casual look, simple and elegant.
9. Wavy Side Parted Afro To Show Off Your Thick 4c Natural Hair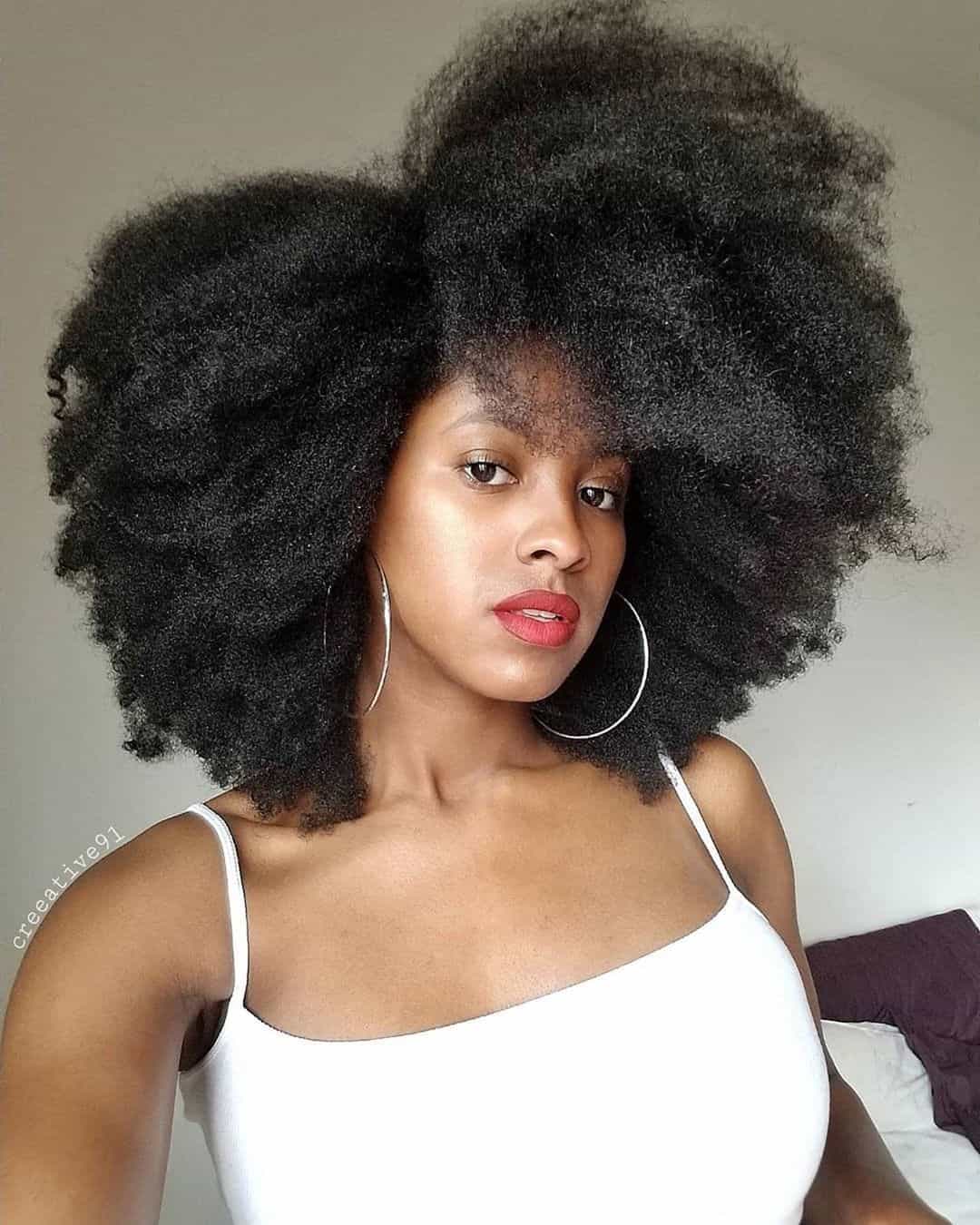 How healthy is your 4c natural hair? If it's quite healthy and beautiful then there is no reason why you won't want to show it off and what better hairstyle than with an afro, this is a really gorgeous hairstyle, fancy and can be rocked to any event. You can style it with a center parting and still find it lovely, it requires no manipulation on your hair or scalp which makes it a great hairstyle for a fragile 4c hair type.
10. Baby Bangs Afro Hairstyle To Highlight Your Gorgeous Features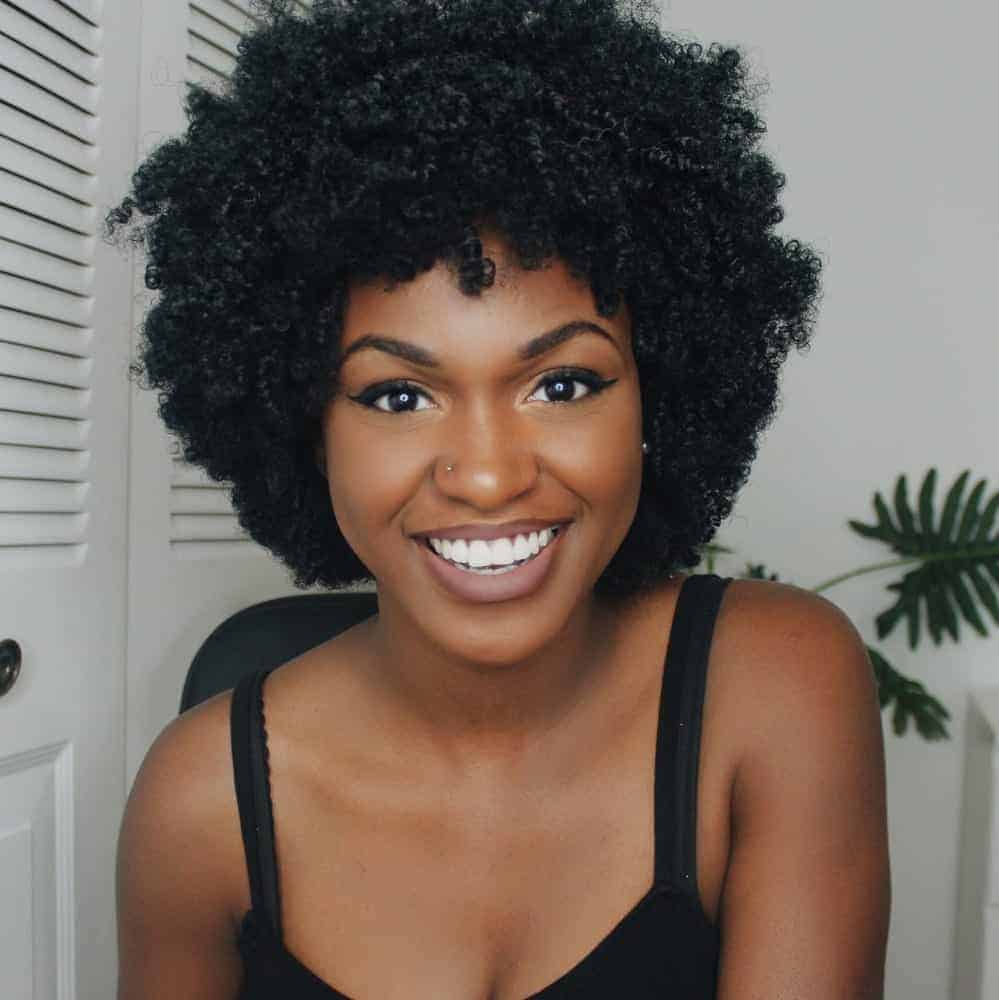 Baby bangs are gorgeous on textured hair but could even be more fantastic on natural hair, this hairstyle is simply gorgeous, low Maintainance and fitting for basically any hair length. This is one exotic afro hairstyle every naturalist should try.
11. Kinky Afro Hairstyle With A Touch Of Blue To Give You A Bold Look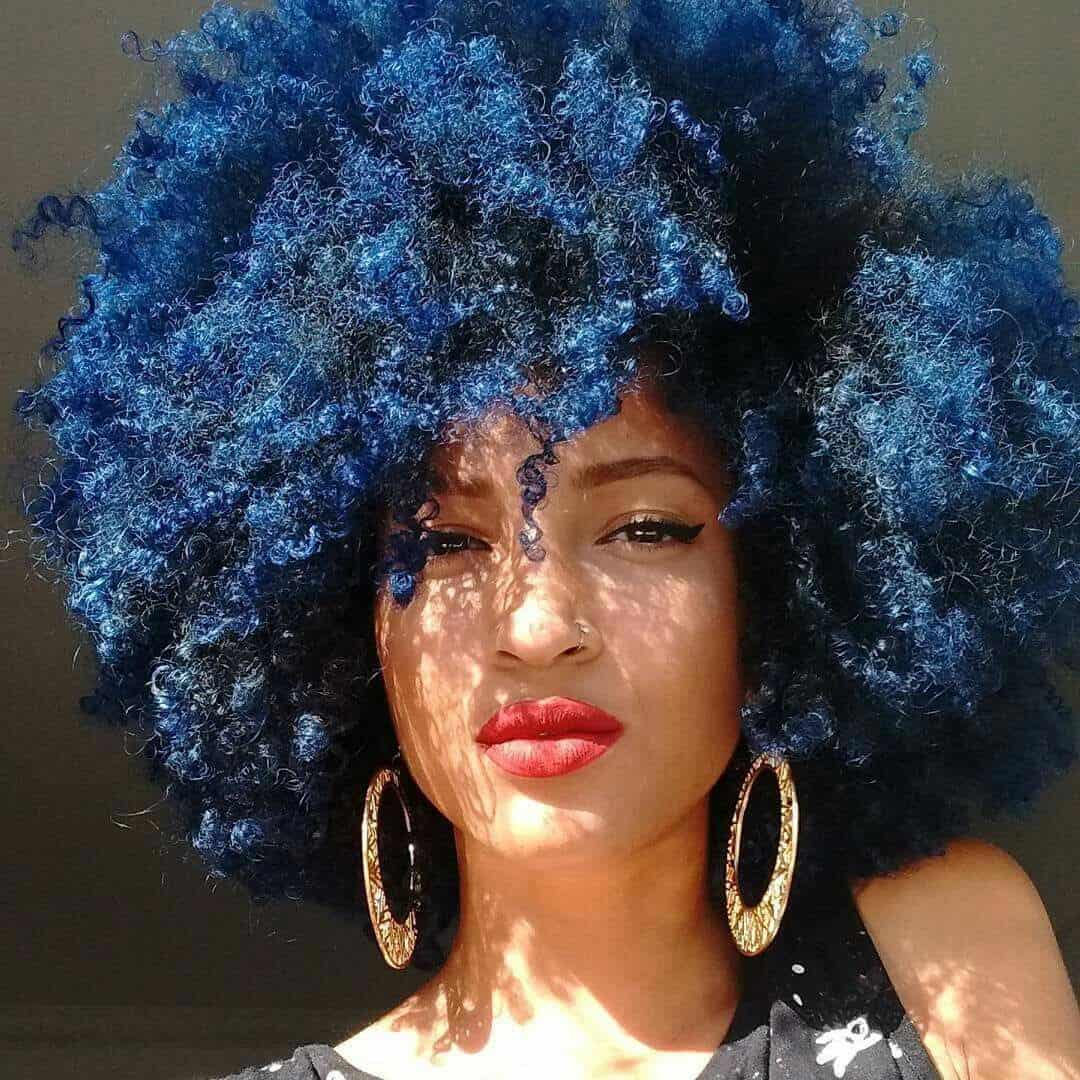 Afro hairstyle deserves a bold glamorous change and one way to make this happen is a touch of blue in your hair, this is a pretty chic hairstyle and seems to be picking up the new trend this 2020, no heat is required which keeps your hair healthy and you can try this on any hair length.
12. Medium Parting Afro For A Glamorous Makeover
Afro hairstyle is one of natural hair's most loved hairstyle and you do not have to go to the extreme to get it done, a medium parting will do the trick just fine and this hairstyle means you get to retain your hair length with a minimal trimming needed.
13. Small Bang Afro To Give You A Cool Chic Look
A bang in your afro is one hairstyle you do not want to pass over, nothing dramatic about this styling, it is also considered a protective hairstyle for natural hair which makes it just perfect for any hair type and hair length, this can be easily styled at home.
14. Wavy Big Bang Afro Gives Just The Right Classic And Beach Look You Want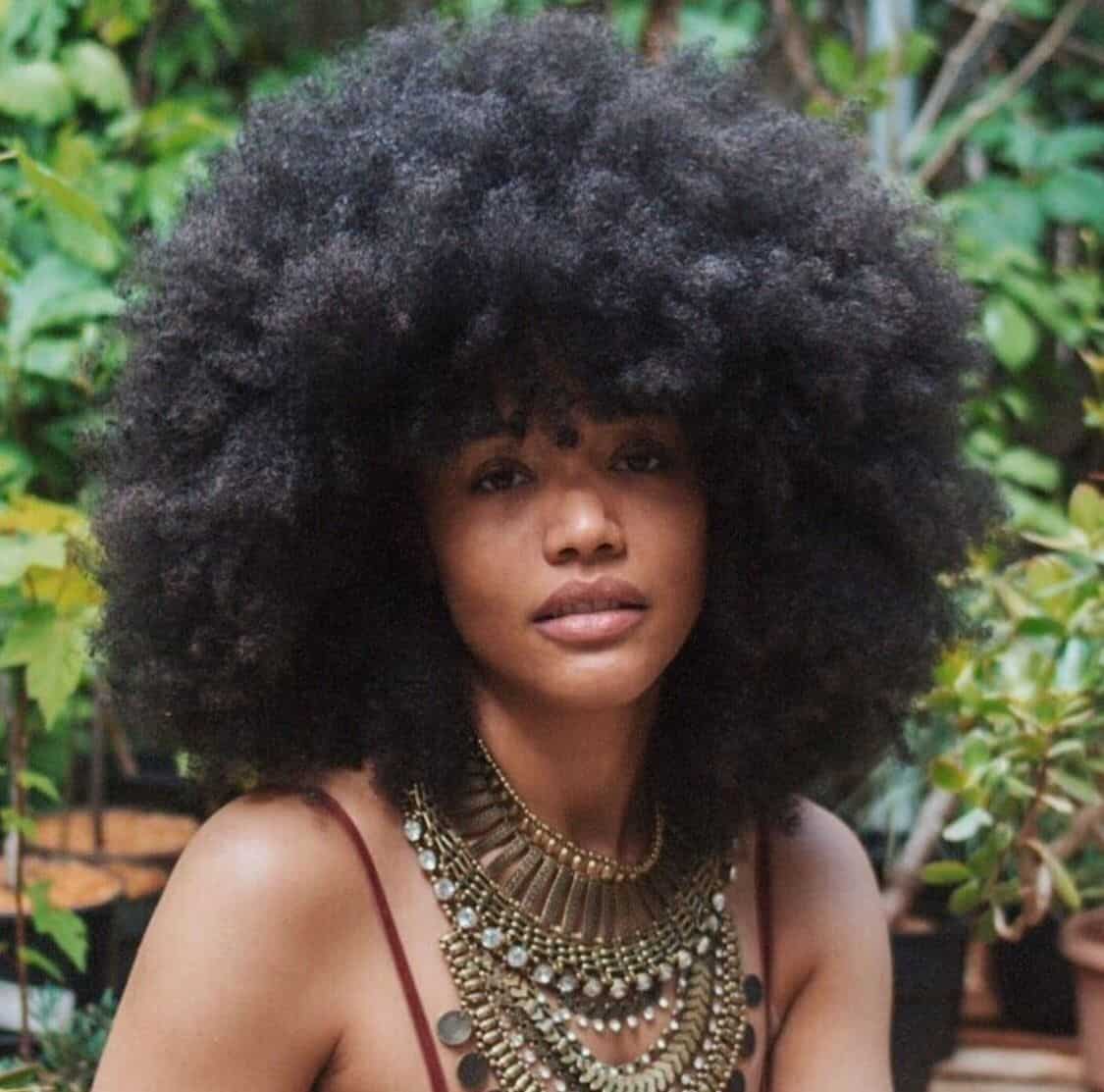 Years of growing out your natural hair come with a desire to show off your curls and what better way than this afro hairstyle above, this is a great hairstyle you can wear to practically any event and you do not have to worry about tri ming your hair to make this hairstyle.
15. Ponytail Afro To Give Your Hair Some Rest From Manipulative Hairstyles
Braids are wonderful hairstyles but it is advised to give your natural hair space to breathe and above is just the most suitable hairstyle to make this happen, you can have this done at home yourself however natural hair gel would be needed to make it stick at the front and give you a sleek look.
16. Frohawk Afro For A Simple Look
Most frohawks are styled with a cornrow but regardless of an Afro could be added just for a more classic look, all you need is to have your hair styled to the front and your curls rolled out and you are good to go.
17. Afro Curls With Bantu Knot For A More Modern Look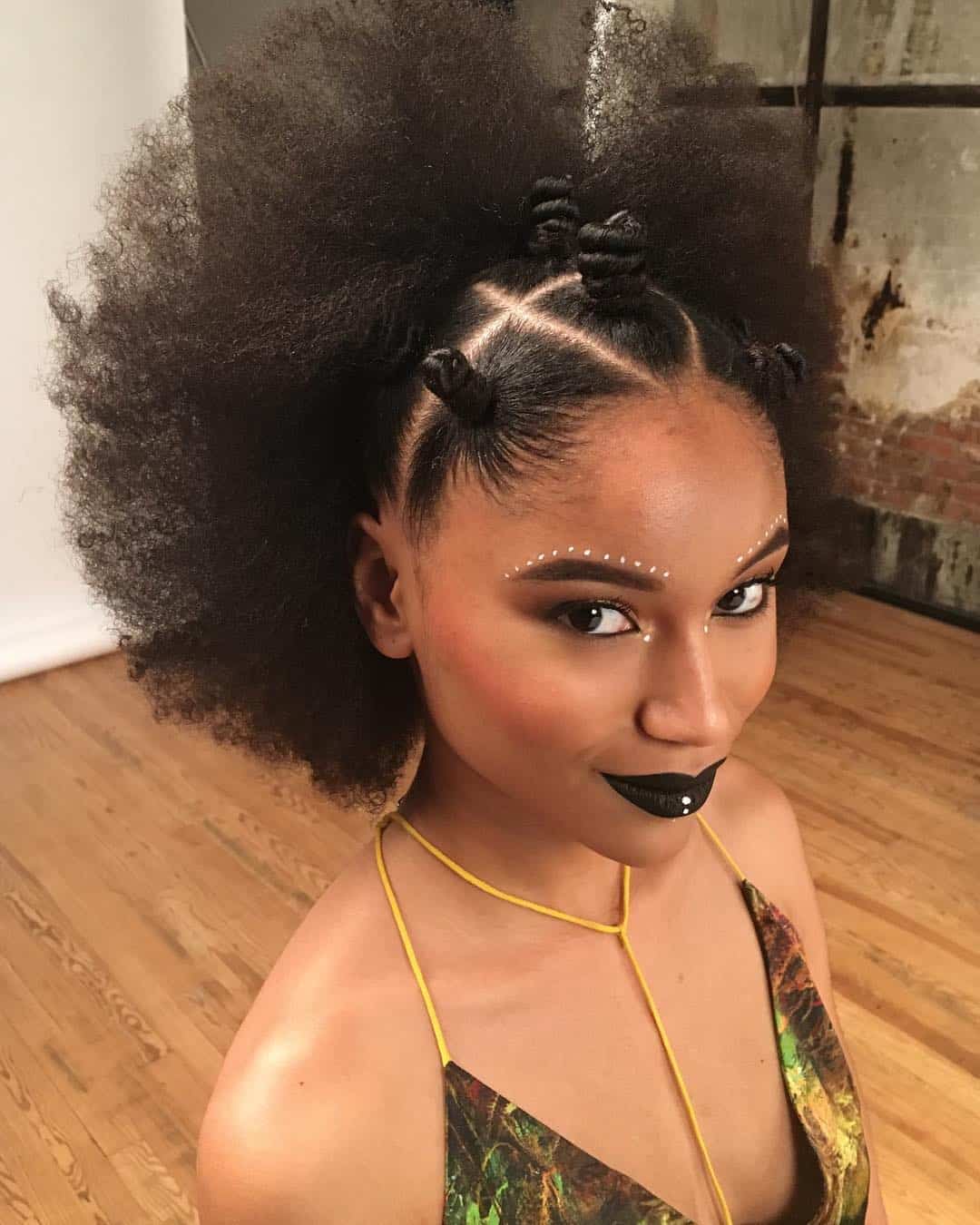 An afro hairstyle can be just as modern as you want, a Bantu knot might be the difference you need your afro hairstyle to have. This hairstyle is easy to style and you can make it at home yourself if you can make a neat Bantu knot.
18. Wet And Styled Kinky Afro On Short Natural Hair
Short hair can make an amazing afro hairstyle on short natural hair and nothing is required to make it, this hairstyle can be styled when it's wet and you do not have to apply anything to make this turn out great most especially on a healthy 3b hair type.
19. Big Bun Afro To Give You A Fascinating Look And Keep Your Curls Happy
Another interesting afro hairstyle that would be making quite a wave in 2020 is a big bun, this is one of the easiest hairstyles for natural hair, your hair can retain its length with this protective hairstyle and you can make it at the comfort of your home.
20. Twist Out Afro To Pair With A Smokey Eye Make-Up
Nothing looks as interesting as when your makeup compliments your hair, this hairstyle about requires a two-strand twist to make your curls fall and look quite as glamorous as the one above, you can do this at home yourself or for a more professional look, get a stylist. This is another afro hairstyle that can be done with any hair length.
---
Natural afro hairstyles can be hard to come by these days as it is believed to be part of the 90's hairstyle for women who couldn't detangle their hair but this has been proven to be quite untrue as celebrities and stylist have come up with amazing ways this hairstyle could be rocked.
Afro hairstyle has slowly joined the fashion trend and above are some of the styles to try.
Read more on natural hair and protective hairstyles: