Looking for the best African American hair products to use in 2020? We think you'll like this list.
The research did show that every year African American consumers spend thousands of dollars every year on their hair and frankly they do have massive hair that needs the right product to stay healthy, keeping your hair healthy and well-nurtured is considered as one of the beauties of an African American woman.
Black hair is actually easier to tame than you think, all you need is the most suitable hair products to help it thrive and grow, we have compiled 10 amazing products from Amazon you should have as part of your hair care products in 2020.
The selected products have been carefully selected to help retain your hair texture and also make your kinks, curls, and coils look more fabulous.
How Can You Treat African American Hair?
Black hair is more prone to frizz and brittleness, most black hair requires lot's of care to stay healthy and with less frizz, black hair is beautiful whether natural, relaxed or braided and the key to treating and maintaining your gorgeous hair is to follow some of the tips listed below.
Wash your hair once every 1-2 weeks, washing often will only dehydrate your hair
Consider washing your hair every 3-5 days with just conditioner to lock in moisture and hydrate your scalp
Avoid heat styling as much as you can and use a lower temperature and a heat protectant if you do.
Let your hair go natural once in a while
Treat rough dry hair to a hot oil treatment once a week using a product of natural oil such as olive oil, shea butter oil, and coconut oil.
If you have oily hair, These are the best shampoos to buy right now.
How Often Should Black Hair Be Washed?
Black hair doesn't require as much washing as you think except if it gets sweaty and dirty, washing often might strip it of its moisture hence dermatologist recommends washing once or twice a week and this should be done with a natural shampoo and leave-in conditioner, you should also deep condition your hair more often if it's natural.
Recommended read: 12 Hair Growth Secrets to Double Your Hair Growth In 14 Days
How Do You Treat Dry African American Hair?
African American hair is delicate and tends to be dry, this can be frustrating as it might eventually lead to breakage, hair types do vary hence you should find out the cause of your dry hair and follow some of these simple tips to keep it moisturized.
Deep condition regularly, the importance of this can be stressed enough, it hydrates your hair from the root and lock-in moisture.
Moisturize constantly, adding moisture to your hair is vital in keeping it from becoming dry and unhealthy.
Cleanse your hair regularly, you should not leave a braid in for too long without cleaning your scalp
Increase your water intake, staying hydrated means your hair gets to be hydrated as well
Avoid heat styling as much as you can or use a heat protectant if you do.
How Do You Fix Severely Damaged African American Hair?
Often times you can stop your hair from going extremely dry and this might be a result of organic products however you can easily rectify this by getting natural hair masks that are friendly to black hair, some of these products are listed in this post.
Caring for African American textured hair can be a bit difficult due to it's coarse, kinky, and often dry texture but with a few guides and patience, you can restore your hair health.
Trim away split ends every 4-6 weeks, this might restore it's shine as the damaged part might not be from the root
Exfoliate your scalp to remove build-up from sebum and hair products
Use leave-in conditioner as often as you can to keep it nourished
Wear a protective styling that limits the breakage and rather keep your curls well tucked in
Brush and comb your hair regularly with a wide-brimmed comb to detangle it without yanking at it
Reduce the frequency of chemical products
Use a heat protectant before all heat styling
Why Is African American Hair Dry?
African-American hair can be really beautiful but seems to require more effort to keep it healthy and this is because it needs supplemental moisture to stand up to styling because it is naturally dry.
The curly textures tend to be the most vulnerable and prone to drying out and breaking because the bends in kinky hair make it a bit difficult for natural oils to work their way down the hair shaft.
Every single curve from African American natural hair might slow down your scalp natural oil hindering it from reaching its destination and this doesn't matter if your curls are S, Z or bent however as long as you follow a healthy hair regimen with products designed for you, Possibly your hair will stay very well-moisturized.
Best African American Hair Products On Amazon
We made a list of the best hair products to buy right now if you want only good hair days, 365 days, 2020.
| Image | Title | Buy |
| --- | --- | --- |
| | Aunt Jackie's Curl La La, Lightweight Curl Defining Custard, Creates Long Lasting Curly Hair with Mega-moisture Humectants, Enriched with Shea Butter and Olive Oil, 15 Ounce Jar | Buy Now |
| | Carol's Daughter Healthy Hair Butter Protective Cream Hairdress | Curl Cream with 7 Essential Oils, Shea Butter, and Cocoa Butter | 8 Ounce | Buy Now |
| | Shea Moisture Jamaican Black Castor Oil Combination Pack – Strengthen, Grow & Restore – Shampoo, 16.3 Oz, Conditioner 13 Oz. & Leave-In Conditioner 16 Oz | Buy Now |
| | Carol's Daughter Almond Milk Daily Damage Repair Shampoo and Conditioner Set For Damaged Hair, Shampoo and Restoring Hair Conditioner with Shea and Aloe (Packaging May Vary) | Buy Now |
| | tgin Honey Miracle Hair Mask Deep Conditioner With Raw Honey & Olive Oil For Natural Hair - Dry Hair - Curly Hair - 12 Oz | Buy Now |
| | amika The Wizard Detangling Primer, 4 Fl Oz | Buy Now |
| | Design Essentials Restore Vitamin Treatment for Natural Dry Damaged Hair - 8 Oz | Buy Now |
| | Biotin Shampoo for Hair Growth - Thickening Shampoo for Hair Loss All Natural for Thinning Hair - Rosemary Aloe Vera Coconut - for Women Men - Sulfate Free Paraben Free - Safe for Color Treated Hair | Buy Now |
| | AZALLY Hair Growth Serum, Ginger Hair Growth Oil , Best Hair Loss Prevention Treatment(60ml) | Buy Now |
| | Luster's Pink Oil Moisturizer Hair Lotion, 32 Ounce (Packaging may vary) | Buy Now |
1.
Aunt Jackie's Curl La La
It is vital to keep frizz away and that can be done with Aunt Jackie's curly hair product, it has been formulated with natural ingredients that are healthy to your hair and scalp, used to define your curls as well, relaxed hair can also use this but there is no guarantee it will get your hair curly. It has been enriched with shea butter and olive oil to give your hair long-lasting curls.
2.
Carol's Daughter Mimosa Hair Honey Shine Pomade
Buy on Amazon
This is a hair product that is quite popular and effective, it is highly recommended for dry and textured hair, formulated with shea butter and cocoa butter for retaining moisture, curl cream and 7 essential oils to ehnace your hair curls and waves. It is also for all kinds of curls, it moisturizes and hydrates your hair and scalp at the same time.
3.
Shea Moisture Jamaican Black Castor Oil
Shea Moisture Jamaican black castor oil is all-natural and worth the fuss, this hair product could change the whole unhealthy thing about your hair in 2020, you definitely want to have it among your hair care products, comes with a sweet natural smell and nourishes your hair from the roots.
4.
Carols Daughter Almond Milk Hair Care
Another amazing hair products from carol's daughter, it comes with an amazing review and formulated especially for extremely damaged hair/over-processed hair, formulated with almond milk to naturally curl your hair. Carol's daughter almond milk Hair Care comes with a shampoo and leave-in conditioner for nourishing your hair.
5. T
gin Honey Miracle Hair Mask
Tgin honey miracle hair mask is exactly what you need to restore your hair and extremely damaged hair would find this really effective, this is quite perfect for natural hair, keeps your curls happy and with no frizz. This can really be said to be a miracle treatment to your hair and scalp.
6. Amika Detangling Primer
Amika detangling primer is just what you need for your 4c natural hair, helps retain length while keeping it soft and sleek, comes with a high concentration of omega 7 which is nourishing to your hair, keeps free-radical at bay, reduces split ends, detangles and reduces blow-dry time and promotes the production of collagen.
7.
Design Essentials Restore Vitamin Treatment

This hair product has been designed specifically to aid damaged and over-processed hair gets nourishment back, it restores over-processed or stressed hair by vitamin treatment. fortifies hair strand by giving it it's natural shine and this applies to natural hair as well.
8.
Biotin Shampoo for Hair Growth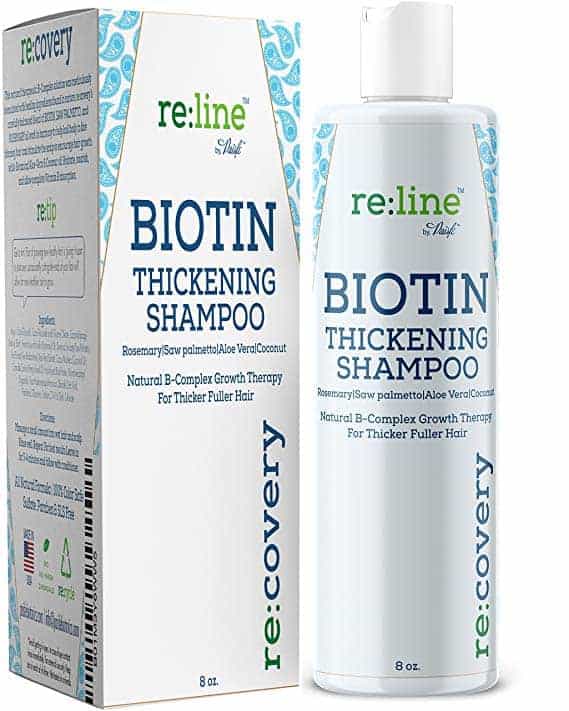 Biotin shampoo is an all-natural hair care products, basically, for all hair types, it is the best for cell-stimulating and hair loss treatments for stronger hair volume and thickness, it strengthens hair strand and comes with a natural smell you would love.
9.
AZALLY Hair Growth Serum
Azally hair growth serum is packed with natural extracts, amino acids, biotin. this hair growth serum also adds proprietary hair growth complexes clinically indicated to stimulate deep hair growth. This hair growth serum is rich with constituents of nutrients, Ginseng, Ginger king, and Vitamin E to soften hair effortlessly.
10.
Luster's Pink Oil Moisturizer Hair Lotion

Your hair products wouldn't be complete without luster's pink oil moisturizer added to it, formulated to protect your hair from breakage and having split ends, it is suitable for medium and coarse hair texture. Packaging may vary when you are purchasing luster's pink oil moisturizer and this is for all hair types.
---
It is very important to use hair products that lock in moisture and keep your hair hydrated, that is the reason this 10 hair care products have been selected, it works on all kinds of hair texture and quality. Hair loss can also be restored some of these hair care products, talk to your dermatologist if there are no changes within a month of using these hair products listed above.
Read more on hair care products and hair loss: