Shea butter has been used as a cosmetic ingredient for centuries, it is fat that is extracted from the nuts of the shea tree and provides many benefits to women, it's off white ivory coloured and has a creamy consistency that is often used as a cream on the skin. It contains natural ingredients and when used in its natural form, it contains anti-inflammatory properties which help reduce redness and scalp irritation.
Can shea butter make your hair grow? There are lot's of benefits to using shea butter and it's often wondered if it can be used for hair growth although shea butter is often the go-to for naturals to moisturize their natural hair and stimulate hair growth.
This butter has recently gained popularity among the western worlds due to its widespread use in beauty products such as conditioners, shampoos, lotions and cosmetics and if you are looking for a great natural beauty product for hair and skin, shea butter is worth trying and this article contains the benefits and how to use it on your natural hair.
 What Is Shea Butter?
Prices pulled from the Amazon Product Advertising API on:
Product prices and availability are accurate as of the date/time indicated and are subject to change. Any price and availability information displayed on [relevant Amazon Site(s), as applicable] at the time of purchase will apply to the purchase of this product.
Shea butter is a skin superfood that is extracted from the nuts of the shea tree that is native to Africa and it is a fatty oil that exists as a solid at room temperature. The main components of share butter include linoleic acid, stearic acid, oleic acid, vitamins, catechin and so on. It can be used as natural moisturizers for softer skin and hair, it can also be used to heal cuts, injuries and burns on the skin.
6 Benefits Of Shea Butter
Shea butter exhibits several health benefits and experiments have shown that it has anti-inflammatory and antioxidants properties and although some skin types might be allergic to it, it is an incredibly low-risk topical ingredient. Shea butter is an ideal cosmetic ingredient for softening skin but here are other benefits that should have you incorporating it into your skincare regimen.
1. Reduces Inflammation
Shea butter has been known to help reduce skin inflammation and it is found that due to it's cinnamic and other natural properties which can make it beneficial for the improvement of skin conditions which can result from an increase in inflammatory compounds. When shea butter is applied to the skin, shea triggers some inflammatory cells to minimize irritations on your skin caused by environmental factors.
2. It May Help Prevent Acne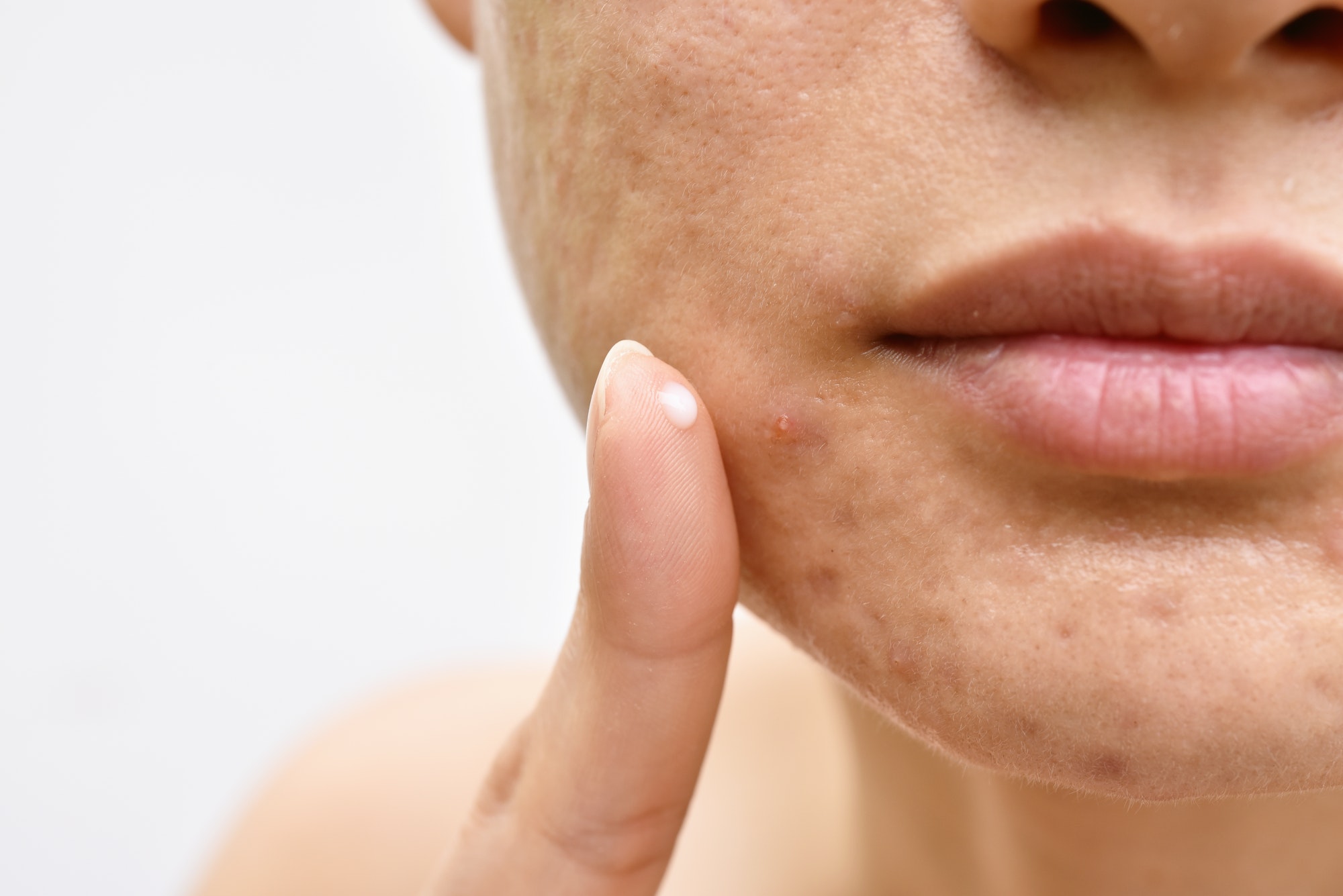 Shea butter is known for it's healing properties hence it can help prevent acne, it can be attributed to the presence of several fatty acids and shea butter is rich in different kinds of fatty acids. The unique composition in shea butter helps clear your skin of excess oil.
3. Restores The Elasticity Of The Skin
The elasticity of your skin is the key to your skin looking younger for longer and as one grows older, it can be hard to maintain your skin elasticity however shea butter can help improve the production of collagen in your skin. The vitamin F found in shea butter can help to maintain and restore your skin elasticity while also hydrating,s softening and beautifying it.
4. Anti-ageing Properties
A study suggests that shea butter is a great anti-ageing powerhouse as it is made of fatty acid profile similar to that of your skin. It is considered as one of the best anti-ageing agents for your skin, it stimulates the production of collagen which is the youthful scaffolding in the skin and while it can't be used itself as an effective sunscreen but using it on your skin does give it some sun protection thereby protecting your skin from wrinkles.
5. It's Moisturizing
Shea butter is typically known for its moisturizing effect on all skin types, it is an excellent moisturizer for the face and the body as it's fat content is responsible for its humectant and emollient properties. Shea butter locks in moisture and keeps your skin hydrated for a very long time especially for dry skin.
When you apply shea butter topically, these oils are rapidly absorbed into your skin and shea butter penetrates the skin easily without clogging the pores which reduce the risk of dryness.
6. It May Help Relieve Congestion
A study shows shea butter may help relieve nasal congestion, it is an amazing substance with many benefits and when used in nasal drops, it can help alleviate nasal congestion. Shea butter can also help reduce mucosal damage which often leads to nasal congestion and it even more potentially more efficacious in treating nasal congestion than nasal drops.
How To Use Shea Butter On Natural Hair
Shea butter is widely used for all types of natural hair as a sealant hence why it can be frequently found in beauty stores that cater to black hair. Shea butter has innumerable uses and here are some of the ways it can be used on natural hair.
1. Protect Hair And Scalp From UVS
Shea butter contains a small amount of SPF which serves as a protective barrier against ultraviolet rays of the sun and when your hair follicles are exposed often to the sun, it can become dry and damaged. Shea butter can be used to protect your hair from this damages and this is highly beneficial for colour-treated or processed hair.
How to use it

Melt it down and apply it lightly to your hair before going out to where your hair is exposed to the sun and you can also add it to your moisturizing spray to have it sprayed on your hair.
---
2. Moisturize And Soften Hair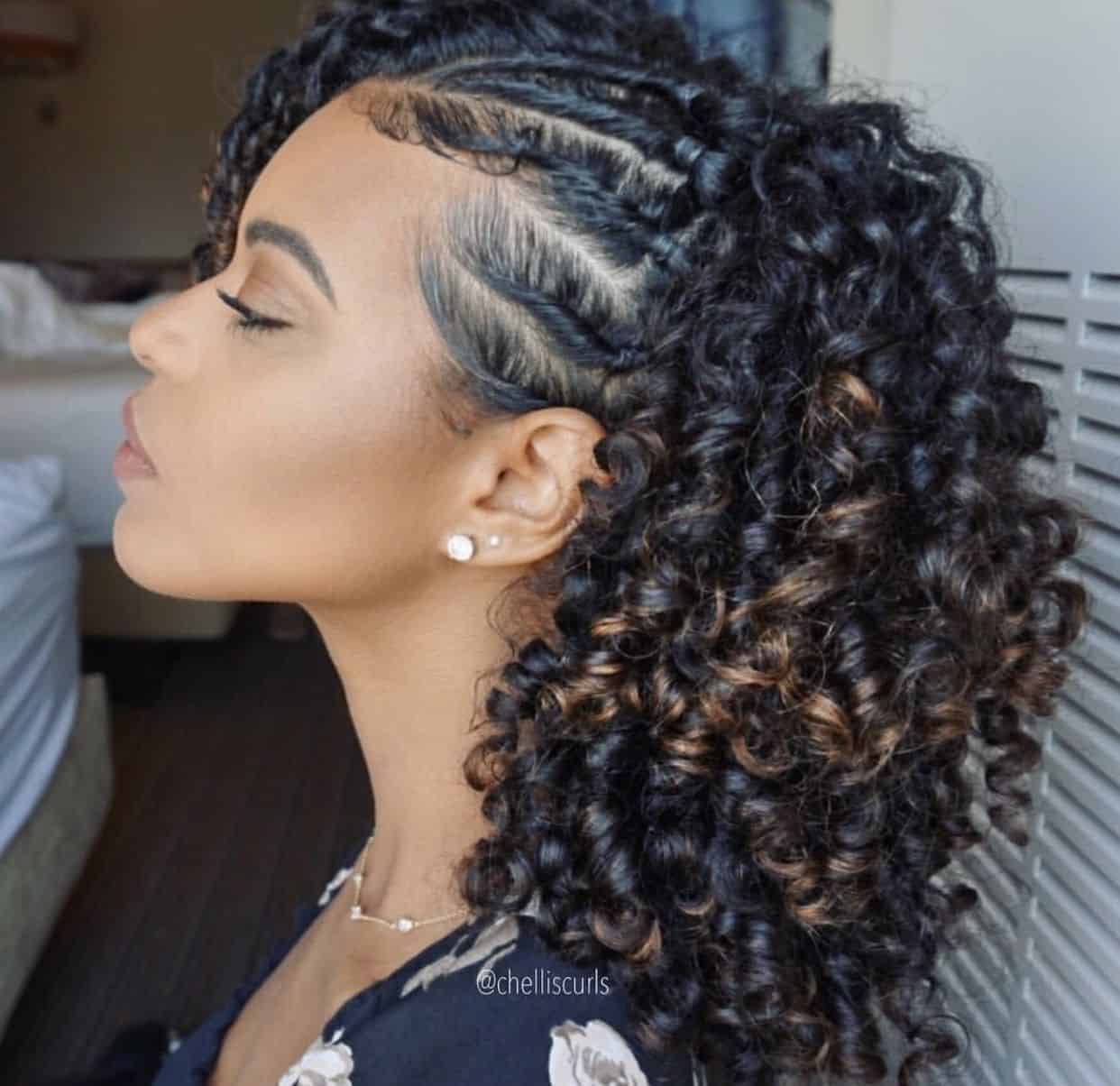 Shea butter is believed to be a good moisturizer for hair, it is also great for softening hard and brittle hair, therefore, offers a great advantage for natural hair. It contains vitamin A and E with essential fatty acids which adds moisture and shine to hair.
How to use it

Mix with another carrier oil and apply it to your hair as the oil for the LOC method or as a moisturizer for 2nd or 3rd-day hair or use as a leave-in moisturizer after every wash day.
---
3. Sealant For The Hair
Shea butter might not be a moisturizer but can be frequently found in natural hair products due to its emolliating qualities. Black hair tends to be naturally dryer than any type of hair due to its texture however shea butter is an excellent sealant for the hair especially Afro-textured hair which is naturally dryer than other hair types.
How to use it

You can simply have it rubbed directly onto your hair and scalp or add it to your favourite conditioner to give you extra moisture. It is also a great additive to be added to hair creams and shampoos.
---
4. Protect Hair Against Heat Damage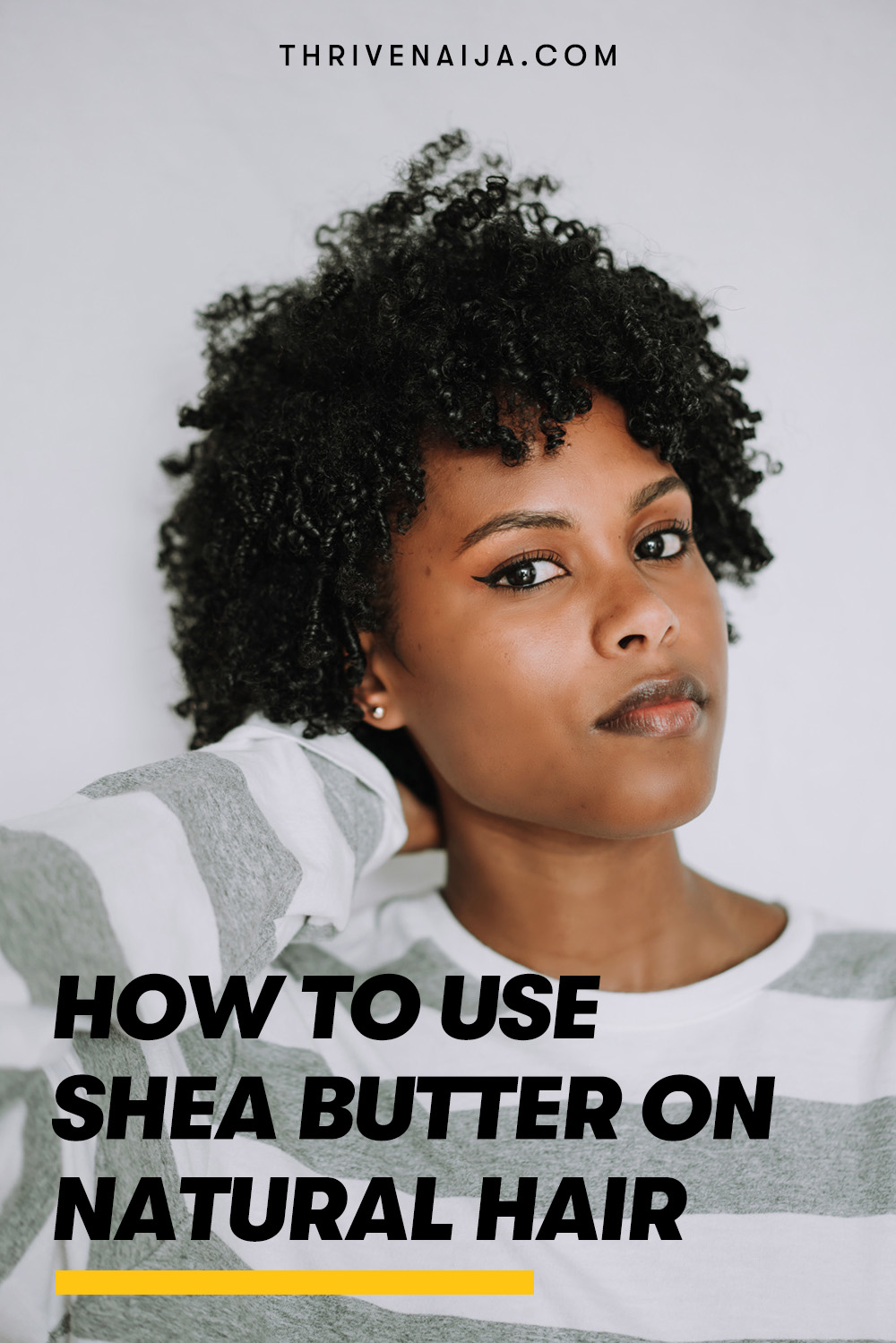 If you use curling iron often then shea butter might come in handy in preventing heat damages and shea butter does not sit on your hair, it absorbs into the hair strand/shaft easily hence it can be used as a heat protectant for your hair.
How to use it

Apply shea butter in a small amount to your hair before using heat or have it melted down and mixed with another natural oil such as grapeseed oil or avocado oil which have high smoke points and have it applied to your hair in small quantity before applying heat.
---
5. Sooth Irritated Scalp
The fatty acids and anti-inflammatory properties contained in shea butter make it ideal for soothing irritated scalp and it has been used for centuries to soothe dry itchy scalp and dandruff. Shea butter provides moisture for dry and damaged hair hence why it is used as ingredients in many health-related creams.
Shea butter absorbs into the scalp immediately with causing pores and won't leave your hair feeling greasy and heavy which makes it fantastic for keeping your free from dandruff therefore extremely beneficial for color-treated and damaged hair.
How to use it

Melt shea butter in a double boiler over boiling water then have it cooled to a reasonable temperature before using on your hair. Spead Onto your fingertips and applied in small quantity to your hair from root to down to the ends and you can also add drops of tea tree oil for extra soothing relief.
---
Final Thoughts
Shea butter is an increasingly popular moisturizer for natural hair and all kinds and types however everyone's skin is different hence you should do a patch test before applying all over your skin and scalp to enable you to see how your skin and scalp reacts to it.
You should go for the raw unrefined ones when shopping for shea butter as processed shea butter can take on different forms but unrefined shea butter is in its natural state and make sure to check the colour before purchasing if it is not ivory colored then this means the shea butter has been refined through bleaching.
Read more on natural hair care tips: