Is argan oil good for natural hair? Argan oil is made from the kernels that grow on the argan trees that are endemic to Morocco, it is used for lots of purposes from skin benefits to hair regimens.
It is used to dip bread in at breakfast or to drizzle on couscous or pasta and it is also sold as pure oil to be used topically or ingested to provide severe benefits. Many naturalists have used argan oil to restore hair damage and nourish dry hair to health.
Argan oil is believed to serve naturalists as a new form of coconut oil or even better due to its essential benefits, treating the hair with a natural oil like argan oil is one of the fastest ways to restore dryness and to reduce the amount of frizz.
Natural hair is naturally dry and subjected to many stresses from the use of harsh shampoo to weather conditions hence why the use of natural oil is adopted. In this article, learn how argan oil can help you combat your natural hair problems and how to use it efficiently.
What is argan oil and where is it grown?
Argan oil is plant oil derived from the kernels of the Argan tree native to Morocco and it is used for cosmetic purposes. Argan oil is considered a miracle cure for all kinds of natural hair damage and for faster-growing hair and this is why it is extremely popular among the black natural hair community. The antioxidant contained in argan oil promotes cell production and contains phenols that support and strengthen hair follicles.
Benefits Of Using Argan Oil For Natural Hair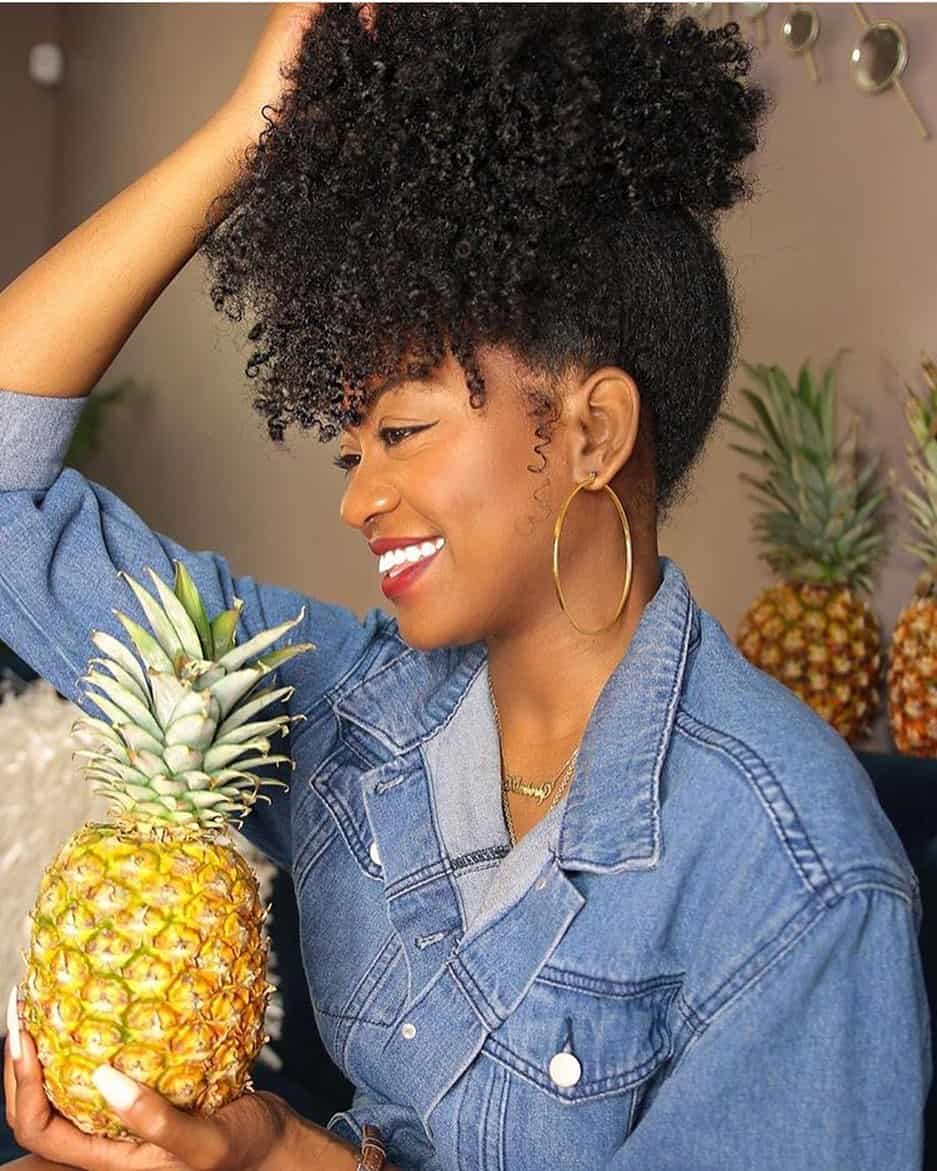 Argan oil has been a remedy for hair loss for a century and according to research, it offers natural hair lots of moisturizing benefits. It is packed full of fatty acids and potent antioxidants such as vitamin E. Argan oil is a powerhouse oil and not just ideal for your hair alone but great for your skin as well, here are some of the reasons why it's loved for natural hair.
Prevents Dryness: Natural hair texture suffers from dryness more than any hair texture and this is one of the biggest complaints about natural hair however many opted for the use of argan oil to combat this problem as it is exceptionally high in antioxidants and helps to prevent this dryness.
Leave-in conditioner: Argan oil can be used as a leave-in conditioner and not cause build-up, it keeps your natural hair soft, and frizz-free, and help to define your curls with or without the addition of regular leave-in conditioner.
Temporarily repair split ends: Warming a drop or two of argan oil on your palm and rubbing it into your scalp can temporarily reduce split ends, this will prevent the split ends from getting worst till your next trim.
For dry and frizzy hair: Argan oil is best known as one of the essential oil for taming frizz in natural hair, it strengthens the hair shaft and provides it with elasticity thus preventing the hair from becoming dry and brittle.
Heat styling protection: This is perfect for those who regularly use heat styling tools, you can reduce the risk of heat damage greatly by applying argan oil to your hair before using any heat tools and regular use of argan oil can repair heat damaged hair as well.
Scalp health: Argan oil is exceptionally high in concentration of antioxidant and anti-inflammatory properties that help restore your hair health and grow your natural hair into a strong thick texture.
What can argan oil do for natural hair?
Natural hair is likely to deal with lots's issues every day if the right hair care regimen is not adopted however it can be really beautiful and healthy with the use of argan oil.
Argan oil works gently into your natural hair curls, hydrating them in a natural way. It penetrates into the hair shaft and enhances the elasticity of your hair which, in turn, prevents breakage.
Argan oil is particularly useful in:
Itching scalp
Dandruff'
Hair loss
Growing hair fast
Restoring dry and brittle hair health
Treating tangles and split ends
Natural hair needs a natural solution that works from the scalp to the end without causing build-ups or locking out moisture and argan oil is particularly rich in essential substances that have a nourishing effect on your natural hair.
How to Use Argan Oil For Natural Hair
Argan oil is one very essential natural oil you should have incorporated into your hair care regimen once a week to treat and maintain your hair and scalp. Here is how to use argan oil on your natural hair.
1. Argan Oil As Massage Oil
OGX Renewing + Argan Oil of Morocco Extra Penetrating Oil, 3.3 Ounce
POTENT BLEND: this powerful, potent blend infused with argan oil is perfect for damaged, coarse hair, help bring your smoothness back with just a few healing drops; just apply to damp hair and let dry naturally; with Moroccan argan oil for extra protection

SOFTNESS AND STRENGTH: this exotic treatment with Moroccan argan oil, formulated for coarse hair, penetrates, moisturizes, renews & creates softness and strength, protecting your hair from harmful styling heat and UV damage, giving you smooth, sexy tresses

DEEP HEALING: deeply heal, smooth and restore luster to damaged, dry and coarse hair; applying OGX Renewing Moroccan Argan Oil will have your hair feeling nourished and renewed so you can have the confidence that only comes from loving your beautiful hair

HOW TO USE: apply a small amount to palm, rub hands together, then apply evenly to surface of damp (towel dried) hair working through to ends; easy and effective, use with a moisturizing conditioner for extra softness and shine without the extra weight
Prices pulled from the Amazon Product Advertising API on:
Product prices and availability are accurate as of the date/time indicated and are subject to change. Any price and availability information displayed on [relevant Amazon Site(s), as applicable] at the time of purchase will apply to the purchase of this product.
Argan oil is purely effective as a scalp massage oil, it helps to bring back the irritated scalp into balance, massage a drop or two of argan oil into the scalp in a slow circular motion then cover your head with a bonnet or shower cap and leave it to work into your scalp for 30 minutes. Wash your hair as usual with a mild shampoo or preferably argan oil shampoo.
2. As A Deep Conditioner
Argan oil leaves no residue nor greasy oil on your natural hair hence it could be used as a deep conditioner. After shampooing, apply argan oil to your hair by rubbing it onto your hands and spreading it damp hair. Argan is very rich hence it gives your hair a deep moisturizing and a silk shine which makes it easy to comb.
3. As A Heat Protectant
Heat styling tools should be avoided on natural hair to prevent damage however if this is should be done, argan oil can serve as a heat protectant to prevent damage. The tocopherols in argan oil provide heat protection against UV radiation as well as against damages from a flat iron, perms, and the use of curlers.
4. Using Argan Oil As An Intensive Treatment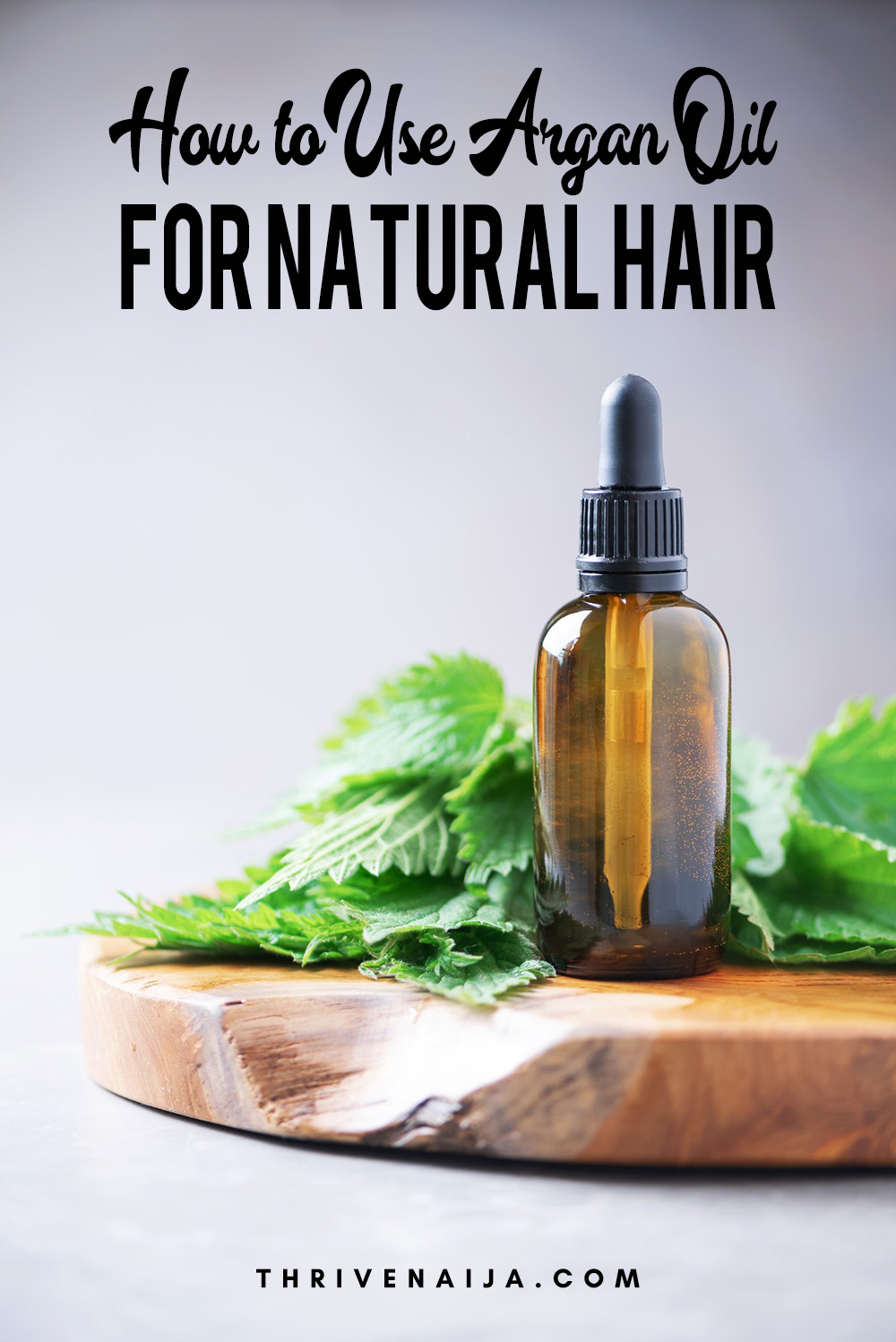 Argan oil contains vitamins and essential fatty acids that can help keep your natural hair healthy and it can be used to treat your hair at regular intervals till it's restored to health.
Argan oil is effective against hair damage, massage a small amount of pure argan oil into the hair until it appears slightly greasy and let it soak in for at least an hour before rinsing or for more effective results, work the oil into your hair and wrap with a towel to be left overnight.
Final Thoughts About Using Argan Oil On Natural Hair
Argan oil can be used on all hair types and it could also be mixed with carrier oils for a more effective reaction when using argan oil as a heat protectant, ensure to use it in very little quantity but when used as a conditioner, you can use it more to properly keep your scalp hydrated.
Pure argan oil should be odorless, it is therefore advised to buy pure cold-pressed oil from an unroasted kernel.
Read more on essential oil for skin and natural hair: