How do you get rid of dandruff on natural hair? There is nothing as annoying as the sign of dandruff on your natural hair. This condition can easily ruin the health of your natural hair and it's a condition, many are too embarrassed to talk about.
Finding these annoying flakes on your hair when you touch can be really annoying and how it continues to stay despite doing many things to alleviate it.
Dandruff in natural hair is really not fun at all and the first step to getting rid of it is to understand the causes and how to effectively get rid of it. Dandruff is not contagious but it can be really painful in some cases especially during winter
While there are lots of over-the-counter products and medications for getting rid of dandruff, natural remedies are regarded as the most effective. Dandruff is a common condition for many natural hair women. Hence read on for causes of dandruff in natural hair and how to remove it.
What Is Dandruff?
Dandruff is a common fungal infection condition that causes the skin on the scalp to flake. Although this isn't a contagious or serious condition, it can cause an uncomfortable feeling and cause the hair to itch badly. It can be really embarrassing and difficult to treat conditions for naturals.
The common sign of dandruff is a dry, flaky and itchy scalp. The cause of dandruff is not lack of personal hygiene, contrary to popular belief and it can sometimes be blamed on the weather. You can also experience patches on your scalp as a symptom of dandruff.
Causes Of Dandruff In Natural Hair
Certain factors can trigger dandruff in natural hair. There is nothing to be embarrassed about when it comes to dandruff. In fact, some people claim to experience it at an early age and subsides when they got older.
There is really no seasonality to dandruff and this means it can happen to anyone. However, to help you counter it effectively, here are the common cause of dandruff in natural hair.
1. Use Of Harsh Products
Many natural hair types are sensitive to some products and this is because these products often contain harsh ingredients and chemicals that are not ideal for your hair and scalp. Reaction to harsh products is one of the common causes of mild dandruff.
Shampoos that contain sulfate can easily irritate your scalp. You should also avoid leave-in conditioners or gels that cause build-up.
2. Poor Hair Hygeine
Poor hygiene can easily cause dandruff. You are likely to get dandruff if you wear a protective hairstyle for a long period as this gives you less time to wash your hair. When your natural hair isn't washed often, your scalp produces extra oil and this can lead to dandruff.
It is important to have a wash day routine scheduled for your hair every 2-3 weeks.
3. Hormonal Imbalance
Your hormones can also play a role in why you have dandruff in your natural hair. Your hormones are needed in the production of your scalp's natural oil and it keeps your hair well moisturized.
Hormonal imbalance can happen during menstruation, pregnancy, or puberty and during this period, your scalp produces excess oils which cause dandruff.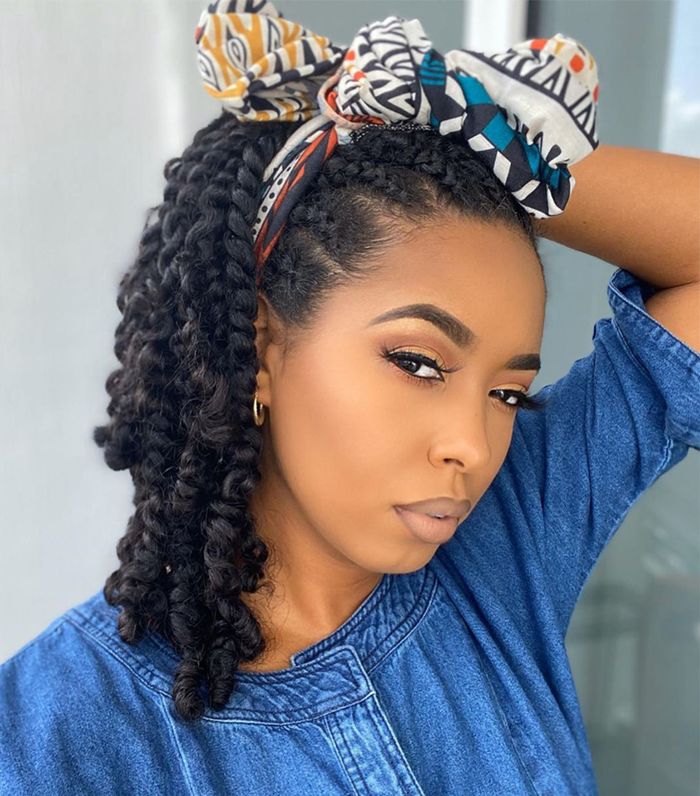 4. Stress
Stress can weaken your immune system thereby making your immune system more susceptible to diseases. It decreases your body's ability to fight off infections that can cause dandruff. If this is noted to be the cause of your dandruff, might be time to distress to get your body back on track.
5. Dry Skin
Dry skin is another common cause of dandruff. If dry skin is the cause of your dandruff, this might get worst during the cold months as your skin becomes drier. Hence you need to moisturize your natural hair regularly. To replenish moisture to your dry hair and completely get rid of dandruff, go for medicated and shampoos made for dandruff.
How To Remove Dandruff From Natural Hair
There are definitely many remedies out there that can be tried to get rid of dandruff, from natural remedies to over-the-counter products and medicated shampoos. But take note that your hair type might decide what works best for it but it's important to try out different solutions to find one that perfectly works for you. So, here are simple tips you can adopt to remove dandruff from your natural hair.
Exfoliate your scalp
Allow your hair to breathe
Use Aloe vera
Use lemon
Tea Tree Oil
Peppermint Oil
Maintain a healthy skincare routine
Baking Soda
Use apple cider vinegar as a rinse after shampooing and conditioning your hair.
No matter your choice of remedy for alleviating dandruff, it all boils down to knowing the cause and so you can effectively deal with it. Sometimes the most basic ingredients you can find around in your home can help get rid of dandruff.
There are definitely many remedies for dandruff from counter medications to natural remedies. To counter dandruff efficiently, check out How to Get Rid of Dandruff — 11 Home Remedies.
Final Thoughts
Dandruff is not just annoying but for natural hair, it's one frustrating condition that doesn't necessarily come and go. Take note that dandruff can also be aggravated by stress although it's not normally affected by stress, it can be a trigger since the immune system is weak.
So, don't hesitate to take a time out to distress.