How do you get a really bad knot out of natural hair? There is nothing more beautiful than healthy knot-free natural hair. Detangling natural hair is not impossible and you can definitely get healthy smooth hair, there are just simple tips you need to follow.
Whether your hair is natural or relaxed, getting rid of knots is going to take time and patience.
Natural hair seems to have the closest propensity to tangle compare to other hair types and struggling to detangle it can cause hair breakage. There are lots of reasons you need to make sure your natural hair is properly detangled and simply combing through it will only cause more damages.
Knots can easily drag your hair down. The detangling process of natural hair might vary from person to person and hair type is also going to determine how many knots you get in your hair. However, read on to properly understand the benefits of detangling and how to get knots of natural hair with less hassle.
What Causes Knots In Natural Hair?
There has always been a theory that knots are common and natural for every natural hair type but this is not true. Knots are often formed on natural hair after a washing process and oftentimes when you sleep without a hair bonnet especially when your cuticles are raised.
Raised cuticles in natural hair cause strands to intertwined with themselves or other stands thereby forming knots. The knots can become larger and bigger depending on your hair type and how long it is left tangled. Although tangled hair may happen to anyone, it common in natural hair due to lack of moisture and ends.
Another common way knots can form on your natural hair is by rubbing your hair against certain surfaces such as pillowcases, sheets, or towels. These are known as bedhead tangles.
How To Get Knots Out Of Natural Hair
To get rid of your tangled hair it can be tempting to reach for a comb to attack the tangles in your hair but this will only make things worst and possibly lead to hair breakage. Single strand knots are the common type of knots for natural hair. You don't need to trim them off to get rid of them, here are simple tips that can help get knots of natural hair.
1. Seal The Ends With Oil Or Butter
To keep the ends of your hair smooth and easy to comb through, seal the ends with oil or butter. There are lots of essential oil such as avocado that help seal in moisture and keep your hair knot-free. This process will not just make your natural hair easy to detangle but also prevent any future knot from forming.
2. Use A Detangling Spray
This is one of the common ways you can get knots out of natural hair. Choose a detangling spray made for your hair type and work in small sections before you start detangling. A detangling spray is meant to lubricate your hair strand and make it easy to comb through. Removing knots isn't fun but this is one of the ways you can get rid of knots and also prevent them.
3. Apply Leave In Conditioner
PURE BRAZILIAN Leave-in Conditioner – Nourishing Leave-in Hair Treatment Enriched With Keratin to Fortify and Strengthen Your Hair
LEAVE-IN CONDITIONER: PURE BRAZILIAN Leave-in Conditioner is a rich moisturizing conditioner specially formulated to create luxurious silky softness and shine for your hair.

STRENGTHENS & REPAIRS: PURE BRAZILIAN Leave-in Conditioner Formula is specifically designed to nourish and protect your hair from damage and breakage. It protects the hair cuticle, eliminates frizz, and reduces blow-dry and styling time.

MORE SHINE, LESS CHEMICAL: PURE BRAZILIAN Leave-in Conditioner gives radiant shine to your hair while minimizing the use of harmful chemicals. Your color will pop, and your hair will be nourished and moisturized!
Prices pulled from the Amazon Product Advertising API on:
Product prices and availability are accurate as of the date/time indicated and are subject to change. Any price and availability information displayed on [relevant Amazon Site(s), as applicable] at the time of purchase will apply to the purchase of this product.
Part your hair into at least four sections and section by section, saturate with a leave-in conditioner made for your hair type. Comb with a wide-tooth comb to get all the knots out. You don't need to wash this out except the product states otherwise.
What Can You Do To Prevent Knots?
Detangling your hair and getting rid of knots is very essential if you want to keep healthy natural hair. Once you are done detailing your natural hair, it's important to learn ways to keep it knot-free. Preventing knots in your hair is not impossible, you just need to follow the simple tips listed below.
Braid your hair before bedtime. Braiding your hair before is an easy way to prevent knots when you wake up in the morning. You can go for just one big braid or have it sectioned into three or four, it's a really effective strategy
Get regular trims
Use the right products for your hair type
Always keep your natural hair moisturized
Sleep on a satin pillowcase, it helps keep your hair smooth while you sleep.
Wrapping Up
Knotted hair is not just common in natural hair alone but every hair type as well. Sometimes all it takes to getting knots in your hair is skipping a wash day. Washing natural hair is just as important as using the right products.
However, not to worry, with the simple tips and steps listed above, you can maintain knot-free healthy natural hair in no time.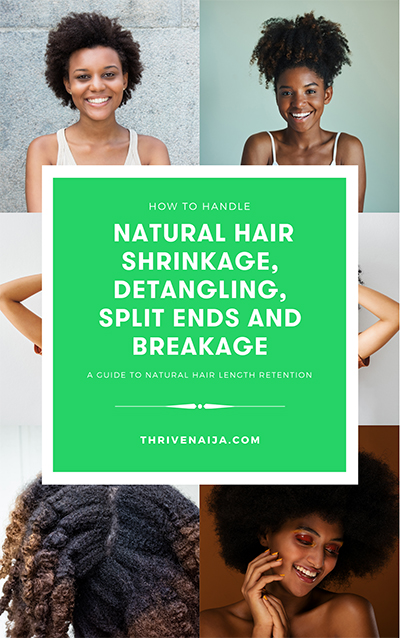 Want to take better Care of your Natural Hair?
Get your hands on our new Natural hair guide. It's everything you need to know about the four major problems we natural hair ladies face on a daily basis:
Shrinkage.
Detangling.
Breakage.
Split ends.
We call it The Guide to Natural Hair Length Retention.