Jumbo feed-in braids are currently setting trends and we are loving all the ways they can be styled. Jumbo feed-in braids are great protective hairstyles and the interesting thing about these braids is how you can rock them flawlessly to any occasion.
Jumbo feed-in braids have been around for a very long time but if you are new to braids then the term might be new to you.
Jumbo feed-in braids are regarded as low tension braiding practice that creates an illusion of natural hair weaving, it is a really cool hairstyle.
You can make jumbo braids with any kind of extension or go with your natural hair to protect your edges. You should prepare to be stunned when it comes to feed-in braids.
17 Jumbo Feed-In Braid Looks To Try
What are feed-in braids? Jumbo feed-in braids are just like the typical cornrows and braids intertwined to form one particular hairstyle which is the feed-in braid. The feed-in braid involves plaiting your natural hair and gradually adding synthetic hair as your hair gets braided midway.
To get the perfect jumbo feed-in braid to inspire you, we have compiled 30 jumbo feed-in braid looks you should definitely try.
1. Stitch Feed-In Braid
This braid type can be called stitch braid or cornrow braid and they are the most common types of feed-in braids. This is a simple jumbo feed-in braid if you like spending less time at the salon, it's classy and low maintenance.
2. Pop Smoke Jumbo Feed-In Braid
Here is another jumbo feed-in braid you should be trying this year, it's fun and help you keep things minimal. This is also known as the tribal braid but with the jumbo and feed-in combo.
3. Bun Jumbo Feed-in Braid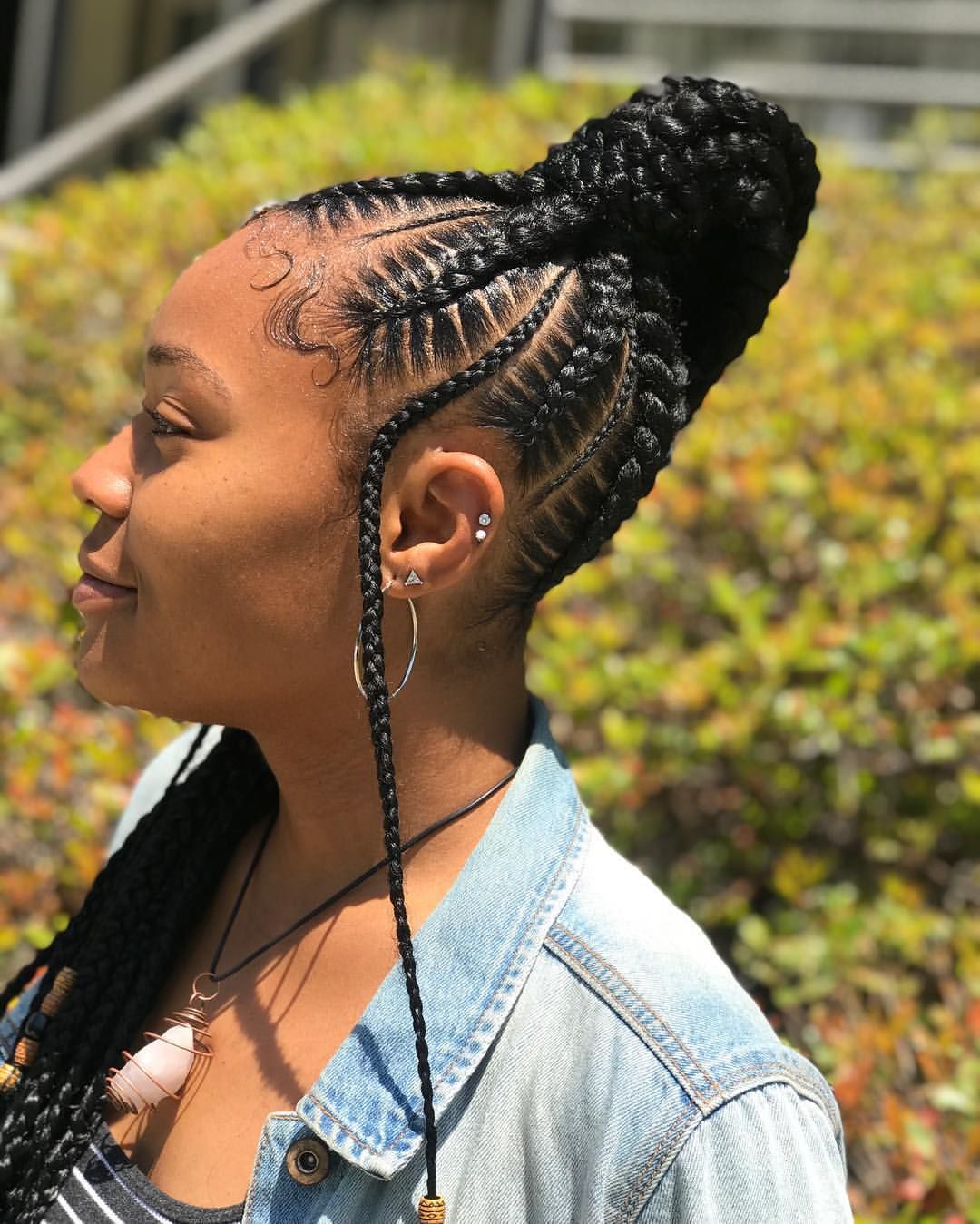 High ponytails seem to be setting the new trend and they are more exciting when they are jumbo ponytails.
4. Lemonade Jumbo Braid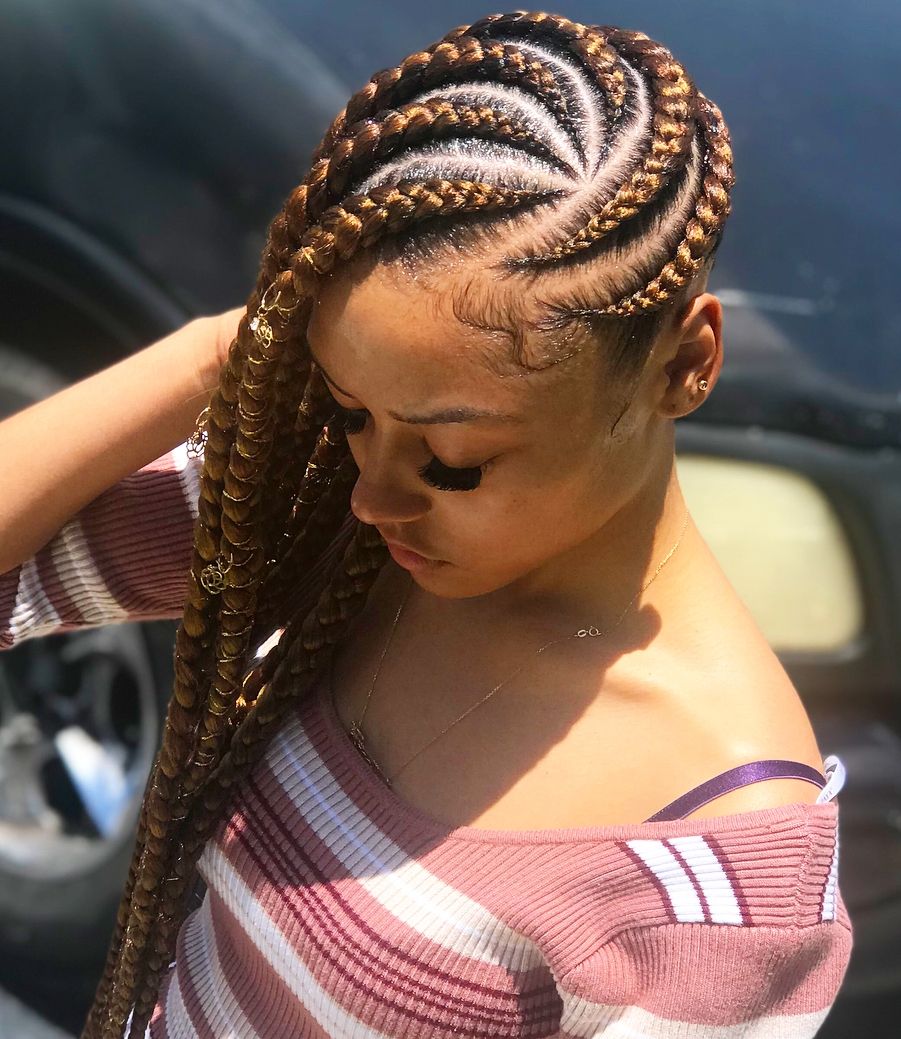 Lemonade jumbo feed-in braids are really interesting and although this hairstyle might not be for all face types. They are really nice and serve as protective hairstyles for natural hair.
5. Half Up And Half Down Jumbo Feed-In Braid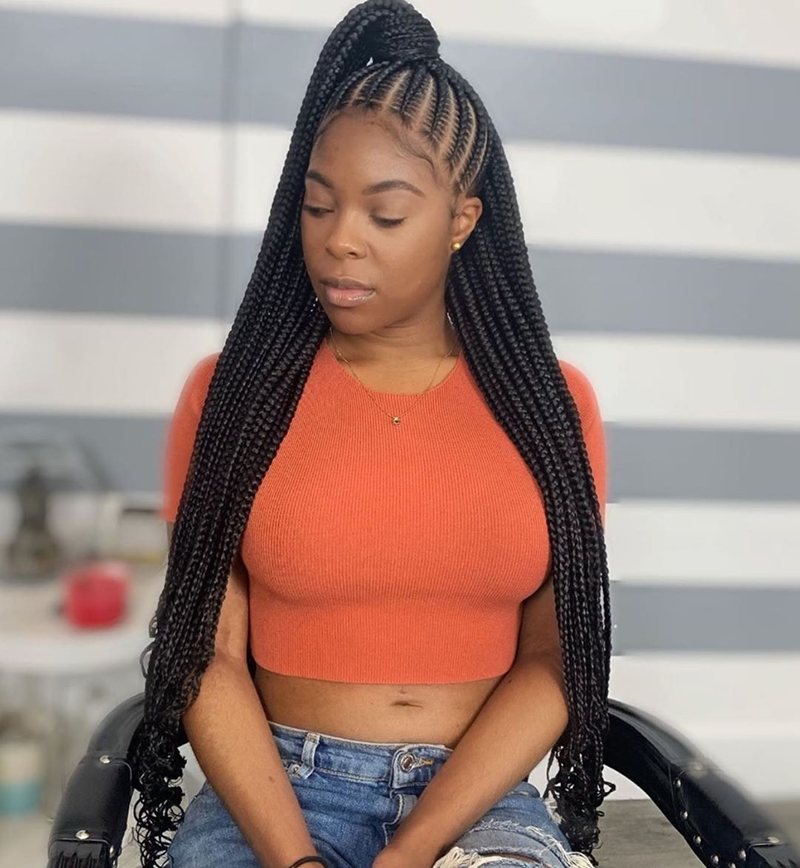 This hairstyle is a medium-size jumbo braid for you if you don't really want big braids but still want a cool and classy hairstyle. This shouldn't take much time either and it can be styled in different ways.
6. Jumbo Feed-In Shade Adu Braid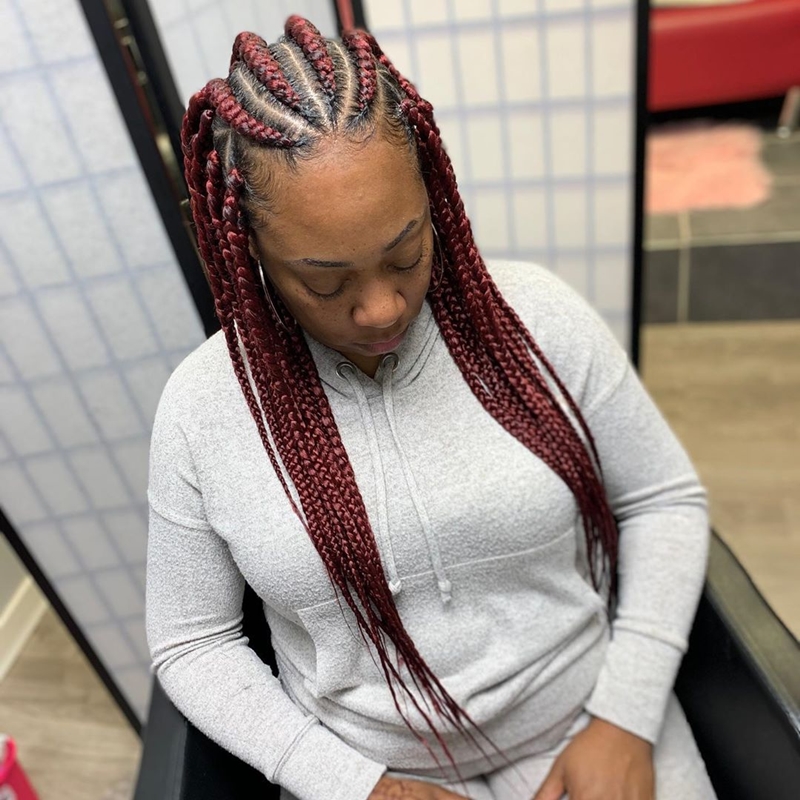 Shade Adu is another really common hairstyle, it's classy and it's often recommended for natural hair as a protective hairstyle.
7. Massive Jumbo Feed-In Braids
If you are looking for a jumbo feed-in braid that you can do at home yourself then here is one perfect hairstyle just for you.
8. Jumbo Cornrow Feed In Braid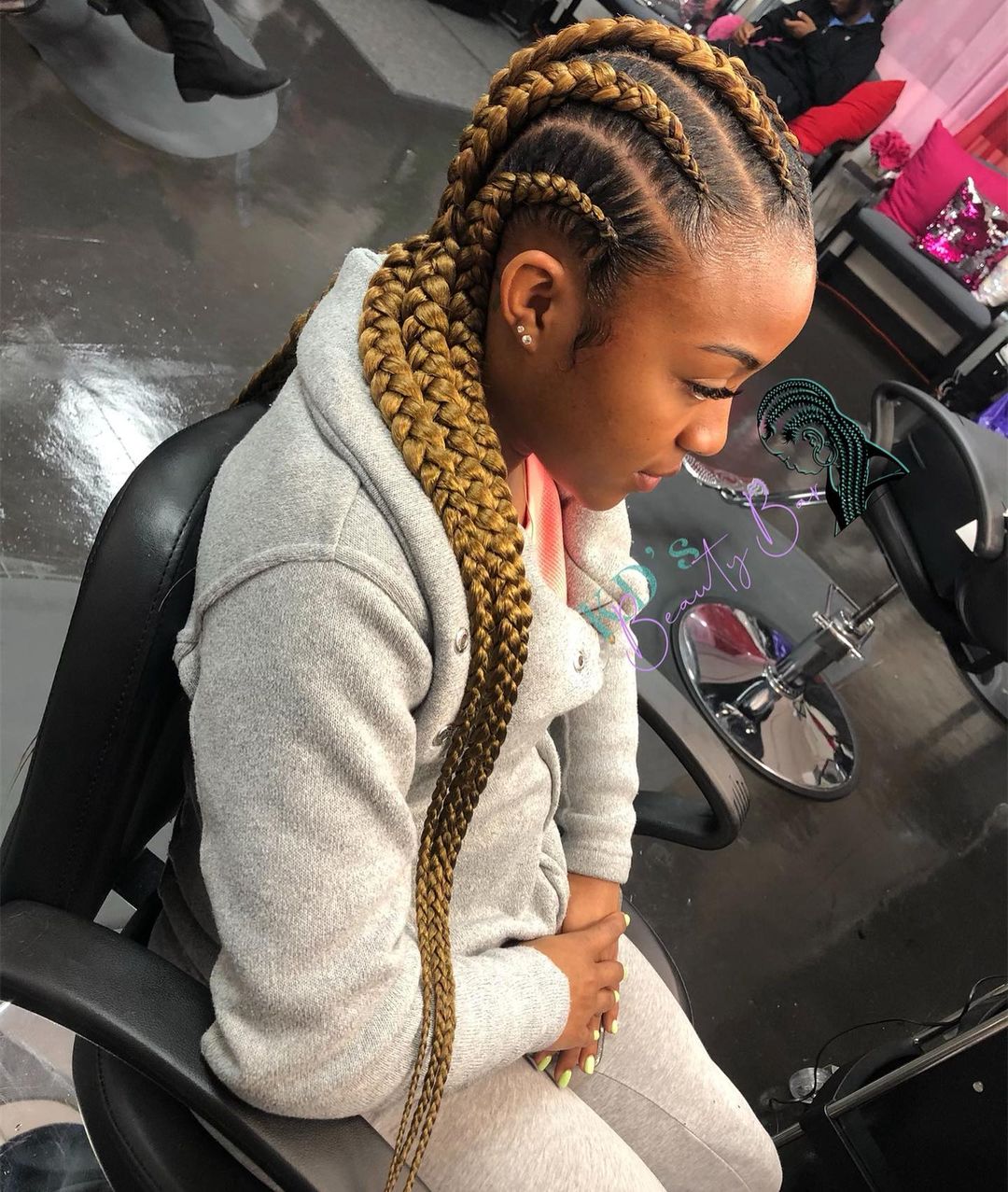 Simple all-back cornrow is another really common form of jumbo feed-in braid you ought to try.
9. Short Jumbo Feed-In Braid
Keep it short and simple with a classy feed-in at the upper part to add some glam.
10. Jumbo Braids With Middle Feed-In Braid
Here is another jumbo feed-in braid that is similar to tribal braids. They are really cool and interesting too.
11. 2 Feed-In Jumbo Braid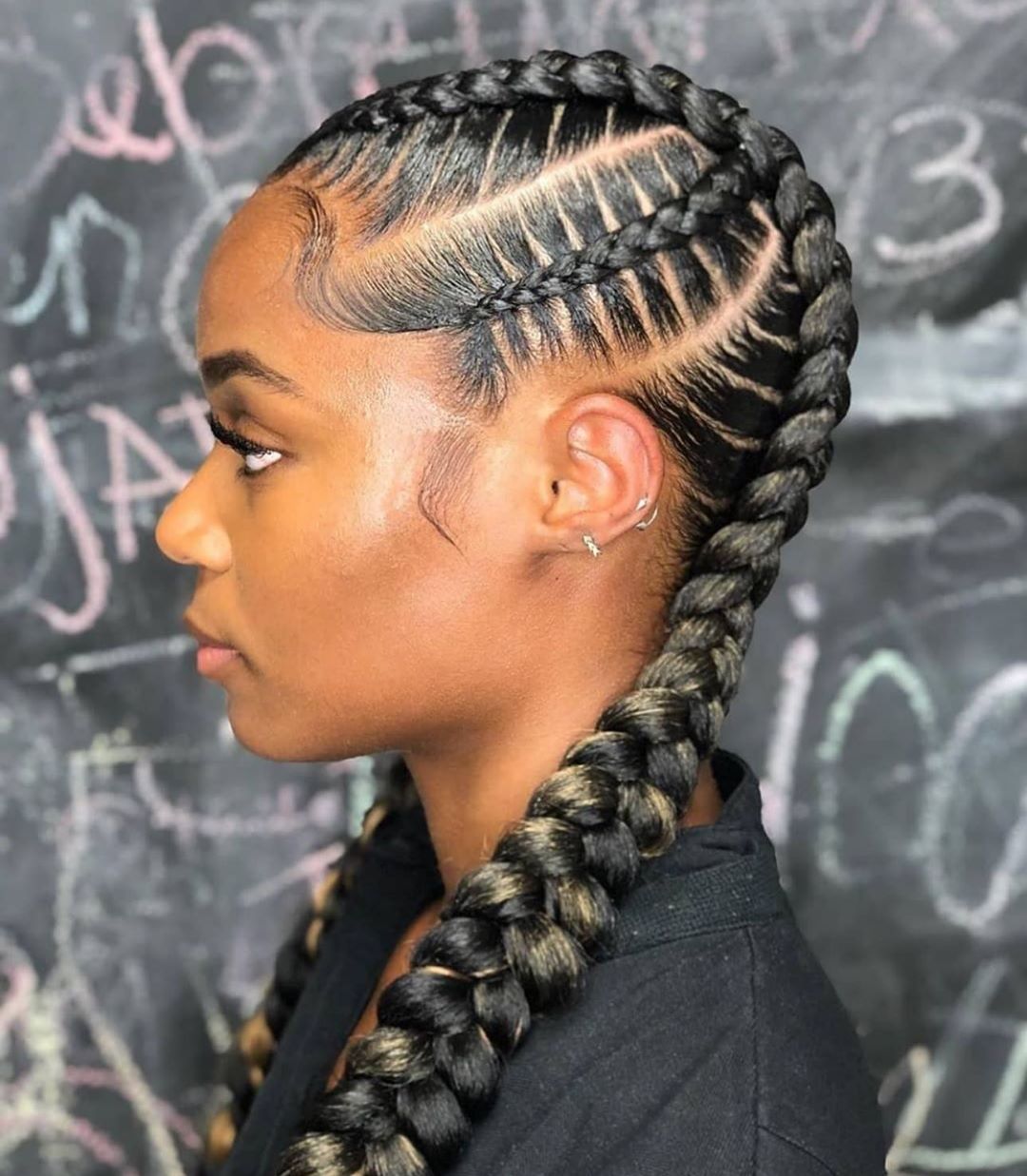 Big braids are really taking over the world of braids and this is because of how simple and versatile they can be. You can have this rocked for any occasion.
12. Scanty Jumbo Braid With Ring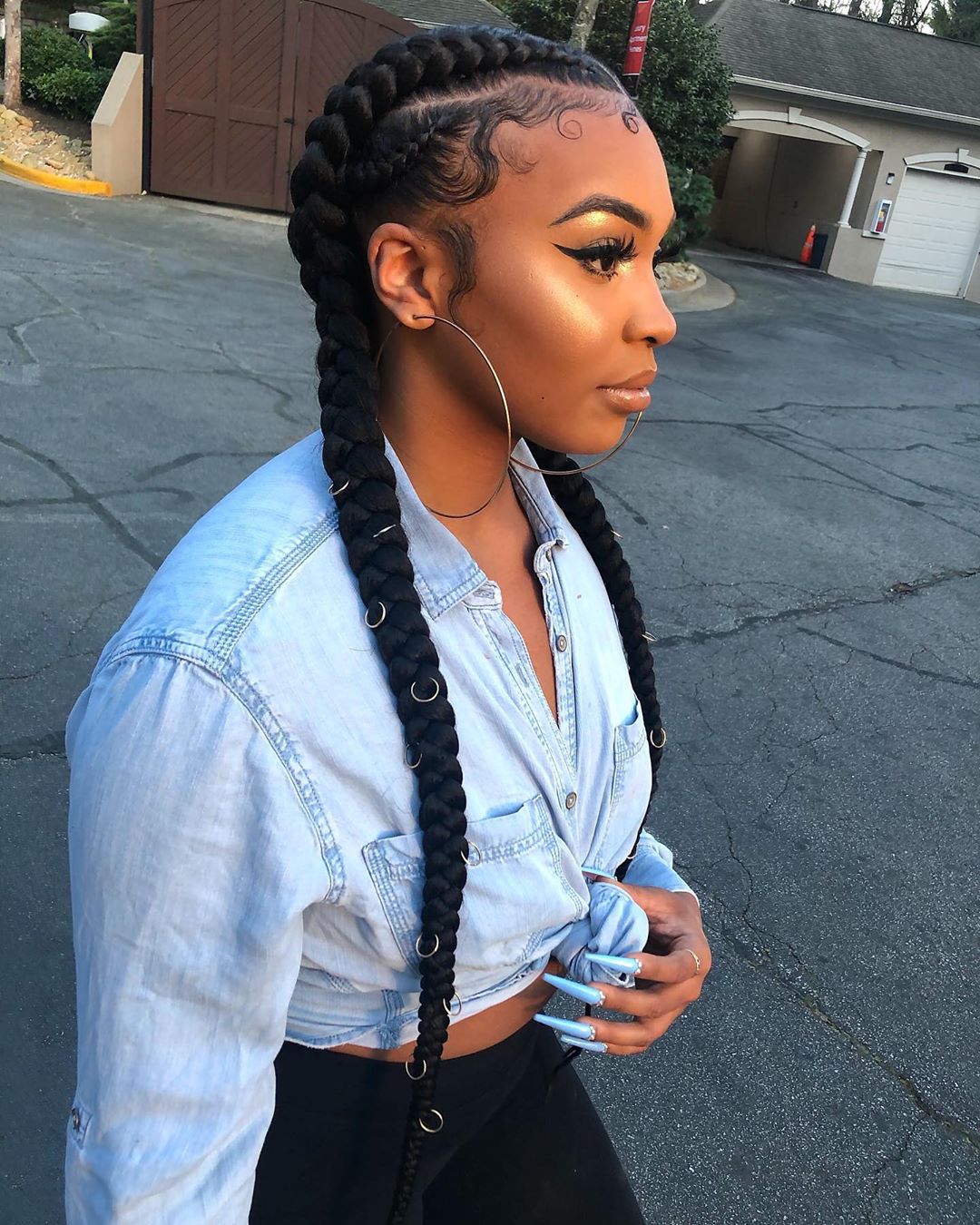 Scanty braids are just the right kind of braid to call jumbo feed-in braid.
13. Medium Pink Jumbo Braid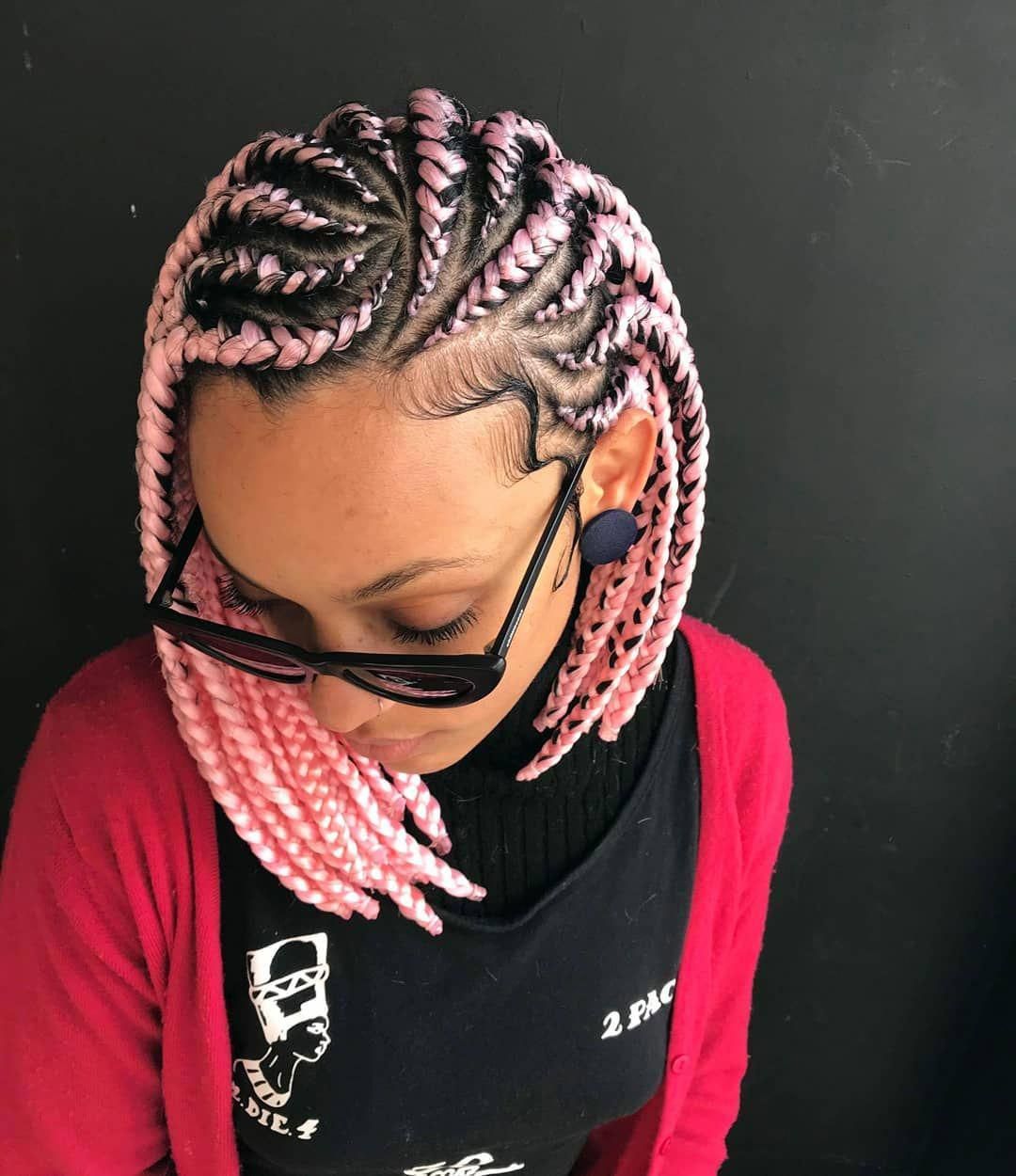 This is probably the most popular type of jumbo feed-in braid. It's a cool and chic way to make your braids.
14. Multicoloured Feed-In Jumbo Braid
Not everyone is a fan of colors but this one is quite irresistible. It helps give your look a bit of an edge, making you look more adorable and sassy at the same time.
15. Large Red Jumbo Feed-In Braid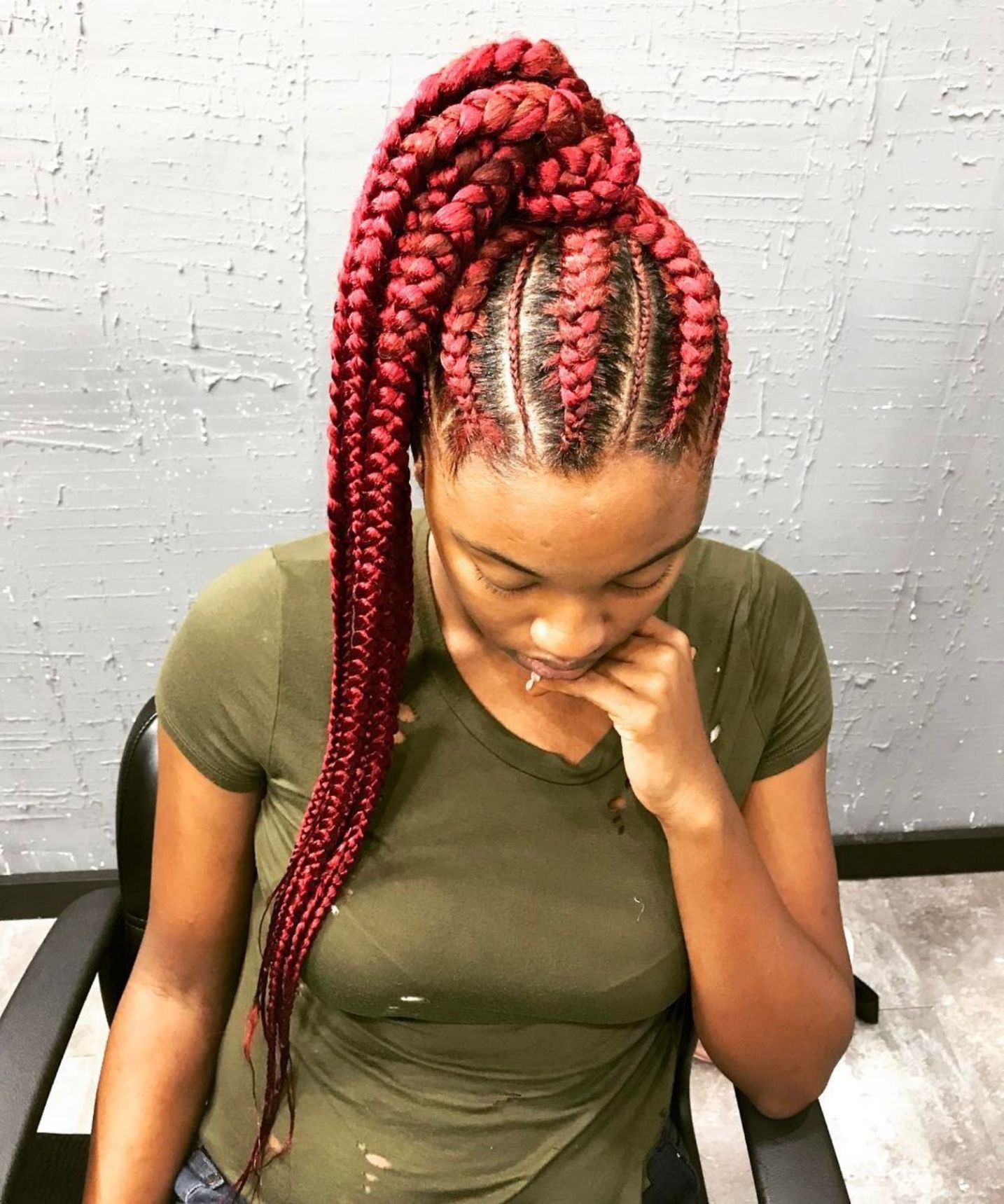 A large red jumbo feed-in braid is another perfect braid that is in trend. If you need to add some color to your overall look then you have the answer in this red jumbo feed-in braid.
16. Accesorised Jumbo Feed-In Braid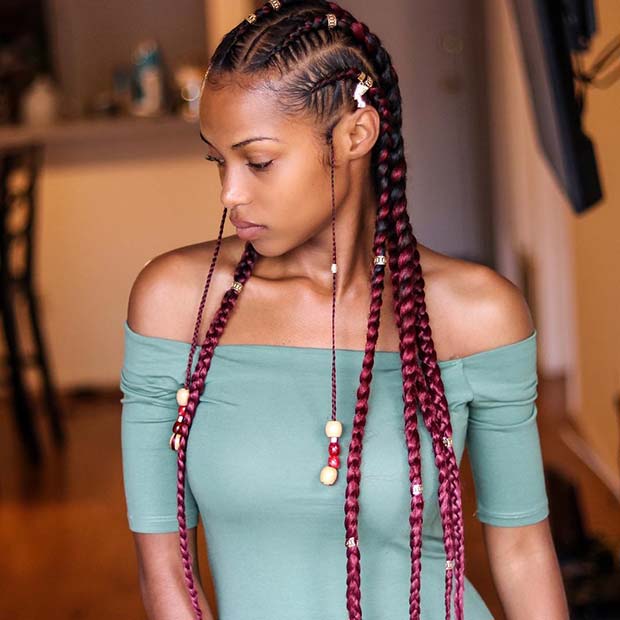 Fulani Jumbo feed-in braid might be the new braid hairstyle in town. This is a really awesome look and looks even more fascinating when made in a ponytail.
17. Jumbo Ghana Weaving Feed-In Braid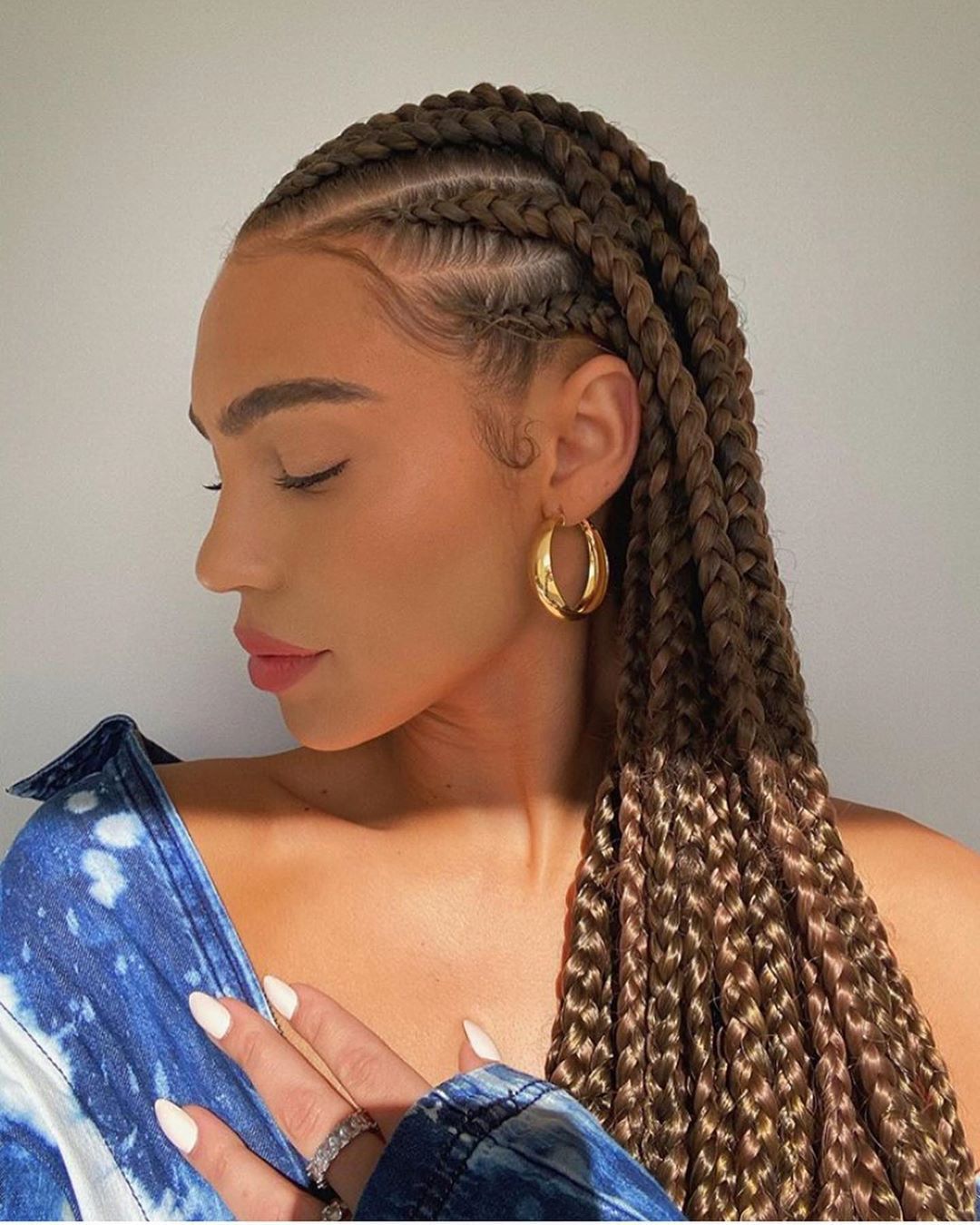 The fun thing about jumbo feed-in braids is that they take very little time. They practically have to be big so your hairdresser can spend less time on them. This is a mini version of tribal braids and it's quite cute too.
Conclusion
Due to the fact that jumbo feed-in braids are big, this makes them the least long-lasting protective braid hairstyles. Some jumbo feed-in braid lasts 2 weeks while some can last longer but they still happen to be really cool that you can't help but want them. These braids are great as protective hairstyles for all-natural hair types.
Read more on braid hairstyles: