How do you step out like a boss is a chic outfit? This is one question that everyone with their personal enviable style would want an answer to and the best way to get an answer to this is to go and Instagram and take a look at what your favorite celebrity is rocking, clothing is one fashion piece that puts everything stylish in place.
Celebrities and fashion icon have their go-to unique styles and every week it only gets better and this week on CelebsThatRock, it's all about updating your boss look.
Setting a fashion trend comes with a sense of confidence and this also allows you to be creative and you can set your fashion trend with ease.
When it comes to putting the perfect combination together, from stylish clothing to accessories and makeup, we have rounded up some of the best celebrities that keep this fashionable at all times.
20 Amazing Boss Celebrity Look From Last Week
Comfortable and confidence go hand in hand when it comes to trendy style and celebrities and fashion influencers continue to replicate the best outfit every week and below are some of the most fashion worthy look from last week.
1. Nimi Nwofor Trendy Style Sets A Formal Party Look In Motion
Nimi Nwofor looks absolutely stunning in her boss look and this is one fashionable look that is setting another trend on the motion. This could easily go as a corporate style, it is fancy and stylish just like a boss chic outfit is expected to look.
2. Thameenah Saint Enviable Style For The Week Is Fabulous
Another enviable personal style is coming from Thameena Saint and this is just one style you can't help but love, this is less dramatic but perfect for formal and informal events.
3. Sino Booi Keeps It Casual And Stunning
If you are looking for a simple style that leaves you looking classy then this simple style from Sino Booi should be a go-to style for the week.
4. Inga Kersey Steps Out In Stylish Micro Flare Skirt For The Week
You can definitely get that outstanding boss look with a micro flare skirt and this has been proven to look stunning just as it did with Inga Kersey.
5. Toke Makinwa Keeps The Sass In Full Swing As Always
Toke Makinwa or Tokstarr as she is fondly called is one fashion babe you can trust to deliver the best look at all times.
6. Funke Akindele Look Simply Dashing
Funke Akindele is another celebrity that needs no introduction when it comes to looking fashionable and lovely, this is just the kind of boss style you want to rock this week.
7. Blue Mbombo Boss Street Style Keeps It Fancy And Interesting
A boos look could also be filled with sass and glamour and here is just the perfect combination from Blue Mbombo and we love it.
8. Julitha Kabete Sun Dress Is Oustanding
Another celebrity with an interesting taste in style is Julitha Kabete and this is one flower sundress that sets a new fashion dress.
9. Marii Pazz Astonishing Look Is Sure Jaw Dropping
This blazer jacket from Marii Pazz is just the kind of sexy confident style you want for any kind of fashion effect, stylish and formal at the same time.
10. Thuli Phongolo Keeps It Stylish
Your work outfit doesn't have to be formal and dramatic, you can keep it stylish and classy with this simple style from Thuli Phongolo.
11. Chika Ike Dramatic Style Leaves More To Imagination
Chica Ike has always stepped out in a more dramatic and fun style that you can't help but want to recreate.
12. Sade Akinosho Lits Up The Monday Look
If you can't figure out the style you want to lit up your mood for a Monday at the office then here is the perfect style from Sade Akinosho, she is a fashionista with incredible taste.
13. ChicAma Keeps It In Check With A Shirt Jacket
Here is another dashing look to spice up your work outfit for the coming week.
14. Kim Oprah Makes A New Fashion Statement In Boot Cut
Everyone loves a boot cut and you can even make it stand out by pairing it with Ankara just like Kim Oprah.
<
15. Symply Tacha Keeps It Casual And Fashion Worthy
Wrap up the week by stepping out in style with a micro skirt and oversized shirt.
16. Ini Edo Classic Look Is Getting A Second And A Third Look
Ini Eo has always been known for setting an impressive trend and we must admit, this is another stylish work outfit you can't help but love.
17. Mercy Eke Chic Style Is Stunning
Mercy Eke always has something gorgeous every week and as she continues to replicate the styles, we just can't help but have her on the fashionista list.
18. Blair Eadie Goes For The Corporate Work Style
Work on Monday can become more fun when you have the right style on and above is just the kind of outfit you need to get the week started.
19. Lerato Kgamanyane Gives A New Formal Outfit To Rock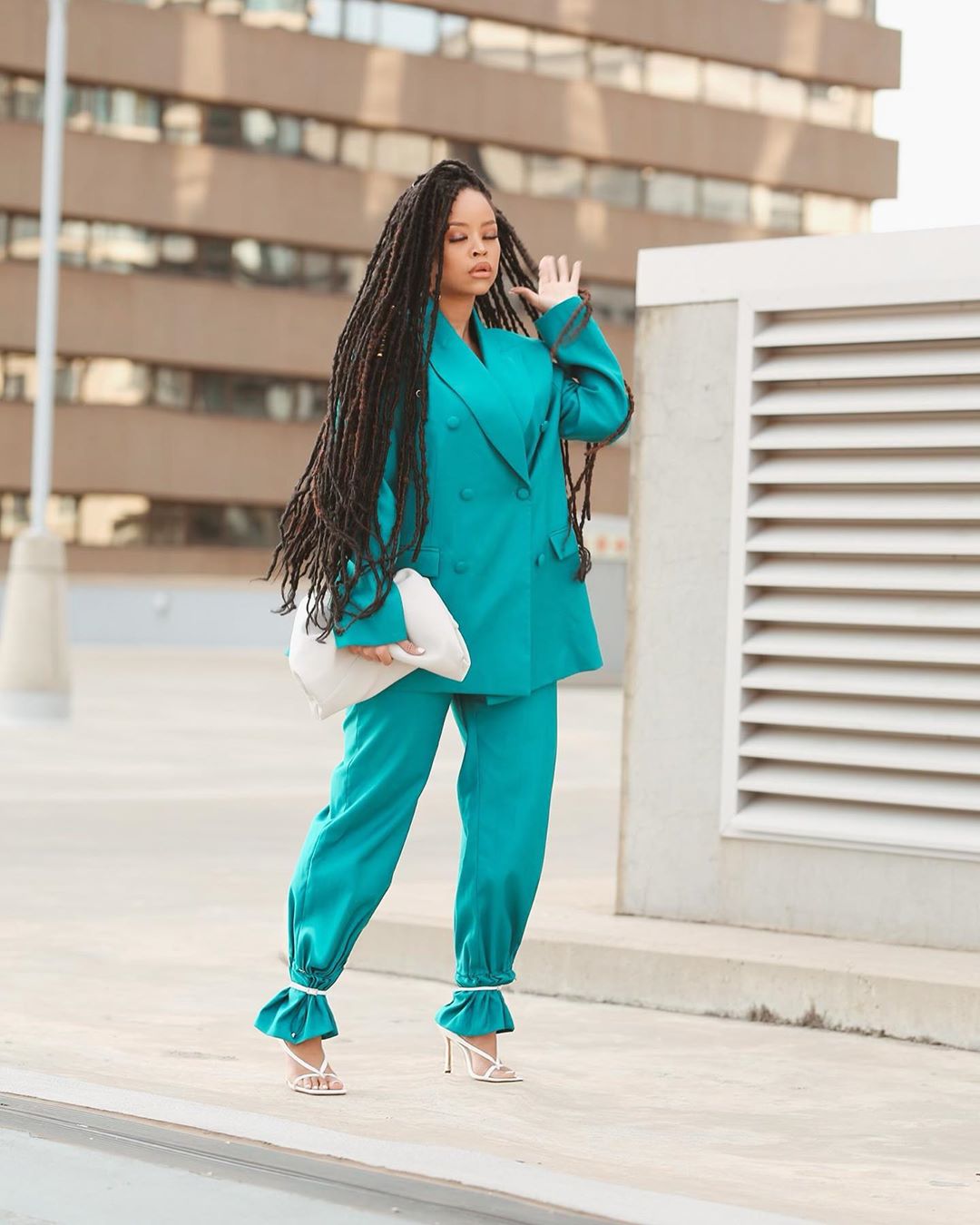 A new formal outfit is just what everyone needs to step out in style and confident and we have got just the right style from Lerato Kgamanyane.
20. Mary Orton Is All Decked In The Most Suitable Bussiness Outfit
Mary Orton is all business and style as she steps out in an interesting business suit, this is just the right kind of style if you work in the business world, as a lawyer or even the fashion world.
In Conclusion
One of the most important parts of fashion is confidence and not forgetting feeling comfortable no matter what you have on and if you are looking for easy to replicate styles, then your favorite celebrities are the best go-to. New trends keep setting every day and all you have to do is find your convenient and personal style.
Which of these boss outfit makes it to your fashion week list? Leave us a comment in the box below and ensure to follow us on Instagram @thrivenaija for more fashion updates.