Every style, every trend comes with its own unique design and difference, often times fashion is not based on the trendiest cloth but making any outfit look fashionable and interesting enough to gather some attention and as always this week's CelebsThatRock would be featuring some of this confident and style worthy look from last week.
Combining an outfit with the right makeup requires more effort than it's being portrayed however most celebrities and influencers make this look quite effortless.
Personal enviable style is becoming a common trend for celebrities and fashionista and they did keep it easy enough to replicate and get some style inspiration from and you can always tweak any style to suit your fashion taste.
We have compiled 20 amazing looks from last week to inspire your next style idea, most of these looks are casual but effortless which makes them even more interesting.
20 Hot And Gorgeous Looks Celebs Served Us On Instagram
Most fashionista likes to go for a combination of casual and elaborate, this also means they keep their makeup simple but fashionable at the same time. Below are some of the most effortless look from Instagram last look.
1. Toke Makinwa Looks Gorgeous As Always In A Two Piece Outfit
Toke Makinwa is one fashion diva we never get tired of getting a style inspo from, she keeps it less dramatic and fun.
2. Wema Sepetu Has Just The Right Amount Of Sass To Rock This Outfit
Wema Sepetu often keeps it simple but you can be assured it's an impeccable you definitely want to have tucked in your wardrobe and her make up is not too flashy which suits her look just fine.
3. Julitha Kebete Steps Out With Style And Class
Julitha Kabete is also another fashionista who likes to keep it simple and her styles are obviously interesting to give a second look at.
4. Nancy Isime One Hand Gown Pairs With Any Makeup
Nancy Isime has always been known to be unapologetic about her styles, it stays stylish and fitting for all kinds of an event at all times.
5. Bonanag Matheba Looks Dashing And Less Dramatic
Bonanag Matheba one-piece outfit with side cape is getting just the right kind of attention.
6. Benedita Gafar Stuns In An Ankara Style Outfit
Another gorgeous lady who manages to keep it simple and classy is Benedicta Gafar, her styles are very interesting and found to be quite easy to replicate.
7. Nomazamo Mbatha Jumpsuit Style Is Definitely Worth A Second Glance
Nomazamo Mbatha pegged that jumpsuit just the right way to set a new trend, it is simply beautiful and won't be going anywhere anytime soon.
8. Diane Russet Ball Gown Looks Fitting For All Events
Diane Russet elaborate ball gown is just as elegant as a ball gown should be and if you want a tube ball gown with dramatic ruffles then there is definitely something to replicate about this style.
9. Ini Edo Makes A Fashion Statement In A Casual Mini Gown
It's very easy to fall in love with Ini Edo's personal choice of style on and off Instagram, this dress above is just the perfect way a casual gown should look like and you can hit the dance floor brimming with confidence.
10. Minnie Dlamini Ball Gown Is Sweeping Her Fans Off Their Feets
Minnie Dlamini keeps it conservational this time with a ball gown and we love it, it's just how a fashionable ball gown is meant to be.
11. Yamiko Formal Outfit Is Everyone Needs To Look Different And Glamorous
Yamiko is one of the top fashion icons you should definitely keep a tab on Instagram, she has got just the right kind of style every lady needs to have.
12. Stella Adewunmi Outfit Is Just The Right Boss Look For A Formal Event
Stella Adewunmi is popularly known as jadorefashion, her styles are obviously fashionable and always stay on point and she is the fashion icon who matches a sundress with a coat and looks elegant with it.
13. Beverly Naya Elegant Gown Is Setting A New Trend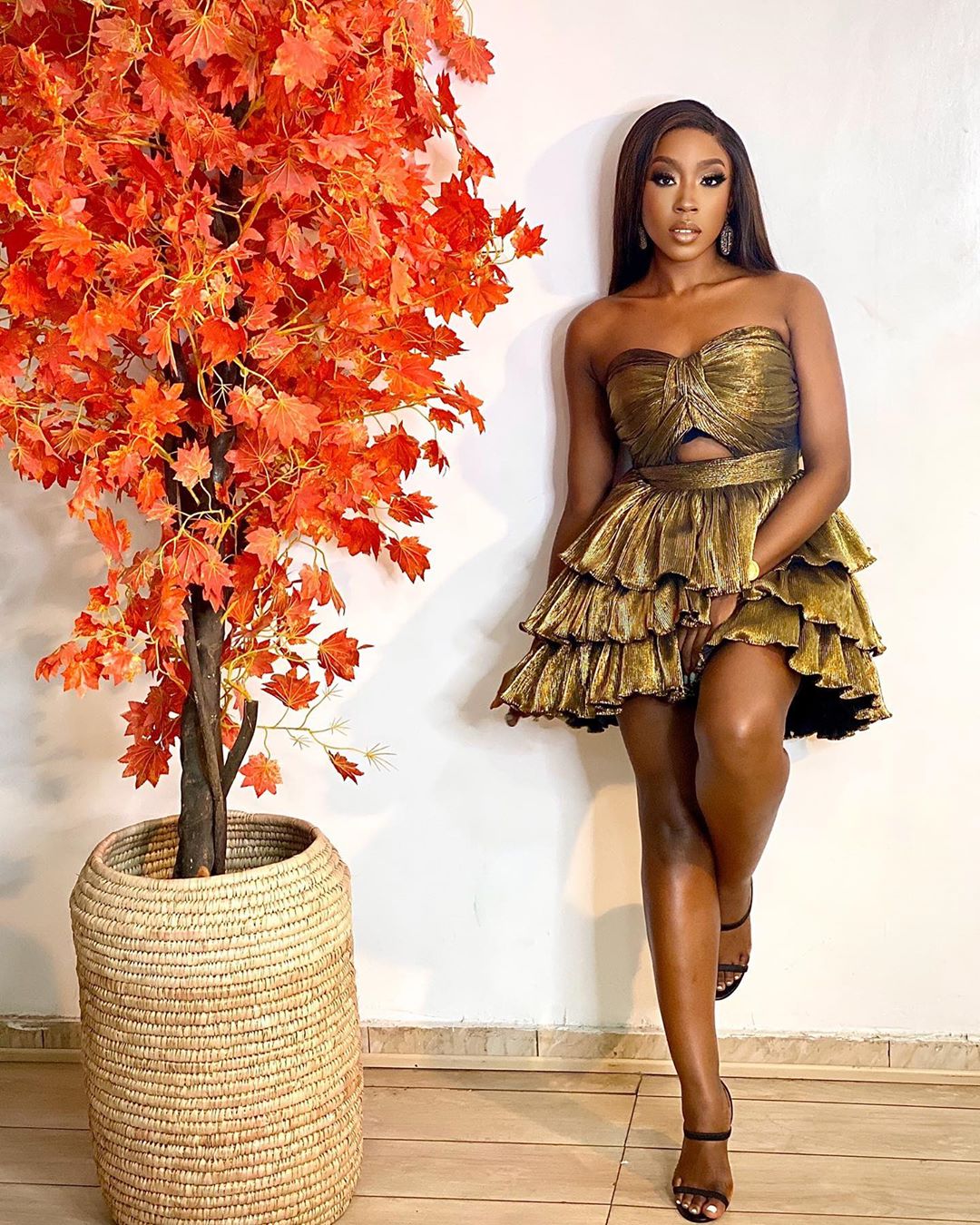 Everyone loves a bold and daring gown they could feel comfortable in and that is just what the gorgeous Nollywood actress Beverly Naya is stunning last week and we love.
14. Kefile Mabote Looks Astonishing In Her Less Dramatic Gown
This is simply stunning and not much hassle is needed to replicate it, Kefilwe Mabote keeps it bold and classy this time and always, paired nicely with a casual makeup.
<
15. Folake Kuye (Stylepantry) Looks Fabulous In Her Enviable Personal Style
Folake Kuye is well known as stylepantry and she is another fashion icon with an impeccable taste in styles, this is one beautiful gown and would surely stand out at any occasion.
16. Jemima Osunde Looks Ready For An Elaborate In Event In Her Sleek Pretty Gown
Jemima Osunde is surely going to be winning on this one, she looks really beautiful and that style is fitting for all kinds occasion.
17. Tiwa Savage Leaves More To The Imagination
Tiwa Savage leaves more to be imagined with her casual denim and tub outfit, you can step out for a casual day outdoor looking all decked up and pretty.
18. Nina Ivy Keeps IT on The Low With A Medium Split Black Dress
Want to appear casual and sassy at the same time then you might want to give this black dress on Nina Ivy a second look.
19. Zynnell Zuh One Hand Gown Is Just The Perfect Height Of A Fashionable Gown
Zynnell Zuh gown is fitting for a wedding, it is easy to replicate and you can always add your own unique design to spice up this outfit even more.
20. Bukola Adeeyo Looks Quite Facinating In Her Mini Owambe Outfit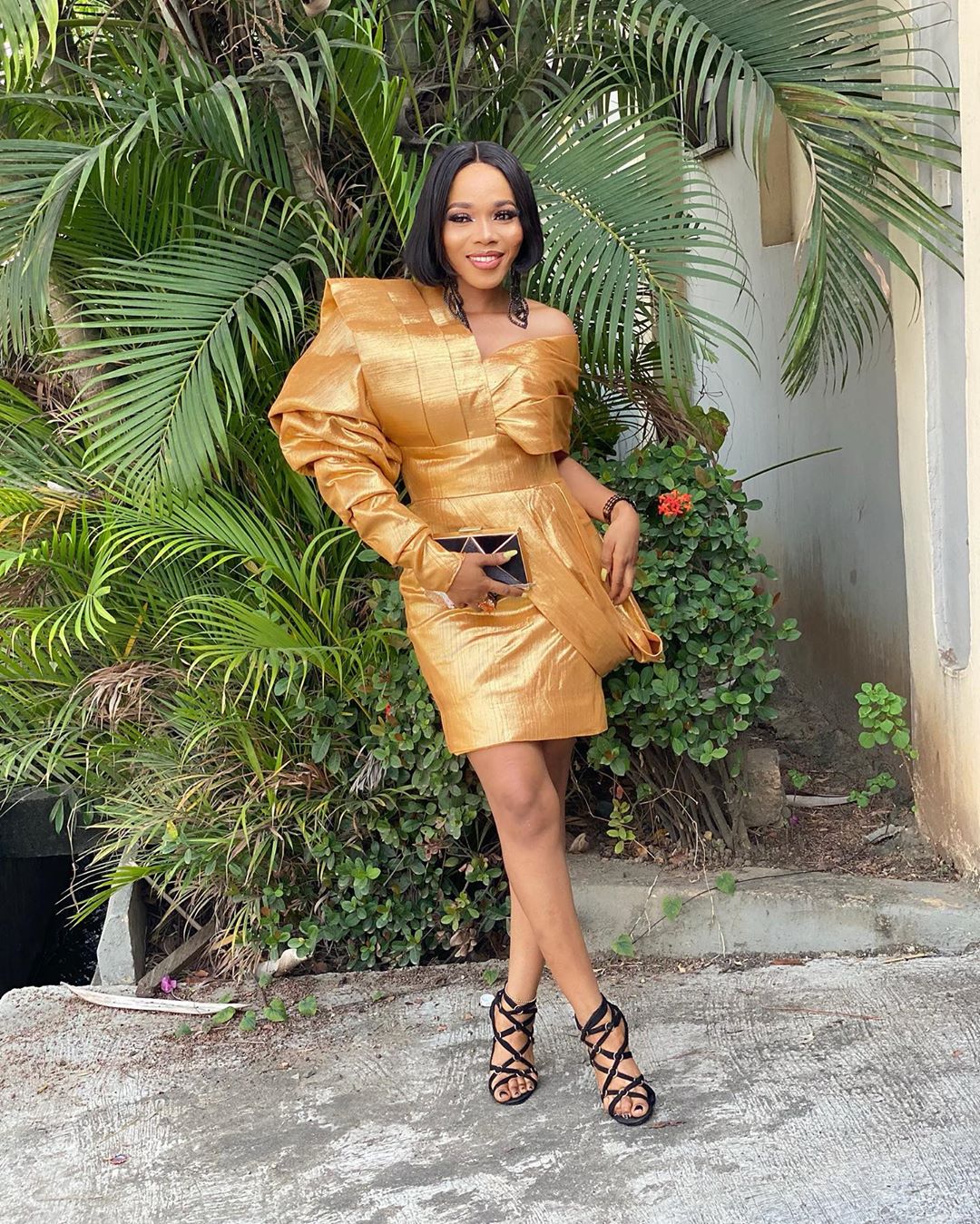 Sometimes owambe styles do not have to be elaborate to look good, Bukoa Adeeyo style above might just be setting a new trend for owambe styles as it is found to be casual and interesting.
Celebrities and fashion icon are definitely setting amazing fashion trend every day and we do not hesitate to give kudos to the tailor as well as such beautiful styles wouldn't have been created without them, fashion takes more than just awesome clothes, it is also about the attitude looking graceful while you rock that outfit and these styles are above are just the perfect example of fashion with confidence. Which of these styles above do you find easy to replicate? Leave us a reply in the comment section below and follow us on Instagram for an update on more celebrity gist and styles.
Read more on fashion and celebrities: