Kalamata olives are a special type of olives that are usually grown in Greece.
They are black in color or even brown with a meaty texture. Olives belong to the family of drupes and are usually handpicked to avoid bruising them.
Kalamata Olives Nutrition
Kalamata olives are actually very healthy. Guess you're wondering, "How many calories does Kalamata olive contain?"
30 grams of olive oil contains:
150 calories
29g of total fat
9 g of saturated fat
6 g of polyunsaturated fat
21 g of monosaturated fat
7 Health Benefits of Kalamata Olives
Are Kalamata olives good for you? Here are the health benefits of Kalamata olives if you wondering whether they are good for you:
1. Full of Antioxidants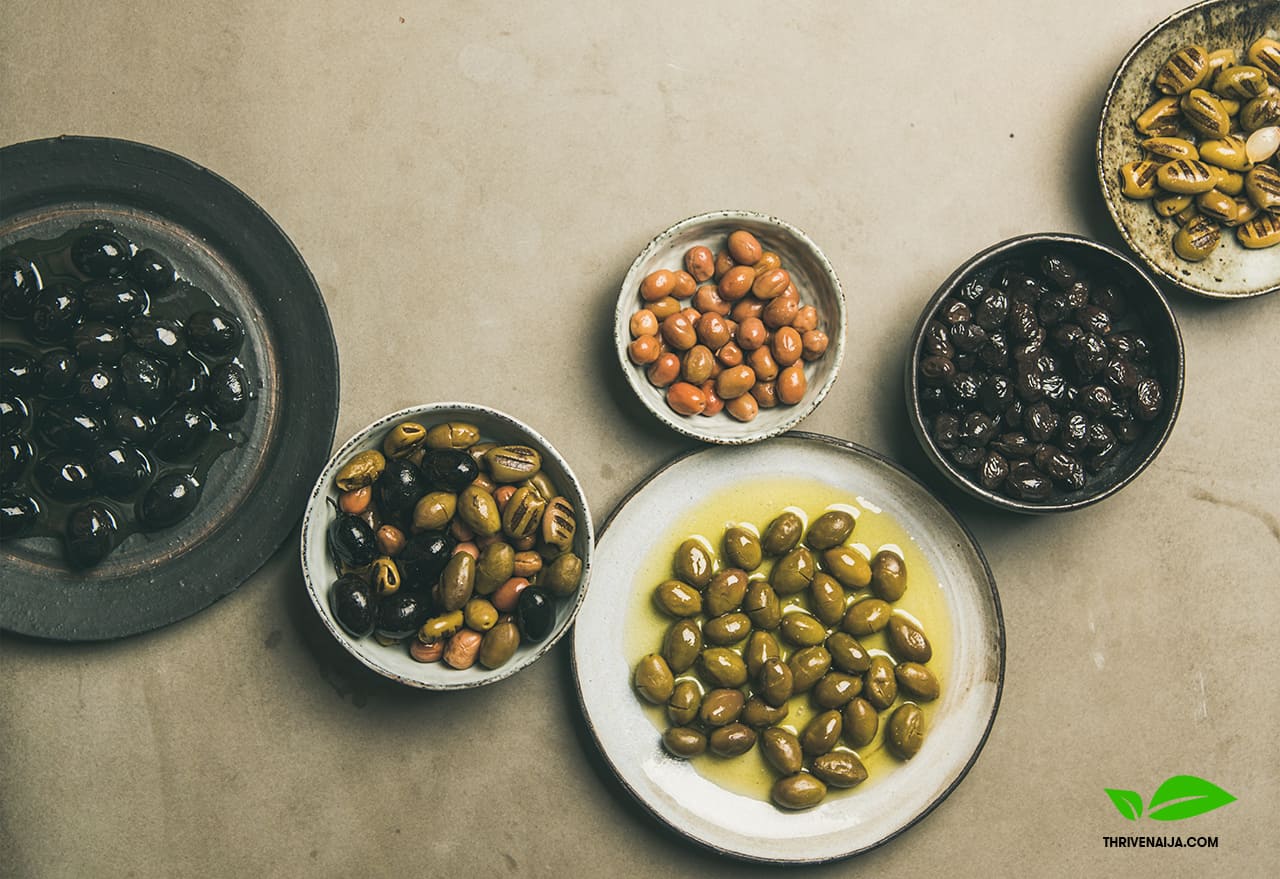 Research has shown that these types of olives are rich in powerful antioxidants. Phenols contained in Kalamata olives fight free radicals that attack the body's cells and cause malignancies.
In fact, recent studies show that regular intake of this olive is associated with a reduced risk of large intestine cancer. All these positive results are pointed back to the oleic acid that is found in olive oil. Oleic acid is excellent in inhibiting the development of tumors.
Squalene is another component of olive oil that helps decrease one's chances of developing skin cancer (melanoma).  We have no doubt that olive oil has a lot of antioxidant compounds that degenerate free radicals causing cancer and heart-related diseases.
2. Healthy Source of iron
Olives are full of iron. An olive provides about 4 percent of your daily dietary intake requirements. Iron plays a big role in blood formation hence preventing anemia.
3. Source of good fats
Five olives contain about 50 calories of which 90 percent is essential fats. Linoleic acid, alpha-linolenic acid, and omega-3-fatty acid are some of the good fats that Kalamata olives contain.
4. Calcium
Calcium is essential for the growth of strong bones. Enough amount of calcium in the body also beats insomnia (lack of sleep).  What role does kalamata olive play in bone formation? Olive oil significantly boosts calcium absorption in the process of calcification and bone mineralization. We can, therefore, conclude the olive oil helps prevent osteoporosis (loss of bone density).
5. Good source of fiber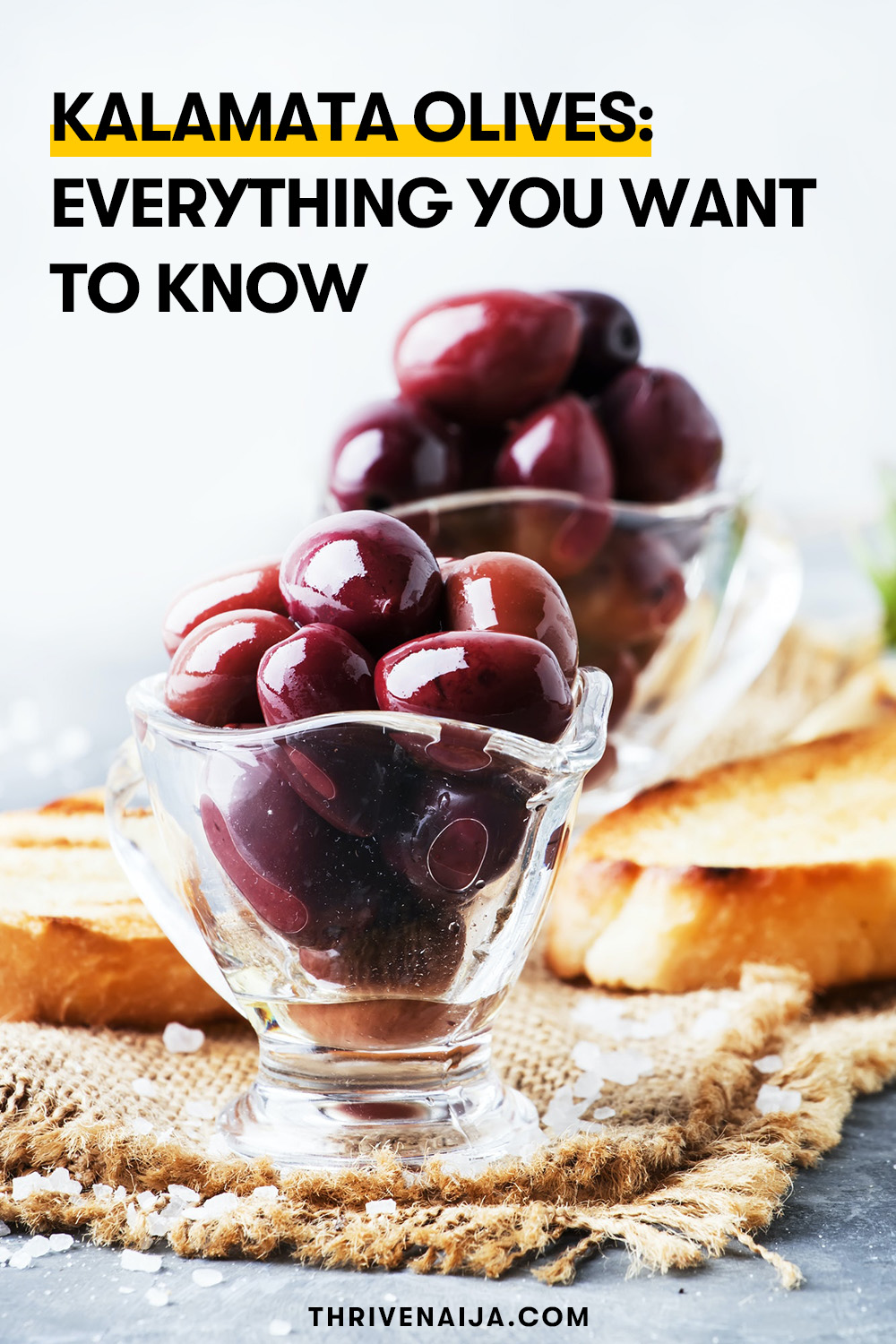 Olives are a good source of fiber. Even though, we recommend that you try eating them with a meal because the fiber level they contain is much lower than the body requires. This is because 8 olives contain just half as much roughage as an orange.
 6. Anti-inflammatory
The oleocanthal is a phenolic compound found in the olives that have a good disease-fighting mechanism. This compound boosts powerful anti-inflammatory benefits to keep your cells functioning properly.
7. Promotes Healthy skin and hair
Unfiltered Kalamata olive oil will help nourish your hair and improve its appearance within no time. Olive oil contains vitamin E which is a great ingredient in getting rid of skin impurities leading to a healthier and glowing appearance.
Vitamin E also helps keep skin well moisturized reducing signs of aging fast. Here is how to achieve healthy hair and skin with olive oil:
 How to use Kalamata oil to moisturize dry skin
Take a tablespoon of olive oil and add to one egg yolk to make a face mask.
Put the mask on your clean face
Wait for 15 minutes and rinse with warm water
 How to use kalamata olive oil for dry lips
Take half an avocado and add a tablespoon of olive oil
Apply the paste to the lips and leave for about 30 minutes
Rinse with warm water and moisturize with olive oil in the end
Do this twice a week to get good results
  How to use Kalamata olive oil for nails
Warm three tablespoons of olive oil
Put the oil in a bowl and dip your nails for about 20 minutes.
Repeat this procedure twice weekly for best results
 How to use Kalamata olive for dry hair
Start by brushing your hair to detangle it.
Rub two teaspoons of oil into the hair
Dry your hair with a dyer on moderate heat
Repeat the procedure twice weekly.
How to buy olives
Roland Foods Pitted Baby Kalamata Olives from Greece, 4 Lbs 6 Oz
PICKED RIPE: Freshly picked, slit, brine-cured, and packed in vinegar for your family to enjoy

SMOKY, FRUITY, AND SALTY FLAVOR: These distinct olives have a smoky, fruity, and salty taste that enhances the flavor of your meal

GREEK DELICACY: A distinctively Mediterranean food, the purple-black color and flavor has endless uses in your kitchen. Zero trans fat

AUTHENTIC GREECIAN OLIVES: Roland Foods Pitted Baby Kalamata Olives are grown in Greece known for their agriculture and fine food
Prices pulled from the Amazon Product Advertising API on:
Product prices and availability are accurate as of the date/time indicated and are subject to change. Any price and availability information displayed on [relevant Amazon Site(s), as applicable] at the time of purchase will apply to the purchase of this product.
Olives are available in cans and jars. Some merchants may sell theirs with pit and others without. Just remember to remove the pits before you eat, that is if you are purchasing olives with pits.
Make sure the olives you purchase are certified and found to be fit for human consumption. Avoid olives that have been treated severally with harmful pesticides. Again, wash them thoroughly before eating.
How do you store Kalamata olives?
As I said earlier most brands sell olives in cans.
Always place this can in the refrigerator after you open it. Do not store it for more than two weeks. It is also important to check the expiry date on the cans to determine the olives' safety before consumption.
How to pit an olive?
Pitting an olive is easy, all you have to do is use a broad-sided knife to press the olive flat on the chopping board. This will create a crack on the olive to allow you to remove the pit effortlessly.
---
To wrap it up. Kalamata olives will always stand out from the rest.  We hope that the article got you to eat you more of these olives for a healthier you. We're open to feedback, Please leave them using the comment form below.