The perfect way to satisfy your pancake and waffle crave is to make the best recipe you can lay your hands on, making waffles and pancakes are no stress at all but to get the best of them, you definitely need classic recipes to pull that off.
The ingredients contained in waffle and pancakes are similar but as you are well aware, they always come out different and each with its own taste and style.
These recipes will ensure you never have boring pancakes or waffles again, simple to make but you will be getting something exotic and more delicious.
These recipes will help you whip up delicious waffles and pancakes every single time, either as breakfast or dessert.
Upgrade your Sunday brunch with any of this careful waffles and pancakes recipe.
35 Waffle And Pancake Recipes You Should Try
The only way to satisfy your cravings for waffles and pancakes is to get a fantastic recipe and bake in batches, then consume to your heart content.
1. Blueberry Pancakes
One of the best recipe to make the fluffiest pancake, this recipe makes it easy to input your lovely blueberry into and with the syrup dripping down the sides, you will find it really enjoyable. Any toppings of your choice can still be added to the mix but the trick is definitely in the blueberry.
Get the recipe: https://www.kingarthurflour.com/recipes/blueberry-pancakes-recipe
2. Red Velvet Pancake With Cream Cheese
Red velvet pancake might be exactly what you are looking for to spice up the festive period especially Christmas as we can probably say the color illustrates Christmas and as for the taste, it is yummy and extra delicious if that is possible. Do not forget the cream cheese icing that will be added to it to give your pancake a more subtle look and taste.
Get the recipe: https://www.cookingclassy.com/red-velvet-pancakes-with-cream-cheese-glaze/
3. Apple Cinnamon Pancake
We don't think anything can go wrong with an apple so you can imagine having a taste of it with your delicious pancake, that will make an amazing dessert. Apple cinnamon pancake is also recommended for homemade pancakes with families and friends.
Get the recipe: https://lilluna.com/apple-pancakes/
4. Peanut Butter Banana Pancakes
Eggs are very healthy for breakfast hence why it is one important part of this pancake recipe and also for lovers of peanut butter, it is also part of the recipe and as for the taste, well we leave you to the imagination.
Get the recipe: https://www.justsotasty.com/10-minute-peanut-butter-banana-pancakes/
5. Oatmeal Pancake Recipe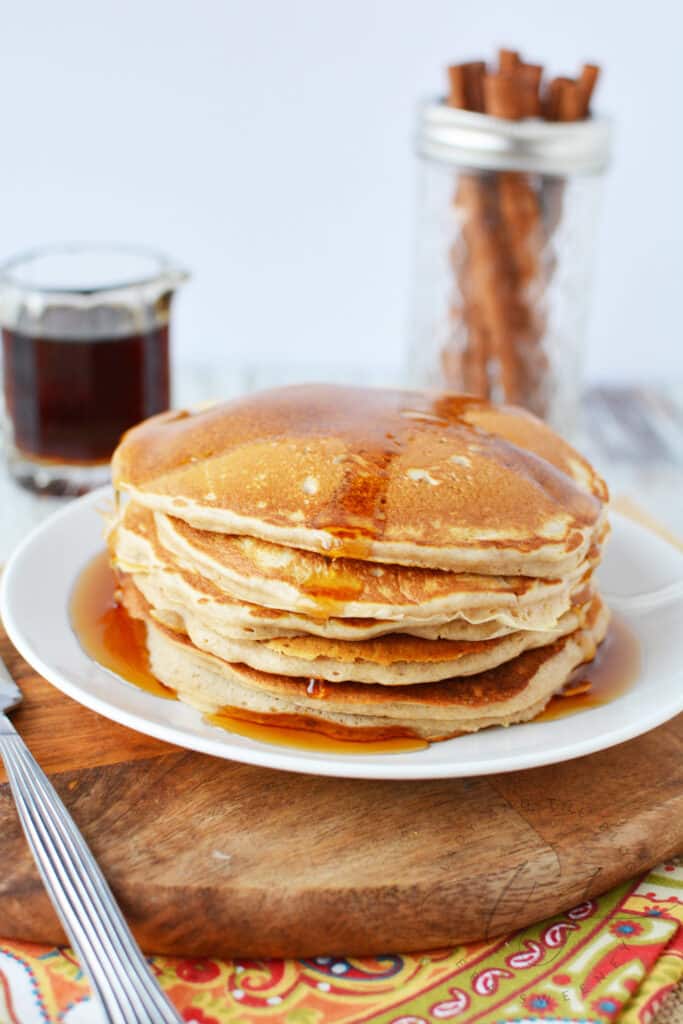 Oatmeal pancake is simple and healthy, basically for those who have to stay away from lots of sugar, still delicious and will still satisfy all of your cravings for pancakes. Has a very soft and fluffy texture just like a perfect pancake should.
Get the recipe: https://ladyandtheblog.com/healthy-pancake-recipes-how-to-make-oatmeal-pancakes/
6. Lemon Ricotta Pancake Recipe
Looks yummy and it surely tastes yummy with a taste of lemon, requires very little time to cook and also perfect for either brunch, breakfast and also dessert.
Get the recipe: https://thefeedfeed.com/mollyjean4/lemon-ricotta-pancakes-with-raw-honey-and-lemon-curd
7. Mini German Pancake Recipe
The name of this particular recipe might have come from the size and the look is a little bit different from your normal pancake, this is more rounded like a cupcake but you can be assured it is tasty and holds toppings very nicely as well.
<
Get the recipe: https://www.eazypeazymealz.com/german-pancake-minis/
8. Sour Cream Pancake Recipe
We can be a little biased here and tell you nothing tastes as delicious as a sweetness mixed with some sour cream if you want something different and simple, we think you can give sour cream pancake recipe a trial and you can get more interesting with it and add some buttermilk toppings.
Get the recipe: https://www.ihearteating.com/sour-cream-pancakes/
9. Ginger Bread Pancake Recipe
Gingerbread pancakes are delicious and what a great way to start your morning? Just as easy to make as other pancakes, sparks up the festive spirit and even those who do not like gingerbread will find themselves gobbling this one up.
Get the recipe: https://www.lovefromtheoven.com/gingerbread-pancakes/
10. Hot Chocolate Pancake Recipe
This doesn't just look and tastes delicious but who can refuse chocolates, it will have those cravings satisfied and you might just see yourself making this every Sunday brunch. Chocolate Pancake justs need a cup of hot chocolate to complete the chocolate circle.
Get the recipe: https://amomsimpression.com/hot-chocolate-pancakes
11. Homemade Belgian Waffle Recipe
Belgian waffles are called the best waffles but it won't exactly feel right if without these homemade ingredients that are added to it, so now you can make it for your family and also enjoy making them. Simple to make, you can also choose your toppings to suit your taste and you will be getting the best tasty waffles.
Get the recipe: https://thesaltymarshmallow.com/homemade-belgian-waffle-recipe/
12. Corn Bread Waffle Recipe
We can bet you are already getting the recipe to make this, looks delicious and does tastes delicious, kind of an interesting way to make waffles. The texture comes out fluffy but firm and it is not soggy but with the right waffle maker, you can get a crunchy taste.
Get the recipe: https://barefeetinthekitchen.com/cornbread-waffles-recipe
13. Fluffy Keto Waffle Recipe
You can't stay away from those waffles but you want them healthy, you might find that in keto waffle, healthy and savory at the same time. fluffy and easy to make, you can also get a good keto waffle mix to make, all you need is the perfect healthy topping to go with it.
Get the recipe: https://thebigmansworld.com/healthy-fluffy-low-carb-vanilla-waffles
14. Apple Stuffed French Toast Waffle Recipe
Delicious can even begin to describe it and you can have your waffle iron design it just like a french toast, there is also a waffle mix that can make this for you with no stress but to make it more homemade you need this recipe.
Get the recipe: http://serendipityandspice.com/apple-stuffed-french-toast-waffles/
15. Ham And Cheese Waffle Recipe
The ham and cheese recipe is the best to make if you love your waffles crispy and can't just get enough of it, can be frozen to be enjoyed later with toppings of your choice.
Get the recipe: https://damndelicious.net/2015/09/27/ham-and-cheese-hashbrown-waffles/
16. Liege Waffle Recipe
Just like the Belgian waffle, this is easy to make and enjoyed, spice your dessert up with liege waffles and also, makes the best breakfast meal as well. Liege waffle recipe has some Belgian ingredients in it so you can as well call it liege Belgian waffle.
Get the recipe: https://thestayathomechef.com/caramelized-waffles-liege-waffles/
17. Pumpkin Waffles
You definitely need to give this waffle recipe a trial and we are sure you would love it, very fluffy and crunchy, you only the best waffle iron to make this turn out really, afterward, you can load them with your favorite topping and enjoy.
Get the recipe: https://www.savorynothings.com/simple-pumpkin-waffles/
18. Vanilla And Lemon Zest Waffle Recipe
Combination of vanilla and lemon might just what you need to satisfy those cravings or even have you wanting more, not much required to make this and you can always get the waffle mix and all that will be needed to make it a success is the recipe below and your vanilla and lemon.
Get the recipe: https://www.allrecipes.com/recipe/171978/great-easy-waffles/
19. Crispy Yeast Waffle Recipe
The crispy yeast waffle even becomes crispier if left overnight, crisp on the inside and make the flavor outside and with some yogurt added to make the flavor more savory and even makes your waffle look more delicious.
Get the recipe: http://wholeandheavenlyoven.com/2016/04/25/overnight-yeast-waffles-with-pina-colada-topping/
20. Red Velvet Waffle Recipe
Just like the red velvet pancake, here is the waffle in case you love waffles more, it is perfect for valentine day or Christmas day. Fluffy outlook with a crunchy taste. The cream looks just fine on it but if you like chocolate fudge toppings, we think that would be delicious with it as well.
Get the recipe: https://homecookingmemories.com/red-velvet-waffles-recipe/
Waffles and pancakes can't be ignored but everyone o get tired of making them in the normal boring ways, these recipes will give you something special and delicious to satisfy your cravings.
We would love to know which is your favorite recipe and how much you enjoyed it. Want more on waffles? Visit the entire waffles and wedges category now 🙂